Are you vacationing in Kentucky and looking to spend some time in the sun? Maybe lay out and get tan? Swim at a beach? You read that right! A beach. Don't let The Bluegrass State fool you. It may be a landlocked state but believe it or not, there are plenty of pretty beaches in Kentucky for you to enjoy!
If you thought not having an ocean nearby would stop the locals from having their fun in the sun, you've never been to one of the lake beaches in Kentucky. Anything you can do on the oceanfront you can do in Kentucky too! From renting a boat and taking a spin around the water to a friendly game of beach volleyball, the fun possibilities are endless!
Many of Kentucky's beaches are located in the middle of State Park landscapes, which gives visitors the unique experience of driving through forests to get to a beach. And once you're there you'll be able to fish, rent a boat, go kayaking, feel the sand in your toes– basically spend a bonafide beach day.
Whether you're taking a family vacation and looking for fun activities to do with the kids or you're on a girl's trip and looking for some rest and relaxation, take a drive to one of Kentucky's charming lake beaches. Make sure to take your swimsuit and sunglasses because you won't want to miss out on having some fun in the water!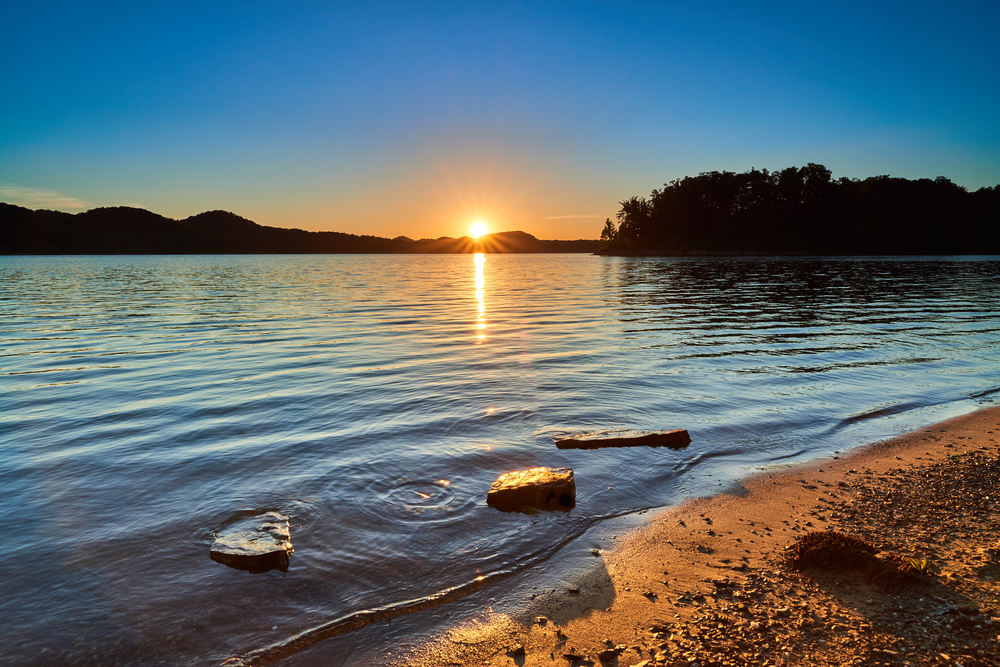 8 Prettiest Beaches in Kentucky
Lake Barkley State Resort Park Beach
In the southeast corner of the state just a few miles north of the Tennessee border, you'll find Lake Barkley, one of the sandiest and longest beaches in Kentucky. Set in the midst of Lake Barkley Resort Park, visitors need to drive through serene forested areas until they reach an opening on the lake's shore to get to the beach.
When you spot the beach volleyball court you'll know you're at the right spot. Once you're there, set up your gear and enjoy a relaxing day on the shore. Beach goers can enjoy the quiet provided by the surrounding forest and even spend a day fishing. Time to see if you can catch any of the local bass or crappie!
Or if you're looking for something more adventurous to do, there is a nearby marina where you can rent some gear and go on a mini adventure in the water! The double-decker pontoon boats come with a slide included and look like lots of fun!
Make sure to check out our list of the best resorts in Kentucky for more inspiration for your Kentucky vacation!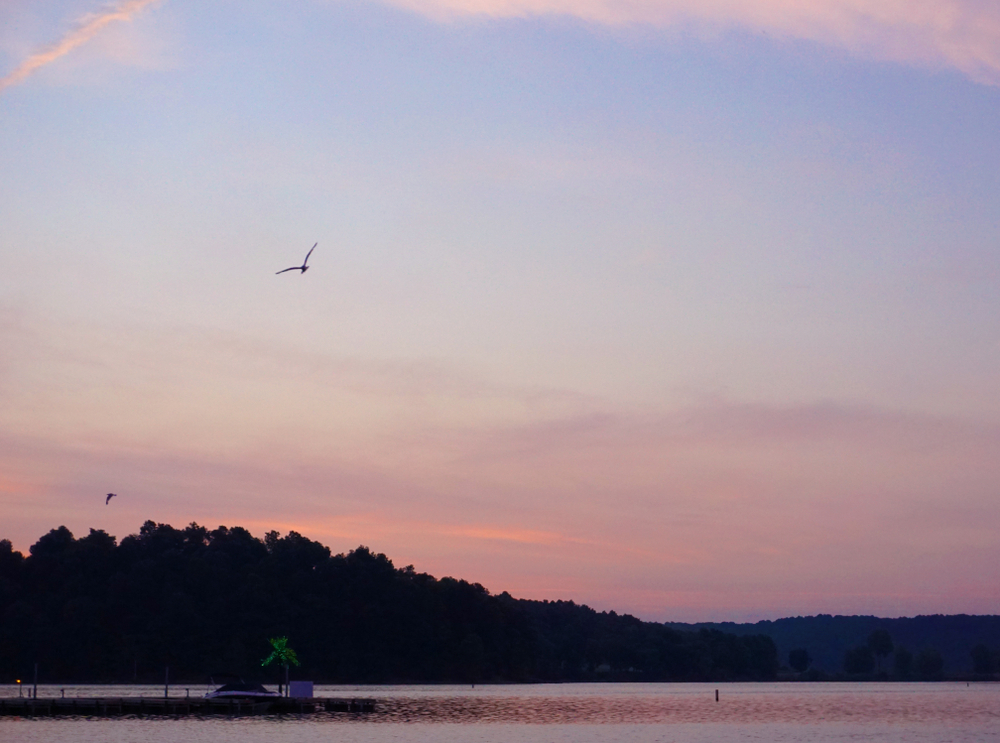 Kentucky Dam Village State Resort Park Beach
Sitting on the shores of Kentucky Lake, this well-kept beach is one of the most loved public-access beaches in Kentucky. It is also locally known as the Ky Dam Beach.
The beach sits adjacent to the walking and biking path that leads visitors across the Kentucky Dam, we recommend taking some time to enjoy a short walk between your beach lounging. If you're looking for more things to do on the water you can try your hand at water skiing or fishing.
The lake beach is open from 10 a.m. to 7 p.m. from Memorial Day weekend to Labor Day weekend (what locals call the swimming season) and is locally known as having one of the best gift shops in the whole state! After spending an afternoon bathing in the sun and enjoying the refreshing lake water, make sure to pick up a souvenir. You never know what quirky surprises you'll find in a gift shop.
But the most unique thing this sandy paradise offers visitors is the chance to spot a Bald Eagle!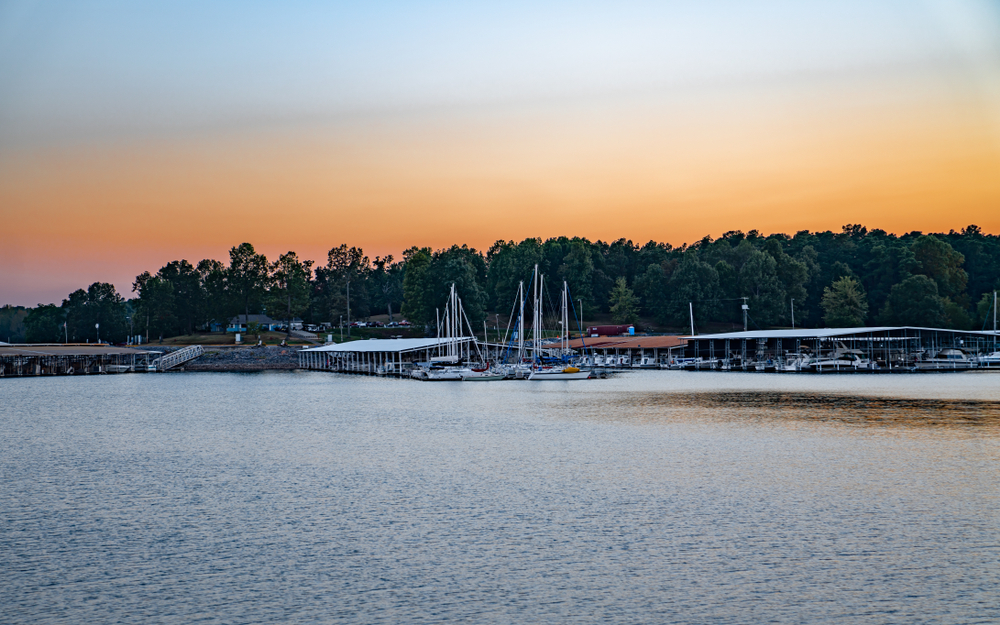 Nolin Lake State Park Beach
Nolin Lake State Park Beach is definitely one of the lake beaches in Kentucky which offers visitors a wide variety of activities to enjoy from. There's so much to do you might have to go back just so you can really take full advantage of the beach.
First of all, it is a prime location for birdwatching! Sit with your toes in the sand and some binoculars in your hand and see what fowl you can cross off your list. The Peregrine Falcon or the Iceland Gull are two of the rarer birds you'd be able to spot there.
Or if you don't want to sit still for that long, what about hiking to a nearby waterfall before or after spending some lovely down time in the sand? With on-site grills, a nearby playground and sandy beach families won't run out of daytime activities to keep them busy for the day.
We recommend stopping by Mammoth Cave National Park, the longest cave system in the world, on the way back to your hotel. It's not something you're going to want to miss!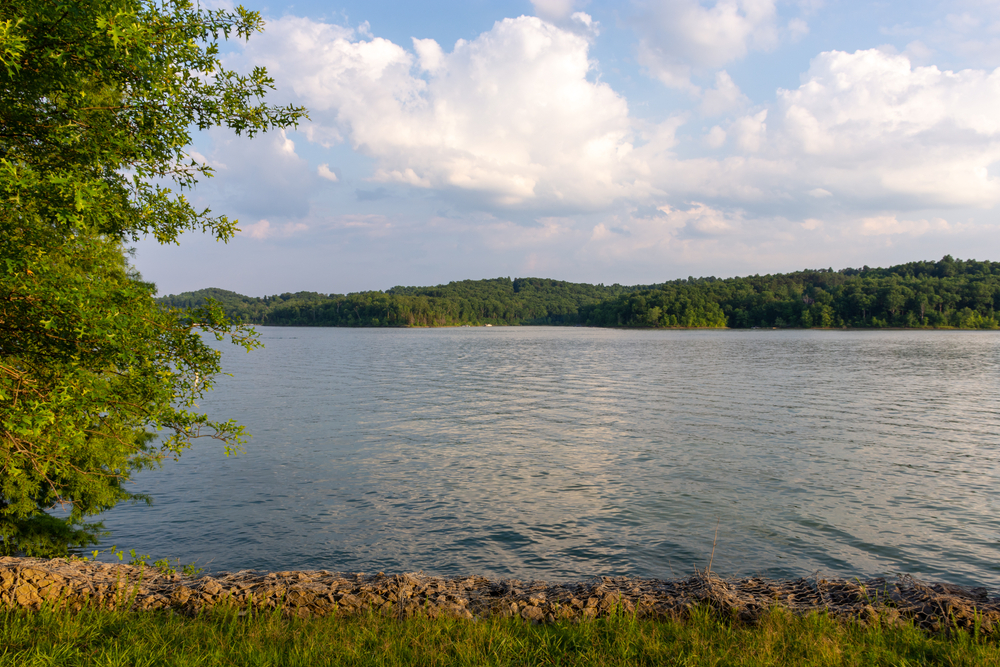 Carr Creek State Park Beach
Before becoming one of the most peaceful beaches in Kentucky, Carr State Park was home to some of the state's earliest pioneers in the 1770s. Today, the quaint sandy beach overlooks the peaceful waters and is surrounded by way more greenery than you'll ever see at any ocean-front location.
Think of Carr Creek Beach as Kentucky's version of a secret beach, it's the place you want to go when you don't want to be bothered by big crowds or noisy boats.
It's the perfect spot for a beach picnic! We highly recommend packing a cooler with some snacks and sandwiches, taking a book, maybe a guitar, and setting up the cutest beach picnic the world has ever seen.
If you're feeling ambitious, why not try to build a sandcastle and really spend the day relaxing?
Buckhorn State Resort Park Beach
Catch a glimpse of the mountains (not something you can say about all beaches) from Buckhorn Lake Beach, another one of the sandy beaches in Kentucky which is open to the public.
A great beach for nature lovers, when you visit there are plenty of nearby hiking trails to explore. The closest are the Moonshine Hollow trails. You can conveniently enjoy some adventure before taking a dip in the lake and spending the rest of your day on the sand.
For a more laid back time, we recommend chilling at the beach for most of the day before absolutely crushing your friends and family at the 18-hole mini golf course or renting a pontoon boat and soaking up some rays.
Buckhorn is a seasonal beach open from Memorial Day through Labor Day weekend. The nearby pool is only for lodge and cottage guests, but the lake waters are for everyone!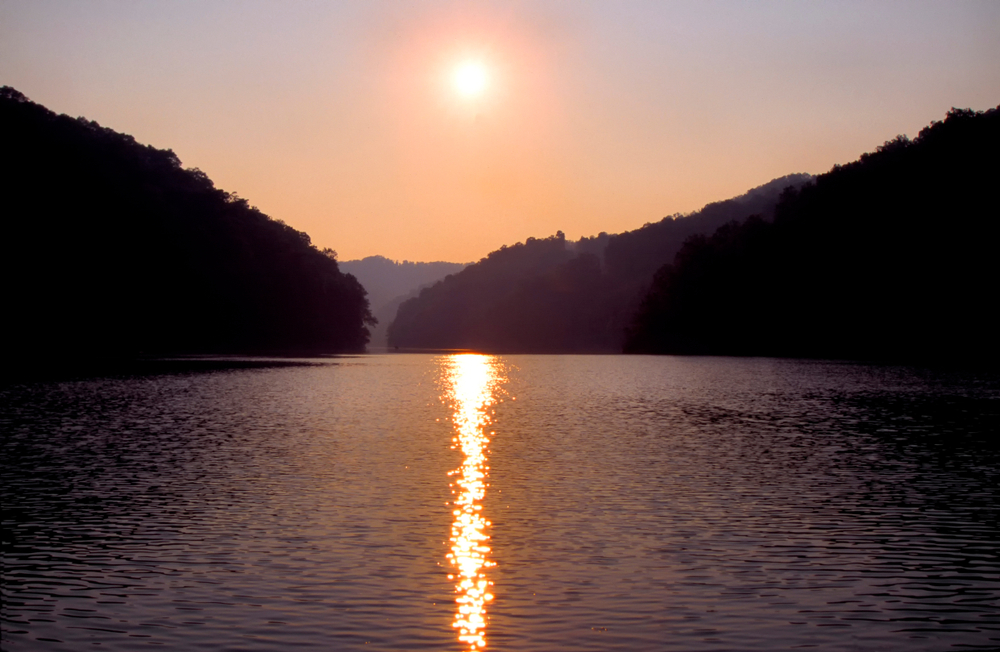 Green River Lake State Park Beach
Green River Beach is one of the most kid-friendly beaches in Kentucky. The rolling hills visitors can see from the coastline create a picturesque landscape anyone can enjoy from the shallow waters of the beach.
You don't have to be a kid to enjoy Green River Beach though. With plenty of activities like volleyball courts, tubing, water skiing and kayaking. If you're feeling very adventurous or a bit antsy after spending too much time relaxing, take a break from the beach and go horseback riding at one of the nearby stables!
We do recommend taking some water appropriate footwear if you're going to venture past the sandy beach and further into the water because the lake's bottom can be a little bit rocky.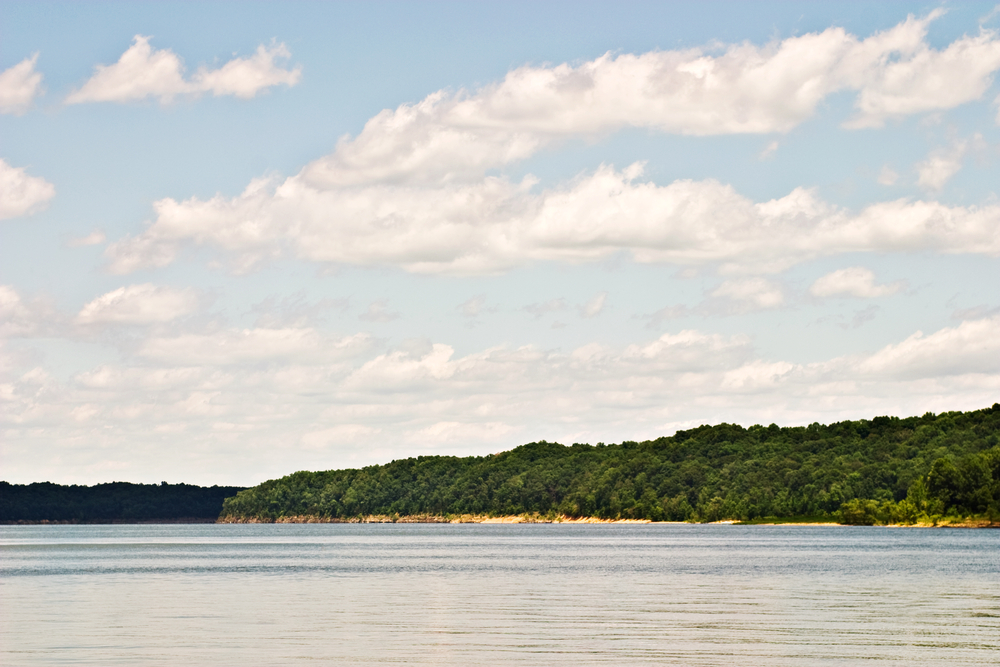 Pennyrile Forest State Resort Park Beach
Out of all the beaches in Kentucky, Pennyrile Forest State Beach is certainly the one with the prettiest crystal clear water. Visitors can rent kayaks and explore the lake further or take out a paddleboat and have a leisurely float around the lake's shallows.
You won't run out of activities to do on your beach day here. In fact, we recommend staying overnight at one of the camping sites so you can enjoy the beach and the myriad of outdoor activities the State Park has to offer!
You can enjoy a day on the lake in a canoe, kayak, or paddleboard. You can also take a stroll across the dam and if you have a fishing license make sure to bring your gear and enjoy a laid-back day.
Barren River Lake State Park Beach
Complete with picturesque lifeguard stands and surrounded by lush forest on all sides Barren River Beach is one of the best beaches in Kentucky. It looks like a scene taken directly out of a movie about ideal summer vacations, like Dirty Dancing.
If the sandy lakeside paradise isn't enough to make you believe you've stepped back in time and into a classic film make sure to stay overnight at the lodge and stop by the Shuffleboard courts. Maybe one of the regular guests will have pity on you and teach you how to play the classic outdoor game!
The well-liked spot can get crowded during peak season so if you can swing it we recommend visiting early and during a weekday if you want the beach all for yourself. The beach itself opens from 9 a.m. to 8 p.m. daily.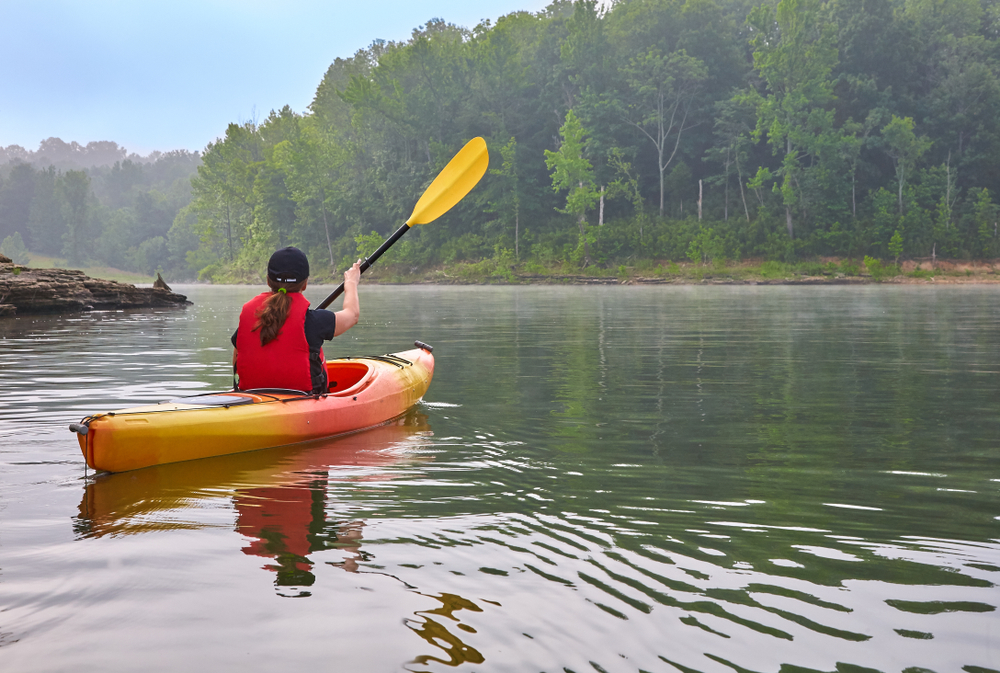 While Kentucky might not be the first place you think of when you're in the mood for a beach day, there are plenty of pretty beaches in Kentucky and there is more than enough to do at all of them. Louisville and Lexington are good central spots to stay at if you're looking to explore the best beaches in Kentucky.