It's about that time you take a trip to visit all of the best national parks in Maryland!
The incredible part is that you definitely have a lot to choose from! Maryland has an impressive 27 national parks that you can select from while planning your visit. You for sure have a big list to look over to make sure you pick exactly what you're looking for! And we can help!
Whether you want to embrace nature and take in all the fresh air, or you want to experience pieces of history along the way, we know that you'll find something special at each of these national parks in Maryland!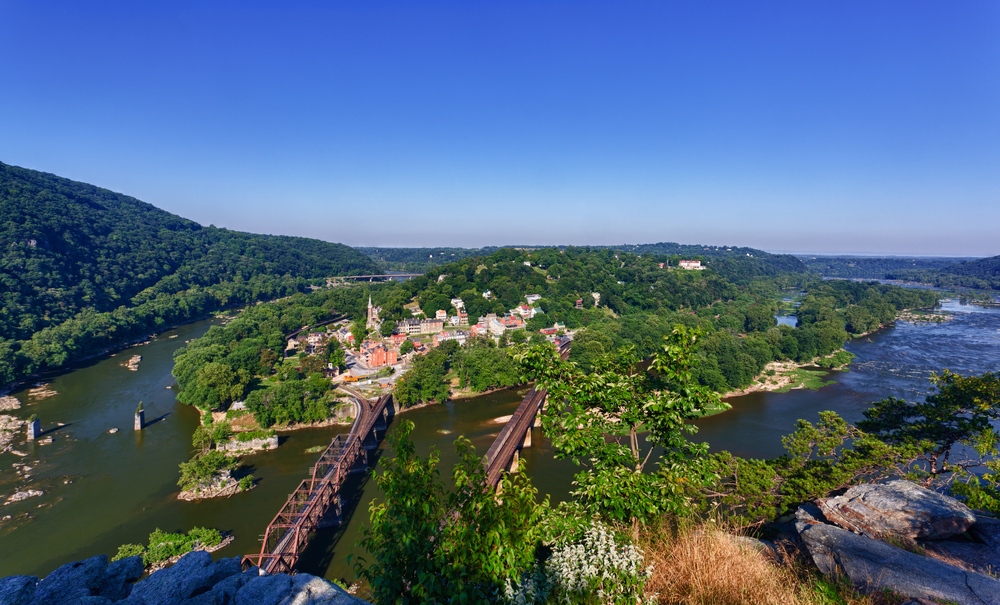 15 Best National Parks In Maryland You Must Visit
Assateague Island National Seashore
From our experience, one thing you must try while you're traveling to Maryland is Assateague Island, one of the best national seashores in Maryland!
Have you ever been to a place where wild ponies roamed on the shore? That's exactly why you will want to plan a trip to this Maryland national park! You can come see these ponies roam freely during a nature tour, or you can come during a special event called Chincoteague Pony Swim and Auction! This is easily one of the most popular events at this national park!
Of course, you can come and experience all of the regular outdoor things you might want to do while enjoying one of the best Maryland national parks like swimming, bird watching, nature walks, or just relaxing outside. But one thing you should definitely try here is backcountry camping!
Backcountry camping is a great way to slip away from the real world and dive head first into nature. You're far enough away from parking lots, the hustle and bustle of society, and even plumping, but you can really experience the depth of the park this way! This Maryland national park has 6 backcountry camping areas, so make sure you plan ahead and pack all the essentials you think you will need!
This is easily one of the best East Coast USA National Parks you should visit!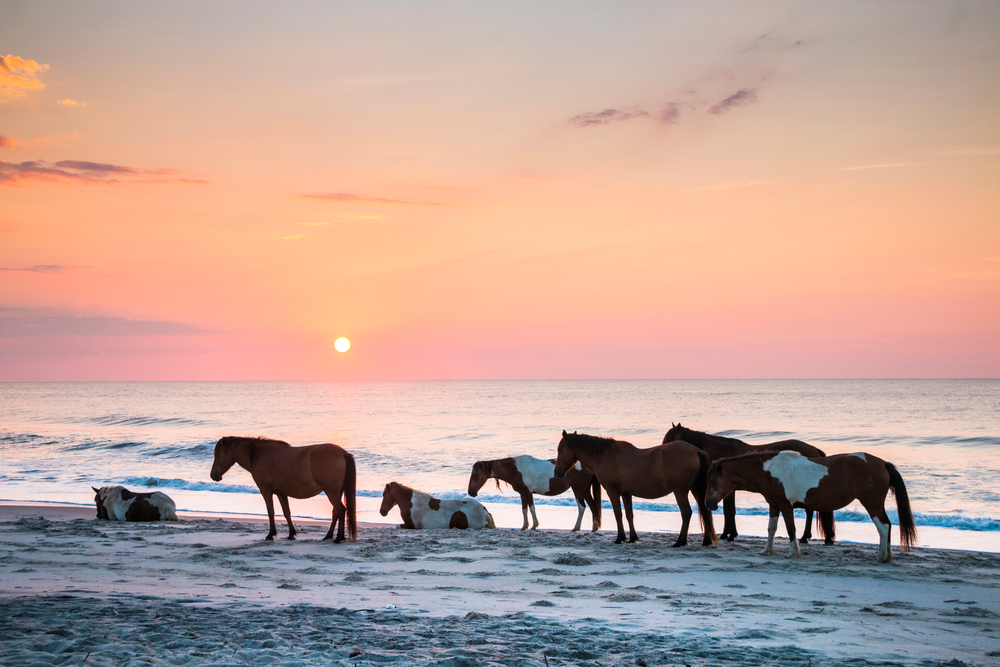 Appalachian National Scenic Trail
While making your plans, you must add the Appalachian National Scenic Trail to your list of Maryland national parks you must see!
This is one of the best national parks in Maryland because it stretches far beyond Maryland and actually crosses 14 different states! So you can experience this beautiful scenic trail even while visiting a number of other states!
This 2,180 mile footpath makes for the perfect hiking adventure! There are no fees to enter the park and even better, the park is open all year with 24 hour access! You'll need certain permits for overnight stays, so if you plan on camping, make sure you check ahead to make sure you have all that is necessary.
The Appalachian National Scenic Trail is known for being on the bucket list of most hikers and it's easy to see why!
Make sure you add this to the top of your list of Maryland National Parks while planning your adventure!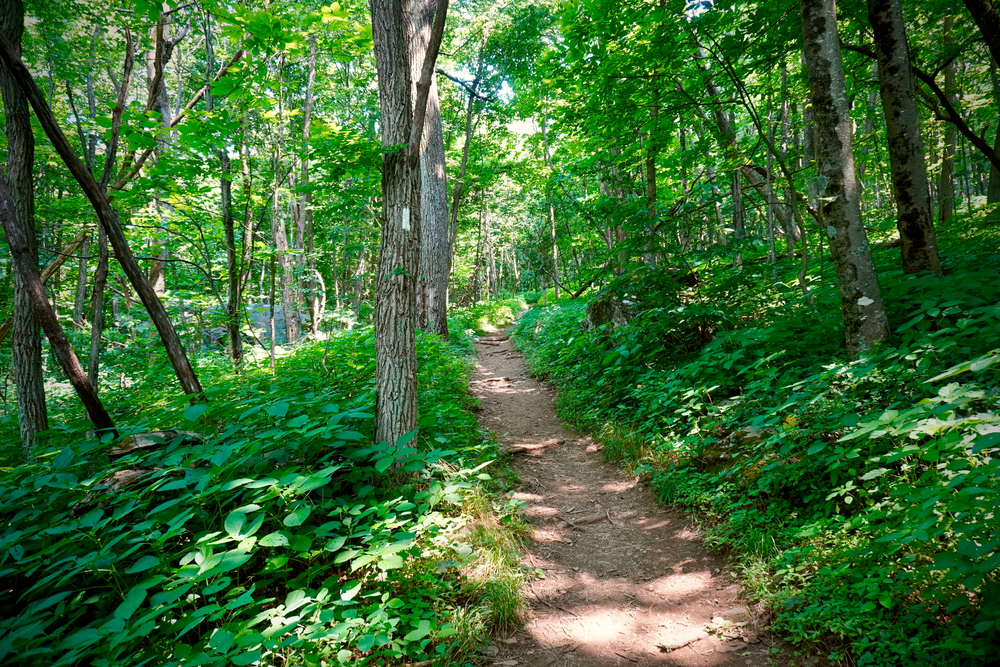 Chesapeake Bay
Chesapeake Bay stretches across 7 states, but Maryland is definitely the spot to take a visit!
The 41 million plus acres are bound together by water channels that connect the park tother and make it one of the most unique national parks in Maryland to visit!
You'll for sure want to visit the third largest estuary in the world! This area is known for being a perfect place for fishing and crabbing! Fishers and seafood eaters alike are known for flocking to this area to enjoy a day or few of enjoying the water that the Chesapeake Bay offers!
You can even come here to camp for a few days and enjoy some peace and quiet from your day to day life! There are a number of ways you can camp in this area. There are private campgrounds, or even public camping facilities you can rent. You can bring the tent, an RV, or some campgrounds offer cabins for you to stay in while you're here! Make sure you check ahead for availability!
This is one of the best national parks in Maryland for you to come and relax by the water!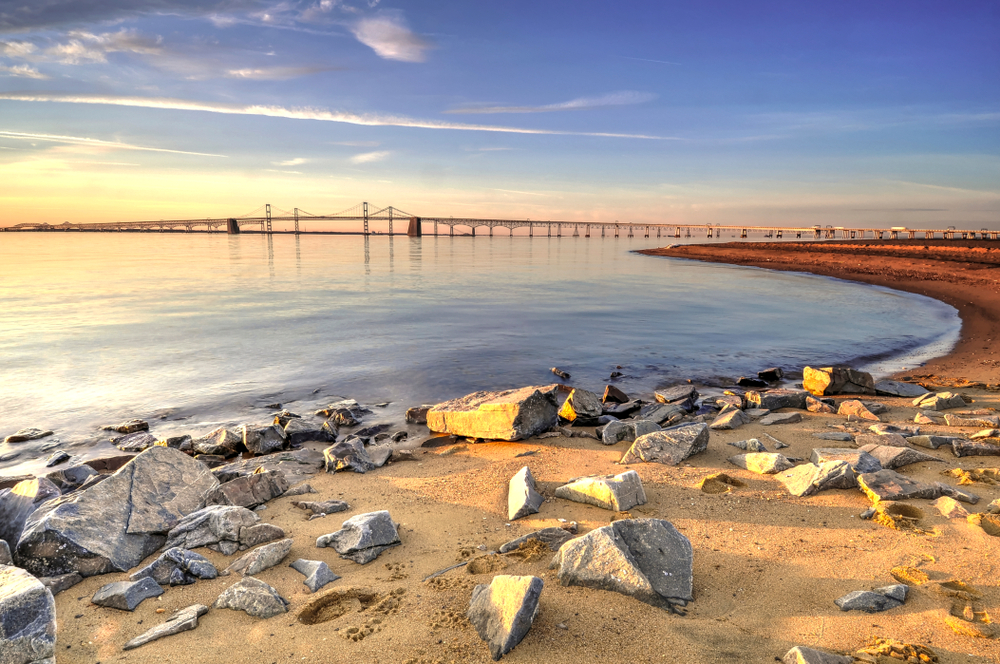 Clara Barton National Historic Site
If you're a history lover, or just want to educate yourself a little more, you have to come check out the Clara Barton National Historic Site!
This park is named after American Pioneer teacher, Clara Barton, who was also a nurse and humanitarian that founded the Red Cross! She spent her life working to help others in need, whether that meant locally or abroad. She even helped during military emergencies. She is known as a giver to those less fortunate than she was.
You can plan your visit to the site on Fridays, Saturdays, and Sundays! You can joined a guided tour to best gain the most information from your visit and to see an in-depth view of the site. It will take about 45 minutes for the tour, and you'll get to experience how Clara lived as well as others that inhabited the home. Beyond the first floor, the rest of the site is close for structural concerns.
The best part about this home is that it was the headquarters location for the American Red Cross for so many years.
You won't regret coming here!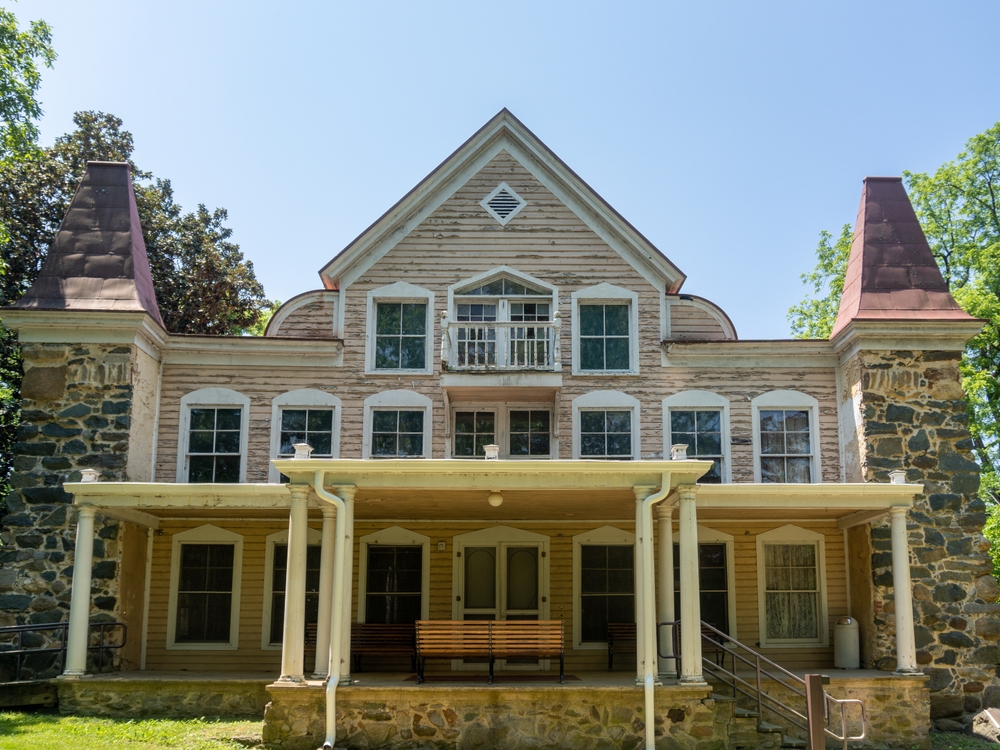 Harriet Tubman Underground Railroad
While some of these Maryland national parks have uplifting historic roots, not all of history shines a bright light on our past. The Harriet Tubman Underground Railroad is an incredible place to gain insight to a not so great aspect of American history while learning about the brave woman that lead the way.
Harriet Tubman is forever known as the Underground Railroads best conductor as she risked her life before the Civil War to free other enslaved people and find freedom.
You can begin your visit at the Visitor's Center and begin your trip through the Underground Railroad Scenic Byway! You'll have to step into the Harriet Tubman Memorial Garden for the beauty, and then walk into the Harriet Tubman Museum to gain as much knowledge as possible from her life.
The site is closed on Mondays, but open every other day of the week so plan accordingly to make sure you get all you can out of this visit!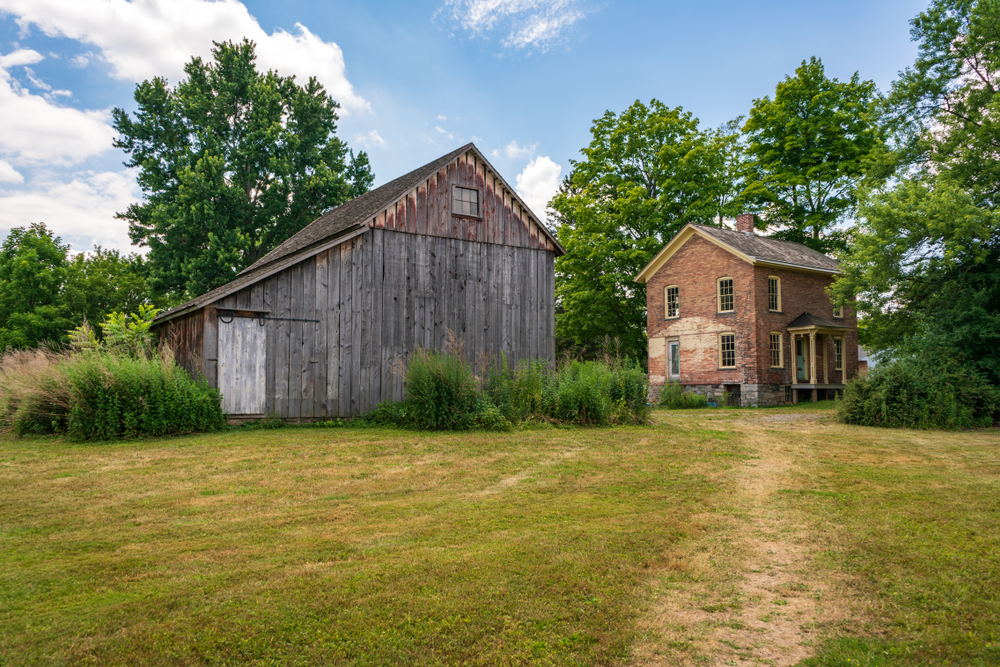 Harpers Ferry
You'll definitely want to dive into nature and history while visiting Harpers Ferry!
The first thing you'll want to do while you're visiting one of the best national parks in Maryland is explore the historic Lower Town! You can visit John Brown's Museum and experience the location for his 1859 Raid or you can visit the Black Voices: African American History exhibit!
You must walk to The Point and experience where the Shenandoah River and Potomac Rivers meet! Then take a few more steps and see Jefferson Rock!
While you can for sure take in all the history that is surrounding the area, you can also come and experience the great outdoors! Bird watching is incredibly popular in this area, as they even have an annual closure to protect nesting falcons! So always make sure you check ahead so that you don't try to visit during one of the flacon nesting closures.
We know you'll love this Maryland national park!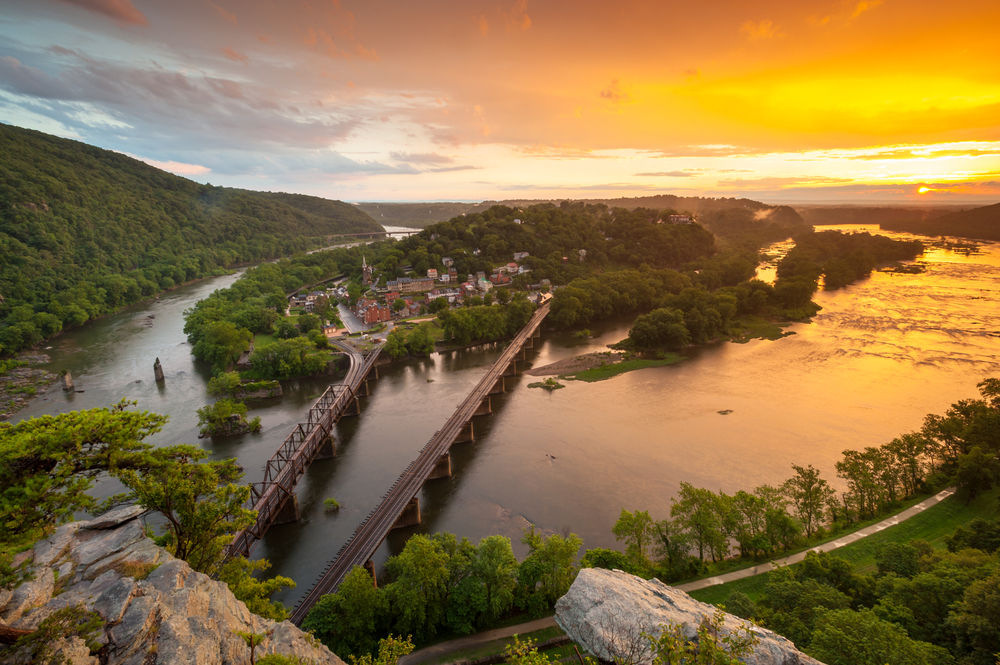 Glen Echo
Glen Echo has held a place in history since 1891 and even had a time of being an amusement park from 1911 to 1968! Since the amusement parks closing, the National Parks Services has owned the park!
There are so many activities to do at Glen Echo Park, some you may not have ever thought about doing while visiting one of the best national parks in Maryland!
One of the popular attractions located in the park is the Dentzel Carousel! This carousel gives you a small glimpse into the history of woodcarving in the early 1900s, and even though it was restored in the 2000s, you can still catch a few pieces that are true to the original structure!
This park is also known to be popular for artists and performers, so there's frequently events going on, so you can catch a show or even a dance! This is even a great place to bring your kids to enjoy the great outdoors because there is a playground and picnic area for you to enjoy!
This Maryland Park will top your list!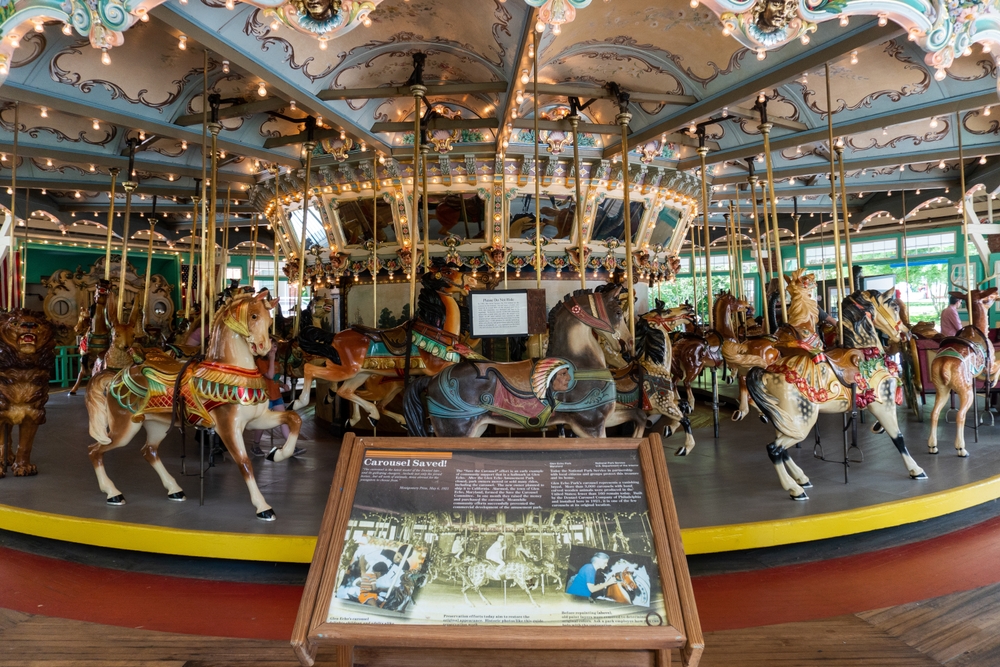 Greenbelt
There's one park that you can camp at and take a short day trip to the Washington Monument!
The Greenbelt Park is located in Maryland just 10 miles away from the Washington Monument and a ton of attractions you may want to see in Washington D.C! So while you will definitely be coming for the park, you can easily take a short detour to visit the Washington Monument or a couple of attractions from Washington D.C either on your way to the park, or on your way out of the park at the end of the your trip!
This park has over 100 campgrounds that can house you and your family for a nice relaxing trip in the peaceful surrounding nature area. There are also 9 miles of hiking trails that you can do, just make sure to bring your great hiking shoes!
You can also come for the day and enjoy a nice hike and then break out a meal at one of the three designated picnic areas!
This park is open sunrise to sunset all year around so there's no reason you can't make a trip out here!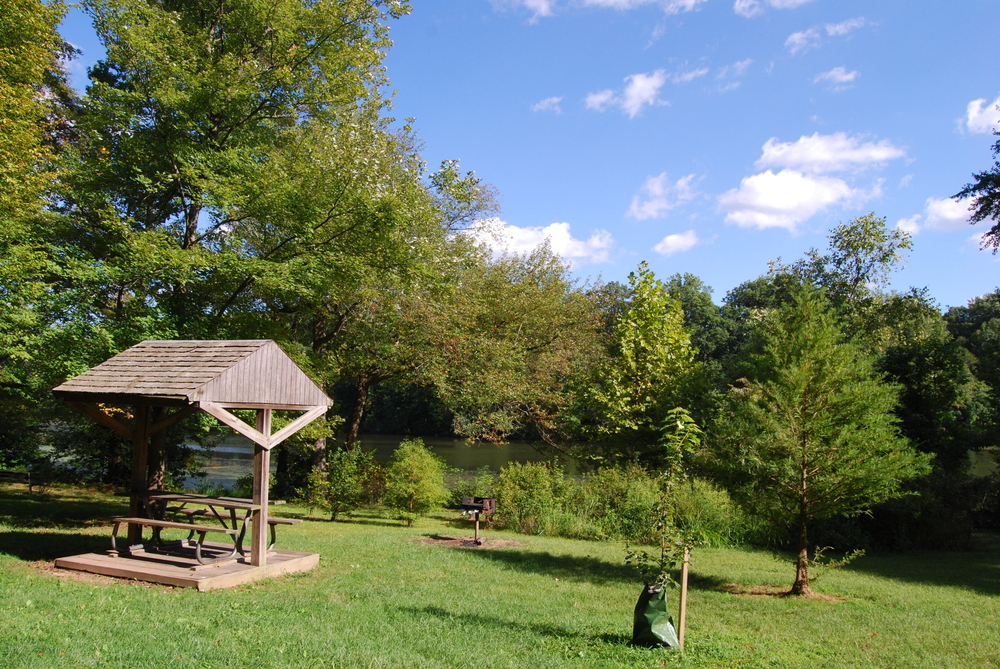 Piscataway
If you're an animal lover, you will absolutely want to check out this national park in Maryland!
Piscataway in an incredible place to enjoy watching nature and the animals that wander freely in the park. Here, you'll find bald eagles, and bears. You'll even find foxes and deer roaming around the park. It's important to always make sure you watch these animals safely and keep the area clean!
The National Park Services have also crafted fishing piers for visitors to use as a way to be even more engaging with the wild animals that live in the park.
There are numerous woodland areas and hiking trails that you can walk while you are visiting Piscataway. But you'll definitely need to see the National Colonial Farm!
This farm will show you a little of what agriculture was like in the 18th century and gives you a small glimpse into history that will last a lifetime!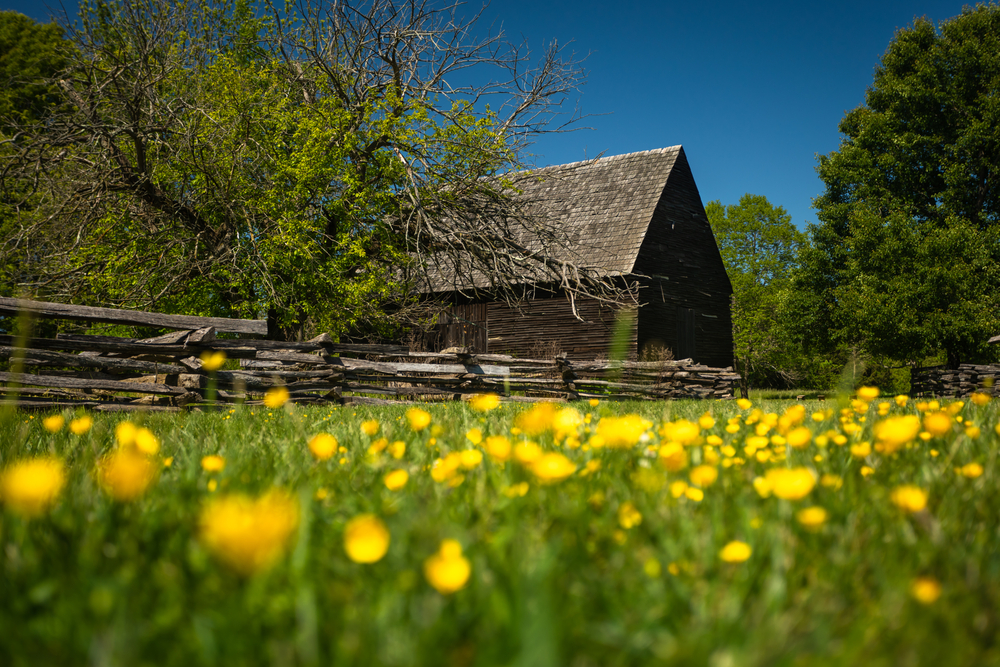 Antietam National Battlefield
American history lovers will especially want to see Antietam National Battlefield while visiting the best national parks in Maryland!
The battle that took place in September of 1862 began and ended at Antietam. This battle ultimately lead Abraham Lincoln to issue the Emancipation Proclamation, therefore shifting American history.
You can do a ton of different things while visiting this park. If you're short on time and just want a quick visit, then you'll want to explore the museum and gain whatever knowledge you can during your solo exploration.
If you have more time and aren't in any kind of rush, we recommend you take a guided tour with a park ranger and walk through the battlefields. This is a great way for you to experience history first hand!
This Maryland national park is a history lovers favorite!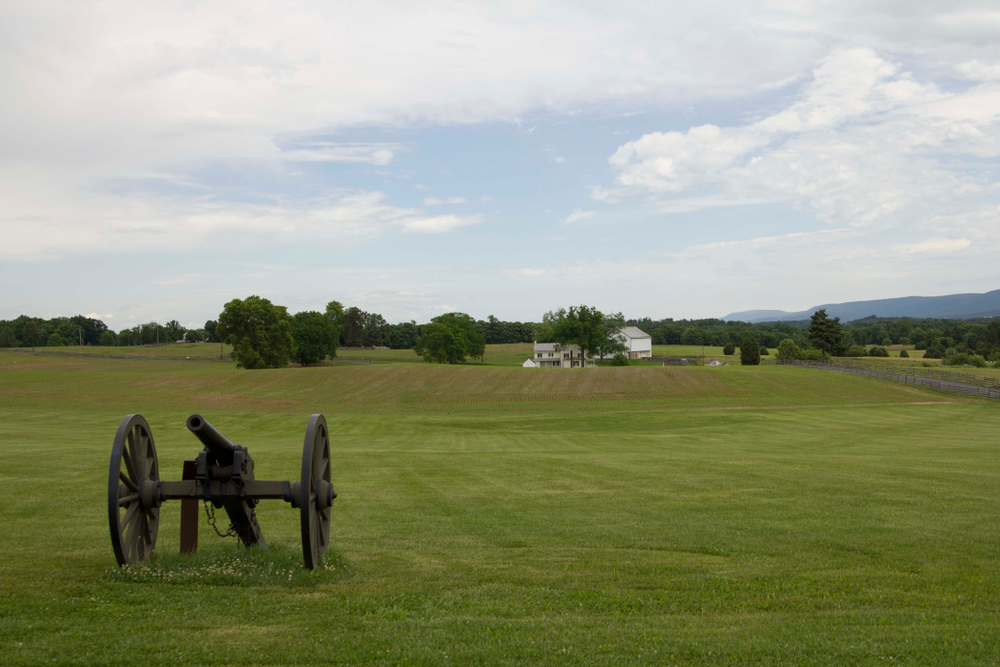 Catoctin Mountain Park
Located in the Blue Ridge Mountains, this is a great Maryland national park for camping or just being outside!
This park started as a symbol for regrowth after the Great Depression, and to this day is a perfect place to stop and look at how far we've come.
Hikers come from all over to enjoy the 25 miles of hiking trails at Catoctin Mountain Park. The difficulty for these hiking trails range from easy to very difficult so it's always important to know which level you want and make sure you are on the right trail.
Kids can come to the park and enjoy becoming a Junior Park Ranger, while families can come and enjoy camping under the stars!
During the winter season there can be some closures in the parks roadways due to weather, so stay up to date on any weather related issues before you go!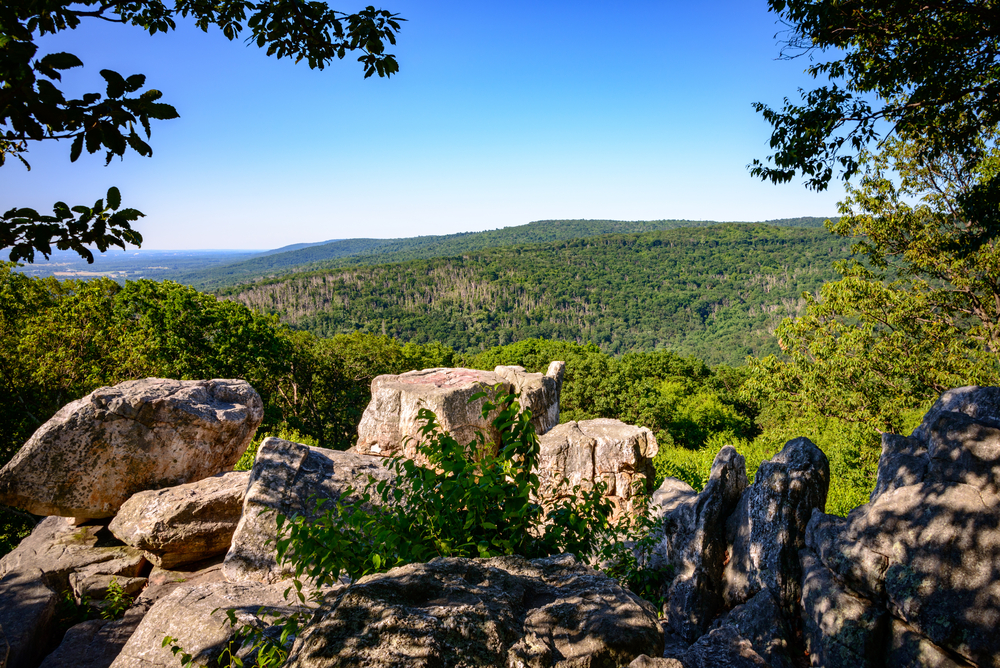 Hampton National Historic Site
The Hampton National Historic Site is the best place to take a view on the architecture of the late 1700s.
This home is known to tell a story of all the people that have lived in it including the famous Ridgely family, laborers, enslaved African Americans, and indentured servants.
The park is 63 acres and is listed by people from all over, often more than once! Even more than twice as the Park Services encourage people to come back often because there is so much to see at Hampton National Historic Site.
Nature comes to life here, which makes this one of the best on our list of Maryland national Parks! You can roam any of the over 60 acres of the park and explore the trees, or even the falling garden on the site.
There are also dozens of historic structures to helped make the Hampton house the historic marker it is today! Of course, if you aren't too in love with history, you can for sure come and enjoy the wildlife here. The birds are abundant!
The park recommends that you give yourself at least two hours to explore, but they encourage you to stay all day if you can!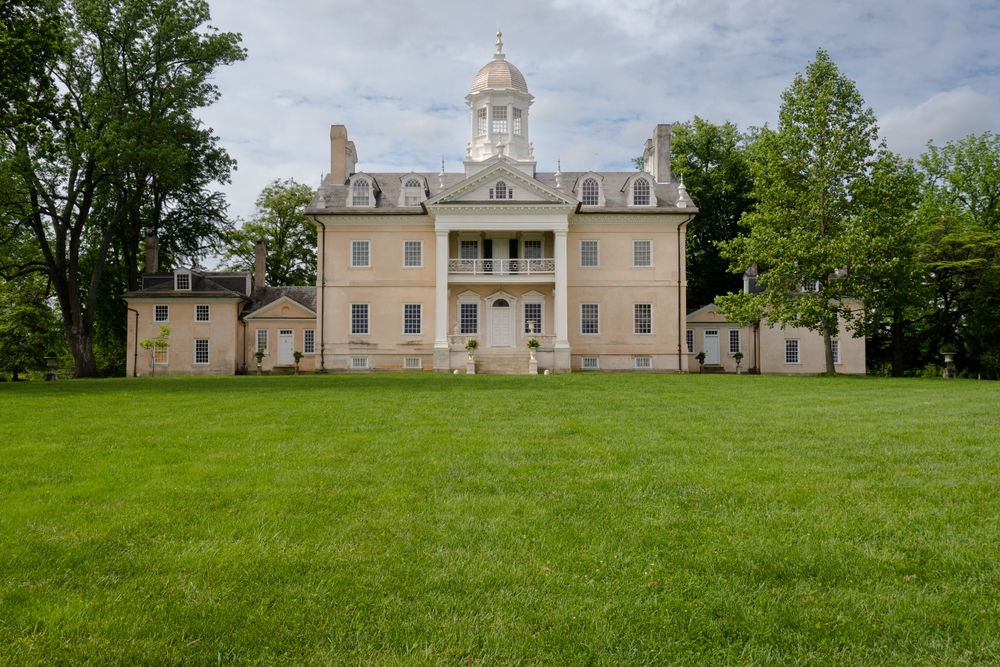 Potomac Historic National Scenic Trail
Potomac Historic National Scenic Trail is known for being a great place to pick your own adventure and enjoy because the park is full of history, nature, recreation, wildlife and basically a little something for everyone that visits!
Going through three states, this national park in Maryland offers a ton of recreational activities to get through the park!
One of the most popular ways to explore the park is by hiking. However, if you want to enjoy the hike and don't have a ton of time on your hands, you can also bike through the park! Biking is a great way to make your way through the park while letting the wind in your hair and getting some fresh air!
For the more adventurous kind, you can also kayak through the park! This is a great time to experience the Potomac River and take a new twist of exploring the Potomac Historic National Scenic Trail!
Depending on the time of year, the park also has events for kids! Some of these include becoming a Junior Park Ranger, or going through a scavenger hunt!
You won't want to miss out on this!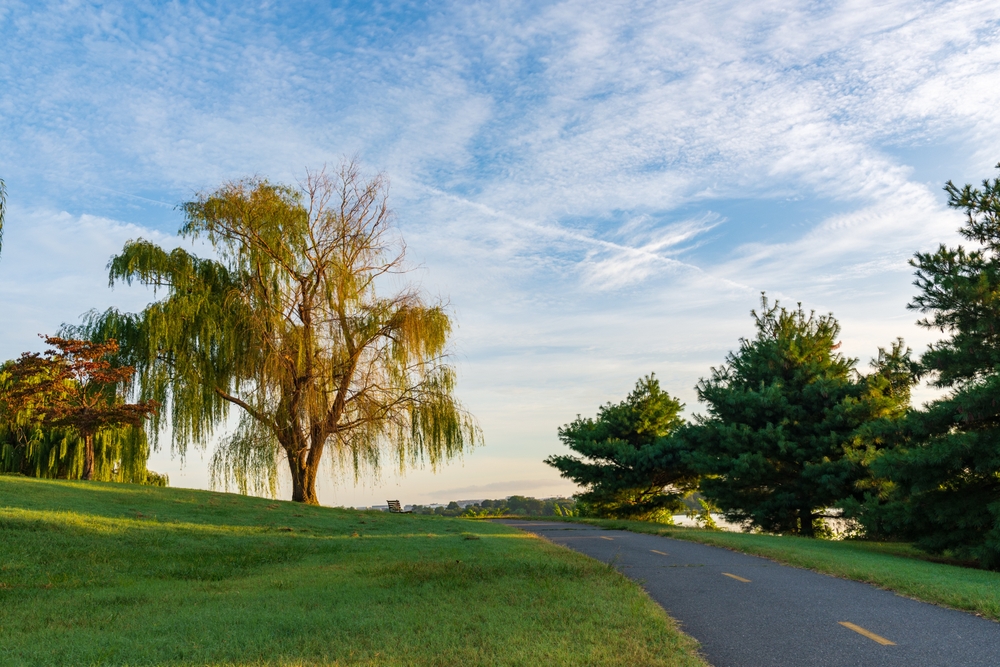 Fort Foote Park
Fort Foot helped protect Washington in 1863 during the war, and while owned by the National Parks Service now, still houses the two guns that protected Washington!
One of the coolest things about Fort Foote Park is that when you visit, you can visit and see the two cannons that were mounted into the ground in an effort to help protect Washington from invaders. How cool that you can touch a piece of history in this way!
The history surrounding Fort Foote make it one of the best national parks in Maryland! Fort Foote was constructed to defend the water front entrance into Washington. Without the creation of Fort Foote, the Confederacy was believed to have access to Washington. This park brought protection and incredible nature views of the Potomac River!
If you love history, visiting Fort Foote should definitely be on your list!
Monocacy National Battlefield
The battle that saved Washington D.C took place at Monocacy National Battlefield and makes this a history-buff's dream!
While here, you can hike the trails and look around during your solo tour, or you can take an Auto tour!
A self-guided Auto Tour takes you through 5 stops, all of which are key part of the Battle of Monocacy! The tour is about 6 miles round trip, and you can get all the information you need about the Auto Tour at the Visitors Center, including a map!
The park also holds numerous events throughout the year like Earth Day Cleanup to help with conservation efforts! Their calendar also has something going on, so it'd be a great thing to checkout before you make your way to the park!
This is a great place to explore a little bit of history!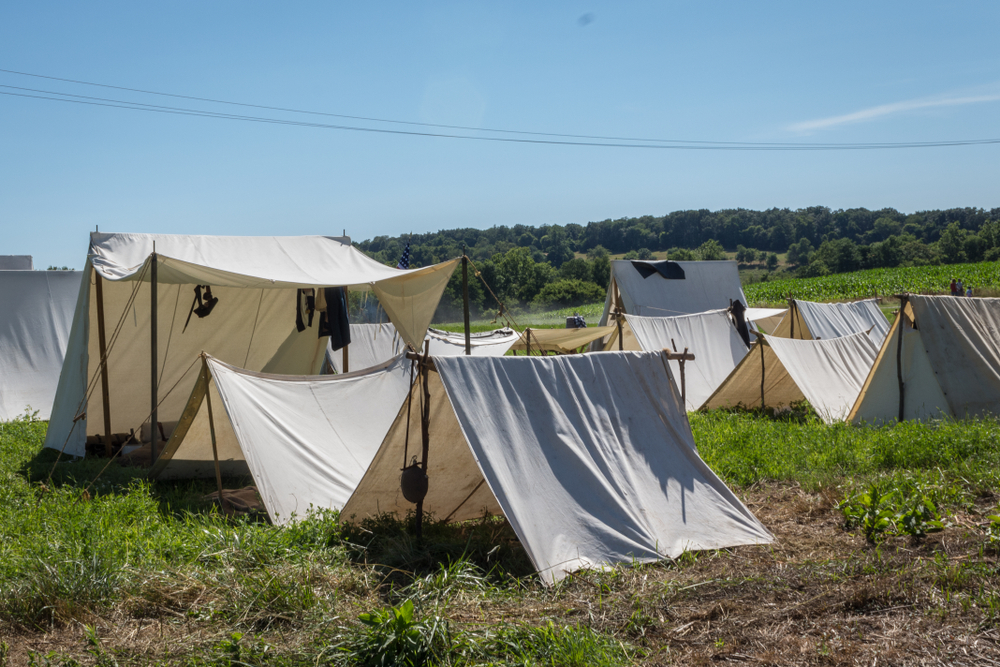 There's nothing better than getting outside and that way we crafted a list of the best national parks in Maryland for you to visit!
Whether you want to get out and hike or bike, or maybe you want to get a stellar camping trip organized, each of these parks brings something unique for your adventure!
Even more, some of these parks bring more history than you may ever learn in school! For history lovers, some of these parks are a once in a lifetime chance to experience history hands on.
We know you'll find something to love at each of the national parks in Maryland!