Welcome to Christmas in Maryland, where the festivities are as warm as the crab cakes and the atmosphere is as bright as the twinkling lights! Maryland offers a memorable and merry experience during the season. From the busy streets of Baltimore to the small towns on the Eastern Shore, everyone shows out and puts on their best displays.
After the leaves turn and the air gets crisp you will see the Old Line State come to life with Christmas spirit. Grab your favorite ugly Christmas sweater and get ready to celebrate everything that Maryland in winter has to offer.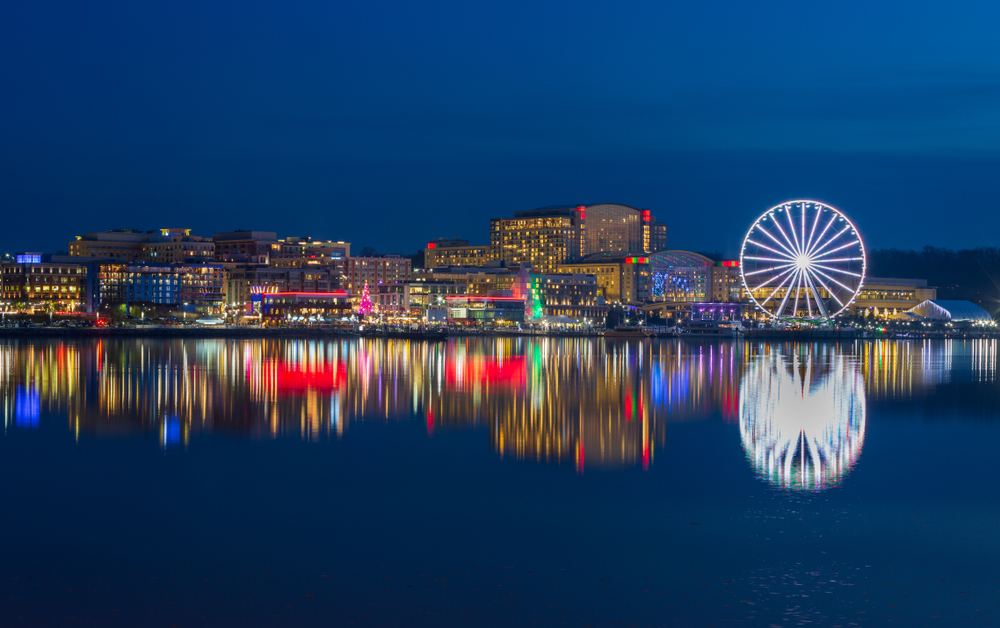 Is Christmas a Good Time to Visit Maryland?
Yes! From my experience, Christmas in Maryland is always epic and is one the best times to see MD. There are all types of events to enjoy. From holiday-themed train rides to town square tree lightings, there will always be something to do when you are visiting Maryland in winter.
Maryland Weather In December
Maryland in December has an average temperature of the mid-30s to low 50s depending on what part of the state you are in. You can almost always expect snow in the western and northern regions during the winter. The coastal areas and Maryland's eastern shore are always a tad bit warmer and receive much less snowfall if any during the winter.
Does it snow in Maryland at Christmas?
Yes! It does snow during the winter in Maryland, but it depends on what part of the state you are in. If you wanted to see snow it is best to head up to Garret County and parts of Allegany County and stay away from the coastal towns.
As always the weather is unpredictable during Christmas in Maryland, but the average amount of snow on Christmas day is about half an inch! The most ever recorded was Christmas Day 1909 when it snowed almost 10 feet!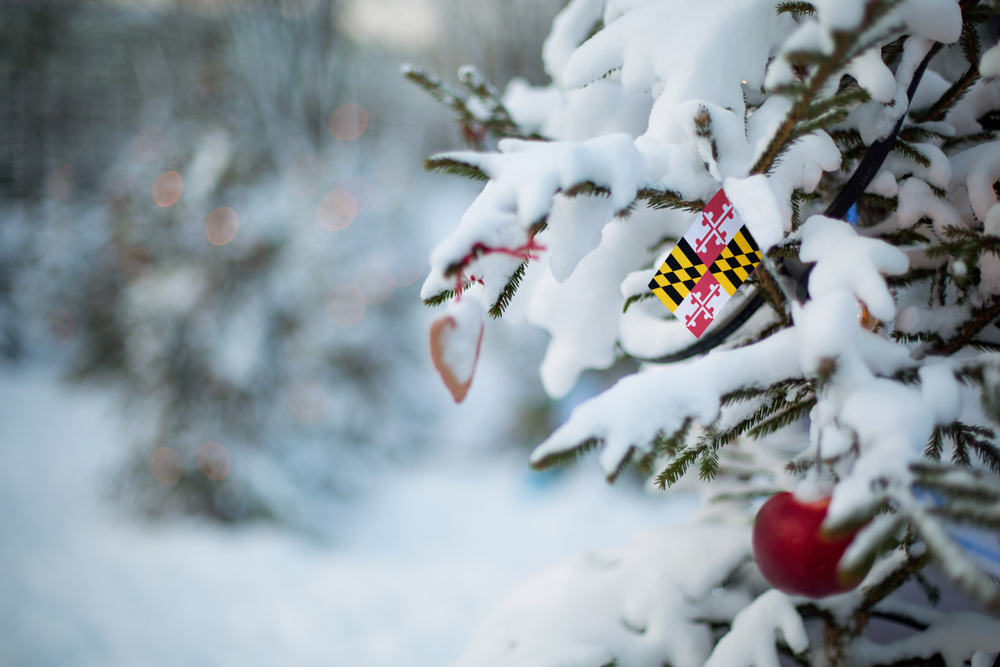 Best Christmas Things To Do In Maryland DC
Visit the Christmas Market in Baltimore
Every year the city of Baltimore puts on the cutest Maryland Christmas market. It is located in the inner harbor area of the city and is modeled after the traditional German Christmas markets in Europe. There are carnival rides, beer tastings, and so many cute Christmas gifts to be bought.
You can stroll through the many vendors lined up selling handmade crafts and Christmas treats. There is also live music and food stands so you can plan to spend the entire day enjoying Christmas in Maryland. Enjoy a night ride on the carousel and see the beautiful lights from above.
Visit the Christmas markets in Baltimore from November 18 to Christmas Eve. They are closed a few other days so be sure to check their website before planning your trip.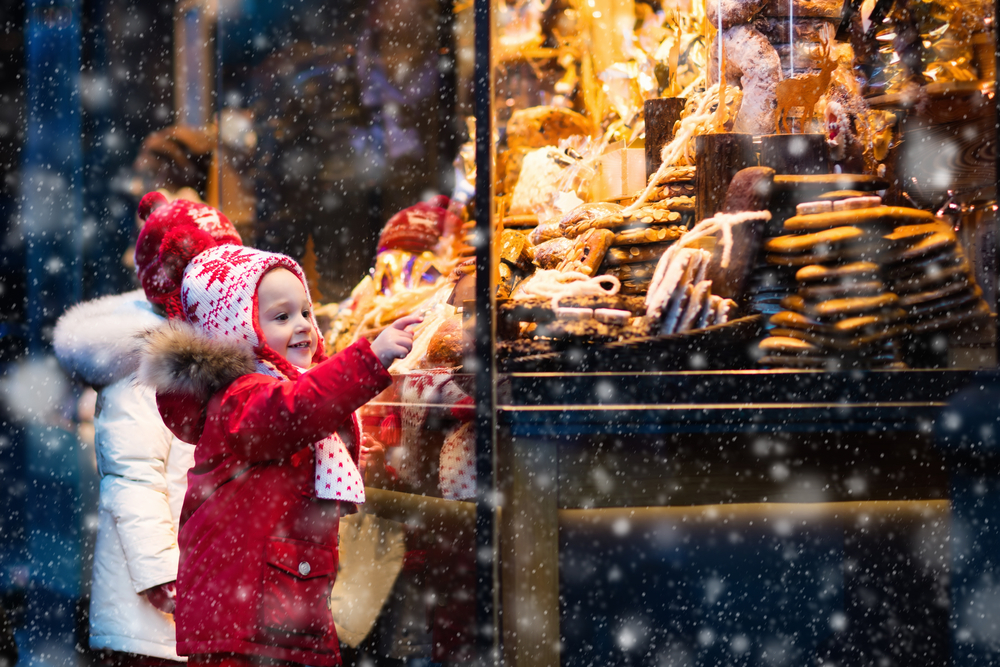 Festival of Lights Drive Through at Watkins Regional Park Upper Marlboro
One of the best Christmas events in Maryland is the Festival of the Lights at Watkins Regional Park. Drive at your own pace through over 2 million twinkling lights. You will see your favorite festival characters lit up as you slowly pass through.
When you are done with the driving section, you can park your car and enjoy the other events going on. Every year it seems to get bigger and bigger with live shows, and visits from Santa himself. You can also sign up for one of the many workshops and crafts going on for children and adults!
The Festival of Lights Drive-Through is one of the most popular ways to celebrate Christmas in Maryland and is open from Thanksgiving weekend to January 1!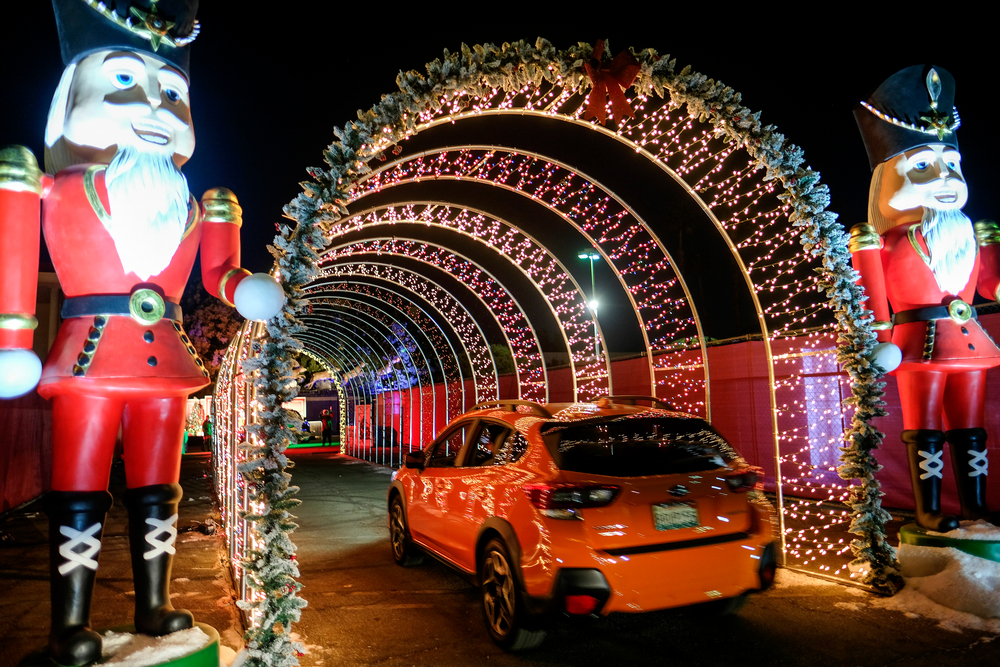 Drive through the Symphony of Lights in Columbia
If you are looking for Christmas lights in Maryland you just have to see the Symphony of Lights in Columbia MD. every year this popular light display gets bigger and bigger. It is located inside Merriweather Park at Symphony Woods.
This is a drive-through display that is connected to your radio. Meaning, as you drive you will your radio will be perfectly linked up to the movements of the lights. The Symphony of Lights always opens from late November to Early January and is always free to enter.
If you are visiting on the weekend they are known to bring out all the stops including, food trucks, bands playing Christmas music, and special appearances from your favorite Christmas characters.
Lighting Of the Washington Monument in Baltimore
One of the best ways to bring in the Christmas in Maryland season is to attend the lighting of the Washington Monument in Baltimore in the historic Mount Vernon neighborhood. This festive event always marks the start of the holiday season in MD. The lighting of the monument dates back to 1971 and is one of Balitmore's oldest Christmas traditions.
The date always varies but you can count on it being in early December and is usually held right at dusk. The event is always free to enter, and you will find vendors selling hot drinks and snacks. If you want a good spot in front it is always a good idea to arrive early and dress warmly.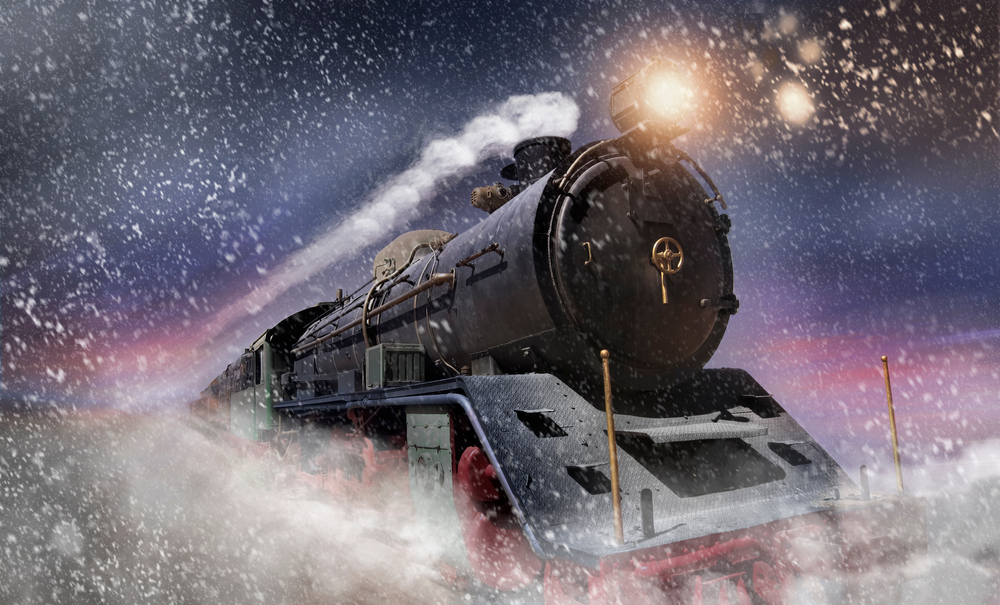 Ride the Polar Express in Cumberland
The town of Cumberland MD has a special Polar Express train ride. They pull out all the stops and can recreate the magic of this beloved children's book. Come dressed in your Christmas outfits or PJs and get ready for the epic storytelling and sing-alongs on your ride to the North Pole.
Santa makes his way around to greet all of his passengers and welcomes them aboard. Children can bring their letters to Santa, and may even receive a small gift if they have been good this year.
Check out the Maryland Scenic Railroad website to book your tickets and enjoy one of the best Christmas things to do in Maryland!
Attend the Festival of Trees in Timonium
Another way to celebrate Christmas in Maryland is to go and check out the Festival of Trees in Timonium. Every year at the Maryland State Fairgrounds local business gather to show off who has the best decorating skills. This event typically takes place in late November or in early December and is a 3-day, long weekend, event.
There is a small entrance fee, but all the proceeds go to the Kenney Krieger Institute. Anyone is welcome to sign up and decorate a tree, or you can purchase one already trimmed with all the toppings and ready to go. This is a wonderful way to get into the holiday spirit and give back to the community while seeing beautiful Christmas trees in Baltimore.
Holiday Concert at Kennedy Center in DC
It wouldn't be Christmas time in Maryland without seeing a show at the Kennedy Center for the Performing Arts in DC. You can start getting into the season starting in November with a variety of holiday concerts and performances. Mark, your calendar for classic shows, jazz performances, choral concerts, and other Christmas shows.
You can check the specific dates and purchase tickets through the official website, or at the box office when you arrive. The dress code at the Kennedy Center is formal so dress to impress! This would be such a lovely way to spend Christmas in DC!
Horse-drawn Carriage through downtown Annapolis
There is nothing better than riding in a horse-drawn carriage in Annapolis Maryland during Christmas. Your ride will take you through the cobblestoned streets in the downtown area to see the historic buildings decorated with lights. All while snuggled in a comfy carriage with blankets and a hot drink in hand.
Your driver will navigate the busy streets while filling you in on a bit of history and Christmas in Maryland traditions. There are a few different carriages to rent, and you can book one beforehand online. This is one of the best things to do to get into the Christmas spirit.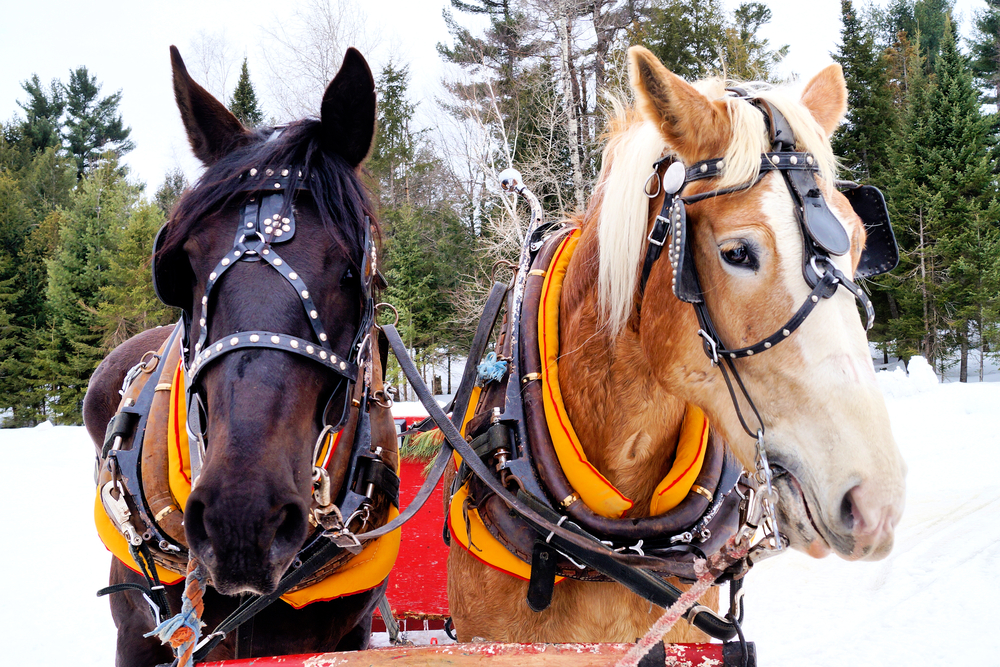 Christmas Wonderland At the Adventure Park
There is so much to love about Adventure Park in Monrovia Maryland. There are over 75 arcade games, bowling lanes, a race track, rollercoasters, and mini golf, just to name a few. And during Christmas in Maryland, the adventure park turns into a winter wonderland.
You can still enjoy the perks of the park during this time with a dazzling array of lights and festive decorations everywhere. The first weekend in December you can attend a breakfast with Santa himself, if you cannot make breakfast, he does stop by occasionally throughout the month.
There are also craft beer stands, and a smokehouse to order from. And during the Christmas Wonderland events, you can order hot drinks to warm you up. There are rides and entertainment for people of all ages, and it is always a good idea to purchase a ticket online before arriving.
Ice at Gaylord National Harbor
There is nothing quite like the Ice display at the National Gaylord in the Harbor. You can walk through over two million pounds of ice carved into whimsical Christmas creatures. The most popular display is the Christmas Story life-size carvings.
There is also a big ice skating rink, big ice slides to play on, and snow tubing! If you are staying for a few nights you can also catch one of the Christmas plays and light shows in the harbor. Dress warm as the temperature must stay below freezing to maintain the quality of the beautiful ice displays.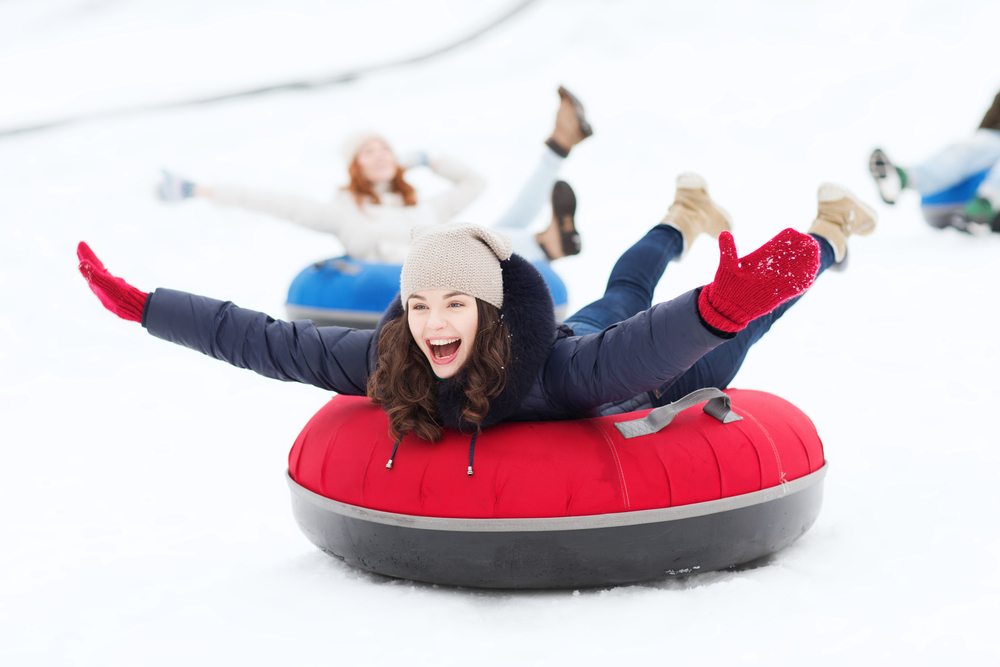 Yule Log Ceremony at the Carroll County Farm
Lighting a Yule Log is one of the oldest traditions in Maryland At Christmas. The Carrol Farm is a working farm that showcases rural life back in the 19th century and is the perfect location for a yule log lighting. Every year the ceremony starts with a big bone fire and everyone gathers around in anticipation of the lighting.
A special yule log is chosen every year and decorated to the nines with ribbons, bows, and Christmas paper. Then once it is lit and added the bone fire is when the party starts. Locals and tourists alike join in on fun Christmas caroling, drinking hot cocoa, and making Christmas crafts.
The exact date of the Yule Log Ceremony changes every year, but it is always on a Saturday. Check out the Carrol County Farm Museum website for further information on how to celebrate lighting the Yule Log in Westminster MD.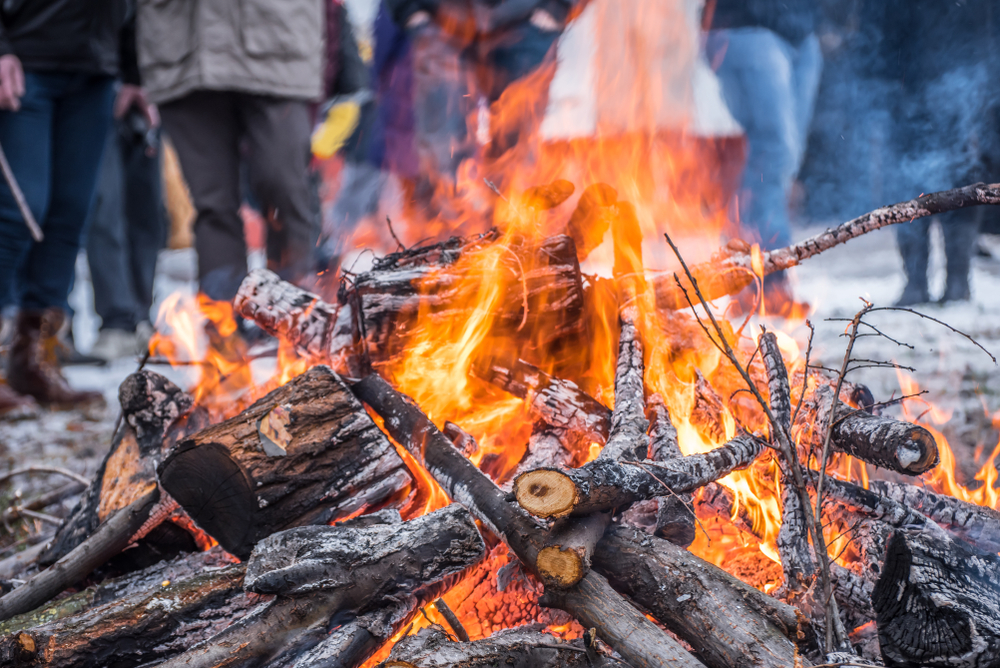 Walk through Miracle on 34th Street
If you are visiting December in Maryland you have to head to the Hampden neighborhood of Baltimore. On 34th Street all of the houses volunteer to decorate their houses with the most extravagant light displays to create a beautiful winter wonderland. The decoration varies from house to house and each year seems to be bigger and brighter than the last.
It is always free to explore, and there you can drive or walk through the homes. Most people decide to park and take their time walking about. There is no real-time that this festive event happens, it is all up to the residents of the town. Be sure to check in on their Facebook page before making plans to head out to the Mircale on 34th ST.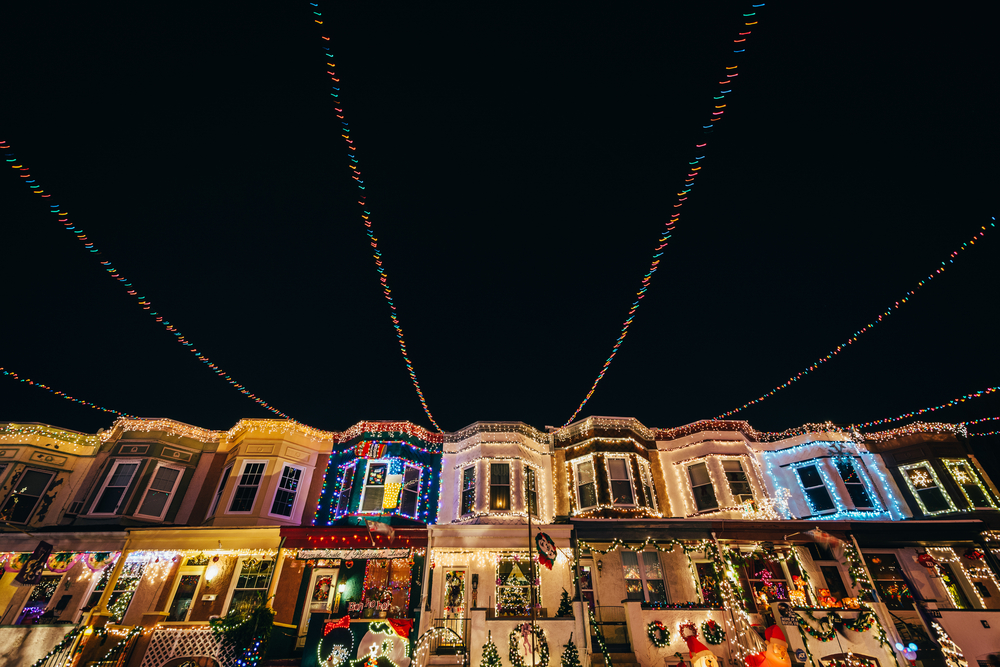 Visit the North Pole on The Walkersville Southern Railroad
Did you know you can go and celebrate your Maryland Christmas at the North Pole? No, not that North Pole, but the one magical one that the Walkersville Railroad has put together. To reach the north pole you will board a special train decked with lights, bells, and trimmings.
Guests of all ages come dressed in their best Christmas jammies in anticipation of meeting old Saint Nick. Along the ride, the conductors will sing all the best Christmas songs, play games, and tell Christmas tales.
The train ride is magical and takes you through the beautiful Maryland countryside. You have to make your reservation in advance, and it is a very popular event. Be sure to check the Walkersville Southern Railroad website to grab you and your family a seat on board.
Tree Lighting of the Christmas Tree in Annapolis
Christmas in Maryland doesn't start until the annual tree lighting illumination in Annapolis. Every year on the Sunday after Thanksgiving a huge evergreen tree in the Market House square is trimmed and lit in front of a large crowd.
The celebration begins at 4 pm with dancing and singing put on by the local community. The tree is lit right at dusk and then the real party starts. Local vendors are selling handmade gifts, warm drinks to enjoy, and plenty of places to grab a snack. This is a great way to start your Christmas shopping and get in the holiday spirit.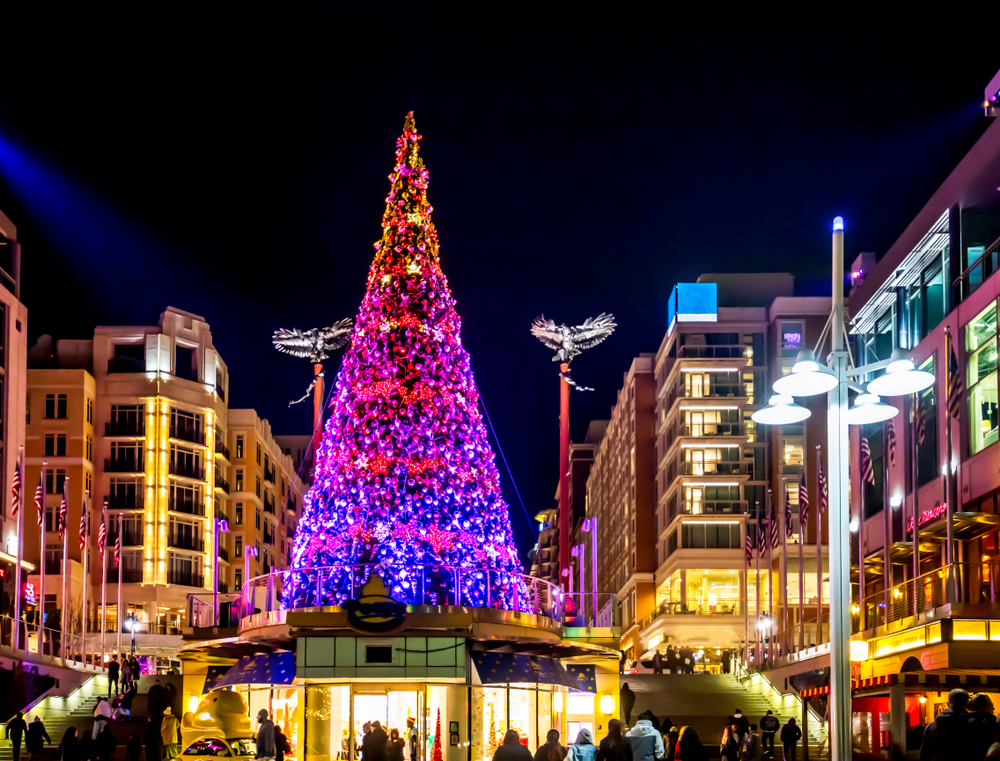 Christmas St. Micheals Event on Maryland Eastern Shore
The Eastern Shore may not seem like the best place to celebrate Christmas in MD, but you would be surprised how much is going on. Some of the festive ways to celebrate is visiting the Holiday House, this is a self-guided tour that allows visitors to explore St. Micheals's most beautiful homes in the area.
Another hot spot is the Gingerbread House Display. Many of the local businesses and a few residents compete to complete the most festive gingerbread house in town. And the biggest event in St. Micheals is the annual Christmas Parade and marketplace.
There are marching bands, Christmas floats, and a special guest at the end of the parade. You are going to love heading to St. Micheals MD during Christmas time.
Annapolis Christmas Lights Boat Parade
Up next is one of the best Christmas activities in Maryland a boat parade along the Chesapeake Bay? Every December local boat captains and residents decorate their boats with lights, characters, and fun scenes and do a parade down the water.
Every year the Eastport Yacht Club is on the second Saturday in December has started at 6 pm. The Parade always hosts a competitive contest and the participants go all out trying to win the yearly bragging rights.
Grab s eat along the Annapolis Harbor or the Spa Creek Waterfront. You can also watch from the Eastport Bridge, Naval Academy, or book a seat along the Catherine Marie for a champagne toast and dessert. Dress warmly and bring a camera, this is one of the best ways to celebrate Christmas in Maryland.