Are you planning a trip and need to find all the best beaches in Virginia Beach? You are in the right place because here you are going to find 10 of the best spots to soak up some rays. VB is full of so many different places to enjoy the sand between your toes. One of the best things about the beaches in Virginia Beach is that they are all sandy beaches with large shores.
Did you know that Virginia Beach beaches hold a spot in the book of Guinness world records for having the largest strip of pleasure beach? This is a good thing because in the summer it can get pretty crowded. But since it is so large you can always find a good spot for your friends and family to hang out.
Get ready to have the time of your life exploring all of these beautiful beaches while visiting. It is best to try and head on early to get a good parking spot or you could always uber, walk, or even ride your bike to check them out. Now, let's dive into this list of beaches in Virginia Beach.
If you are planning to visit, check out our list of the Best Oceanfront Hotels In Virginia Beach!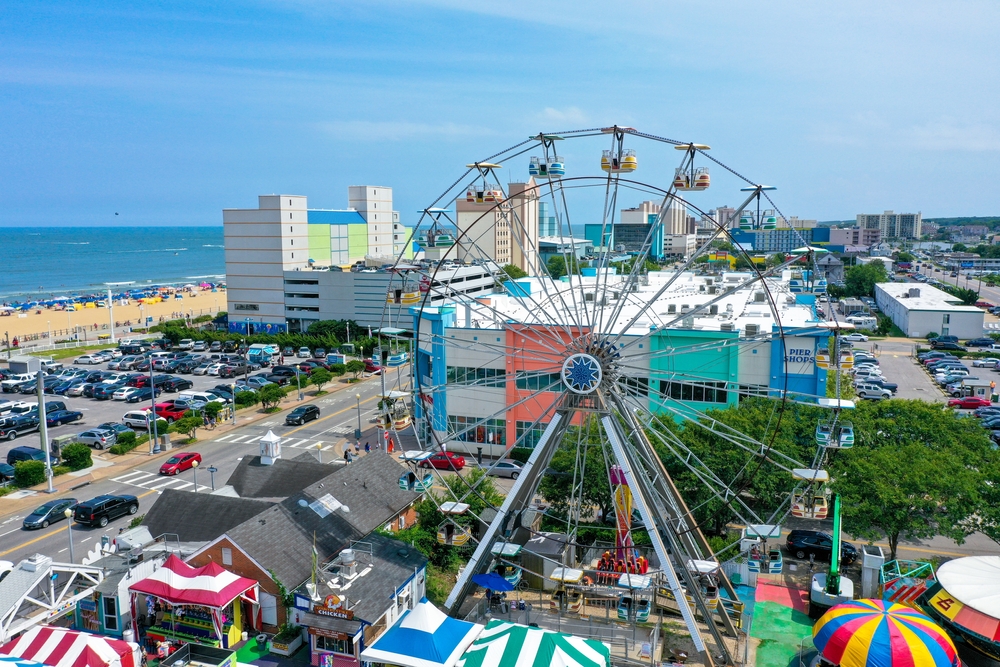 Does Virginia Beach Have Clear Water?
The water in Virginia Beach is not as clear as it is in the Caribbean, but it is not dirty. It has a bit of a greenish-gray tint because of a few different reasons. One of the main reasons why is because of sediments in the water. It is clean and safe to swim in and the city tests it often to make sure.
If you grab yourself a pair of goggles or a snorkeling mask you are still able to see through the water and you may even spot a few fish or crabs swimming about. So even though the water may not appear to be clear, you can definitely still see through it when you are swimming.
What is the Best Beach to go to Virginia Beach?
There are so many great beaches in Virginia Beach that the best one all depends on what type of day you are looking to have. If you want to ride the waves you will want to head out to Sandbridge or the Oceanfront. These two beaches in Virginia Beach have the biggest waves and plenty of space to relax.
But if you wanted a chill beach day with no waves then Chick's Beach would be the best Beach in Virginia Beach for you. Chicks is also a very popular beach for children because they can swim in the ocean without worrying about riptides.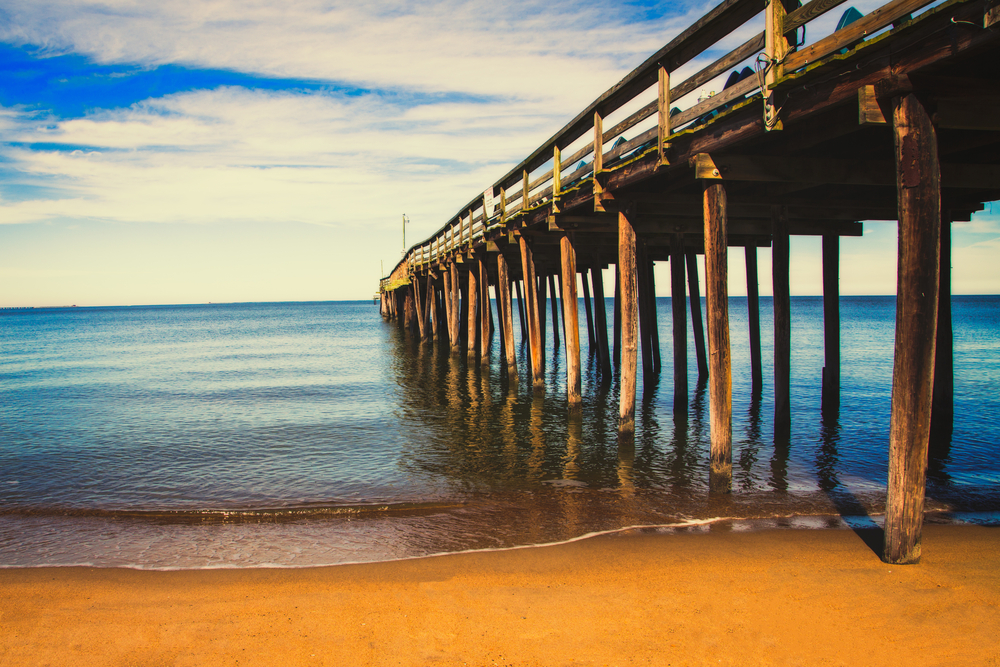 Best Beaches in Virginia Beach
The Oceanfront
First up is one of the best vacation beaches in Virginia Beach, known as the Oceanfront. This is where you will find the most hotels, restaurants, bars, souvenir shops, coffee shops, boutique clothing stores, and pretty much anything else you could think of. If you are looking to come into town and have an easy breezy time you need to hit the Oceanfront Beach.
If you find yourself a hotel here you will be able to walk from the comfort of your room right to the beach. Most hotels will provide you with beach towels and rooms with a view. If you stay in a more luxurious one they will have loungers out on the beach as well. Unlike most vacation places the beach spots in Virginia beach are always free. There are also always lifeguards here during the summer season to help keep you safe.
If you are not staying at the Oceanfront you can find a big parking garage on 9th street, street parking with meters, and a lot on 5th street in the jetty. It is best to try and get early so you find a good place to park and hang on the beach. You are going to love everything at the Oceanfront is one of the most popular beaches of Virginia Beach.
Chicks Beach
Next up is the local's favorite out of all of the Virginia Beach beaches. Chicks beach is also called Chesapeake Beach but over the years it has been shortened. This is the perfect beach for children and relaxing all day. This is because it is the bay side of the water and there are no waves. You will find big sandy shores and super cute beach houses.
There is only one hotel it is near the north side of the beach by the Lesner Bridge. You are welcome to go grab lunch or a drink here at the restaurant if is it open to the public. Or you can grab lunch at one of the few local restaurants on the sand. Most people just bring a cooler full of snacks and drinks here and set up for the day.
There is free parking in the neighborhoods. It is best to try and show up to Chicks Beach early but it does get busy. Many people ride their bikes or take a ride-sharing app so they do not have to worry about parking. You are going to love the laid-back vibe here it is one of the best Virginia Beach beaches.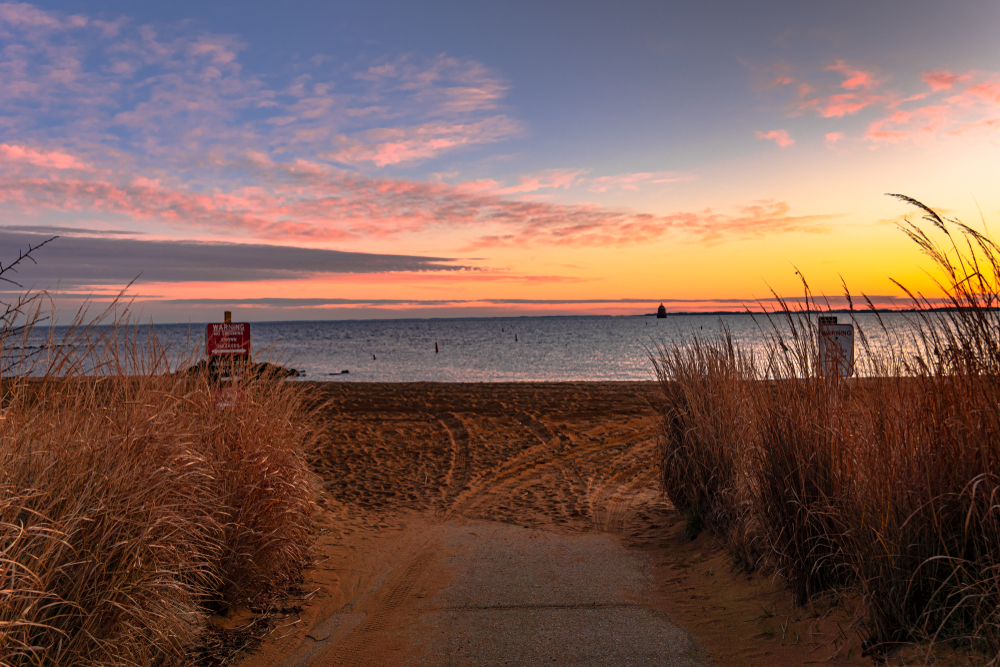 Sandbridge Beach
Sandbridge Beach has everything you could ever want and is one of the best vacation beaches in Virginia Beach. There are no hotels here so you will have to rent yourself a beach house. They are easy to find on vrbo, Airbnb, or even through local agencies. But don't worry you can still visit if you are not staying at Sandbridge because all of the beaches in Virginia Beach are free and open to the public.
There is a small parking lot where you can find parking, a small grocery store, and a small crab shack. You can also try and find parking on the street but be sure to get there early or be prepared to wait for a spot. This is also one of the most popular places for surfers and families alike because of the big waves and lifeguards on duty.
There are free public bathrooms and a few spots to grab lunch. But other than that this is a big beautiful beach neighborhood with nothing around but the Atlantic Ocean. There is one road in and one road out so it feels like you are on an island vacation. Be sure to put Sandbridge high up on your list of beaches in Virginia Beach.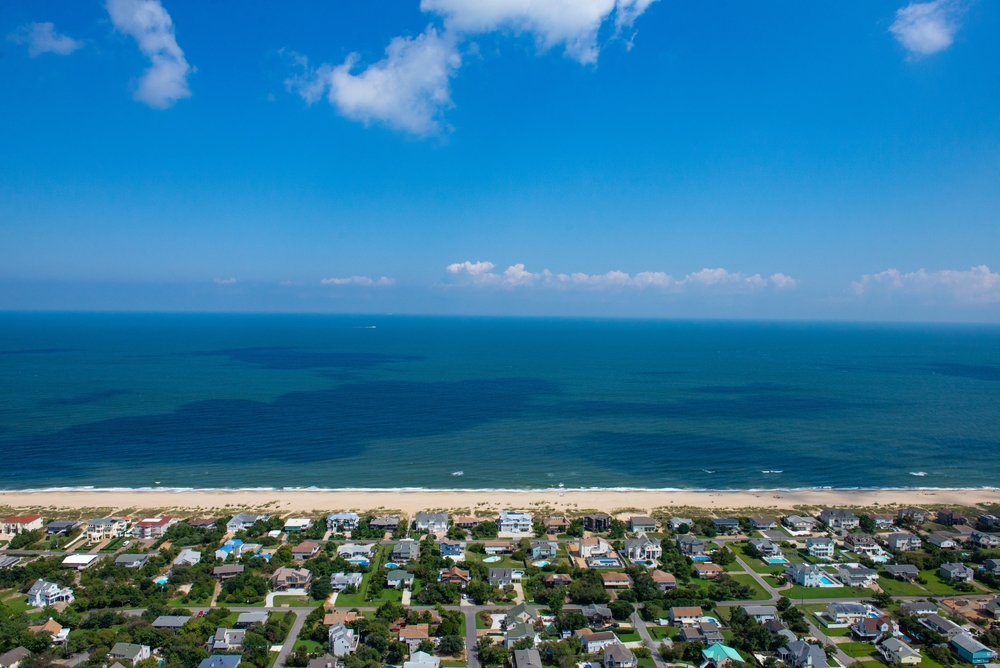 Little Island
Once you check out Sandbridge head down the road a bit and go to Little Island. It is known as the best beach in Virginia Beach for families. Here you will find a big pier out on the water with a few shops on it. But it is mainly used for fishing puppy drums, flounder, and trout. Surfers and bodyboarders love to hit the waves here too. There are shops along the way where you can rent boards or even sign up for lessons.
There are also two huge parking lots ensuring you will always find a place. If you are traveling with children here they will have not only the sand and water to keep them occupied but there is also a brand new playground.
There is a covered area with picnic tables and BBQ grills to use. If you are coming to town for a celebration like a birthday or big party you can rent these areas all day and set up decorations. There are showers and bathrooms here too so you will be comfortable the whole time while at one of the family beaches in Virginia Beach.
First Landing
First Landing is one of the beach beaches in Virginia Beach and it has so much to offer. Not only is it a campsite, walking and biking path, it also has a big and beautiful sandy shore. There are a few different spots where you can relax but the main one is right off the campground. If you wanted to reserve a spot at the campsite you can do it online before your trip.
They have tents, RV spots with full hookups, and yurts for you to stay in. They also allow day passes for a small fee if you just wanted to come for the day. Be sure to get there early because the lot does get full on the weekends.
This is another one of the great beaches in Virginia Beach because they let you bring your dogs all year long, as long as they are on a leash. There are no waves here because it is on the Chesapeake Bay so it is a great place to relax and swim in the ocean.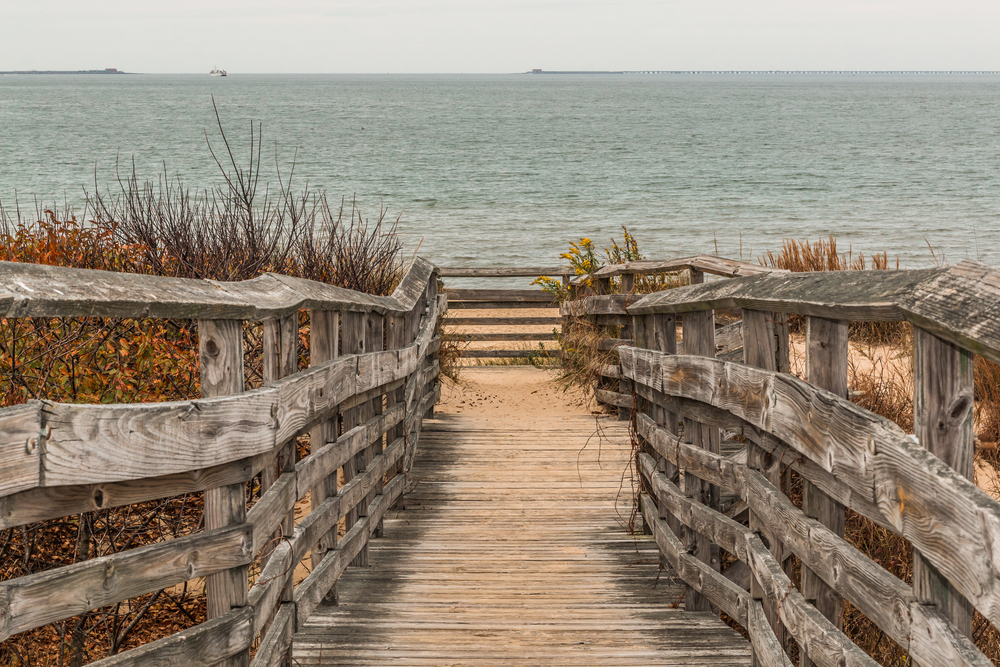 East Beach
East Beach is one of the prettiest beaches near VB. It is technically in Norfolk but it is not too far of a drive. Here you will find a long strip of sand and big beautiful beach houses. During low tide, you can walk out onto the water for ages and it will never get passed your knees. This is one of the best beaches to visit to avoid crowds because it is usually just the local home out relaxing here.
Find parking throughout the neighborhood it is always free. If this is not working there is parking around 13th bay street across the street from Cova Brewing Company. Which is also a great place to stop in for after-beach snacks and drinks. If you walk down the beach you will see rocks in the water and a big jetty.
On the other side of the jetty is the Naval Base and there are always big boats and jets doing drills it is amazing to watch from the comfort of your beach chair. This is also one of the best beaches around Virginia beach for fishing. But be sure to get yourself a fishing license so you do not get a ticket.
Don't forget to check out some of our favorite restaurants in Norfolk from seafood to brunch!
Croatan Beach
Croatan Beach is where you will find the party all year long. This is a surf spot where the younger crowds like to hang out. It is near the oceanfront but you would never know it was there because it is tucked back into a neighborhood. But just like all the other beaches near VB, it is open to the public. There is a big parking lot here so you do not have to worry about what time you head out here.
This is a popular surf, body boarding, and skimming spot. There are lifeguards and bathrooms here too so it is perfect for families. If you book a surfing lesson at one of the many surf shops this is most likely where you will end up. You won't find any place here to buy refreshments except for maybe a few vending machines so pack accordingly.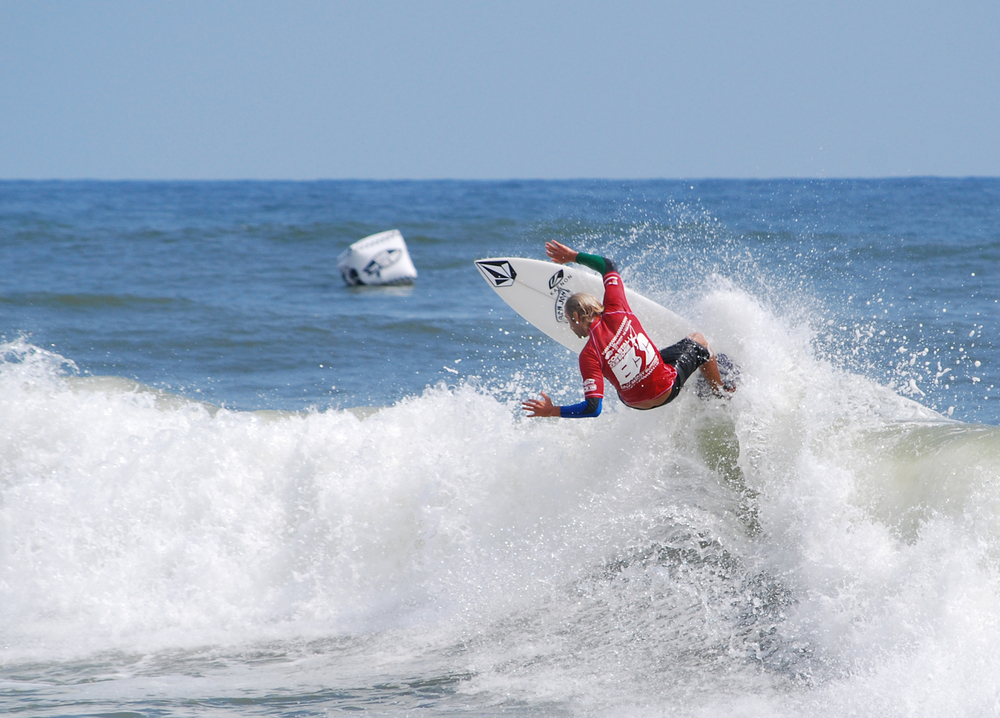 North End
North End is a popular beach spot in Virginia Beach. It gets its name because it is on the North end of the Oceanfront where the hotels stop and there are only houses. It starts where the boardwalk ends. This is a great spot to enjoy the waves of the oceanfront without the crowds. Here there are no lifeguards, restaurants, or businesses.
It is peaceful and quiet most of the time and the perfect place to relax at one of the best beach spots in Virginia Beach. You can find parking anywhere on the streets just be sure to not park in front of anyone's driveway. Before you head out pack up a cooler with snacks and drinks because you will never want to leave one of the nicest beaches in Virginia Beach.
Willoughby Beach
Willoughby Beach is one of the best beaches around Virginia Beach. Here you will find a long strip of sandy beach waiting for you to come enjoy. You can see this beach from the Hampton Road Bridge Tunnel but it is never very crowded.
People love watching the sunset here after spending the day on the water. You will find a few local spots nearby for food and drinks. It is also one of the best beaches near Virginia beach for fishing from the shore.
While you are in the area, don't forget to check out all of the best things to do in Hampton!
False Cape State Park
This next beach in Virginia Beach is for the adventurous souls out there. It is a state park that is between Back Bay and the Atlantic Ocean. You have to park your car and walk to the beach along the 6-mile path. You are allowed to pitch a tent along the way but you must let them know beforehand. There is also a tram that will take along the trail and it is the only motorized vehicle allowed passed the gate.
Once you reach the water you will be enriched by the unspoiled land and be able to take in a fresh breath and enjoy the stunning sites. Visiting False cape is always a good idea. It is without a doubt one of the most beautiful beaches in Virginia Beach.