Are you ready to see all of the best things to do in Hampton, Virginia? Well, you have come to the right place!! Here you will learn about all the best places in Hampton to visit. Hampton is a beautiful and historic city. It is a part of the 7 cities that make up the southeastern section of VA known as Hampton Roads. You can spend your days hanging out on the Chesapeake Bay or head Downtown for a fun-filled night.
There are also plenty of educational places where you can learn the history of Hampton VA. It was first established back in 1610 and has been an important part of Virginia since then. It borders the popular cities of Norfolk and Virginia Beach as well so you could knock out all three while you are in town!!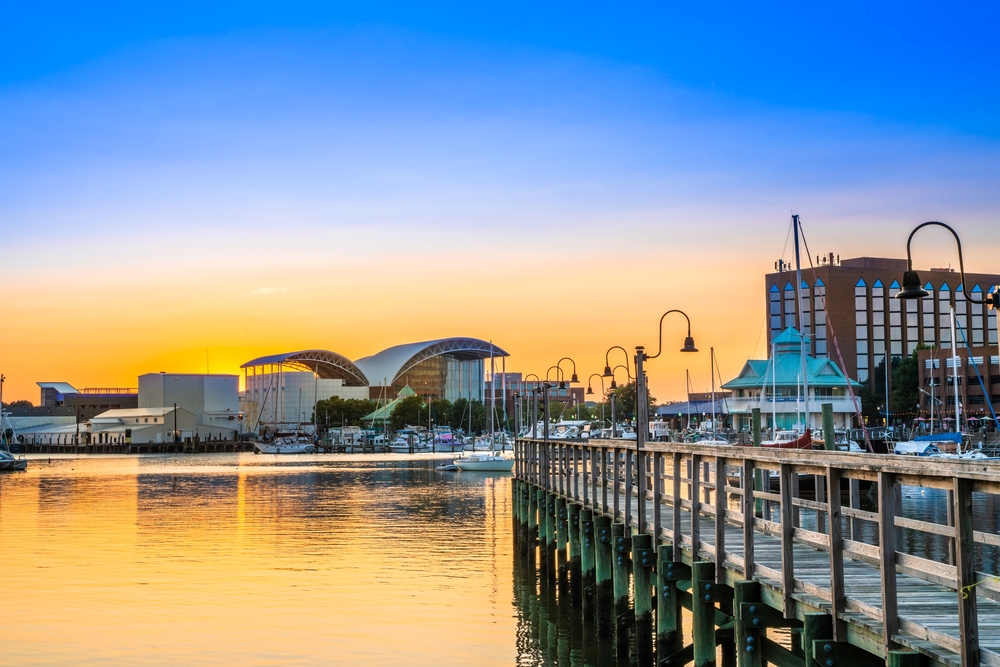 The 14 Best Things to do in Hampton VA You Shouldn't Miss
Virginia Air and Space Science Center
Visiting the VA Air and Space Science Center is one of the best things to do in Hampton with kids, and it is very educational. It also serves as NASA Langley Visiting Center. Be sure to stop by the Adventures in Flight exhibit. You can learn about America's last 100 years in space. You can also try flying your own spaceship at one of the many interactive exhibits that they offer.
Check out the movie times at their IMAX center before you arrive and you can knock out a few hours watching the big screen. They play 3 different titles every day and most are fun and educational. And it is free with a general admission ticket. The Solarium is also a fun stop along the way. You will learn all about the sun's atmosphere while viewing real photos taken by NASA. You should plan a whole day because do not want to miss out on one of the best things to do in Hampton.
Visit Air Power Park
To keep it on the NASA vibe you could head over to the Air Power Park. This is one of the free things to do in Hampton VA with children. The park has rockets, jets, and missiles scattered around on display. And many of them have a connection to the nearby Langley Space Center. Inside the small museum, there is an aircraft and spacecraft on display that has been restored and is open for tours.
Check out the time capsule from the 60s or head over to the big playground for children to play at. The park is open every day from 9 am to 4:30 and you are welcome to explore on your own. If you have any interest in space, airplanes, or just cool stuff you are going to want to stop by the Air Power Park. it is one of the most fun things to do in Hampton with kids.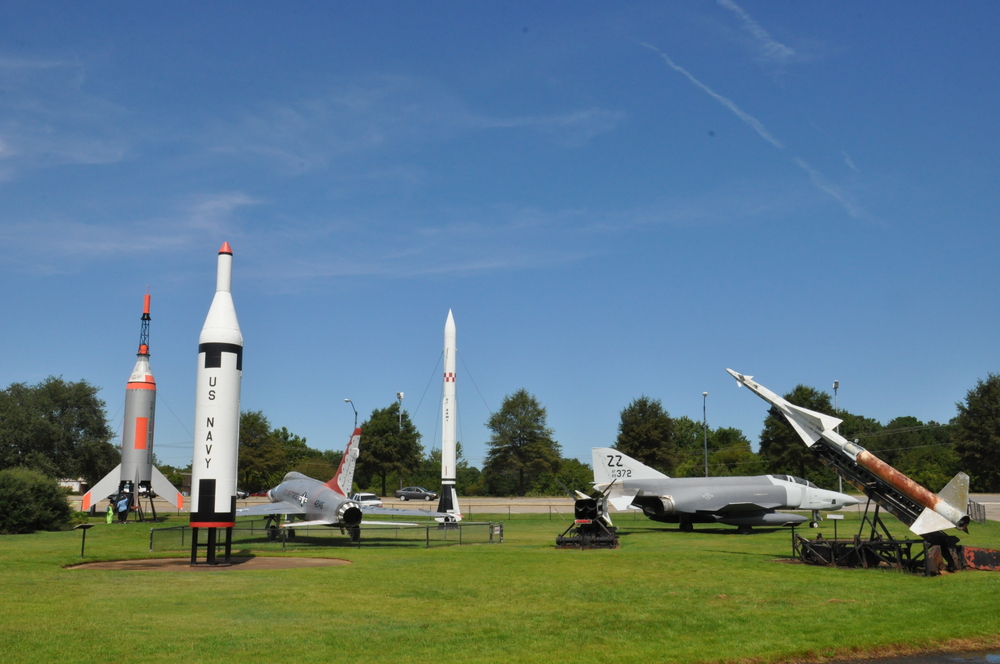 Fort Monroe National Monument
If you are looking for what to do in Hampton, Fort Monroe should be at the top of your list. There are more than 400 years of American history that have happened here. They are open every day of the year and host events on special days. Be sure to check out the Castemate Museum. Here you will learn about the complex history of that. has taken place. They do require a special reservation that you can make online or in person and it is currently free.
Fort Monroe Park is open from sunrise to sunset and you are welcome to walk the grounds. The Coast Artillery Command Library was originally built in 1909 and has been restored as the visitor center. If you wanted to participate in a guided tour you have to be in a group of ten or more and make a reservation at least two weeks in advance. You definitely want to check out Fort Monroe is one of the best things to do in Hampton Va.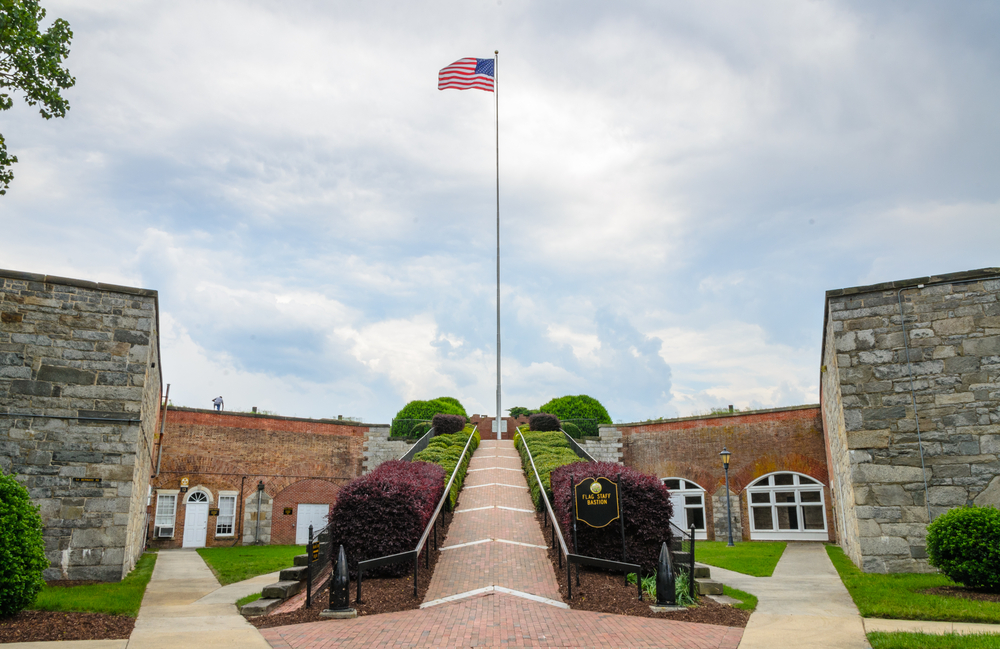 Buckroe Beach
Buckroe Beach is one of the most popular places to visit in Hampton. It is located on the Chesapeake Bay with almost three miles of sandy shores. During the warmer months of the year, locals and visitors alike love to set up a spot and relax in the sand all day. For the children, there are plenty of different playgrounds and they can swim safely in the water because there are also lifeguards.
If you are feeling adventurous on your vacation you can there are places to rent jet skis, paddle boards, and kayaks. Bring yourself a lunch or order from one of the food trucks. You can enjoy it at one of the many covered picnic shelters. Or you can take a stroll down the beautiful boardwalk and stop at the fishing pier for an amazing view. No matter what you are into Buckroe Beach has some of the best activities in Hampton.
Make sure to check out our list of some of the best restaurants in Hampton!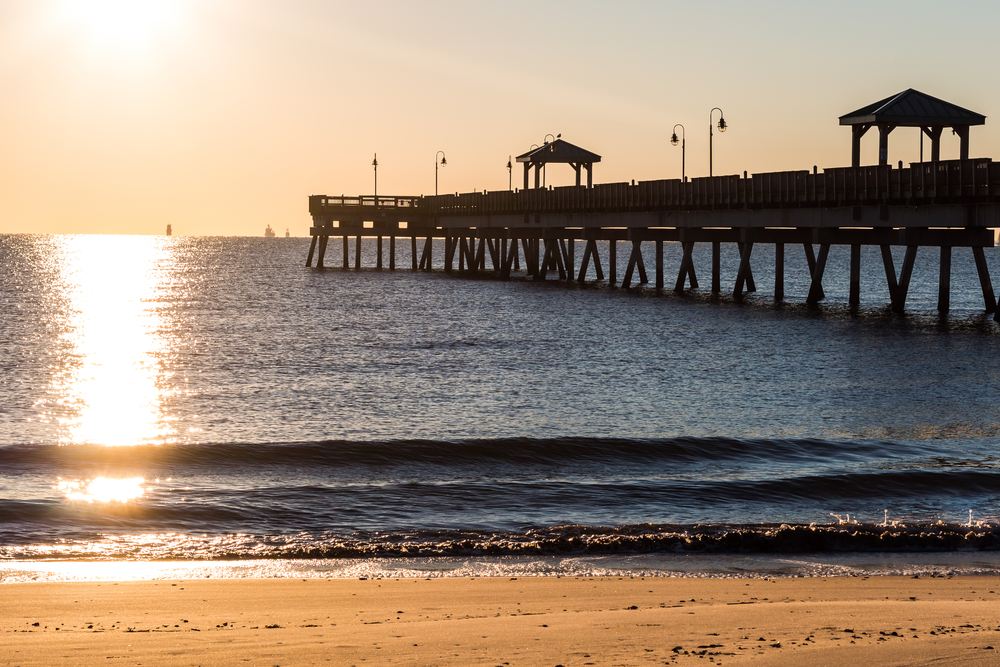 Sandy Bottom Nature Park
If you are looking for free things to do in Hampton, then you have to head over to Sandy Bottom Nature Park. This is the best park in Hampton and is over 456 acres of lush greenery, environmental education, and wildlife. There is a Cinderella story behind Sandy Bottom Nature Park. It used to be a dumb land for the city but has been cleaned up and offers so much for the community to enjoy.
They are open 7 days a week from sunrise to dusk. There are 11 different hikes to enjoy and have different lengths from a little over 3 miles to a short .12 miles. If you are thinking about making Sandy Bottom your home base they have 9 tent spots that are all first come first serve. Plus 2 groups sites and 4 yurts that you can make a reservation at.
During the warmer months of the year, they offer canoe, kayak, and paddleboard rentals. There are also two different playgrounds for the children, picnic shelters scattered around the park, and plenty of places to fish. Some of the most caught fish are largemouth bass, catfish, bluegill, and crappie. There are so many things to do at Sandy Bottom that is it one of the best things to do in Hampton.
Grandview Nature Preserve and Factory Point
The Grandview Nature preserve is located in the farthest northeast corner of Hampton. It is a magical 475 plot of land with tidal creeks, salt marshes, and the pristine Chesapeake Bay shore. This area is very secluded and many people who live in Hampton do not even know about it. There are plenty of things to do here.
You can hike about half a mile to where the old Lighthouse used to stand, which is now just a pile of bricks. If you like fishing then this is one of the places to visit in Hampton for shore fishing. Grandview Nature park is also one of the best places to view the birds or watch their migrations. You can also enjoy hiking and canoeing with guided tours here.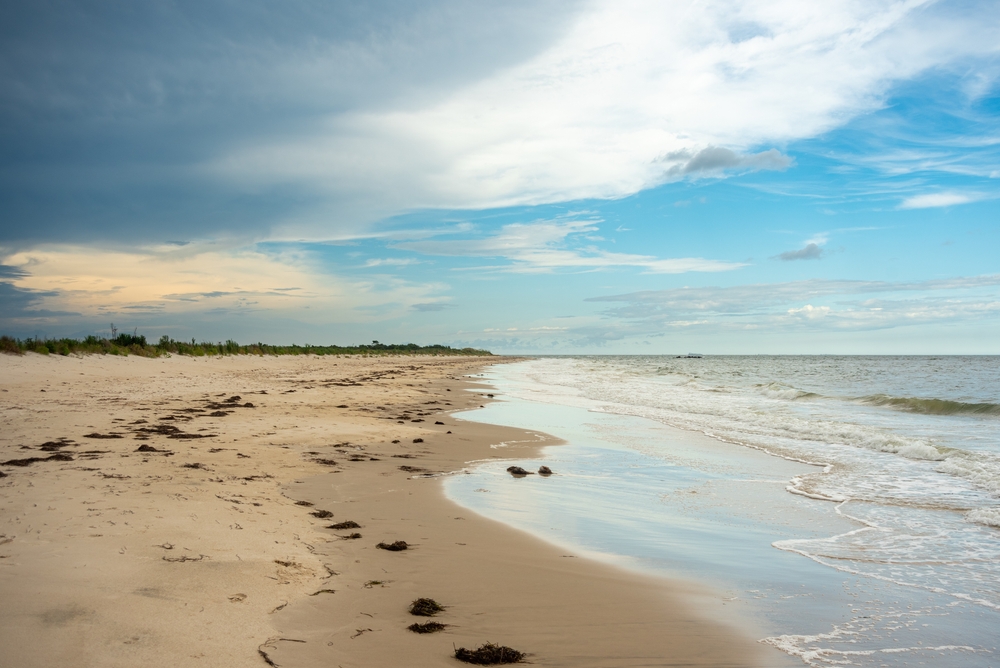 Hampton Coliseum
No matter what time of the year it is there is always something going on at the Hampton Coliseum. They host events from Monster Jams all the way to Disney on Ice, bull riders, and big names in all genres of music, and they even hold sporting events. If you are visiting around the winter holidays you will find pop-up events. It is full of local vendors that sell homemade presents.
If you are driving down the interstate you cannot miss this big beautiful coliseum, it is the first thing you see when arriving. Be sure to check out the website before you plan your trip because it is one of the top attractions in Hampton.

Power Plant of Hampton Roads
The power plant of Hampton Roads is not what you think. It is a huge shopping center where you could spend your whole day shopping, eating, and taking in the sites. Some of the more popular attractions here are Bass Pro shops and PBR. When Guy Feiri visited Hampton he set up shop here at the Power Plant.
You can find two of his famous restaurants here. They are the Pizza Parlor and the Dive & Taco Joint. The Pizza Parlor is an old-time parlor with arsenal pizzas created by Guy himself. Try the fat boy pizza you are in for a special and tasty treat. At the Dive, you are always welcome to come as you are and blow off a little steam or just enjoy some yummy tacos.
After you have filled up your stomach you can head over to the famous PBR cowboy bar. Take a ride on the mechanical bull, watch the wait staff do a few line dances, or just enjoy a cold drink on the patio overlooking the water. No matter what you decide to do at the Power Plant of Hampton Roads you are in for a good time and it is one of the best things to do in Hampton at night.
Downtown Hampton
One of the best things to do in Hampton for adults is to head Downtown. There are so many things to do here including pubs, museums, parks, marinas, restaurants, and even art galleries. You can also find plenty of different events going on all year long. From dogtober fest, seafood festivals, the annual Blackbeard festival, and so many more.
You can start your day at one of the many places for brunch, take a nice boat trip town, and then finish your day with a cold drink overlooking the marina. The nightlife is very diverse Downtown. They have everything from wine bars, hookah spots, country bars, and dance clubs. You are going to love spending your day downtown it is one of the best things to do in Hampton for couples.
Hampton Town Center
Hampton Town Center, also known as Peninsula Town Center is a super cool outdoor/indoor shopping mall with over 70 vendors. Check out Legacy Live, it is a listening room where you can enjoy live music from plenty of different genres. Some of the most popular nights are jazz, R&B, and blues. You will love the cozy atmosphere and Legacy Live also has a full kitchen and bar.
Park Lane is another super popular restaurant here and they serve up American-Irish fare. If you are traveling with children they would love to get some energy out and play at Sky Zone. It is an indoor trampoline park with places where they can run, and jump, and some days they even have trampoline dodgeball. You can enjoy walking around and taking in the sites.
Bluebird Gap Farm
Bluebird Gap Farm is one of the most popular and free things to do in Hampton. The Bluebird is a public city park with farm animals that roam the 60-acre park. There are over 150 wild and domestic animals that are all native to Virginia. There are horses, piglets, cows, llamas, peacocks and so many more to see.
The bluebird Gap would be the perfect place to host a family BBQ or party because there is a big covered pavilion with 18 picnic tables with a few charcoal grills. The Azalea Trail is also nearby and is a 1-mile circle loop trail. Bring the whole family out to Bluebird it is an amazing experience that you will never forget.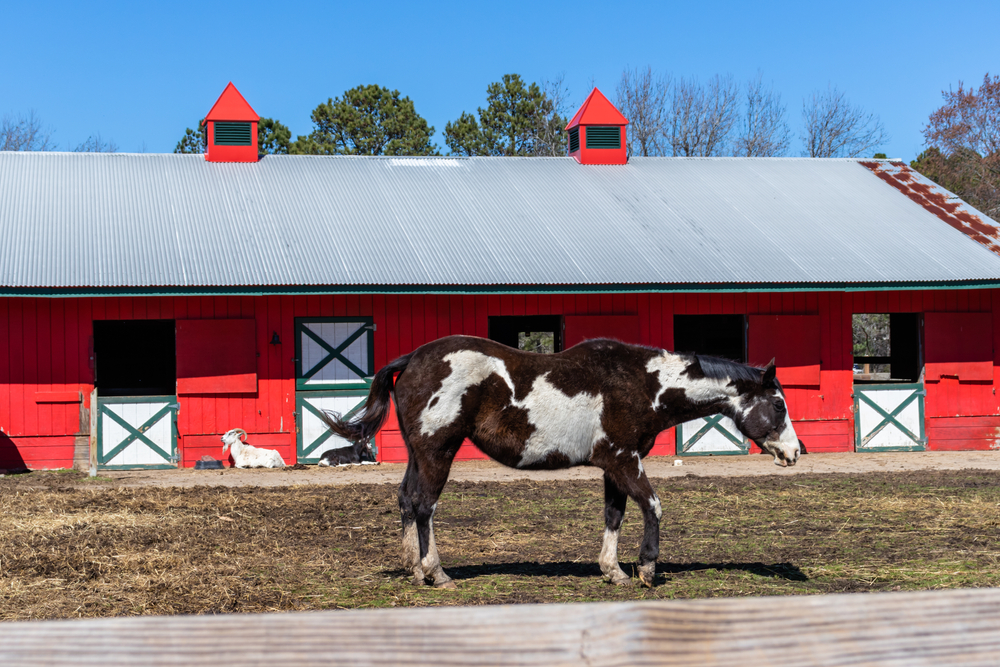 Evo Entertainment
One of the best Hampton activities is to head over to Evo Entertainment. Here you can catch a new movie, play a few games at the bowling alley, or play a few vintages or new arcade games. This is such a fun place to go when it is raining or you need a break from the hot Virginia summers. If you are in town n Wednesday you can play half-price arcade games.
And on Mondays, they have a special deal where you can play all you want after 4 pm for a special price. There are specials pretty much any day of the week. So make sure to check out their website to find the day that matches up with what you want to do most.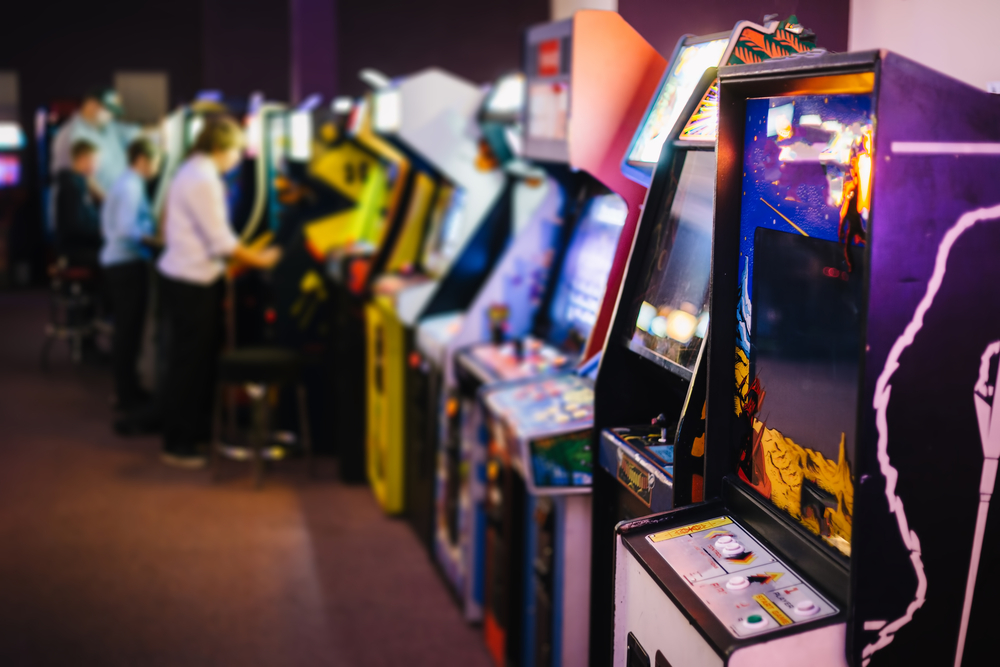 Check out the Virginia Beach Oceanfront
If you are already in the area one of the best things to do near Hampton would be to drive down to the Virginia Beach Oceanfront. It is only about 45 minutes away if you can beat the traffic. You do have to do through a tunnel. If possible it is best to try and leave either after 9 or before 3 so you do not get stuck. It is always worth the drive though.
But once you are in Virginia Beach there are so many different things to do. You can spend your day walking along the boardwalk, hang out and catch some rays on one of the beaches, or grab yourself a meal at one of the many restaurants. There are wonderful hikes, biking trails, coffee shops, and so much more to explore.