Are you visiting and on the hunt for the best restaurants in Duck NC? Well, you have come to the right place! Here you are going to find all the local's favorite spots for breakfast, lunch, and the even best dinner in Duck. The Outer Banks is famous for its laid-back beach town vibes on the coast of North Carolina.
Duck is one of the first towns established in the OBX and has been an east coast beach getaway for decades. It is a popular vacation spot for families, and couples, and has become a sought-after destination for weddings as well. Duck NC is one of the prettiest towns in the Outer Banks and there is always so much to do.
You can relax on the beach, play putt-putt, go fishing, or spend your day shopping at the many boutiques downtown. You are sure to work up an appetite, and who wants to cook on vacation? Now let's take a look at all of the best Duck restaurants.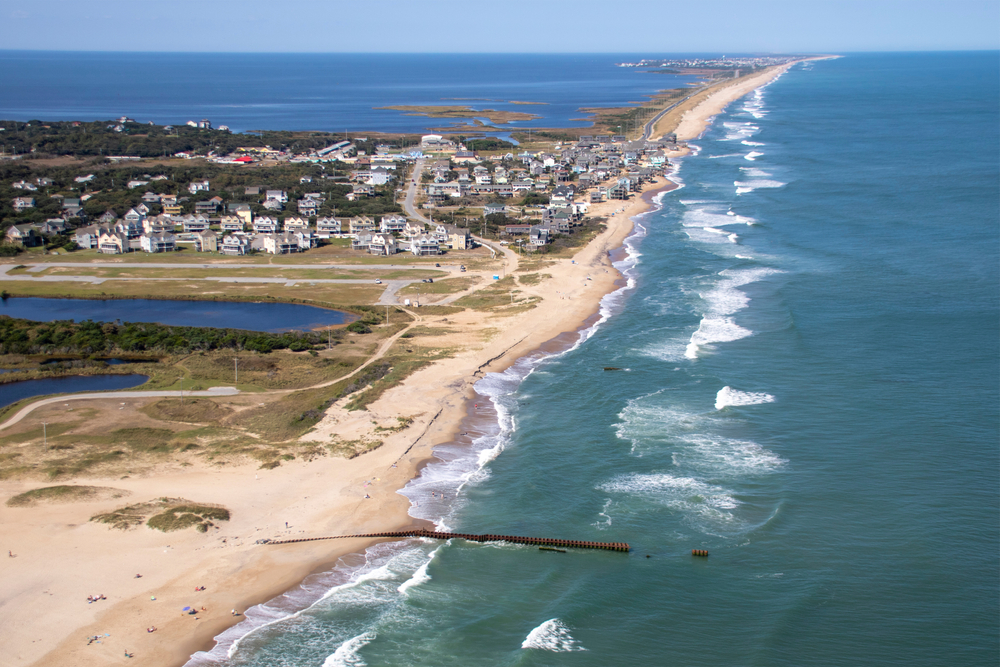 12 Best Restaurants in Duck NC You Must Try
Roadside Bar and Grill
The Roadside Bar and Grill is one of the best restaurants in Duck NC. When you arrive at the Roadside you will find a quaint beachside cottage that was once one of the original houses in the village.
It has since been transformed into a lovely bar and grill downtown. The menu has plenty of options and it is full of local seafood.
Some of the local's favorites are clam chowder, crab cakes, and fresh local yellowfin tuna. On the weekends you can enjoy live music in the bar area and they are always putting on special events.
Even if you just want to stop by for a quick drink you are going to love hanging out there. If you are looking for where to eat in Duck you should put the Roadside Bar and Grill high up on your list.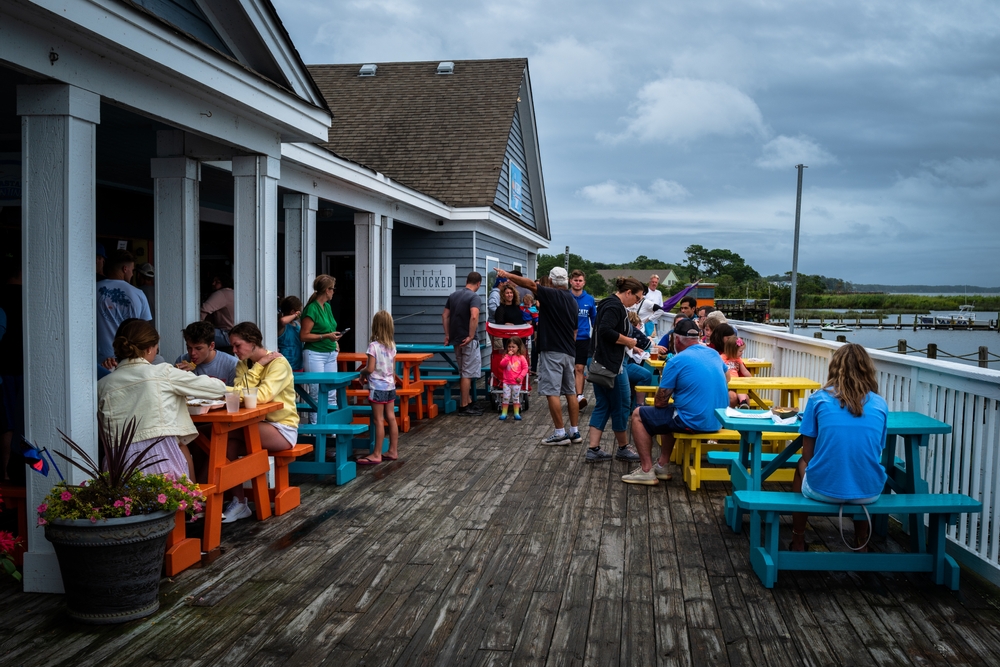 Aqua Restaurant
Just as the name suggests the Aqua Restaurant offers some of the best waterfront dining in Duck. When you arrive at the Aqua you will see the beautiful wrap-around porch that is always on a first come first serve seating basis. If you want to make sure you get a table you can always make a reservation online for indoor dining.
The menu consists of locally-caught seafood, fresh ingredients, and grass-fed meats. They are open Tuesday to Sunday starting at 11 am with live music all year long. Make sure to check out the sunset here while sitting on the deck enjoying your favorite drink. You will want to come back time and time again to one of the best restaurants in Duck NC.
Coastal Cravings
Coastal Cravings is one of the most popular restaurants in Duck because they appeared on the TV show Diners, Drive-in, and Dives. There is a huge outdoor area with yard games and live entertainment. They are located in the best section of the city and they have the only drive-thru in duck if you are looking for a quick bite.
On the menu, you will find seafood, steaks, tacos, and so much more. There is a full bar outside called the Tap Shack and they have recently added a wine bar too. If you are looking to have a fun night out at one of the coolest Duck outer banks restaurants then you should head over to Coastal Cravings.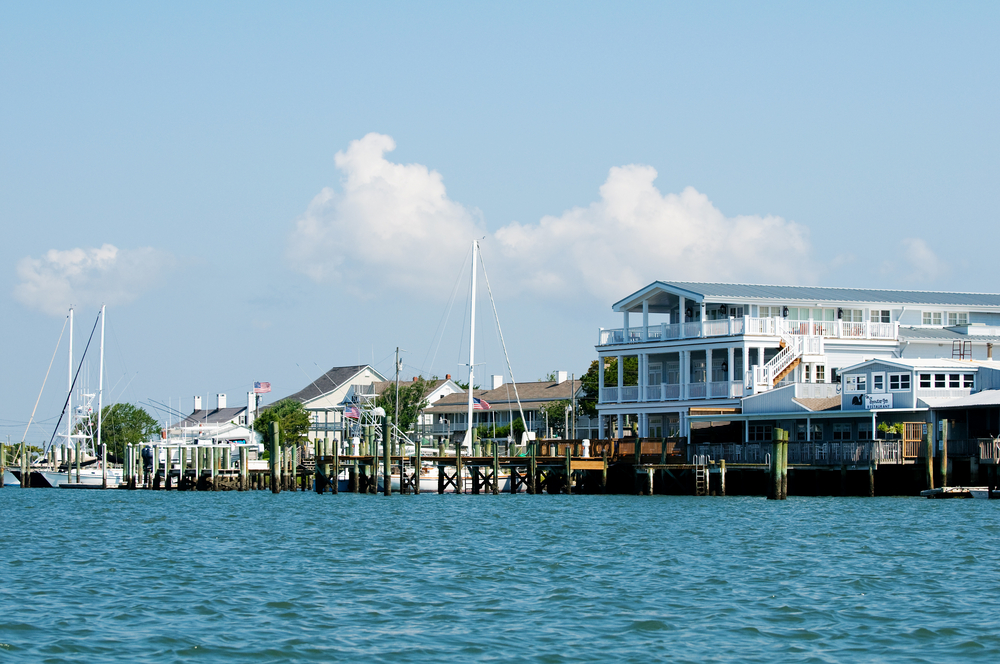 Red Sky Cafe
If you are in search of the best seafood in Duck then the Red Sky Cafe is where you should head. You can order yourself appetizers or a starter tapas board to share. On their small plate menu, they have local and fresh caught fish and pork belly. For their larger plates, you can order shrimp and grits, steak, or crab cakes.
Another reason The Red Sky Cafe has the best dinner in Duck is that they have recently added a new fit menu with healthy and tasty dishes. This menu also includes vegan and vegetarian dishes for you to enjoy. Find them right next to Carolina Designs in downtown Duck.
The Blue Point
If you are looking for one of the most chill and relaxed places to eat in Duck then The Blue Point is perfect for you. Here you will find traditional southern cooking with a fun and exciting flare added in. Here they have a newly crafted dish for their nightly specials. It can be anything from the catch of the day to a homemade pasta dish.
On the menu, you can make your pick from the small or large plate menu, and be sure to order a homemade dessert before you leave. After you finish your supper go enjoy a craft beer, fresh cocktail, or mocktail out at the back bar. The sunsets here are magical and you are going to want to check it out at least once. There is so much love here at one of the best restaurants in Duck NC.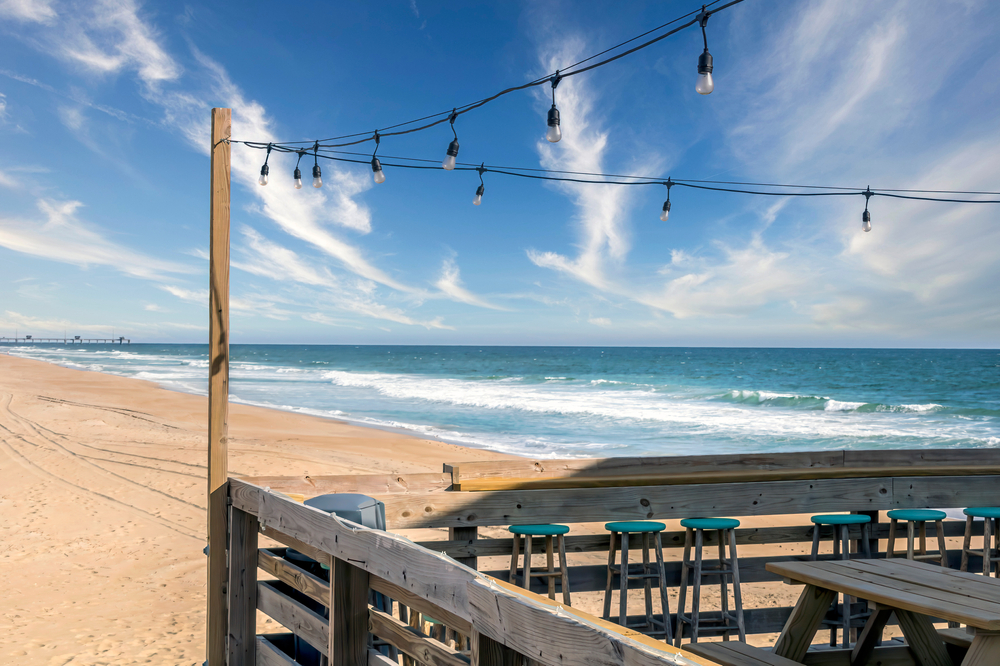 Paper Canoe
At the Paper Canoe, you will enjoy the luxury and fine dining vibes with a view to match. Here at one of the best restaurants in the Outer Banks, you can order crab stuffed shrimp, and ravioli with lobster, and they also have a special that changes daily. Every dish is prepared fresh and with local ingredients.
The chefs here like to put flavors together that you would not expect like curry and shrimp and the results are delicious. The Paper Canoe is the best dining in Duck if you are looking for a fancy night out or you want to treat yourself to gourmet food. It may be best to make a reservation if you are visiting during the high season.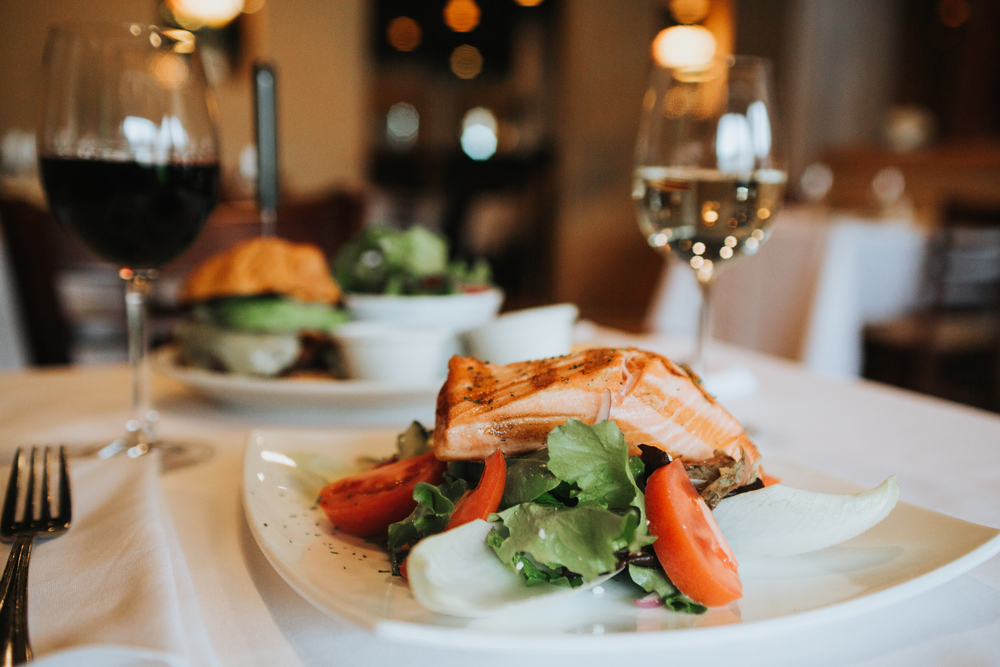 Live Saving Station
The Live Saving Station is located inside the beautiful and upscale Sanderling Resort. You do not have to be staying at the resort to eat at the Live Saving Station. It gets its name because it is housed in historic Caffey's Inlet Life Saving Station No. 5. It was recently renovated and is now decorated with coastal touches throughout.
They are open every day for dinner, and lunch, and have some of the best breakfast in Duck starting at 7 am every day. Take in the views of the bay on the outside patio that is always first come first serve. Enjoy blue crab Benedict, a smoked salmon platter, or a giant omelet to start your vacation the right way.
Duck Pizza
For the best pizza in Duck, you should go to Duck Pizza. They are a brand new restaurant with new recipes, and they are ready to serve you all of your favorites. Including New York-style pizza, wings, and sandwiches. You can eat in, take it home, or order delivery to your vacation home.
Check out their specials and coupons on the website to save you a few dollars. They are open every day from March to January and are super family-friendly. If you sit out on the patio you are welcome to bring your pup as well. You are definitely going to want to check out Duck Pizza which is one of the best restaurants in Duck.
Duck Donuts
Duck Donuts is not your normal donut shop. Every single donut here is made to order with plenty of toppings to choose from. You can pick everything from the coating, toppings, and even the drizzle. Some of the fan favorites are the maple bacon, beach ball, blueberry pancake, and hundreds of more combinations. If you have never had a maple bacon donut you are seriously missing out.
They are open from 7 am to 1 pm every day and you will find them on the main street in Duck. You can also order your morning joe or a smoothie while you are there. They have been open since 2007 and quickly became a town favorite. You will love the smells coming from the freshly made donuts and you may find yourself a brand new combo that you have never tried before.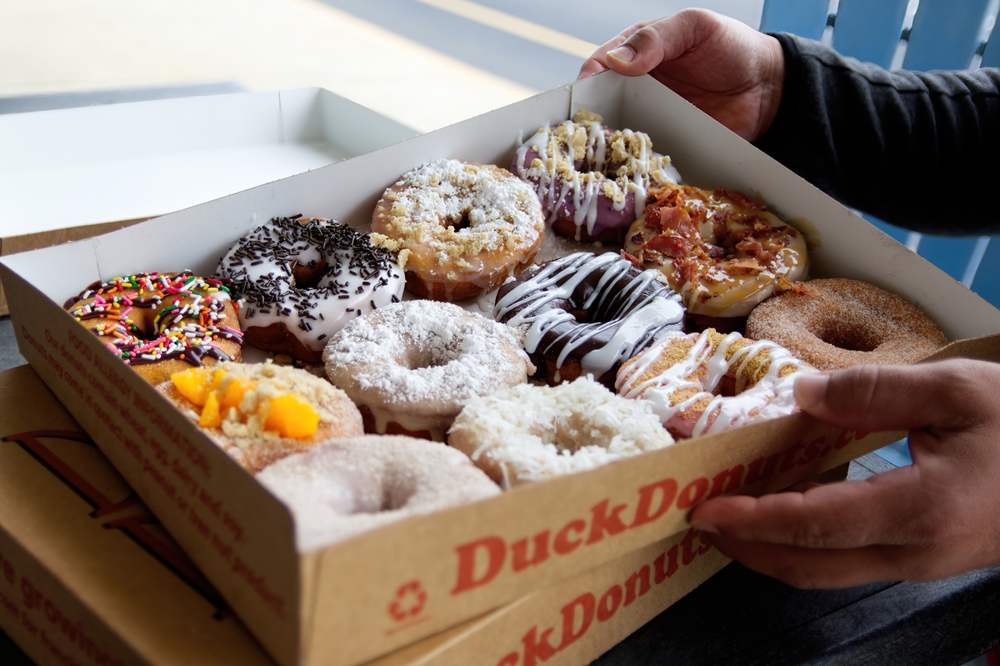 Even Tide
Even Tide has the best lunch in Duck NC. Here you will find sandwiches, cheese boards, salads, and even small snacks for you to enjoy. There is a full bar with a large wine list with so many different choices. If you are looking for a laid-back and relaxing vibe after your long day at the beach then the Even Tide is perfect for you.
Grab yourself a seat outside on the patio, you are going to love the view. Even Tide is open every day except Monday from 12 pm to 9 pm. The cheese boards are made for 2-4 people in mind and the pimento-flavored one is one of the most popular ones to order. You are going to love chilling out and enjoying the best Duck food at a reasonable price.
La Dolca Vita
La Dolca Vita is one of the best Italian restaurants in Duck NC. They make everything fresh and try to use local ingredients. Sit inside or enjoy the view of the Sound from the patio. Some of the local's favorites include the fresh mussels, shrimp penne vodka, veal parmesan, and the delicious house-made lasagna. They are very family-friendly and they have converted the patio to be handicap accessible.
They are open Tuesday to Sunday from 3 pm to 10 pm and welcome you to come in for a drink, light snack, a full meal, or just order some cake and watch the sunset over the water. La Dolca Vita is located a little south in Corolla but it is worth the drive because they are one of the best restaurants near Duck.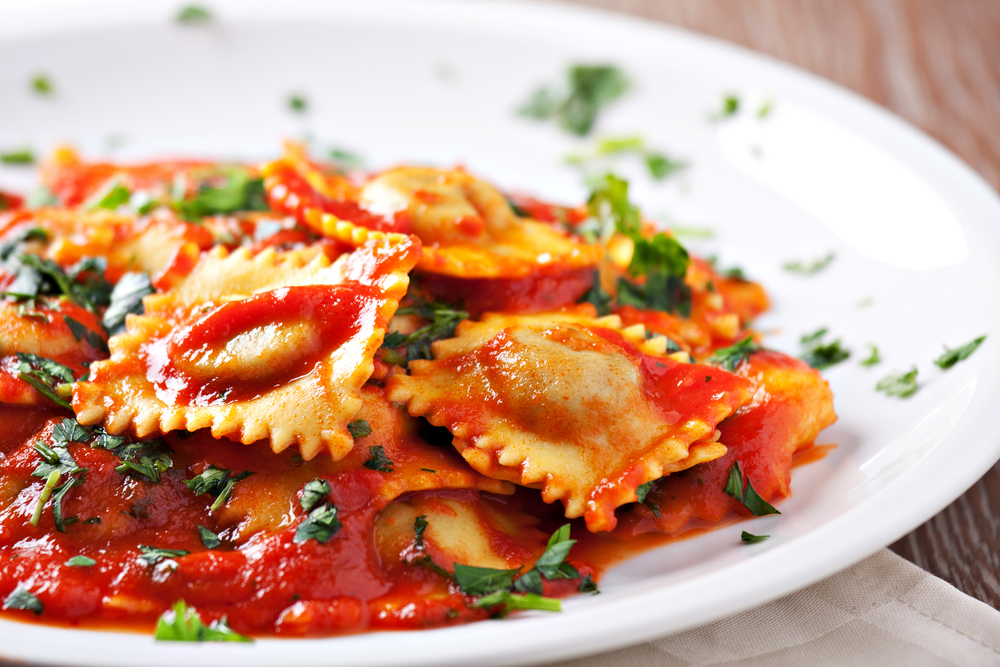 Duck Deli
Duck Deli has the best food in Duck if you are into simple and delish deli food. Since 1978 they have been a family-run business and they always use their own recipes. They smoke their BBQ, whole and spicy chicken wings, and even fish fresh every day. Locals love the Philly cheese steaks, big salads, and of course the NC BBQ.
Duck Deli is a local and small deli without any fancy decks or views, but they do have indoor and outdoor seating. If you have to pick what to eat in Duck on short notice the Duck Deli is where you need to go. Grab yourself a seat at the outdoor picnic tables and enjoy your freshly made food to order you will not regret it.