Are you looking for things to do in Duck? You are in the right place. In this article, we will walk you through all the best activities in Duck so you can make a more informed choice about how you spend your time.
Duck is one of the northernmost Outer Banks towns. It's the perfect beach getaway in North Carolina and has a lot to offer.  
Its name actually comes from the area's history. Hunting waterfowl here goes back to the 1800s and is what made this town popular in the 1970s.
Nowadays though is a thriving seaside escape and visiting here is one of the most popular things to do in the Outer Banks. It's a charming North Carolina seaside haven with incredible beaches, amazing restaurants and so much to do.
So are you ready to see what we feel are the fun things to do in Duck, NC? Pull up a chair, grab and drink and let us walk you through the best things to do in Duck. Don't forget to check out our list of Best Things to Do In North Carolina!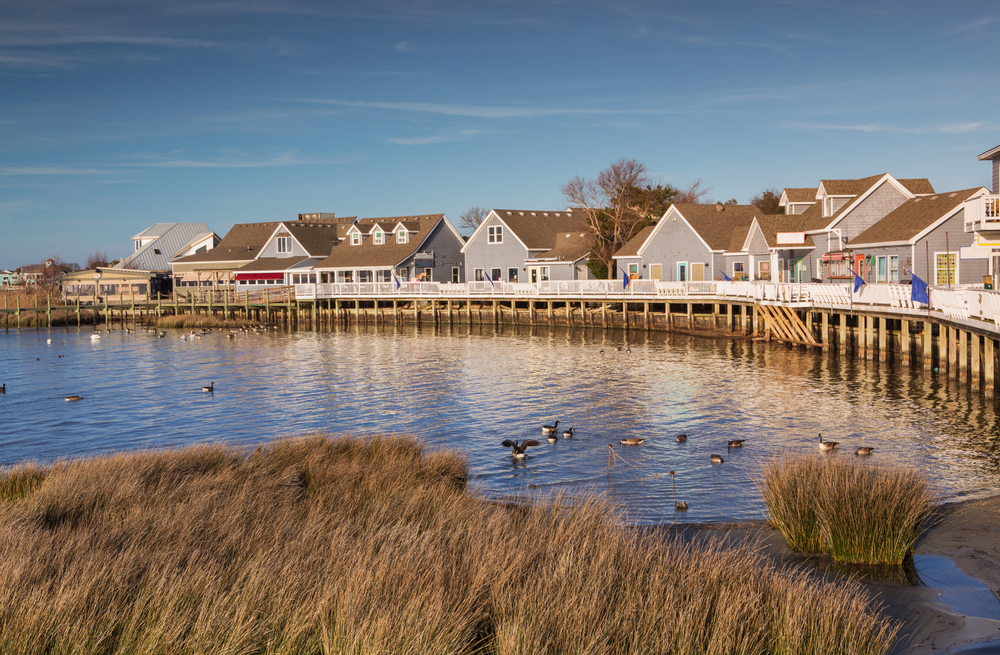 12 Best Things To Do In Duck NC You Shouldn't Miss
Stroll Through Duck Town Park and Boardwalk
One of the best attractions in Duck is the Town Park. It's 11 acres of outdoor entertainment that nature lovers will love.
Here you will find hiking trails, picnic shelters, gazebos a children's playground, and acres of maritime florist to explore. And it's not just the forest that pulls people here there is also a willow swamp, marshes, and habitats for rare plants.
The Broadwalk is part of the park and is what most people flock here for. At 10 feet wide, 4000 feet long, and held up by 916 pilings it is huge by anyone's standards.
The boardwalk alone offers so many things to do. Apart from the shops and boat launch areas, it's a great place to go birdwatching or watch the sunset.
If you are wondering what to do in Duck put a visit here top of your list.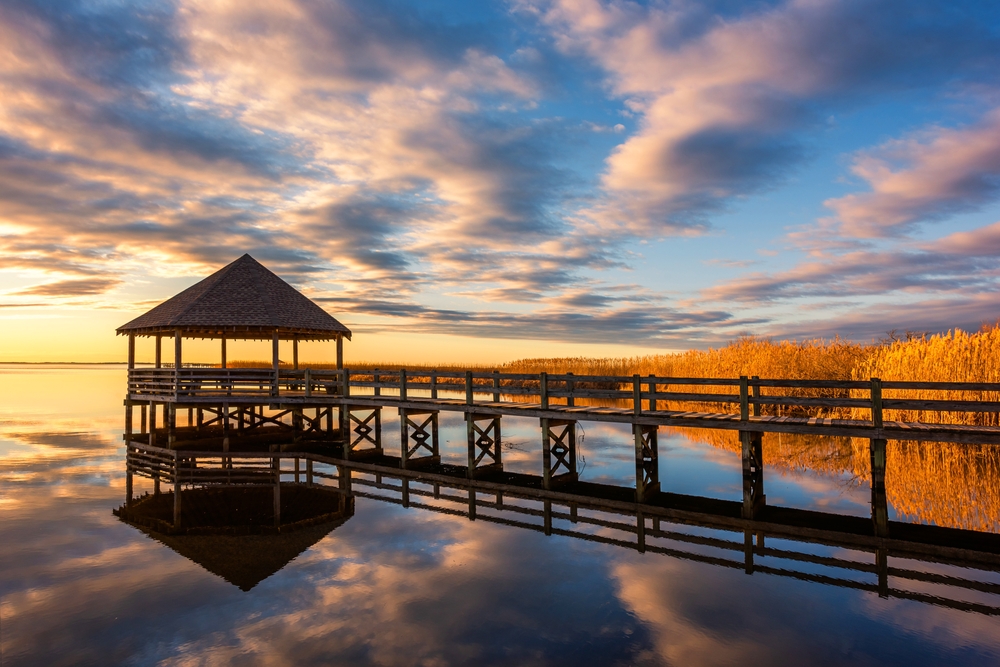 Spend Time At The Beach
Without a shadow of a doubt, one of the best free things to do in Duck is to spend time at the beach. It was named one of the Top 15 Family-Friendly Beaches in America and when you go you will see why.
The beaches here stretch 7 miles along the Atlantic Ocean and they are stunning. There is no main beach and beach parking as such you just get there by parking the car elsewhere and walking or staying locally.
The water in summer is typically about 70 degrees so it's perfect for swimming and you will always be able to find a more secluded beach spot if you want to be away from others, however, the beaches are wide and not often crowded.
Something to note is that there are no public beach accesses here. However, for town residents and renters, there are numerous private neighborhood beach access locations. So to get to the beach you will need to be staying in town. If you are looking for a more public beach then head to Nags Head or Kitty Hawk Beach. Don't forget to check out some of the best things to do in Nags Head.
Spending a day at the beach is one of the best things to do in Duck with kids and the beach is definitely one of the best places to visit in Duck.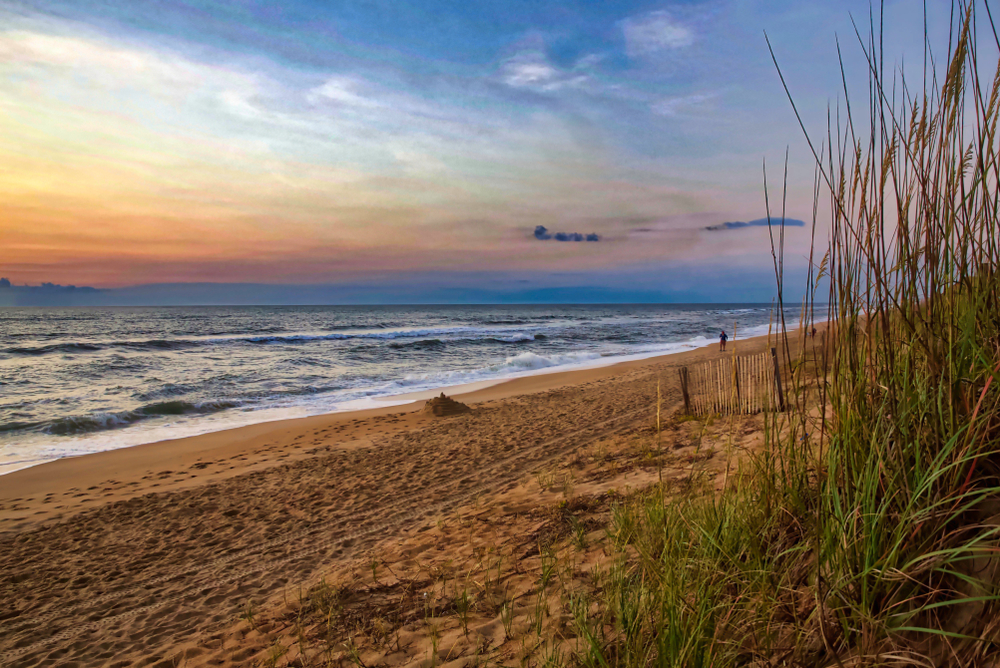 Ride The Duck Trail
One of the best activities in Duck is to ride The Duck Trail. It's a great way to get your bearings and see most of the town.
The trail is a six-mile pedestrian and cycling trail. It connects the entire town giving you access to all you need without ever having to jump in your car.
Most of the trail is separated from traffic but in some areas, you are required to go on the road and the trail can get busy near the shops and restaurants.
You can easily access the shops, restaurants, markets, and beaches on your bike and I'm sure children will love the freedom being on a bike gives you.
If you are after a more strenuous bike ride there is a 10-mile-long path that connects this town to the Southern Shores. It's a lovely ride for those who want to venture a little further afield.
Riding the trail is one of the best things to do in Duck.
Go On A Sunset Cruise
If you are wondering what to do in Duck to surprise your significant other then how about a sunset cruise?
There are many options here for viewing the water from the sunset. You can go on an organized boat cruise, these tend to last about 90 minutes and cost between $40 and $70 per person. This is definitely one of the things to do in Duck for couples.
You could always also hire your own boat and go it alone with a picnic and bottle of wine. Or view the sunset in a kayak or canoe departing from the town Park to view the sunset. This would be one of the perfect things to do in Duck at night.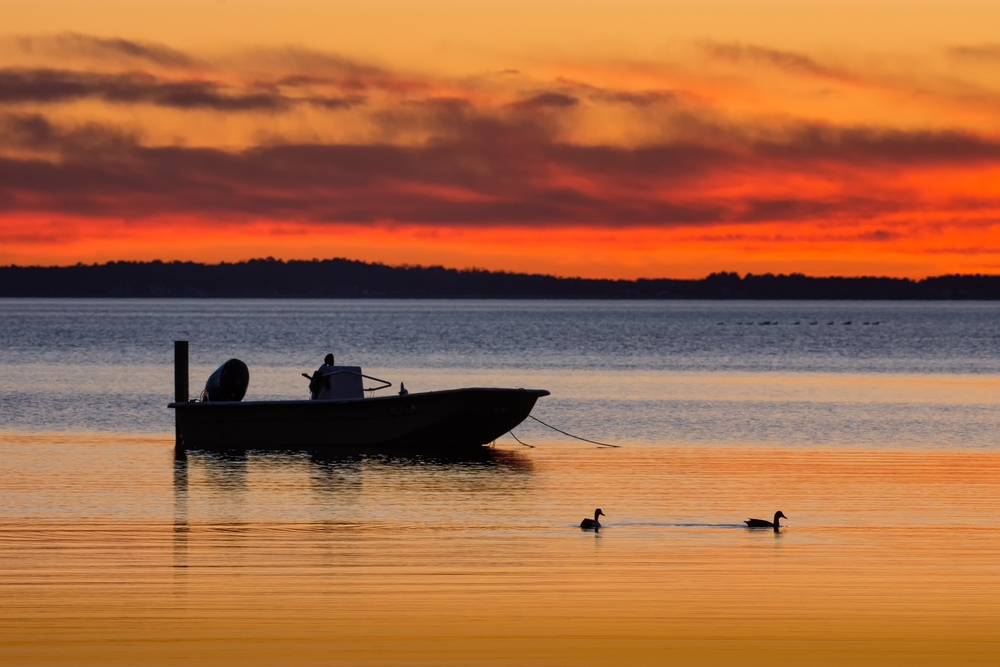 Grab A Coffee And A Book
If you are looking for things to do in duck when it rains then how about a bookshop with a coffee shop? Duck's Cottage And Downtown Books combine two of our favorite rainy day activities, reading and drinking warm drinks.
Choose yourself a book order yourself a Mucky Duck and while away some time. They have a large selection of interesting ht drinks here and a good selection of muffins for that sweet treat.
It is just the perfect combination and one of the best things to do in Duck for adults when the weather isn't on your side. While you are here, make sure to check out some of the best restaurants in the Outer Banks!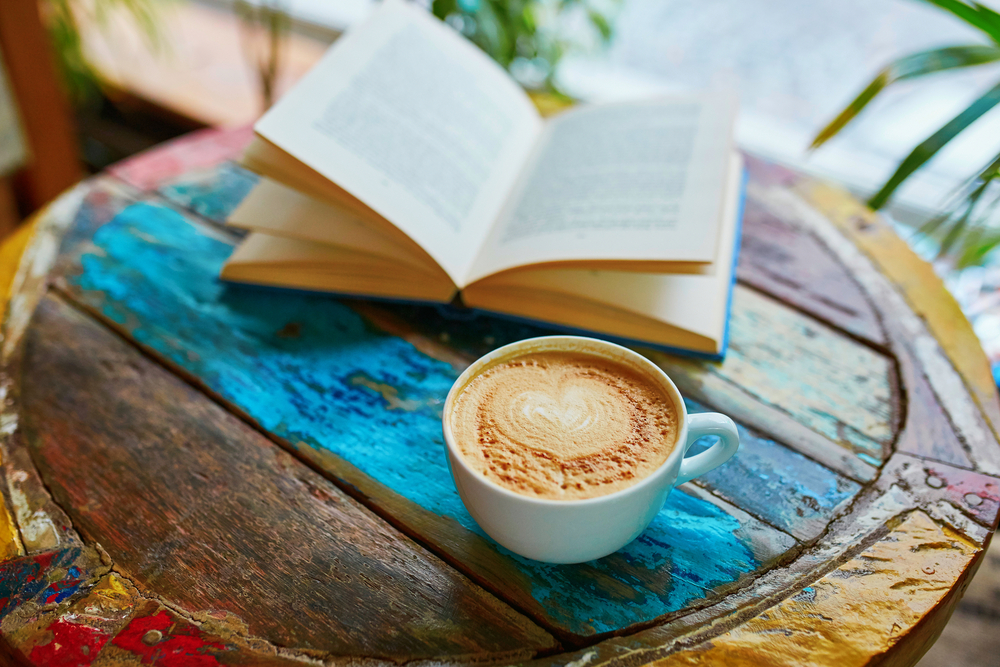 Go Shelling
Looking for free things to do in Duck? How about shelling? The kids are going to love it, in fact, you will love it whatever you age.
All you need is a keen eye, some time, and a receptacle for your finds. The beaches here are well-known for shell collecting so you won't be left empty-handed.
The best time to go if you can is sunrise, not only does it make it a magical adventure but it's the best time to find shells. The tide is low and the beach is empty so you can search to your heart's content.
Expect to find colorful sea glass, sea stars, welks, and calico scallops among other delights. Keep a look out for the Scotch Bonnet, which is the official North Carolina State Shell.
This is definitely one of the things to do in Duck with kids.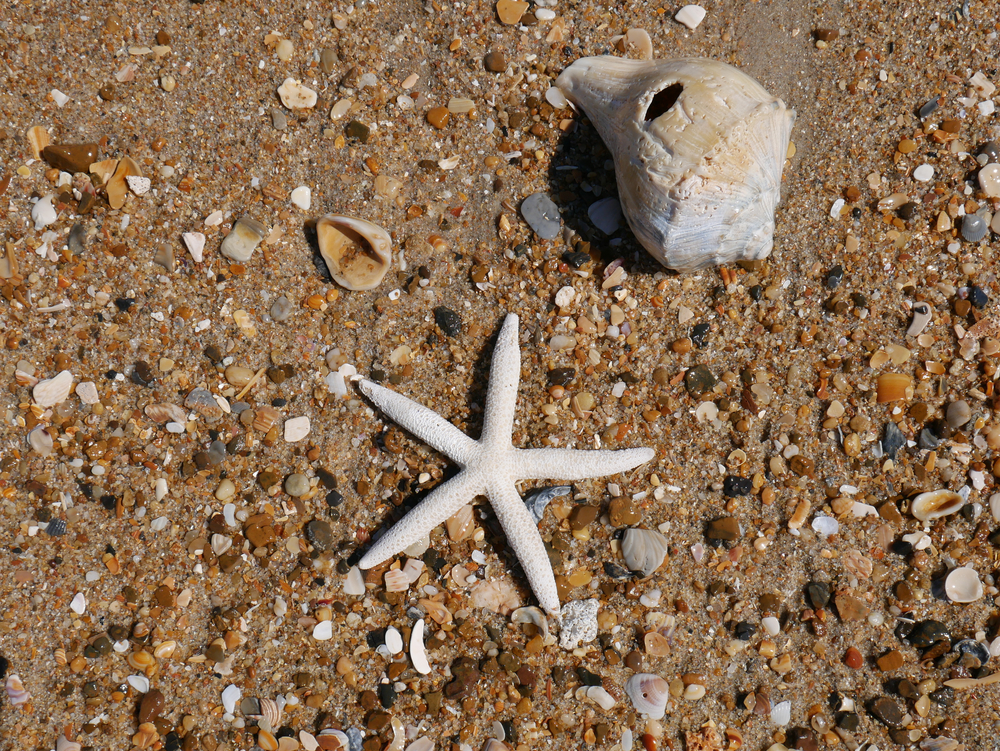 Go Bird Watching
Of all the attractions in Duck, bird watching is what this area is known for. It seems only appropriate that you should go in search of the feathered friends who gave this place its name.
Each year hundreds of bird species pass through the area. Terns, oyster skimmers, geese, pelicans, and of course, ducks all frequent these shores.
The town is designated a bird sanctuary and you'll find guided trips and tours available if you don't want to go it alone. The Donal C. O'Brien Sanctuary and Audubon Center at Pine Island is one of the things to do near Duck for great bird watching if you want to go further afield.
Of all the Duck activities I feel like this is something that everyone could participate in and would enjoy.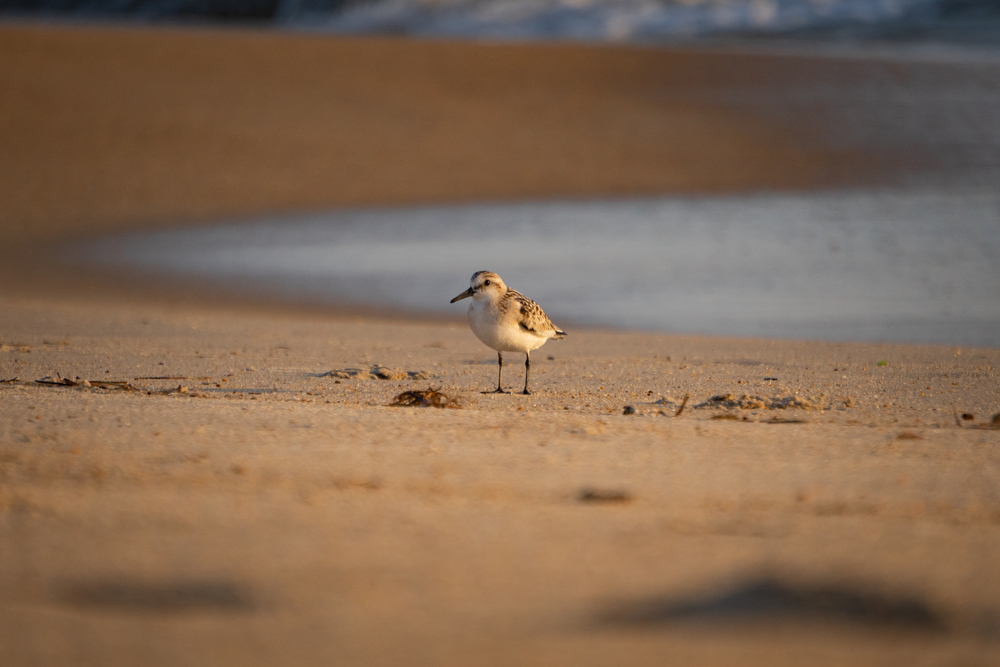 Go Shopping
For those that like shopping this place also delivers. If you looking for things to do in Duck when it rains then think about heading to the shops.
The shops are quaint and unique and make some great browsing. Go to the Waterfront shops, the Osprey landing shops, or The Scarborough Faire.
You will art galleries, clothing boutiques, unique gift shops, jewelry stores, and locally owned emporiums.
The Waterfront Shops is a unique waterfront shopping village with over 27 boutiques, restaurants, eateries, and more. Scarborough Faire Shopping Village offers specialty stores and fine eateries. Osprey Landing has some great shops and discount stores.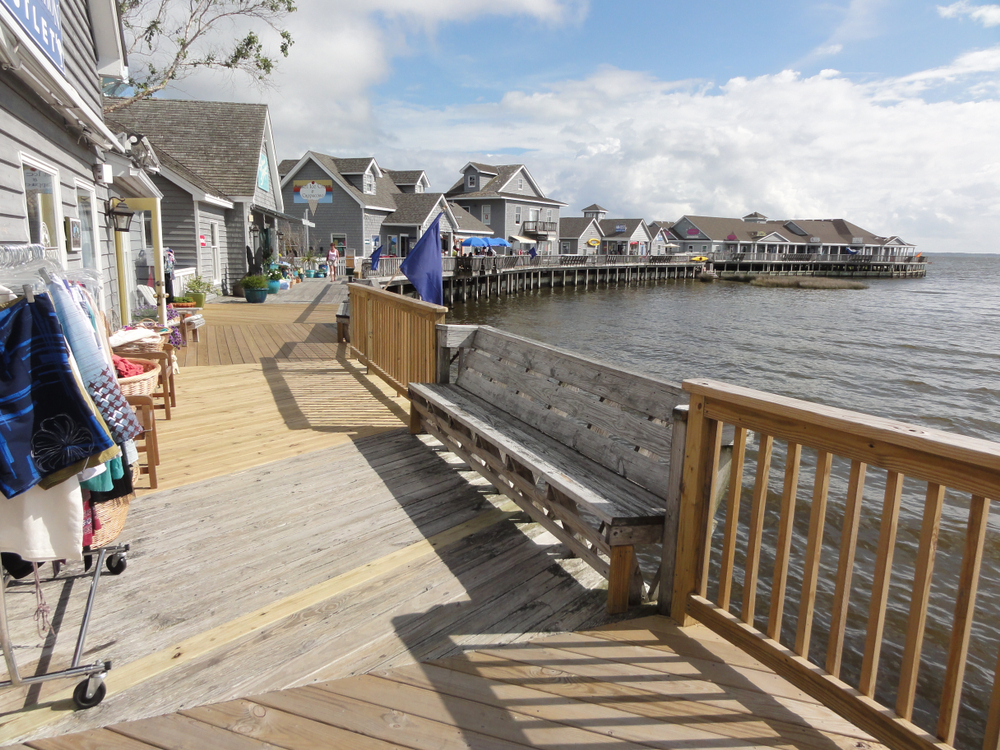 Grab A Donut
Duck is the original location of Duck Donuts that was established in 2007. It is at the Osprey Landing Sound Front Shops and is one of the Duck activities you must participate in.
Fan favorites include Bacon In The Sun, Beach Ball, and The Fip Flop. Or get a donut customized and make sure you get one of the delicious drinks.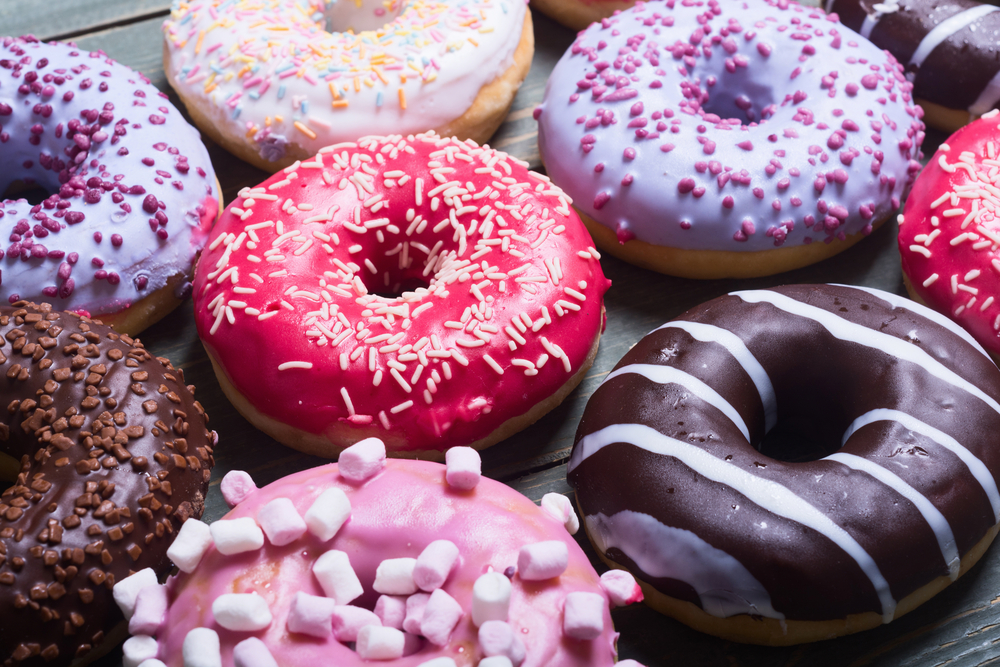 Get On The Water
If you are looking for fun things to do in Duck then how about getting into the water? This area is known for its watersports and has lots of opportunities.
Parasailing, surfing, kayaking, jet-skiing, paddle boarding, and boating are all watersports you can enjoy here. Or just enjoy the water swimming.
There are places to rent equipment and local companies offer kayak and boat tours.
Please keep in mind though as with many North Carolina beaches the water can be rough with rip tides and strong currents. Be mindful of the flags indicating where danger is never go out alone.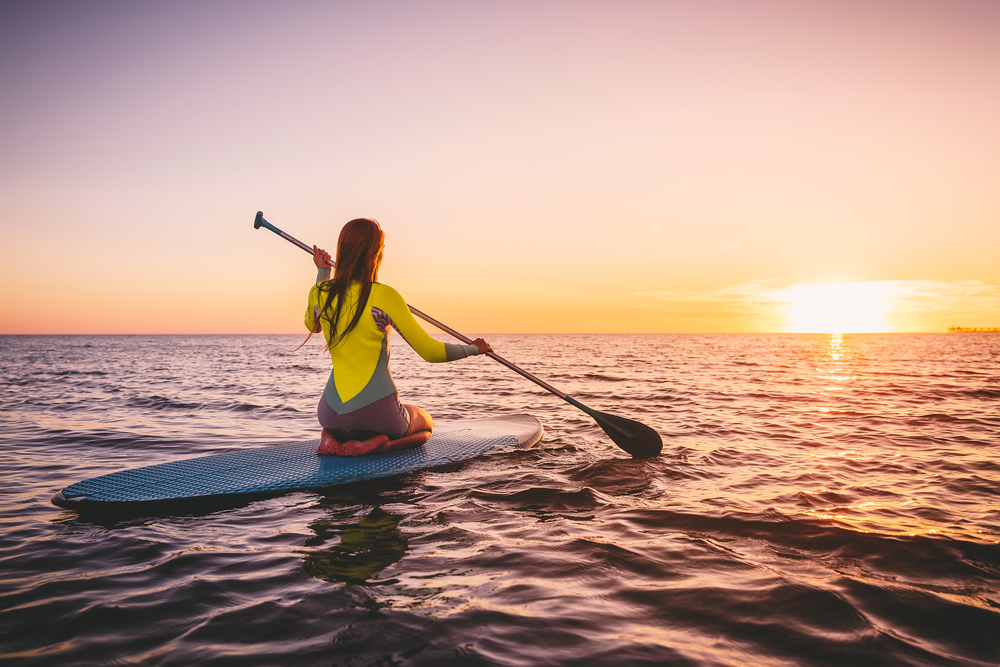 Dine On The Waterfront
One of the best things to do in Duck for couples is to have a lovely meal on the waterfront. And when it comes to waterfront dining Duck really does deliver.
There is nothing better than eating while listening to the waves and smelling the sea air. And if you can also watch the sunset that's an added bonus.
Paper Canoe, The Blue Point, Aqua Restaurant, and the Sunset Grille And Raw Bar are all good waterfront restaurant choices. If you are here in summer then make a reservation as these places get very busy.
Things to do in Duck at night don't get much better than dining with a view of the ocean. Make sure to check out our list of best restaurants in Duck you must visit!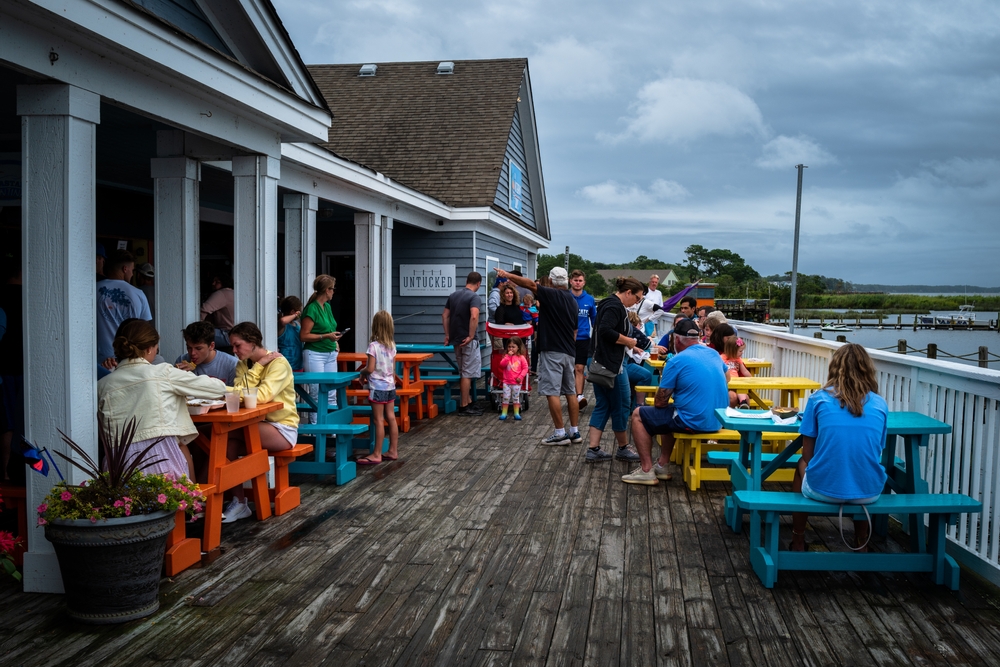 Go Golfing
One of the best things to do in Duck for adults is to take part in a round or two of Golf. Here you get to practice your swing surrounded by some incredible scenery.
The Duck Woods Country Club features an 18-hole championship course designed by Ellis Maples. Here the greens meander through a maritime forest environment complete with ponds, towering native trees, and rolling dunes. This golf course is one of the great attractions in Duck.
If you are looking for things to do near Duck why not try some of the further out courses such as Nags Head Golf Links and Sea Scape Golf Links.
If you love golf then this is one of the best activities in Duck.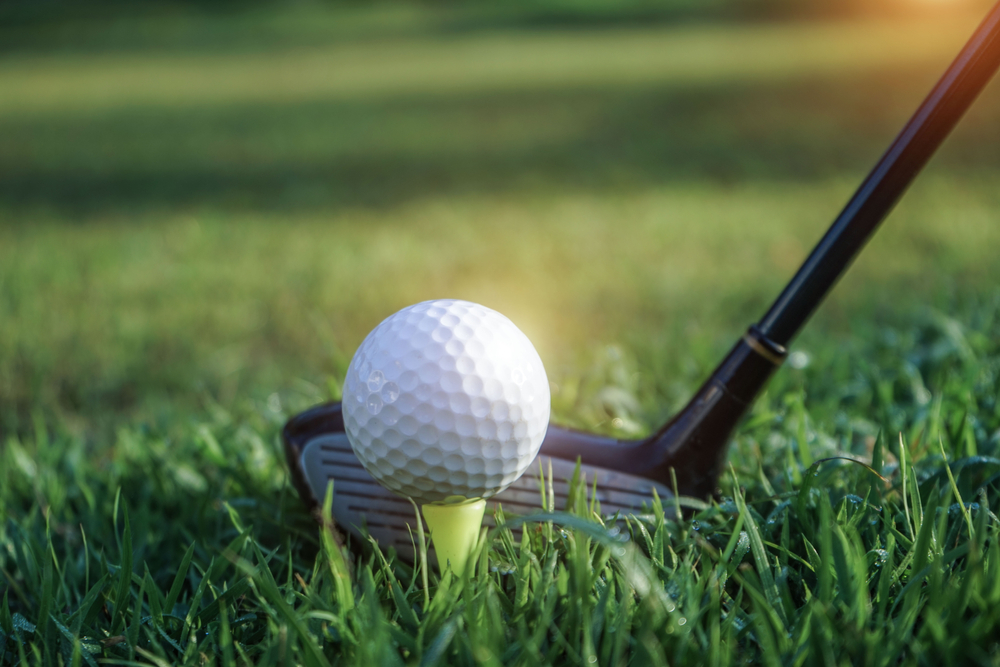 As you can see when it comes to things to do in Duck, North Carolina. Some of the best activities in Duck are free and children will love it here.
Whatever you choose to do we know you will have an amazing time. This part of North Carolina really is beautiful. Have a great vacation and come back and tell us all about it.