If you're planning a trip to South Carolina and looking things to do in Greenville SC, you are in the right place! Whether you're a local looking for a fun road trip, or coming from far away on a big adventure, there is something in and around Greenville SC for everyone!
Greenville is roughly midway between Atlanta in Georgia and Charlotte in North Carolina. It's the perfect place to stop if you're on the road, but you'll need more than a day to check out all the amazing art, spectacular parks and gorgeous restaurants! Families will also have a great time, with no shortage of child-friendly activities!
There's so much to do it's pretty hard to narrow down the best, but that's what we've done here for you, with our careful selection of fun things to do in Greenville. In fact, we love Greenville so much it made our list of best places to visit in South Carolina!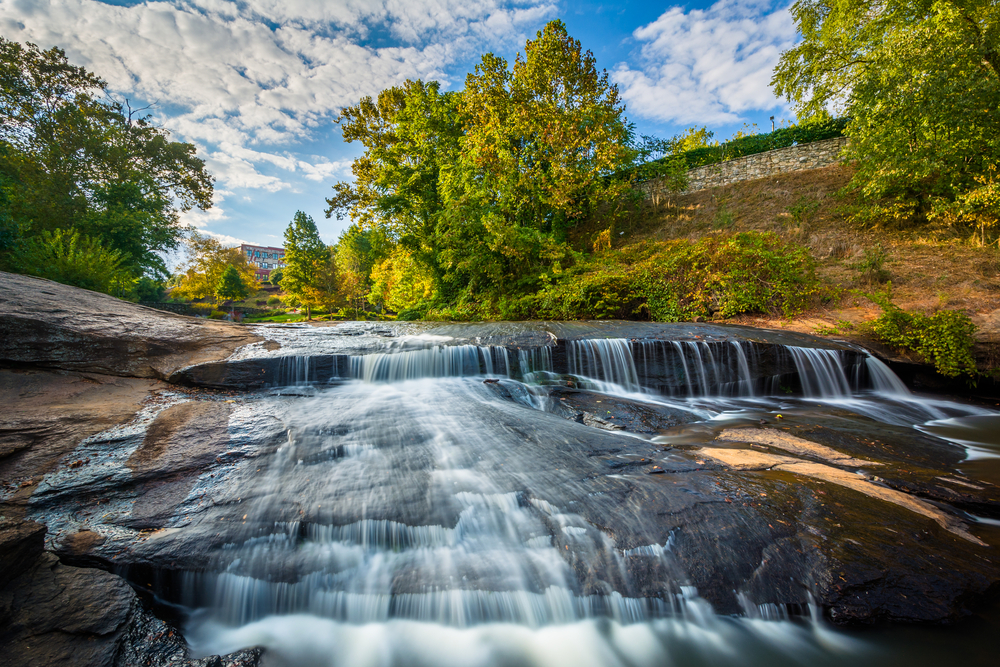 15 Best Things To Do In Greenville SC You Shouldn't Miss
Swamp Rabbit Trail
If you're looking for free things to do in Greenville SC, the Swamp Rabbit Trail is the perfect place to get some fresh air on your visit to Greenville SC! The 22 mile trail follows the spectacular Reedy River, weaving through city parks throughout Greenville SC. Enjoying this central trail also means you're never far from amenities and refreshments!
This greenway is ideal for walking or cycling and is listed as an easy trail. It's also available all year round! Also, in exciting history news, the trail follows a former railway line! Amazing!
We love the Swamp Rabbit Trail, picking out a section is a must-do way to spend a day on a visit to Greenville. What better way to see the heart of the city just as a local would enjoy it? It is truly one of the best things to do in Greenville SC!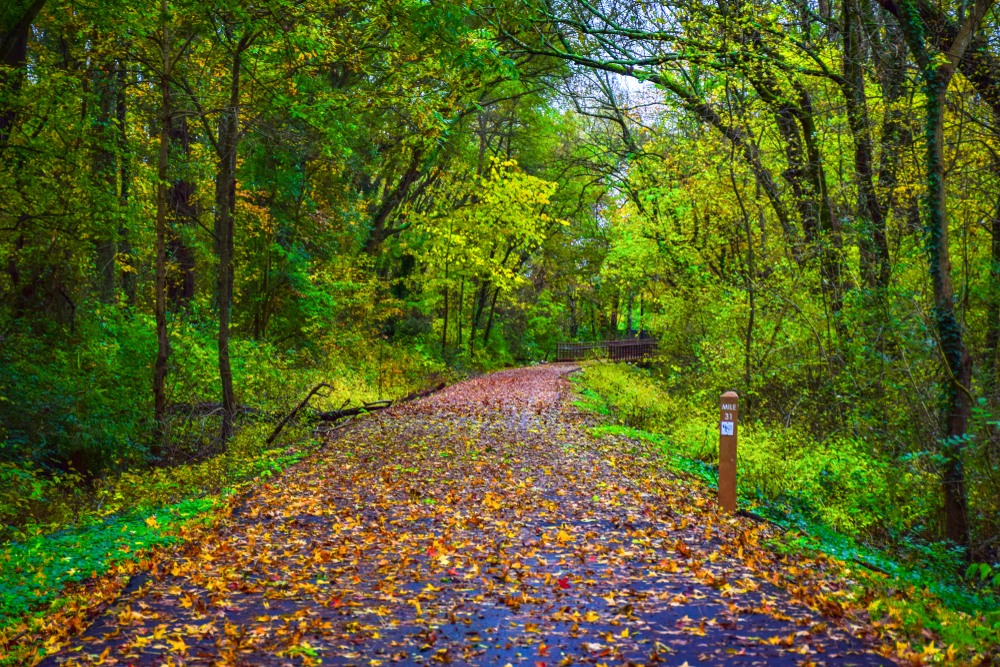 Greenville County Museum of Art
Greenville County Museum of Art is definitely one of the best things do in Greenville SC! This gallery has a great range of American artists including works by Andy Warhol and more than 40 works by Jasper Johns, who was spent his childhood in South Carolina! They are committed to showcasing the finest artworks representing the history and culture of southern USA.
The Greenville County Museum of Art is not open every day, and we highly recommend checking local guides in advance for the best days and times to visit!
Best of all, you are welcome to take photos in this amazing gallery (as long as there's no flash photography). The Greenville County Museum of Art is definitely one of the best free things to do in Greenville SC, BUT, for a nominal fee you can choose to join a volunteer on a tour of permanent and temporary exhibitions, to see and learn all about the artworks, while supporting the museum!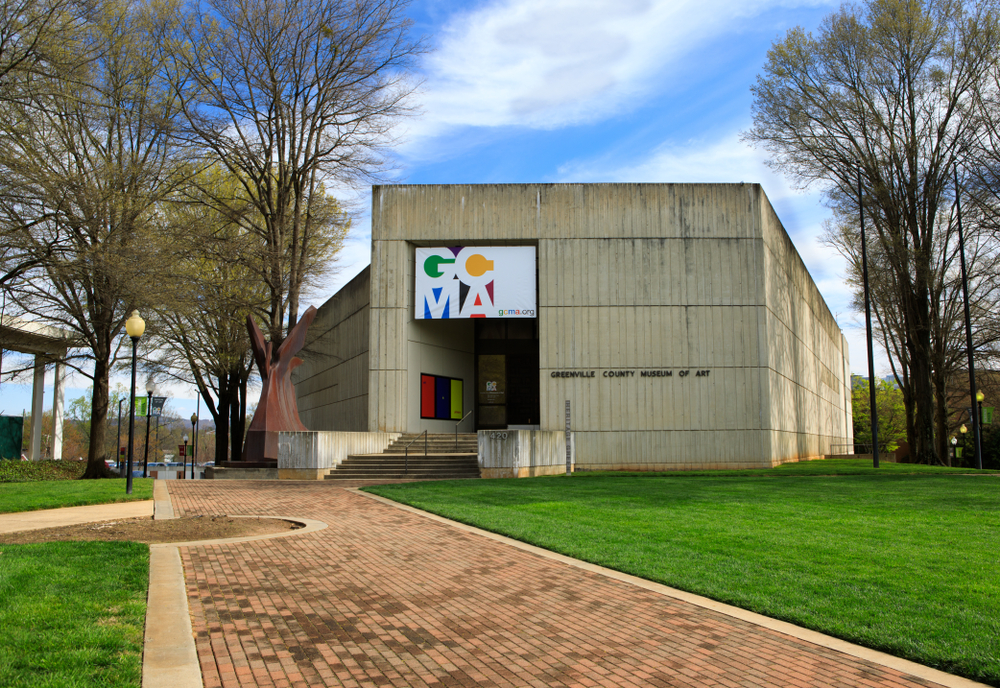 Small Group Walking Tour in Greenville with Breakfast
As you might know, the best way to see a new place is on a walking tour! Walking tours give an opportunity to be shown around by a local, hearing first hand from someone who knows their town. You'll see things you would miss in a bus and they're great for grounding and finding your sense of direction in a new place, so can be great activities for your first day in a new city.
That's why one of the best things to do in downtown Greenville is the Small Group Walking Tour in Greenville with Breakfast! Combining two of the best things about being on holiday – seeing new things, and breakfast! – this two hour tour by Foothill Foodie Tours will introduce you to some of the best southern classic breakfast must-haves at some of the best restaurants in Greenville while checking out the city at the same time. Make sure you come hungry! Did we mention this tour is also fully accessible? Fantastic!
TD Saturday Market
If you're visiting Greenville SC anytime in May all the way through until the end of October, you must visit the TD Saturday Market! It is truly one of the best Greenville activities, with two entire blocks of the main street of Greenville taken over by a wondrous farmer market.
On these Saturday mornings, around 75 vendors come together to offer the best local seasonal produce, and handmade art and crafts! In fact, all food available at the TD Saturday Market must be grown within 100 miles of Greenville!
We highly recommend you take a couple of hours to wander through the market and have a good browse, grab some breakfast and find yourself a souvenir of your vacation while supporting a local creator or farmer. One of the best ways to experience a city is through the eyes of a local, and by visiting the TD Saturday Market you'll be just doing that, while supporting local industry. It really is one of the top things to do in Greenville SC.
Roper Mountain Science Center
At Roper Mountain Science Center, their belief that science is for everyone means there is something for everyone here! And that's what makes it one of the best things to do in Greenville SC with kids!
Spanning a massive 62 acres, Roper Mountain Science Center has so much to offer, including a planetarium, observatory, butterfly garden, living history farm AND even a dinosaur adventure trail! Roar! You can also learn about the environment and sustainability in a hands-on setting. Plus, every Friday night they run a Starry Nights tour, where you can check out everything that's happening in the night sky.
Roper Mountain Science Center relies on support from the public to keep its doors open, which it even more important to visit when you're visiting Greenville! The opening hours vary depending on the season so be sure to plan your visit. Our favorite time to go is on a Friday night in darkest winter when there's a new moon… we just love to see the stars!
Six and Twenty Distillery
Visiting the Six and Twenty Distillery is one of the best things to do in Greenville SC for adults! This premium craft distillery create a range of amazing and award-winning products including a heap of different whiskeys, vodka, rum, and even peach cream!
Join the Grain to Glass tour to learn firsthand about the distilling process directly from the people who do it! Tours are run across three time slots every Saturday. They also offer games nights, workout classes and happy hour, as well as cocktail masterclasses three times a month, where you can learn how to make three different cocktails!
Drop in to their bar to try their amazing range in a tasting flight, or simply spoil yourself with a cocktail or three! When you find your favorite you can buy a bottle to take home and enjoy as a wonderful memento of your vacation!
Artisphere
If you're visiting Greenville SC in May, you MUST schedule your trip to coincide with Artisphere, one of the best arts festivals in the country!
Greenville has a thriving arts culture (check out the Greenville County Museum of Art if you don't believe us!) and this incredible arts festival, which runs across a full weekend, occupies several city blocks in the heart of Greenville. As well as visual and performing arts, local restaurants also participate, with amazing food options available too! Grab a bite to eat as you enjoy the live music, theater, and dance performances, or pop into a gallery to check out more than 15 different types of art mediums, including ceramics, painting and jewelry.
There's something for everyone at Artisphere, including kids, with crafting sessions, and exhibitions around science, technology, engineering, arts and maths! Artisphere is easily one of the most fun things to do in Greenville SC and being one of the best art shows in the country, it really is unmissable!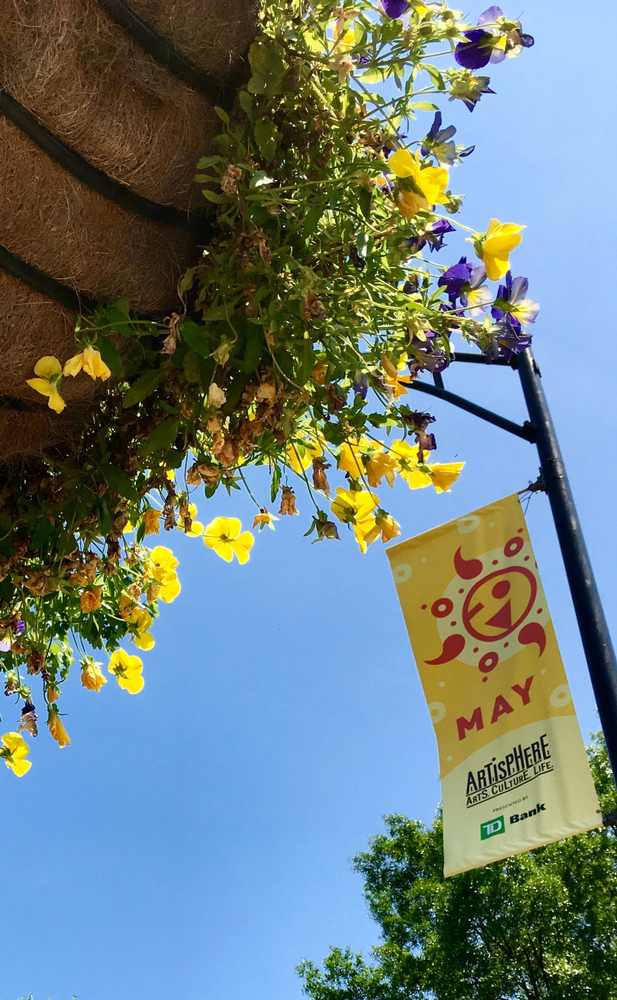 Table Rock State Park
Table Rock State Park is one of the best things to do near Greenville SC. Only a short 40 minute drive from Greenville, this state park is so spectacular you WILL want to stay the night! With more than ten miles of hiking trails ambling past streams and waterfalls, and two fishing lakes, it's a nature lover's paradise. That's before you find out there's kayaking and canoe hire, pedal boats and playgrounds!
Please note, hikers and campers are asked to check in when arriving at the park. The park is locked overnight and camping on the trail is prohibited, but with two campgrounds offering amenities including hot showers, who could say no? Other accommodation options include 16 cabins with a range of configurations to suit every group.
If you're spending a few days in Greenville SC we highly recommend a visit to Table Rock State Park, it's sure to be one of the highlights of your trip!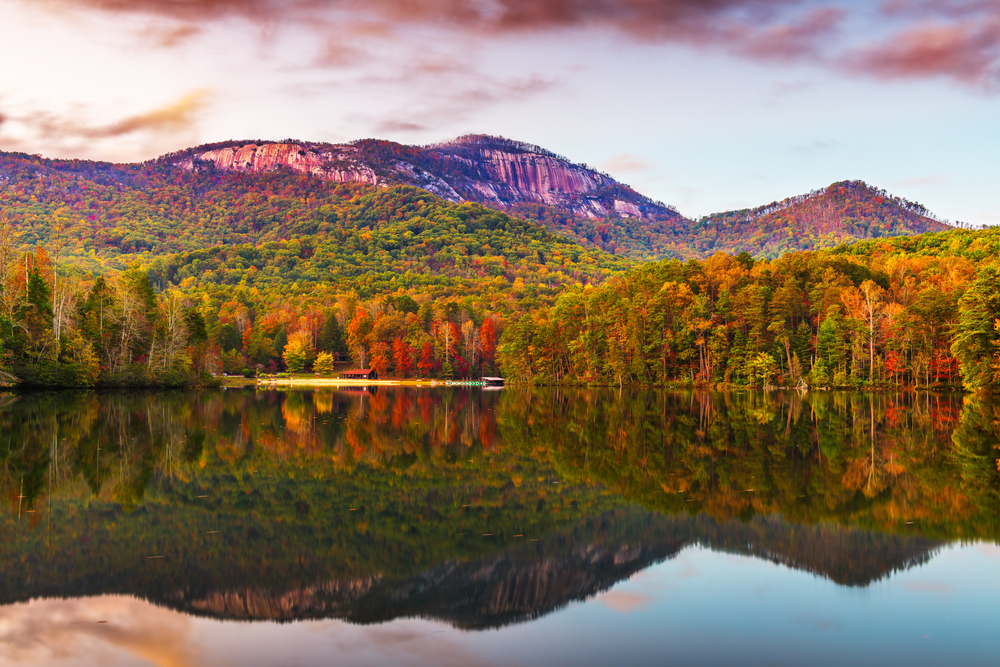 Children's Museum of the Upstate
The Children's Museum of the Upstate calls itself 80,000 square feet for fun, learning and play and it is not lying! If you're looking for what to do in Greenville with kids, this is IT!
The museum offers 21 exciting gallery exhibitions across three floors, where kids can learn about a range of topics such as nutrition and health, the environment, and construction. It's so hands on, there's even a toddler lily pond and a multi-storey climbing frame! Woaaah!
The Children's Museum of the Upstate is closed on Mondays so do be sure to check local guides before you visit. Also, we really encourage you to book your tickets in advance, as only ticket holders are guaranteed entry. While ticket entry is allocated in half-hour timeslots, your visit is not timed, which means you can spend the whole day checking out this wonderful museum!
Aryana Afghan Cuisine
If you're looking for a great place to eat, Aryana Afghan Cuisine is one of the best places to visit in Greenville!
Located in the heart of downtown Greenville, Chef Nelofar Mayar capitalizes on the very best recipes handed down through the generations in her family. This cafeteria style cheap eat restaurant offers meat or vegetarian and vegan options, with different dishes and fresh combinations cooked every day! You'll want to go back every day!
At Aryana Afghan Cuisine, Ms Mayar is committed to using fresh, seasonal and local produce, meaning that whatever time of year you find yourself at Aryana Restaurant, you know you'll be in for a treat! And don't forget a slice of baklawa for dessert! Oh yes! Please note, Aryana Afghan Cuisine is only open at lunchtimes, and not every day! We recommend calling ahead to check when they're open.
Paris Mountain State Park
Paris Mountain State Park is super romantic, with plenty on offer for families and groups too! It's definitely one of the top things to do near Greenville!
Located just five miles from Greenville, catch a catfish, bass or bream in the glorious eight-acre Lake Placid, rent a kayak, canoe or pedal boat (available seasonally) and just spend a day chilling in this forest wonderland. With 15 miles of hiking and bike trails, you will literally not run out of things to do here. Plus, Paris Mountain State Park offers fantastic camp sites as well as a group lodging for up to 40 people, so if you're thinking of travelling with a big group, it's a great option!
With trees crowding the shores giving a vibe of closeness, you'll feel like this beautiful park is your home for the day, or however long you decide to stay!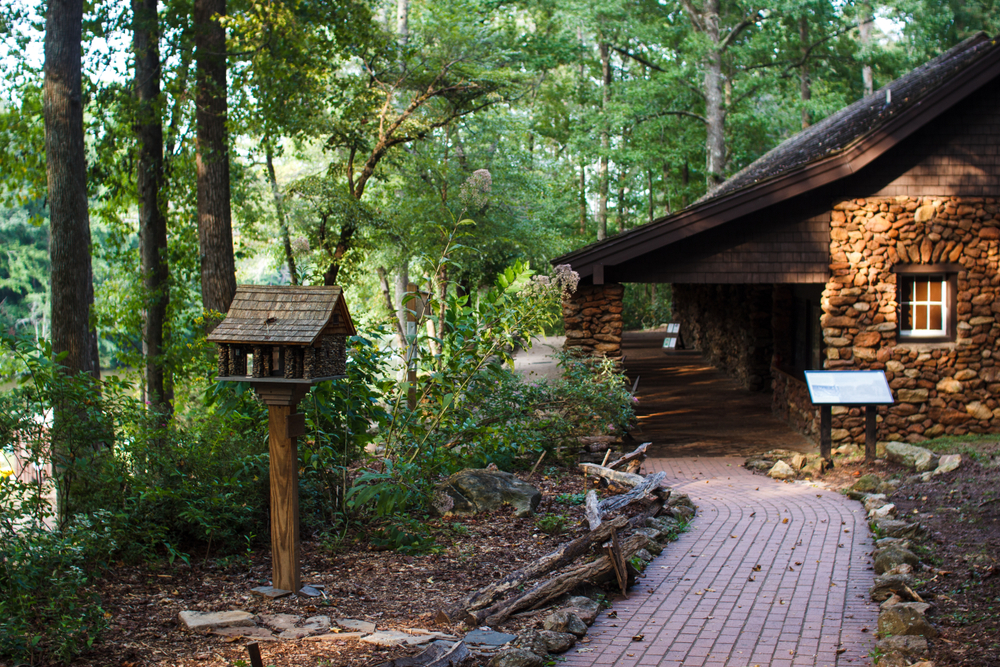 M Judson Booksellers
M Judson Booksellers is an independent bookshop located in downtown Greenville SC. Located in a former courthouse building and adjacent to the Westin, they offer a great range of books by South Carolina authors and books about the region. They also stock the usual range of kids' books, best sellers and classics, as well as a fantastic range of gifts, including homewares! It's a great place to stop by for a thoughtful souvenir from your holiday or gift for a loved one back home, while supporting an excellent local business!
They also offer an in-store restaurant, Camilla Kitchen, serving amazing treats and teas coffees, as well as beer and wine. Their list of specialty tea is incredible! And if you're in the mood for a snack, we love their cheddar, bacon and jalapeno scones, salted rosemary shortbread and apple crumble breakfast bars! Oh yum! Definitely add a visit to this lovely bookshop to your list of things to do in Greenville SC!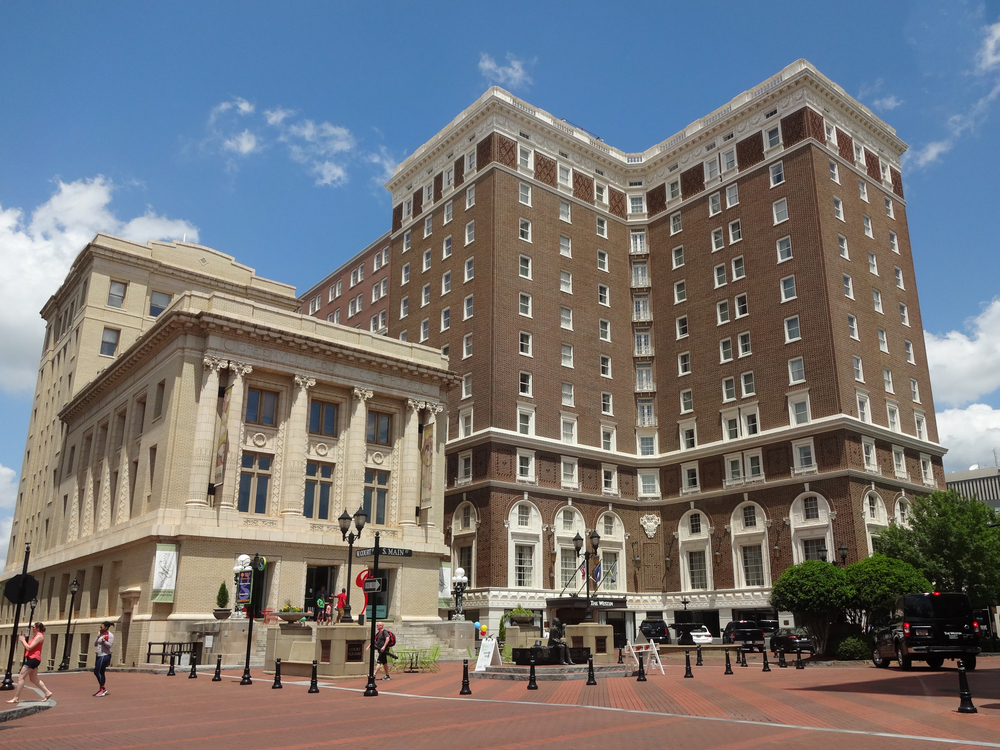 Sassafras Southern Bistro
If you want to experience authentic southern hospitality and food, look no further than Sassafras South Bistro. It is easily one of our favorite places to eat in Greenville, and even made our list of best restaurants in Greenville!
Sassafras offers the best of fine dining – crisp white tablecloths, handmade cocktails, an ambitious menu outstandingly executed, and outstanding customer service – without the typical fine dining price tag. The Sassafras menu has a focus on seafood, and we highly recommend the peppercorn crusted ahi tuna, pecan crusted rainbow trout, and their famous she crab soup. Sassafras offers alcohol specials on weekdays (half price bottles of wine on Wednesdays? Wine-not!) and a fantastic selection of local craft beer.
Open every day and with al fresco dining available under a gorgeous green canopy, an evening at Sassafras is definitely one of the best things to do in Greenville at night! Don't forget to tell them we sent you!
Falls Park on the Reedy and Liberty Bridge
Falls Park on the Reedy is the jewel in the crown of Greenville, an absolute diamond of a place, and definitely one of the top attractions in Greenville.
Essentially, Falls Park is a public gathering place in a beautiful setting, with multiple uses including music, theatre, festivals and even weddings! It is truly designed to be a place for the people, located in the heart of Greenville and surrounded by a bevy of local restaurants, shops and other great things to do in Greenville. Spanning across it is the Liberty Bridge, the almost 350 feet long suspension bridge that is somehow curved.
With stunning public artworks featured throughout, Falls Park represents everything that is delightful about Greenville SC. A visit to this city is not complete without a visit to Falls Park, a walk across the Liberty Bridge and maybe even a picnic in the beautiful green space. Did we mention it's free!?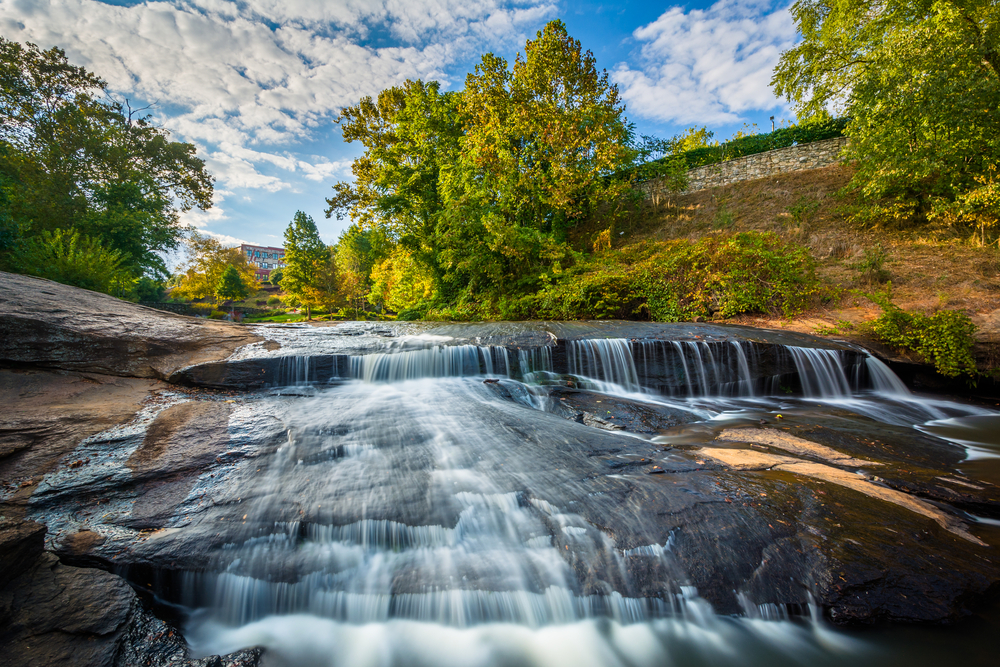 Mice on Main: The Scavenger Hunt
Mice on Main is by far THE cutest of all the best activities in Greenville, where you're invited to take part in a scavenger hunt to find the nine bronze mice hiding along Main Street between the Hyatt Regency hotel and the Westin Poinsett hotel.
Find all the clues at the official Greenville SC website and set off on your way to find these cute critters. It's such a wonderful idea, that was thought of by a high school student over 20 years ago, and inspired by the delightful children's book Goodnight Moon.
Sure, the Mice on Main is aimed at kids, but we seriously think it's one of the most fun free things to do in Greenville for people of any age! Public art truly is one of society's greatest gifts!