Are you looking for the best waterfalls in Maryland? Then you've come to the right place! Maryland is a beautiful southern state that might surprise you. Most people think of major cities, like Baltimore, beaches, or easy access to Washington DC when they think of Maryland.
But Maryland is also home to some beautiful national and state parks. Over a half a million acres of land in Maryland is designated park land, which is a lot for such a small state.
The state is full of diverse landscapes, including several large rivers, rocky mountains, and dense forest. So there are plenty of areas throughout the state that were perfect for nature to create some beautiful waterfalls.
Technically, there are 13 waterfalls in Maryland, and all of them are in either a state or national park. We say technically, because two of them are closer to rapids than a traditional waterfall. But, all of these waterfalls in Maryland are beautiful and unique.
On this list, we've included our favorite, and the best Maryland waterfalls for you to explore. Many of them are actually located in the same state park. So you can easily see two or three waterfalls in just one trip!
There are tall cascading waterfalls, smaller scenic falls, and even wide multi-stepped falls. So, let's take a look at the 10 best waterfalls in Maryland that you must visit!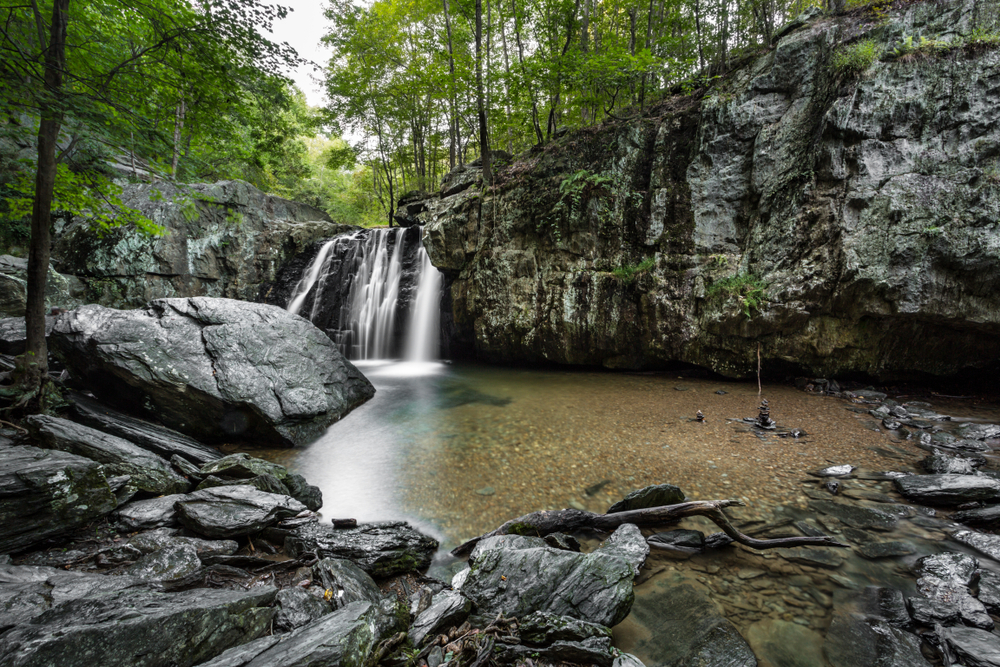 10 Best Waterfalls In Maryland You Must Visit
Muddy Creek Falls
Muddy Creek Falls is a waterfall in Maryland in Swallow Falls State Park. Swallow Falls State Park is in Oakland, in the far northwest region of the state. Despite the park not being named after this particular MD waterfall, it's often considered the highlight of the park.
Like most state parks in Maryland, there is an entry fee to enter the park. It varies by season, so make sure you check ahead of time what the fee is before your visit. Most parks only take cash for entry fees, so that's something else to keep in mind.
There are trail signs that will lead you to Muddy Creek Falls. During periods of heavy rain, the fall will be super strong and full. But typically, it's not so full. At 53 feet, it's considered one of the tallest waterfalls in Maryland.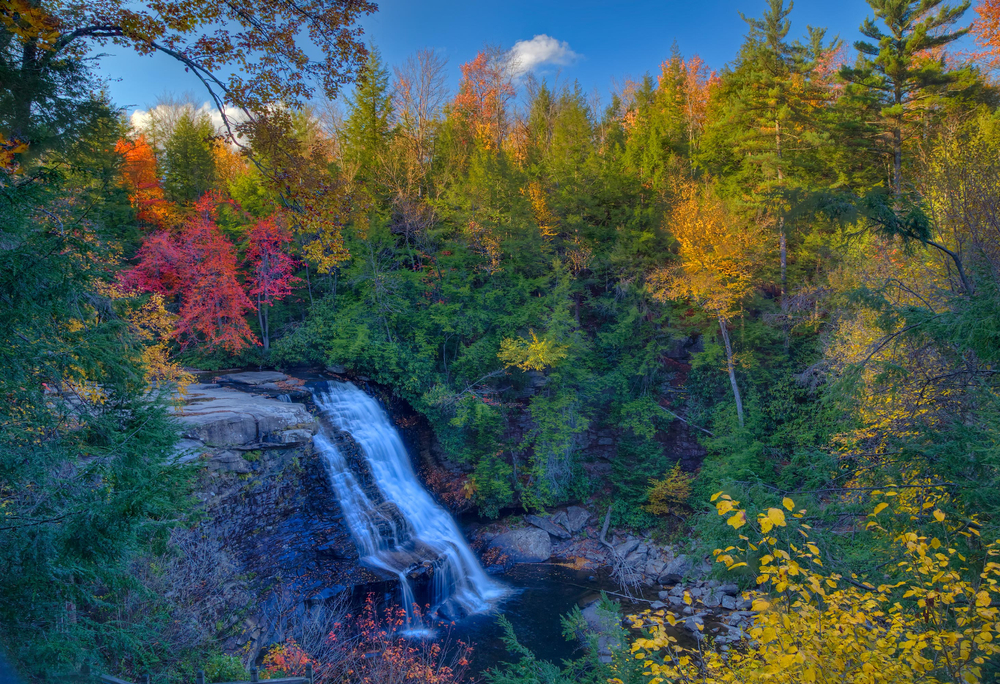 Swallow Falls
Just a short walk away, in the same state park, you'll find Swallow Falls. Swallow Falls is the namesake of the state park, and while it's not super big, it's still very pretty. It's more of a low wide waterfall instead of a dramatic steep falling Maryland waterfall. So it actually looks more impressive when the water level is a bit lower.
Swallow Falls Maryland State Park makes it super easy to find the waterfall. Just like Muddy Creek Falls, there are signs that lead you to the lookout point for the best view of the falls. The trail itself is about 1 1/4 mile through the park and it takes you to both Muddy Creek Falls and Swallow Falls.
If you're traveling in the northwestern part of Maryland, then you have to stop by this beautiful park in Maryland with waterfalls and scenic trails! However, the state is planning some major renovations to the trail system in the park. So make sure you check the state DNR website to make sure it's open before you make your way there.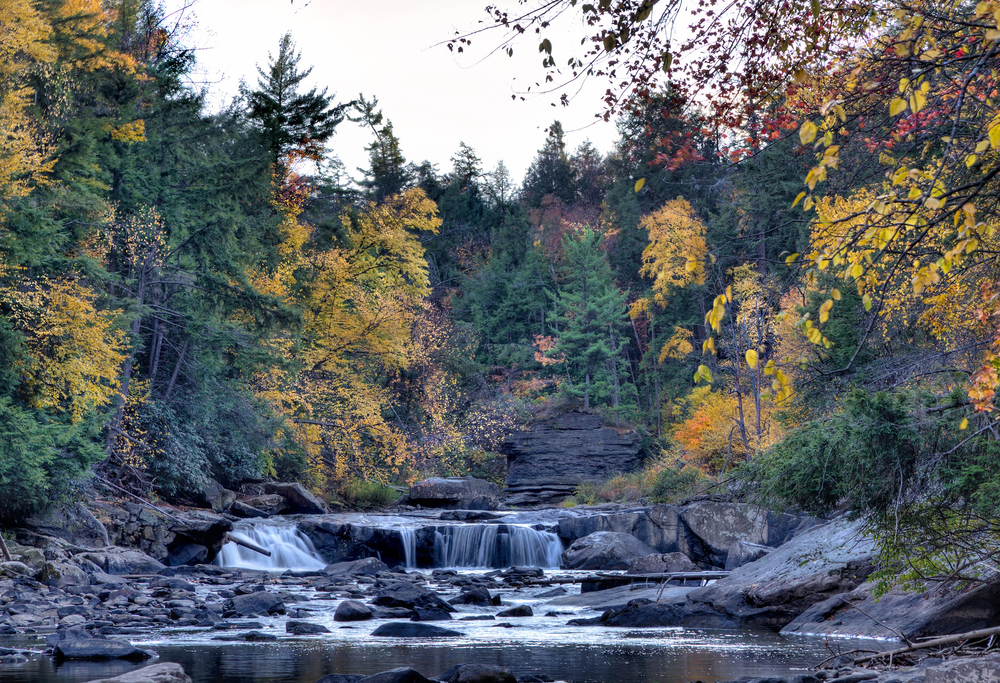 Tolliver Falls
Tolliver Falls is another smaller waterfall in Swallow Falls State Park. It's much smaller than it's neighbors, Muddy Creek Falls and Swallow Falls. At only a few feet tall, it's easy to think you can skip it while you're at the park for other bigger falls. But, what it lacks in size it makes up for in picturesque location and beauty.
You'll find the falls on a side trail, that designates it's for Tolliver Falls. It can be a little difficult to find the side trail, so you'll want to check out the trail maps before you head out. The trail itself is super easy to hike and only 1/2 mile round trip.
At just 6′, Tolliver Falls is definitely small. But the large rocks that make up the falls are layered in a way that leads to it cascading in 3 separate smaller sections. It then falls into a small pool of water before connecting to nearby streams. This waterfall in Maryland is especially beautiful in the fall when the dense woods are full of bright fall colors!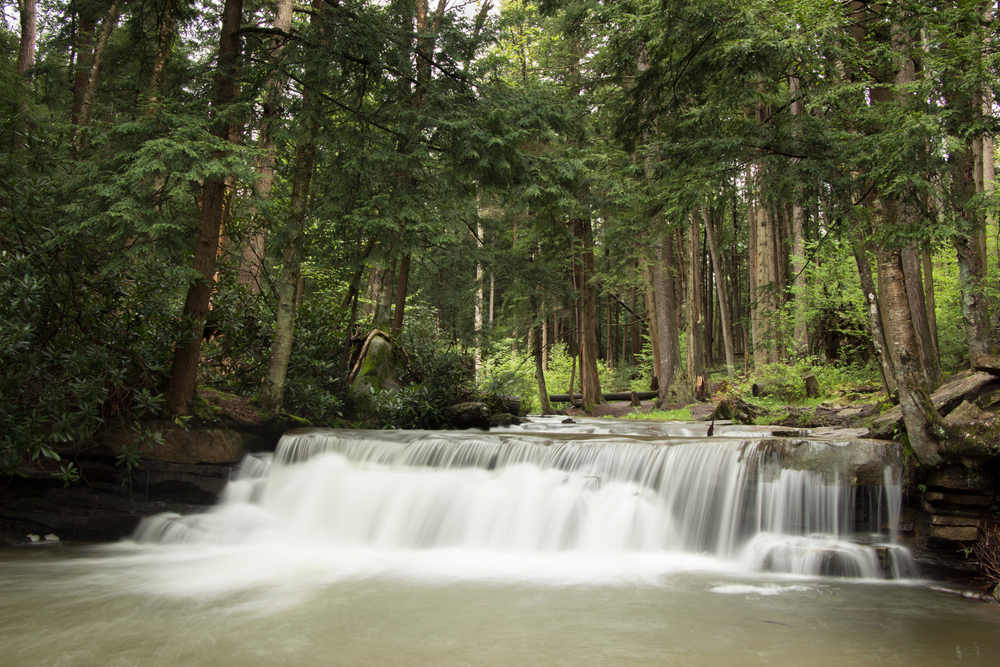 Cascade Falls
One of the most popular waterfalls near Baltimore is Cascade Falls. Cascade Falls is located in Catonsville, a city on the edge of the Baltimore city limits. It is actually located in one of the many different locations of Patapsco Valley State Park. The fee for entering this particular section of the state park is by vehicle, but varies by season.
It's also one of the prettiest waterfall hikes in Maryland. The trail is fairly flat for most of the time, with small streams running across it at certain points. On a beautiful weekend day, this is a super popular waterfall in Maryland to visit. Especially because it's easy to get to.
Cascade Falls is a smaller MD fall that cascades, hence the name, over large boulders. It drops down into a small pool of water that is connected to smaller streams and the Patapsco River. Many visitors like to take off their shoes and wade in the small pool of water at the base of the fall on a hot day. When you visit Cascade Falls, you'll see why it's one of the best waterfalls in Maryland!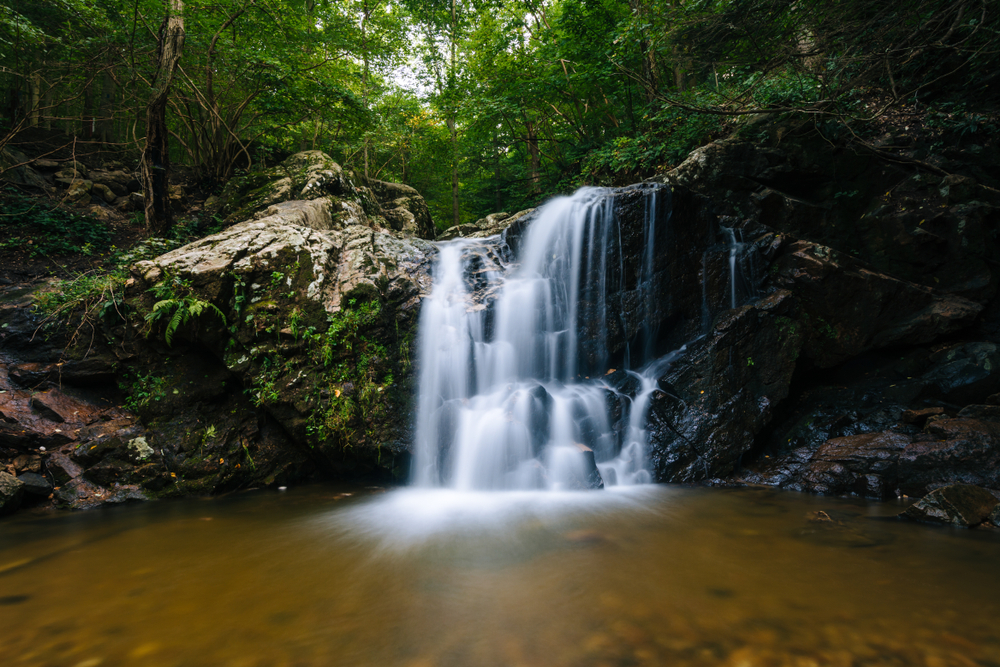 Cunningham Falls State Park
Another park in Maryland with waterfalls is Cunningham Falls State Park. Cunningham Falls State Park is in the northwest region of Maryland, in the stunning Catoctin Mountains. It's also near Frederick, a charming town in Maryland. But the big draw to this particular Maryland state park is it's beautiful waterfall.
Cunningham Falls State Park is named after the Cunningham Falls that are located within the park itself. The falls are the largest in Maryland, cascading into a 43-acre man-made lake. Hiking to Cascade Falls is pretty simple, but there are a few times where the trail goes uphill.
Visitors in the summer months enjoy hiking to the falls and then swimming, canoeing, and boating in the lake! It's a favorite waterfall hike in Maryland, especially in the fall when the scenery comes to live with bright fall colors. So we definitely suggest visiting during your fall trip to Maryland if you want to admire fall foliage.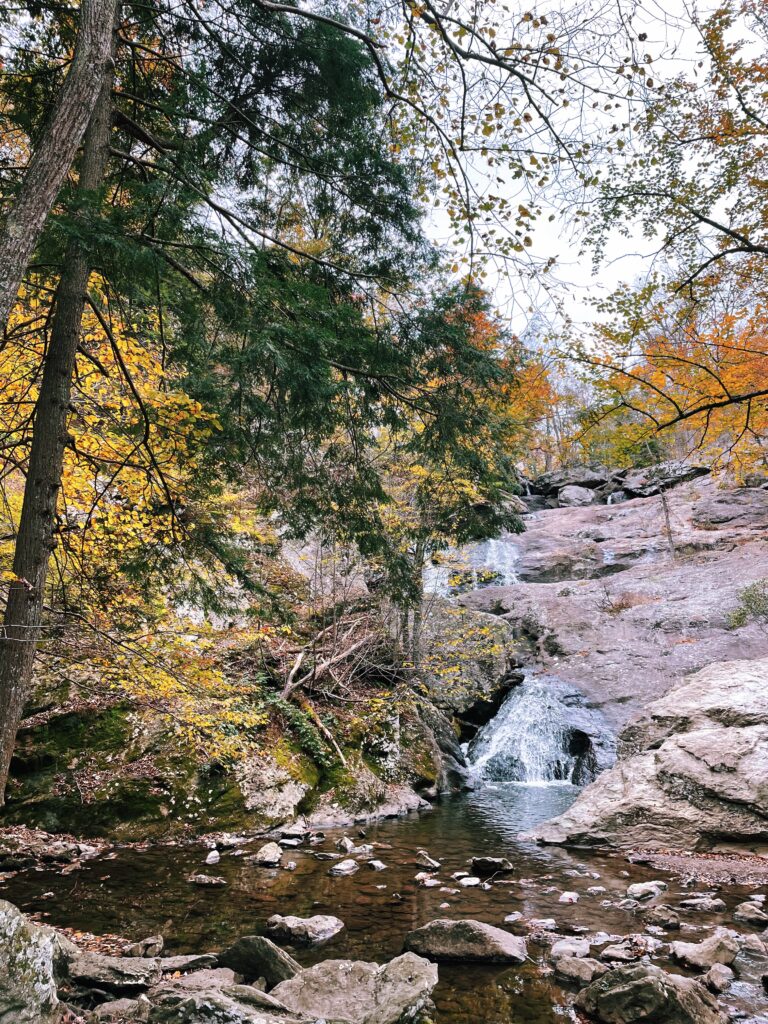 Great Falls Of The Potomac
The Great Falls of the Potomac is one of the best waterfalls in Maryland – and Virginia! That's because the National Park where you'll find the falls is partially in Maryland, and partially in Virginia, just like the falls. The National Park has two main visitor's centers that have access to the falls. If you're planning to visit in Maryland, you'll want to head to the Great Falls Tavern visitor's center.
Great Falls Tavern Visitor's Center is located in Montgomery County, Maryland, along the C&O Canal towpath. So it's pretty easy to find! Once there, you'll be able to pick one of the sections of the Billy Goat Trail that lead to the river basin and then the falls. Each trail has a different designated skill level, but Section C is considered the easiest section.
For the best view, head to the Olmstead Island Overlook. The falls cascade over a series of steep jagged rocks in the Mather Gorge are of the Potomac River. It's a beautiful dramatic waterfall with white caps of water flowing over the large boulders before it drops suddenly. If you're looking for one of the best waterfalls in Maryland, that's also a bit of a hidden gem, head to the Great Falls of the Potomac.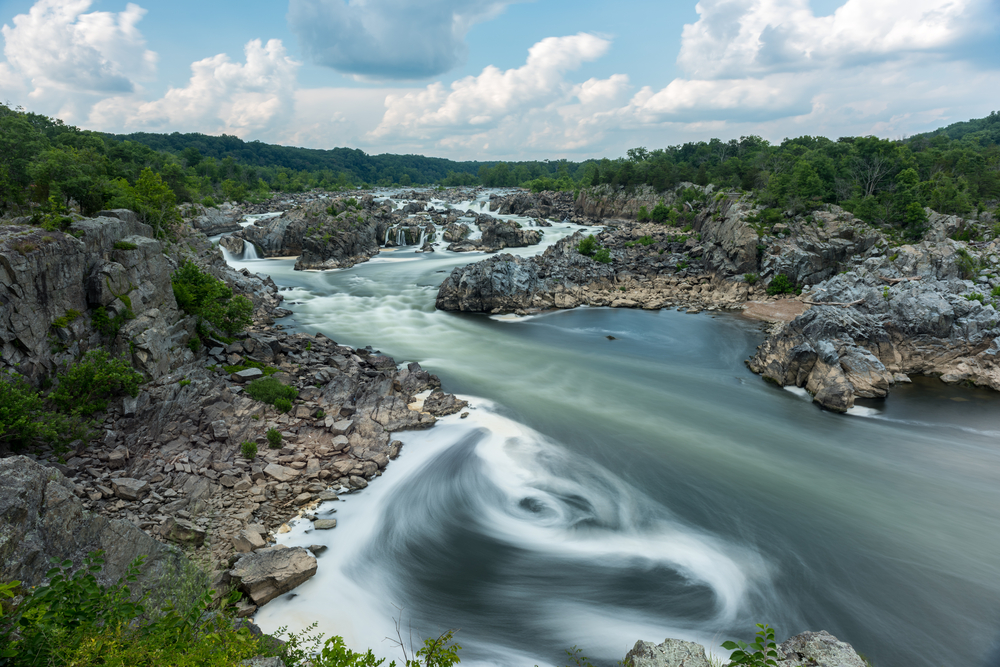 Gunpowder Falls State Park
Gunpowder Falls State Park is one of the largest parks in Maryland with waterfalls. In fact, Gunpowder Falls is one of the most popular waterfalls near Baltimore. Like many other parks in MD, Gunpowder Falls State Park has a few different waterfalls.
The most popular is Gunpowder Falls, the park's namesake fall. This waterfall in Maryland is actually two falls, the Big Gunpowder Falls and the Little Gunpowder Falls.
As you hike to the falls, the first you'll see is the Little Gunpowder Falls. The Little falls are a smaller off shoot of the larger falls, a little further down the river. As you continue hiking, you'll reach the Big Gunpowder Falls.
There are over 50 hiking trails in the state park, and almost all of them connect to views of the falls at some point. So just take your pick of trail based on your skill level, and what you want to see, and head out!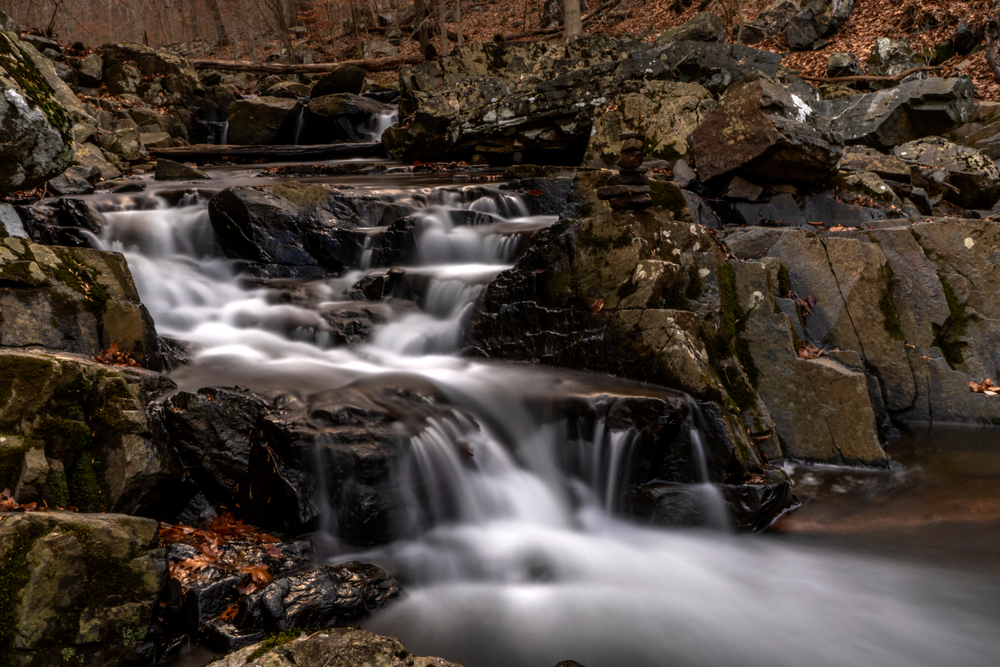 Raven Rock Falls
Also in Gunpowder Falls State Park is the Raven Rock Falls. You'll find Raven Rock Falls as you hike along the Big Gunpowder Riverbank. Raven Rock Falls is actually a bit of a hidden gem of a waterfall in Maryland. That's because for several years, the trail leading to the falls was neglected and had large overgrowth problems.
But, in 2022, the Maryland Conservation Corps did some serious work on the trail and made it accessible to the public again. To get to the falls, you'll want to hike the Gunpowder North Trail. The trail itself is pretty flat and easy to navigate, but there are a few rocky portions.
The falls themselves are on the smaller side. But they are surrounded by a lush green forest and it's generally a pretty quiet and secluded hike. If you're looking for one of the best waterfalls in Maryland that is quiet, secluded, and easy to reach, head to Rave Rock Falls.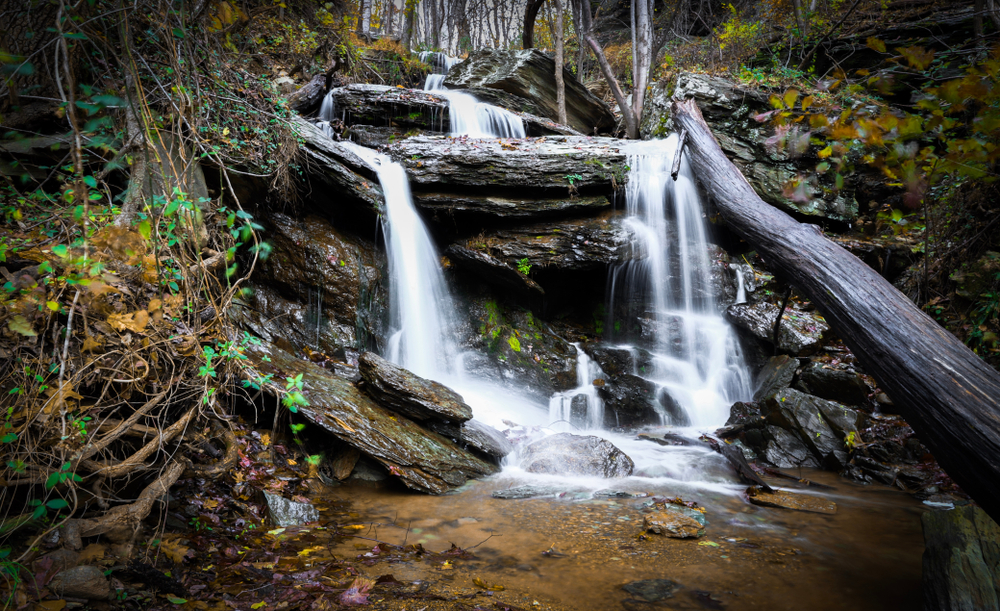 Gilpins Falls
Gilpins Falls is a waterfall in Maryland that is a little off the beaten path. If you just search for 'Gilpins Falls' you'll most likely be directed to the 'Gilpins Falls Covered Bridge'. In fact, if you just try to go to 'Gilpins Falls' your GPS will likely take you to private property.
So, instead, set your GPS to take you to the covered bridge – which is a really unique covered bridge in Maryland, and definitely worth a stop. But when you get there, it wont immediately be obvious where you need to go to see the falls.
Don't let that discourage you though. When you're at the covered bridge, you'll see a trail head to the right of the bridge. It's about 400 feet from the covered bridge and unmarked. That's where you'll need to go to hike to Gilpins Falls.
The hike itself is fairly short at just 1/2 mile and it typically takes 30-45 minutes to hike the trail. It's not a strenuous hike, but it is pretty rocky. And if you want the best views of the falls, you'll probably want to scramble up the rocks a bit.
Once you get to the end of the trail, you'll see a beautiful cascading fall over large rocks, surrounded by mature trees. It's worth the adventure, and definitely one of the best waterfalls in Maryland!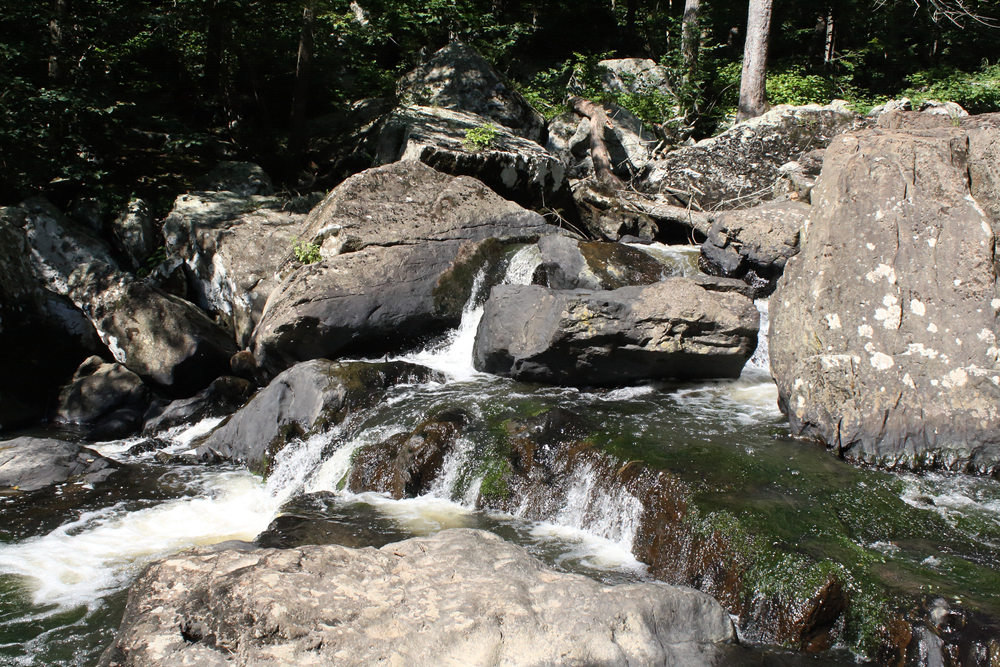 Kilgore Falls
In Rocks State Park, you'll find Kilgore Falls. Its not connected to the main entrance of Rocks State Park. Instead you'll have to drive another 5-miles north of the main park, to the Falling Branch area. This waterfall in MD is located in a secluded, non-developed area.
So from May 1st to Labor Day, you actually have to make a reservation to visit the falls on weekends and holidays. This is to minimize traffic to the protected falls during the 'peak' waterfall viewing season for the area. It's a short 1/2 mile hike that is fairly easy to hike.
The fall itself is the highest vertical waterfall in Maryland. And a really fun fact is that it was a major filming location for the early 2000's Disney movie, Tuck Everlasting.
Kilgore Falls, and Rocks State Park, is located in Harford County, which is just north of Baltimore. So this is one of the best waterfalls near Baltimore. Especially because it's nestled in a lush wooded area, but still close to some major cities in the state.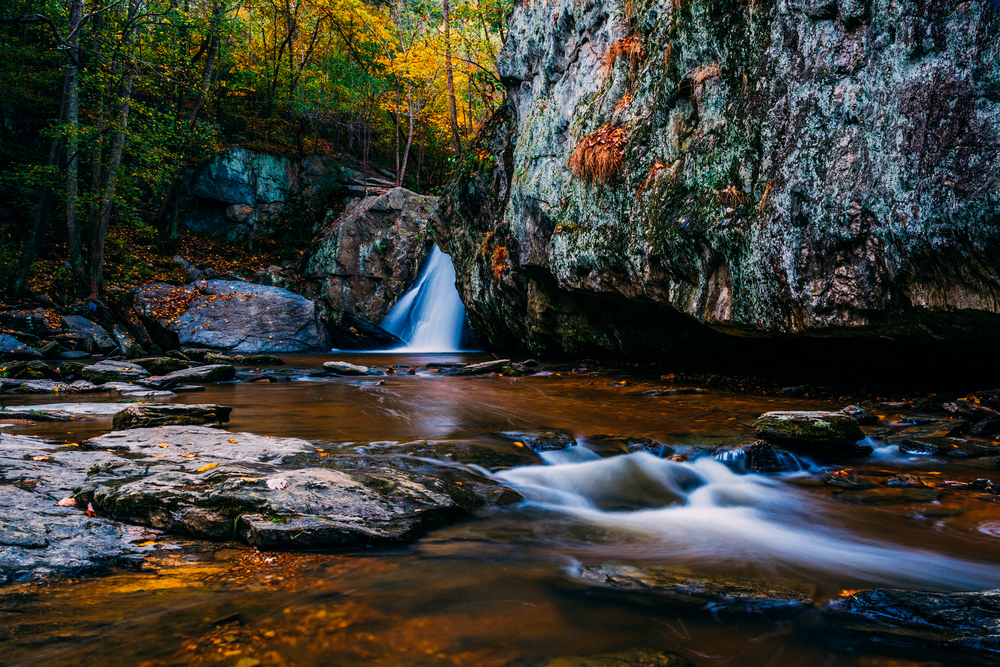 These waterfalls in MD are picturesque, and almost all of them are super easy to get to too! Whether you're looking for big dramatic falls or smaller secluded falls, these are definitely the best waterfalls in Maryland.
So we suggest you pack a picnic lunch, put on your best hiking boots, and explore the natural beauty of Maryland's waterfalls.
Have you had the chance to visit any of these waterfalls in MD? If so, we'd love to hear which ones are your favorite in the comments!