Are you thinking about checking out Fall in Maryland? You are in luck because MD is a beautiful place to experience fall. As summer fades and the leaves begin to change color, Maryland transforms into a breathtaking display of autumn beauty. Check out the cute small towns or large state parks to get the best of the things to do in Maryland in the fall!
Whether you're a leaf peeper searching for the best foliage views, a foodie looking to savor the season's flavors, or an adventure seeker seeking outdoor activities, Maryland has something for everyone. Get ready to grab your pumpkin spice latte (or not), cozy up in your favorite fall sweater, and discover why Maryland is a must-visit destination for fall travel.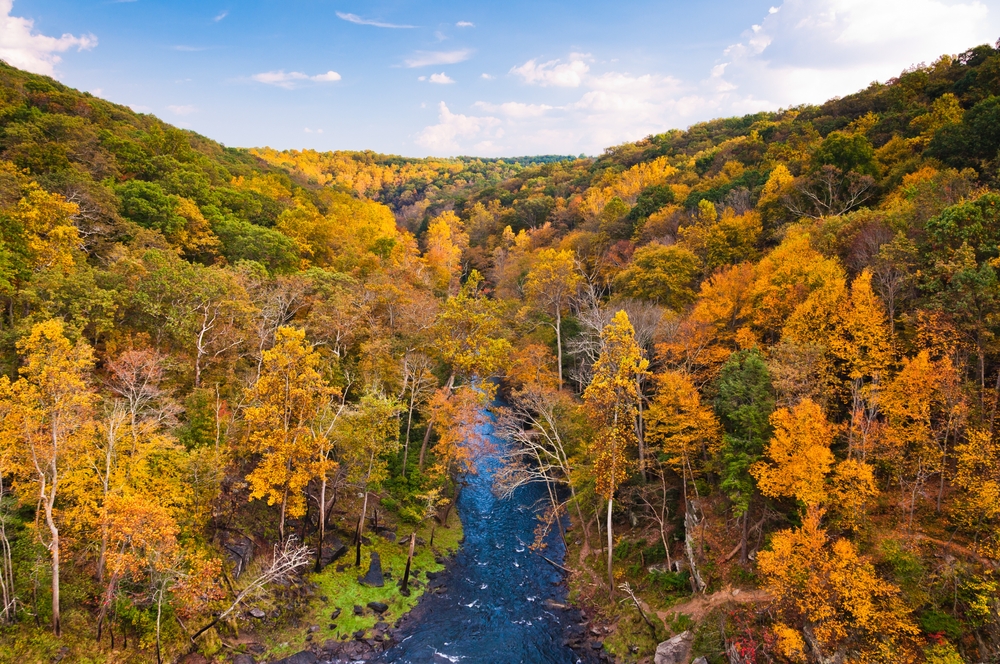 Does Maryland Have A Fall Season?
Yes, you can definitely experience the fall in MD! The best time to see fall colors in Maryland is typically from September through November. The temperatures begin to cool down a bit, leaves on trees change color and then eventually fall, and seasonal activities and events start taking place throughout the state.
What is the best time to see the leaves change in Maryland?
The best time to see the fall colors in Maryland depends on which area of the state you are in. The peak season for most of the state is mid-October, but this changes every year. The best way to keep up with the changes is to peep the local foliage reports. You can find these reports on the Maryland Department of Natural Resources which starts reporting in September.
10 Best Places for Fall in Maryland (Best Foliage Spots!)
Wilde Lake in Colombia MD
If you are looking for things to do in Maryland in September you should put Wilde Lake in Colombia high on your list. The fall foliage starts popping off here in late September to mid-October. This 22-acre man-made lake is surrounded by beautiful natural areas full of trees of different variations. It is a good idea to plan to spend a whole day here walking or biking around the 1.3-mile loop trail with your loved ones.
You can rent a kayak or canoe and enjoy paddling around Wilde Lake. It does get chilly so be sure to pack a jacket to wear while you are out on the water. There is also a children's playground and hiking trails nearby if 1.3 miles isn't enough to get your heart rate up.
There is plenty to enjoy in Colombia during the fall in MD. For two weeks from late September to early October the town puts on the Colombia Festival of Arts. This festival showcases local artists with displays exhibits, live music, and theater performances. There are also a few orchids nearby if you are looking for apple picking in Maryland. No matter what you are looking for checking out Wilde Lake in Colombia is the perfect fall getaway.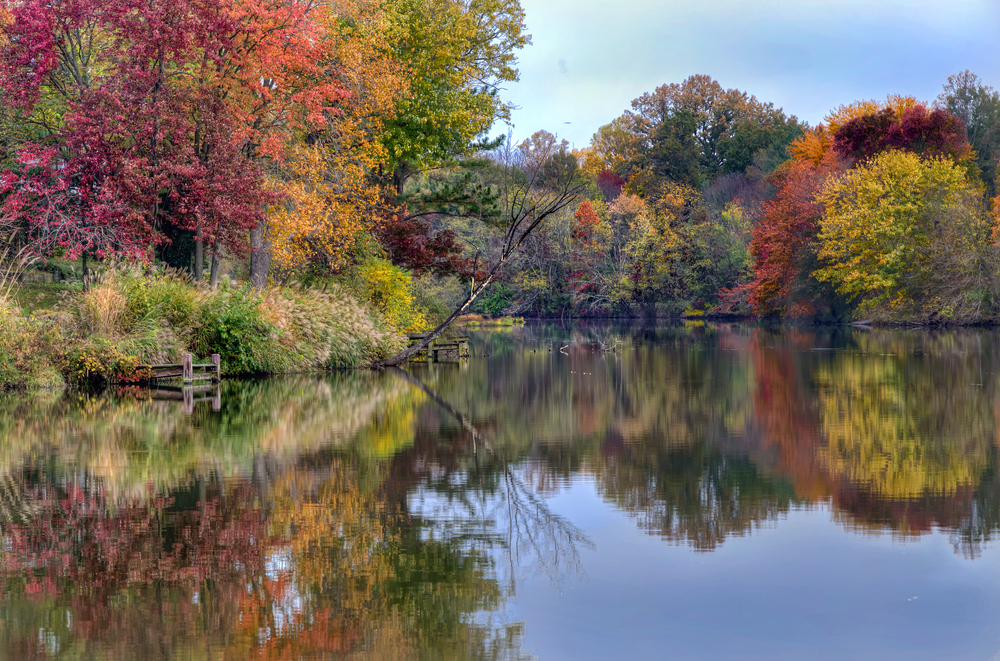 Route 40 is Close to Cumberland MD
The best time for a fall foliage road trip in Maryland on Route 40 is from mid-October to early November. This is typically when the leaves are their brightest and most vibrant. There are several places along Route 40 to stop but one of the very best is known as Dan's rock. Here you can enjoy panoramic views of the colorful foliage.
For things to do near Route 40, The Allegany County Fair and Agricultural Show are both held in late September. They are popular events that feature exhibits from local farmers, old fashion carnival rides, and live entertainment. Also, there is the Canal Place Fall Festival that is held in October. Here you can find fall-themed fun, like pumpkin patches with carving sessions, hayrides for the babes, and live music.
Swallow Falls State Park
Up next for the best Maryland fall foliage spots is Swallow Falls State Park. Now this park in Oakland MD is a gem to visit all year long because of the popular hiking trails and beautiful waterfalls. But in the fall the leaves burst into flashing colors and this is when it shines. The leaves are their biggest and brightest during mid-October to early November at Swallow Falls State Park.
When visiting you can plan to hike the famous Swallow Falls Canyon Trail. This is the route that takes you to the largest waterfall in MD known as the Muddy Creek Fall. Also in Oakland, there are several fall-themed events and activities for you to enjoy.
The top has to be the Autumn Glory Festival, normally held in mid-October. It is such a fun event that features a parade, local craft vendors, and live entertainment. Plus, you can check out the Garrett County Fairgrounds when visiting Swallow Falls State Park which is also located in Oakland MD. Every year they put on a pumpkin festival with a corn maze and fun hayrides. You will love everything about visiting here during fall in MD!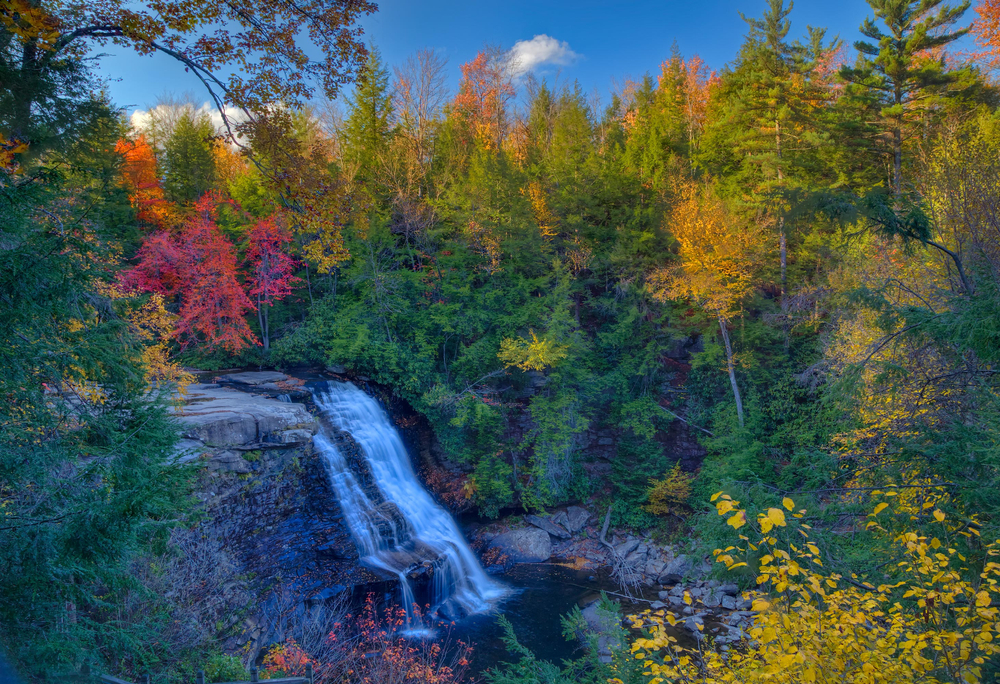 Visiting Annapolis Maryland is Always a Good Idea
Annapolis is a wonderful place to visit all year long, there are hip restaurants and plenty of things to keep you entertained. But if you are planning on visiting Maryland in the fall to see the colorful trees you have to make a stop in Annapolis. The best time to visit for fall foliage and fun activities is in October.
Quiet Waters Park has a quiet place to stroll around and check out the pretty leaves changing colors. There are hiking and biking trails, a doggy park, and a few spots for picnics. On Sundays, you can peep the Annapolis fall farmers market and purchase fall veggies, and spices.
There are boat shows including the U.S. Sailboat Show and the U.S. Powerboat show. If that isn't your scene maybe the Maryland Renaissance Festival is more your vibe. You can check out this fun event on the weekends anytime from late August to October. Annapolis is one of the best places to see fall foliage near Washington DC.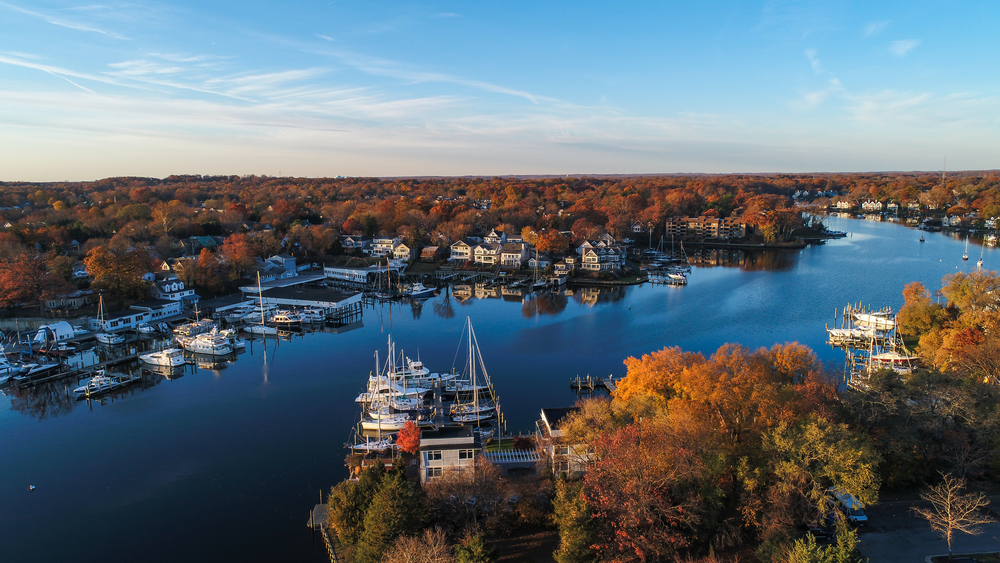 Easton Maryland in The Fall
If you are looking for things to do in Maryland in October the small town of Easton is a great place to start. This picture-perfect town on the Eastern Shore makes a great weekend getaway from the hustle and bustle of city life.
Tuckahoe State Park is the best place to get out of town and explore the local hiking, fishing, and biking trails. This is also one of the best places to see the leaves change to beautiful fall colors. Another place to check out in Easton for fall foliage in MD is the Pickering Creek Audubon Center. There are many trails with both tree and birdwatching opportunities here as well.
If you are planning to visit in November the annual Waterfowl Festival is another wonderful event in Easton. Here they celebrate the rich history and culture of the Eastern Shore. No matter when you plan on coming in the fall Easton is a real treat to explore.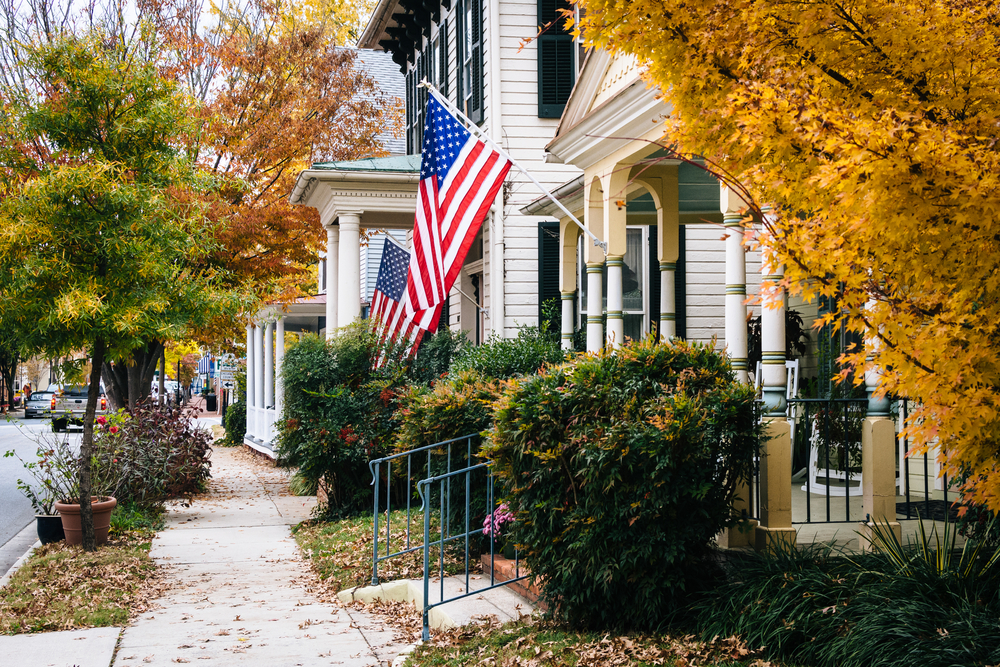 Visiting the Rocky Gap State Park in Maryland
Up next is the beautiful state park Rocky Gap. If you are planning on visiting Maryland in the fall you have to make a pit stop here. It is located in the small western town of Flintstone, in the Allegany County of the Application mountains. The leaves start to shine during late September and it tends to last until throughout October.
Many people take the trek out to Rocky Gap State Park for the numerous hiking trails and most famously the Evitts Mountain and Lake Habeeb trails. You can rent a boat and glide around the beautiful lake. Bring your favorite fishing poles and get ready to catch trout and bass. Or just pack a lunch, bring a jacket and enjoy the fresh air.
There is also a beautiful campground for RVs, tent campers, cabins, and trendy Yurts available to book so you can spend a few days admiring fall in MD. Once you are done exploring Rocky Gap State Park the Chesapeake and Ohio Canal is nearby and also have breathtaking foliage and hikes to enjoy.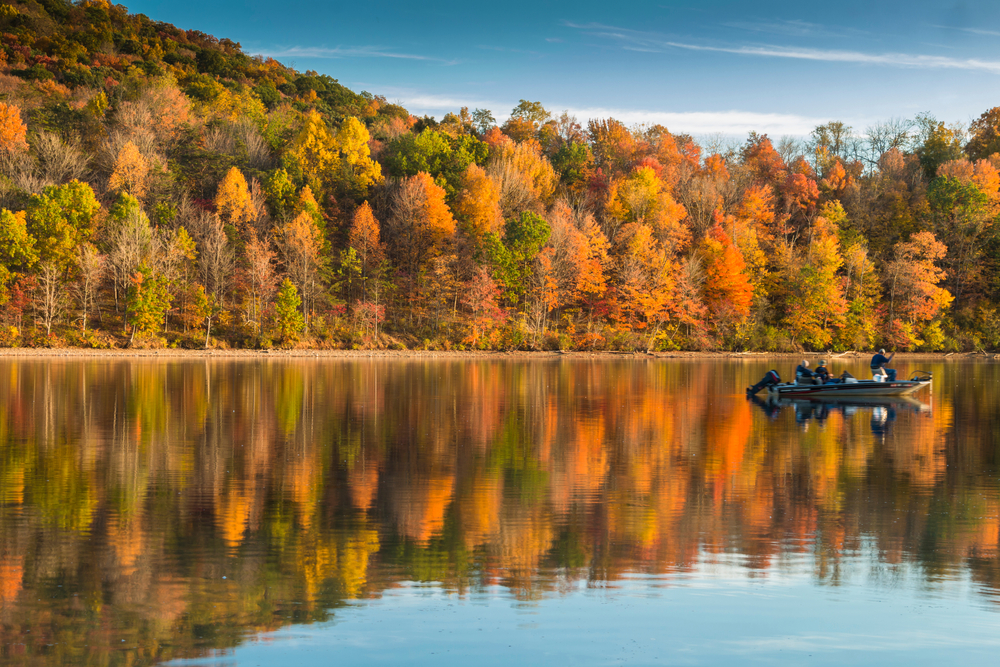 Hike to the Annapolis Rocks
One of the best places to put on your list when visiting Maryland in the fall is the Annapolis Rocks. They are located on the Appalachian Trail near the town of Boonsboro. To get to the outlook you will need to hike 2.5 miles both ways, but there is plenty of fall foliage to see along the way.
Expect the hike to the Annapolis Rocks to be moderately hard with a few uphill parts, but the trail is regularly maintained and should be easy to walk. The best time to visit for the rich colors is from late September through the whole month of October.
After your hike, if you wanted to check out the town of Boonsboro you will find a cute small town with a few restaurants and historical sites. Most people head over to Harpers Ferry West VA as it is only about 30 minutes away. If you are looking to get out in nature and see the best fall foliage in MD Annapolis Rocks is the perfect place for you!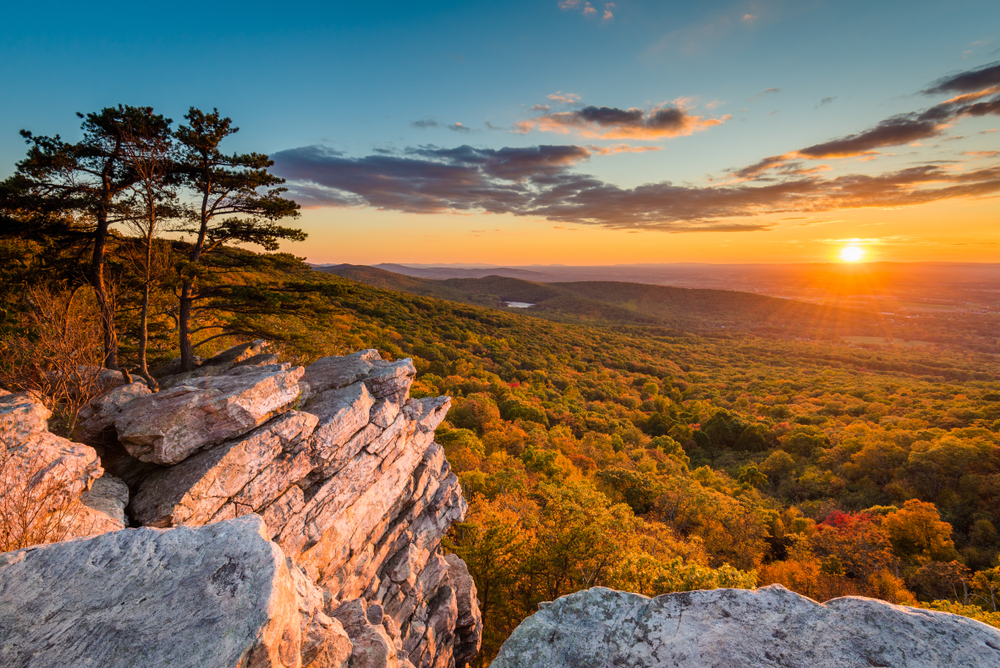 Baltimore in the Fall
There are several places to see fall colors near Baltimore. It is best to plan your trip from late October to early November for the prettiest colors. The very best place to gaze at the fall foliage in Baltimore is Druid Hill Park. This park is 745 acres large and is best known for its variety of trees. Including oaks, dogwoods, and maples all displaying vibrant fall tones.
To make a day of it you can also check out Patterson Park, and Sherwood Gardens. Patterson Park is located near southeast Baltimore and has over 150 acres of fall foliage. There is a pretty walking path around Boat Lake in the center of the park that makes for a romantic and peaceful day.
Sherwood Gardens is in the Guildford neighborhood. Here you can see pretty red leaves on both the Japanese maple and the ginkgo trees. It is best to try and visit early in the morning to beat the crowds.
Besidesgorgeousgoues trees, you can also just out the annual events that take place in the fall including the Baltimore Farmers Market and Bazaar, Maryland Wine Fest, and the Baltimore Book Festival. There are so many things to do and places to stay in Baltimore no wonder it is one of the most popular cities to visit in Maryland.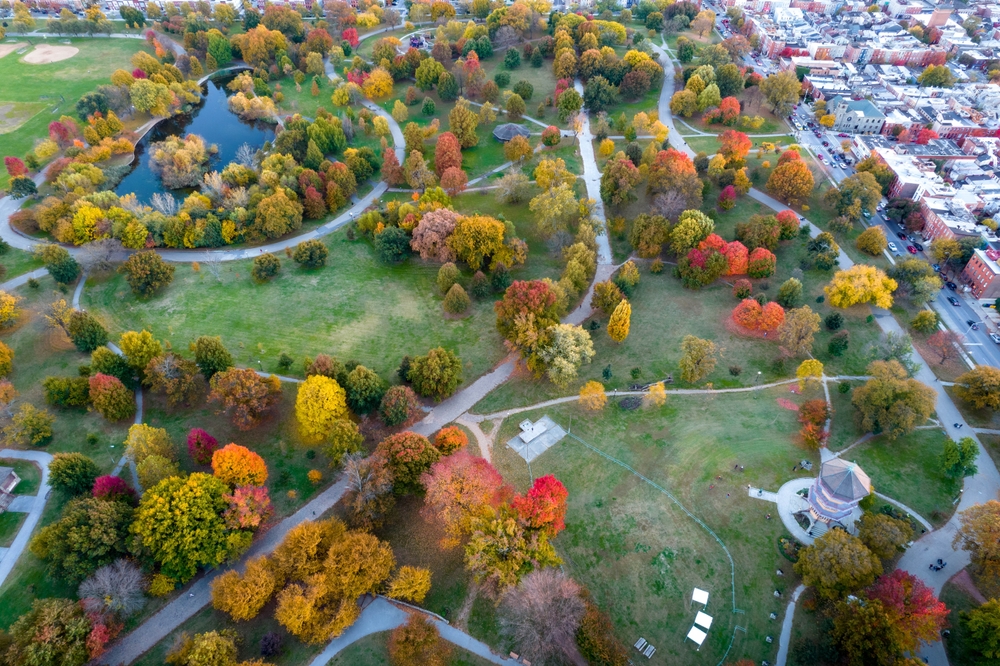 Visiting Gunpowder State Park in MD
Visiting Gunpowder State Park is always fun if you are looking for what to do in Maryland in the fall. It is located in the town of Kingsville in both Harford and Baltimore Counties because it is over 18,000 acres large.
There is biking, fishing, camping, kayaking, and biking to be enjoyed throughout this lovely land. The most popular hike to take in the fall is the 20-mile Torrey C. Brown Rail Trail. This trail is relatively flat so you could bike or hike on the trail to see the leaves.
If you are looking for things to do in Maryland in October the town of Kingsville holds a big Oktoberfest. There is German food, drinks, dances, and fun for all ages, even if you are not a big beer drinker. The town of Monkton is just a few miles away as well with many different restaurants, beautiful winters, and fun breweries to check out after your long hike.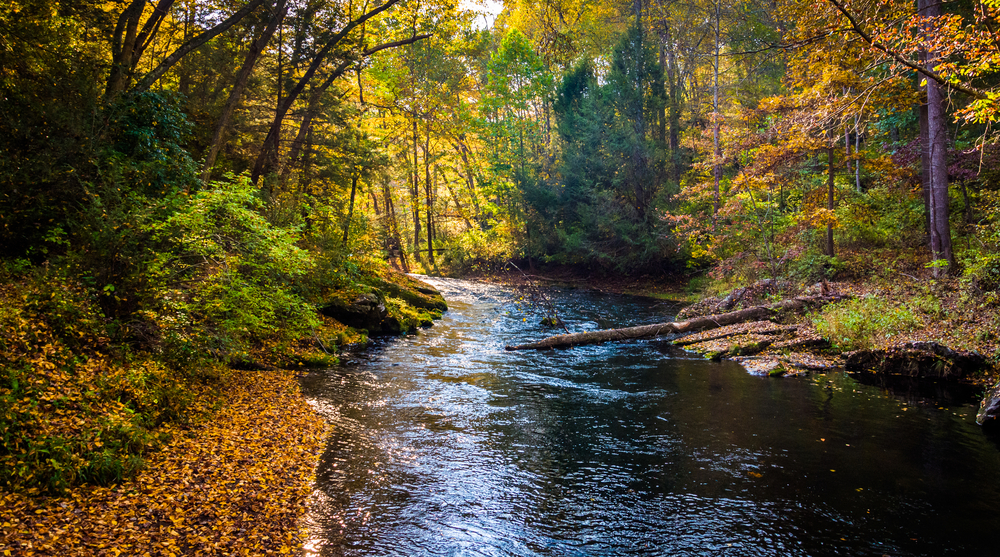 Patapsco Valley State Park is Wonderful During Fall in Maryland
Patapsco Valley State Park is one of the best places to see fall foliage in Maryland. This big state park is over 16,000 acres and is in the state's central area. Most people visit in mid-to-late October because that is typically when the leaves are the most vibrant colors. The most popular hike to see the foliage is Cascade Falls Trail which will lead you through the forest to a beautiful cascading waterfall.
Be sure to check out the Thomas Viaduct historic stone arch bridge. Nearby you can check out the B&O Railroad museum to see the large collection of historic trains. In the fall Howard County hosts the Ellicott City Fall Festival. This popular event has live music, serves local food and drinks, and is fun for the whole family.