Have you been looking for a list of the best restaurants in Blue Ridge, Georgia for your next trip?
Maybe you're working through a bucket list of places to see in Georgia, or perhaps you are a foodie looking for new places to add to your palette! Either way, we've got you covered on some of the best restaurants Blue Ridge has to offer.
Blue Ridge, Georgia has a special southern charm that flows into their food while some places on this list infuse flavors from around the world into their southern flavors! Keep your stomach hungry, we promise you'll want see all the places listed!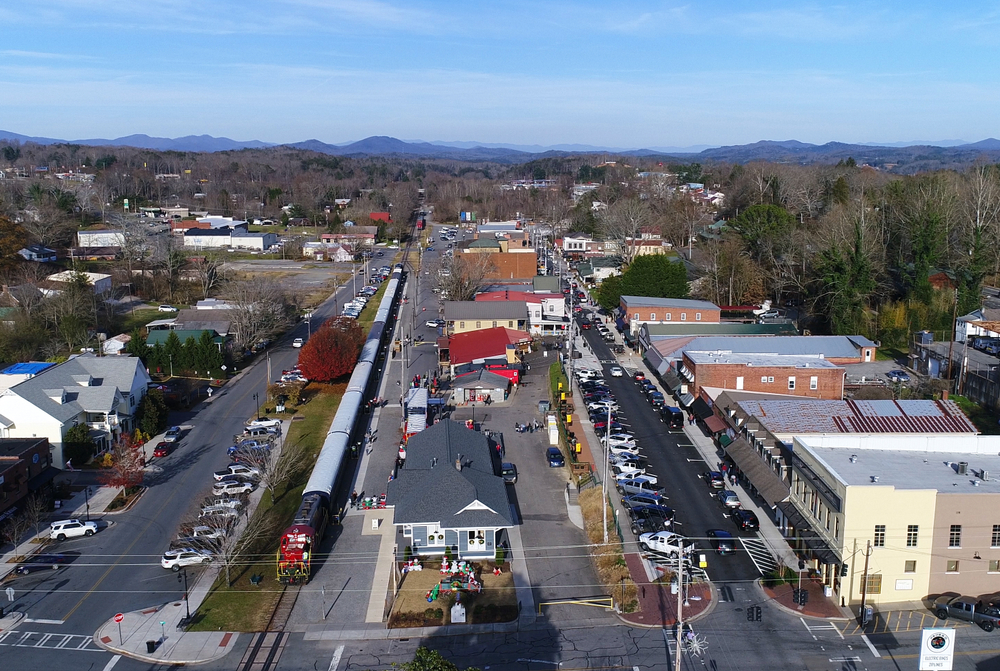 15 Best Restaurants In Blue Ridge GA You Must Try
Black Sheep
Black Sheep is located in the Historic Butt House that was built in 1914. That means this restaurant has a lot of history waiting for you to experience during your visit!
This Blue Ridge restaurant strives to serve you food that is "comfortably unfamiliar." They love to use fresh seasonal ingredients and they work hard to support local farmers and use ingredients sourced from their local vendors!
Their menu is extensive, starting with their Offerings. Some of our favorite dishes are the Cold Water Oysters on a Half Shell, the Tuna Nachos, or the Lamb Lollipop Chops. But the menu really becomes interesting when you make your way to the Supper selections.
Black Sheep has a Frutti di Mare which is lobster, shrimp, scallops, and mussels in a tomato sauce with fettuccine. This dish is hearty and surely to please seafood lovers from all over! This Blue Ridge restaurant also Atlantic Salmon, Pan Seared Half Chicken, or their famous Black Sheep Meatloaf.
Saturday and Sunday mornings they also offer special brunch offerings like their Chicken and Red Velvet Waffles!
This is a luxurious find and easily one of the best restaurants in Blue Ridge, Georgia for many reasons!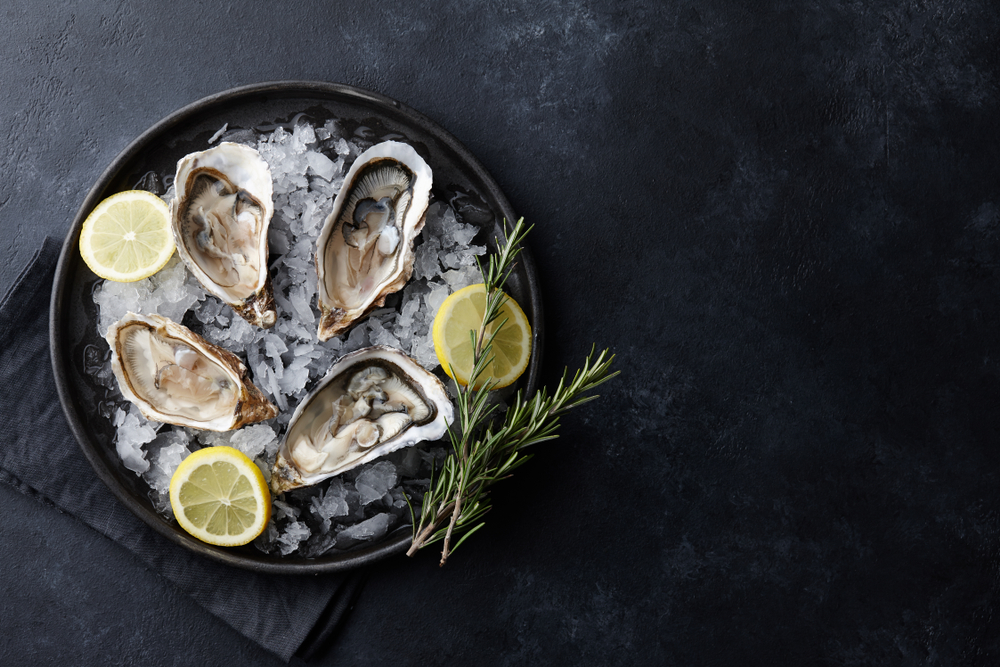 Southern Charm
This Deep South inspired restaurant believes in making sure their food is always "finger lickin'" good!
Southern Charm came together in 2013 from sibling owners, Angie, Dwayne, and Christi. Having ran restaurants in the past, they came together and decided to open Southern Charm!
Their menu is everything you could hope for a southern restaurant. Their starters are one of the best sections of the menu which lets you know you're in for a treat while eating here!
To start, they offer a variety of fried items that you may love too much to share with the table! Our favorite selections are the Fried Pickles, Fresh Mozzarella Bites, or the Homemade Onion Rings. Of course, you can't go to a southern restaurant without trying their Fried Green Tomatoes!
All of their fried selections are done in their special western seasoning, so they advise that their will be a slight kick in those items.
Their entrees are southern specialties, so we hope you have an appetite! Their sandwiches and burgers include their Meatloaf Sandwich and the Fried Green Tomato Burger! No matter which direction you go, you'll want to get a taste of everything here!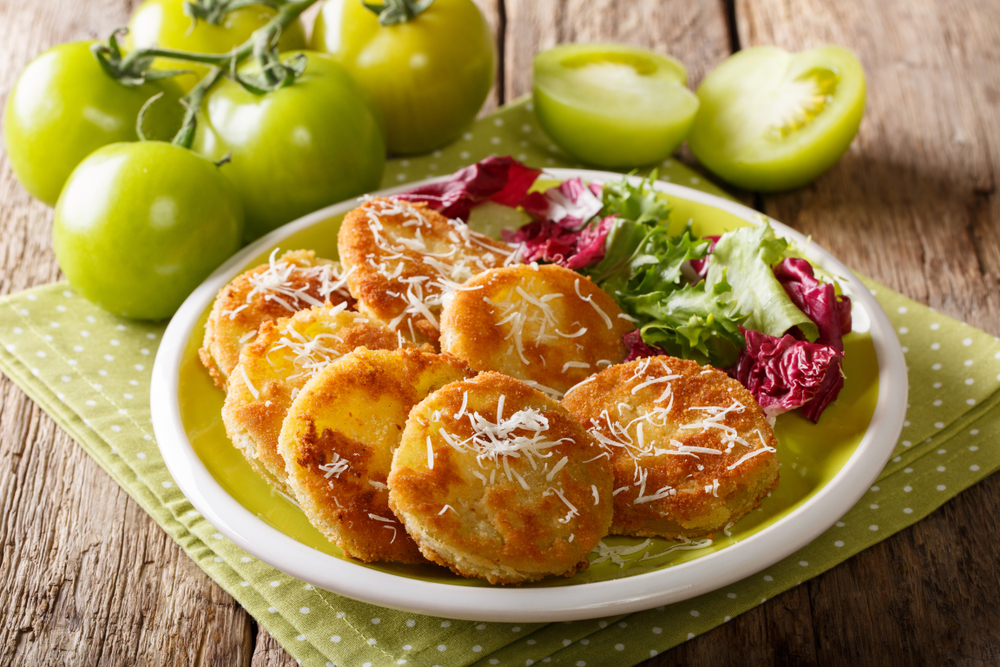 Harvest On Main
Harvest On Main is known for their locally sourced menu, and their global twists on classic southern dishes!
This is one of the best restaurants in Blue Ridge because of their locally sourced ingredients and their own involvement in the farming and producing of fresh foods!
Harvest On Main is open for lunch and dinner, so you get two full menus to select from depending on what time you go. Their lunch menu contains soups, salads, sandwiches, plates, and sweets. To start, you must try their Three Cheese, House Bacon, and Charred Corn Queso! If you love seafood, you'll want to try their Smoked Salmon and Trout Spread!
You can also skip the appetizers and go straight for the soup and salad menu! The House-Smoked Curry Chicken Salad is one of their most popular lunch dishes, and vegetarians love the Vegetarian Black Bean Chili! For sandwiches, we recommend the Blackened Salmon BLT!
The dinner selection is where the main entrees truly shine! To truly let the locally sourced ingredients shine, you must try the Locally Caught Rainbow Trout! This dish comes with Blackened Charred Corn, Lime Bean Stew, and Yukon Golds. For those that want to try something outside of seafood and gluten free, we recommend the Duck Cassoulet with Pork Belly White Bean Stew!
There are also vegetarian options on the dinner menu like the Wild Mushroom Ravioli and the Pasta Pomodoro!
You'll want to make this Blue Ridge restaurant one of your first stops while in Georgia!
Blue Jeans Pizza In Blue Ridge
This restaurant in Blue Ridge, Georgia is ideal for pizza and wing lovers!
Blue Jeans Pizza is the perfect place to check out if you're looking for comfort food and a good time. They use fresh dough that they make in house, which is one of the reasons this Blue Ridge restaurant is so popular!
Their menu is packed full of appetizers, pizza, calzones, and a ton of comfort food selections. The appetizers are drool-worthy, so you have to try the Fried Zucchini, Beer Battered Fried Shrimp, or the Mac & Cheese Bites!
But what people really come for is the pizza! One of the most popular selections is the Blue Jeans Special which gives you the choice of 4 basic ingredients to put on top. There is also The Works which you can pick 6 toppings, All Meat, Veggie, White, or White Veggie!
Calzone loves get the choice to build their own, or taste the Philly Cheese Steak! Their salad selections are also extensive. You can choose between the classic House, a Greek Salad, or Caesar. You can also try their popular Antipasta!
Blue Jeans Pizza also has a drive-thru for order pick ups while you're in a rush and don't have a lot of time to spare! They make sure that a time restraint won't hold you back from getting to try their delicious pizza!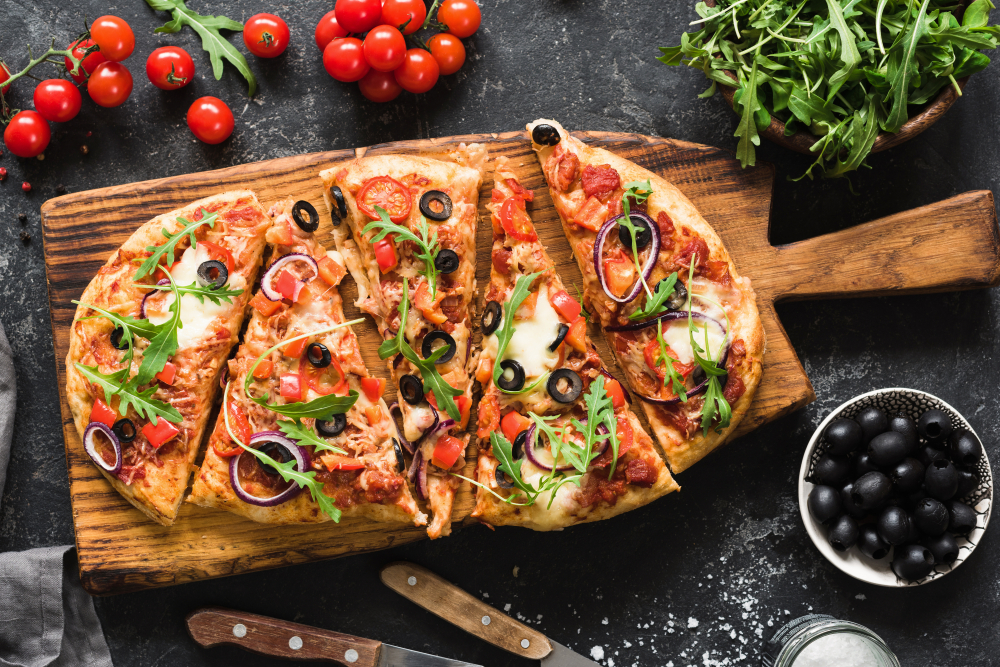 Tin Loong
Tin Loong is a popular Hibachi and Sushi restaurant that is known for their great Hibachi table selections!
They offer the classic sushi rolls like the California, Tuna, Salmon, and Volcano Roll. They also offer Nigri Sushi with selections like Fresh Water Eel and Red Snapper! Their selections are extensive so it might be hard to choose! If that's the case, they also have a Sushi Boat. This dish offers 26 pieces of sushi, so you can either share or use this to taste a large selection to determine your favorite pieces!
This Blue Ridge restaurant also has sushi selections for the adventurous eaters! We recommend you try the Dancing Roll, Amazing Roll, Smiling Roll, or Laughing Roll.
For their Hibachi Table selections, you can pick between their Chicken, Pork, Beef, Shrimp, Moo Shu, and Vegetable entrees. Not only do you have a large selection to go off of, you also get the joy of watching your choice being cooked in front of you! This elevates your dinner to an entertaining event as well.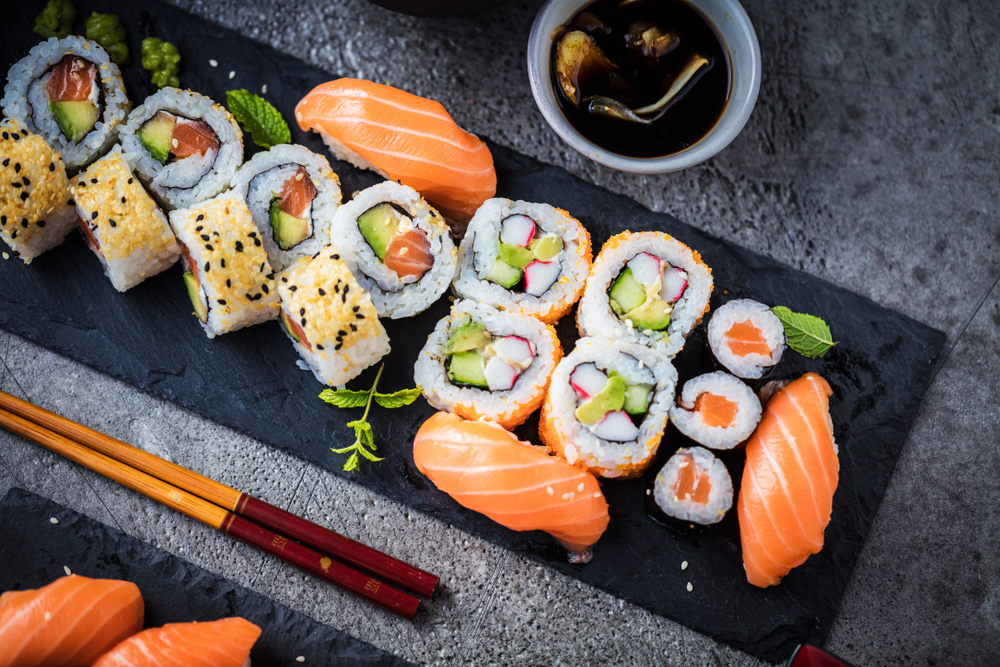 Blue Ridge Marina Boat Dock Bar & Grill
This is one of the best restaurants in Blue Ridge, Georgia for a great meal after spending a day at Lake Blue Ridge Marina!
Their food is perfect after spending a day in the sun, and that starts with the appetizers! Their Loaded Nachos are a hit, and their Fried Mushrooms will keep you coming back for more every time you're in the area.
Their main selections are even better than their awesome appetizers! For a lighter selection, they have fresh salads like their House Salad and the Strawberry and Feta Salad. You can add grilled or fried chicken, or fried shrimp the salads as well.
Their entree selections are full of choices, it will make you want to find your way through each plate! We recommend their Smoked Wings, or the Craft Blend Hamburger for some classic choices. For those that want to try something a little different, you must try the Boston Butt BBQ!
After spending a day on the water, we guarantee this restaurant will be calling your name!
Mesquite Grill
This Mexican Restaurant is one of the top restaurant selections in Blue Ridge!
Mesquite Grill has authentic Mexican dishes with authentic cocktails that will make you feel like you've travelled out of Georgia! Their menu is full of traditional Mexican cuisine that you just can't find anywhere else.
Their appetizers have the classic selections like Queso and Guacamole! You truly can't start a meal at a Mexican restaurant without getting some chips and Queso!
Mesquite Grill showcases their authentic Mexican selections in their entree choices. We recommend the Pollo con Cameron or the Mole Tradicional. And of course, you have to expect that there will be a taco selection! Here you can choose their popular Tacos from the Grill or their Shrimp Tacos.
The selections don't end there. They offer Stuffed Peppers, Quesadillas, and Tostadas. You won't run out of delicious options! We know that the desserts will be where your eyes wander to.
This Blue Ridge restaurant offers Fried Ice Cream, the traditional Flan, and Fried Bananas. Your sweet tooth will thank you here!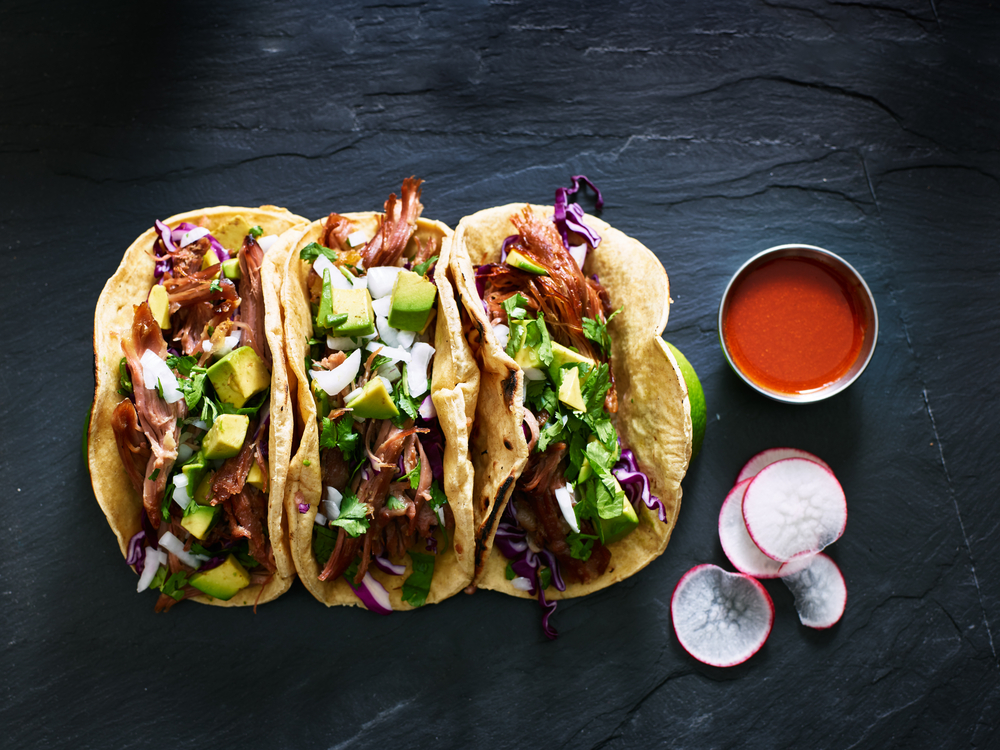 El Manzanillo
This is another popular Mexican Restaurant in Blue Ridge, Georgia that will make you feel like you've had the most authentic Mexican cuisine!
Their menu consists of Appetizers, Nachos, Fajitas, and Dinner Combinations. To start, you'll want to try the Spinach con Queso or the Jalapeño Pepper Poppers. They also have Fried Mushrooms and Bean Dip for those that want to try something a little outside of the traditional starters!
Nacho lovers will enjoy this menu! You can select between the Nachos Marinos, Nachos de Camaron, or the Texas Fajita Nachos. Each choice comes in a Full or Half size, which is great for those that want to share or those that don't and want to keep the nachos to themselves!
Their fajitas are a classic choice! You're able to choose from Beef or Chicken Fajitas, and there's even an option for Vegetarian Fajitas. All fajitas are served with tomatoes, bell peppers, onions and mushrooms, so your plate will always be full!
Monte Alban
This Blue Ridge, Georgia restaurant is another local Mexican favorite!
Their menu stretches across numerous choices. Their most popular are the fajitas and enchiladas! They also have Rellenos and Chimichanga selections as well.
For the classic enchilada selections, there are various options to choose from! The most popular are the Enchiladas Vale and the Big Man's Combo. You're also able to test your own combinations as they offer a Build-Your-Own Enchilada!
You can also go for the Chiles Poblano or the Chiles Vegetarian stuffed peppers! In fact, they have an entire vegetarian section on the menu, so there's something for everyone at this Blue Ridge restaurant.
Masseria
This restaurant focuses on adding a Mediterranean twists to Appalachian ingredients!
They strive to bring together the flavors of France, Spain Portugal, Greece, and Turkey all together while maintaining sustainable lifestyles!
They offer a lunch and dinner menu, and you won't be disappointed in either one! The lunch menu consists of salads like an Apple and Gorgonzola Salad or the Couscous Salad. You can also go classic Caesar or Farm Salad. Pasta lovers will love it here as well, as their lunch menu has homemade pastas like the Baked Ziti or Cheese Lasagna.
The dinner menu is where they really shine. Their Italian Brisket truly brings together the flavors of Italy to the South's famous brisket entree. If you're a seafood lover, you have to try the Blackened Grouper!
This restaurant will bring flavors together that you never knew that you needed!
Cantaberry
This is one of the best lunch restaurants in Blue Ridge! Dinner can't always be the only time of day to shine, so this one is a perfect example of a phenomenal lunch experience!
One of their most popular sections of the menu is the Sandwich selections. They have a Turkey Bacon Avocado and a Reuben. Not to forget their BLT or their Veggie Wrap selection. This is a great place for a quick bite to eat during your extremely busy trip schedule!
They also have a Burger section for something a little heavier than a sandwich to hold you over until dinner! Their popular choices are the Cantaberry Burger and the Southern Boy Burger. You can't go wrong with either of these choices.
Not only do they offer salads and burgers, you must try their salads! The extensive salad selections include the Spinach Salad, Apple Pecan Spinach Salad, and a Turkey Chef Salad.
Lunch will be the highlight of your day at this Blue Ridge restaurant!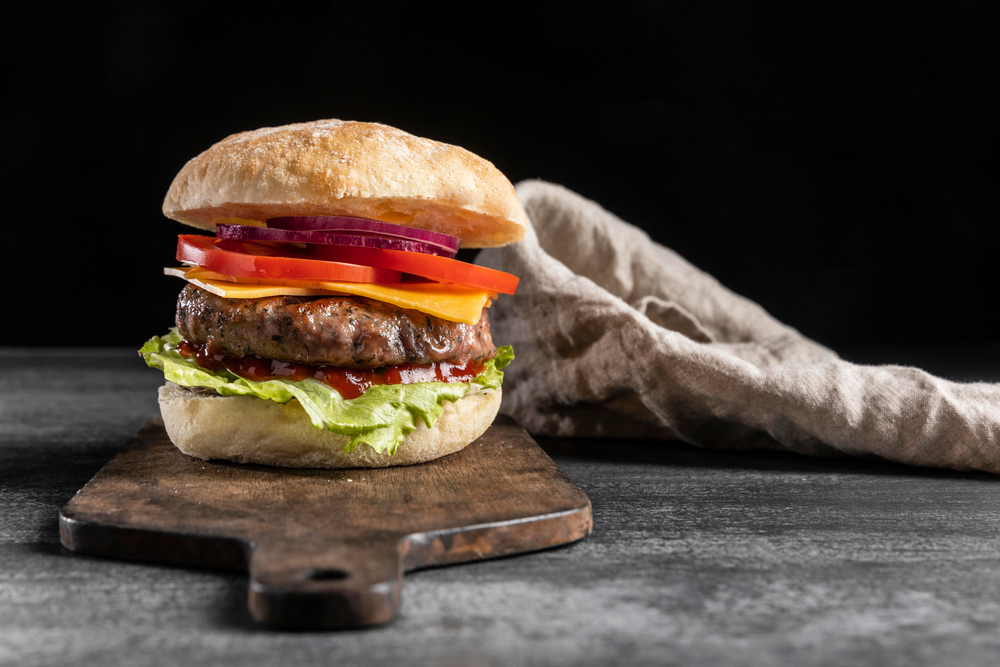 Chester Brunnenmeyer's Bar & Grill
This restaurant is located in the Gartrell Hotel and opened in 2014. They are a popular bar and grill that the locals love to kick back and relax while they enjoy the food and atmosphere!
They believe in a "Regional and Seasonal Flare" to make their food stand out and keep guests coming back for more! Their appetizers are upscale and rustic. A few of the most popular choices are the Baked Soft Pretzel and the Smoked Trout Dip.
They also have Deep Fried Sticky Ribs that can be selected as an appetizer or an entree depending on if you want to share or not! They also offer various options for wings. You can choose 10, 20, or 50 wings for you and your group to have.
Their highlighting entrees are the Shaved Prime Rib Sandwich, Seared Rainbow Trout, or the southern classic, Shrimp and Grits.
One of the coolest parts of this restaurants are the cocktails! They have numerous drinks, their most popular being the Wookie. With a name like that, you can't help but want to try it!
This is one restaurant you'll want to come back to during your visit and after!
Misty Mountain Hops
This is one of the more music-centric restaurants in Blue Ridge where you can even find live concerts here nearly every week!
This restaurant offers a ton of adventurous options that you might not get the chance to try anywhere else. The appetizers share that from the start!
We recommend the Fried Pickled Okra and the Fried Deviled Eggs. Not the most typically seen items on a menu which is all the more reason you should want to come out and try these!
They also have Wookie Nachos and Fried Brussel Sprouts. Both of these options will have your mouth watering the entire time you wait for them to arrive to your table!
Their entrees are even more exciting! You have to try the Dixie Chicken Sandwich, the Tall Boy Stacked BLT, and the Southwest Buddha Bowl. No matter what you choose, we know you'll love everything on this menu!
Fighting Town Tavern
This restaurant is proud of how fresh their food is, they even advertise that they do not own a microwave or a freezer! That alone should make you want to come check out this restaurant!
They believe that their food is "bar food that went to Harvard," and they make that clear from the second you open their menu. You've got to try the Mammoth which is crispy tortillas or fries topped with spicy pork chorizo, beer cream cheese, onion, tomato, and jalapeño!
You also have to try the Red Rocker Hummus or the Artichoke Brie Dip. The starters alone sound drool-worthy!
Their plate options make them one of the most popular local hangout spots! You can try the Shrimp Lobster or the Bulls on Parade which is a ribeye pan-seared in their signature coffee rub.
They also have awesome sides like the Bacon Mac & Cheese and the Chipotle Coleslaw. All of their sides offer a perfect side to any of their entrees.
This is the best restaurant to kick back and listen to 70's rock music while enjoying some elevated classic bar food! You won't want to miss this!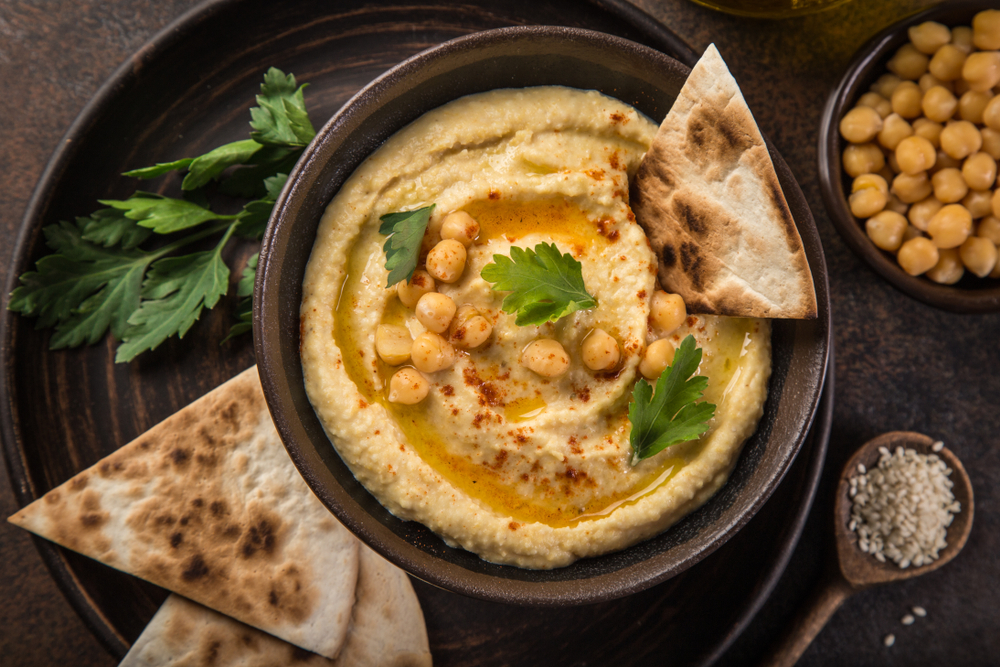 Blue Ridge Mountain Bar-B-Q
This Blue Ridge restaurant is one of the most popular Bar-B-Q spots in the area!
Using a hardwood smoker, Blue Ridge Mountain Bar-B-Q offers classic BBQ dishes you will want to have every day! Their famous sauces are the Sweet Sauce and the Special-Recipe Sauce. These sauces are what make this place famous!
We recommend their Famous Smoked Chicken Salad and the Fried Pickles to start. You can't go wrong with some delicious, hot, and crunch pickles during a Bar-B-Q!
Along with their Fried Pickles, we also recommend that you try their Fried Okra and their Loaded Baked Potato Meal. You can also snag the BBQ Sandwich or the BBQ Plate to get the full taste of BBQ in the South!
Now you can't go to a BBQ place and not get ribs! The ribs here come with a choice of a half or full rack, and you get to select two sides to accompany the ribs on this dish.
This is the perfect place to experience true southern BBQ while in Georgia, so during your visit to Blue Ridge, make time to check out this restaurant!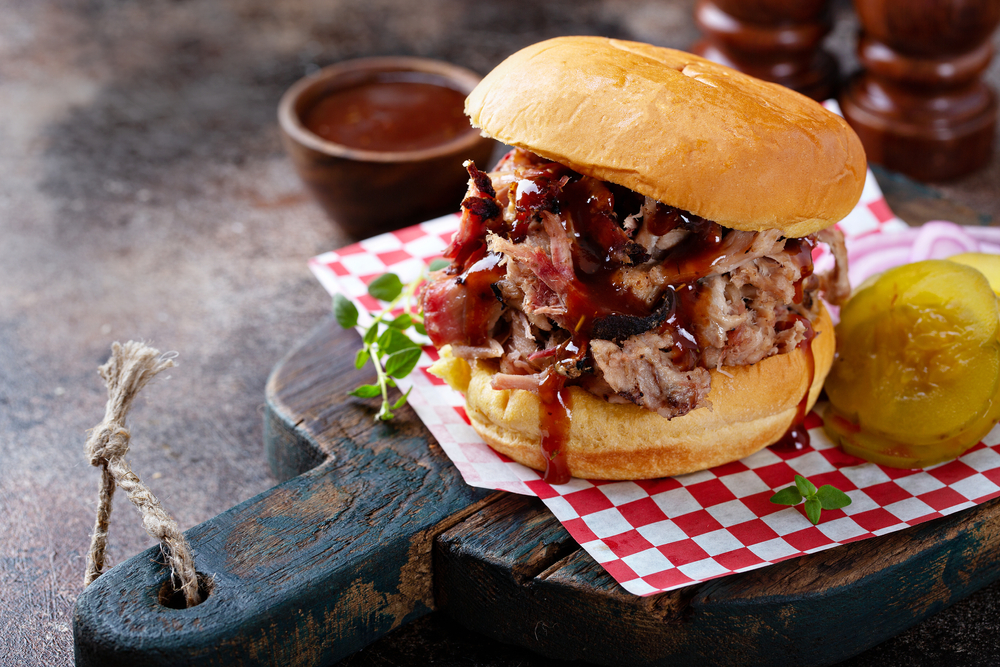 No matter what your tastes, the restaurants in Blue Ridge bring a lot to the table and have a lot to offer. You will find something you love at every stop on this list!
From Mediterranean to Mexican, BBQ to Italian, your mouth will water from start to finish and you won't be disappointed!