Thinking of taking a trip to the Peach State? Then you'll love this list full of things to do in Georgia!
This state is home to some of the best things to do in the South!
GA is a gorgeous Southern state that has so much to offer. Whether you like big cities, small towns, or outdoor adventures, you can find it all at one of the many attractions in Georgia.
Georgia is one of our favorite states in the South to visit, and it's easy to see why. It isn't just all about peaches here. There are plenty of other things to see there.
There are stunning examples of historic architecture, beautiful beaches, and mountain landscapes.
However, GA does have a dark history. The entire state took part in the enslavement of people, so it is a hard piece of Southern history to avoid completely.

But The state of Georgia has become more than its dark history, and it shouldn't discourage you from getting to experience the state.
Beauty can be found all throughout the Peach State and progress is frequently being made to recognize the actual builders of so many of the state's iconic places.
There are many places on this list that do just that.
With all that in mind, let's take a look at the top things to do in Georgia to make the ultimate bucket list!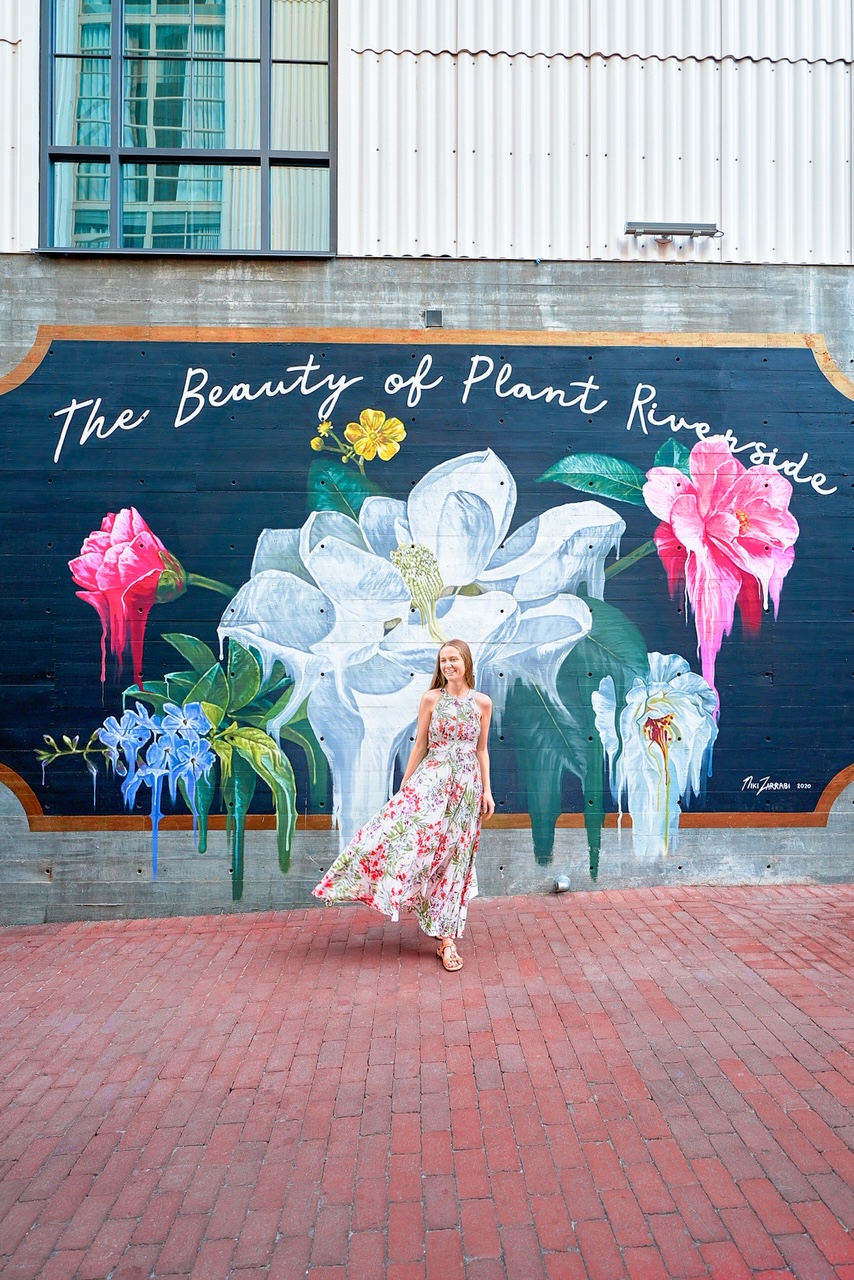 25 Best Things To Do In Georgia: Top Attractions And Places
Explore Providence Canyon State Park
Providence Canyon State Park is often called "Georgia's Little Grand Canyon".
It is a beautiful state park in Georgia that is full of different things to do and see while you explore. The park is mostly known for its canyons and gullies that give it its unique landscape.
It is located in West-Central Georgia and it is a popular destination for those who are looking for some outdoor adventures. You won't find a lot to do around the park necessarily, the closest city is 30 to 40 minutes away.
So when you're planning your day trip, keep that in mind. You'll want to pack plenty of water and snacks to last you the whole day.
There is a parking fee, but it is well worth it. You can expect decent crowds on particularly sunny days, but if you want to avoid the crowds, I suggest going on a cloudy day, It's just as beautiful.
With plenty of options for hiking, biking, and camping, Providence Canyon State Park is one best Georgia vacation activities for the whole family.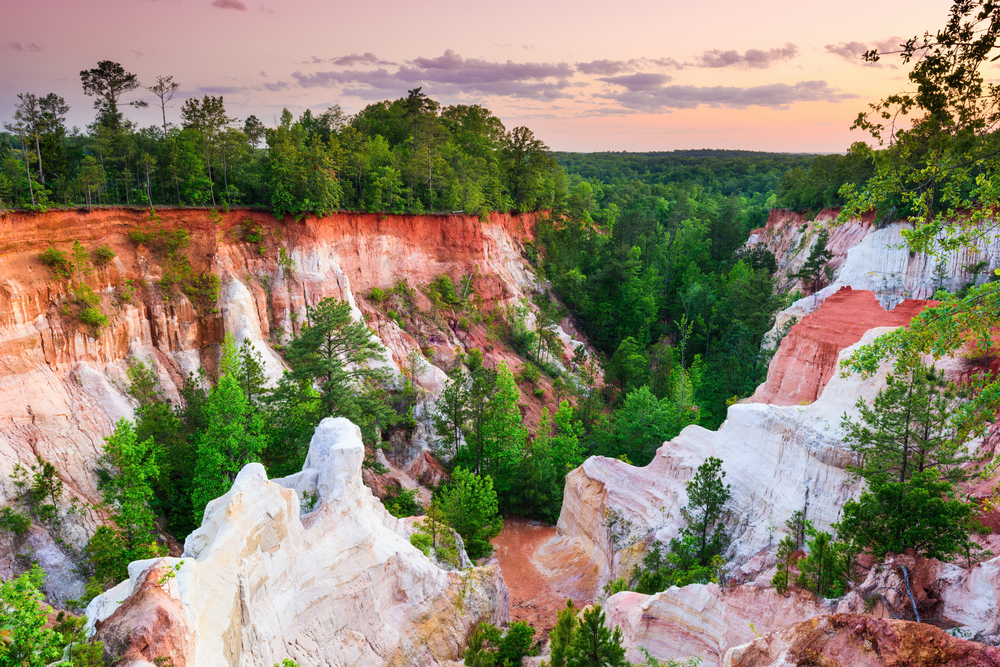 Visit the Bavarian Town Of Helen, Georgia
If you want to experience a charming small town with a Bavarian feel, head to Helen. Helen is in the North Georgia Mountains and you'll feel like you've stepped into an Alpine village.
There are so many unique things to do in Helen, and it is known as one of the top fun places in Georgia.
You can spend hours strolling the charming streets in Helen, which is one of the reasons it's one of the cutest small towns in the South. There are unique shops like the Hansel and Gretel Candy Kitchen and some great restaurants.
There is even a coaster that is located in the middle of town and is open seven days a week. It is also perfectly situated near the river and mountains so there are plenty of opportunities for outdoor adventure.
The whole family can go tubing on the Chattahoochee River, white water rafting, or hiking on the Appalachian Trail. There are a few parks with trailheads nearby, a water park, and a Historic Farm Site.
There are always fun things to do in Georgia's little Bavarian Village. Christmas in Helen is also a magical time to visit.
Book Here: The Culture of Helen Tour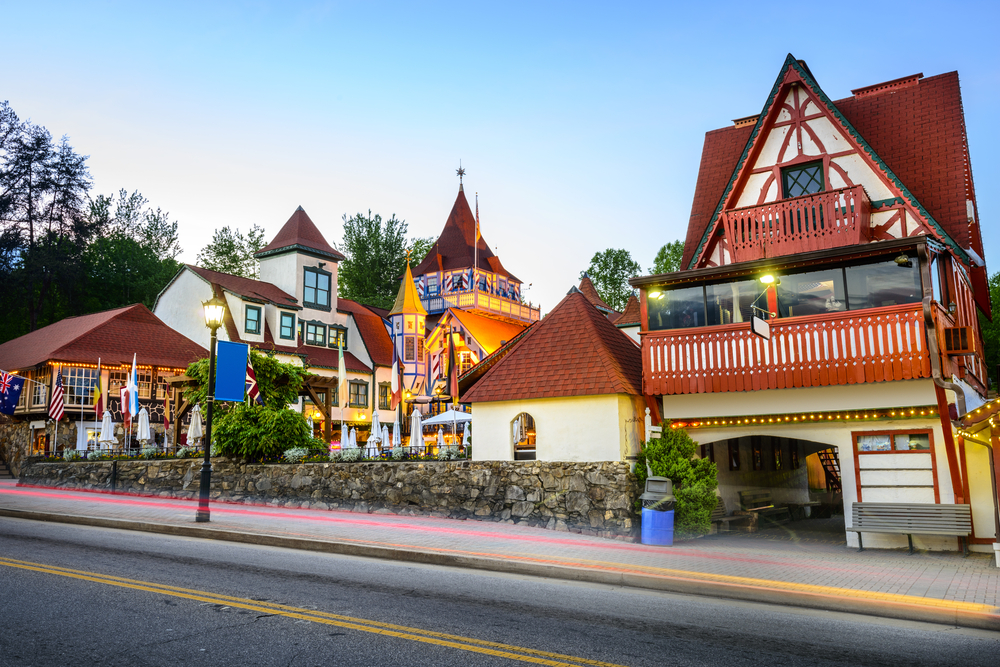 Stroll Driftwood Beach At Jekyll Island
About an hour and a half from Savannah is the beautiful beach of Jekyll Island, one of the best things to do in South Georgia.
On Jekyll Island, you'll find one of the most pristine beaches in the South. The beach is part of the Golden Isles Barrier Islands which is popular for its stunning ocean views and sandy beaches.
While you are exploring the best things to do on Jekyll Island, you must stroll along the famous Driftwood Beach.
When you're there, it'll be easy to see why it is named Driftwood Beach. All along the sandy shore, you'll find large pieces of washed-up driftwood that create a really beautiful sandy landscape.
It is a must-see attraction in Georgia. This is truly one of the best beach towns in Georgia!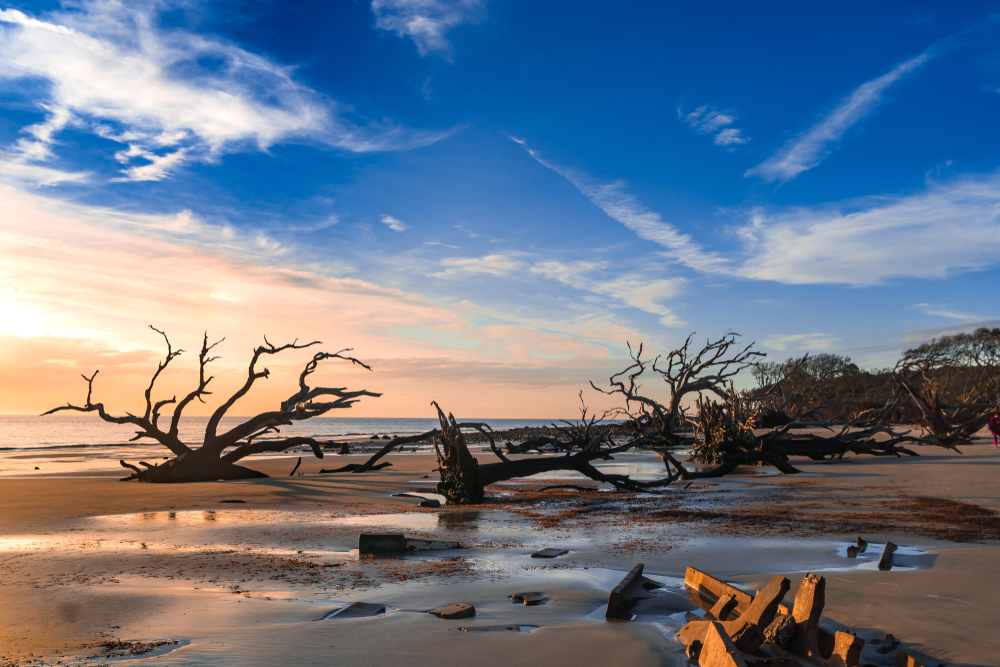 Admire The Covered Bridges Of Georgia
You don't necessarily think of covered bridges when you think of Georgia. Typically everyone associates covered bridges with the Midwest. But Georgia has some of the prettiest covered bridges in the South.
The covered bridges in Georgia range in age. Some were built within the last few decades while some were built over a century ago.
You'll head to different areas of the state, some you might not even think to visit. It's a really cool way to get to see some of the hidden corners of Georgia
Finding the covered bridges is one of the top things to see in Georgia!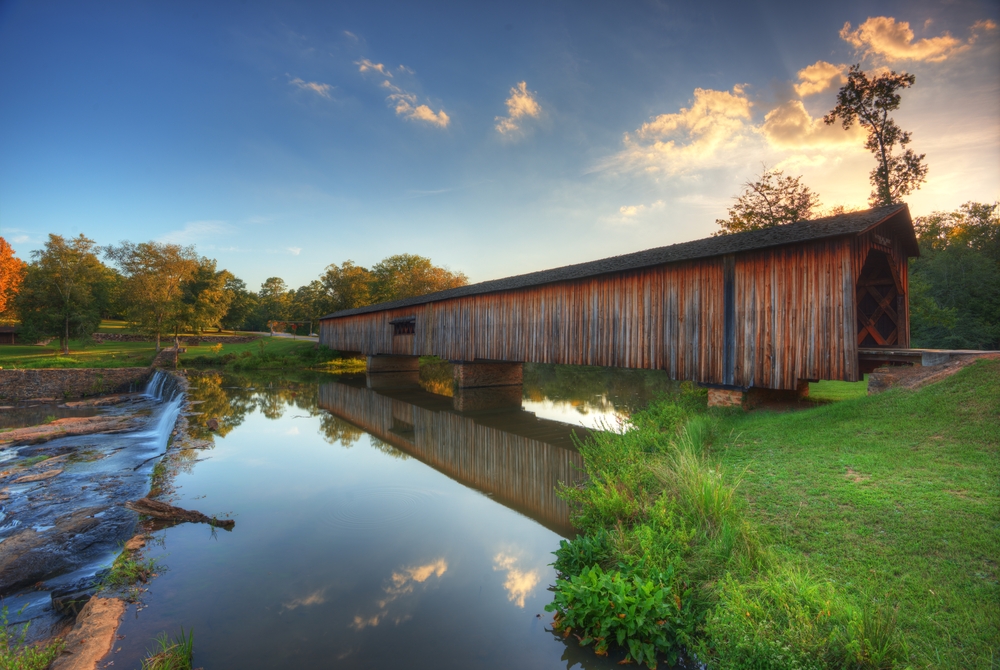 Explore Columbus
Columbus is Georgia's second-largest city. Yet when most people think of this state, they almost always only think of Atlanta and Savannah.
There are so many great things to do in Columbus, and it shouldn't be skipped.
It is located along the Chattahoochee River, Columbus has a vibrant mixture of outdoor activities and a thriving city life.
Make sure to stop at the Coca-Cola Space Science Center to see Georgia's largest collection of NASA shuttle artifacts. You'll learn all about Georgia's relationship with the space program and get to enjoy a really cool experience.
Columbus also has a wonderful restaurant and brewery scene for foodie visitors. Make sure you check out one of the many delicious restaurants in Columbus. Or take a brewery tour while you explore the city streets.
There is just so much to do and see in Columbus that makes it one of the best places to visit in Georgia.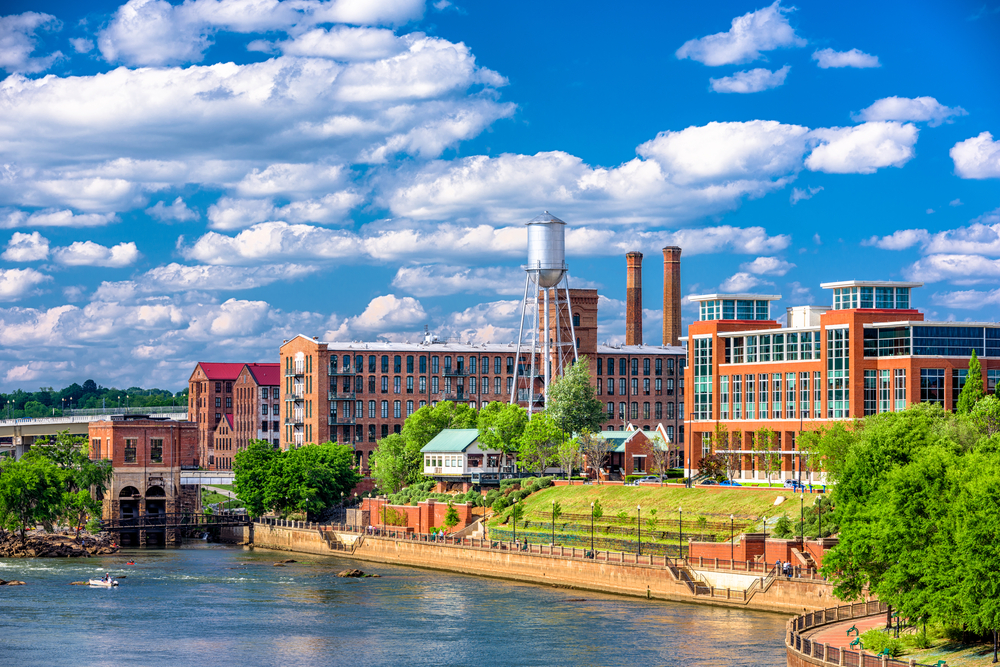 Go Apple Picking
If you plan on visiting Georgia in the fall, you'll want to consider going apple-picking.
Georgia isn't just the land of the peaches. It also has a ton of apple orchards that open up in the early fall for visitors.
Many of the orchards in Georgia are over 100 years old and have been providing delicious apples for decades to both locals and travelers. The different orchards will all have different varieties of apples.
So if there is a type of apple you prefer, make sure to research which orchard has it and when during apple season they will be ripe. Not all apple varieties are ripe at the same time, so keep that in mind.
Apple picking in the fall is easily one of the best activities in Georgia.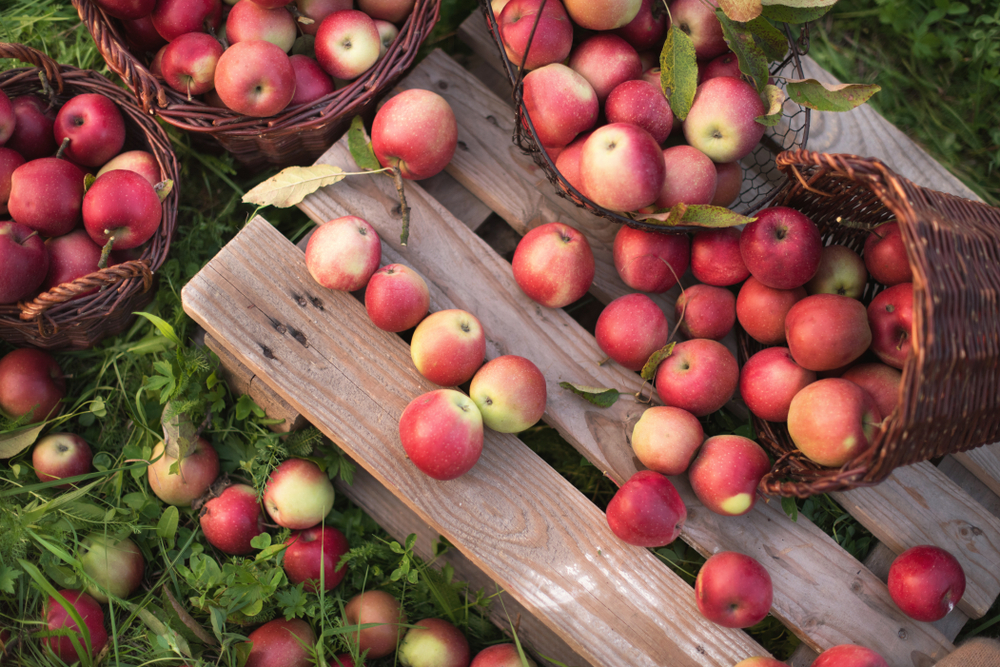 Explore Savannah's Plant Riverside District
Savannah is one of the top cities in Georgia to visit, mainly because of its historic districts, gardens, and buildings. But Savannah is not afraid of new things, and one of those is the new Plant Riverside District.
The area is made up of a once fully functional power plant that has been restored to a new purpose.
Now there is something for everyone to enjoy in the revitalized district. There are unique shops, up-and-coming restaurants with cool atmospheres, and so much more.
On a beautiful night, head to one of the rooftop bars in Savannah for cocktails with friends and gorgeous views of the river and Downtown Savannah.
Make sure one of your stops is the Plant Riverside District it is one of the fun things to do for couples in Georgia!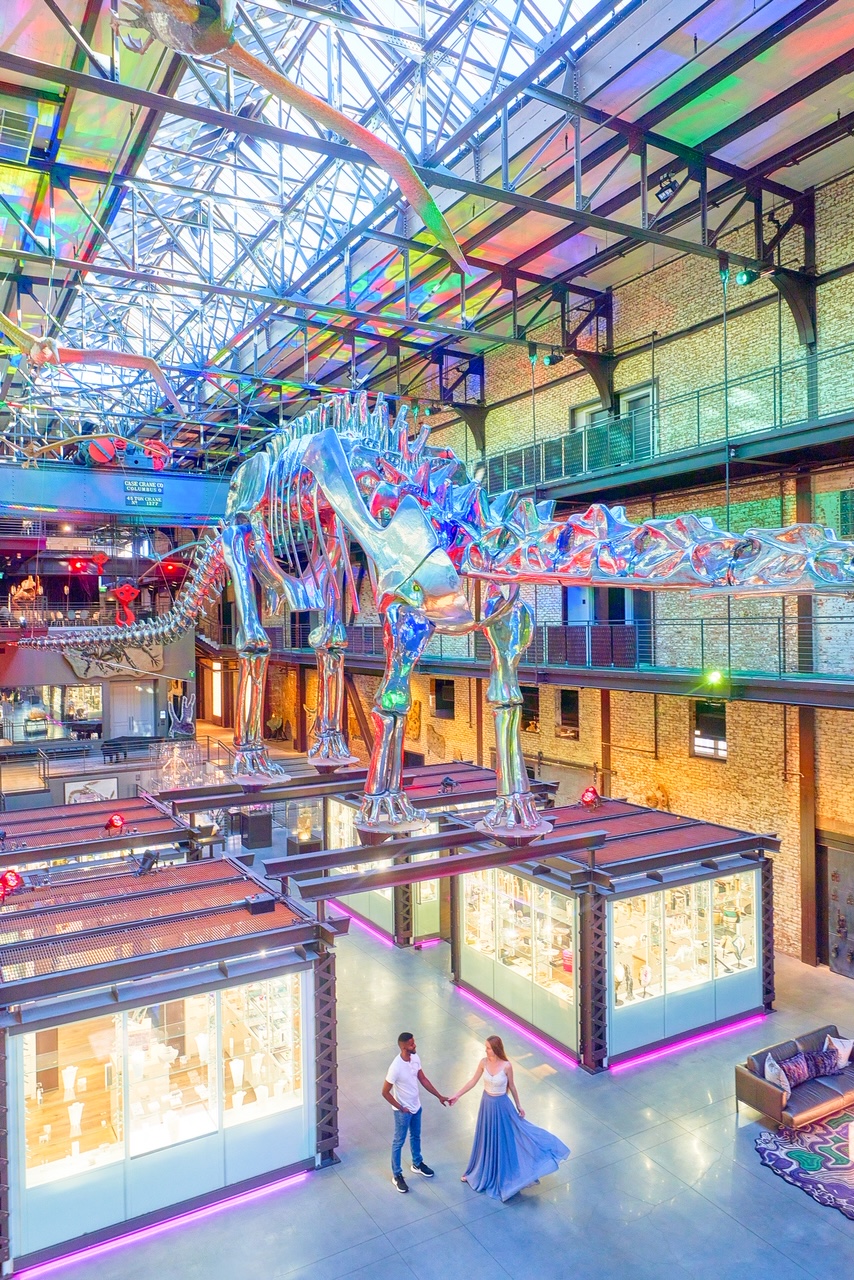 Admire Fall Foliage
One of the best activities to do in Georgia is to admire the fall foliage. What makes it so nice is that the weather is still fairly warm compared to other parts of the country that get vibrant fall colors.
The fall foliage here is some of the best in the South, thanks a lot to the mountains in Northern Georgia. One of the best places to experience fall foliage in Georgia is at one of the many state parks.
There are a ton to choose from and each offers a unique experience.
Whether you're looking for challenging trails, beautiful waterfalls, or just a leisurely stroll through the woods, Georgia has it.
Another fun option is to spend a weekend at a whimsical cabin in the Georgia woods to fully immerse yourself in the fall colors.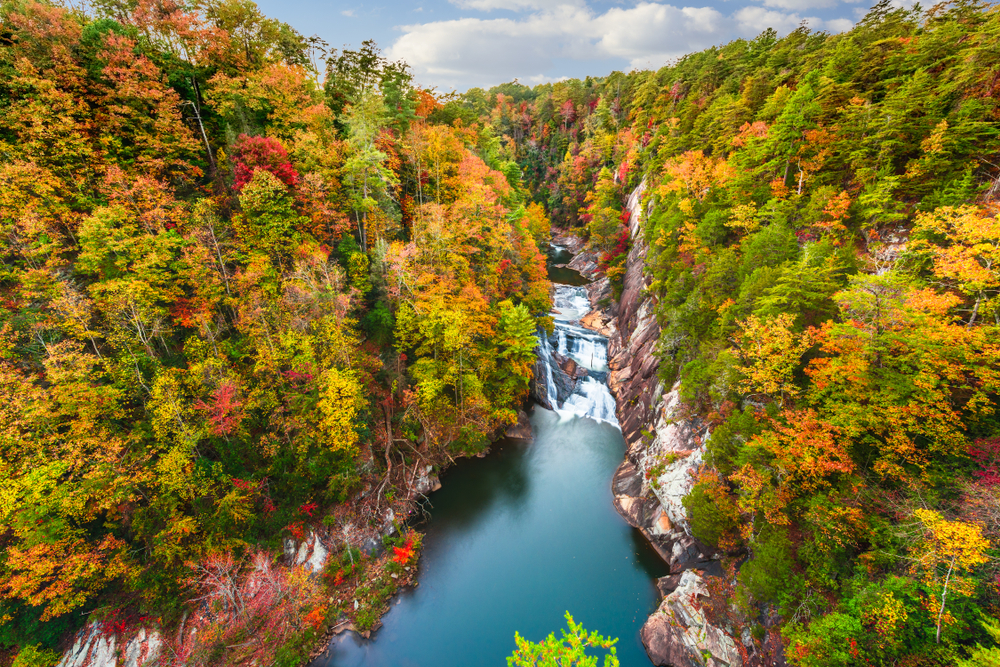 Explore Film Locations In Georgia
Georgia might as well be the Hollywood of the South. In the last decade or so, it has become an increasingly popular filming location for large corporations.
Movies like the Marvel Universe series, The Hunger Games, and Baby Driver were all filmed in some parts of the state.
But even before the recent surge of film producers coming to film in Georgia, there were plenty of big-name films that were made there.
Classics like Forrest Gump, Fried Green Tomatoes, and Footloose were also filmed here. And many Walking Dead fans recognized Georgia landmarks in the show.
You can find tours of famous filming locations or you can visit ones that just pertain to the movies or shows you love.
Many of the smaller towns where filming occurred have local museums dedicated to the film and the town's involvement. It's a super fun thing to do in Georgia that is also very unique.
Book Here: Atlanta: The Walking Dead Private Filming Locations Tour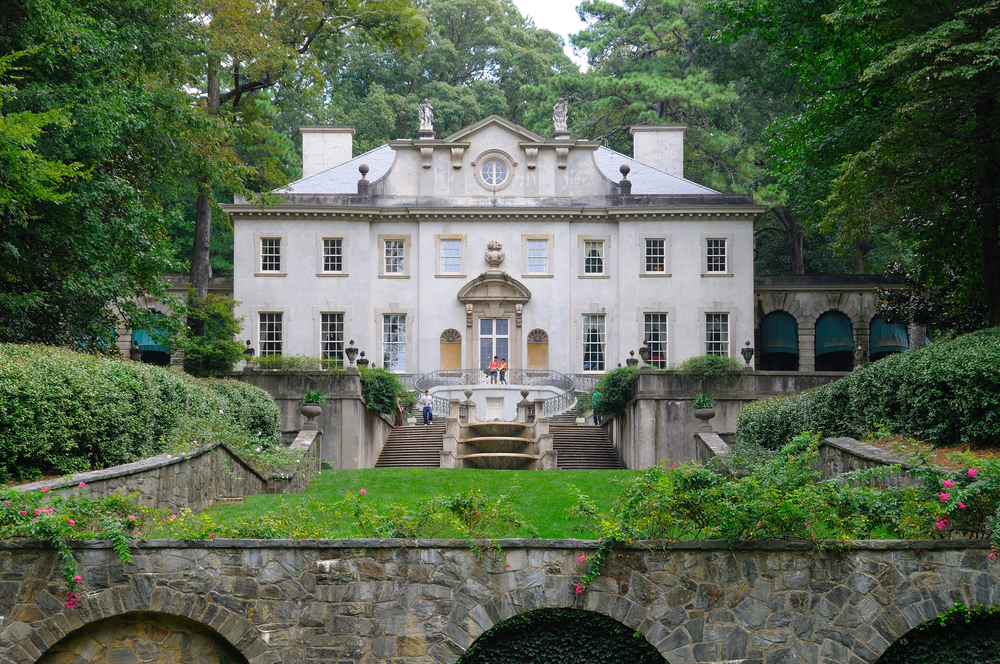 Visit Cumberland Island National Seashore
There are many cool national parks in Georgia, like the Cumberland Island National Seashore.
Cumberland Island offers you the opportunity to experience a truly untouched seashore. You won't find any large seaside condos, whimsical piers, or restaurants with ocean views.
Instead, you'll find a pristine beach that looks almost exactly how it looked thousands of years ago. There are over 10,000 acres of natural untouched wilderness just waiting for you to explore.
You can go biking, hiking, and of course, enjoy water sports.
One of the things that makes Cumberland Island so unique is its wild horses. The horses were originally brought to the island in the 1500s as livestock and then later by the Carnegie family in the 1880s for recreational usage.
Now there are herds of wild horses roaming the park, along with alligators, armadillos, and even the occasional sea turtle.
If you are looking for what to see in Georgia that is a bit more unique, Cumberland Island is a great option.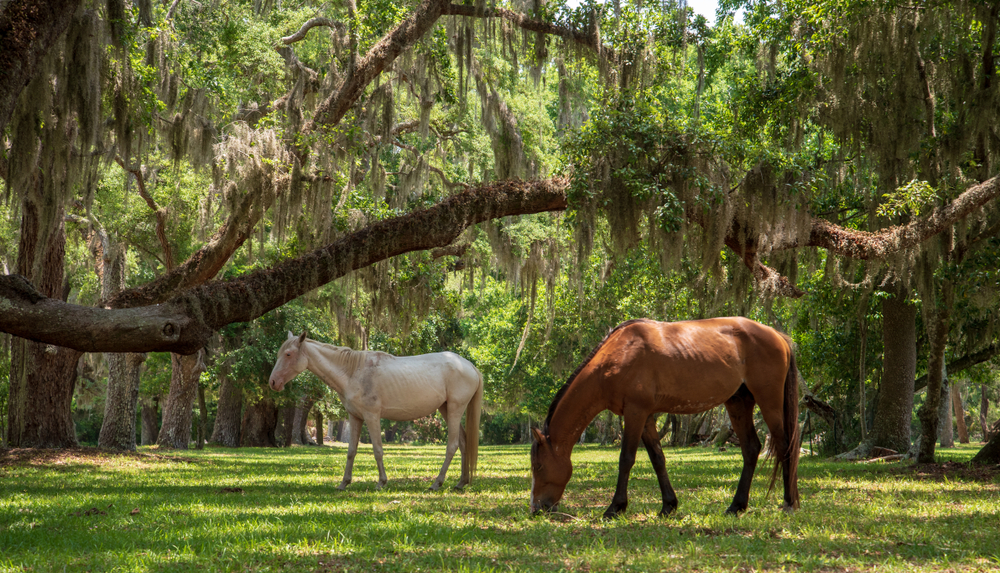 Go On A Ghost Tour In Savannah
One of the most fun things to do at night In Georgia is a ghost tour through Savannah. A ghost tour in Savannah is one of the options on this list that will absolutely deal with the history of enslaved peoples.
So if that is something you'd like to avoid, keep that in mind. Savannah was a major city in the United States slave trade, and that dark history is now the source of many ghost stories in the city.
There are a few options when taking a Savannah ghost tour. There are some that are walking tours and some that are in trolleys or one specific building.
Make sure you do your research and pick the ghost tour that works best for you and your comfort level.
You can also stay in one of the many haunted hotels in Savannah for a more spooky experience.
Book Here: Savannah: Ghosts and Gravestones Tour with Low House Entry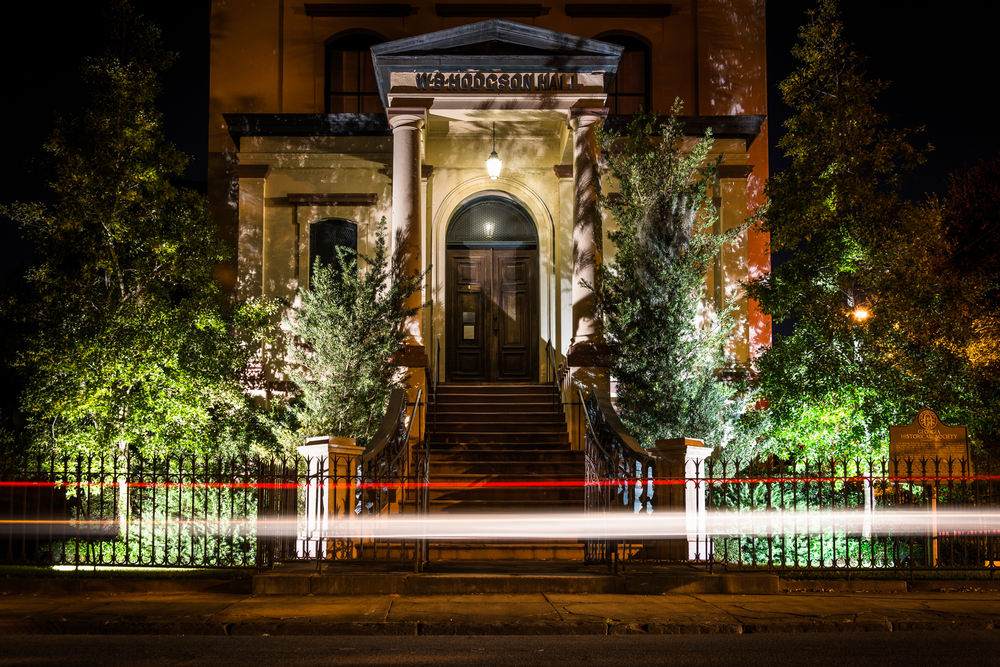 Hike To Gorgeous Waterfalls
Next for your Georgia bucket list is to hike to one of the many waterfalls. With the state's varied landscape, there are plenty of beautiful features, from the mountains to the shore.
You can see waterfalls in the mountains, near the shore, and even around some of the major cities, like Atlanta. The waterfalls in Georgia almost always require a hike. But rest assured as many of them are fairly easy.
It's always important to make sure you research the trail that leads to the waterfall before you get there. That way you'll be able to know if it is a hike you can safely make.
A few of the popular waterfalls to visit in GA are Panther Falls, Raven Cliff, and Amicalola Falls.
Spend your time chasing waterfalls, one of the best free things to do in Georgia!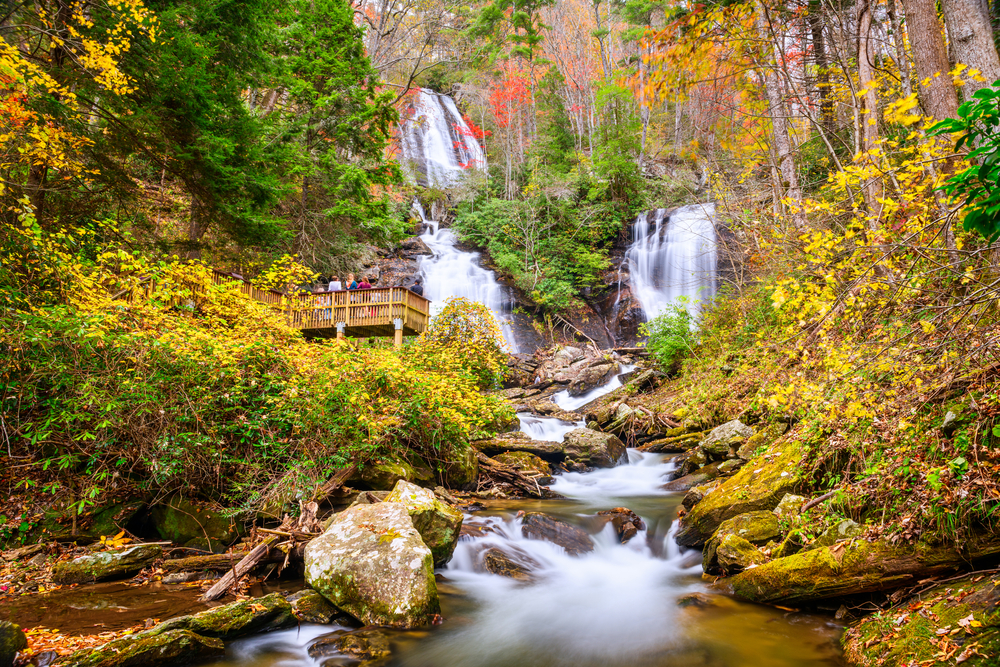 Spend An Amazing Three Days In Savannah
There are so many amazing things to do in Savannah, making it one of the most popular cities in Georgia to visit.
Personally, Savannah is one of my favorite cities to visit in the US!
When you step into the city you'll quickly understand why everyone who goes there absolutely loves it. You could spend an entire week just exploring the Savannah Historic District.
But if you don't have that much time, you can still experience an amazing Savannah vacation in three days. You'll spend three days on your feet, so pack your comfy shoes.
Start your morning at one of the charming coffee shops or breakfast spots with lovely views of the city. Then head out on the town to sample the local fare at one of the amazing restaurants.
As you move around the city you will see places to take the perfect Instagram photo in Savannah.
Or spend hours shopping in Savannah on the cobblestone streets. Forsyth Park is especially beautiful!
If you are planning to stay for a few days in town, there are a bunch of different options for where to stay in Savannah.
You can enjoy a luxurious stay in a historic bed and breakfast or one of the many beautiful boutique hotels in Savannah.
If you want to feel like a local, there are also plenty of VRBOs you can choose from, and many of them are right in the heart of some of the best neighborhoods in Savannah.
Book Here: Savannah: Riverboat Sunset Cruise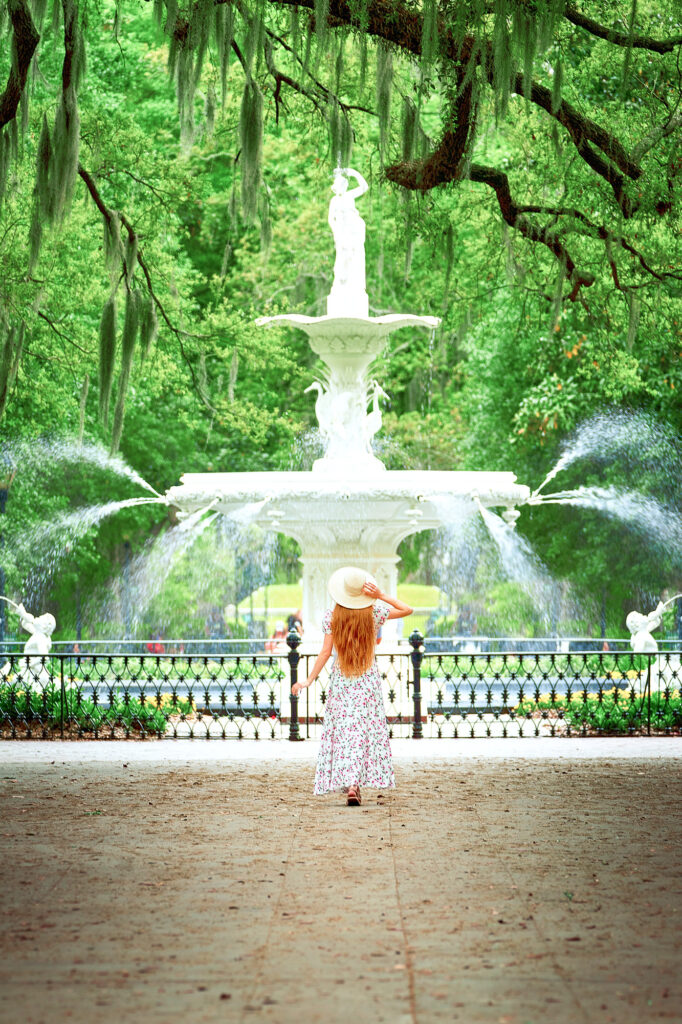 Go Glamping
If you are looking for a cool thing to do in Georgia, consider taking a glamping vacation.
Glamping in Georgia is a really unique way to experience the state and its beautiful landscape. For those who may not know, glamping is a step above your standard camping.
Many glamping sites have electricity, an actual bed, and other amenities you might not be used to with standard camping. Because the sites are permanent, they are often very cozy and sometimes even luxurious.
Classic glamping structures include a yurt, vintage campers, canvas tents, and even treehouses. This is definitely one of the best things to do in Georgia for couples who love being out in nature.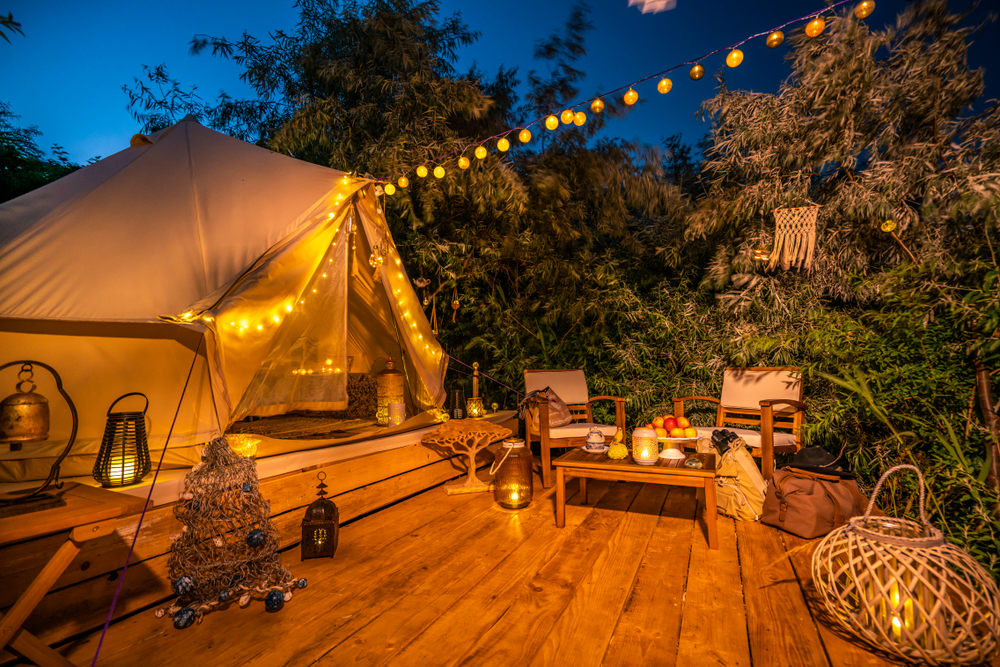 Visit The Small Town Of Macon
With so many cute small towns in Georgia, it's hard to pick just one to visit. However, if you have to choose one, Macon is a great option. The town has a diverse history that it celebrates proudly.
There are so many great things to do in Macon for nature and history lovers.
It is also the home of the famous Harriet Tubman Museum. This is the largest museum in the South dedicated to Black history, art, and culture. The town also has a monument to honor its Native American heritage.
The Ocmulgee National Monument is an ancient Native American monument that is believed to be from at least 1000 A.D. Which makes it one of the oldest structures in all of Georgia.
In the Spring the town also has a Cherry Blossom Festival and the streets are full of beautiful blooming trees!
There are also boutiques, wonderful restaurants, and historic homes and architecture for you to admire.
Macon is one of the best small towns to visit year-round because there is always something to do and is full of many of the Georgia must-see attractions.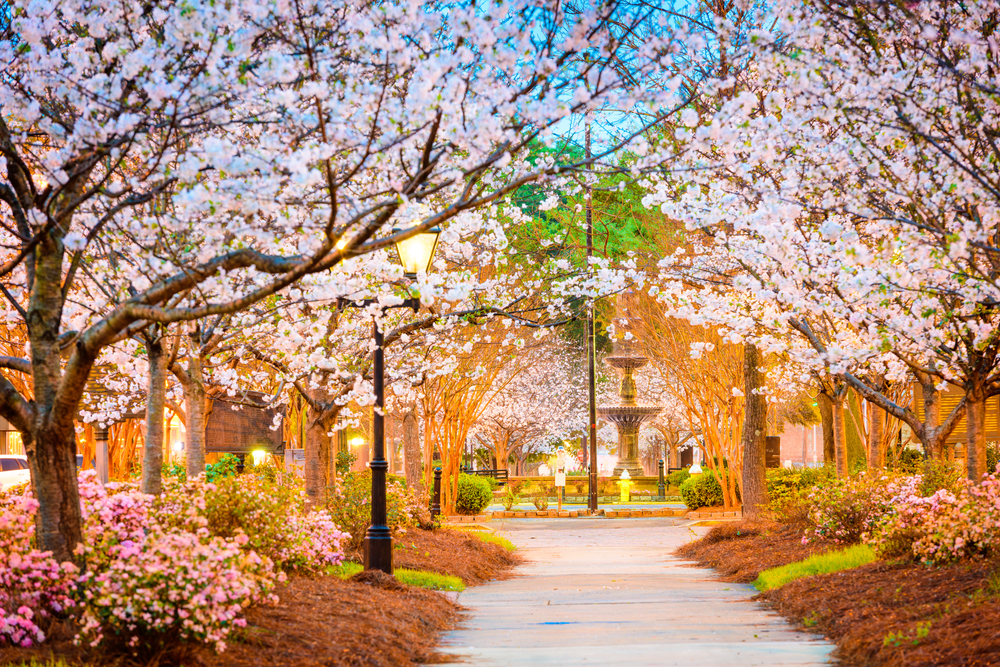 Take The Epic Nature Of Georgia Road Trip
Georgia is an awesome Southern state to take road trips through!
One of the best Georgia road trips is experiencing the epic nature of Georgia. On this road trip, you get to see some of the best natural wonders in Georgia.
Start at the Okefenokee Swamp which is almost half a million acres of swamp land. It is also the largest swamp in the United States.
Along your drive, you'll also see Stone Mountain State Park, Providence Canyon, and Radium Springs.
Each of the stops offers a unique view of Georgia and that's what makes it one of the coolest Georgia activities.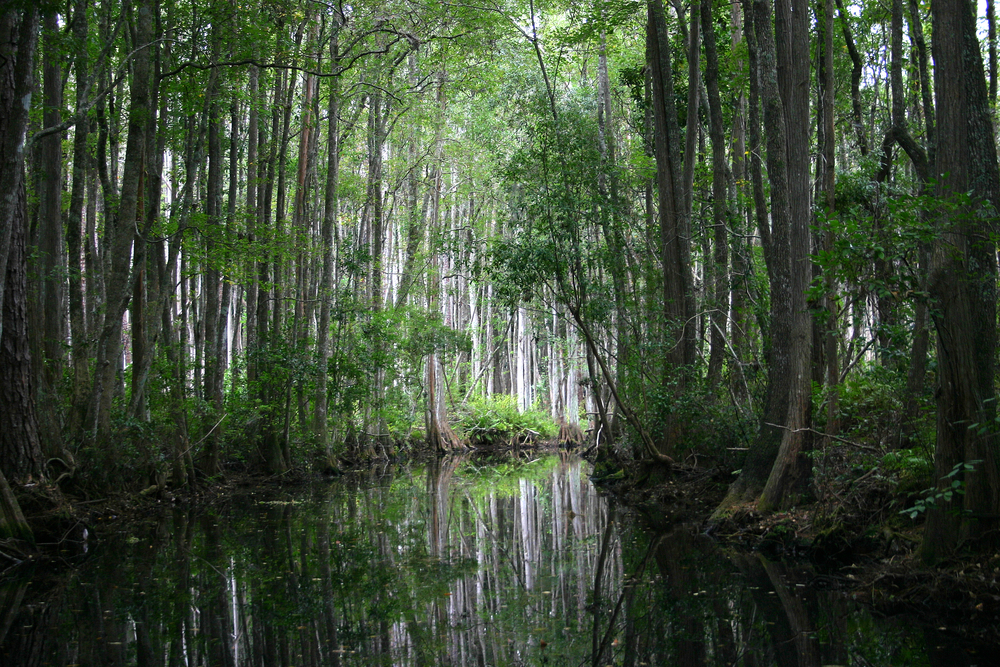 Enjoy A Romantic Weekend Getaway
If you only have a weekend to spend in Georgia, don't worry.
That is plenty of time to enjoy one of the great weekend getaway options in Georgia. From outdoor adventures to major cities, Georgia is a city that has it all. It is also especially great for a romantic weekend getaway.
Head to the Château Élan Winery & Resort with your partner for a weekend spent relaxing. You can sample local wines, enjoy chef-curated meals, and even play a round of golf in Georgia.
The resort is one of the most romantic things to do in Georgia and is surrounded by beautiful mountain views.
This is truly one of the best things to do in North Georgia!
Enjoy a morning at the spa, take a cooking class with your partner, or just relax in your luxurious room. No matter how you choose to spend your romantic weekend getaway in Georgia you'll have a wonderful time.
There are many other amazing resorts in Georgia to check out too!
Book Here: Château Élan Winery & Resort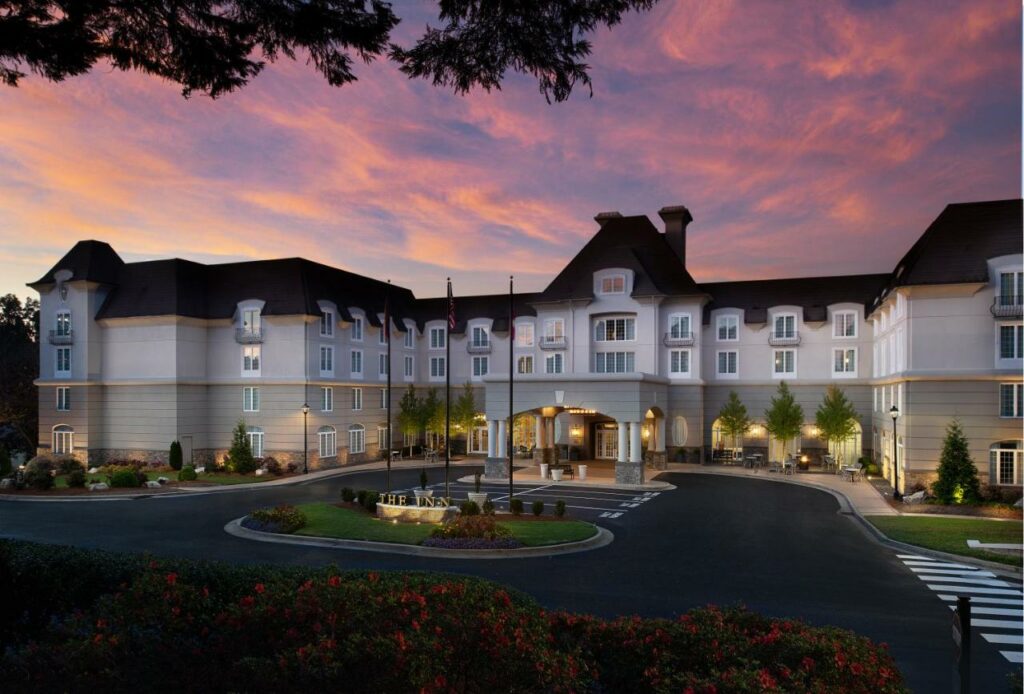 Take A Three Day Adventure In Atlanta
Atlanta is the state capital, so it naturally is full of Georgia activities. You can easily see all the best Atlanta has to offer in three days.
Enjoy breakfast at the Atlanta Breakfast Club, tour the World of Coca-Cola, and walk around Centennial Olympic Park.
While in Atlanta you'll absolutely want to go to the Georgia Aquarium, which is actually the largest aquarium in the world. They even have whale sharks and beluga whales. It is one of the best things to do with kids in Atlanta.
In Atlanta, you will also find a lot of historic sites, especially if you are interested in the Civil Rights Movement. These are some of the best things to do in Atlanta for adults.
Make sure to spend some time at the National Center for Civil and Human Rights.
The Martin Luther King Jr. National Historical Park is made up of several sites in the city including his boyhood home and Ebenezer Baptist Church where he was a pastor.
There are also beautiful parks, the Atlanta Botanical Garden, and fun markets and restaurants to sample. You will love the many fun things to do in Atlanta!
Don't forget to check out my complete guide on where to stay in Atlanta, GA!
Book Here: Atlanta: Martin Luther King Historic District Walking Tour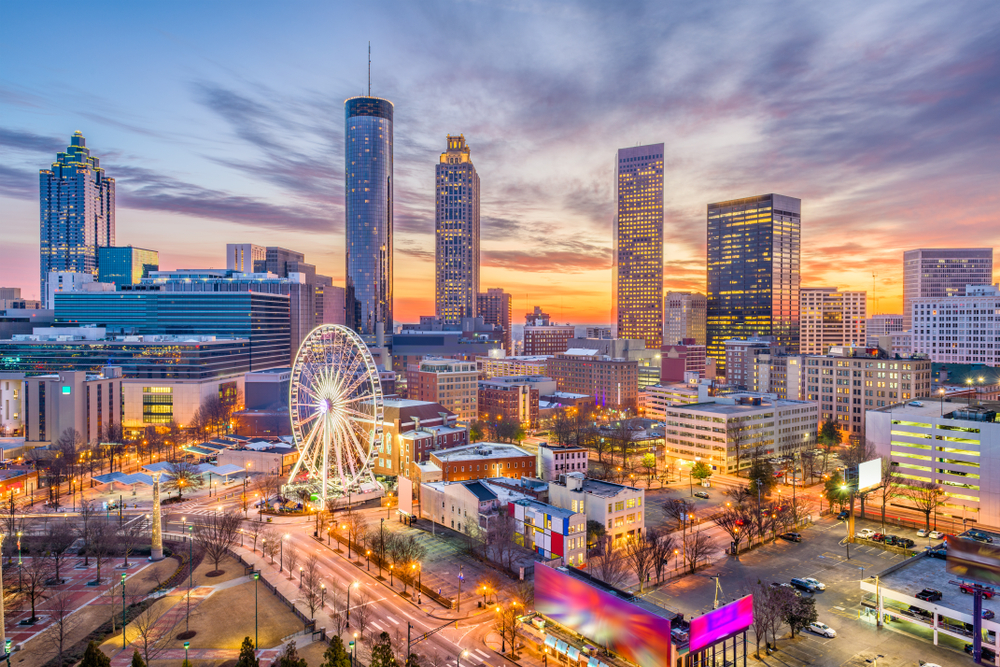 Head To Tybee Island
Tybee Island is known as "Savannah's Beach" because it is just 20 minutes from Downtown Savannah.
It's one of the best day trips from Savannah, and definitely one of the best places to visit in Georgia. Tybee Island has five beaches and they are all beautiful, free, and ready to be explored.
You can obviously have some fun swimming and boating, or you can even rent a jet ski.
But there are so many other things to do on Tybee Island including a lighthouse to explore, dolphin-watching cruises, and other boat tours.
Tybee Island also has a wonderful town where you can find great restaurants, shops, and even a Marine Science Center. You won't regret spending the day at Tybee Island on your next trip to Georgia.
Book Here: Tybee Island: Historical 2-Hour Bike Tour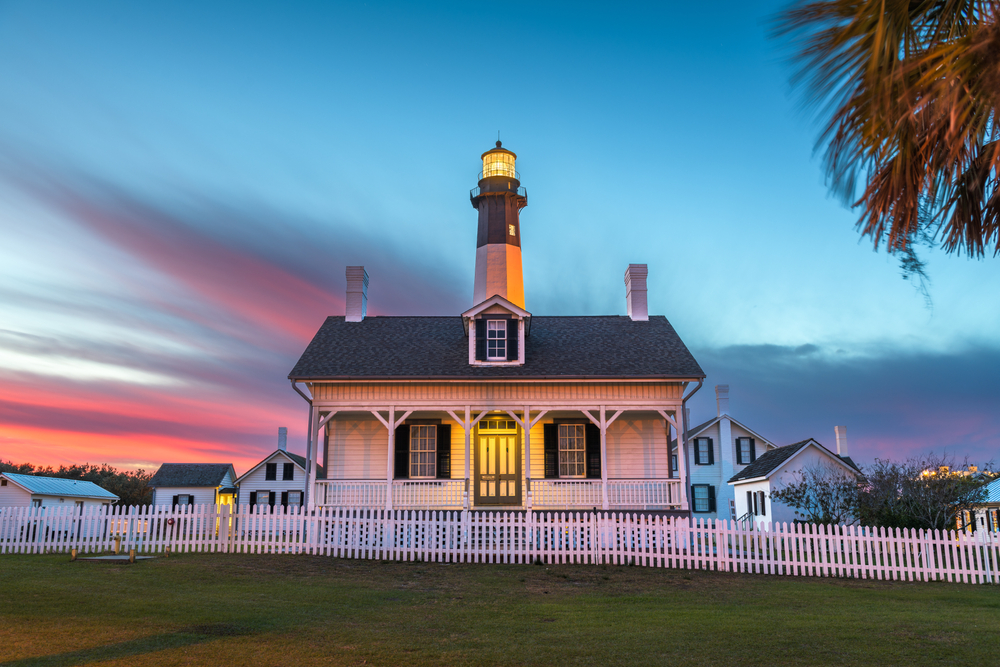 Stay In A Treehouse In The North Georgia Mountains
If you are looking for a super cool thing to do in Georgia, you might want to consider staying in a treehouse in the North Georgia mountains.
Staying in a treehouse is a really fun way to get to enjoy these amazing mountains.
Depending on where you stay, you'll be close to towns like Helen but still get to be surrounded by nature. From hiking, water sports, and mountain biking, you'll find plenty to do.
There is no wrong time to stay in the mountains of North Georgia because there is something to do every season.
In the fall, enjoy the changing leaves. In the Summer take advantage of the long days and fill your days with outdoor activities. Winter stays will be magical and Spring getaways will be cozy as well.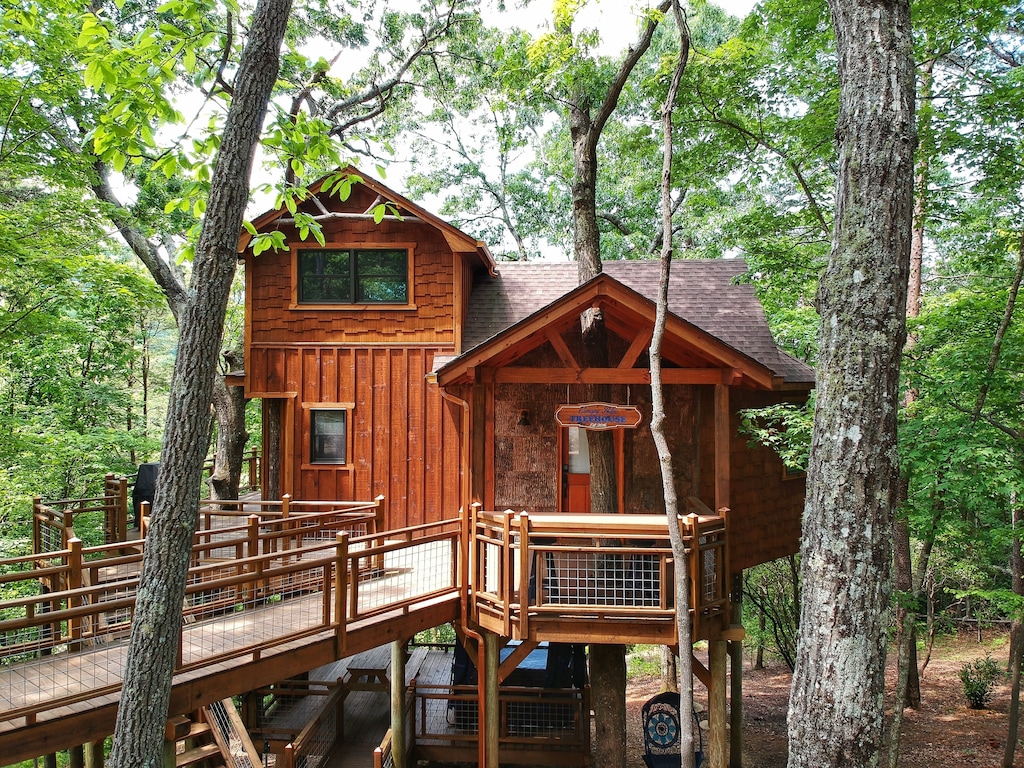 Go Peach Picking
If you are looking for what to do in Georgia, the answer is peach picking.
The best time of year to experience the epicness of peaches in GA is from mid-May to mid-August this is the sweet spot where you will find the juiciest ones.
You can find orchards all over the state. One of the most popular is the Lane Southern Orchard in Fort Valley. This orchard has been growing juicy peaches for over 100 years.
Another hot spot is Dickey Farms in Musella, GA. They have also been open since 1897 and offer pick-your-own peaches.
If you are up in Northern GA exploring you will want to head over to Jaemor Farms in Alto. And in the Blue Ridge, Mercier is a wonderful place to fill up your back.
No matter where you decide to get your peach picking in, check their website for updated dates and how their crops have done that year.
The farms do get muddy so be prepared for ones that are both comfy for walking, and that you don't mind getting a little dirty.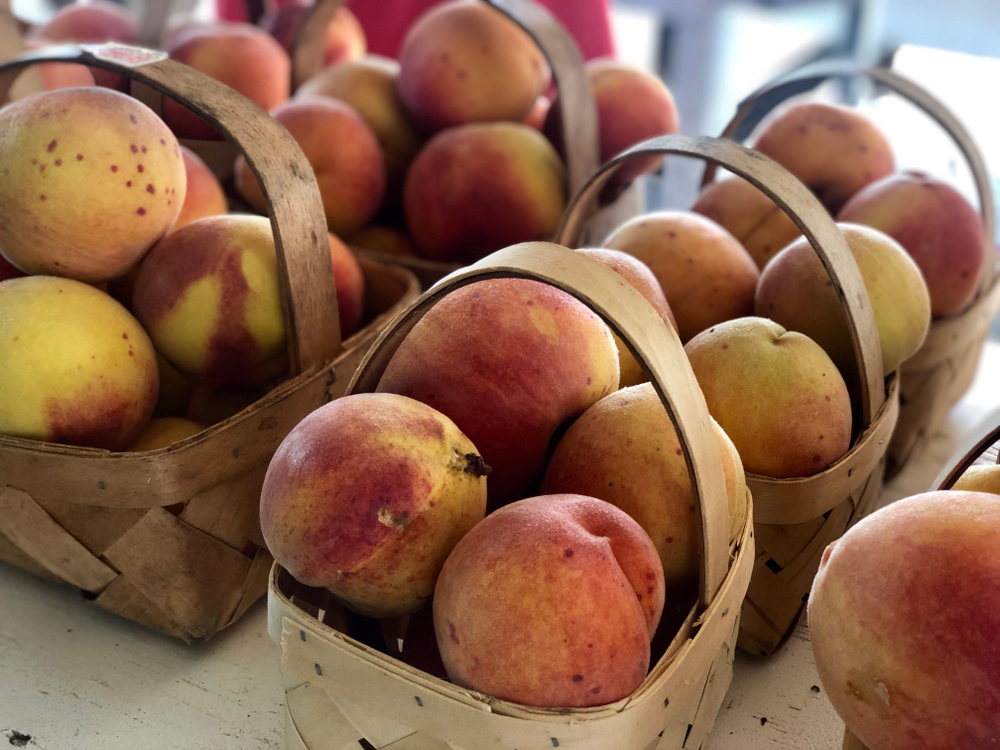 Wine Tour of North Georgia
When you think of GA, wine is probably not the first thing that comes to mind, but North GA has quite a few different vineyards to check out.
A popular route is one that starts in Dahlonega and ends in Cleveland, GA.
Start your tour by visiting Wolf Mountain Vineyards. Here they are best known for their European wines like Cabernet Sauvignon and Merlot. Their award-winning red is the Wolf Mountain Red.
Then head to Montaluce Winery, an Italian restaurant, and vineyard with plenty of varieties to choose from. Be sure to grab lunch here too.
Then head out to Cavender Creek Vineyard. This is a smaller family-run shop with white and fruit wines.
Then last but not least is your tour of Frogtown Winery. They have won several wine awards with lesser-known varieties like Tannan and Touriga Nacional.
All of these lovely Georgia wineries boast amazing mountain views and are some of the best things to do for adults in Georgia!
Book Here: From Atlanta: North Georgia Wine Country Tour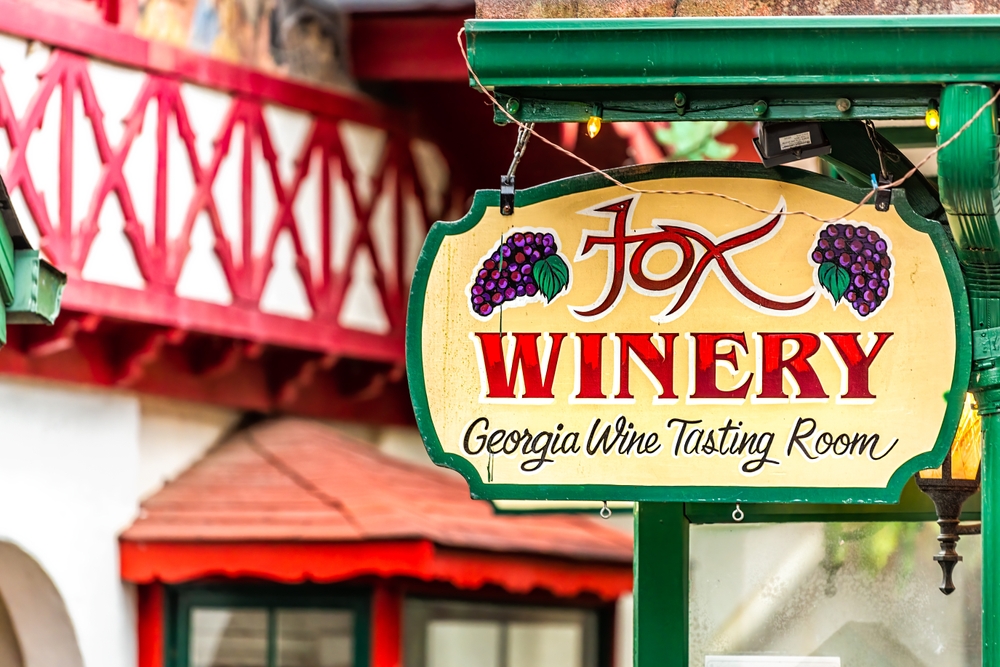 Ride on the Scenic Blue Ridge Parkway
A must-see in Georgia is the Blue Ridge Parkway. This iconic highway connects Virginia all the way down to Georgia and has some of the most scenic overpasses in the entire country.
Start your journey along State Route 515, in Jasper GA.
Then you can travel as far as 50 miles north passing through small towns with stunning views of valleys and the Blue Ridge Mountains.
One of the popular stops is the Brasstown Bald, which is also the highest point in all of GA. Or check out the Mercier Orchard for apple and peach picking, or grab a freshly baked pasty for your trip.
This is an amazing way to see the best of the Blue Ridge while exploring GA.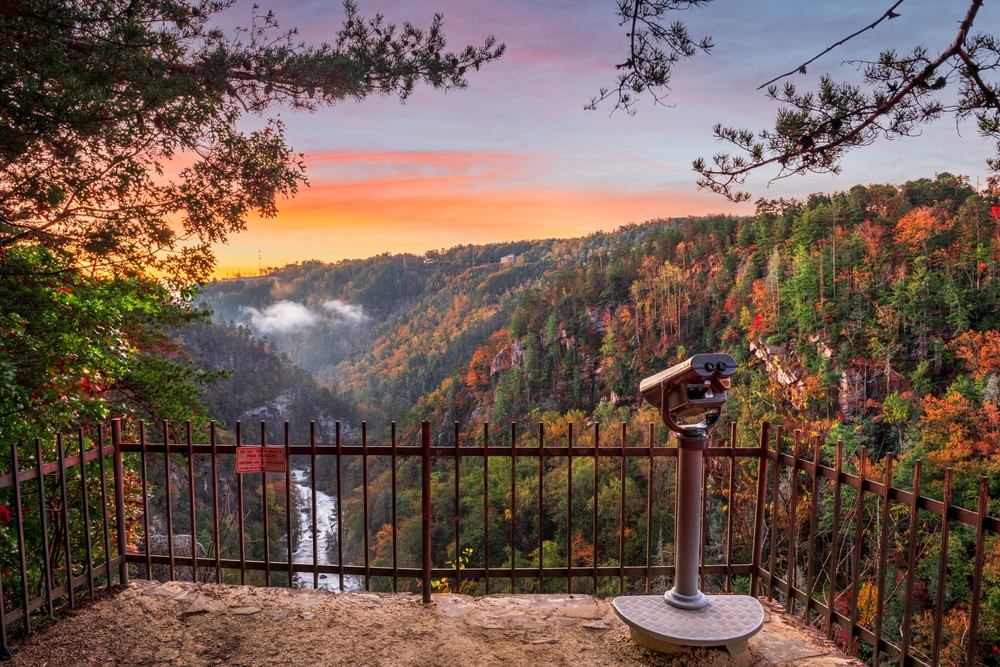 Explore Lookout Mountain
Set on the Georgia and Tennesee border, Lookout Mountain is an adventure-filled town perfect for your Southern bucket list!
So many of the best things to do in Lookout Mountain are tied to the beautiful surrounding nature.
Check out the North Georgia waterfalls such as High Falls, Ruby Falls, and Glen Falls.
For some of the best hiking in Georgia, check out Sunset Rock, Rock City Gardens, and the Guild-Hardy Trail.
Anyone wanting an adrenaline rush will enjoy white water rafting or hang gliding nearby.
Other activities on either side of the border include riding the Lookout Mountain Incline Railway, exploring the Reflection Riding Arboretum, and visiting the Lookout Mountain Civil War Battlefield.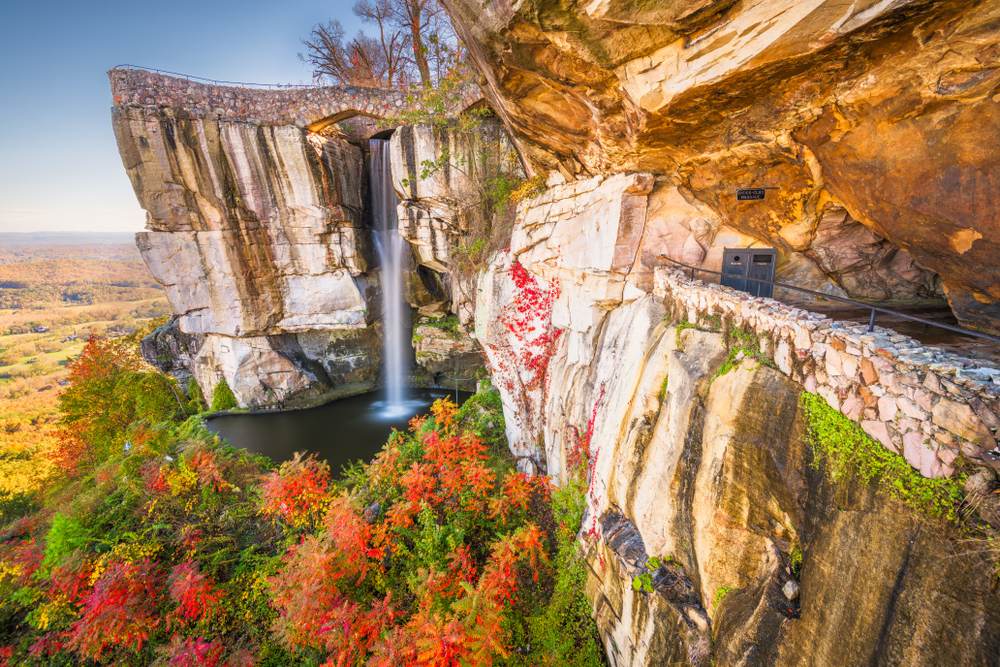 Visit Stone Mountain Park
Found about 30 minutes from Atlanta, Stone Mountain Park is one of the best places for hiking and camping in Georgia.
This 3,200-acre park has so much to offer, making it one of the best Georgia attractions for the whole family! The park features hiking trails, a cable car, train rides, mini golf, historic buildings, and more.
Children will love discovering 20 life-sized dinosaurs and playing in the Dinotorium which has slides, trampolines, and interactive games.
On Stone Mountain, you can see an incredible carving of Civil War soldiers. It is one of the most unique things to see in Georgia.
Camping options include tent and RV sites. You can also book a yurt stay or rent an RV or safari tent. The campground is set near Stone Mountain Lake.
You can also stay at the Atlanta Evergreen Lakeside Resort or the Inn at Stone Mountain Park.
This park is definitely one of the best things to do with kids in Georgia! You will make so many great family memories on one of the best day trips from Atlanta.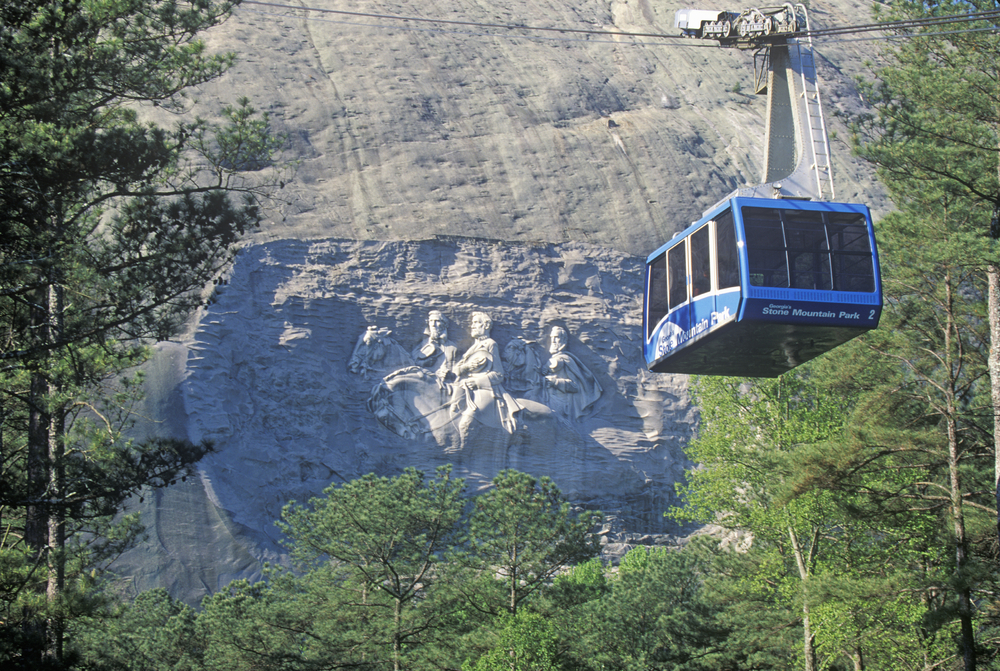 Georgia is one of my favorite states in the South to explore because there is just so much to do or see. No matter what kind of vacation you want to have, there is guaranteed to be a Georgia activity for you.
For more GA activities, check out things to do in St. Simons Island or things to do in Marietta!
I hope you found something to pique your interest and inspire you to plan an awesome trip to the Peach State. Georgia's attractions vary greatly so there is something for everyone!