Are you looking to eat at the best restaurants in Richmond? Then look no further! We've collected 15 restaurants in Richmond that you don't want to miss out on. We've taken into account all kinds of places, from quick serve to fine dining, and even included a few eclectic choices.
Richmond, Virginia is known as the River City due to the James River running right through the middle of the city – and giving the city some amazing views. And Richmond is a funky little capital, full of history, museums, and college students. It's also one of the best places for a weekend getaway in Virginia.
The restaurants here on our list are just as funky, diverse, and fun as this capital city, and we think you'll love visiting and having a meal at any of these.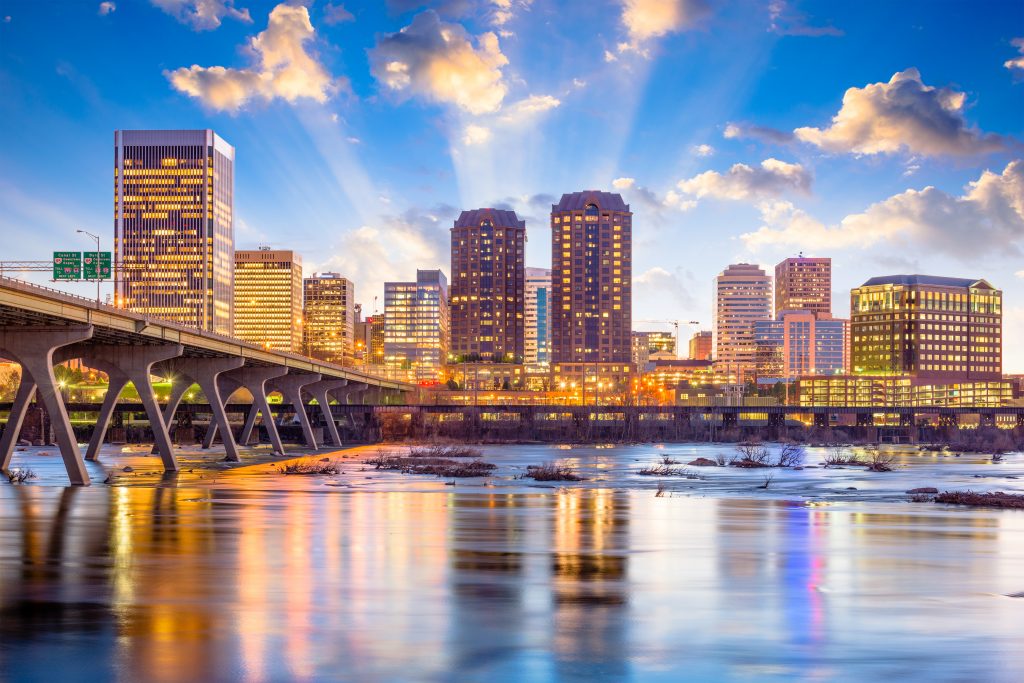 Can Can Brasserie
Can Can Brasserie is a quaint French restaurant located in Carytown in Richmond, Va. This is the best place to get lunch in Richmond, not just because of the traditional French cuisine, but also because having lunch here can be magical. When the weather is sunny and comfortable, Can Can opens up the large windows and the café is completely open to the outside, letting in a cool breeze, fresh air, and the sounds of the people on the street.
When you decide to grab lunch here, you don't want to skip the onion soup gratinee, the flavorful creative salads, and the freshly made quiche. If you're a sandwich lover, then you have to order the Croque Madame or Croque Monsieur – we promise you won't regret it!
Pro tip: grab brunch here on Sunday too! The lunch menu is offered, as well as French toast, crepes, pancakes, and some AMAZING pitchers of mimosas. This is easily one of the best restaurants in Richmond because of these choices.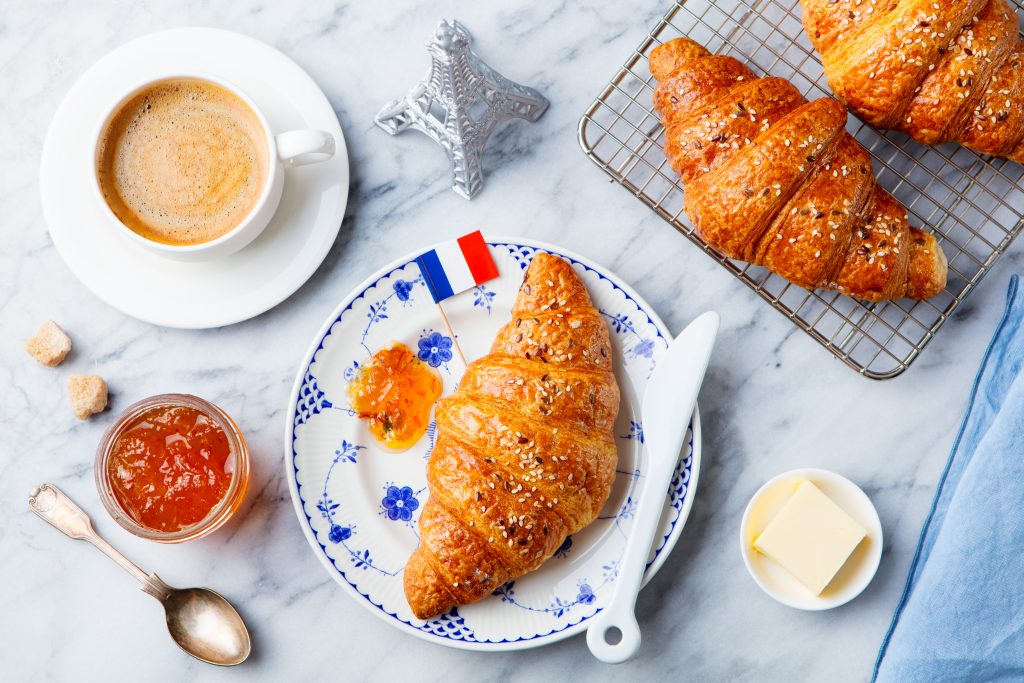 Penny Lane
If you're looking for authentic and delicious fish and chips while in Richmond, then Penny Lane Pub is the spot for you. Penny Lane Pub opened in 1979, and is owned by a Liverpudlian – so you know the food is authentically English. The atmosphere is just as warm and authentic, and you'll forget that you're in the South and instead believe you've been transported across the pond. You won't be able to miss all the British memorabilia, and you might even be welcomed in by the owner himself!
The fish and chips is a staple here, and the portion is a great size for your money. The fish is crispy, fresh, and the chips are thick cut and cooked to perfection. If fish isn't your thing, grab the cottage pie or the bangers and mash. Grab one of these, a pint or two, and you'll fit right in at one of the best restaurants in Richmond!
En Su Boca Taqueria & Cantina
Voted RVA's "Best Local Tacos" is just one of many reasons En Su Boca is our pick for the best tacos in Richmond, Va. This little taqueria is on Arthur Ashe Boulevard, just blocks from the museum district. And since they're open every day from 11am-2am, you can get your taco fix all hours of the day here.
The tacos they serve are fresh, flavorful, and authentic. No Tex-Mex here. You have the choice of tacos, burritos, and quesadillas, and you can choose from 6 different proteins – including some vegetarian and gluten-free options. All of these are delicious and done well, but we highly recommend the tacos.
While here, don't miss out on the grilled street corn, the bottomless chips, and the homemade salsas. These are perfect to snack on out on the patio while you chat with friends and wait for your tacos, and the quirky, delicious options here had to put En Su Boca on our list of the best restaurants in Richmond.
Latitude Seafood Co.
Located at Stony Point Fashion Park mall, Latitude offers a great selection of fresh fish that's delivered daily, crab cakes, and fish tacos all made to order. Everything here is fresh and delicious, and this is a top pick to have a nice seafood dinner while in Richmond. Not only do they offer a great menu every single day, but they offer daily specials as well.
Even though the food here is delicious, that's not the reason Latitude has made it on to our list – it's because they have the best happy hour. They offer happy hour specials Monday-Friday, as well as on Saturday and Sunday, which isn't something you see too often. During happy hour, you have a choice of $6 appetizers like raw oysters, calamari, hellfire shrimp, and shrimp cocktail, as well as half off of all beers, half off all wines by the glass, and half off liquor with one mixer. You can't beat these happy hour deals for fresh seafood and great drinks with friends.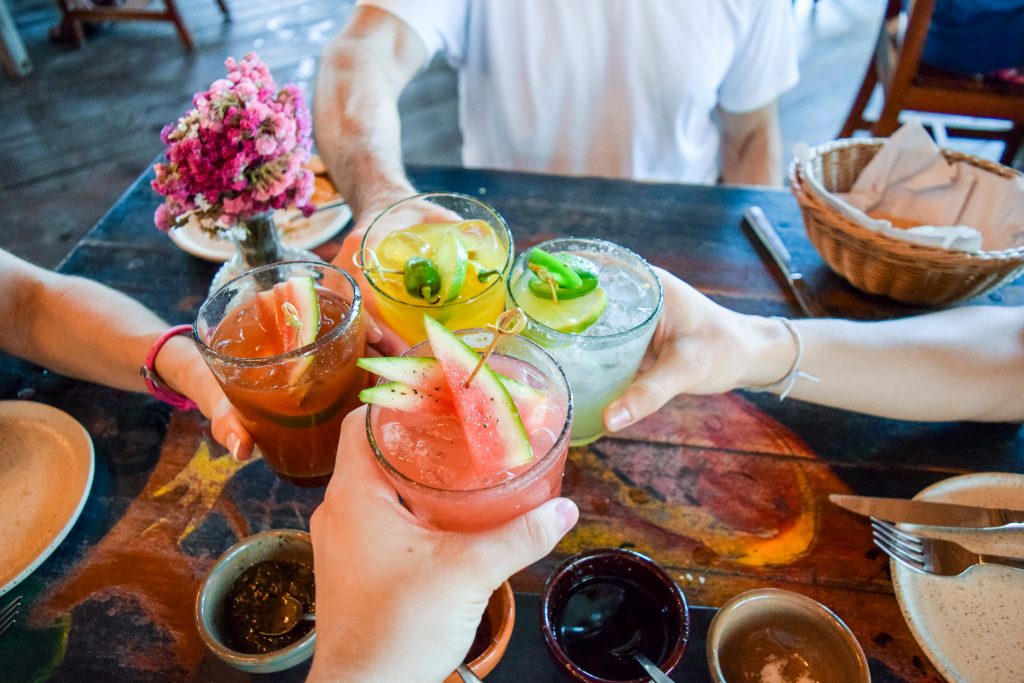 Blue Atlas Restaurant
If you're looking for a unique place to have a meal outside in Richmond and enjoy some nice weather, then we can't suggest Blue Atlas enough. Located in Richmond's Fulton Hill neighbor hood and housed in a historic schoolhouse, Blue Atlas offers breakfast, lunch, and dinner. Breakfast and lunch are served counter-service style in the Market, where the food is classic, but elevated and delicious. Dinner here is shared plates and tapas, inspired by different areas of the world. The menu is split into four sections: Europe, Asia. Middle East & Africa, and Americas.
While the food here is amazing, and you can't go wrong eating any meal here, the reason we love Blue Atlas is the abundance of outdoor seating. They take patio seating to the extreme here, and you have the ability to grab your food and eat on the lawn, in the chairs at the fire pit, the covered portico, or at the patio tables with umbrellas. Grabbing a meal at Blue Atlas is great for cool fall nights, balmy spring days, and summer mornings when the humidity hasn't hit yet.
Joe's Inn
One of many Richmond staples on our list, Joe's Inn is the place to get Italian in Richmond, Va. Go to the original one in The Fan, and have a meal at a restaurant that was named one of the top 100 "legend and landmark restaurants in America." Although it may look more like a bar, don't let the interior fool you – the food here is great.
Servings are huge, the food is good, and you get a lot for your money here. It doesn't hurt that the locals swear by Joe's Inn, and the food plus the hole-in-the-wall atmosphere is absolutely why. The menu is extensive, mostly Italian, with a few American dishes thrown in. The garlic bread is great, and you can't eat here without getting "Spaghetti a la Joe" – it's a huge plate of baked spaghetti covered in sauce and provolone cheese, and is enough for two people, or a lot of leftovers!
Plus, did we mention you can get breakfast all day? That's a bonus in our book when it comes to any restaurant, and this is something you may find at several of these restaurants in Richmond. Richmonders like their breakfast.
Beauvine Burger Concept
Owned by the same people as our choice for the best tacos, En Su Boca, Beauvine Burger Concept is the burger restaurant you can't miss in Richmond. Their food is fresh, delicious, and innovative, with the burgers inspired by Virginia, California, and France. They're open every day, offer a brunch on the weekends, and is the go-to for grabbing a burger in the historic Fan District.
If you're feeling adventurous, choose one of their artisan burgers like the "Joe Beef," which is topped with Swiss cheese, truffle mushrooms, and steak sauce, or the "Lafayette," which has Brie cheese, cabernet onions, and an apricot mustard. But if you're more of a classic burger lover, don't feel left out! Beauvine offers the "Beauvine" – a signature burger with American cheese, pickles, lettuce, tomato, onion, and a special sauce.
Or, build our own burger using an array of toppings and protein choices like beef, turkey, and even plant-based. You truly can't go wrong here – and don't sleep on the fries! They're a hit too.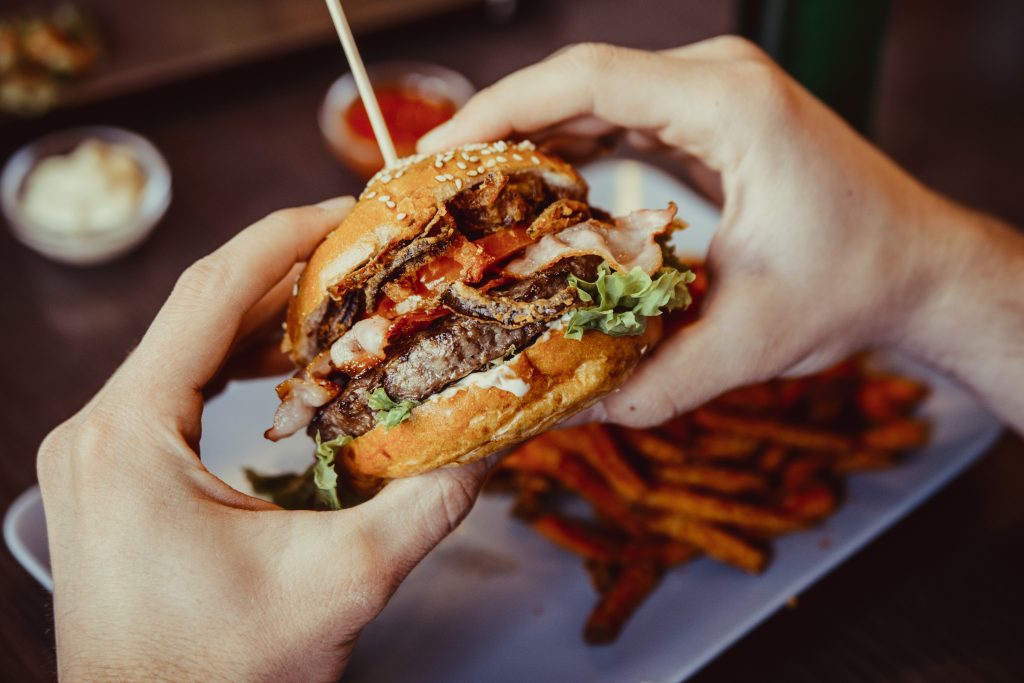 Boathouse at Rockett's Landing
Since Richmond is the River City, you can't have a meal without sitting riverside at some point. The Boathouse at Rockett's Landing is our choice if you're looking for the best riverside restaurant in Richmond. This location of the Boathouse has waterfront dining, with epic, breathtaking waterfront views. This restaurant is located right on the James River on Old Main Street, and it's classic Richmond. It's also a very popular choice for special occasions amongst locals.
Food here is fresh, local seafood and American fare. The raw bar, local seafood, burgers, and crab cakes are standouts here, and everything is done well. The best time to eat here is on a beautiful Sunday for their iconic Sunday Brunch, and enjoy the waterfront while you have a Southern brunch and drink a cocktail or two.
C'est Le Vin
C'est Le Vin is less of a restaurant and more of a wine bar with a patio, but that's the whole reason it's one of the restaurants in Richmond you can't miss. Located in The Bottom, C'est Le Vin offers an extensive wine bar, an art gallery, and creative food that's more like art.
This is the place to get tapas in Richmond, and you can't go wrong with anything on the menu. The small plates menu offers a little bit of everything, from cheese plates, to olives, to an array of dips, and even a Southern style chicken club. These tapas are the ideal bites with one of the many wines, and you're bound to get some of the best wine recommendations while dining here. Split a few plates with friends or a loved one, and relax on the patio with a glass of wine here for a great night.
Bottom's Up Pizza
Located in Historic Shockoe Bottom, Bottom's Up Pizza is the go-to for a pizza in Richmond. It's a rite of passage for Richmonders to grab a bite to eat here, and you're visiting, you don't want to miss it! Their menu is huge, the vibe is causal, and the pizza is always hot and fresh. They've been serving gourmet pizzas for almost three decades, and you can't go wrong with anything on the menu.
The Bottom's Up Loaded, Meat Master, and Mexican are easy choices here, but don't overlook the Goat in the Garden – this is topped with fresh garlic, goat cheese, tomatoes, and fresh spinach, and is absolutely delicious. Another thing that makes pizza at Bottom's Up so great is that you can really customize the pie – you can choose traditional red sauce, parmesan white sauce, or a specialty sauce to top your pizza with. Not to mention the vegan, gluten-free, and low carb options they offer as well. You won't regret this experience, and it will become one of your favorite restaurants in Richmond in no time!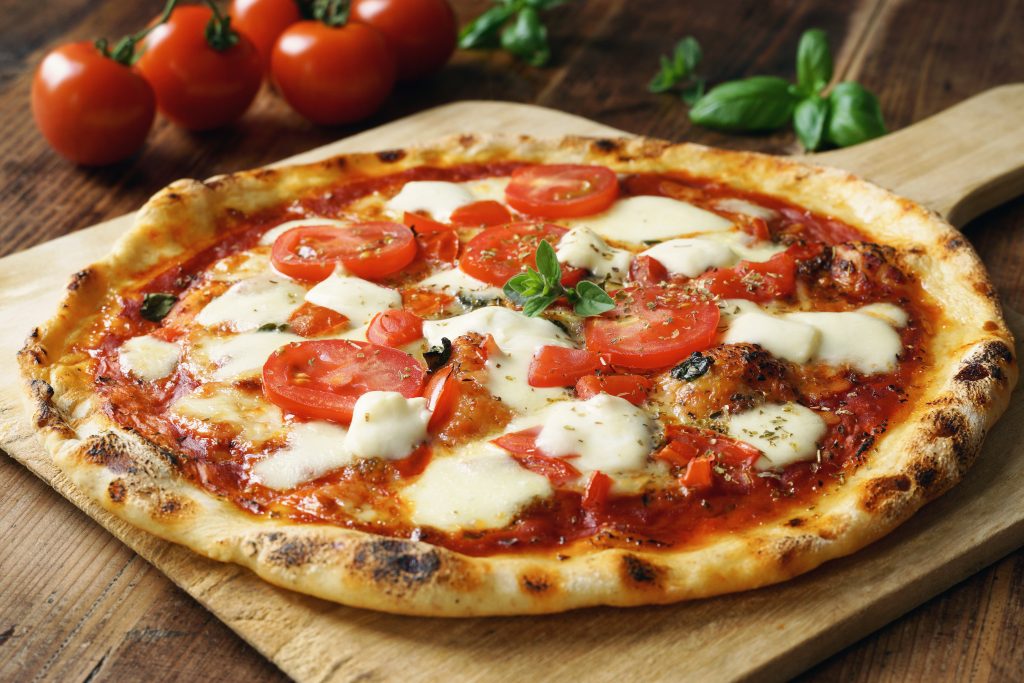 Stella's
Many of the restaurants in Richmond, Va. have amazing families and stories behind them, and Stella's is no different. This Greek restaurant was opened in 1983 by Stella Dikos, and they serve what they call "rustic & modern Greek cuisine." Everything here is homemade and handmade, and you can even buy some of Stella's prepared items at Stella's Grocery across the street.
Just a few blocks from Monument Avenue, and located in the Museum District, Stella's offers authentic, delicious Greek food. Even those unfamiliar with the cuisine are bound to find something delicious, and those who love Greek food will find their favorites on the menu – like moussaka, lamb, dolmades, and spanakopita.
We love how the menu is divided up into "meze" – the small plates/appetizers – and "comfort" – the entrees; it allows you to choose the type of meal you're in the mood for, and we couldn't agree more that comfort is the perfect word to describe a meal here. The atmosphere is quaint and romantic, and dinner on the patio with your love is a great choice for date night.
Buckhead's Chop House
When looking for more of a fine dining experience, Buckhead's is a great choice. They serve fresh seafood, Braveheart Black Angus beef, and everything here is high quality. They've even been chosen as "diner's choice" for Richmond Magazine.
Even though this is one of the pricier restaurants in Richmond, it's absolutely worth the price. The entrees include aged steaks, surf and turf, fresh seafood, pork chops, and lamb. Portions here are good sized, and the sides are to die for. If you're looking for a great place to have a romantic dinner or celebrate a special occasion, Buckhead's should be on your list.
Fancy Biscuit
Hands down, Fancy Biscuit is one of the best places to get breakfast in Richmond. The handmade Southern biscuits are fluffy, delicious, and you can even watch them being made while you wait to go in and order. And here they focus on Southern staples, classic comfort food, and they try to use as many local ingredients as possible – including amazing local coffee!
The menu is full of winners, and you shouldn't miss the Big Poppy: fried chicken, housemade pickles, and poppyseed mustard, or the Big Apple: fried chicken, apple slaw, apple butter BBQ sauce, and bleu cheese vinaigrette. You of course can't miss the B&G (the biscuits and gravy), or build your own perfect biscuit with an array of ingredients.
And did we mention this is one of the restaurants in Richmond that was featured on "Diners, Drive-ins, and Dives?" Guy Fieri loved these biscuits and you will too.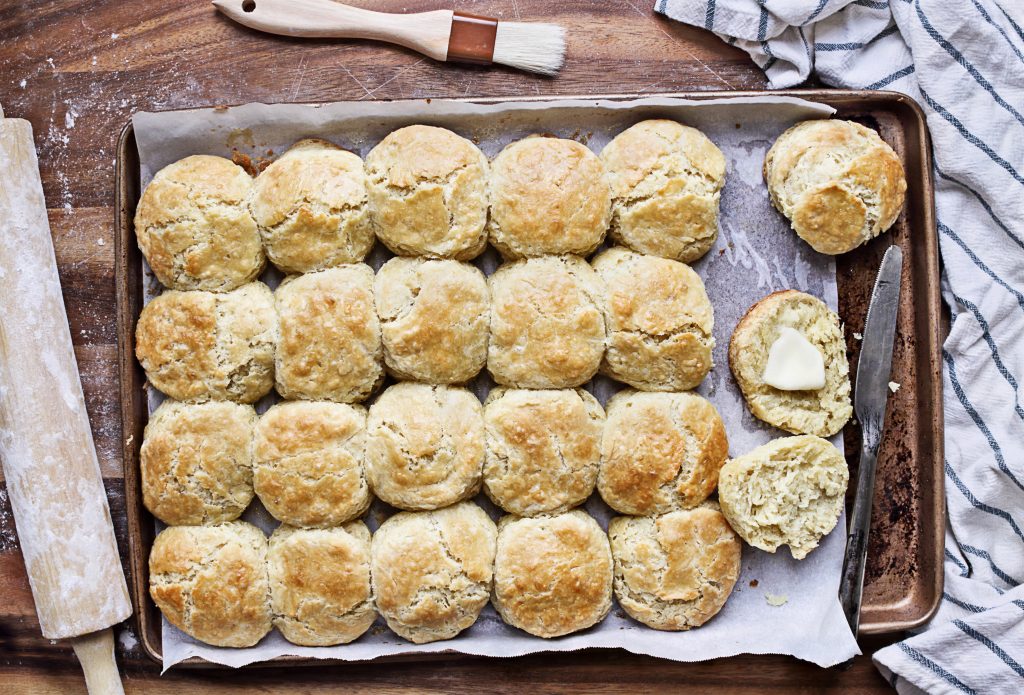 SB Lakeside Love Shack
There are several diners in Richmond, but SB Lakeside Love Shack is the one you should visit! This restaurant is fun, funky, and delicious. The owner here wants you to feel the love, and that's what the entire menu and experience is based on.
They serve breakfast all day long, and that's always a plus. Other standouts on the menu are the traditional diner foods: club sandwich, BLT, egg salad, and a fun list of sides. They also have weekly specials, soup of the day, and all of the menu items have names inspired by the B-52's song "Love Shack" – of course!
They are located over in Lakeside, and are closed on Mondays. We think you'll love the atmosphere, the food, and the warm welcome here, and that makes it one of our favorite restaurants in Richmond.
Shyndigz
Just like at the end of a meal, dessert is last. If there's one restaurant in Richmond to visit for dessert only, it's Shyndigz. Owned by the same creators of the Fancy Biscuit, Shyndigz is a dessert only restaurant that has only grown in size and popularity over the last decade. They have a separate restaurant as well as a to-go market.
The most popular items here are the two cakes that made them famous: the Fresh Fruit Cake and the Salted Caramel Cake. But EVERYTHING is good here! Other standouts are the OCPs – a childhood favorite, the oatmeal creme pie, but all grown up. Or, get the cake of the day and try something new and adventurous.
They are also located on Cary Street with the Fancy Biscuit, and just a few blocks from Virginia Commonwealth University. You don't want to skip Shyndigz if you're looking for dessert restaurants in Richmond, VA.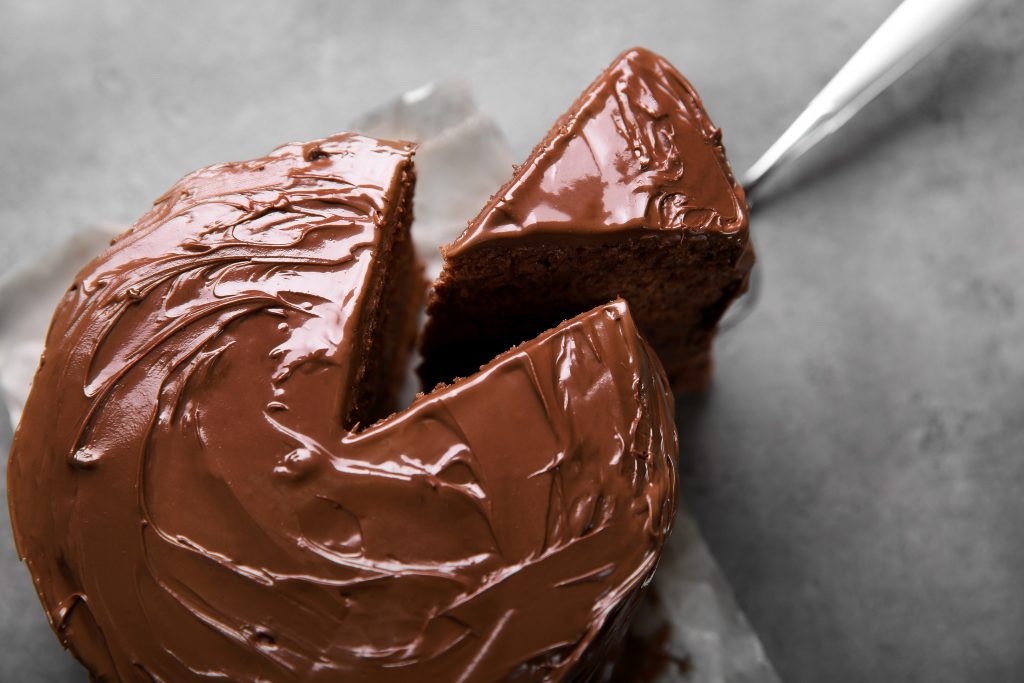 If you plan on eating at some of these restaurants, we know you are going to enjoy yourself. All of these offer good service, great meals, and very Richmond experiences. Grabbing a slice at Bottom's Up, eating late night cake at Shyndigz, and having a special meal at The Boathouse are all near and dear to Richmonders, and eating at these restaurants is a great way to experience the city.
And if you're looking for some other things to do while visiting Richmond, check out our best things to do while visiting! You'll find some fun activities to do in between all the great meals.
Have you eaten at any of these restaurants in Richmond before? Or plan on visiting Richmond soon? Let us know in the comments!