If you are planning any weekend getaways in Virginia, you are in for a treat! This Southern state is so beautiful and is rich in history. There is plenty of natural scenery to enjoy as well as charming coastal and mountain towns to explore.
They say, "Virginia is for lovers," and that is so true! If you are looking for a romantic weekend getaway, this state has much to offer. Alternatively, Virginia is perfect for a family or friends' vacation.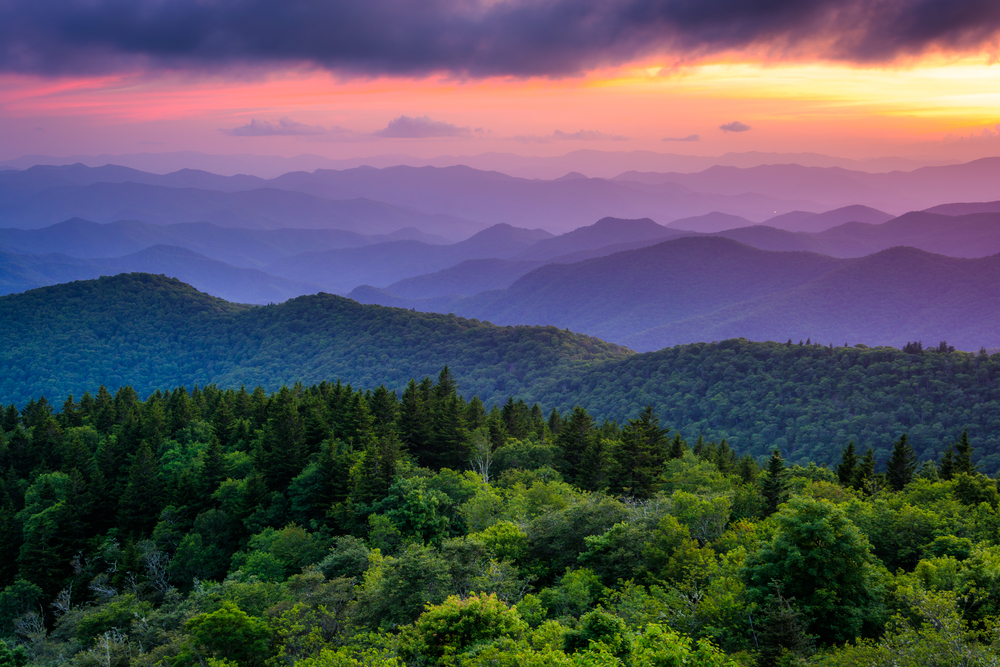 14 Interesting Weekend Getaways In Virginia
Find Beauty at Shenandoah National Park
We'll start the list with one of the most beautiful, natural locations in Virginia. Shenandoah National Park is a great place to spend a weekend camping or find a cute rental home nearby if you don't want to rough it.
This National Park is the ideal place to escape into nature. With over five hundred miles of hiking trails to explore and beautiful waterfalls to discover, you will have plenty to do and see on this Virginia weekend getaway.
Other things to do in the park include fishing, stargazing, bike riding, and driving the scenic Skyline Drive. Find wildlife, including deer, birds, and black bears. Come in the spring to see fields of wildflowers or visit in the fall for fiery foliage.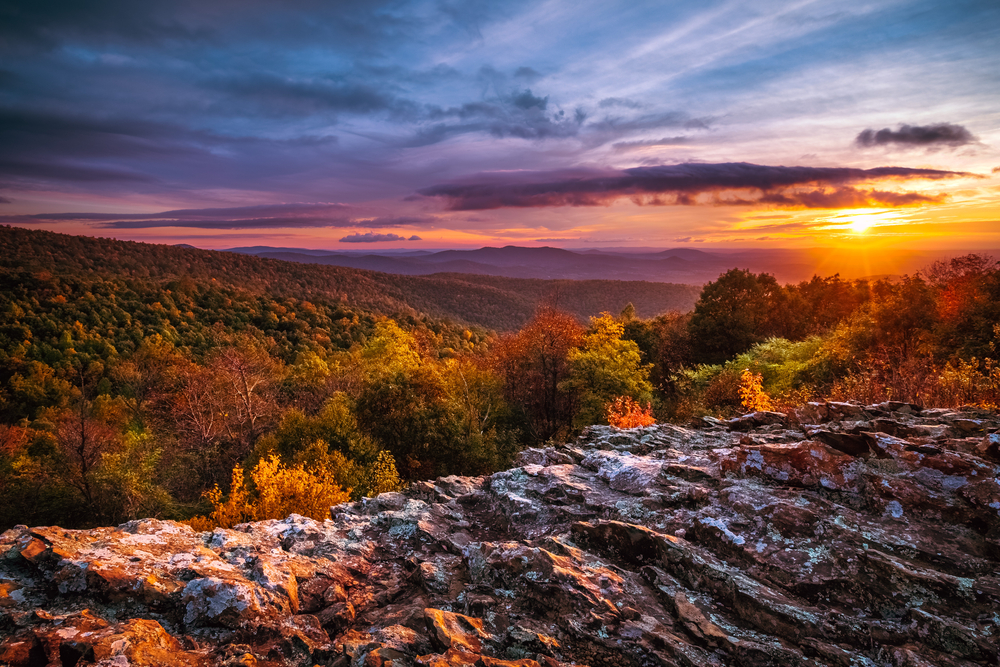 Soak in Culture in Washington D.C.
While Washington D.C. is not technically in Virginia, it is right on the border and is a must-visit place for anyone interested in American history. Visiting the nation's capital might feel like a school field trip as you see all of the places you learned about in history class.
Your days will be filled with visiting history, art, and science museums. You will find yourself walking through the National Mall as you spot the Lincoln Memorial and the Washington Monument. Take a tour of the White House and walk the path of so many historical figures.
If you visit D.C. in the spring, you will love photographing the pretty cherry blossoms. Take a relaxing walk along the Potomac River and pay your respects at the Arlington National Cemetery.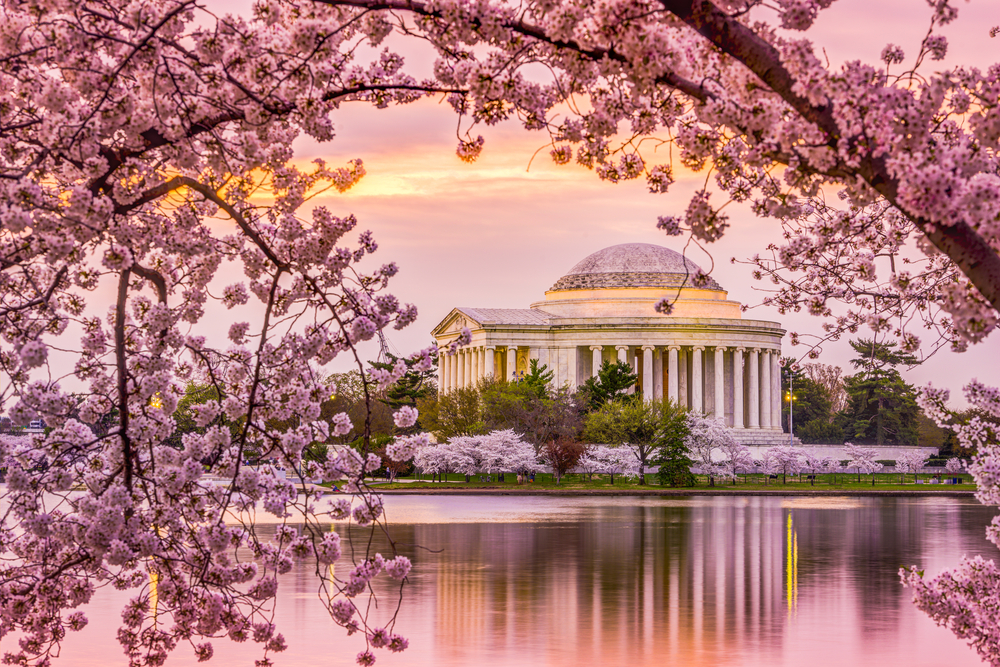 Have a Romantic Hotel Getaway
If you are looking for one of the best romantic weekend getaways in Virginia, then book a stay at the Williamsburg Inn. This historic, 5-star hotel offers a great place to snuggle up for a weekend away from real world responsibilities.
Staying here gives you access to an outdoor pool, an indoor pool, a hot tub, a spa, and a fitness center. You will enjoy strolling the expansive property as well as playing round of golf or hitting the tennis court. If you want to stay cuddled up in your room, you can relax watching movies.
This beautiful inn is near Colonial Williamsburg and many other small, coastal towns and attractions. There is a warm atmosphere and friendly staff to make your trip memorable.
Check Rates: Booking.com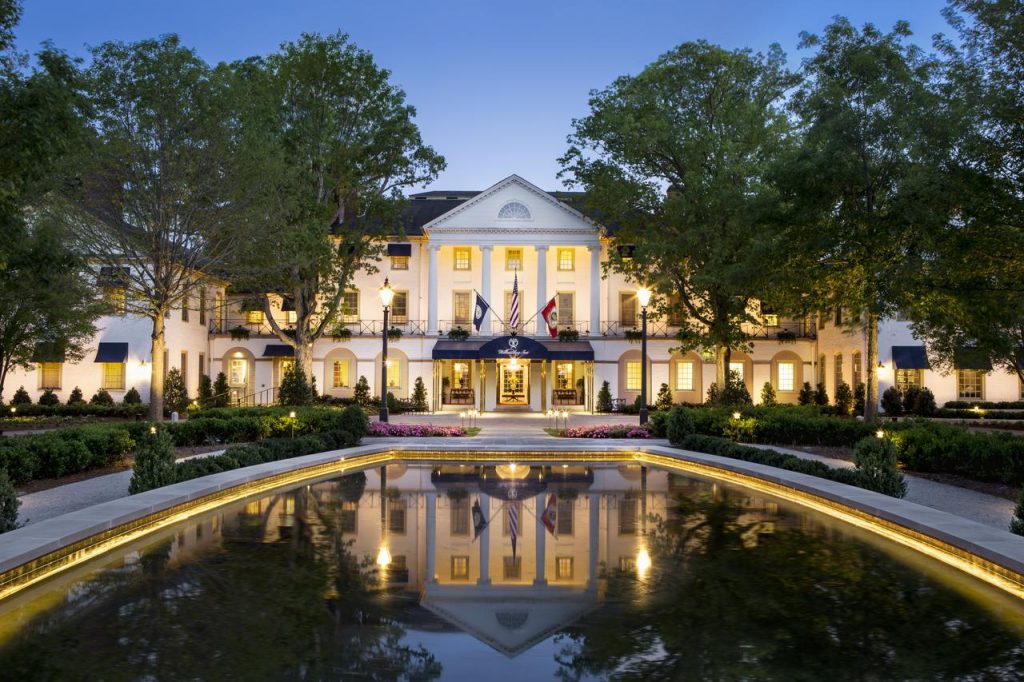 Relax in Virginia Beach
Virginia Beach is found at the southern point of the Chesapeake Bay and is one of the best beach towns on the East Coast. The main draw for tourists, of course, is the golden beach. Come swim and soak up the sun. Then stroll the boardwalk and enjoy the fun atmosphere. Don't forget to grab a selfie with the Neptune Statue.
Chilling at the beach is not the only thing to do in Virginia Beach, though. There are also state parks were you can hike and spot wildlife. Art and science museums can be fun as well. Take a boat tour out into the bay for a chance to spot some whales.
You will also want to find the Cape Henry Lighthouse to take pictures. This historic structure dates back to 1792 and was authorized by none other than George Washington. Climb to the top for great views.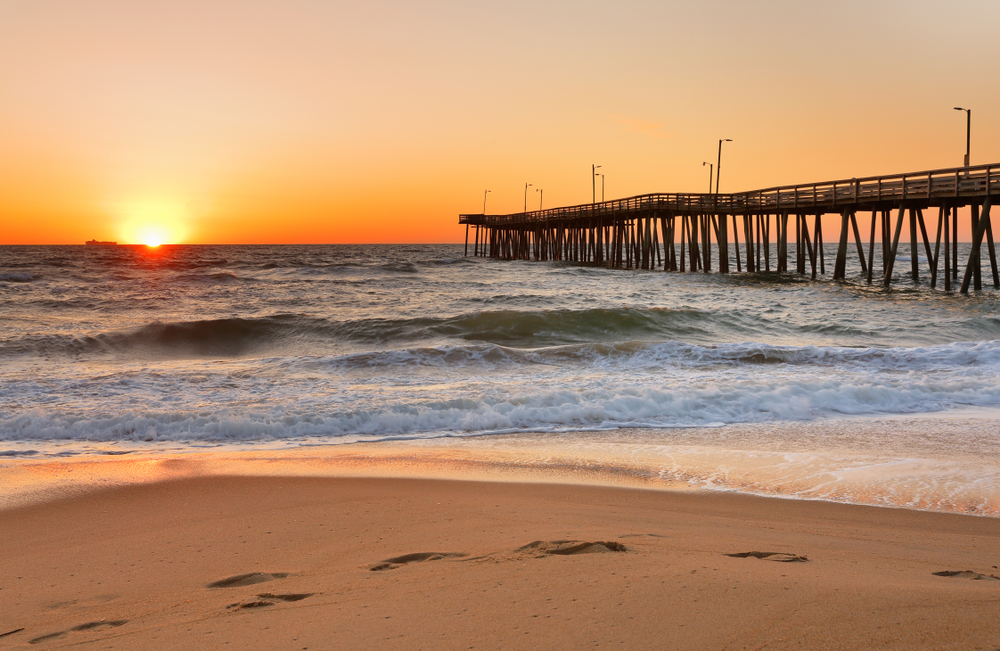 Fall in Love With Roanoke
Roanoke is a cute town nestled in the Blue Ridge Mountains and is one of the best weekend getaways in Virginia. One of the most popular activities to do in this charming town is hiking to the Mill Mountain Star. This 90-foot star has been a fixture in the town since the 1950s and is found in a scenic area with great views of the city.
Roanoke also has a good amount of museums to check out that cover subjects such as art, science, and transportation. If you are traveling with kids, some good stops to make would be at Jeter Farm or Mill Mountain Zoo. Make time to visit downtown Roanoke and shop at the City Market.
Roanoke is a city for outdoor lovers as well. Since it is surrounded by nature, there are plenty of opportunities to get out and explore. The Roanoke Valley Greenways offer biking and hiking trails. The Read Mountain Preserve is a pretty place to explore too.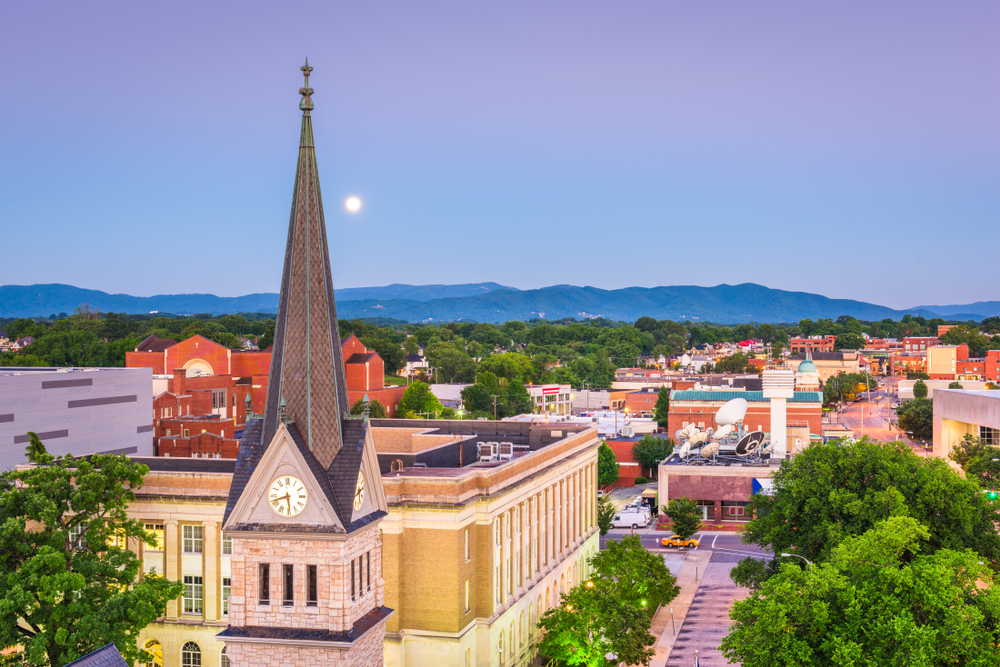 Find Living History at Colonial Williamsburg
Colonial Williamsburg is a classic weekend getaway in Virginia. This living-history museum invites you to travel back to a simpler time. There are over 300 acres to explore filled with beautiful historic buildings, art museums, and gardens.
This is a great place to visit in Virginia for the whole family! Kids will have fun learning about history in such a unique way. Make sure to take a scenic carriage ride to see everything in a memorable fashion. Watch demonstrations of historic trades like weaving and blacksmithing.
There are also special exhibitions and events dedicated to African American and Native American history and experiences. This will help you gain a new perspective on American history.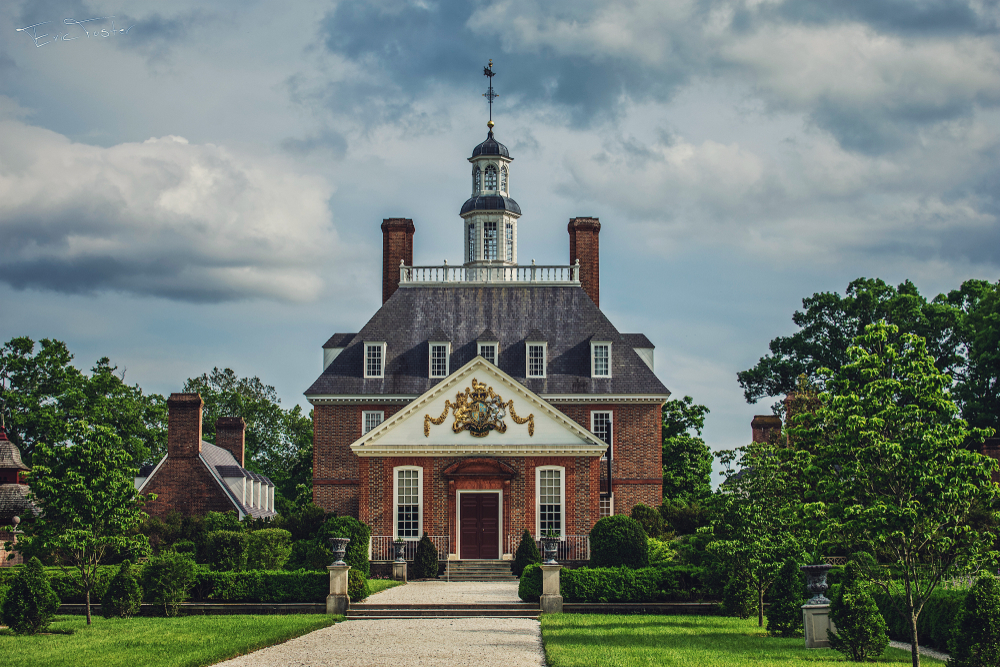 Taste Test Wineries
You might be surprised to learn that Virginia is a wine destination with over three hundred wineries to taste test. There are a number of scenically located wine trails that you can embark on for one of the most fun weekend getaways in Virginia. This is a great itinerary addition for a bachelorette party or friends' vacation.
Rappahannock County has a number of artisanal, family-run wineries to try near Washington D.C. The Shenandoah Valley Wine Trail has some of the best, award-winning wine in Virginia. The Blue Ridge Whiskey Wine Loop has a number of great wineries, whisky distilleries, and breweries.
No matter which path you choose, you are sure to have a great time! Most of the wineries are located in such beautiful landscapes, it is worth visiting just for the views.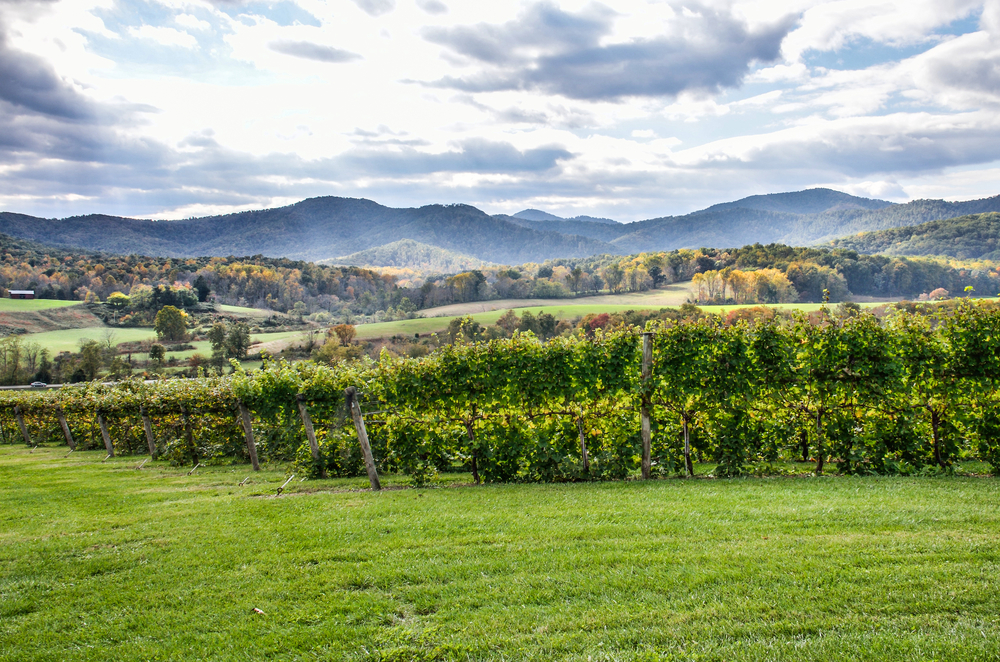 Enjoy a Cabin Stay
Another Virginia getaway for couples or families involves renting a cabin in the woods and simply unwinding among nature. This warm and cozy cabin in the Blue Ridge Mountains can sleep up to eight people and is one of the best places to stay in Virginia if you love great views.
This rustic and amazingly crafted cabin was created to make you feel right at home. A fireplace and reclining sofa will keep all guests cozy while WiFi, satellite TV, and board games will keep them entertained.
This home is found in a great location near many nature areas as well as small towns full of great restaurants and shops. There are golf courses and vineyards around. If you are looking for a unique thing to do with your kids, you can check out an alpaca farm.
Book Here: VRBO.com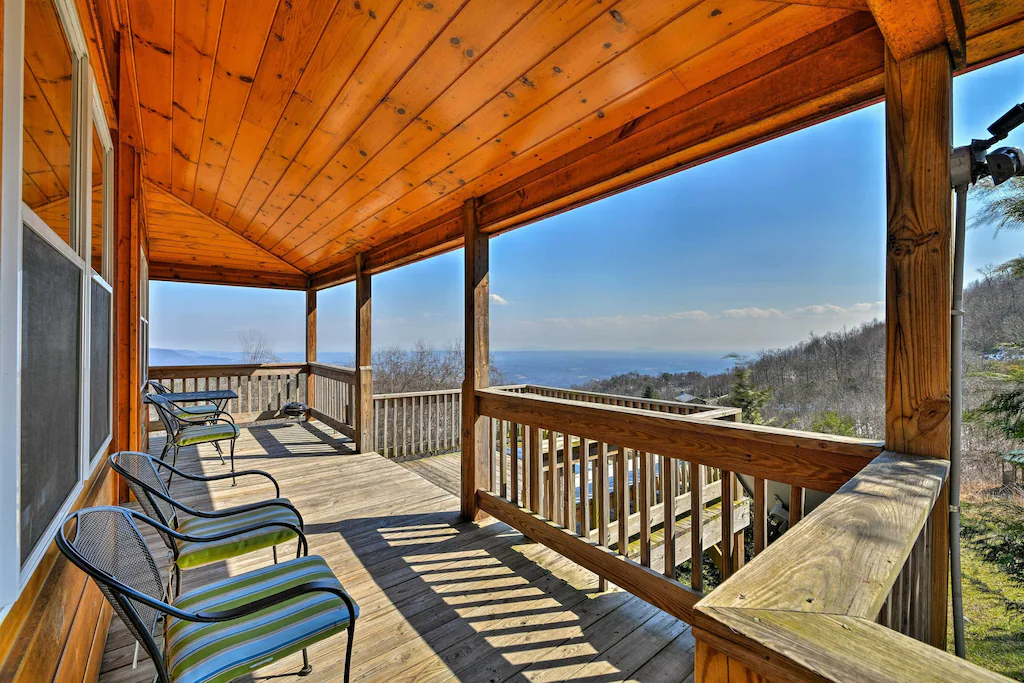 Be Awed by the Luray Caverns
The Luray Caverns are found in the Shenandoah Valley and are the largest caverns in the Eastern United States. You will head underground, but you will feel as if you are visiting another planet. With cathedral-sized rooms full of amazing rock formations, you are sure to feel awed.
Interestingly, the world's largest musical instrument is found inside these caverns. This might seem random, but the Great Stalacpipe Organ is actually made of stalactites. Isn't that crazy?! Another cool feature in the caves is Dream Lake, which creates cool reflections.
To make your visit to Luray Caverns truly one of the best weekend getaways in Virginia, you will want to book a stay at the historic Mimslyn Inn. This beautiful hotel has great restaurants, a pool, and a spa.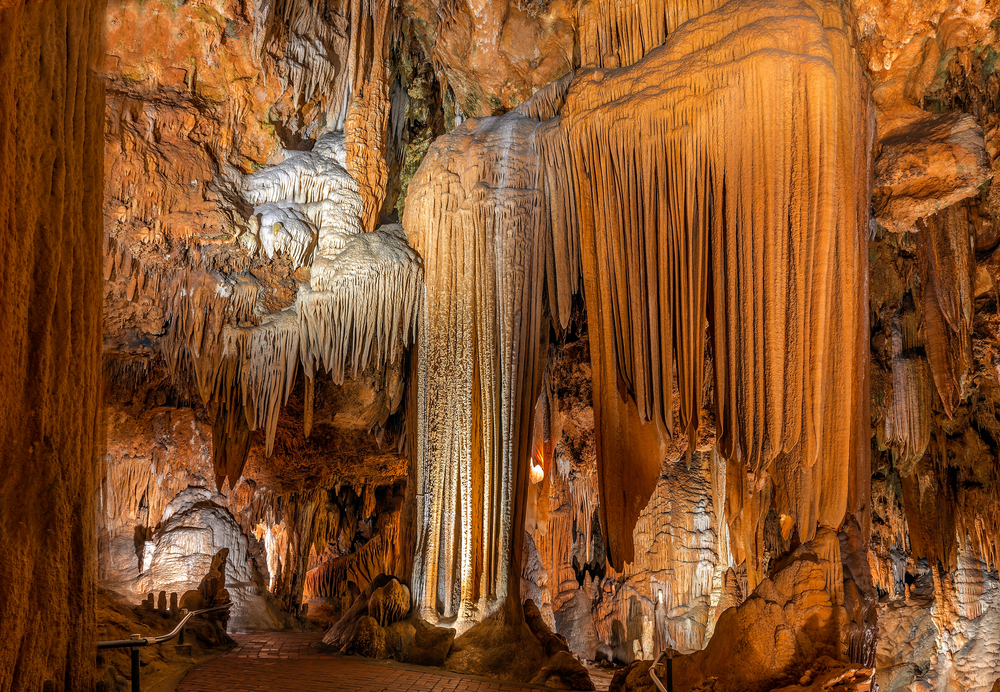 Historic Road Trip To Jamestown and Yorktown
If you are really into American history, Virginia is one of the best Southern states to visit. So much of early history occurred here, and you can learn about it by visiting Jamestown and Yorktown. These two towns are only thirty minutes apart, so they make a great Virginia weekend trip.
In Jamestown, you will find the ruins of England's first colony in the New World. The area is still being excavated and new discoveries are being made. Visit the museum and discover millions of artifacts.
Yorktown was the site of many historic events, including the 1781 Battle of Yorktown which led to the end of the American Revolution. You can visit this famous battleground as well as the American Revolution Museum. There are also many historic homes here to see.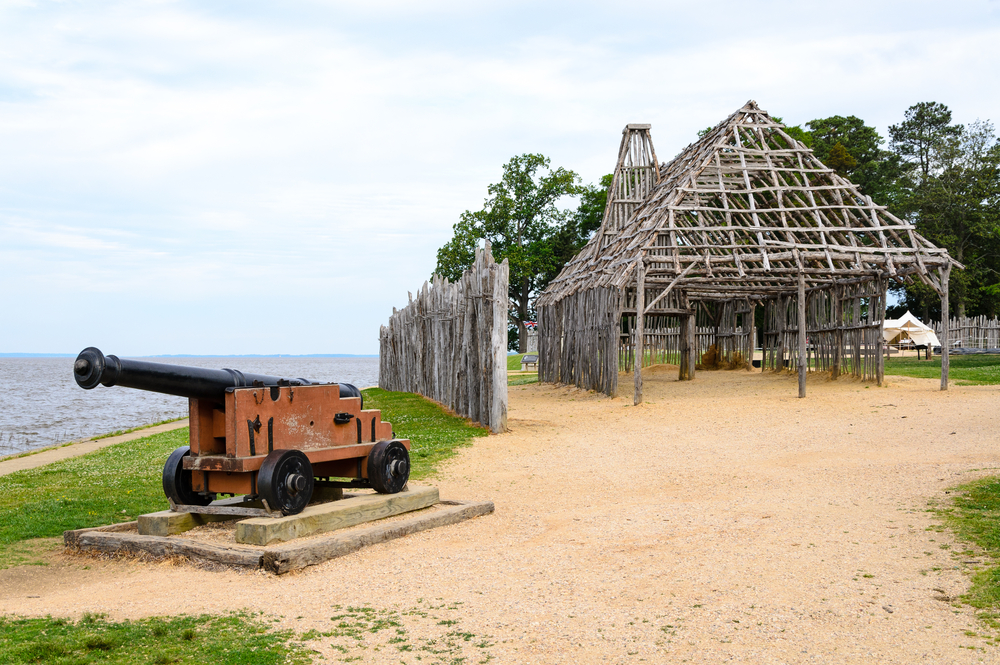 Camp in the George Washington National Forest
Along the Appalachian Mountains, you will discover the George Washington National Forest. This beautiful area is perfect for a nature getaway in Virginia. If you love camping, this is a great destination. There are plenty of campgrounds to choose from whether you use tents, an RV, or want a cabin.
This National Forest is a great place for hiking, fishing, mountain biking, and horseback riding. In the summer, enjoy boating and swimming in the lakes and rivers. Fall, of course, adds a magical element with the leaves changing colors. If you come in the winter, you will have fun cross country skiing.
Another fun activity popular in the forest is hang gliding. This is perfect for an adrenaline rush. Overall, the George Washington National Forest is one of the best places to visit in Virginia for nature and adventure lovers.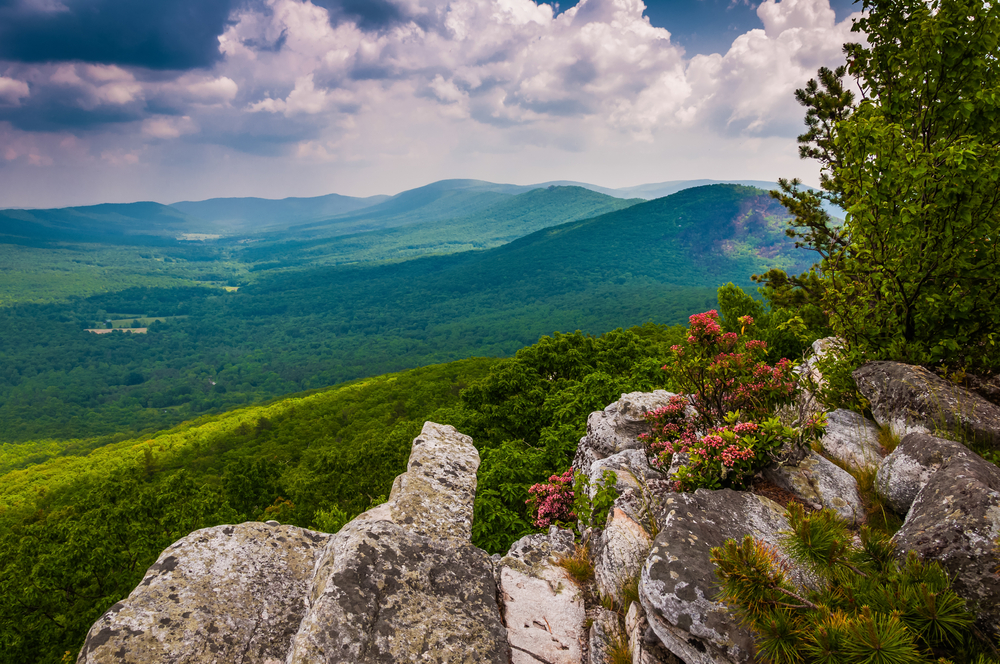 Waterfalls Road Trip
There are a ton of gorgeous waterfalls in Virginia so it is easy to create a road trip itinerary dedicated to them. Start in Great Falls Park on the Potomac River. This is a beautiful place to see waterfalls as you hike or kayak through the rushing water.
Next, Upper White Oak Falls in Shenandoah National Park is worth the four-and-a-half round trip hike. Crabtree Falls is off the Blue Ridge Parkway and is over one thousand feet tall. Devil's Bathtub is a must-see forest pool with a waterfall that keeps it full.
Really, there are too many waterfalls to mention dotted throughout the state. No matter which ones you choose to visit, you will be left speechless.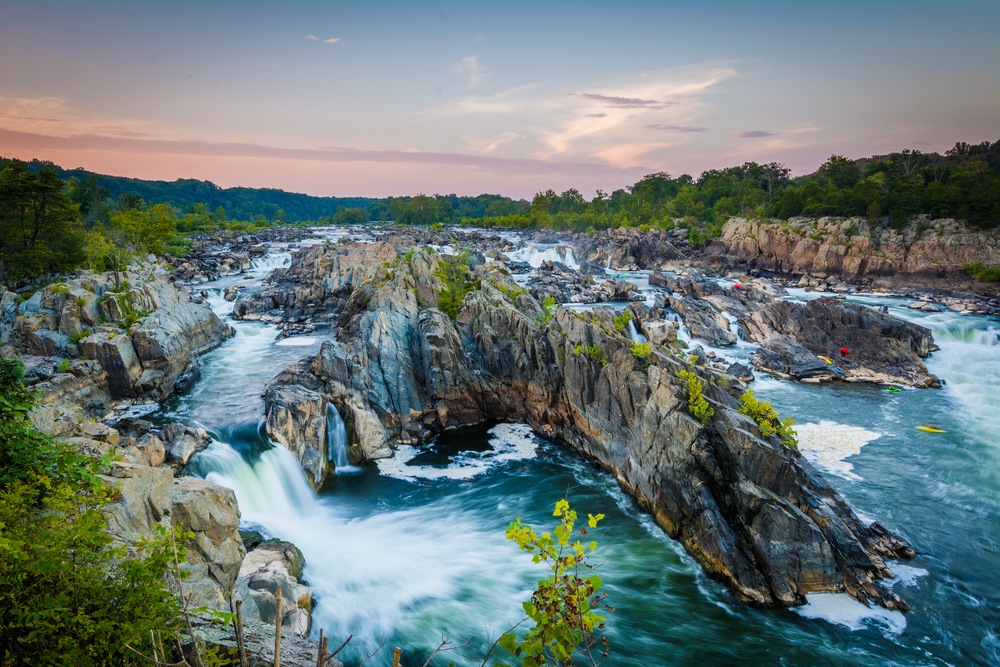 Blue Ridge Parkway Road Trip
The Blue Ridge Parkway is one of the best road trip routes in the U.S. and is commonly undertaken in the fall when the foliage pops. However, this is one of the best weekend getaways in Virginia no matter the time of year.
While the drive is scenic, the stops you make along the way are great as well. There are a ton of cute, mountain towns to explore. This is the perfect place to check out local shops, restaurants, and museums. The Mabry Mill is a pretty place to photograph.
There are also many amazing hiking trails along the parkway. These trails range in length and difficulty, but they all have something in common. They are all beautiful! With scenic vistas, hidden waterfalls, and pretty wildflowers, they are truly a feast for the eyes.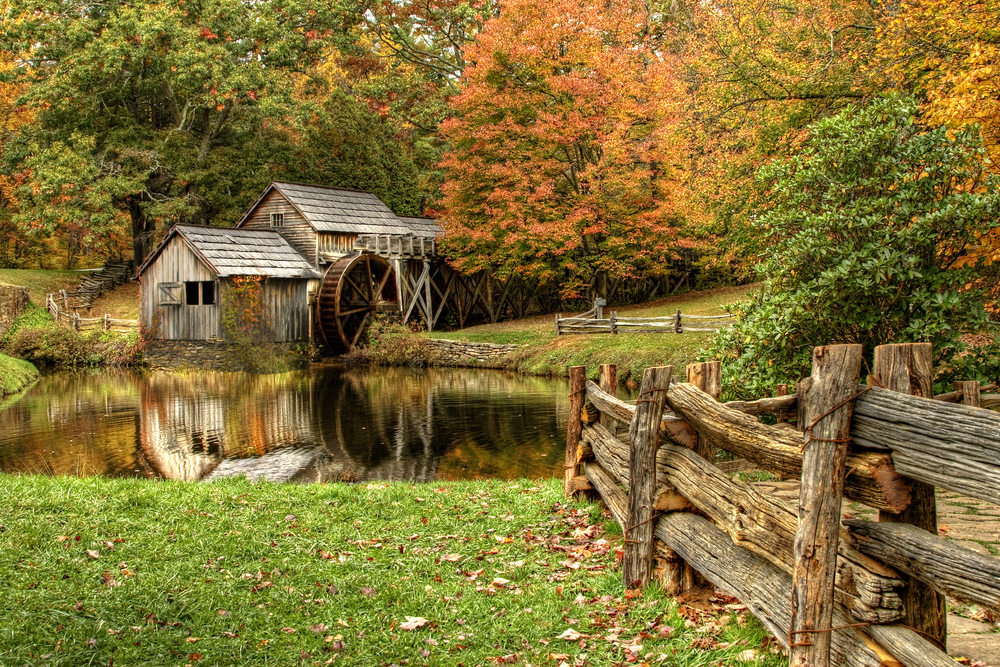 Explore the Capital Richmond
Richmond is Virginia's capital and is an old city dating back to the 1730s. There are plenty of museums, art galleries, and historic sites to keep you entertained. Try out some of the delicious restaurants and craft breweries. In the evening, stroll along the Canal Walk and admire the city's skyline.
If you are into history, you will want to visit the American Civil War Museum and the Hollywood Cemetery where many famous people are buried. The Edgar Allan Poe Museum is fascinating, filled with his written work, memorabilia, and even a lock of his hair!
You can get out of the city and explore Belle Isle as well. There are trails here where you can ride a bike or go bird-watching. The Maymont Mansion and its expansive grounds are a great place for a picnic.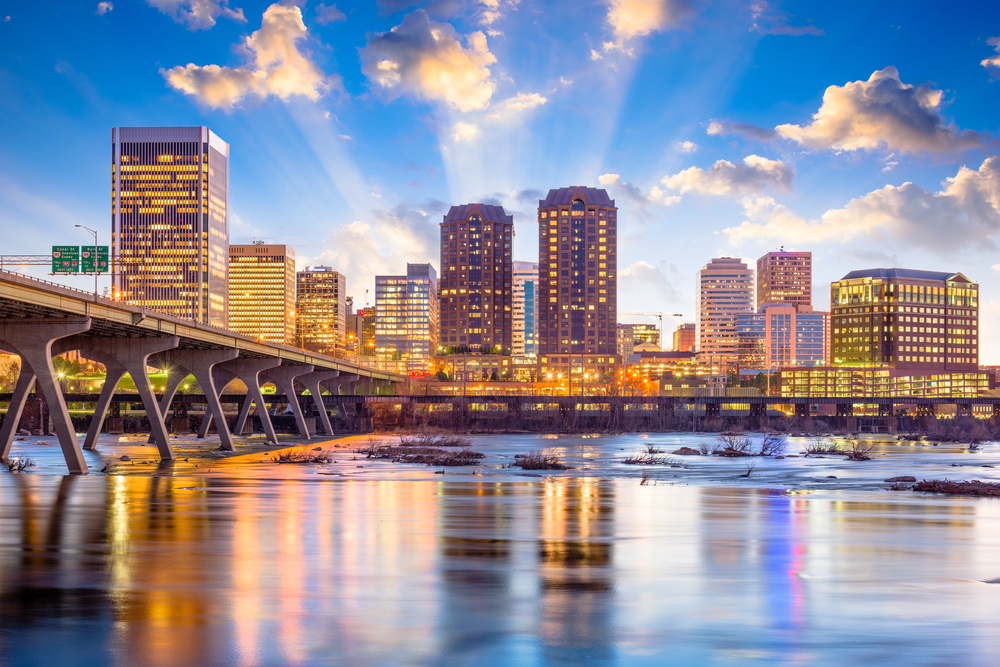 Virginia is an amazing Southern state that offers so much for its visitors. If you are planning any weekend getaways in Virginia, you will not have trouble finding one perfect for your interests
Nature lovers will have a great time in Shenandoah National Park or hiking in search of waterfalls. History buffs will enjoy exploring the many historic cities. Some Virginia weekend trips for families include the Luray Caverns and Virginia Beach.