If you're looking for restaurants in Hilton Head, you've come to the right place. Hilton Head is a beautiful city in South Carolina low country. This lovely coastal town is just forty-five minutes from Savannah, Georgia, and has around 2.5 million visitors every year.
There are so many amazing places to see, make sure to check out our Favorite Beaches In Hilton Head!

Being a coastal town, Hilton Head has many seafood restaurants to choose from. Fresh seafood is plentiful! Although low country favorites like gumbo, oysters, and peach cobbler are must-tries in the area, you can still find many other types of cuisine as well. So if seafood isn't your cup of tea, don't fret. There are more than 250 eateries to choose from. You can be sure to find something to fit your needs. Eating is one of the best things to do in Hilton Head!

Whether you are looking for an all-American breakfast, a seafood feast, or anything in between, you can find it in Hilton Head! Which of these Hilton Head restaurants will you try first?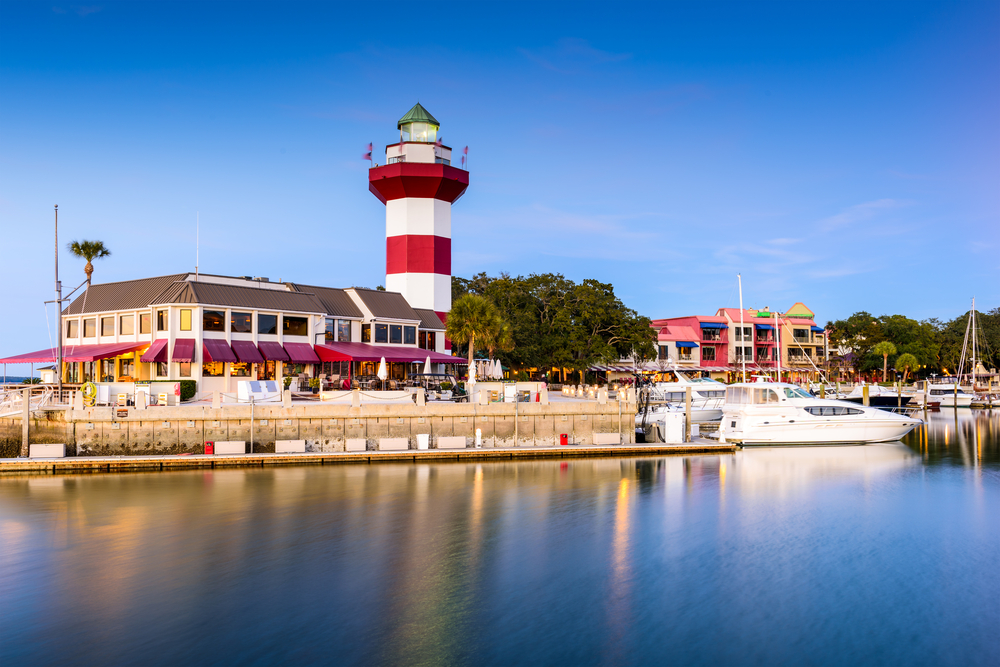 A Lowcountry Backyard Restaurant
When in the area, you should definitely check out A Lowcountry Backyard Restaurant. This casual restaurant has some of the best lunch in Hilton Head! You will find a packed menu of alcoholic beverages including moonshine, wines, and local brews. You can also find local appetizers and dishes on their menu. Lowcountry pimento cheese, fried green tomatoes, fish dishes, and banana pudding all make appearances at this Hilton Head restaurant.

The vibe at A Lowcountry Backyard Restaurant is true to the name. The atmosphere is very casual and comfortable. With both outdoors and indoors seating you can enjoy this yummy Hilton Head eatery in any weather. If you are looking for a fun experience while eating dinner, the outdoor patio is the place to be. Decorated with lights and heated in the winter, this restaurant offers a super nice outdoor eating experience.
Skillets Cafe & Grill
If you're looking for the best breakfast in Hilton Head, you need to try Skillets Cafe & Grill! Their breakfast menu is amazing. For those who have a sweet tooth in the morning, you will be thrilled with what this Hilton Head restaurant has to offer. You can find yummy and sweet breakfast items like stuffed French toast and bananas foster pancakes at Skillets Cafe & Grill.

One of the cool things about this restaurant is that they have dishes on their menu from different regions of the United States. Craving an omelet? You can get it served in a western, southern, or southwestern style! If you sleep in in the morning, you can rest assured knowing that you can still get a delicious breakfast at Skillets because they serve lunch until 3 pm every day.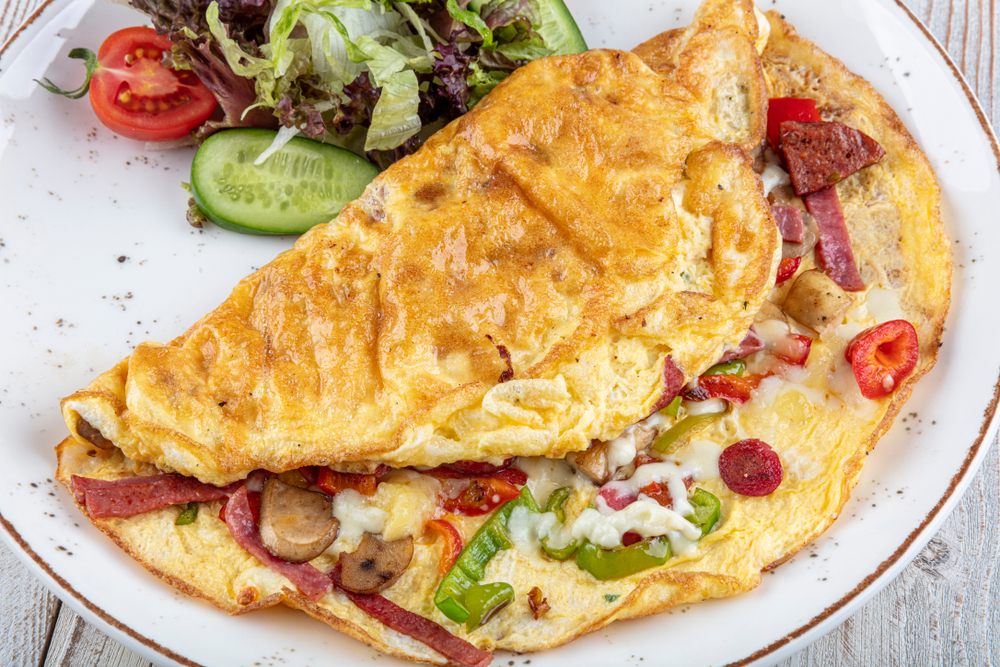 Skull Creek Boathouse
Of all the restaurants in Hilton Head, the Skull Creek Boathouse is the most awarded. This landmark waterfront restaurant in Hilton Hea was voted best all-around restaurant, best buffet, and best happy hour by The Island Packet reader's choice awards. For seafood in Hilton Head Skull Creek Boathouse should be high on your list of restaurants to visit!

The Skull Creek Boathouse boasts one of the best places to watch the sunset in Hilton Head. They have a sprawling outdoor seating area, an outside bar, and seriously impressive views from the dining area. You can enjoy an ice-cold beer, sangria, margarita, or any number of their alcoholic beverages from their menu while overlooking the boats on the water.

This Hilton Head restaurant is known for having some of the best seafood in town. You will have so many options when dining at the Skull Creek Boathouse. You can have ceviche your way by choosing your seafood and the style you want it served in. Of course, ceviche isn't the only seafood delicacy on the menu. There are also seafood platters, tuna dishes, chilled bowls, sashimi, sushi rolls, and more!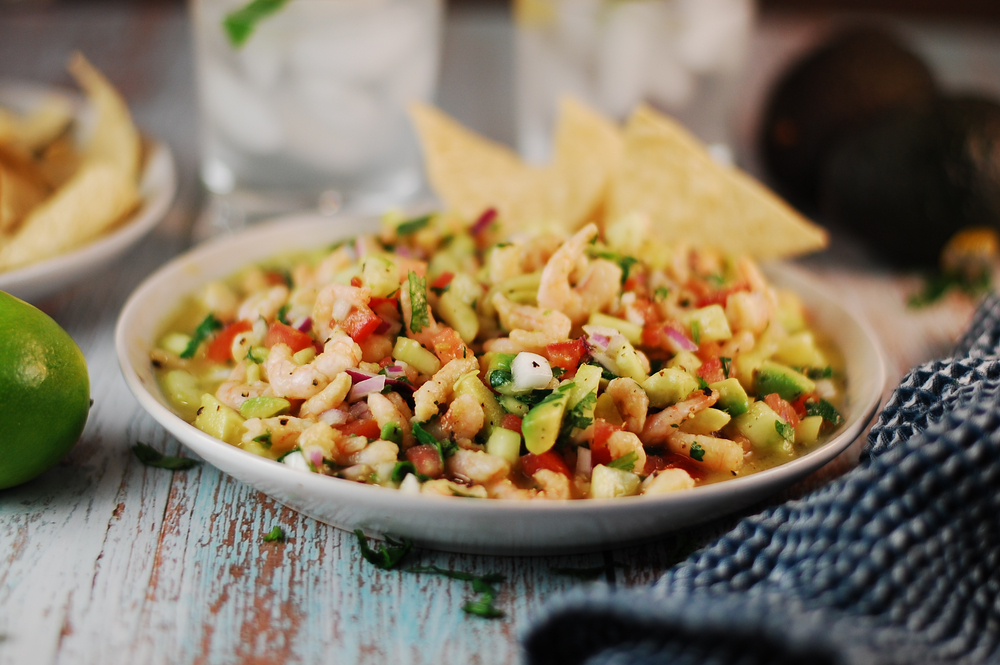 Sage Room
The Sage Room is one of the best restaurants in Hilton Head! This restaurant is a white tablecloth establishment and offers beautiful outdoor seating. For dinner in Hilton Head, the Sage Room is a must-try! You can find an amazing entree selection that ranges from Chilean seabass and champagne poached scallops to Colorado rack of lamb and reserve ribeye! This Hilton Head restaurant is particularly wonderful for those who need a restaurant that has gluten-free options, as there are several to choose from at Sage Room.

And just when you think their menu couldn't get any more mouth-watering than it already was, the dessert menu comes into play with a bang. Southern key lime pie, white chocolate brownies, and more are waiting for you! You'll also love the atmosphere at Sage Room. The dim lights and modern wood interior design make for an enjoyable dining environment.
Crazy Crab
The Crazy Crab has some of the best Hilton Head food! You can find two Crazy Crab locations in the area, one at Jarvis Creek and one in Harbor town. The Crazy Crab Jarvis Creek location has seriously amazing views of the South Carolina coastal salt marshes. You can grab a seat at a table that overlooks winding waterways that run through the marsh.

Like many restaurants in Hilton Head, the Crazy Carb offers a vast menu of seafood and alcohol. Complete with a long list of island favorite cocktails, beers on draft, and wines, it can be hard to decide what to get! When it comes to food at Crazy Crab, you will love their options! From Crazy crab boils, steamed seafood pots, and Lowcountry shrimp boils to the fried dinners, lobster, and oysters on the half shell; this Hilton Head restaurant is a seafood lovers' dream!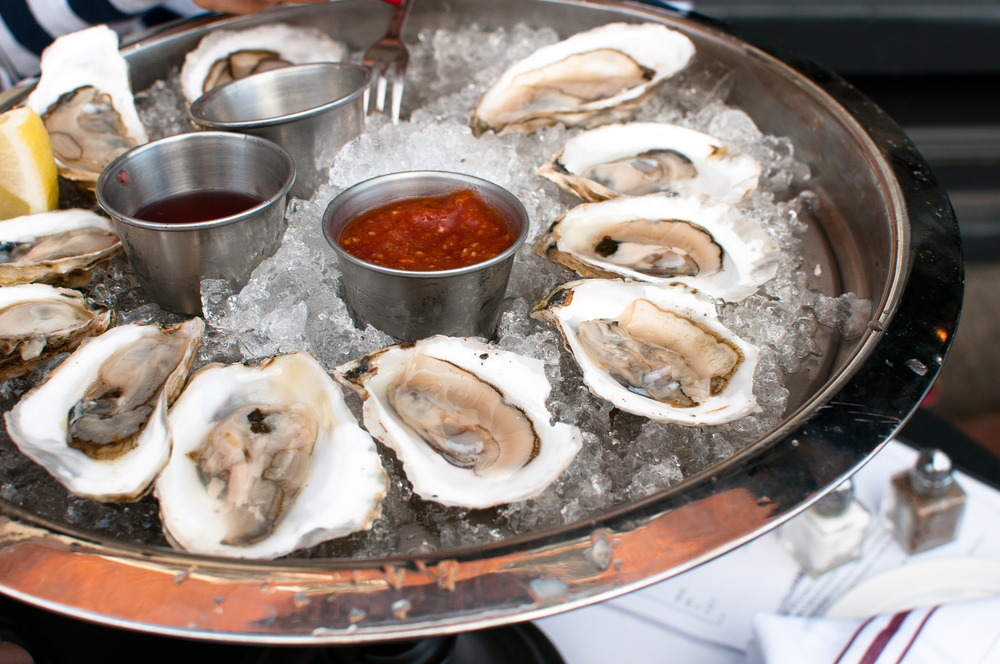 Hudson's Seafood House On The Docks
A conversation of the best restaurants in Hilton Head wouldn't be complete without Hudson's Seafood House On The Docks. There are many eateries with water views in town, but Hudson's offers a unique view as it sits right on the edge of the Port Royal Sound and all of their tables have fantastic views.

There are only two local fishing fleets left in Hilton Head and Hudson's Seafood House On The Docks uses one of them to procure their fresh-caught seafood. This fresh seafood then goes right from their docks to the kitchen to your table. Don't be surprised if you get the opportunity to watch the fishing crews unload fresh soft shell crabs, oysters, and shrimp from the day's catch.

Crab cakes, local shrimp, blackened shrimp po-boys, Atlantic salmon, and more are waiting for you at Hudson's! You can also find spectacular desserts like peanut butter pie, key lime pie, and mud pie for when you have finished your seafood feast. Once you've finished your food, you still won't want to leave the dreamy views that this Hilton Head restaurant offers its guests.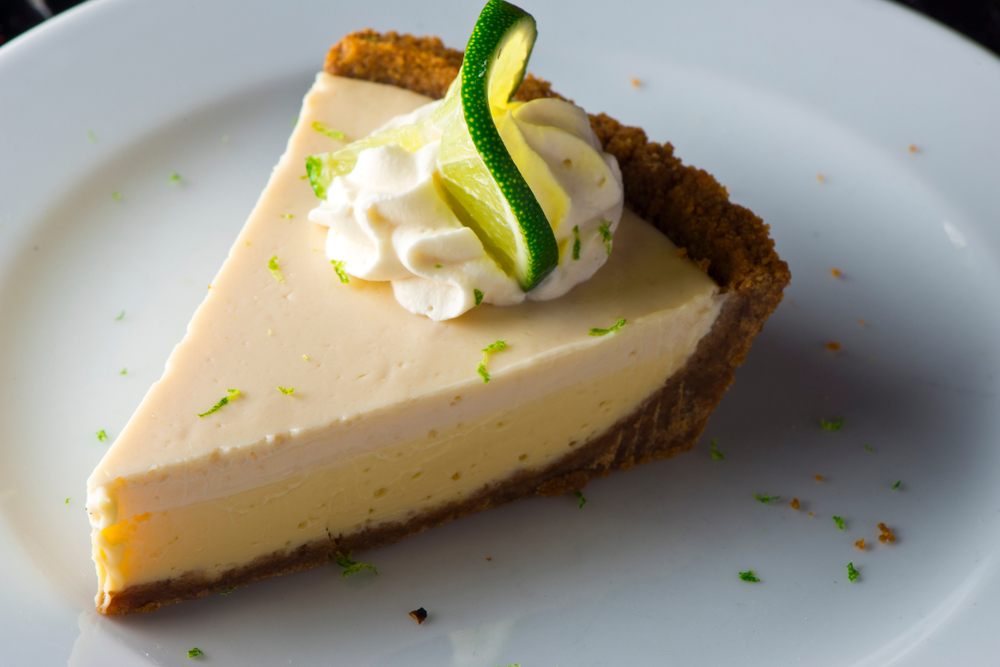 Fish Camp On Broad Creek
When choosing a place for dinner out of all of the restaurants in Hilton Head, the views at Fish Camp on Broad Creek are hard to pass up! Sitting on Broad Creek, you will have the opportunity to have dinner overlooking the creek surrounded by salt marshes and Spanish moss-covered trees. The area around the restaurant is exactly what you dream of when you think of southeastern waterfront restaurant views!

You can choose from blackened Carolina Catfish, Ahi Tuna, Blue Crab cakes, Maine scallops, and more! Although Fish Camp On Broad Creek has a rocking seafood menu, they also have choices for those not looking for seafood as well. Soups, salads, filet mignon, ribeye, and roasted chicken are all options at this dreamy South Carolina eatery. Oh, and don't forget dessert! You will fall in love with the honey lemon cheesecake and key lime pie at Fish Camp.
Sea Shack
For those who prefer a more laid-back place to eat, the Sea Shack is the way to go! This cozy little seafood shack is one of the best restaurants in Hilton Head for grabbing take-out. Sometimes, after you've had a long day enjoying the water in the sun, there's nothing better than grabbing some good food and heading back to your hotel or rental to enjoy a quick meal before crashing for the night. Sea Shack offers amazing take-out dishes, and of course, you can eat in as well.

If you like lobster rolls, the Sea Shack is the place to be! They claim to have the best lobster rolls in town but have tons of over yummy seafood options as well. From softshell crabs, grouper, and flounder to alligator, catfish, and conch, you can eat until your seafood-loving heart is content. This is one of the restaurants in Hilton Head where you can really feel relaxed and at home. The atmosphere is so down-to-earth and makes you feel like you are exactly where you are supposed to be!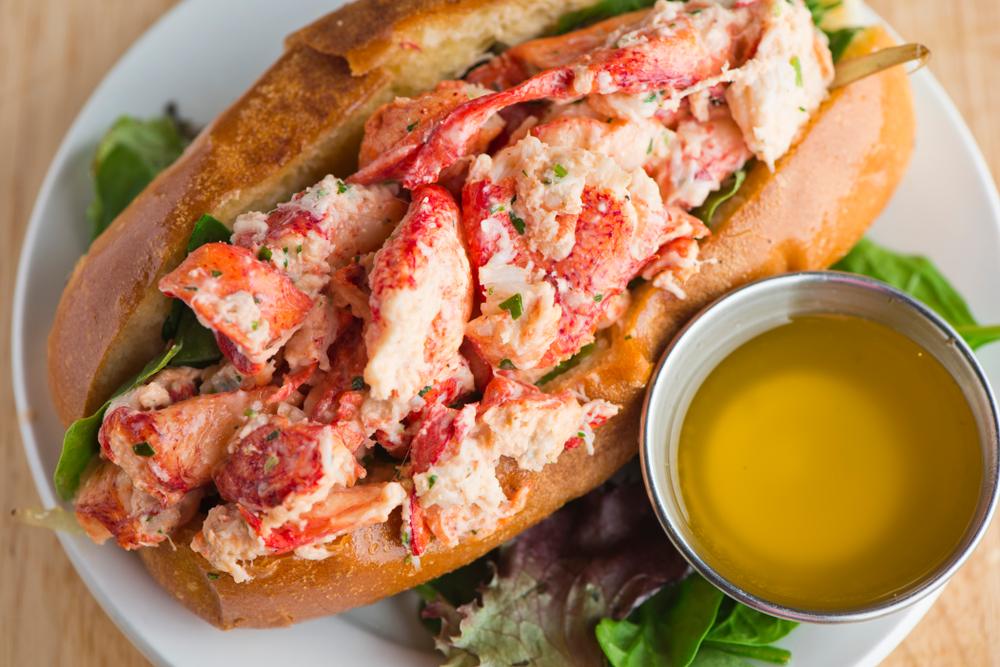 Salty Dog Cafe
When looking for places to eat in Hilton Head, the Salty Dog Cafe should be on your radar! This iconic waterfront cafe is home to amazing views, fantastic food, and classic beach town decor. Complete with fish and boat decor inside the cafe, you will love the vibe, bar, and large floor-to-ceiling windows that let natural light roll in while you eat overlooking the water.

The bar at the Salty Dog Cafe includes a list of hand-crafted spirits made from the local Hilton Head Distillery. In typical Lowcountry fashion, you will be able to taste the spirit of the South Carolina coast by trying the gator bites, pimento cheese dip, or the crab dip as a starter at this Hilton Head restaurant. Next, dive into some delicious peel and eat shrimp, oysters on the half shell, or maybe try something unique like their classic grouper dog. Don't worry, if seafood isn't for you, you also have a choice of veggies, filet mignon, chicken, steak, and other dishes.
WiseGuys
For elegant or romantic dinners at restaurants in Hilton Head, WiseGuys is a strong contender. With refined and carefully constructed plates, WiseGuys offers an immaculate dining experience, in and outdoors. They serve modern American cuisine which of course comes with a wide selection of cocktails, beers, and wines. You can find classic drinks, domestic, imported, and crafted beers, as well as their house drink, The Ultimate Wise Guy.

If you want to truly indulge while you're in Hilton Head, Wise Guys has you covered with house ribs, New York strip, veal rib chop, wood-roasted lobster tail, and many other delectable dishes. For a deep wine list and a large selection of carefully crafted meals, you can't be this lovely Hilton Head restaurant. You can find Wise Guys in the northcentral area of Hilton Head Island, just off from the William Hilton Parkway.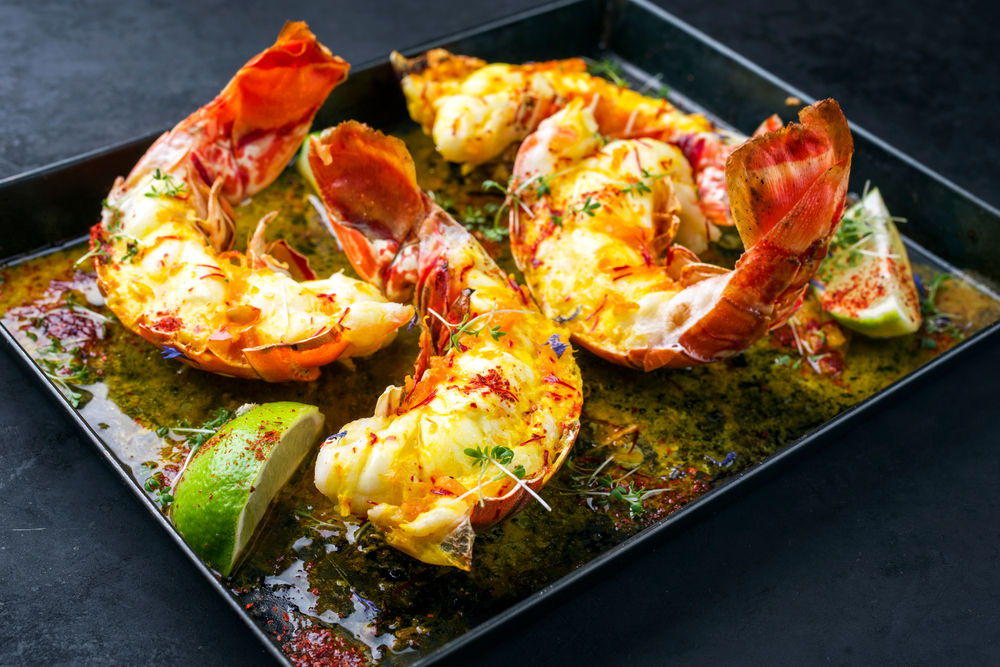 Pomodori Italian Eatery
While you are trying to decide which restaurants in Hilton Head to visit, you will definitely want to consider this lovely and casual family pasta restaurant. Pomodori in Hilton Head will blow your mind! The pasta dishes and desserts both are simply out of this world. You'll be able to dive into a huge menu of pasta dishes that vary from meals like linguine, pappardelle, and fettuccine. Then, of course, you may also be interested in the bruschetta, calamari, or one of their fresh salads. No matter which dish you choose, you will fall in love with the food at Pomodori!

A meal at this Hilton Head restaurant just wouldn't be the same without ending your time there with one of their mouthwatering desserts. They have fantastic Italian dessert options, including cannolis, tiramisu, and an espresso brownie served with vanilla gelato and cayenne caramel. The atmosphere at Pomodori is simply wonderful and it wouldn't be surprising if you didn't want to leave! You can stay for a glass of wine or a cappuccino. Or maybe grab a cafe latte to go so you can keep the Pomodori spirit alive as you go about your day!
Nunzio Restaurant + Bar
Restaurants in Hilton Head provide a wide variety of meals and food choices for visitors. At Nunzio, you will find a delicious menu of Italian cuisine that is made with locally sourced ingredients. Of course, this wouldn't be a true Hilton Head restaurant without also having a wonderful selection of wine and happy hour specials. You will feel comfortable and relaxed in this restaurant with its calming white and blue decor with wood accents. You get a true ocean restaurant experience at Nunzio!

You may have a hard time deciding on what to order from Nunzio, but don't worry, you will love it all! Muscles, Italian sausage, scampi, house-made ravioli, seafood linguine, and Roman-style veal medallions are all available on their menu. And Luckily for you, their dessert menu is exploding with decadent flavors and oozing sweetness. Try a citrus gelato with mint and berries or maybe Sicilian Cannoli would be more your speed. Either way, you can't miss Nunzio in Hilton Head! Keep in mind that they are only open for dinner.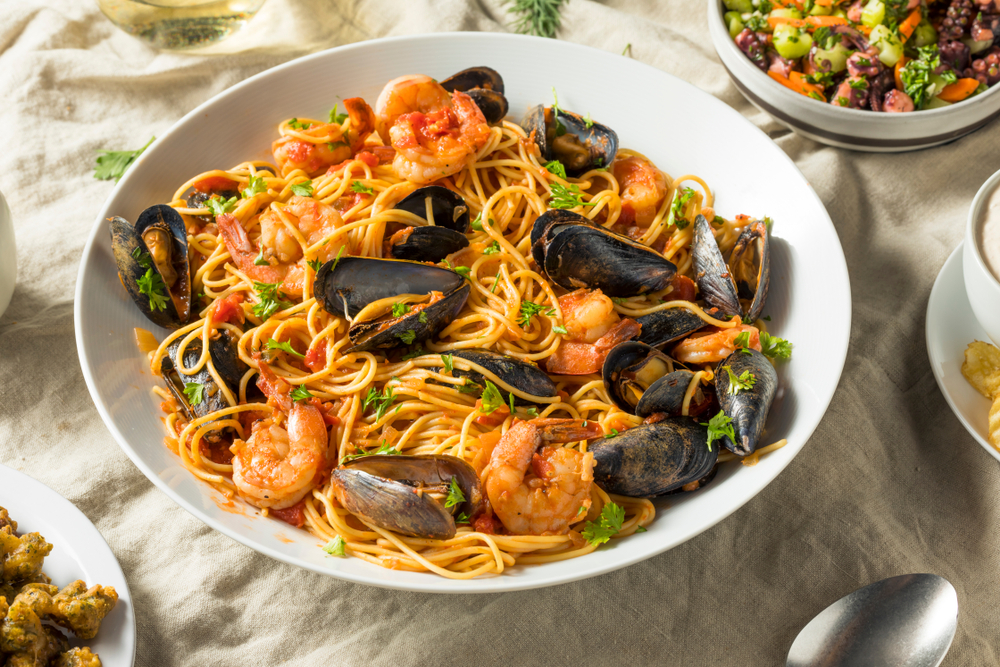 Old Oyster Factory Restaurant
The Old Oyster Factory Restaurant is truly paradise on the water. For anyone who loves ordering fresh oysters, you cannot skip over the Old Oyster Factory. They have a huge selection of raw oysters for you to choose from, including Mayflower, May River, Stormy Bay, and Lucky Limes. You can also order yourself a seacuturie board to eat overlooking the water. This is a super unique experience that should be on your list of things to do in Hilton Head!

For family travelers and for those traveling as couples or in groups, this is one of the best restaurants in Hilton Head. The variety and size of the menu will ensure that everyone in your traveling party will be satisfied with the menu at the Old Oyster Factory. The restaurant has an interesting history in Hilon Head. The old factory was built as an oyster cannery and from 1925 to the 1990s more than 1700 acres of waterways near the factory were harvested for oysters. Today, you can still purchase oysters from the same waterways and enjoy the view of the area while indulging in one of the spectacular dishes offered by the restaurant.
Catch 22
Are you ready for seafood to cross paths with traditional American cuisine? Well, this Hilton Head restaurant, Catch 22, offers just that. They split their menu into sections based on where the food was sourced from. You will find land, sea, and local sections on their menu. From the land, you can order chicken du jour or beef tips au poivre. From the sea, salmon, Carolina trout, and salmon. Then, for the local favorites, you can choose between roasted duck, filet mignon, and other favorites.

Catch 22 offers both indoor and outdoor, with the outdoor seating being especially inviting. You will be able to enjoy many alcoholic dessert drinks, as well as fantastic dessert dishes. Key lime pie, sea salt caramel cheesecake, and sticky toffee cake, just to name a few. With all of the delicious options to choose from and the location just three minutes from the beach, Catch 22 is one of the best restaurants in Hilton Head.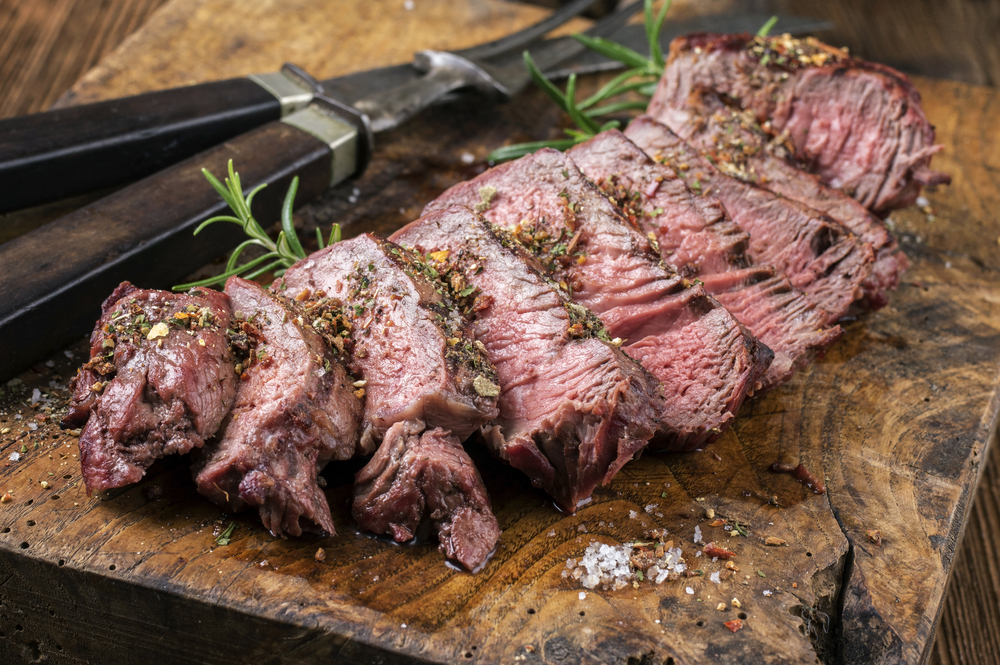 Santa Fe Cafe
Did you know you can get a taste of the American southwest in the southeast? At the Santa Fe Cafe in Hilton Head, you can transport to the desert! Delicious southwestern flavors, design, and atmosphere are all at the Santa Fe Cafe. Traditional Mexican-inspired dishes like black bean soup, fajitas, and chimichangas can be ordered at this magnificent Hilton Head eatery. There are a few dishes that you just can't leave without trying a taste for yourself. First, the mesquite-grilled lamb chops are a staple at the restaurant and served with mashed potatoes, cranberry chipotle sauce, and veggies.

Secondly, the painted desert soup. This soup is a corn and red pepper soup with Mexican cream and mole. The top is beautifully decorated with a desert scene of cactus and birds flying in front of a sunset; It's both order-worthy and photo-worthy! Of course, what is a dinner out in Hilton Head without having a decadent dessert before you leave. Rich chocolate cakes, cheesecakes, pies, ice cream, and more are all options at the Santa Fe Cafe.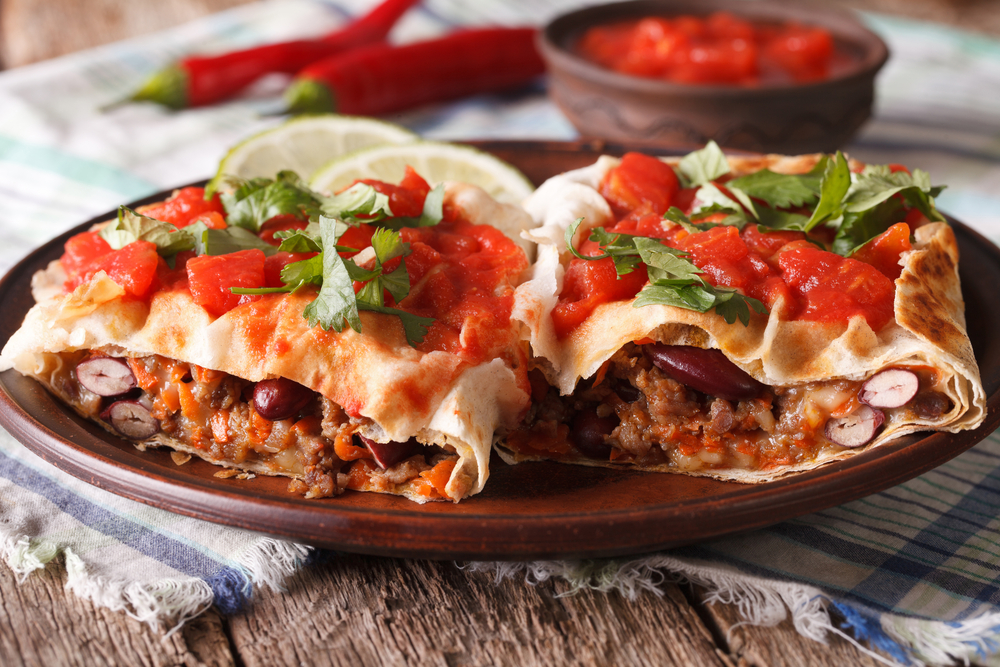 Not only is Hilton Head one of the coolest towns to visit in the south, it's also one of the best towns for delicious food! As you can see, your options for restaurants in Hilton Head are vast. No matter what you and those you are traveling with are looking for in a restaurant, you are sure to find it! With all of these delicious options, it can be hard to decide which restaurants to choose. Which do you think you will visit first?