So you're looking for Southern state parks? You have come to the right place! We believe that the southern USA is one of the most beautiful places in the world, and the state parks prove it!
Whether you want mountain views, stunning waterfalls, awe-inspiring canyons, or land coated with rich history, we know there will be something for you on this list.
Providence Canyon State Park, Georgia
Known as Georgia's 'little Grand Canyon', Providence Canyon State Park is located in Stuart County and was formed by poor farming practises in the 1800s with some of the gullies going as deep as 150 feet.
The views are truly breathtaking here. The orange, pink, purple, and red of the soil provides a truly unique scene. And if you visit during July and August, you will see the rare Plumleaf Azalea in bloom.
There's a number of different hiking options at this southern national park, whether you're an experienced hiker looking for something more strenuous , or something easier with handicap access there will be something for you.
Oh, and dogs are also allowed on a 6 feet leash!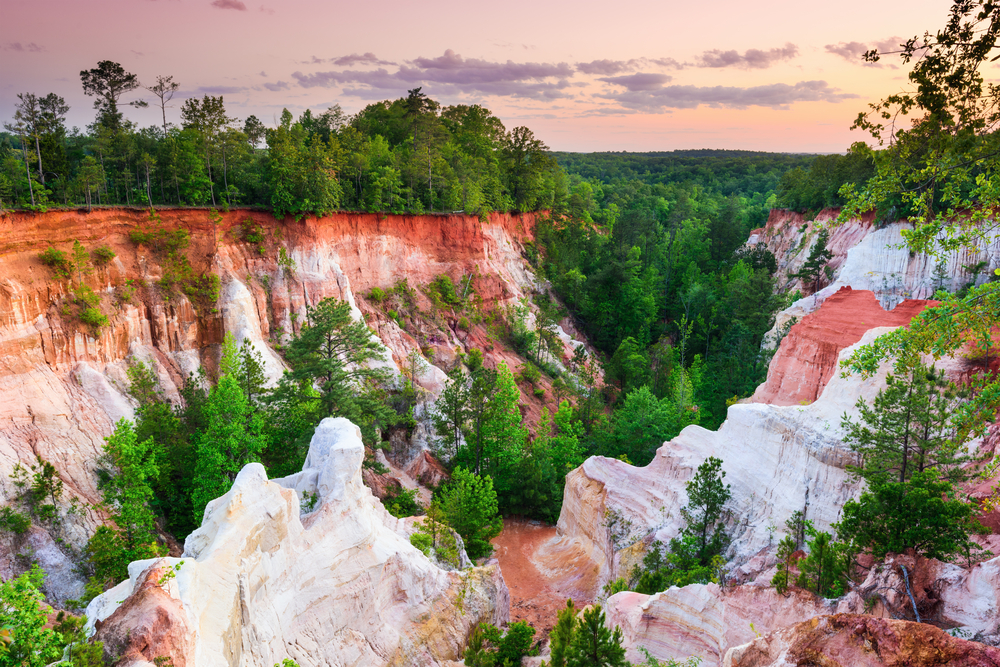 Cummins Falls State Park In Tennessee
Cummins Falls State Parks is one of the national parks in the south that s best suited physically fit and active hikers. If you're wanting to visit the gorge and falls, you will need to obtain a gorge access permit through their website for $6. This helps ensure the safety of the vistors.
The gorge and waterfall is truly stunning. Most of the park has been left untouched by man, which means the trails are pretty rugged and can be difficult, with a lot of downstream trails.
There are a few trails that do not require a permit and you're still able to see the beautiful 75ft waterfall, but they are marked as moderate so aren't easy.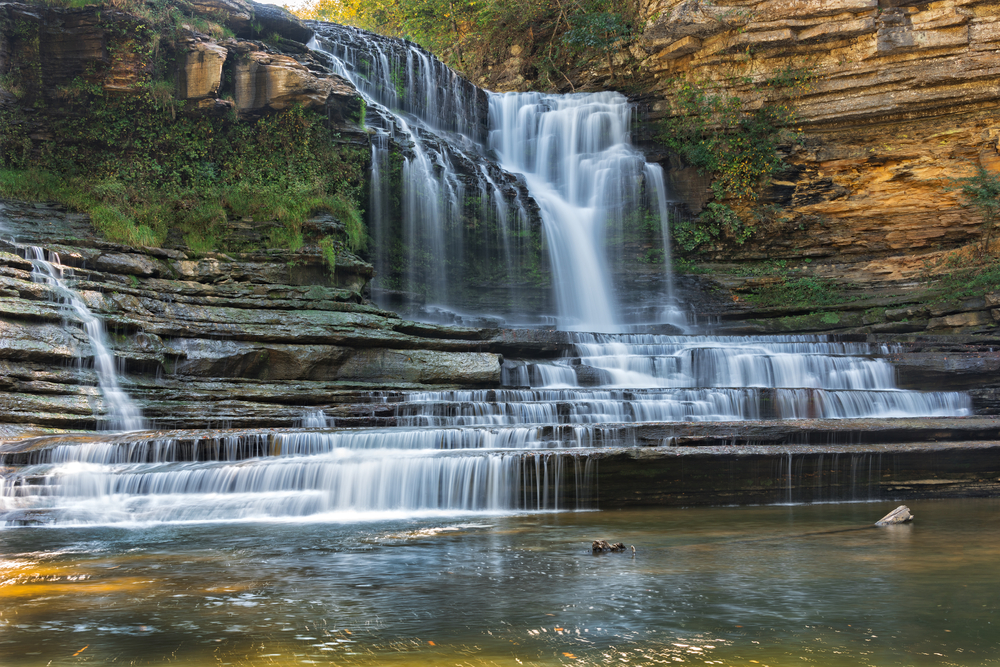 DeSoto State Park, Alabama
This southern state park is situated 8 miles northeast of Fort Payne, and covers over 3,500 acres!
Its nestled atop the beautiful Lookout Mountain, and you can expect to see many rushing waterfalls, beautiful forests, winding rivers, and wild flowers that will make you feel like you have been transported to paradise!
This is one of the best state parks in Alabama if you're looking for fun for all the family. You can go kayaking, fishing, hiking, biking, and have a family picnic whilst the kids play in the playground. There's even a nature center which has live animals in! Who doesn't love the sound of that?!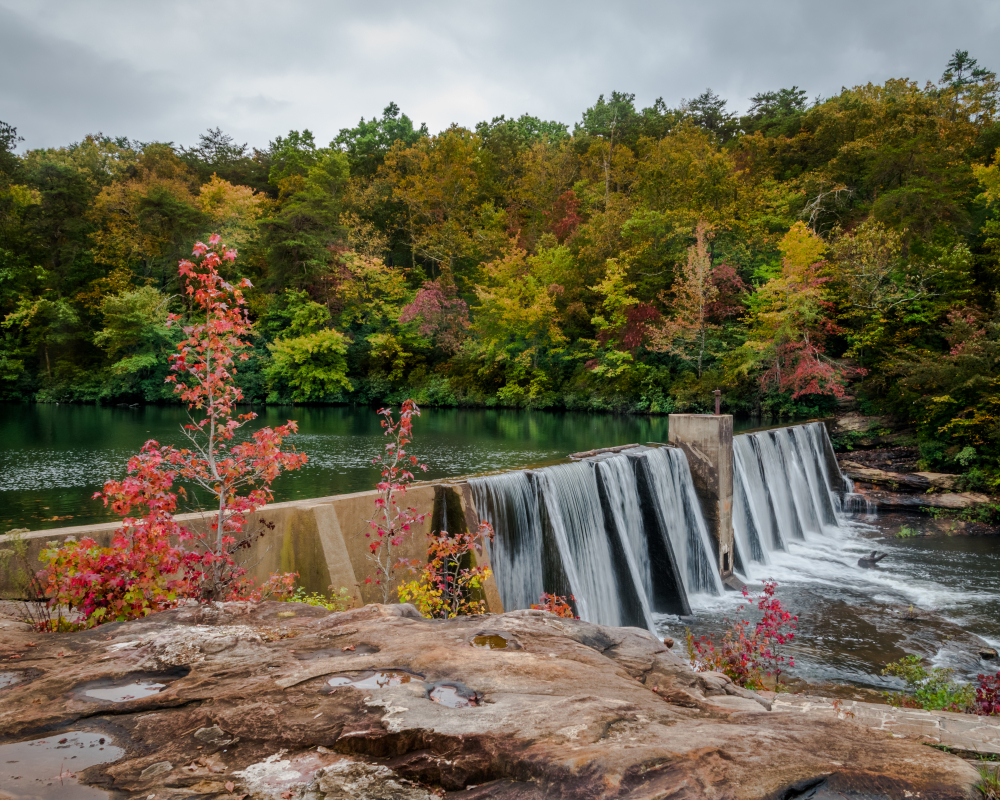 Gilchrist Blue Springs, Florida
This southern state park is one of the newest state parks on the list, as it only came to be in 2017!
This is one of the best state parks in Florida if you're looking for a state park which is more quiet, as it isn't that busy because not many people know about it!
Gilchrist Blue Springs is located just 10 minutes away from the extremely popular Ginnie Springs, you may even pass it on the way!
If you like your springs on the cooler side, then Gilchrist Blue Springs may be for you as the temperature is a constant 77F/22C and there are loads of water activities for you to do such as swimming, kayaking, canoeing, paddle boarding, and tubing!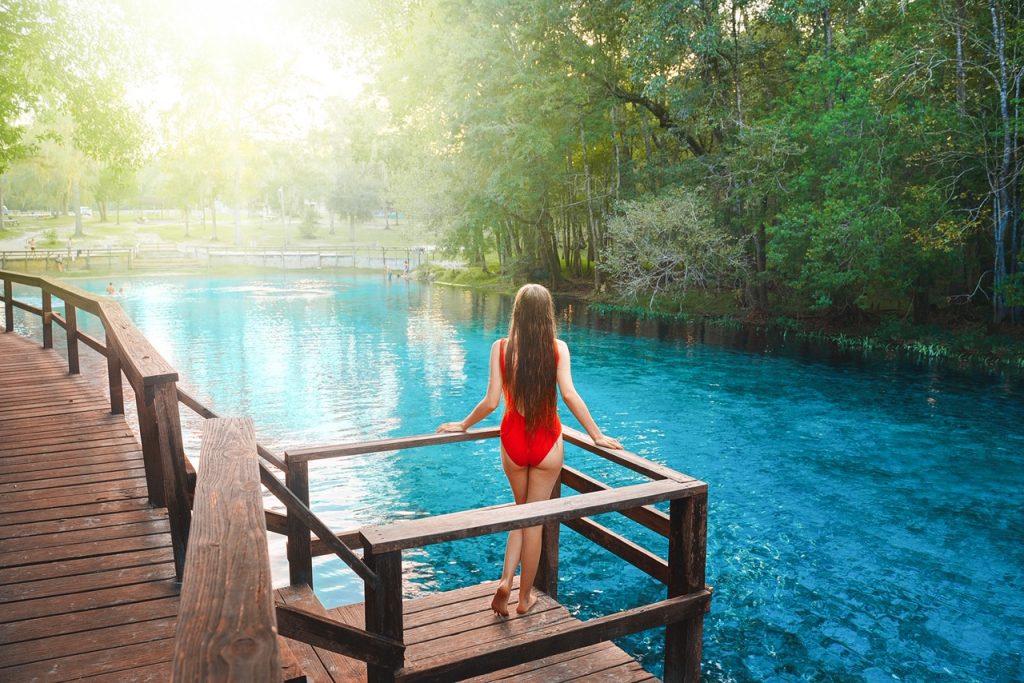 Cumberland Falls, Kentucky
Cumberland Falls is sometimes called the Little Niagara or the Niagara of the South and the 69ft waterfall is bound to take your breath away!
The falls are believed to have formed as the result of erosion from its original started place at an escarpment quite far downstream and was previously occupied by a variety of indigenous people before being passed through multiple owners until it was donated in 1933.
Besides seeing the spectacular falls, there's a number of activities to enjoy including the usual camping, fishing, birding, and hiking. But we love this southern state park because you have the opportunity to go Gem mining here!
Gem mining is their newest attraction is located next to the gift shop. There's many different gemstones to discover from the locally-found Pyrite, to rubies, moonstones and topaz!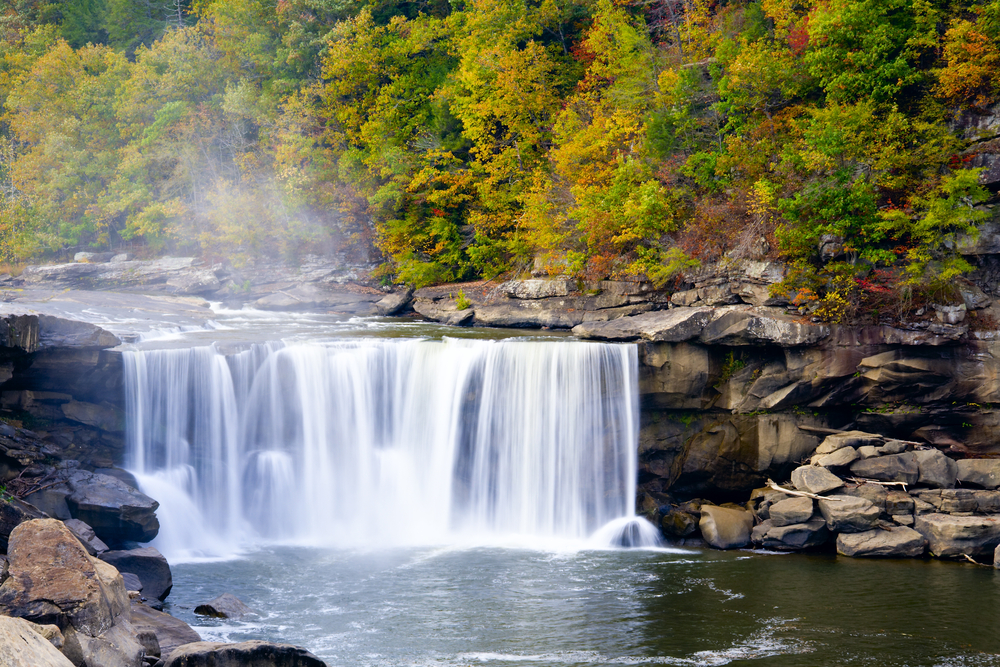 Grand Isle State Park, Louisiana
This southern state park is located at the eastern tip of Grand Isle, an island in Jefferson Parish. It is the only inhabited barrier island in the state.
This southern state park is actually a beach ridge created by the waves of the gulf, and is a great place for swimmers as the waters are warm all year round. It's also a great place for crabbing, fishing, birding, hiking, or just sunbathing on the sand!
Every July, there is a Tarpon Rodeo at this state park in Louisiana which attracts thousands of passionate fishing competitors. There's the opportunity to catch trout and redfish.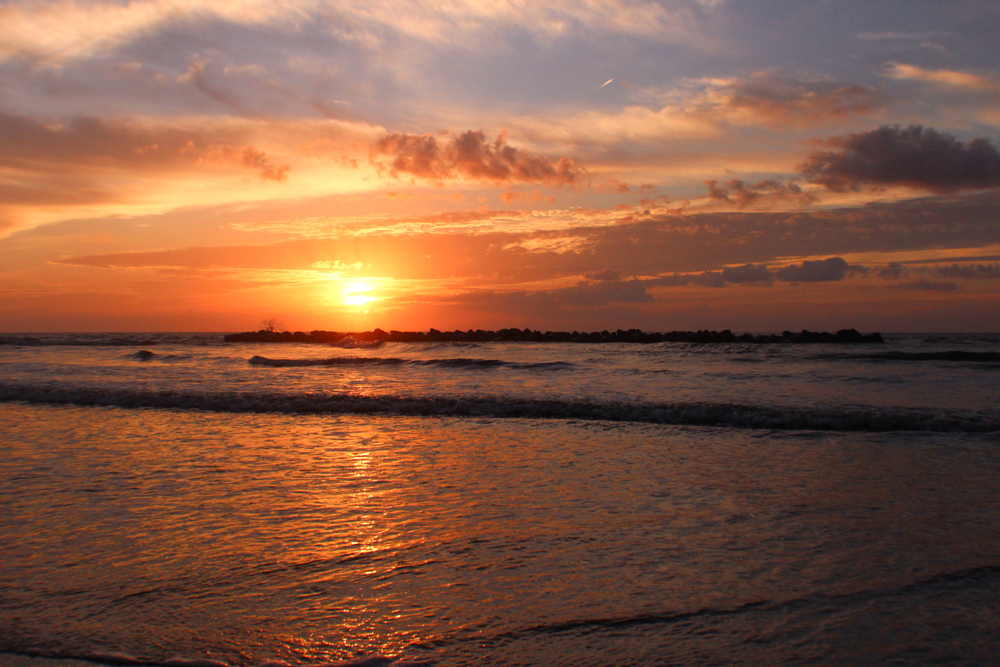 Hanging Rock State Park, North Carolina
This southern state park spans a massive 9,011 acres and is located in Stokes County, just 30 miles north of Winston-Salem.
With over 20 miles of trails, you are bound to find one that is right for you, whether you are wanting to hike to the peaks or see the waterfalls.
Hanging Rock State Park really is a whole experience, there are 73 different campsites, picnic grounds, lakes for swimming and canoeing, and even vacation cabins for you to rent if you're having a longer visit.
Of course, the highlight of this southern state park is the hanging rock, which will provide you with fantastic views and amazing photo opportunities.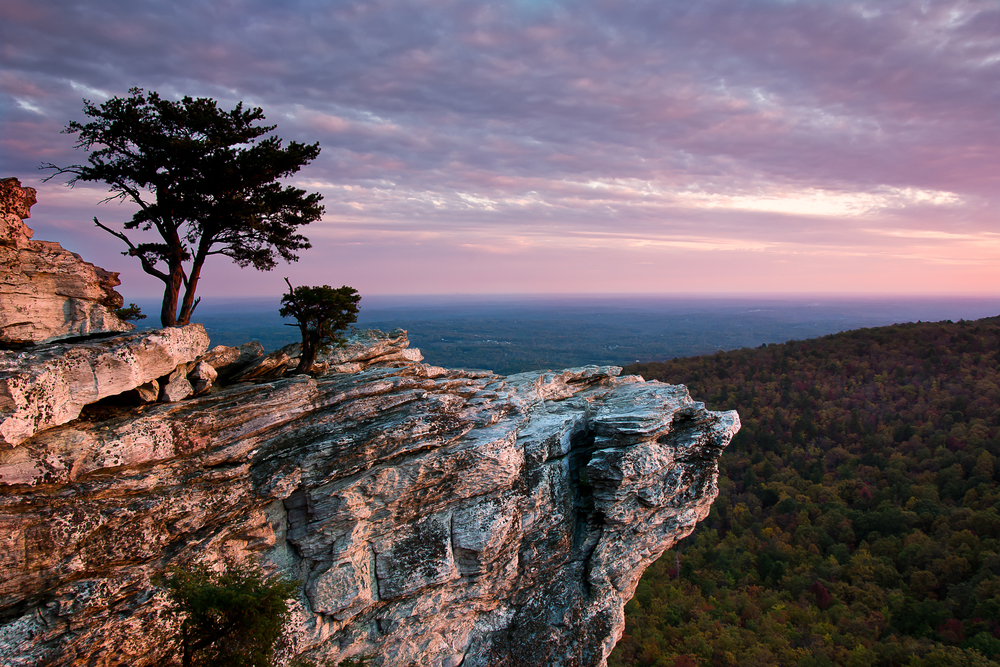 Big Bend Ranch State Park, Texas
This is one of the southern state parks that are so big that you could visit it without ever seeing another soul! Big Bend Ranch State Park is a gigantic 311,000 acres located on the Rio Grande. Naturally, it is the largest state park in Texas.
There is a tonne of adventure in this state park, which has been called 'the other side of nowhere' as it is so remote! Whether you mountain bike through the mountains, hike the steep canyons, or horse ride your way to amazing views, there will be something for you to enjoy at this southern state park.
Our favorite thing about this state park in the south is that the views of the night sky are unparalleled. It has been designated International Dark Sky park, so you know will will be in for a treat when you look up!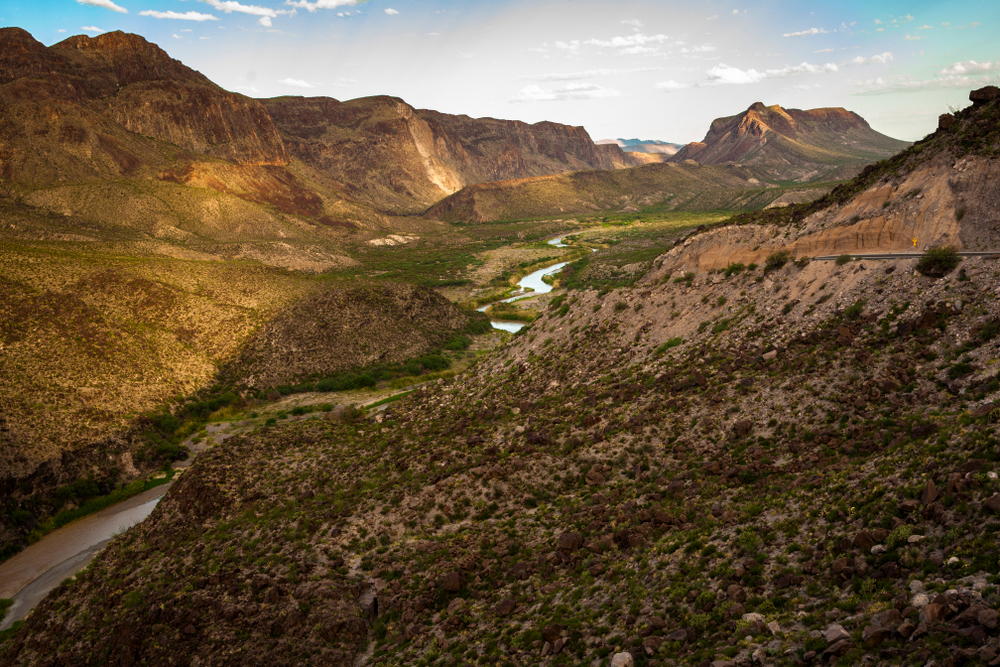 Shenandoah River State Park, Virginia
If you love a gorgeous river view, then this is definitely one of the southern state parks you should visit!
Shenandoah river state park has 5.6 miles of river frontage along the south fork of the Shenandoah river within its 1,604 acres. You can also take in gorgeous views of the Massanutten Mountain amongst the rolling, wooded slopes of the state park.
This is a popular destination for families as there are many picnic areas and hiking trails that are suitable for any skill level. There are riverfront camping sites, and a variety of different cabins for longer stays.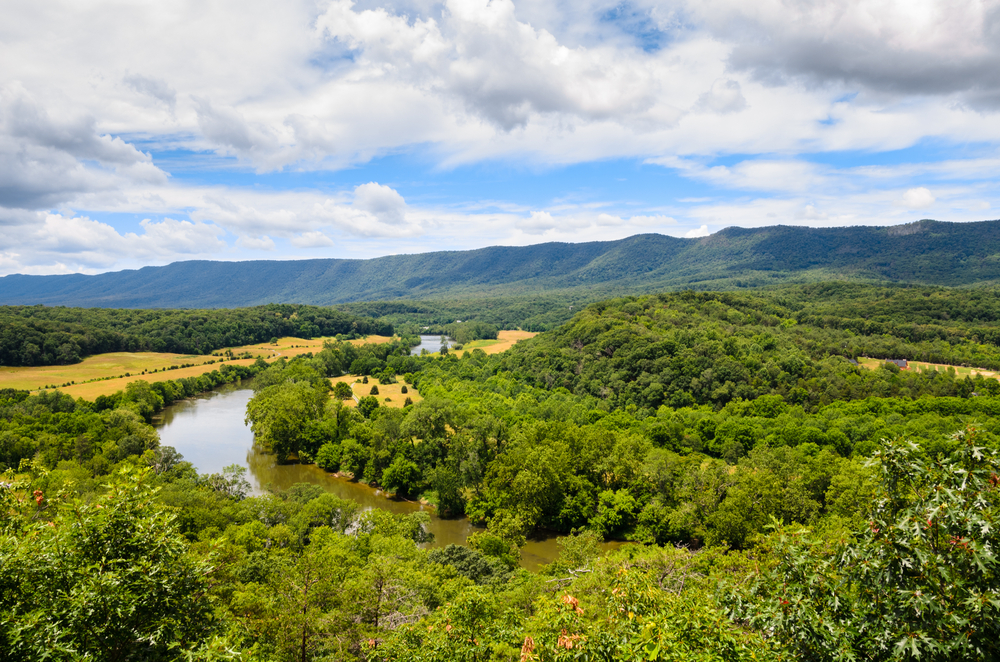 Pinnacle Mountain State Park, Arkansas
Located just outside of Little Rock, you will find the 2,356 acre Pinnacle Mountain State Park.
This state park has a lot of history to it. The first people to settle the area called Pinnacle Mountain "mamelle", which eventually became "maumelle" which is the name used for the Big Maumelle and Little Maumelle rivers.
Taking a trip to Pinnacle Mountain has been a popular activity to do since the 1800s and we can totally see why, the mountain and it's views are absolutely amazing.
There are over 15 miles of trails, including 7 miles of challenging mountain bike trails. But don't worry, there are plenty of easier hikes such as the Kingfisher Trail which is 0.5 miles and is the most popular trail.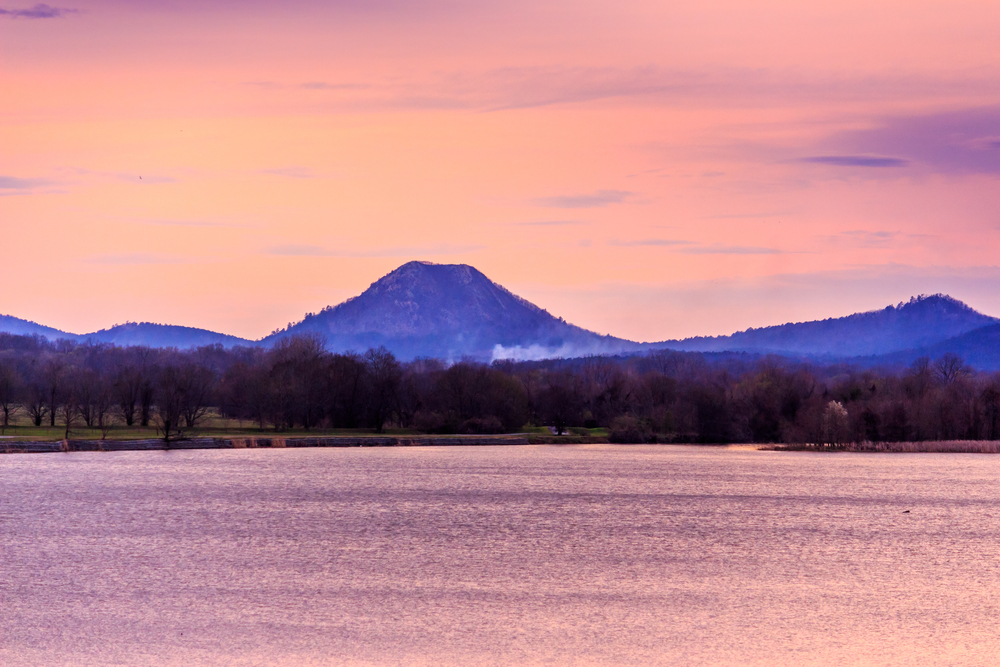 Tishomingo State Park, Mississippi
This southern state park is located in the foothills of the Appalachian Mountains in Tishmingo County, just 45 miles northeast of Tupelo.
The major feature of this state park in Mississippi is Bear Creek Canyon and there are many activities in the park including hiking, canoeing, rock climbing and fishing.
It's important to note that Tishomingo State Park has an Indigenous history. The park is named for one of the great last Chickasaw leaders, Chief Tishu Miko. Modern Chickasaw occasionally make a pilgrimage to the park to visit the areas where he would fish.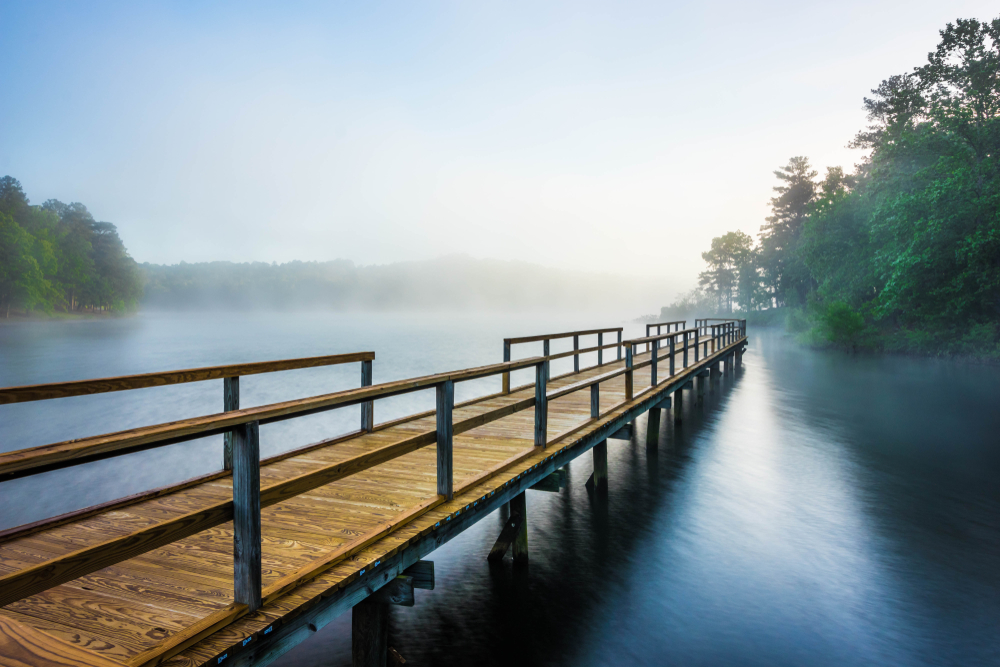 Huntington Beach State Park, South Carolina
There is so much that this souther state park has to offer, we know that you will love it!
Huntington Beach State Park is the home of Atalaya, which was the winter home of Archer M. Huntington and Anna Hyatt Huntington. Many events are held here, including the Atalaya Arts and Crafts Festival held in September.
This southern state park is also a place for nature lovers, too! With sea-breeze camping, surf fishing, and the chance to see wildlife such as loggerhead turtles up close!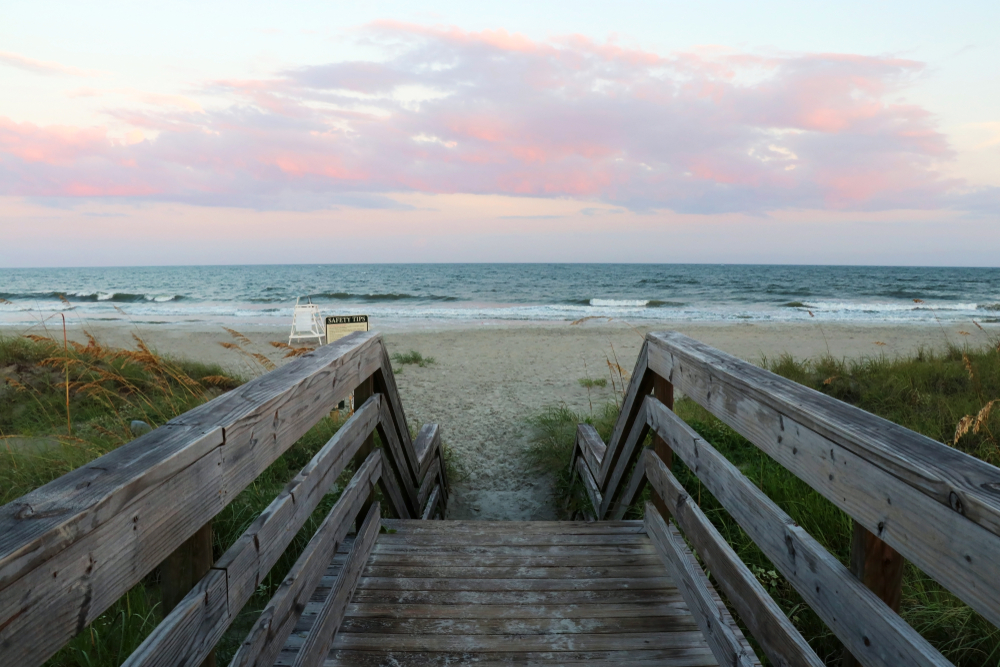 Rainbow Springs State Park, Florida
This southern state park is special because 12.83 acres of the 1,459 acres of it is underwater!
Rainbow Springs gets its name as you will actually see rainbows here – when the sun hits the water just right, you will see rainbows in the water!
The first-magnitude headspring is a popular swimming area and produces up to 600,000 gallons of fresh water per day, that's a lot of water!
The crystal clear waters provide the perfect place to do some snorkeling. You can also take advantage of the tubing, kayaking, and geocashing activities too!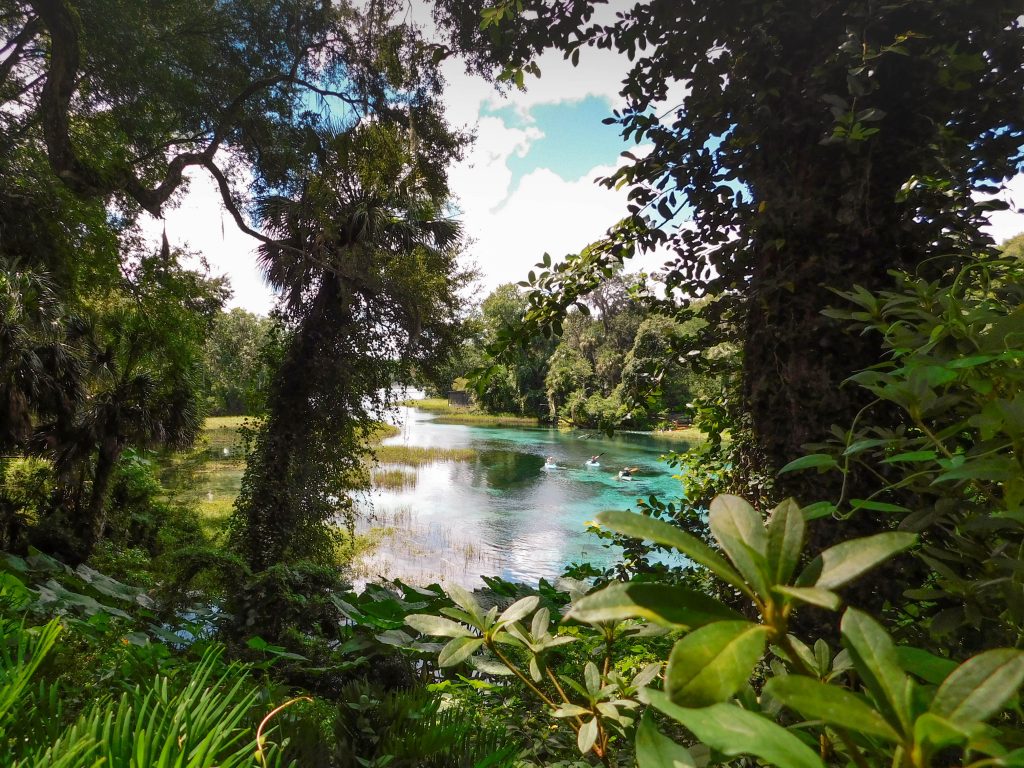 Petit Jean State Park, Arkansas
Take the opportunity to visit Arkansas first state park!
This southern state park is located in Conway County and is 3,471 acres. It's located atop the Petit Jean mountain and has the perfect backdrop of the Arkansas River.
You can hike the Seven Hollows Trail, with has several rock formations, dwellings of ancient Native American civilisations, a waterfall, and picturesque views.
This state park in Arkansas is perfect for families as there are so many activities to do such as swimming, playgrounds, tennis, basketball courts and more!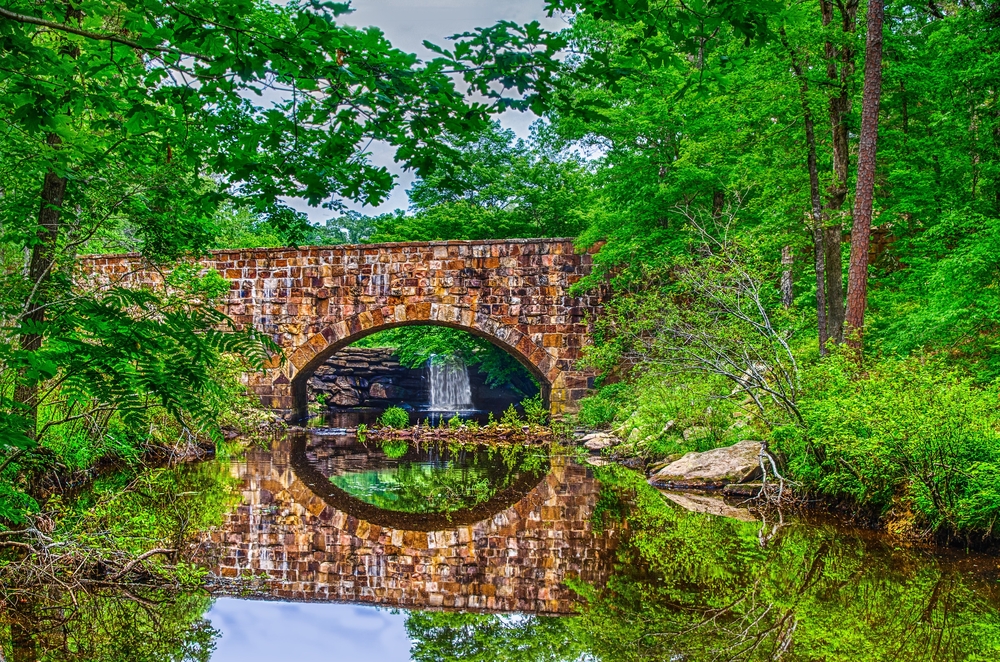 Tallulah Gorge State Park, Georgia
This southern national park is definitely not for the faint of heart! Sporting the Hurricane Falls Bridge, a swaying suspension bridge that is over 80 foot high above the rocky gorge! We're sure that the views are bound to be fantastic.
Arguably one of the most beautiful river canyons in the US, the terrain is home to two miles of waterfalls, pools, and the Tallulah River.
This place will definitely transport you to a different world, it reminds us a lot of a place out of Lord of the Rings!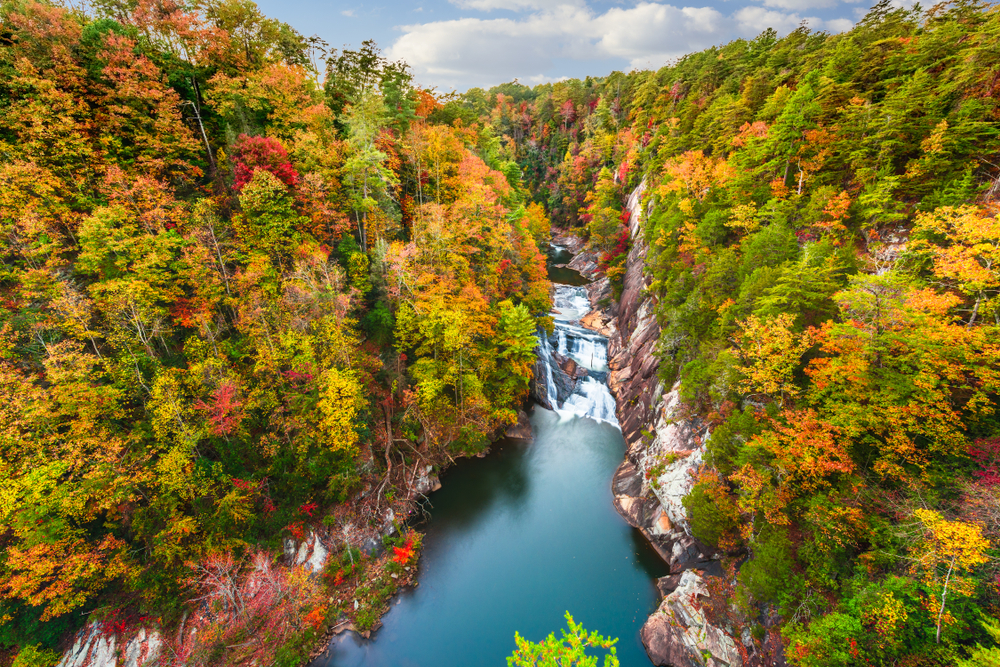 And that is our list of Southern State Parks! We hope you have found a park to your liking and have found your next adventure, whatever you decide to do!