The state parks in Alabama offer a great escape from city life and the real world. If you want a chance to be enveloped in nature and find some peace of mind, Alabama is a great Southern state to visit.
Alabama state parks include a variety of landscapes from natural springs to caverns to mountain tops. In the fall, the forests turn orange and red, creating scenic backdrops for your Instagram selfies. Come teach your kids how to camp or book a cabin for a romantic weekend getaway in Alabama.
Let's get going!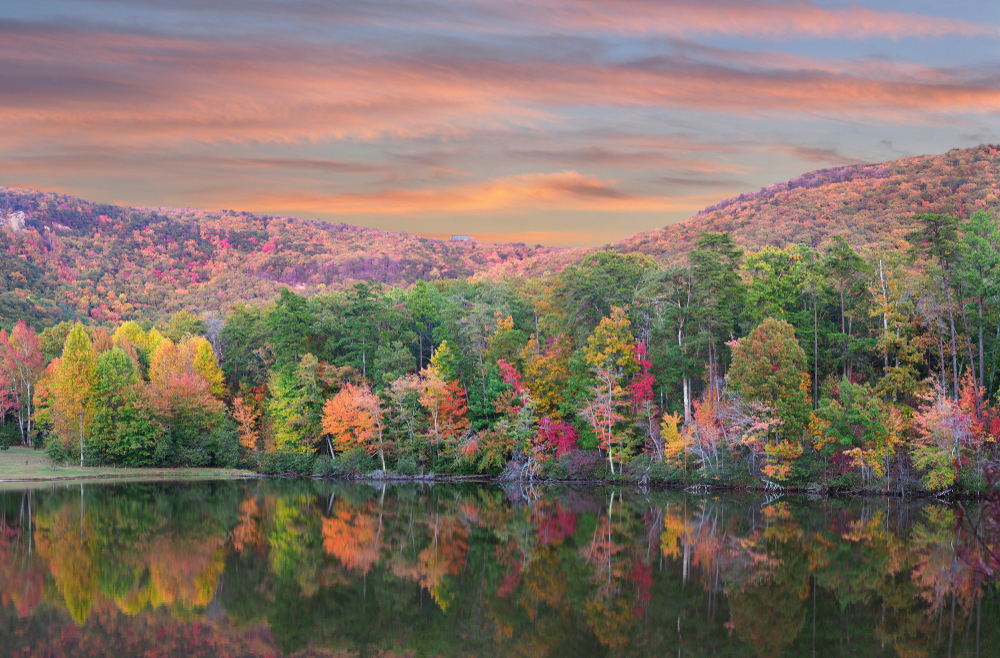 14 Coolest State Parks In Alabama
DeSoto State Park
DeSoto State Park is one of the most popular state parks in Alabama and there is a reason! This park is found on Lookout Mountain and is where you will find the gorgeous DeSoto Falls. This 107-foot waterfall is easily reached by a short, paved path and is a great place for a picnic.
This park has plenty of other fun things to do, especially for families. There is an Olympic-sized swimming pool, a playground, and thirty miles of hiking and mountain biking trails. Make sure to head over to the nature center for cool programs and to learn about the local wildlife. If you want to stay at the park, there are plenty of choices in accommodation, including chalets, cabins, motels, and campgrounds.
Make sure to check out our list of the best cities and small towns in Alabama for inspiration on where to visit next!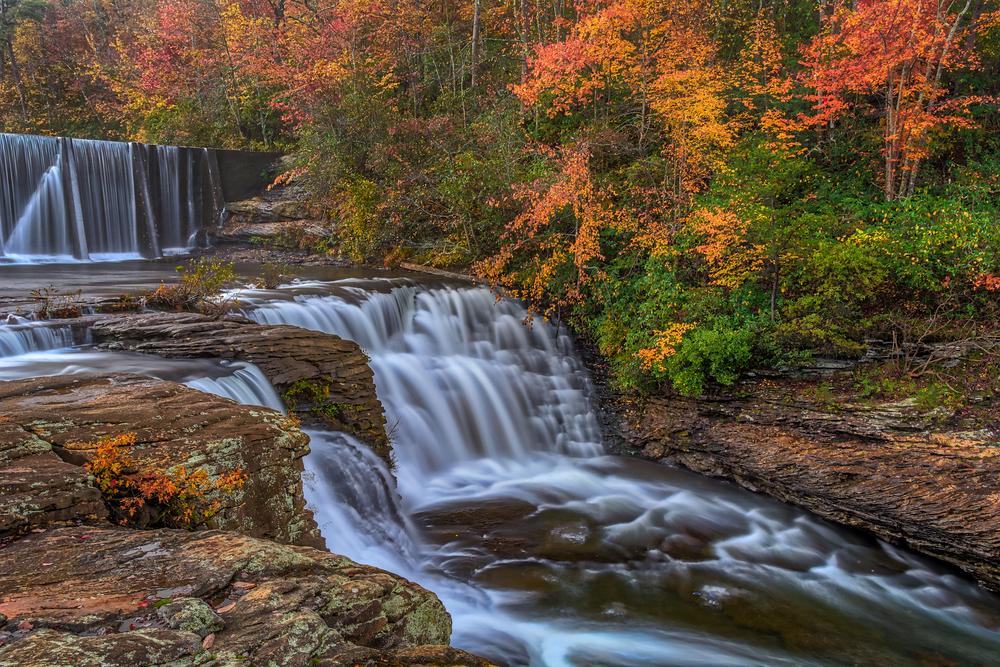 Gulf State Park
Found right on the Gulf of Mexico, Gulf State Park in Alabama is where you go for a beach getaway. With two miles of white sand beaches and beautiful water to surf, swim, and kayak in, what could be better? Lay a blanket out on the sand and soak in that Southern sun. This park also includes Lake Shelby, so if you get tired of saltwater, head here for more fun boating or fishing.
You can stay in the park at one of the campsites, at the lodge, or at one of the new glamping accommodations. Alternatively, you can stay in one of the nearby beach towns. This park is also only about an hour from Mobile, so you can easily visit as a day trip from the city.
Lake Lurleen State Park
The 250-acre Lake Lurleen is a great place in Alabama to get away from the real world and escape into nature. The lake is well stocked with fish if you want to spend some time casting a line in the water or you can rent a boat to cruise around the lake. There are many scenic trails to explore, a lot of which trace the shoreline.
This Alabama state park has a modern campsite with picnic and play areas, pavilions, and a bathhouse. The park also features an activity center, a nature center, and many fishing piers. Bring along your mountain bike, hiking boots, and swim suit to make this most of your time at Lake Lurleen State Park.
Oak Mountain State Park
If you like hikes that end in sweeping, panoramic views, then you should head to Oak Mountain State Park. This is the largest state park in Alabama and is just south of Birmingham. This 940-acre park is the perfect camping destination as it has everything you would need to keep you occupied for days.
There are a few lakes where you can rent a boat, swim, water ski, or fish. With over fifty miles of trails, you will not run out of new places to hike or mountain bike. Find the pretty Peavine Falls hidden in the forest. There is a basketball court as well as a golf course. You can go on a horseback ride or check out the cool, elevated Tree Top Nature Trail. Whatever you do, you will have so much fun at this state park in Alabama!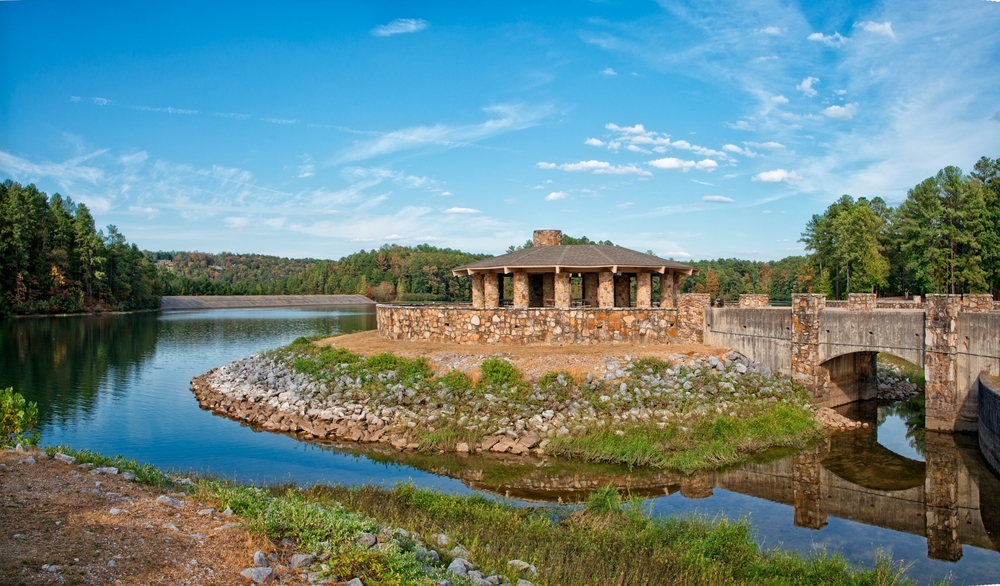 Cathedral Caverns State Park
Cathedral Caverns State Park is one of the coolest state parks in Alabama! This park is dedicated to the large caverns and their amazing geology. The opening of the caverns is enormous at 126 feet wide and 25 feet high, making it one of the largest commercial cave openings in the world. It is truly a sight to behold.
You have to book a tour to be guided through this cave and it is so worth it. Inside, you will find a 45-foot stalagmite known as Goliath, which is one of the largest of its kind in the world. Both you and your kids alike will be awed by this place! While in the park, you can also enjoy gemstone mining and hiking.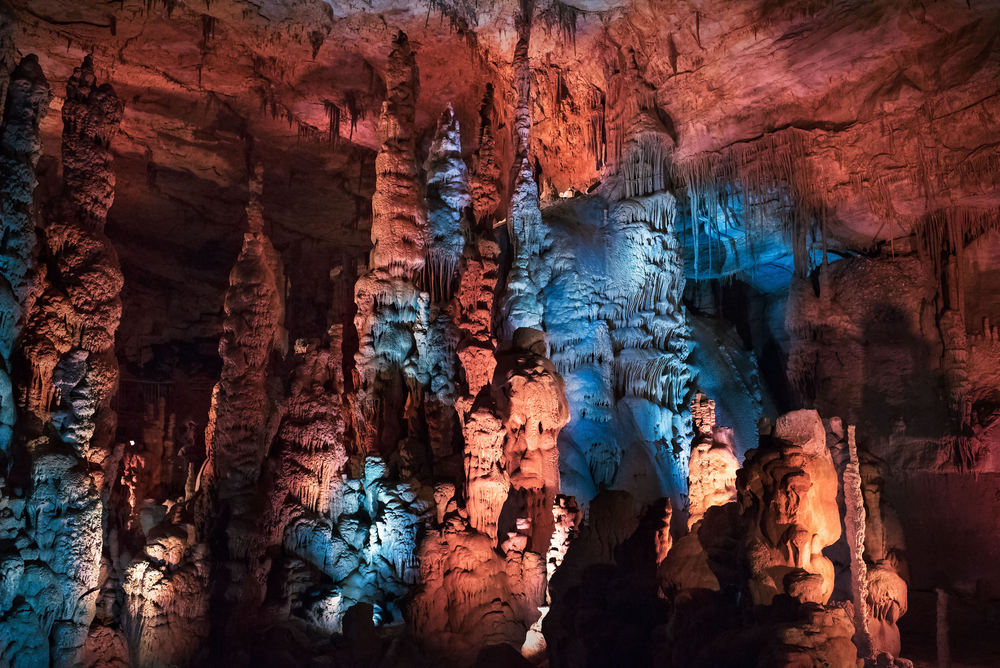 Bucks Pocket State Park
Bucks Pocket State Park is the epitome of peace and tranquility. With miles of secluded natural landscapes and scenic, picture-perfect vistas, you will feel far from the reaches of the modern world. This park is found on Sand Mountain and you must climb Point Rock to get the best views. This park also features a new, rugged trail for off-road recreational vehicles.
This is also one of the best state parks in Alabama for camping. The campground here is new and improved. It even has WiFi! Whether you bring a tent or an RV, there is a great campsite for you to make you feel at home among the trees. Don't forget to bring your four-wheeler or boat for extra fun.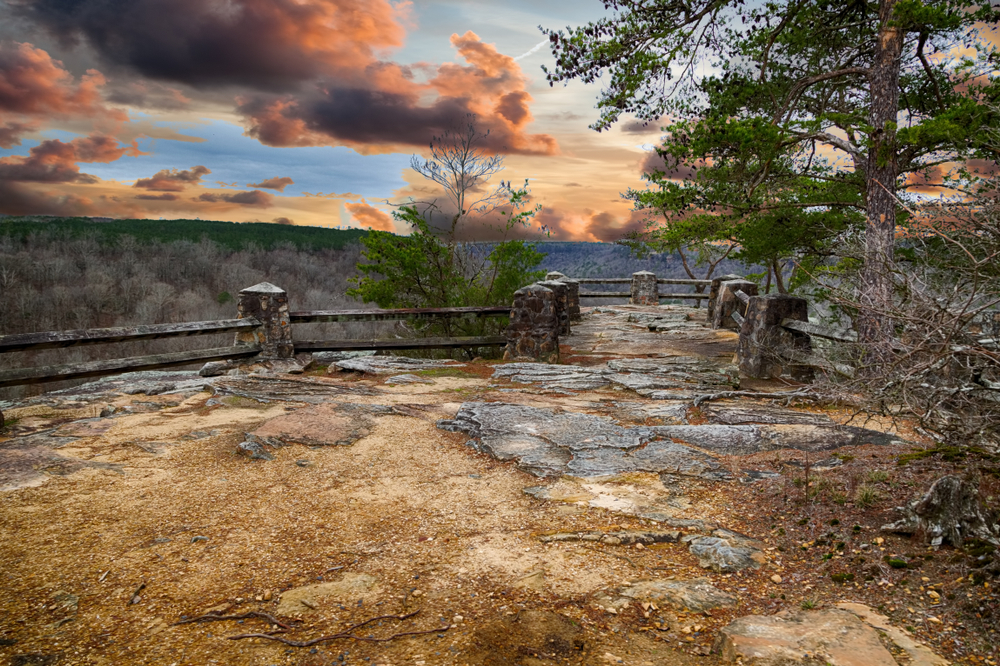 Cheaha State Park
If you have ever wanted to stand on Alabama's highest point, then you would need to go to Cheaha State Park. Cheaha Mountain is 2,411 feet tall and is probably the best place in the state to watch the sunset. Interestingly, the word Cheaha derives from the Muskogee word "Chaha" which means "high place." Eat at the Vista Cliffside Restaurant or take a dip in the cliffside pool to enjoy the amazing views.
Cheaha State Park offers not just great views, but a place to enjoy many outdoor recreational activities. There are hiking and ATV trails to explore. You can chase waterfalls or chill at the lake. No matter what you do, you are sure to get some fresh air.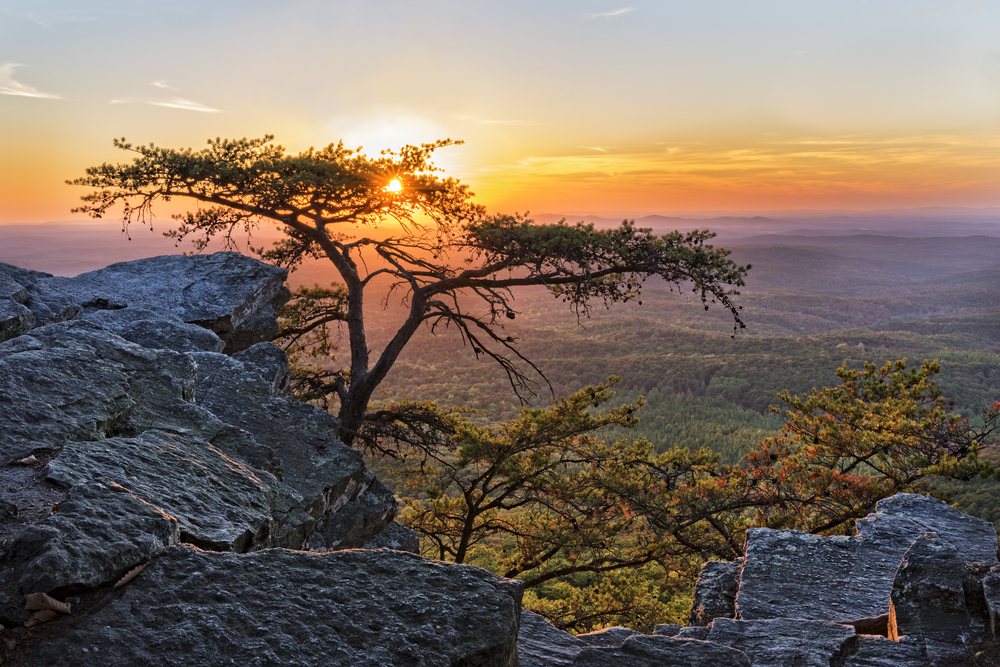 Rickwood Caverns State Park
Rickwood Caverns State Park is another unique and interesting Alabama state park perfect for the whole family. The Rickwood Caverns offer a great place to escape the summer heat while taking in the sight of wondrous 260-million-year-old rock formations. A tour here will take you 175 feet into the earth.
Along with the caverns, you can have fun here as you explore the Fossil Mountain Hiking Trail, shift through dirt to find gemstones, or swim in the Olympic-size swimming pool. Rickwood Caverns State Park is about thirty minutes from Birmingham so it makes an ideal day trip from the state capital.
Monte Sano State Park
Monte Sano means "Mountain of Health" in Spanish and this state park proves how true that is. With peace and quiet, fresh air, and mineral springs, this is a great location for a mental health day. Or book a cabin and make a week of it! Each cabin has a fireplace to keep you cozy in the colder months as well as an outdoor grill and picnic table for summer days when it is a shame to stay inside.
Monte Sano State Park is a beautiful place to visit in Alabama no matter the season, but come in the fall to appreciate the fiery foliage or in the spring to discover the hiking trails overrun with native azalea flowers. You will be snapping photos for Instagram at every turn.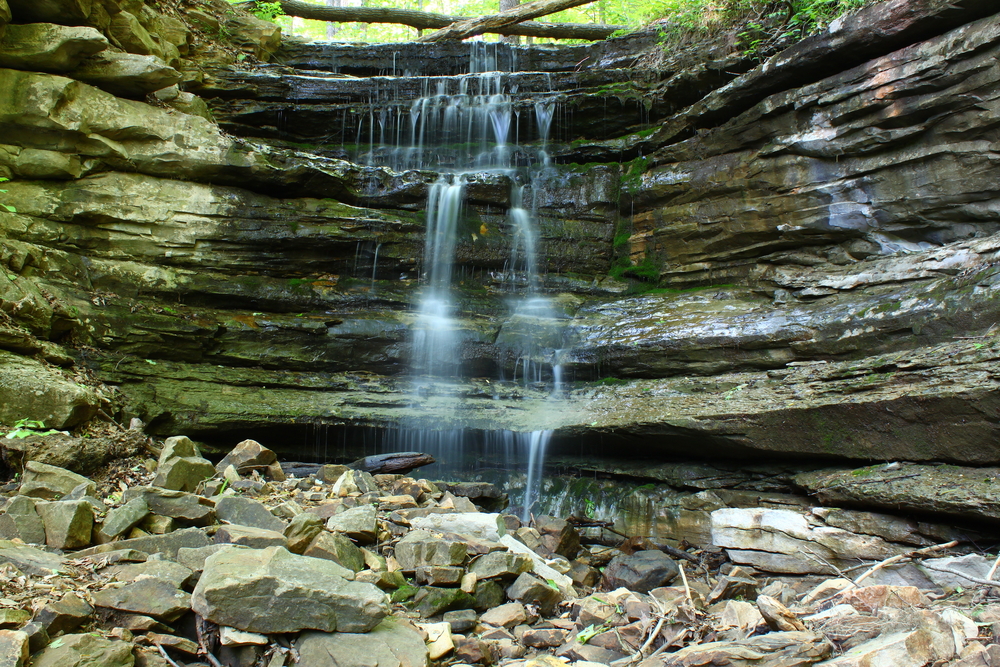 Blue Springs State Park
Blue Springs State Park is one of the best state parks in Alabama for simply relaxing. There are swimming pools here fed by natural springs which keep the crystal clear water at a cool 68 degrees throughout the year. The bottom of the pools is kept natural, so if you dive under the surface, you won't feel as if you are at a park. Between soaks, lay out in the sun to warm up, just make sure not to fall asleep!
The pools are the main attraction, but there are plenty of other fun things to do here. There is a place to play volleyball or you can fish at a pond. There are also hiking trails or you can ride your bike. When you are ready for lunch, set out a picnic at one of the many tables.
Meaher State Park
Meaher State Park is found along the bay and the wetlands just outside of Mobile. If you are visiting the city, it makes the perfect nature escape. This Alabama state park is largely made of water and is part of the largest delta in the continental United States. With so many lakes, creeks, bayous, and rivers to explore, you will have fun birdwatching and fishing as you take in the unique environment.
A beautiful boardwalk will introduce you to the areas flora and fauna. Take a boat out into the bay to fish or just enjoy some fun in the sun. At the end of the day, you can watch the sunset over the water. If you want to stay the night, there cabins available with amazing views of the bay.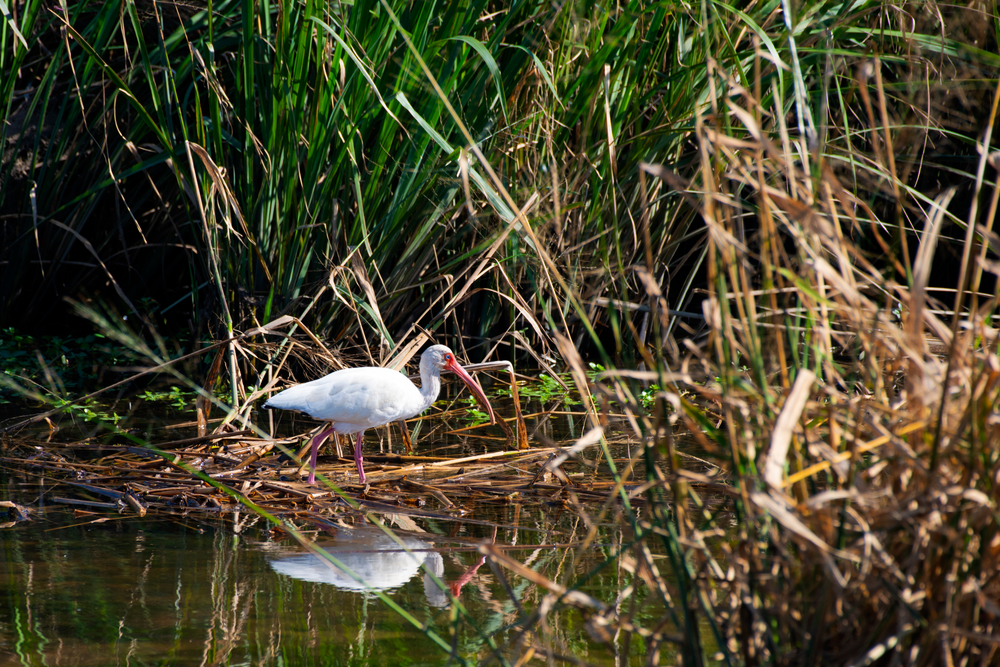 Lake Guntersville State Park
Lake Guntersville State Park is a nature resort found on the Tennessee River. This is the ideal place to enjoy an outdoor adventure or even a resort-style retreat. If you are looking to get your heart pumping, then attempt the Screaming Eagle Zipline which will fly you through the trees. If you are wanting a more laid-back experience, you can play a round of golf, relax at the beach, or fish at one of the lakes. If you want to relax in style book a room at the large resort inn
If you are a nature lover or an avid birder, you may want to come to Lake Guntersville for the chance to spot bald eagles. These magnificent national birds are nesting well here and there are Eagle Awareness programs that will teach you about them. As you search for eagles, walk or bike the many scenic trails.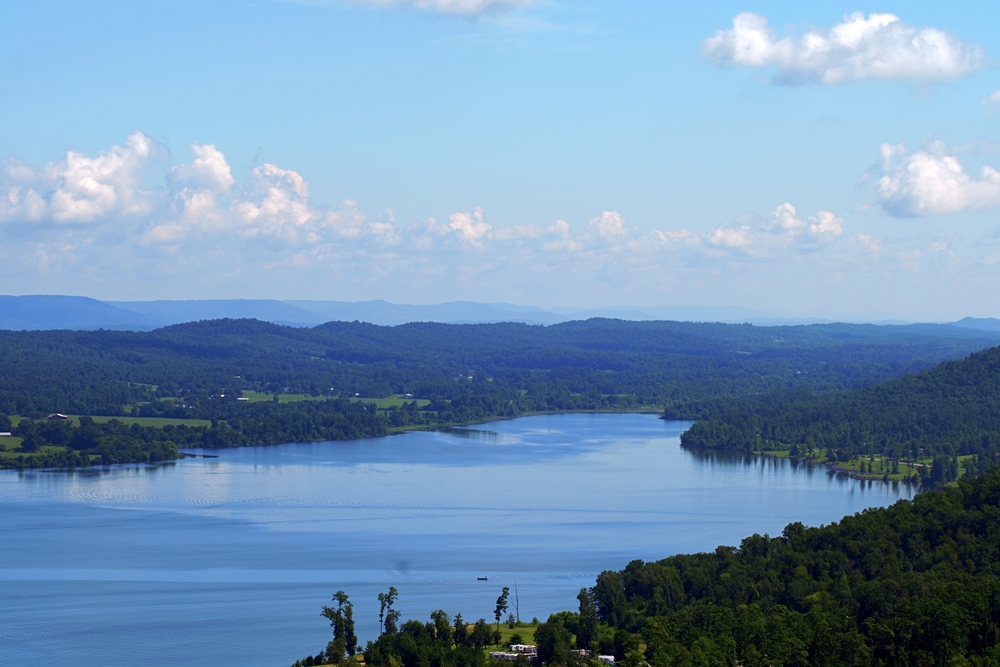 Wind Creek State Park
Found on Lake Martin and featuring one of the largest state-run campsites in the U.S., Wind Creek State Park is the perfect place for a family vacation. The lake is the perfect place to swim or boat. It is also a great place to go fishing and even hosts fishing tournaments. The park is also part of Alabama's Piedmont Plateau Birding Trail, so be sure to pack your binoculars. There are a ton of birds that make this place home, including osprey, bald eagles, and many species of waterfowl and songbirds.
If you want to stay here, there are plenty of campsites to choose from. If you don't want to pitch a tent, then stay at one of the cabins. These include AC and a kitchenette. There are also premium campsites with more amenities, waterfront views, and TV service. Throughout the campground, there are playgrounds and bathhouses.
Chewacla State Park
If you want to see one of the prettiest state parks in Alabama, then go to Chewacla State Park. This nice park is about an hour east of Montgomery and is a forest and river-filled paradise. On the banks of the 26-acre lake, you will find the picture-perfect Chewacla Waterfall.
Along with nature viewing and photography, this is one of the best Alabama state parks for biking. There are some really awesome trails that include structures to ride on. When you aren't sweating on the hiking and biking trails, you can glide through the lake in a canoe or kayak. There is also a beach, picnic areas, and playgrounds. You are going to have fun making memories here!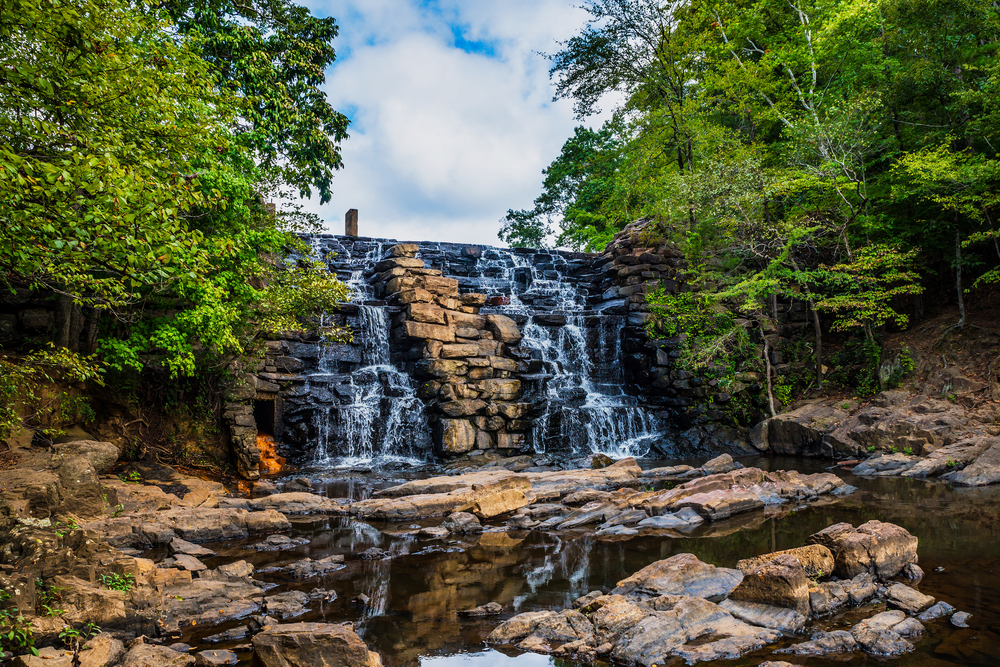 There are so many amazing state parks in Alabama full of beautiful nature scenes and fun things to do. Whether you are looking for a weekend getaway in Alabama or are road tripping through the state, these parks are great destinations. If you love camping, hiking, swimming, or seeking great views, then Alabama state parks are for you!