Are you searching for the prettiest waterfalls in Kentucky? Then you've reached your destination! Kentucky is synonymous with hiking, camping, pristine beaches, and mountain climbing, but did you know that the hot-spot locations for these activities are also hiding some of the best waterfalls!
Kentucky is home to six National Parks and FORTY-FIVE State Parks! Many of these parks play host to the prettiest waterfalls in the Bluegrass State. Coupled with a multitude of hiking trails leading to the very best waterfalls, Kentucky is THE destination for your next outdoor adventure!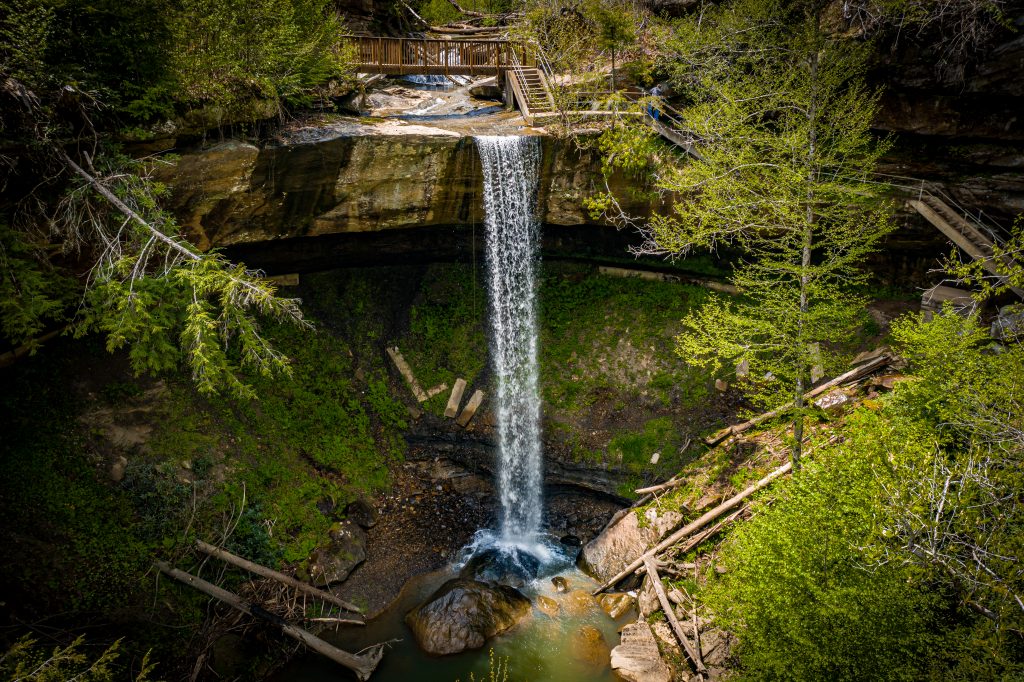 14 Prettiest Waterfalls In Kentucky
Waterfalls In The Red River Gorge
The Red River Gorge (RRG), located in and around Natural Bridge State Park and amidst the expansive Daniel Boone National Forrest, is the EPICENTER for traveling thrill seekers!
You'll experience a plethora of rock climbing and hiking choices. AND the Natural Bridge Sky Lift will give you a breathtaking view of the Park while you descend on a mile-long experience at a 45-degree angle!
Nestled in the nooks and crannies of the RRG, you'll find a number of intimately secluded waterfalls. Serene hiking trails will lead you to these earthly paradises. Or as locals call it, Red River Gorgeous!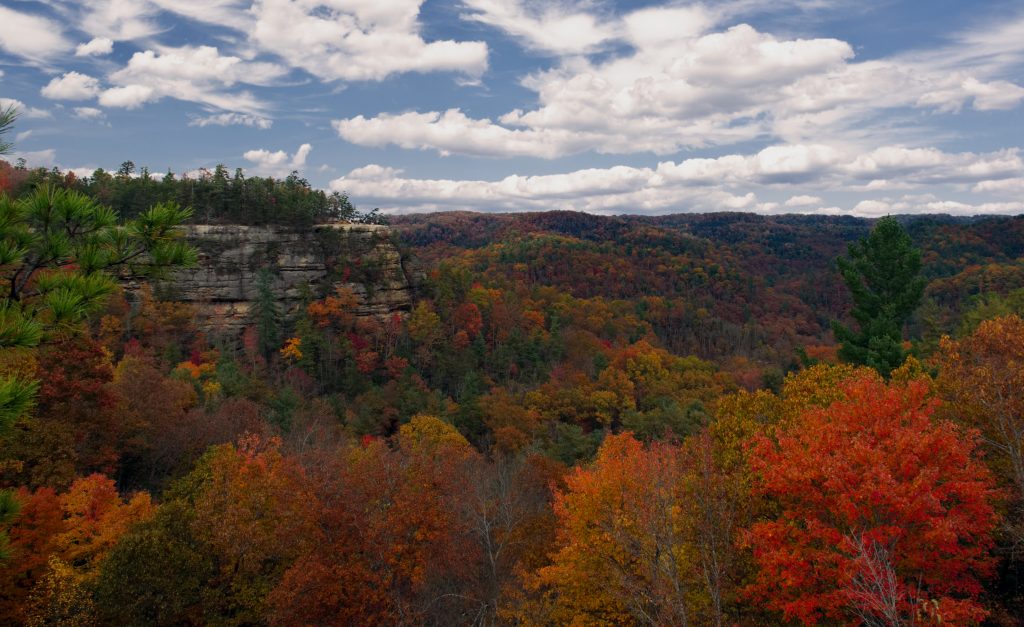 Creation Falls
Creation Falls is a favorite amongst local portrait photographers looking to capture a magical moment on film with one of the prettiest waterfalls in Kentucky as a backdrop. You could say it's one of the best in all creation!
Whether you prefer a landscape shot from the trail or an up-close and personal portrait down in the water, you'll be glad you snapped a few shots of nature's wondrous beauty to always look back on!
In addition to being pleasing to the eyes, the water flows into a swimming hole that will cool you off and leave you feeling refreshed during a humid summer hike! The kids will love it!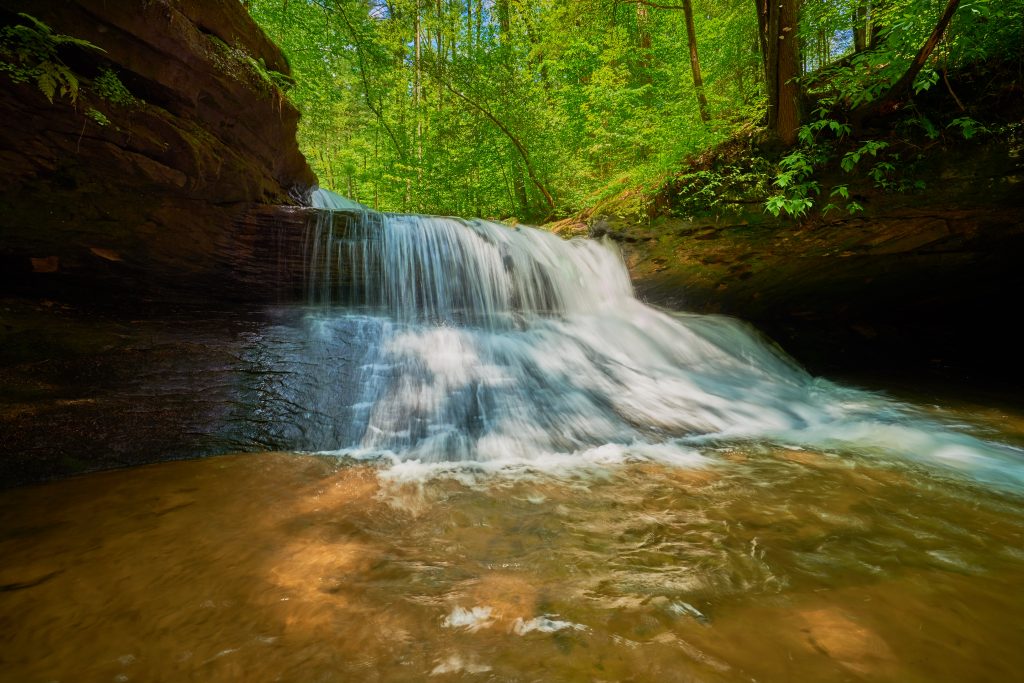 Horseshow Falls
Located at Muir Valley, inside the Red River Gorge, Horseshoe Falls gives you a unique perspective for viewing a waterfall in Kentucky: from BEHIND the waterfall. It's like a video game!
To get there, you'll have to take the Main Trail South. You'll descend on a well-maintained path, following a small creek. Eventually when you pick up signage for the falls, you'll know you're on the right track.
The cavernous atmosphere from underneath and behind the fall allows for a view that you'll take with you all of your days on this Earth. It also highlights the horseshoe shape of the rock formation in which the water cascades down.
Copperas Falls
The unmarked trail criss-crosses across Copperas Creek. Be sure to follow along the creek and it will guide you to your destination; one of the prettiest waterfalls in Kentucky!
Best yet, dogs are allowed as long as they are leashed! The spring at the bottom of the fall makes for a picturesque reward for your journey.
Plan ahead with extra footwear as your shoes are going to get wet! Though on a hot summer day, that may be ideal. But if traveling with children, just keep in mind that this is a wet, and sometimes very muddy trail.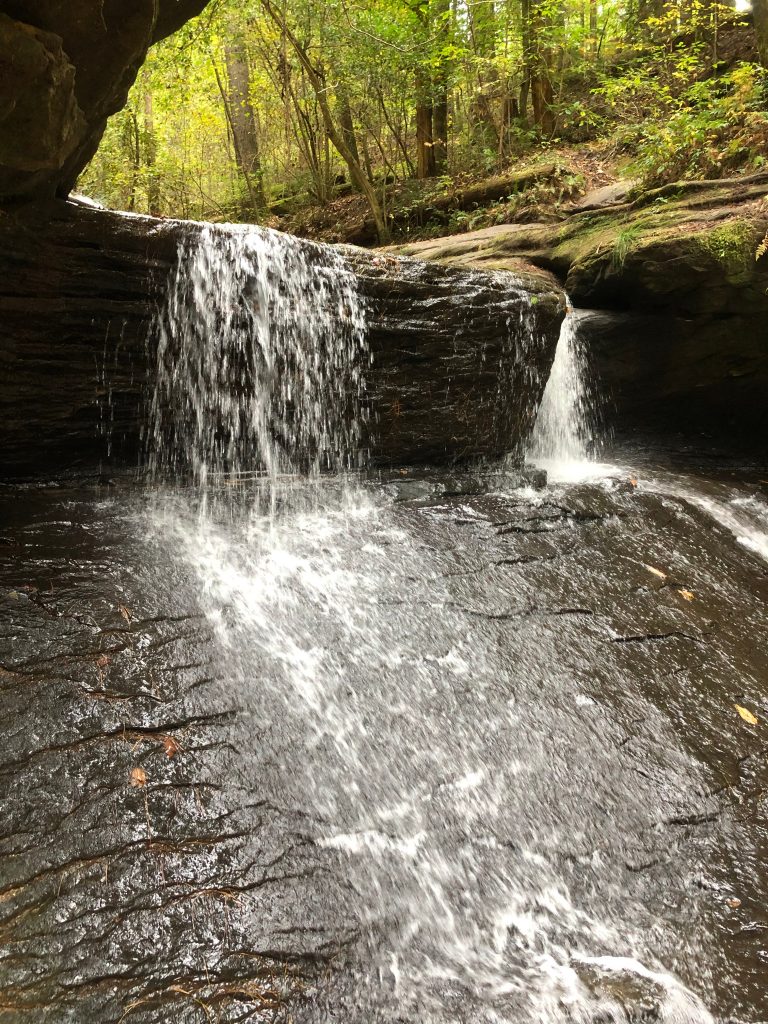 Broke Leg Falls
Only a mere 20 miles north-east of the Red River Gorge, Broke Leg Falls is an example that you don't have to hike for miles to view pretty waterfalls in Kentucky.
Once you leave your car, you're only 0.3 miles to the waterfall. Concrete steps and handrails will help guide you to one of the more accessible waterfalls in Kentucky. You can leave your hiking boots in the closet for this one.
When you arrive, you'll see a series of falls. The main falls drops 60 feet into a scenic canyon. In 2012, an F-3 tornado tore through the canyon. With debris still to be found, Broke Leg falls reminds us of the power and beauty of Mother Nature.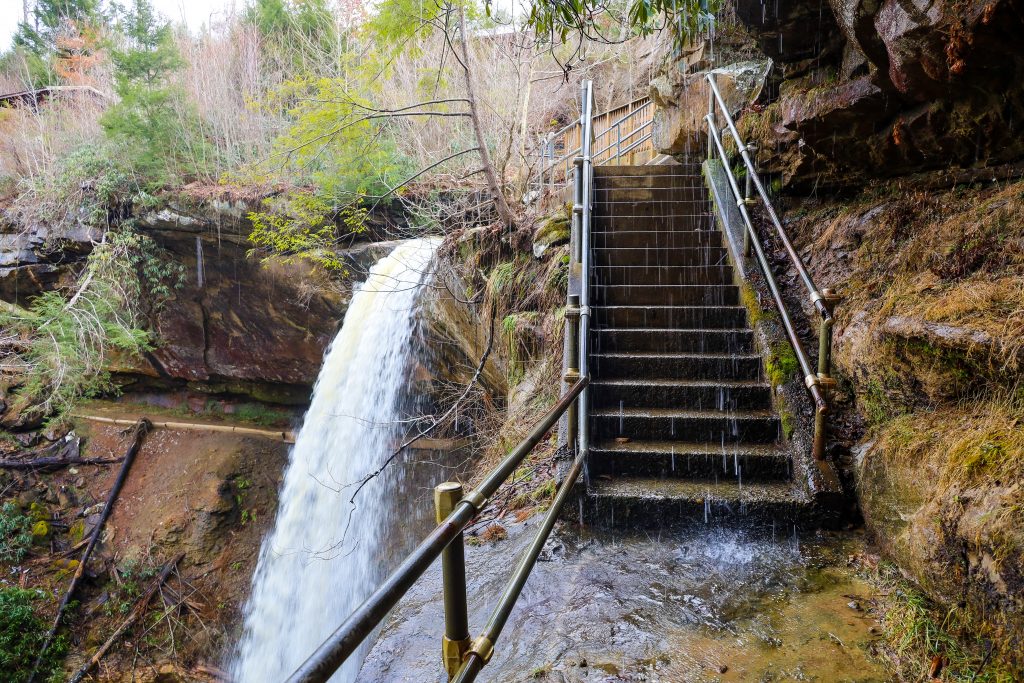 Flat Lick Falls
40 miles south-west of the Red River Gorge and at the edge of the Daniel Boone National Forrest is another pretty waterfall in Kentucky, Flat Lick Falls.
A loop trail about a half-mile leads you straight to the falls and the deep pool below. The wide blacktop path is very accessible. Once you reach the falls, you'll find a beautiful picnic area with clean restrooms.
Bring the family so the kids can take a swim in the pool underneath the falls. Be advised, it gets to be about 9 feet deep right in front of the falls. Be extra careful if you decide to jump off the rocks!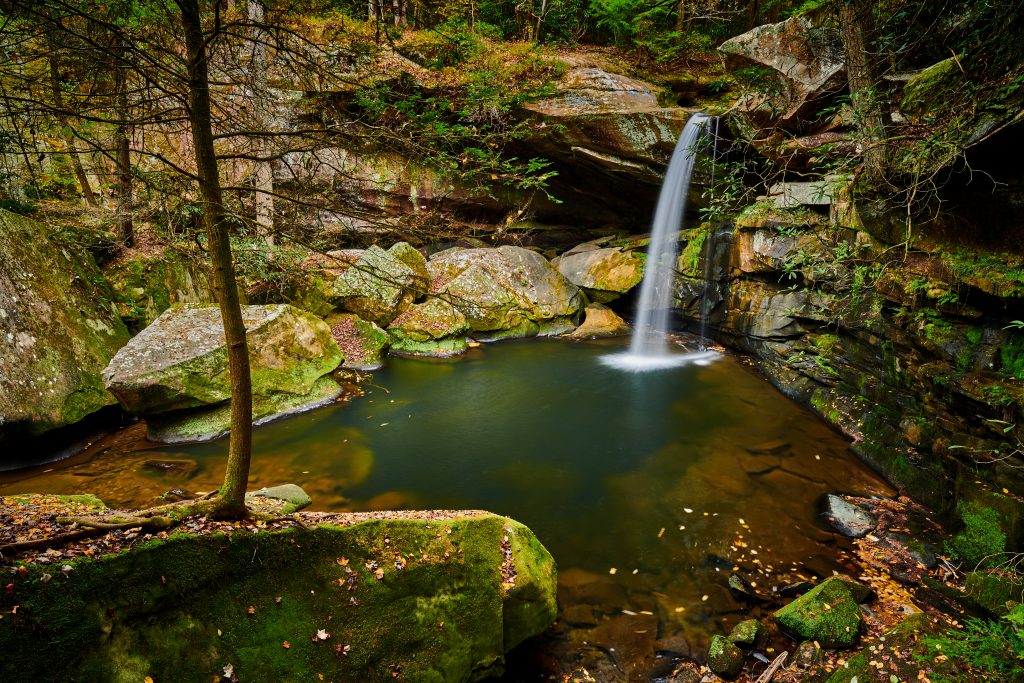 Bad Branch Falls
A breathtaking view that is earned, this trail grows increasingly steeper. But so in life, hard work pays off! After taking in the serenity of one of the prettiest waterfalls in Kentucky, you can either turn back or forge ahead another 2.4 miles for High Rock.
Imagine an Appalachian version of the view from the Lion King, looking out over all the land. High Rock provides that view over this Appalachian kingdom! This trail also intersects with the 42-mile Pine Mountain Trail. This location is truly a skilled hiker's wonderland!
Buttermilk Falls
Separated from the Indiana state line by the Ohio River, Buttermilk Falls is conveniently located for Indiana and Ohio neighbors to the north. The trail focuses on family convenience with it's paved pathway, which is stroller accessible, and several portable bathrooms and picnic tables throughout the trail.
The trail is also unique in that it is friendly to cyclists and makes for a great scenic ride to a beautiful Kentucky waterfall. The entirety of the trail clocks in under 3.5 miles and is a loop trail.
Seventy Six Falls
Just north of the Tennessee line, standing at a massive 84 feet, Seventy Six Falls towers about 15 feet taller than the world famous Cumberland Falls! Offering a picnic shelter right on the falls, provides a magnificent view out over Lake Cumberland!
If hiking isn't your forte, there is the added convenience of not having to hike through a park or forest to view this incredible spectacle as you can literally drive up and see it from the comfort of inside your vehicle.
Yahoo Falls
Located in the Daniel Boone National Forrest, the Big South Fork National Recreation Center and near the Tennessee border, Yahoo Falls is the highest Kentucky waterfall at 113 feet! The trail is over 4 miles and a out and back trail, though you'll come upon Yahoo Falls about a mile into the hike.
On up the trail about 1.5 miles is Yahoo Arch. Definitely a great combo to visit. Remember, much like all waterfalls, plan for a Spring trip or go right after some recent rainfall. A lot of these falls are beautiful, but tend to dry up during dry, Summer months.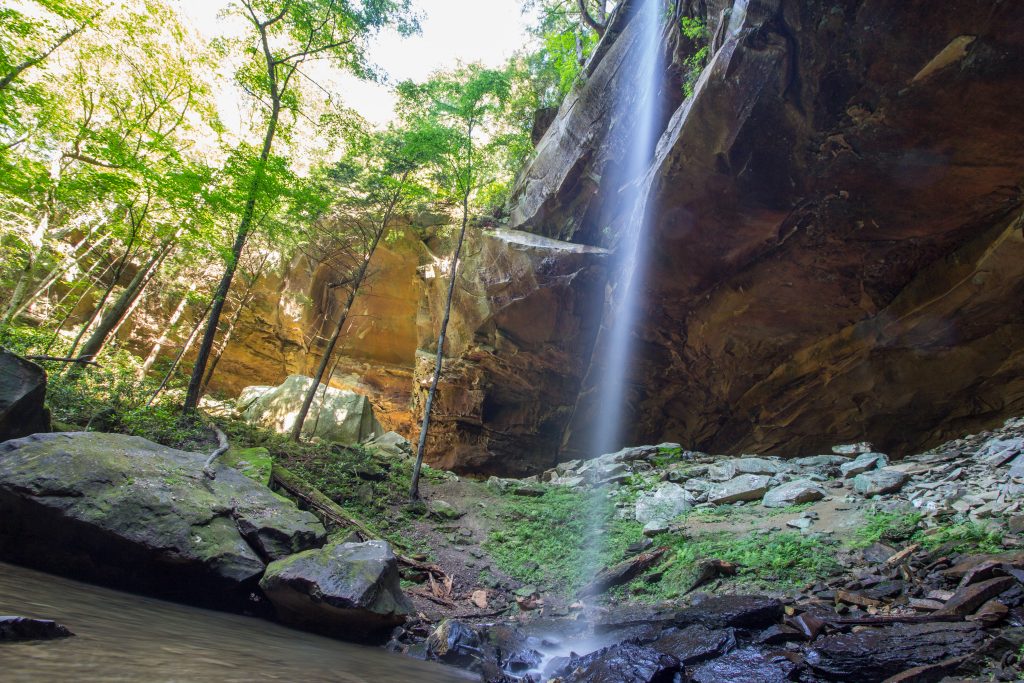 Lick Creek Falls/Princess Falls
Only 12 miles south of Yahoo Falls in Stearns, Ky is Lick Creek Falls. Aside from the close distance to another great waterfall of Kentucky in Yahoo Falls, Lick Creek Trail offers a tremendous 2-for1! Lick Creek Falls AND Princess Falls on the same trail!
The trail is dotted along the way with impressive rock formations but because of the elevation gain, is considered a Moderate level of difficulty in traversing. Lick Creek Falls is greater in height while Princess Falls has the edge in width. Two completely different types of waterfalls to view in the same area!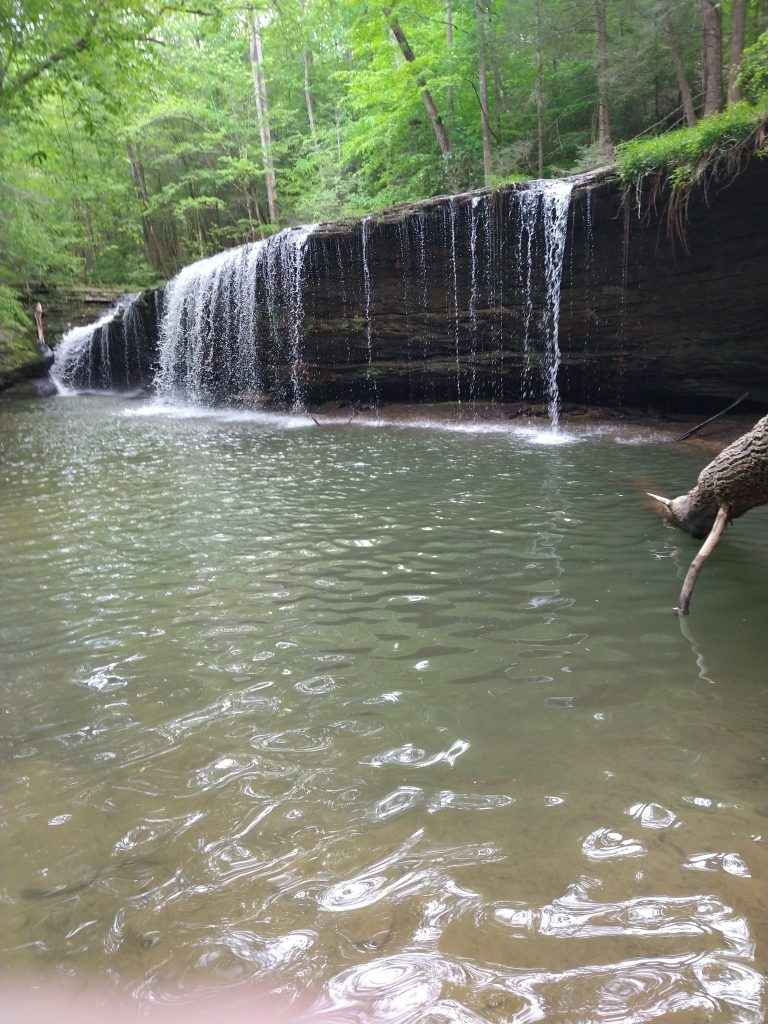 Cumberland Falls State Resort Park
Our final three waterfalls all can be found at the Cumberland Falls State Resort Park. Only 15 miles north-east of Lick Creek Falls, Cumberland Falls is a Mecca for outdoor enthusiasts looking for a pilgrimage.
Here you can enjoy hiking, swimming, fishing, camping, bird watching, horseback riding, white water rafting, canoeing, and the most breathtaking views the Bluegrass State has to offer.
In the evening, you have the rare opportunity to see moonbows. Rainbows produced by moonlight, moonbows are a beautiful sight you can only see here!
To see all three, take a weekend getaway and stay at one of the most beautiful state park lodges you'll find. The DuPonte Lodge has 51 rooms, but if you want something more rustic, there are cabins, cottages, and even primitive camping! This is also one of the best places to see Fall Foliage In Kentucky!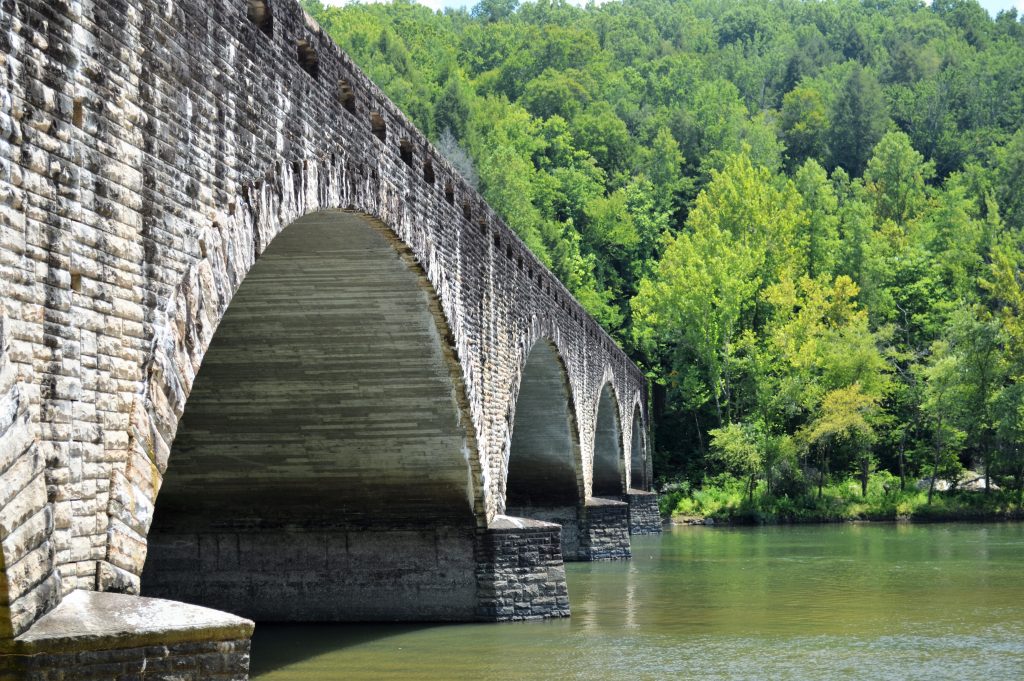 Cumberland Falls
Little Niagara. The Niagara of the South. The Great Falls. Many nicknames for the most impressive waterfall in all of Kentucky. With a height of 69 feet and a width of 125 feet, is there any wonder it has a state park named after it?!
There are 12 marked trails inside the Park that vary in length from .25 mile to nearly 11 miles. Most all of which are considered moderate in difficulty. Many though are only a mile or less in length. But with so many trails, there is a total of 17 miles in trails to navigate!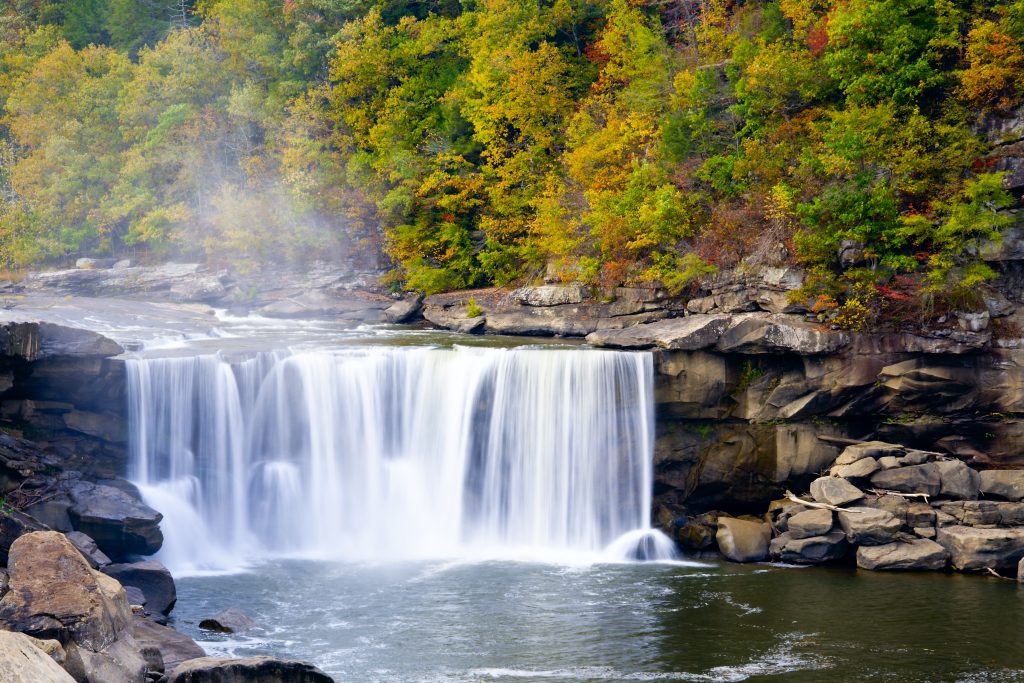 Eagle Falls
The most popular of the three waterfalls can be found on the Eagle Falls Trail. At 1.5 miles long, you'll also be afforded views of Cumberland Falls on your way to the additionally beautiful Eagle Falls.
You can find the trailhead on the west side of the river, opposite the main viewing area for Cumberland Falls. The parking lot here does not have many spaces, so we recommend arriving earlier in the morning or on a week day, especially during the summer.
The trail itself is a "lollypop" loop. It can be incredibly steep at times, but stairs have been built in to help. On the way back, the trail does come close to the edge of a cliff, but there is a railing to prevent any falls!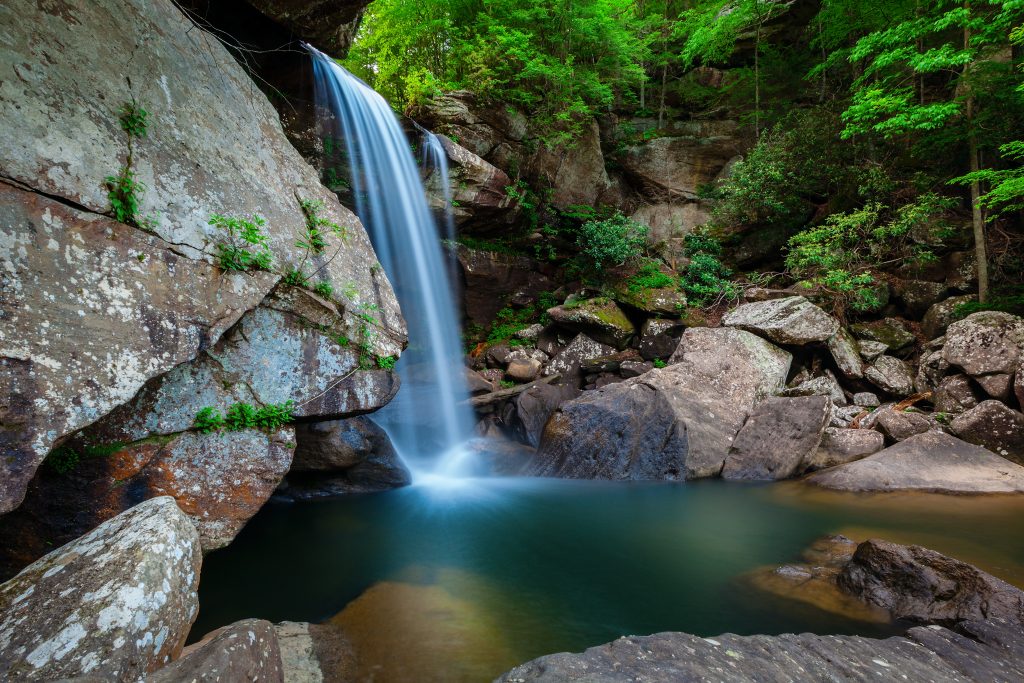 Dog Slaughter Falls
This 15-foot picturesque falls is versatile, offering beautiful views from the side, head-on, above, and beneath. This trail will be the longest hike of the three falls in Cumberland Falls, coming in at 2.4 miles.
Not only is this trail the longest, it is the most difficult of the three. While not overtly difficult, you still have access to the fall even if you're not an expert hiker. This will only be a moderately difficult hike!
Although its name is unsavory, dogs are allowed here on a leash! Take a swim with your pup in the intimate swimming hole a mile into the trail. Make sure to wear appropriate shoes, the rocks can be very slippery!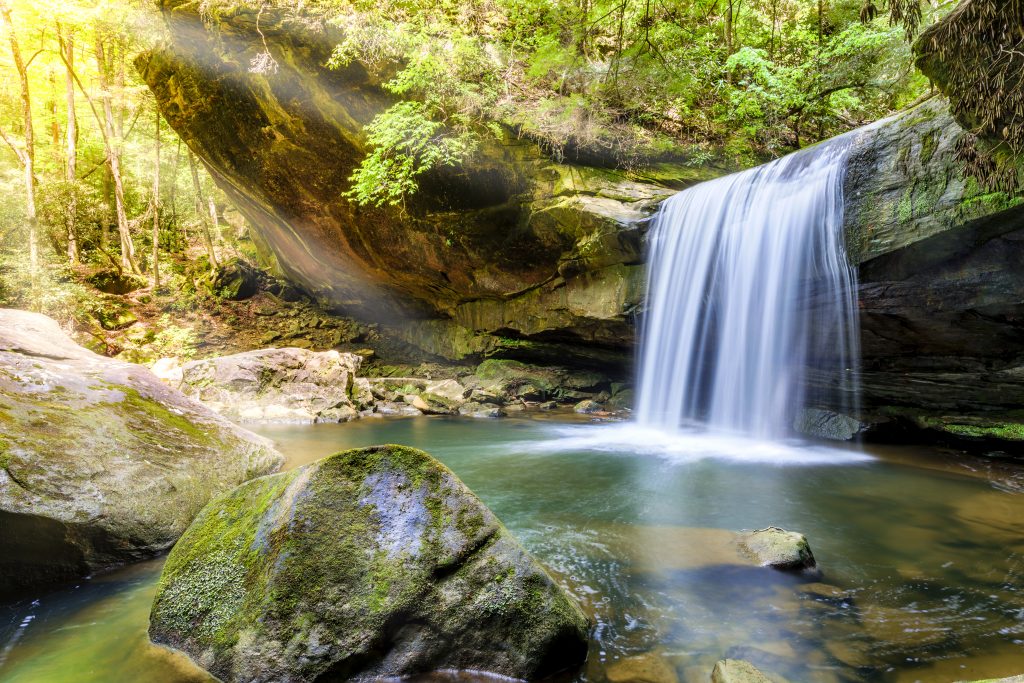 The Bluegrass State certainly affords some unbeatable views, but the best are certainly of the waterfalls in Kentucky. Although some of these falls may be difficult to get to through arduous hikes, you won't be sorry. Let us know if you see any moonbows!