Looking for the coolest caves in Alabama? We have you covered!
Alabama is best known for its soul food and southern hospitality, but some of the best parts of the state lie just beneath the surface. Some of the coolest caves in the United States can be found in Alabama.
As one of the cave hotspots of the United States, north Alabama boasts a wide variety of caves perfect for the subterranean explorer in everyone. From intricate caverns to seemingly never-ending pits, this is one of the best things to do in Alabama!
The abundance of caves in north Alabama comes from the soluble bedrock in the area. Over millions of years, acidic rainwater was able to erode this bedrock to create elaborate, beautiful cave systems.
By relying on thermal heat, caves are able to maintain a constant temperature all year. This makes these caves the perfect spot to beat any kind of weather. Whether it be a scorching summer day or chilly winter night, the caves in Alabama will stay nice and cool.
Without further ado, here are the coolest caves in Alabama: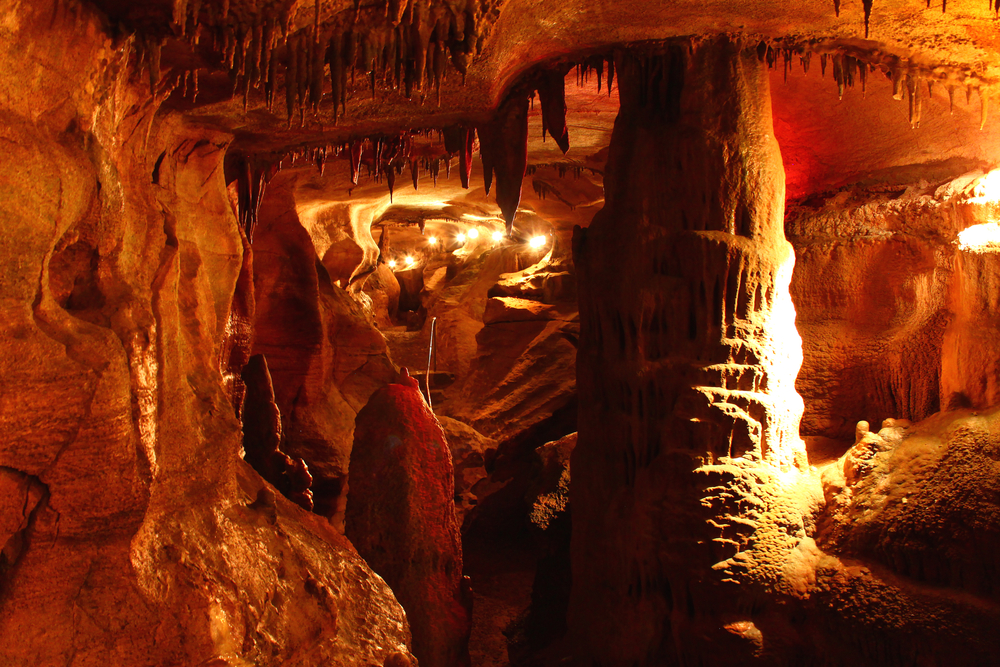 10 Coolest Caves in Alabama
Stephens Gap Cave – Woodville, AL
Located half an hour east of Huntsville, AL, Stephens Gap is one of the most beautiful caves in Alabama. Boasting a 150-foot drop straight into the core of Alabama, this wonderful cave is beloved amongst outdoor enthusiasts across the United States.
Be sure to keep your eyes peeled on your way to Stephens Gap! Despite being one of the coolest caves in Alabama, there is only one small sign leading up the cave itself.
While it is enticing to rush into such an amazing cave, it is important to prepare to take on Stephens Gap. The 150-foot drop is breathtaking, but requires the skills and equipment necessary to rappel down. Even hiking across the short passage to the drop requires some effort.
Due to the physical demands of exploring the cave, reservations must be made beforehand and the proper equipment for caving is required. This effort is more than worth it, as Stephens Gap is one of the most photogenic caves in the United States.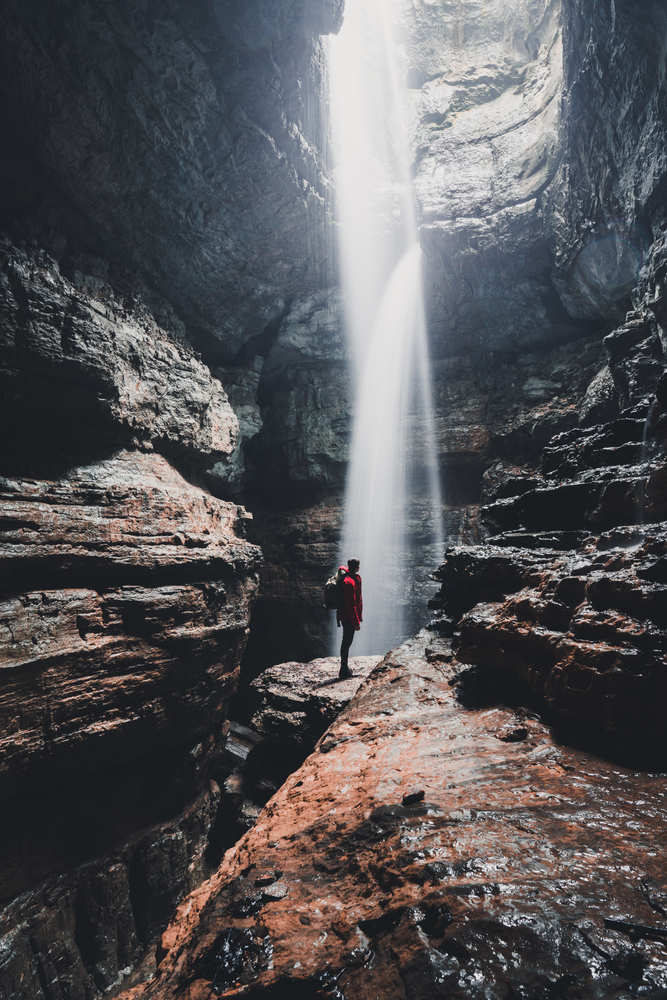 Cathedral Caverns State Park – Woodville, AL
Another gem of the north Alabama cave system, Cathedral Caverns is a must-see for any cave lover out there. With the entire cavern spanning 1.3 miles, Cathedral Caverns is one of the longest publicly accessible caves in the United States!
Originally called the Bat Cave, Cathedral Caverns more than lives up to its new name. With its expansive "rooms" and beautiful rock formations, it truly feels like you are walking through a grand cathedral.
Cathedral Caverns is open to the public through tours. These tours last 90 minutes, so make sure to bring your tennis shoes! It also stays around 60 degrees year round in the cavern, so a light jacket is strongly recommended.
Since Cathedral Caverns is so expansive, it contains some of the most astounding features you will ever find in a cave. The cave invites you in with a grand 125 foot long mouth, and the sight seeing does not end there. Your tour will allow you to see some of the most unbelievable rock formations. Cathedral Caverns is truly something you must see to believe.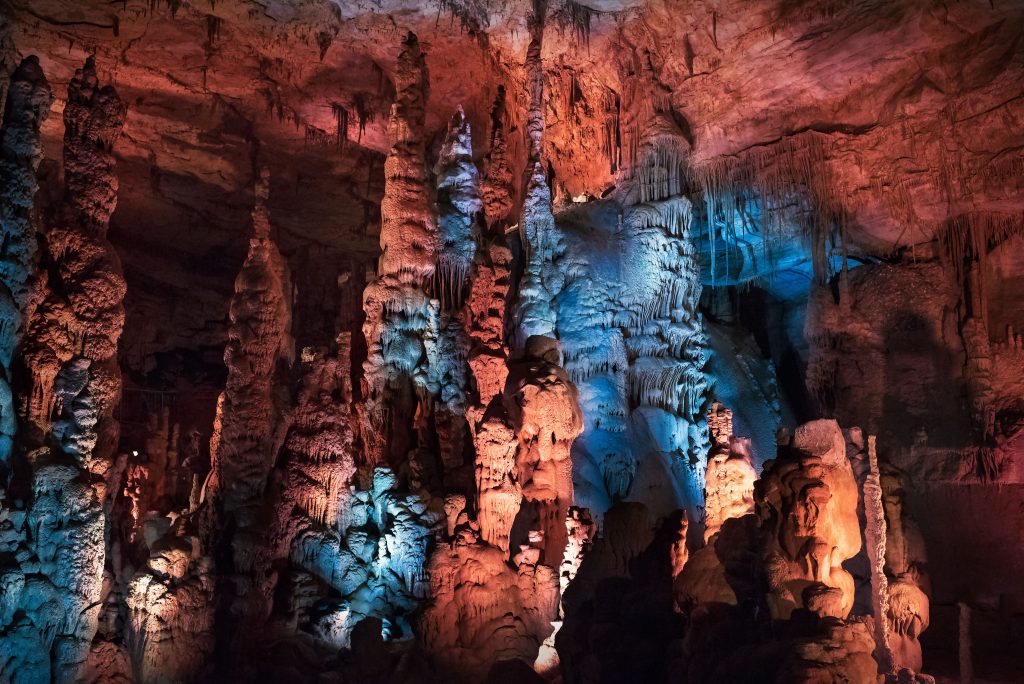 Russell Cave National Monument – Bridgeport, AL
If you love history, look no further then Russel Cave! Used by humans for thousands of years, Russel Cave is an archeological treasure trove that we are still learning from to this day.
Beginning as a sink hole 11,000 years ago, Russell Cave can trace its use by humans back to approximately 9,000 years ago. Originally used as a winter shelter, this cave was essential to the survival of the early people of north Alabama. This rich history earned Russell Cave distinction as a National Monument in 1961, and a spot on the National Register of Historic Places in 1966.
Today, Russell Caves serves both archeologists and tourists alike. While the cave itself is used mainly for research, it is possible to hike the surrounding area and catch a breathtaking glimpse of one of the two cave entrances. Surrounded by thick foliage, the entrance Russell Cave looks like a portal to another world.
As a national park, Russell Cave is able to provide a premier experience for all of its guests. Park rangers offer demonstrations of prehistoric tools in the gazebo, and there are special events held all throughout the year. One of the coolest events is the Native American festival, held in the first weekend in May.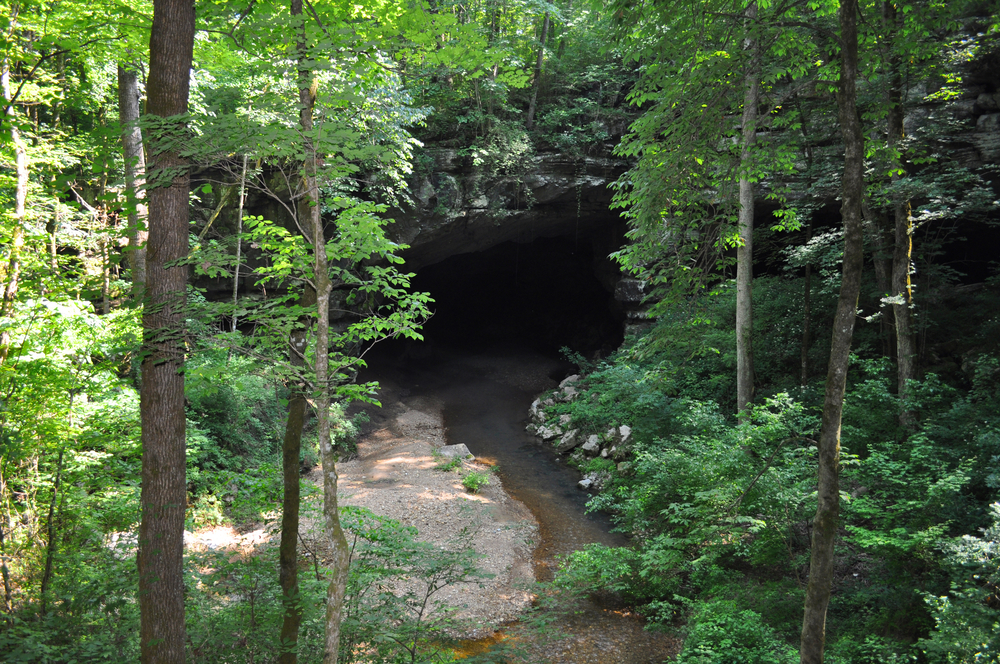 DeSoto Caverns – Childersburg, AL
Exploring DeSoto Caverns is one of the coolest subterranean experiences anyone could ever have. Already a beautiful cave system, the folks at DeSoto Caverns pull out every stop to make your experience top-notch.
Used by Native Americans for more than 2,000 years, DeSoto Caverns has a rich history. It is actually considered the first US cave on record, as George Washington himself took personal note of this cave in 1796. DeSoto Caverns has been at the forefront of American history since its inception.
One of the most fascinating parts of this cavern, however, is its ownership. DeSoto Caverns has been part of the Mathis family for more than 100 years. One of the most beautiful caves in Alabama has stayed in one family for five generations.
This excusive management has resulted in one of the best kept cavern systems in the United States. The Mathis family has turned DeSoto Caverns into an experience like no other.
Each tour of the cavern includes a laser light, sound, and water show. These added effects make this cavern come to life in ways that are often not seen. On top of this, DeSoto Caverns features attractions such as gem panning, a giant maze, and archery. Be prepared to book a hotel, though, as it is almost impossible to do everything this cavern has to offer in just one day!
Rickwood Caverns State Park – Warrior, AL
The 260-million year old Rickwood Caverns is one of the most awe inspiring caves in Alabama. This lengthy history has allowed mother nature to get very creative with a number of fantastical formations.
Any guided tour of Rickwood Caverns will take you along the aptly named "miracle mile." During this tour you will be able to see cavernous curiosities such as an underground swimming pool full of blind cave fish.
Despite being being 260 million years old, Rickwood Caverns is still growing! A slow trickle of mineral-laden water droplets has led to "living formations" that still grow 1/20th of an inch every year.
Located right off the busy interstate-65, Rickwood Caverns is one of the coolest state parks in Alabama, and staple in any Alabama to-do list!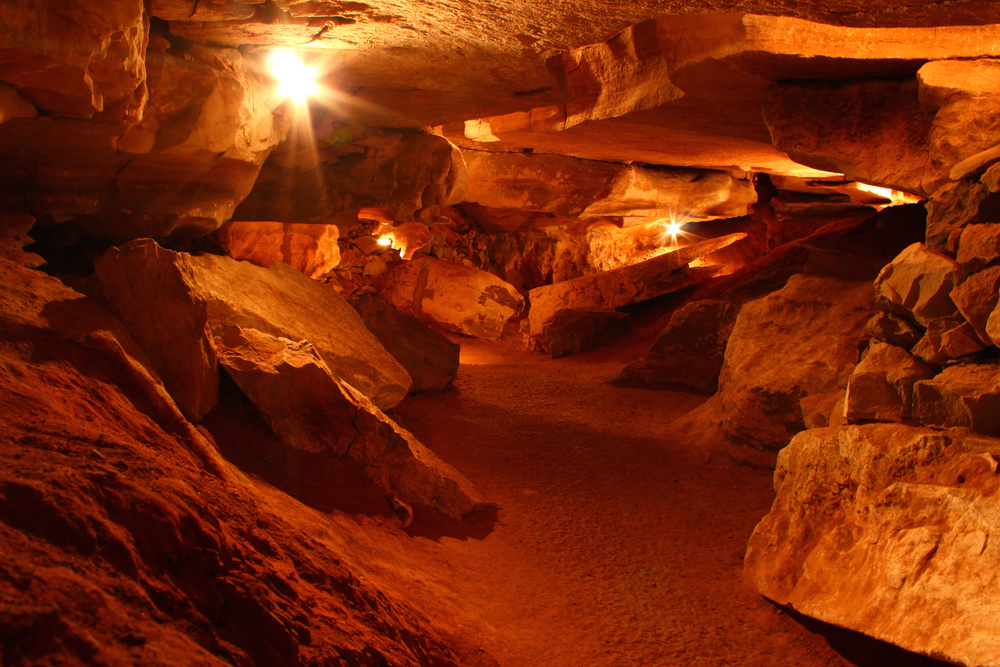 Neversink Pit – Fackler, AL
Straddling the line between a cave and a sinkhole, Neversink Pit is one of the most unique sites in Alabama. This individuality has allowed this once hidden gem to climb up the bucket list of everyone from professional photographers to casual adventurers.
Only accessible by a half hour mountain hike, Neversink Pit is able to retain a feeling of seclusion despite its recent popularity. This hike has not scared too many tourists away, though. Neversink Pit is one of the most photographed caves in Alabama.
Those who brave the hike up the mountain are rewarded by one of the most amazing views anywhere in the United States. Neversink Pit features a 160 foot plummet straight down, complete with a waterfall cascading down the rocks.
While the depths of Neversink Pit are only accessible to experienced cave divers, don't worry! Casual visitors are able to stand at the surface and soak in the beautiful sights from a safe distance. Be sure to watch your step, though!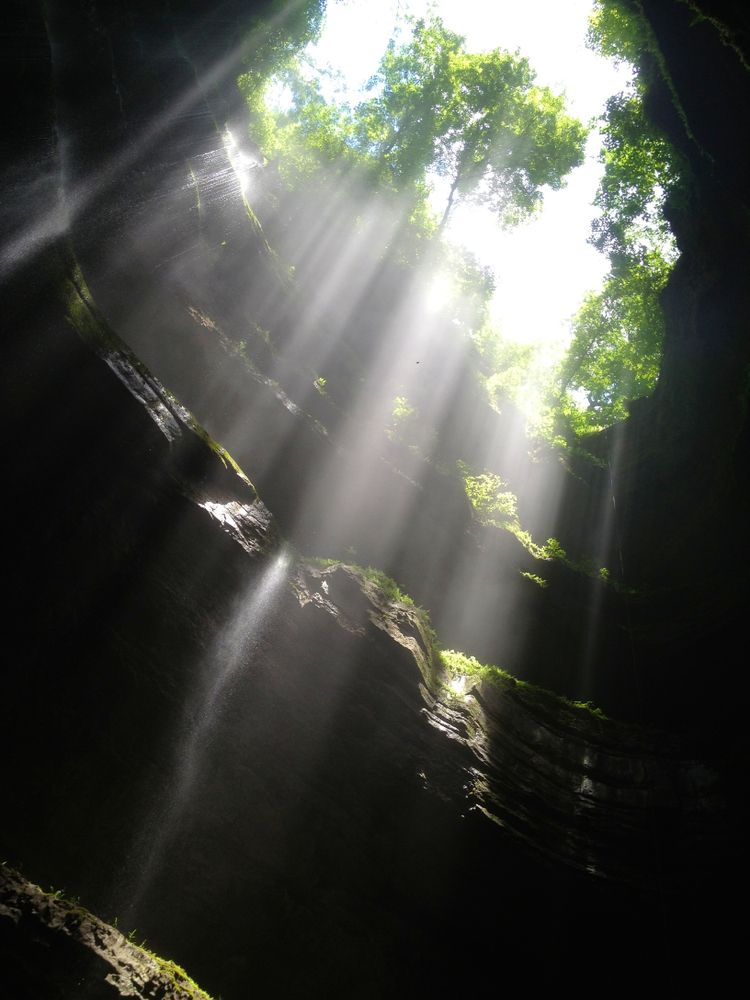 Fern Cave – Woodville, AL
Serving as a wintering colony for more than one million gray bats, Fern Cave is more than just one of the most spectacular caves in the Unites States. These endangered bats are very picky, with the majority of them residing across just eight caves in the United States. Fern Cave is extremely important for the conservation of these creatures.
This relationship with gray bats has landed Fern Cave on the National Wildlife Refuge. Officially put on the list in 1981, this cave and its surrounding area has been studied by everyone from archaeologists to zoologists.
On top of its zoological importance, Fern Cave itself has been described as a "vertical and horizontal maze" by those who have explored it. Featuring five hidden entrances and 15 miles of dangerous terrain, this is one of the most inaccessible yet spectacular caves in Alabama.
While Fern Cave is only accessible with a special permit, due to the dangerous terrain and endangered species, this refuge is still worth a visit. With almost 200 acres of forested hillside, Fern Cave is one of the most well preserved areas in Alabama.
Manitou Cave – Fort Payne, AL
As a sacred ground for the native Cherokee people of Alabama, Manitou Cave is lined with Cherokee history and tradition. Even the name of this cave is full of history. The word Manitou refers directly to a revered spirit in the Cherokee language.
Manitou Cave is full of tribal inscriptions that explain the rich history of this cave. Many of these inscriptions indicate that this cave was used to cleanse the body and spirit before a stick ball game. Stick ball was one of the most important community rituals to the Cherokee people.
Sadly, tourists wiped out much of this history in the late 19th and early 20th centuries. While this early traffic erased evidence of much of the early tribal works, archaeologists have been working closely with the Cherokee nation to interpret the messages left on these walls.
To better preserve the history of this beautiful cave, tours are only available in a limited capacity.
Tumbling Rock Cave Preserve – Fackler, AL
Tumbling Rock Cave Preserve is one of the most beautiful horizontal caves in Alabama. Horizontal caves feature mostly horizontal corridors, meaning that exploring this cave requires no training or special equipment. This makes Tumbling Rock perfect for novice cave explorers.
Despite its label as a horizontal cave, Tumbling Rock still boasts some amazing feats of verticality. While exploring this cave, you may come across the Topless Dome. Topless Dome is a 400 foot tall shaft complete with a waterfall.
Along with Topless Dome, Tumbling Rock is home to some beautiful stalactite and stalagmite formations. Due to the horizontal nature of this cave, it is likely that you will stumble across vast rooms full of these formations.
There are no tours offered for this cave, and an SCCI permit is required for entry. While easier to navigate, Tumbling Rock is definitely a cave that requires planning ahead.
Three Caves – Huntsville, AL
Originally called Hermitage Quarry, Three Caves is actually a former limestone mine. While not a natural cave, this one of a kind site is still worth a visit.
Dating back to 1945, Three Caves is by far the most recent cave on this list. This has not stopped it from being full of history, though. Three Caves served as a nuclear fallout shelter during the Cuban Missile Crisis, and has played host to numerous films and music videos.
Currently, Three Caves is used as a concert venue during the summer. The rocky backdrop creates stunning visuals and is used as a stage. Attending a concert at Three Caves is also good for the environment! A portion of the proceeds of these concerts support the efforts to preserve this and other natural resources in Alabama.
If concerts are not your thing, Three Caves is also open for hiking. A starting point for much of Huntsville's trail network, Three Caves is an extremely popular spot for hiking.
As one of the cave capitals of the United States, Alabama is home to a diverse array of unique caves. This diversity makes the caves in Alabama a must-see for anyone interested in exploring all that nature has to offer. When searching for underground adventure, look no further than Alabama!