Are you looking for a list of the best weekend getaways in Tennessee? This guide has all of the weekend trips!
The state of Tennessee is known for quite a few things: the country music of Nashville, the moonshine of Gatlinburg and Pigeon Forge, and even the beautiful nature of the Great Smoky Mountains National Park.
All of these gems make for wonderful weekend getaways in Tennessee. And that's not all! There are many more amazing things to see in this wonderful state worthy of a weekend trip. Which ones will you choose to embark on?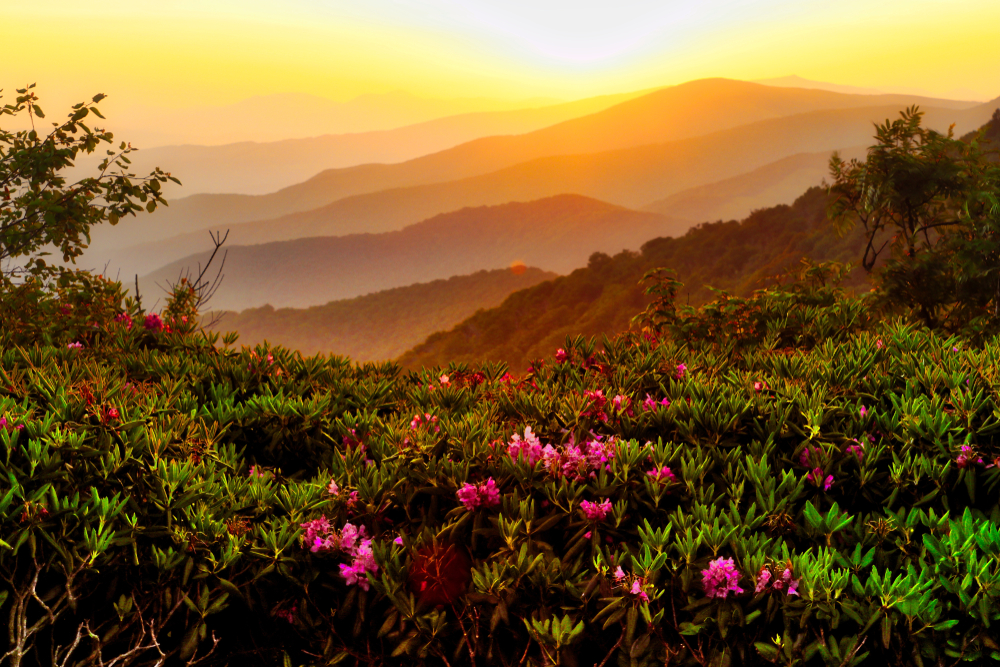 15 Fabulous Weekend Getaways In Tennessee
Get Your Fill Of Country Music In Nashville
Nashville, the most iconic of all Tennessee cities and the land of country music, makes for one of the best weekend getaways in Tennessee. If you're looking to live it up in the big city, whether it's for a Nashville girls weekend or a couple's getaway, Nashville is exactly what you're looking for.
While during the day you can get your fair share of country music history at the Grand Ole Opry and the Country Music Hall of Fame, after the sun sets is when Nashville truly comes to life. When the darkness paints the sky, Broadway lights up with pubs, bars, and country music galore. So hop from venue to venue until you find some music that you'd like to listen to all night.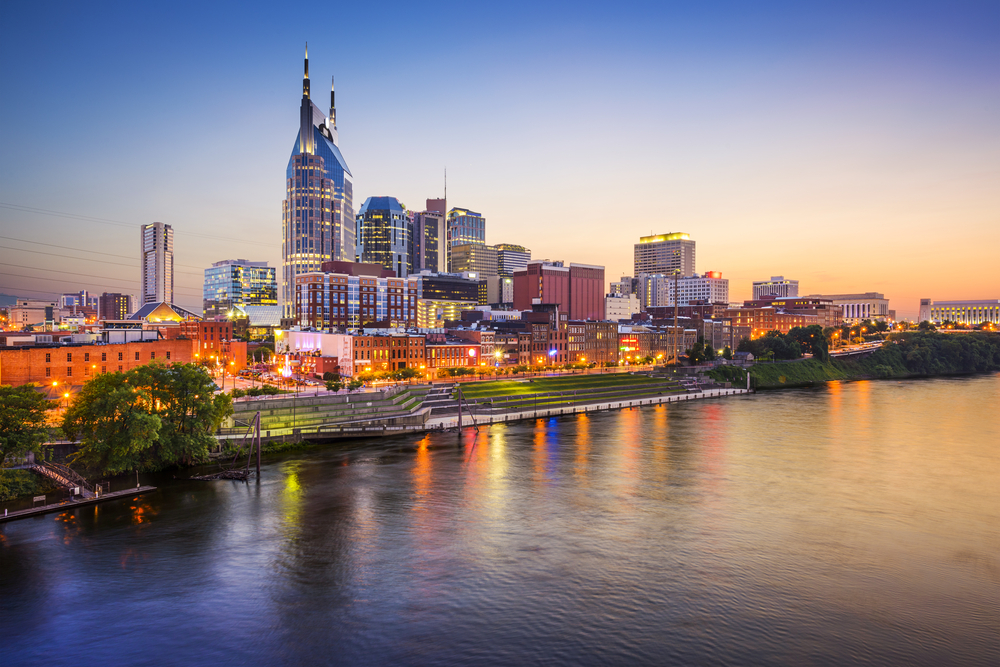 Drink Your Fill Of Moonshine In Gatlinburg
The small town of Gatlinburg is where the locals go for their weekend getaways in Tennessee. Gatlinburg is a hidden gem filled with both relaxation and a lengthy list of things to do for whatever type of trip you have in mind.
One of the best things to do in Gatlinburg is drive the Roaring Fork Motor Trail. This drive allows you to experience the beauty of Tennessee's nature from the comfort of your own car. You can also get your adrenaline pumping on the Gatlinburg Mountain Coaster, enjoy your share of whiskey and moonshine, and ski at Ober Ski Mountain. If you'd like, you can even make the short drive to explore the beauty of the Great Smoky Mountains National Park.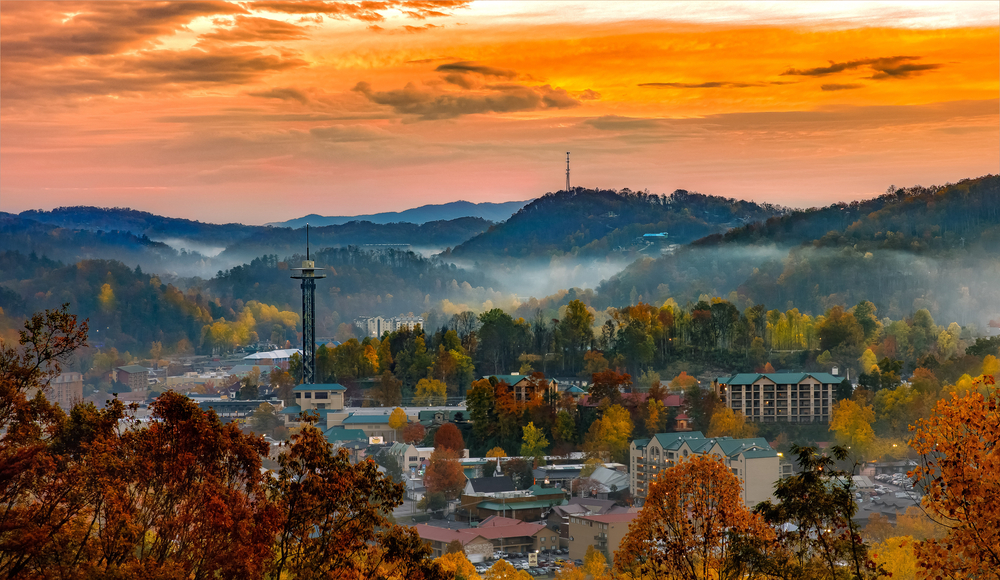 Find Something For Everyone In Pigeon Forge
Just a short drive away from Gatlinburg is the adorable town of Pigeon Forge. As a matter of fact, many people combine these two weekend getaways in Tennessee to just one.
During your time in the small town, you'll be able to find things to do in Pigeon Forge that everyone will enjoy. For country music lovers, head to Dollywood, a theme park named after country music star Dolly Parton. For history buffs, learn about the tragedy of the Titanic at the Titanic Museum. And for animal lovers, engage with colorful birds at the Parrot Mountain and Gardens.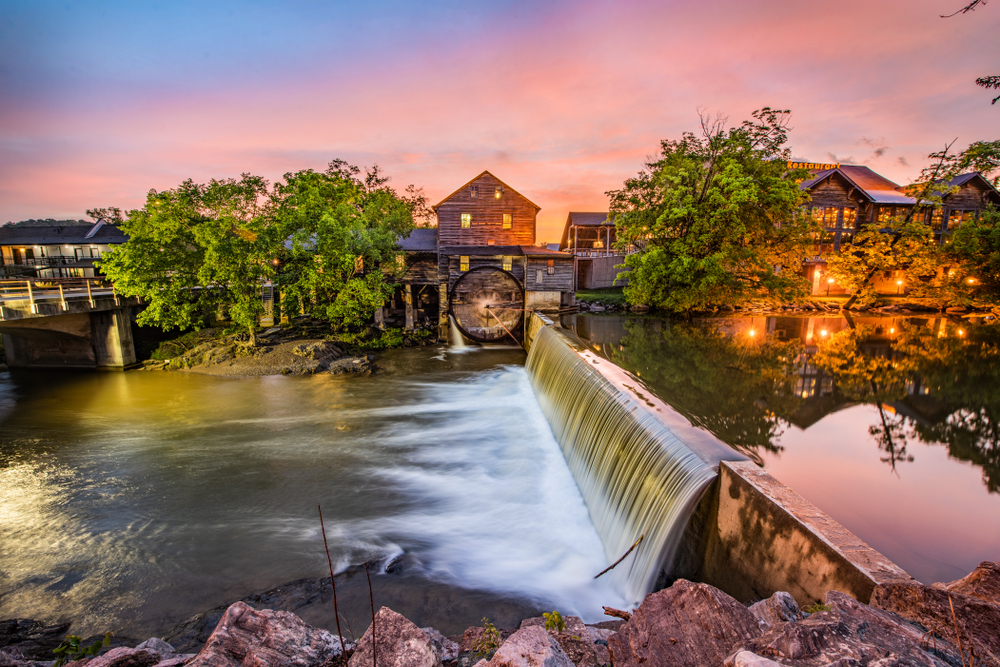 Soak Up The Sights, Sounds, And Smells Of Nature At Cummins Falls State Park And Burgess Falls State Park
Just about every Tennessee road trip incorporates some sort of nature, such as Cummins Falls State Park and Burgess Falls State Park. And while these two state parks are fantastic road trips stops, they also happen to be some of the best weekend getaways in Tennessee for nature lovers.
The real highlight of Cummins Falls State Park is the 75-foot waterfall. While you can catch a glimpse of this towering cascade of water from a lookout point, the best way to experience it is by trekking to the base and taking a dip in the swimming hole.
As for Burgess Falls State Park, which is just half an hour away from Cummins Falls State Park, it's filled with even more beautiful nature, including a rival 136-foot waterfall. There are actually four different waterfalls in this park, with trails ranging from beginner-level to expert-level.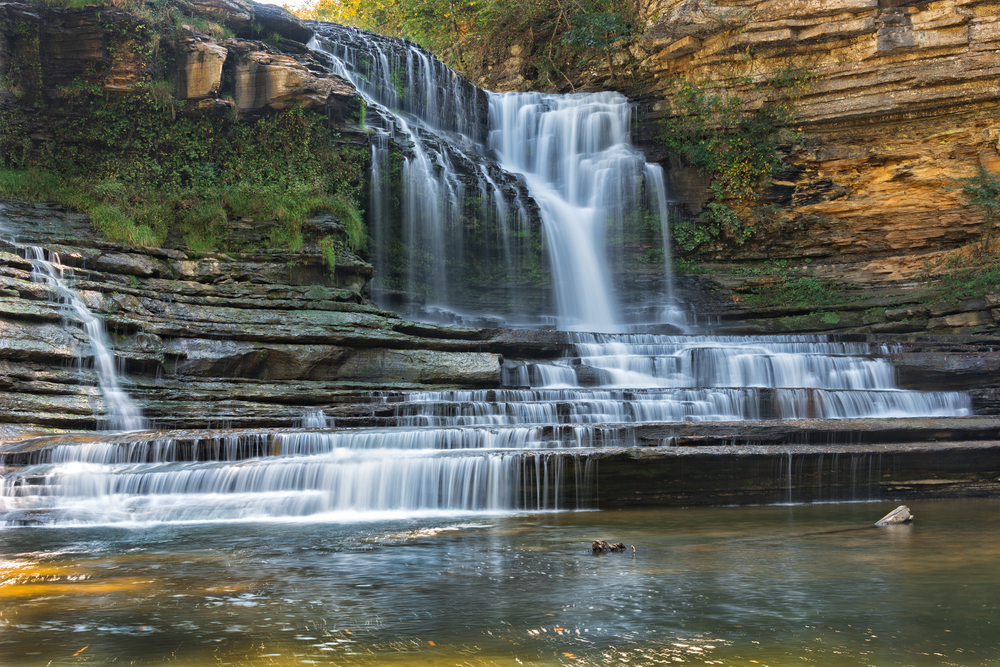 Enjoy One Of The Largest State Parks In Tennessee, Falls Creek Falls State Park
If you're looking for another nature-filled option, Falls Creek Falls State Park is a great stop. At nearly 30,000 acres, Falls Creek Falls State Park is one of the largest state parks in Tennessee.
This enormous state park has every outdoor activity you could ever imagine. Hike, bike, canoe, kayak, fish, zipline, swim, rock climb, or birdwatch. Whatever outdoor activity you enjoy, you can find a way to do it at Falls Creek Falls State Park.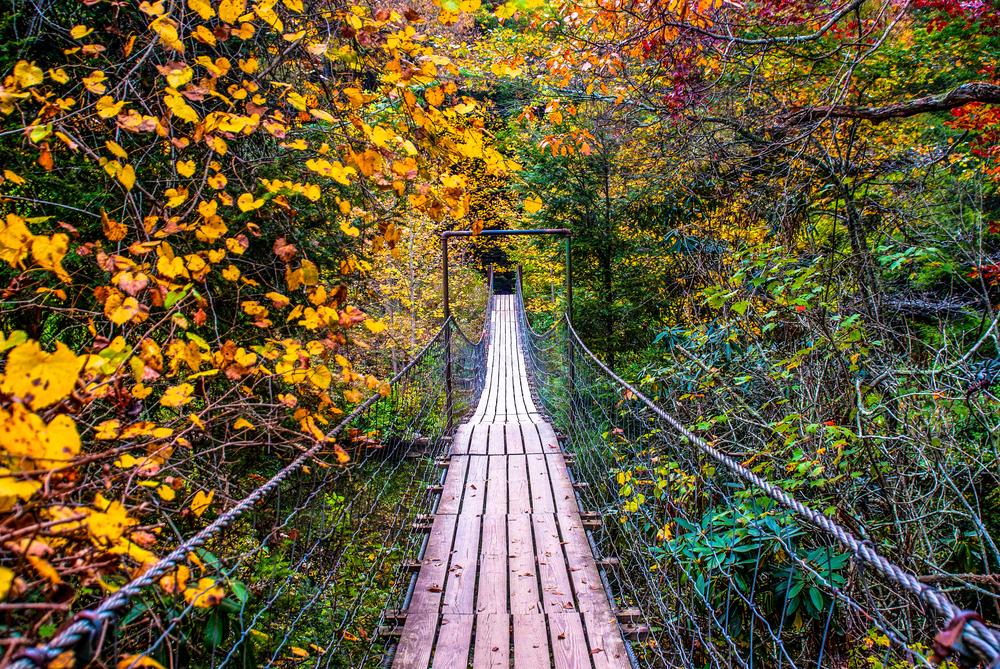 Spend A Few Days At The Iconic Great Smoky Mountains National Park
If you're hoping to escape the hustle and bustle of Nashville, the Great Smoky Mountains National Park is one of the greatest weekend trips from Nashville. Between the wildflowers of the spring and the fiery foliage of the fall, this national park is always changing, so you can visit over and over again without running out of amazing scenery.
While at the Great Smoky Mountains National Park, there is a wide array of activities that you can do to enjoy nature. Hike, bike, kayak, swim, camp, or picnic – whatever suits your fancy, really – while breathing in the crisp, fresh air.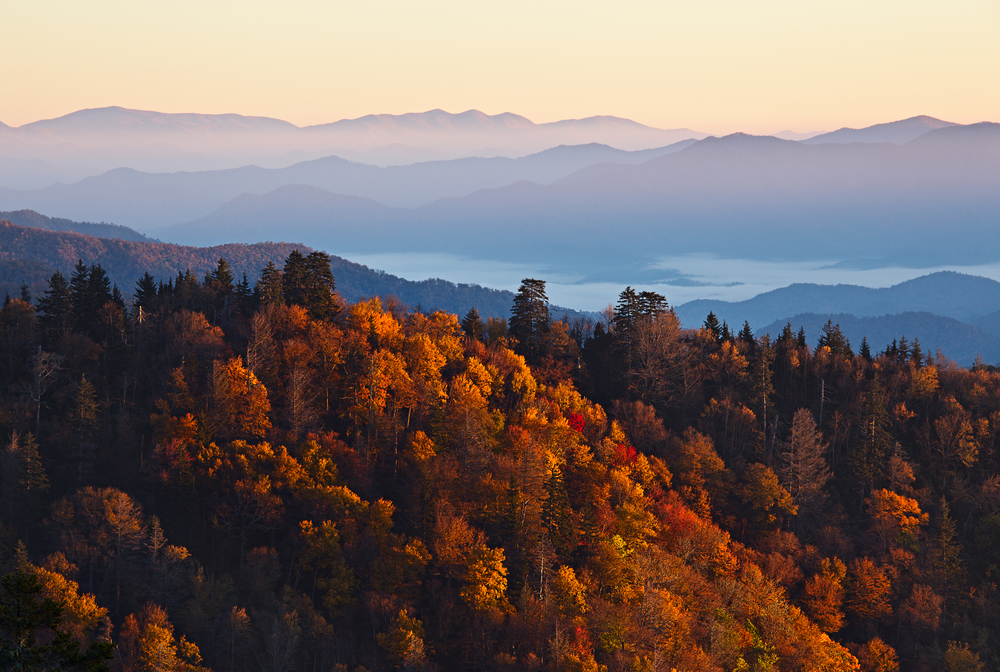 Find The Perfect Balance Between City And Nature In Chattanooga
Chattanooga is one of the great romantic getaways in TN. As a small city, it boasts the perfect combination of city life and nature escapes.
The Tennessee Riverpark in Chattanooga is a fantastic example of when city life meets nature. While the Riverpark is nestled in downtown Chattanooga, you'll also get an up-close view of the Tennessee River, including the flying seabirds and bustling fishing piers.
Other than the Riverpark, Chattanooga also has the breathtaking Tennessee River Gorge, the underground waterfall known as Ruby Falls, and the Tennessee Aquarium. For those looking to experience more of the city side of Chattanooga, there is also the Creative Discovery Museum as well as the many restaurants and shops of downtown Chattanooga.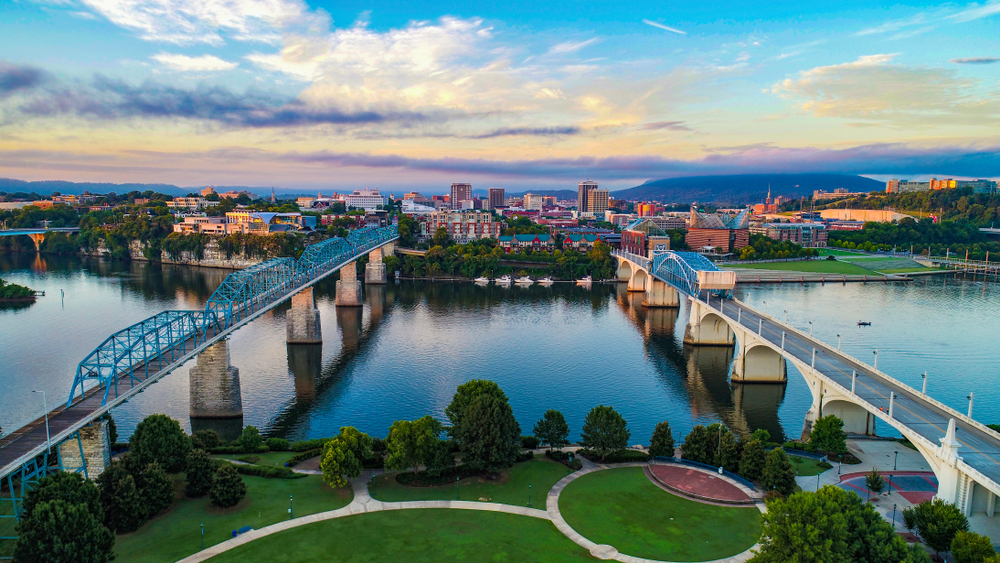 Learn A Little Bit More About Elvis Presley In Memphis
After Nashville, Memphis is arguably the most well-known city in the state, making it one of the greatest Tennessee getaways. And it also happens to be one of the most romantic getaways in Tennessee as well.
Some of the highlights of Memphis include the National Civil Rights Museum, Beale Street, and the Memphis Rock 'n' Soul Museum. But the real highlight of this city is Graceland. Once owned by the famous singer Elvis Presley, also known as The King, Graceland gives a bit of insight into this famous singer's life while also showcasing some of Elvis' most iconic possessions.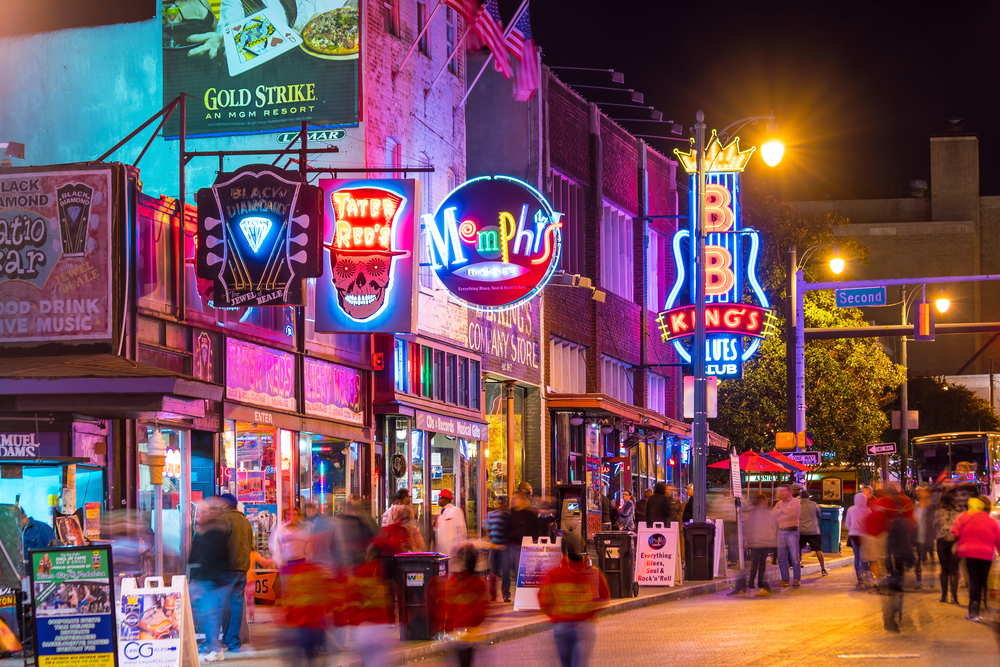 Get Off The Grid At Watauga Lake
Watauga Lake is one of those under-the-radar, peaceful weekend getaways in Tennessee. Accessible only by winding mountain roads and surrounded by the Cherokee National Forest, you'll really find yourself away from the stress of your everyday life.
While you're off the grid and free of distractions at Watauga Lake, you can fully immerse yourself in the beauty of nature. Hike a portion of the Appalachian Trail, try your hand at waterskiing, or catch some fish to devour for dinner.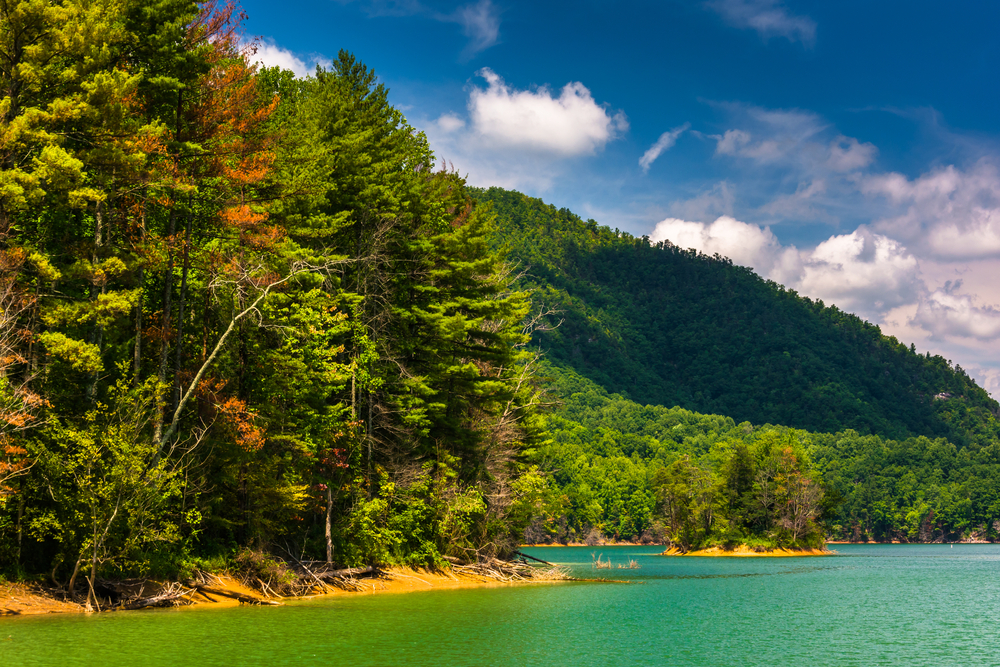 Head To The Hidden Town Of Jackson
Jackson may be one of the best weekend trips from Memphis. Since Memphis is situated on the southwestern tip of state, it's tucked away from most of the well-known weekend getaways in Tennessee. Luckily for Memphis locals, Jackson is a great option!
The small town of Jackson is a welcome reprieve from the flocks of people in Memphis. Plus, there are tons of things to do in this hidden town. Dive into nature at the Cypress Grove Nature Park, play any sport that you desire at North Park, or learn about the unique music scene presented at the International Rock-A-Billy Hall of Fame.
Hike The 40-Mile Trail At Natchez Trace State Park
Natchez Trace State Park is one of the more adventurous weekend getaways in Tennessee. Situated about halfway between Memphis and Nashville, Natchez Trace State Park is a great place for a short trip away from either city.
Natchez Trace State Park is home to all of the typical outdoor activities, including swimming, canoeing, hiking, biking, and fishing. But the real highlight of this state park is the Red Leaves Backpacking Trail. This 40-mile trail will take the entirety of your weekend, and, during that time, you'll catch glimpses of bright green trees, brilliant sunshine, and flowing creeks.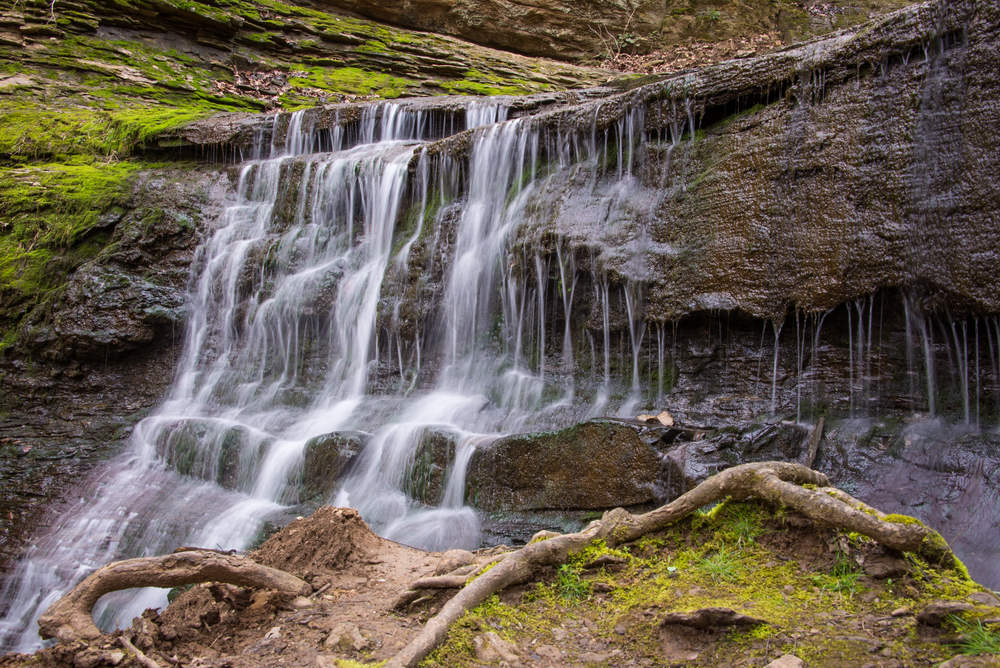 Find The Quaint Southern Town You've Been Looking For In Franklin
If you're on the hunt for a charming, quaint Southern town, Franklin, Tennessee might be exactly what you are looking for. While simply perusing the shops of downtown Franklin while sipping on a freshly brewed coffee is what most people do during their time in this small town, you might be surprised to find that there is quite a bit to do in Franklin.
In addition to strolling through downtown Franklin, you can also peruse the Franklin Farmers Market and visit the Lotz House Museum. But if you're looking for something a little more hidden, you can also spend the night at the Dark Horse Recording studio or head to Leiper's Fork Distillery for some world-famous Tennessee whiskey.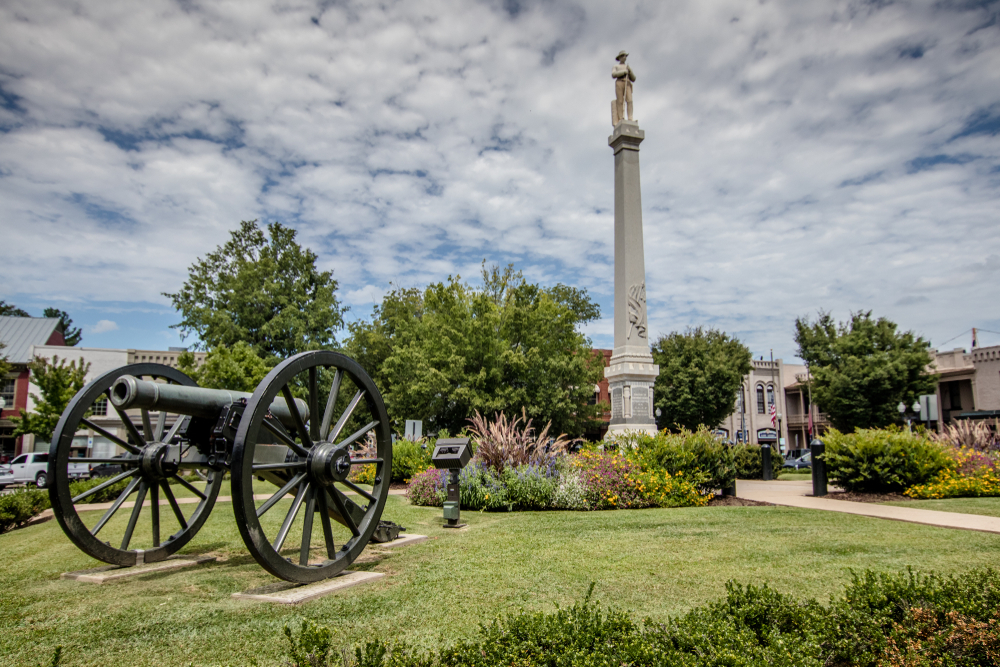 Decide If Bristol Is The Real Origin Of Country Music
Though most people recognize Nashville has the origin of country music, the Bristol locals will likely argue with that statement, claiming that Bristol is the true origin of the popular music genre. You'll simply have to go see for yourself which Tennessee city deserves the title.
To back up its claim of being the home of country music, Bristol is home to the Birthplace of Country Music Museum. This museum tells the story of Jimmie Rogers and the Carter Family recording music that may have been the start of country music in 1927. But country music isn't all that this town has to offer. You can also head underground to explore the Bristol Caverns, go for a swim in South Holston Lake, or take a picture with the iconic Bristol sign.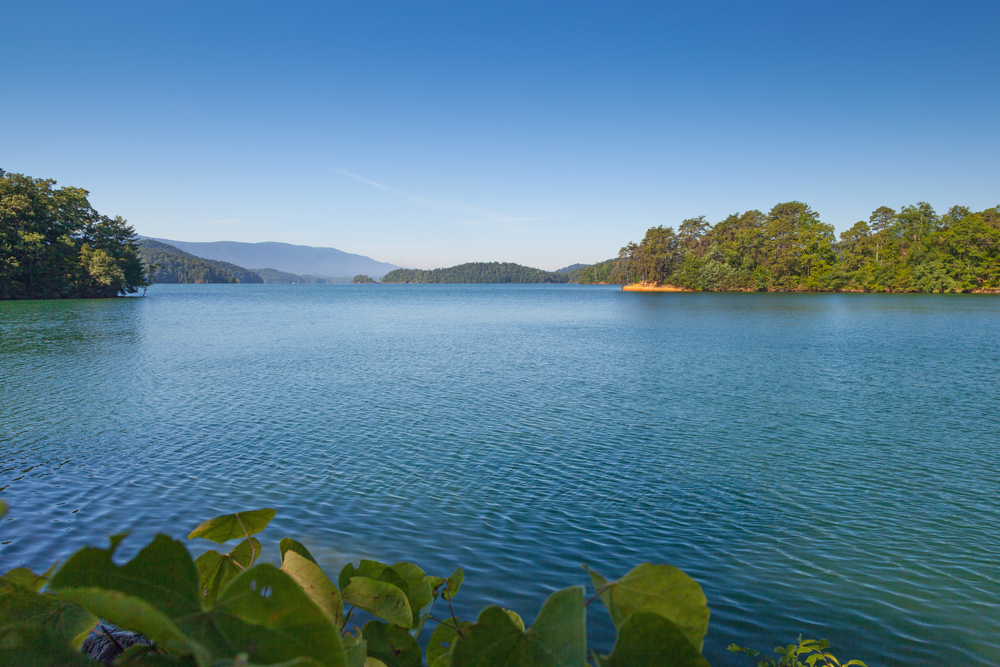 Experience The Wonderful City Of Knoxville
Despite being the third largest city in Tennessee, Knoxville has managed to slip under the radar. While Nashville and Memphis are both packed with people trying to visit the iconic attractions, Knoxville has tons of its own attractions that remain free of hordes of tourists. In other words, if you want to visit a city but still want to avoid the crowds, Knoxville is a fantastic Tennessee weekend getaway option.
One of the most popular things to do in Knoxville is pay a visit to the World's Square Park. Once home to the 1982 World's Fair, this park boasted many of the greatest inventions and creations of the time. Today, it continues to be one of the best places to visit in Knoxville, thanks to all of the elaborate renovations done for the World's Fair. Plus, be sure to visit Knoxville's Market Square, the Knoxville Museum of Art, and the Ijams Nature Center.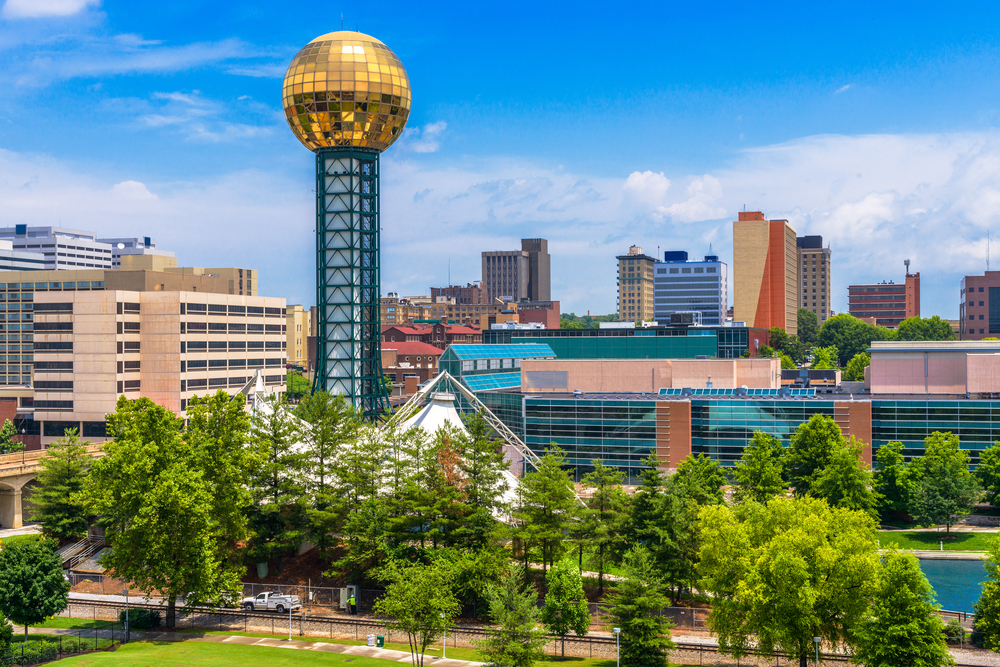 Take in the Beautiful, Blooming Flowers of Roan Mountain
As the name of both a tiny town and a towering mountain, Roan Mountain is the perfect place to spend some time away from the hustle and bustle of the big city. While you can certainly spend some down time in the 1,000-person town, the real highlight is the mountain itself.
Filled with trails for hiking and rivers for wading, Roan Mountain gives you the opportunity to experience all that nature has to offer. And while Roan Mountain is beautiful all year round, it truly comes to life each June during the Roan Mountain Rhododendron Festival. When these bright pink and purple blossoms bloom, the town of Roan Mountain comes to life as well, with both the mountain and the town featuring local food, talented musicians, and of course the breathtaking flowers.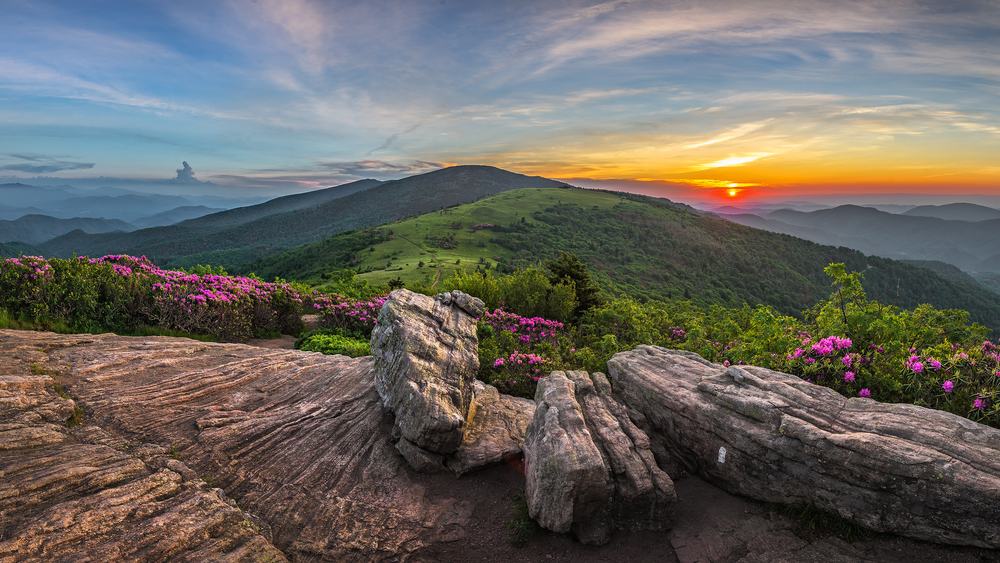 We hope this guide has given you a few ideas of fantastic weekend getaways in Tennessee. There are so many noteworthy spots in this wonderful state that your weekends can always be packed with adventure! Honestly, no matter which of the weekend getaways in Tennessee you choose to enjoy, you really can't go wrong! If you have any questions, feel free to let us know in the comments below.