If you're looking for the best in romantic getaways in Tennessee, look no further! Whether you are a Tennessee or southern local, or live much further afield (and maybe the only thing you know about Tennessee is that it's famous for music!), we have something here for everyone! From luxury cabins to romantic getaways in Tennessee on a budget, we've got you well and truly covered!
Did you know that Tennessee is home to the most visited national park in the USA? That's right, the Great Smoky Mountains National Park, in eastern Tennessee, wears this crown with pride, with more than 14 million visitors every year! From mountains to waterfalls, treehouses to hot tubs, read on to be inspired for your next adventure and discover the ultimate romantic getaways in Tennessee.
You will not regret treating your significant other to a delightful experience in this beautiful state. And by the way, if you are planning your trip over the festive season, don't miss our list of the Best Festive Places To Celebrate Christmas in Tennessee!
15 Best Romantic Getaways In Tennessee You Must Try
Visit Gatlinburg
Gatlinburg is an absolute gem of a city. There's something here for everyone, and if you're looking for the perfect of Tennessee romantic getaways.
From activities geared towards tourists, such as the Gatlinburg Skylift, an open carriage ride at Sugarlands Riding Stables or mini golf, your will easily fill your days with fun. If you prefer to get amongst locals you can immerse yourself in local wine tasting at Sugarland Cellars, stop in for a treat the Donut Friar, or attend a pottery class at Fowler's Clay Works.
If you love the outdoors there's plenty for you too – from, picnicking by the Tennessee River, to kayaking on the river, or even ziplining in the treetops. Plus with the Great Smoky Mountains National Park on the doorstep, your accommodation options are virtually unlimited. Spend your days downtime and your evenings nestled among panoramic views of the stunning landscape.
Make sure to check out our list of the Best Resorts In Tennessee!
Gatlinburg is truly a fantastic place for Tennessee weekend getaways for couples. But, let's face it, you'll want to go for longer. We always do! This is also one of the best places for Fall Foliage in Tennessee!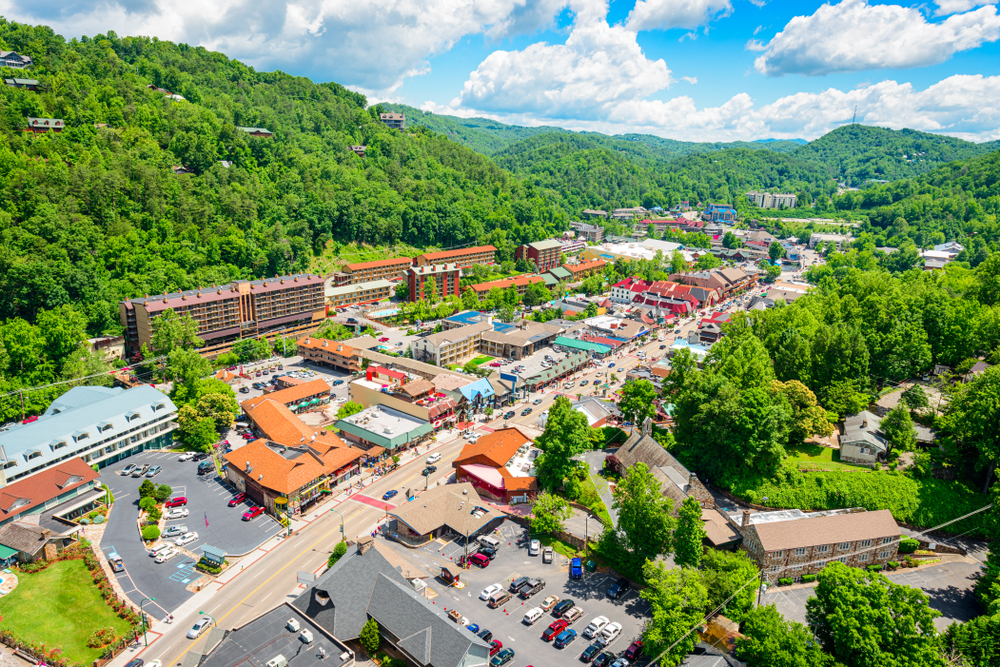 Cuddle Bear Cabin Getaway
There's no doubt about it, staying in a remote cabin is always a winner, and one of our favorite romantic cabins in Tennessee is called… are you ready for it… Cuddle Bear! Of course it is!
Kick back and relax in this one bedroom cabin overlooking the stunning Great Smoky Mountains National Park. With a stone fireplace and mood lighting, Cuddle Bear screams romance. You can even enjoy the panoramic views from the heart-shaped hot tub! Don't forget to check out our list of some of the best cabins in the Smoky Mountains while you are at it!
Just a short drive from Gatlinburg, this lovely little spot has all the amenities you need, with the exception of internet. But if you're on a romantic getaway, do you actually need internet? No! You'll be too busy napping in your king size bed or gazing into the distance on the porch swing. Bliss.
If romantic getaways in Tennessee with private hot tubs is your jam, check out rates today at VRBO.com!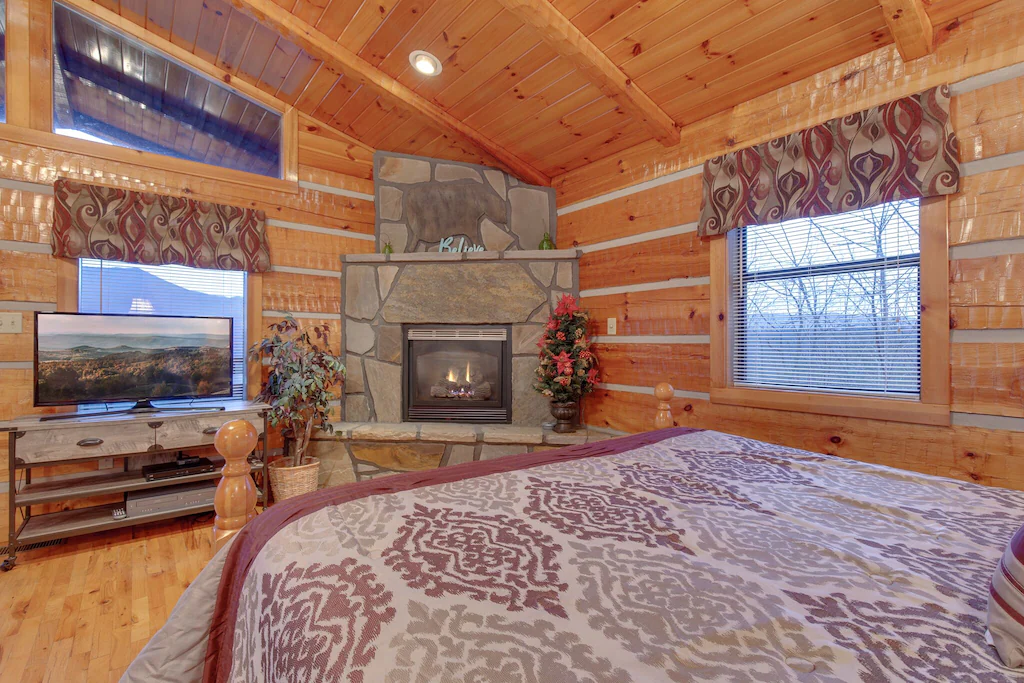 Nashville
There is certainly no shortage of things to do in Nashville, and if you're looking for places to visit for Tennessee for couples, we seriously recommend a trip to the capital!
From the must-see tourist attractions including the Country Music Hall of Fame, Johnny Cash Museum and the National Museum of African American Music, to less touristy things like the Nashville Farmers' Market, Radnor Lake, and the replica Parthenon at Centennial Park.
Nashville also has some great walking tours, for couples who prefer to get around one foot – after all, it really is the best way to see a place! The walking tours on offer cover a range of interests including haunted places, food, history, and of course, music – it is Nashville after all!
By the way, if you're heading to Nashville for your romantic weekend getaway in Tennessee, don't forget to check out our list of the Best Things To Do In Nashville You Shouldn't Miss!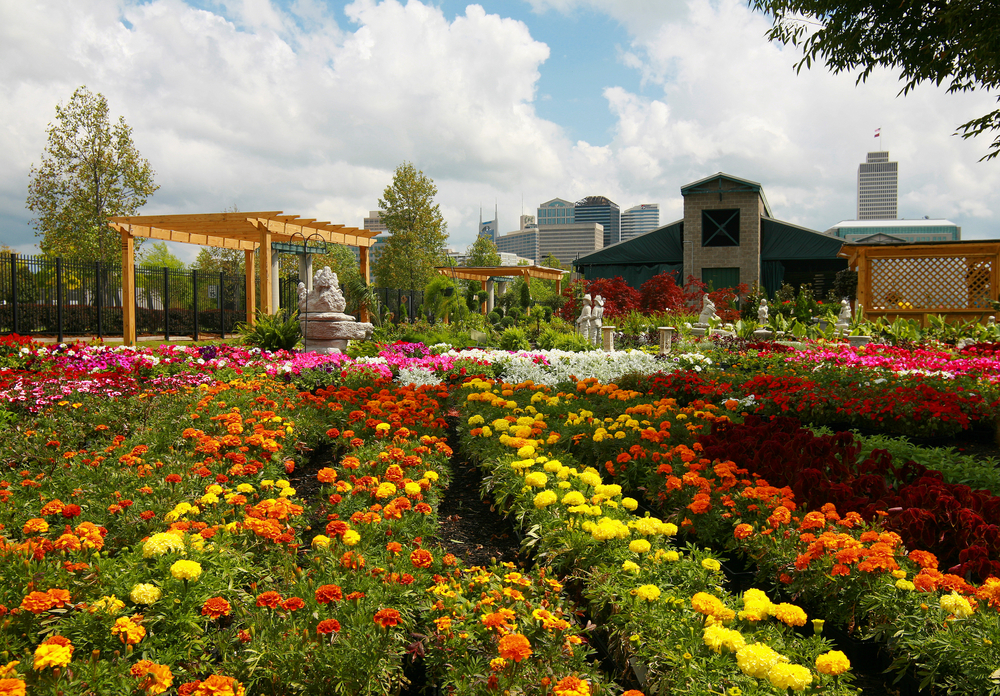 Go On A Road Trip
Whether you've got a weekend, a whole week, or even longer, for the very best of Tennessee romantic getaways, why not hit the road!? Everyone loves a road trip!
Would you choose the Best of Nature road trip, taking in the beauty of Cherohala Skyway, Lookout Mountain, Rock Island State Park and Twin Arches, or something more upbeat, like the Big City Lights Road Trip, linking Memphis, Nashville and Knoxville?
Whichever it is, you could never run out of amazing things to see and do, whatever is your jam. Heading away in the fall? Why not do the Fall Foliage Road Trip and see every shade of autumn through Port Royal State Park, Ocoee Scenic Byway, and Great Smoky Mountain State Park!
Find out more about the best road trips for your romantic getaway in Tennessee by reading our list of Fun Tennessee Road Trips For Your Bucket List!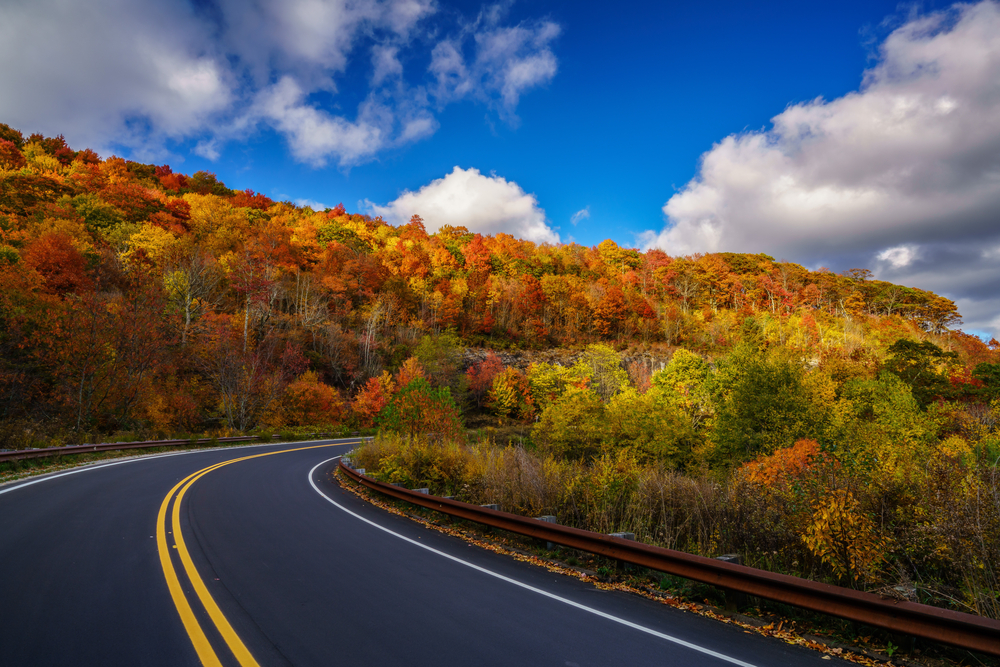 Great Smoky Mountains National Park
Endless ridges of forest await you on your romantic getaway in the Tennessee mountains at Great Smoky Mountains National Park. This national park, which divides Tennessee and North Carolina, is truly the jewel in the crown of this beautiful state.
The park teems with wildlife (including bears of course, rawr!), stunning wildflowers and waterfalls. It has the very best that nature has to offer. Hiking and cycling trails criss-cross the park – we know you will not run out of things to see here. And by that, we also mean, the sweeping, stunning views of the national park will never get tiresome. You'll need days here to soak it up!
There are some great camping options around Great Smoky, making it a fantastic option for romantic getaways in Tennessee on a budget. Camping under the stars is definitely a bucket list experience! There's also the Le Conte Lodge, which can only be reached by walking.
For the best romantic getaways in Tennessee, put Great Smoky at the top of your list!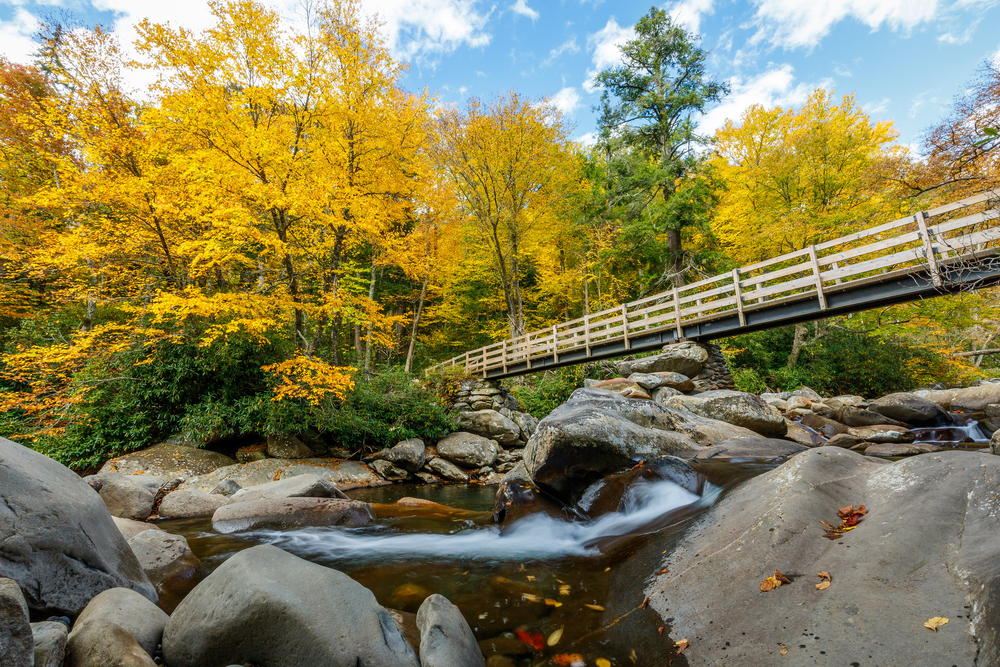 Stay in a Treehouse
Staying in a treehouse is super romantic. We love the Sunrise Mountain Treehouse Cabin. Just look at it! And then, definitely add it to your list of ideas for your Tennessee romantic getaway!
Located in Grundy Country with a view of the Cumberland Mountains, this treehouse is the perfect spot for a romantic weekend away with your love. The treehouse has all the amenities to make your stay comfortable and memorable, including a fully stocked kitchen and bathroom, as well as a queen sized bed located in the loft viewing area. Amazing!
One of the absolute highlights of staying here is the stargazing on offer. Without even noticing, you will lose hours of your life gazing up into the night. How wonderful! We know you'll love this place just like we do, it is truly the one of the best romantic getaways in Tennessee. Check out rates at VRBO.com!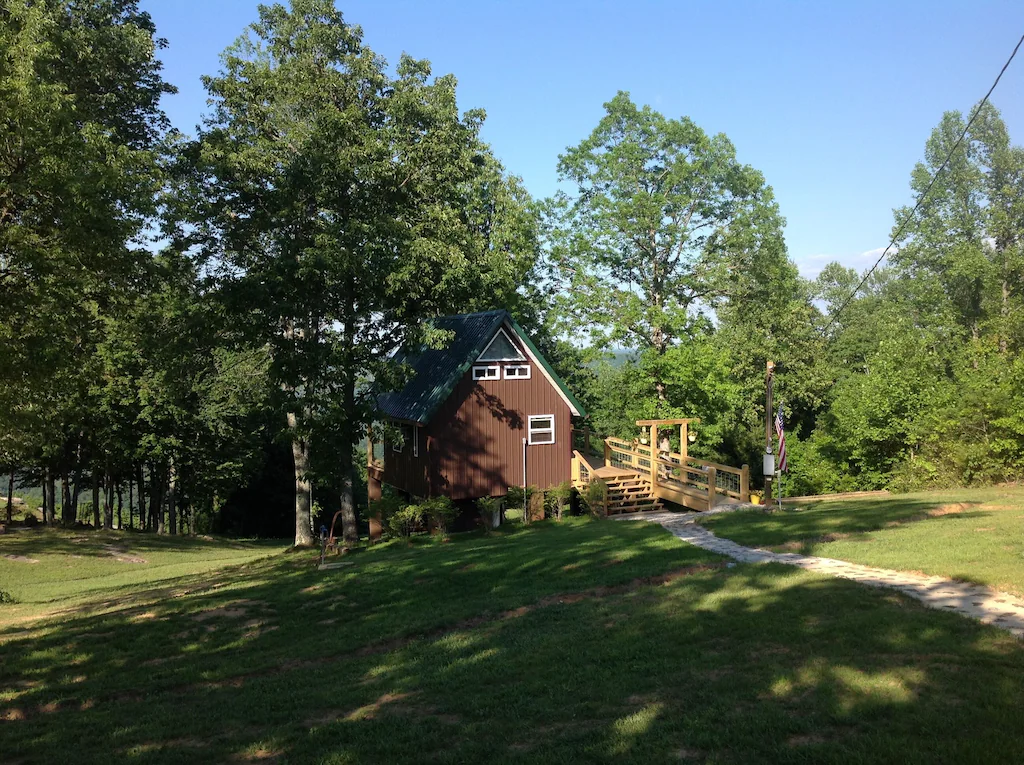 Visit Memphis
If you're thinking of ideas for how to treat your partner to the best Valentine's Day in Tennessee… OR if you're a Galentine's Day shipper… we heartily recommend a visit to Memphis.
Oh Memphis. The home of rock n roll, but with so much more to offer as well. Shelby Park Farms is one of the biggest urban parks in the country, with over 40 miles of trails! Or there's the Victorian Village, where you can check out the beautiful French Victorian architecture. Slot that in for the afternoon before jumping on a barbecue dinner on a Memphis dinner boat. Sign. Us. Up.
And while it may seem like a no brainer, you simply cannot visit Memphis without dropping into Graceland, former home of and now museum dedicated to all things Elvis Presley.
We love Memphis, there's nothing not to love. For the best of romantic getaways in Tennessee, whether it's for Valentine's Day or any other reason, please add Memphis to your list! For more Memphis inspiration, check out our list of the best things to do in Memphis TN you shouldn't miss!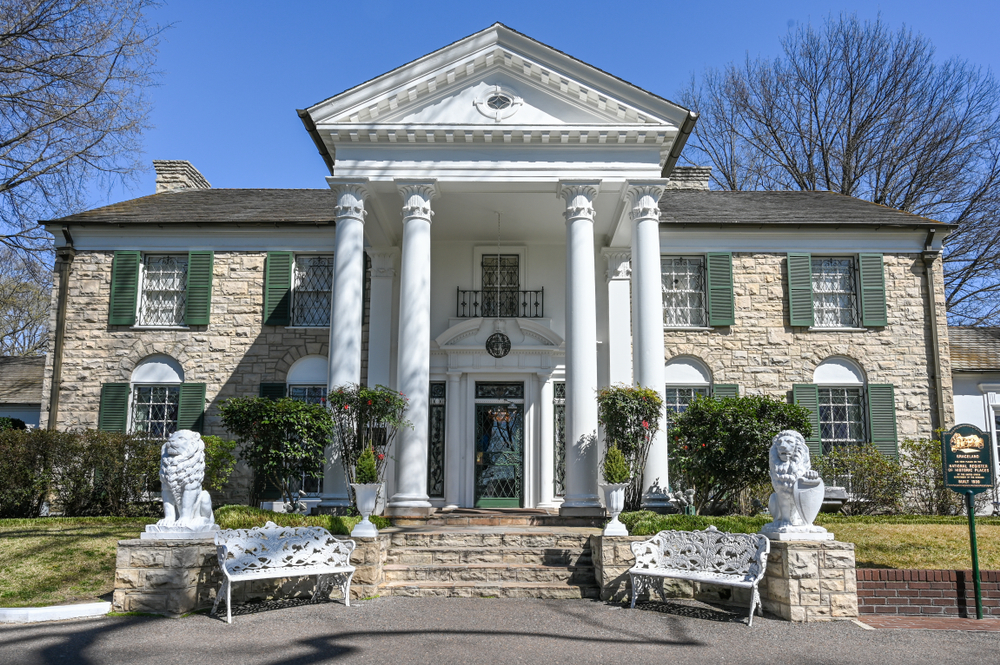 Paulette's Restaurant in Memphis
If you do find yourself in Memphis for your romantic getaway in Tennessee – and we highly recommend you do! – you'll want to add Paulette's Restaurant to your to-do list. It even made our list of the best restaurants in Memphis!
Open for every meal, you can make yourself at home here at any time of the day. This place has been going for nearly 50 years, and it's not a surprise, it is super charming and popular for romantic dinners and wedding banquets. The ambience is breathtaking, and beyond, the river setting will make for an ideal romantic stroll before or after your meal.
Our favourite is the Low Country Crab Cakes, served with lima bean hummus, cherry tomatoes, purple radish, asparagus, and a lemon aioli. Om nom for sure! Paulette's is an award-winning, highly popular Memphis institution. It is absolutely one of the most iconic places to visit in TN for couples – we love it, and we know you will too.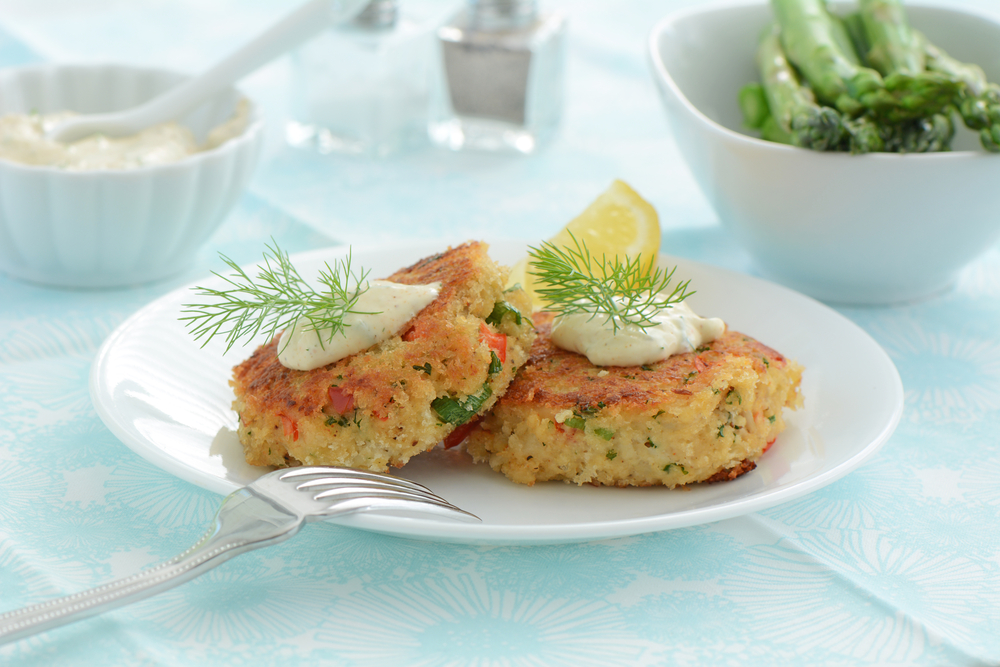 Blackberry Farm
If you're looking for the perfect honeymoon in Tennessee, you MUST check out Blackberry Farm. Nestled in a valley of the Great Smoky Mountains National Park, this sprawling 4200 acre property, featuring an exquisite chateau resort, is a deluxe honeymoon destination.
Blackberry Farm features a range of accommodation options including historic rooms, estate rooms, suites, cottages and houses. We LOVE their onsite day spa, the Wellhouse at Blackberry Farm. The Wellhouse offers a comprehensive range of services, from massage, nail, and skincare rituals to meditation, steam room and barre classes, with many of these services available for couples to do together. There's also the glorious Meadow Lounge, where you can snuggle up under a quality throw and immerse yourself in the beauty and tranquility of your surroundings.
The delightful Blackberry Farm Shop also offers a range of delicacies and giftware, perfect for your own souvenir of your magical TN weekend getaway for couples.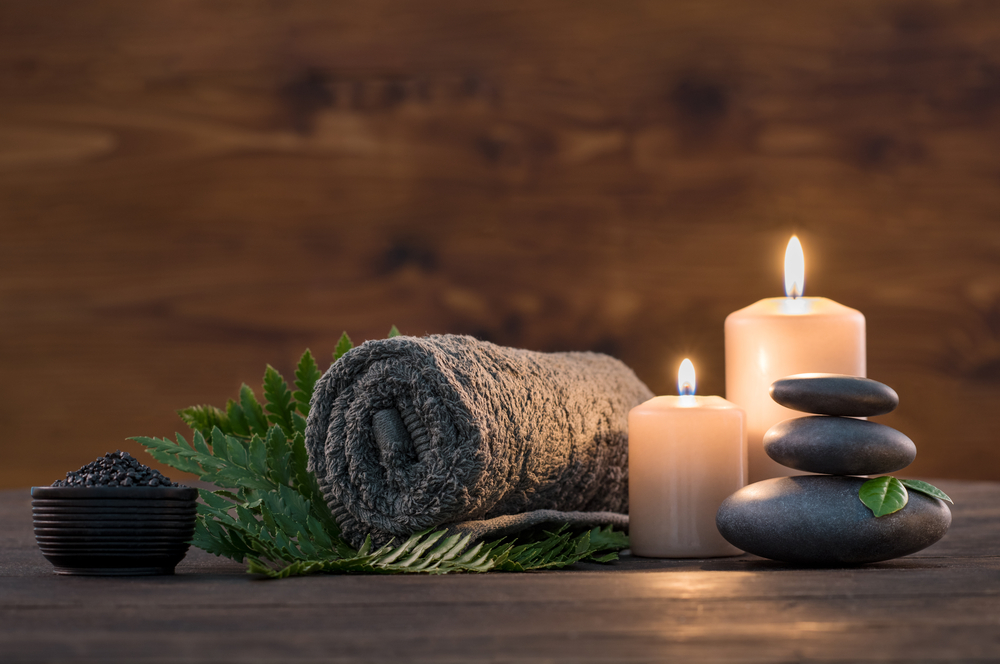 Take Me Away Cabin Getaway
We absolutely ADORE this Couple's Dream Cabin, Take Me Away, located just five minutes from downtown Gatlinburg and ten minutes from Pigeon Forge. It's perfect for your honeymoon in Tennessee! Or, as they say on VRBO.com – perfect for a romantic and memorable proposal!
Six foot high windows offer panoramic views of the Great Smoky Mountains, specifically Mt Le Conte to the east and Ski Mountain to the west. Incredible. An outdoor hot tub will be calling you at every opportunity, and the fact it lights up in different colors will mean you will not want to get out. The spacious king bedroom suite and well thought out amenities, including a private picnic pavilion, charcoal grill and outdoor swing.
Embrace seclusion, get away from the rat race and savor the extraordinary views from this stunning cabin. For the best of romantic cabins in Tennessee, check out rates today at VRBO.com… you know you want to! And for more great cabins in Gatlinburg, read our list of the best cabins in Gatlinburg you must visit!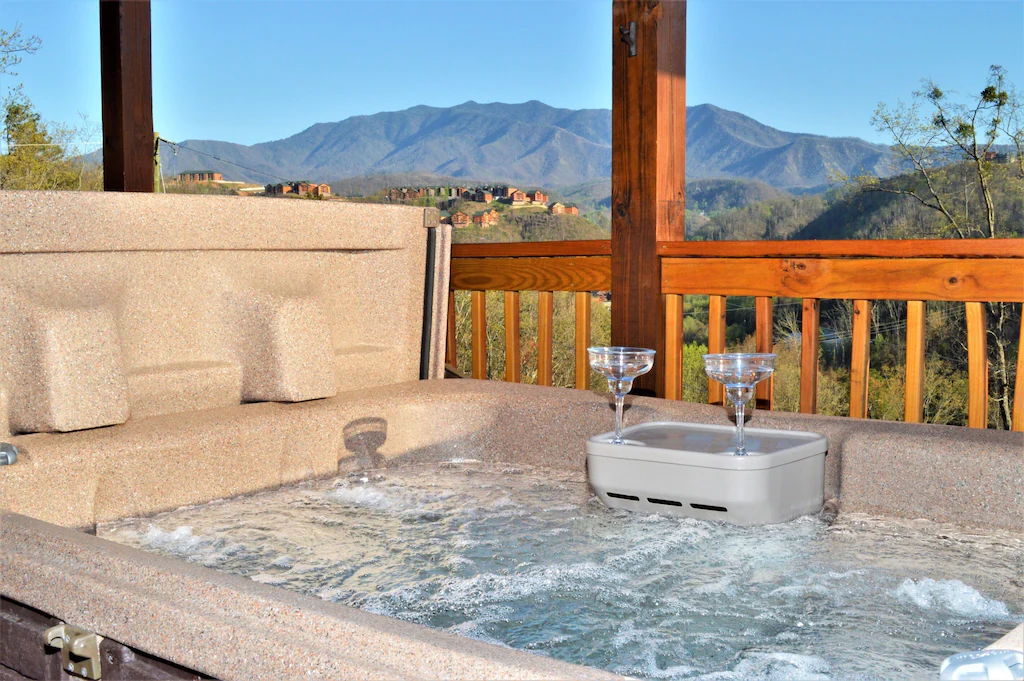 Bastion Restaurant
One of the finest restaurants in Tennessee, and must-do for any romantic trips in Tennessee, is Bastion, Nashville.
Bastion is an intimate restaurant, with only 24 seats. You will feel super exclusive taking your seats here! The menu, which is absolutely high-end, evolves regularly with the seasons. While you'll need to pay a deposit at the time of booking, this will be credited back to your final bill. Trust us, it's worth it!
Even if you don't visit the restaurant, Bastion also has a trendy bar, called the Big Bar, where you can wile away an evening with cocktails and tremendous nachos. BUT if you do get to go to the restaurant, you'll also get exclusive access to the aptly named… Small Bar.
If you are looking for romantic places in TN, Bastion will not disappoint! If you find yourself hungry in Nashville, definitely check out our list of the best restaurants in Nashville for other great options!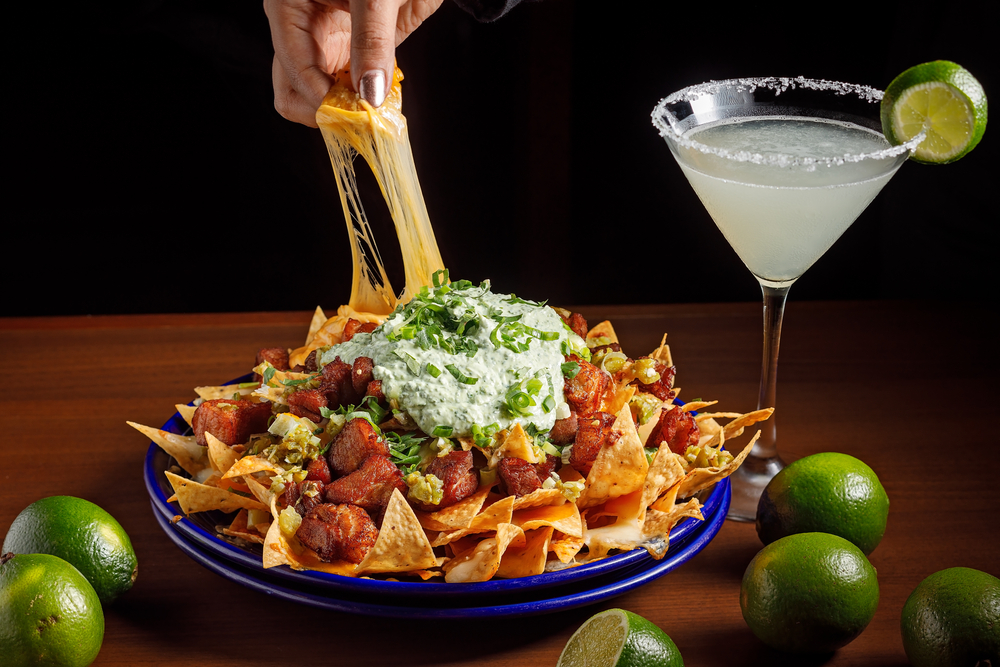 Tour a Distillery
To really kick back on your romantic Tennessee getaway, why not check out a distillery or two? With so many great spirits made in Tennessee, we recommend joining a distillery tour and enjoying the best of the best! There are so many distillery tours available you will be able to find one that caters to you and your partner's personal preferences.
The All Inclusive Hey Y'All Distillery Crawl, encompasses the finest distilleries in Nashville, with a tour and tastings included at each. You can even tailor your tour to swap a distillery for a winery, if you fancy a bit of variation.
Or there's the Private Whiskey Nashville Jack and Back Tour, where you can take a behind the scenes tour of the world-renowned Jack Daniels distillery. Enjoy tastings as well as travel in style on a private limo bus. If you're on a romantic getaway in Tennessee, treat your whiskey-loving partner to a day out exploring the very best of local distilleries.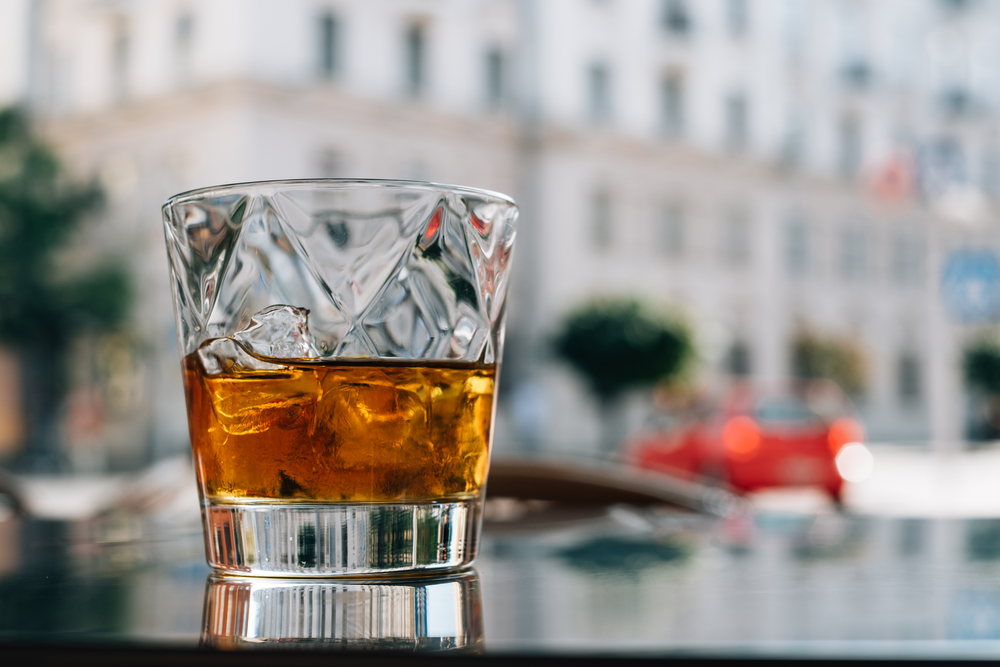 Glamping Getaway
Here at Southern Trippers we love a bit of glamping and if you are looking for the ideal spot for glamping for your romantic Tennessee getaway, you need to check out Under Canvas Great Smoky Mountains.
Just ten minutes' drive from Gatlinburg, this incredible glamping destination is set across 182 acres of beautiful forest on the fringe of the Great Smoky Mountains National Park. The safari style canvas tents provide an authentic glamping experience.
With every detail thought out, such as bedside USB battery packs, fancy bath products, and complimentary smores at the nightly campfire, you'll be sure to leave with fond memories for years to come. And, with onsite dining options, literally everything is catered for. So what are you waiting for? We think this spot is ideal for super romantic anniversary getaways in Tennessee, but truly, any excuse will do! Check out rates today at undercanvas.com! For other great glamping ideas, check out our comprehensive list of coolest places for glamping in Tennessee!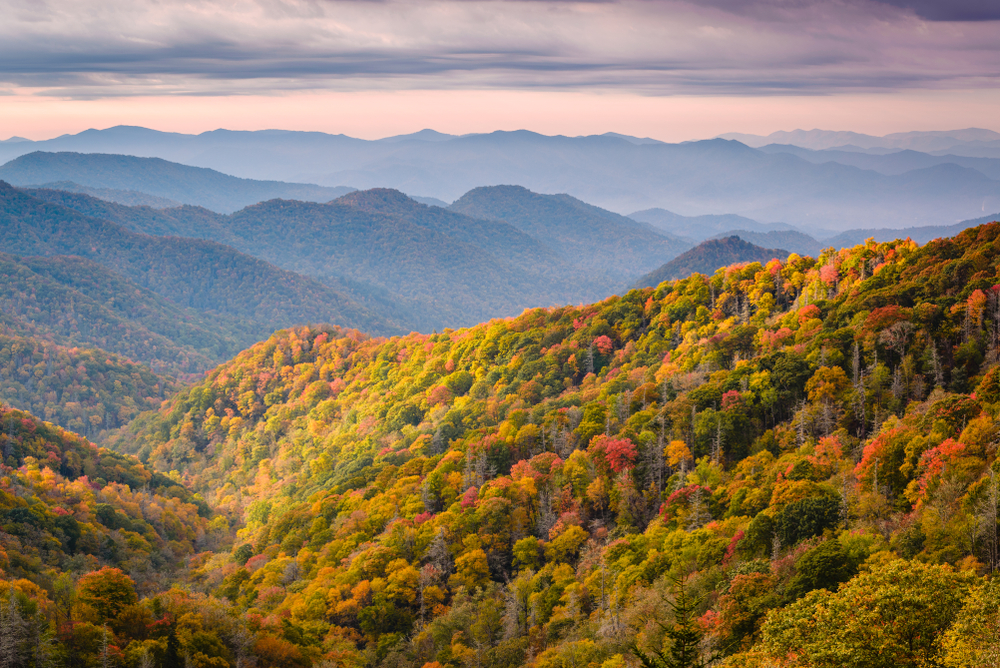 Boathouse Restaurant at Chattanooga
Boasting one of the busiest oyster bars in the nation, Boathouse in Chattanooga is a must-do for Tennessee weekend getaways for couples. Mingle with locals at this long-standing and popular neighbourhood restaurant. Ideally situated on the Tennessee River, an easy 1.5 mile stroll from the downtown hotel district, and located in the heart of Chattanooga's lovely Riverwalk.
You can enjoy your meal in their dining room or outside on the covered patio but either way you will immerse yourself in the most stunning view of the Tennessee River vista. We love it. And while they are renowned for their seafood (and margaritas, yes please), Boathouse is not a seafood-only restaurant. If you're down for seafood, we love their cat fish po-boys and ahi tuna poke bowls. If you prefer land-based protein, try their spit roasted chicken sandwich or fresh pork quesadilla… *chef kiss*.
If you're heading to Chattanooga for your romantic TN getaway, do check out our list of the best restaurants in Chattanooga you must try!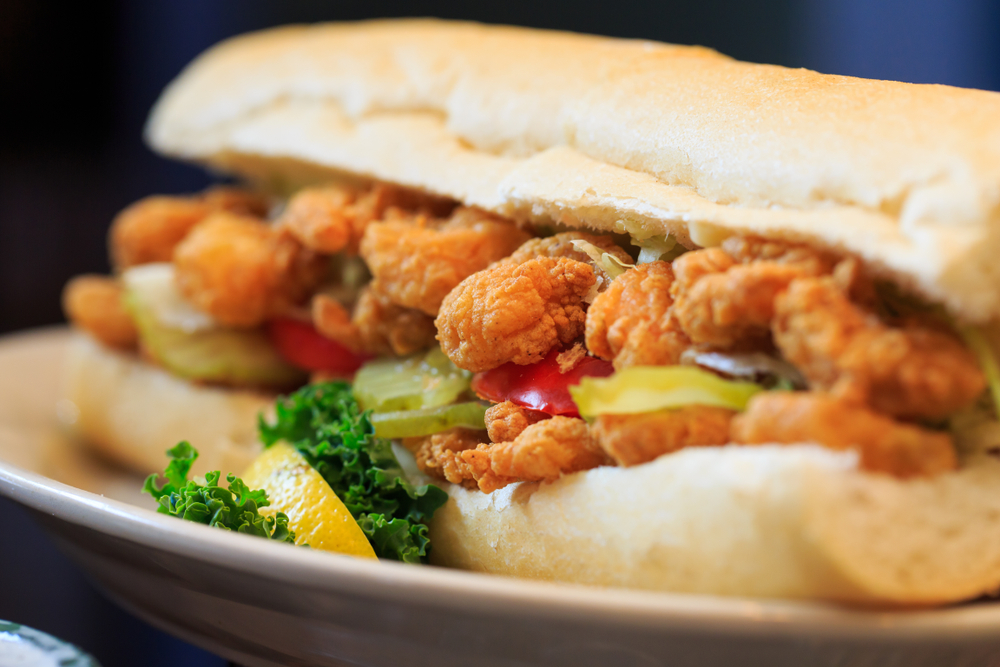 Foster Falls at South Cumberland State Park
State parks are always a great option for romantic getaways in Tennessee on a budget. Have an epic, memorable, romantic time away with your significant other without compromising on quality.
South Cumberland State Park itself is huge – located across four counties in fact. It offers some amazing hiking options and the scenery is exquisite. This includes the 60 foot Foster Falls, stunning at any time of year. The waterfall is located two miles from the car park, with short, looping trails available nearby.
If you're a super enthusiastic hiker, the 12 mile Fiery Gizzard Trail connects Foster Falls with the Grundy Forest. This is a one way trail, so check out camping options on the way if you want to take it slowly! The trail has been rated as one of the best 25 walking trails in the country!
With more than 100 camping spots across the South Cumberland State Park there's no shortage of options, alternatively, Foster Falls is only a 45 minute drive from Chattanooga, making it a great day trip as part of your romantic getaway in TN.