Join us as we share with you some of the most amazing accommodations throughout The Big Easy. We know that everyone has different needs and those needs change all the time, so we will make sure to include affordable, mid-range, and luxury options.
Staying at an Airbnb in New Orleans is a great choice for those looking for a more intimate, authentic, and home-like vibe. Each Airbnb in New Orleans offers something special whether it is an incredible view, quirky style, or prime location. We take extra time to select properties that really stand out and have that extra wow factor.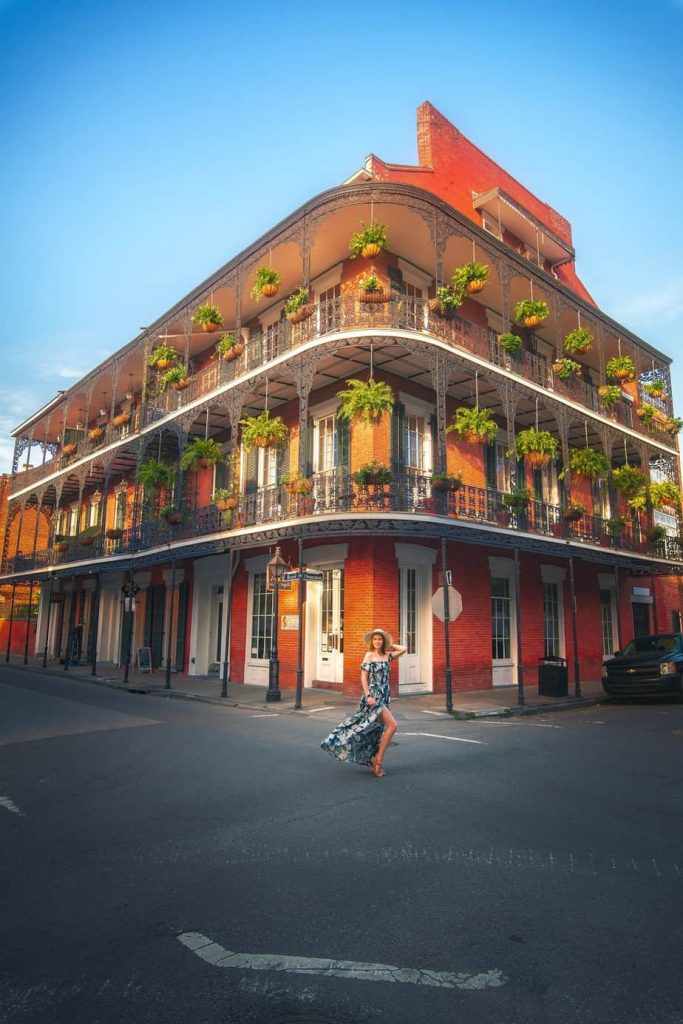 A Few Fun Facts About New Orleans
Most people know that New Orleans is also known as "The Big Easy", but it also has quite a few other nicknames too. Some of those other nicknames include The Big Greasy (a reference to oil used in cooking), Big Crescent, The Birthplace of Jazz, City of a Million Dreams, N'awlins, and most currently NOLA.
Madri Gras takes place during January and February, but that doesn't mean you cant experience the spirit of Madri Gras year round. The Back Street Cultural Museum is a fantastic resource for delving into the history and culture of New Orleans. There are also several parades that happen outside of Madri Gras that celebrate other holidays and special events.
Public transit is not plentiful or easily accessible, so pack comfortable shoes and plan on logging a lot of steps throughout your visit. There are a few areas that have city bike rentals, so be on the lookout for those options to give your feet a break.
You can take your drink with you! No need to leave an unfinished drink at a bar or restaurant as New Orleans has very relaxed laws regarding open containers. No glass allowed, so just make sure it is in a plastic or Styrofoam cup and you're good to stroll and sip!
The live music scene is phenomenal in New Orleans with many opportunities to hear some of the most amazing Jazz in the world. Now, if Jazz isn't your thing, don't worry because there is also a large hip-hop, metal, and folk scene that is thriving too!
Get ready to eat, eat, and eat some more! New Orleans known for fresh and delicious seafood, sausage, and gumbo. Be adventurous and try some of the local and seasonal favorites. If you have a sweet tooth, you won't want to miss trying some classic New Orleans sweets: beignets, pralines, and bread pudding.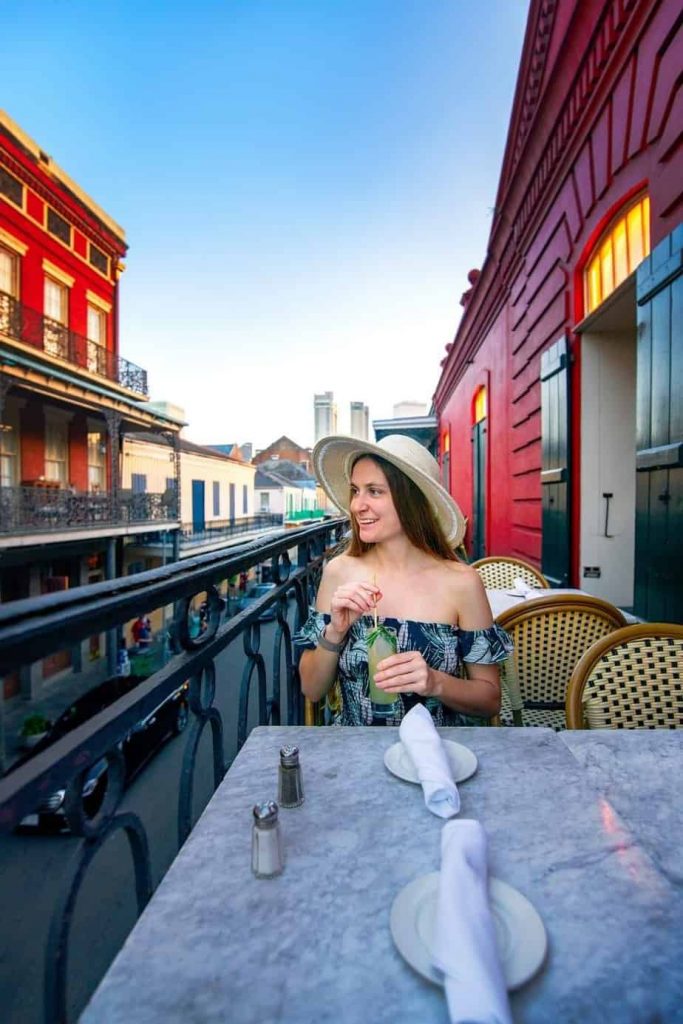 15 Best Airbnbs In New Orleans (Cottages, Penthouses, & More!)
Authentic Creole Cottage
New Orleans is all about Creole culture. From the food to the music, so why don't you extend your culture shock and stay in one of the cutest Airbnbs in New Orleans? On the border of the fabled French Quarter, stay at the Authentic Creole Cottage!
Built in 1837, the historic Creole Cottage will give you the true taste of New Orleans that you've been dreaming of. Multilevels are covered in authentically charming, bright red wall paper. The chandeliers give the space a bright glow, and you'll love the exposed brick. This is truly one of the Best Places To Stay In New Orleans!
You're steps away from culture like Armstrong Park, the Backstreet Cultural Museum, and St. Augustine Church. You're also adjacent to Rampart Street, the border of the French Quarter. The Saenger is also close by, a peaceful step back in time!
Check Rates: Vrbo.com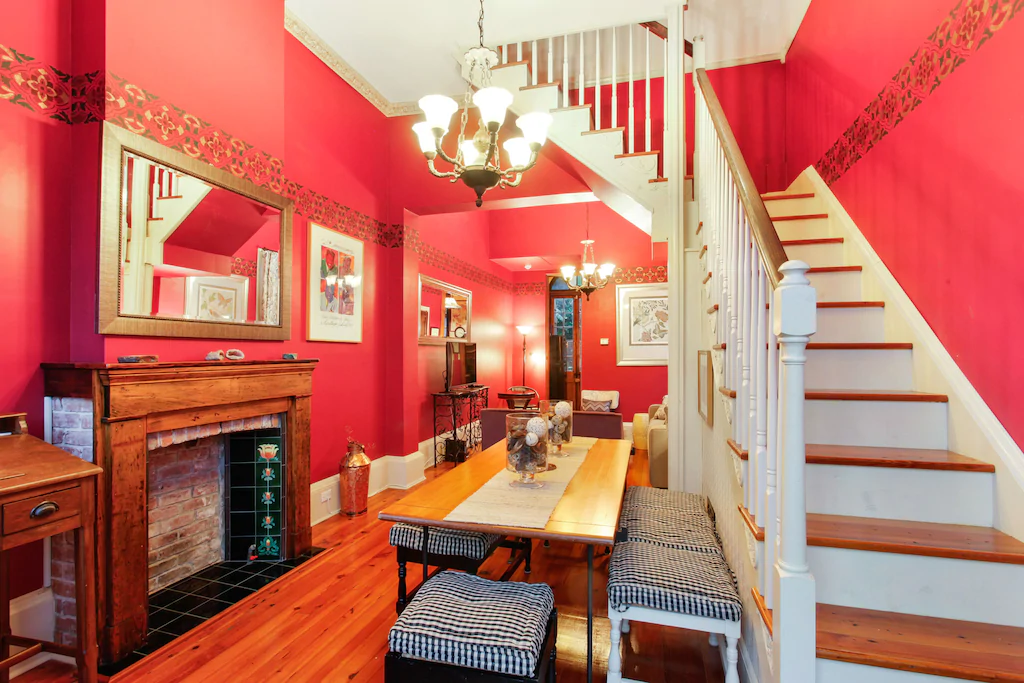 Charming Bungalow
Just an easy stroll from the French Quarter, you'll find whimsy and solace in the Charming Bungalow. One of the cutest Airbnbs in New Orleans, you'll love spending time in Treme, one of New Orleans' famous and oldest neighborhoods.
This is one of our favorite places to stay for a New Orleans Weekend Getaway!
The Charming Bungalow has one bedroom, one bathroom, a living room, and a kitchenette downstairs. While there is no stove or oven, there is a microwave, electric skillet, toaster, coffee maker, dishwasher, and a refrigerator/freezer.
While you're staying in the neighborhood that's the birthplace of jazz, you'll be charmed by the festivals in Armstrong Park across the street. You'll see second lines swaggering right in front of your windows. With the amenities and the charm of the neighborhood, you're bound to fall in love.
Check Rates: Vrbo.com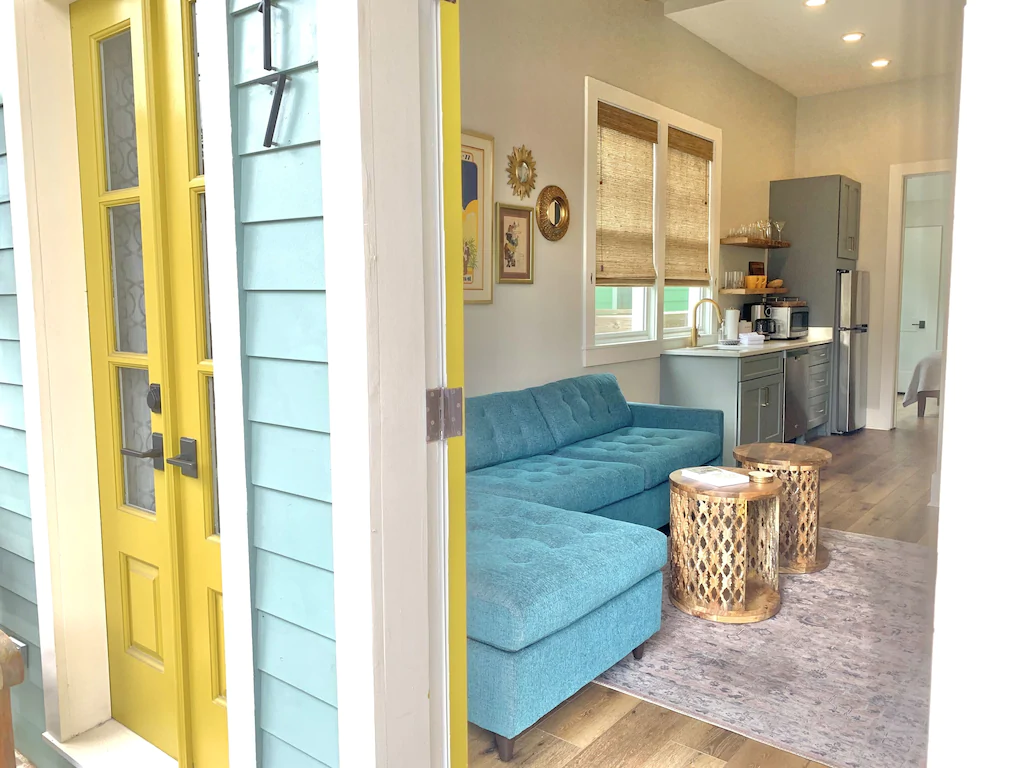 Julia Street Condo
For a very affordable option when looking for Airbnbs in New Orleans, look no further than the Julia Street Condo. Right in the heart of the Arts/Warehouse District of New Orleans, you'll be able to fit at least four people in this 2 bedroom, 2 bathroom space.
Freshly renovated, this condo on Julia Street was built in the 1830s. It's actually located in the Historic row houses known as the "13 Sisters!" Along with top of the line appliances, you will also appreciate exposed brick, hardwood floors, a balcony, and a professionally decorated space full of character.
You'll be provided with coffee, filters, all dinnerware, flatware, and cookware, linens, disposable toothbrushes, shampoo, detergent, dryer sheets! The amenities are seemingly endless! And if you're worried about security? Don't! Entries are on coded locks, and the building has cameras and access controls on entry doors.
Check Rates: Vrbo.com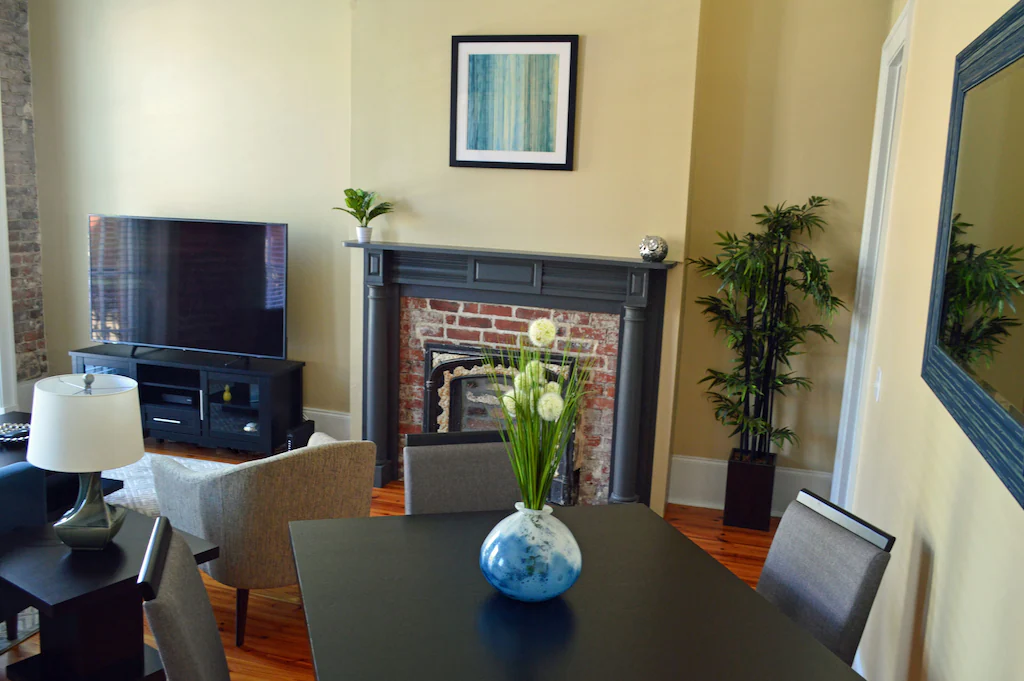 We're Jazzed You're In Town!
The hosts of this New Orleans vacation rental are very "jazzed" for you to come and be their guests! At this apartment in the heart of uptown, you'll be staying in style in a quaint living space with a cottage feel, full of plants and greenery.
Just a few blocks from the St. Charles streetcar, you'll be blocks away from the parade route and less than a mile from the University Area! You can have a casual night out in the nearby Freret St. Corridor, filled with swanky restaurants and award winning bars!
The property is a 1 bedroom, 1 bathroom, but will accommodate four guests with a pull-out couch in the living room. You can have a morning cup of coffee or a nightcap under fairy lights in the backyard filled with greenery. If you're so inclined, there's also an outdoor grill!
Check Rates: Vrbo.com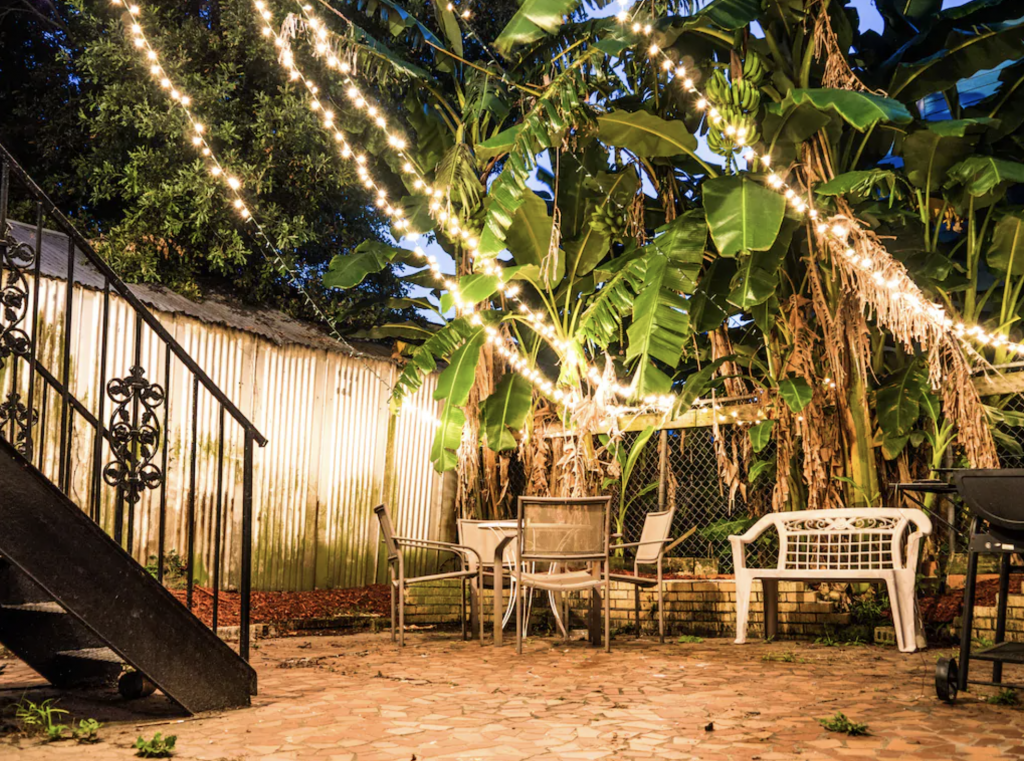 Lovely Gated Home
When you're on vacation, sometimes you like to feel like you're at a home away from home. At this New Orleans VRBO, you'll have access to the beautiful French Quarter in a two-level guest house with all the accommodations of home.
Because of its location, your lodgings will also be in the style of the beautiful French Quarter. You'll have access to a 65-inch screen TV with surround sound and DirecTV! Along with a fully-equipped kitchen, you can also take advantage of the washer and dryer.
The hosts allow four guests, but this New Orleans vacation rental will be the most comfortable for two to three. In addition to a queen bed, there's also a large sofa and a pullout twin bed with memory foam! While there will be plentiful street parking, there's also a covered and gated parking option available for an additional 10 dollars per night.
Check Rates: Vrbo.com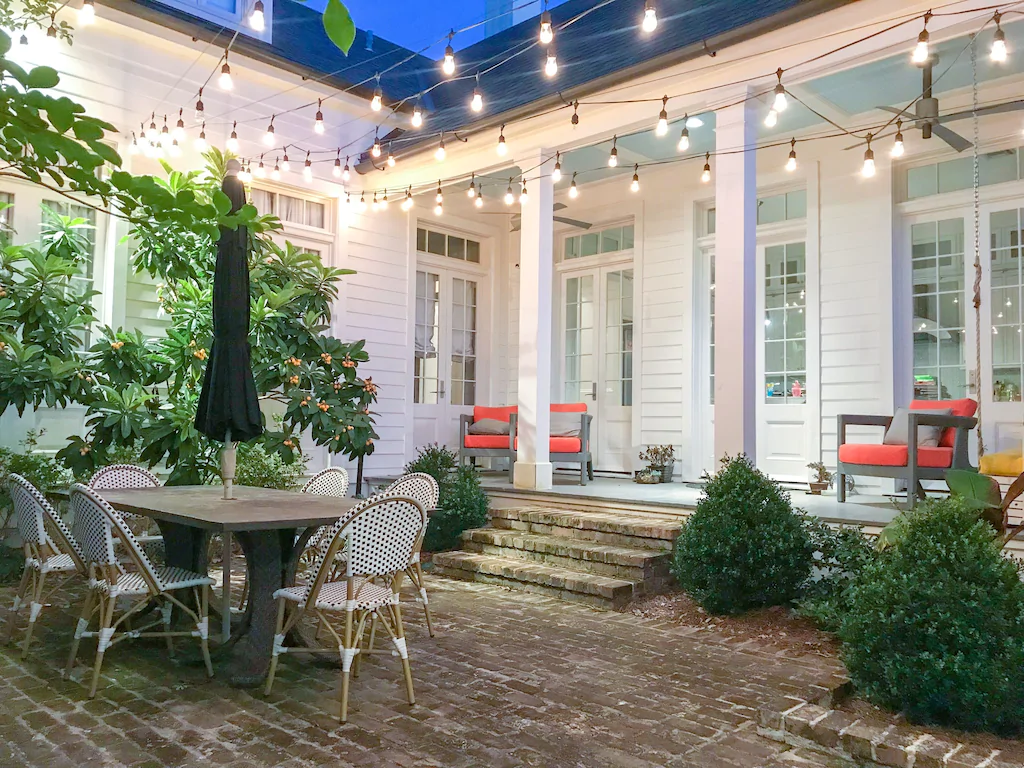 French Quarter Favorite
It's hard not to fall in love with this property in the heart of the French Quarter, a favorite among travelers. With all the flair of New Orleans, you'll be transported to the Big Easy when you first step inside. For a romantic getaway or just a weekend away, you need to stay here!
You'll be staying inside of a fully-restored historic 1850 building. Make sure to indulge in the 14-foot ceilings, exposed brick, and hardwood floors. You'll feel right at home in this settings with the accommodations of home.
This New Orleans vacation rental features a large pillow-top King bed with a 55-inch flat-screen television. In the galley kitchen, you'll find granite countertops along with a gas stove, microwave, and refrigerator. With secure entry and free parking, you're steps away from exploring the best of downtown New Orleans.
Check Rates: Vrbo.com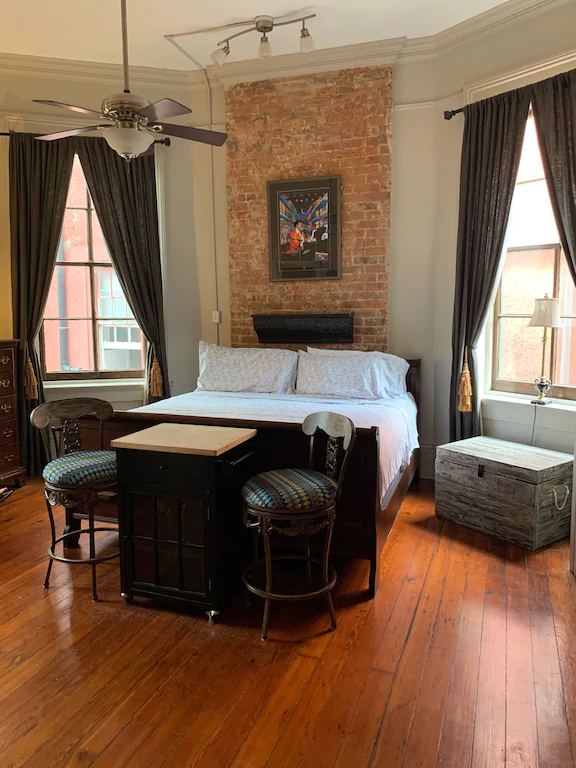 Creole-style Cottage
This Airbnb in New Orleans is a brightly colored Creole-style cottage with tons of personality. It is a bright and cheery studio with a beautiful outdoor space that includes rocking chairs.
It can accommodate up to 3 guests with 1 bedroom, 1 bed, 1 bath, full kitchen, washer and dryer, and a patio garden with a pergola and fire pit. All of the windows have functioning outdoor wooden shutters that can be closed for the perfect dark sleeping environment.
This is an excellent choice for those looking for an authentic NOLA experience in a quiet and lovely neighborhood. It is located in Bywater, so you will be close to Royal Street and can check out the quirky boutiques, fine art, and antiques.
Check Rates: Airbnb.com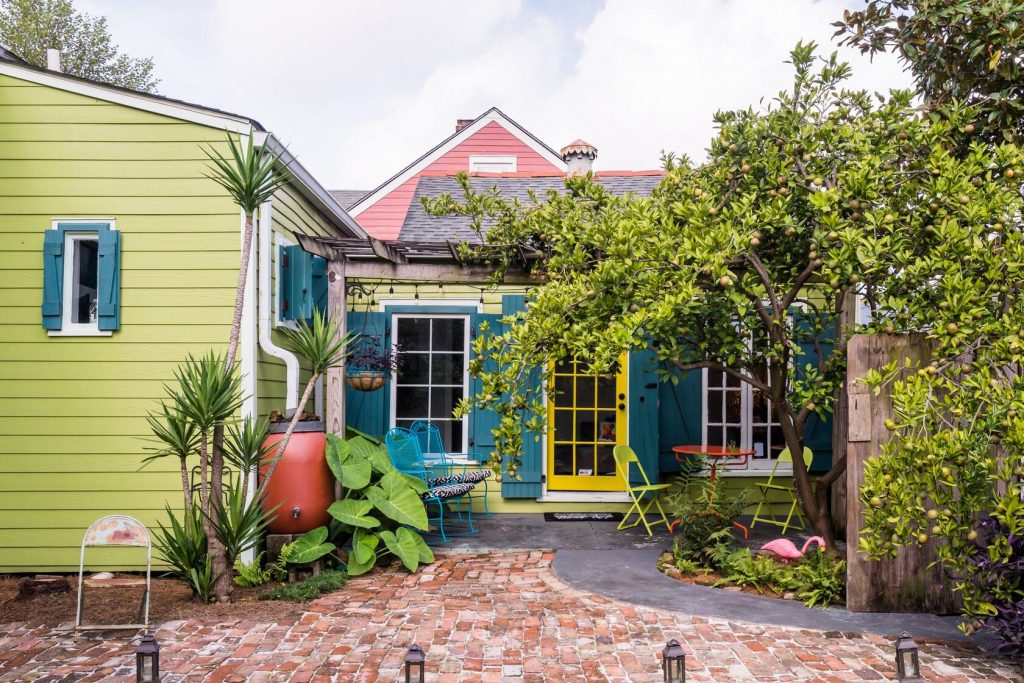 Victorian Suite On Bourbon Street
Our next Airbnb in New Orleans is a Victorian suite located directly on Bourbon Street. It provides a truly luxurious experience with 18-foot ceilings, Crystal French chandeliers, marble bathrooms, enriched hardwood floors, crowned beds, and French linens and drapes.
It can accommodate up to 5 guests with a studio floor plan, 3 beds, 1 bath, and a kitchenette. The real standout for us is the over-sized balcony that overlooks Bourbon and Dumaine Street. Guests also have access to an inner courtyard that is very tranquil with seating and plants.
Check Rates: Airbnb.com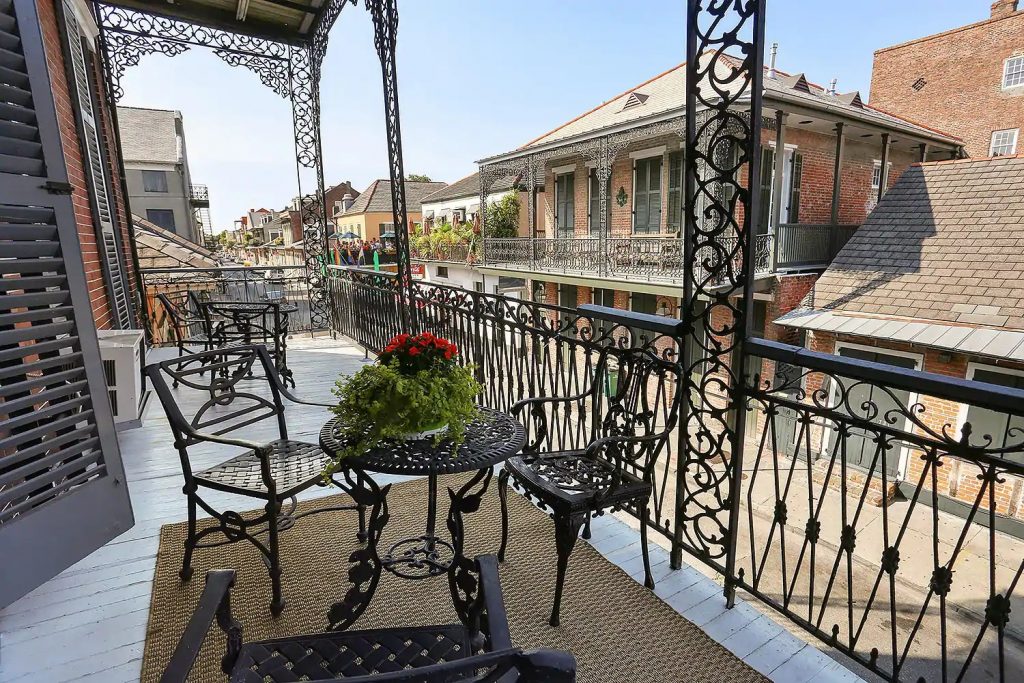 Balcony Suite
What's better than treating yourself to a luxurious loft apartment? In the heart of the Central Business District, you'll find one of the best vacation rentals in the French Quarter! Enjoy your stay at the beautiful Boutique Loft Apartment, or the Balcony Suite.
The spacious loft downtown features 200-year-old exposed brick with the space's original hardwood ceilings and floors. With the 400 square-foot private balcony, you'll be in a perfect position to see the parade route!
You'll be staying on Magazine Street just one block from the world-famous Canal Street. You'll also have access to French Quarter landmarks nearby like the Convention Center, Bourbon Street, Frenchmen Street, and Harrah's Casino!
Check Rates: Vrbo.com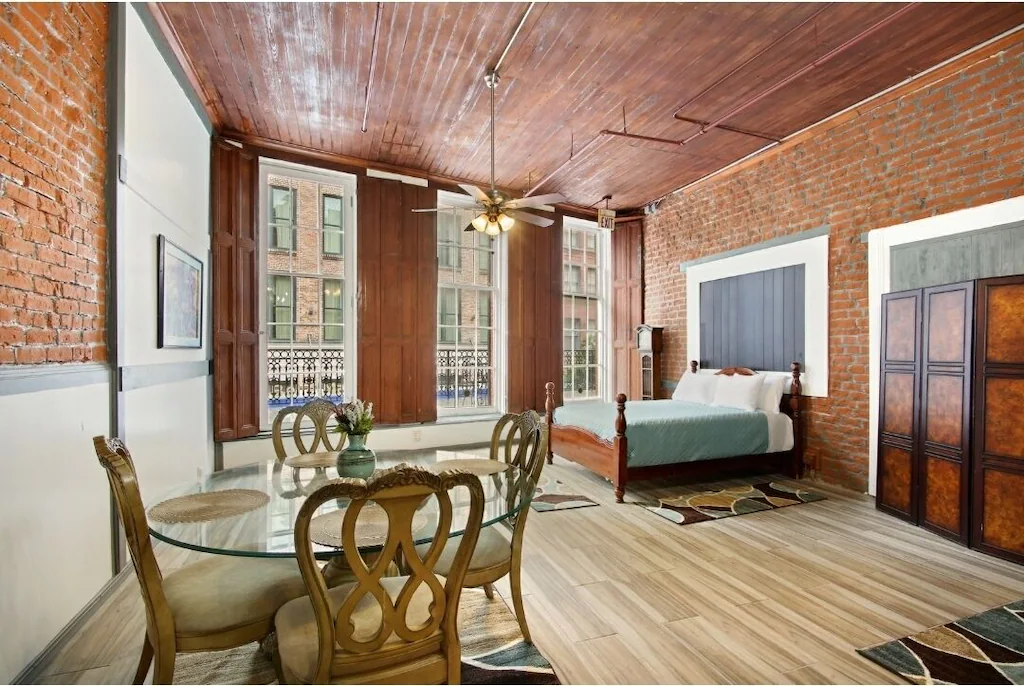 Sonder | St. Helene
Don't just be close to the French Quarter, be in it! This French Quarter VRBO puts you right in the middle of where you want to be. This VRBO gives you the ability to roll right out of bed and into some of the prettiest streets of New Orleans.
This VRBO is owned by the Sonder Group, so you know it is a quality rental. All their rentals come with complimentary coffee, towels, and bathroom essentials. There is also an on-site pool, cementing this spot as one of the best New Orleans vacation rentals.
Right in the heart of the French Quarter, there is always something going on nearby. This vacation rental is located directly in front of Jackson Square, so be sure to visit the open-air market or catch some street performers. This is one of the best VRBO in New Orleans if you want to explore everything the French Quarter has to offer.
Check Rates: Vrbo.com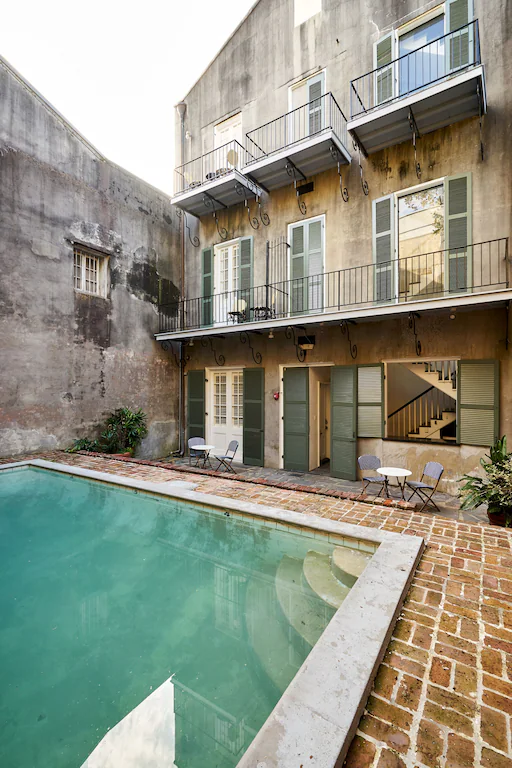 Featured On HGTV
Our next Airbnb in New Orleans is a pristine Victorian home that was featured on HGTV. Every inch of this house has been expertly renovated to modernize it while still showcasing all of its historic charm.
Located in the bohemian Bywater neighborhood, it is in a perfect location for sitting on the porch and enjoying all of the lively sights and sounds. The decor is very light, bright, and uplifting. It is perfect for couples or single travelers as it can accommodate up to 2 guests with 1 bedroom, 1 bed, 1 bath, a kitchen, washer and dryer, living room, dining room, and indoor fireplace.
Check Rates: Airbnb.com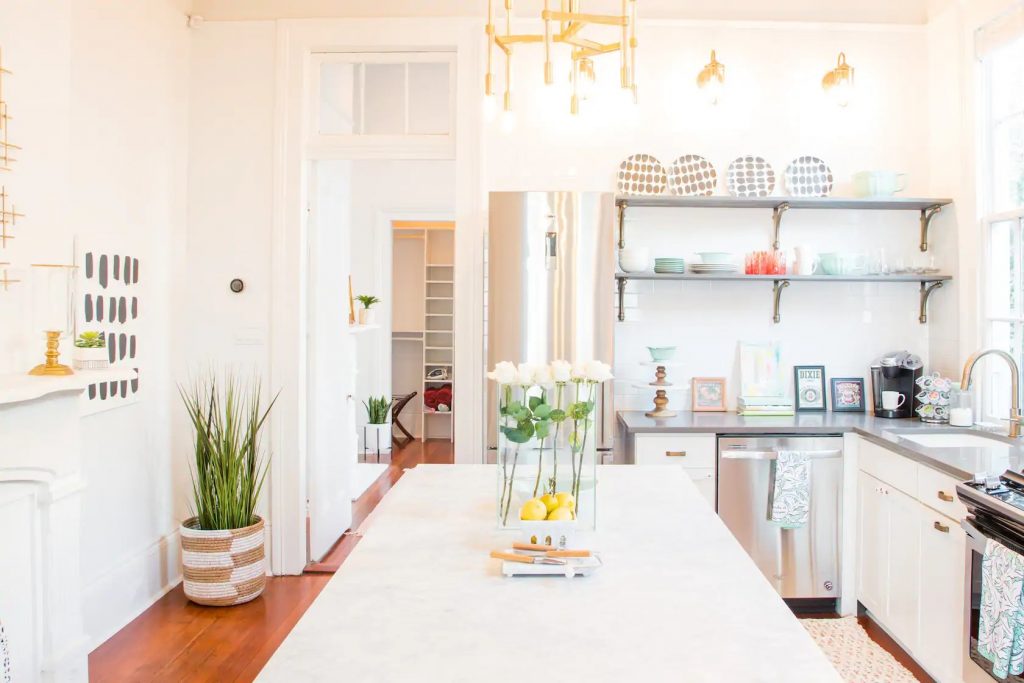 House of Krewe
New Orleans has a lot of history in addition to the sights, sounds, and tastes it boasts. Why not wrap yourself up in the history of The Big Easy with a stay at the House of Krewe with its historical architecture?
Easily one of the most beautiful New Orleans VRBOs, the Krewe House is a refurbished 1860 Victorian home found in the beautiful and Historic Garden District. With two bedrooms and two bathrooms, this is a spacious rental. Each of the bedrooms has a queen bed. Combined with the pull-out couches, you can easily fit eight here.
You'll be two blocks away from Magazine Street with all the shopping, dining, and parades you could want. You'll also be two blocks away from the streetcar on St. Charles Avenue to take you to all of the places that you can't reach in New Orleans from the Garden District on foot.
Check Rates: Vrbo.com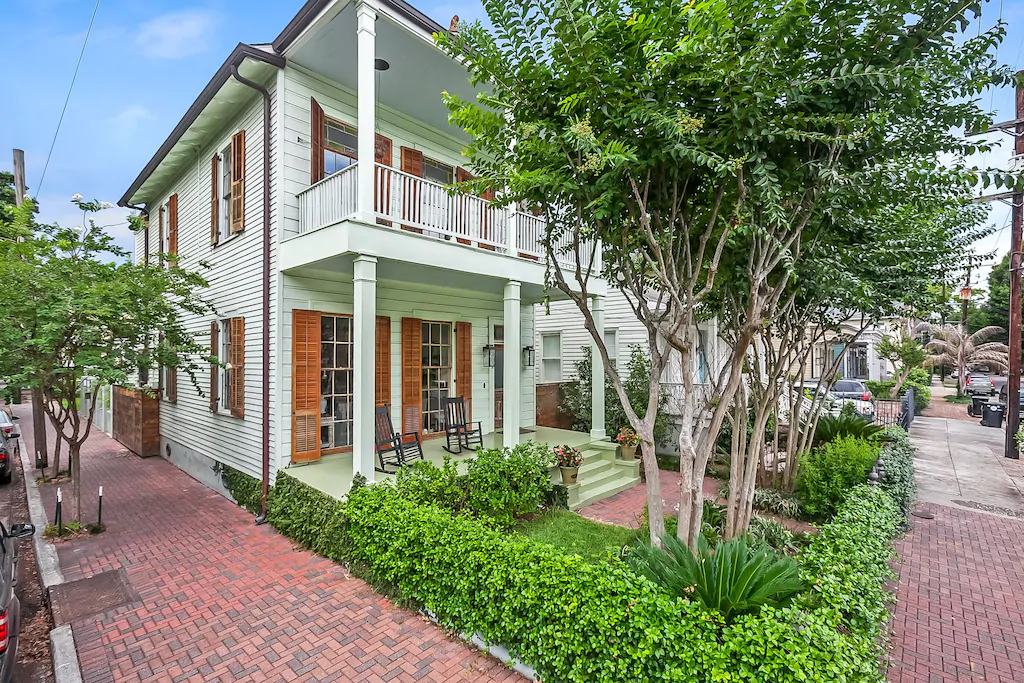 Mardi Gras Cottage
As the name suggests, this is one of the most fun vacation rentals in New Orleans. The Mardi Gras Cottage knows how to have a good time, and every day will feel like Fat Tuesday. This VRBO more to offer than meets the eye, and is worth a look into.
The large on site pool comes with spectacular water features, and enough deck space to enjoy the quiet New Orleans evening. With no carpeting, this is the perfect pool house. The deck comes complete with hanging lights, enhancing the mood of those poolside nights.
While this cottage may not be along the beaten path, you are able to see the more authentic New Orleans. Avoid the tourist traps and visit the real New Orleans. The owner is a New Orleans native, and he is more than happy to show you some of the local spots that make the Crescent City special.
Check Rates: Vrbo.com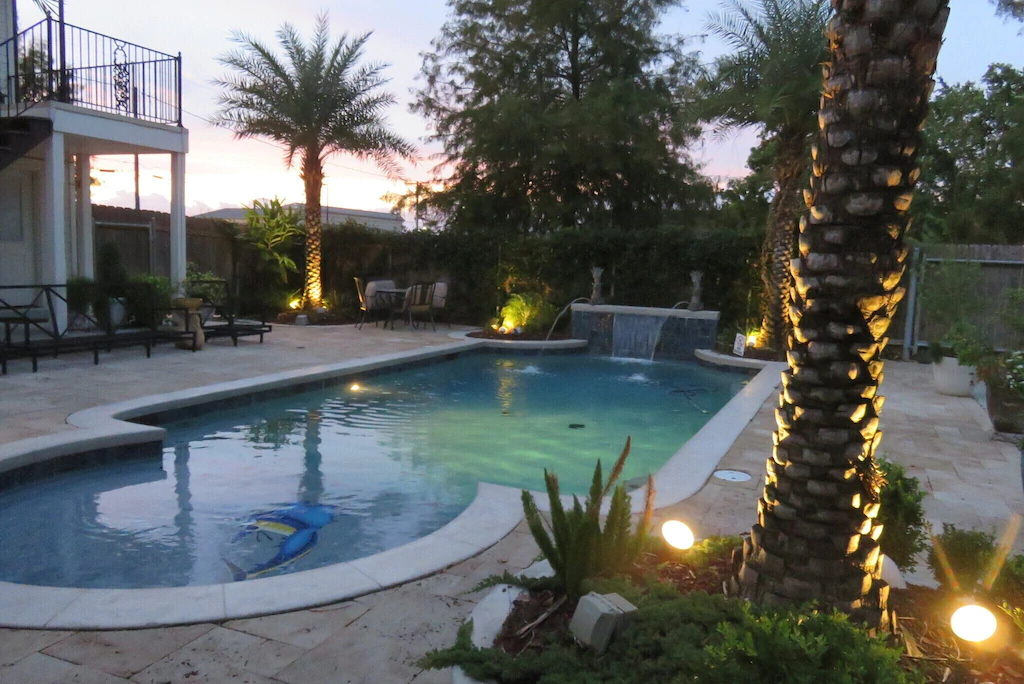 Uptown Garden Studio
Our next Airbnb in New Orleans is a gorgeous guesthouse garden studio that features vaulted wood ceilings, luxurious oriental rugs over brick floors, and sparkling marble bathroom. The decor is very relaxing and gives a tasteful vacation vibe with comfortable seating and plenty of books.
It can accommodate up to 3 guests in a studio layout with 3 beds, 1 bathroom, living room, dining room, washer and dryer, and a garden patio with seating. Located in Uptown/Carroltown District which is very close to Audubon Park as well as many quirky bookstores, indie clothing boutiques, live music, bars, and restaurants.
Check Rates: Airbnb.com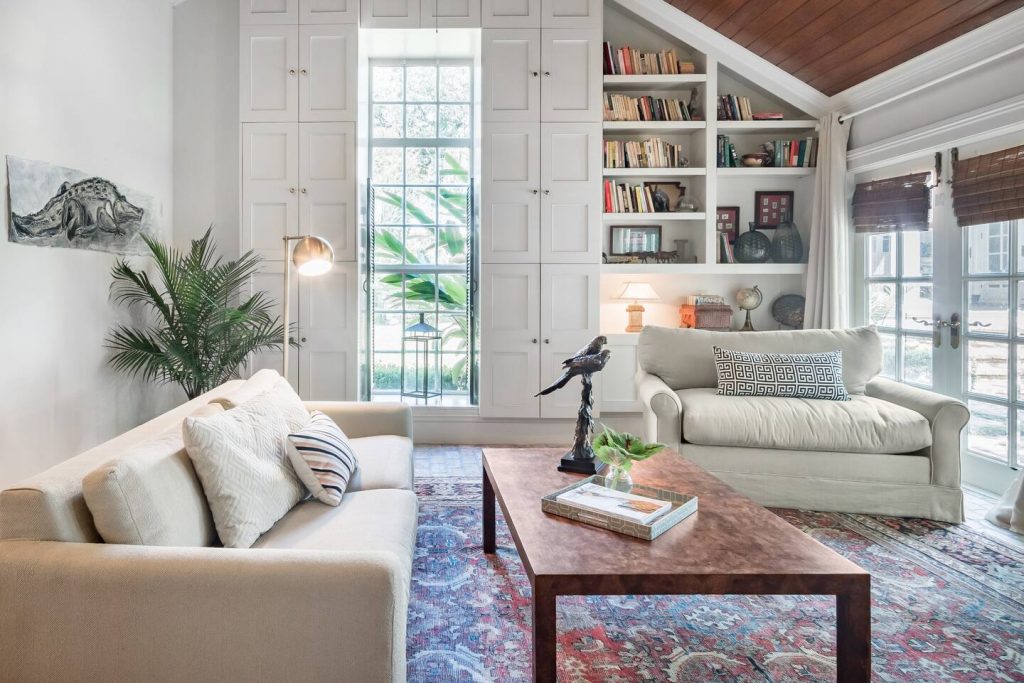 Downtown New Orleans Penthouse Suite
New Orleans is all about decadence and living life to the fullest. Your New Orleans VRBO should reflect that. This is why we highly recommend the swanky Downtown New Orleans Penthouse Suite.
Historically renovated in the heart of the Central Business District, this isn't your average loft apartment. Spacious and right downtown, the loft features 200-year old exposed brick, original hardwood floors and ceilings, and a beautiful and historic cast iron rope elevator wheel.
You'll be staying on Magazine Street, just one block away from Canal Street. You'll also have easy access to French Quarter Landmarks like the Convention Center, Bourbon Street, Frenchman Street, and Harrah's Casino!
Here you'll have free wifi, air-conditioning, and a full bathroom. While this is a loft, it technically only has one bedroom, but the area is so spacious enough that you will comfortably be able to sleep six with the combination of beds, couches, and pull-outs!
Check Rates: Vrbo.com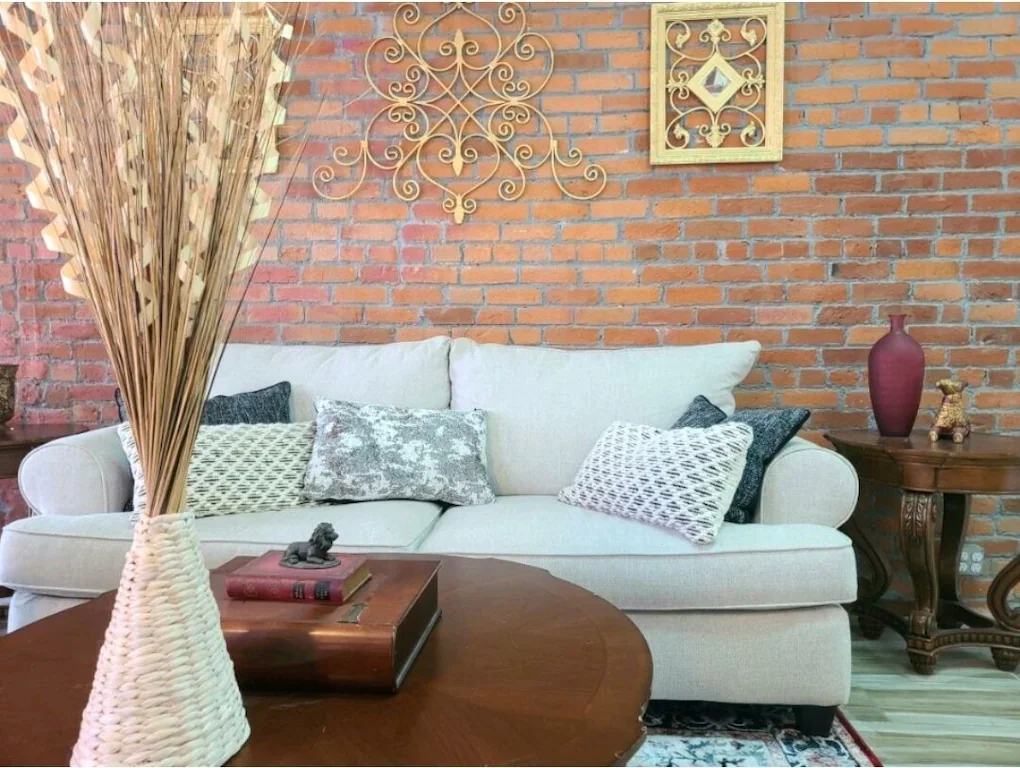 Well, we hope you've enjoyed learning a little bit about New Orleans and touring all of these amazing properties. New Orleans has so much culture, history, and joyful spirit that is fully reflected in these fabulous accommodations.
So, now that you have found your perfect Airbnb in New Orleans, you might be wondering how to plan your itinerary. Here's a great itinerary if you plan to stay for 3 days! You will also want to make sure you save time to check out the 8 prettiest streets in New Orleans for some really great photo opportunities. We wish you safe travels and can't wait to hear about your adventures!