If you are ready to see the best places to experience fall in Arkansas, then you are well on your way! Arkansas is known for its beauty year-round and the fall is one for your scrapbook. No matter what skill level you may be, there are hikes and drives for you to relish in the fresh autumn air!
More often than not you will find that everywhere you turn in Arkansas has a picture-worthy backdrop and these top picks will give a craving for autumn spice year round! There are places for a fall picnic, activities, and fun hikes. Getting out in the open air will help you reconnect to yourself and the world around you.
When you are looking out at the fiery colors of the fall, you will be awestruck by nature's glory. Whether you are looking for weekend getaways in Arkansas or just passing through, you will see so much beauty on your trip! Now, get your hiking boots, a flannel, and perhaps a pair of binoculars to engulf yourself in the fall foliage and see the magnificence of Arkansas!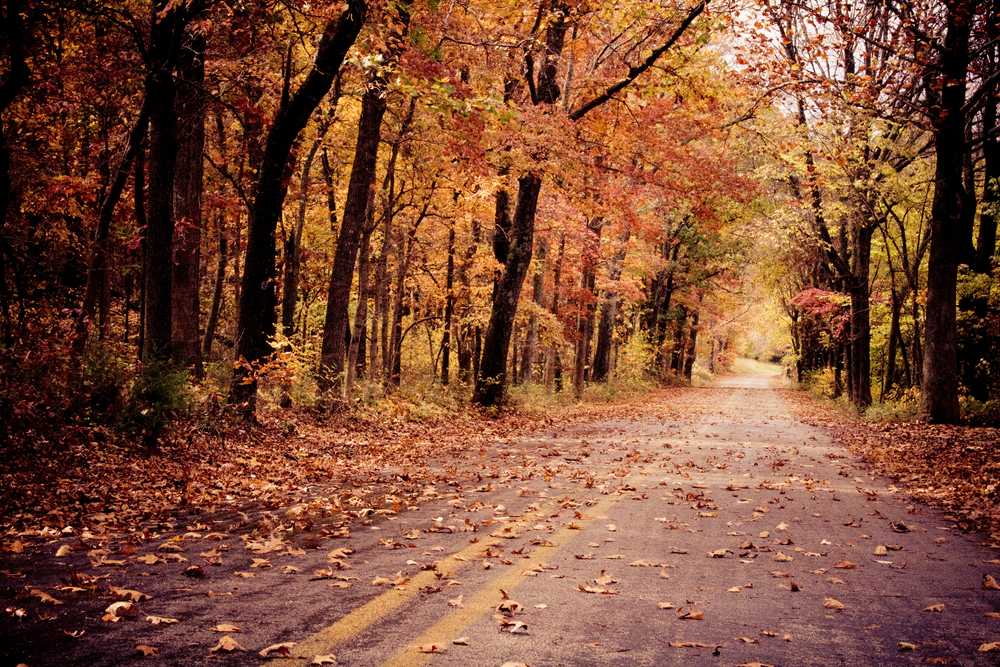 12 Best Places to Experience Fall In Arkansas
Fayetteville
Just because fall can be gloomy does not mean you can't enjoy the bright fall foliage in Fayetteville! Join the locals and visitors during the autumn season to enjoy the lovely sights that abound. The town of Fayetteville has more to offer than the Ozarks to adore. The valleys and hills of the mountain town are generously dusted with forests, valleys, and unique places to enjoy fall in Arkansas.
Appease the adventurer in you by going to Lake Fayetteville! There are hiking trails to take it slow and savor the changing of the leaves. You will also find bike rentals for the bike trail! If fishing is your jam, you can rent a boat and purchase bait from a shop on site! Casting your reel into the lake that is reflecting the autumn season is almost as satisfying as cooking your catch!
The Botanical Garden of the Ozarks is gorgeous year-round, however, there is a particular allure to it in the fall. When the fall foliage is at its peak, the garden's majestic ambiance is perfect for pictures or resting in awe. For the smaller adventurers in your party, Wilson Park is a town favorite. There is a fairytale bridge that sits above a small waterfall. The bridge takes you to a small castle that even adults will love! There is no short supply of adventure to be had in Fayetteville, Arkansas!
This is truly one of the Best Towns In Arkansas That You Must Visit!!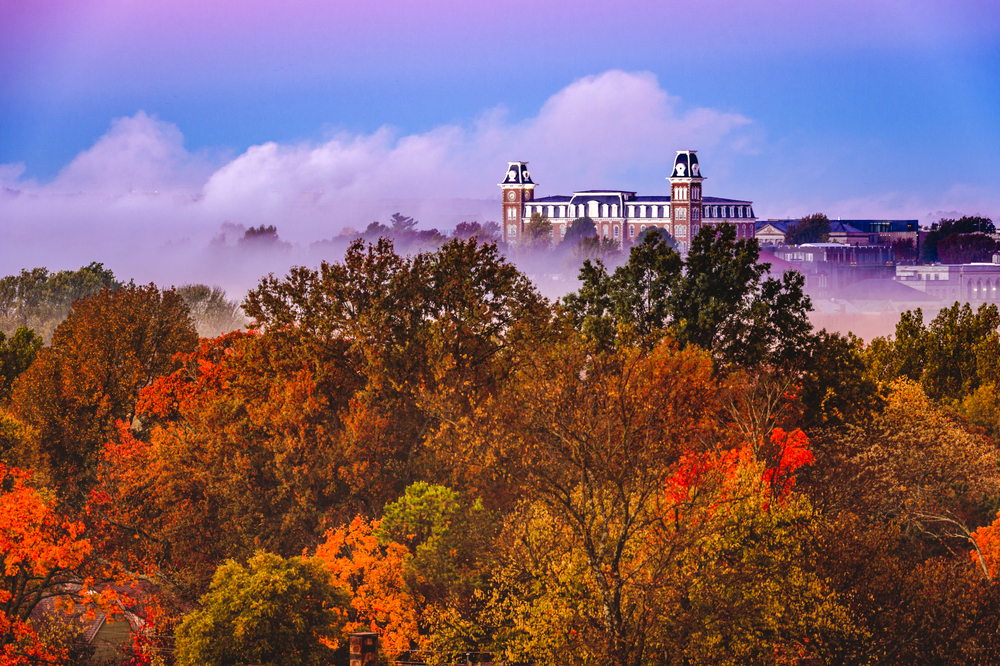 Glory Hole Falls
Fall foliage at Glory Hole Falls is sure to take your breath away! You can find this gem in Newton County, Arkansas, and in the Ozark National Forest. Navigating through Glory Hole Waterfall Trail will give you a whole new appreciation for nature before you even make it to the waterfall! The trail is only 1.9 miles round trip and is perfect for beginner hikers. It is a popular place not only for the waterfall but also for the rock formations and environment leading to it.
In the autumn months, the falling leaves speckle the trail creating a colorful path following a flowing creek. This creek has its own smaller waterfalls to view before reaching your spectacular destination. The trek to the 31-foot waterfall is well worth a short hike. Glory Hole Falls is created by water flowing over a bluff creating a hole for a unique waterfall.
The cascading water rushing through the naturally created hole looks like a natural shower! Grab a sweater and a picnic to sit and listen to rushing waters for some time before making your way back. When making plans for experiencing fall in Arkansas, you won't want to miss Glory Hole Falls.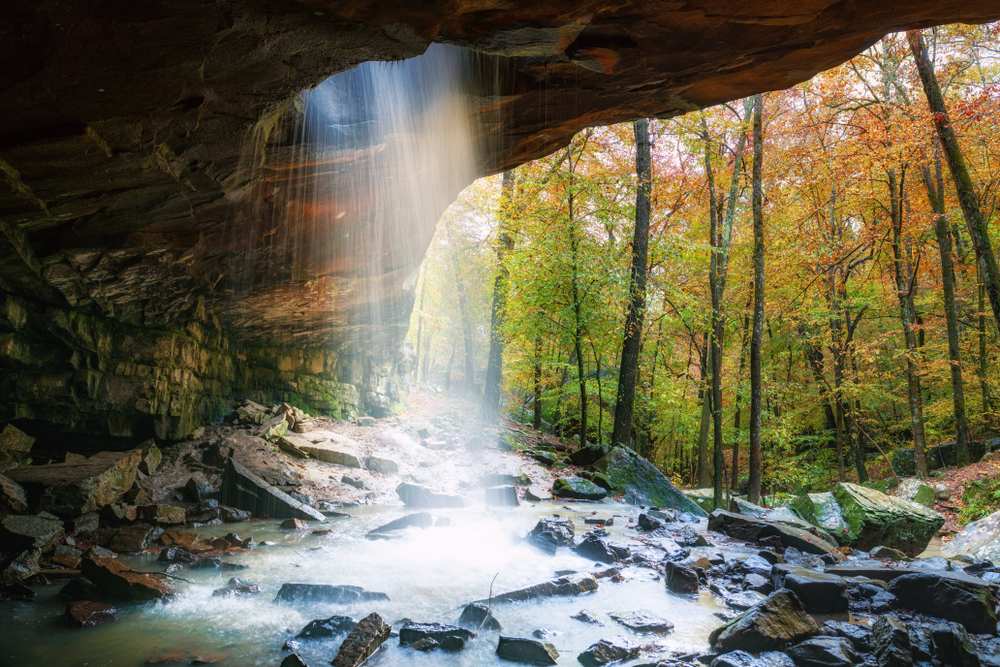 Eden Falls
One of the most captivating places to experience fall in Arkansas is at Eden Falls! The warm colors of trees that engulf the Lost Valley Trail near Ponca, Arkansas are just part of the marvel. Each turn holds a new view of rock formations and woods. You will make way over a bridge formed by mother earth herself. Not only will the mossy rocks make you feel like a fairy will pop up any minute, but you can also explore the cave that was naturally formed which practically takes you to another realm.
The moderately easy trek will provide you with a fall ambiance you will crave year-round! When you reach the massive Eden Falls you will be taken aback. This multi-tiered spectacle tumbles 31-feet and then again 53-feet. Even on calm days when the autumn trees shine back from the water, you will be pleased with the scenery. Warm orange and yellow leaves scatter across the floor of the woods and the water. For a tranquil getaway or a brief adventure, this is the spot for you. The picturesque views will have Eden Falls on your revisit list!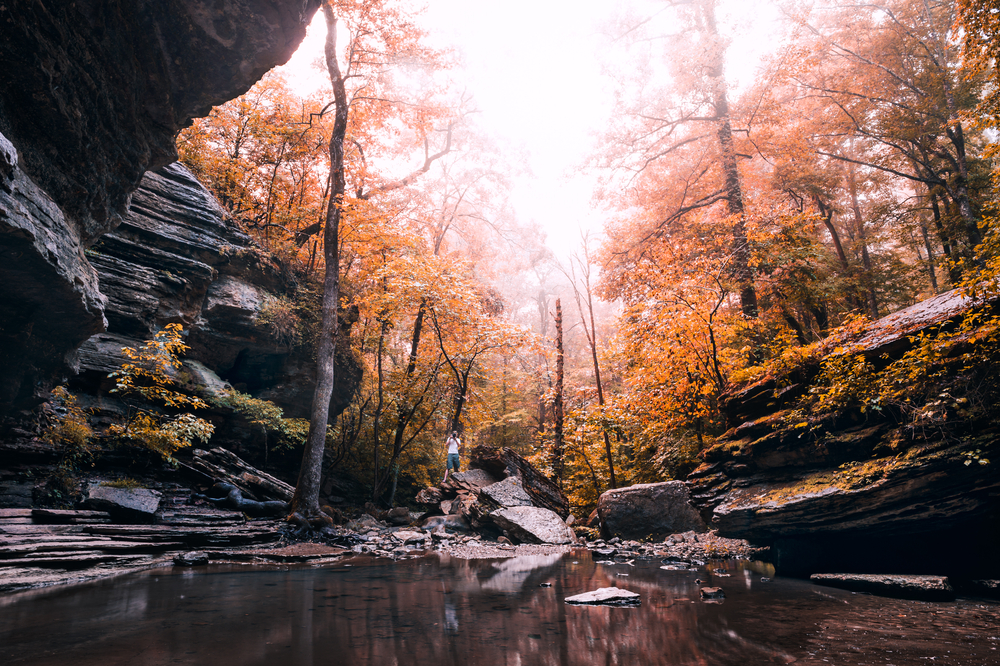 Ozark Mountains
Fall foliage from the vantage points located all over the Ozark Mountains is ever so mesmerizing! There are so many different areas to choose from to get the most out of fall in Arkansas. The Buffalo River has 22 entry points and is the perfect place for casual kayaking or a more rapid ride!
Riding the waters is a remarkable way to see the autumn-colored forests climbing up the Ozark Mountains. Try your arm at Fly Fishing or trout fishing which is offered on White River. On Norfork Lake, you can find a variety of boat rentals. From houseboats to ski boats you will find the best fit for any gathering or solo excursion.
There are camping spots throughout the region so you can wake up amidst the color pallete of the fall season. If you are not keen on sleeping outdoors there are several resorts, inns, and cabins that may suit your fancy. Even RV spots can be found for your road trip! Get up close and personal with the Treetop Adventures of Locoropes. The rope course brings you high above the earth and brings your idea of fun to new heights! Each location will keep your spirits as high as the mountains! The hard part will be leaving such a charming region.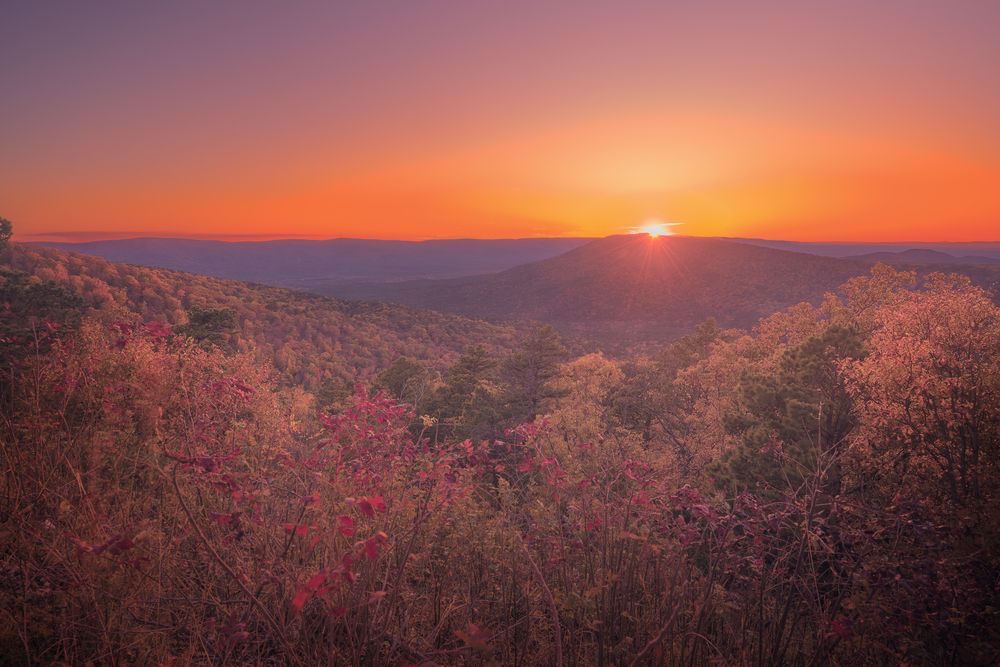 Highway 272 through Rich Mountain
If you are just driving through Arkansas, it will be well worth your while to venture Highway 272 through Rich Mountain! Getting to the second largest peak of Rich Mountain and to the highest summit in Ouachita National Forest is done on this extremely scenic drive. The road can be found in Polk County and begins roughly 12 miles from Mena, Arkansas. The drive through the small towns and beyond will gift you several places to stop in awe of the vibrance of fall.
You may run out of memory on your camera before it's all said and done! The tunnel of trees glows orange and red at sunset. Going through the portal that guides you through Rich Mountain is a one-of-a-kind experience. Whether you are driving to another city or to a hiking trail leading to the summits you can rest assured that fall in Arkansas is a dream when you take Highway 272 through Rich Mountain.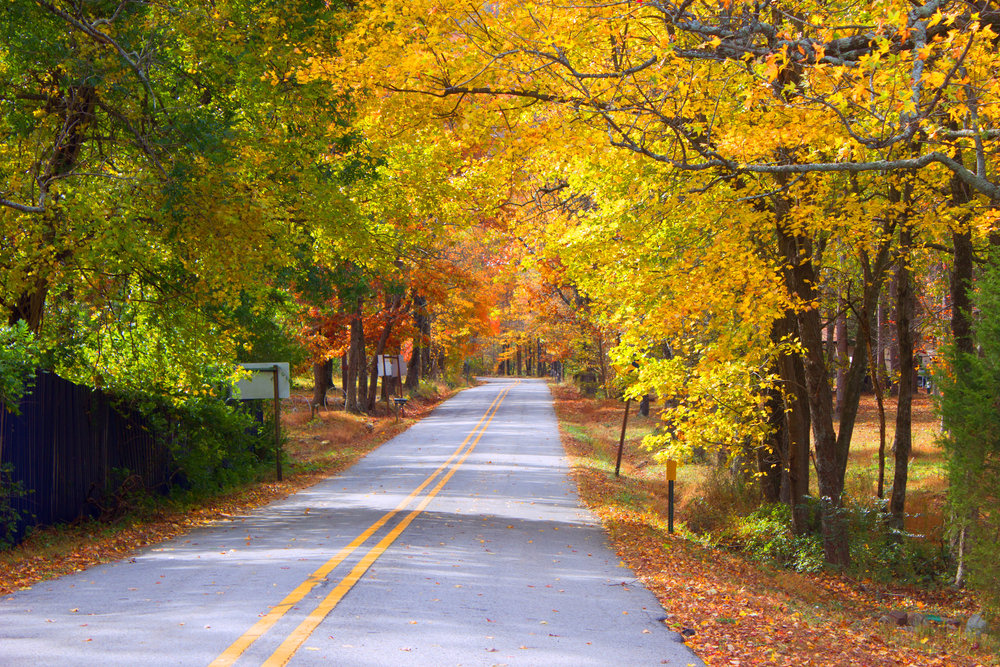 Falling Water Waterfall
You can find a minimal effort oasis at Falling Water Waterfall! Hector, Arkansas holds this stunning waterfall. The location is just as perfect as the view! Located right off the side of the road, you won't have to leave your car to see it! Locals and tourists alike may suggest you go to take in the serene sounds of the water rushing down into the natural swimming hole. In the fall it may be too cool to dip your toes, although a picnic would be divine!
The Ozark National Forest holds many wonders and Falling Water Waterfall is a beauty when decorated in the fall! The auburn leaves mixing with the bare bark on trees have a rustic feel with a hint of elegance from the flowing waters. You can venture to the rocky area surrounding the waterfall to get a closer look at the grandeur of mother nature's creations. Gather a blanket, a warm thermos, and take a drive right on up to Falling Water Waterfall. It is no wonder that this is one of the best places to see fall foliage in Arkansas!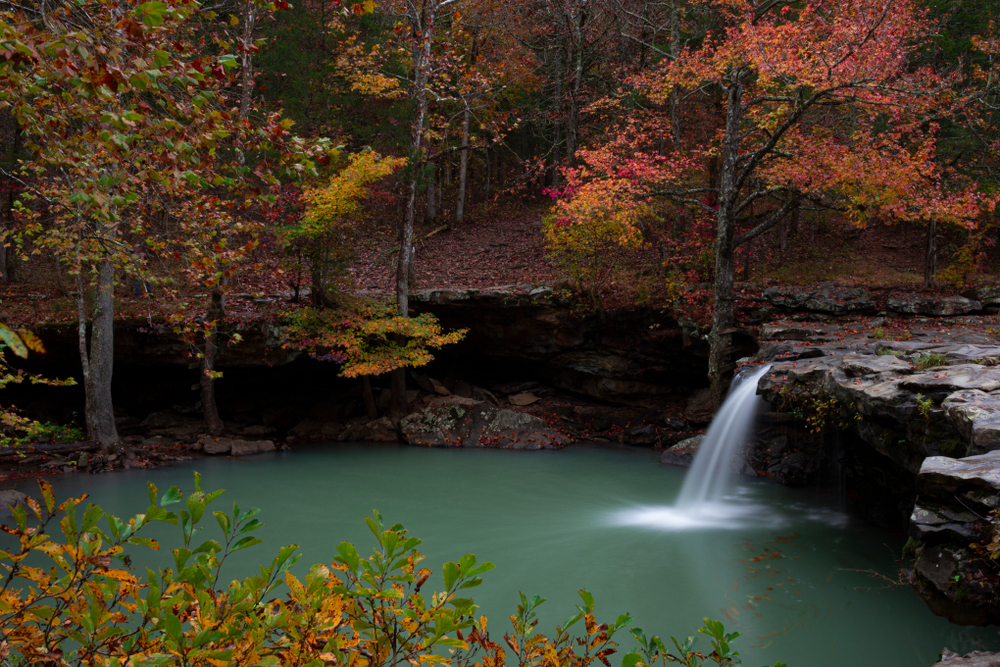 Hawksbill Crag (Whitaker Point)
If you are planning on popping a very special question to a special someone, consider doing so at Whitaker Point, also known as Hawksbill Crag! Whitaker Point has seen its fair share of proposals as this is an endearing location where "Tuck Everlasting" filmed an opening scene. Having the fame behind it, the views from Hawksbill Crag can inspire just about anyone that steps foot on the rocky platform overlooking the vast forests in Newton County, Arkansas. The romance is in the views and even if you are traveling with a group of friends or solo you will find a reason to come back each autumn!
The hike through Whitaker Point Trail is laden with maple trees that turn into spirited fall colors as autumn dances through the 2.9-mile hike. The popular path is a moderately difficult hike so be sure to pack plenty of water and perhaps a snack to enjoy atop Hawksbill Crag! For the best views, you will want to go early morning or mid-afternoon so that the sun rests behind you.
The impressive views of the Ozarks and rolling hills and mountains surround the crag and it is nearly impossible to question its brilliance. You will want to make sure to savor every incredible moment atop the rocky crag. When you think of fall in Arkansas, you will only think of Hawksbill Crag after your visit.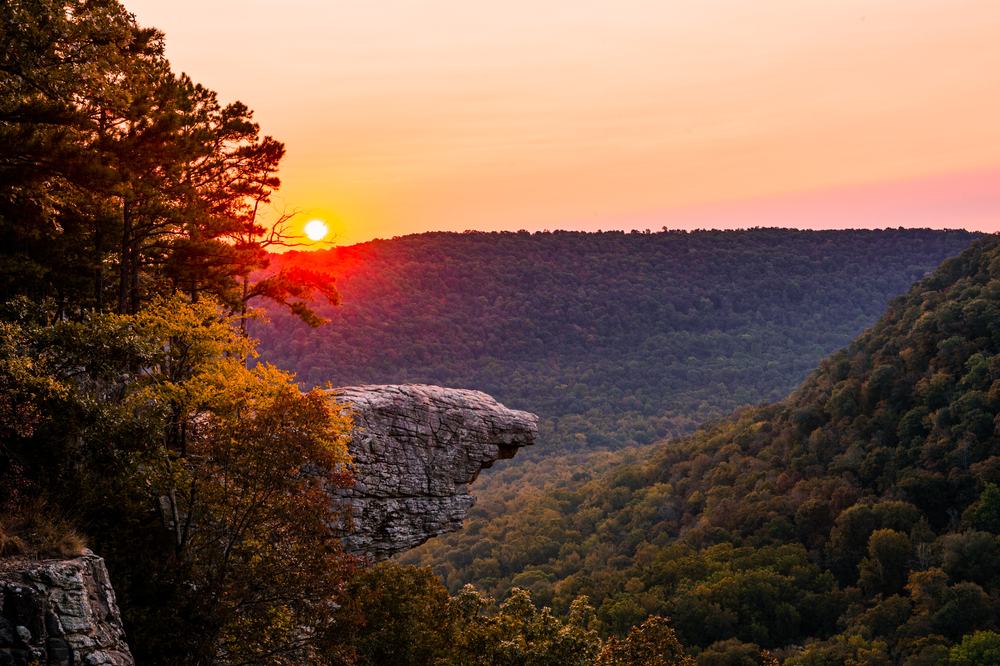 Ouachita National Forest
Enchantment runs rampant at Ouachita National Forest! Traveling by foot or horseback through the 1.8 million acres will bring fall in Arkansas to life! Ouachita National Forest is located in Hot Springs, Arkansas, and has views that will exceed your expectations. Set up camp along a lake for a more placid stay! You will get your fair share of picture-worthy moments.
Making this a multiday excursion will ensure that you are able to see the many wonders of the Ouachita National Forest. Kayaking, OHV, and biking can help transport you through the impeccable forest. Breath in the fresh air and bring a packed lunch to rest among the gorgeous foliage. Bring binoculars to check off some of the birds on your birdwatcher checklist! The environment is just as vast as the wildlife that inhabits the area.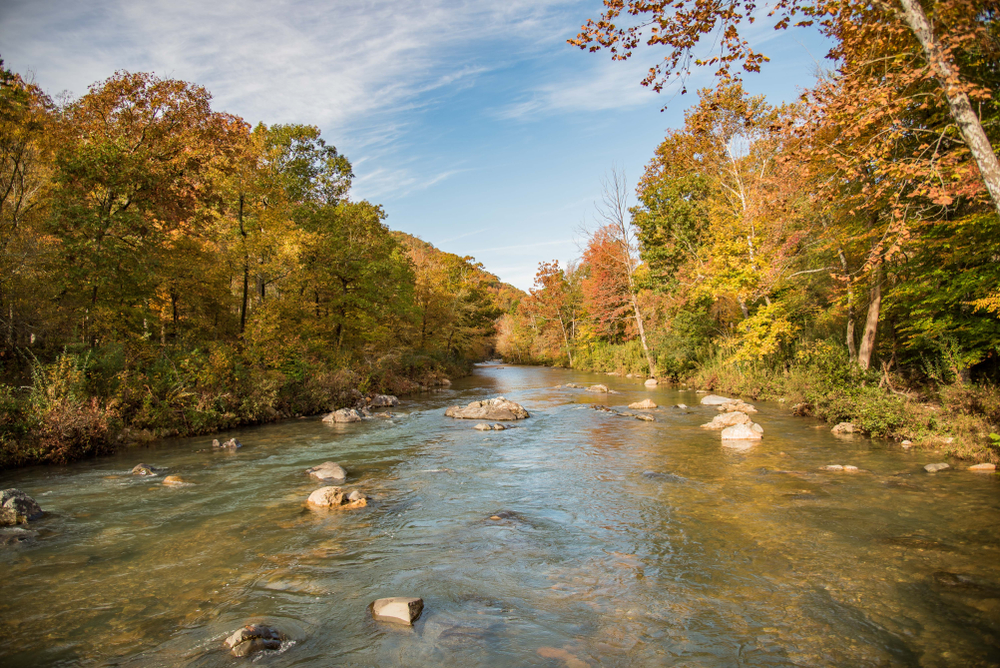 Mount Magazine State Park
Travelers will not be disappointed with the amount of fall foliage that decorates Mount Magazine State Park! There are overlooks where the fall-kissed trees travel beyond the horizon. The sea of foliage is of its own magnificence and pictures only give a glimpse of its true charm. You will find this charmer in Paris, Arkansas. The good looks are paired with fun to be had at Mount Magazine State Park!
Skilled rock climbers come from all over to take on some of the most difficult climbs. Backpackers relish in the beautiful challenge that some of the trails provide. Mountain bike, hike, or horseback ride through one of the best places to experience fall in Arkansas. Mount Magazine itself is the highest point sitting at a whopping 2,753 feet! When you are done adventuring through the State Park you can camp or rent lodging. It is a convenient location for a weekend getaway! Your next autumn trip is calling you to Mount Magazine State Park!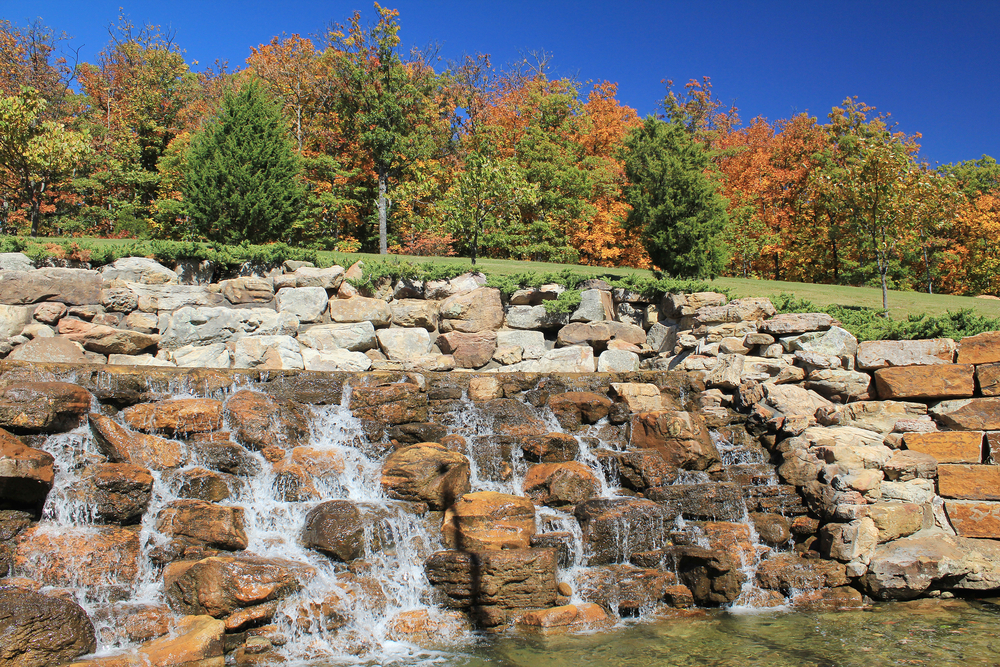 Jasper
If you are looking for a quaint stay sprinkled with adventure this fall, then you will want to head to Jasper, Arkansas! The town has a homey feel with outdoor dining options among it the perfect spot to experience fall in Arkansas. If the town doesn't make your heart swoon then the allure of the foliage surrounding the Buffalo River, the nation's first National River, surely will. Just that natural allure is enough to never want to leave!
Get a little adventurous by hiking any of the trails, canoeing through the river, or biking. A more hands-on approach to viewing the fall colors would be to do some rock climbing, fishing, or hunting. Maybe the inner ranger in you wants a closer look at the wildlife. You can keep an eye out for about 450 elk that roam the corridor of the Buffalo River. Among the many types of animals living in the area, these majestic creatures are just icing on the cake. The golden valleys of Jasper are sure to be the highlight of your Arkansas journey!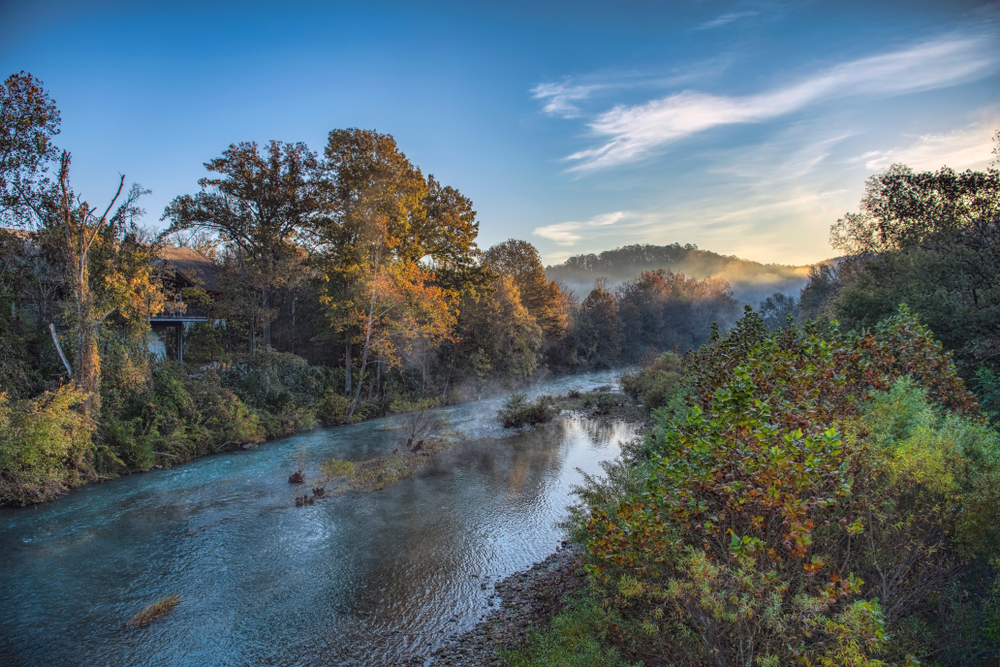 Talimena National Scenic Byway
You will be infatuated by the views along the Talimena National Scenic Byway! The 54-mile drive through Polk County, Arkansas is one of the most scenic drives you can experience! Let the road lead the way through fall in Arkansas. The gripping panoramic sights make for an exclusive drive over Winding Stair Mountain.
Check out the information centers that are located at the beginning and end of the Talimena National Scenic Byway for more information on the historic scenic drive. There are places to stop and enjoy a picnic, hike, and camp. The vistas and vantage points will have the most magical views! Driving through Arkansas is already a joy when in the autumn months and the Scenic Byway will surely be a hit whether it's a quick drive or an extended stay!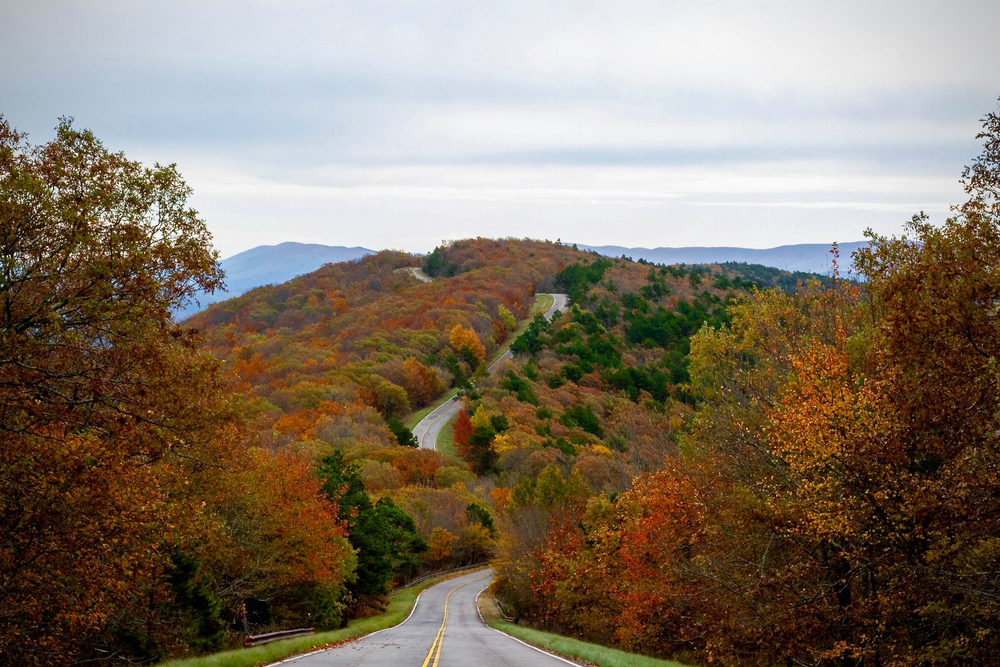 Pinnacle Mountain State Park
Connect with your wild side at Pinnacle Mountain State Park! From the 15 miles of trails that lead you to the fall foliage or the 7 miles of biking trails, there is a bit of wonder for all who journey through. Located west of Little Rock, Arkansas, Pinnacle Mountain is a jaw-dropping place to experience fall!
You can plan a gathering centered in the colors of autumn when you rent a pavilion! There are also picnic tables to take a break after your adventuring through the trails. Just for a moment, you will forget all your troubles as you look out from the peak of Pinnacle Mountain. Perched about 1,000 feet above the Arkansas River Valley is one of the best vantage points. It is truly a remarkable place to see fall in Arkansas!