If you are looking for the prettiest New Orleans streets you have come to the right place! New Orleans is home to some of the most charming streets on earth so you are in for a real treat. The magic of New Orleans lies in wandering the balcony-lined streets and discovering cute spot after cute spot.
No real plans and no real things to see, just good old-fashioned wandering. Whether you are looking for streets in New Orleans for shopping, eating, photography, a romantic walk, or just to see a different side of the city, there is an option for you.
Some of these magical New Orleans streets are famous and easy to find, while others are off-the-beaten-path and you are going to need Google Maps to find them. Luckily, we make it easy to find all of the best streets in New Orleans by including detailed information about which neighborhood you need to see these streets in!
So grab some beignets and a cool beverage and get ready to wander the best New Orleans streets.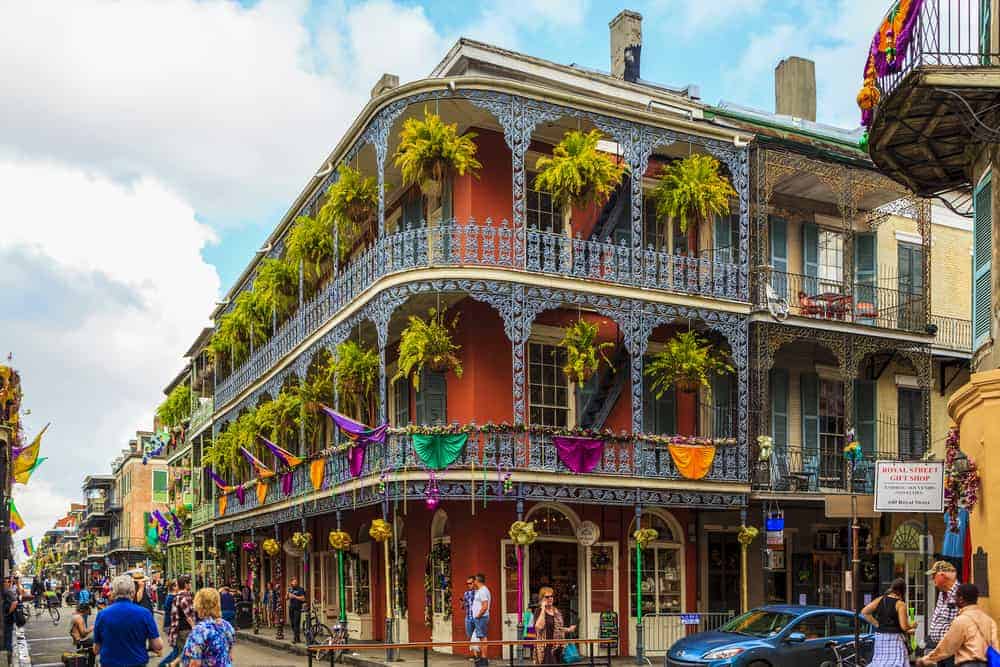 8 Prettiest New Orleans Streets
Royal In The French Quarter Is Easily The Prettiest New Orleans Street
Royal Street is easily the prettiest street in New Orleans. It runs around the "crescent" of the crescent city and it at its prettiest in the French Quarter.
If you are looking for the perfect New Orleans street to explore, Royal Street is just that. It is one of the main "veins" of the city and a great place to start off your explorations in New Orleans! There are many photo opportunities if you are looking for great Instagram spots in New Orleans and there are tons of foodie stops along the way as well!
Royal in the French Quarter is home to some of the best wrought-iron balconies in the city and the buildings are gorgeous. As you walk down this lovely New Orleans street, you will pass fancy antique shops where you can dip in and see how far your money will stretch.
You will also pass Bennans Restaurant which is a famous place to stop in for lunch and dinner and the pink facade is unmissable. Finally, if you have a chance, stop by the cute Cafe Beignet for lunch or the lovely Hotel Monteleone for a spin on the Carousel Bar. YES it is a real thing and it really does spin and is one of the best things to do in New Orleans! Royal Street is the perfect New Orleans street to begin your explorations of the city!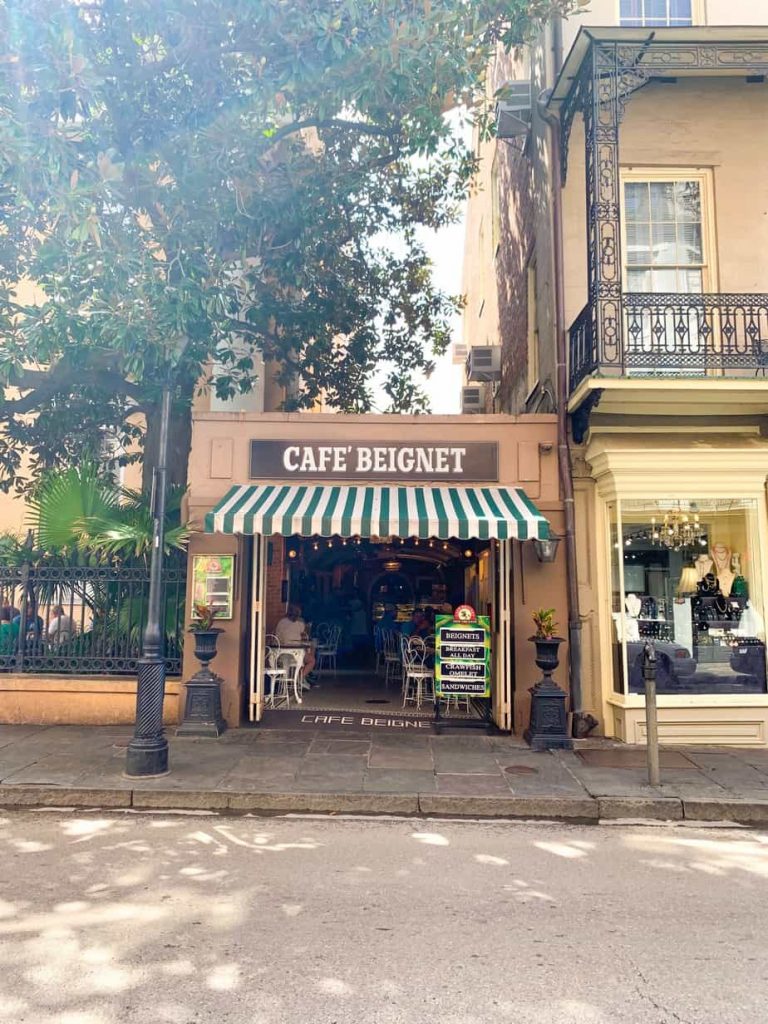 Decatur Street Is Home To Some Of The Most Famous Stops In The City
If you are looking to see some of the most famous views in the city, Decatur is the New Orleans street for you! It runs very near the Mississippi River and is one of the main streets in the French Quarter. It is large and busy and lined with stores, bars, and delightful places to eat. The most prominent and famous view from Decatur Street in New Orleans is the view of Jackson Square from the stairs in front of Washington Artillery Park.
Jackson Square is on one side of Decatur Street and the park is on the other. Simply cross this lovely New Orleans street, climb the stairs, and turn around for one of the best photos opportunities in the city!
Another reason why Decatur makes our list of the best streets in New Orleans is that it is home to both the French Market and Cafe Du Monde. Cafe Du Monde is THE place to try beignets in the city and has been operating for decades.
It is right near Jackson Square and is open 24/7! If it is busy and you want to escape the crowds, go early in the morning or later at night. The French Market has been there since the French were trading with the Natives and is built on the site of an old trading post! Decatur Street is one of the New Orleans streets that offers famous views blended in with local flair and unique vibes. You have to see it to believe it!
This is one of our favorite things to do and you should add it to your Weekend In New Orleans Itinerary.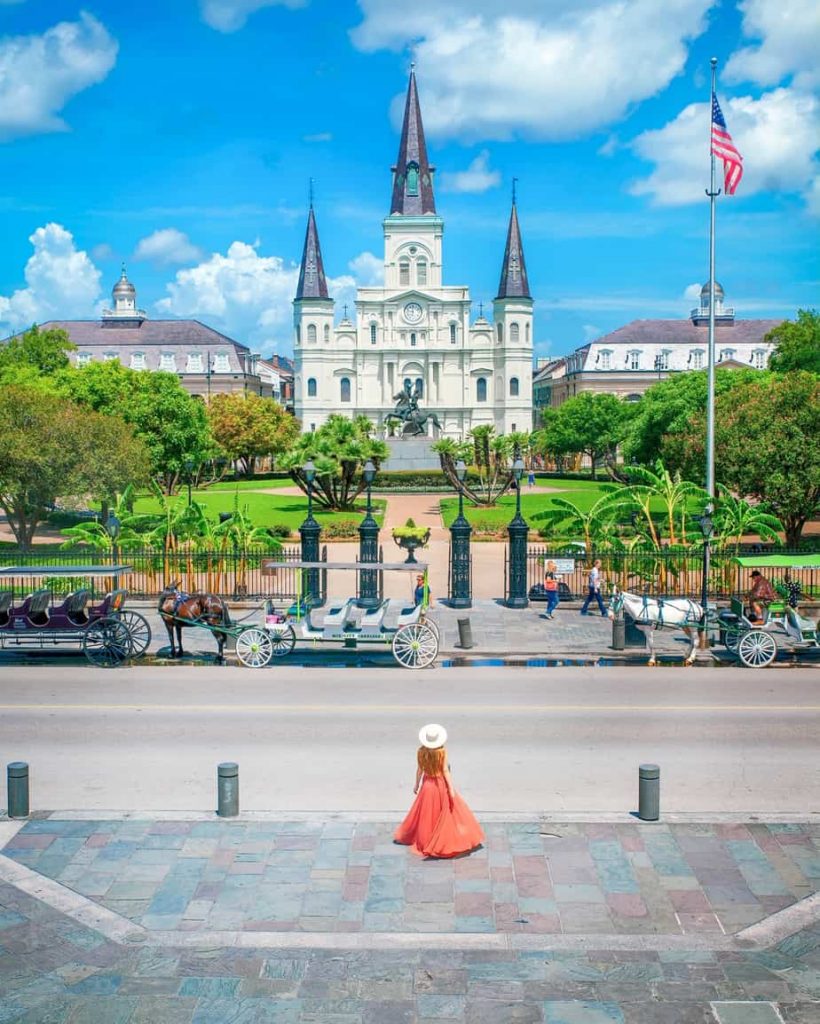 Chartres Street Offers Food And Views
While Chartres Street does run through the French Quarter and smack dab through Jackson Square, we think it is a prettier New Orleans street once you arrive in the Bywater District. The Bywater District is a really cute and colorful part of New Orleans that is home to pretty houses and wonderful places to eat!
Once you reach the Bywater on Chartres Street, we recommend checking out Crescent Park! There is a rusty "crescent" bridge that you can climb over and it makes for a unique photo opportunity.
We also recommend walking up and down Chartres Street and taking a top in Elizabeth's Restaurant for brunch, lunch, or dinner. The building is so photogenic and so retro and the food is beyond good. If you are looking for the prettiest street in New Orleans for a blend of nature, food, and architecture, check out Chartres Street in the Bywater District!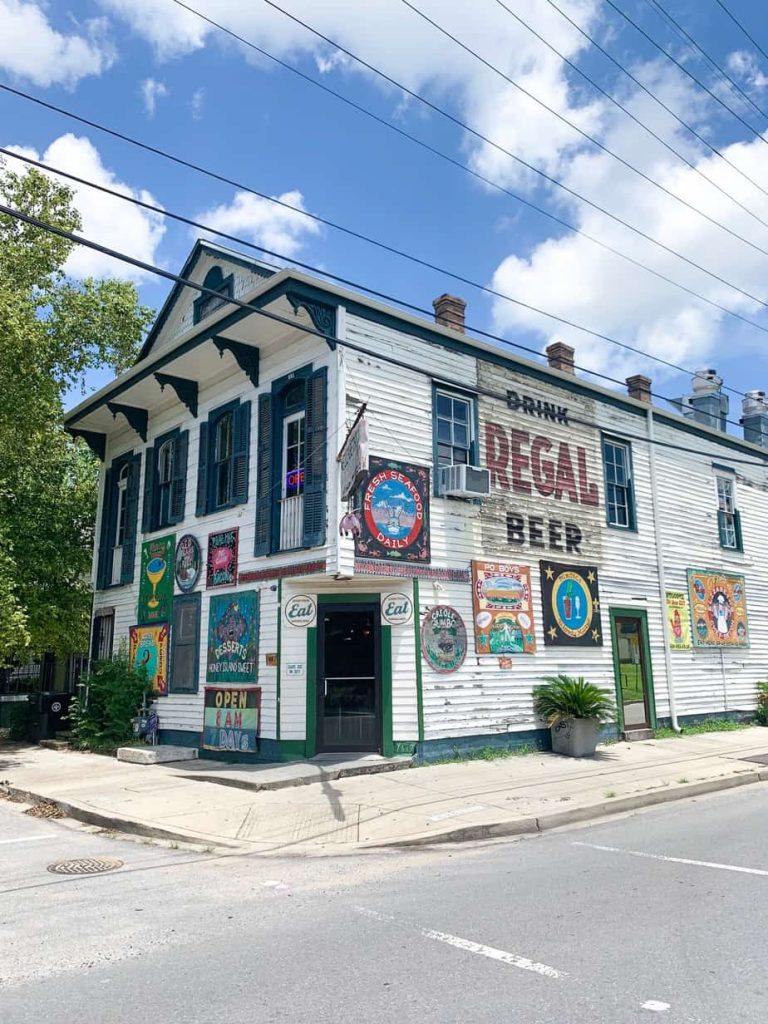 Royal Street Is Where To Find The Most Colorful Houses
Yep! You guessed it! This is the SAME exact Royal Street that you visited in the French Quarter, but the vibes change SO MUCH when you come to the Bywater District. In the French Quarter you are walking around the 500-1000 blocks.
By the time you are in the Bywater you are easily at the 3500 block and beyond. Just past Elizabeth's Restaurant is where you can find the prettiest stretch of street in New Orleans. This is THE place to be to see the cute, quaint, and eclectic colorful houses. They are just darling and don't even look real.
The real fun of exploring this New Orleans street is seeing how they are decorated and if anything fun is in the yard! For example, one home on Royal Street in the Bywater has a claw-foot-tub fountain in the front along the sidewalk.
It is always running and there is lush grasses growing from it. It is just so random and cute and you will totally love it! If Royal in the Bywater district has made your list of top New Orleans streets to visit, don't forget to wander off the main street and explore random side streets too! You won't regret it!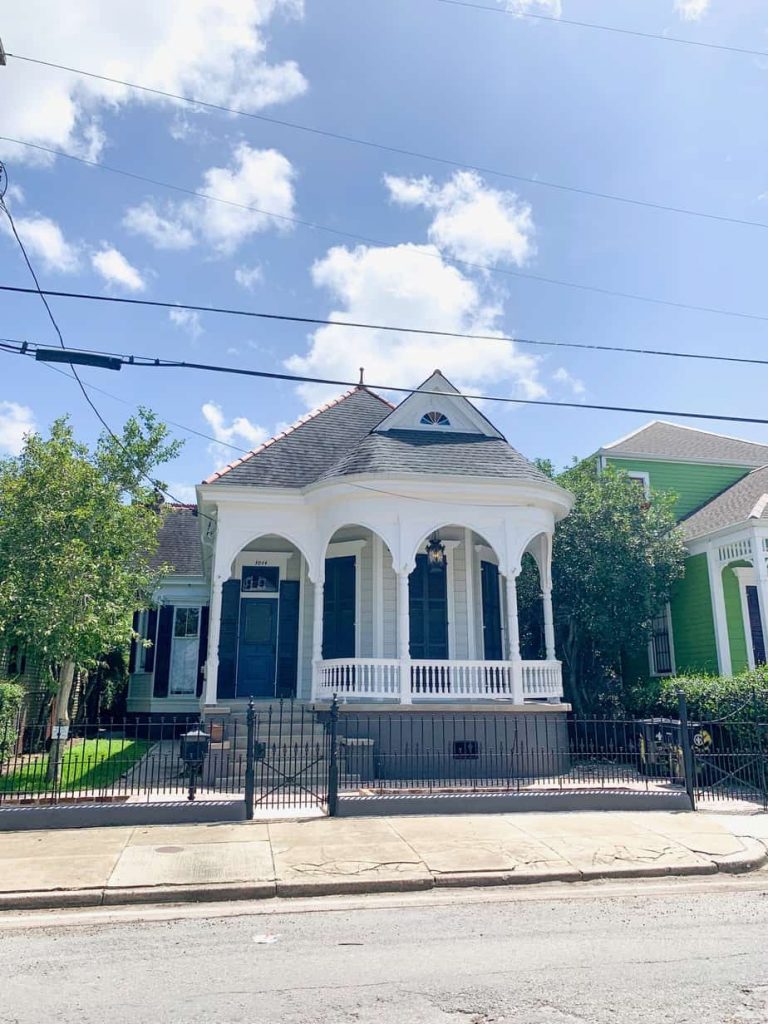 St Charles Ave Is One Of The Wealthiest New Orleans Streets
If you could only pick two New Orleans streets to visit on your itinerary, St Charles Ave should be one [along with Royal in the French Quarter]. This street is THE place to live and the best part of St Charles Ave is in the Garden District.
The Garden District is aptly named because of all the greenery. Hundreds of live oak trees line this gorgeous New Orleans street making for a lovely photo opportunity at every turn. The best part is that the oak trees provide shade if you are visiting during the warmer months.
The reason to visit St Charles Ave is so that you can marvel at the very fancy and expensive homes. There are mansions that line up and down St Charles Ave throughout the Garden District and beyond.
We had heard tales about how fantastic and lovely the homes that line this New Orleans street were, but you really do have to see it to believe it. There isn't a bad angle to take a photo of St Charles Ave and we do recommend carving out at least 1-2 hours to wander and explore in the lovely shade!
Finally, St Charles Ave is home to the Charles Streetcar, the oldest continuously operating streetcar in the world. So this means you don't even have to WALK on St Charles Ave! You can take the oldest streetcar until you see a beautiful home and then you can get off and walk around and explore. The streetcar is an army green color and runs every 10 minutes or so. You can download the app and buy a 24-hour pass for $3 [which is so affordable!] or you can pay with cash. St Charles Ave makes the list of the prettiest New Orleans streets due to the oak trees, gorgeous mansions, and quaint old streetcar. How does it get better than this?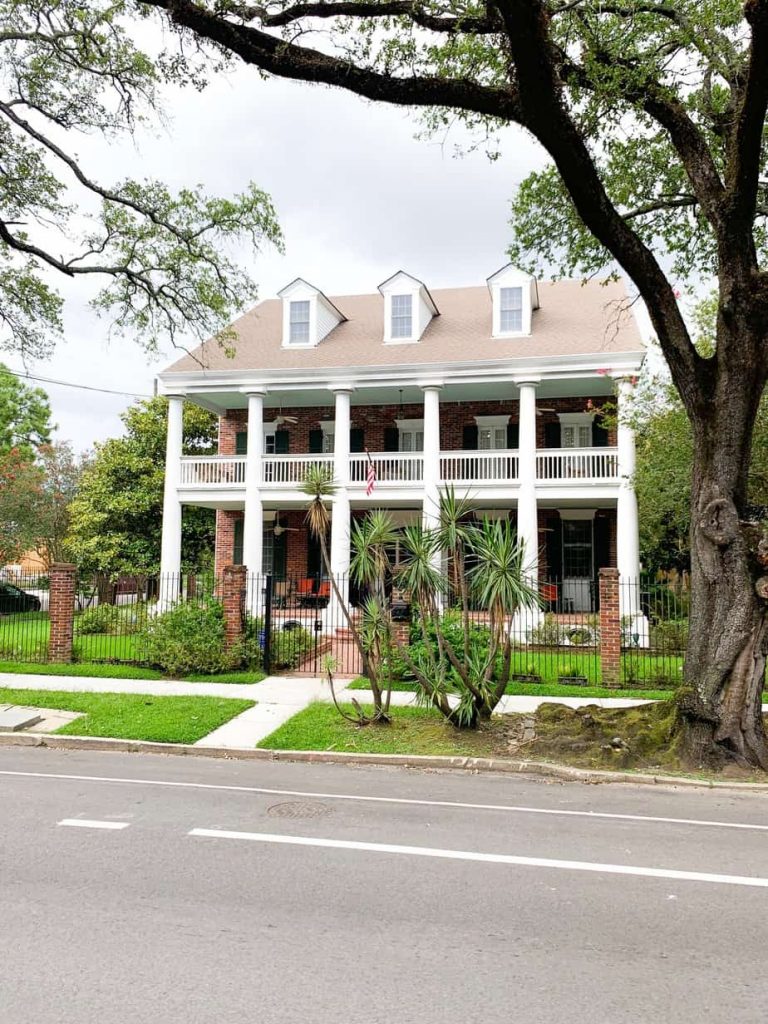 Magazine Street Offers Urban Beauty
Magazine Street actually runs for 6 miles so you have plenty to work with. The part of Magazine Street that we loved was in the Warehouse District. Many New Orleans streets feel similar with colorful homes or wrought-iron balconies, so escape that for some urban flair on Magazine Street. Although it may look like your generic "downtown" area, there are plenty of pretty things to see and do!
Our favorite stop along Magazine Street in the Warehouse District is Auction House Market. Not only is it very instagrammable, but the food is also fantastic as well! The inside of Auction House Market is a photographers dream! If you avoid going during the peak operating hours, you will have plenty of space to take photos of the beautiful interior. If you visit Auction House Market, make sure to visit the bathroom as the wallpaper is very cute with "lips" and a retro feel. There are many cute hidden things all along Magazine Street so don't be afraid to explore!
Fun tip: Magazine Street in the Warehouse District [and Auction House Market] is just 2 blocks away from St. Charles Ave where you can pick up the oldest streetcar. This way you are able to hit two New Orleans streets at one time!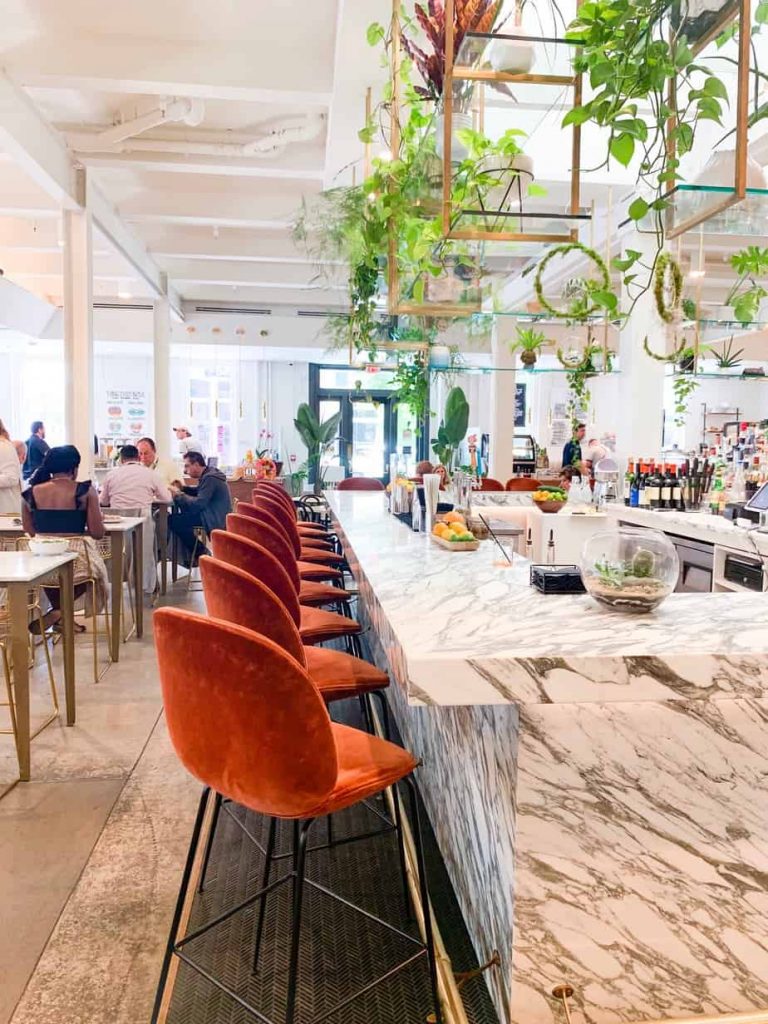 Canal Street Is Where To Go For The Streetcars
If you are looking for the best New Orleans street to go for photos and sightings of the famous streetcars, Canal Street is the place to be. Here, you will see the famous St.Charles Streetcar in army green running up and down Canal Street until it turns onto St Charles Ave. In addition, you will also see the normal red streetcars with yellow trim running along this street in New Orleans as well.
There are many stops along Canal Street, especially when it is near the outskirts of the French Quarter, so if you want to take photos of the streetcars or even with them, you are in luck! Just make sure to be careful and stand on the sides of the tracks and not on the tracks themselves when a streetcar is oncoming. They do drive faster than you may think! You may not initially think of Canal Street as pretty, it just seems like a normal main street in any city. But as soon as you add in streetcars of varying colors it is easily one of the cutest and best streets in New Orleans.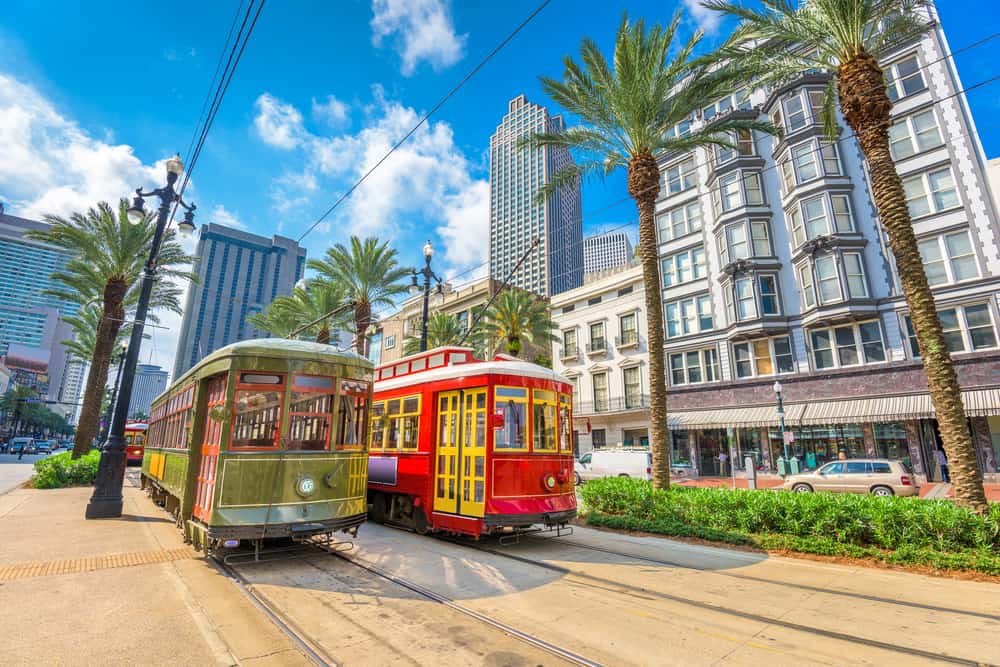 Dumaine Street Is Home To The Prettiest Balcony In New Orleans
Dumaine Street in the French Quarter is home to some of the prettiest balconies in New Orleans. We particularly love the red home with the ferns at the corner of Dumaine and Royal. There is also a grey building on the opposite side of this corner as well which makes for a unique contrast.
If you are looking for some wonderful photo spots, Dumaine Street and this intersection is a great place for you to visit! If you continue all the way down on Dumaine Street towards the Mississippi, you will eventually run into Decatur and the French Market.
The whole street is lesser-known than some of the options on this list and it is a bit away from the main hustle and bustle even though it is quite nearby all the popular spots in the city! Make sure to check out the best balcony house and you won't be disappointed! Then, wander and see what else you come across!
New Orleans is one of the best girl's trip destinations, but most people stick to Bourbon street. Take your friends and explore some nearby streets!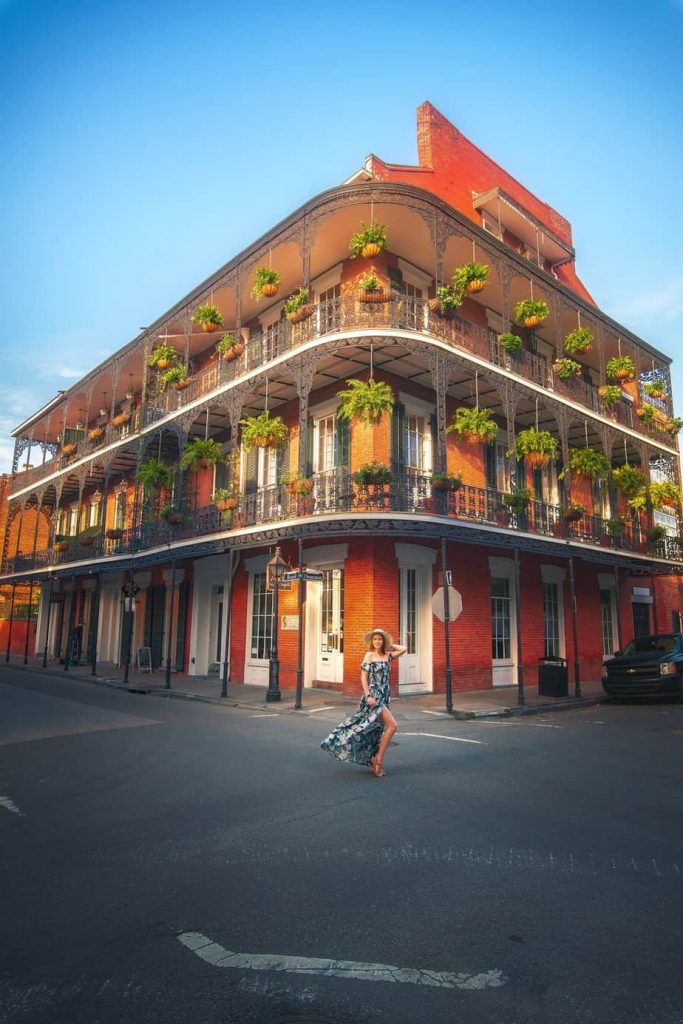 We hope you loved seeing some of the best New Orleans streets! From quaint and cute to grand with mansions and oak trees, there is something for everyone. The true charm lies in walking around and discovering which streets in New Orleans are the best for you! Start with our list and then go wander and see what you can find from there! You really can't go wrong!