There are so many amazing and unique Airbnbs in South Carolina that will make your trip to this Southern state memorable. We have made your search painless by creating this list so you can spend more time booking delicious food tours or daydreaming about romantic horseback rides on the beach.
South Carolina is a beautiful state full of natural wonders and cities made of eye-catching architecture and Southern charm. Whether you are coming for a couple's retreat or a family vacation, South Carolina has everything you need to have a great time! When you visit, you will not want to leave!
Looking to save money on your trip to South Carolina? Get a FREE $55 Airbnb coupon by using our code when you book!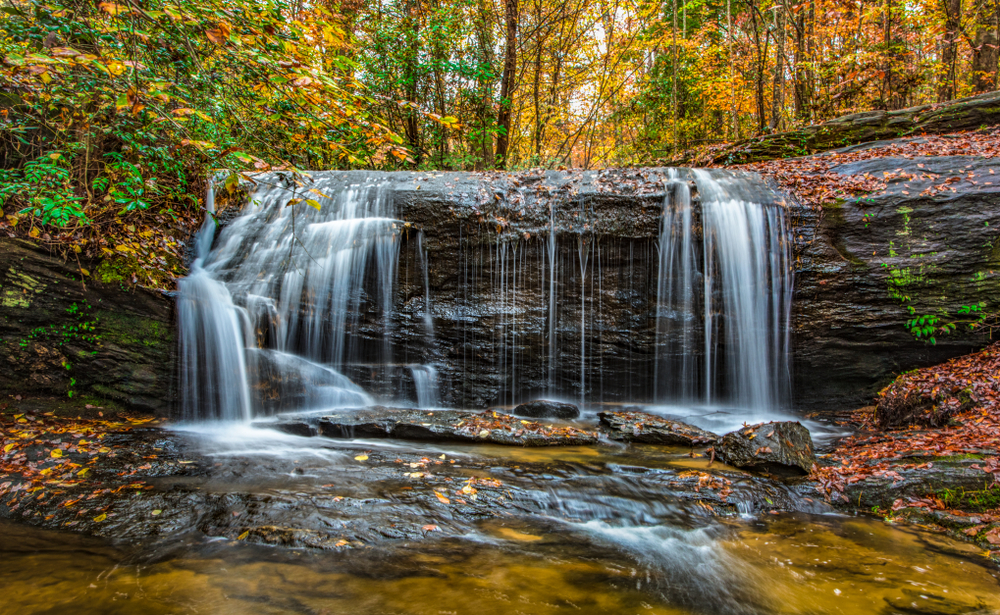 16 Best Airbnbs In South Carolina (Cabins, Beachfront, And More!)
The Majestic Treehouse
We will start this list with the gorgeous Majestic Treehouse in Walhalla. This magical and romantic treehouse will make you feel like fairy royalty as you relax in the outdoor swing bed. This is the perfect place for nature lovers to book a honeymoon getaway or even get married! In warm weather, enjoy your meals outside. If it is chillier when you visit, then cuddle up on the bed inside and view nature through the wall made of antique windows.
Found on a forty-acre farm, this property gives you access to forest hiking trails, a small vineyard, an organic garden, and a picnic area. There is also a cute, outdoor shower ideal for communing with nature in a unique way. The hosts even offer a VIP experience if you want to add more fun and special treats to your stay.
Click Here To Check Rates On Airbnb!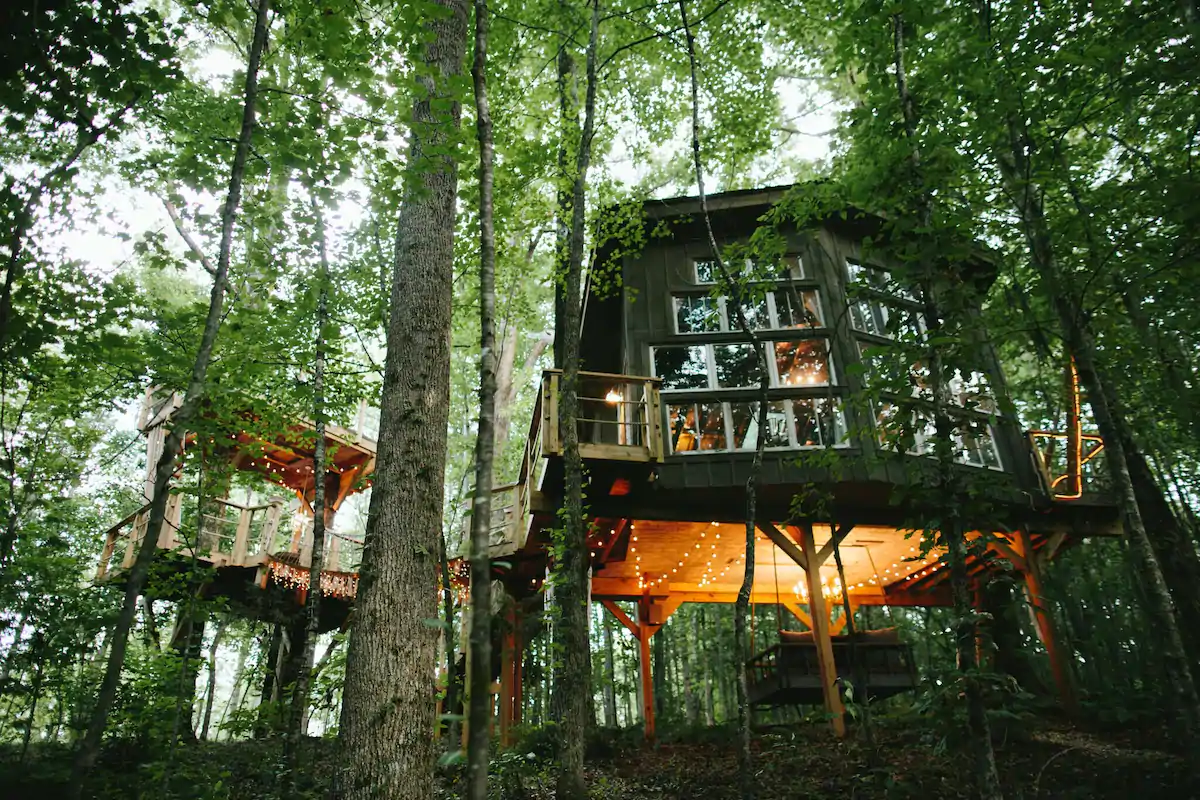 Bella Luna Treehouse
The Bella Luna is another amazingly crafted treehouse where you are sure to have a memorable vacation. With beautiful wood and rustic details throughout the interior, you will feel as if you are staying in a Southern Living Magazine. While there is no TV or wifi, there are games to play and records to listen to so you can have fun the old-fashioned way.
This is another one of the best Airbnbs in South Carolina for couples who love nature. There is outdoor seating and a grill to cook on. A fire pit gives you a cozy place to roast marshmallows. This property is found near many pretty nature areas, including the Sumter National Forest.
Click Here To Check Rates On Airbnb!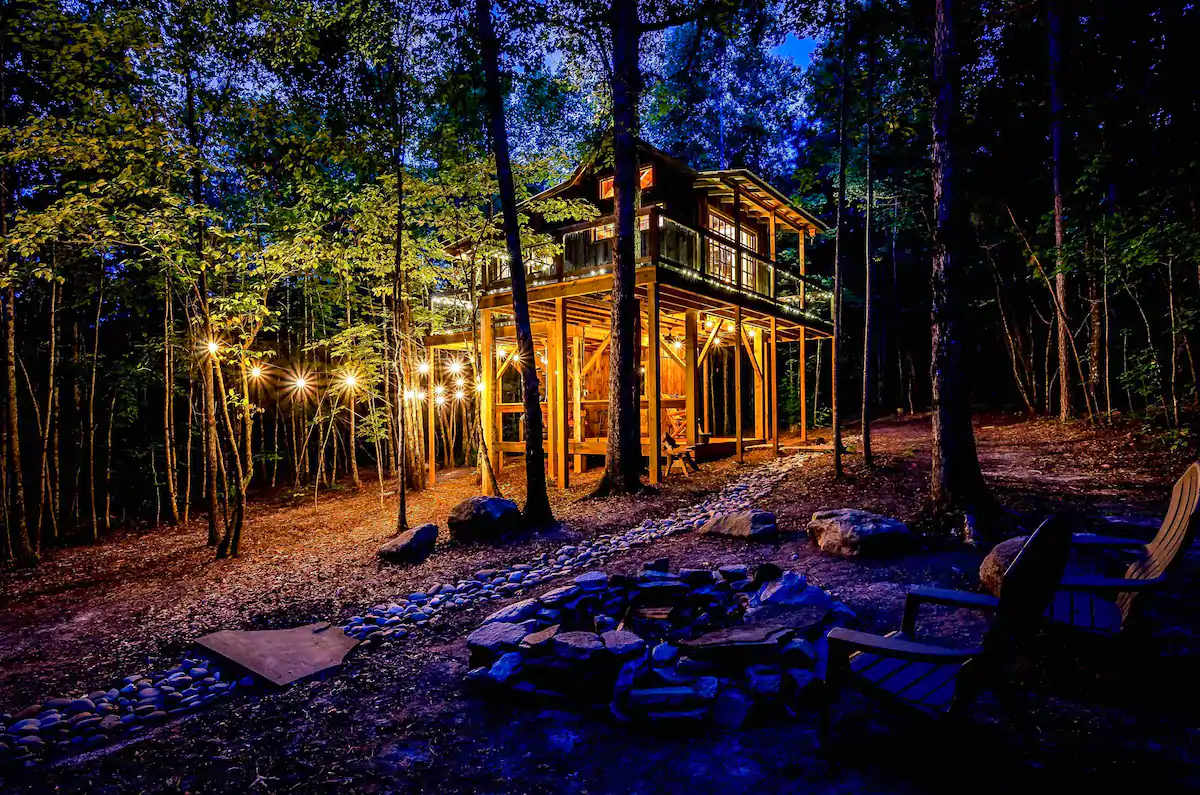 1 Summer Place
The beachfront home at 1 Summer Place is one of the best Airbnbs in Folly Beach because of its 180-degree view of the ocean and impressive size. Up to eight guests can stay here, so it is perfect for a large family or friend vacation. Since it is only a single step from the beach, you will feel like you are in paradise!
This house is large and open with multiple decks for sunbathing and relaxation. Volleyball and other lawn games provide a chance to play outside right next to the beach. You can grill on the deck or make use of the full kitchen. At sunset, watch the ocean water change color and maybe spot some dolphins. This is easily one of the best vacation homes in South Carolina!
Click Here To Check Rates On Airbnb!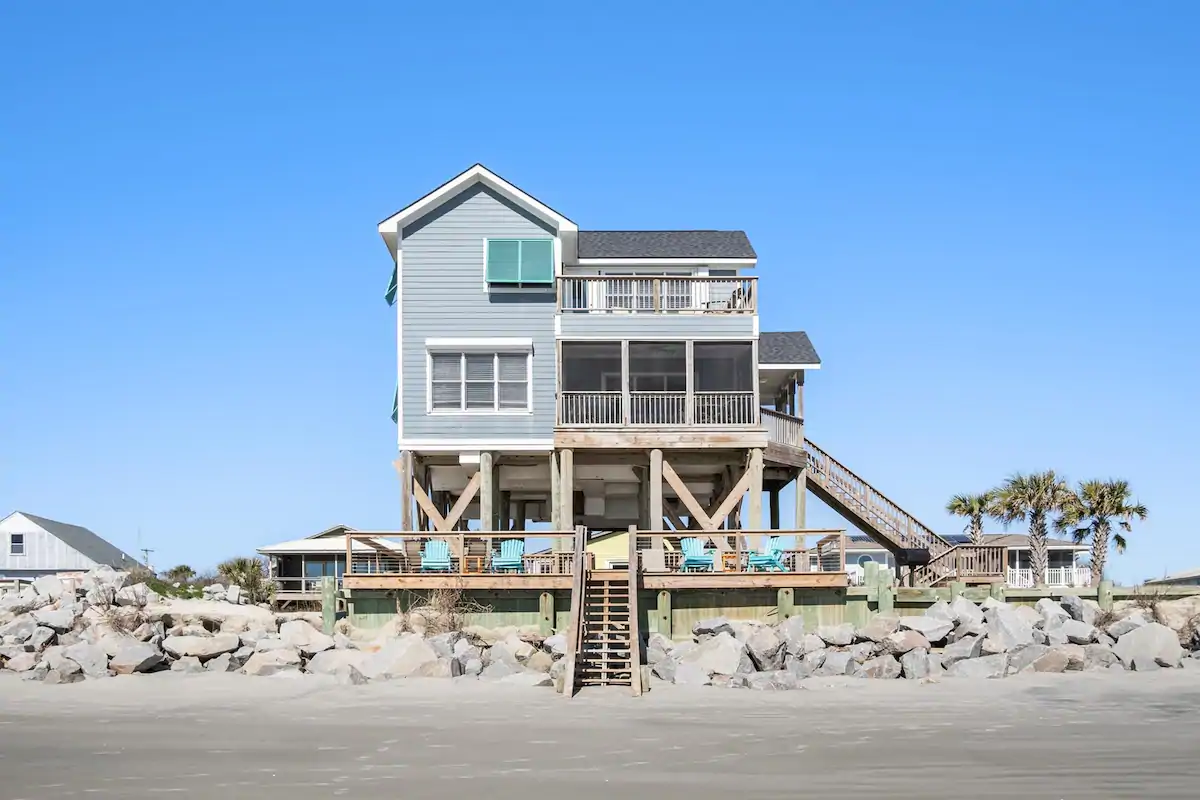 Blue Pearl
Blue Pearl is another large vacation home in Folly Beach. This Airbnb is in town and close to many restaurants and shops. It is also only walking distance to the beach. Your family will love playing basketball in the backyard and telling ghost stories around the fire. There is an outdoor grill to cook on and a hammock to lounge in as well.
This house is surrounded by lush greenery and a fence, so you will feel isolated and at peace in your private oasis. This is also a pet-friendly property and the yard provides plenty of space to throw a ball for your fur baby. There are so many fun, outdoor activities to enjoy in Folly Beach from fishing and kayaking to surfing and biking. You will want to stay here a few days to take it all in.
Click Here To Check Rates On Airbnb!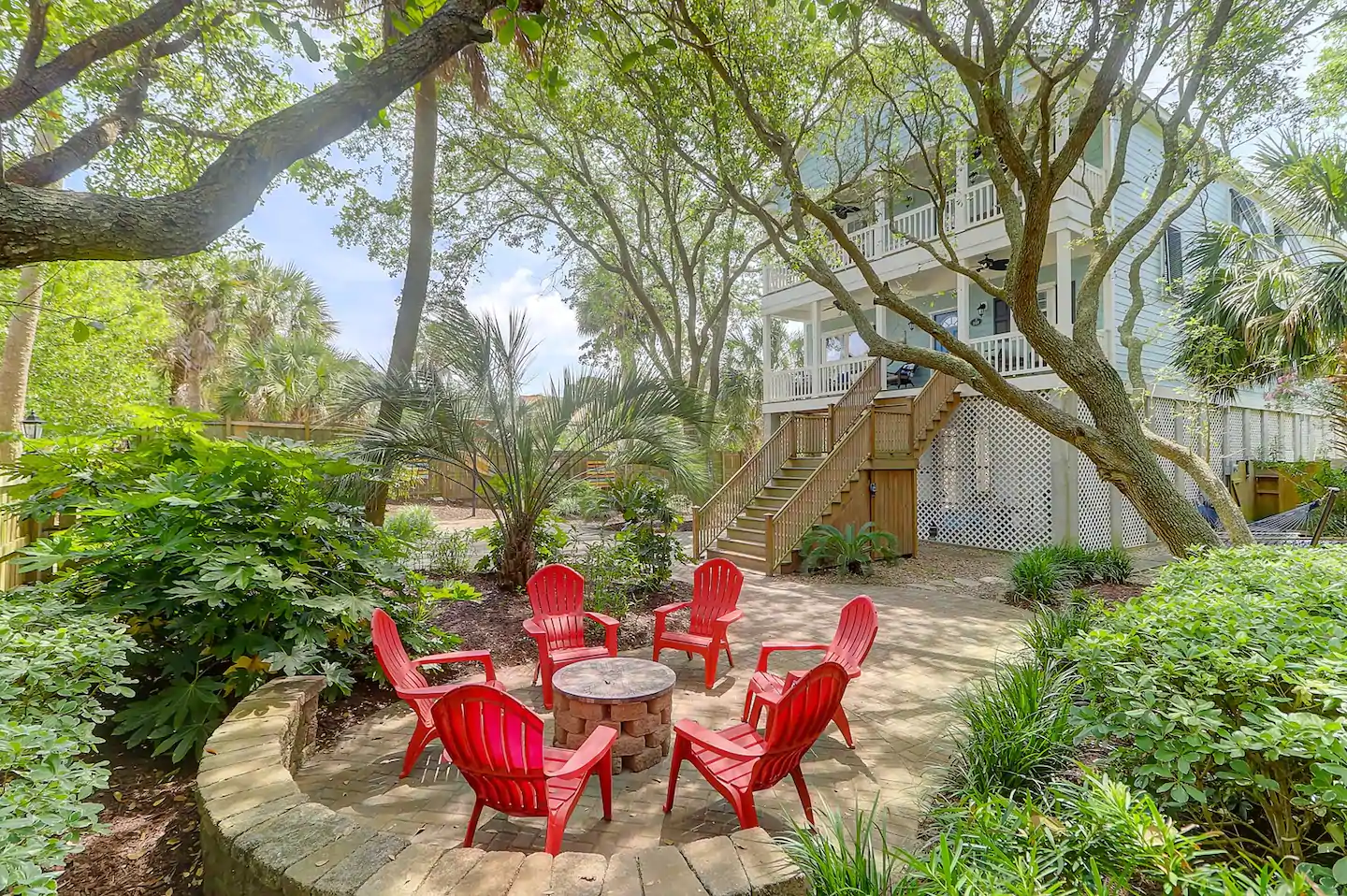 Private Beach Paradise
This private beach paradise in Folly Beach is unique because it comes with access to a golf cart and bicycles. These will help you get around town in style as you enjoy the fresh sea air. There is also some beach gear available, including boogie boards and surfboards. The beach is only two blocks away. so you can walk or use the golf cart to carry your beach stuff.
This house is a mix of rustic and modern with enough space to house five guests. The large deck gives you an area to grill a meal or sit and read a book. There is even an outdoor shower for a unique experience. At night, make sure to switch the fairy lights on for a dash of magic.
Click Here To Check Rates On Airbnb!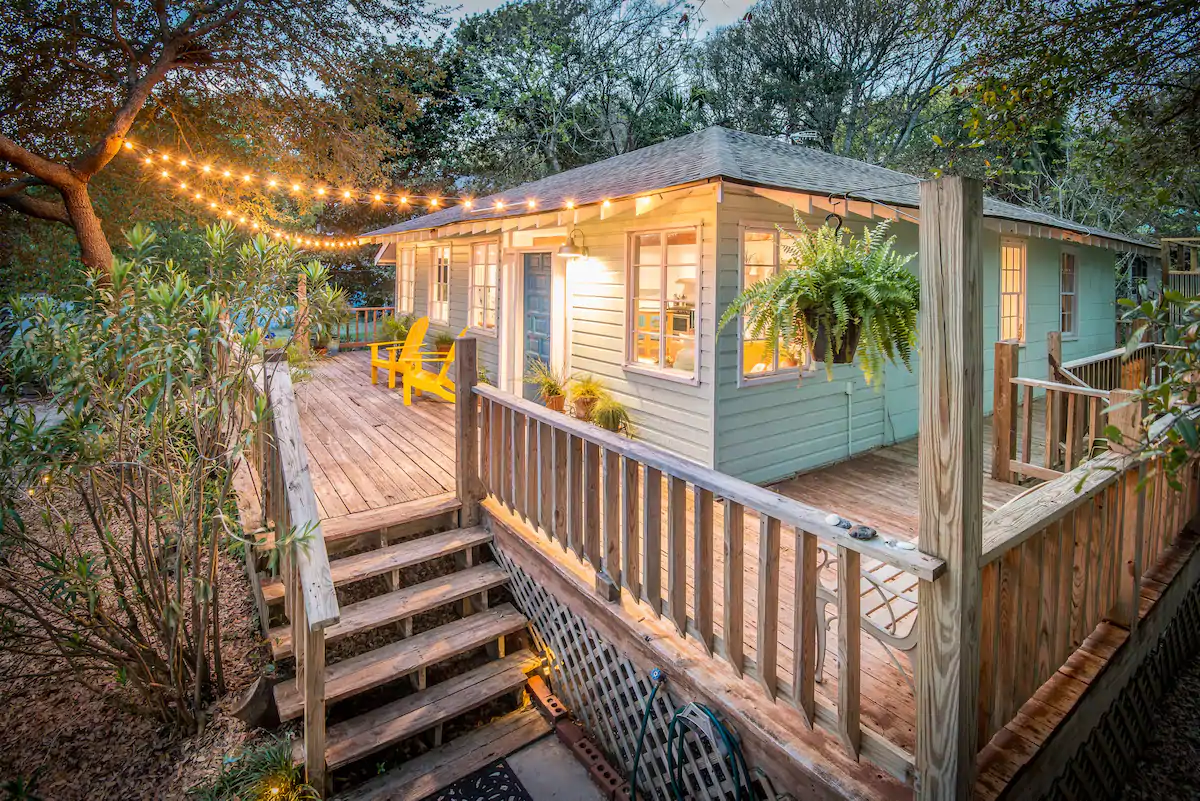 Oceanfront Home in Wild Dunes
This modern and chic oceanfront home is found near the Wild Dunes Resort of Isle of Palms. With unobstructed views of the ocean, what can get better than this South Carolina beach house?! This two-story home can accommodate up to eight guests and is ideal for families. Each bedroom has its own TV, so there will be no fights over what to watch. Or you can all settle down in the comfy living room for a movie night together.
If you feel like swimming, the ocean is a beautiful boardwalk away or you can check out the community pool. Relax on the patio or walk next to the scenic golf course next door. There are plenty of options for fun in the sun activities here to keep the whole family entertained.
Click Here To Check Rates On Airbnb!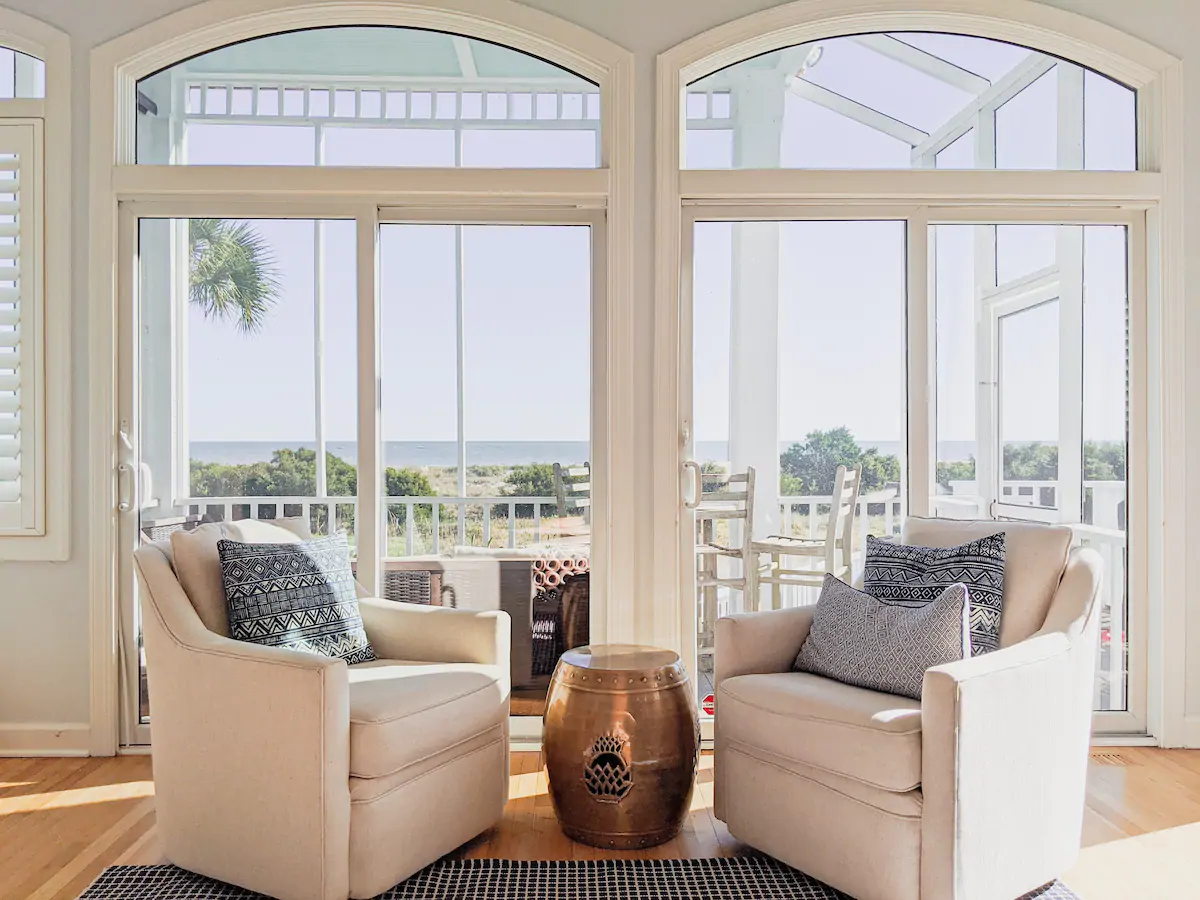 12 Ocean Point
Number 12 Ocean Point is another large and beautiful home in the Isle of Palms, this one big enough for a party of ten. Split the cost among you and your best friends to have a fantastic vacation here with so much to do and see. This home is three floors, including a rooftop deck with a wet bar. You will not be far from the beach, where you can enjoy swimming or spotting dolphins.
The covered porches give you a place to relax as well as amazing views of the neighborhood. This home also has an elevator for anyone who requires it. There is a community pool to enjoy or you can check out the world-class golf course. However you spend your time here, you will have a blast at one of the best Airbnbs in Isle of Palms!
Click Here To Check Rates On Airbnb!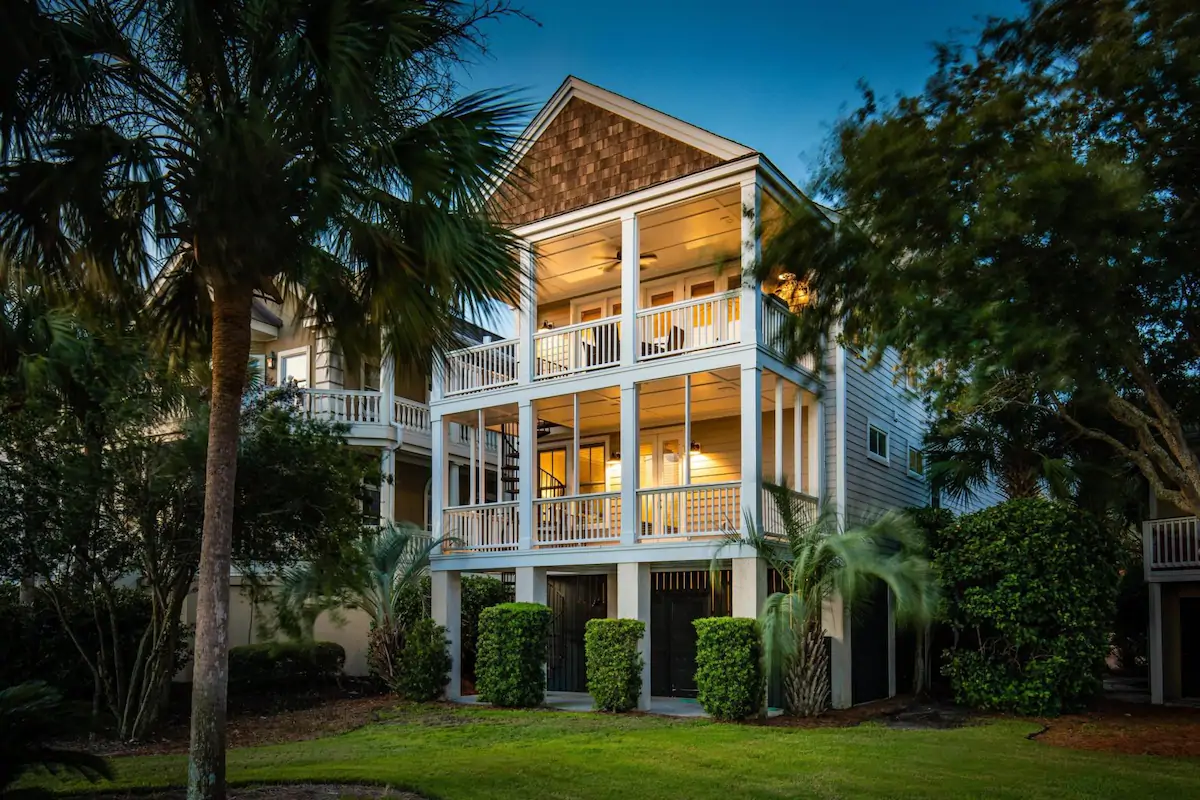 Downtown Charleston Single
There are many great Airbnbs in Charleston, and this downtown apartment is one of them! The cute, bright blue of this home's exterior will draw you right in. The interior is modern and bright with a cozy loft bedroom. If you utilize the pull-out couch, four people can stay here.
This home is found on a quiet, residential street, but it is only a block from the shops, restaurants, and nightlife of King Street. The area is easily walkable and you will feel like a local as you discover bakeries and cafes. When you aren't out taking in the charm and history of Charleston, you can sit back and relax with some Netflix and a home-cooked meal.
Click Here To Check Rates On Airbnb!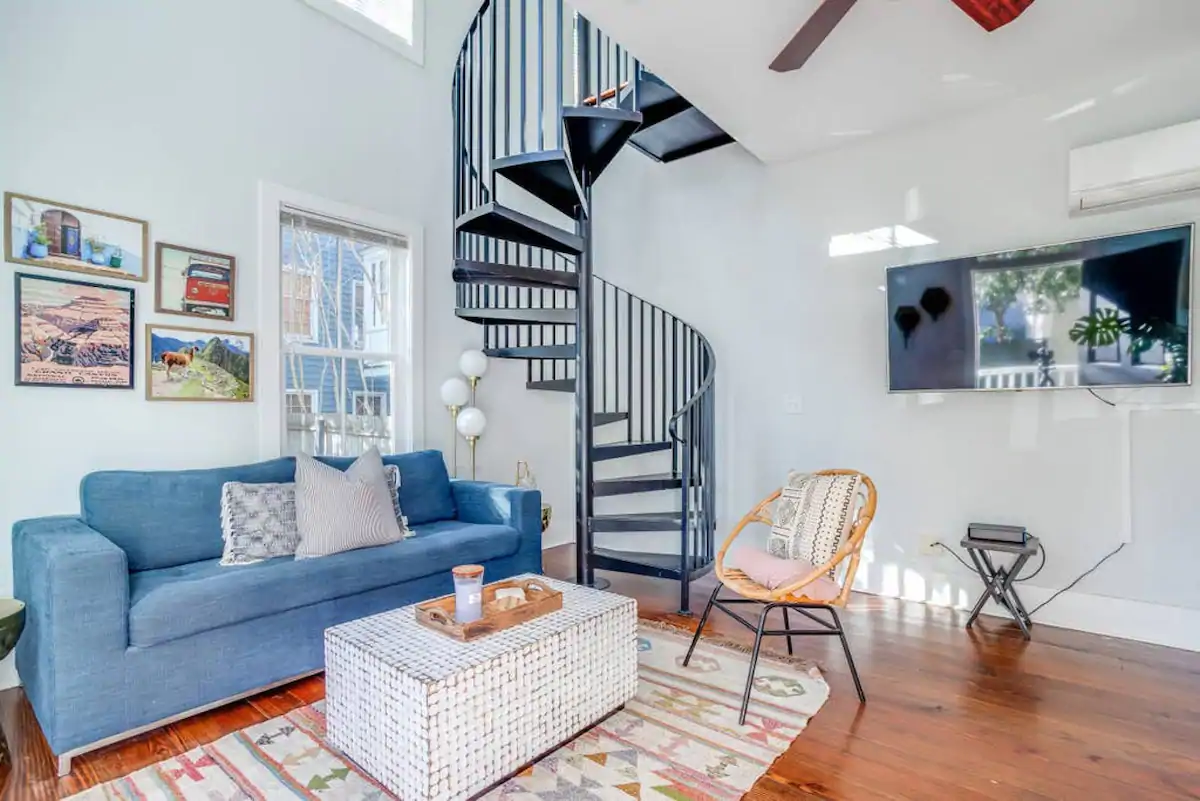 Spacious Condo
This cute and spacious condo is one of the best places to stay on Hilton Head Island. A party of six would love to make this their home during their beach vacation. The screened-in porch offers peaceful views of trees and the golf course. The home is near bike trails and is not far from the beach.
Your South Carolina vacation will be made special with the bar, soaking tub, and fireplace. There is a community pool to swim at during the day and at night, everyone can settle down in the comfy living room to watch TV. You will have a ton of fun here exploring Hilton Head.
Click Here To Check Rates On Airbnb!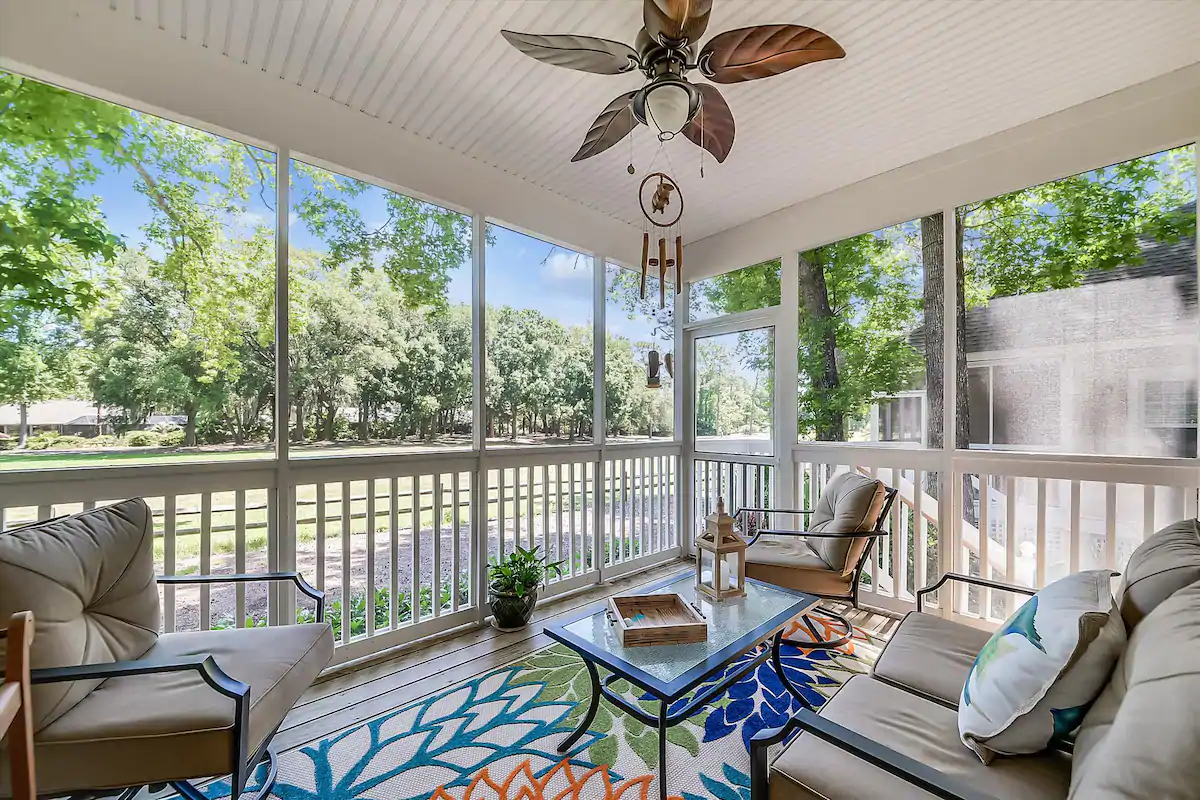 Beachfront Cabana
The Beachfront Cabana is one of the best Airbnbs in Myrtle Beach! With amazing views of the ocean and palm trees, you will feel like you are living in paradise. Each morning, you will want to sit out on the porch with your coffee and smell the fresh, sea breeze. This scenic location is perfect for a family of four.
Staying here gives you access to beach gear, including beach chairs and an umbrella. When you are not chilling in the sun at the beach, you can have fun at the local pool, which includes a lazy river, a hot tub, and a children's water play area. Back at the house, your family can have bonding time with board games or a movie marathon.
Click Here To Check Rates On Airbnb!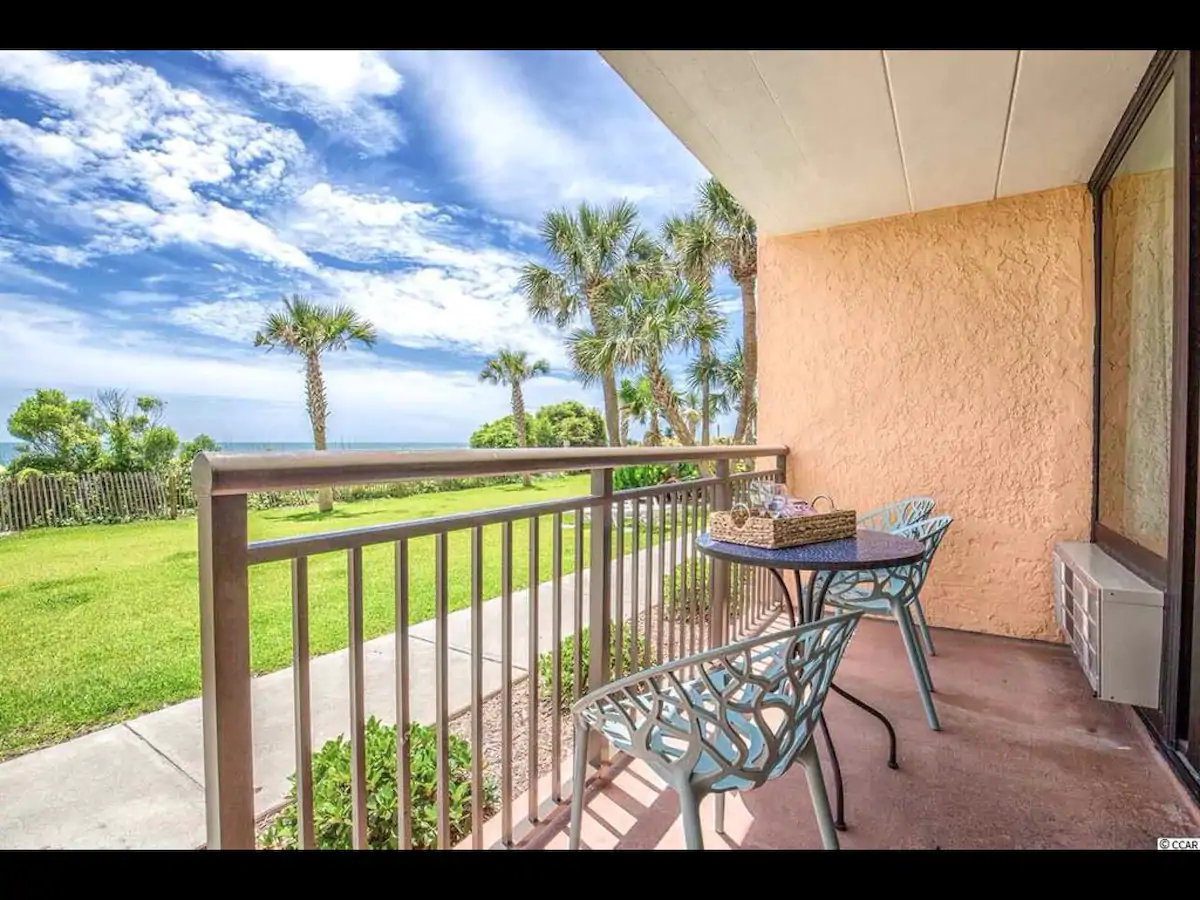 Retro Getaway
If you are a child of the '80s or '90s, then this Airbnb is for you! This retro getaway is probably the most unique on our list of South Carolina Airbnbs. The main room is filled with many arcade games and pop culture memorabilia. There is a giant couch where you can sit and play video games or read Japanese manga. You can also relax your muscles in the massage chair as you stream some TV.
This property is found in Surfside Beach, just down the coast from Myrtle Beach. The local beach is about a ten-minute walk away or you can use the provided bikes to get there faster. Some beach gear is available, such as beach chairs, an umbrella, and a cooler. When you get home from the beach, rinse off in the walk-in shower, which includes a rainfall showerhead as well as eight jet nozzles.
Click Here To Check Rates On Airbnb!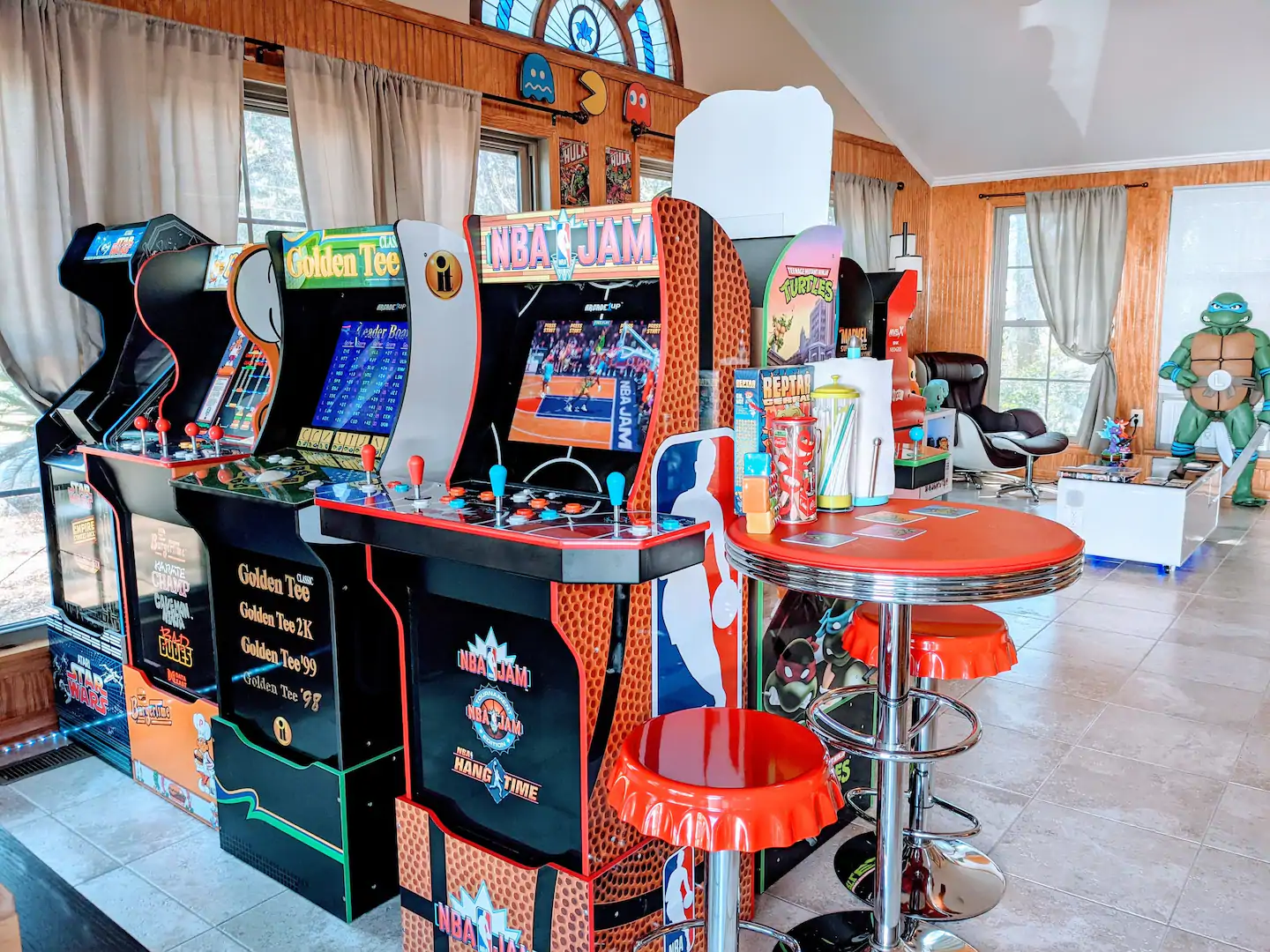 Eco-Friendly Tiny House
In a forested area in the heart of Columbia, you will find this adorable, cabin tiny house. This is one of the best places to stay in South Carolina if you love to be surrounded by nature but also love to be close to a big city. This location gives you the peace of country living while also being only a few minutes from downtown.
This tiny house is also eco-friendly and was designed to have a low-carbon footprint. This is great for anyone worried about their travel impacting the environment. This cabin makes a great couples getaway in South Carolina because of its seclusion. This tiny house has all the comforts of home with a full kitchen and bathroom. The many windows let in plenty of natural light and provide views of the forest.
Click Here To Check Rates On Airbnb!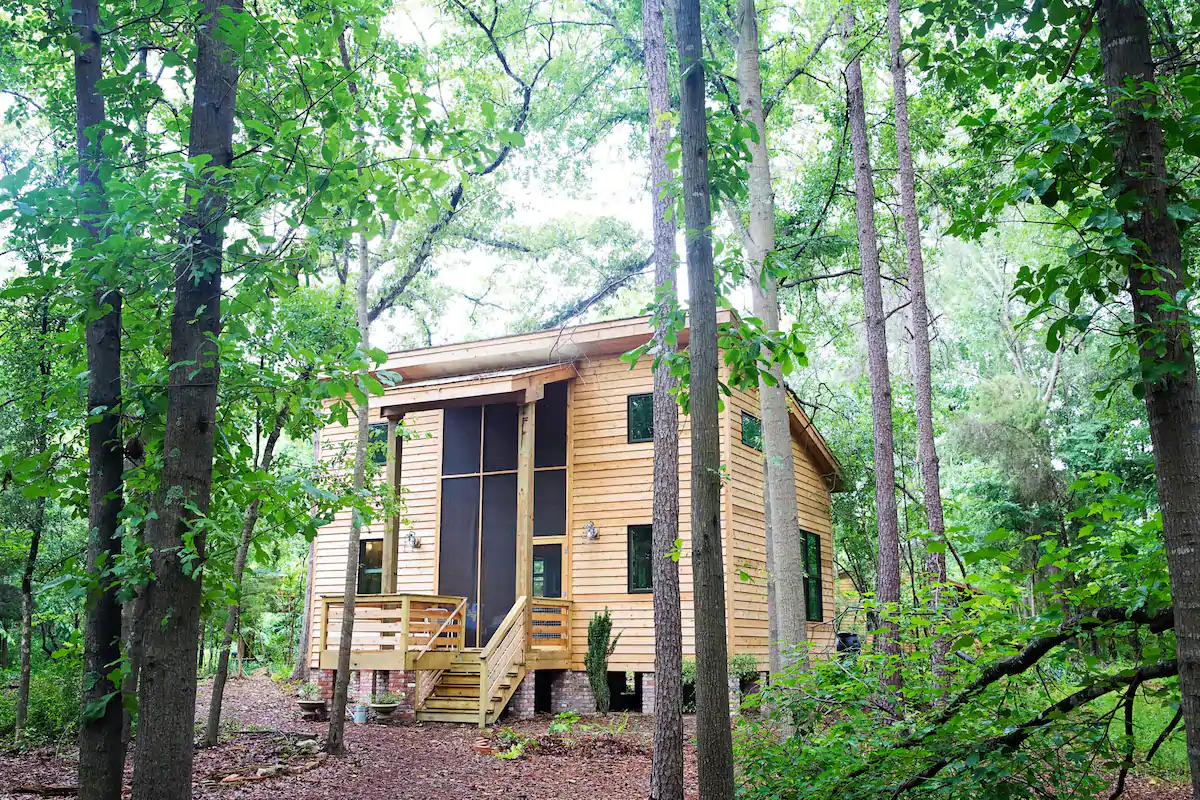 The Gathering Place
The Gathering Place is an elegant home found in Elmwood Park in Columbia. This house dates back to 1905 and is on the National Register of Historic Places. Now newly renovated and modern, you will love staying here along with seven of your closest friends or family. The house is within walking distance of Main Street and many other attractions, so this is a great location. The street is lined with trees and is super pretty.
As one of the best Airbnbs in Columbia, you will love the look and feel of this home. The grand chandelier in the living room and the high, sculpted ceilings help the luxurious aesthetic of the place. In one bathroom you will find a rain shower while another has a whirlpool tub. This is perfect for relaxing after a day of exploring the city.
Click Here To Check Rates On Airbnb!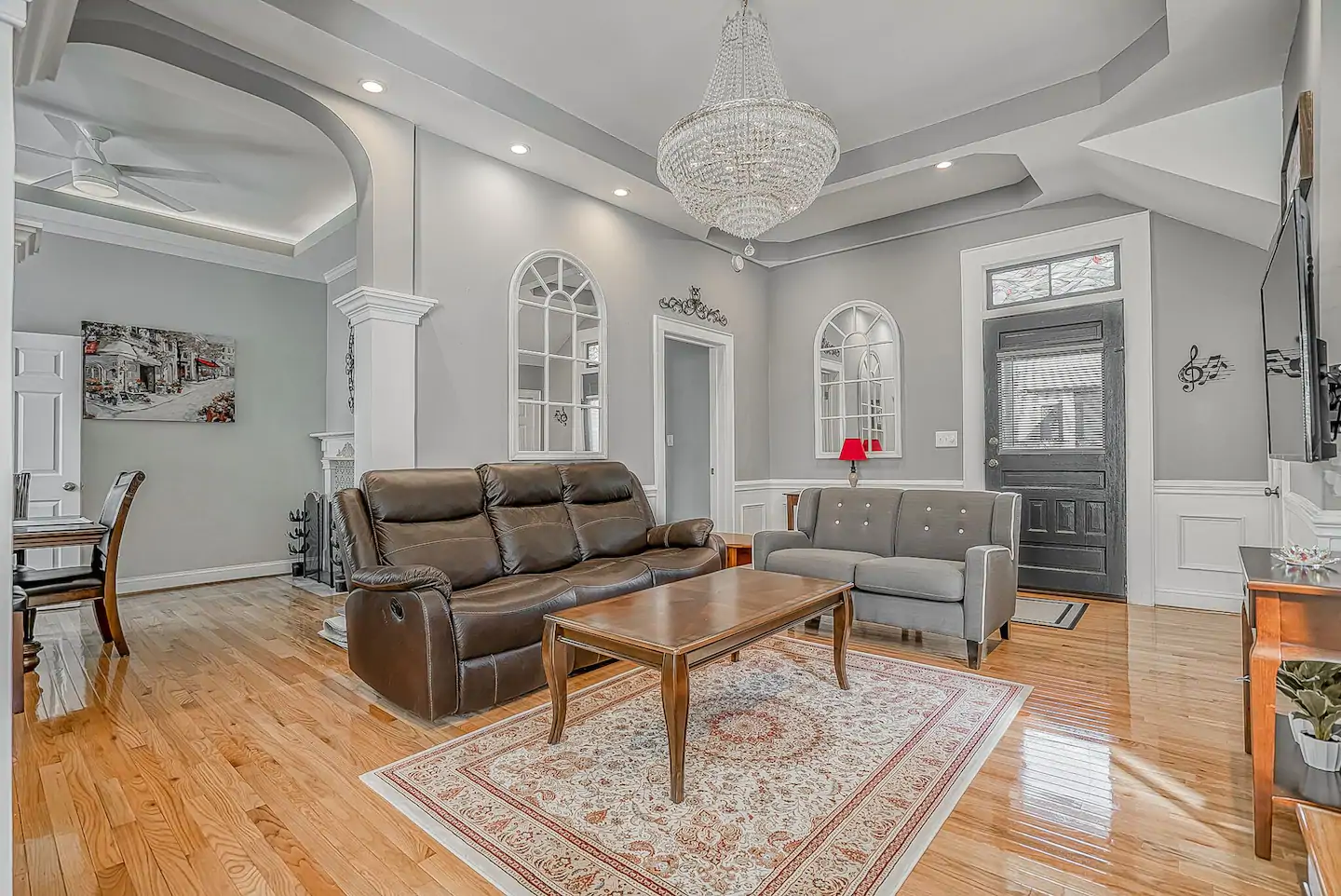 Swamp Rabbit Red Roof
The Swamp Rabbit Red Roof is a cute, little Airbnb in Greenville. This 1940s mill house is next to the Swamp Rabbit Trail. This pretty trail will lead you to downtown Greenville in about fifteen minutes if you walk or faster if you use the bikes provided. You will feel like a local as you bike the streets and discover everything the city has to offer.
This house will sleep five people and is great for a family vacation. It is also pet-friendly with plenty of space outside for your dog to run around. The back porch is a great place to sip your morning coffee or read a book. It also offers a pretty view of the green backyard.
Click Here To Check Rates On Airbnb!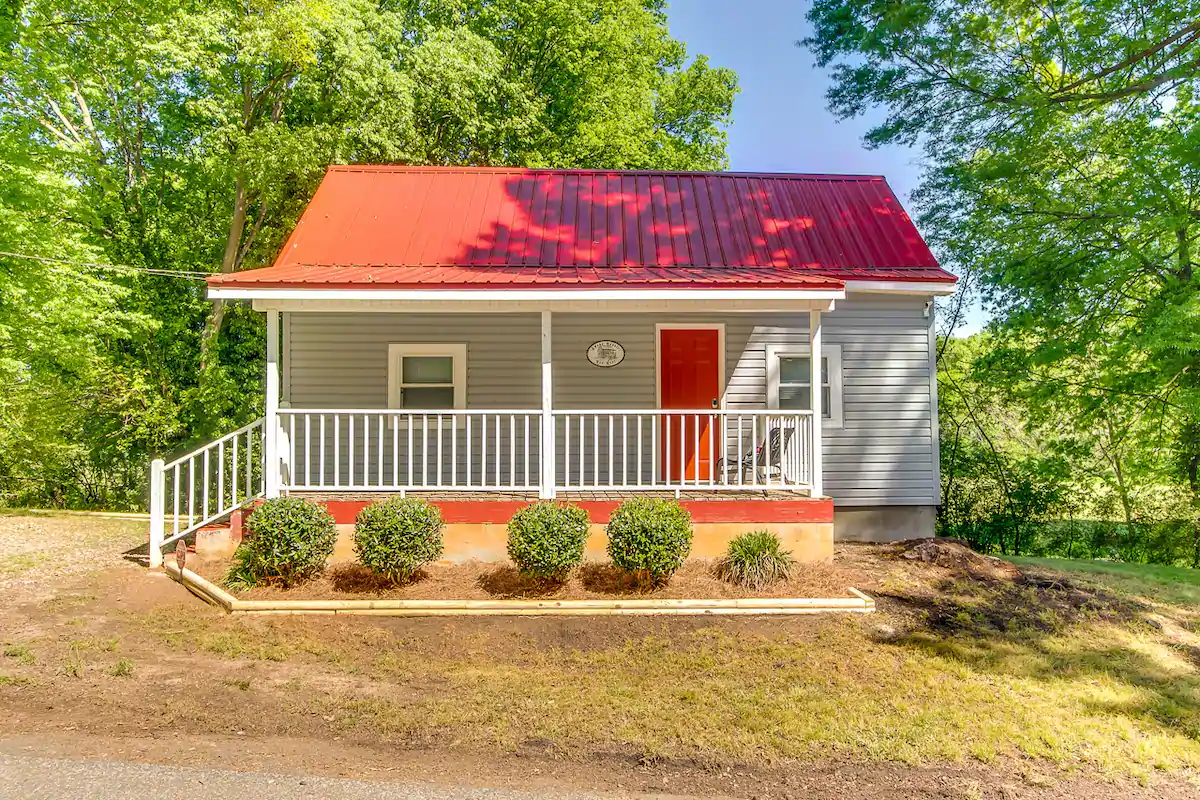 The Wren Guest House
The Wren Guest House is one of the cutest Airbnbs in Beaufort, South Carolina. Though it's not too big, it makes for a perfect and cozy getaway for couples. Surrounded by plants and strung with fairy lights, this home looks like it was pulled from a storybook.
This South Carolina Airbnb is in the historic district neighborhood and is close to many parks, shops, and restaurants. It is also near the Beaufort River. When you finish exploring the town, spend the evening snug in the living room watching TV and enjoying a home-cooked meal or even take-out. Overall, this is a great little cottage to relax in and forget about your worries.
Click Here To Check Rates On Airbnb!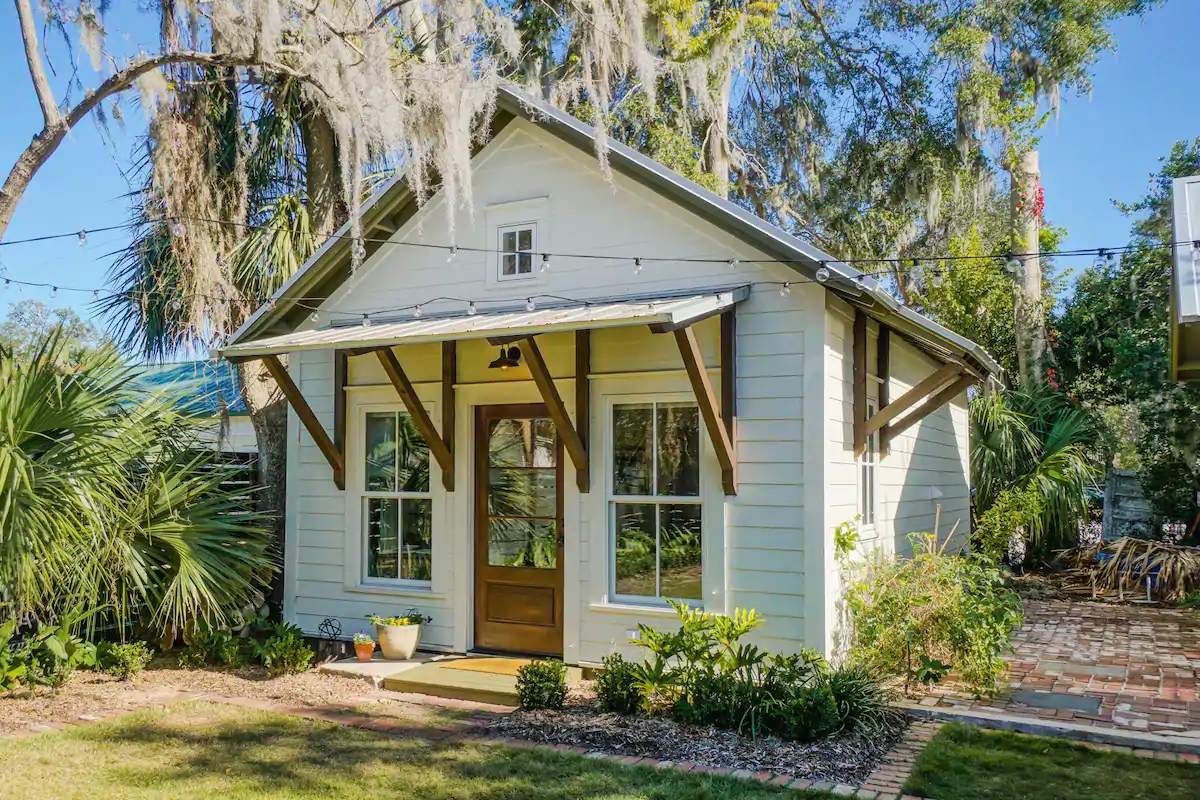 Tropical Tiny House
If you are looking for a unique place to stay in South Carolina, then this tropical-themed tiny house is for you! Dubbed La Casita Bonita, this home was designed with Miami and Mexico in mind. On the inside, you will find hand-painted tropical illustrations on the wall and many houseplants to tie everything together.
Even though this is a tiny house, it is fairly well-sized and has two separate bedrooms in order to accommodate four guests. You could easily use this South Carolina Airbnb for a friend's weekend or a romantic getaway. This tree-filled property is found in Fountain Inn about twenty minutes from downtown Greenville.
Click Here To Check Rates On Airbnb!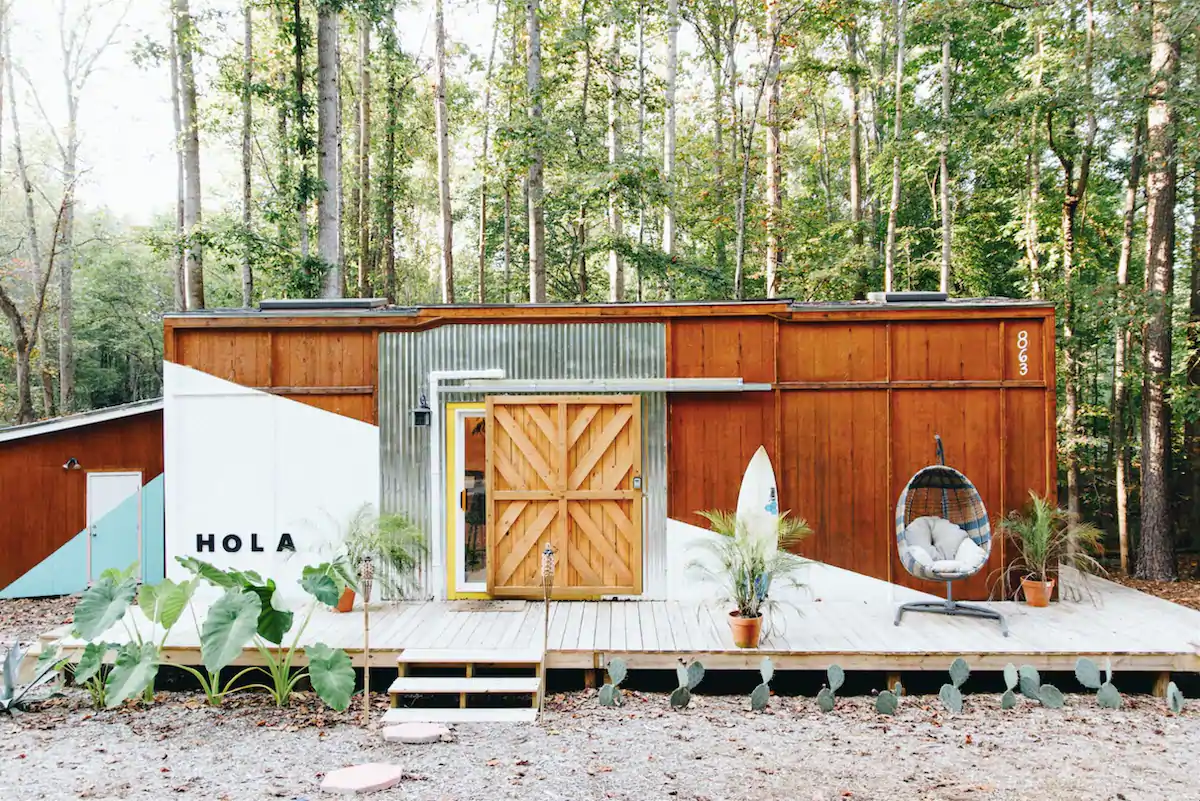 There are plenty of amazing Airbnbs in South Carolina to choose from so it will not be hard to find somewhere amazing. Whether you are planning a large family vacation to the beach or want to spend a romantic night in the woods, there is a place for you. South Carolina is a state full of fun and beauty waiting for you to make some great memories.