Are you on the hunt for the best beaches in South Carolina? Look no further!
We are going to walk you through a list of beaches in South Carolina to help you find the perfect beach for whatever type of beachgoer you are. No matter if you're looking for a peaceful and relaxing spot to watch the sunset, or the best beaches in South Carolina to spend quality time with your family, there's a piece of seaside paradise out there for you!
With shoreline stretching 187 miles from Myrtle Beach all the way down to Hilton Head, there's no limit to the amount of sunshine and salty air while visiting South Carolina. We are here to help you make the most of SC's rich history and beautiful landscape!
So, pack your bathing suit and sunscreen! Let's discover the beautiful coast of South Carolina!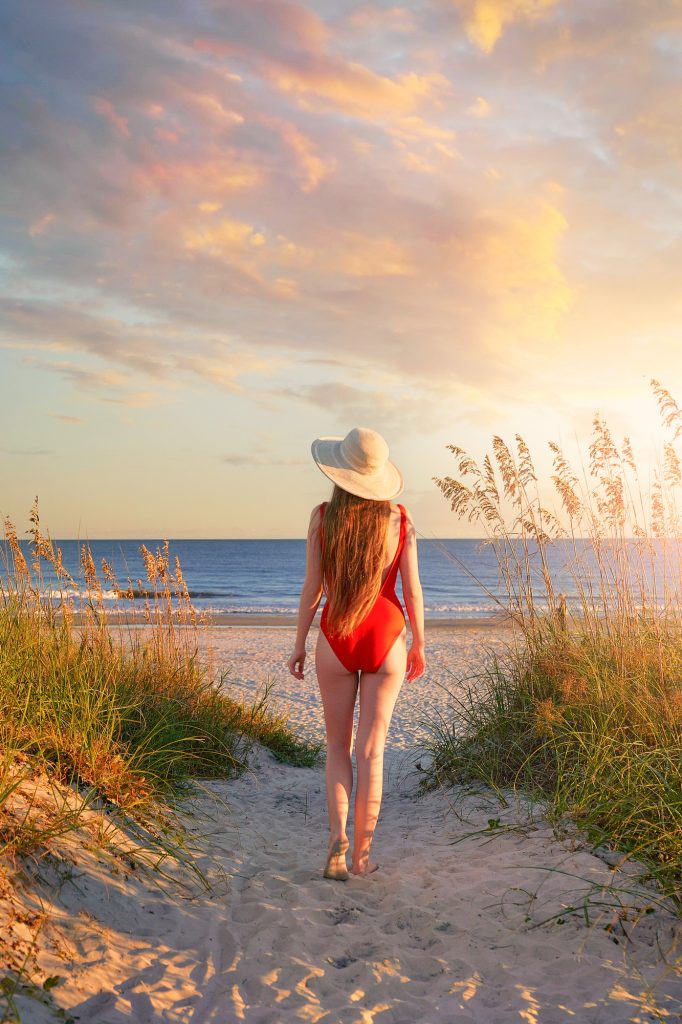 12 Best Beaches in South Carolina You Must Visit!
Myrtle Beach
Myrtle Beach is by far one of the best beaches in South Carolina for tourists as it's both budget friendly and great for family trips! This is truly one of the best beach towns in South Carolina!
With a shoreline of over 60 miles long, it boasts an impressive skyline featuring high-rise hotels, condo's and resorts so even if you're taking a nice stroll in the sand you'll never get bored with your surroundings. You will also want to check out our list of the Best Beaches In Myrtle Beach!
This South Carolina beach boasts a unique topography that means no matter your interests there's an attraction, restaurant and small slice of paradise made special for your needs!
As Myrtle Beach is the ideal place for a family trip, it's filled with attractions for both the thrill seekers and young kids alike. With the proper weather and wave conditions, this stretch of beach along the SC coast makes for the perfect home for surfers of all strengths! Don't forget to check out some of the best things to do in Myrtle Beach during your visit!
Maybe you'd like to see the city from a different angle? Check out the Myrtle Beach Skywheel! It's the tallest observational wheel in the East Coast and offers a great view of the Atlantic Ocean! Or choose from one of many mini-golf courses for a round of friendly competition! Are you a foodie looking for a great restaurant? Check out our article on the best restaurants in Myrtle Beach!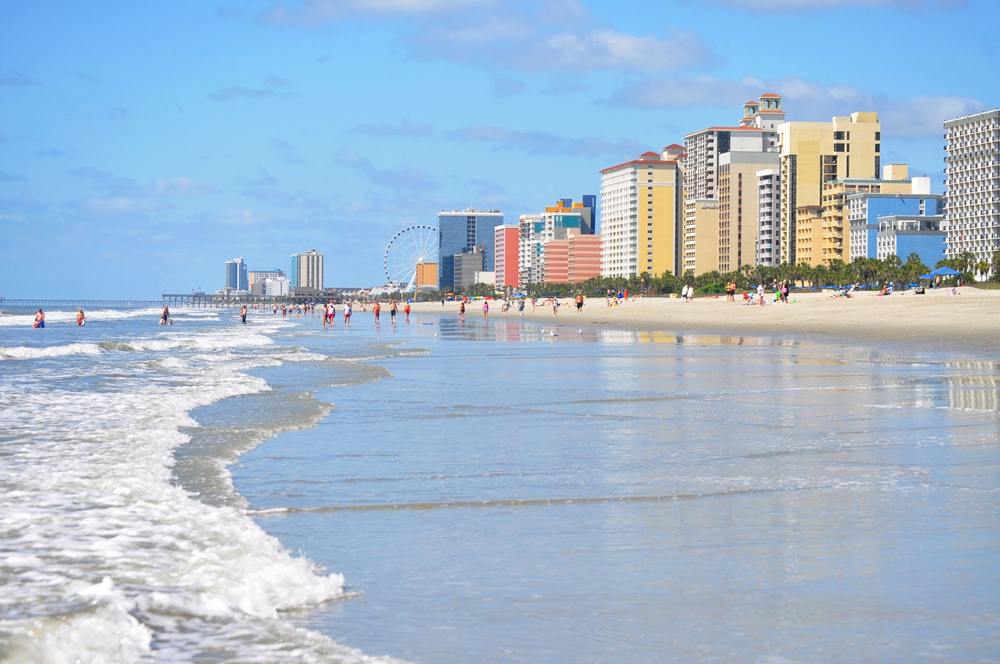 Surfside Beach
Next on the list of beaches in South Carolina is Surfside Beach!
The town of Surfside Beach is definitely one of the most accessible beaches along the South Carolina coast. Nicknamed "The Family Beach," Surfside boasts activities for kids and adults of every age and accessibility level! Just in 2016 Surfside was made the first autism-friendly travel destination.
Surfside Beach is cleaned daily and supervised by both lifeguards and police, making it a very secure and one of the nicest beaches in SC! This chunk of the South Carolina coast has several beach access spots, offering accessibility ramps for persons with disabilities, restrooms and showers! With their lifeguard presence, this shoreline is the best beach in South Carolina for family vacations!
With a variety of amusement parks, mini-golf courses and water parks, Surfside Beach hopes to bring out the child in everyone who comes to visit!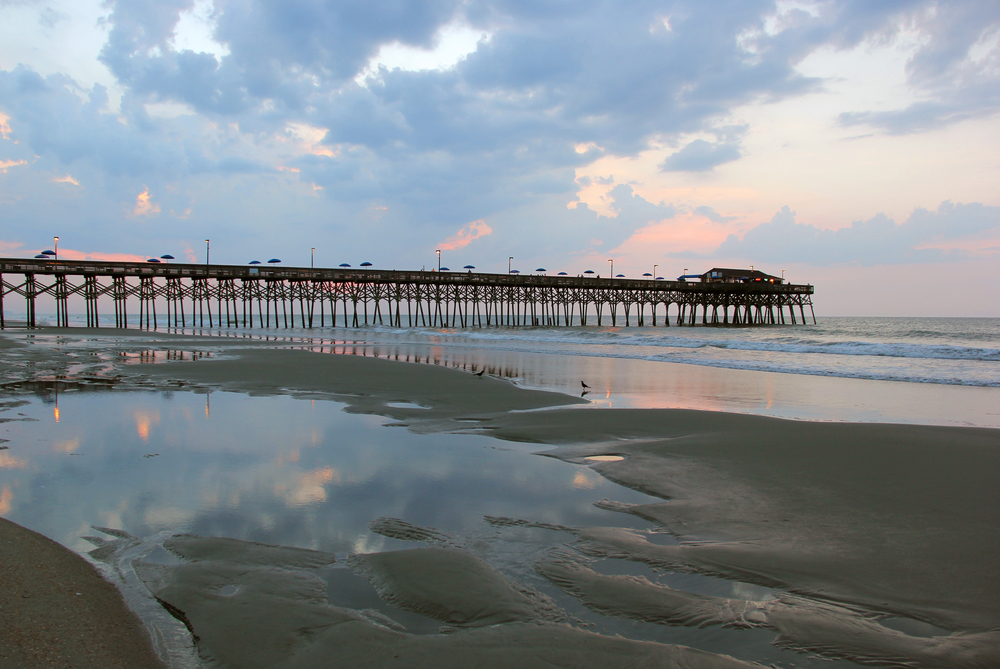 Folly Beach
Folly Beach is located in the historically rich town of Charleston and is one of three beautiful beaches! While all the different beaches have their own unique ambiances, Folly Beach offers a great time in the sun, sand and surf!
With plenty of amenities within walking distance, it's hard not to love the natural aesthetic of Folly Beach! It's considered one of the best surfing spots along the east coast, with the most popular locations being the Washout and the Folly Beach Pier. If you're visiting the coast of South Carolina during migration you could catch sight of North Atlantic right whale pod!
Being one of the best beaches along the South Carolina coast, Folly Beach is home to many festivals that make it the perfect place for fun-going individuals.
Do you really love Bill Murray? Start the year off right by dressing as one of your favourite Bill Murray characters and participate in the (not so) polar plunge into the Atlantic! Are you amazing at building sandcastles? Folly Beach hosts a Sea and Sand Festival in February is the longest running annual weekend festival featuring a sandcastle building contest!
Whether visiting for the surf, sand, or sun, Folly Beach is a beautiful beach in South Carolina where you can't go wrong! Don't forget to check out our list of the best Islands In South Carolina if you want to explore more!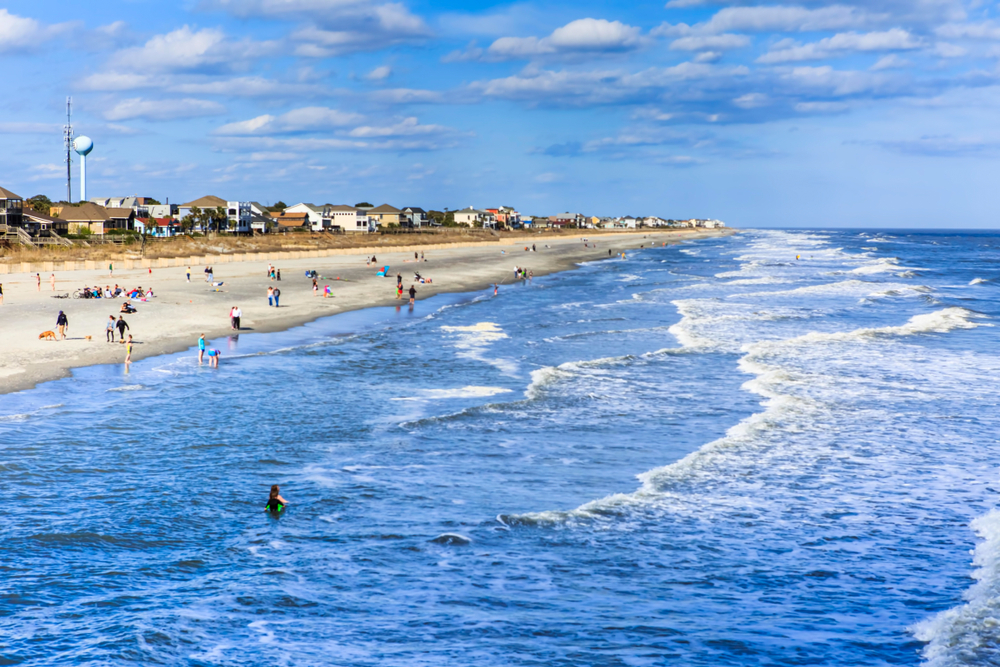 Isle of Palms
The next on our list of the best beaches in South Carolina is another stretch of sand located just 20 miles from Charleston!
Isle of Palms Beach is a stretch white sand that goes on for six miles. Boasting unique and captivating activities both on and off the beautiful ocean, Isle of Palms Beach is best beach for people searching for a sense of community in their travels!
This beautiful beach in SC allows you to enjoy the landscape in whatever way you want! Whether seeking out a great piece of sand to lay back and enjoy a book, or looking for the best place to cast a line and go fishing, Isle of Palms has something for everyone!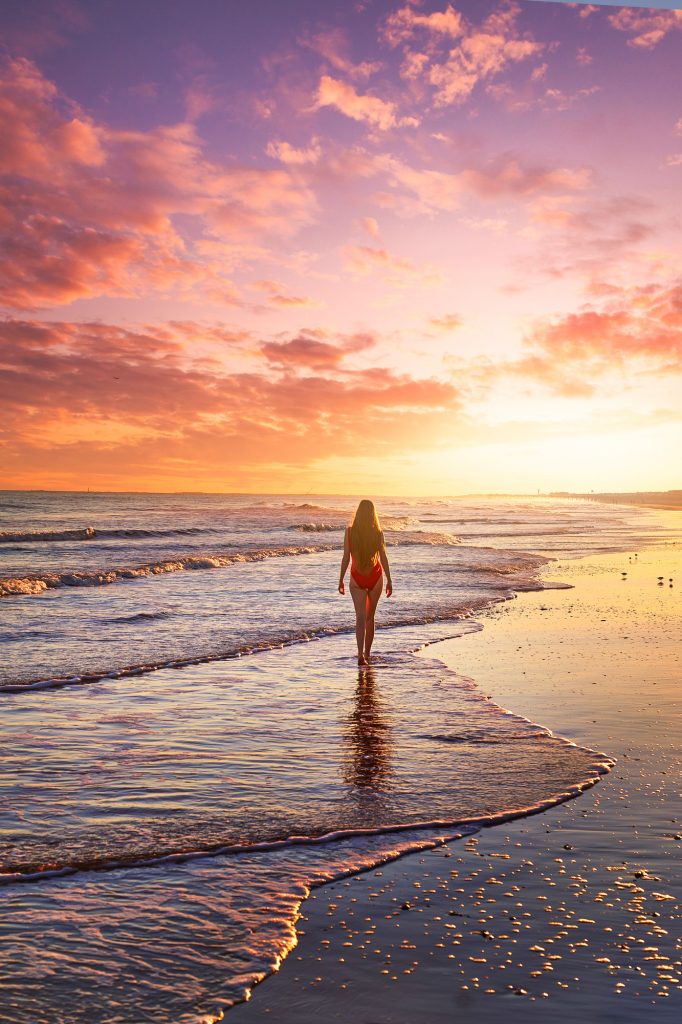 Sullivan's Island
This beautiful beach from South Carolina is another Charleston jewel. Sullivan's Island remains a little slice of paradise along South Carolina's coast!
Seeing less travellers, Sullivan's Island is one of the nicest in SC. It's reputation for clean sand and clear skies makes this shoreline the best destination for romantics seeking the perfect place to take a long walk on the beach and watch the sunset.
While it's only 3.3 miles long, Sullivan's Island doesn't lack in it's calming allure and ambiance. But you don't have to be looking to slow down to enjoy what this South Carolina Beach has to offer! There's something for everyone from history buffs (check out Fort Moultrie!), to water athletics, to great food, Sullivan's Island has plenty to offer! This is truly one of the Best Weekend Getaways In South Carolina!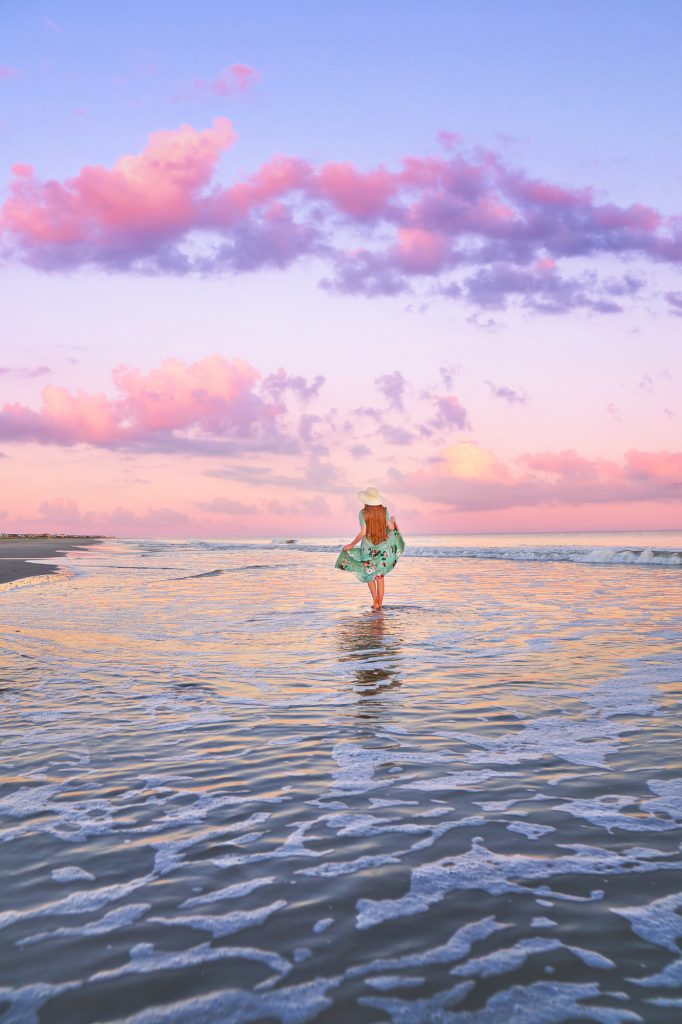 Kiawah Island
Kiawah Island is a great favourite for travellers looking for those who are always seeking to learn and be entertained!
This South Carolina beach pulls you in with it's natural beauty and keeps you coming back with it's endless fun! A mix between beautiful Atlantic Ocean and picturesque marshlands, Kiawah Island boasts water sports for all skills and ages, from kayaking to paddle-boarding, there's something for everyone in the family to enjoy!
Kiawah Island's ecosystem holds wildlife of all kinds! From bottleneck dolphins, to cool shore birds, to sea turtles, this beach allows its visitors to slow down and experience the natural world around them! Especially be on the lookout for alligators! With such a large population, these massive creatures can be found in freshwater and brackish ponds and can definitely make an experience exciting!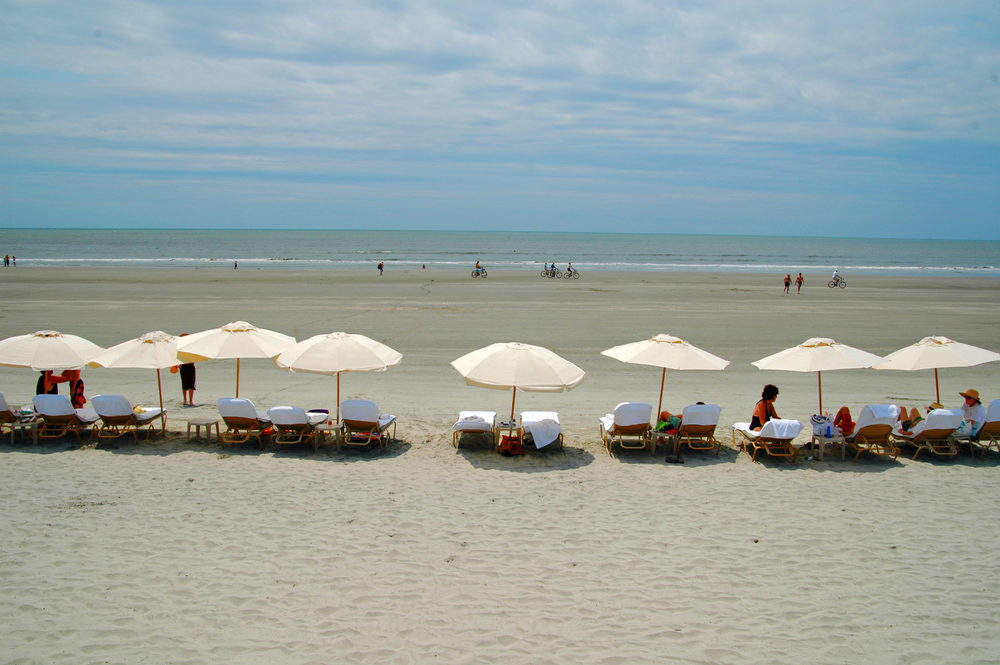 Hilton Head Beaches
The next beach along the South Carolina coast is Hilton Head Island!
This island has a shoreline that stretches along the whole Eastern edge for access to the Atlantic Ocean. It is considered to be the best place for families to enjoy their time together and have fun in the sun because of it's variety and expansive amenities! It's even home to Disney's Beach House!
Make sure to check out our list of the Best Resorts In South Carolina if you are looking for an epic place to stay on your trip!
From beachside plaza's boasting amazing food and souvenirs, to picnic pavilions and playgrounds, Hilton Head Island's beaches are the go to place to enjoy your beach day and time with your families! In addition, there are many things to do in Hilton Head besides the beaches!
Remember your sunscreen when you're sand-hopping along Hilton Head's coast searching for the perfect slice of shoreline for your needs in one of the best beaches in SC!
There are so many amazing places to see, make sure to check out our Favorite Beaches In Hilton Head!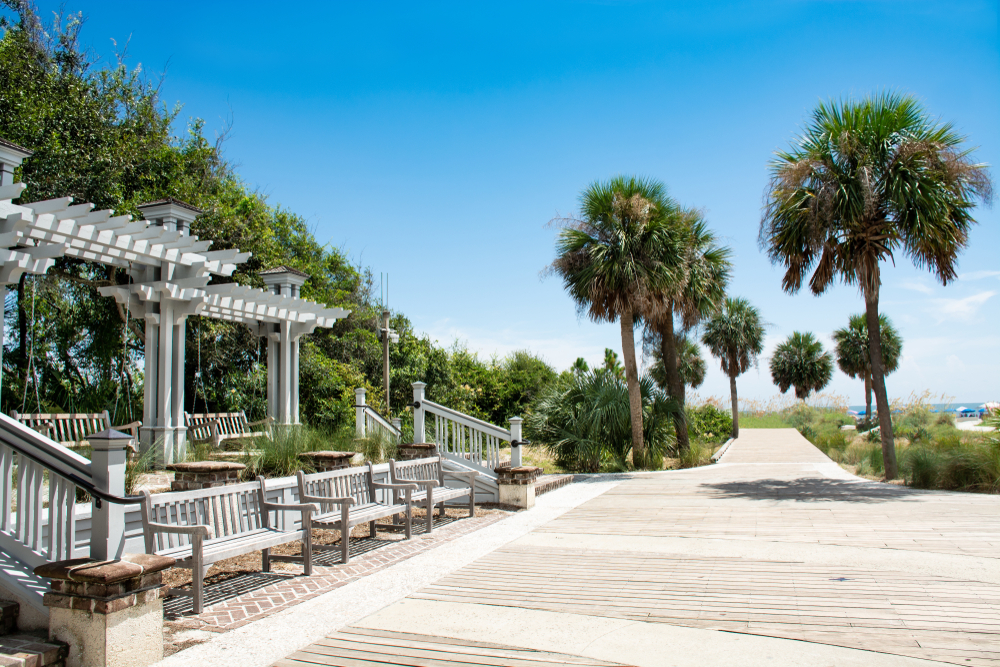 Huntington Beach State Park
Huntington Beach State Park is definitely one of South Carolina's most recognizable landscapes!
As a recognized state park many endangered species call this beach along the coast of SC home! If you're looking for the best beach in South Carolina to fully immerse yourself in nature and wildlife, Huntington Beach State Park is the place for you.
Boasting 173 campsites, this location is perfect for adventurous families who want to wake up smelling the crisp air of the ocean and warmth of the earth! There are over 300 species of birds inhabiting this coast of SC so make sure to keep an eye out!
If you're looking for a bit of an art scene in the East Coast, look no further! Huntington Beach State Park for the Atalaya Arts and Crafts Festival hosted every September. With this beautiful shoreline and amazing wildlife, we can totally see why artists get such inspiration and congregate here!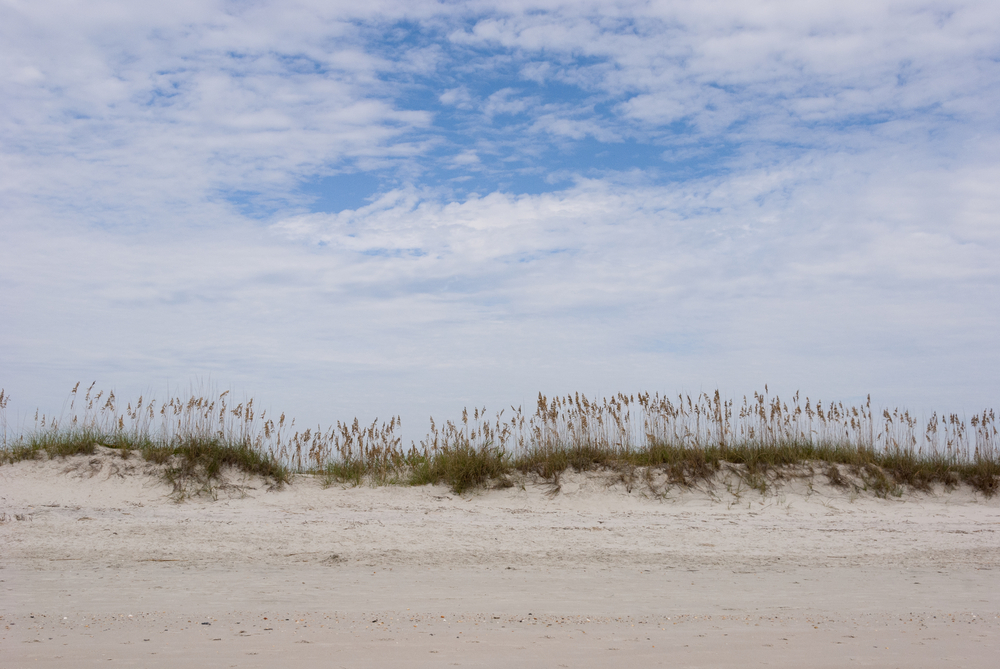 Daufuskie Island
Daufuskie Island is known for being one of the best beaches in South Carolina for artisans and explorers alike!
With 3 miles of gorgeous sand and sun, these beautiful beaches are made for picturesque day trips from Hilton Head or even from Savannah! You're never too far away from Daufuskie to enjoy everything it has to offer!
If you've ever dreamed of living in a community and driving a golf cart everywhere, this is the place for you! Because of restrictions on motor vehicles and it's isolation from the rest of SC, many visitors opt to rent golf carts for their visit and do exploring at their leisure!
Not only is this island picturesque, it is a history buff's paradise. With guided tours, visitors could take a break from the beach and venture around the island learning Daufuskie's rich history.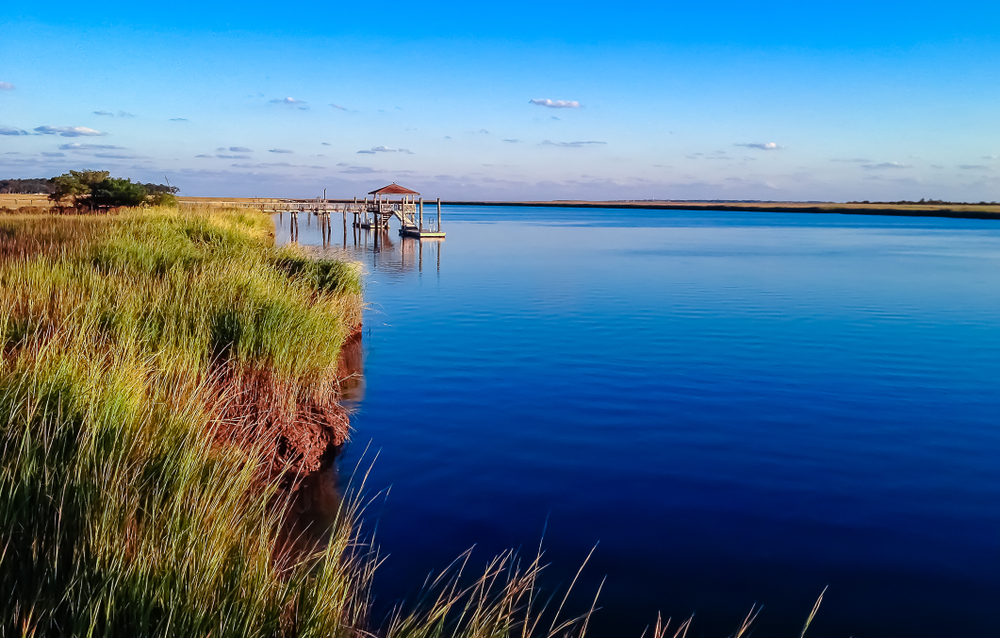 Pawleys Island
Next up on our list of the best beaches in South Carolina is Pawleys Island!
Being located north of Charleston and south of Myrtle Beach, it's the perfect mixture of history and beautiful landscape, making it a paradise for all travellers!
Pawleys Island boasts charming gardens and beautiful sunsets. Travellers have the option of staying close to the shore or venture into the marshlands looking for the best fishing spot. This beautiful SC beach provides all the natural allure for those who want to take a step back and just savour their surroundings!
From spa treatments to surfing the waves, Pawleys Island boast the best places to nourish your soul! Offering all kinds of water sport rentals, lessons, and tours, you'll enjoy any activity on this beautiful beach in South Carolina!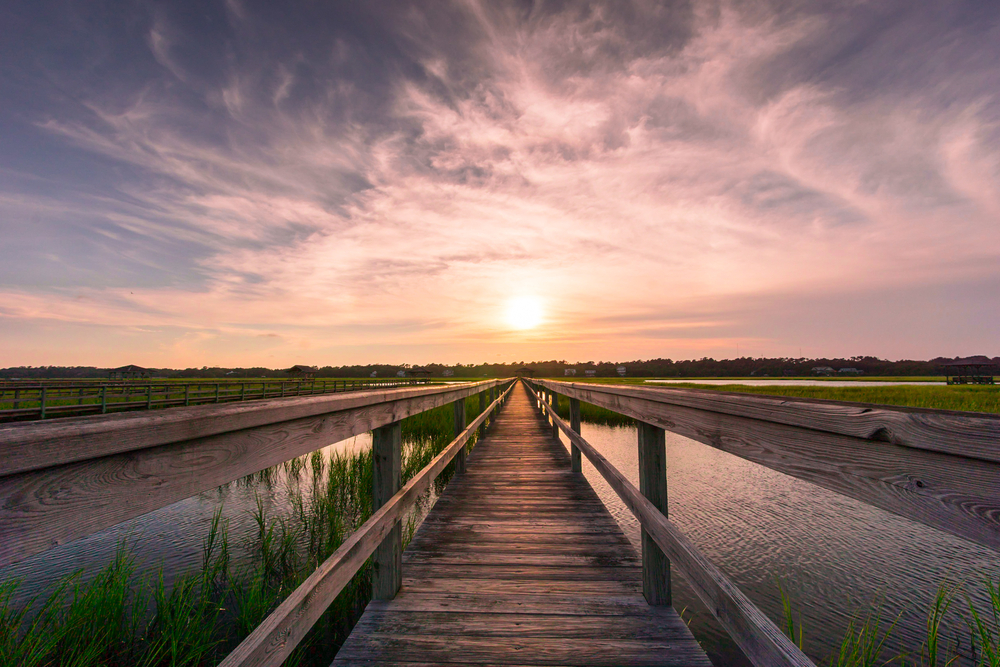 Edisto Beach
Edisto Beach is one of the best beaches in South Carolina for families.
With unique and thriving wildlife, kids and adults alike will be thrilled to simply sit with their feet in the sand and be surrounded with all sorts of birds, crabs, and turtles. And if you're lucky, you might catch sight of a pod of dolphins passing by or jumping fish!
Edisto Beach is one of South Carolina's beaches that thrives with it's relaxing atmosphere with the fastest pace being their BINGO! This is a destination perfect for people looking to step back from the commotion of the every day and simply enjoy their surroundings.
Also home to the Botany Bay Heritage Preserve! The best time to visit this stretch is during lowtide where you can walk through driftwood trees and appreciate all the cool shells the ocean washes up!
This is the best beach along South Carolina's coast for long walks in the sand, biking the coastline and kayaking in the Atlantic Ocean!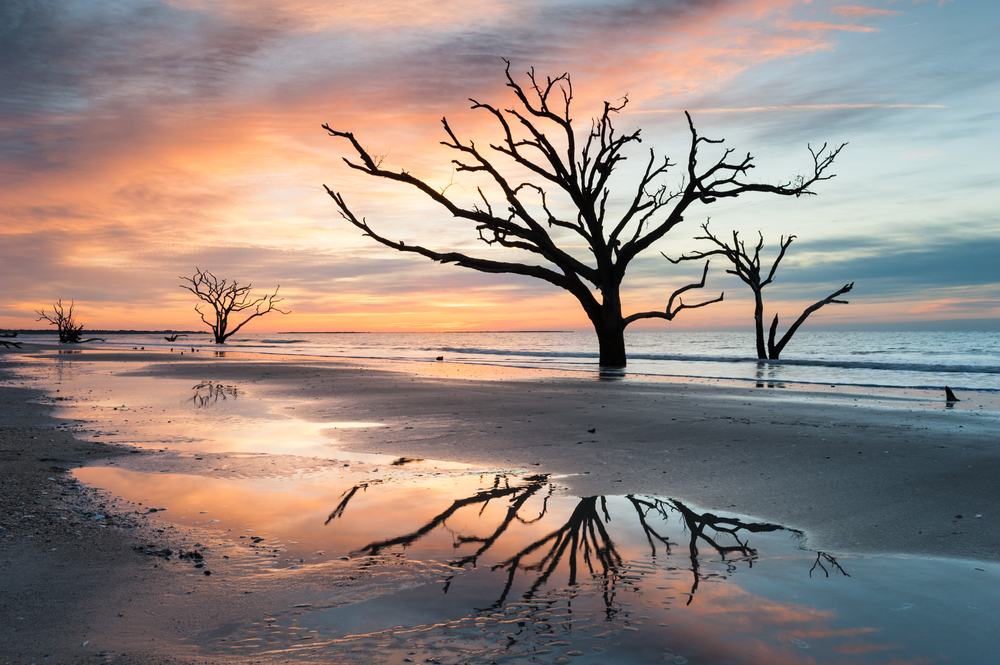 Seabrook Island
Last on our list of the best beaches in South Carolina is Seabrook!
Even though it's a fairly private community, the long stretch of sand opens its arms to travellers seeking quality time and adventure!
From horseback riding along the shore, to playing golf on a course designed by Robert Trent Jones Sr, Seabrook Island is a piece of the coast of South Carolina with unique character and amenities! Being private does not mean that Seabrook is shy and might take a few days to truly experience the laid back style of living that this SC beach has to offer.
As one of the best beaches in South Carolina, Seabrook Island offers award-winning fine and casual dining as well as amazing restaurant views right along the shore. How amazing is it to be able to enjoy a phenomenal meal and watch a beautiful sunset at the same time?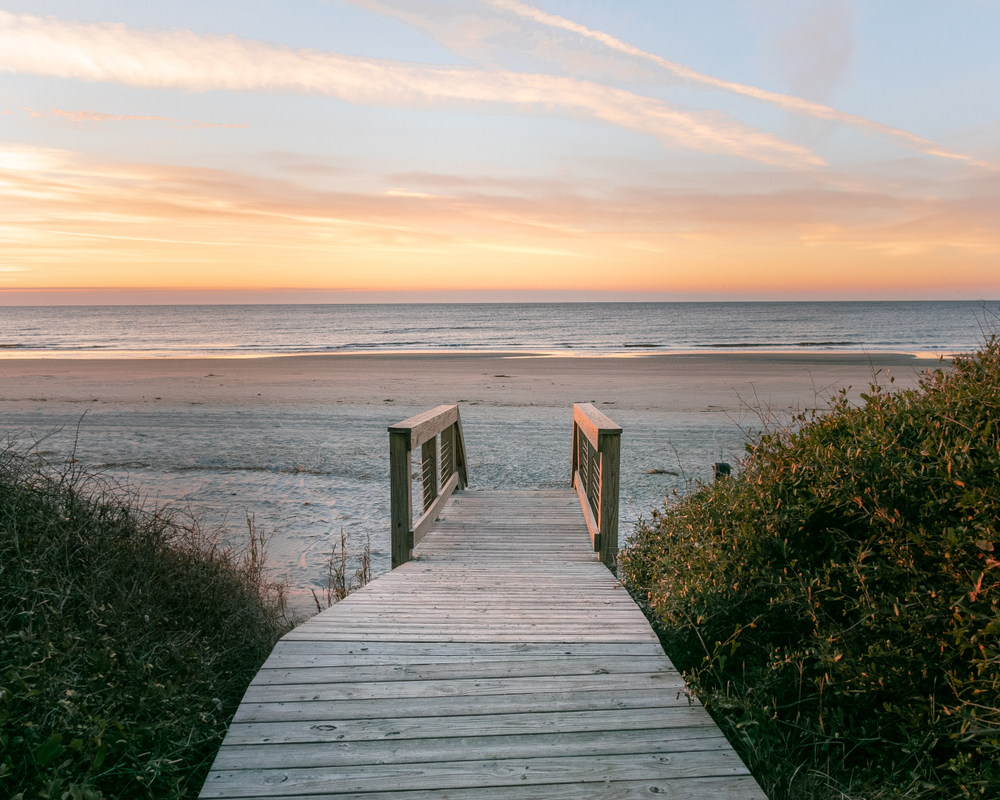 South Carolina is an amazing state to visit and with so much sand, you can't miss the opportunity to explore the coast of South Carolina! Spectacular landscapes and historical sites are never too far away when you choose to adventure this state and the ocean will never let you down.
Now that you've seen some of the best beaches in South Carolina, which one will you go to first?