If you are looking to enjoy apple picking in Maryland there is no better time than the fall! This is a magical season with beautiful fall foliage, fresh crisp air, and all the pumpkin and apple sweet snacks you can get your hands on. There are Orchards all over the state from the Eastern Shore to the mountains out in the west, making it a perfect state to enjoy apple picking.
Whether you are looking to stay in a super cute small town for the weekend for a romantic getaway or just coming in for a day trip you are going to love the adventure of picking your own apples in Maryland.
Keep in mind that you are going to be out in the elements, and every year's crop is different. It is best to wear boots or old tennis shoes, and bring layers! Most of these Orchards have bags or baskets to put your apples in, but it is never a bad idea to be prepared with your own Instagram photo-worthy bucket! Now, let's find you the perfect place for apple picking in Maryland to make memories that last a lifetime!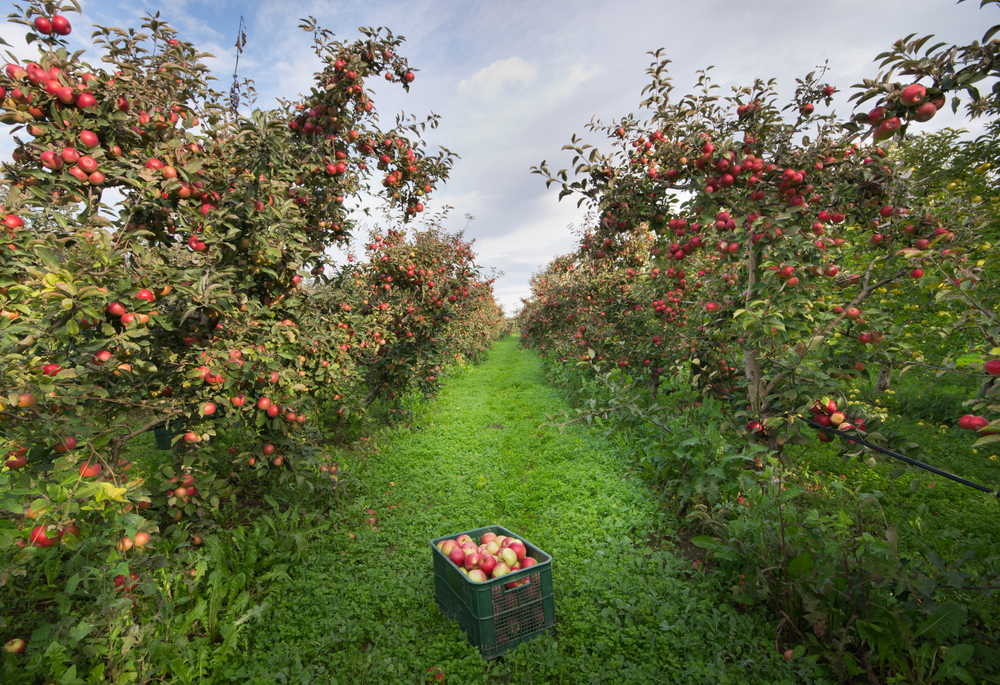 10 Best Places for Apple Picking in Maryland
Homestead Farm in Poolesville MD
One of the best places for apple orchards in Maryland is at Homestead Farm Poolesville. This 230-acre family farm is located in Poolesville and has so much going on during the fall. You can enjoy the corn maze, and a super fun pumpkin patch for the children to pick out a perfect pumpkin. There is also a fun petting zoo to enjoy before you start picking your apples.
The apple-picking season usually lasts from early September to late October depending on the year's weather. You can visit Homestead during the season from 9 am to 5 pm. It is free to walk around the farm, but you will have to pick by the pound for the apples you pick. The most commonly grown apples here are Honeycrisp, Golden Delicious, Fuji, and Gala types.
Stop by the farmers market inside the Homestead Farm for seasonal fruits and veggies. You do not have to bring anything they will provide baskets or bags to put your apples in. Just show up and be ready for fun!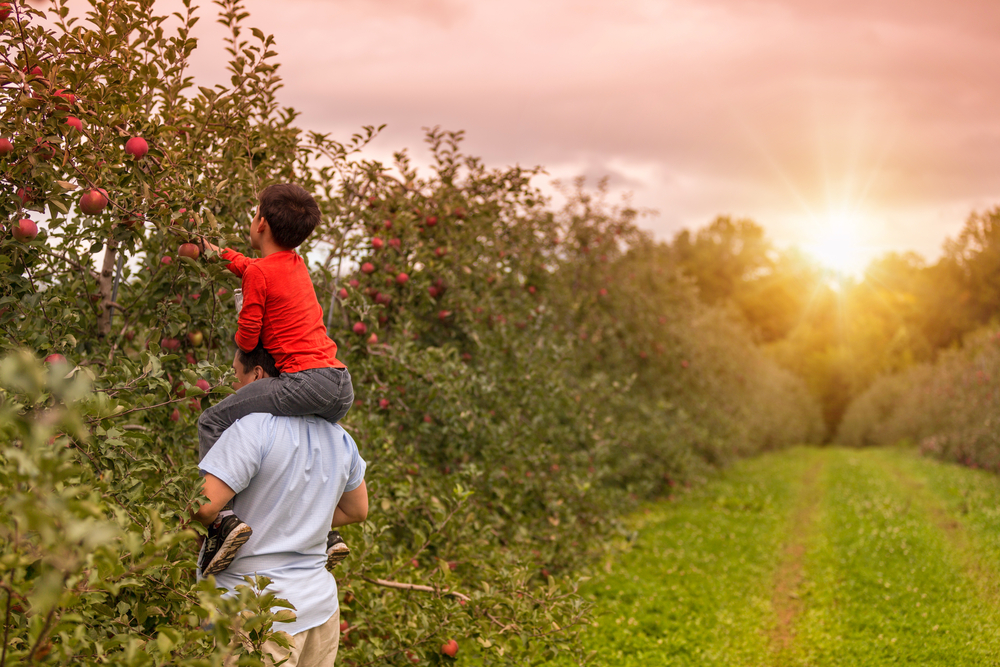 Lohrs Orchard in Chuchville Maryland
Next up is one of the best Maryland apple orchards the Lohrs Orchard. They are located in Churchville, MD in the eastern part of the state. Here the apple-picking season starts in late August and runs until the end of October. When you arrive you will see the apple trees that seem to go on for miles. Lohrs Orchard has all the normal apples including a few less common varieties like Crimson Crisp, Pink Lady, and Stayman types.
It is a good idea to wear shoes that you do mind getting a bit dirty because when it rains the grounds can get muddy. You can pick as many apples as you like starting at 9 am to 5 pm. They do offer free tractor rides that take you to the trees in the back of the farm, or you can enjoy a short walk.
While you are there you can check out the pumpkin patch, and local farmers market. Buy yourself a few jaws of freshly prepared jams and jellies or fresh fruits and veggies. Or stop by the cafe and grab a seat outside and grab pick me up like a pumpkin latte or apple cider. You are going to love stopping by Lorhs they are one of the best places for apple picking in Maryland.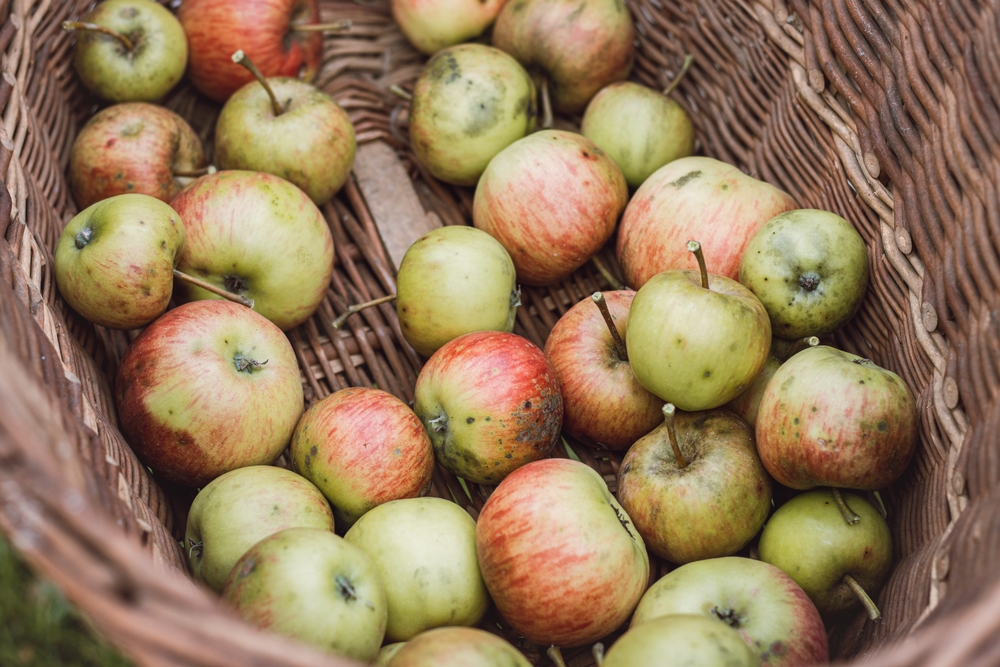 Catoctin Mountain Orchard
If you are looking for apple picking near Frederick Md, Catoctin Mountain is a short 25-minute drive away. Here you find exotic varieties like Jonagold, Musta, and Rome apples. Inside the Catoctin Mountain store, you can find freshly made pies, apple cider, and cider donuts to snack on while you pick fresh apples. They also have a sit-down restaurant that serves breakfast, lunch, and brunch. If you do not fill up at one of the many amazing restaurants in Fredrick Maryland before you head out.
This is also one of the prettiest places to enjoy Maryland apple picking. Not only do they have breathtaking views but there is also a big flower patch. You can pick a bouquet to take home before or after you concur with the apple trees.
In the past years you can only pay with cash, so be prepared to have some cash on you. Get there early in the morning if you wanted to snag one of the pies they are known to sell out every day!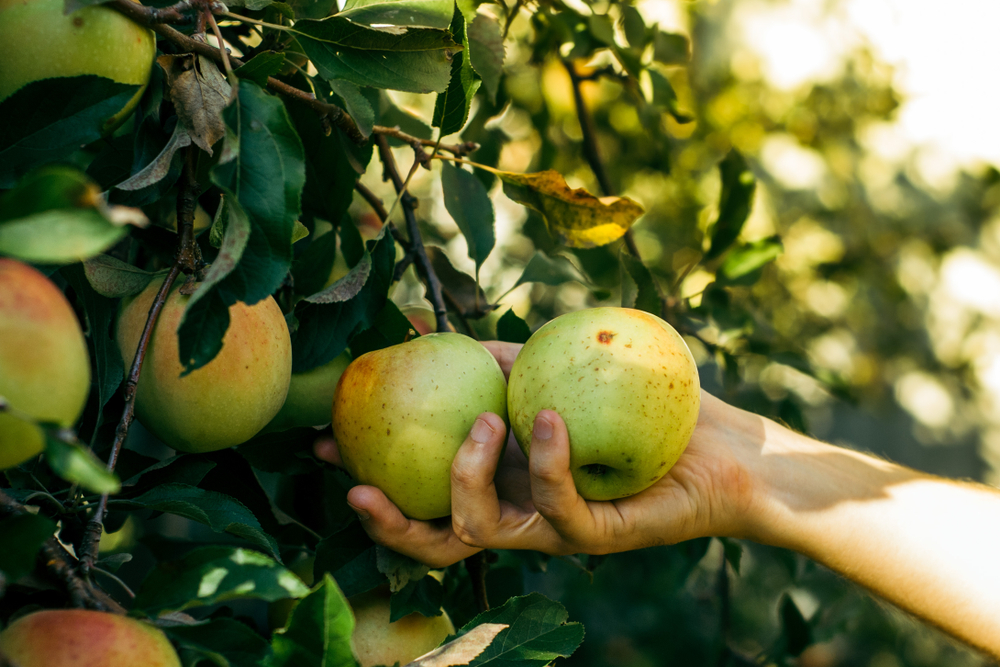 Rock Hill Orchard
Rock Hill is one of the best places for picking apples in Maryland. They have plenty of different types to choose from they have Honeycrisps, Gala, Fuji, Crimson Crisp, Rome, and Braeburn apples. Like most places in MD, the season starts in late August and runs until around Halloween.
They have over 3,000 trees in the orchard and they have pruned them so almost everyone will be able to reach them without a ladder. Every year they host a big fall festival with fair foods and carnival rides. But the very best thing about the Fall Fest is the pumpkin cannon. You can load one of the "ugly" pumpkins into the cannon and launch it into the sky.
Once you are done picking your bag of apples, be sure to check out the farmers market and grab yourself a yummy homemade ice cream cone or milkshake. They also have freshly made apple cider donuts and fresh veggies to purchase. You are going to love picking apples in Maryland at Rock Hill Orchard.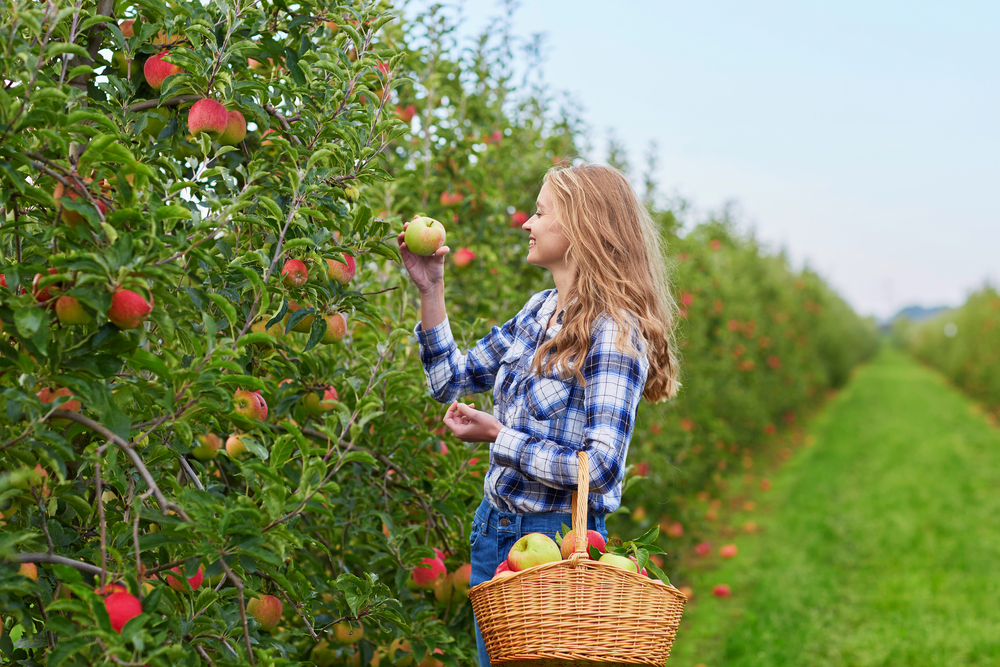 Larriland Farm
At beautiful Larriland Farm you can enjoy apple picking near Baltimore they have 6 different juicy flavors to choose from. And you can also come back in the spring for strawberries, blueberries, blackberries, and peaches. The Larriland Farm always decorates for Halloween and has food trucks with apple fritters, kettle corn, and other yummy treats.
Be sure to keep your eyes out for the four friendly goats that live on the farm. They also have a hand washing station and bathrooms to clean up after your fruit picking.
It is best to check out the website before heading out because sometimes they have to close the fields so they do not experience overpacking. They do charge by container, not the pound so be sure to pick the right size basket before heading out to the fresh fruit trees.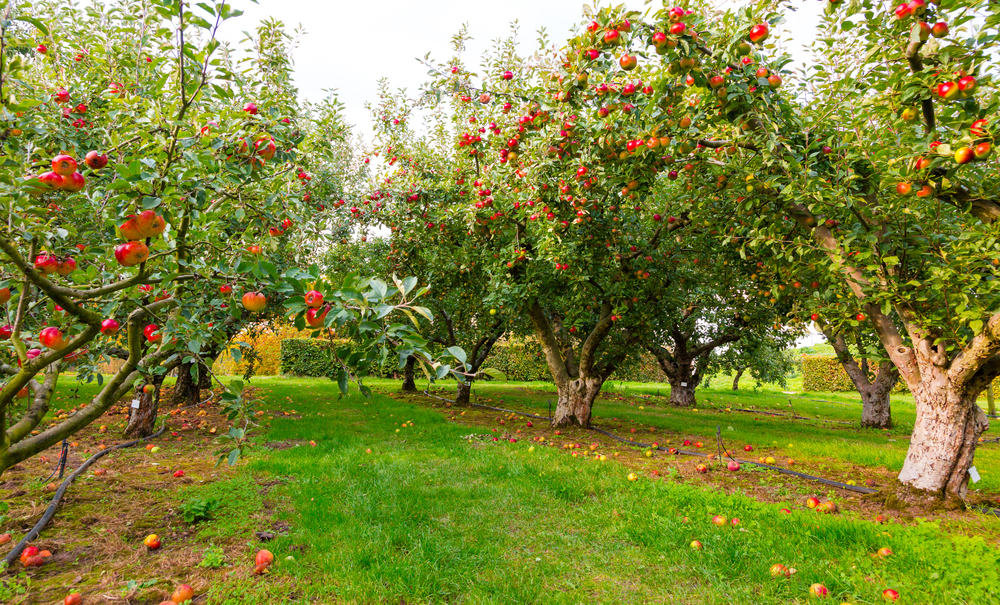 Butler's Orchard
Bulter's Orchard far is one of the oldest apple farms in Maryland! They have been family-run and operated for over 70 years and are located in Germantown MD. Take your pick from the many varieties of apples. The most popular are Gala, Honeycrisp, Fjui, Jonathan, and more. There are also seasonal veggies to pick or purchase from the farmer's market.
This is a perfect fall family getaway because they have a mini-fall fest every weekend from September to November. There are several different playgrounds with bouncy pads, corn mazes, petting zoos, hayrides, and face painting and sometimes Butler's Orchard even has ponies to ride.
After you work up an appetite by picking your apples and playing at the fall fair you can fill up on the apple cider and cider donuts. They stay open until 6 pm and are one of the very best places for apple picking in Maryland with kids.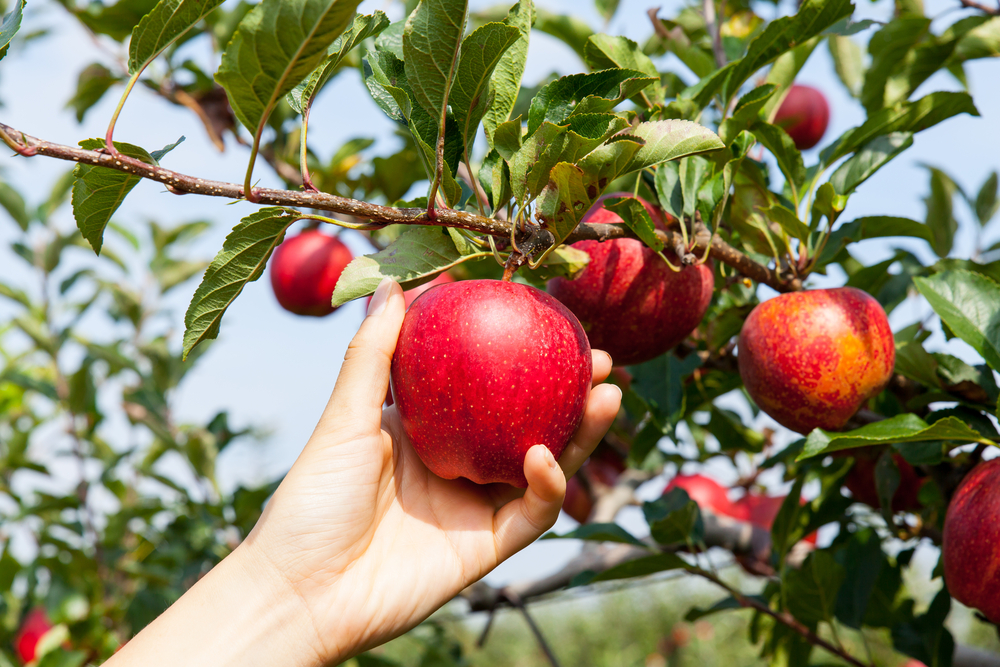 Weber Cider Mill Farm
To get out of the hassle and bustle of the busy city head over to Weber Cider Mill farm. They are only about 10 miles away and they are one of the closest places for apple picking near Baltimore MD. During the fall the Cider Mill puts on many festivals with live music, food stalls, and hayrides.
Weber Cider Mill Farm is best known for fresh pressed cider that is made from a traditional machine that dates all the way to the early 20th century and is made from the apples from the farm.
You will be happy to know that Cider Mill Farm is committed to sustainable practices with conservation and environmental programs in place. The biggest two are recycling and water-saving programs. The farmers market sells the cutest souvenirs, local produce, and fall decorations for your home and yard, and everything is reasonably priced. Plan to spend the whole day here you are going to have a perfect fall day in Maryland.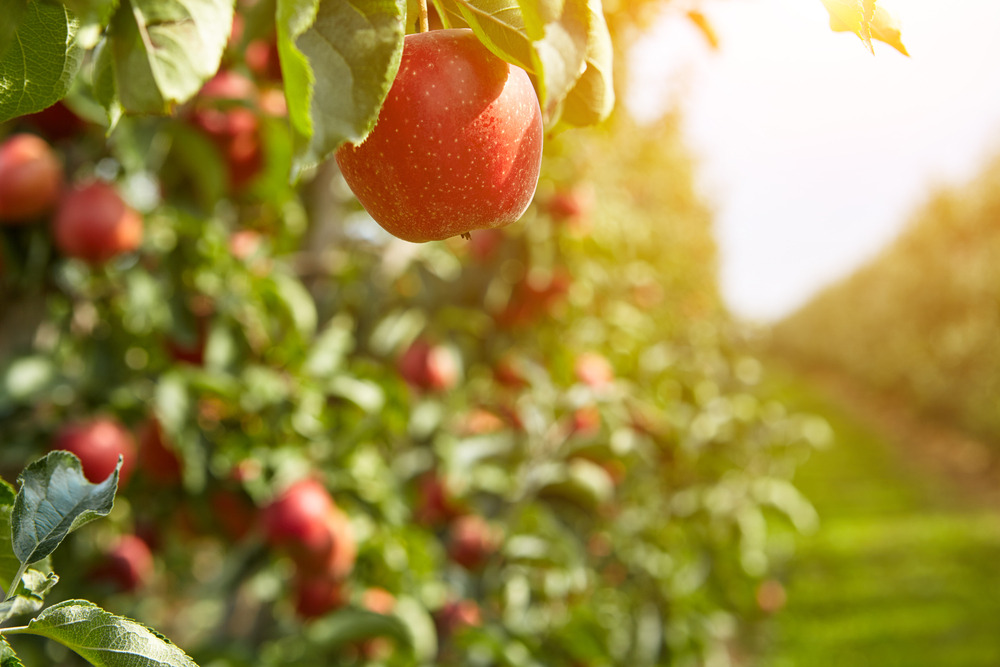 Milburn Orchards
Milburn should be high on your list of apple picking because the USA recently voted them the #1 apple orchard in the country. They are located in Elkton on the Eastern Shore and is one of the cutest small towns in Maryland. They have thousands of trees on the farm including apple, peaches, cherry, and plum trees. There is also a super fun pumpkin patch and corn maze.
Be sure to check out their websites because on the weekend you will need to purchase a ticket beforehand and grab a specific time. Your ticket comes with lots of things included, mostly for children. They also have a small petting farm with the cutest baby animals that you can feed.
The apple cider donuts are fresh and made every day. Be sure to snag yourself a dozen before they sell out. If you are looking for apple picking near Columbia MD, Milburn Orchard has you covered. Once you go once you are going to plan to come back year after year with your family.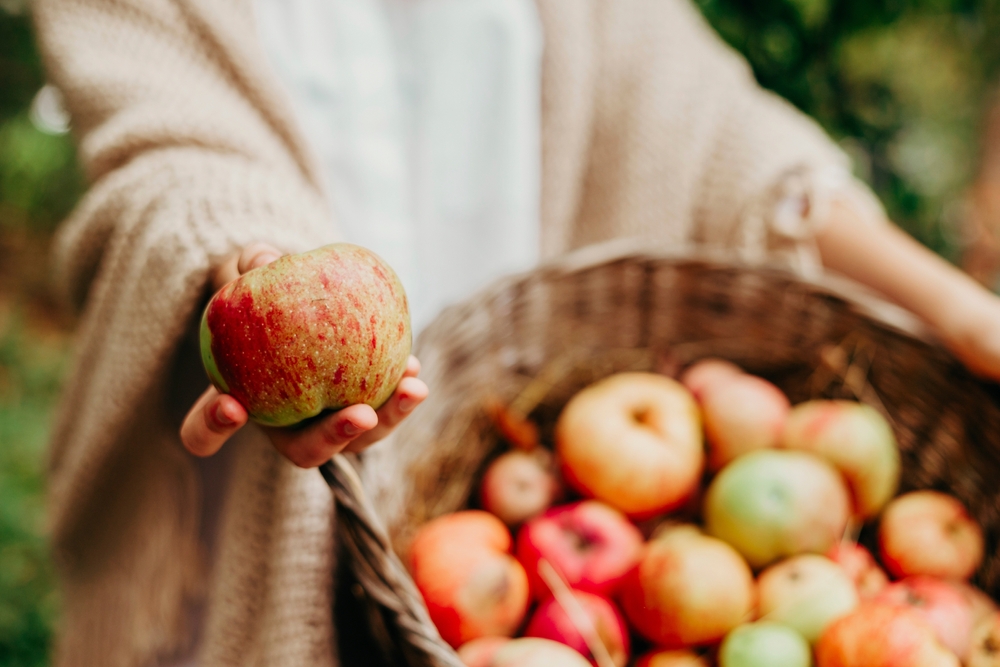 Sharp's at Waterford Farm
Stop by Sharp's at Waterford Farm if you are looking to pick your own apples in Maryland. They do not charge a cover entrance and it is free to walk around and visit the animals. They also have a big orchard available to pick fresh apples. Every year they also put on a mini-fall fest. This includes hayrides for the children, plenty of fun festival food, a petting zoo, and live music during the day.
At Sharp's, they also have a program called "a day in the life of a farmer" where you pay a small fee for your child to learn about the ends and outs of the farm for one day. Not only is it educational but most children end up having a fabulous time.
Be sure to stop by the barn on the way out to purchase all your fall needs. Like pumpkin pies, fresh eggs, fruits, veggies, and of course your pumpkins for the fall.
Doc Waters Orchard
Last but not least for your Apple picking in Maryland is Waters Orchard. They are also located in Germantown MD and are a family run farm. You can come as early as September 1st for to pick two type of apples, the Rising Sun Fuji, and Crimson Crisp. In mid-September the Granny Smith, Florina Querina, Hudson Goldens, and Joys become available. And then after that you should be able to pick Shizuke, Sun Crisp, Enterprise, and Pink Ladys. Talk about a selection!
After you are done picking for the day stop by the Orchard shop for one of their legendary hard or soft ciders. They have plenty of picnic tables out on the lawn and fire pits if the to keep you warm in the crisp fall air.
They also allow pups in the cidery, but not in the pick your own section. Be sure to bring snacks, or try ordering take out to the cider, because they do not serve food. Sometimes they do have food trucks on-site as well!