There are so many beautiful orchards perfect for apple picking in North Carolina. If you are looking for a fun and tasty fall activity this is a great idea. Apple picking is fun for families and can also be a romantic outing for couples.
North Carolina is one of the top ten apple producers in the country, so there are plenty of apple orchards to choose from. From large farms to smaller, family-owned orchards, there are so many places to pick apples in North Carolina. From late August to the end of October, the apple trees are ready to be harvested, so plan your trip for then if you want to include apple picking on your NC itinerary.
Apples are a big part of the culture in North Carolina and each year there are festivals dedicated to them. If you plan your trip to North Carolina at the right time, you can experience one of these great events and make your vacation even more memorable.
The NC Apple Festival takes place on Labor Day weekend each year in Hendersonville where there are many apple orchards. This event has many activities including orchard tours and live music. Another event is the Apple Harvest Festival. This takes place annually in October in Waynesville. Here, you can eat delicious treats and play games.
Now let's discuss some of the best apple orchards in North Carolina!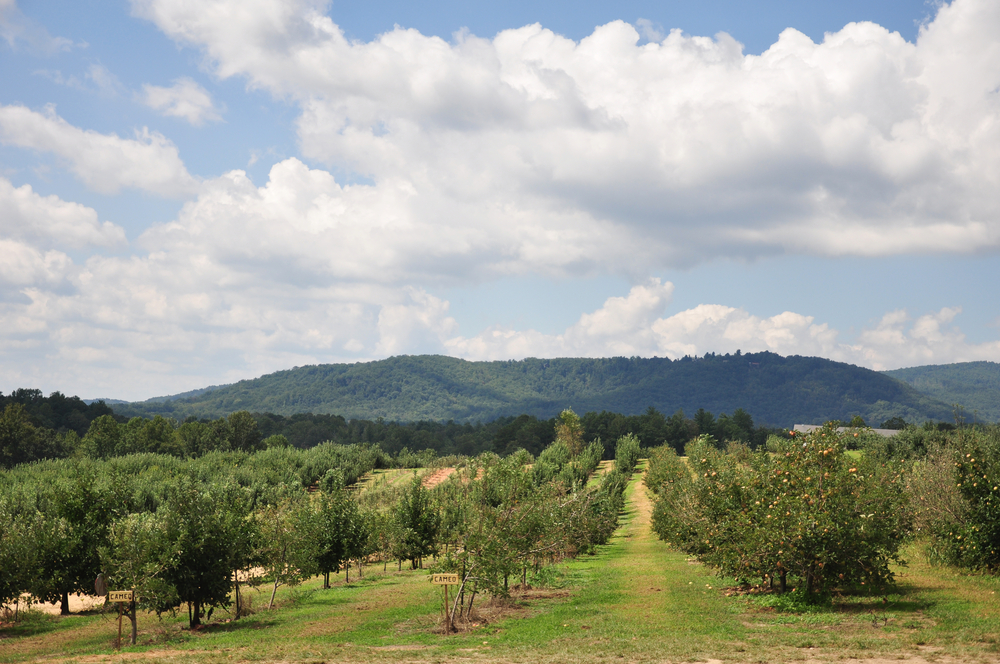 10 Best Orchards To Go Apple Picking In North Carolina
Apple Hill Orchard
Apple Hill Orchard in Morganton is where you will find some classic apple varieties like Fuji, Granny Smith, and Pink Lady. This farm dates back to 1930 and is a great example of apple picking traditions. You can buy some pre-picked apples, but if you have the time, you should definitely go pick your own.
Make sure to stop by the Farmhouse Bakery to grab some tasty treats. Their apple cider donuts, muffins, pies, and breads will satisfy your sweet tooth. They also have apple cider and jams. Yum!
If you travel here in mid-August then you can enjoy both apple picking and peach picking season. Fresh peaches and apples? What is better than that?! You can also take tractor-drawn wagon tours of the farm. Make sure to take a ton of photos. Don't forget to check out our list of Best Things to Do In North Carolina!
Carrigan Farms
Carrigan Farms is a five-generation family farm that grows apples and a variety of other fruits and vegetables. This is such a fun place for apple picking in North Carolina. Along with apples, you can pick up pumpkins at the same time. In October, they also have a haunted trail for Halloween when the farm becomes Scarrigan Farms.
This is one of the best apple farms in North Carolina because you can visit it year-round. In the spring, strawberry picking is an option. In the summer, you can swim in the beautiful quarry. You will swim safely here knowing there are lifeguards on duty. They even teach safety courses.
If you are looking for a gorgeous wedding venue, you can book this place as well. They even have an artificial waterfall called Unity Falls. Two streams collide over a cliff into the quarry, symbolizing two hearts becoming one. Maybe it is cheesy, but it is pretty for photos and super romantic.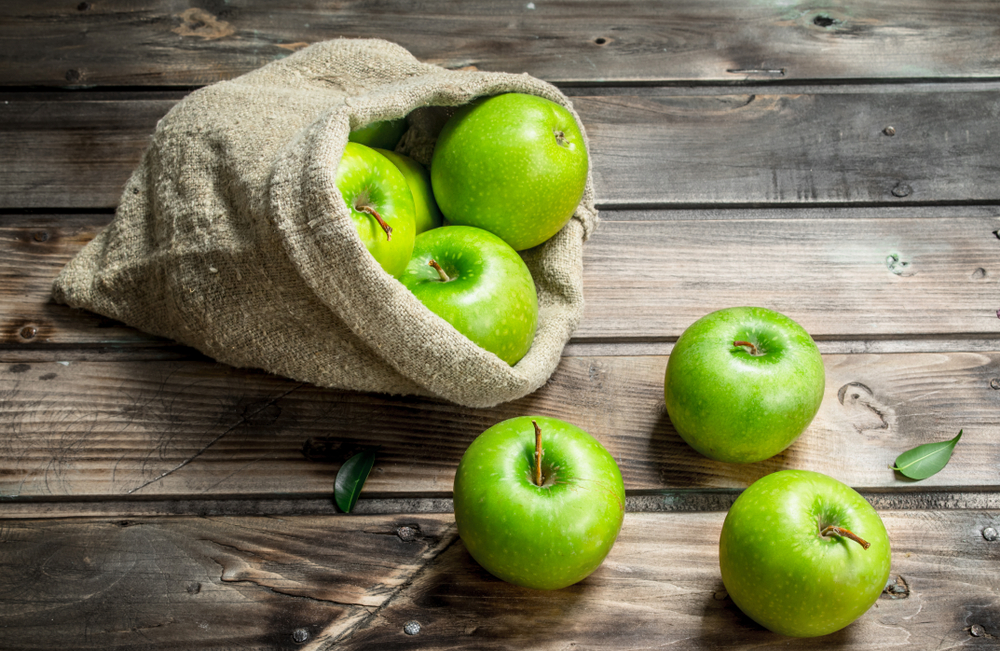 Coston Farm and Apple House
Coston Farm and Apple House is one of the many apple orchards in Hendersonville, North Carolina. This city is only about thirty minutes south of Asheville. This whole county is one of the places to go apple picking near Asheville and is a great destination for a fall day trip in North Carolina.
This is truly one of the best Mountain Towns In North Carolina!
This is a beautiful farm to stroll as you pick delicious apples. There are a variety of apple types to choose from so check the ripening schedule if there is a certain one you are looking for. This farm even provides produce for Gerber baby food so you know it is high quality. Our list of best farms for apple picking in North Carolina would not be complete without mentioning Coston Farm.
After picking some apples, head to the farm's bakery to buy a selection of apple-flavored treats including pies, bread, butter, and cider. The gift shop here is popular as well. You can find cute decor, dishware, kitchen accessories, clothes, different sauces, and candies among other things.
Stepp's Hillcrest Orchard
Another place to go apple picking in Hendersonville is Stepp's Hillcrest Orchard. This 70-acre farm has apples and pumpkins for you to pick. With fifty years of apple picking history, they know what they are doing! Make sure to check out all of the Best Things To Do In Hendersonville while you are at it.
Head to the farm market to collect a souvenir t-shirt, donuts, apple cider slushies, and other treats. There are covered picnic tables outside where you can sit and enjoy your purchases after going apple picking in North Carolina.
In the fall, this North Carolina farm has a ton of fun activities to keep the whole family entertained. Some things are only available on the weekend though, so plan accordingly. There is a five-acre corn maze to get lost in, an apple cannon for target practice, relaxing wagon rides, and a thrilling jump pad. There is also a nature trail! This is a great all-day activity where you are sure to make great memories!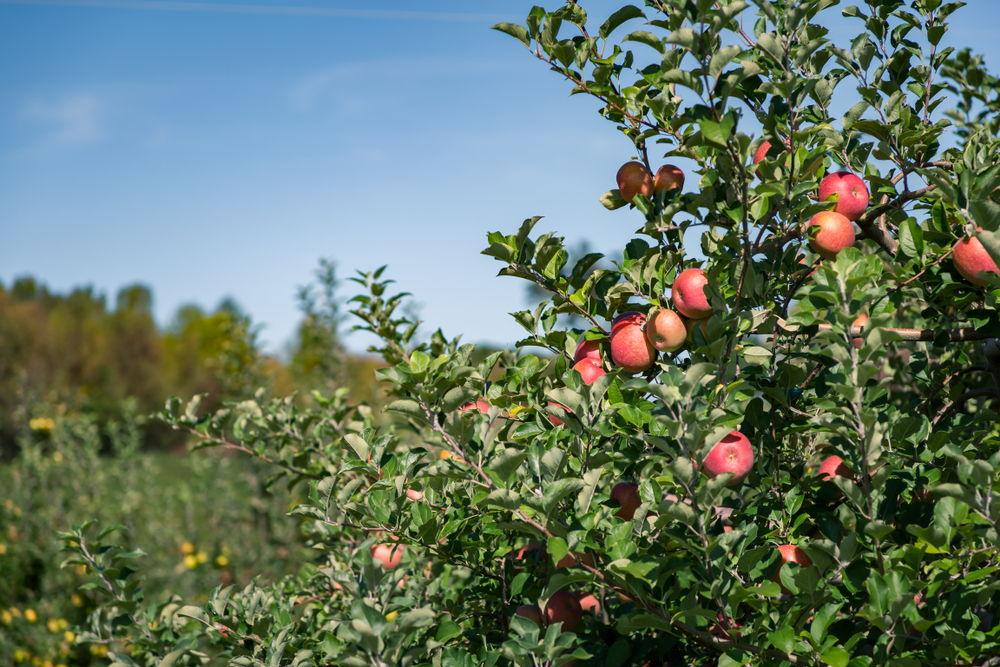 Stoney Hollow Farm
Stoney Hollow Farm is a family-owned fruit and vegetable farm in Robbinsville. This is a great place to go apple picking in the North Carolina mountains. Along with apples in the fall, there is a variety of other fruit, veggies, and flowers you can gather here throughout the year.
This North Carolina farm takes pride in growing produce that is organic and non-GMO. You can rest assured knowing you are getting the best food for your family. While at the farm, make a stop at the farm store to purchase more goodies. Jams and antiques are just some of the things you will find there.
Stoney Hollow Farm also has a beautiful and scenic VRBO rental home. If you want to stay a night or two on the farm, this rustic cabin is the perfect place for a romantic couple's getaway in North Carolina.
Justus Orchard
You will find Justus Orchard in Hendersonville as well. This is clearly one of the best cities in North Carolina for apple picking in the fall! This is a great apple farm in NC for the whole family because along with apple picking, there are fun outdoor activities for kids. There is an apple cannon, a jumping pillow, a playground, and a cow train. There is also a barn with some animals and a duck pond.
Like many of the other orchards, this one has a farm store with their version of classic apple baked goods and other treats. There are fried apple pies, caramel apples, donuts, and much more! The hot apple cider will keep you warm on chilly days while their slushie version of the drink will cool you down when the temperature is higher.
When you get your apples, you can pick up some pumpkins as well. These make great, classic fall decor or can be carved into jack-o-lanterns.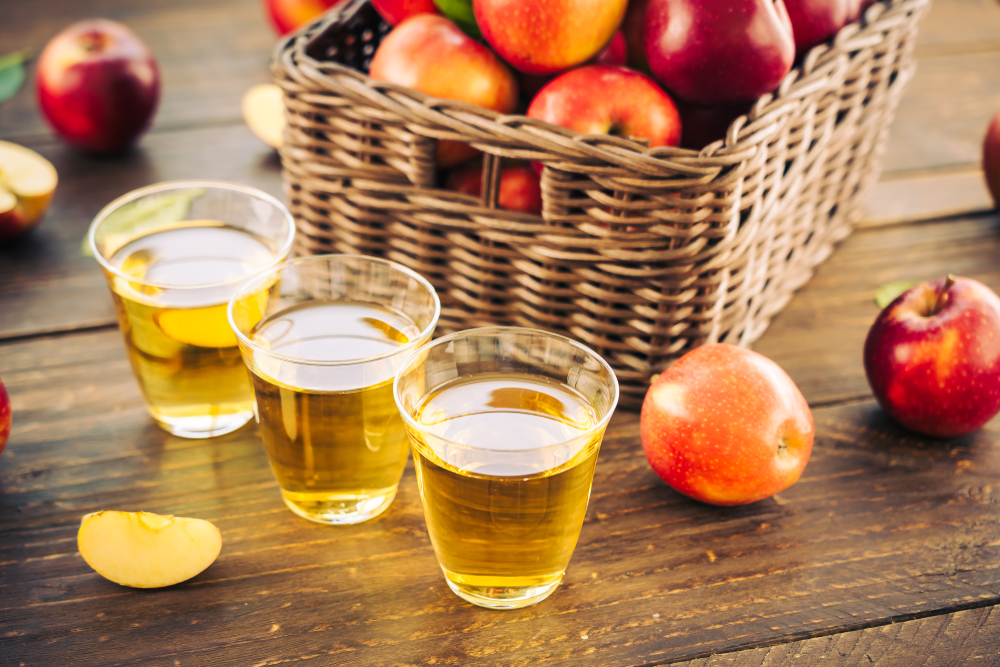 Sky Top Orchard
Sky Top Orchard in Flat Rock is a popular farm for apple picking in North Carolina. This orchard gets its name from its prime location on top of Mt. McAlpine. The apple trees surrounded by mountain landscapes make for a picture-perfect place to spend a few hours gathering apples and exploring the other parts of the farm.
There is a pond where you can feed ducks, a barnyard full of cute animals, a bamboo forest to wander, and a playground where kids can burn off some energy. And kids are sure to be on a sugar rush after munching on some apple cider donuts.
Dogs are allowed on the farm as long as they are on a leash. Bring your four-legged friends for a walk along the marked dog paths. Maybe they can help you sniff out the freshest apples!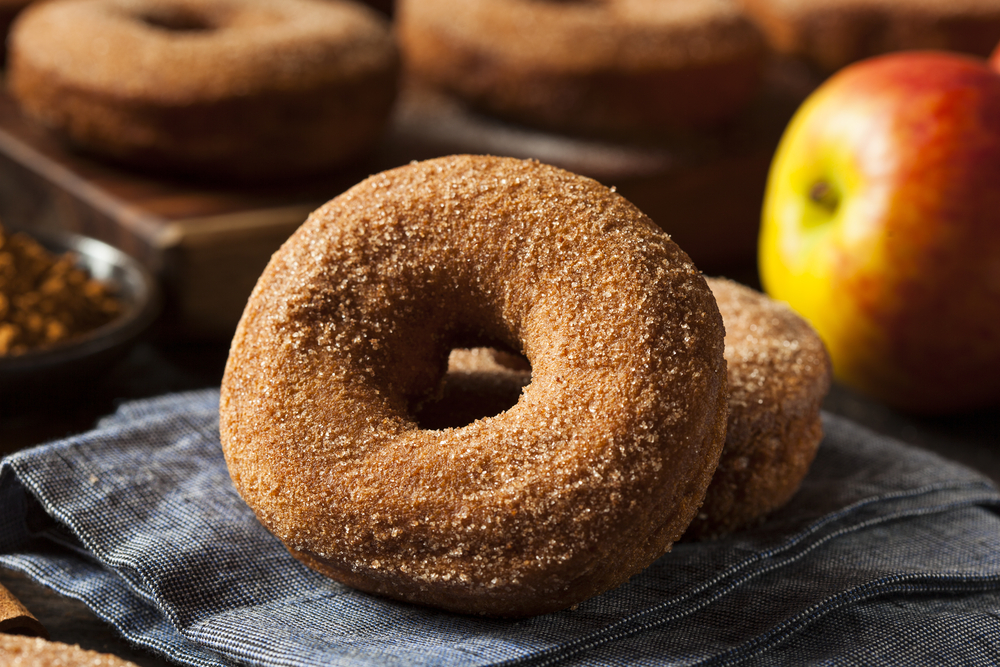 Bee Sweet Orchards
You can create a family tradition of picking apples at Bee Sweet Orchards in Reidsville. This small, family-owned operation is a wonderful place to visit. A variety of apples are available in the fall while the summer has peaches and nectarines as an option. These fruits are great for eating fresh off the tree or for canning. There is so much you can do with your harvest after apple picking in North Carolina.
If you are looking for a cute, rustic venue for a small wedding, then you can exchange your vows at Bee Sweet Orchards. You and your wedding guests will be surrounded by gorgeous farmland.
They even have props like Johndeer tractors and apple crates to help with the country decor. In the spring, the trees would be in full bloom for beautiful wedding photos. Then in the fall, you could come back and pick apples where you were married. How romantic is that?!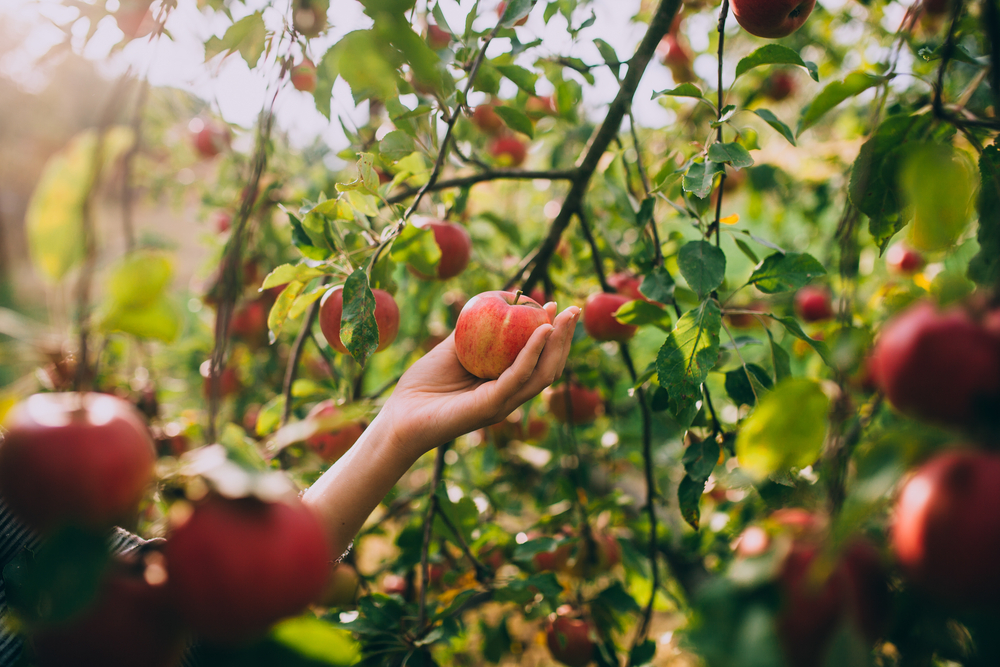 Grandad's Apples
Granddad's Apples N' Such is a 100-acre farm in Hendersonville where they grow apples, peaches, and pumpkins. There are thirty varieties of apples available, and they ripen at different times throughout the season. If you are looking for a specific kind, make sure to check what is ripe before you go. Though any apple you get here will be delicious.
This is definitely one of the best apple orchards in North Carolina because it has so many fun things to do and yummy things to eat. Kids will have a blast shooting the apple cannon, riding the cow train, and solving the corn maze. The bakery sells apple cider donuts, apple pies, caramel apples, and apple cider they make fresh on-site.
The farm market offers more shopping opportunities. You can buy an assortment of goods here including locally made honey, jams, apple butter, handmade crafts, and more.
The Orchard at Altapass
In Spruce Pine, you will find the Orchard at Altapass. This historic apple orchard in North Carolina has a variety of apples, including heirloom. But apple picking is not the only thing to entertain you here. There are extensive nature trails to explore. Along the route, you will find trail signs that explain the agricultural, natural, and historical significance of the area. The farm is a great place for birding as well.
Each year, the farm raises monarch butterflies in terrariums. Visitors can see these creatures at whatever stage they are at in the general store and learn about them. Butterflies are great pollinators and help in the ecosystem of the orchard.
This apple orchard in North Carolina hosts many events throughout the year as well. They also have live music performances. This really adds to the rural, mountain atmosphere.
The farm's general store offers fun and goodies as well. There are a variety of foods too such as jelly, salsa, and honey. You can also get fudge and apple pie a la mode. This is a great treat for after you finish picking apples.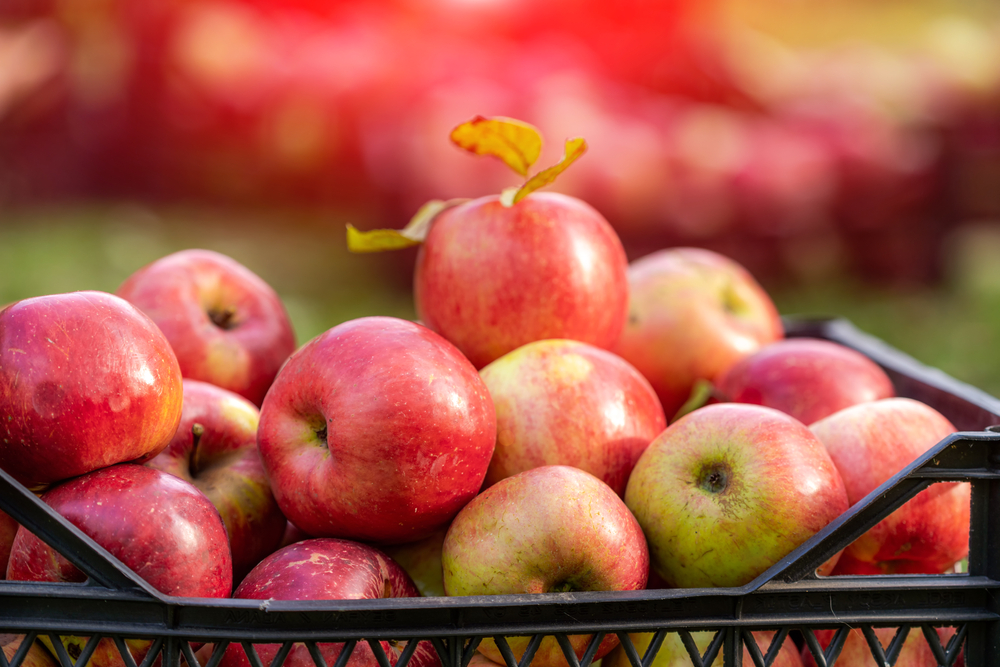 You have to come to North Carolina for apple picking! Apple picking in North Carolina is a popular fall activity in this Southern state because it is full of so many beautiful apple orchards, many of which have sweeping mountains views.
These farms in North Carolina are not just good for picking apples either! There are so many fun activities to make your trip memorable for the whole family. From corn mazes to apple cannons to hiking trails, there is something to entertain everyone! The cute, country stores full of local and homemade goodies will ensure you bring home more than just apples.