If you are looking for the best things to do in North Carolina, you will not be disappointed! This gorgeous Southern state has something for every type of traveler.
Whether it's hiking the pretty trails through the Blue Ridge Mountains or visiting impressive museums in the heart of the city, there is an activity for everyone. North Carolina attractions offer an abundance of breathtaking sites and action-packed adventures that will have vacationers making multiple trips to visit the South!
North Carolina's expansive topography, including mountains and beaches, as well as its long history, makes it a perfect location for any personality type and desired vacation experience. Still not sure exactly what places to go in North Carolina are for you?
This list will provide some fun things to do in cities all across North Carolina. There are so many fun activities to do in North Carolina and experiencing it all will require a second trip in the future!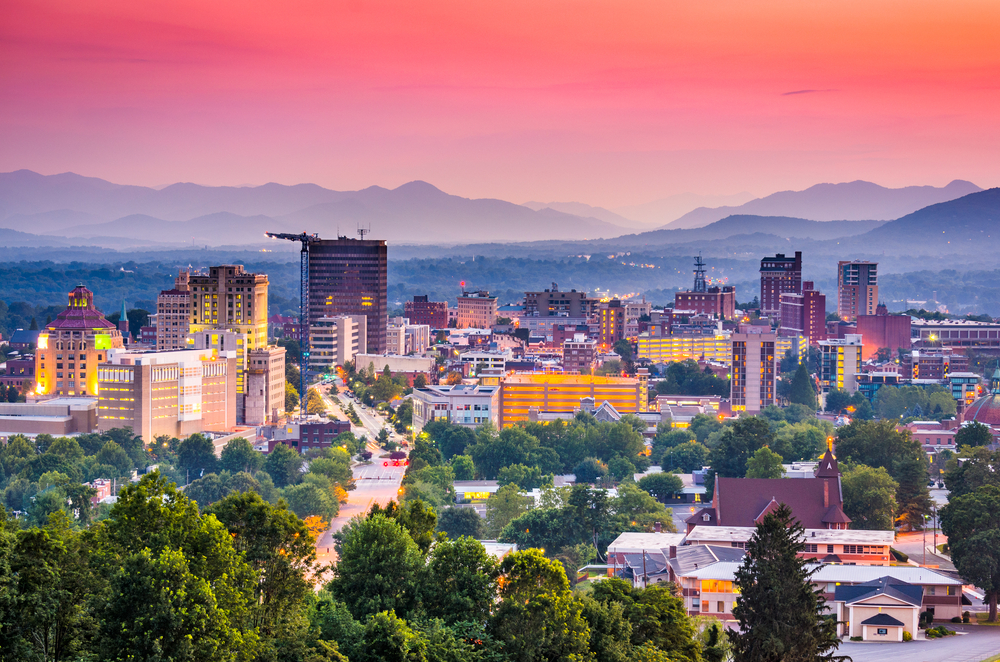 20 Best Things To Do In North Carolina: The Ultimate NC Bucket List
Go White Water Rafting
One of the best things to do in North Carolina is to visit the U.S. National Whitewater Center in Charlotte. The White Water Center was created in 2001 and is considered the world's largest man-made white water river. Get ready for an adrenaline rush!
The community-orientated and environmentally conscious center's mission is to "build stronger communities by promoting a healthy and active lifestyle, developing environmental stewardship, and encouraging family and civic interaction."
The facility sits on an extensive 1,300 acres of land. There is kayaking (both flatwater and whitewater), paddle boarding, and whitewater rafting available.
In addition to the daily activities, the center also hosts international festivals such as the famous Green River Festival. Enjoy some Irish breakfast, yoga, the greening of the river, and live music at this iconic festival.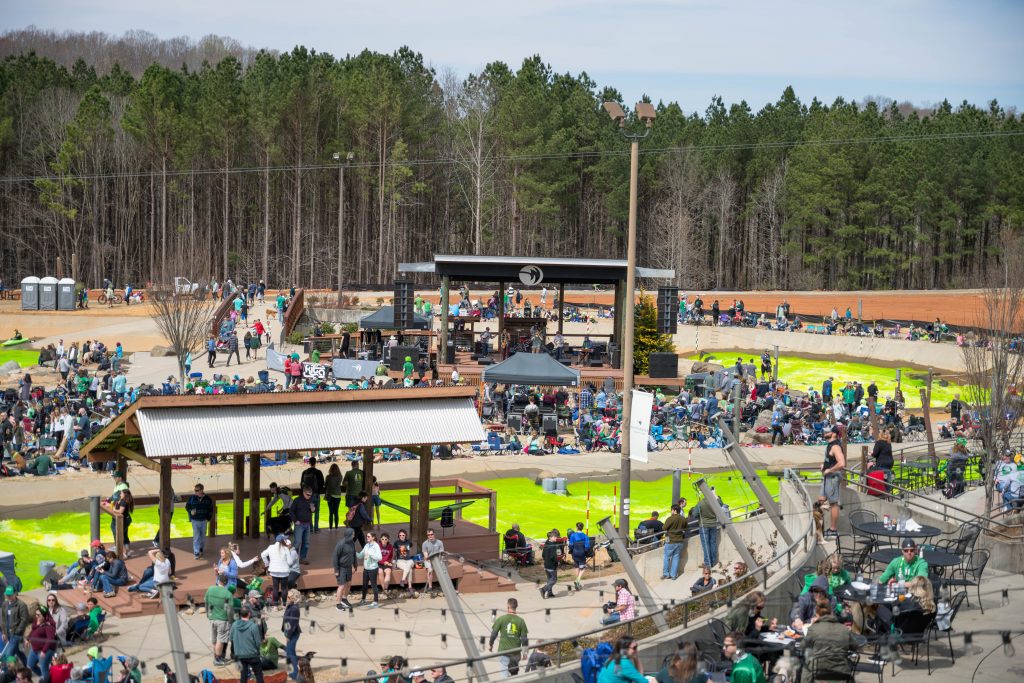 Tour the Biltmore Estate
The Biltmore Estate was the immaculate home of George and Edith Vanderbilt. The estate was built over a six-year period and finally opened to the family in 1995. Visiting the Biltmore is truly one of the best things to do in Asheville, North Carolina.
This 250-room French Renaissance chateau contains 35 bedrooms, 43 bathrooms, and 65 fireplaces. The estate was officially opened to the public in 1930 and continues to be a popular attraction for tourists and locals alike. There are many things you can do at the Biltmore Estate. The bass pond and garden trails are also a must-visit.
Another fun activity to do at Biltmore is to explore the Biltmore Winery, known as one of the nation's most-visited wineries. If you visit during the holiday season, you must attend the Christmas at the Biltmore event.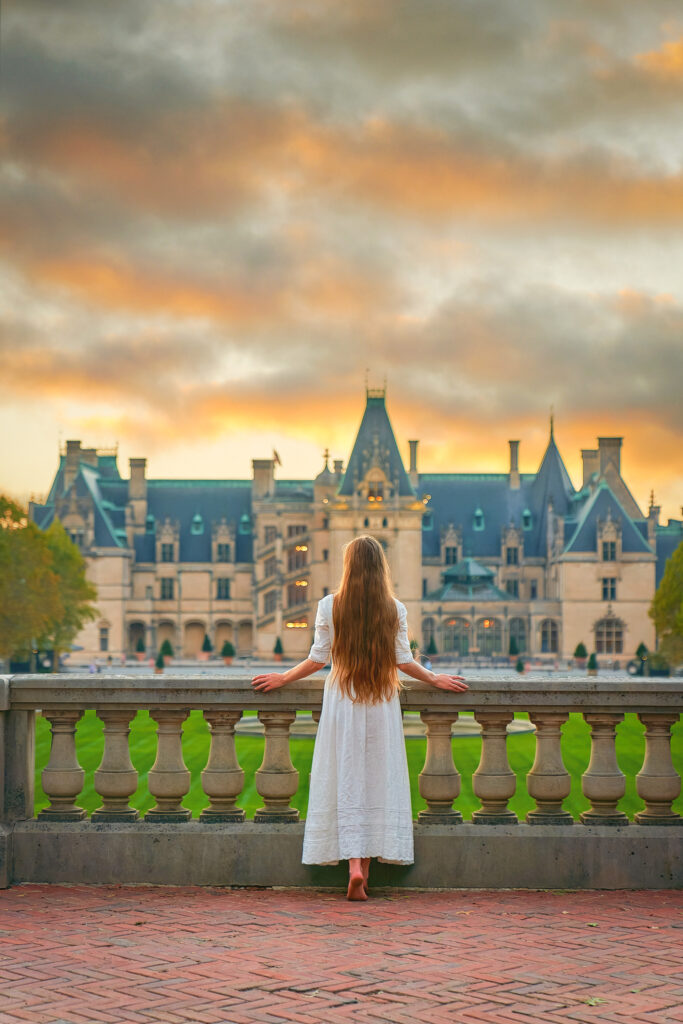 Learn at the North Carolina Museum of Natural Sciences
When it comes to free things to do in North Carolina, visiting the North Carolina Museum of Natural Sciences is definitely a must-visit. Raleigh, NC, is best known for its spectacular museums.
The North Carolina Museum of Natural Sciences, an affiliate of the Smithsonian Institution, is the largest institution of its kind in the Southeastern United States. It's also one of Raleigh's most popular attractions.
The impressive 300,000 square-foot site hosts over a million visitors a year. There are an expansive four floors of exhibits, live animals, gift shops, and cafés.
The museum has curriculum-focused classes onsite, offsite, outdoors, and online for pre-kindergarten through graduate students across the state. In addition to classes, the museum also contains laboratories, exhibitions, and wildlife and geology from the Appalachian Mountains to the Atlantic Ocean.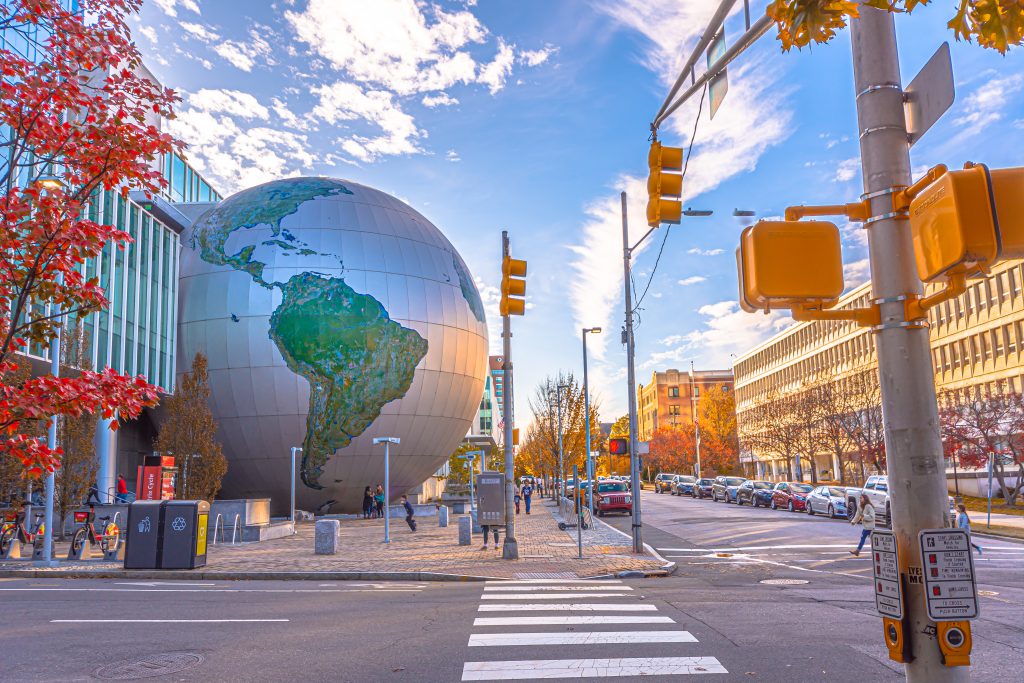 Fall in Love With Great Smoky Mountains National Park
Great Smoky Mountains National Park is divided almost in half between North Carolina and Tennessee. Come see why this is the most visited national park in the U.S. and one of the best places to visit in North Carolina!
With 800 square miles to explore, there is so much to see in this gorgeous forested landscape. Hiking trails will lead you to beautiful waterfalls and allow you to enjoy the diverse plants and animals found in the park. Keep an eye out for black bears!
The Smoky Mountains are also one of the best locations to view fall foliage in North Carolina. You can take a scenic drive and be amazed by the colors.
Other things to do in this park include fishing, camping, horseback riding, and seeing historic buildings.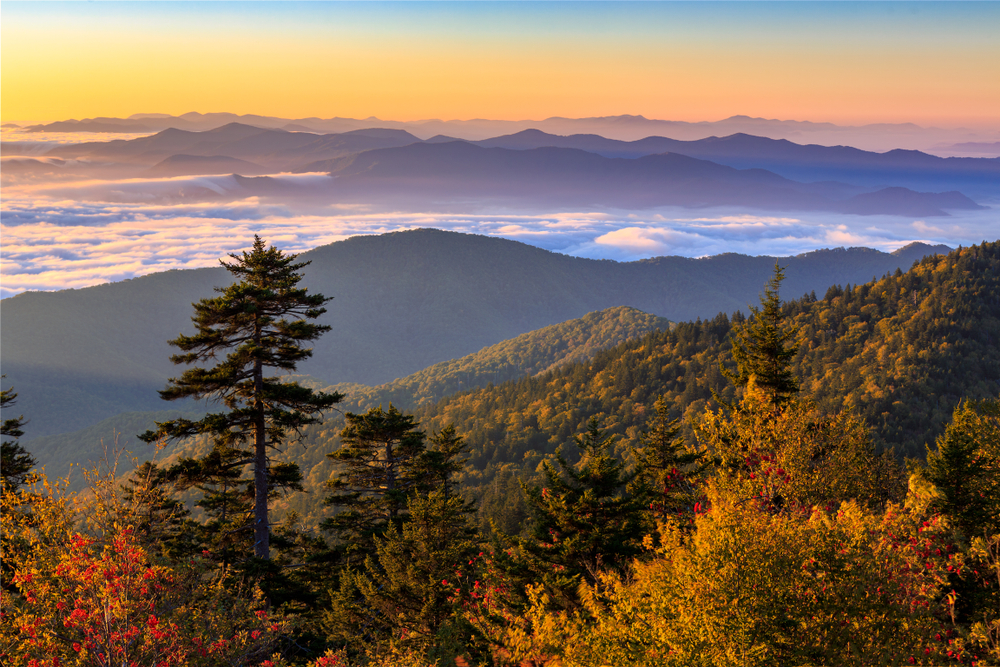 Drive the Blue Ridge Parkway
You can't visit North Carolina and not drive the Blue Ridge Parkway. This is one of the most scenic driving routes in the South, connecting Northern Virginia to Southwestern North Carolina for 469 miles.
While this North Carolina road trip is especially popular in the fall, it is amazing any time of the year. You will enjoy the sweeping views from the overlooks and traversing the iconic Linn Cove Viaduct.
There are many stops to make along the Parkway including waterfall hikes, museums, and historic sites. The road also goes by many cute, mountain towns with their own unique attractions in North Carolina. Some of those towns include Little Switzerland, Blowing Rock, Boone, and Bryson City.
You could easily spend a day or a week exploring the Blue Ridge Parkway.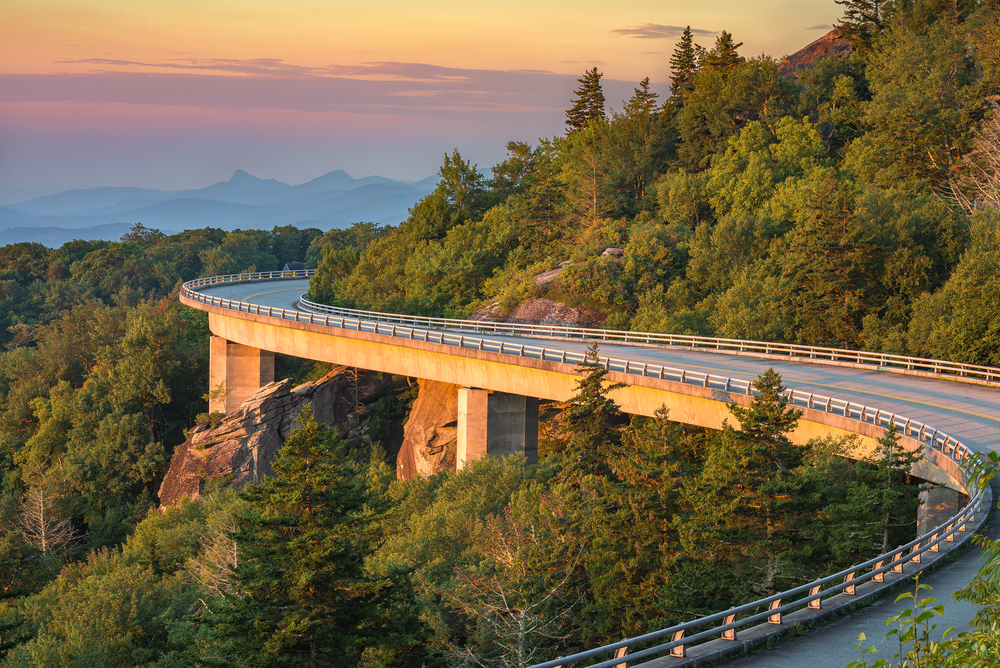 Swim at Wrightsville Beach
Known for its crystal blue waters, spacious beach, and active island lifestyle, Wrightsville Beach is a full town. But it perhaps is the most famous for having one of the best beaches in the state. As one of the best things to do in North Carolina, this historic town is worth a visit.
Don't forget to check out the best restaurants in Wilmington while you are nearby!
Wrightsville Beach in Wilmington, NC, is 10 miles east of the Historic District. The water of this beach is considerably warm and the water's almost transparent color is especially admired. Visiting the beaches is one of the best North Carolina activities for the whole family.
There are plenty of options for the family including plenty of world-class watersports like surfing, stand-up paddleboarding, and kayaking. The area has amazing taverns and oceanfront grills as well as full-service resort hotels, perfect for a weekend getaway in North Carolina.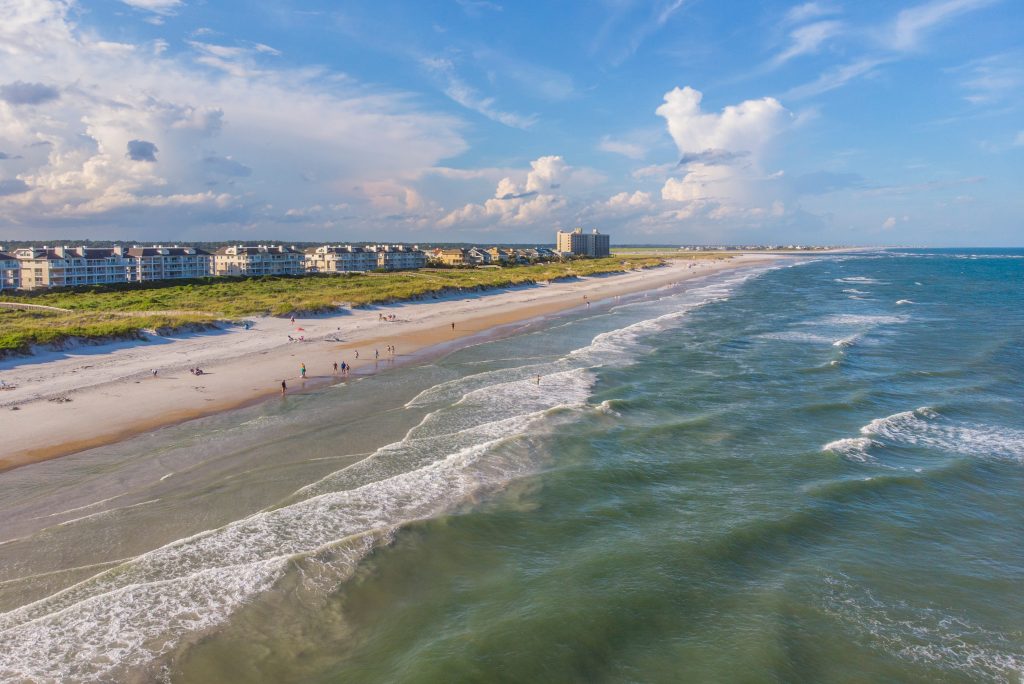 Hike in Grandfather Mountain State Park
Grandfather Mountain State Park has incredible peaks topping out at 1,946 feet. It is part of the United Nations Southern Appalachian Man and the Biosphere Reserve. Interestingly, it may be over 300 million years old.
You will be charged a small fee to enter, but sales from tickets and souvenirs go towards preserving Grandfather Mountain. You can drive your own vehicles through the park and stop along the way to enjoy native wildlife exhibits and the famous Mile High Swinging Bridge that connects two peaks one mile above sea level!
There are two trailheads you can take. The Profile Trail takes you on the western slope of the mountain while the Daniel Boone Scout Trail takes you down the eastern slope of the Blue Ridge Parkway. The trails are free, but you're required to register at the trailhead so park rangers know how many people are out there.
Hiking Grandfather Mountain is one of the best things to do in North Carolina for nature lovers. It is also found close to the cute, small town of Blowing Rock.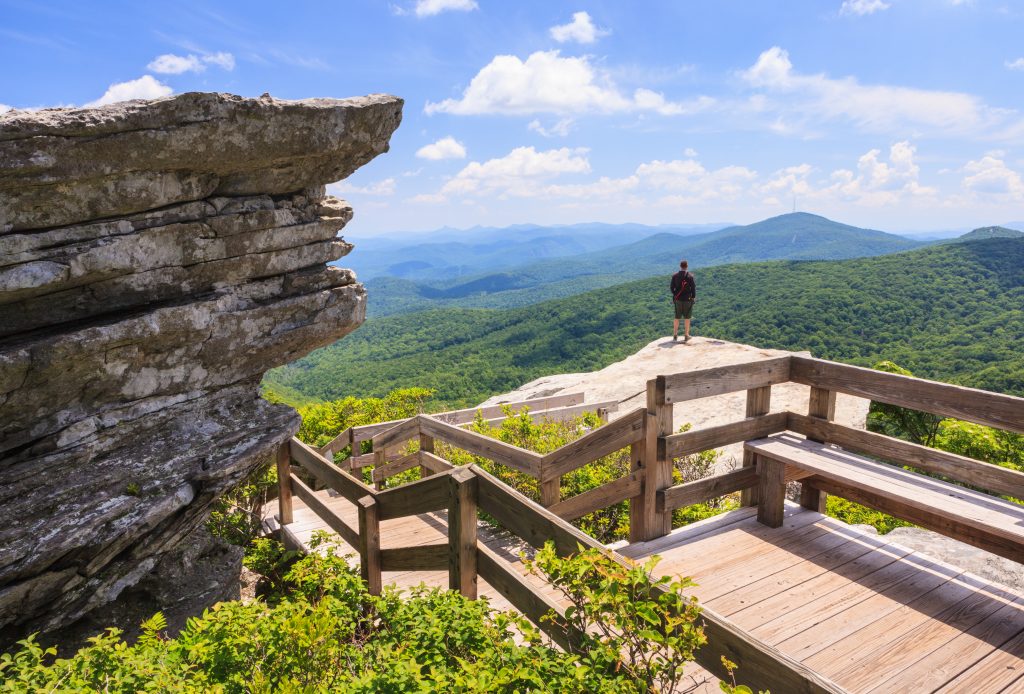 Stroll the Cape Fear Botanical Garden
The Cape Fear Botanical Garden in Fayetteville was created by gardeners and community members that leased 80 acres together to create a garden in 1989. You won't find a more beautiful place to stroll through nature.
The garden is famous for its therapeutic horticulture program. Participants learn how to make raised garden beds and garden art, grow plants, and prepare food. The food produced from this program goes to a local food bank. Not only does this help the environment, but it also helps the community!
The lovely surrounding forestry is a mix of pine and hardwood forests. The Cape Fear Botanical Garden also boasts a 1.2-mile loop trail that is ideal for those who want to visit the garden but don't want to go on a strenuous hike.
This garden is one of the best things to do in North Carolina for adults looking for a place to relax away from their kids.
While you are in town, make sure to check out some of the best restaurants in Fayetteville!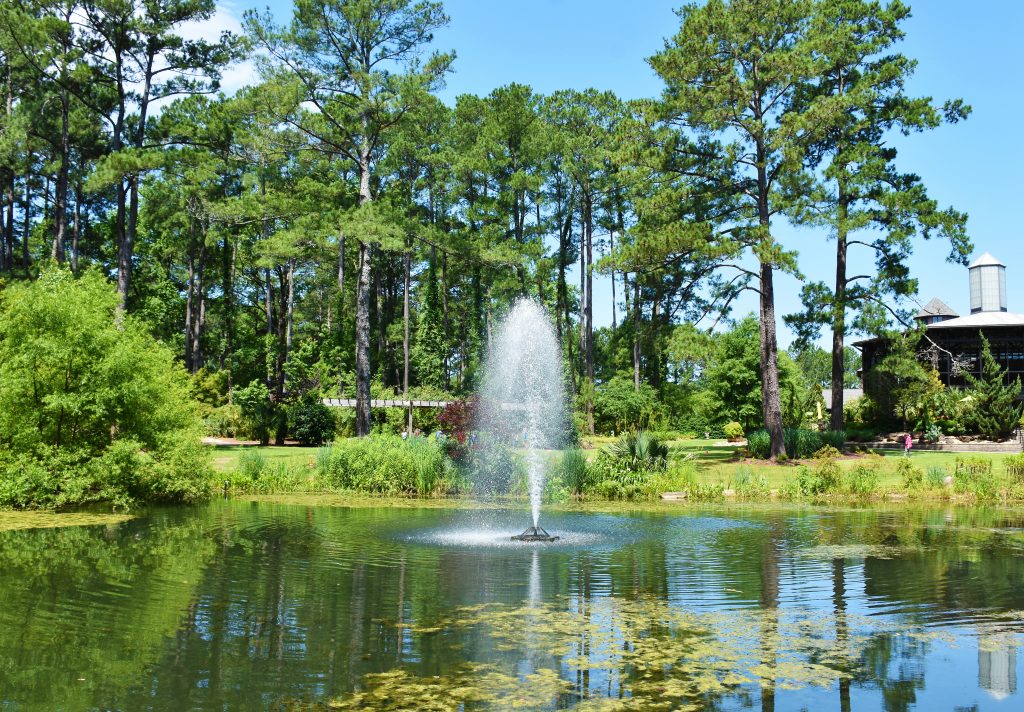 Visit the International Civil Rights Center & Museum
The Civil Rights Movement of the 1950s and 1960s was an integral part of the push for racial equality in the United States. Visiting the International Civil Rights Center & Museum in Greensboro, NC, provides an immersive and educational experience of this important time period.
The museum's biggest focus is on its permanent installation of the F.W. Woolworth's lunch counter. On February 1, 1950, four North Carolina A&T State University Black students, Ezell A. Blair, Jr. (now Jibreel Khazan), Franklin E. McCain, Joseph A. McNeil, and David L. Richmond, sat down at the F.W. Woolworth's "whites only" lunch counter. The challenging of segregation laws on that day launched the large youth-led sit-in movements of the 1960s.
The museum has a large array of activities to offer including "The Battlegrounds" educational exhibits, a photography collection, video reenactments, galleries, auditoriums, classrooms, an archival center, a collecting museum, and teaching facilities devoted to the international struggle for civil and human rights.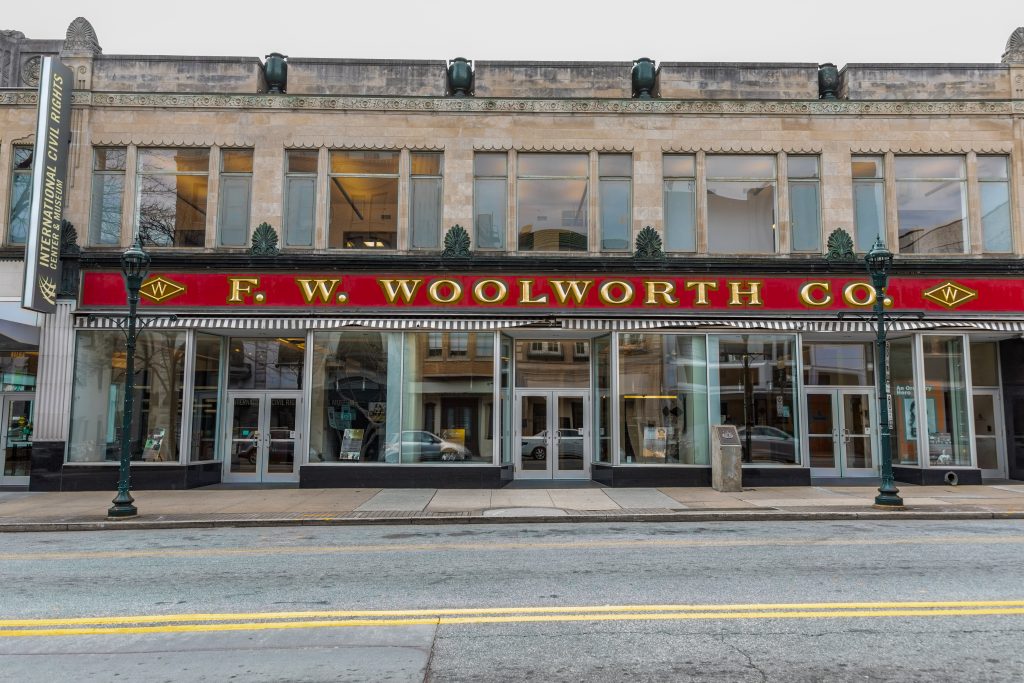 Relax at Kitty Hawk Beach
Kitty Hawk Beach was originally named "Chickahawk" by its original Native American residents, meaning a "place to hunt geese." One of the best things to do in North Carolina, Kitty Hawk offers a beautiful beach coastline AND a large charming forest!
Kitty Hawk Beach is known to have some of the largest waves of the northern beaches in the United States, making it a surfer's paradise. It's also a fantastic location to go skimboarding. Better yet, dogs are permitted year-round at Kitty Hawk so you don't have to leave your best friend at home!
Take the time to traverse through the over 1,800 acres of jaw-dropping forests and marshes. The maritime forest features nature trails where you can see all the geese to which the Native Americans referred. Vacationing at Kitty Hawk Beach is an especially fun thing to do in North Carolina if you love ocean waves and forest groves.
Relaxing at this beach is one of the best things to do in the Outer Banks!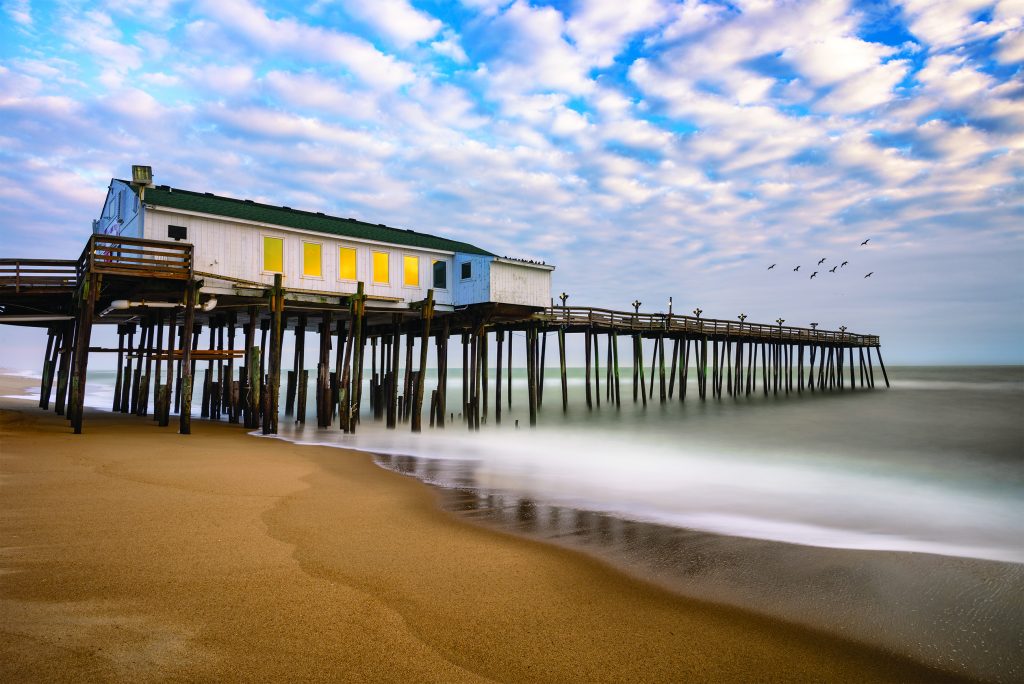 Honor the Fallen at Lejeune Memorial Gardens
While vacations are full of fun and adventure, you should always make some time for solemnity. To thank those that served in our military to ensure the protection of the country we hold so dear, a visit to the Lejeune Memorial Gardens in Jacksonville is in order.
The Lejeune Memorial Gardens honor those who have made the ultimate sacrifice for our country. Here you'll find a large collection of military memorials that are especially important to the locals of the area. As part of the Lejeune Memorial Gardens Master Plan, the site includes space for future memorials including the Corpsmen Memorial.
These beautiful memorial gardens house the Beirut Memorial, the Onslow Vietnam Veterans Memorial, the Montford Point Marine Memorial, and the 9/11 Memorial Beam from the World Trade Center.
You can also walk the Lejeune Memorial Gardens Greenway and Trail. It connects former railroad tracks into trails to military bases. Installed with reverence to all the memorials on the grounds, the path now connects the community of Jacksonville to the Military community of Camp Lejeune.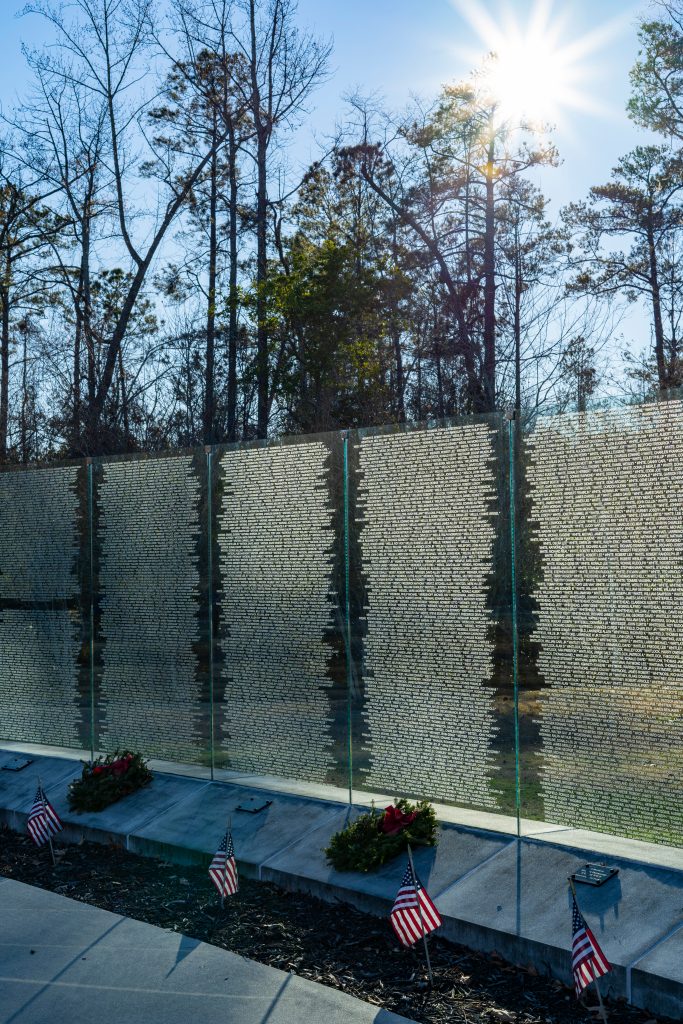 See a Show at the Durham Performing Arts Center
Opened in 2008, the Durham Performing Arts Center is considered the hotspot for live entertainment in the Durham area. It boasts 2,700 seats and more than 200 performances a year. This venue offers touring Broadway productions, high-profile concerts, and comedy events.
The Durham Performing Arts Center has hosted the biggest Broadway shows like Cats, Hello Dolly!, Miss Saigon, Fiddler on the Roof, Dear Evan Hansen, Anastasia, Frozen, and of course, the big one: Hamilton. Other previous and upcoming acts include Styx, Jeff Foxworthy, Tom Segura, and the Indigo Girls.
The building has a large lobby space and great acoustics. What especially stands out to visitors is the energy of the staff that is often in good spirits and really want you to enjoy your show. For music lovers looking for fun things to do in North Carolina at night, check out the upcoming shows at the Durham Performing Arts Center.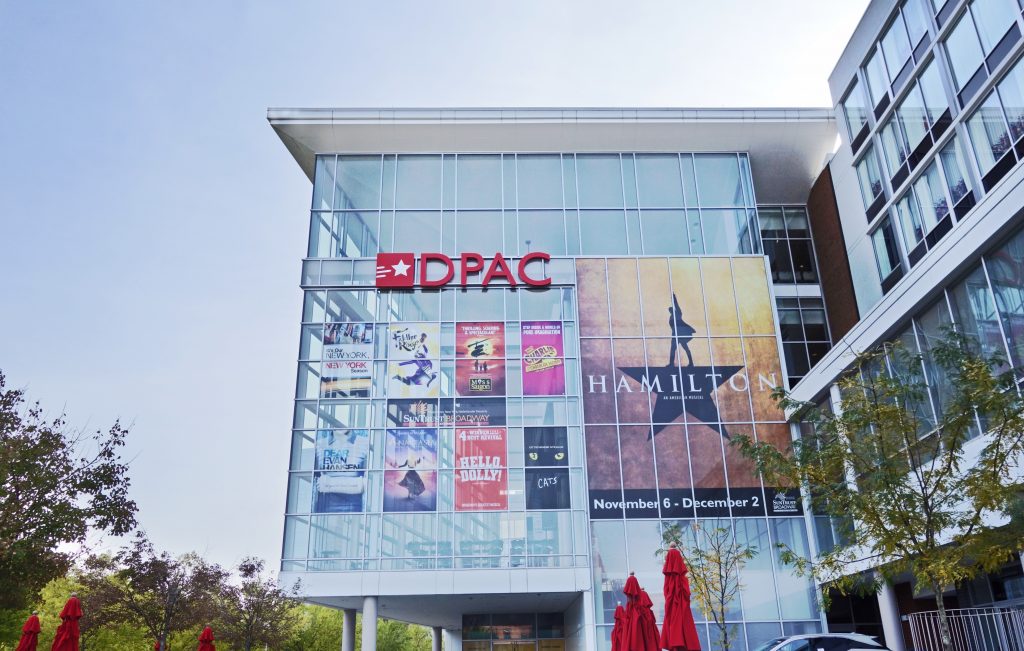 Step Back in Time at Historic Old Salem
Named "One of the Top Rising Cities in the South," Historic Old Salem is one of the best things to do in Winston Salem, NC. What makes this historic site special is its famous long and detailed historical stories archive of people of the area during the colonial period, including Moravian, Black, and Indigenous peoples of the American South.
For the history buff in the family, spending the day in Historic Old Salem will be a treasure trove of excitement. The town itself holds national landmark status and functions as a museum combating food insecurity.
Tour the Old Historic Gardens for 18th and 19th-century Moravian traditions. The Historic Bethabara Garden allows you to dig up more than two centuries of gardening traditions with a stroll through the reconstructed Hortus Medicus, the country's oldest known medicinal garden!
The historic downtown also contains the Museum of Early Southern Decorative Arts (MESDA), which features metalwork, needlework, paintings, and other decorative arts made & used by the early settlers of the American South.
Don't forget to check out our list of the best restaurants in Winston-Salem too!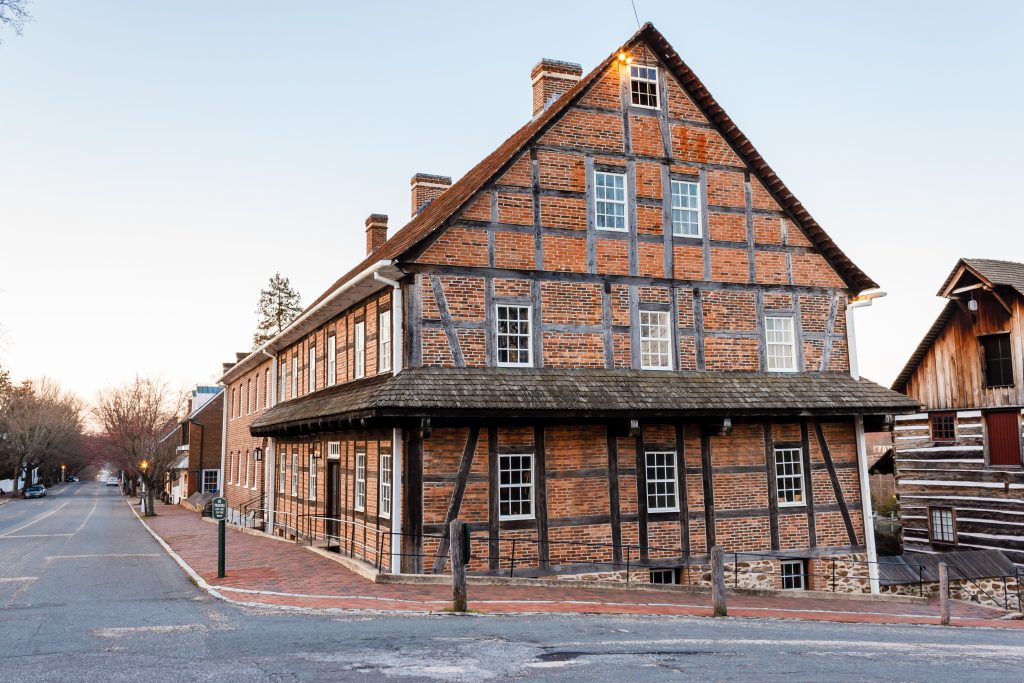 Have Fun at Pullen Park
Raleigh's Pullen Park was the first public park in North Carolina. It is the 5th oldest operating amusement park in the U.S. and the 16th oldest in the world. Pullen Park has been captivating and entertaining guests since 1887. It is one of the best things to do in North Carolina with kids.
You'll enjoy Pullen Park for its terrific recreational opportunities for the entire family. You'll love the operating carousel built in 1911, a miniature train that runs through the park, and pedal boats to cruise Lake Howell. Don't forget tennis courts, baseball, and softball fields!
You can also enjoy the Aquatic Center which functions as Raleigh's premier competitive aquatic venue. In an indoor 50-meter by 25-yard Olympic pool, you can participate in water exercise and aquatic therapy programs as well as lap and recreation swimming. There's also a warm water therapy pool.
If you're in need of a snack, then don't worry. In the amusement area near the Welcome Center, the Pullen Place Cafe offers fresh, local, seasonal foods that will crush your cravings flat!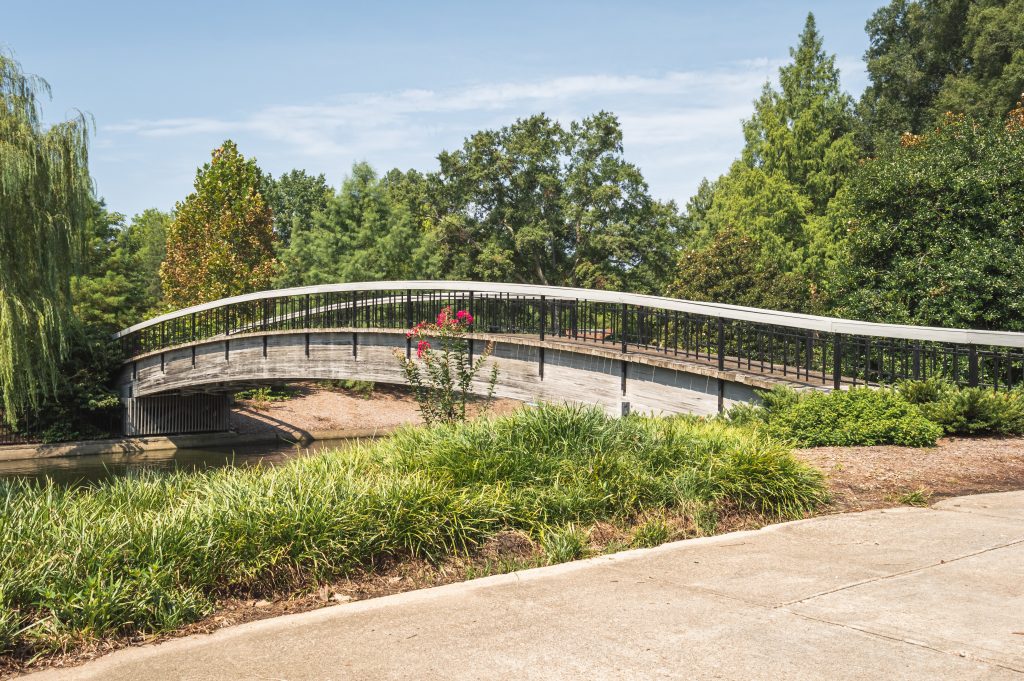 Go Camping at Jordan Lake State Recreation Area
If you love the great outdoors, then one of the best things to do in North Carolina is to head to the Jordan Lake State Recreation Area near Apex. Filled with recreation activities and surrounded by lush nature, this is the best way to get the blood pumping.
The gorgeous Jordan Lake State Recreation Area has nine access areas scattered around the shoreline. Truly massive, its focal point is an undeveloped 14,000-acre reservoir. With so many waters to explore, there are a number of swim beaches and boating ramps, perfect on a hot day.
RV and primitive campers rejoice! In the lush wilderness, you'll find over 1,000 campsites. Hookups are available as well as group camps so you can get to know your neighbors. There are also over 14 miles of hiking trails to explore ranging from easy to moderate difficulty.
The lake's ecology is a sight to behold and you can prepare yourself by taking in the visitor center's exhibit hall. That way you'll be able to find and identify bald eagles and wild osprey as you walk along the trails.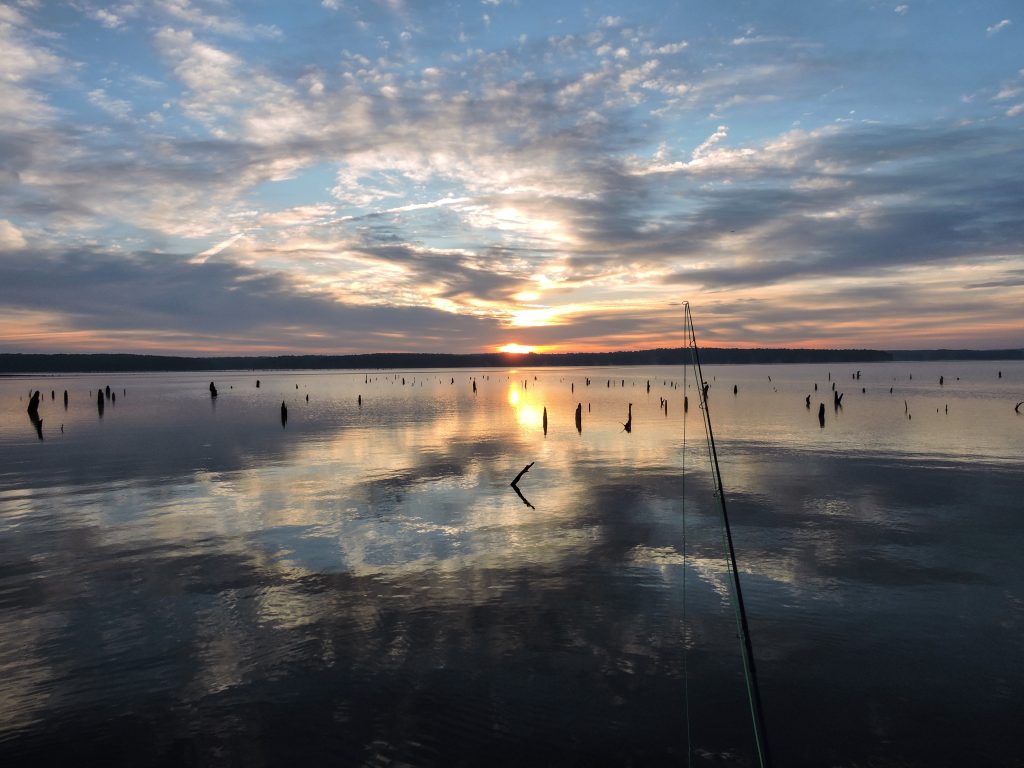 Soak in Culture at the Ackland Art Museum
Every vacation should include at least one museum, so why not go to one where you can see a breadth of art? At the Ackland Art Museum in Chapel Hill, you'll see a collection that showcases the depth of human expression.
Over 19,000 works span through styles, cultures, and periods of art with the museum hosting 10-12 changing exhibitions a year. You'll always see something new here. More than half of the gallery space is dedicated to special and traveling exhibitions.
Each of these shows features a wide stylistic range of art, ranging from contemporary American photography to European master paintings to video installations to modern portraits. A single trip can be an introduction to ancient Greek vases, Delacroix, and Warhol all in one day!
On the premises is also a conservation facility that contributes to the restoration of art. Treatments include the repair of tears, reduction of stains and discolorations, and paper analysis which helps to date works of art.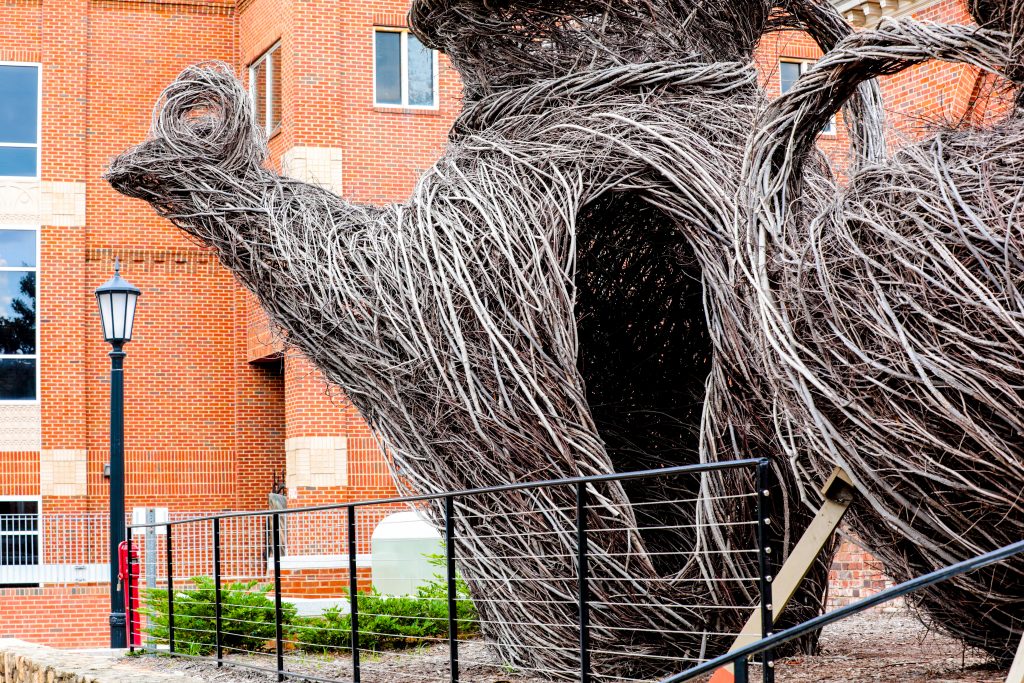 Get Out on the Water at Lake Lure
Lake Lure is one of the prettiest lakes in North Carolina, and you will quickly agree when you see it nestled in the Blue Ridge Mountains. The 720-acre manmade lake is perfect for a romantic getaway or a family vacation.
There is a sandy beach for swimming, playing beach volleyball, and sunbathing. Fishing, boating, picnicking, hiking, and kayaking are popular activities too.
Lake Lure is the name of the small town here as well. This is where you can enjoy local shops and restaurants. Take a lovely stroll on the gorgeous Lake Lure Flowering Bridge.
Lake Lure has been the filming location for a few movies, the most iconic of which is the 1987 classic Dirty Dancing. Each September, the town hosts the Dirty Dancing Festival which includes live music, performances, dance lessons, and more! This is definitely one of the cool things to do in North Carolina for movie buffs!
This is truly one of the best Mountain Towns In North Carolina!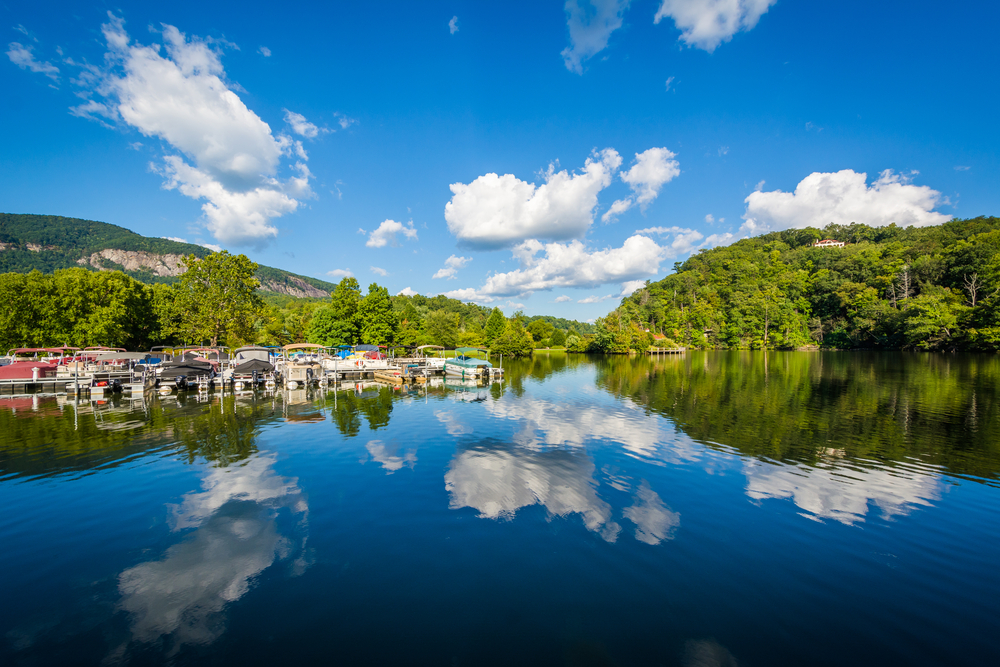 Enjoy Outdoor Recreation at Crowders Mountain State Park
Crowders Mountain is truly a sight to behold. The mountain sits at a staggering elevation of 1,625 feet above sea level. But that's not all this state park has to offer.
If you're a fan of hiking, there are plenty of trails here ranging from short to long. You can start on the 2.5-mile Carolina Threat Trail or the 10.5-mile Ridgeline Trail.
Need more extreme? No problem. Take on the challenge of Crowders Mountain itself if you're an experienced climber. Pitons, bolts, or devices that may damage cliff faces are not permitted. You can also go bouldering and free-climbing. Keep in mind that these activities are only allowed in specific areas with permits given at the park office.
If you just want to relax and enjoy nature, then head to the Linwood Access Area or the Boulders Access Area. Pack a picnic lunch and sit at one of the nine large tables to just enjoy your surroundings. Drinking water and restrooms are located nearby.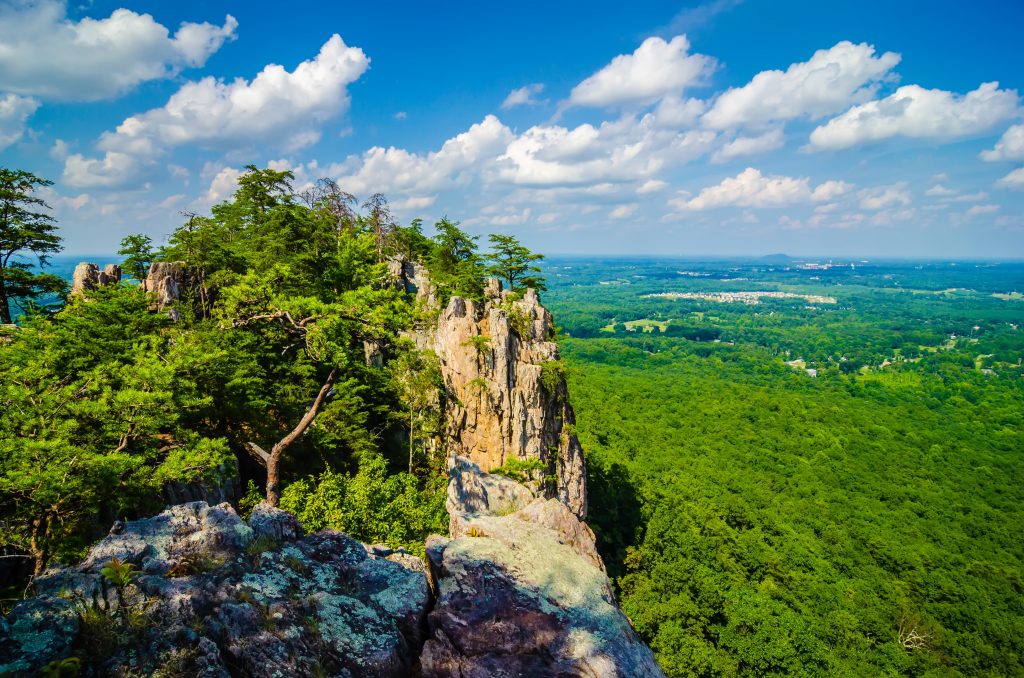 Go Skiing
If you visit North Carolina in winter, you'll find that the mountains are good for more than hiking. Skiing is a popular winter pastime and there are many great ski resorts for beginners and experts.
Appalachian Ski Mountain near Boone is one of the most popular places for skiing in the state. Beginners can ease in with classes and the bunny slope. Anyone looking for a challenge can attempt the black diamond slopes.
Along with skiing, snowboarding and ice skating are options. You can rent any of the equipment you need. If you are looking for a cool experience, try the Midnight Blast night skiing.
After hitting the slopes, retire to the lodge where you can relax in front of the fireplace, dine at the restaurant, or view the slopes from a big observation deck.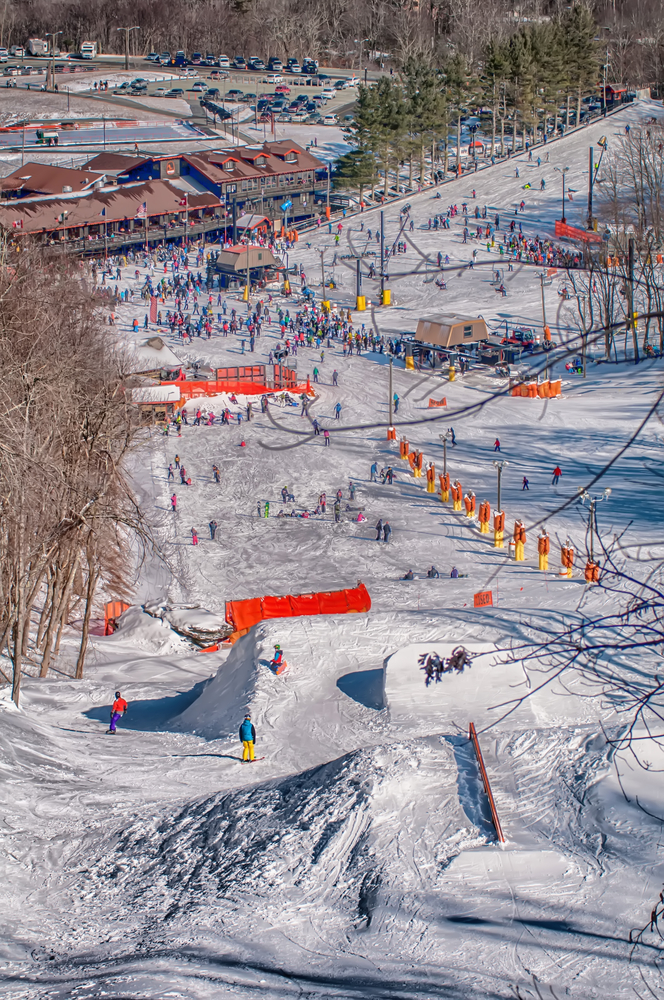 Discover Linville Falls
There are so many waterfalls in North Carolina and Linville Falls is one of the best. Located off the Blue Ridge Parkway and at the bottom of Linville Gorge, this 90-foot waterfall is a sight to behold.
The trail system here is great, providing many viewpoints of the falls. If you want an easier hike, set out on the 1.6-mile roundtrip Erwins View Trail. If you are okay with a more strenuous hike, take the Linville Gorge Trail down to the river's edge. This trail is 1.4 miles round trip.
Swimming is not allowed, but you will have fun admiring the power of nature and taking pictures. Linville Falls is one of the best free things to do in North Carolina since there is no fee to enjoy this natural wonder.
The Linville Gorge is known as the Grand Canyon of the East and has many other attractions including overlooks and waterfalls. It is also one of the best places for camping in North Carolina. It is a great day trip from Asheville too.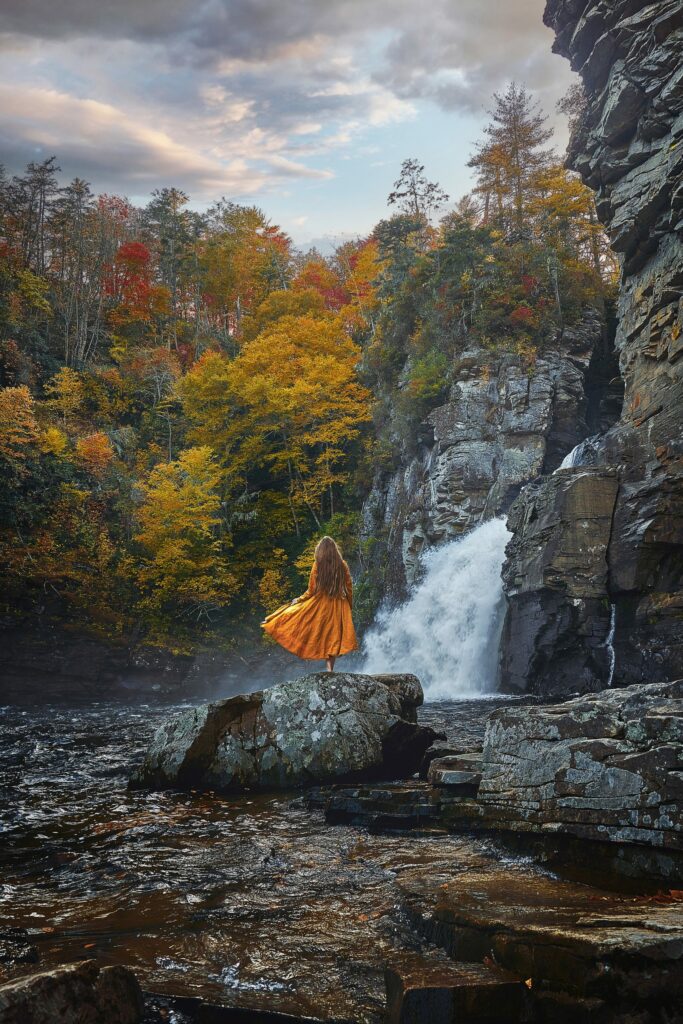 North Carolina has an abundance of fun and exciting things to do in almost every city in the state. When considering what to do in North Carolina, it's difficult to choose. Make sure you allow enough time for your trip to see everything.
Whether you are a seasoned hiker or a passionate history lover, you'll find the best activities in North Carolina for everyone. We wish you happy trails, wherever your adventure may take you!