Are you looking for a list of the best places to eat in downtown Asheville? We have you covered with the best downtown Asheville restaurants!
After exploring all downtown Asheville has to offer, exploring the shops at the Grove Arcade the most popular mall for shopping and dining alike, a walk on the urban trail, museums, or more it is time to explore the vast dining scene in downtown Asheville.
Planning your trip to Asheville last minute?
Make sure to book your hotels and tours in Asheville in advance to ensure availability! The longer your wait, the more difficult it gets. ESPECIALLY during Fall Foliage! Here are our top picks for Asheville:
Top Places To Stay In Asheville:
Top Experiences And Tours In Asheville:
Whether you are looking for breakfast and brunch spots to start the day, a quick lunchtime spot during the work week or in-between sightseeing to Italian, French, American, Thai cuisine you are in luck. Downtown Asheville dining scene has an eclectic mix of price points all focused on locally sourced farm to table experiences.
There are truly so many things to do in Asheville.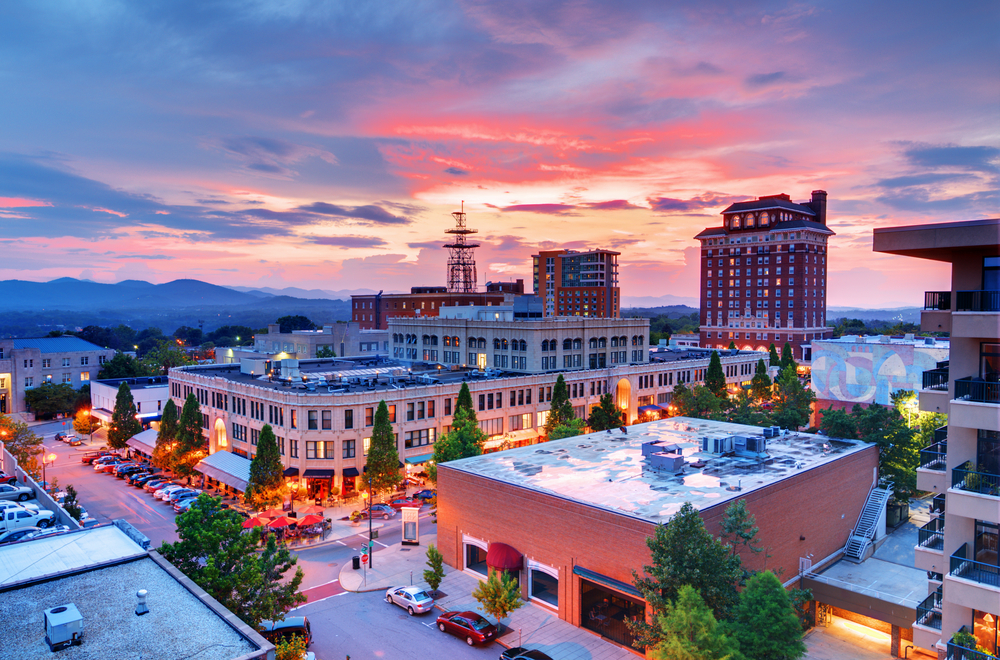 15 Tasty Downtown Asheville Restaurants You Must Try
Tupelo Honey Cafe
Tupelo Honey Cafe is one of the best restaurants in downtown Asheville if you are looking for delicious Southern food. Whether you are in the mood for brunch, lunch or supper you are in luck with the scratch made southern dishes!
The restaurant prides themselves on using locally sourced ingredients to keep quality high! Lunch here is served daily until 4 pm, Monday to Friday and is only $13.50 for a lunch combo. Choose between a variety of sandwiches like spicy avocado and chopped egg, picnic chicken sandwich or grilled pork, salads like mixed green or beet salad and a side!
A supper ( southern dinner) is served build your own style with a protein and two fresh sides. Southern favorites include buttermilk fried chicken, glazed meatloaf, cast iron pork shoulder, or country catfish. Par with grits, Brussels, collards, potatoes, green beans and more!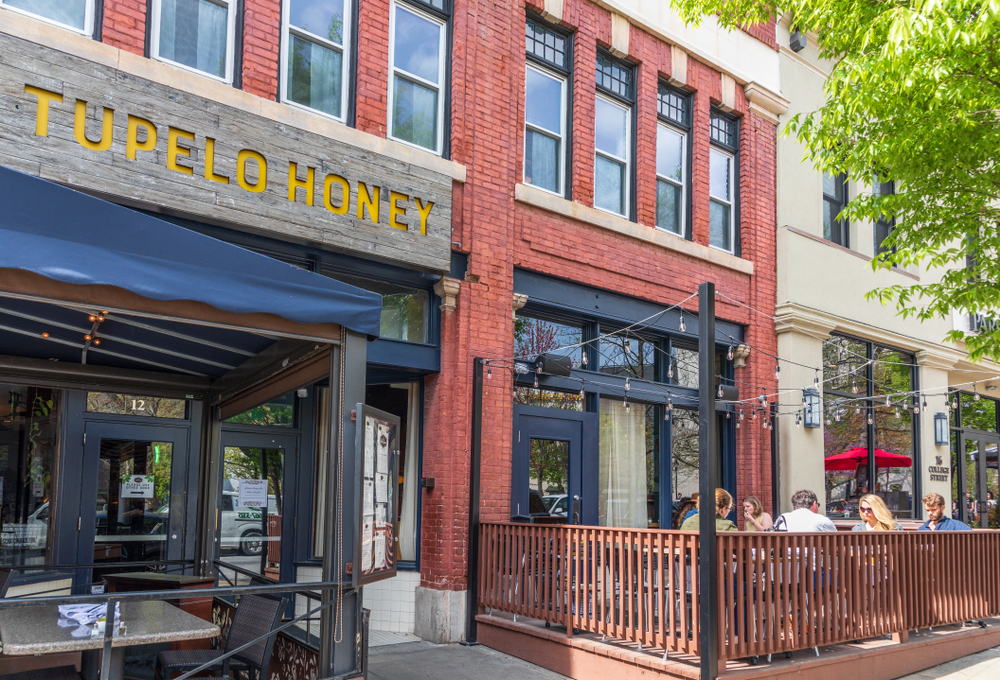 Mountain Madre
If you are looking for Mexican food in downtown Asheville head to Mountain Madre. This family owned restaurant locally sources its ingredients and delivers upscale Mexican dishes with an Agave bar and Artisan cocktails.
One of the unique features of this restaurant is you can support the local food bank. By opting to not receive a side of rice or beans with your meal it will instead be donated!
As with any Mexican restaurant you must start with the house made chips and trio of housemade salsas, the Mexican street corn, guacamole, or queso both vegan and traditional.
For Plates they serve burrito bowls, chimichanga, fajitas, family style enchiladas, tacos or one of the family meals for 4 if coming with a group! Chose your style of meat from vegan, chicken, barbacoa, carnitas, shrimp and fish.
If in the mood to try a wide variety of tequilas or mezcal you can try one of the flights offered where you can sample three different options. Or just try one of the many offered on the menu and you can always ask wait staff for help in selecting and pairing!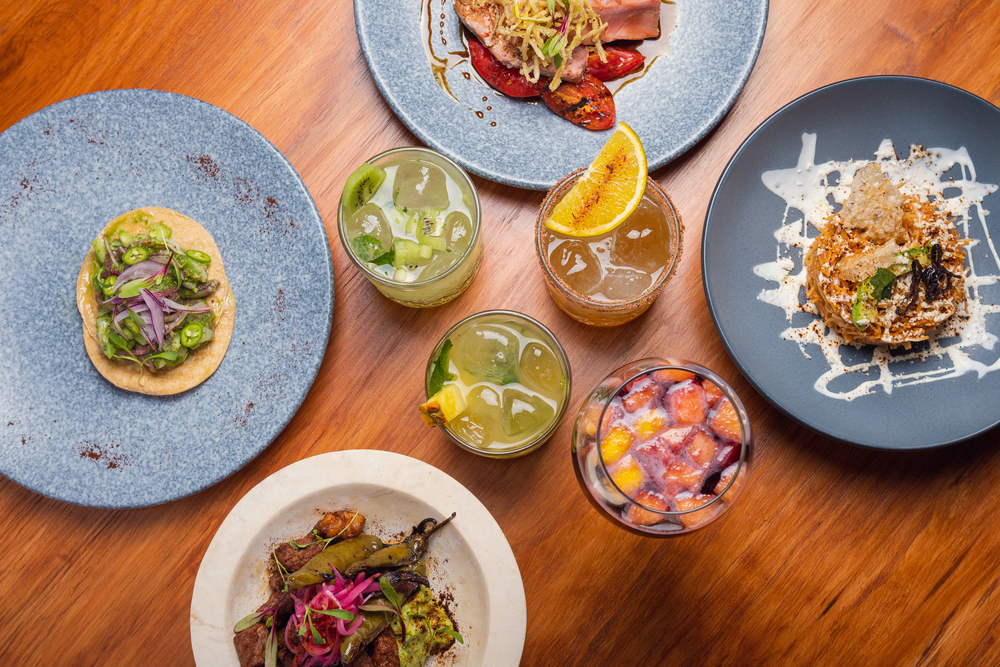 Early Girl Eatery
Early Girl Eatery is the place for breakfast in downtown Asheville. For the past 20 years they have been serving up delicious southern comfort food from 8 am to 8 pm.
Start your breakfast off with Early Girl Coffee from Jagshead and add a shot of Baileys, Jameson or Kahlua, order a Bloody Mary or Mimosa or opt for house squeezed juice or tea!
All ingredients at Early Girl are local, organic and the menu changes seasonally, and all specials rotate every two weeks! Try the biscuit French toast, Bow to King the most popular dish on the menu with fried chicken tenders, fresh biscuits and fruit.
If For those who are gluten free they offer a veggie breakfast bowl or Yam Scram another favorite. Or try the southwestern omelet, or organic tofu scramble. Add any number of sides like heirloom molasses glazed cornbread, stone ground grits, banana bread, southern gravy or a salad!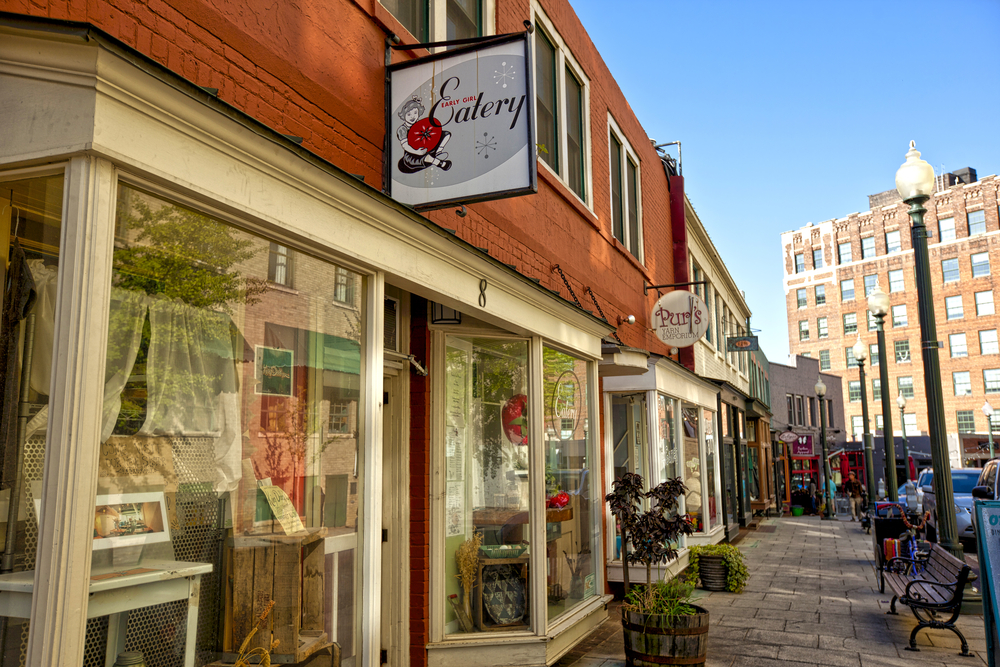 Mayfel's
Mayfel's is the restaurant to head to for brunch in downtown Asheville. This is the place to come for Louisiana-inspired made from scratch meals. Brunch is served daily until 3:30 pm and they do warn everything is made to order so not all dishes will arrive to table at same time.
Try of the house Benedicts like the Kodiak with smoked salmon, the Karma with veggies, Mountain to Sea with crab or Southern with fried green tomatoes. Or try the Asheville scramble, French Toast, Steak and Eggs, Huevos Carolina, Shrimp and Grits, or Nola Crawfish omelet.
For more savory non-breakfast items try to the gumbo, Southern catfish, Gulf Coast shrimp, po-boys, oysters, or sandwiches. Leave room for New Orleans favorite dessert, beignets. The best thing they are dog friendly, so bring your furry friend and enjoy an outdoor brunch.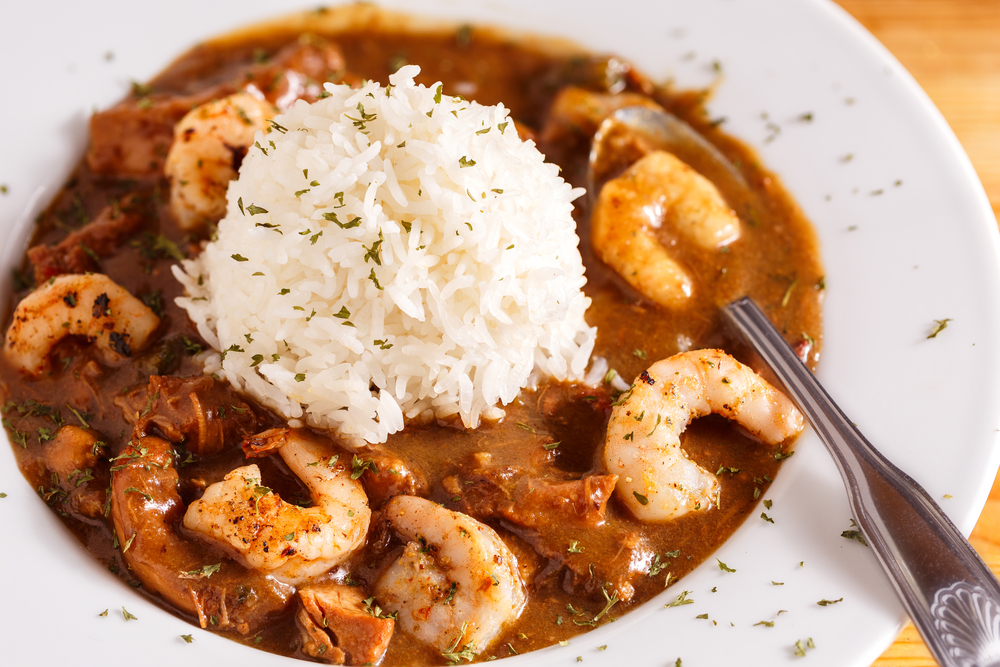 Mellow Mushroom Asheville
Mellow Mushroom serves up some of the best pizza in downtown Asheville. This funky, eclectic pizzeria is a favorite among locals. Pizza comes in three sizes from small, medium and large.
Each pizza is customizable with your choice of cheese, meats and proteins, and veggies. Or try one the stone baked house favorites like Backyard BBQ pizza, Mighty Meaty, Great White or House Special.
For those in the mood for something other than pizza you can try one of the hoagies from avocado, meatball, tempeh, and Italian. To wings, soups, burgers and more!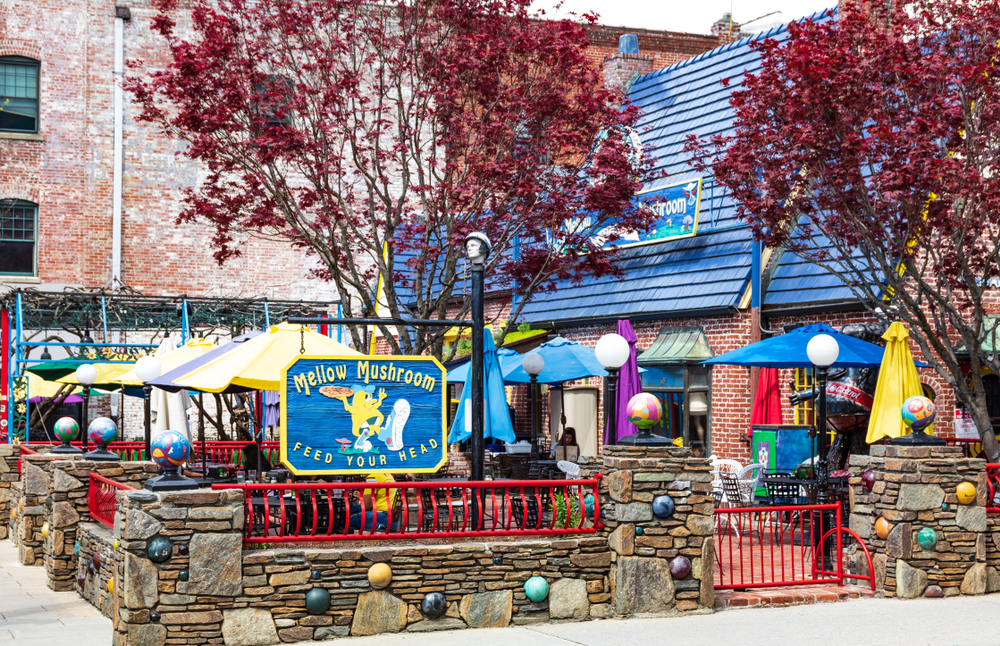 Limones Restaurant
Limones Restaurant is one of the Mexican places to eat in downtown Asheville that offeres an elevated dining experience. While take out only currently, they are open Tuesday to Saturday from 5 pm to 9 pm. Chef Hugo mixes Mexican cuisine with a French-California influence.
At this downtown Asheville restaurant you won't find typical Mexican restaurant platters. Instead try the ceviche, grilled street corn, Oaxca Cheese and Potato Flautas, avocado tartare or Lobster Nachos to start.
For main dishes Chef Hugo offers Angus filet with lobster Mac and cheese, Shrimp and Stone ground grits with salsa and corn, Lamb Ragout Chile Rellano, Silog Burrito with Adobo Chicken, Grilled fish or Brisket and Barbacoa Fries!
Don't forget about desserts try the house made cinnamon brown sugar churros with chocolate dipping sauce, Vanilla and Orange flan, Organic Mexican coffee with tequila, Kahlua and whipped cream, or Paleta de Naranja with vodka and OJ!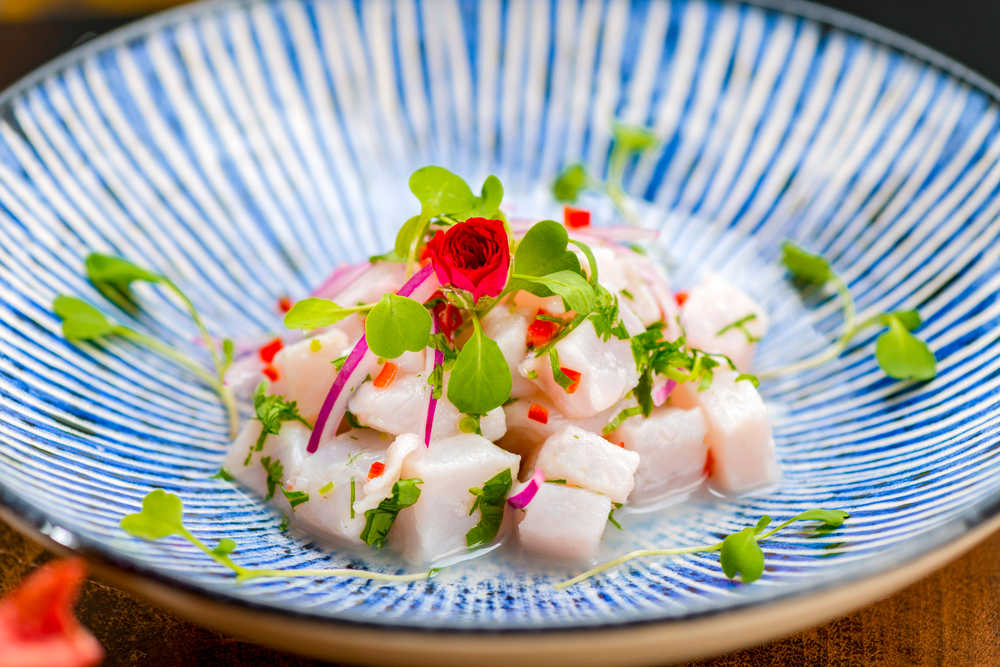 Bouchon
Bouchon is one of the downtown Asheville restaurants focusing on their environmental impact. It is the first green dining destination in the United States. Chef Michel focus on serving French cuisine with a southern twist in a farm-to-table concept with locally sourced ingredients.
If you are looking for a traditional French experience start with the Assiette de deus Pates or plate of two pates made in house, Quiche of the day, Steak Tartare on Thursdays, Moules (Mussels) and Fries, or Escargot ( snails) in a delicious butter and garlic sauce!
For main entrees they serve everything from Bouef Bourguignon a classic beef stew, Poulet Cordon Blue, Salmon Dijonnaise or Salmon in a creamy mustard sauce, Steak and Fries, and Steak in a black pepper sauce.
You must try one of Chef Michel desserts like the chocolate mousse, Pain Perdu a homemade French bread pudding, a rum marinated banana in a pastry and creme brûlée. Or try one of the many French inspired cocktails.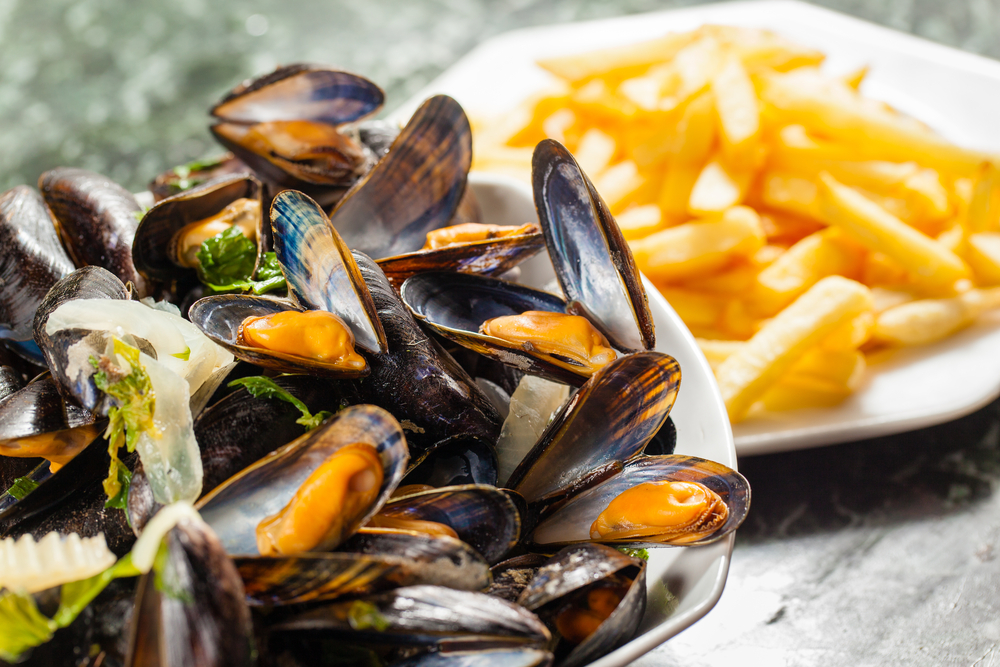 Jerusalem Garden Cafe
Jerusalem Garden Cafe is one of the places that serves lunch in downtown Asheville. This family run restaurant has operated for over 20 years serving traditional Mediterranean and Middle Eastern cuisine. Lunch is served daily and is also a great for brunch in downtown Asheville! If coming on Friday or Saturday night for dinner you are in for a treat with belly dancers and liver music!
This is a great choice of downtown Asheville restaurants for those who are vegan as you will have many options. Try the Moujaddara with rice and green lentils with tahini, Falafel, hummus and pita, stuffed grape leaves, cauliflower, Shakshuka with tofu and potatoes or a vegetarian or vegan platter.
For those who are not vegan you can expect traditional dishes like lamb shawarma, kabob mixed platters with steak and chicken, salmon or lamb shanks in spices with vegetables, baba ganoush, gyro's, the Farouk's feast with steak, eggs and potatoes or Fatayer with spinach feta in a dough.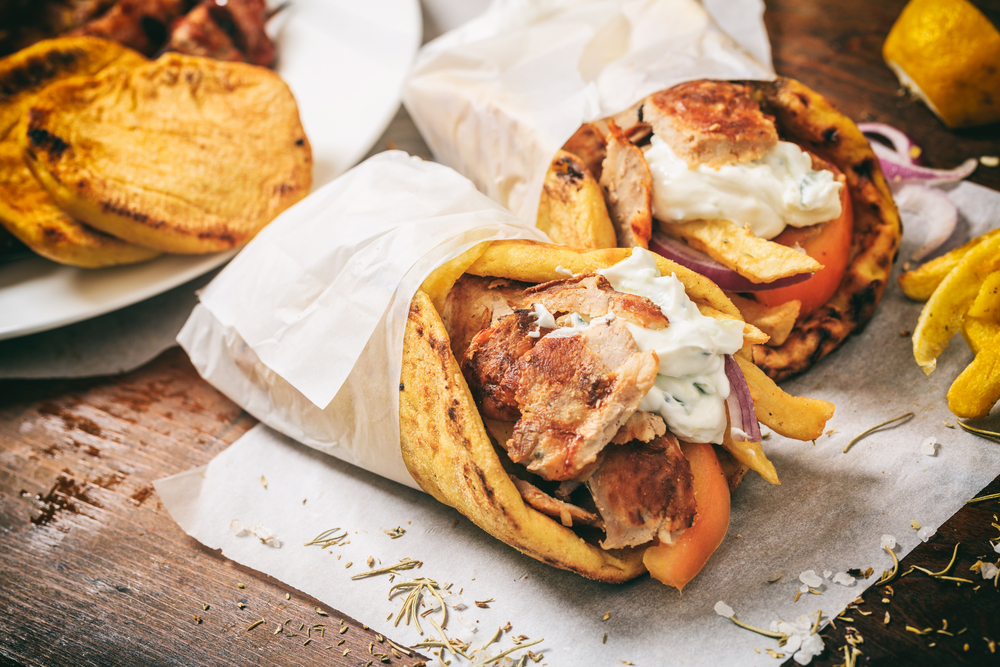 Chestnut
Chestnut should be on your list of where to eat in downtown Asheville if you are looking for an upscale dining experience, or somewhere to dine for a special occasion! Since 2012, Chestnut has been the place to come downtown for gastric cuisine and creative cocktails.
The menu changes seasonally , but keeps the favorite few items on each of the menus throughout the year. Everything is made from scratch in house. From the Lobster bisque, hand cut truffle fries, salads, or a locally sourced charcuterie plate.
Try the bison fettuccine, winter mussels in a saffron red curry sauce, shrimp and grits, Chestnut Kobe burger, duo of duck roasted two ways, petit filet . Don't forget to leave room for desserts like bananas foster sundaes, salted caramel tart, Dulce de leche cheesecake and more!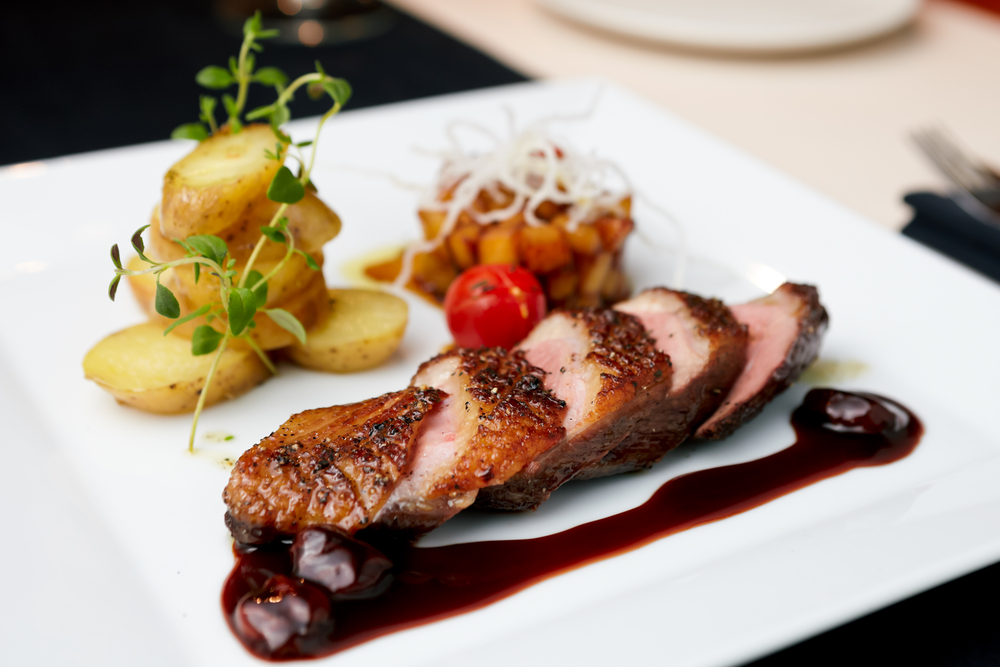 Posana Restaurant
Posana Restaurant is located in the historic downtown area of Asheville and serves up contemporary American cuisine. They focus on using locally sourced and seasonal ingredients from over 65 purveyors around the area.
They strive to make every dining experience special, from the dishes, atmosphere to the service and cocktails. Whether you dine indoors or on the large outdoor patio.
On the dinner menu you will find homemade soup of the day, salads, quinoa hush puppies and mushroom gnocchi. For main courses try the pan seared tofu with vegetables in a hazelnut cream, Chicken with harissa sweet potatoes, or Beef Short Rib with red win jus.
Pasty chef Renee Hill's menu features apple crumble, carrot cake creme brûlée and a S'mores tort. Best of all the entire menu is Gluten free!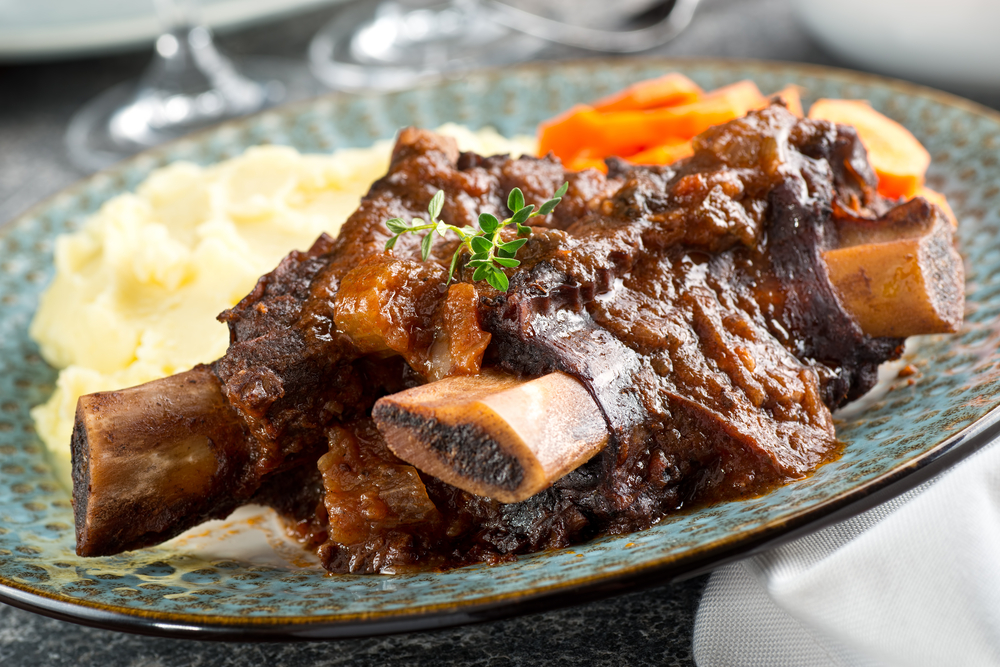 Pack's Tavern
Pack's Tavern is the place to come if looking for downtown Asheville restaurants that are family owned and serve up tavern style dishes. The restaurant is located in a large historic building across from Asheville's Park Square park.
They serve an all-day menu consisting of fried pickles, deviled eggs, wings, tots, tavern pretzel and beer cheese, spinach artichoke dip, nachos, bison meatballs and street corn as starters.
Park's Tavern is also a great choice for pizza in downtown Asheville as they serve a wood-fired pizza with fresh dough made daily! You can build your own as well as select off a menu of favorites like margherita, Carbonara, Pack's Supreme or chicken pesto!
Entrees include beef stroganoff, prohibition style pot roast, lobster or brisket Mac and cheese, fish and chips or bison meatloaf. Handled and sandwiches include Reuben, fish tacos, Carolina fried chicken, and PLT.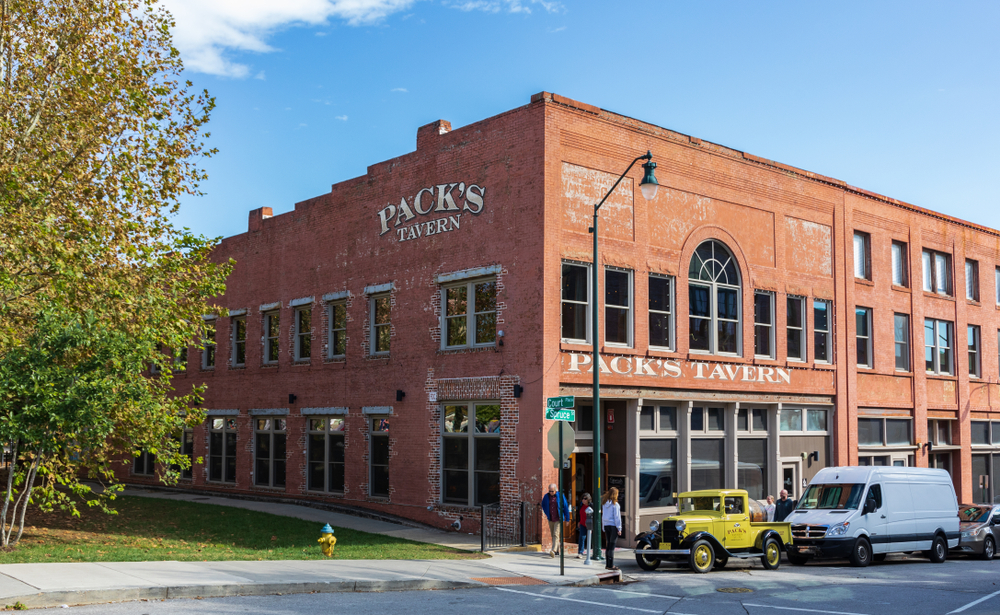 Chai Pani Asheville
If you are looking for where to eat in downtown Asheville, and are craving Indian hear to Chai Pani! The name comes from the slang term for "Cup of tea" not to worry they serve a full menu! The chef serves up Indian Street food and has been nominated for a James Beard award 4 times!
If dining with friends or family try the family package with your choice of butter chicken or saag paneer served with daal, rice, naan and raita!
Try one of the Chaat from vegetarian options, Kale Pakoras which are kale fritters, the Bhel Puri is vegan with puffed rice, crunchy chickpeas and noodles.
Indian Sandwichs and wraps include crispy masala fish tikka rolls, or chicken tikka marinated in chili, ginger and garlic . Or a Paneer tikka roll a type of Indian cheese marinated in yogurt and lime rice. Pair with a delicious glass of mango lassi a chilled yogurt drink or a pineapple turmeric soda!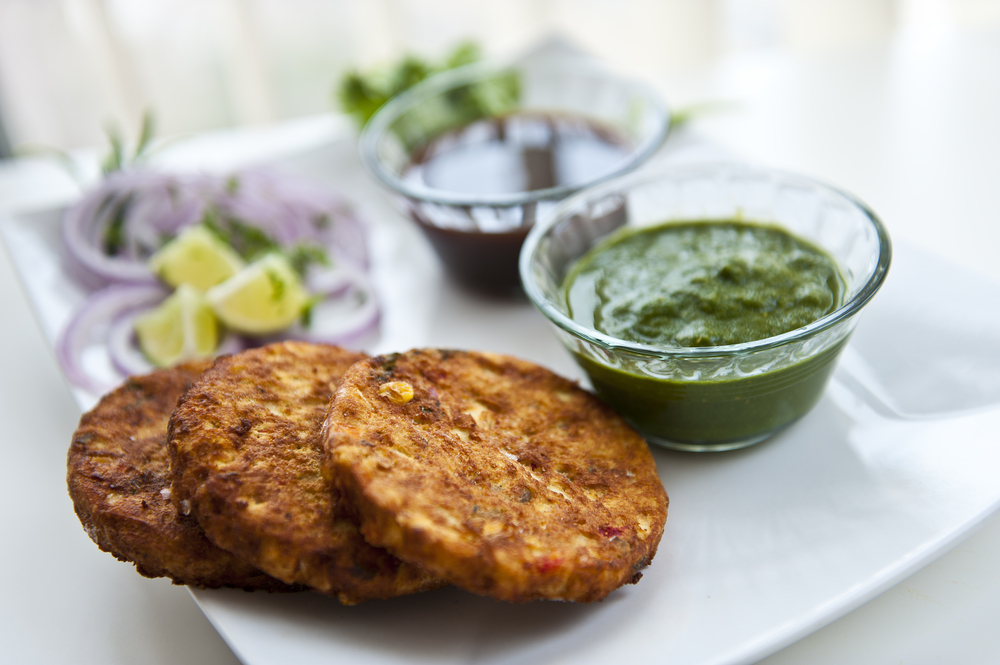 The Market Place
The Market Place has been one of the downtown Asheville restaurants staples since 1979! They believe strongly in not only being a dining destination that serves up locally grown ingredients but but also giving back to the community.
They are a farm to table concept serving up American favorites with a twist. Come for brunch and enjoy cinnamon rolls, mussels, eggs Benedict, scallops and grits, biscuit and gravy or an omelet. Plus mimosas, bloody Mary's, old fashioned ans champagne cocktails.
If coming for dinner start with a cheese or charcuterie platter or perhaps house made pickles or kale fritters. For main entree try the Carolina risotto with Carolina gold rice middlins, local mushrooms, cashew cream, soft herbs, the Brasstown strip with roasted vegetables or house made fresh pasta lamb pappardella.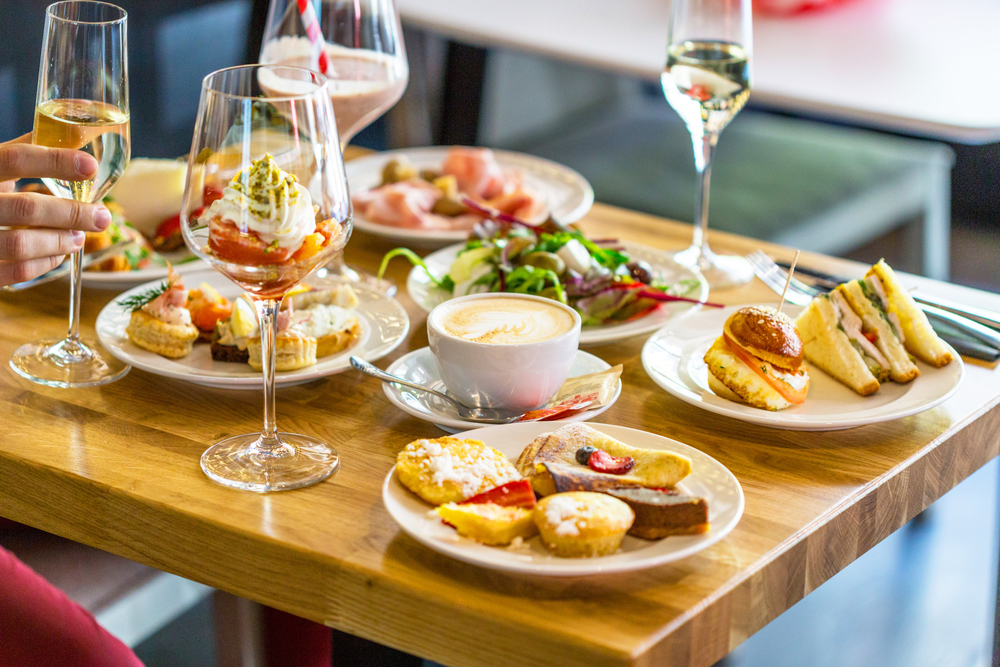 Farm Burger Asheville
If looking for a healthy lunch in downtown Asheville head to Farm Burgers. This rustic, quick service restaurant serves grass fed burgers, salads and milkshakes!
They serve seven styles of burgers from a house made vegan patty to the farm burger with aged cheddar and Carm Ali Ed onions, chorizo patty melt with pimento cheese, chicken burger with smoked Gouda and bacon, a daily special and more!
If in the mood for something a little healthier try one of the salads like a farm salad or a superfoods salad with kale, squash, sunflower seeds and nutritional yeast!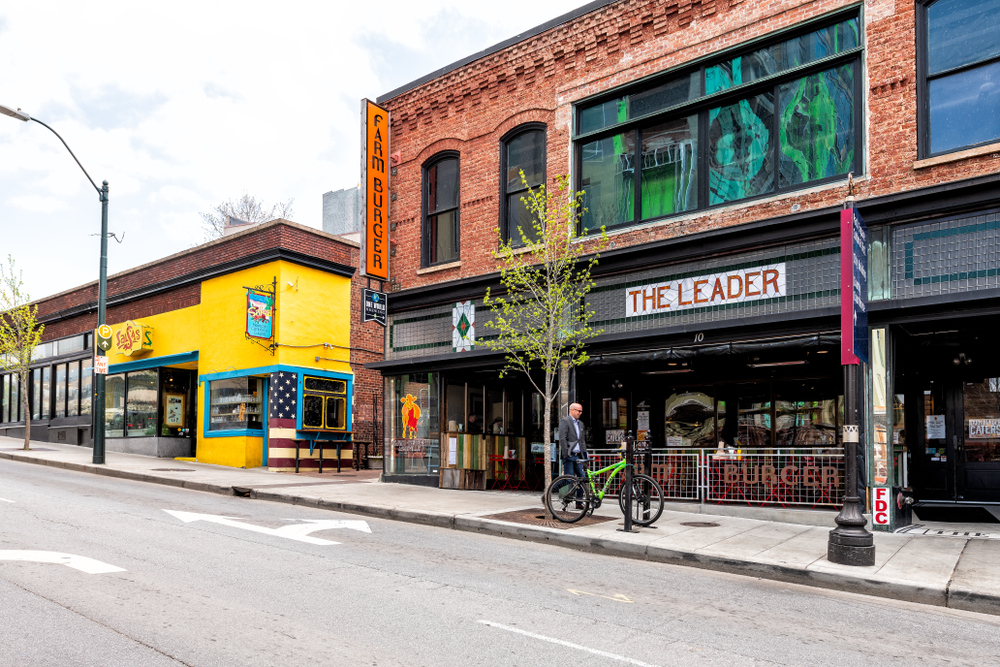 Zambra
Zambra makes our list for the downtown Asheville food scene as the best place for tapas and wine. The menu has traditional Mediterranean dishes with a contemporary twist.
The menu at Zambra is divided into several areas. On the snacks menu you will find mixed nuts, Spanish olives, and Chorizo crusted dates. The next t section is Plates with things like HNG beef with whipped potatoes, Grilled Rack of Lamb, or Pan roasted Scallops with brussel sprouts.
For the Tapas menu they are broken into cold and hot sections. For cold tapas chose between Spanish octopus terrine, Imported Spanish Cheeses, Chicharonnes. And for the hot tapas like patatas bravas, stewed chickpeas, pork spring rolls, maple roasted delicate squash or grilled garlic shrimp.