If you're looking for the cutest small towns in North Carolina, you're in the right place! North Carolina is known for its vast diversity of landscapes. Amazing small towns can be found from the coast in the east and to the mountains in the west.

Small towns in North Carolina have amazing communities, food, and histories. You can find wineries, natural adventures, historical landmarks, and breathtaking beauty in all of these towns. Whether you're looking for a trip to one of these small North Carolina towns for an outdoor adventure or for a calm trip full of good food and wine, there is something for everyone in The Tar Heel state!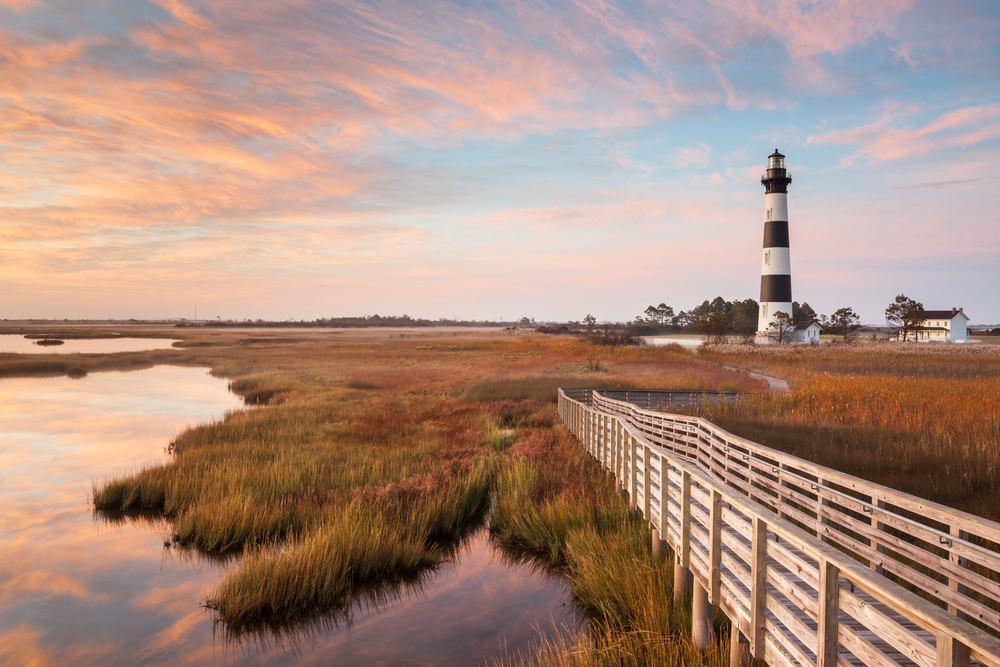 15 Cutest Small Towns In North Carolina
Manteo
Manteo is one of the most stunning small towns in North Carolina! Home to the mysterious Lost Colony, Manteo is an adorable little town located on Roanoke Island in the Outer Banks. It's central location makes it one of the best towns to stay in the Outer Banks!

To learn about the fascinating history of Manteo you can head to Roanoke Island Festival Park. At the park you can check out the Adventure Museum, explore the American Indian Town and the Settlement Site, as well as see one of the English Merchant vessels that came to Roanoke in the 1500's!

Manteo is also home to a unique lighthouse called the Roanoke Marshes Lighthouse. Unlike most lighthouses, the Roanoke Marshes Lighthouse wasn't used for guiding vessels in the ocean. It was there to guide vessels through the estuaries and wetlands around Roanoke. You can walk out to the lighthouse which is at the end of a wooden pier. There are amazing views from the wrap around deck and there is even a free museum underneath the lighthouse for you to explore!

There are tons of clothing and souvenir stores, restaurants, candy shops, ice cream shops, and much more waiting for you in downtown of Manteo! The downtown area is beautiful, very walkable, and full of history everywhere you look!
Where To Stay In Manteo:
Caroline Cottage: Check Rates On VRBO.com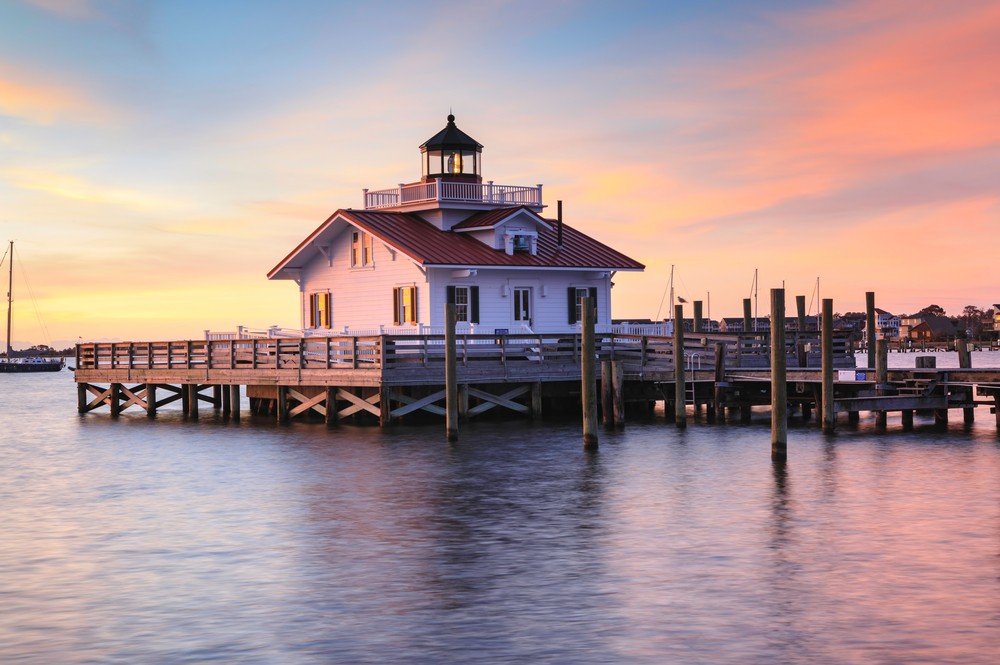 Monroe
Like most small towns in North Carolina, Monroe offers a truly comforting experience to all who visit. When you're in Monroe, you can visit the local flea market to explore the more than 300 stalls, indoor restaurant, and food trucks that they have to offer. A visit to the flea market is a great way to support locals and try locally grown produce and cuisine!

A trip to Monroe is never complete with a stop at Treehouse Vineyards. You can take wine-making tours, schedule wine tastings, and even rent their treehouse! If you have children, keep in mind that if you choose to bring them along with you, this venue does not want children running around or being loud on their property.
Where To Stay In Monroe:
The Cottage: Check Rates On VRBO.com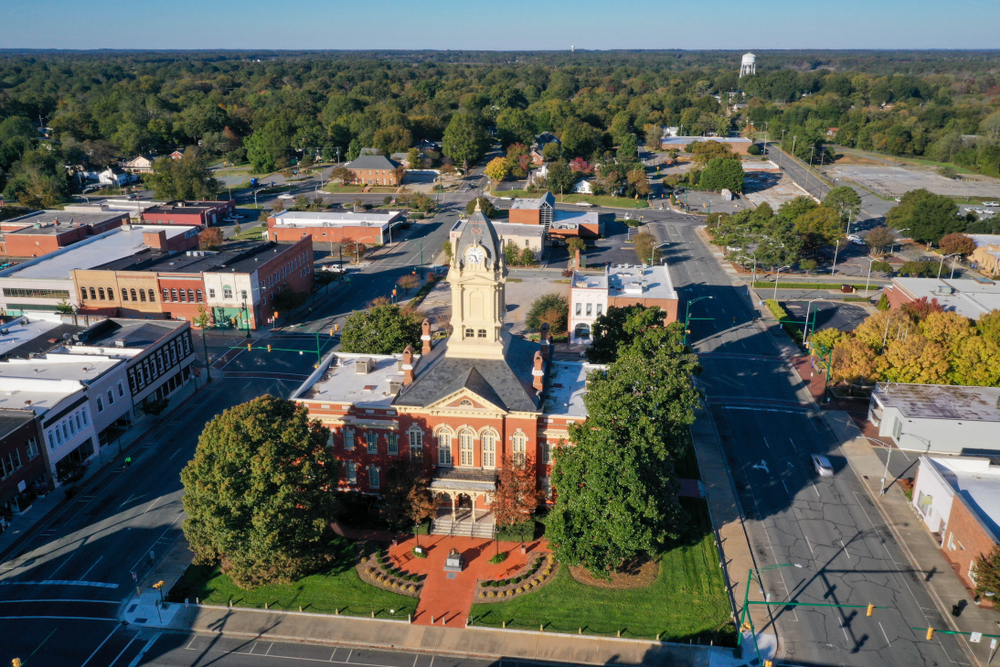 Boone
If looking for one of the best small towns in North Carolina that will have something for everyone, Boone, North Carolina needs to be on your list! Located near the Blue Ridge Parkway, Boone is the perfect starting point to explore the outdoors around the area.
Boone is truly one of the best Mountain Towns In North Carolina!

This historic town has a definite small town vibe despite being home to the large Appalachian State University. The downtown area has delicious restaurants and local shops located along Main Street, which runs along the University along with athletic buildings and older churches.

In the surrounding areas you will find nature trails, hiking, parks, ski resorts as well as wineries, museums, white water rafting and more. Making it the perfect place to visit year round, whether looking for snow adventures in the winter, or outdoor exploring in the summer time!
Where To Stay In Boone:
Renovated Mountain Home: Check Rates On VRBO.com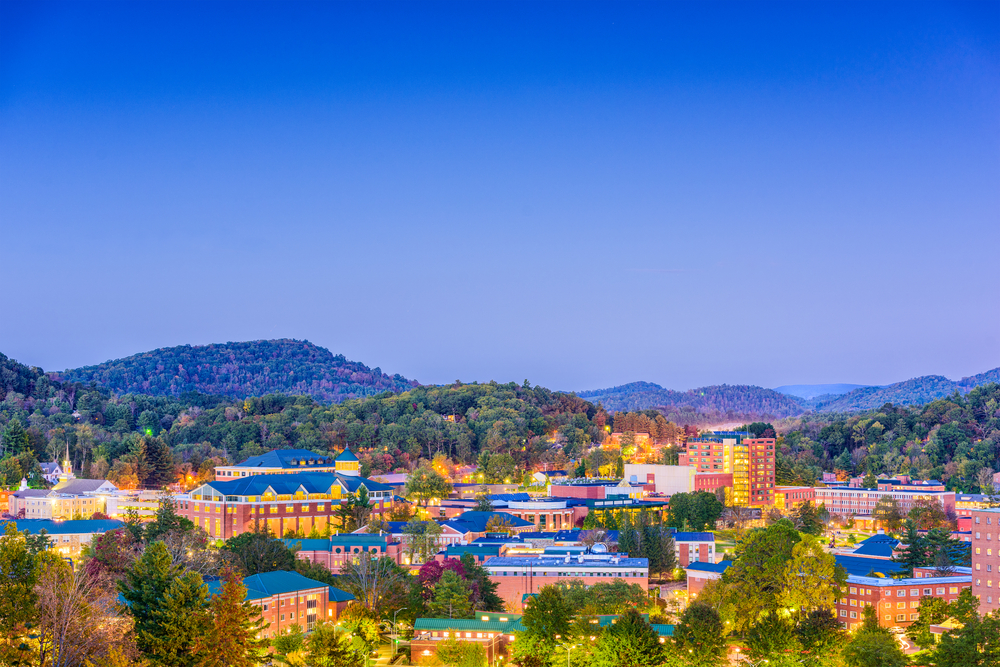 Blowing Rock
Blowing Rock, North Carolina is one of the best small North Carolina towns and located just 10 minutes from Boone, it has a small village vibe. Named after blowing rock that is located 4000 feet above sea level the town has sweeping vistas, and is located right off the Blue Ridge Parkway.

Downtown has tons of shops, restaurants and a community park. Just a short drive from downtown, you will find Julian Price Memorial Park, Moses Cone Memorial Home, and Bass Lake. All of which are perfect places to explore for an afternoon.

You can also take a scenic drive along the Blue Ridge Parkway. Grandfather mountain is also just a short drive from Blowing Rock where you can go on the swinging bridge or view the wildlife habitats. Ski resorts and wineries are located a close drive as well!
Where To Stay In Blowing Rock:
Chetola Resort: Check Rates On VRBO.com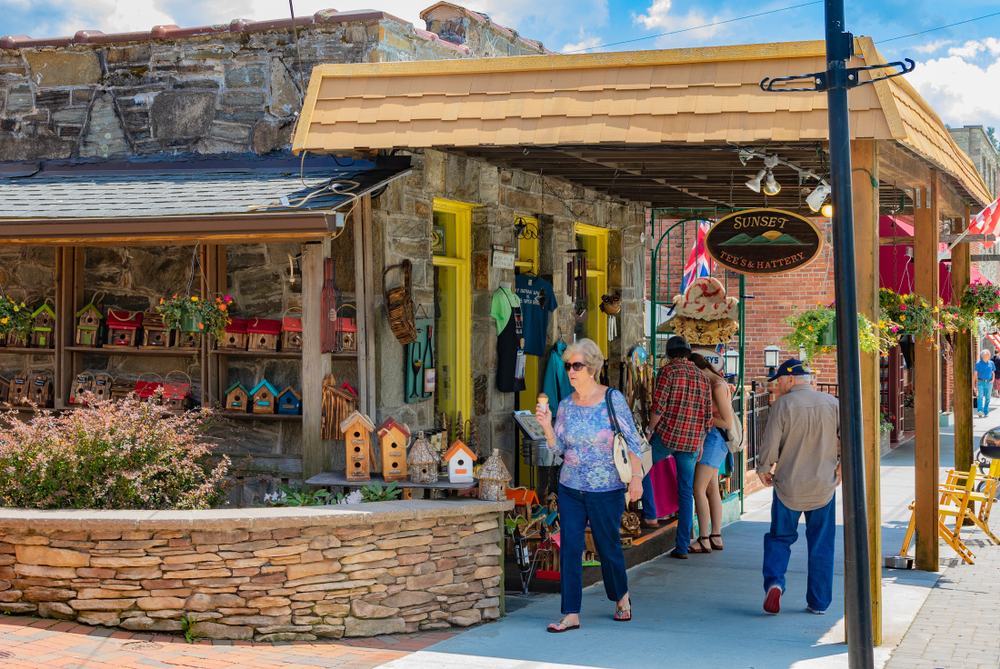 Ocracoke
The town of Ocracoke is located on Ocracoke Island. Ocracoke is one of the cutest small beach towns in North Carolina. The most popular way to get to Ocracoke Island is via a drive on ferry from Hatteras. The ferry ride is free and takes between 45 minutes to an hour. You can get out of your vehicle and walk around the ferry, head inside the air conditioned interior where you can sit down and enjoy the views from the windows, or you can head up to the top of the ferry to get a view 360 degree view of the sand bars that surround the ferry!

Of all the small towns in North Carolina that are along the coast, Ocracoke has the most pirate history! In fact, just off the coast of the Ocracoke Village in Teach's Hole is where Blackbeard met his demise!

If you love to lay on the beach you will find your own slice of heaven in Ocracoke. The Ocracoke Lifeguarded Beach has been ranked the #2 beach in the country! You can also check out Ocracoke Lighthouse which holds the record for being the shortest in all of North Carolina at just 75 feet. It also holds the record of being the lighthouse that has been in operation the longest in North Carolina! This is truly one of the best beach towns in North Carolina!
Where To Stay In Ocracoke:
Beautiful Historic Home: Check Rates On VRBO.com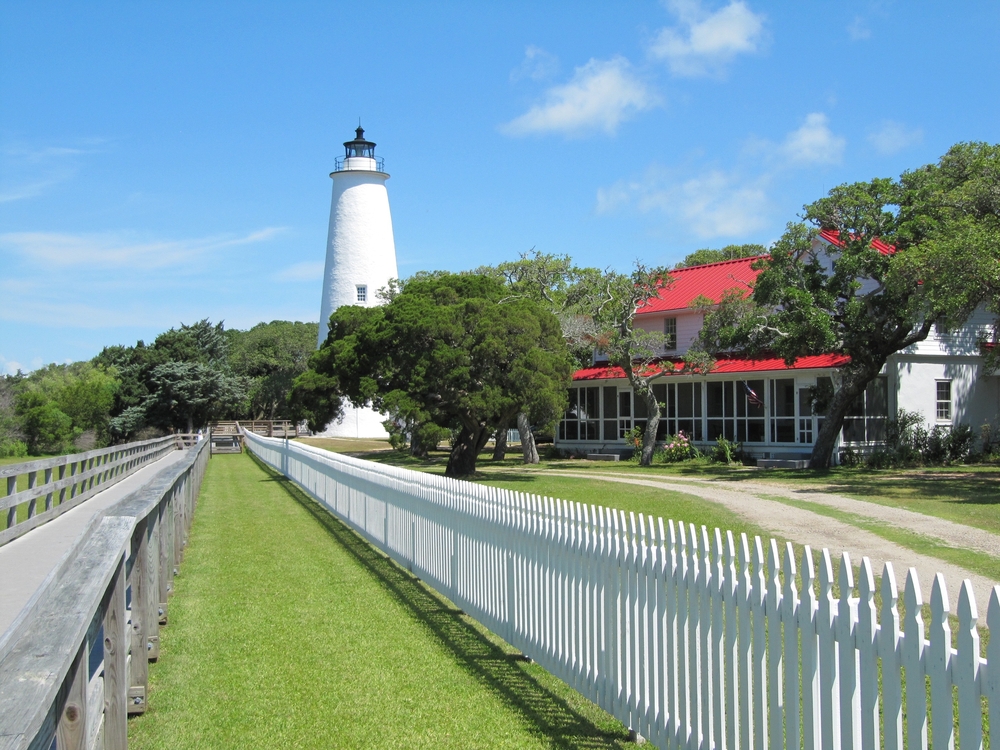 Bryson City
Are you ready to have a big vacation in a small town? In Bryson City, that's their motto! This is one of the best small towns in North Carolina that is known for being a gateway to the ever popular Great Smoky Mountains National Park.

Located just an hour west of Asheville, this small town is an outdoor lovers paradise. For those who love adventure you can try white water rafting down the Nantahala River or go zip lining through the Nantahala National Forest! From the historic downtown filled with shops, local artisans, restaurants and the historic courthouse, Asheville is the perfect starting point for a trip to Bryson City.
Where To Stay In Bryson City:
The Blue Moose: Check Rates On VRBO.com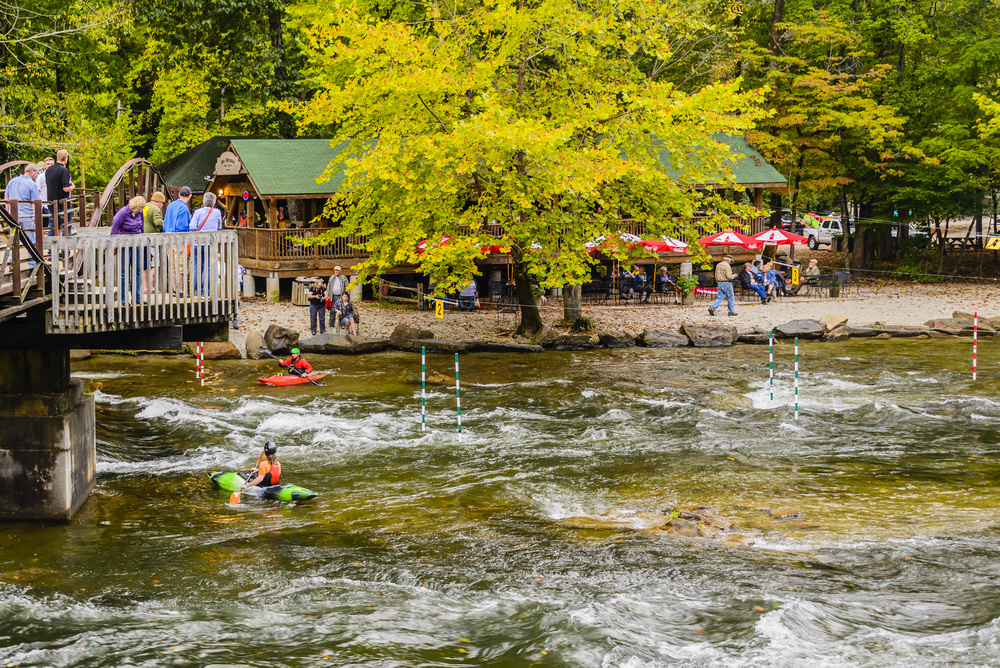 Mount Airy
Have you ever watched The Andy Griffith Show? One of the small towns in North Carolina is actually built to look like Mayberry. The town of Mayberry is actually based off of the home town of Andy Griffith which is Mount Airy, North Carolina. You can walk around Wally's Service Station, to the Mayberry Courthouse, and by the Andy Griffith house!

While you're in the city you can also visit the Andy Griffith Museum, The Museum of Regional History, and the Westwood Park. Westwood has nature trails, a playground, and a fishing pond. It's a perfect place to stop in Mount Airy for a picnic!

Mount Airy is one of the cutest small towns in North Carolina with its beautiful streets and history that it holds. The town also makes a great day trip if you are visiting the bigger town of Winston-Salem as it is just 35 miles away!
Where To Stay In Mount Airy:
Wine Country Cabin: Check Rates On VRBO.com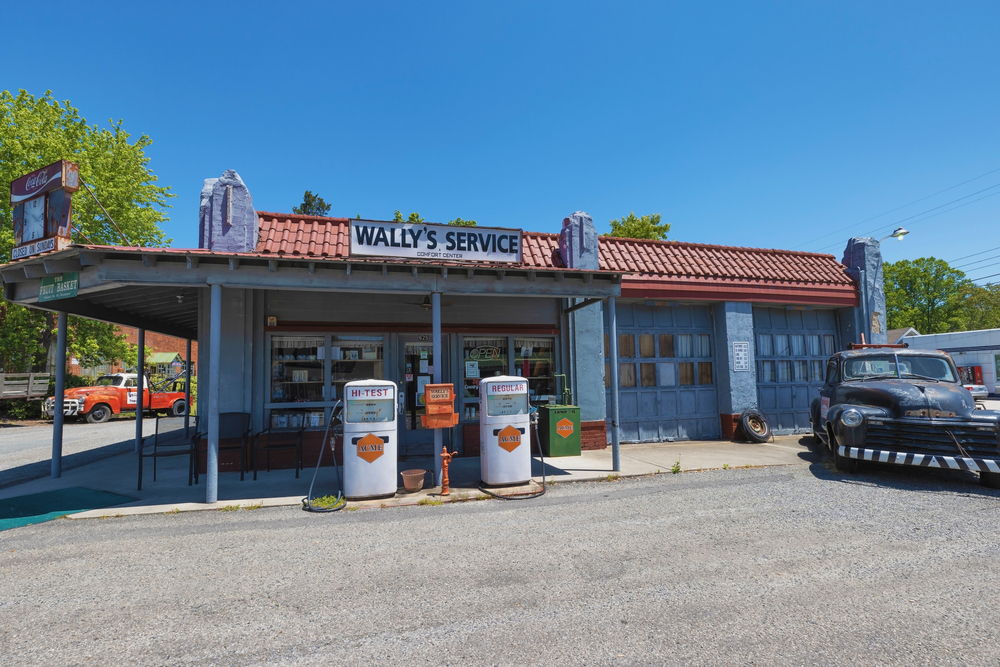 Hendersonville
Hendersonville is one of the most exciting North Carolina towns! This is especially true if you are traveling with kids or if you are a history or science lover. This is one of the only small towns in North Carolina that has an aquarium! You can also find a children's museum, Mineral and Lapidary Museum, and the Western North Carolina Air Museum.

Have you ever wanted to mine for your own gem stones? In Hendersonville, you can! The Elijah Mountain Gem Mine allows you to mine for your own gemstones or if you would rather not mine for the gems your self, they also have stunning stones and gems for purchase.

Complete with a railroad museum and a beautiful scenic overlook called Jump Off Rock, Hendersonville will make all of your small town North Carolina dreams come true! Make sure to check out all of the Best Things To Do In Hendersonville while you are at it.
Where To Stay In Hendersonville:
Downtown Loft: Check Rates On VRBO.com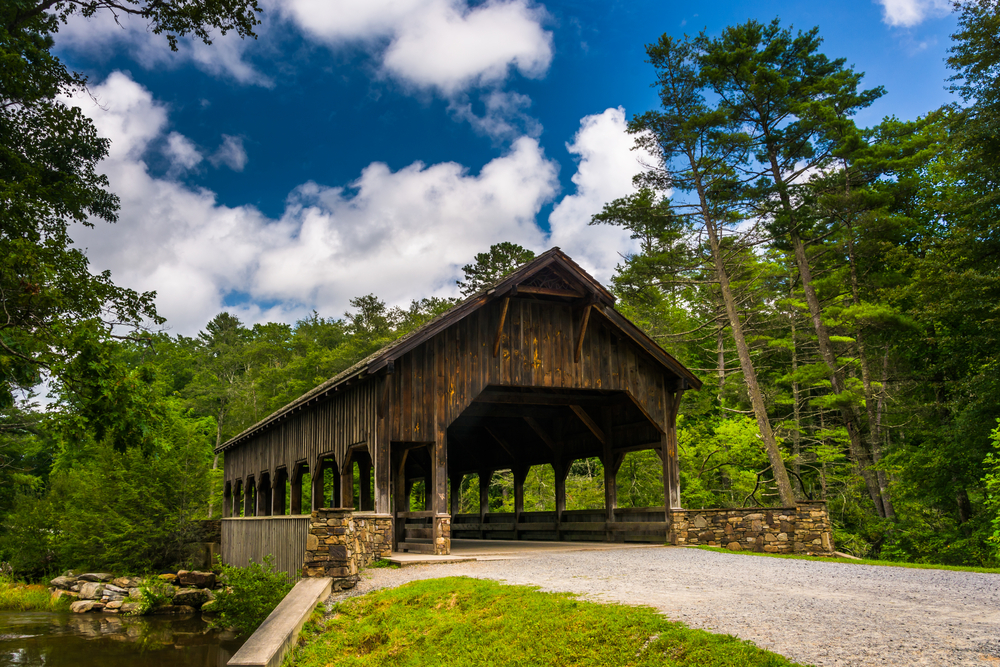 Edenton
Hop on the Edenton Trolley to tour one of the most beautiful and historic small towns in North Carolina. The town of Edenton sits on the Abemarle Sound and is home to the 1866 Roanoke River Lighthouse which is in the Colonial Waterfront Park. The park has kayak rentals and boat tours of the sound around Edenton.

The town has several historic buildings that are now museums for you to visit. The Historic 1767 Chowan County Courthouse, the Penelope Barker House, and the Edenton State Historic Site House all offer you a way to step back in time to explore the history of the town.

Edenton is a great city to visit due to its proximity to other interesting towns in North Carolina. It is only a little over an hour from the town of Manteo in the Outer Banks and only thirty minutes from the town of Plymouth, North Carolina. Plymouth makes an exceptional day trip from Edenton due to its museums, history, and beauty.
Where To Stay In Edenton:
Romantic Waterfront Carriage House: Check Rates On VRBO.com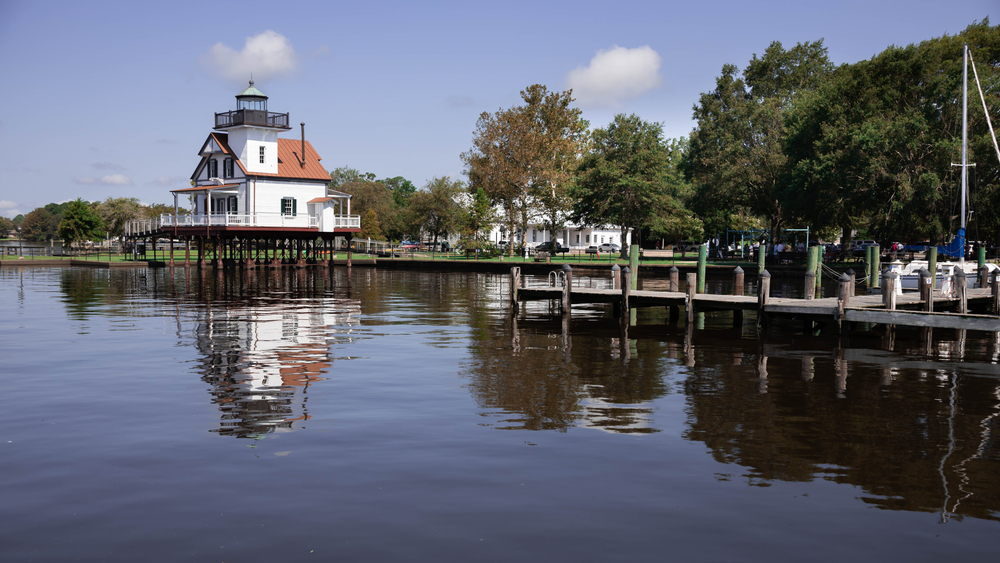 Cherokee
One of the best small towns in North Carolina, Cherokee is in the western part of North Carolina and offers you a beautiful opportunity to learn about the Cherokee Nation. Close to the ever popular Great Smoky Mountain National Park, the town is full of natural beauty.

Cherokee is only twenty minutes away from Bryson City, so visiting both cities in one day is very possible! The Mingus Mill, Mountain Farm Museum, and the Cherokee Bear Zoo are all awesome attractions to visit when you're in Cherokee.

However, the real jewels of the town are the Oconaluftee Indian Village and The Museum of The Cherokee Indian. Guides will take you through the village for you to see the replica town and see what life was like for the Cherokee back in the 18th century!
Where To Stay In Cherokee:
Secluded Retreat Panoramic Views: Check Rates On VRBO.com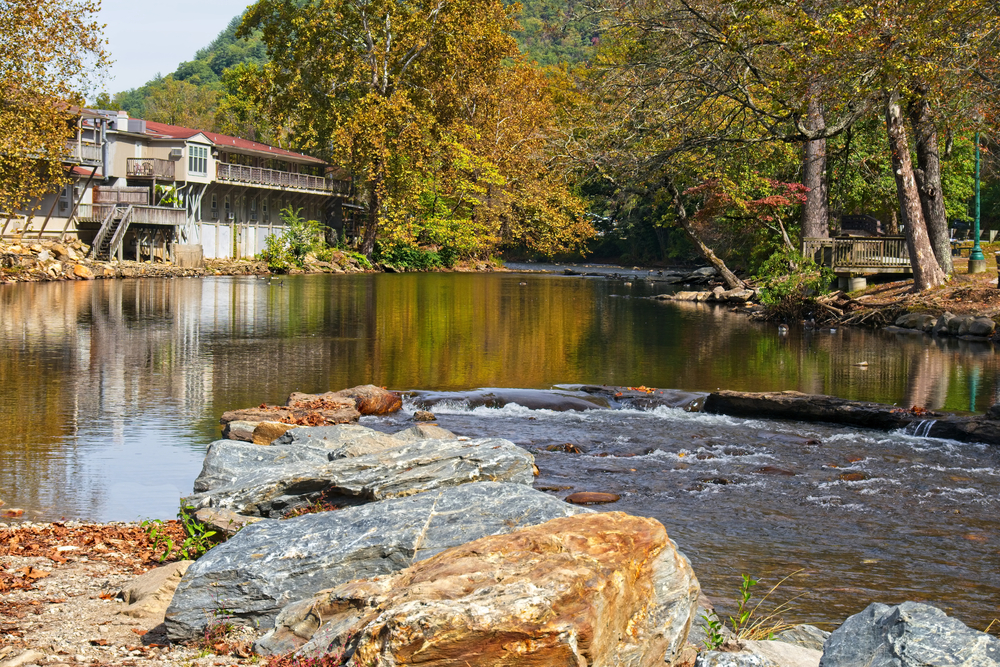 Southport
Home to a stunning Waterfront Park and Marsh Walk, Southport is one of the coolest small beach towns in North Carolina. Walking out over the water on the Marsh Walk to watch the sunset is a must when in Southport! The Waterfront Park is perfect for fishing, walking out on the pier, and swinging in the many swings overlooking the water.

While visiting Southport, head to the Old Brunswick County Jail for a guided tour of the old brick jail from the early 1900's. You will get to see old whiskey stills and other items from the time period as well as learn about the history of Southport!

One of the best things about Southport is that it is in a very favorable location for day trips to beach towns in North Carolina! Just twenty minutes from Southport is the town of Oak Island, North Carolina which has a popular lighthouse and fishing pier. Just forty minutes from Southport is the popular town of Wilmington which has an aquarium, battleship, and many movie filming locations!
Where To Stay In Southport:
River Hideaway Retreat: Check Rates On VRBO.com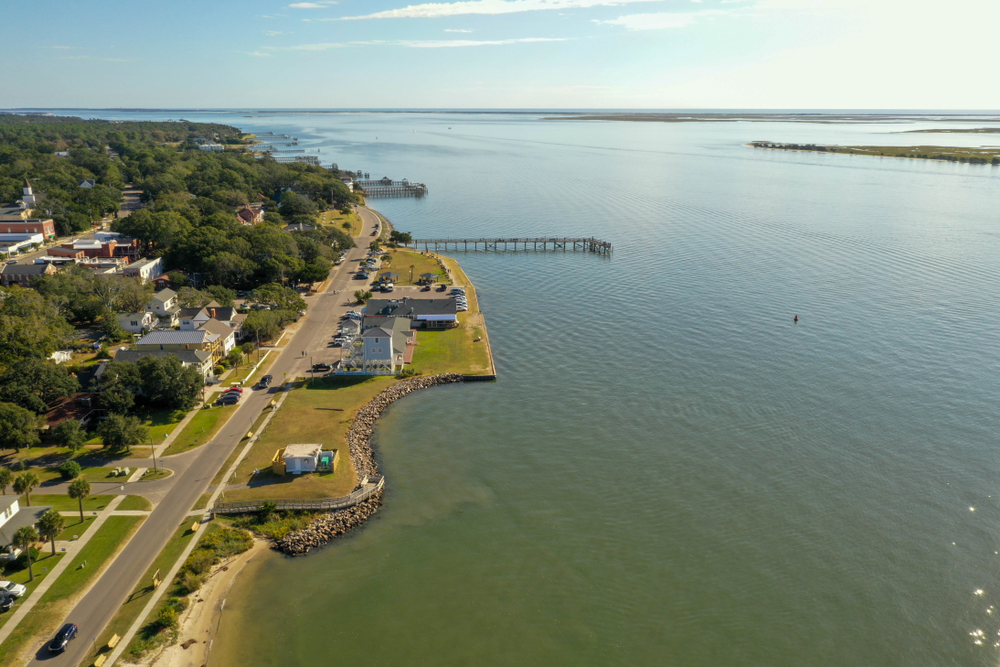 Black Mountain
Most famous for Lake Tomahawk, Black Mountain is one of the best mountain towns in North Carolina! Lake Tomahawk offers its visitors lakeside walking trails with mountain views. Lake Tomahawk can be a great place for family travelers! The splash pad and pool are fan favorites for family travelers visiting Black Mountain.

You can support local artisans at the Seven Sisters Gallery and explore the history of Black Mountain at the Swananoa Valley Museum and History Center. When it's time to eat, head to the Black Mountain Bistro where you can eat delicious food on their patio with amazing views of the surrounding mountains!
Where To Stay In Black Mountain:
Downtown Cottage: Check Rates On VRBO.com
Waynesville
In Waynesville, you can see a huge collection of more than three hundred rare vintage motorcycles at the Wheels Through Time Museum! If you love supporting local shops or if you're a fan of the arts, you will love Waynesville! The town has multiple art galleries and studios as well as Shelton House which is a historical home that is filled with artifacts from the 1800's and heritage craft exhibits.

When looking for small towns in North Carolina, choosing a town that is close to larger cities is a great option for getting the most out of your trip. Visiting small mountain towns near some of the larger cities in North Carolina offers you a wide variety of activities, small town charm, and great food! Waynesville is just a short ten minute drive from the stunning Lake Junaluska and a forty minutes drive from Asheville.
Where To Stay In Waynesville:
Beautiful Mountain Views: Check Rates On VRBO.com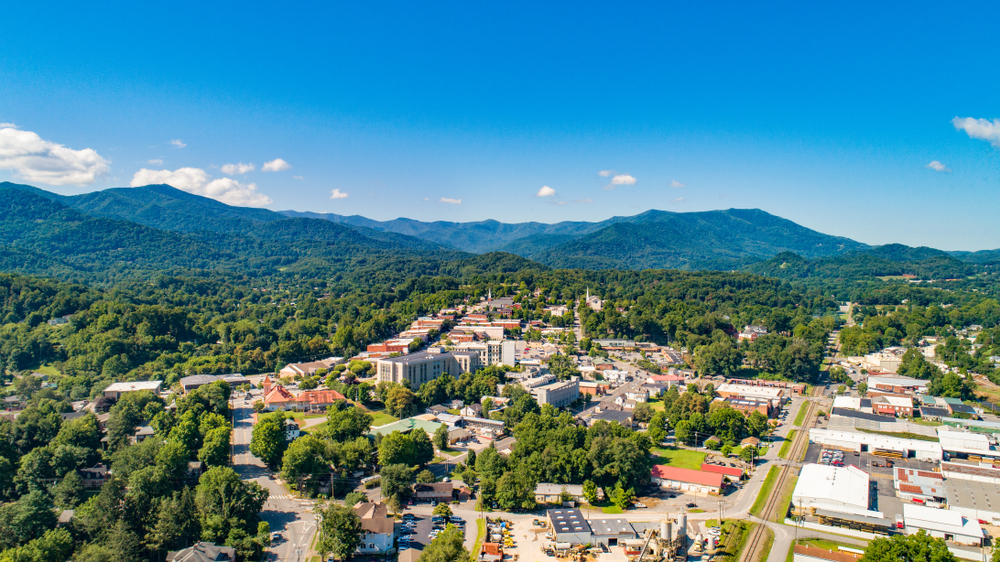 Banner Elk
Full of outdoor activities, with a population of less than two thousand, Banner Elk is one of the best mountain towns in North Carolina! The town of is complete with a stunning lake and town park surrounded by mountains. Banner Elk is also surrounded by other amazing North Carolina towns and villages that are full of fun outdoor attractions.
We put together this amazing list of things to do in Banner Elk for you to check out before you go!

While visiting Banner Elk, make sure to swing by Tate-Evans Park and enjoy the beach at Wildcat Lake. While you are in town, you will have access to a lot of restaurant options! From local cuisine to Italian to elevated, elegant cuisine, Banner Elk has it all.
Just a five minute drive from the center of Banner Elk is the Sugar Creek Gem Mine where you can mine for your own gems and the Wilderness Run Alpine Coaster where you can ride a coaster more than twenty five miles per hour down the mountain!

The ever popular Lineville, North Carolina and Grandfather Mountain are just a twenty to twenty five minute drive away from Banner Elk. Making a stop in the beautiful little mountain town of Banner Elk a must when visiting Grandfather Mountain and its surrounding area.
Where To Stay In Banner Elk:
Alder Wood Pointe: Check Rates On VRBO.com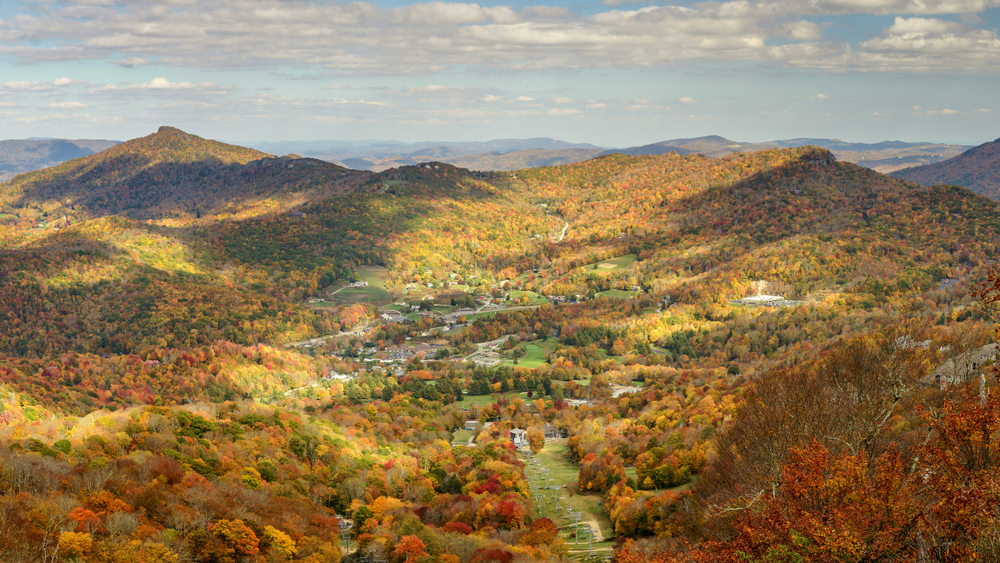 Highlands
Experience the real small town North Carolina by visiting the town of Highlands! Home to both Dry Falls and Bridal Veil Falls, Highlands is a little slice of paradise for waterfall chasers. Both waterfalls are easy to access and are great for those who don't love to hike or are traveling with kids. Dry Falls is a short quarter mile trail and you can drive right up to Bridal Veil Falls!

Aside from beautiful waterfalls, you can also jump into nature by visiting Lake Sequoyah or walk the wooden walk ways through the forest at the Highlands Biological Station. For spectacular sunset views, you can visit Sunset Rock. It's an easy 1.4 miles out and back trail hike to Sunset Rock. The trail is popular and is easy enough for those who are traveling with children.

For food and accommodation, Highlands has to be one of the very best small towns in North Carolina. From fried southern food to elegant cuisine, Highlands has you covered! When it comes to accommodation, there are hotels, lodges, and cottages that are full of small town charm!
Where To Stay In Highlands:
Cabin Bascom: Check Rates On VRBO.com
Small towns in North Carolina offer charm, history, and heaps of natural beauty and adventure. Whether you're visiting for the beaches, hiking, waterfalls, food, or anything else, these towns will bring your so much adventure and joy. Which of these North Carolina towns will you visit first?