Looking for a great time at some amusement parks in Georgia? Then you've come to the right place!
When many people think of Georgia, they think of orchards of peaches and historical sites from the American Civil War. However, this "Empire State of the South" has a lot of amusement parks and theme parks that are packed with family-friendly adventures that will have everyone on your trip excited for more! From small-town classics like Wild Adventures in Valdosta to the nationally recognized Six Flags Over Georgia in Austell, these are some of the best amusement parks in Georgia!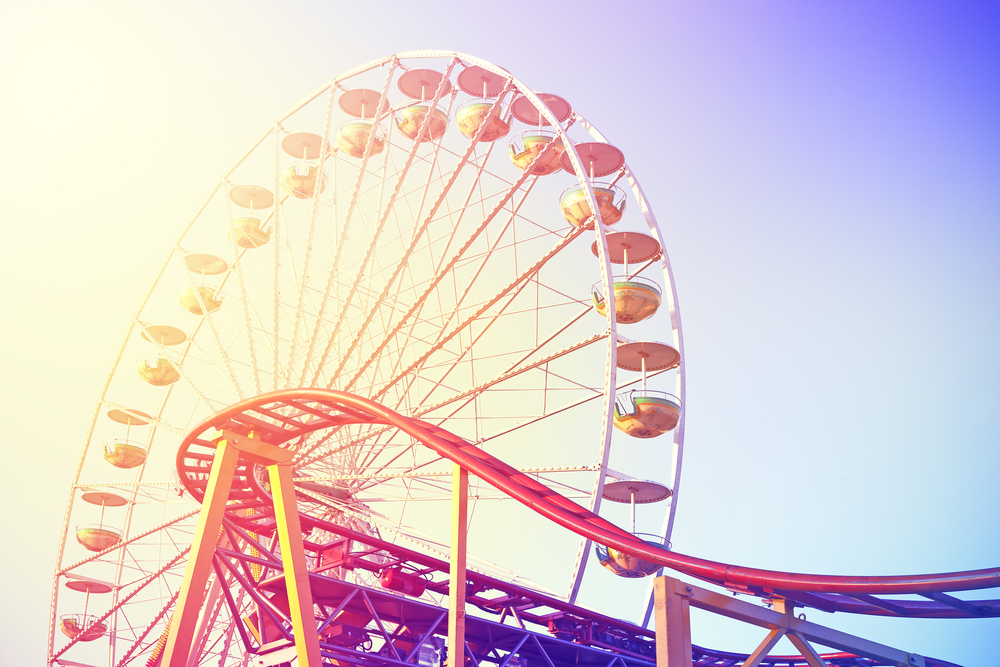 11 Best Amusement Parks In Georgia You Must Visit
Wild Adventures
A go-to spot for locals both in Georgia and in North Florida, Wild Adventures is one of the best amusement parks in Georgia for good reason! This Valdosta theme park started off as a zoo, but is now a combination theme park, water park, and animal park, making it one of the best deals if your party is looking to do different activities in one place. Following a jungle-themed adventure, this 170-acre park is home to over 40 rides and features a variety of entertainment.
Ride-wise, this park is very inclusive with different styles and types. One of their headliners, Boomerang, is a steel coaster with a backward start out of the station but launches riders into a Cobra Roll followed directly into a vertical loop. But if coasters are not your thing, this park has you covered!
There is a variety of other rides like a Ferris wheel and the Safari Train that are more slower-paced but are just as fun! There are opportunities to interact with several of the animals on the Safari Train that will remind you of a zoo-like experience. You'll have the opportunity to see over 70 different animals including kookaburras, nilgai, turaco, and zebus.
Don't forget that there is also a water park side to this amusement park in Georgia, that you and your party will want to hit up during the warmer months to beat the heat! Known as Splash Island water park, this section of Wild Adventures has a 20,000 square foot wave pool and several water slides made for thrilling group fun!
Throughout the year, this amusement park in GA hosts concert series showcasing many local artists as well as big-name talents like ACM's Female of the Year artist Gabby Barrett and 7-time Grammy-winning artist TobyMac. The concerts are free to those with the park's Season Pass, which at only $139.99 is a reasonable cost considering it works all season long for all concert series and for all three sections of the park.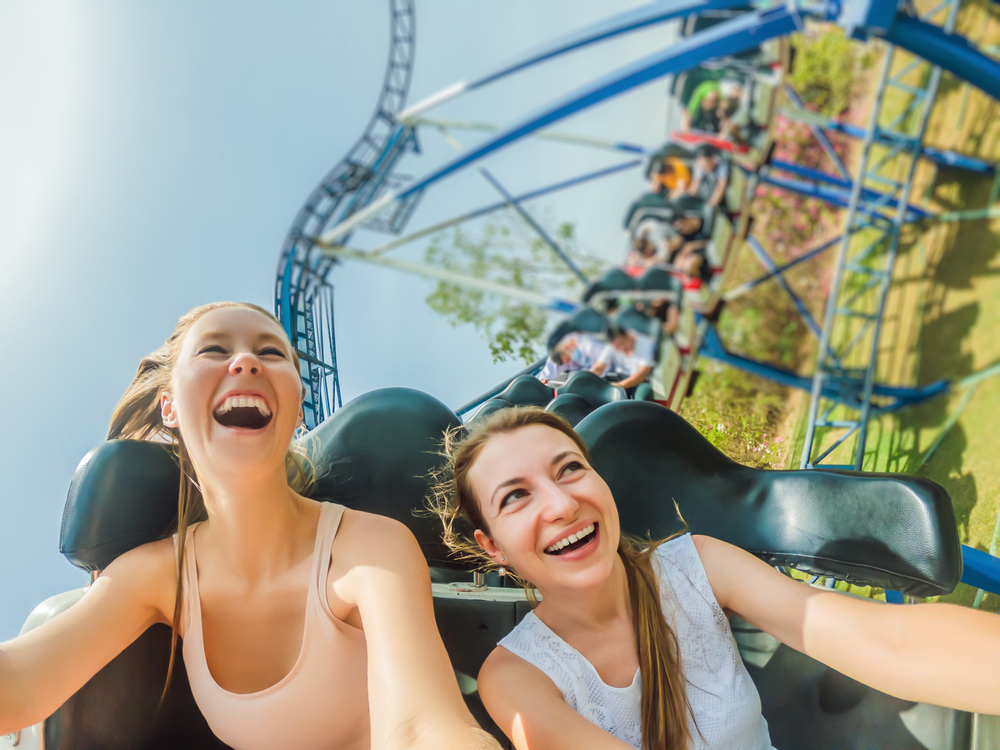 Fun Zone in Pooler
Fun Zone in Pooler is a quick fifteen-minute ride from Savannah and only thirty minutes from South Carolina's Red Bluff Plantation. As one of the best amusement parks in Georgia, this hot spot is a great place for some family-friendly fun!
Compete together on the mini-golf course as a team, or try to see who can score the best based on a given list of challenges. You can also race to the finish line in one of their go-karts across four different tracks by yourself, as a pair, or as a small group!
You can even battle it out in their arcade with classic games like air hockey and skeeball, or newer favorites like Grand Piano Keys. The nice thing about this arcade is that you earn eTickets and put your money on a swipe card rather than worrying about keeping track of paper tickets or loose coins that are only good with their machines.
If you are planning on staying in Savannah, check out our recommendations for the best places to visit in Savannah during your stay!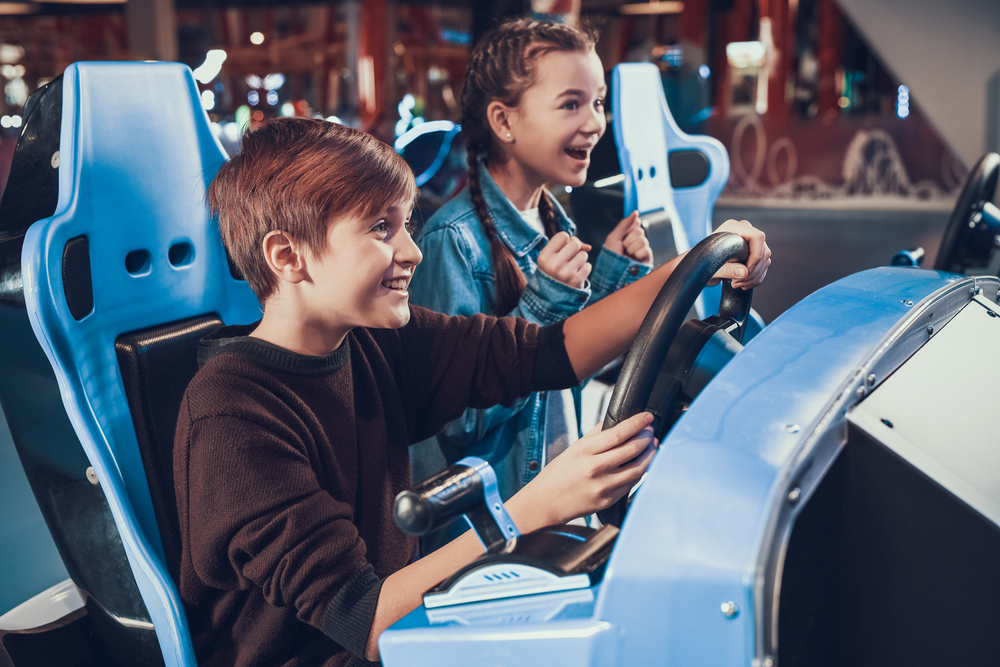 Six Flags Over Georgia
Six Flags Over Georgia opened in 1967 as one of only three Six Flags locations in the state and is one of the theme parks near Atlanta. While there are around 23 Six Flags Amusement Parks currently across the United States, Six Flags Over Georgia is considered one of Georgia's best amusements parks for adventure seekers!
This amusement park is home to 12 roller coasters and over 40 rides and attractions, many of which are exclusive to this location. Acrophobia, for example, is a free-fall tower ride that drops riders 200 feet (about 61 meters) that is not located in any other Six Flags parks. Georgia Scorcher is one of the exclusive coasters with its smooth and twisted track that includes a 101-foot drop and can reach up to speeds of 54 MPH!
Other unique rides include the Mind Bender (a triple loop coaster), Goliath (a coaster with about 4,500 feet of track that makes the Georgia Scorcher look and feel small), and Pandemonium (the tallest spinning, swinging pendulum ride in the southeast).
Of course, you and your party will get hungry on your adventure, and there are some food options that we would recommend while you rest between rides. You'll recognize brand-named snacks like ICEE and Dippin' Dots, but we recommend getting the famous funnel cakes from the Hometown Funnel Cakes stand next to the Miner's Cookhouse. The lines get long fast, so you may want to make this one of your earlier stops in the day.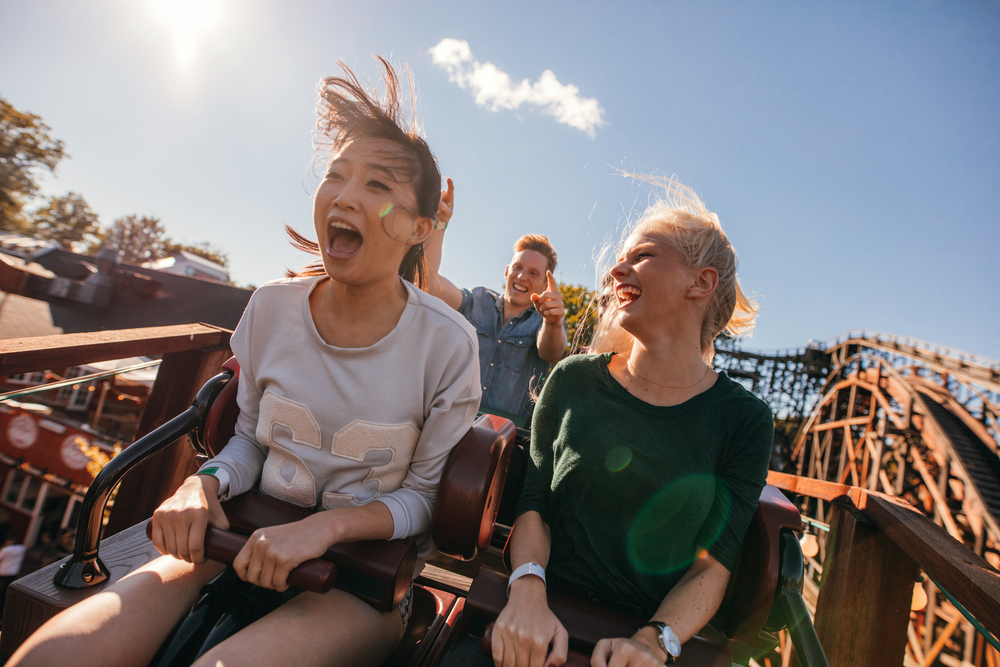 Six Flags White Water
Think you are seeing double? Don't let the same company name fool you! Six Flags White Water, unlike its counterpart, is one of the water-based theme parks near Atlanta, with thrilling rides for both kids and adults that have one thing in common: getting soaking wet! This is one of our go-to amusement parks in Georgia that will help you conquer the Georgia heat during your visit.
Take on the totally tubular Typhoon Twister water slide, or travel down the "out of control" Run-a-Way River where you and your party travel by raft down a raging river rapid! Many of these more intense water rides have a minimum height requirement of 54 inches, including Skull Island – a water playground with water cannons and a giant dump bucket, and Dive Bomber – a chute ride with a record-breaking 90-degree drop, and is the tallest slide at this park. Get to this park early, as many of the sitting areas fill up fast, and if the weather may turn bad, this park will close early to accommodate mother nature.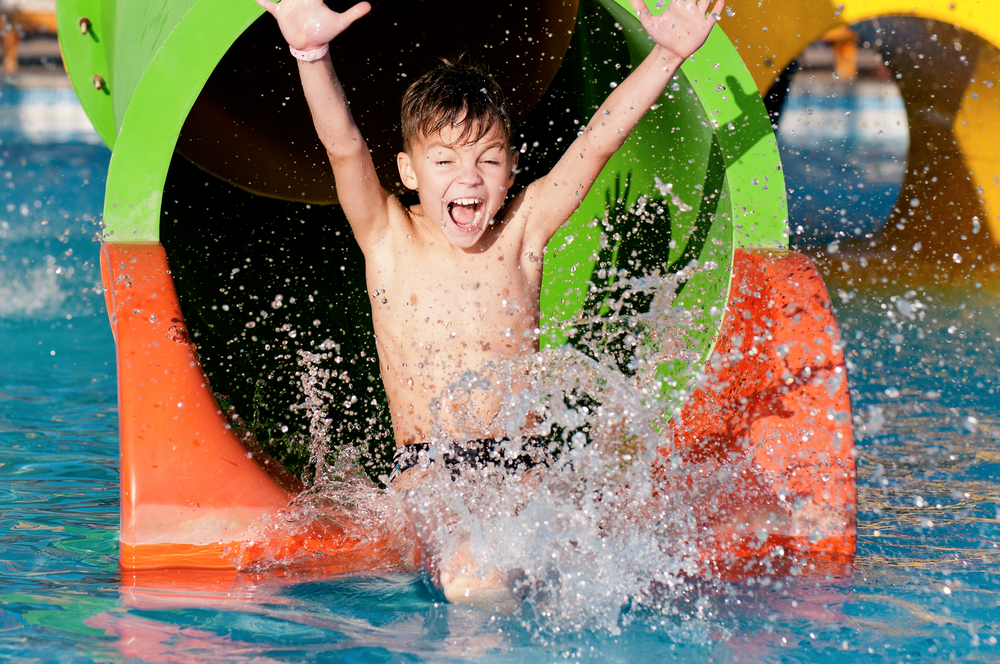 Lake Winnepesaukah
Lake Winnepesaukah, better known as the Lake Winnie Amusement Park, is one of the classic amusement parks near Columbus. Opened in 1925, this amusement park has changed from a small water park and family-friendly picnic stop to being recognized as one of America's top ten amusement parks for all ages.
Several of the timeless rides they still have in operation are the Scrambler, Ferris Wheel, Tilt-a-whirl, Wave Swinger, and a beautiful antique Carousel. The Boat Chute, according to the National Amusement Park Historical Association, is the oldest mile chute ride still in existence in the United States.
Another ride, Cannonball, is a wooden coaster stretching out over 2,250 feet with top speeds of 50 mph and a verticle drop of around 70 feet. For roller coaster enthusiasts, these rides are a must during your visit to Rossville, Georgia.
With Lake Winnie, there is the SOAKya water park attached. This busy water park is spread out over five acres and filled to the brim with water slides (body and tube style), a crazy river, and a water obstacle course. We recommend racing down the Winnie 500 water slide to see who wins!
If you are checking out the amusement parks near Columbus, we also recommend you check out our list of the best restaurants in Columbus, GA that you must try!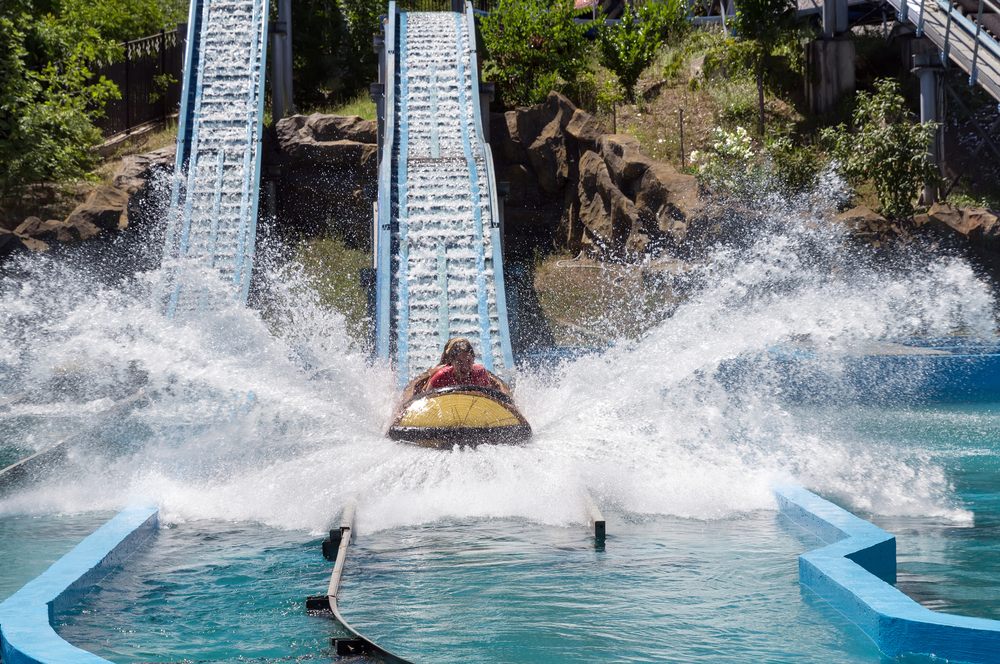 Marietta Mountasia Family Fun Center
While Marietta Mountasia Family Fun Center, or Mountasia as it is lovingly referred to, may be one of the smallest on our list of amusement parks in Georgia, that doesn't mean it gets excluded from our list!
Mountasia has over 70 high-tech and classic video games that will keep you and your party occupied for hours. This mecha-hub for video games draws in people from all over the world to try their hand at classics like Starwars Pinball and PacMan, or more modern VR style-games, this amusement park in Georgia has its share of options.
Mountasia also has three mini-golf courses where you and your party can take up to five swings before laughing your way to the next hole. There is also a thrilling go-kart track filled with turns, hills, and challenging maneuvers that will keep a smile on your face the whole time. Also, the cafe here has some basic eats like corn dog nuggets and pizza, but the serving sizes of some of the dishes are certainly enough to feed more than one member of your party.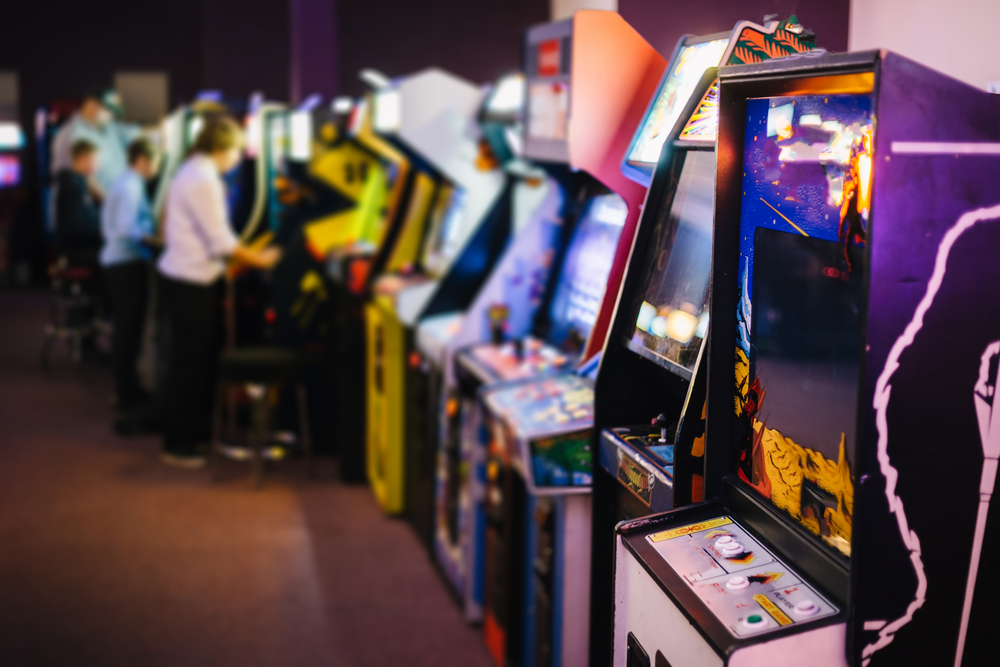 Rigby's Water World
Rigby's Water World is one of the seasonal water parks that is family-friendly for all ages. As one of the amusement parks near Columbus, this water park is a must-do on your next visit. Packed to the brim with a 2,000 square foot relaxation pool, ten water slides, a 1,500 foot long lazy river, and a kids-only splash pad, this is the amusement park experience you want when looking for ways to beat the southern heat!
Usually open from May to early September each year, this park is a busy one, so we recommend getting to the park early if you are looking to reserve a cabana. There are a limited number of spots available, and preference is shown to those staying at their The Best Western Plus Executive Residency at Rigby's Water World.
Don't forget to also check out their Rigby's Entertainment Complex! Right next door to Rigby's Water World, the Rigby's Entertainment Complex includes activities like blacklight bowling, laser tag, mini-golf, go-karts, and more! No one in your party will be bored between these two locations.
Looking for other ways to cool off from the Georgia heat? Check our list of best beaches in Savannah (and nearby)!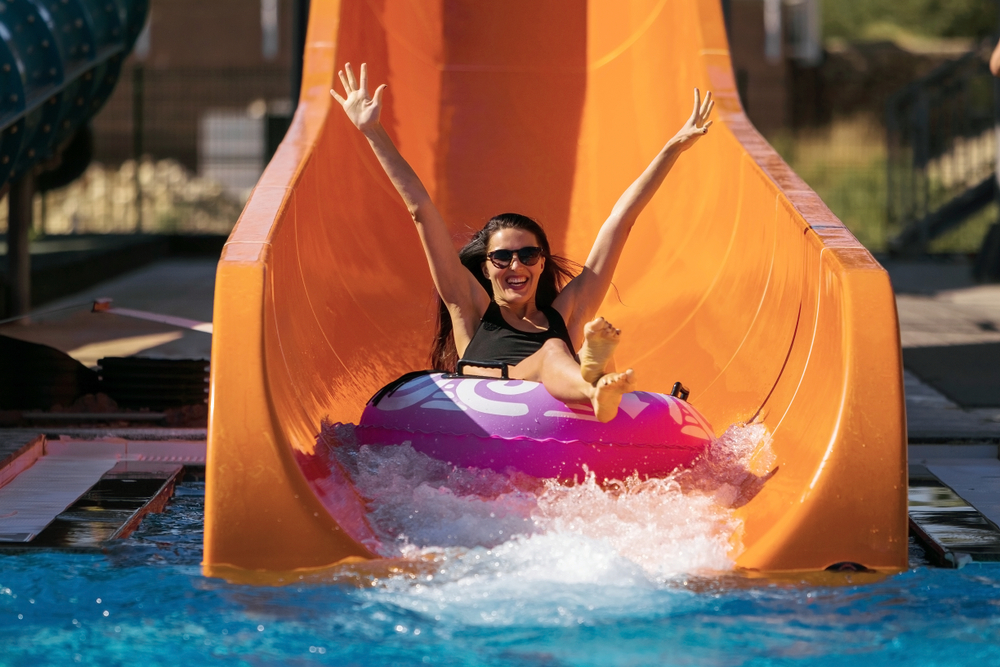 Skyline Park
Skyline Park is one of the amusement parks in Atlanta that is unlike any other you've ever been to. Styled after the old Coney Island Boardwalk, this multi-adventure amusement park is located on top of Ponce City Market. That's right- this park is located on "The Roof" in the heart of Altana's historic Old Fourth Ward.
This Georgia theme park is home to vintage games like horse derby race, mini-golf, and break-a-plate, as well as a three-story slide and Hedge Tower. Also on The Roof is a restaurant called 9 Mile Station that offers both a brunch and dinner menu. They feature a vast array of adult beverages as well as some lighter meal options for more mature palates. Skyline Park is definitely one of the more amusement parks in Georgia that you must check out!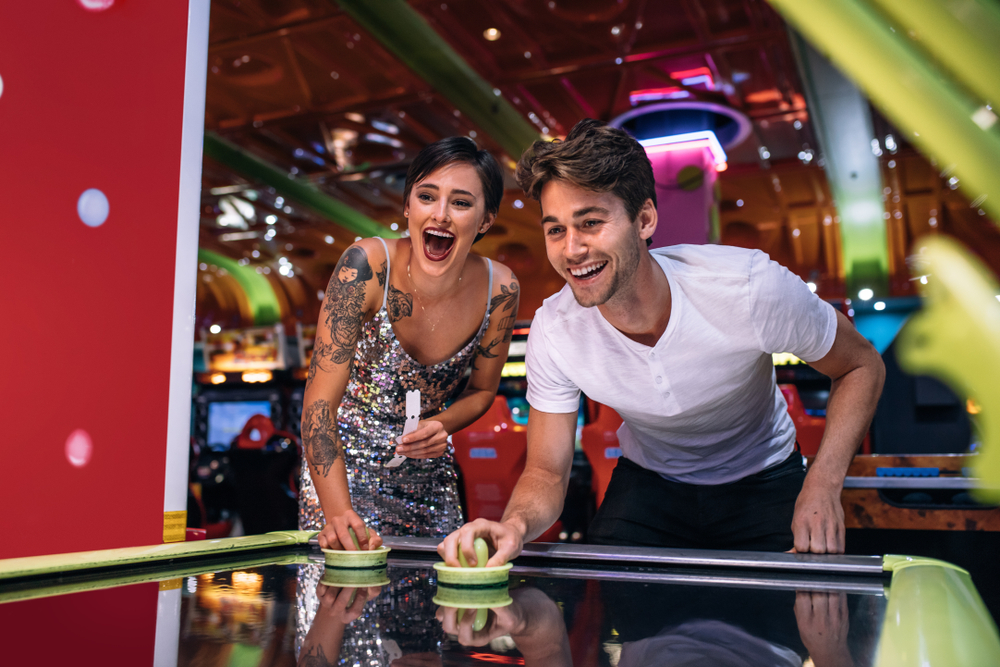 Norcross Malibu Grand Prix
Norcross Malibu Grand Prix is one of the amusement parks in Georgia that will be fun for both the kids and you! The family-friendly focus means everyone is welcome to come and have fun!
One of the features of this Georgia theme park is the bumper boats and a water play area. There is a dress code for the water area that includes no basketball shorts, and there is a height requirement of 36 inches to be able to enter the area and a weight limit of 295 pounds to be able to use any of the water slides in this section of the park.
Other features of this Georgia amusement park include the two mini-golf courses with some tricky holes, a go-kart course, and an arcade room that features over 100 state-of-the-art games. If your party is looking to do different activities in one location, then this amusement park is the one for you!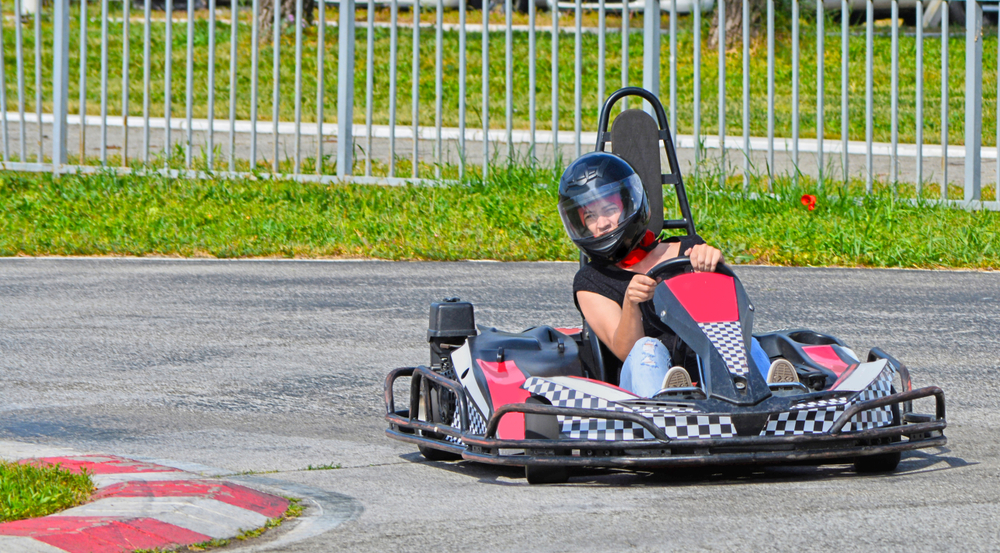 Legoland Discovery Center
Legoland Discovery Center is an all-indoor amusement park in Georgia that will spark your party's creativity. While you need to reserve your visit to this amusement park ahead of time, there are 12 different experiences you can reserve that will make your visit here unforgettable!
This location features a unique Lego 4D Cinema experience where you can watch various Lego movies, and there is a meet-and-greet with several of the on-screen characters after the films on select days! The 4D film experience will have you feeling the wind, the cold, the heat, and the snow on your cinematic adventure with familiar faces from the Lego universe.
If films are not your thing, try building a race car and battling against other players across the large track that extends a good portion of the play area. Want something a little more "hands-off"? Then try their virtual reality obstacle course where you race against other players and earn points for your use of Legos in the adventure.
There is even a ride where you and your party can help Merlin save the kingdom by creating unique potions! This is one of the amusement parks in Georgia that had to make our top list of must-dos!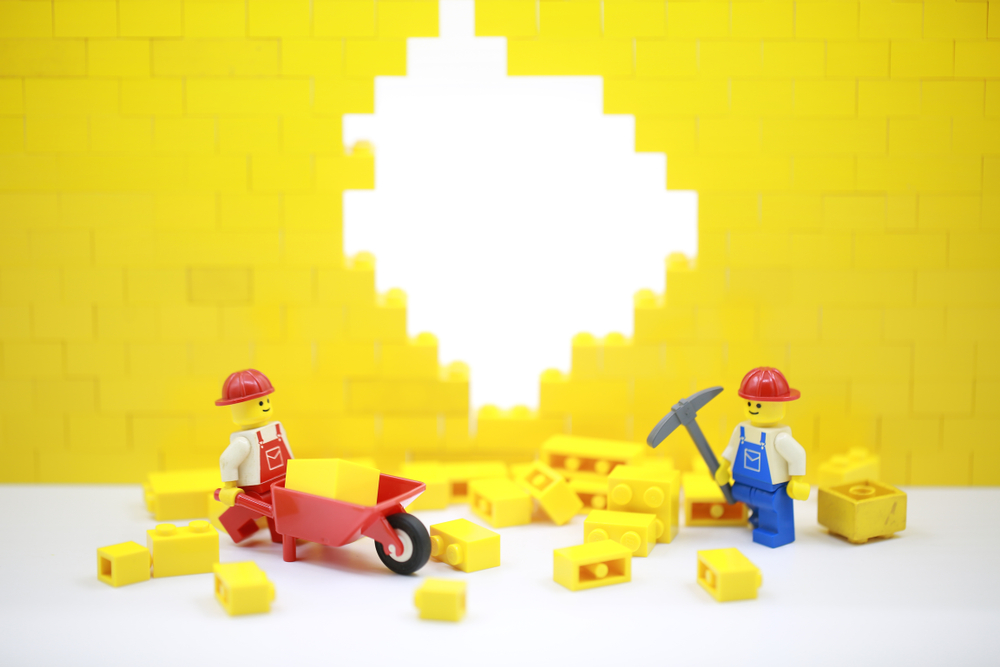 Summer Waves Water Park
Summer Wave Water Park is one of the multi-thrill amusement parks in Georgia that will have you forgetting all about the rest of your vacation. Located on Jekyll Island, this Georgia theme park offers three tiers of interactive water thrills- low, high, and medium.
On the lower end, you will have rides like Turtle Creek, a lazy river ride that you can get in your floatation device and calmly drift around the park. For the medium tier, you will have rides like Nature's revenge, a dueling pair of water tubular water slides that send you twisting and turning for over 40 feet before putting you into a splash pool. And for the high thrill rides, you will have rides like Man o' War, a four-path two-slide adventure that will have your full-body getting a soaking-wet experience!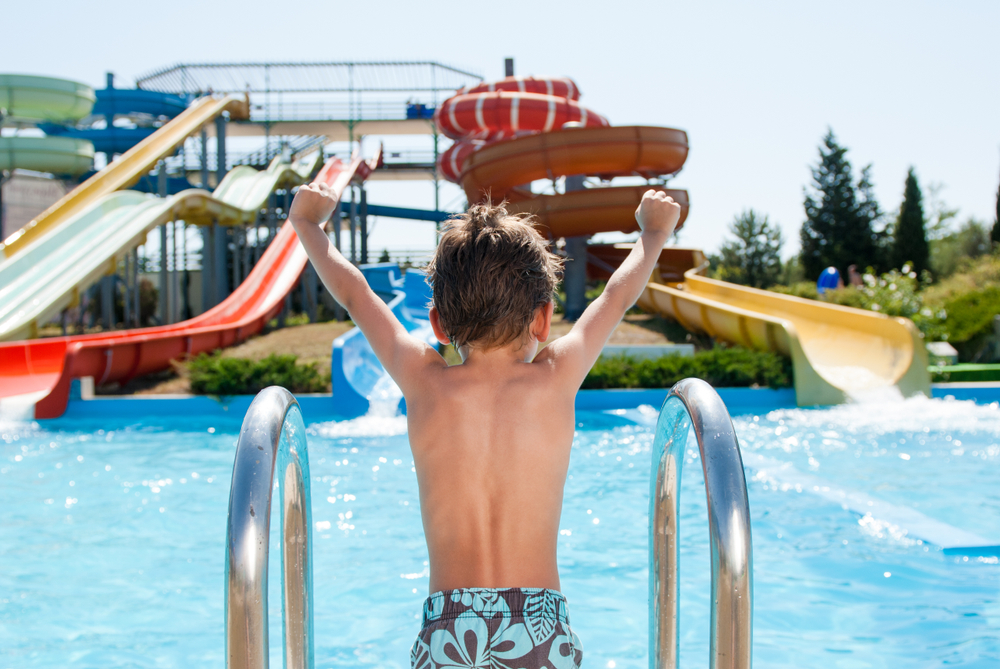 When looking at amusement parks in GA, these are our top picks that you need to check out! From Fun Zone in Pooler to Six Flags Over Georgia near Atlanta, the best amusement parks in Georgia are a blast to visit with family and friends!
If you are looking for other adventures in Georgia, check out our list of secret places and hidden gems in Georgia to explore!