Are you looking for the coolest hidden gems in Georgia? Then you've come to the right place! Georgia may be known for its peaches, but that's not all Georgia has to offer. The Peach State is full of unique places to explore, you just have to know where to look! Luckily for you, we've found some of the best hidden places in Georgia to explore.
On this list, you'll find a wide variety of off-the-beaten-path places in Georgia that you'll absolutely want to visit. From beautiful parks, interesting pieces of art, and even mysterious structures and haunted areas. No matter what kind of hidden gems in Georgia you're interested in, we guarantee there's something for you on this list.
We've also made sure to include Georgia hidden gems from different areas throughout the state. So even if you're not free to travel all over the state, there's bound to be something nearby. Or, if you have the time, consider making a fun road trip out of these unique places in Georgia! Either way, you'll have tons of fun exploring any of these Georgia hidden gems. So, let's take a look at the 15 coolest secret places and hidden gems in Georgia!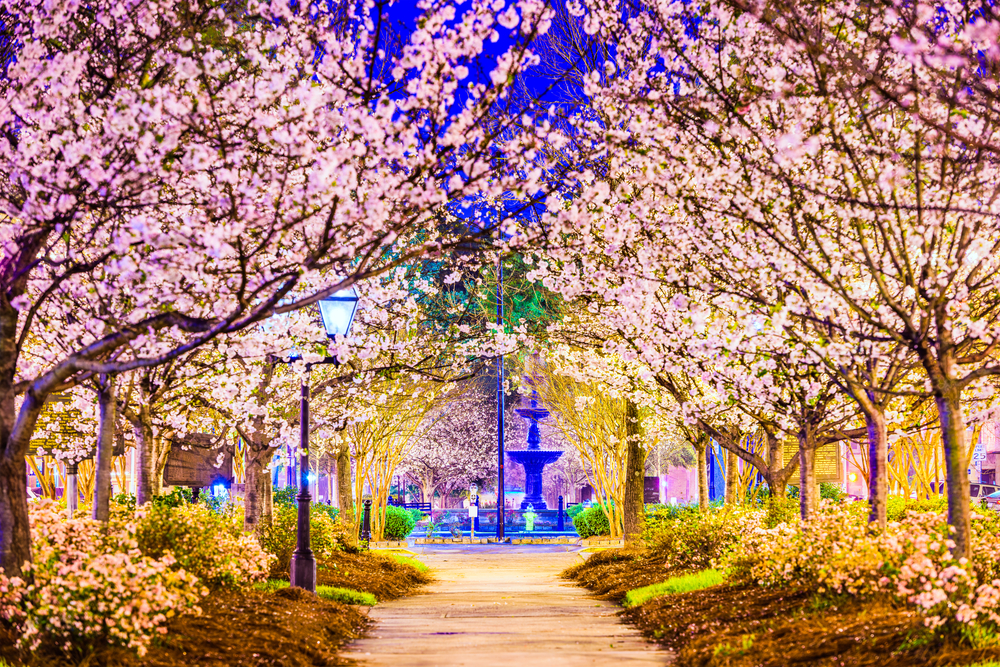 15 Secret Places And Hidden Gems In Georgia
Providence Canyon State Park
We bet when you think of Georgia you don't necessarily think of a canyon full of red clay. Providence Canyon State Park is known as 'Georgia's Little Grand Canyon'. This hidden gem in Georgia is great for adventurers looking to explore the great outdoors. At Providence Canyon State Park you'll find hiking trails. In fact, there are over 10 different hiking trails throughout the park. They all range in different difficulty levels.
While Providence Canyon State Park has started to grow in popularity, we still think it's one of the more unique places to visit in Georgia. It's free to enter the park, but you will have to pay a $5 parking fee. The State Park is a little off-the-beaten-path and is about 30 to 40 minutes away from Columbus GA. So if you're staying in Columbus, it's a great day trip!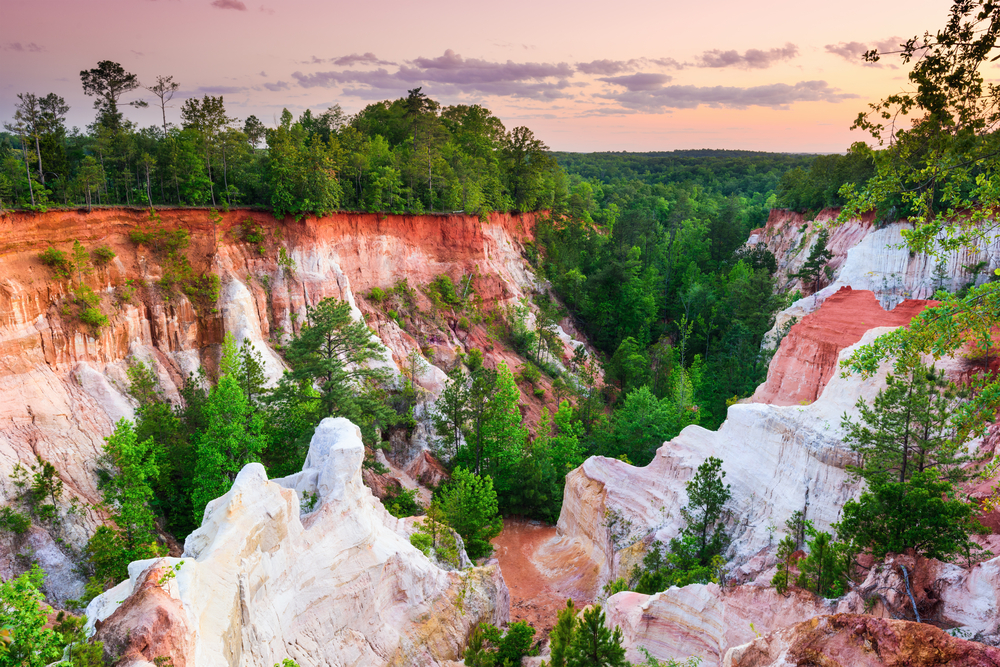 Rock City And Botanical Gardens
Rock City and the Botanical Gardens are located on top of Lookout Mountain, which is actually about 10 minutes away from downtown Chattanooga TN. It is a natural wonder and also home to one of the best botanical gardens in Georgia. The area is full of beautiful views and it's one of our favorite hidden gems in Georgia. There are ancient rock formations, over 400 species of flora, and stunning woodland paths.
This magical place in Georgia also has beautiful waterfalls, babbling brooks, and sculptures scattered throughout the grounds. There is also a Mother Goose Village and Fairy Caves. It's a great Georgia hidden gem that kids will enjoy too. If you're looking for a unique place to visit in Georgia that has stunning views year-round, you can't go wrong with a visit to Rock City and Botanical Gardens.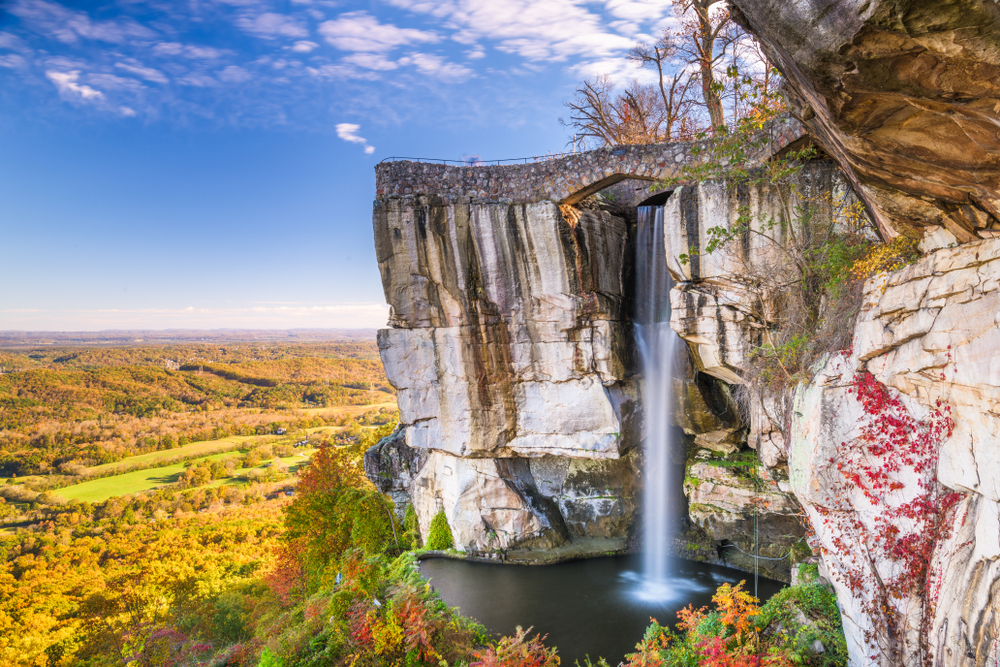 New Manchester Mill Ruins
In Lithia Springs Georgia you'll find this secret place in Georgia to visit. The New Manchester Mill Ruins is an off-the-beaten-path place in Georgia that we highly suggest visiting. If you're someone who loves exploring abandoned places, this is the hidden gem in Georgia for you. The ruins themselves can be found in the Sweetwater Creek State Park. They weren't always located in a Georgia State Park though.
The ruins are actually the remnants of a cotton mill that was burned down during the Civil War. It was actually originally called the Sweetwater Mill and was built in 1849. The mill used the rushing waters of Sweetwater Creek to power the cotton mill, which is how it got its name. In 1864, after Confederate troops were forced to retreat, the Union forces burnt the mill to the ground. Today you can still explore these ruins that are over 150 years old.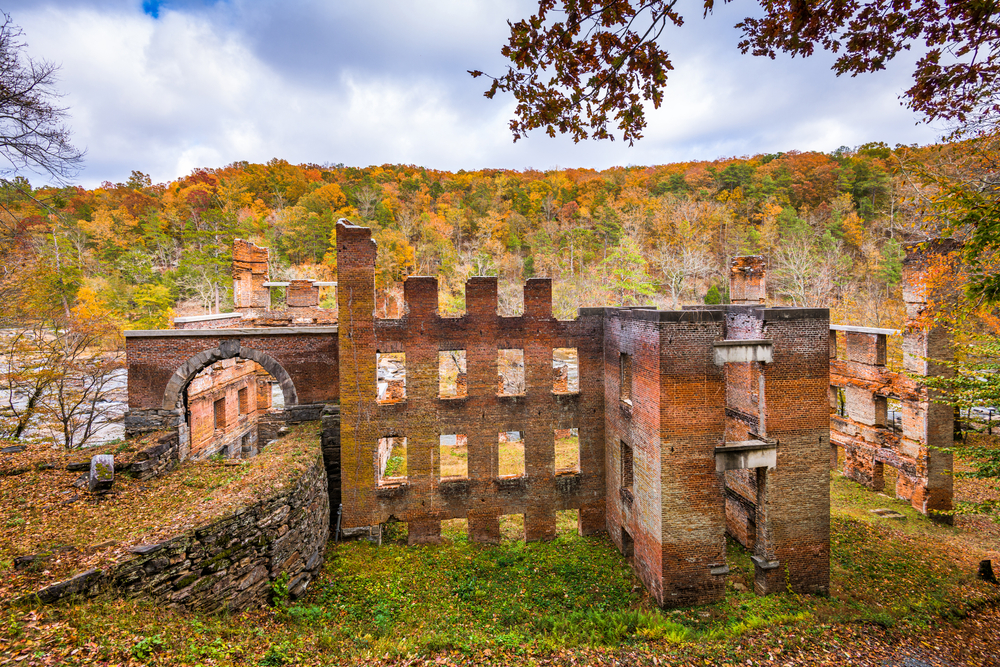 BAPS Shri Swaminarayan Mandir
The BAPS Shri Swaminarayan Mandir is a Hindu temple located just outside of Atlanta. It's easily one of the more unique hidden gems in Atlanta. It is a place of worship, but they welcome visitors of all religions to come and experience the temple. However, because this is an active place of worship, please be respectful when you visit. You are allowed to take photos outside of the temple, but inside photography is strictly prohibited.
If you'd like to, you're welcome to participate in the Hindu ceremonies that take place within the temple. This is one of the most magical places in Georgia to visit. The temple is made of over 34,000 pieces of hand-carved Italian marble, Turkish limestone, and Indian pink sandstone. The grounds of the temple are over 30 acres and feature the main complex as well as other buildings and a lawn. If you're looking for a unique hidden gem in Georgia, this is a great option!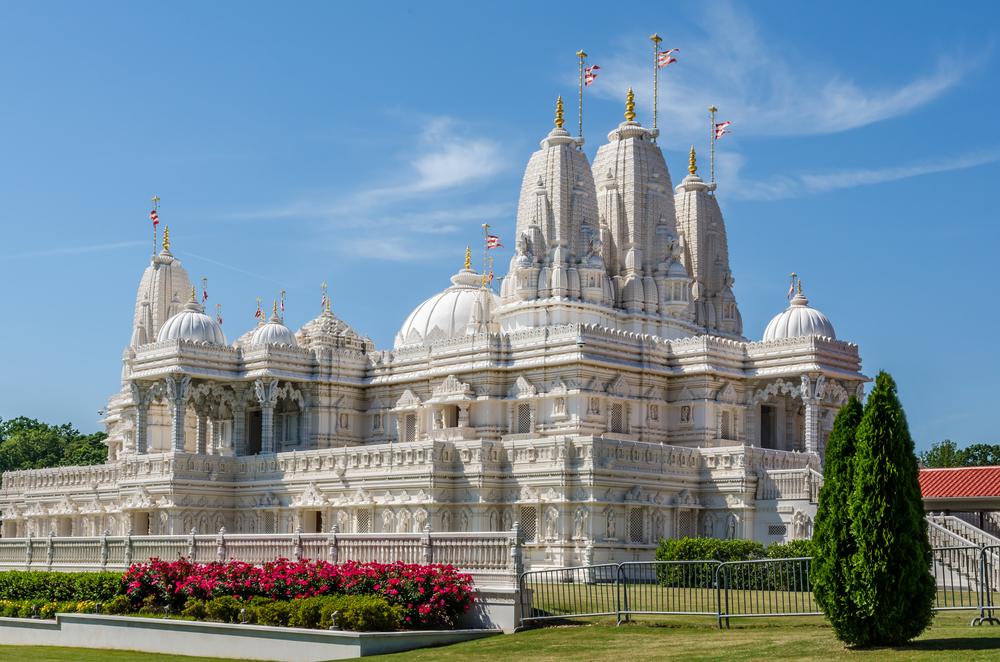 Expedition Bigfoot: The Sasquatch Museum
One of the most unique places to visit in Georgia is Expedition Bigfoot: The Sasquatch Museum. The Sasquatch Museum is dedicated to the legendary cryptid. Stories have been told all across the country of a giant hairy creature that resembles a primate traipsing in the woods. This is truly one of the best things to do in North Georgia!
You'll find this fun hidden gem in Georgia in the far northern area of the state. So it may be a little out of the way, but it's totally worth it if you're a fan of cryptids.
The museum is over 4,000 square feet full of Sasquatch memorabilia. It includes newspaper clippings, sketches, casts of handprints and footprints, and more. You'll also get to read stories of supposed Sasquatch sightings. The museum is supposedly the largest collection of Bigfoot memorabilia and documents in the world. One thing is for sure, this is one of the most fun hidden gems in North Georgia!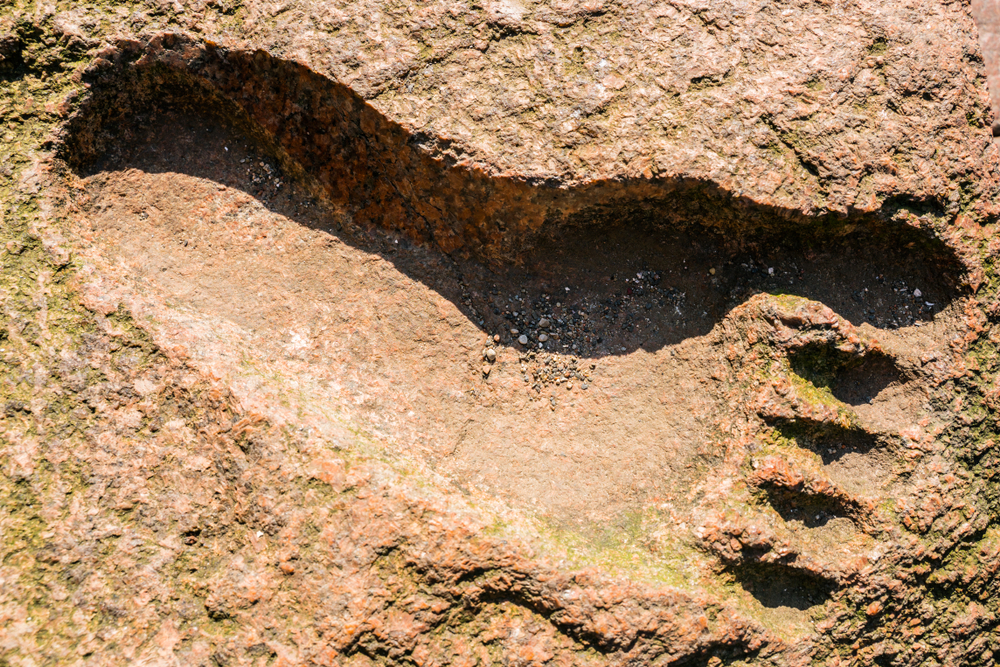 Radium Springs Gardens
The Radium Springs Gardens are often called one of Georgia's seven natural wonders. Despite that, it's still not widely visited, but it should be. This magical place in Georgia is beautiful and free to visit. What makes this garden a natural wonder is the spring. It pumps 70,000 gallons of water per minute from an underground cave. The water stays at a consistent 68 degrees and is crystal clear.
When visiting the gardens, you'll find plenty to do. You can stroll through the gardens of native and exotic flowers and plants. There is also a restored terrace and new sidewalks to walk on. While you're strolling through the gardens, stop at the gazebo in the casino garden. The Radium Springs Gardens are full of beautiful views, which is why we think it's one of the most magical places in Georgia.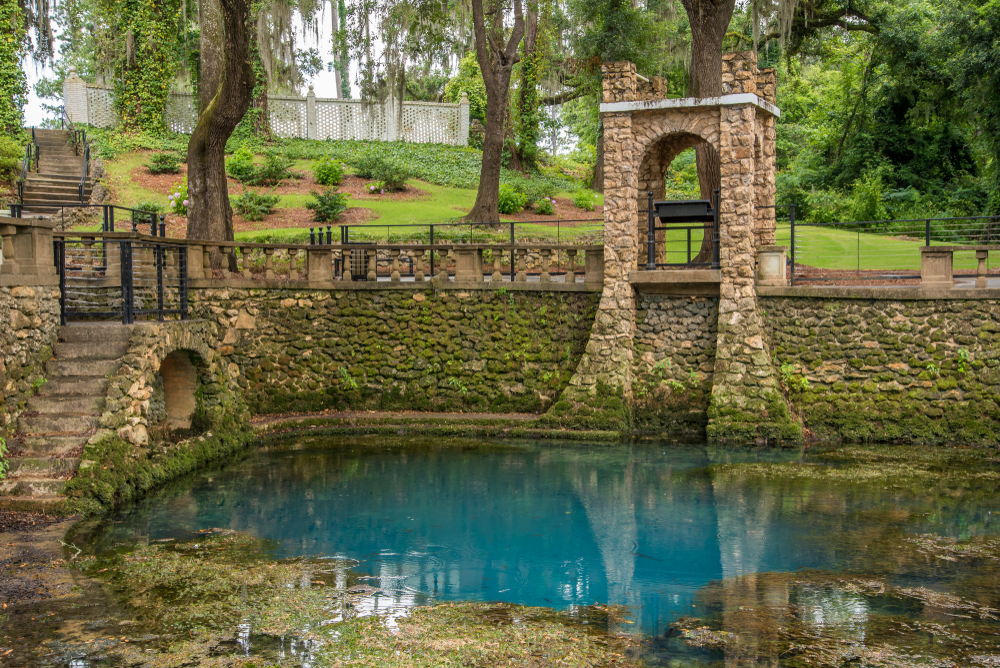 Krog Street Tunnel
The Krog Street Tunnel is one of the best hidden gems in Atlanta. For lovers of art, this is definitely one of the best hidden gems in Georgia too. You'll find the Krog Street Tunnel at 1 Krog Street NE in Atlanta. It's absolutely free to enter because it's street art! Local artists have contributed unique graffiti and murals to the tunnel throughout the years.
It's a popular spot for photoshoots, so we highly suggest stopping by for some photo fun while you're in Atlanta. The tunnel has also become a popular spot for live music, festivals, and other events in Atlanta. While it is growing in popularity, the Krog Street Tunnel is still a hidden gem in Atlanta. Make sure you check it out during you're next trip to Atlanta!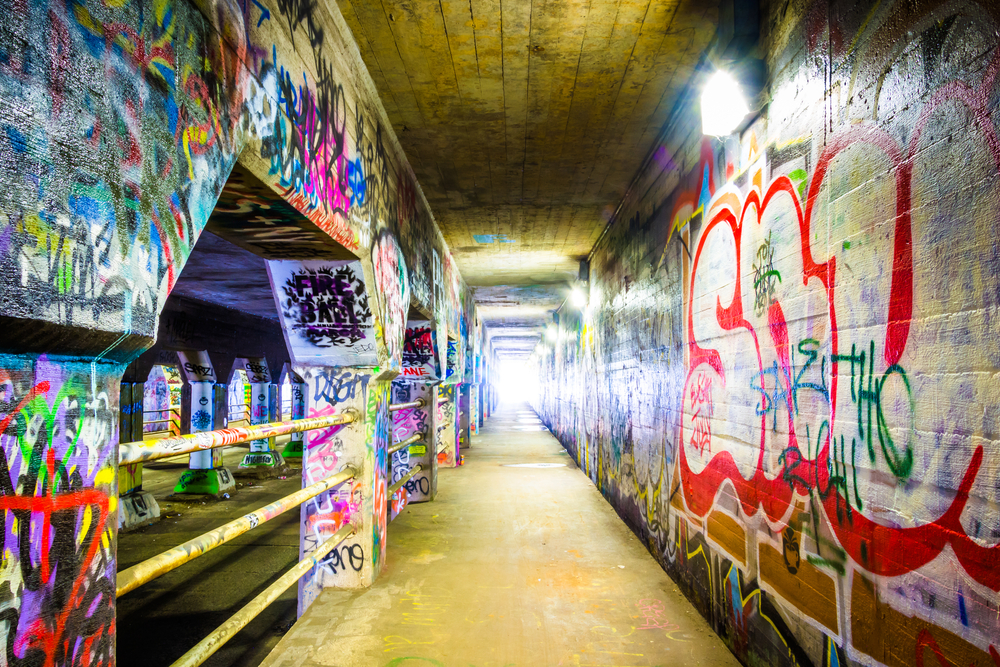 The Rock Garden
Tucked behind a Seventh Day Adventist church in Calhoun Georgia, you'll find The Rock Garden. The Rock Garden was started in 2007 by DeWitt 'Old Dog' Boyd. Boyd was a hobbyist and a member of the church where the Rock Garden is built. Over the years, Boyd and his family, including his children, built the Rock Garden up to what it is today.
The Rock Garden consists of over 50 miniatures of famous structures built using small pebbles. They are also built using seashells, glass, wire, and other materials. In the garden, you'll find replicas of the Notre Dame Cathedral, the Colosseum, and even small towns. It's absolutely free to walk through the Rock Garden and admire the different structures. It's one of the most interesting off-the-beaten-path places in Georgia to visit.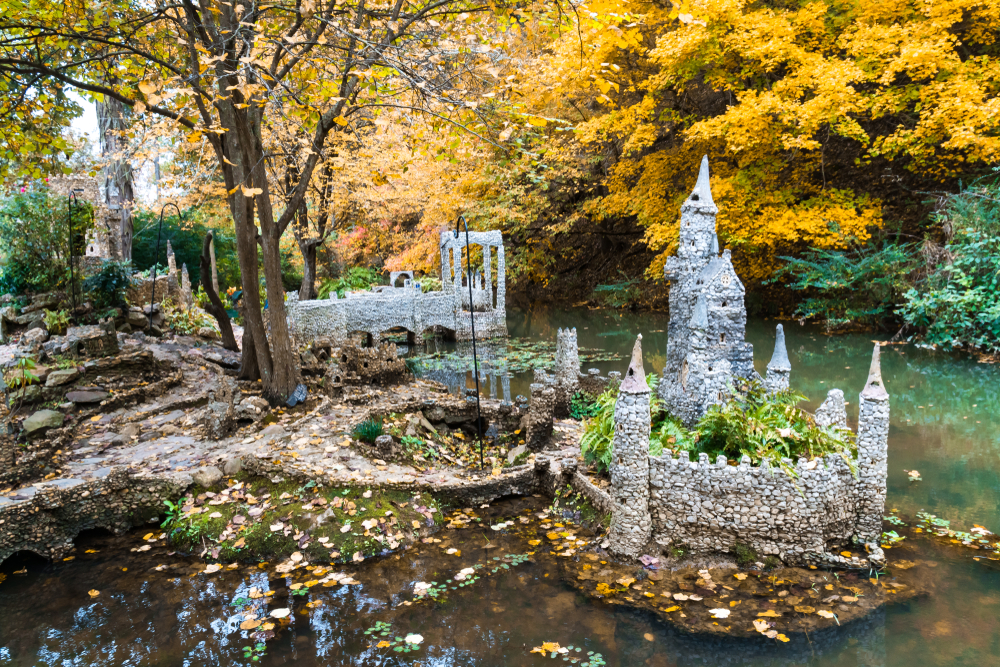 Georgia Guidestones
The Georgia Guidestones are a bit of a mystery. The Guidestones are a series of granite monuments that were erected in 1980. You'll find them in Elbert County, Georgia. The structure is about 19 feet tall and features a main stone in the middle with four around it. On top of all five slabs of granite, there is a capstone. What makes the Guidestones a mystery is their carvings. No one knows who or when exactly the stones were erected. The author of the carvings is also completely a mystery.
Plus, the carvings themselves are a little strange. The inscriptions are of 10 guidelines that are inscribed in 8 modern languages. At the top of each stone is a short inscription in four ancient languages. The inscriptions are said to deal with theories on population control, eugenics, and internationalism. These unconventional ideals have made the stones subject to some bizarre conspiracy theories – like that they were placed by aliens. If you're a fan of all things weird, this is one of the most interesting secret places in Georgia.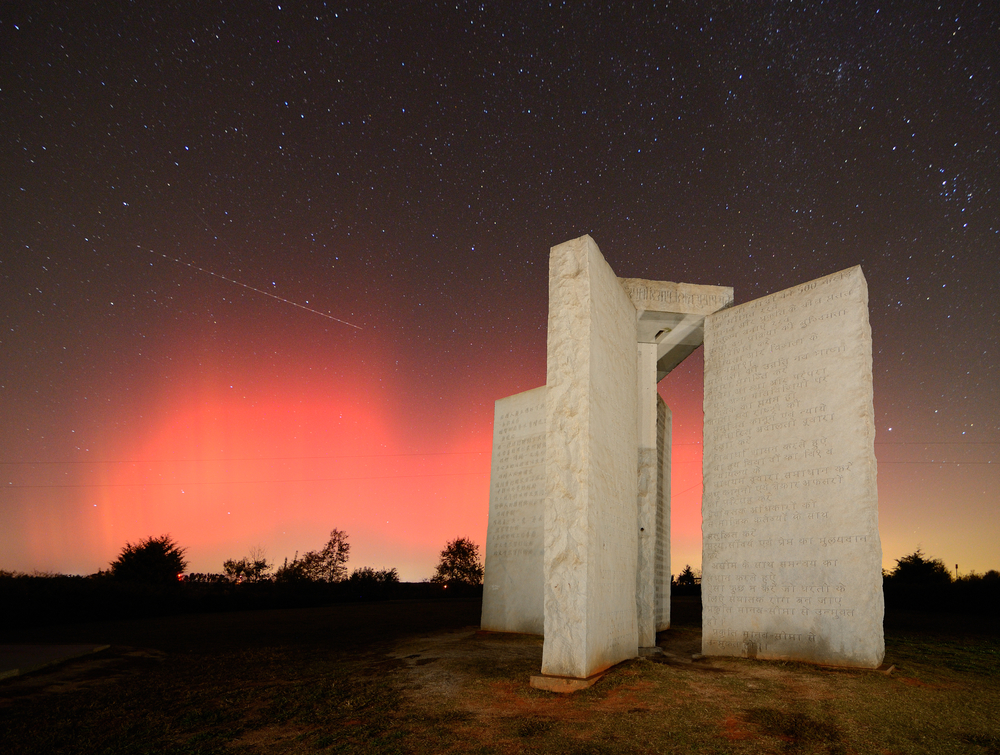 Tallulah Gorge State Park
Head to Tallulah Gorge State Park if you're in search of one of the more magical places in Georgia. Tallulah Gorge State Park is home to one of the prettiest waterfalls in GA. The gorge itself is 2 miles long and almost 1,000 feet deep. It's often considered one of the 'most spectacular canyons in the Eastern US'. Despite that, it's still one of the best hidden gems in Georgia.
While you're at the park, there are a few things you can do. There are several hiking trails around the rim of the gorge. They vary in difficulty, but most of them provide stunning views. If you'd like to hike to the bottom of the gorge, you'll need to get a permit. They only give out 100 per day, so plan ahead if that's something you'd like to do.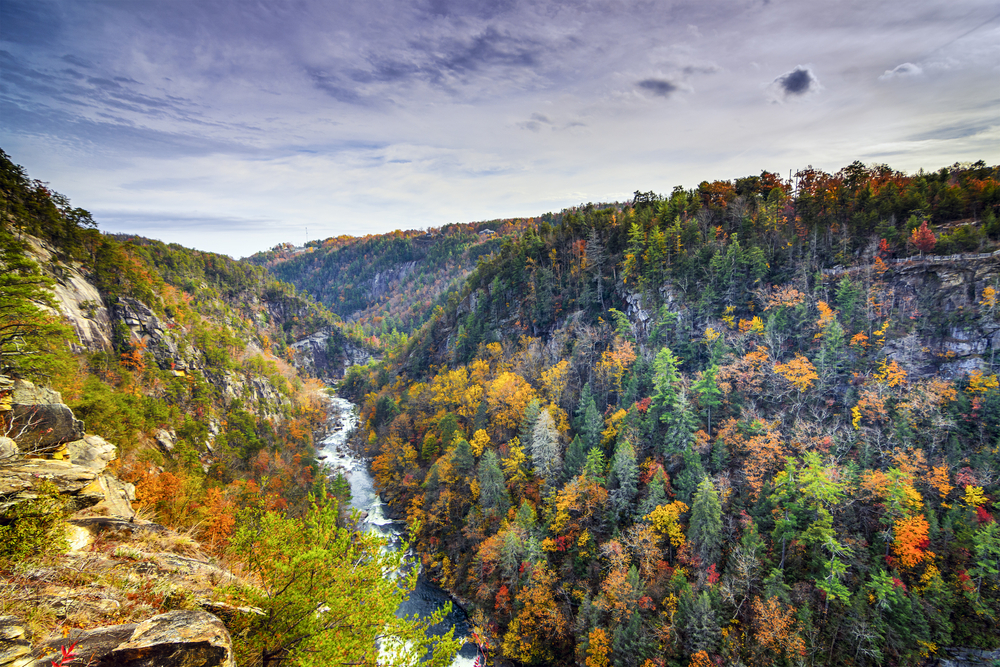 Oakland Cemetery
For those looking for some creepy fun, head to the Oakland Cemetery. The Oakland Cemetery is one of the oldest cemeteries in Atlanta. It's one of the best hidden gems in Atlanta for those who enjoy a bit of the macabre. The cemetery itself dates back to 1850 when it was first founded on 6 acres of land. Within the cemetery, there are many oak and magnolia trees, which is how it got its name.
Today, the cemetery is over 48 acres and is a combination of a final resting place and a peaceful garden. Within the cemetery, you'll find intricate architecture, ancient oak and magnolia trees, and notable citizens. Some of the cemeteries famous 'residents' include Kenny Rogers, Margaret Mitchell, and Maynard Jackson. Throughout the day, the cemetery offers a variety of tours where you'll learn all about the cemetery's history.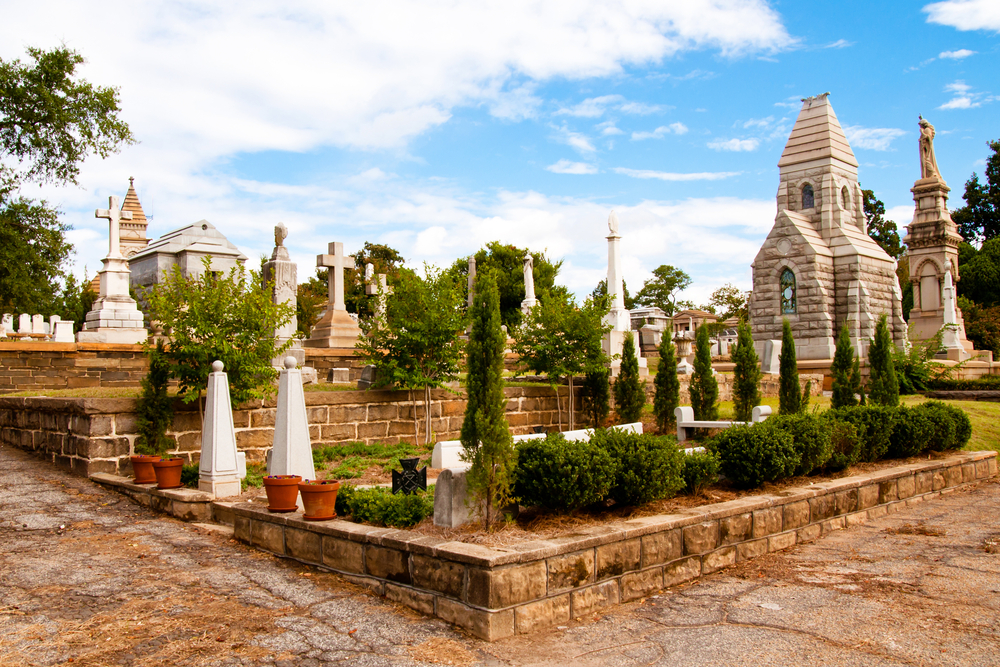 Cherry Blossoms In Macon
In the Spring, we suggest visiting Macon Georgia for the Cherry Blossoms. During the Cherry Blossom Festival, it's one of the most magical places in Georgia. The Cherry Blossom Festival typically takes place in March. However, the 'peak week' depends entirely on the weather. So it's never the same time every year. If you're wanting to go to the festival, make sure you pay attention to the predicted 'peak week'.
If you make it for 'peak week', you won't be disappointed. There will of course be beautiful Cherry Blossoms all over town. But there are also other fun things to do during the festival. In past years, events have included parades, food trucks, a bed race, and even hot air balloon rides. It's one of the best things to do in Macon, and even in Georgia!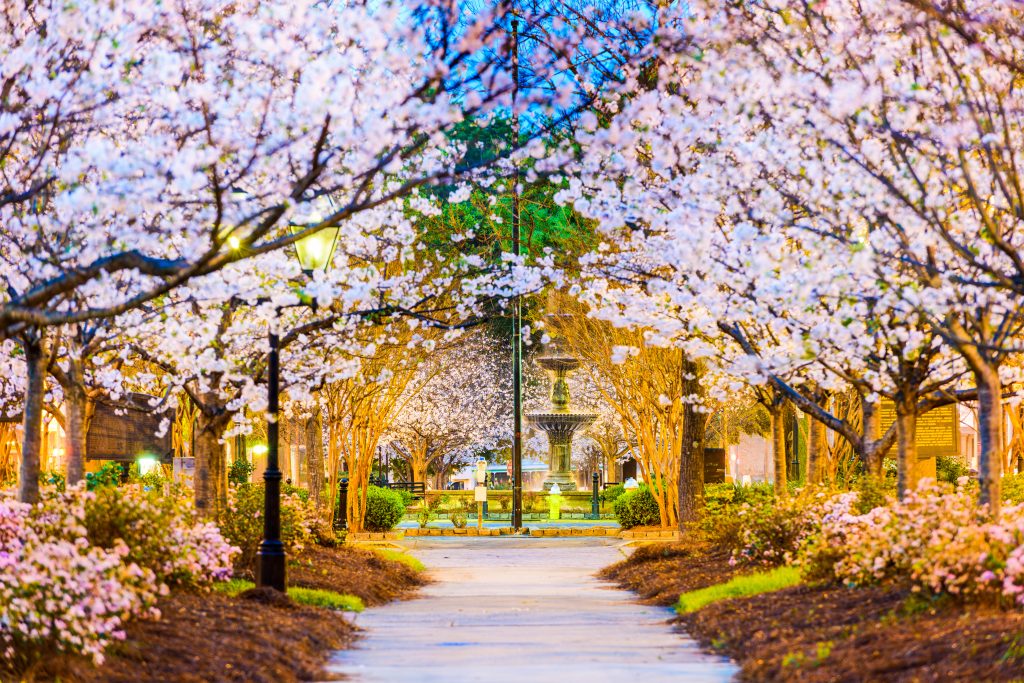 The Waffle House Museum
Waffle House is a southern staple when it comes to breakfast restaurants. It's probably best known for being open 24/7 except for in the event of seriously dangerous weather events. The chain restaurant has famously stayed open during many hurricanes. Being a southern staple, it's no surprise that the first Waffle House was opened in Decatur Georgia. The first Waffle House was opened in the city on September 5th, 1955. Today, the building still stands!
At one point, the original building did shut down and was used by several other businesses. However, in 2008 the company bought back the original building. When they bought back the building, they restored it and turned it into a private museum. It has been faithfully restored to look exactly like the original 1955 Waffle House. It also includes a wide variety of Waffle House memorabilia throughout the years. The Waffle House Museum is one of the coolest secret places in Georgia.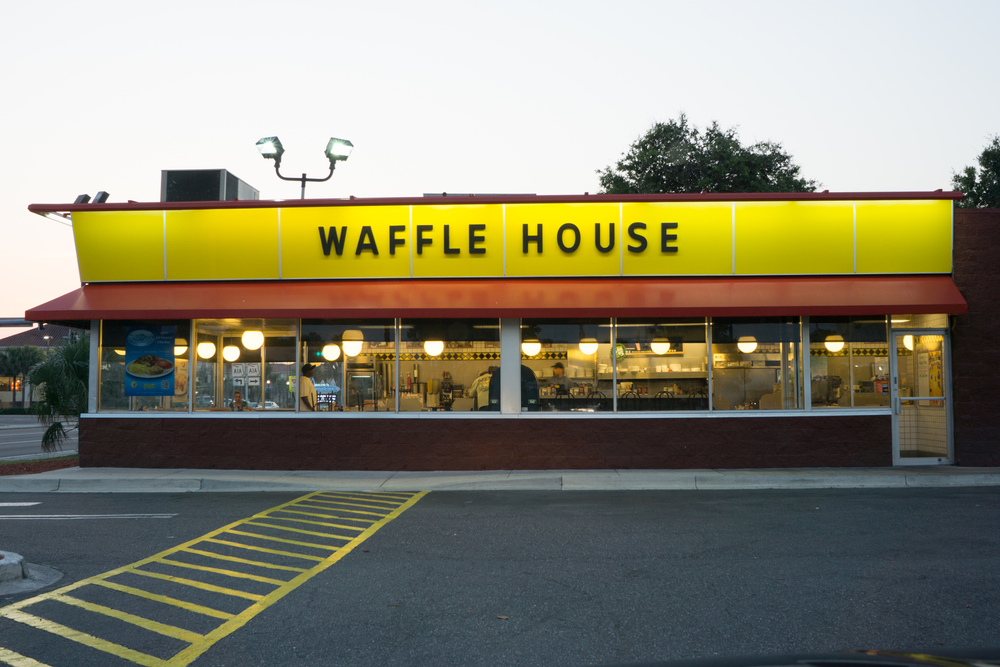 Etowah Indian Mounds
On the north shore of the Etowah River, you'll find the Etowah Indian Mounds. The Etowah Indian Mounds are 54 acres and are considered a historical archeological site. The mounds themselves are prehistoric and were built in three different phases. Those phases took place from 1000 to 1550 AD. They were places where people lived and worshiped throughout the centuries.
At varying times throughout the mounds' history, they were home to the Muscogee Creek peoples and the Cherokee peoples. Both of these cultures consider the mounds to be sacred sites. The mounds are also considered one of the 'most intact Mississippian culture sites in the Southeast'. Within the 54 acres there are 6 mounds, a village site, a plaza, and borrow pits with a defensive ditch. Visitors can tour the site via a natural path where you'll be able to learn more about the Etowah Indian Mounds along the way.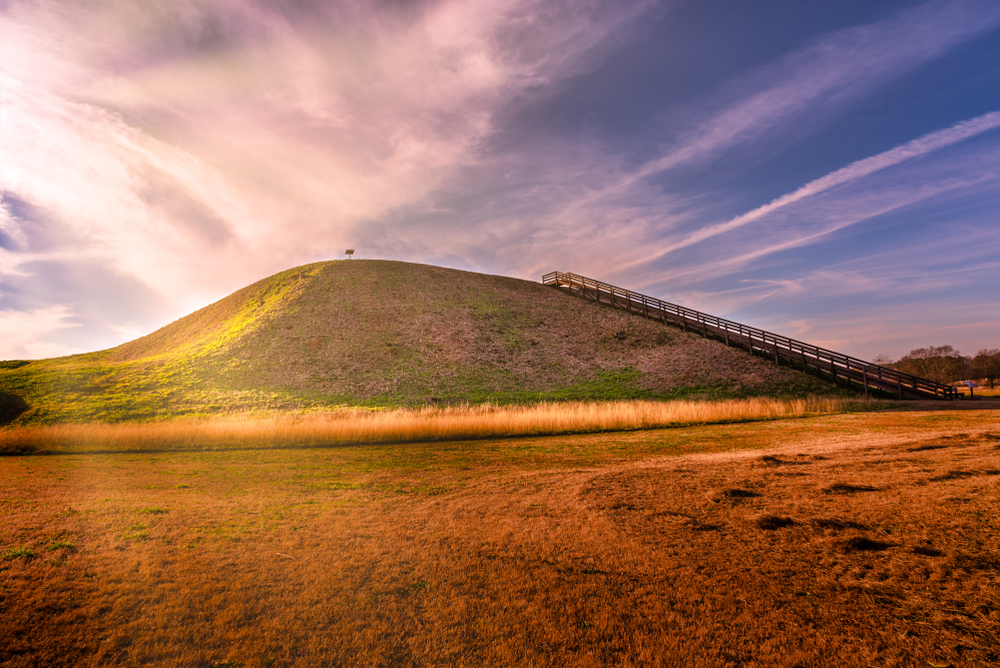 Delta Flight Museum
Atlanta Georgia is the home and main hub of Delta Airlines. Because of that relationship with the city, the airline opened the Delta Flight Museum in Atlanta. It's a really interesting hidden gem in Atlanta if you're a fan of aviation. The museum is both a corporate museum as well as an aviation museum. Most of the museum is housed in traditional aviation hangars.
Within the hangars, you'll find interactive exhibits, rare artifacts, and exhibits on cutting-edge technology currently being used by Delta Airlines. You'll be able to get up close and personal with tons of different types of planes. Including ones dating back from 1920. You'll get to tour the first Boeing 747-400 and even get a chance to walk on the wing! There is also a flight simulator that you can test out. To tour the museum, there is a small entrance fee. But it's a really cool secret place in Georgia to visit if you love aviation history.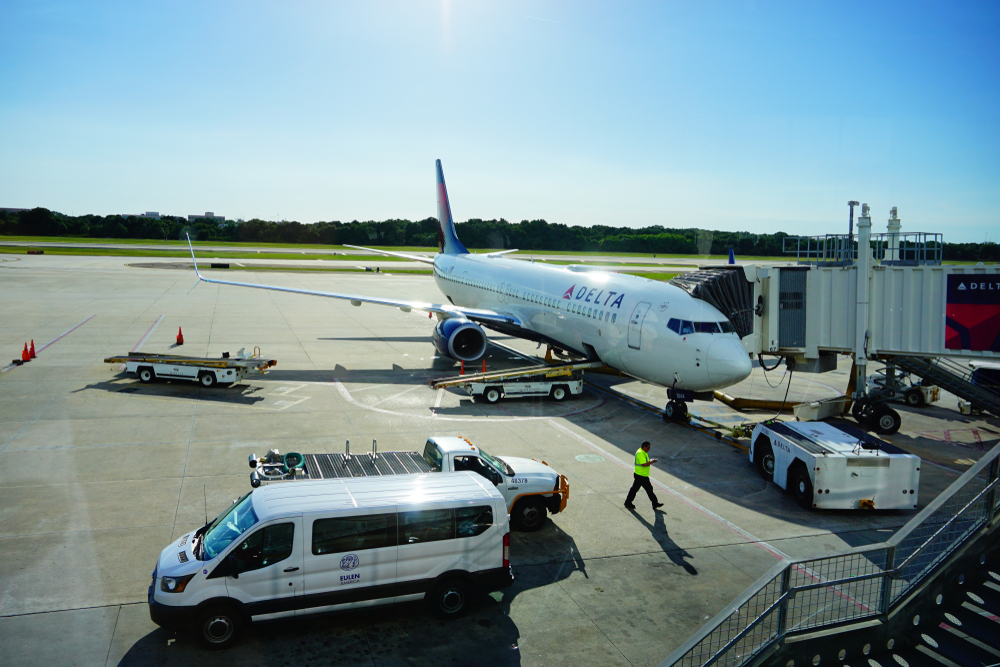 There are so many unique hidden gems in Georgia just waiting to be explored. Whether you're interested in historic sites, magical ruins, or beautiful parks, there's a cool place in Georgia for you to visit. Have you ever been to one of these Georgia hidden gems? If so, we'd love to hear about it in the comments!