Are you on the hunt for the best restaurants in Columbus Georgia? Well, we've got the most amazing restaurants to try right here. With so much to do in Columbus Georgia, you're sure to work up an appetite!
No matter where you are or what you're craving, Columbus has tasty food right around almost every corner. Many of the best places to eat in Columbus are centered around the downtown area, home to Whitewater Express, the longest urban whitewater course in the world. After a day on the river, you'll want to find someplace to sit in the shade, sip a beer, and enjoy a delicious plate of food.
Fortunately, Columbus is filled to the brim with wonderful restaurants that you simply must try. From Thai to barbecue, from fine dining to pizza, there is no shortage of delectable food in Georgia's Fountain City!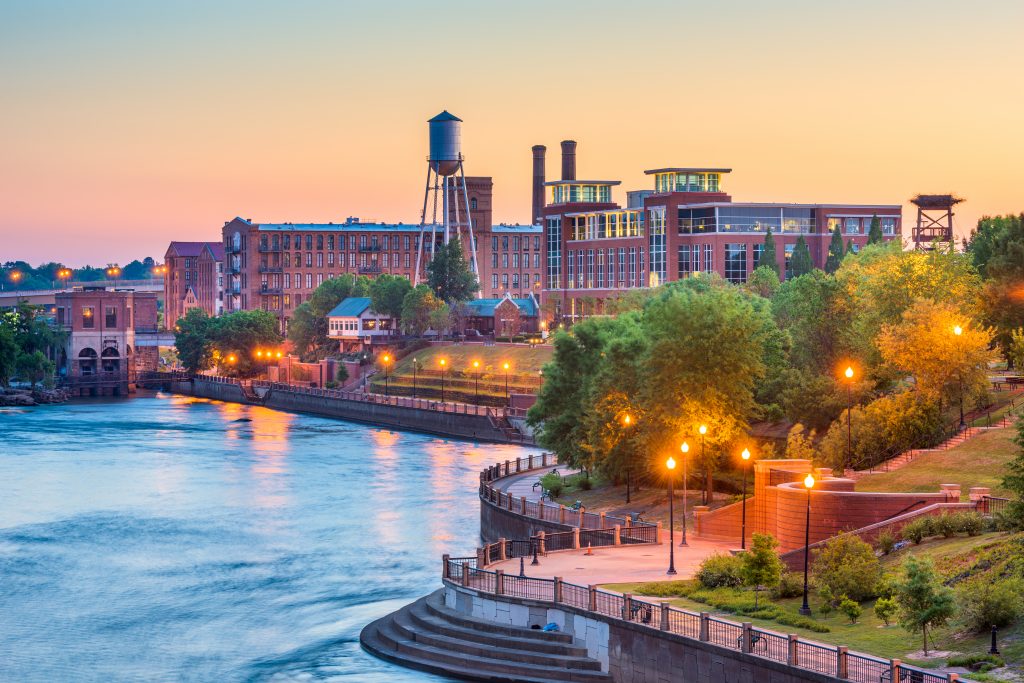 15 Best Restaurants in Columbus Georgia You Musty Try
Mabella's Italian Steakhouse
Mabella's Steakhouse is located in downtown Columbus, a short walk away from the city's famed RiverWalk. If you're in the mood for a steak, Mabella's is one of the best places to eat in Columbus.
Come sit in a cozy and inviting atmosphere that feels so relaxing as soon as you sit down. To start with, make sure to try their Artisanal Bruschetta, which changes daily. It's a delightful blend of the chef's selected fresh toppings on grilled Italian bread – so good! Their Pan Fried Provolone Cheese is also a hit with diners.
For your main course, their are so many selections to suit a variety of appetites. Serving pasta favorites like Classic Spaghetti, to house specialities like Spicy Casereccia, pasta with grilled chicken, Italian sausage and broccoli rabe, there is truly something for everyone to enjoy. However, if you love a good steak Mabella's Filet is definitely the way to go.
Make sure you save room for desert! Mabella's is famous for their cheesecake, a slice big enough to share and covered with your choice of fresh topping. It's a little slice of heaven!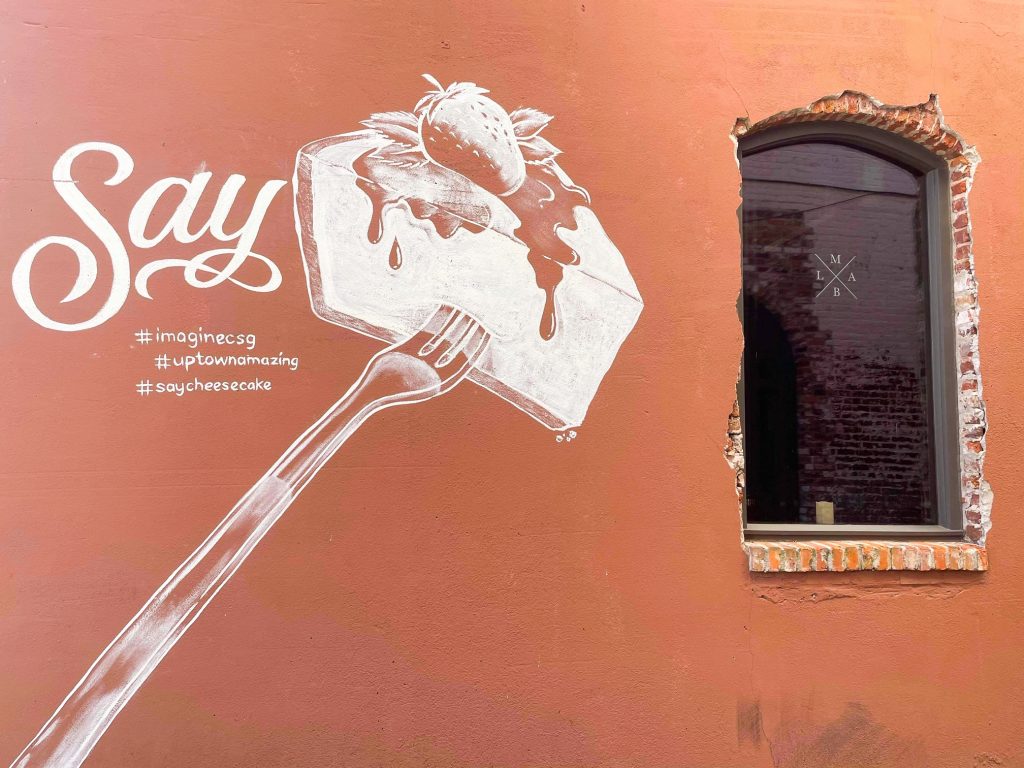 Trevioli Italian Kitchen
Fresh Italian food with a great location? Yes, please! Trevioli Italian Kitchen boasts two Columbus locations, in north and downtown Columbus, to treat guests to their signature Italian meals enjoyed in a cozy atmosphere. Trevioli began, uniquely enough, in a 600 square foot storage unit in 2013. Buzz about the mini restaurant packed with charm grew, and the restaurant opened its first traditional location in 2017.
When you dine at Trevioli's you are treated to Italian meals that taste like they were made in the best Italian chef's home kitchen. To start, feast on the Crab Cakes or the outstanding Lobster Bisque. Their entrees are spectacular with traditional Italian favorites on the menu, like Spaghetti Bolognese and Chicken Alfredo to house specialties like Tuscan Fusili and Spicy Shrimp and Lobster Linguine.
Trevioli's also offers takeaway family meals if you'd prefer to dine at your own Air BnB. Choose from exceptional family-sized bakes like Chicken Penne Pasta, Cajun Mac and Cheese, and Chicken Alfredo. Pick it up and enjoy in the privacy of your own home away from home. With so much deliciousness to offer, Trevioli's Italian Kitchen makes our list for one of the best places to eat in Columbus.
Chili Thai
Located right in the heart of downtown is one of the best restaurants in Columbus Georgia, Chili Thai! With a great location, just steps away from Columbus' most celebrated attractions, and a diverse Thai menu, Chili Thai is a great pick when you're looking for something to eat in the downtown area.
The menu at Chili Thai features many Thai favorites, as well as some Thai specialties for more adventurous palates. To begin, try their Chicken Sa-Tay or the Tiger Cry, grilled beef with a spicy Thai fish sauce, for an experience you won't find anywhere else in town. Their Tom Yum soup is also a fan favorite and shouldn't be missed on a visit to Chili Thai.
You'll find a wide variety of fried rice, noodle, and curry dishes, including the Thai mainstays of Basil Fried Rice, Pad Thai, Drunken Noodles, Masaman Curry and Pad-See-Ew – all of these dishes are excellent. For more of a house made flavor, try Salmon in Green Curry or the Pad Ta-Lay, seafood with basil leaves, chili, green beans, bell peppers and hot peppers. Yum!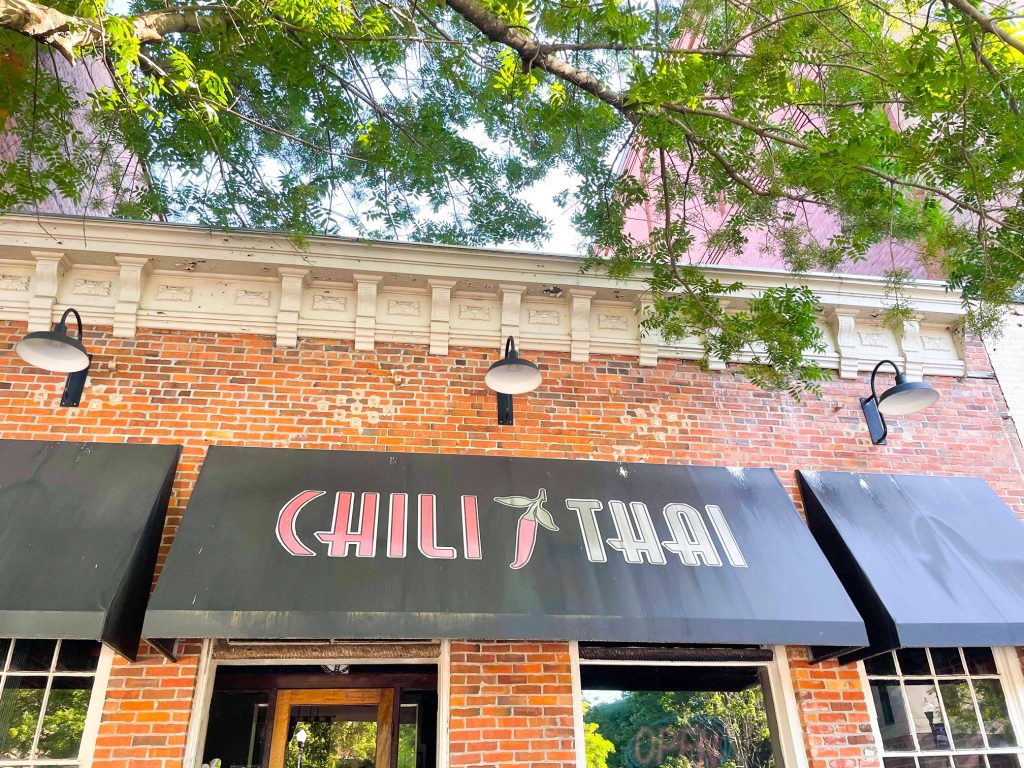 Nonic Beer Bar and Kitchen
If you're in the mood for an ice cold beer, Nonic Beer Bar and Kitchen is the place to be. Located steps away from the Columbus RiverWalk, it's the perfect place to wind down after a day biking or rafting on the river, making this one of the best restaurants in downtown Columbus.
Nonic has the most extensive beer list in Columbus, featuring local brews and beers you won't find anywhere else in the region. Their selection is constantly changing, so you'll discover a new favorite with each visit. Their list often includes multiple India Pale Ales, Sours and Saisons, Lagers, Brown Ales, Wheat Beers, Stouts and Porters, and Belgian-Style Abbey Ale. You can even enjoy Mead there on occasion!
With all of these outstanding brews to try, you'll want to munch on something while you sip. Nonic's got you covered with a tasty menu full of mouthwatering eats. If you're in the mood to nibble, their House Made Fries with a variety of dipping sauces is popular with the locals. They also offer Meat and Cheese boards to share amongst the table.
Ready for a full meal? You can't go wrong with their classic Grilled Cheese and Tomato Soup or the Bulgogi Cheesesteak Sandwich. Nonic is also famous for the delectable Apple Butter Burger and Yakisoba Noodles. Nonic is certainly one of the most fun places to eat in Columbus.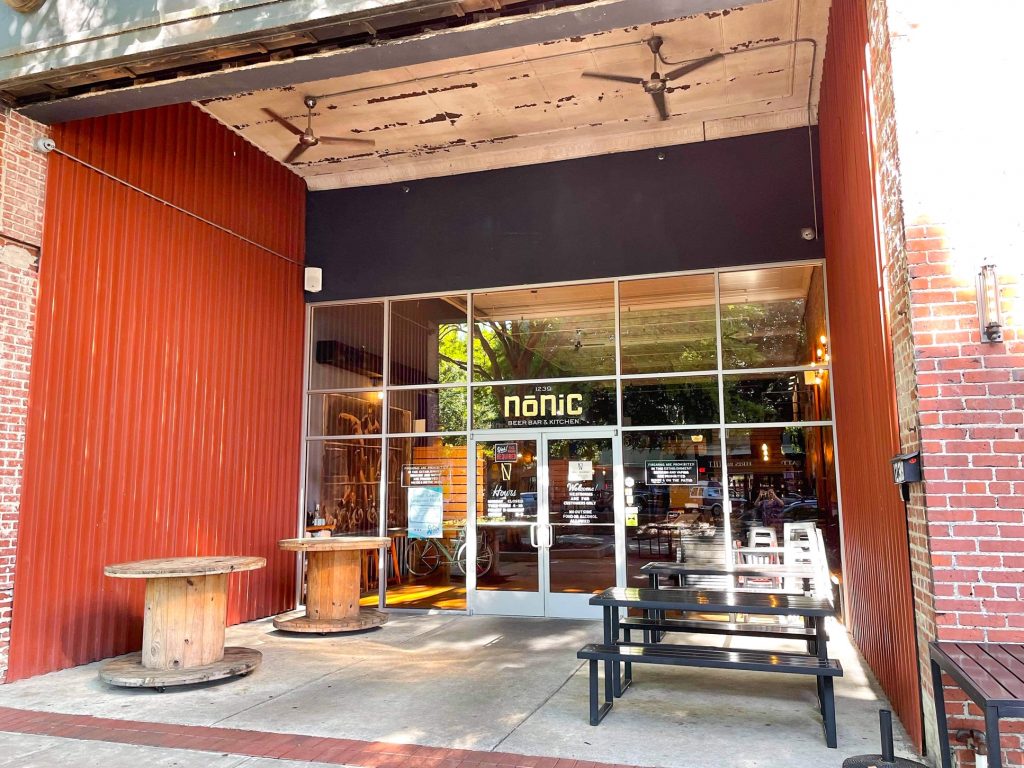 11th and Bay Southern Table
11th and Bay Southern Table is located right on the Columbus RiverWalk – enjoy a river view while you dine! With a menu celebrating inventive Southern cuisine, 11th and Bay is a top spot to relax as the sun goes down over the Chattahoochee River.
Each table is treated to an appetizer of house made biscuits and jelly, but if you're in the mood for more, their Southern Caprese, featuring fried green tomatoes, pimento cheese, basil peach jam, and creme fraiche, or the Smoked Oysters are the way to go when enjoying one of the best restaurants in Columbus!
Their entree menu changes seasonally, but features rotating favorites like Shrimp 'n' Grits, Grilled Salmon with seasonal vegetables, and Espresso Short Ribs. The chefs at 11th and Bay cook with locally sourced vegetables, meats, and ingredients so when you eat here, you are getting a true taste of the Chattahoochee Valley.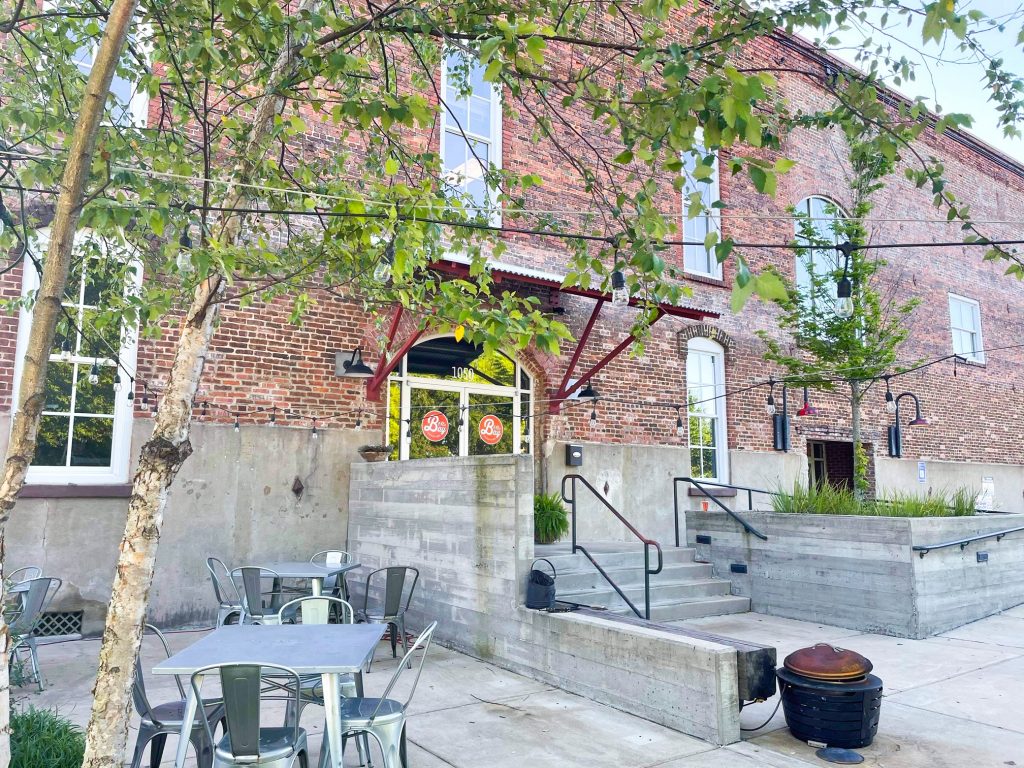 Country's Barbecue
A hometown tradition! Country's has been a Columbus staple since their first location opened in midtown Columbus in 1974. The restaurant has expanded to locations in downtown and north Columbus, so you are never far from delicious barbecue no matter where you are in the city. With an appetizing menu full of home-cooked flavor, Country's is one of the best restaurants in Columbus Georgia.
If you're eating at Country's, you're there for the barbecue – you can get it prepared fresh daily over hickory and oak wood. They feature dishes of barbecue pork, beef, and chicken, which you can get sliced, chopped, or whole with a variety of barbecue sauces to choose from.
In addition to all the tasty barbecue you can eat, Country's also includes many Southern-style vegetables of your choice to include with your meal. Choose from black-eyed peas, butter beans, creamed corn, Brunswick stew, collards, and more to round out your meal!
Jarfly
Located in Columbus' central Midtown neighborhood, Jarfly is the place to be for an outdoor afternoon on their open patio. Jarfly's menu showcases a unique take on classic hamburgers, hot dogs and wings, and also includes a hearty beer and specialty cocktail list, so you can kick your feet up and enjoy a day in the Southern shade.
Everything is special at Jarfly and their starters are no different. Locals love their take on fries that you can't find anywhere else! Try their Korean Fries, loaded with queso, bulgogi, scallions, and kimchi, their Elote Fries, with chicken, cilantro-lime crema, corn, and cotija cheese, or the Potachos, with queso, shredded cheddar, sour cream, scallions, and bacon.
For the main course, you can choose from a diverse selection of unique dishes, like Buffalo Wings, with sauces like Truffalo or White Ghost, Build Your Own Hot Dogs, with specialty fixin's like aioli, banana peppers, bacon, and avocado, and a variety of specialty hamburgers to satisfy your appetite. You can't go wrong at Jarfly, one of the most relaxing restaurants in Columbus Georgia.
Epic
Celebrating a special occasion in Columbus? Make sure to celebrate it at Epic, located right on the Chattahoochee River, and among the best restaurants in Columbus. This is a one-of-a-kind, fine dining experience curated by renowned local chef Jamie Keating. It's sure to be a meal that you won't ever forget.
The menu at Epic is ever-evolving, so you're likely to enjoy a new culinary experience every time you dine there. They offer a pre-fixe four and five-course menu, with specialty dishes like Pecan and Mustard Pork Loin, Blackened Red Fish, and Filet of Beef Au Poivre. When dining at Epic, you are also treated to a specially selected cocktail and wine list to compliment your meal.
If you'd like to get in the kitchen with the chefs as your food is prepared, you can do that at Epic, too! Try eating at the Chef's Table for an amazing foodie adventure, but it must be booked in advance. A vegan menu is also on offer to accommodate all guests.
Saltcellar
Also in downtown Columbus, Saltcellar is the perfect place to go for dinner and show, located steps away from Columbus' Springer Opera House and the RiverCenter for the Performing Arts. With a menu that celebrates a variety of worldwide cuisines, especially featuring seafood, Saltcellar is a one of the most delightful and charming restaurants in Columbus Georgia.
To enjoy the beginnings of your meal at Saltcellar, make sure you start with the Goat Cheese Stuffed Piquillo Peppers, the Jumbo Lump Crab Cakes, or one of the varieties of their specialty flatbreads. As you make your way to the entrees, you will have lots of options to choose from like Moqueca (Brazilian Seafood Stew), southern staple Shrimp and Grits, or Steak and Lobster.
You can also create your own seafood dish, choosing from a seafood favorite like Scottish Salmon or Dayboat Florida Grouper, pairing it with your choice of sauce like Traditional Lemon Butter, Moroccan Chermoula, or Mango Ginger Salsa, and adding a choice of side. It's a meal fit perfectly to your preferences. Who could go wrong with a meal at Saltcellar?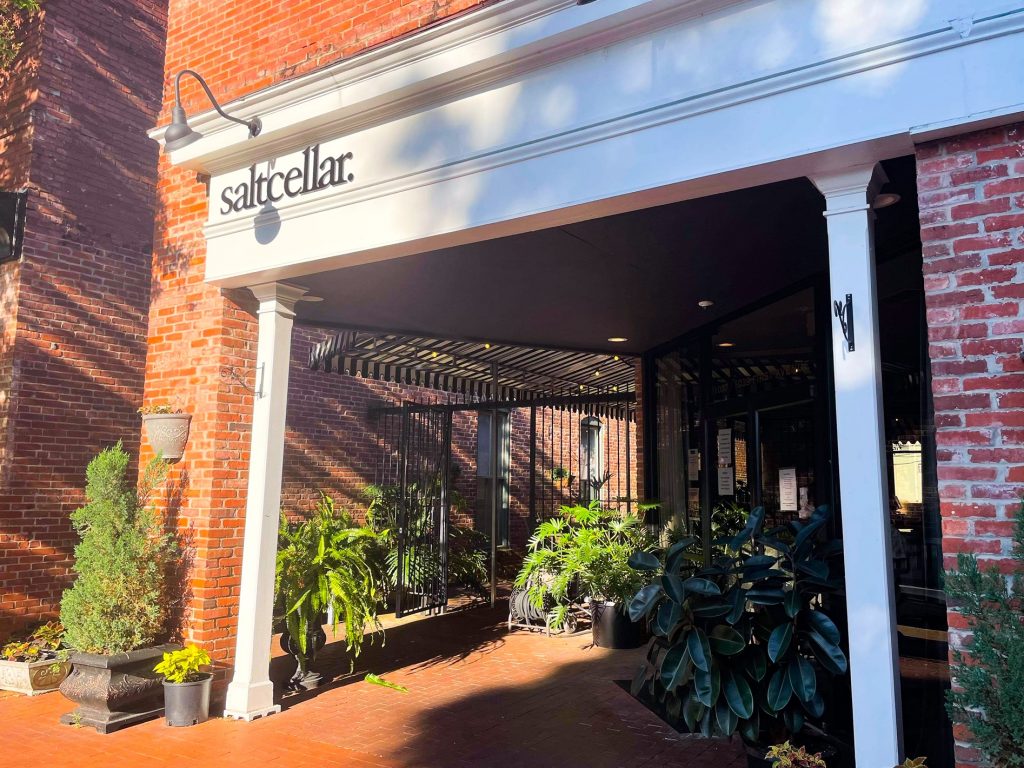 El Carrizo
In the mood for the best Mexican food Columbus has to offer? Look no further than El Carrizo, with two locations in town, to serve you whether you find yourself in the midtown or north Columbus neighborhoods. Bursting with a friendly atmosphere and flavorful Mexican standards, El Carrizo has established itself as one of the best places to eat in Columbus.
Make sure to indulge in their popular cheese dip at the start of your meal, and get ready to enjoy some traditional Mexican favorites cooked to perfection. Known for their Quesadillas and Carne Asada, you can't go wrong with either dish when dining at El Carrizo. You can also enjoy a variety of Mexican dishes like tacos, enchiladas, fajitas, and burritos which can be prepared with your choice of meat and a variety of sauces.
As you enjoy your meal, top it off with a delicious margarita or a glass of sangria, perfectly paired to compliment your meal. If you stop in to El Carrizo, you'll leave with a full belly and a smile on your face.
Cerrone's Brick Oven Pizzeria
Pizza! Pizza! Pizza! The award-winning Cerrone's Brick Oven Pizzeria is the best pizza for miles. Awarded Best Pizza in the Southeast in the International Pizza Challenge, this restaurant is a must-visit on a trip to Columbus. Cerrone's serves a mix of New York and Old-World style pizzas, cooked to order, making this one of the top restaurants in Columbus.
Start your meal at Cerrone's with their yummy Cheese Bread or their signature Caprese with Fresh Burrata. Both are outstanding depending on what you're in the mood for. From there, you can choose from one of Cerrone's specialty pizzas like Smoking Cerrone, with roasted red pepper cream sauce, smoked mozzarella, chopped basil, hand pinched sausage, and red onions, or the Pesto Chicken Artichoke, with fresh mozzarella, house made parmesean cream sauce, oven roasted chicken, crimini mushrooms, red onions, baby spinach, artichoke hearts, and a little bit of house made pesto – perfection!
Know exactly what you like? Then build your own pizza, first choosing from New York or Old World style crust, and layering with the toppings, cheeses and sauces of your choice. And don't forget desert? Cerrone's offers scrumptious Italian bakes like Cannoli and Tiramisu that shouldn't be missed.
Rosehill Seafood and Oyster Bar
Nestled in the heart of Columbus' historic Rosehill neighborhood near downtown, Rosehill Seafood is a Columbus tradition. Famed for its oysters, this popular restaurant fills up quickly for dinner, so it's best to get there early. With an amazing menu of Southern seafood on display, Rosehill is certainly one of the most treasured local restaurants in Columbus Georgia.
If you're a fan of oysters served any style, there is no place like Rosehill to enjoy this delicacy from the sea. You can choose to sit at the oyster bar section of the restaurant, or in the main dining room if you prefer to sample other items on their menu. Apart from oysters, Rosehill offers a variety of fish entrees that you can enjoy either fried or broiled. Choose from fresh catches of mackerel, tilapia, rainbow trout, or catfish, and other fresh fish that rotate on the menu seasonally.
Rosehill also provides many dishes featuring shrimp, scallops, clams, crab, and chicken to round out their seafood (or land food) selections. With decor that transports guests back to days gone by, Rosehill is an original dining experience and is particularly unique to Columbus.
Morten's at Old Town
Located in the Southern Living inspired community Old Town in the north Columbus neighborhood, Morten's at Old Town has a small town restaurant on the square feel, while providing top quality food to visitors. Enjoy fine dining away from the hustle and bustle of downtown and the busy shopping areas of north Columbus. Sit back, relax, and relish this fine dining experience from one of the best restaurants in Columbus.
To begin your meal at Morten's, start with a series of small plates like Charred Octopus or Tuna Poke, or plates from the garden featuring vegetarian dishes like Salpicon Taco or Asian Charred Spring Onion. You won't miss with any of the entrees on the menu at Morten's, with choices like Beef Wellington, Stuffed Fried Eggplant, or Madagascan Prawns, your tastebuds will be delighted no matter what you select.
Morten's also offers specialty cocktails named after Hollywood legends for a charming addition to your meal. Chef Morten, originally from Copenhagen, Denmark, thinks of his creations like edible art. You will, too, after you experience the culinary treats at Morten's.
Plucked Up Chicken and Biscuits
For the best breakfast in Columbus, Plucked Up Chicken and Biscuits is the way to go. Conveniently located in the downtown neighborhood, close to many popular Columbus attractions, Plucked Up is a great place to start your day exploring the city.
Plucked Up will make you feel like you're sitting in your grandma's kitchen just waiting for her mouth-watering biscuits. Speaking of biscuits, they are the most popular item at Plucked Up. Try the traditional Biscuits and Gravy, or go for Plucked Up's signature Biscuit Beignets or the Plucked Up Biscuit with fried chicken and pineapple marmalade. The Chicken and Grits are another favored menu item to get you going for the first meal of the day.
Like to sleep in? Plucked Up is open for lunch, too! While you can order breakfast items throughout the day, lunch is also served into the afternoon. Their Chicken Pot Pie is absolute perfection, or go for a biscuit sandwich like The Chelsea, served with fried chicken, pimento cheese, bacon, and jalapeno jelly. You won't find anything else like it in the region, making this one of the signature restaurants in Columbus Georgia.
The Black Cow
Literally, right around the corner from Plucked Up, The Black Cow restaurant is waiting to host you for dinner. Southern cooking is the specialty here, served with a distinctive Columbus flair. Step into the cozy atmosphere and enjoy a meal cooked just for you!
Starters are standouts at The Black Cow – everything is, as they say, amazin' grazin'! We recommend the Lobster Tots, the Fried Green Tomato and Goat Cheese Tower, or the Creamy Avocado Dip. When it comes time to order the entrees, you will delight in their take on traditional Southern foods. The signature dish is the Bacon Pimento Cheeseburger, topped with pimento cheese, bacon, and jalapeno pepper jelly. Other popular menu items include their Meatloaf and Mrs. Kay's Mandarin Chicken Salad.
Cow Cocktails and Moo Mules are specialty menu items to round off your meal with a delicious beverage. The Black Cow also offers a variety of craft beers, brewed in the state of Georgia. With so many outstanding eats on display, it's easy to see why The Black Cow makes our list for the best restaurants in Columbus Georgia.
While Columbus doesn't have the distinction of being a culinary powerhouse in the Southeast (yet), it is well on it's way, with so many amazing restaurants serving visitors and locals alike. If you're in the mood for outstanding food suiting any palate, you can certainly find it here! After a day spent enjoying Columbus' many outdoor activities or exploring the area's history, you can take comfort in knowing there's a great Columbus restaurant waiting to welcome you no matter where you find yourself in the city. Bon appetit!