Are you looking to hang out at the best beaches in Hilton Head? Well, you have come to the right place because you will get all the details here on how to do just that. Did you know that there Hilton Head is actually an island in South Carolina? So you know that there are plenty of prime-time Hilton Head beaches for you to see.
There is so much more to do in Hilton Head after you are done with your beach day. You can go and check out the food scene or go play a round of golf at the world-class courses in town. There is also a beautiful lighthouse and many interesting museums to visit on the island as well.
Many of these beaches are handicapped and stroller accessible making it so easy for the whole family to come and join in on the fun. You will find places to relax in a laid-back environment or stop by one of the beach bars for a fun day in the sun. Grab your beach hat, sunscreen, and a good book, and get ready to relax on some of the best beaches around Hilton Head island.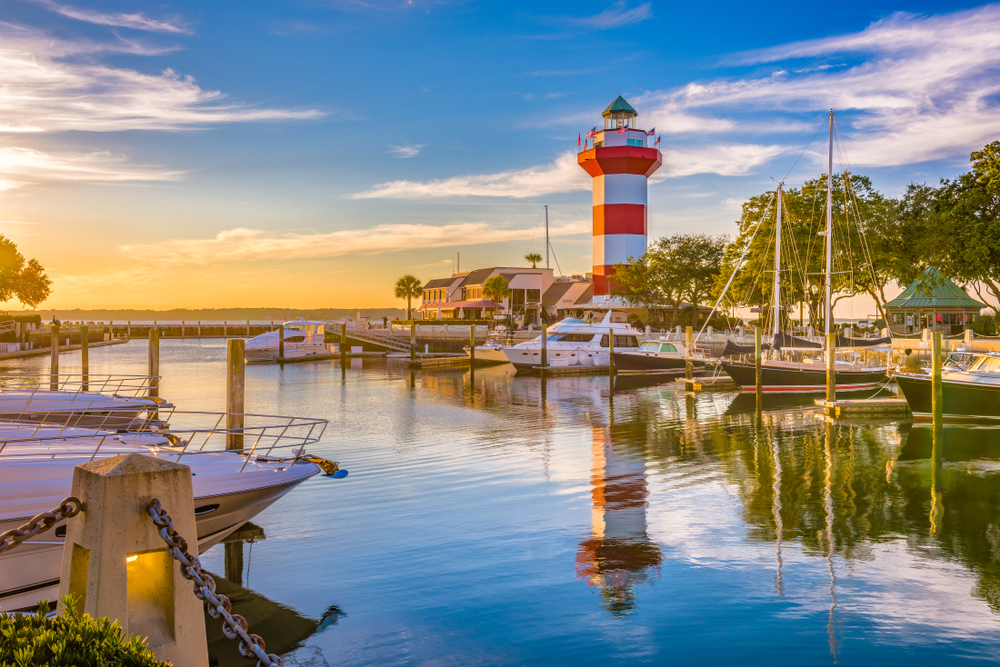 Does Hilton Head have White Sand Beaches?
Yes! Hilton Head has the prettiest white sand beaches for you to lay and play in. The biggest and best beach in Hilton Head has miles and miles of white sand for you to explore. The sand is very thick making it easy to walk on. You will want to keep your shoes on in the summer so you do not burn your feet on hot white sand.
It is the perfect type of sand for sand castles, and any other sculpture you or your child can create. During low tide and on some of these beaches, you will be able to see tide pools in the sand. They are super cool to check out and children love playing in them.
Are Hilton Head Beaches Swimmable?
The best vacation beaches in Hilton Head are very swimmable. They are not only swimmable people but also love to body board, surf, and skim along the waves too.
Many of the beach spots in Hilton Head have lifeguards making them super safe for families. But yes, the beaches in Hilton Head are very swimmable for people of all levels.
Make sure to check out some other Islands In The South like Hilton Head that you can visit without a passport!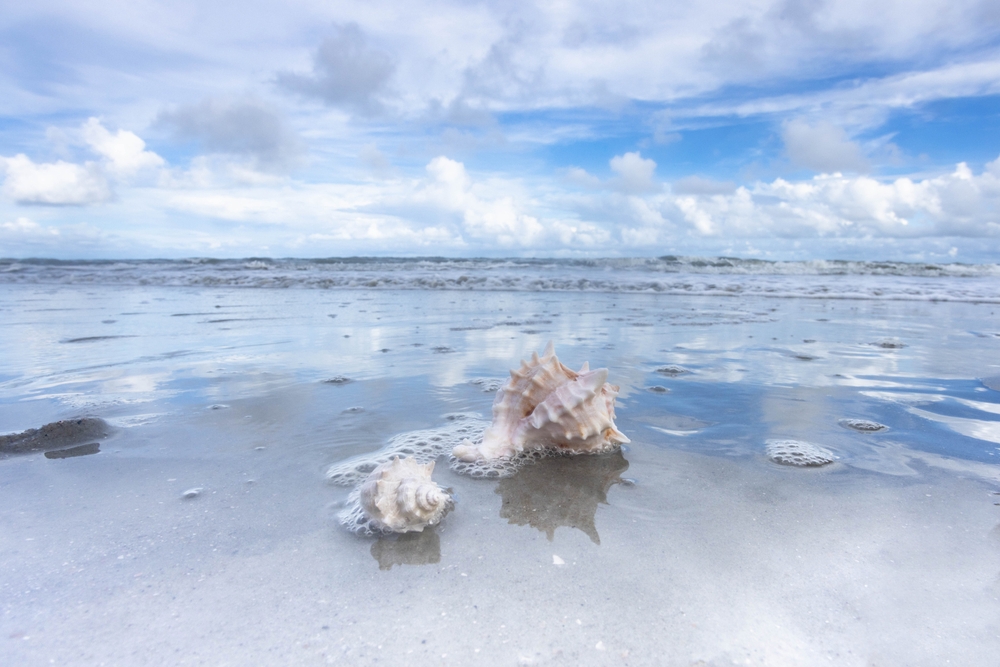 Best Beaches in Hilton Head
Burkes Beach
If you are looking for one of the more quiet Hilton Head beaches then Burkes beach would be the best one for you. There are so many things to do once you arrive. People enjoy shore fishing, surfing, and swimming here. Burkes is one of the most popular beach spots in Hilton Head because it has a big shandy shore to lounge out on.
When you arrive at the parking lot you will see there are less than 20 spots, so most people park down the street at Chaplin community park. Which is also a great place to explore. There you can find tennis and basketball courts, a playground, and a park for your pup to play. They do have public bathrooms and showers as well making it one of the great beaches in Hilton Head for families.
This is one of the best beaches in South Carolina if you are looking for a relaxing visit!
Islanders Beach
At Islanders Beach, you will find everything you need to have the perfect beach day and is one of the best things to do in South Carolina!
When you arrive you will find plenty of parking no matter what time of the day. There is a nice playground for the children to play in and they also have a covered picnic area if you brought your own lunch. This is one of the nicest beaches in Hilton Head because they are handicap accessible.
You will find a long wooden boardwalk that extends into the sand making it a breeze for everyone in the family to have a beach day together. The Islander's beach is always clean and has showers and public bathrooms. It is quite a long walk from your car to the shore so be prepared for that.
It is recommended to pack light or pick up a beach wheel barrel or cart, your back with thank you. If you are visiting you should put Islanders Beach high up on the list of Hilton Head beaches the whole family will love it.
Alder Lane Beach
You can find Alder Lane Beach at the southernmost point of all of the Hilton Head beaches. Here you will find a shady path from the parking lot that will take you to the sandy shore. It is a long walk and you may have to park across the street, but once you arrive it will all be worth it. Be sure to bring quarters for the meters on the street.
It is one of the prettiest beaches in the South!
It is very close to the Marriott Grand Ocean Resort but it is still a public strip of beach. If you get hungry or thirsty you could run to the stocked vending machines, or run over to the Marriott. It has a beach bar that is open to the public. Many people come to hang out on this beach just because of the beach bar and public restrooms. You will love the laid-back vibe of one of the most beautiful beaches in Hilton Head.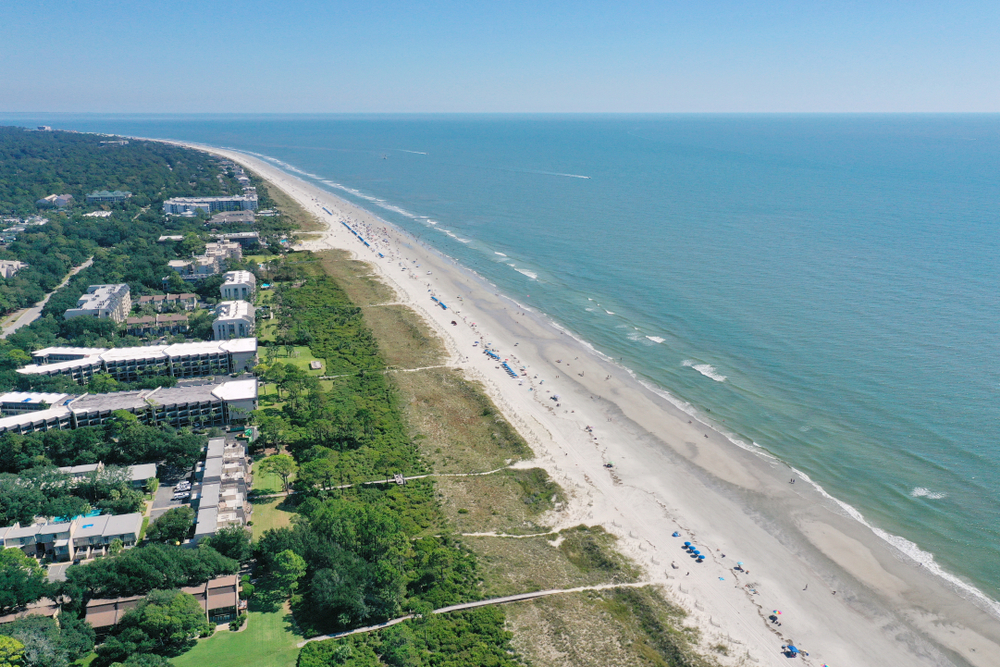 Coligny Beach
Coligny Beach is one of the most popular and biggest beaches of Hilton Head. You will find so much more than just a beach here. There is a beach park for the children, wooden swings for adults, and even free wifi for everyone. You can also find plenty of options for food and beverages along Coligny Beach.
Another reason why Coligny Beach is one of the best beaches in Hilton Head is that they are handicap accessible almost all the way down to the water. You can find free parking across the street and plenty of bike racks to lock up your bicycle.
During the season there are always lifeguards on duty so you can feel safe while your children play in the water. This is one of the prettiest beaches in Hilton Head and there is so much to do you could spend your whole day here.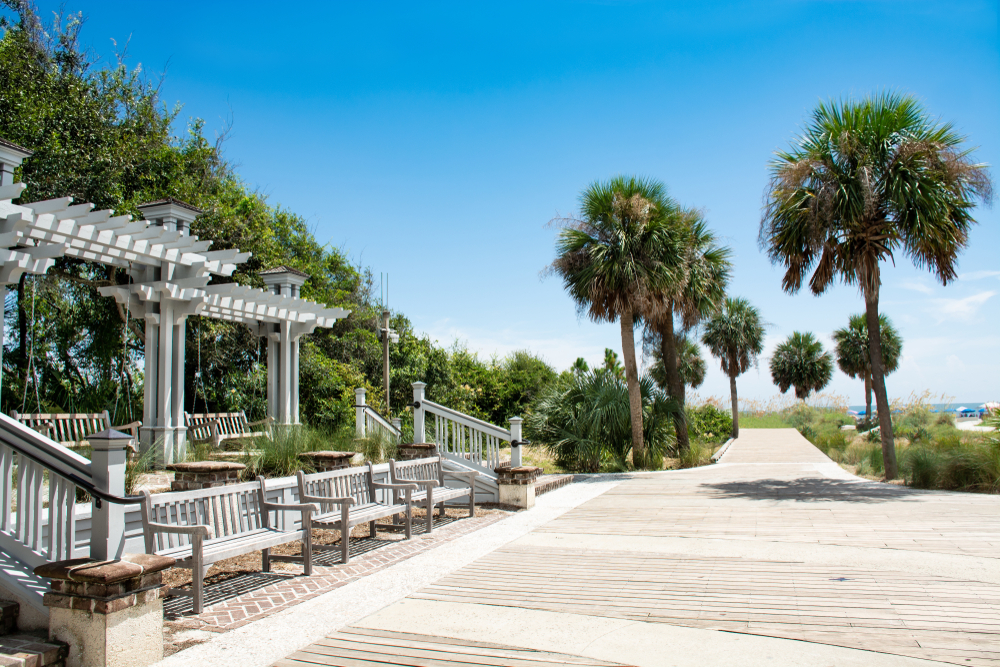 Sea Pines Beach Club
The Sea Pines Beach Club is one of the best Hilton Head beaches to relax on. Here you will find a clean and open beach with beach chairs to rent. If you wanted to have a carefree day at the beach then the Sea Pine Beach Club is the perfect beach spot for you.
There is limited parking here so it might be best to get dropped off here because the lot is reversed for people staying at the Sea Pine Resort. There are always lifeguards here during the summer so you and your family can swim with ease. If you walk a bit down the beach from the restaurant it really opens up and will become less crowded.
There is everything you need at the Sea Pines Beach Club. They have public showers, bathrooms, and picnic tables for everyone to use. If you are looking for the perfect day the Sea Pines Beach Club is the best beach in Hilton Head to check out.
Folly Field Beach Park
The Folly Field Beach Park is one of the most popular Hilton Head beaches for surfers. Here the waves break perfectly and far off the shoreline. There is plenty of shore space so it is also a great place to swim and bodyboard. Folly Field is less crowded than some of the other beach spots in Hilton Head.
There is plenty of parking metered parking here but be sure to bring quarters because you must pay for in change. Folly Feild Beach also has a long boardwalk that is handicap and stroller accessible. Lifeguards are on duty every day in the summer to help keep everyone safe.
Many people find beautiful sand dollars in the sand and on the bottom of the ocean when hanging out at Folly Feild. You will also find bathrooms, showers, and plenty of space to pick a spot and enjoy your day. If you need to rent beach supplies, like a chair or umbrella they will have that available for you as well.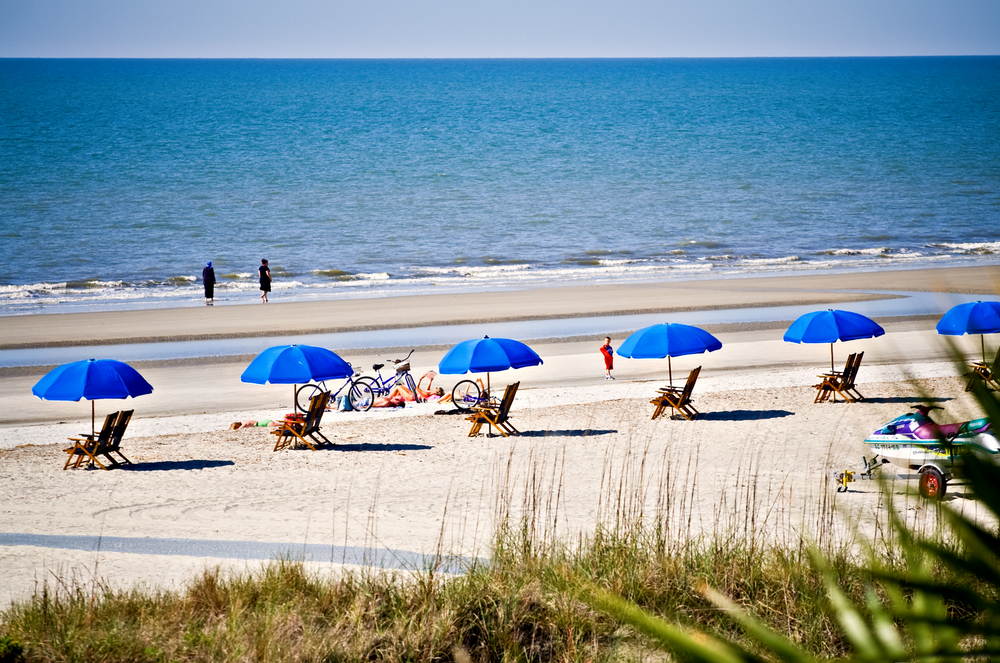 Driessen Beach Park
Driessen Beach Park is one of the most popular beaches near Hilton Head. Here you will see surfers and swimmers alike hanging out in the water. During low tide, there is so much space to walk, run, or hang out in the sand. There is also a wonderful shady playground shaped like a pirate ship for the children to play on.
This section of the beach is super clean and has beautiful water. You will have to pay the meters to park but it is a reasonable price of 50 cents an hour. Public bathrooms and showers are available and they are cleaned regularly. There are also seasonal rentals so you can come to the beach empty-handed and still have an amazing day.
Picnic tables and grills are open to the public. So if you are in town for a celebration or big birthday you can set up camp and have yourself a BBQ. You will love hanging out on one of the best beaches close to Hilton Head.