Are you on the hunt for some of the best things to do in South Carolina? You've come to the right place!
From stunning waterfalls to the Sky Wheel on Myrtle beach (and even a few haunted spots for the more courageous traveler), there's plenty of places to visit in South Carolina. Whether you're visiting with family and seeking some rest and relaxation or you packed your hiking gear and you're ready for some adventure, there are plenty of things to do in South Carolina.
If you're heading to Palmetto State, we've made you a South Carolina bucket list to help you explore this historic state! We wanted to make sure you wouldn't miss out on the best this state has to offer.
Just a warning: some of these must-see spots are spread out around the state, so get ready to jump in the car for some day trips and make sure to pack your favorite road trip snacks.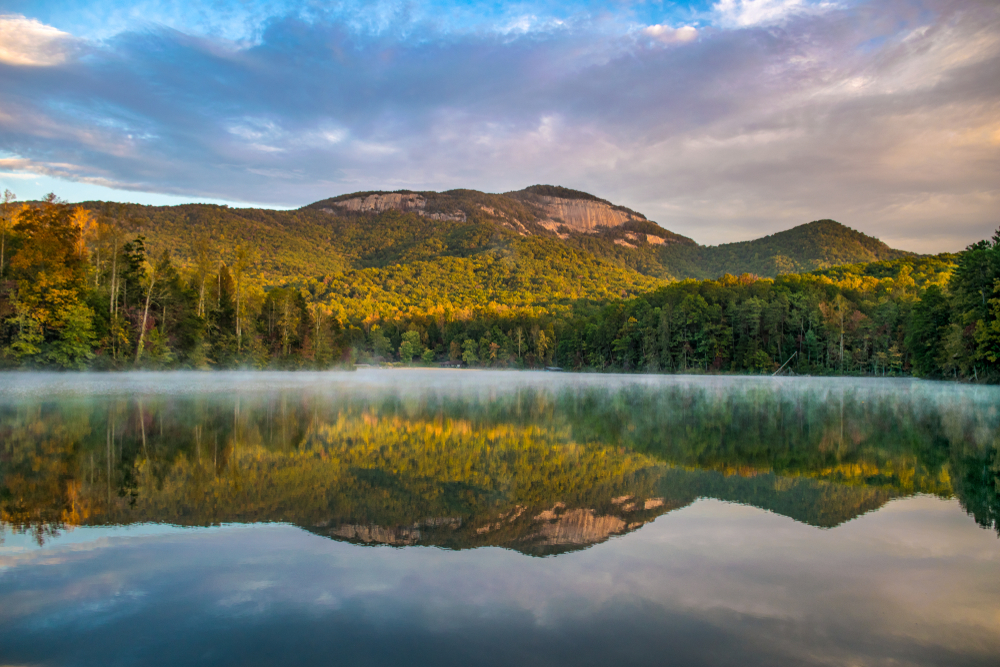 20 Things To Do In South Carolina: The Ultimate Bucket List
Issaqueena Falls
South Carolina has no shortage of stunning natural attractions, from National Parks to Animal Preserves there's plenty this state has to offer and Issaqueena Falls is no exception.
One of the most gorgeous places to visit in South Carolina, the falls are located near Walhalla about an hour west of Greenville, visitors can park at Stumphouse Tunnel Park (make sure you have $5 cash for the entry free dropbox) and take a leisurely 0.3 mile walk to see this 100-foot cascade.
Visiting Issaqueena Falls and the surrounding railroad tunnels from before the Civil War is one of the best things to do in South Carolina with kids. If you're looking to go chasing waterfalls, this is the state for you! Make sure to check out our guide to the best waterfalls in South Carolina.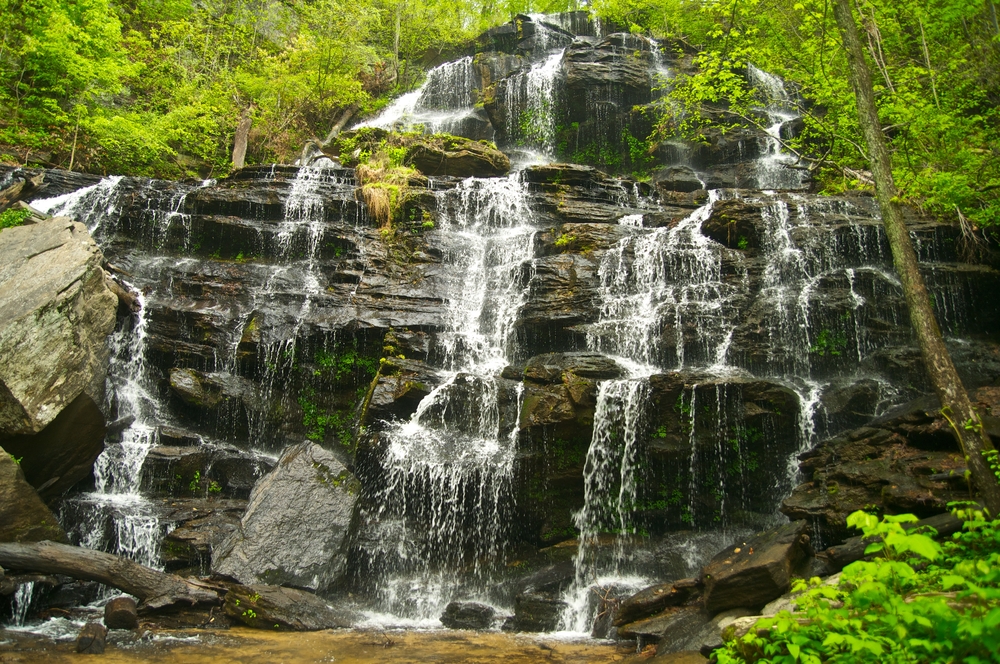 Historic District in Charleston
One of the most fun things to do in Charleston is to take a stroll or a guided carriage tour around the city's Historic District. With more than 1400 historic homes that have graced the city since 1670, there is plenty to admire.
If you take a walking tour of the area you can have the chance to tour some of these stately manors. We recommend visiting the Aiken-Rhett House where the lives of enslaved people who were the backbone of life at the beautiful home are central to the tour of the house. It is perfect to do if you are spending a weekend in Charleston!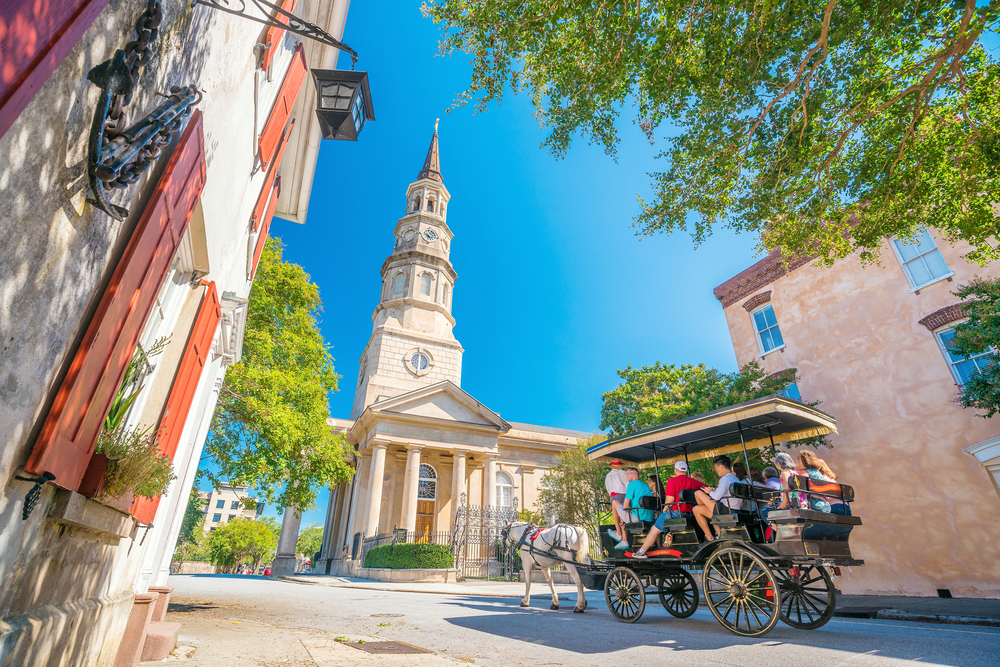 Pinckney Island National Wildlife Refuge
There are plenty of things to do in Hilton Head, but one of the most unique may be visiting this wildlife refuge. With over 4,000 acres of protected land, it's a great spot for the avid (or the beginner) birding enthusiast to spot over 250 different species of birds. If you visit in the summer keep an eye out for the multicolored Painting Bunt, which is a species at risk of endangerment.
Visitors can take a moment to escape the hustle and bustle of Hilton Head and explore 14 miles of peaceful hiking and biking trails in the refuge's salt marshes and maritime forests.
It's a great spot for some unique sightseeing in South Carolina!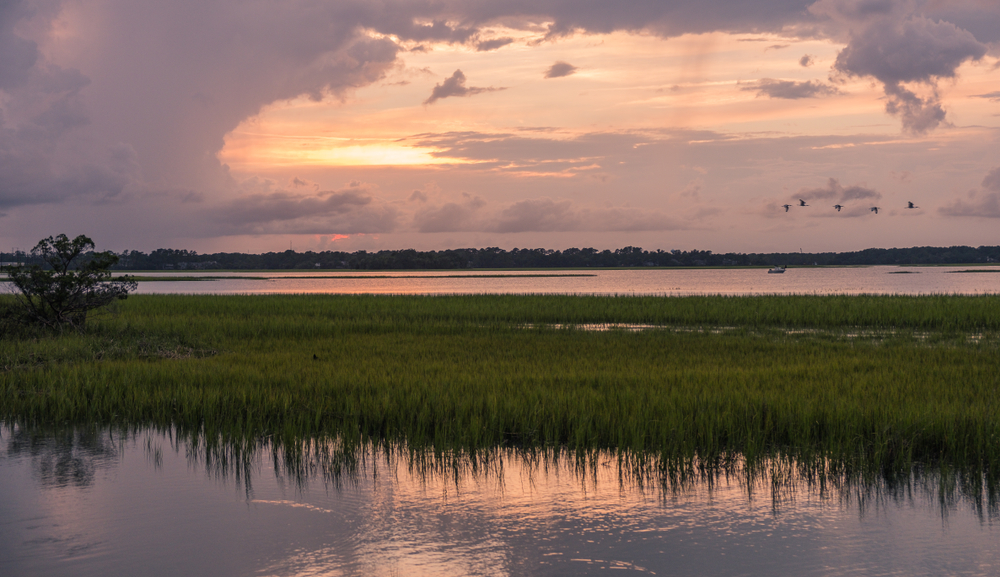 South Carolina State Museum
A visit to the South Carolina State Museum is one of the must-do things to do in Columbia. Since its opening in 1988, the state's biggest museum houses both temporary and permanent state-themed exhibits on four different floors.
Visitors can elso experience a viewing at their 4D theater (complete with vibrating seats and blasts of air), admire the skies from the observatory, and lay back for a show at the planetarium.
Luckily the exhibits you'll want to see are on permanent display! Make sure to check out the megalodon shark sculpture and a life-size replica of the first-ever American-built locomotive. Don't miss out on one of the best things to do in South Carolina with kids.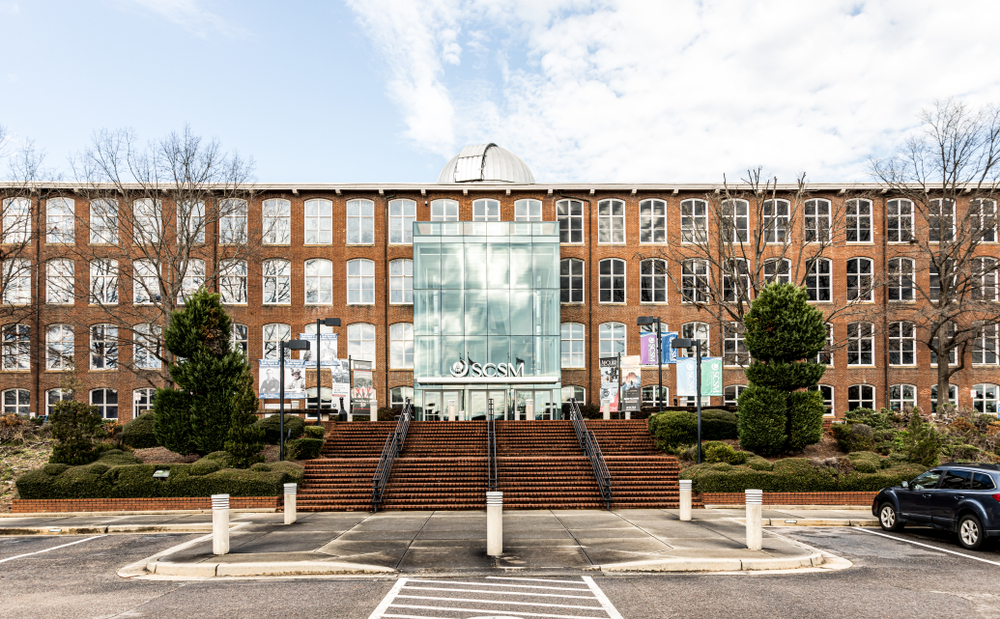 The Angel Oak
Fantasy nerds may not think there is much waiting for them in the Palmetto State, but they would be wrong! This hidden gem on Johns Island is one of the most unique places to visit in South Carolina. You'll definitely feel like you've stepped straight into a fairytale!
The Angel Oak is estimated to be 400-500 years old and has survived many hurricanes, floods, and earthquakes. Its largest branch spans almost 200 feet! Don't miss out on the otherworldly South Carolina attraction waiting for you to step into a fantasy worthy of Middle Earth.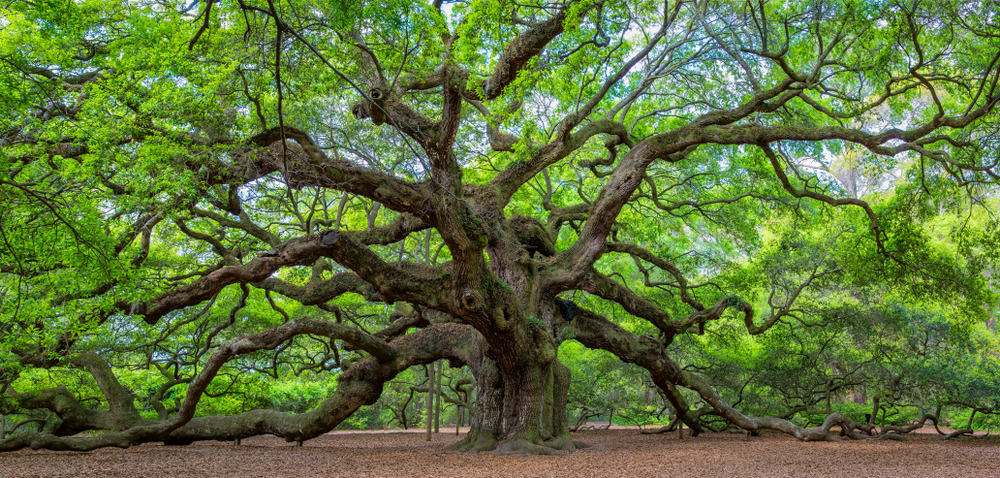 Table Rock State Park
A must-have item on anyone's South Carolina bucket list, Table Rock State Park offers visitors some of the most stunning views during the fall. The oranges and yellows of the turning foliage and the brisk Autumn air are sure to take your breath away.
For a truly awe-inspiring sight head to either Foothills Trail or Pinnacle Mountain Trail to enjoy the best leaf-peeping the park has to offer!
The Park Manager recommends a hike out to Carrick Creek Falls if you're a first-time visitor for a dip in the wading pool beneath the falls in the warmer months.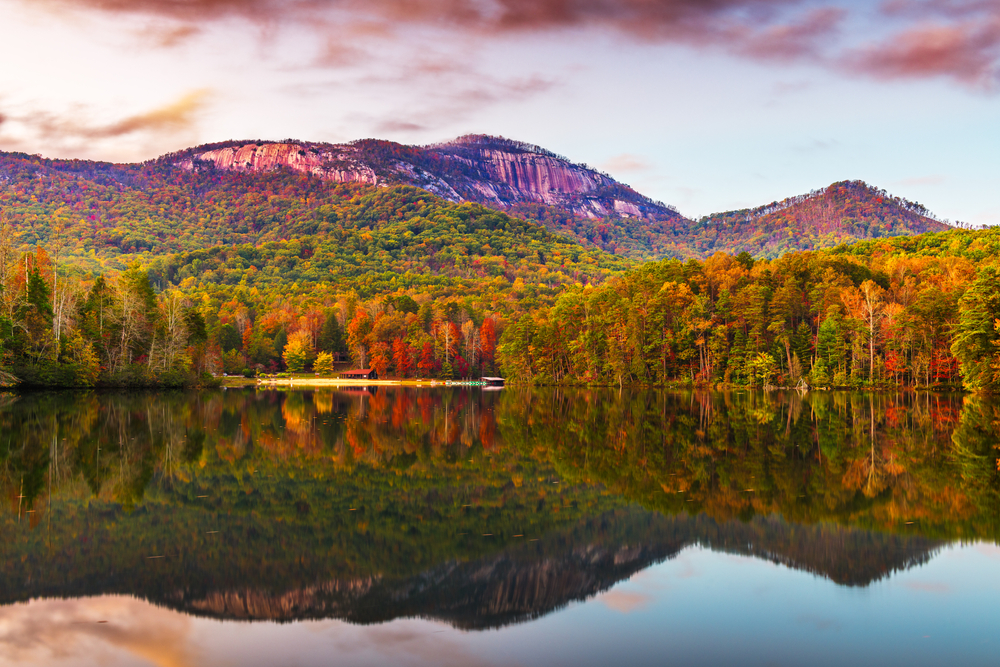 St. Helena Island
Visitors looking for something more spine-chilling to enjoy during the fall months should take a road trip to St. Helena Island. One of the more unique South Carolina tourist attractions, the Chapel of Ease makes for an eerie afternoon of ghostly sightseeing.
The abandoned church is enough to raise the hairs on anyone's necks, but make sure to keep an ear open for mysterious whispered prayers carried on the wind and the sight of a lady shrouded in white strolling among the tombstones with a child in her arms. Can you say spooky?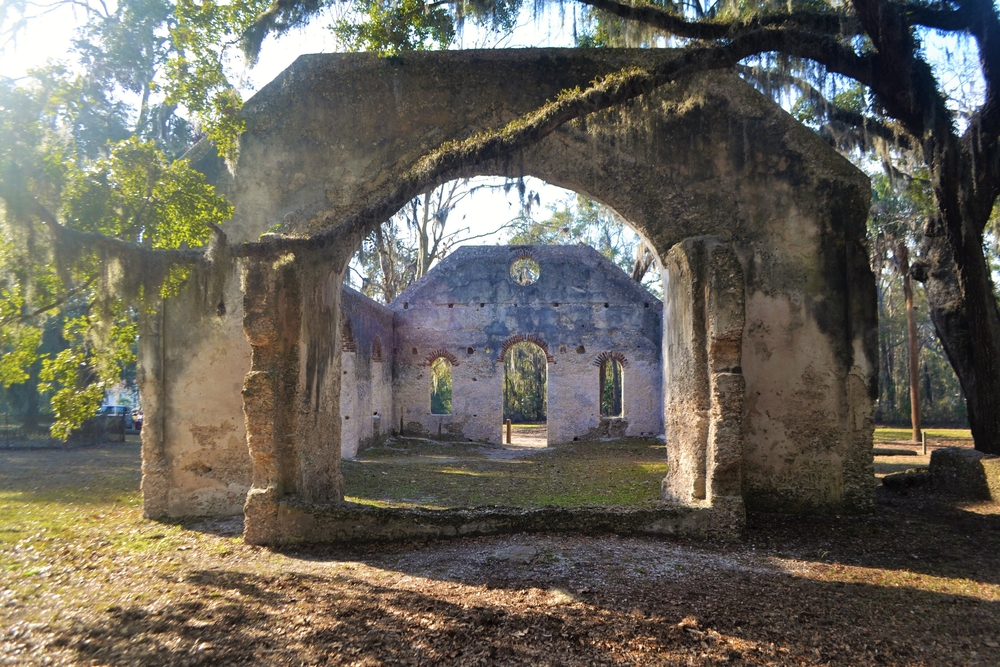 Charleston Tea Garden
As the only tea plantation in North America, this one-of-a-kind South Carolina attraction should be on everyone's South Carolina bucket list. Take a guided trolley tour around the garden and visit the greenhouse to learn about how they cultivating over 320 varieties of tea on 127 acres of land.
While you're on the island, you can also stop by the Angel Tree and Deep Water Vineyard for an afternoon of wine tasting at the only domestic winery in South Carolina. This is definitely one of the best places to visit in South Carolina.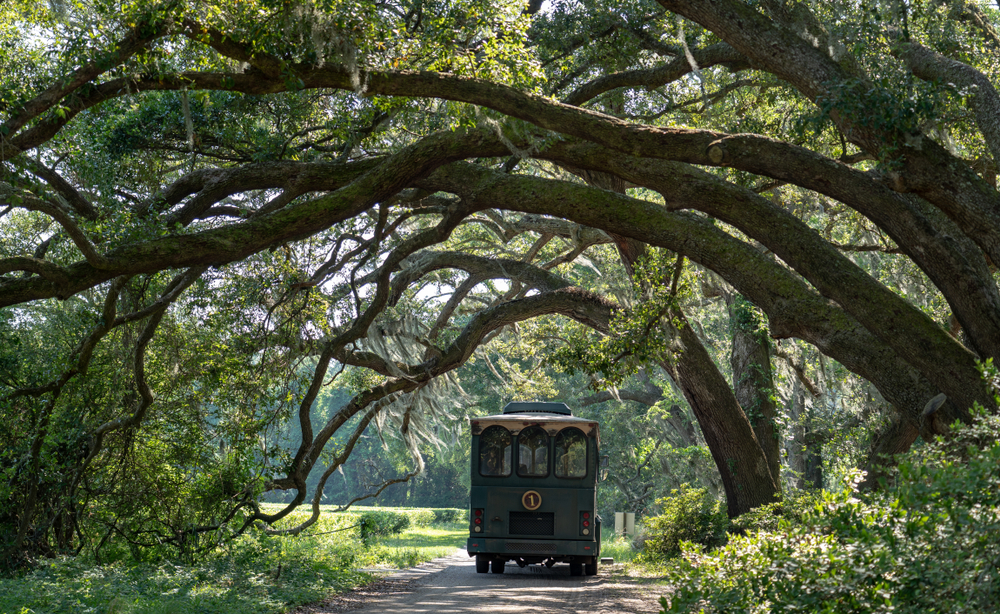 Georgetown Lighthouse
Despite the building not being open to the public, the Georgetown Lighthouse is a must-see South Carolina tourist attraction! The old-timey landmark is only accessible by boat so it's the perfect day activity if you're looking for things to do in South Carolina with kids.
There are a couple of local boat tour companies that will take you out on the water to drive by the 85-foot high tower which has stood in the same spot since the late 1790s. If you've ever wondered what it's like to ride on a shaded 40-ft pontoon boat, this is your chance to find out!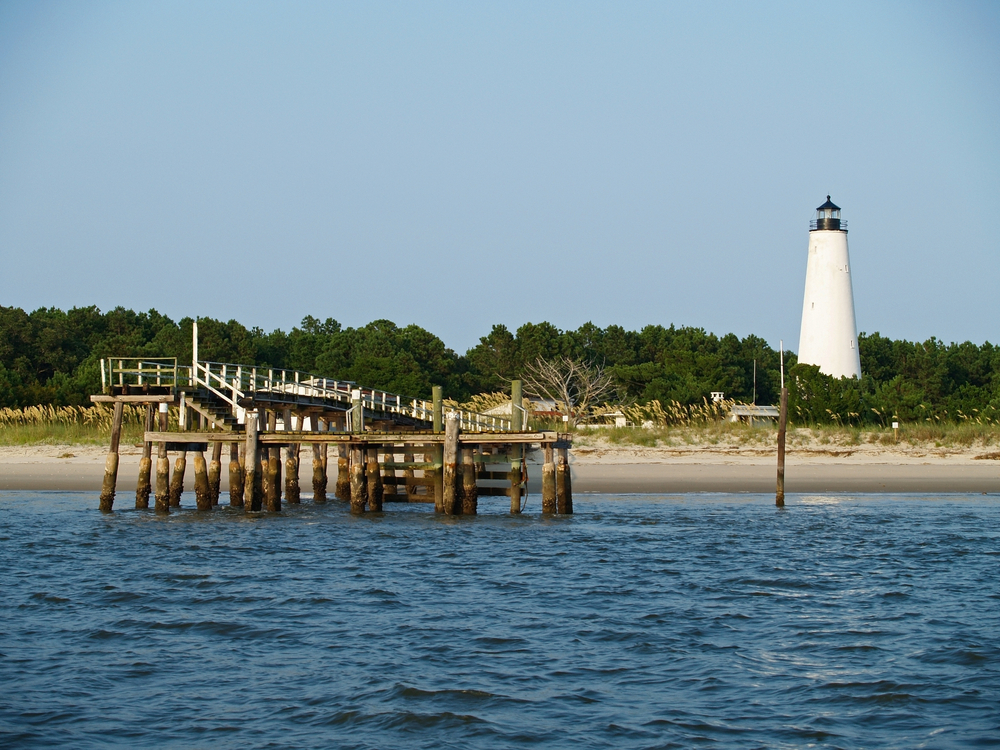 Congaree National Park
If you're a nature lover and looking to get some serious hiking in make South Carolina's only National Park the focus of your trip. Whether you're looking to spend a few nights outdoors camping or just to take a quick day trip and explore the state's wildlife, Congaree is one of the most fun things to do in South Carolina.
You may want to stay around for more than a day to see as much of the park's 11,000 hectares before heading to your next destination. With so much to do from birding to kayaking, it's worth sticking around to explore! For a special treat you can visit the State Park in May for the annual Firefly Festival!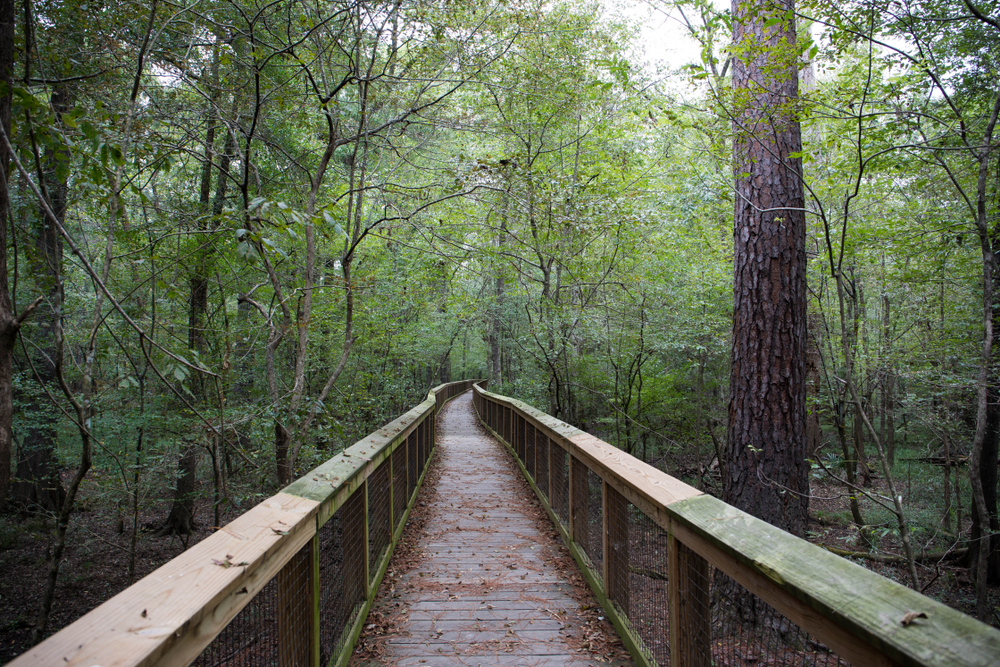 Palmetto Peddlers Antique Mall
Spending an afternoon in Florence? This 38,000 sq. ft treasure trove is one of the must-stop places in South Carolina! Shoppers will be able to find anything from original antiques, unique furniture, jewelry, to funny vintage oil paintings of cats being mischievous and cute.
The mall is conveniently open seven days a week 10am to 6pm, with limited hours on Sundays, and makes a great daytime activity for anyone wanting to see the quirky side of South Carolina.
Palmetto Peddlers also makes a great stop during the hot summer months the temperature is always cool to keep the goodies intact.
Cherokee Foothills Byway
For the wandering traveller we recommend hopping in the car and taking a drive down the idyllic stops on the Cherokee Foothills Byways to enjoy all that sightseeing in South Carolina has to offer.
Start your day in Walhalla, a small town with charm, head to Sassafras Mountain (make sure to stop at some of the scenic overviews), afterwards stop at Campbells Covered Bridge (an idyllic view in the Fall), and finally end the day at Strawberry Hill USA to enjoy some fresh, local produce at this massive farm.
If you're looking for other road trips to can take around the gorgeous state, take a look at our Fun South Carolina Road Trips For Your Bucket List.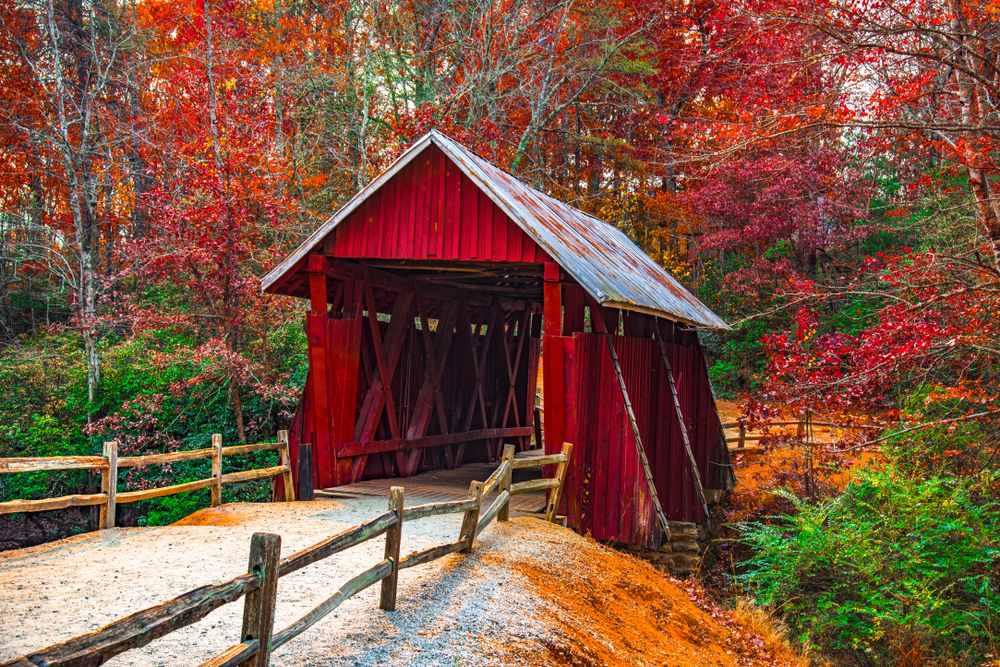 The Citadel
Another cool thing to do in Charleston is to stop by The Citadel which is a public senior military college that has been in the city since 1842. The building was recently rebuilt in 2004 complete with spiral staircases on each side, turrets, and a guard room. Like the Angel Tree, the Citadel will make you feel like you've stepped into a fairytale.
The building is only accessible for students and staff, but the castle-like facade is worth a stop if you've got some time in the city.
Take a look at our roundup of other castles around the South in this roundup of Fairytale Castles In The South USA You Must Visit! Maybe it's time to go castle hunting this summer!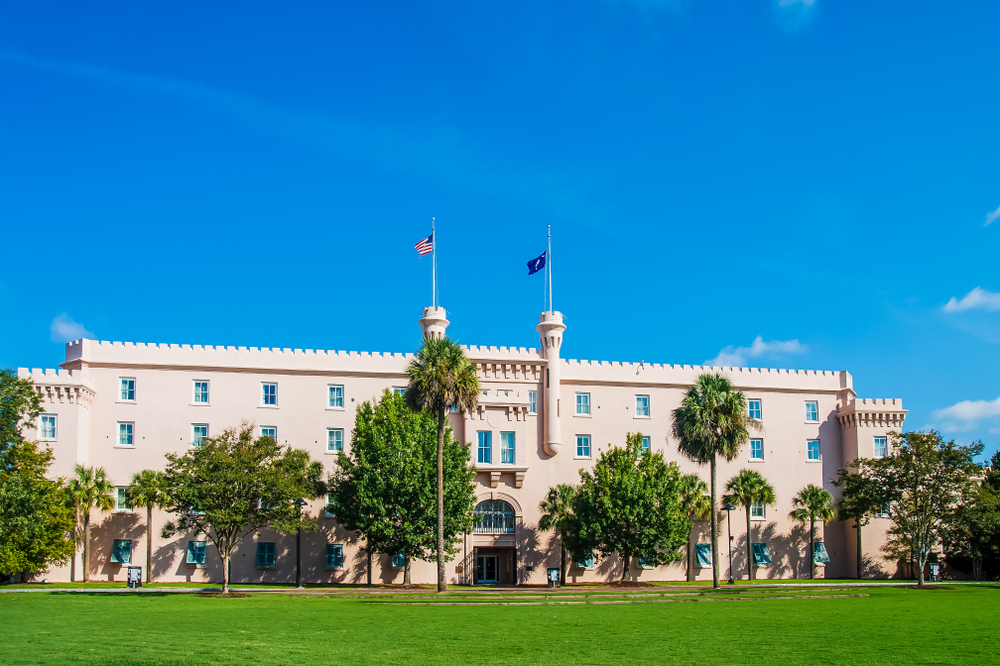 Sky Wheel
One of the most iconic things to do in Myrtle Beach turns 10 this year! Celebrate a decade of fun with a ride on this 200ft-tall South Carolina attraction.
We recommend spending some time by the waves or walking around Myrtle Beach Boardwalk for some delicious vacation food and drinks (it's always a good time for a margarita) before sitting back and marveling at the city from the sky.
You can make sure to buy tickets ahead of time from the Sky Wheel's official website to ensure a ride one of the city's most popular attractions.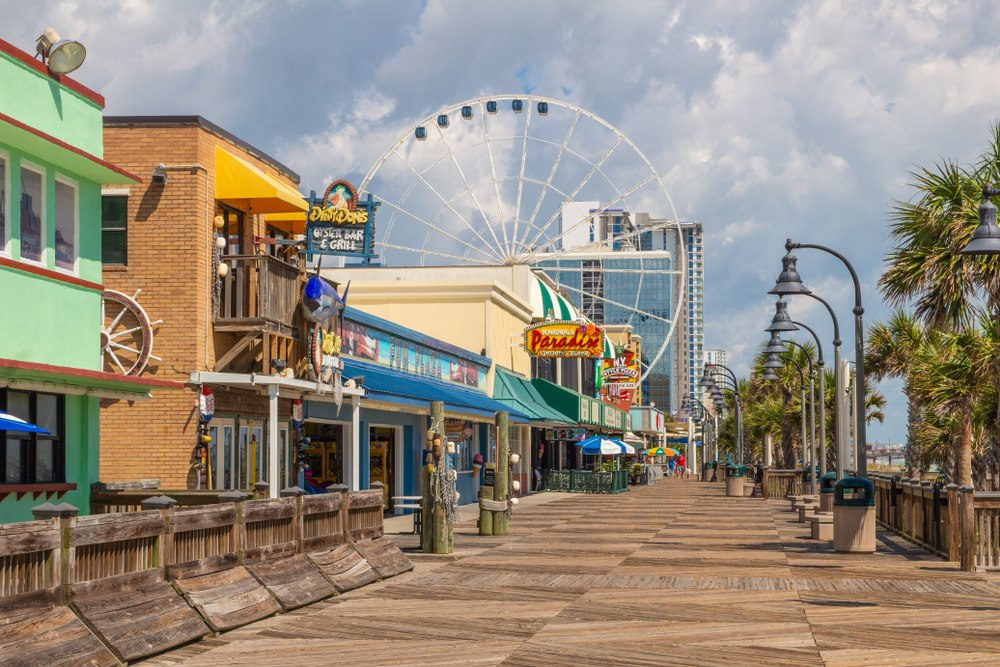 Yogi Bear Honey Fried Chicken
The only remaining survivor of what once was a successful chain all around South Carolina, this nostalgic bastion of a time gone by serves up some of the best fried chicken in all the land. Take a trip to Hartsville, SC and enjoy a "pic-a-nic" basket a-la-Yogi Bear.
The menu still has a lot of the original offerings like the Boo Boo Basket, the Beehive, and the Jellystone Box of Chicken.
You'll know you're at the right place when a giant roadside Yogi bear neon sign greets you! It's definitely one of the most unique South Carolina attractions!
Mountain Bridge Wilderness Area
If you find yourself in South Carolina during autumn, you'll definitely want to stop at the Mountain Bridge Wilderness Area. The views you can take in give the phrase "sightseeing in South Carolina" a whole new definition.
Take a hike to Jones Gap Falls, one of the most beautiful waterfalls in the whole state (keep an eye open for white-tail deers) or stop by Caesars Head for a color-coded trail map and pick one based on your group's preferences.
With over 11,000 acres of beautiful hardwood forest, babbling streams, waterfalls and wildlife any hike or stop will have plenty to offer.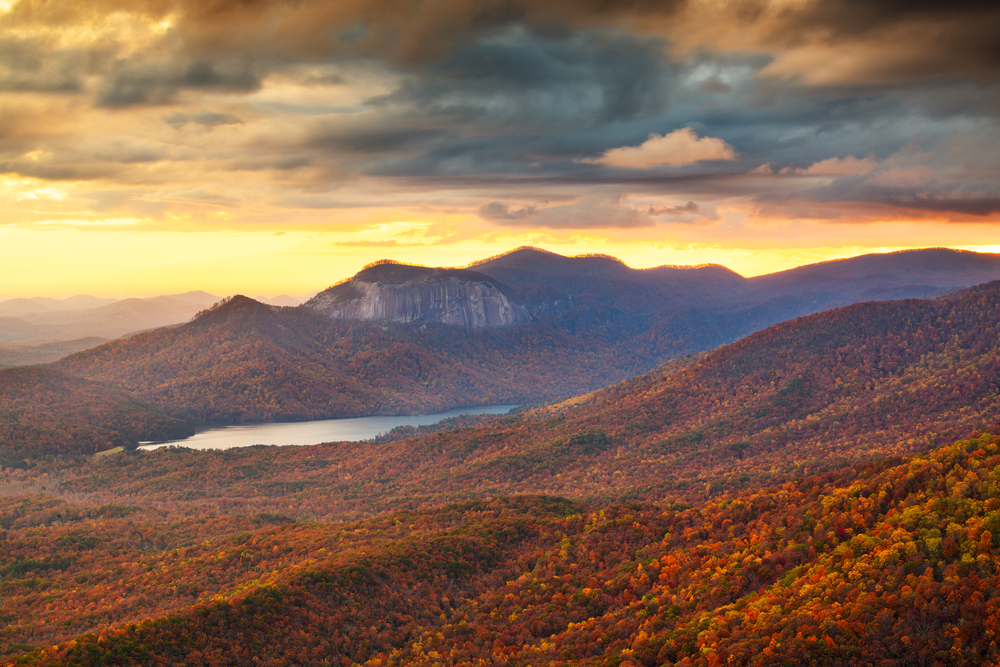 Gullah Museum
One of the most special places to visit in South Carolina, The Gullah Museum and its collection of buildings preserve and interpret the Gullah culture that existed on Hilton Head before 1965 and is unique to the Lowcountry South.
It was established by Louise Miller Cohen, a native islander, who is a direct descendant of the cabin's original owner. She is known to give tours and help visitors learn what life on the island was like before a bridge to the mainland was built in 1956.
Visitors should note that the museum isn't open on holidays.
Brookegreen Gardens
Built on the site of four rice plantations, this sculpture garden collects and preserves original art by American sculptures. With 9,100 acres and plenty of paths to follow visitors won't be surprised to learn that there are about 1,400 original pieces of art to admire.
Open every day from 9:30a.m. to 5p.m., these stunning gardens are divided into three main areas with a complimentary shuttle that takes visitors from one to the next. Want to hear some great news? Entry tickets are valid for 7 consecutive days!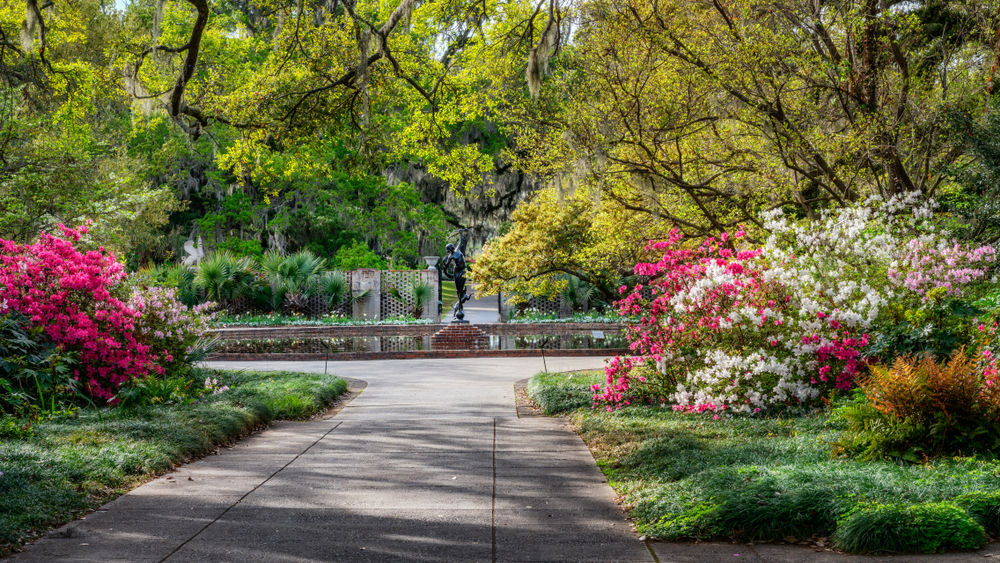 The Ocean Course Golf Kiawah Island
You might not know this, but South Carolina is a well known golf destination! Add a day on the green to your South Carolina bucket list and you'll quickly understand why. The blue skies and calm weather really make a perfect golf setting.
The state has lots of golf courses from which to pick, but The Ocean Course Golf Kiawah Island might be the most special. With its holes right next to the seaside the views from your game will be unforgettable. Make sure to bring your A game because the course's beauty is only rivaled by its difficulty. The seaside breeze is no joke!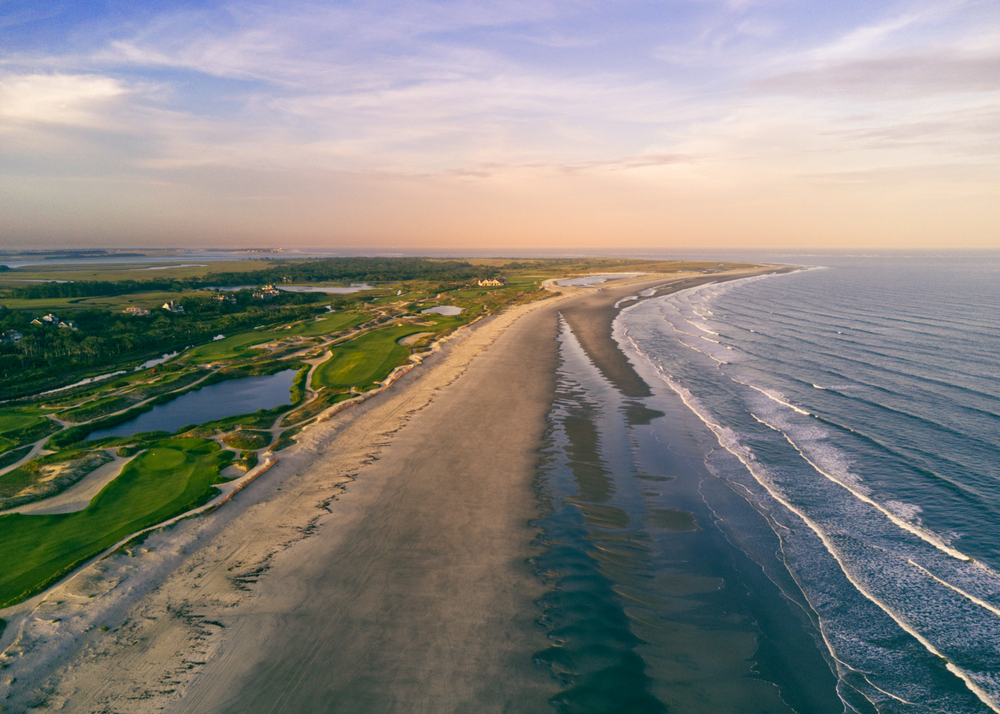 Middleton Place
This stately home is one of the most beautiful South Carolina attractions! From its red brick exterior to the acres to its stable yards, the picturesque scenes shared with visitors do nothing to diminish from it's true history.
As one of the great homes of the past, Middleton Place retells history as accurately as possible and unlike many stately homes in the South they include experiences and realities many would rather ignore. Which is why we recommend you visit and go back in time to learn not only about the family who lived in the house, but just as importantly the enslaved people who made life in Middleton Place possible.
Those who work at Middleton Place all agree that they aspire to share "an essential American experience with a mission" with visitors.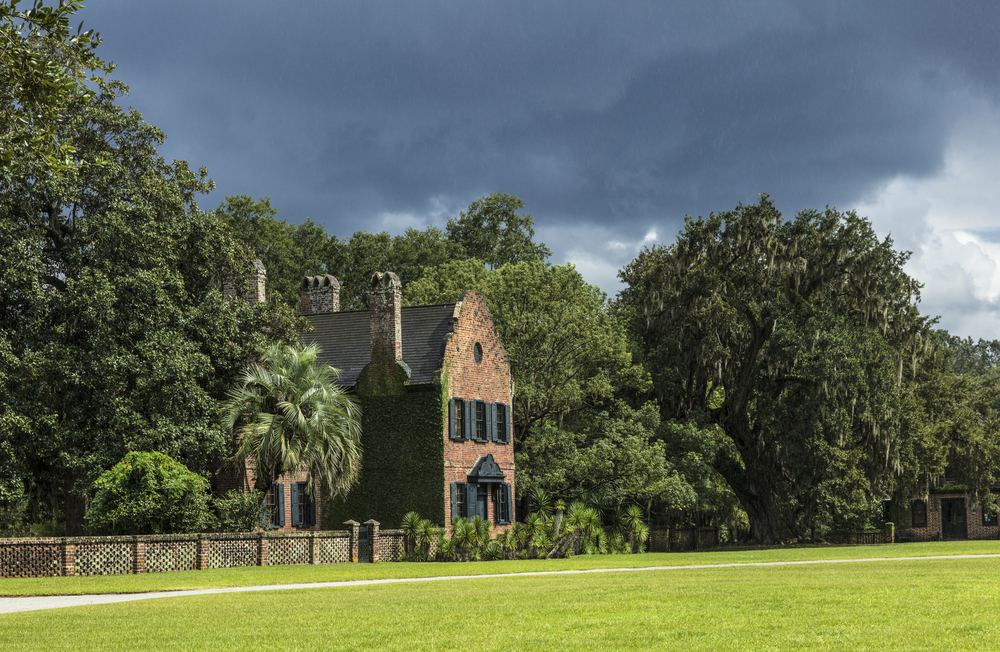 And there it is: our ultimate South Carolina bucket list! From the stunning leaf-peeping opportunities to premiere golf courses, South Carolina has a bit of something to offer any traveler.
You could really spend a lifetime exploring the Palmetto State so if you need a place to start these are the 20 things to do in South Carolina! Check out our list of Best Airbnbs in South Carolina for some of the most unique places you can stay while exploring the state!
We promise South Carolina won't let you down!