Are you looking for the best beaches in the South? You've come to the right place! The southern United States has some of the most pristine beaches in the country. Pristine beaches can be found along the coast of Virginia and all the way down to the Florida Keys, and back up to Padre Island, Texas.

The south has a huge variety of beaches to fit the needs of every type of traveler! There are beaches that are great for shelling, some have ideal surf conditions, some are lively, while others are calm. Whether you're looking for a kid friendly beach, one that offers great day trips, or someplace where you can participate in water sports, you're sure to find a beach to fit your needs as a traveler! Which of these beaches in the south will you visit first?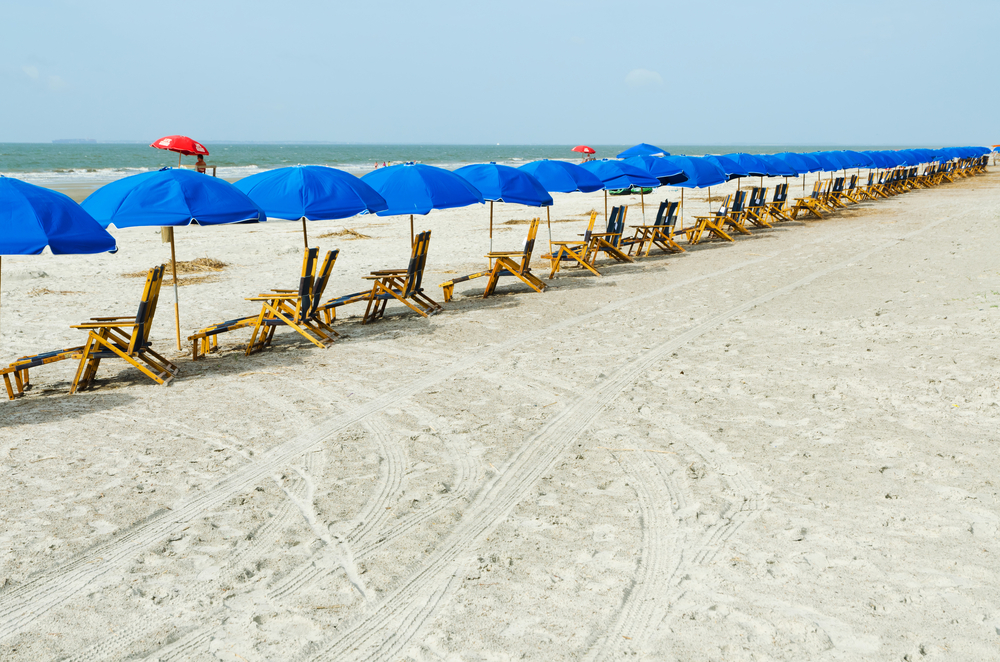 15 Pristine Beaches in The South, USA
Myrtle Beach
Myrtle Beach has sixty miles of sandy beach for you to enjoy and it's a must visit for those on a South Carolina road trip! There are a lot of beach access points for you to choose from.
If you're looking for a spot to surf consider the access at either 67th Avenue North or 27th Avenue South. If you want to be close to a large selection of restaurants and activities, head to the beach next to the boardwalk!
Or if you're more considered about having a lot of space and pristine conditions, head to the beach accesses at Myrtle Beach State Park.
You will also want to check out our list of the Best Beaches In Myrtle Beach!

Famous for their Broadway At The Beach, where they have one of the tallest ferris wheels in the country, Myrtle Beach is a go to for travelers looking for a fun and lively beach experience. It's a good option for family travelers and budget travelers as you can find budget accommodation year around.
An aquarium, wax museum, arcades, putt putt golf courses, and amusement park are all staples that make Myrtle Beach one of the best beaches in the south. Don't forget to check out some of the best things to do in Myrtle Beach during your visit!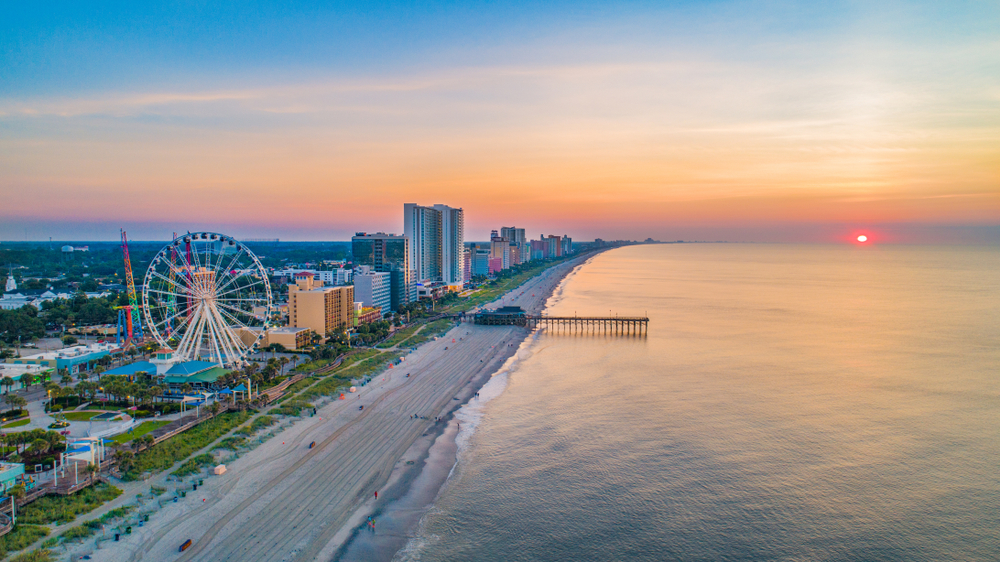 South Beach
South Beach is a stunning beach located on the southern tip of Miami. You will be met with more than two miles of soft white sands and beautiful blue waters on South Beach. If you're looking for a stunning beach in a lively area, this is the beach for you! The area is full of life and you can expect to see people rollerblading, a thriving night life scene, and tons of trendy and quirky fun around every corner.

Shopping, dining, and exploring the beautiful streets are all popular in South Beach. The streets are famous for their art deco buildings. If you want to see the best art deco buildings in South Beach, head to Ocean Drive!

The city has a lot of Spanish influence which can be seen in their architecture and their food. If you want to experience some of the best Spanish cuisine at one of the best beaches in the south, head towards Espanola Way in South Beach.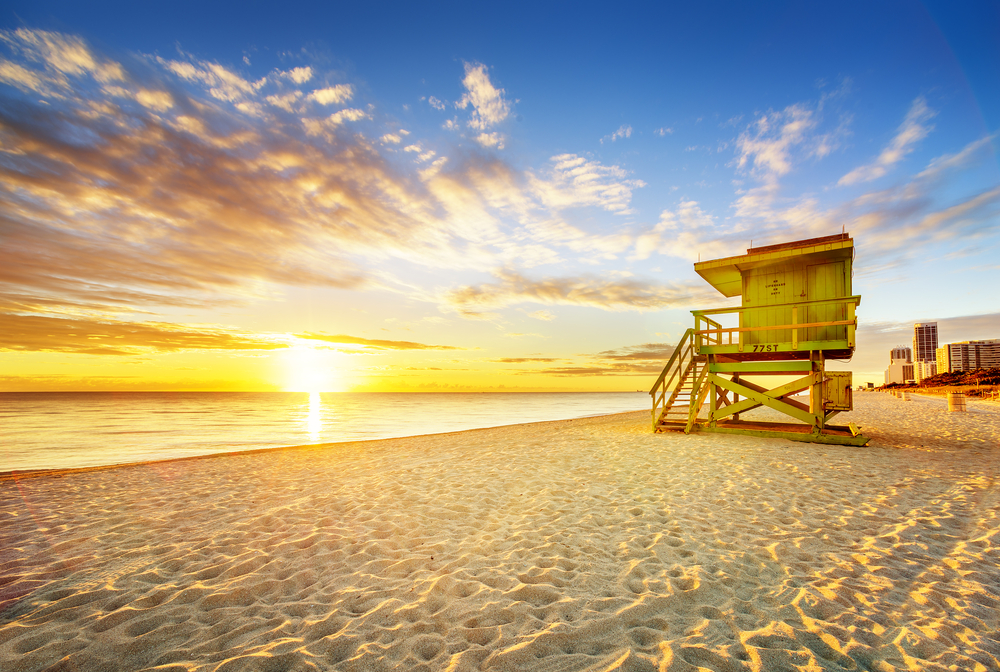 South Swim Beach
South Swim Beach in Dry Tortugas National Park is one of the most pristine beaches in the south! Like most beaches in the park, South Swim Beach is covered in flawless white sand and is met with the gentle waves of stunningly blue water. When visiting South Swim Beach, you will have views of Fort Jefferson as you swim in some of the clearest waters around the park.

You can find some of the best snorkeling in the United States in the Dry Tortugas National Park. You can see living coral and tons of colorful tropical fish in the shallow waters off of the beaches of the park. This makes snorkeling great for those who are afraid of deep water or who are traveling with young kids. You can have an amazing snorkeling experience in only four to seven feet of water!


While in the park you can tour Fort Jefferson, see the Garden Key Lighthouse, and walk over to Bush Key and Long Key. The beach is on a very remote island and can only be accessed by ferry or by seaplane. The most popular way to get South Swim Beach in the Dry Tortugas National Park is via the ferry. The ferry leaves from Key West and it takes a little more than two hours to get to the island. The is your most budget friendly option as the ferry is abut half the price of the seaplane. If you want to stay in the park for more than a few hours, you can camp on the island. Dry Tortugas is one of the coolest places to camp in the southern United States!
James Lee Beach
One of the most stunning beaches in the south is located on the Florida panhandle. James Lee Beach is in Destin, Florida and has sparkling white sands and breathtaking blue water that draws millions of visitors every year. You can lay on the soft sand, swim in the crystal blue waters, and play until your heart's content on James Lee Beach.

You will not be at a loss for things to do when visiting James Lee Beach. You can head over to the Henderson State Park, visit a waterpark, take a snorkel or dolphin tour, and much more! About twenty minutes west of James Lee Beach is the Destin Harbor Boardwalk. This is one of the most popular things to do in Destin and it has an amazing atmosphere. You can find live music, dancing, restaurants, and after dark it turns into one of the best nightlife locations in Destin.

Destin is also known for it's sandbar off the west coast of the city. It's called Crab Island is one of the best things to do around James Lee Beach. You rent a boat to drive out to this sand bar or hire someone to take you out to it. The water is only knee to waist high depending in the time and area that you're in. You can wade through the waters, swim, snorkel, and even swim up to a floating shop selling treats or drinks.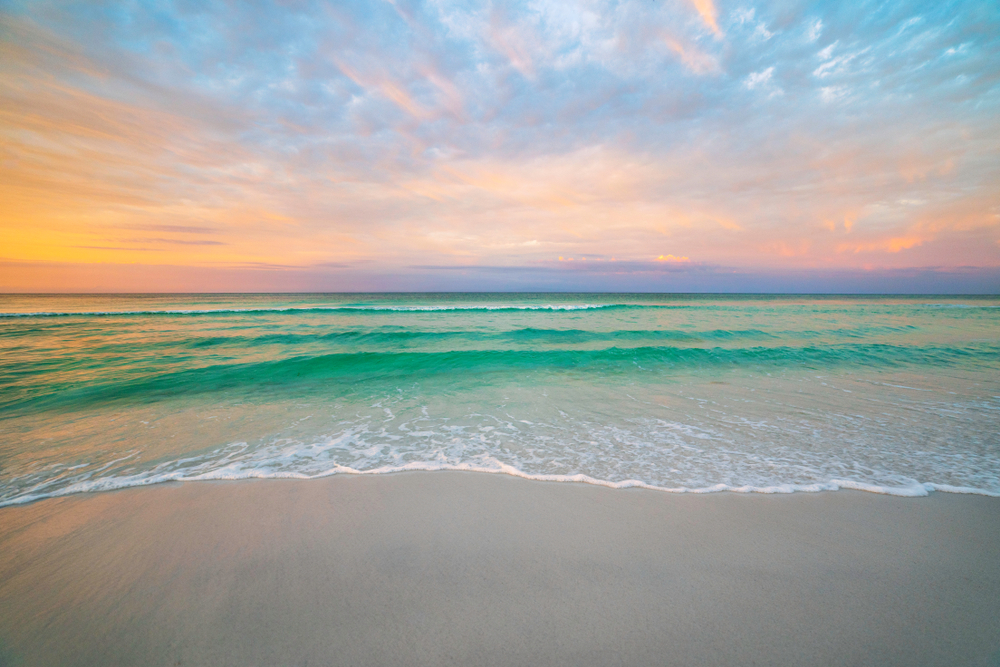 Biloxi Beach
Situated on the Gulf of Mexico, Biloxi Beach is not only one of the best beaches to visit in Mississippi, but it's one of the best beaches in the south! With soft sandy beaches and calm waters due to the barrier islands off shore, Biloxi Beach is great for those traveling with kids or those who prefer calm waters.

Biloxi offers spectacular sunsets and is a seafood lovers dream. You can find seafood restaurants scattered all along Biloxi Beach and the Biloxi coast as a whole. One of the most popular things to do in Biloxi is gamble. You will find casinos around every corner, but there's also a lot of other options of things to do around Biloxi Beach too. You can visit the Biloxi Lighthouse, visit art museums, go on shrimping excursions, hike, shop, and visit barrier islands as well!
Biloxi is also home to some of the best Resorts In Mississippi, including beachfront ones!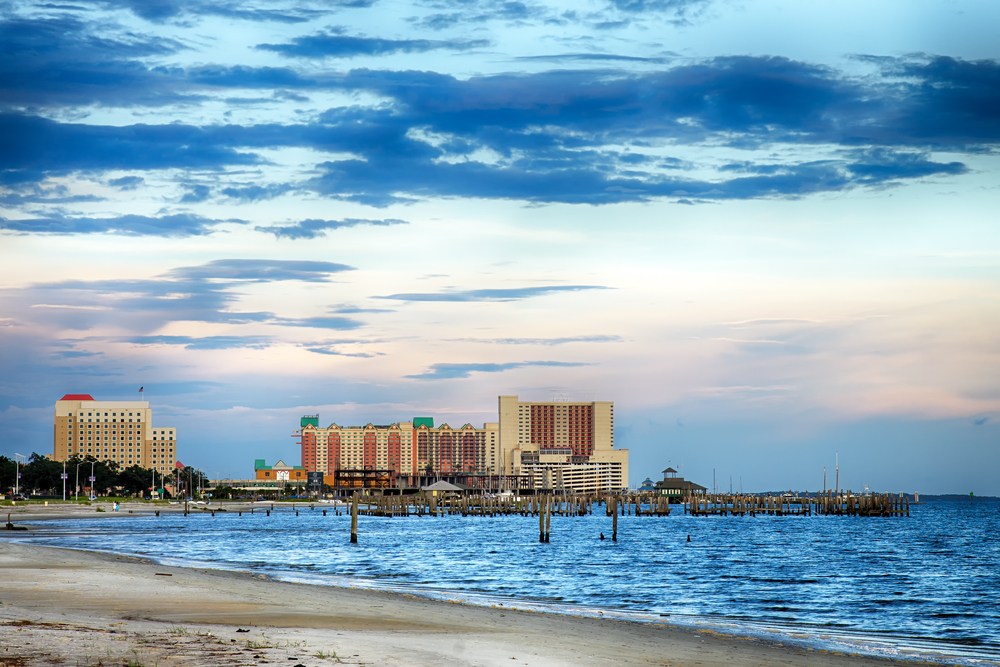 Tybee Island Beach
Tybee Island is known for playing a big roll in the history of the southeastern United States and because of this, historical sites can be found all along the coast of Tybee Island. You can visit the Tybee Island Lighthouse, Cockspur Island Lighthouse, Fort Screven, and Fort Pulaski to experience a bit of history while you're in the area. There are also parks, kayaking and paddle boarding opportunities, and hiking trails as well. This is truly one of the best beach towns in Georgia!

The beach on Tybee Island is split up into three main sections: North, Mid, and South. North Beach is usually less crowded, has shallow waters, is a great place for sunrise and sunset walks, and is home to the Tybee Island Lighthouse. Mid Beach is expansive and is a great place for shelling on low tides. Then, you have South Beach which is great for shopping, easy access to restaurants, and the Tybee Island Fishing Pier. The variety along Tybee Island Beach makes it one of the best beaches in the south!

Tybee Island is also a popular day trip from Savannah, Georgia. On the other hand, if you have plans to visit Tybee Island, a day trip to Savannah is a must! The city is full of life, cobblestone and brick streets, and beautiful historic homes!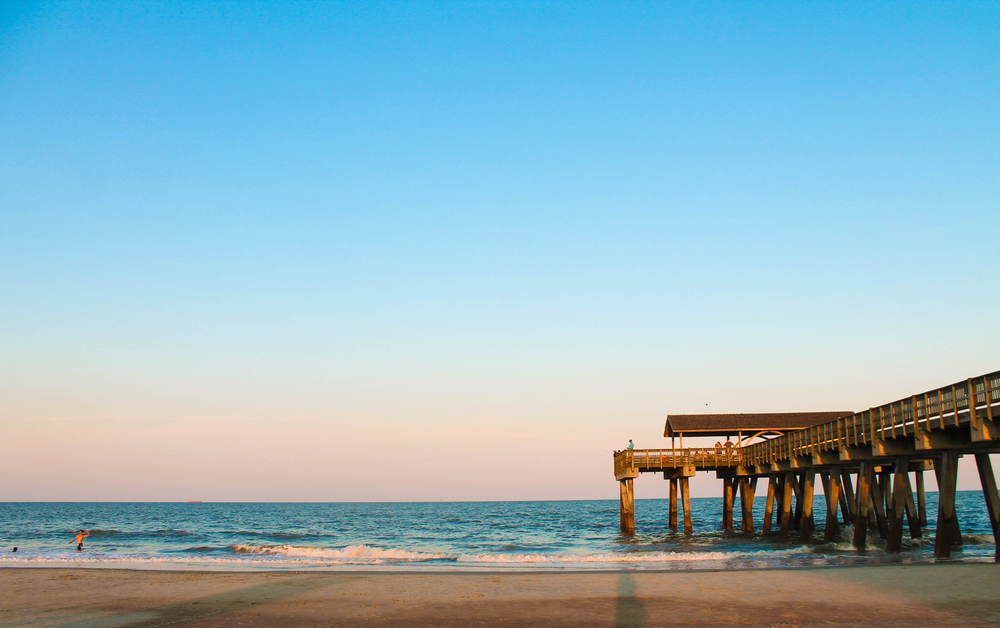 Virginia Beach
One of the best beaches in the south for families, history enthusiasts, and budget travelers, Virginia Beach is full of beauty and adventure and makes for a great weekend getaway in Virginia! The beach is stunning and is quite wide, offering a space for everyone along the shore. If you're looking for the least crowded section of beach, head to one of the northern beach accesses. The town of Virginia Beach is a place where you will have no trouble at all finding fun and exciting things to do while visiting.

You can visit the aquarium, aviation museum, Cape Henry Lighthouse, walk the Virginia Beach Boardwalk, or visit one of the many maritime parks. The First Landing State Park and the Back Bay National Wildlife Refuge both offer stunning trails along the waters of Virginia Beach. Whale watching tours, chartered fishing trips and beach cycling are all popular activities in the area as well.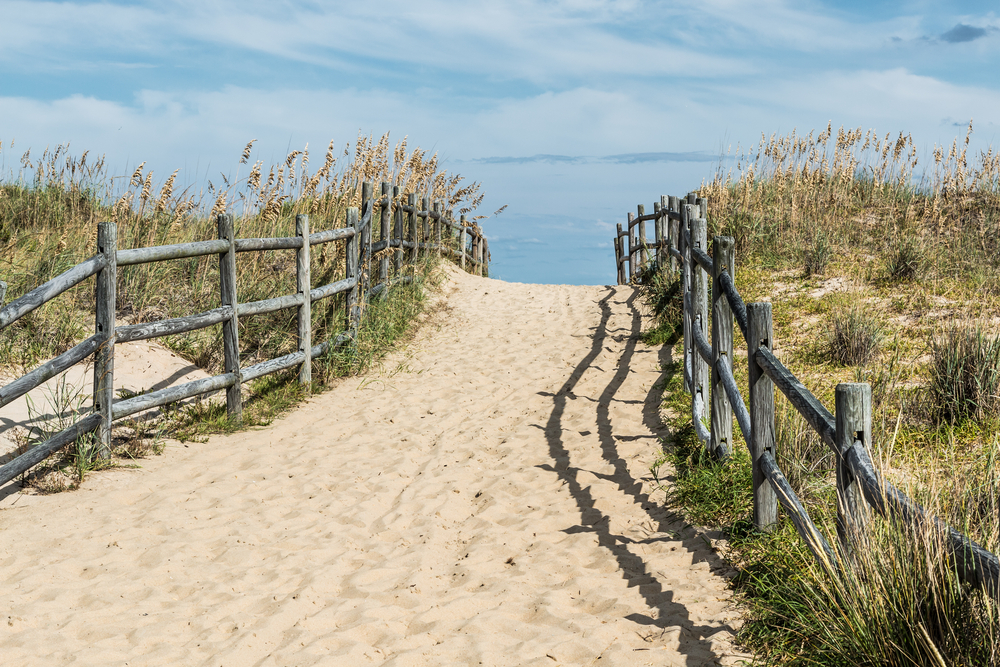 Driftwood Beach
Driftwood beach is a soft, sandy beach in the Golden Isles of Georgia that is covered in, you guessed it, driftwood. More specifically, the beach is located on the historical and beautiful, Jekyll Island. Jekyll Island is one of the cutest small towns in Georgia!

Driftwood Beach gets a lot of visitors for the purpose of photography as it is one of the prettiest beaches in the south! If you're looking to take amazing travel photos, this beach is for you! There is so much to do around Driftwood Beach in Jekyll Island! You can visit the Georgia Sea Turtle Center, the Horton House, and the Jekyll Island State Park.

The other Golden Isles are close by and also offer beautiful and historical sites for visitors. To the north is St. Simons Island that has a popular island pier, parks, and the St. Simons Island Lighthouse Museum. Then, you can head northeast of Jekyll Island to visit Brunswick which is known for their rum and boardwalk!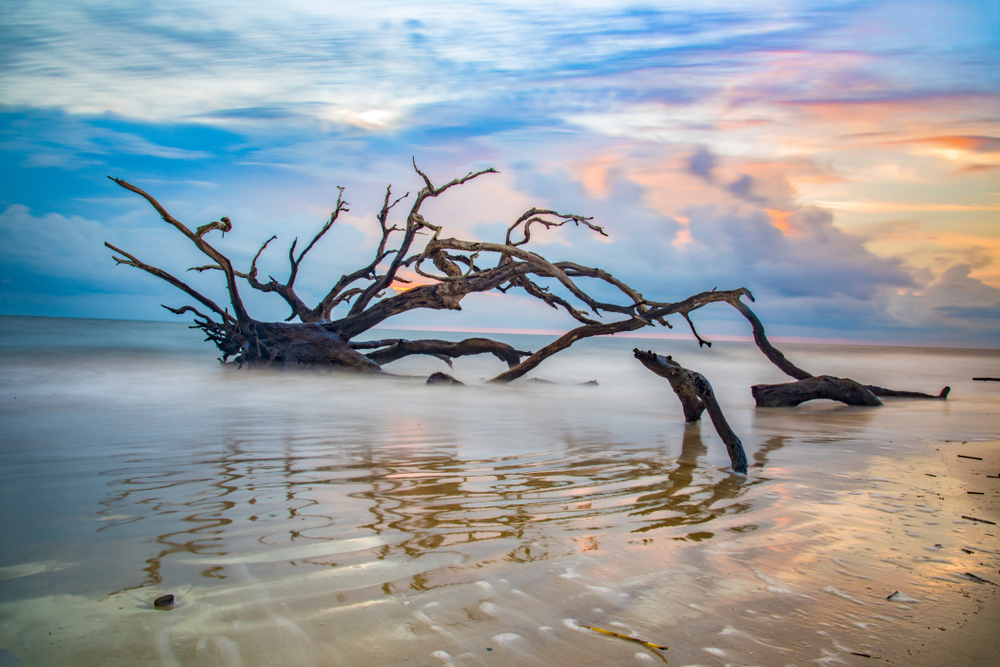 Bahia Honda Beach
Bahia Honda is an island in south Florida. The blue and white of the water and sand on Bahia Honda will blow you away! Popular sections of beach in the area include the Culusa Beach and Loggerhead Beach, as well as Sandspur Beach. For nature lovers and adventures, head to the Bahia Honda State Parl. Camping and kayaking in the park is common as the water is quite calm.

As a part of the Florida Keys, Bahia Honda is surrounded by coral reefs and perfect snorkeling locations. Snorkeling and boat tours around Bahia Honda are popular, as is stand up paddle boarding and kayaking as well!

Bahia Honda is located more than half way down the Florida Keys and is in between Marathon and Big Pine Key. The keys are so close together, making day trips very easy. Marathon and Big Pine Key are ideal day trips for animal lovers or those traveling with kids as they are home to the Dolphin Research Center, a Turtle Refuge, and the National Key Deer Refuge Nature Center.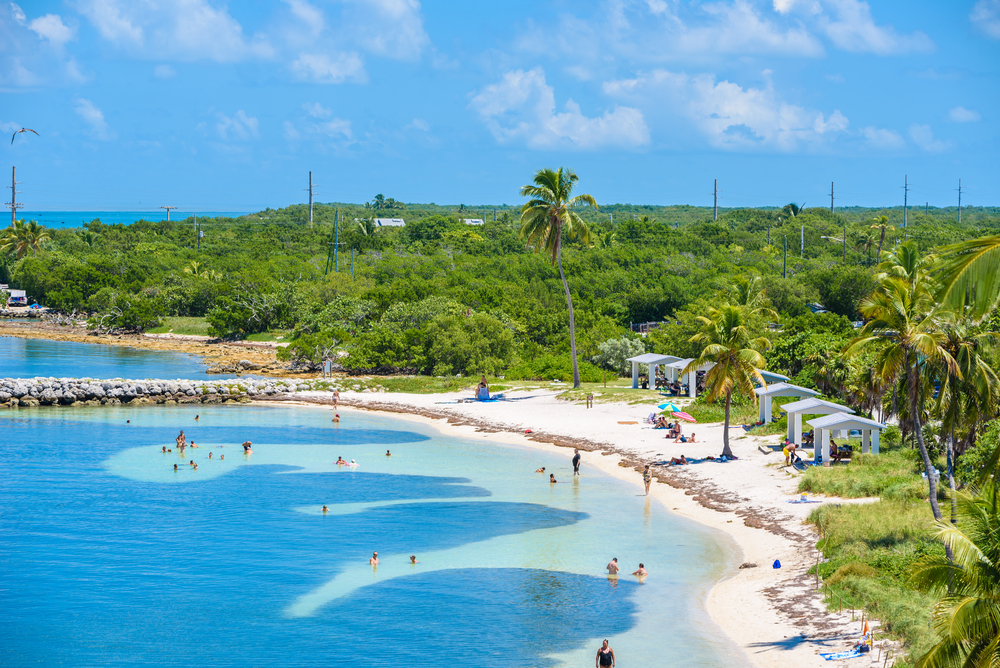 Galveston Beach
Galveston Beach is located in the city of Galveston and is one of the best beaches in Texas! The beach itself has been ranked as one of the best beaches in the southeast for family travelers by many publications. There is room for sports and games in the sand and visitors love that they are able to drive their vehicles right onto the beach.

Galveston offers a waterpark, amusement park, and a historic pier to its visitors. The pier has games, shops, views over the water, and a variety of rides that are suitable for young kids all the way up to adults. For history buffs, the Galveston Railroad Museum, Moody Mansion, and the historic 1877 Tall Ship ELISSa are all perfect attractions to visit while you're visiting Stewart Beach.

You could easily spend a week exploring the entire Galveston Island. Lighthouses, extreme water sports, an aquarium, museums, forts, and many other attractions are all available to visitors to the island. Less than fifteen minutes from Galveston beach is the Galveston Island State Park. This is a must visit when you're in the area! There are sandy areas, picnic tables, hiking trails along the water, and it's also a great place to camp near Galveston Beach.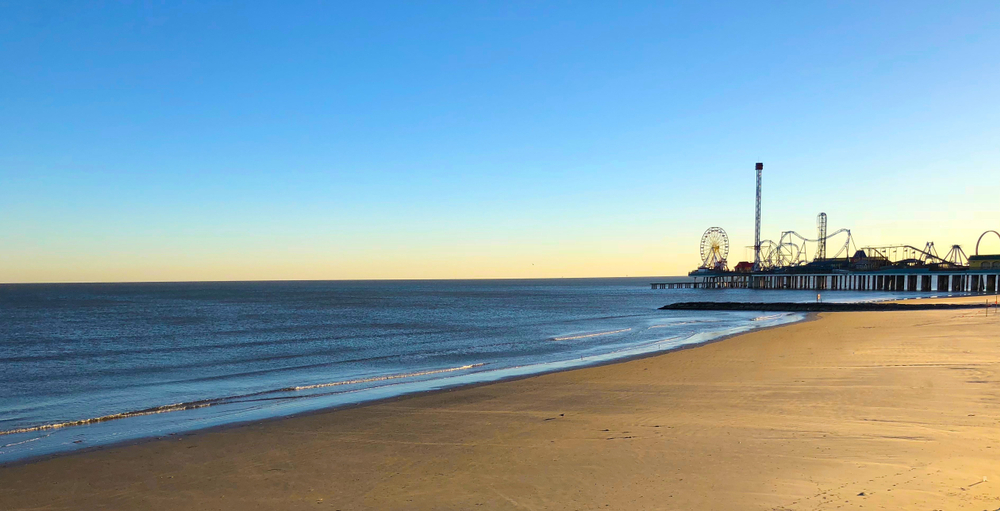 Orange Beach
Orange Beach is a small community along the Alabama Gulf Coast. Orange beach has inviting waters that are both warm and calm! You can find a waterpark, amusement park, as well as the Alabama Gulf Coast Zoo in Orange Beach. One of the most popular thing to do is walk The Wharf. There you can find shops, restaurants, water and marine views, and a ferris wheel. Orange Beach also has museums, a Stonehenge look alike, hiking and biking trails, and dolphins tours which are one of the most fun things to do in Alabama!

One of the most popular stretches of beach in Orange Beach is found near the Gulf State Park Pier. The beach near the pier has glowing white sand and shallow water that is great for wading and playing in the ocean. Orange Beach is in a great location on the coast that allows for several great day trip options. You have Gulf Shores to the west and the stunning Perdido Key to the east. Both coastal towns offer a large range of activities for travelers and make for great day trips form Orange Beach.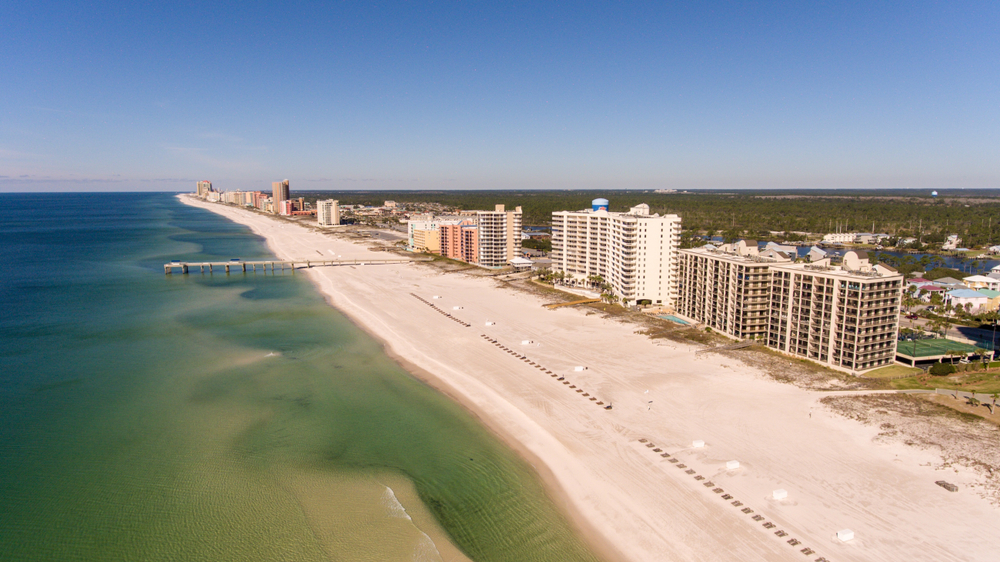 Nags Head Beach
Nags Head is located in the string of barrier islands off the coast of North Carolina, known as the Outer Banks. The most stunning section of beach in Nags Head is the beach access at Jeanette's Pier. The pier is the prettiest in all of the Outer Banks and makes for a fantastic view while sunbathing! The beach is really wide, has soft sand, and is easy to access via the beach path. No matter which beach access you choose in Nags Head, you will be welcomed by wide beaches where there is plenty of room for everyone!

Nags Head is one of the best southern USA beaches and is own of the prettiest Outer Banks towns! Nags Head is home to the Bodie Island Lighthouse! The lighthouse is beautiful and there is a long wooden boardwalk on the grounds that goes over the grass and marsh that takes you up to a viewing platform. The views from the platform are seriously breath taking and are a must see when visiting Nags Head.

One of the coolest things to do in Nags Head is to visit Jockey's Ridge State Park! The state park is home to the largest living sand dune on the east coast of the United States. It's totally free and it's a great place for flying kites, hang gliding, hiking, and watching the sunset or sunrise! If you've never been hang gliding, you can rent gliders and take lessons at the park.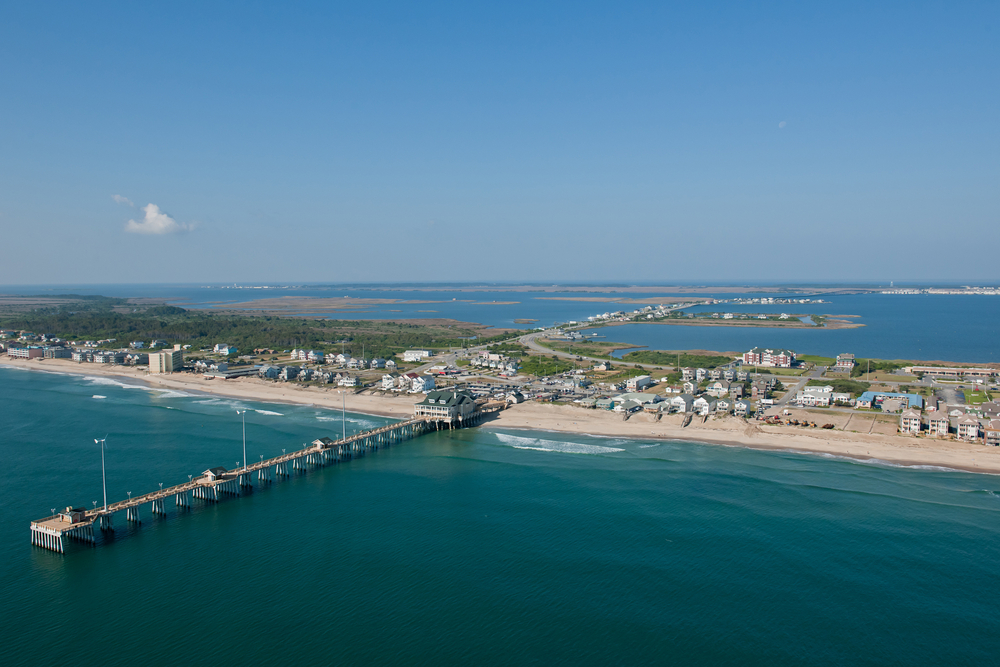 Mitchelville Beach
Mitchelville Beach is located on Hilton Head Island in South Carolina. Hilton Head is a beautiful island that is a popular day trip from Savannah.
It's an island where live oak tree are covered in Spanish moss, live music plays through the day and night, and dolphins are spotter regularly.
Mitchelville Beach is in the Fish Haul Beach Park in the northernmost part of Hilton Head Island and is the perfect place to walk among the tree, see shore birds nesting, and sunbathe. Its beauty and things to do in the area make it one of the must visit beaches in the south!
There are so many amazing places to see, make sure to check out our Favorite Beaches In Hilton Head!

Hilton Head Island itself has a lot to offer its visitors. Harbor Town is a must-visit when in the area! Complete with a lighthouse, restaurants, pier, dolphin tours, and live music, Harbor Town is the best place in Hilton Head to watch the sunset over dinner. The island is also home to Pinckney Island National Wildlife Refuge, a Coastal Discovery Museum, and a popular golf course!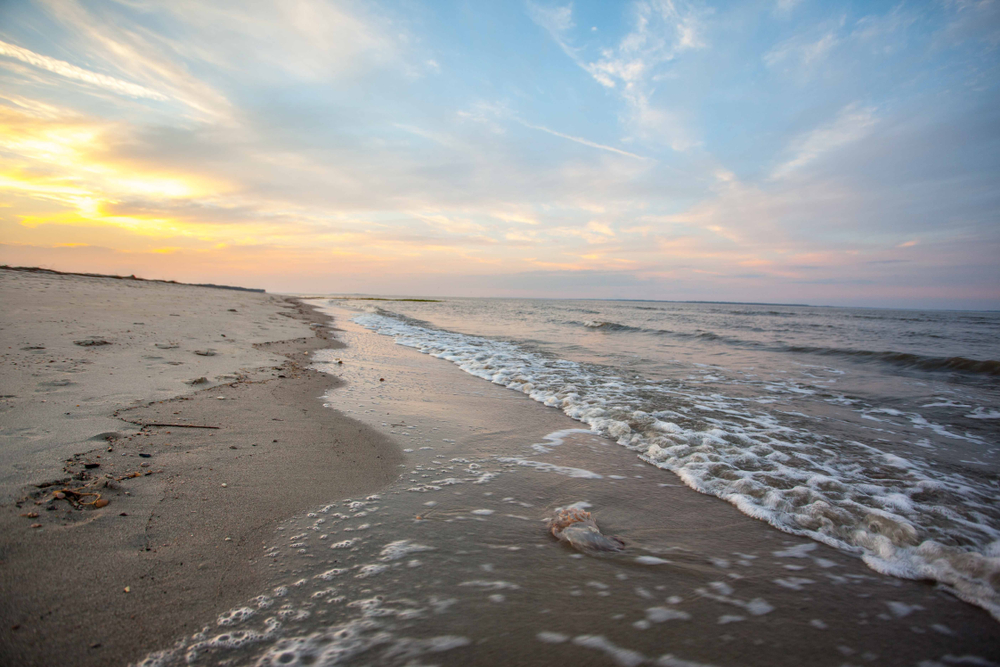 Matagorda Bay Beach
For those looking to explore marshlands or go kayaking, Matagorda Bay Beach in Texas is one of the best beaches in the south for you! The Matagorda Bay Nature Park offers camping, beach accesses, fishing, and some of the best kayaking opportunities in Texas. You can also visit the Boggy Nature Park where you have great shelling and fishing conditions. This is also a great place to watch fish, hermit crabs, and other wildlife in the water. Remember to bring your water shoes to the park so you can explore the area safely!

While visiting Matagorda Bay, a day trip to Port Lavaca, Texas is a great idea! Home to piers, expansive beaches, museums, and the Halfmoon Reef Lighthouse, Port Lavaca offers marshland conditions similar to those in Matagorda Bay.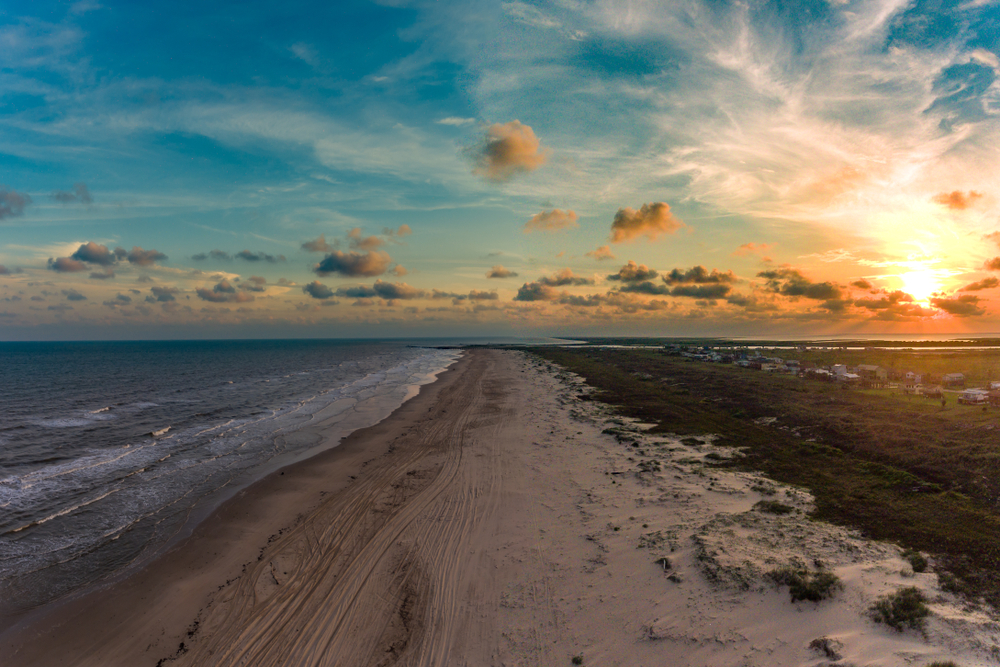 West Ship Island Beach
One of the most beautiful beaches in Mississippi, West Ship Island Beach is a must visit in the south! The island can be reached via a ferry from Gulfport, Mississippi and the journey to the island takes about an hour. The ferry is for foot traffic only, so you will be getting around the island on foot.

Ship Island is a part of Gulf Islands National Seashore so it highly protected, making it a very clean and beautiful place to visit. Only small carry on items are allow with you on the ferry to West Ship Island so you may want to take advantage of the umbrella and chair rentals that are available to visitors.

While on West Ship Island, be sure to visit Fort Massachusetts! The fort was built for the War of 1812 and offers you a step back in time and a chance to learn about the history of not only Mississippi, but of the United States as a whole. Now, as a tourist attraction, the fort offer amazing views of the beaches and water around the island and it's also a great place to take pictures as well.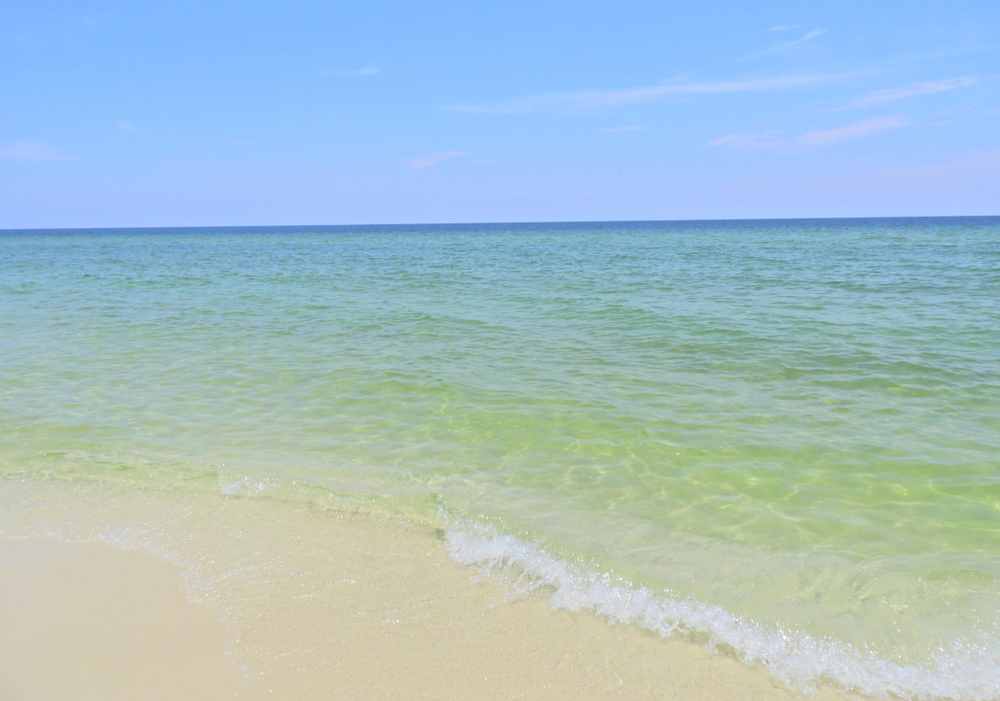 No matter what type of beach fits your needs as a traveler, the southern United States has you covered! Which of these pristine beaches in the south will you visit next?