Are you on the hunt for the best beaches in Tennessee? You have found the right guide to show you what this beautifully diverse state has to offer!
Most of us do not think of Tennessee as a state where we will be relaxing on beaches. To most tourists visiting the state, Tennessee means Music City and the Great Smoky Mountains National Park. Although these are great destinations of course, there are many beaches in Tennessee to choose from if you're ready to get outside the city or explore some of the lesser known natural landscapes in this southern state.
Whether you are looking for lakes to stretch out on or you're wondering what the closest oceanic beaches near Tennessee are, this guide will cover a wide variety to choose from that suit whatever goals you have in mind.
Whether you're the outdoorsy type or more the sit down on a beach towel and sunbathe type, there are plenty of diverse beaches in Tennessee to explore. This list will cover a range of diverse locations from the closest beach to Music City Nashville, to the more rustic shores of Big Ridge Lake. We hope you can find something that appeals to your unique vacation goals and personal interests!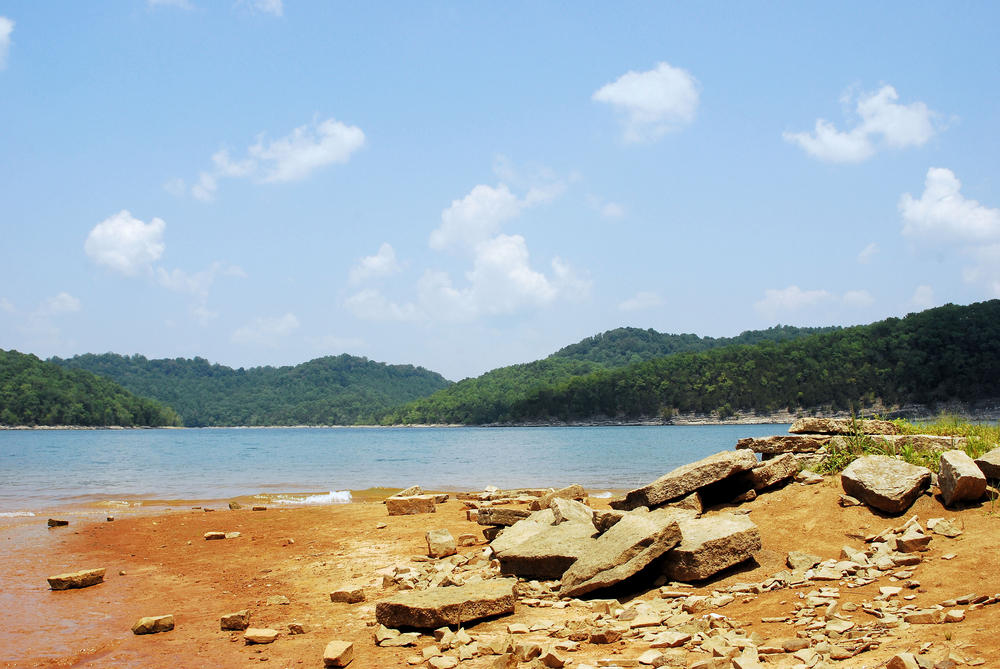 12 Best Beaches in Tennessee (And Nearby!)
Center Hill Lake
If you're looking for lakes in Tennessee with beaches, Center Hill Lake has 415 miles of well-preserved shoreline, enveloping 64 miles of emerald water.
The lake was created in 1948 by the US Army Corps of Engineers when they built a dam on the river. The Caney Fork and Falling Water rivers are major tributaries into the reservoir.
Located in the Eastern Tennessee Highlands, Center Hill Lake is an 18,000 acre lake nestled within dense, green forests. The amazing thing is that this wonderful escape to nature is located only 60 miles from Nashville; Center Hill is one of the closest beaches to Nashville.
The Middle Tennessee region, where the lake sits, is also home to Knoxville and Chattanooga if you happen to be staying in either of these areas.
Center Hill Lake is known to be a peaceful and tranquil reservoir where fishing, kayaking, and other boating activities are popular.
Being surrounded by several state parks, there is plenty of opportunity for other recreational activities as well, such as scenic trail hiking. You can even hike out to see some beautiful waterfalls nearby. Fancher Falls and Rock Island Falls are two local favorites.
But since beaches in Tennessee are what you're really curious about here, know that Center Hill Lake has miles of them, and you can decide how adventurous and outdoorsy you want to get.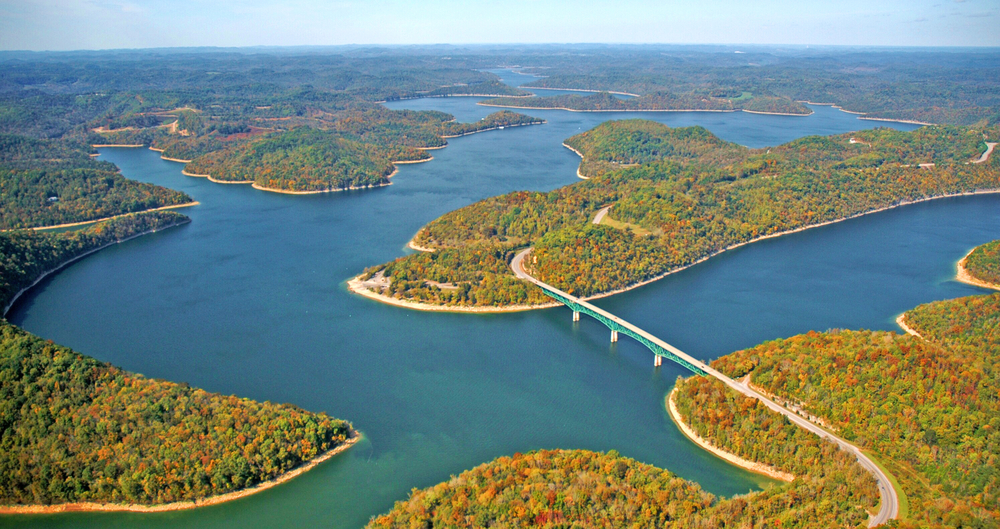 Rock Island State Park
Rock Island, an 883-acre state park, sits at the confluence of three Tennessee rivers: the Caney Fork, Collins, and Rocky rivers. These are the headwaters of Center Hill Lake. This unique park's hiking trails offer access to views of beautiful waterfalls.
This beach in Tennessee has a natural sand beach for swimming access, but it should be noted that certain swimming restrictions apply due to strong hidden currents as well as powerhouse operations located along the waterway.
Because Rock Island State Park is at the headwaters of Center Hill Lake, you can access other swimming beaches on the lake if you desire.
The park also contains four picnicking areas with drinking water and restrooms available. There are two campgrounds with electric and water hookups adjacent to the picnic areas for overnight stays.
Nearby Center Hill Lake also provides boat launch ramps for recreational boating. Other boat launches can be accessed on the Caney Fork and Collins Rivers.
If you're looking for beaches in Tennessee with unique watersports, Rock Island is known for its whitewater kayaking. However, some areas are for experienced whitewater kayakers and canoers only due to unpredictable changes in current and water level.
If you are interested in the whitewater kayaking scene, you can check the water release schedules on the Tennessee Valley Authority's website.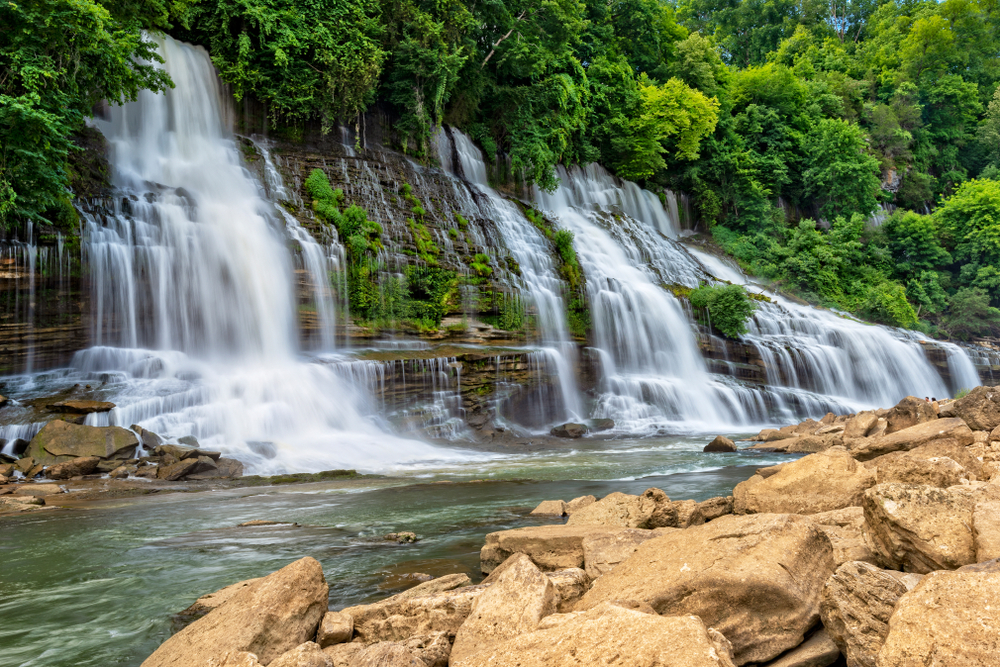 Big Ridge Lake
Big Ridge Lake is located within the Big Ridge State Park in the Appalachian Ridge in Maynardville, Tennessee, only 30 minutes from Knoxville. The large surrounding natural area also contains Norris Lake.
Big Ridge Lake is an ideal location for sandy beaches in Tennessee, where families can safely swim. There is a special swimming area designated for children with a concrete bottom.
Families can also set up camp either in a standard camping site in an RV or tent, or you can opt for one of the hike-in backcountry camping spots near the lake. Nearby Norris Lake also has cabin rentals available.
Big Ridge State Park is a beautiful natural area, enveloped in thick green forests and dotted with historical sites such as old cemeteries, aged gray mills (Gristmill is pictured below), and historic settlements. Lush hollows, rocky ridges, and old roadbeds are some of several hiking options in the park.
With such a beautiful natural setting and plenty of activities available, Big Ridge Lake and Big Ridge State Park have excellent beaches in Tennessee.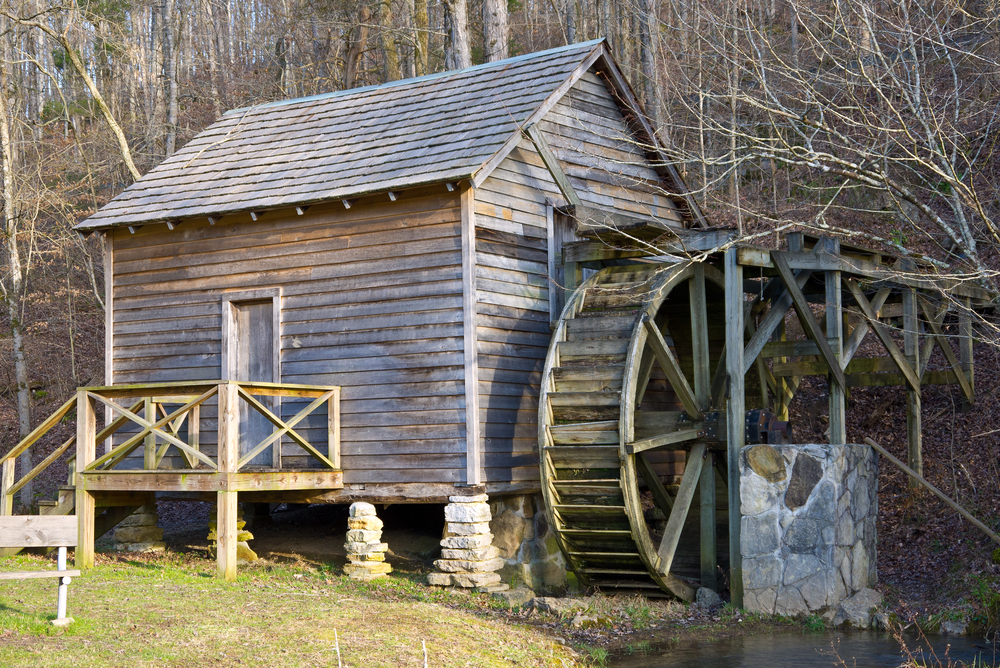 Norris Lake
If you decide to visit Big Ridge State Park and stay on the beaches of Big Ridge Lake, it isn't much of a jump to get to another one of the closest beaches to Knoxville. Norris Lake is also part of the Big Ridge State Park area in Maynardville.
With 809 miles of beach available, Norris Lake is a spacious option for those that want to spread out and have a picnic on the beach or just have more space in general.
Norris is a deep and winding lake that covers enough area to be encircled by five different Tennessee counties.
Because Norris Lake covers such a large area, this beach in Tennessee is host to an extensive list of activities you can take part in, from fishing and jet skiing to horseback riding.
If you're looking for beaches in Tennessee that heavily feature watersports, Norris Lake is a popular site for that. There are several marinas around the lake where you can rent fishing boats, pontoon boats, and jet skis, among other things.
There are plenty of options for lodging as well, depending on what your preferences are. You can stay in the typical RV and tent camping sites or in one of the rustic cabins that dot the surrounding woods. But you also have the option of renting a home (maybe even a floating one).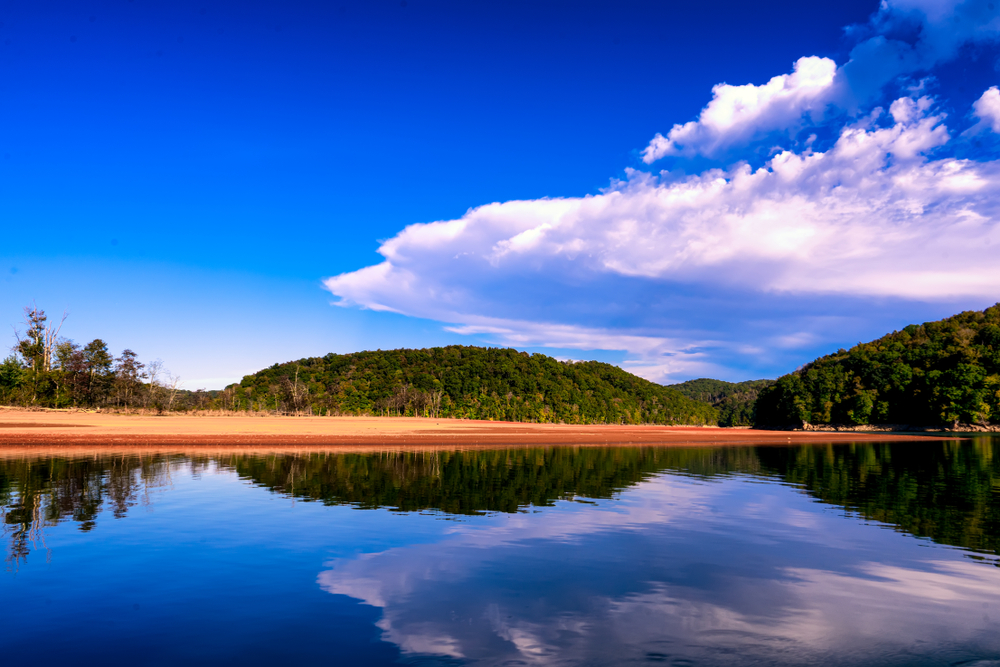 Cheatham Lake
If you are looking for beaches in Tennessee that are popular for fishing, this is a great one!
Cheatham Lake in Tennessee, bordering the Pardue Pond Wildlife Refuge, is more like a wide spot in the Cumberland River. But this beach in Tennessee is another one of the closest beaches to Nashville – the drive is about 45 minutes.
Cheatham Lake is most popular for its fishing. There are 16 free public boat access sites as well as two marinas with amenities like food and gas.
Bank fishing is also popular at the boat access sites as well as downstream of the two dams that created the lake (Old Hickory and J. Percy Priest Dams). There are no fishing piers on the Cheatham Reservoir.
At the Cheatham Lock and Dam, there are also camping sites and picnicking sites available.
At these camping sites, there is plenty of wildlife to spot, from Northern Pintail and Mallard ducks to bald eagles and cliff swallows, depending on what time of year you go.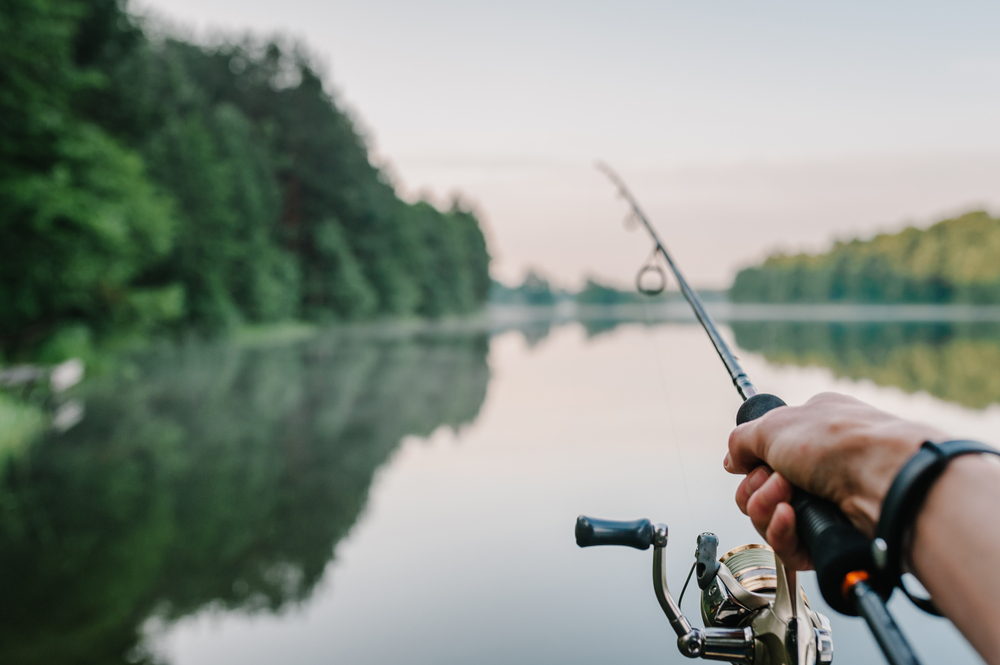 Cherokee Lake
If you're looking for beaches near Knoxville, Cherokee Lake is only 30 miles from this major Tennessee city.
The Cherokee Reservoir, as the area is called, is located at the foothills of the Clinch Mountains, making the setting and the views along these beaches in Tennessee some of the best.
The water is clear blue, surrounded by 400 miles of shoreline. Named after the Cherokee tribe, this beach in Tennessee is one of the most popular in the region and in the state.
Cherokee Lake offers boat docks, resorts, parks, picnic areas, public access areas, and campgrounds with electric and water hookups. Fishing and camping are two of the most popular activities on the lake.
One of the most popular campsites on this beach in Tennessee is the Panther Creek State Park. This park has some of the best hiking and biking trails on Cherokee Lake. There are trails at all levels of difficulty.
At the geographical top of the state park, there is an overlook with stunning views of the surrounding green trees against the clear blue of Cherokee Lake.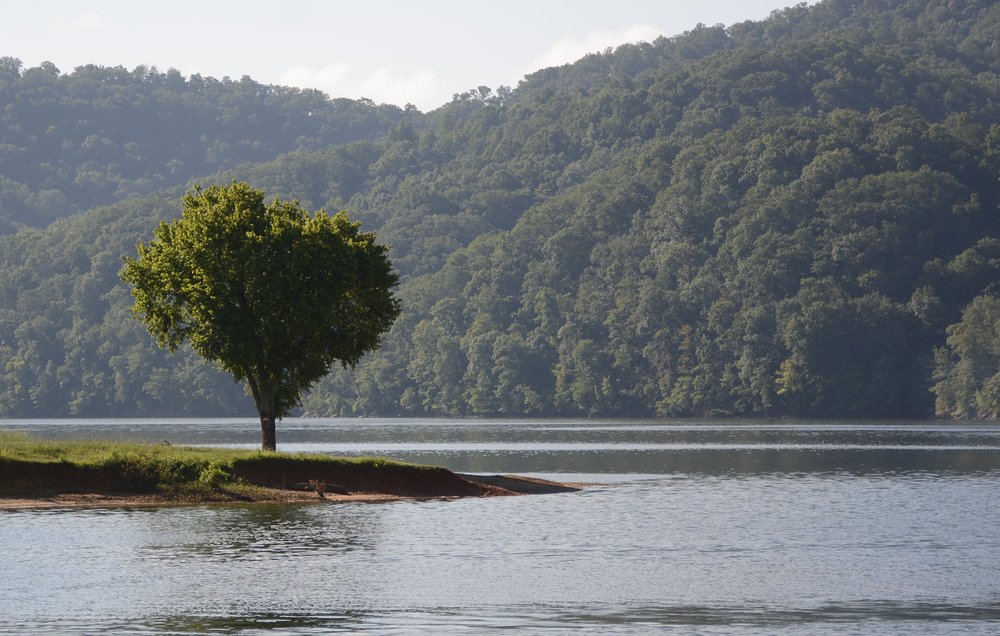 Douglas Lake
Another beach in Tennessee near Knoxville is located at Douglas Lake. Cradled in the foothills of the Great Smoky Mountains, Douglas Lake and the Douglas Headwaters are only 25 miles from Knoxville. This beach in Tennessee is also one of the closest to the city of Gatlinburg.
Douglas Lake attracts fishing enthusiasts from many states. All across the country, fishers know of Douglas Lake's exceptional large mouth bass and crappie fishing. The best times to go fishing are the spring and fall.
These beaches in Tennessee are also great for swimming, water skiing and boating. Boats are known to pull people behind for parasailing as well. Douglas Lake is an excellent place for recreational activities that will meet various interests.
Campgrounds along the shores of the lake offer both tent camping and RV camping. Cabin rentals are also available. Several of Douglas Lake's marinas offer lodging and campsites as well.
A couple of the most scenic campsites to stay at are the Douglas Lake Headwater Campground and the Douglas Lake Tailwater Campground. Headwater Campground has some of the best access to the water and Tailwater Campground has the best trail access to an overlook with a panoramic view of the lake.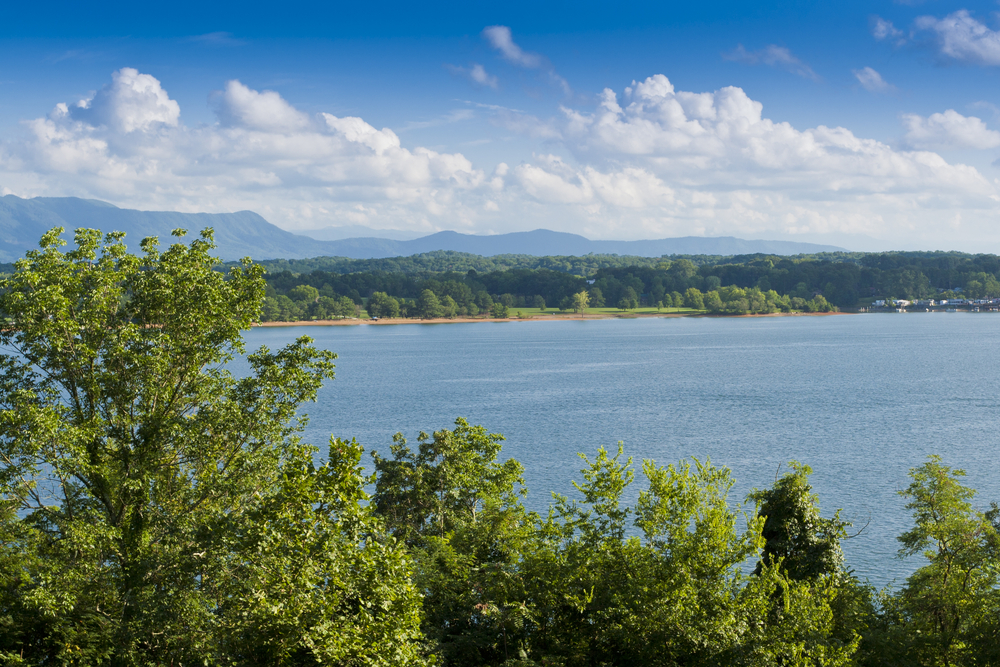 Lake Glenville
Lake Glenville in North Carolina is host to the Pines Recreation Area Beach, one of the closest sandy beaches near Gatlinburg, Tennessee.
This beach near Tennessee is covered in soft, white sand, with a shallow, roped-off swimming area.
The Pines Recreation Area Beach is rather small, so it offers a bit more privacy and intimacy. The beach is pretty laidback, and you can lounge around and sunbathe or have a picnic with friends and family.
Or, you could get out on the water to paddleboard, kayak, or fish.
Pines Recreation Area is a great option for beaches near Tennessee that offer a little more of a relaxed vibe. It is a perfect place for families.
Kentucky Lake
If you're looking for some of the closest beaches to Memphis, Paris Landing State Park Beach on the shores of Kentucky Lake is a great spot.
This beach in Tennessee is located on the widest section of Kentucky Lake, which means it is a prime spot for watersports like boating, fishing, and waterskiing. The swimming beach is well-protected.
Not many beaches in Tennessee have a golf course right next to them, but Paris Landing does, making it a unique feature. The 18-hole golf course also has access to a pro shop where you can buy golfing supplies and rent carts and clubs. The pro shop even offers golfing lessons.
For lodging, Paris Landing offers cabin rentals as well as campsites supporting both RV and tent camping.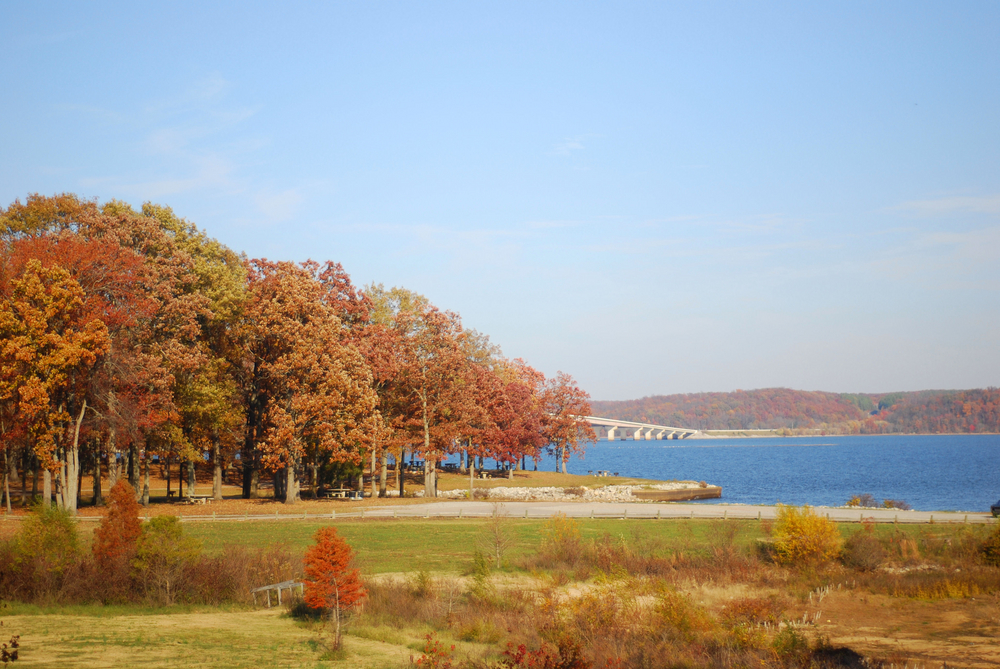 Arkabutla Lake
Another one of the closest beaches to Memphis is Arkabutla Lake in Mississippi. Arkabutla is about a 45 minute drive from Memphis.
If you're looking for beaches near Tennessee primarily for swimming, Arkabutla Lake is a very popular swimming beach for people in the Memphis area.
With 11,000 acres worth of recreational water, the lake is also quite popular for sailing, kayaking, canoeing and fishing. Arkabutla Lake is known for its largemouth and white bass, and its crappie.
For those that like to explore the land as well as the water, there are over 200 campsites around Arkabutla Lake with access to several hiking trails, picnicking areas, and biking trails.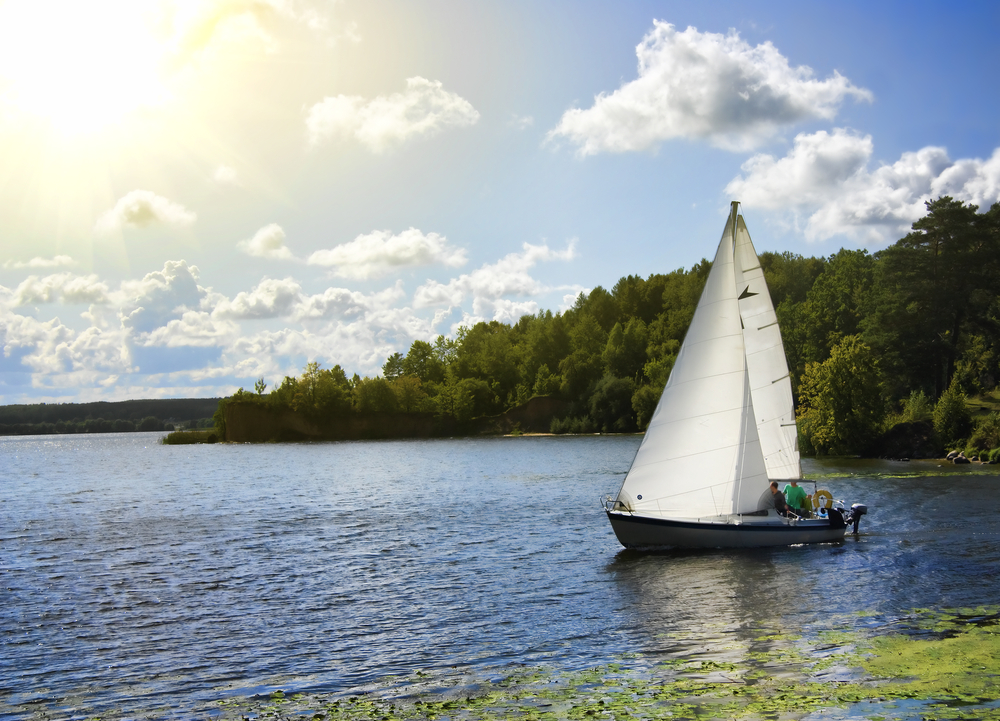 Pensacola Beach
If you're wanting to get to the closest ocean beach to Tennessee, Pensacola Beach in Florida is your best bet.
From Nashville, the distance is approximately 450 miles, which equates to roughly 6 and a half to 7 hours of driving, depending on traffic. This means you can get to this ocean beach near Tennessee within one day.
Pensacola Beach is blanketed in miles of bright white sand that meet the crisp, emerald waters of the Gulf of Mexico.
The beach life in Pensacola can be whatever suits your needs. Because the beach is so spacious, you can find a spot on the closest ocean beach to Tennessee that is either lively and densely populated, or more subdued and secluded by tall seagrass.
Because the beach is so popular, there are plenty of places to stay, nearby shopping areas, restaurants, beach bars, and other entertainment venues.

Tybee Island
Lastly, if you are looking for an ocean beach near Tennessee on the Atlantic Coast, heading to Savannah, Georgia is closest. We recommend Tybee Island Beach.
Tybee Island is an ocean beach roughly 500 miles (about a 7 and a half hour drive) from the center of Nashville.
The beach is located about 30 minutes from Downtown Savannah, and thus has many amenities and conveniences in the area.
There is accessible parking along Butler Avenue and in other designated parking lots, where you can easily access not only the beach, but also the shops and restaurants that line the streets.
As for beaches, there are plenty to choose from on Tybee Island. The busiest one is South Beach, where a lot of families gather because of the soft sand and mild waves, as well as the constant presence of lifeguards.
Mid Beach is typically less crowded because it has fewer amenities. But, Mid Beach does house a lot of the vacation rentals and hotels along Tybee Island, as well as Tybee Island's sole beachfront bar and restaurant.
North Beach is much quieter and is frequented by the locals, since it is the closest beach on Tybee Island to Savannah. North Beach has slightly rougher sands, but a much more subdued atmosphere where you can relax or look for the many seashells that dot the shore.
North Beach is also located across the street from the historic Tybee Lighthouse and Fort Screven. Tybee Lighthouse is Georgia's oldest and tallest lighthouse. Fort Screven was active during the Spanish-American War, World War I, and World War II.