If you are planning a trip to Tennessee and need to find the best things to do in Nashville, you're in the right place! Nashville is known for country music. Visitors and singing hopefuls both travel to Nashville for the country music scene which is out of this world. You can find museums, bars, and sites dedicated to music.

Of course, the city has much more to offer. You can find historic sites, educational museums, and more. In fact, there is a replica of the Greek Parthenon in the city! The Parthenon and other sites draw in more than fifteen million visitors each year.

Whether you are listening to live music, exploring the bustling city streets, diving into the nightlife, or learning about the history of the city, you are sure to fall in love with this lively Tennessee city. If you have ever found yourself wondering what to do in Nashville, this article is for you!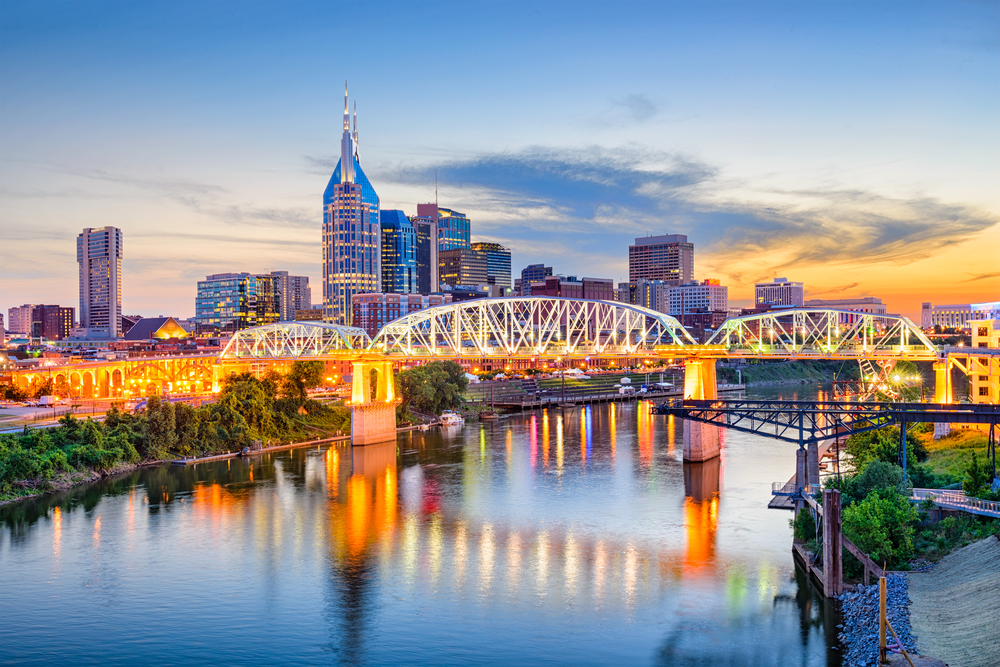 17 Best Things To Do In Nashville You Shouldn't Miss
Country Music Hall of Fame
A visit to the Country Music Hall of Fame is by far one of the best things to do in Nashville! Being elected into the Country Music Hall of Fame is the highest honor in the country music world. The first members were inducted in 1961, they were Hank Williams, Jimmie Rodgers, and Fred Rose. Since then, others like Alabama, Garth Brooks, Brooks & Dunn, and Johnny Cash have all been inducted.

This Nashville attraction has countless historical items from famous country music stars, as well as instruments, albums, and more. You can find unique instruments like the dobro, autoharp, and zither alongside more common instruments like the bass and electric guitar. This is a great place to learn about the greats of country music as well as a bit of Nashville history at the same time.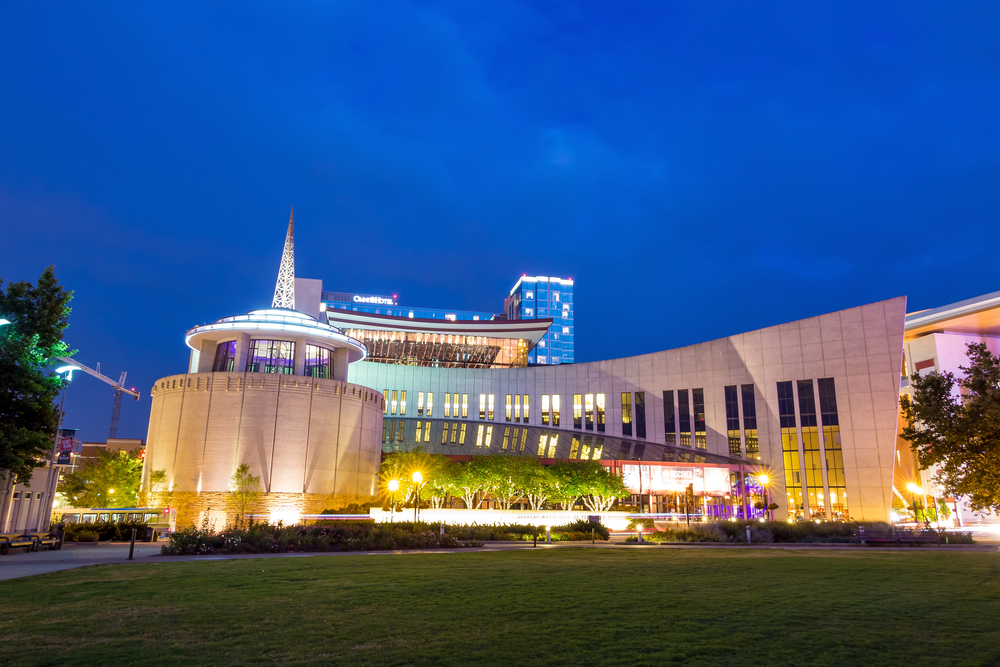 Robert's Western World
This has to be one of the coolest things to do in Nashville for adults. It is extremely popular with both locals and visitors as it is famous for being the place to be if you want traditional country music. They are located in the famous historic district in downtown Nashville.

Robert does not only have amazing nightlife, but they also serve up delicious southern cuisine via the Honky Tonk Grill. The price of food is very reasonable considering the popularity of Nashville and of Robert's itself. You can order things like cheeseburgers, fried bologna sandwiches, hotdogs, and more! If you want a true Southern specialty you can order the Recession Special which is a fried bologna sandwich, chips, Moon Pie, and a PBR.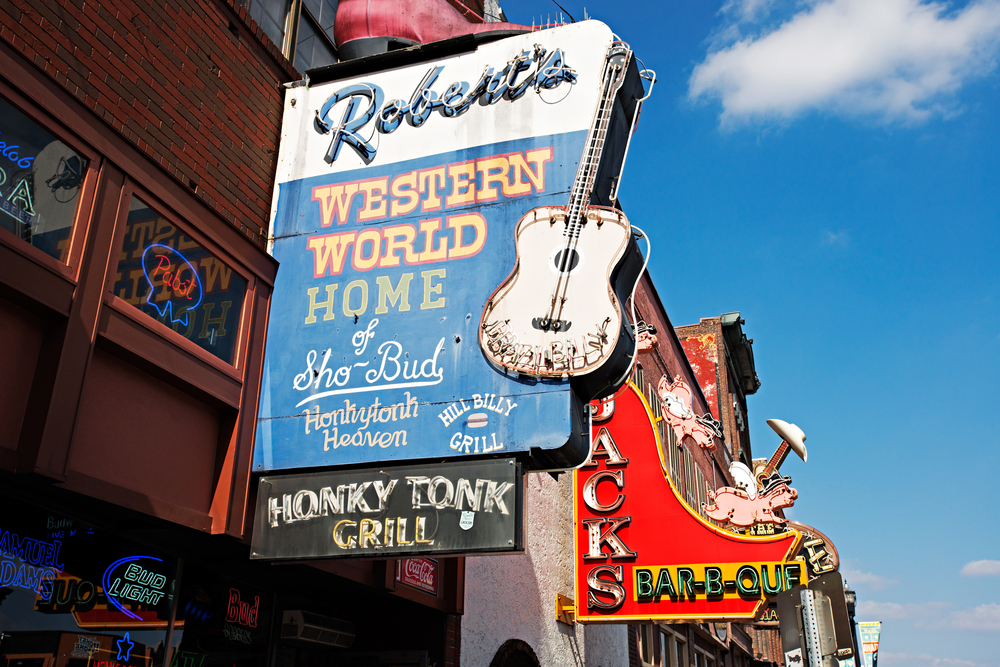 The Parthenon
The Parthenon is in Centennial Park. It is a full-size replica of the original Parthenon which is in Athens, Greece. It was built in 1897 and has stood in Nashville ever since. Inside, you will find exhibits from some of the countries premier African American artists, artwork from the yearly art competition held at the Parthenon, as well as art depicting the impact that gentrification had on historically Black neighborhoods in Nashville.

The Parthenon has to be one of the most unique Nashville attractions! One of the coolest things about this attraction is that there is a 42-foot statue of Athena Parthenos inside this Parthenon. It was sculpted in 1990 by a local artist named Alan LeQuire. Something else about the Parthenon that is really unique is the weight of the doors. The doors are 24 feet tall and weigh seven and a half tons each! Even with their insane weight, guests are able to open them with ease. This is something for you to try out for yourself when you visit Nashville.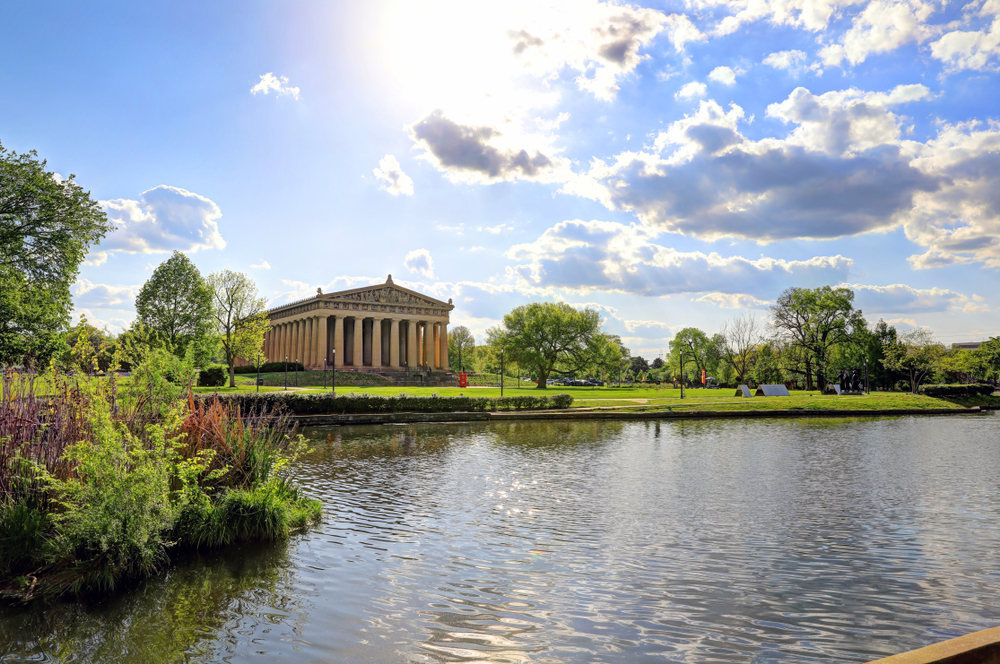 Belle Meade Historic Site
This Greek Revival-style plantation house dates back to the 1840s and continually makes it onto lists of top things to do in Nashville. Today, the house and grounds are open for you to explore and learn from. They also have a winery on-site! This historical site is a dedication to the equestrian legacy, hospitality, and history of Tennessee.

If you want to take a tour of Belle Meade, you have a few options. You can take the Mansion Tour which tells the story of the century-long history of the home. Then, you can also take the Journey to Jubille Tour which shares the stories of the enslaved African Americans who were either brought to or born at Belle Meade before the Emancipation. Lastly, you can take the Guided Segway Tour that takes you through the grounds and arboretum.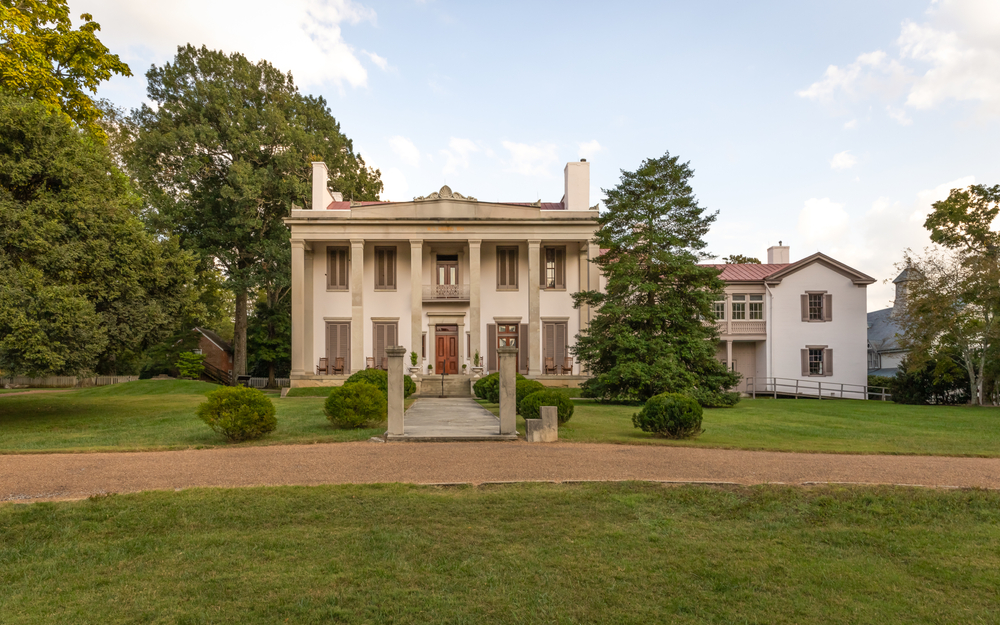 Take a Walking Tour
There is no better way to learn about and truly experience Nashville than by taking a walking tour with a local expert. You can take tours that cover a variety of topics like haunted locales, food, music, history, and more. If you want to truly experience the city in the richest way possible, taking a walking tour is one of the best Nashville activities that you can do.

One tour that you can take is the Nashville: Guided Ghost-Themed Walking Tour. This tour is reasonably priced and lasts for an hour and a half. You will meet the tour guide at the state capitol. From there you will explore some of the most haunted locations in the city, learn about the Civil War activity in the area, find out how Nashville became known as America's Music City, and much more!

Some of the haunted locations that you will see and learn about are the Union Station Hotel and the Ryman Auditorium. If you love a good ghost story this is one of the best activities to add to your list of things to do in Nashville.
Radnor Lake
For nature lovers, a visit to Radnor Lake is one of the coolest things to see in Nashville. Radnor Lake State Park is a protected natural area in Tennessee that is quite unique due to its large amount of wildlife viewing, education programs, hiking trails, and proximity to an urban area. There aren't any camping opportunities around the lake, but there are plenty of day-use activities. If you want camping, make sure to check out the best campgrounds near Nashville!

If you like to hike, you have 7.75 miles of trail to check out around the lake where you can observe wildlife, practice photography, exercise, or just enjoy being out in nature. If you want to bike or bring your dog with you to the park, the Otter Creek Trail is the trail for you. If you need an accessible trail, the Lake Trail is just that, but you will need an all-terrain wheelchair.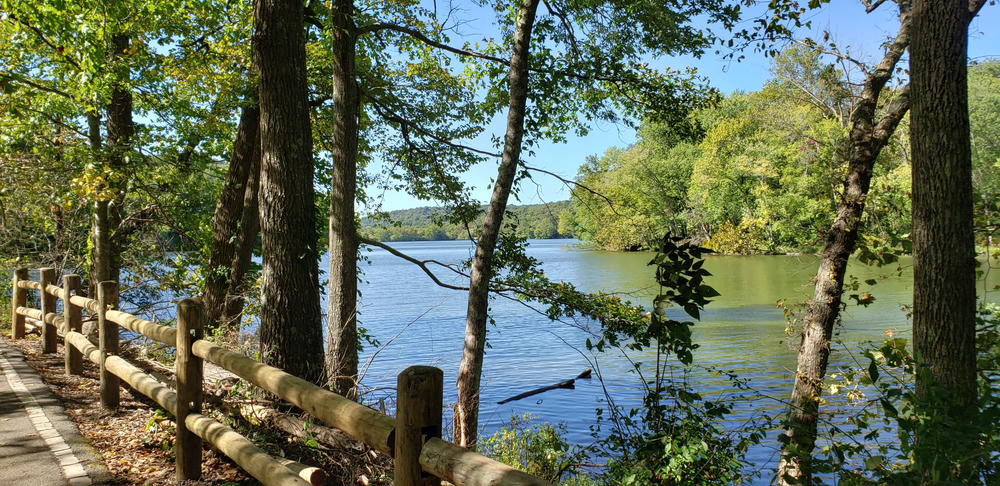 Grand Ole Opry
Performing at the Grand Ole Opry is a dream for so many country music artists. For travelers, visiting the opry and watching a show is a dream as well. Watching a show is a truly unforgettable experience, especially if you add VIP experiences or a pre-show party to your time spent at the opry. This is also the perfect place to go if you are having your bachelorette party in Nashville!

If you want a really cool experience while you are at the opry, consider buying a post-show backstage tour. These tours will show you what it's like behind the scenes, where the artists enter the opry, a glimpse of the eighteen dressing rooms that each have their own unique theme. If you don't watch a show you can still enjoy walking around the grounds outside where you can grab a snack from the stand out front or by walking into the lobby to see what the interior looks like. The history and importance of the Grand Ole Opry make it one of the greatest things to do in Nashville.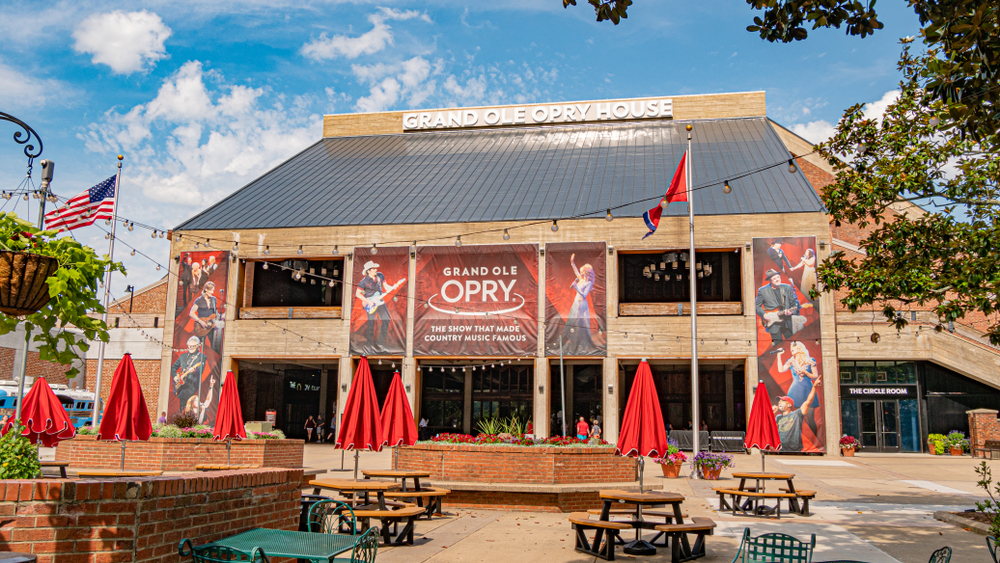 Tennessee State Museum
If you have been looking for things to do in downtown Nashville, consider visiting the Tennessee State Museum. for budget travelers, you will like this attraction as it has free entry! The museum has artifacts from the Civil War, the First Peoples, sports, and the reconstruction after the war.

One of the neatest exhibits in the museum is the Change and Challenge exhibit. It covers a period of time from 1870 to 1945 and gives you opportunities to learn about economic upheavals, social change, international conflicts, segregation, how Tennessee faired through the Great Depression, and much more!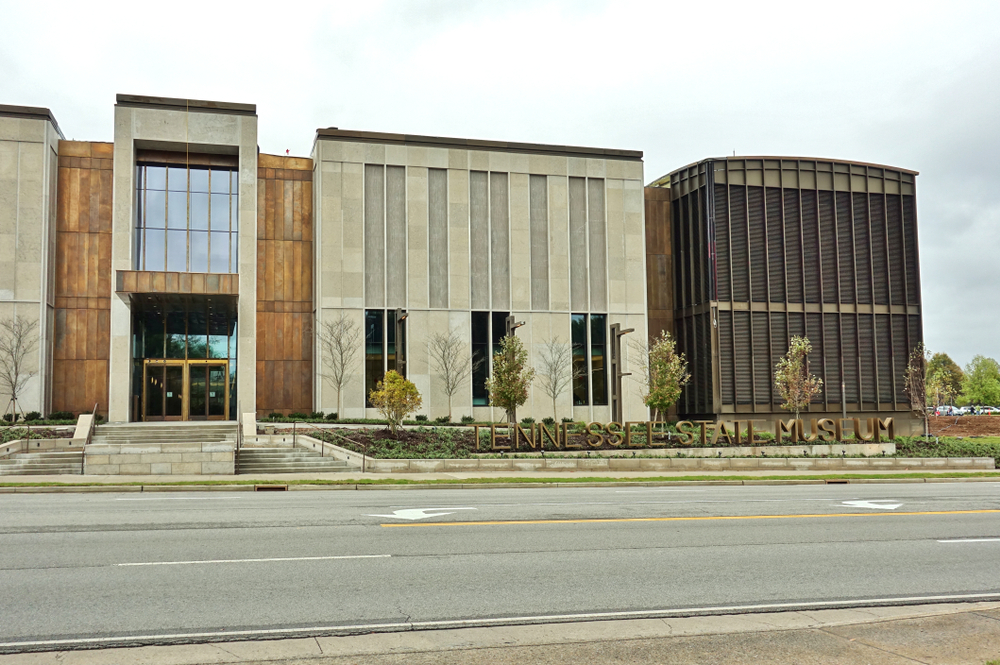 The Johnny Cash Museum
The Johnny Cash Museum is the largest most comprehensive collection of Johnny Cash artifacts in the world. Plus, it is ranked as the number one country music museum in the world by National Geographic Traveler, Conde Nast, and Forbes. This should definitely be on the top of your list of things to do in Nashville!

You can find Johnny Cash's Bar & BBQ next door to the museum where you can indulge in delicious and authentic Southern food like coleslaw, fried chicken, greens, banana pudding. They also have breakfast and late-night menus as well. You'll country ham. biscuits and gravy, and pancakes on the breakfast menu. And things like wings, nachos, and loaded french fries on the late-night menu!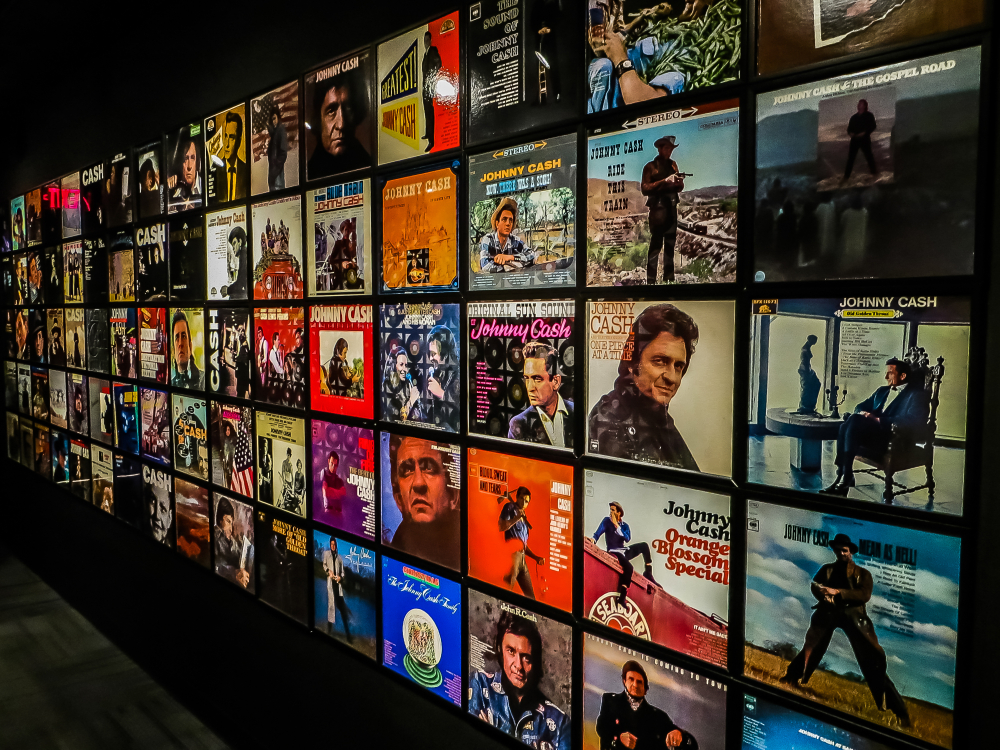 Adventure Science Center
The Adventure Science Center is out of this world and it is by far one of the best things to do in Nashville with kids! It is a nonprofit museum that features more than 175 hands-on exhibits. Exhibits range in subjects from space and energy to visual perception and earth science.

The interior of the center is mindblowing. You can expect tall ceilings, walls covered in well-thought-out designs, and rooms so carefully put together as to create a perfect experience for visitors. There is a planetarium, galactic gardens, a full-motion flight simulator, a beekeeping exhibit, a baby and toddler room, a fourth state of matter exhibit, and so much more to explore at the Adventure Science Center.
Tootsies Orchid Lounge
Tootsie's Orchid Lounge is located in downtown Nashville. This establishment is a world-famous honky tonk and has been operating across from the Ryman since 1960. The outside of the building is an orchid purple and has become an iconic site in the city. It was actually painted that color of purple by accident but it become a staple in the city and has been that color every since.

There is so much history that happened behind the doors of this honky tonk. There have been many famous customers at Tootsie's Orchid Lounge, including Willie Nelson when he was still an up-and-coming artist. You are going to want to put this on your Weekend In Nashville Itinerary!
Tootsie was always known as being someone who would help struggling artists and she also had her walls lined with pictures and other things, and she called it "Tootsie's Wall of Fame." Part of the biopic "Coal Miner's Daughter" was filmed inside Tootsie's place! A visit to the lounge is one of the best things to do in Nashville!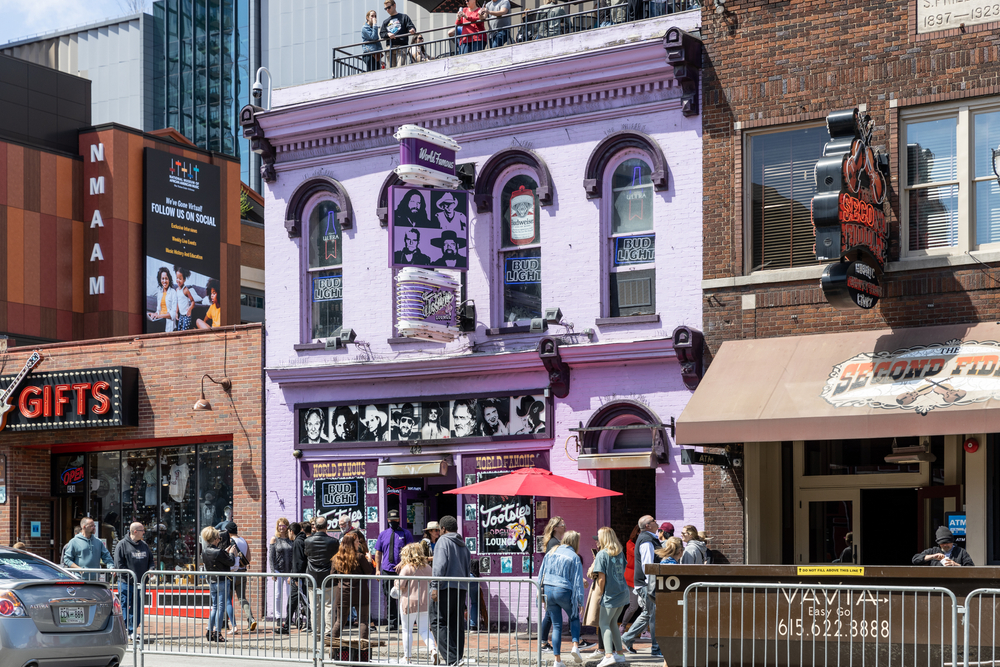 Lane Motor Museum
This museum has a large collection of automobiles, most of which are European in origin. If you have been looking for cool things to do in Nashville, you should check out the Lane Motor Museum! The museum features 150 cars and motorcycles and has the largest collection of European automobiles in the United States.

You can find super unique vehicles like military vehicles, prototypes, alternative fuel vehicles, and amphibious vehicles. They have vehicles from all over the world, including Asia and South America. Vehicles have been shaped by politics, engineering, economics, and more throughout history and you can see the story that they have written at this Nashville museum!
Take a Food Tour
If you are intrigued by the flavors and history of food in the south, you should try taking a food tour of Nashville! Southern food was born from a messy collision of West African, European, and Native American cultures. Today, Southern cuisine includes mouth-watering foods like fried okra, barbecue, muscadine grape jelly, fried chicken, collard greens, cornbread, and loads of vegetables cooked in different ways.

One food tour you can take is the Nashville: 3 Hour Secret Food Tour. This tour will take give you an experience of Southern gastronomy like no other. You will be able to try local foods, learn some Nashville history, and dive into the culture in the city as well. Your guide will passionately show you around to some of Nashville's best restaurants where you can enjoy country cooking with some occasional international twists. There aren't any better things to do in Nashville for truly experiencing what Southern cuisine has to offer.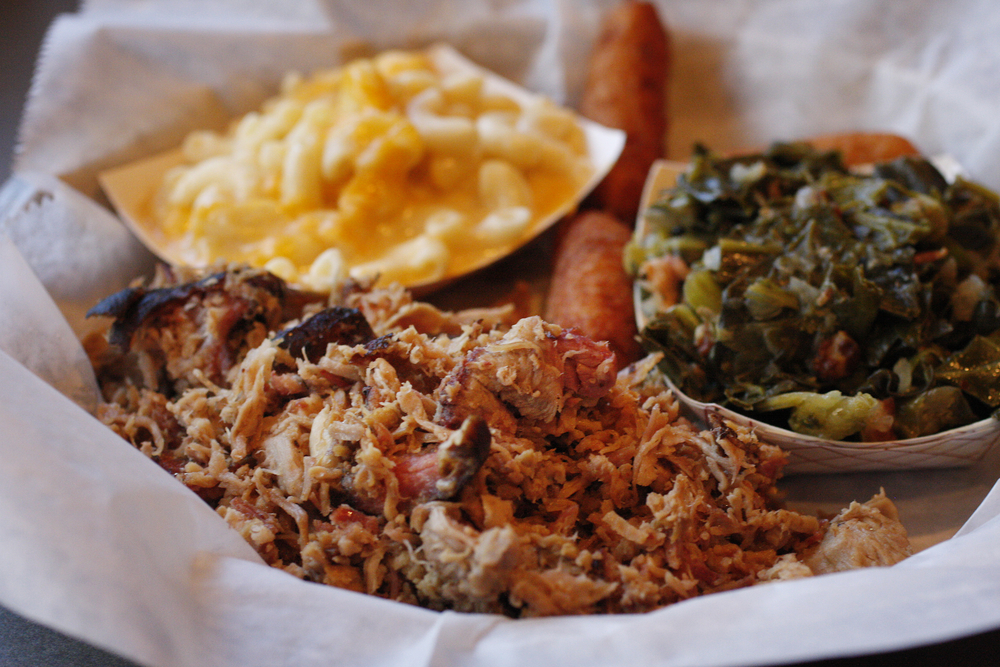 Walk Down Broadway
If you have been looking for fun things to do in Nashville, a walk down Broadway may be perfect for you! Broadway is a major thoroughfare and a seriously buzzing place to be in the city. This is truly one of the Best Places To Stay In Nashville!
It is in the heart of downtown Nashville and it connects The Gulch and Music Row neighborhoods to the Cumberland River.

Broadway was the place that Jimmy Rodgers frequented in the 1930s where he sang at the honky tonks on Lower Broadway. This ended up creating a new name for Broadway the same way that Bourbon Street in New Orleans and Beale Street in Memphis got their names.
Broadway is affectionately called Nashville's Honky Tonk Highway! You can eat delicious food, listen to live music, learn about the cities history in museums, indulge your sweet tooth, and more on Nashville's Honky Tonk Highway.
Make sure to check out our epic list of the Best Things To Do In Nashville At Night for nightlife and more!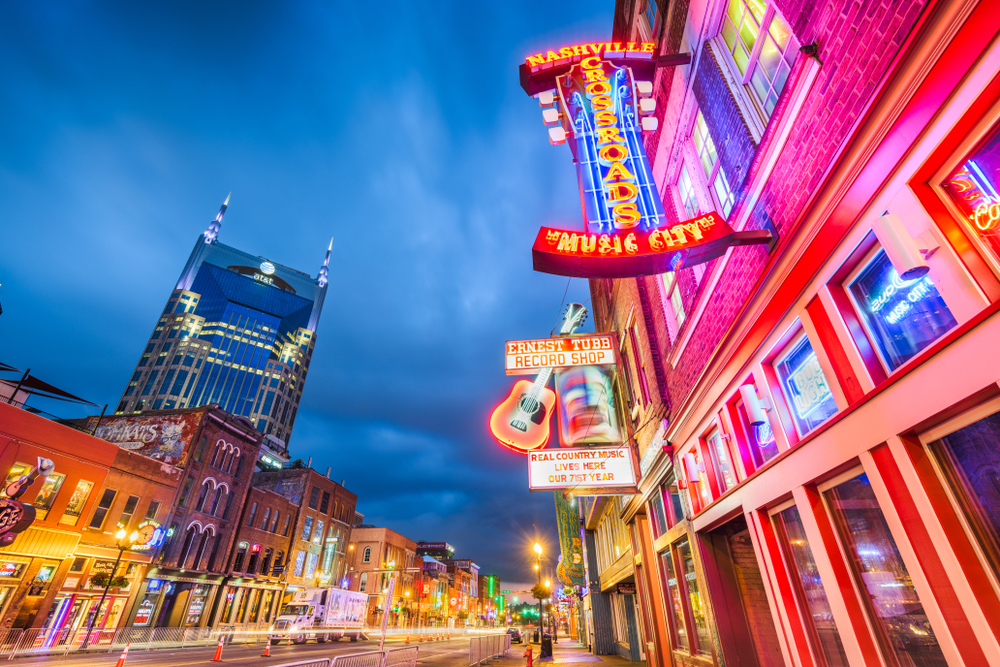 National Museum of African American Music
This Nashville museum showcases music genres that were either influenced or created by African Americans. You can find the museum at Fifth and Broadway. This location has actually stirred up a bit of controversy as Jefferson Street is a historically-Black street while Fifth and Broadway are not.

The idea of this museum was first proposed in 2002, but the ground wasn't broken for its construction until 2017. It opened in 2020 and is now one of the most essential things to do in Nashville. You can explore the history of music in the United States from slavery to the late 1800s in the post-slavery era and all the way to the present day. You should probably plan on spending roughly 90 minutes exploring the museum. Keep in mind that the museum is closed on Tuesdays.
Nashville Farmers' Market
If you aren't into basic souvenirs or mainstream restaurants, a visit to the Nashville Farmers' Market is worth a stop. You can find unique items to buy as mementos from your time spent in Nashville. Food artisans, dairy farmers, cheese-makers, flea merchants, and other producers set up in the farm sheds for you to browse through their items. You can find local honey, jams and jellies, fruits, vegetables, and so much more. The market has farm sheds open in the winter from 9 am-2 pm and during the peak season they are open from 8 am-4 pm.

The City Market has a long and interesting history in Nashville. In 1801, a market house was built in the city that was forty feet long. It was replaced in 1829 with something larger that housed one hundred stalls for vendors. In the 1930s the market was demolished and built again in 1949 in 1955. In 1995 the market was renovated, adding restrooms, multiple entrances, and indoor facilities. Today, the Famers' Market has space for seasonal harvests, sweet shops, an imported section, food markets, a pub, an artisan store, and eighteen eateries! This is definitely something to add to your list of things to do in Nashville.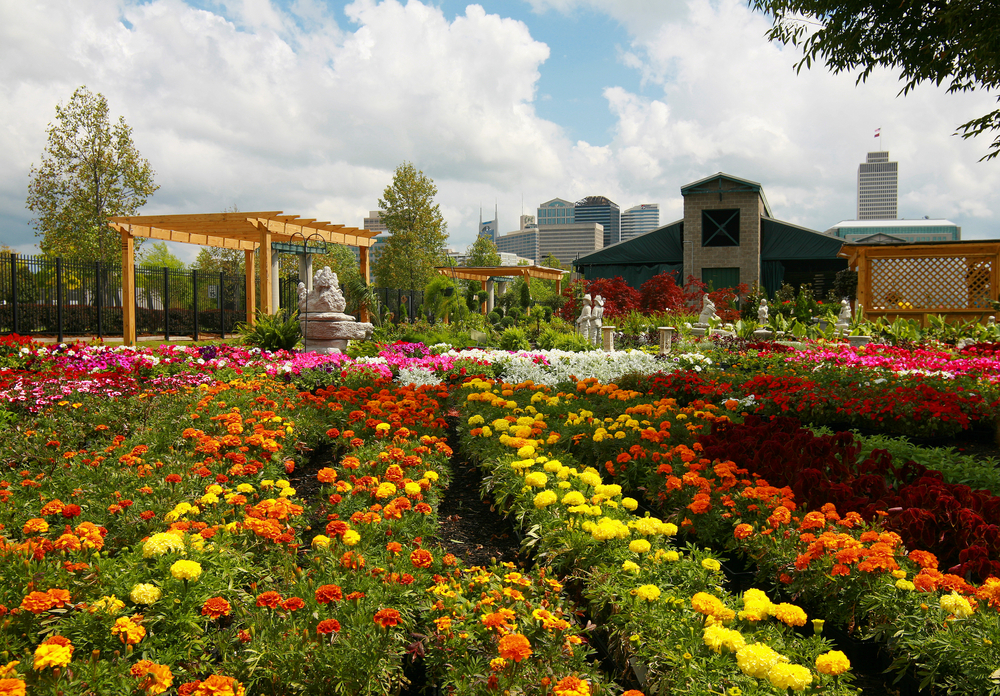 Riverfront Park
Riverfront Park is one of the best free things to do in Nashville! It is five acres along the Cumberland River where you can walk, enjoy the fresh air, watch boats go by on the river, and simply enjoy your time spent in Nashville. The park holds the cities most popular open-air concerts and is nearby to many of the best attractions in Nashville. So, if you find yourself waiting for starting times, an attraction to open, or for your reservation to come around, a walk through the Riverfront Park is a great way to kill some time.

The park was created in the early 1980s to celebrate the fascinating history of the river. This area welcomed the first European settlers by boat and by land. And to commemorate that, a replica of the first settlement, Fort Nashbourough, was constructed in the park. You can find public artwork on display throughout the park, like the Ghost Ballet on the east bank of the river. If you are looking for things to do in Nashville at night, consider taking a walk through the Riverfront Park as it is lit up with different color lights and it looks so cool after the sun goes down!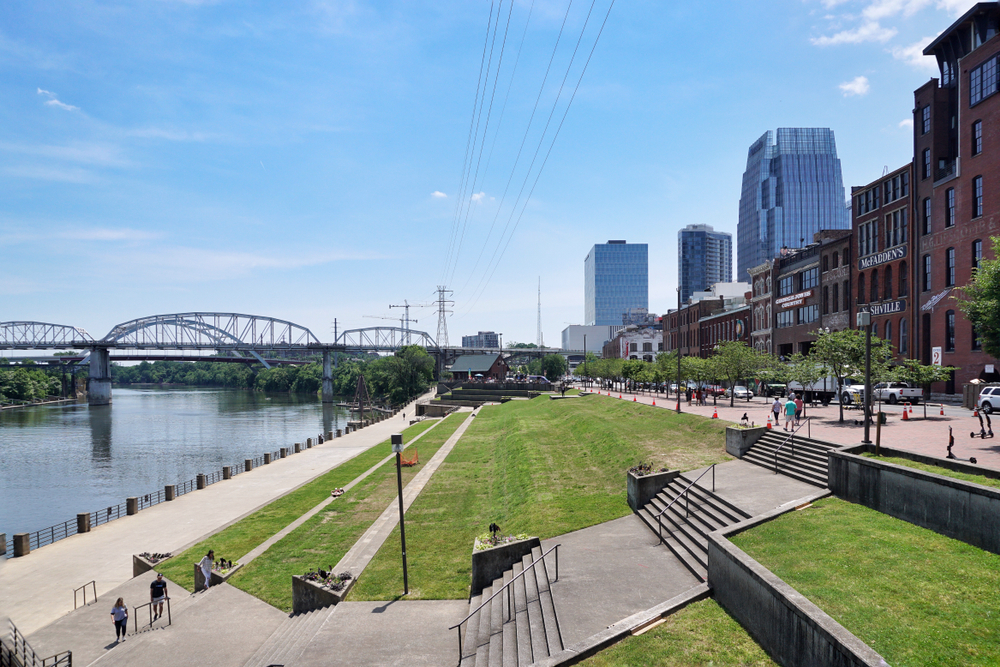 Nashville is by far one of the coolest places to visit in Tennessee! If you have been wondering where to go in Nashville, you're now equipped with loads of ideas for your next trip. From fun honky tonks and lively streets to educational museums and historic sites, this cool Tennessee town really has it all. Which of these things to do in Nashville will you do first?