If you are looking to try the best brunch in Austin Texas, then you are in the right spot! Although loving brunch is easy, finding all the cute brunch places in Austin Texas can be difficult. That's why we did all the searching for you. Introducing the best brunch places in Austin TX.
Austin is such an exciting city to be in. With a vibrant and bustling scene in the heart of Texas, Austin has become well known for being a foodie spot. Travelers far and wide seek the big and bold flavors of the south. And let us tell you, the Austin restaurant scene does not disappoint. There are so many things to do in Texas for brunch that you won't want to miss.
Although a lot of foods are infused with peppery spice, we have included quite a range of restaurants in Austin for brunch. From New American Fare, to French Flare, and Mediterranean cuisines, we have something everyone will want to sink their teeth into.
We'll dive into places like PaperBoy, June's and Cru Food & Wine Bar. This masterful list will also have awesome places for rooftop brunch in Austin like Upstairs at Caroline. And of course we did not forget to include places to go for bottomless mimosas in Austin TX.
So, without further delay, here are the best places for brunch in Austin.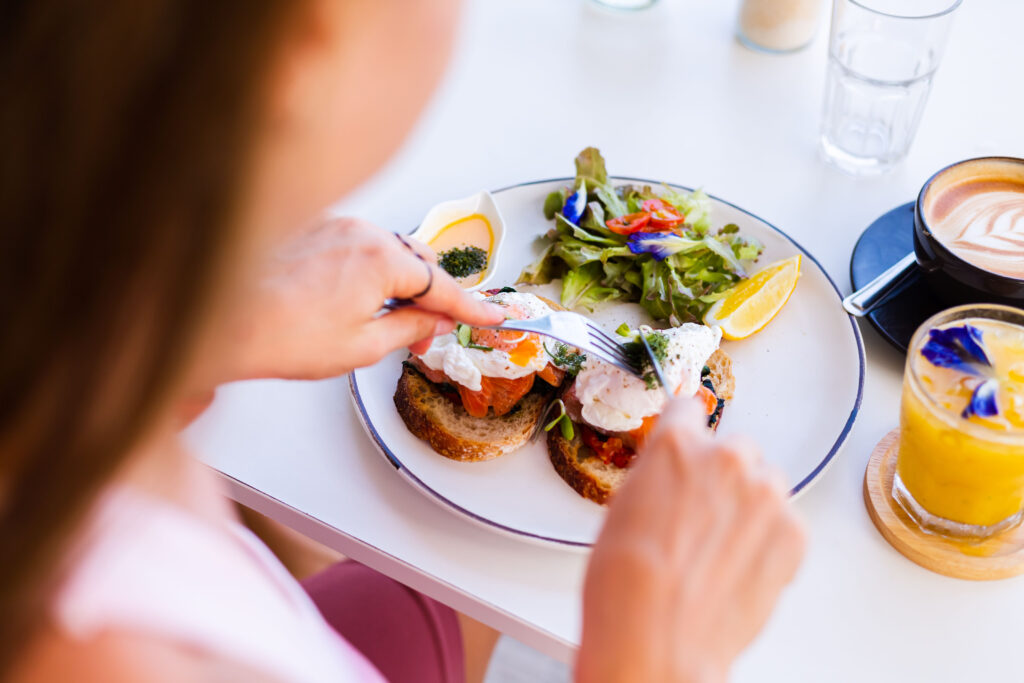 15 Best Places For Brunch In Austin TX You Must Try
Caroline Restaurant
When looking for where to brunch in Austin with dogs, turn to Caroline. It is one of the dog-friendly restaurants in Austin with scrumptious homemade breakfast. Located in the heart of downtown Austin Texas's central district, Caroline is one of the best South Congress brunch spots.
Their menu has a little bit for everyone. Small snacks like Burrata and Avocado Toast are great to start brunch off with. For the entrees, we recommend the Sweet Corn Benedict and the Green Chili Enchiladas.
They score big on brunch with espresso beans from Little City Roasters, Austin's legendary coffee roaster. Kombucha and superfood juices are also on the menu for those seeking healthy alternatives. And although their beer menu is quite short, there are many satisfying brunch cocktails to try.
Also, this place is a total vibe for brunch. Upstairs at Caroline is the most fun and sophisticated urban backyard party we have found. Everything from the vibrant and airy space, to the music playlist pleases. We highly recommend this be the place to meet up with friends for rooftop brunch in Austin TX.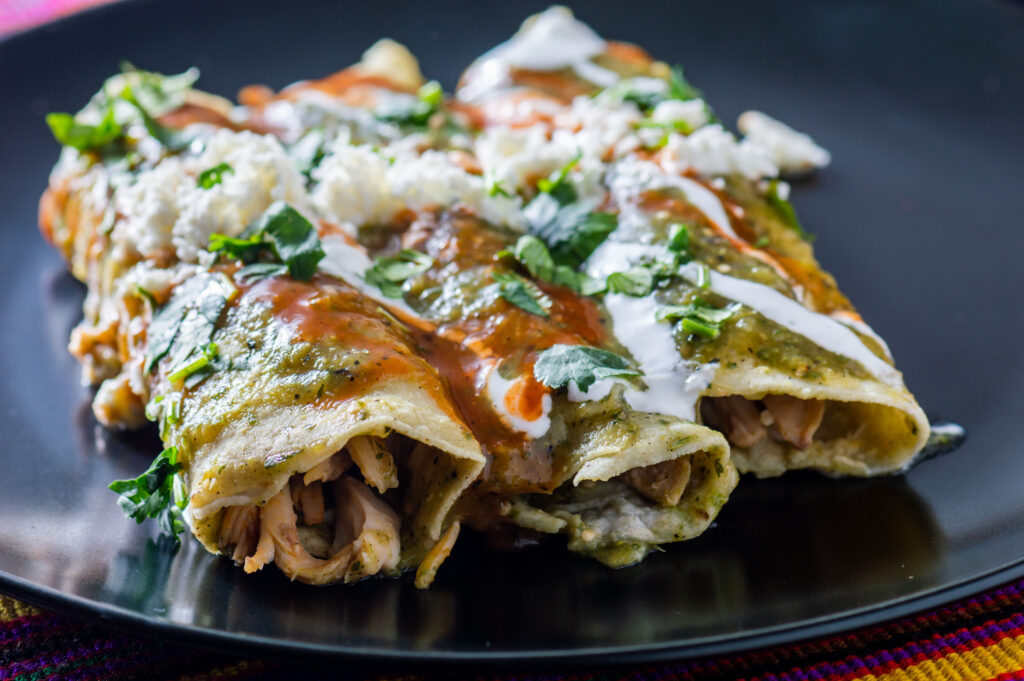 Ovenbird
Ovenbird is the brunch spot in Austin Tx if you are looking for brunch foods in a relaxed atmosphere. Find Ovenbird conveniently located on South Congress in Austin.
We recommend this South Congress brunch spot to the coffee enthusiasts and simple sandwich lovers. That's because Ovenbird skips the frills of brunch and delivers on flavor in small plates.
Wake up fashionably late for weekend exclusive menu items like delicious Scotch Eggs and the Hoppel Poppel. Oven bird may even become your new spot once you take a big bite into Housemade Sweet Potato French Toast coated in a thick Praline Syrup.
Forthright
Forthright is the place to go for some of the best brunch in Austin Texas. With honest food from scratch and fresh quality ingredients, Forthright is sure to win you over in no time.
Try their Chilaquiles Verdes or the Oyster Mushroom Hash. And yes, you do need their Cinnamon Roll to pair with a yummy Counter Culture Cappuccino. They also serve this incredible color changing cocktail called the Color Theory. The first time we ever had it, our minds were blown, and so were our taste buds too.
Our final stance on Forthright was that it was the kind of place that is popular, and for a good reason. With fairly priced dishes and drinks, we think Forthright deserved to be on our list of the best brunch spots in Austin.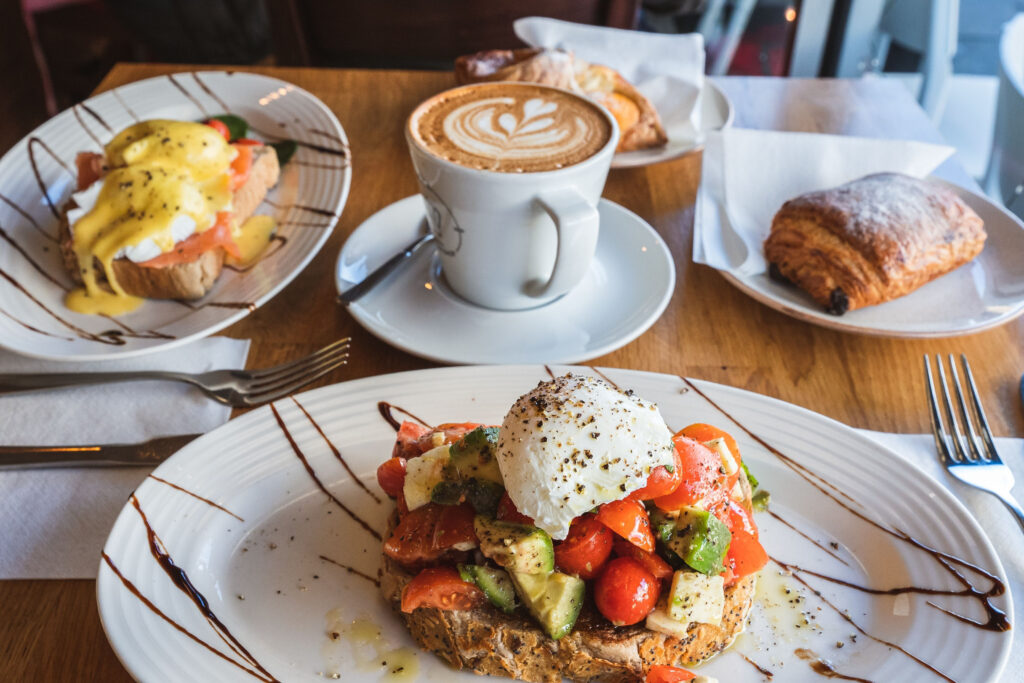 Another Broken Egg Cafe
Another Broken Egg Cafe is one of the best places for brunch in Austin. Indulge your breakfast fantasies with big flavors of the south. This is one of the best places for brunch in Austin if you like good ole southern style cooking or creole inspired foods. Your mouth will melt with options like the Mardi Gras Omelette and the Hash Brown Benedict.
We included Another Broken Egg Cafe in this list because it the place to go for bottomless mimosas in Austin. The mimosas are served by the pitcher or the glass, keeping us filled with champagne all brunch long. Anyone attending brunch that doesn't do mimosas will love to hear they have awesome spiked coffees too. One of the best spiked coffees they had was the Salted Caramel Spiked Cold Brew.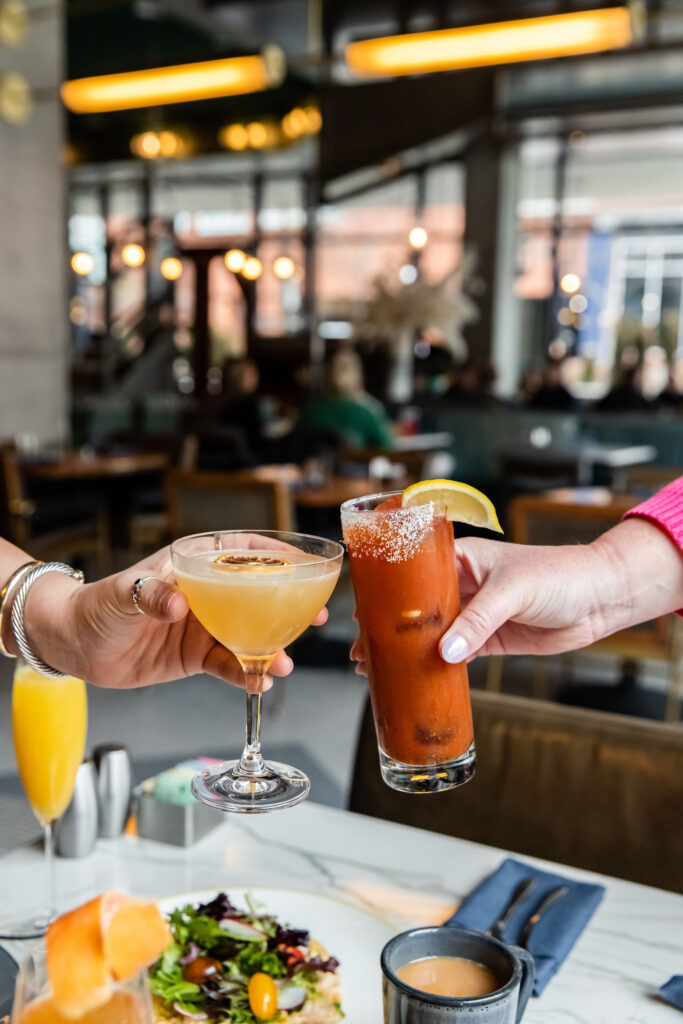 Launderette
One of the best restaurants in Austin Texas for brunch has to be Launderette. Not only do they have high quality dishes that will blow your taste buds away, the food looks like art! We love bringing friends with us to Launderette because it never disappoints.
The small, intimate space is simple, yet inviting in this laid back restaurant. Vibrant colors make Launderette a total vibe for friends and families. There is even a great covered patio area for those wanting outdoor brunch in Austin.
We always love starting the brunch off by trying their pastry of the day. Because I'm not big on Bloody Mary's, I like to get the Pamplemousse and Rose craft cocktail. But don't worry, they have Bloody Marys too. As for their delicious brunch foods, I really like the Pork Shoulder Hash and the Salmon Gravlax. Give either of them a try, you can't go wrong!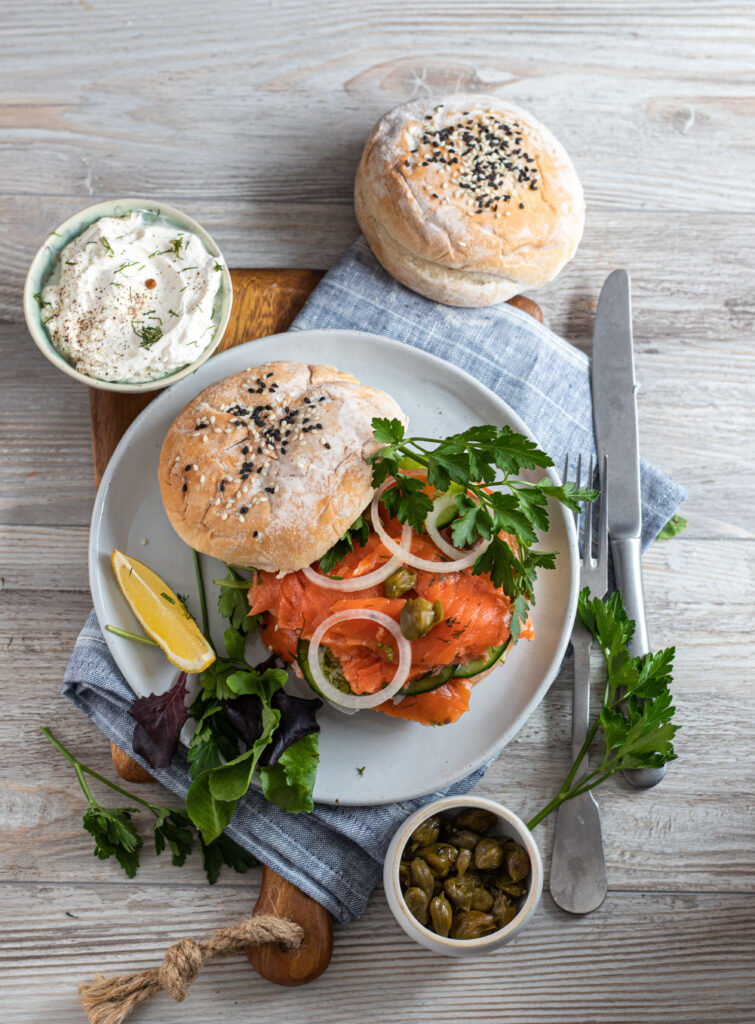 Hideaway Kitchen & Bar
The best neighborhood restaurants in Austin for brunch is Hideaway Kitchen & Bar. This place makes you feel right at home. The nostalgic flavors of down-to earth, made-from-scratch comfort food satisfies all around. Locally sourced ingredients make the difference that you can taste.
We love this place because it has a little bit of something for everyone. The menu is full of classics from multiple style of eggs benedict to tacos, waffles, and French Toast. Hideaway Kitchen & Bar changes the Chicken & Waffle game with crazy flavors like their delicious Strawberry Balsamic option. The menu offers some healthier choices like an Acai Bowl and a Sweet Potato Hash.
Also, there is a great hangout spot in their outdoor seating area, perfect for having Saturday brunch in Austin.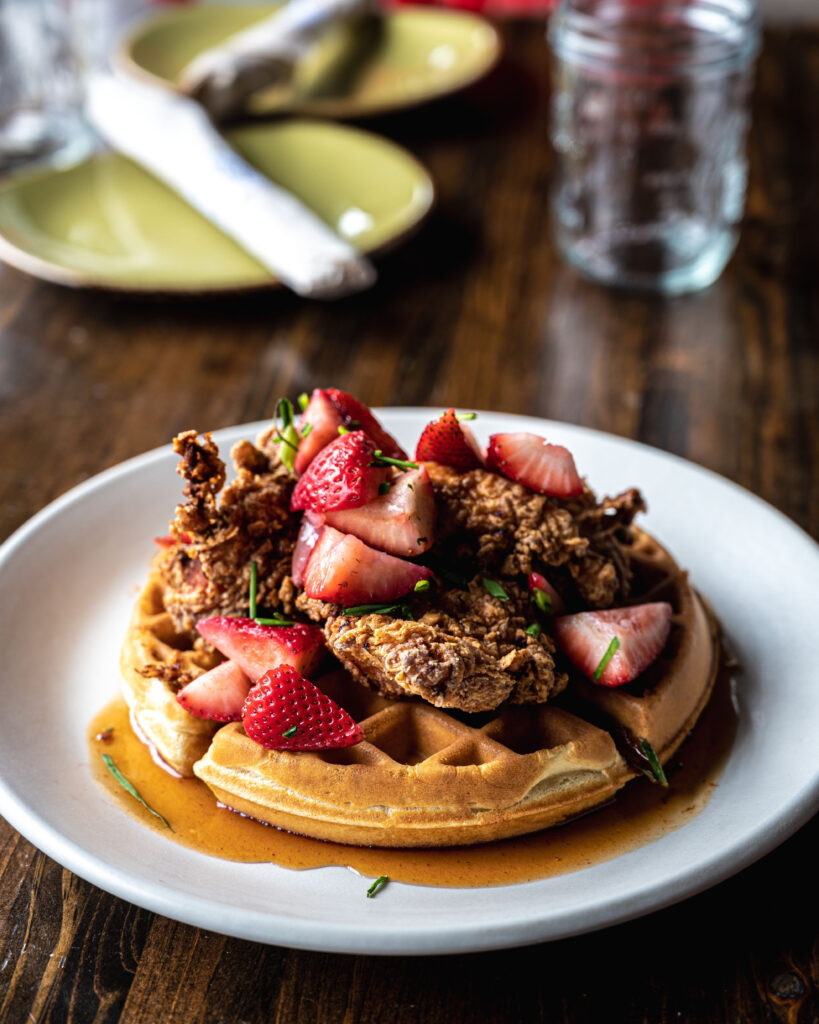 Jacoby's Restaurant & Mercantile
Saturday brunch in Austin TX should be at Jacoby's Restaurant & Mercantile. Only serving brunch on Saturdays and Sundays, this is a great weekend brunch spot tucked away on the Eastside.
Although you won't find bottomless mimosas in Austin at Jacoby's, they do sling mimosas by the pitcher for the seasoned brunchers. However, the cocktails are just as impressive at Jacoby's. The Spicy Texan will start the late morning off on a really good note.
Getting into those yummy dishes is such a treat. We still dream about the Seasonal Tea Loaf French Toast, the Collard Green Pesto, and of course the Manchego Tater Tots. Finish off the perfect southern style brunch with a slice of Grandma Hagler's Strawberry Cake.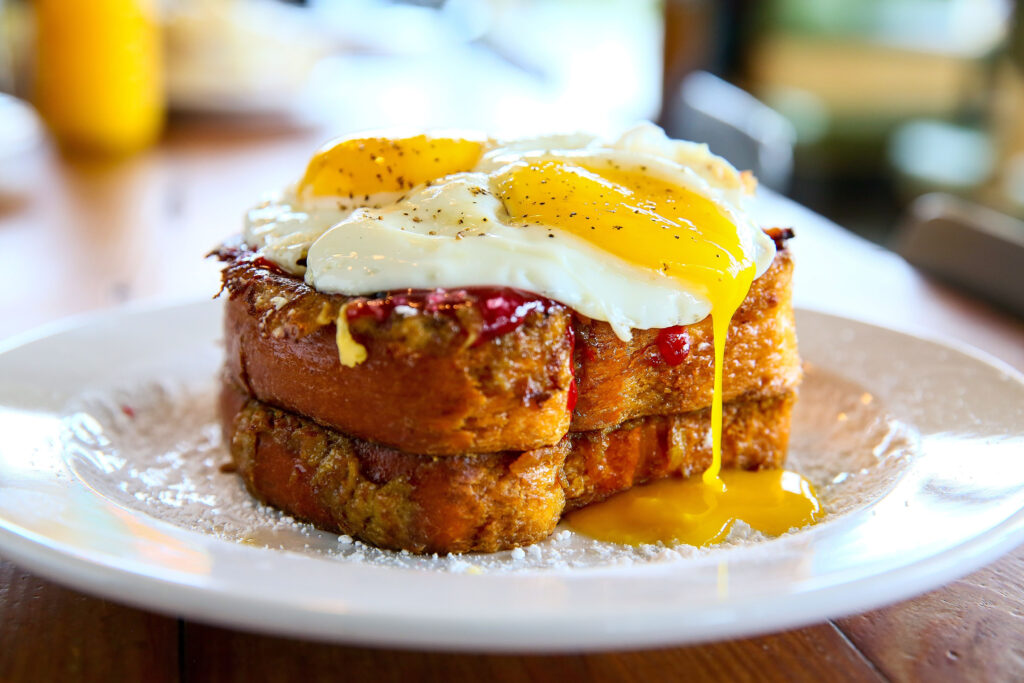 PaperBoy
Okay so the name doesn't really sound like it is a brunch spot in Austin, but trust us, you will want to give it a try. Paperboy is one of the cute brunch places in Austin that is totally not overrated. It is one of our favorite places to go for outdoor brunch in Austin. After one try, PaperBoy might be yours too.
It is not everyday that you can just order a Cinnamon Toast White Russian for brunch, here we can. Win over Brunch with a savory Pho Grit Bowl, Ricotta Toast, and a sweet bite of the Guava Danish.
The combinations of such big flavors make Paperboy one of the best hidden gems in Texas. We also love that they come at a reasonable price point, too.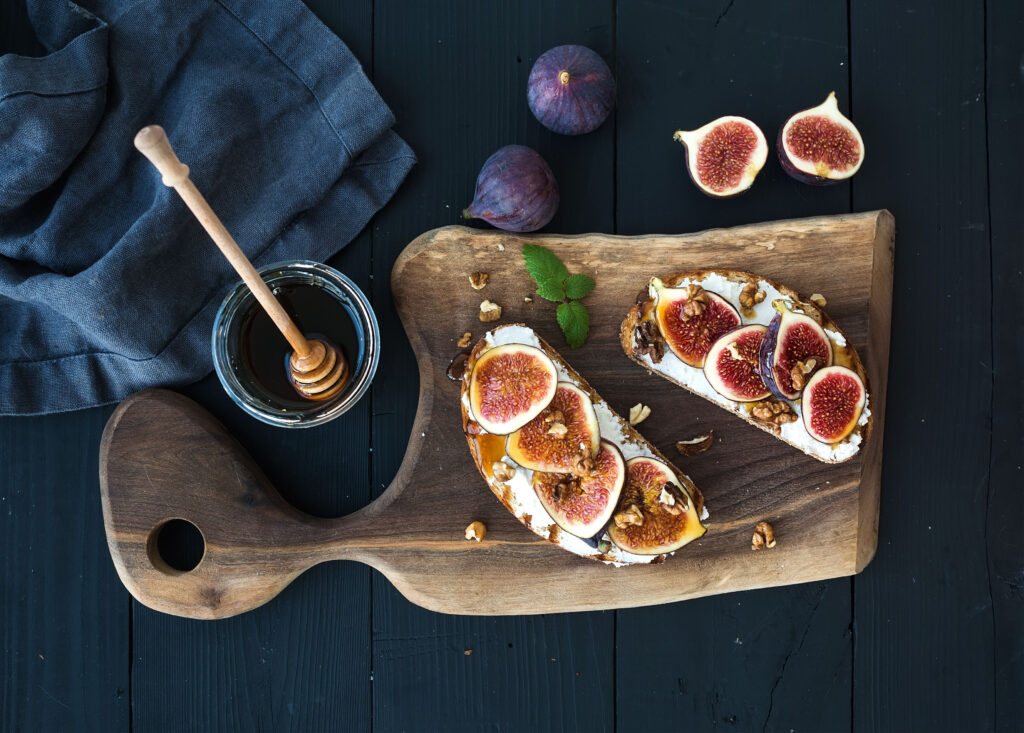 Bouldin Creek Cafe
Another one of the best Austin brunch spots is called Bouldin Creek Cafe. This is the place we go to when we are needing something healthy and refreshing for brunch. You can feel good about the foods you are eating at Bouldin Creek Cafe because they are a vegan/vegetarian friendly restaurant.
Although vegans will really appreciate this gem of brunch spots in Austin TX, the cafe is a place for everyone. If you refuse to not live without diary, they have vegetarian dishes that are sure to please.
Foods made from scratch will surely impress the taste buds, as will the handcrafted specialty coffee drinks. Even better, this local and woman-owned place loves art and the community. You can tell this too in the funky and cute, totally artsy vibe at Bouldin Creek Cafe.
Make sure to try their Blueberry Cornbread, the Potato Leek Omelette, and the Zucchini Migas Plate when you go. As for drinks, we suggest trying something different than a traditional Mimosa because they have so many fun alternatives. Instead, sip on bubbles of the Apple Blossom champagne or, maybe even the tasty Rainbow Dash.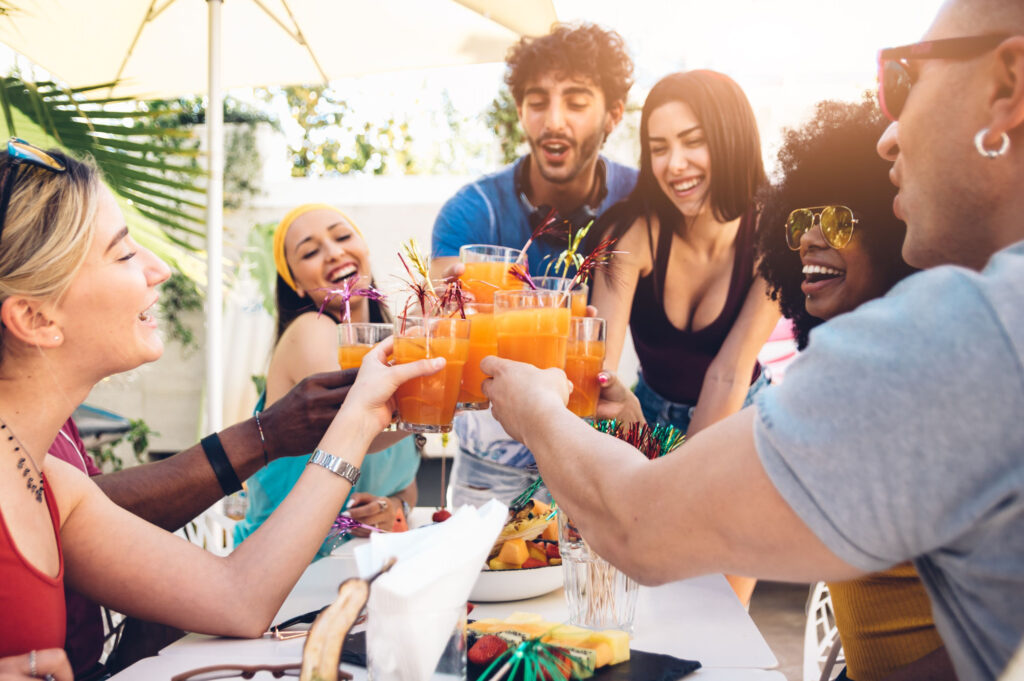 The Peacock
For those seeking a change from traditional breakfast foods, we suggest The Peacock. This Mediterranean style restaurant is jam packed with flavor and big on style. A colorful space and comfy seating brings the place to life. They also have a small space to serve a condensed menu for a more private outdoor brunch in Austin.
We love that The Peacock serves heathy and wholesome foods that make you good inside and out. The Peacock invites you to share dishes at the table so everyone can indulge in the experience. The Beef Short Rib Shawarma Hummus is something everyone needs to try. Next, sink your teeth into the Red Snapper Crudo or the Blueberry & Semolina Pancakes. We also really loved the Lamb Meatballs & Soft Eggs.
Although The Peacock is a bit more expensive than other places we have recommended in this list of best brunch in Austin Texas, we think it is worth it. So treat yourself to trying something new with flavors from the other side of the world at The Peacock for Saturday brunch in Austin Texas. After all, if we are going for the best weekend getaways in Texas, then put The Peacock brunch in the plan.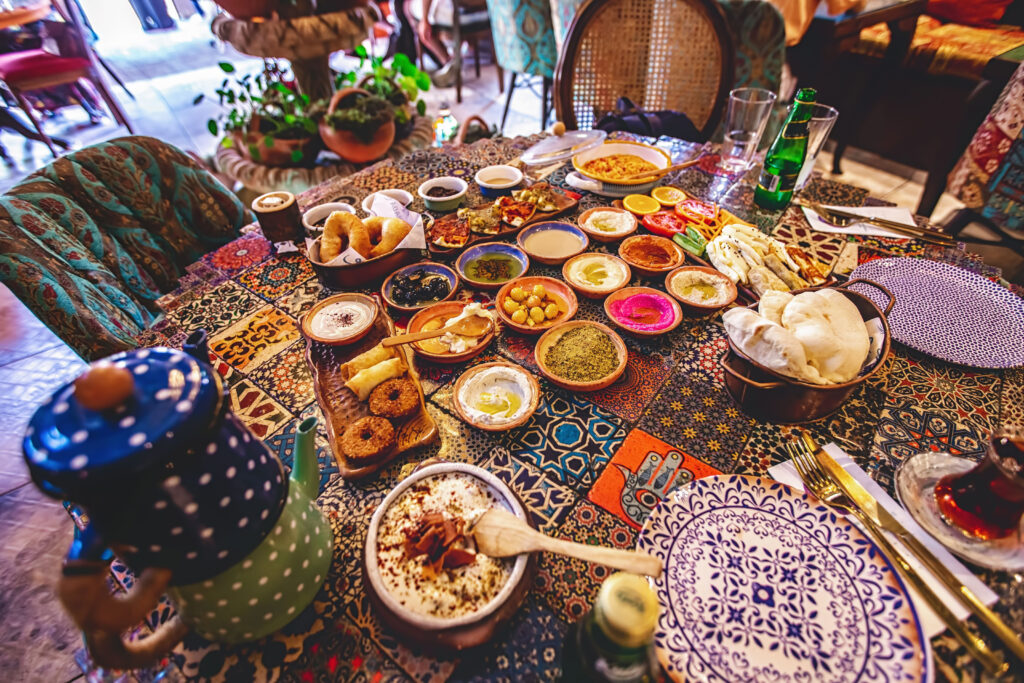 June's All Day
Let's talk about June's All Day weekend brunch in Austin.
If you are searching for restaurants in Austin for brunch, give June's a try. Located on South Congress, June's is one of the best brunch spots in South Austin. This is a great spot for brunch in Austin on Saturday or Sunday as their limited time menu is weekend only.
June's brunch in downtown Austin is a chic in style. It's a old school dinner with a cute modern twist.
Although the menu is very condensed, it is packed with great options. The Fried Baby Eggplant was delicious, but so was the Croque Madame. You can find upgraded classics like Housemade Granola and Buckwheat Crepes, too. We recommend trying out the Bakeshop on their menu as well, because the pastries were super yummy.
As for drinks, you won't find any bottomless mimosas in Austin here. However, they do serve mimosas by the glass, along with Bloody Mary's and a specialty Brunch Cocktail of the Day.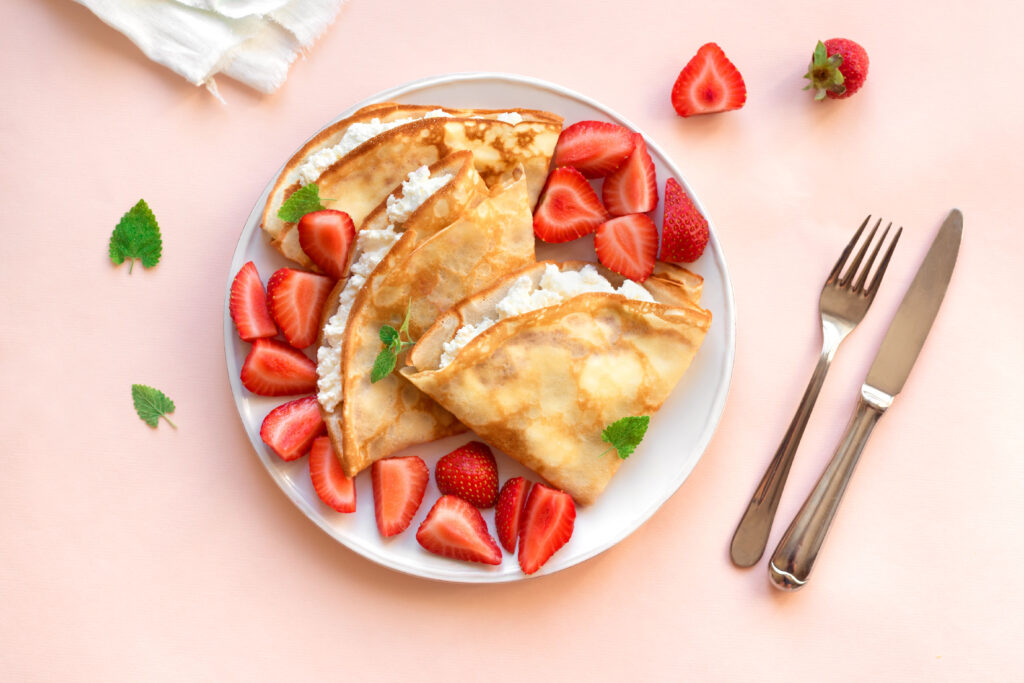 Eastside Tavern
Next up is the best Sunday brunch in Austin TX, Eastside Tavern. Being one of the few great places that serve bottomless mimosas in Austin, Eastside Tavern deserves a mention. Here, you will find scrumptious foods and a casual atmosphere. There is even outside seating, making it a great spot to have rooftop brunch in Austin.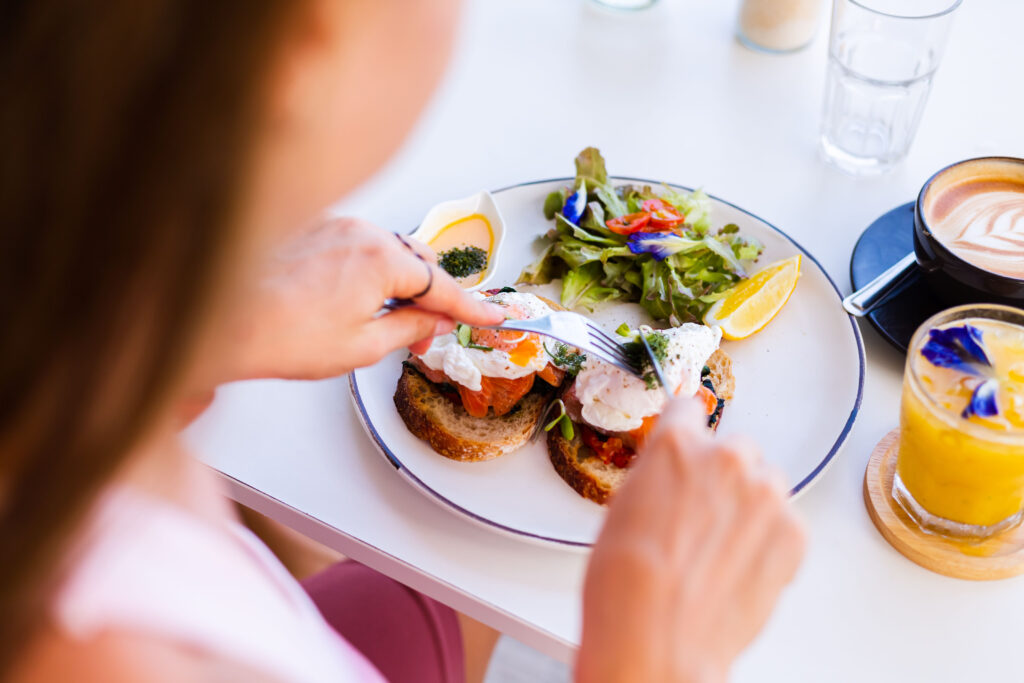 Moonshine Grill
Another great option for brunch food in Austin is the all-you-can-eat buffet at Moonshine Grill. The Moonshine Grill is a great spot for bottomless brunch in Austin. It's not some skimpy buffet either. They actually have over 30 handmade breakfast favorites served on Sundays. You can even get great deals on Mimosas and Bloody Marys.
Cru Food & Wine Bar
The Cru Food & Wine Bar might become your favorite neighborhood bar for downtown brunch in Austin Texas. Located off of 2nd Street downtown, this spot is a cozy corner to have the best brunch food in Austin.
Have you ever just wanted pizza for brunch? We have. That's not to say the menu is all pizzas, but we do love that the option exists. There is something for everyone on the menu though. From avocado toast to salads and burgers, you can find a good mix of options for even the pickiest eaters.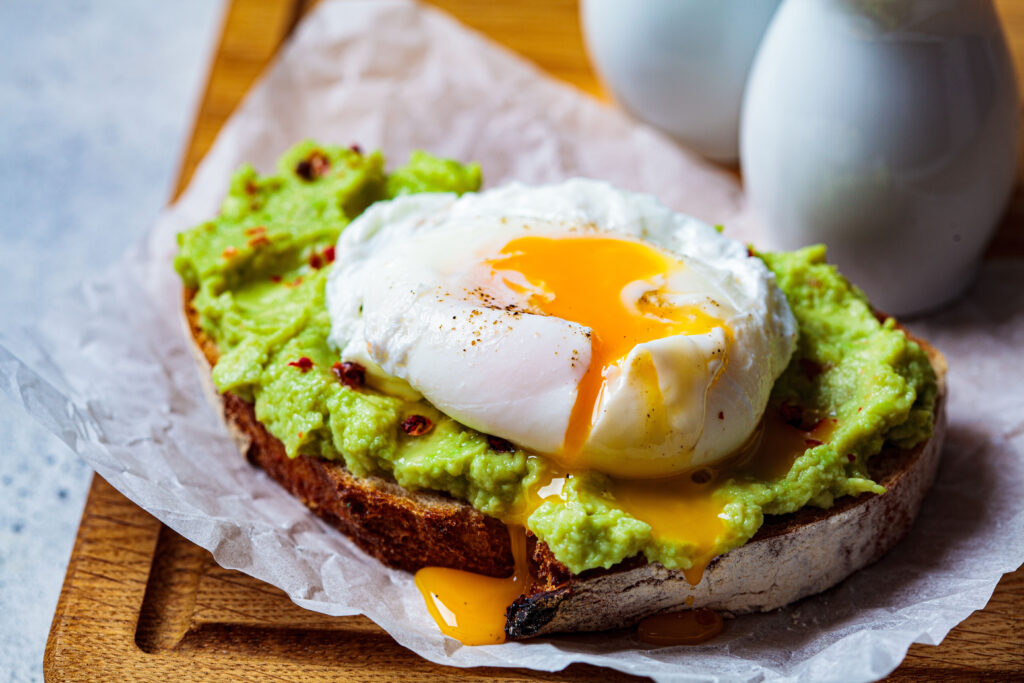 Pheobe's Diner
The most delicious comfort foods can be found at Pheobe's Diner. There is usually a line out the door, as most people would agree it is one of the best places for brunch in Austin TX.
Pheobe's Diner serves cuisine that is a mix of Tex-Mex and Creole. You can expect big flavors and spices in every supremely satisfying meal. We thought the Chorizo Hash was incredible and so was the Crawfish Eggs Benny. Although the food gives you the full-all-day feeling, it is worth indulging in while visiting Austin Texas.
Elizabeth Street Cafe
Our last suggestion for the best brunch in Austin Texas would have to be a mention of Elizabeth Street Cafe. This cafe is one of the restaurants in Austin for brunch that will change your idea of what brunch means.
Imagine the combination of a French bakery and Vietnamese Cafe. Expect to fall in love with their tasty croissants, steaming bowls of pho, and Banh Mi served on fresh baked bread. Beyond the bun, Elizabeth Street Cafe also serves some breakfast specialty dishes like the Pork & Shrimp Crepe, Banh Cuon, and the Cha Ca Redfish.
This cute brunch spot in Austin is tucked away in South Austin. Featuring sunny dining rooms and a shady garden patio, this may just become your new spot for Saturday brunch in Austin Texas.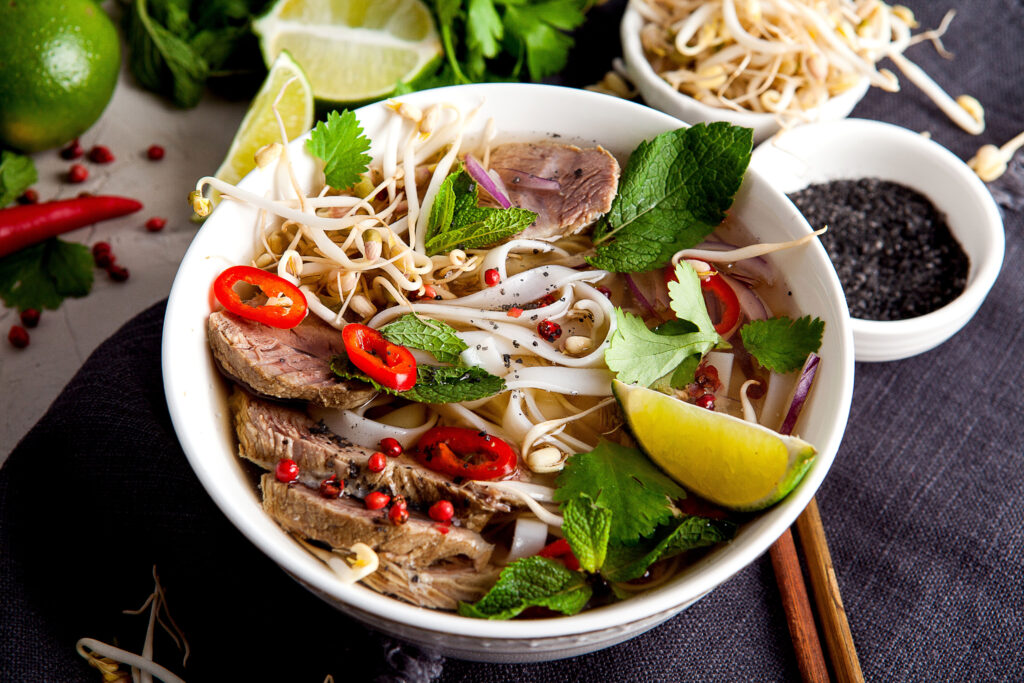 We hope you enjoy all of these recommendations for brunch restaurants in Austin. From rooftop gems, to bottomless mimosas we hope this masterful guide helps you to have the best brunch in Austin ever. Bon Appetit, friends.