If you're looking for the best hidden gems in Texas, then you've come to the right place! We love exploring Texas, and there are simply so many cool things to do there.
Texas is the second largest state in the USA, and it's incredibly diverse. Whether you love hot climates, beautiful State and National Parks, or hunting for bluebonnets, TX is awesome. There are also huge cities, charming small towns, and unique historic sites to explore. It truly is a state that has something for everyone!
While there are tons of traditional things to do in Texas, there are also some really unique secret spots in Texas too. So, while you'll naturally want to see the top spots in Texas, you may also want to check out some of the lesser-known Texas activities. If that sounds like something you'd like to do, then you're in the right spot.
This list is for those adventurers who love to find attractions that are a little bit off the beaten path while they're sightseeing! We've made sure to include a wide variety of hidden gems to visit in Texas on this list. There are secret swimming holes, gorgeous parks, charming small towns, and tons more for you to explore on your next trip to TX.
So, let's take a look at some of the coolest hidden gems in Texas!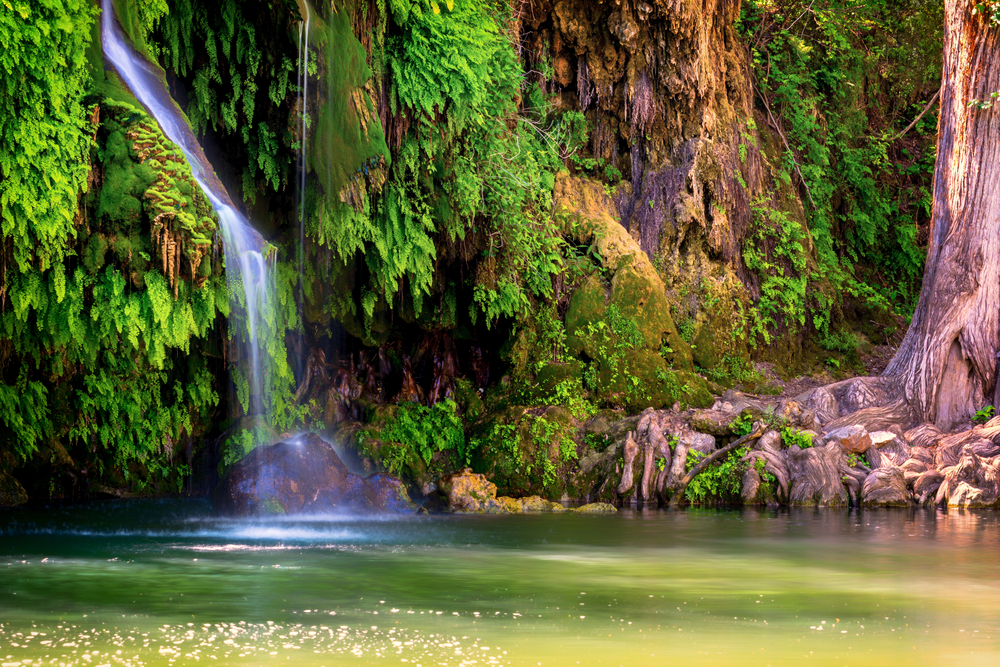 15 Secret Hidden Gems In Texas You Must Visit
Big Bend National Park Hot Springs
Big Bend National Park is located in Brewster County and is often called 'Texas' Gift to the Nation'. That's because it is an absolutely stunning National Park in the south. Most people visit the park during the spring or fall months when the weather isn't as hot.
There are a few different things to do in the park, like taking a day hike and exploring the Chisos Mountains. Visiting Big Bend National Park is actually a very popular thing to do in TX. However, most people don't know that it also has one of the best secret spots in Texas. That's because inside Big Bend National Park there is a very old natural hot spring.
The hike to the hot spring is fairly easy, and once you get there, you'll be able to take a soak. Most people who come to Big Bend end up not enjoying the hot spring though. A bathing suit is required to soak, and if you don't know it's there, you probably don't know to bring a bathing suit! However, if you're prepared, it's a fun activity off the beaten path in Texas.
This is truly one of the Best Things To Do In Texas to put on your Texas bucket list!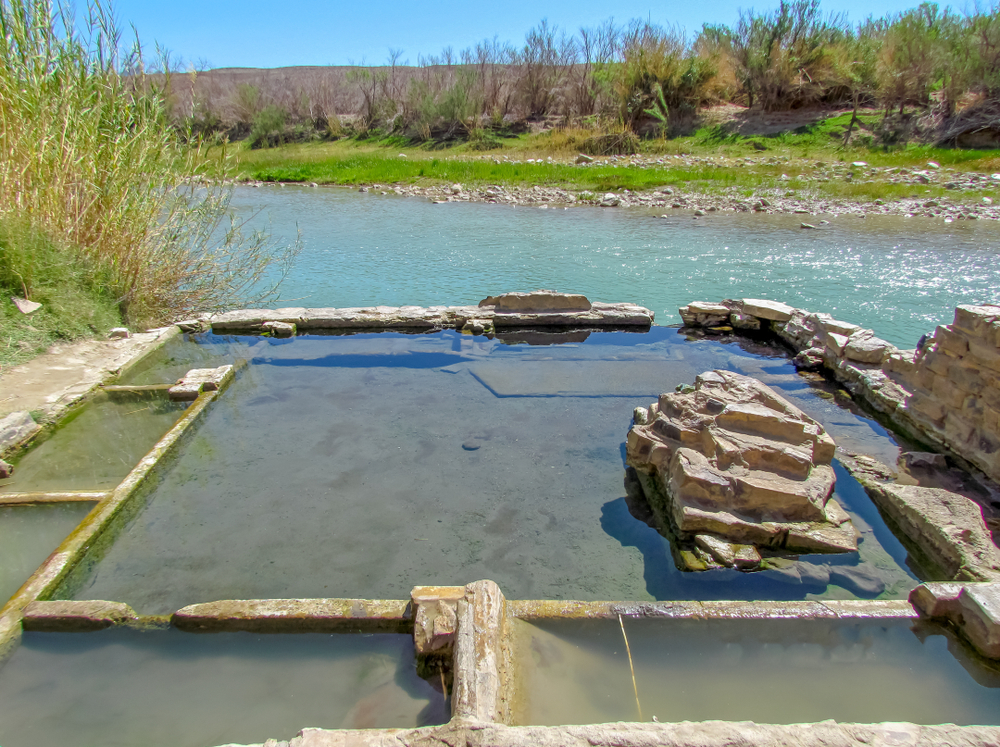 Marfa
Marfa is one of the coolest small towns in Texas that has a very interesting history. This history makes it one of the most unique places to visit in Texas. Marfa is known as being a hotbed for paranormal activity, particularly UFOs. For decades, residents and visitors of this small town have claimed to see balls of red, orange, and yellow lights floating through the air.
Some even claim that these anomalies spend hours just floating above the city. Those who have seen the orbs say they are about the size of a basketball. Every year, on the first weekend in September, the small town hosts its Lights Festival, in honor of these 'visitors'. The festival features live music and a variety of vendors every year.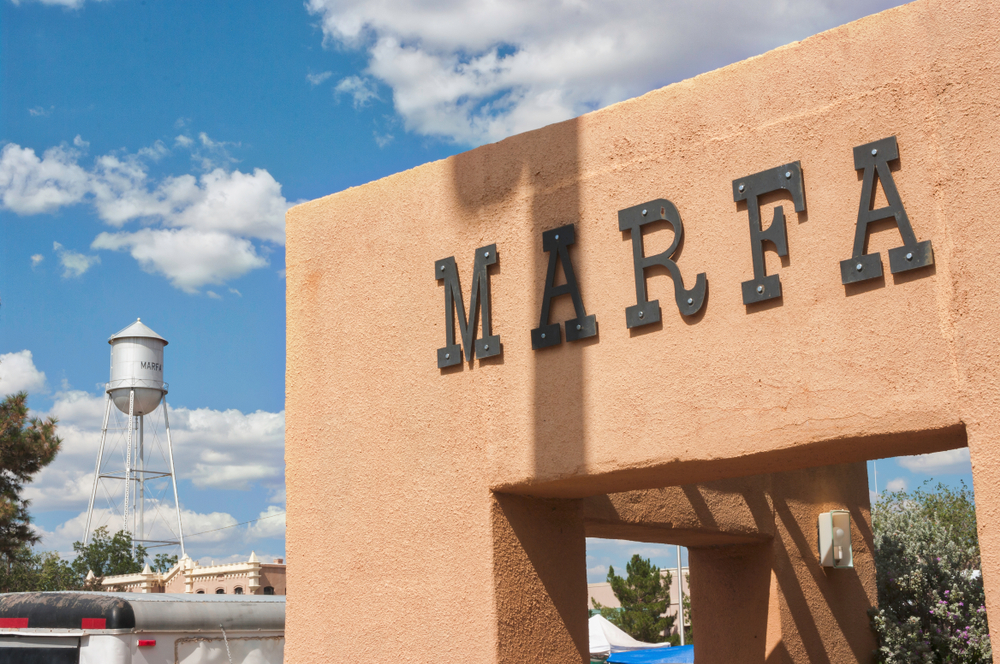 Jacob's Well
Texas is hot, there's no denying that. So what's better than getting the chance to cool off at one of the best secret places in Texas? Just an hour outside of Austin, you'll find Jacob's Well, a natural spring-fed pool. The water at Jacob's Well stays at a constant 68 degrees. It sounds a bit cold, but we promise, on a hot Texas day, it's refreshing!
This beautiful natural wonder extends a mile below ground, and the water is crystal clear. There is also an underground cave system that experienced divers can explore. However, it's not a good spot for inexperienced divers, and it's considered one of the most dangerous diving sites in the world. But, you don't have to go diving to enjoy the water. You can lounge around the sides of the well or just dip your feet in if you want.
If you are living in Texas, you can easily visit here during the off season when it is less busy!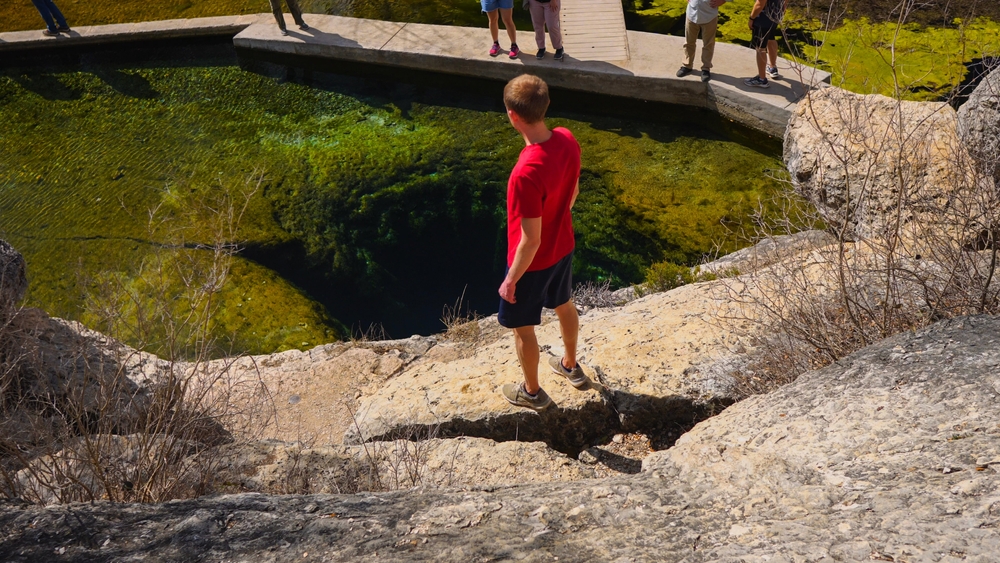 Terlingua Ghost Town
One of the best hidden gems in Texas is the Terlingua Ghost Town. Terlingua is a super small town in TX. It was originally established as a mining town in 1903. At one time, it was actually one of the nation's leading producers of quicksilver. However, in the 1930s, production started to dip, and slowly the people of Terlingua moved on to other TX towns.
Eventually, the town became empty after the company filed for bankruptcy in 1942. Today, Terlingua has become a bit of a tourist destination. It's now known as the Terlingua Ghost Town, and you'll find a wide variety of unique structures in the abandoned town.
There are of course the old homes and buildings that originally made up the town. But, now, you'll also find a land-locked submarine, a pirate ship, and more. the Terlingua Ghost Town is one of the most unique places to visit in Texas.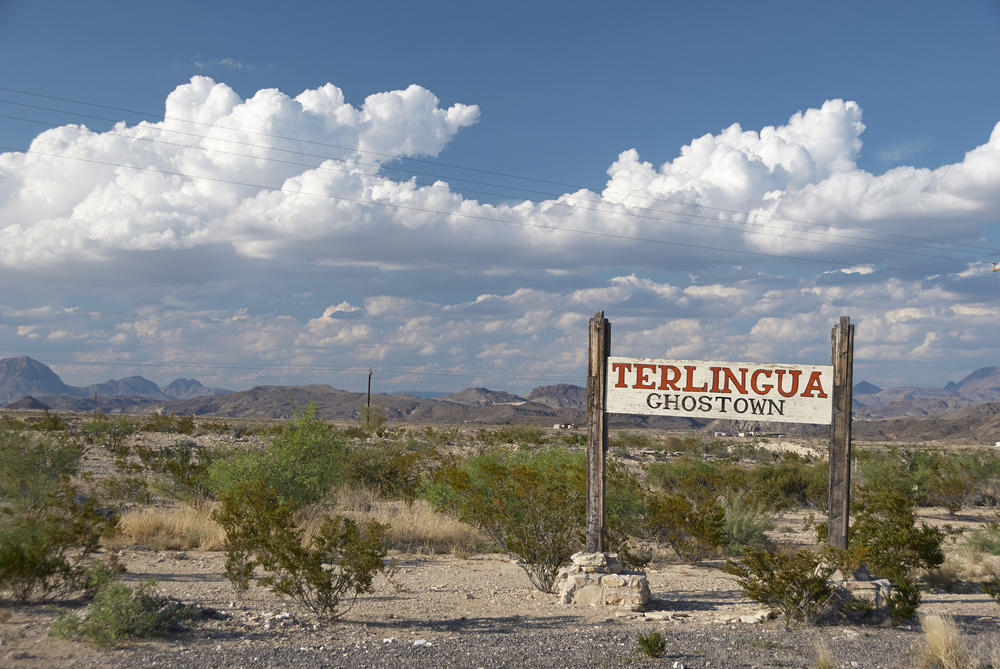 Luckenbach
If ghost towns aren't your thing, but you'd like to visit a unique Texas small town, then head to Luckenbach. Luckenbach is absolutely teeny-tiny, with just 13 residents. Yes, you read that right, 13. However, its lack of residents doesn't mean it's worth a visit. It's actually a really cool hidden place in Texas.
The town was originally founded in 1849 by German farmers. Inside the town today, you'll find a lot of original structures from its founding. The town has its original saloon and dance hall to this day. In the 1970s the entire town was sold, and actually became a bit of a country music mecca. It may be small, but Luckenbach is one of the best hidden gems in Texas.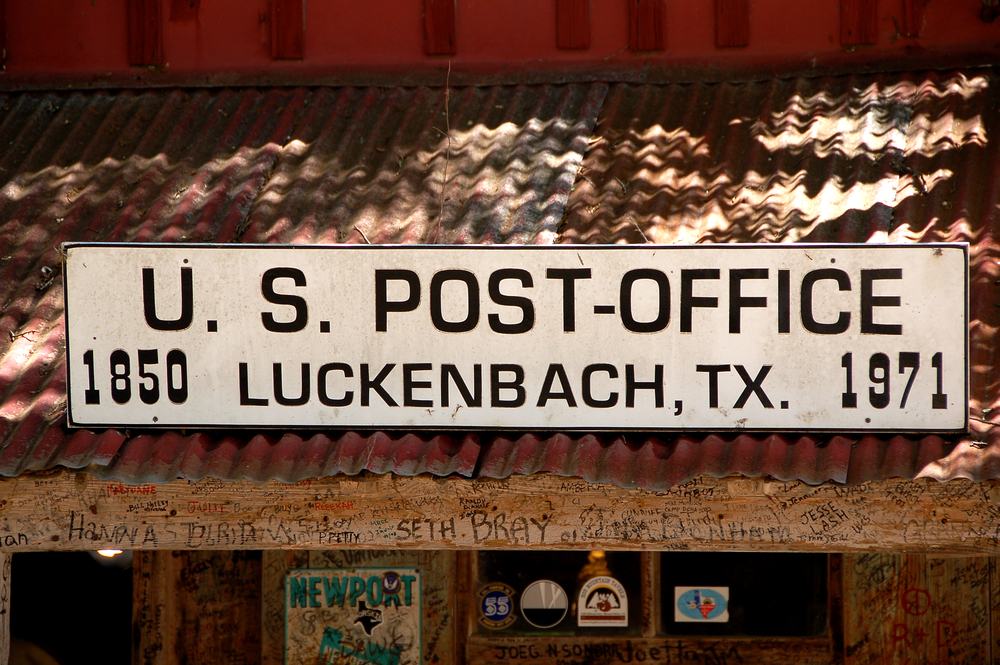 Cadillac Ranch
Lovers of roadside America-style attractions will love stopping at this cool thing to do in Texas. The Cadillac Ranch is located outside of Amarillo Texas. You'll find it along Route 66 in Texas, which is one of the best road trip routes in the south. It was built by a group of art hippies from San Francisco in 1974, seemingly out in the middle of nowhere in Texas. Cadillac Ranch is definitely off the beaten path in Texas.
It was meant to baffle the locals, and it definitely did. While it was baffling then, today, it's a really cool art stop in Texas. Over the years, the upright Cadillacs have been spray painted and decorated by visitors. So, every time you visit, the cars look just a little bit different. It's a great spot for a cool photo-op, and it's definitely one of the most unique places to visit in TX.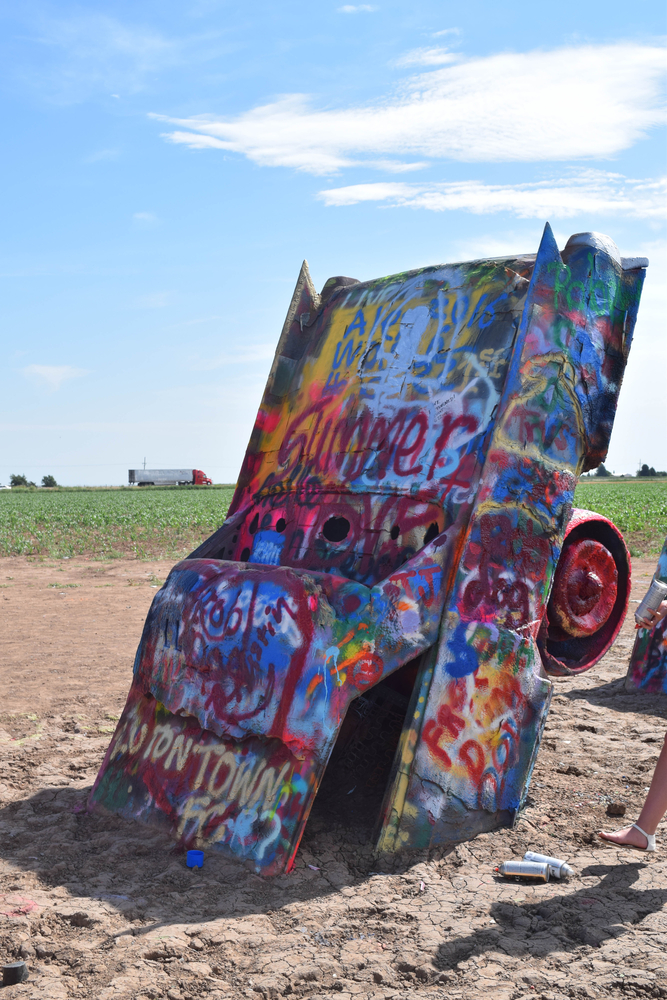 Fort Worth Water Gardens
For one of the best hidden gems in Dallas, you'll want to head to the Fort Worth Water Gardens. We know that it's technically in Fort Worth. But so many aspects of these two Texas cities are connected and many people refer to them fairly interchangeably. So, when you're researching the Fort Worth Water Gardens, you'll find a lot of sites actually say they are in Dallas.
The Fort Worth Water Gardens are located right by Fort Worth Convention Center. You'll find a series of water features that have been masterfully designed to create beautiful water landscapes. As you wander through this urban park, you'll find a wide variety of water features on display. While it's not technically in Dallas, we still think it's one of the best hidden gems in Dallas.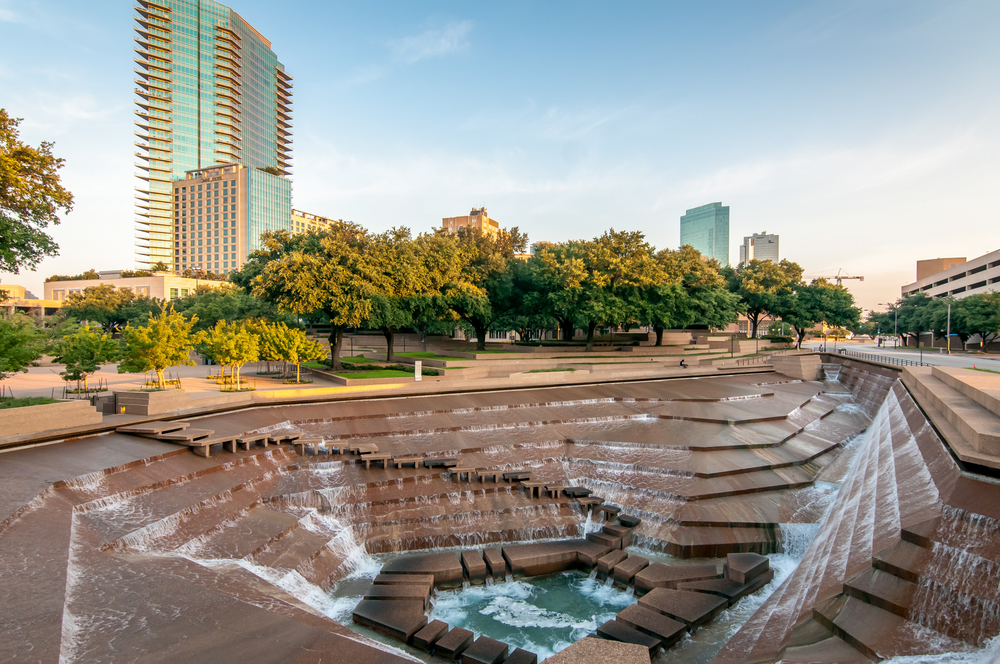 Waco Mammoth Site
One of the coolest Texas hidden gems is the Waco Mammoth Site. The Waco Mammoth Site is a paleontological site in Waco Texas. At the dig site, there are 24 fossils of Columbian mammoths that have been discovered.
It's believed that the mammoths died altogether as a result of a flash flood. Because they are all together, it's the largest known concentration of mammoths dying in one spot, from seemingly one event. So, it's a pretty unique archeological find.
The initial bone was discovered in 1978, by two men who were looking for arrowheads in the area. When the two men found the large bone, they took it to Baylor University. The University's archeological department quickly realized this was no ordinary bone. Shortly after, they began excavating the site. Today, there is a museum at the site of the dig that you can visit. It's a really cool hidden gem in Texas to visit.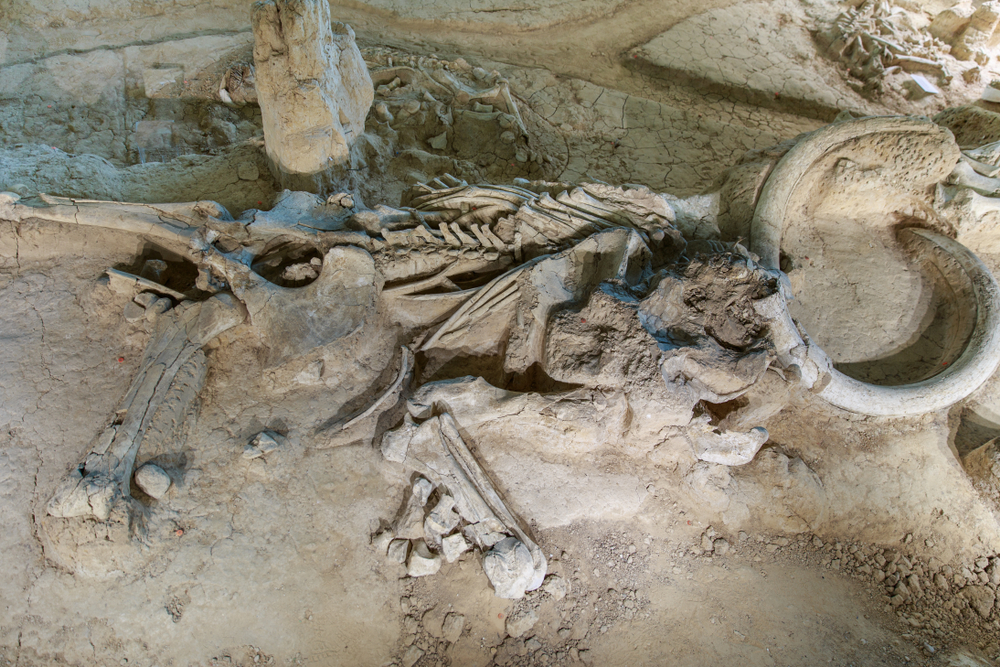 Smither Park
If you're looking for hidden gems in Houston, then check out Smither Park. Smither Park is an urban park in the heart of Houston. What makes the park so unique is that it is full of beautiful mosaics.
The park was started by Stephanie Smither, in honor of her late husband, John H. Smither. To bring her idea of an art-filled park to life, she worked with artist and builder Dan Phillips.
Inside the park, you'll find tons and tons of mosaic structures that are decorated with a wide variety of found objects. As you look at the mosaics, you'll find street signs, fishing lures, plates, and other odds and ends making the beautiful art pieces. This hidden gem in Houston also has an amphitheater, a large swing set, and a memory wall.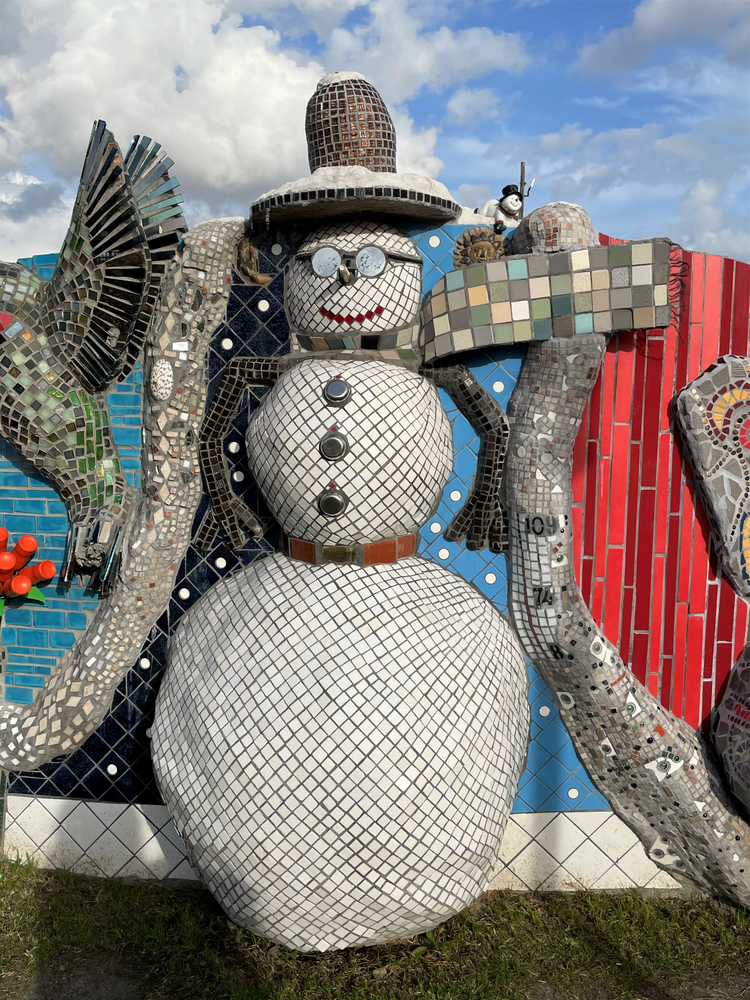 Krause Springs
Krause Springs is one of the prettiest hidden spots in Texas. It is over 115 acres and is actually listed on the National Registry of Historic Places. The property is privately owned, but you can easily visit it. That's because it's a campground! On the 115 acres, there are 32 different springs and obviously, you can camp there too.
The 32 springs are a great place to escape the Texas heat. If you don't want to camp there, that's fine. They offer day passes so that people can come and enjoy the springs without having to camp. But if you are looking for a cool camping spot, this is a great option. You won't be disappointed visiting this beautiful secret spot in Texas.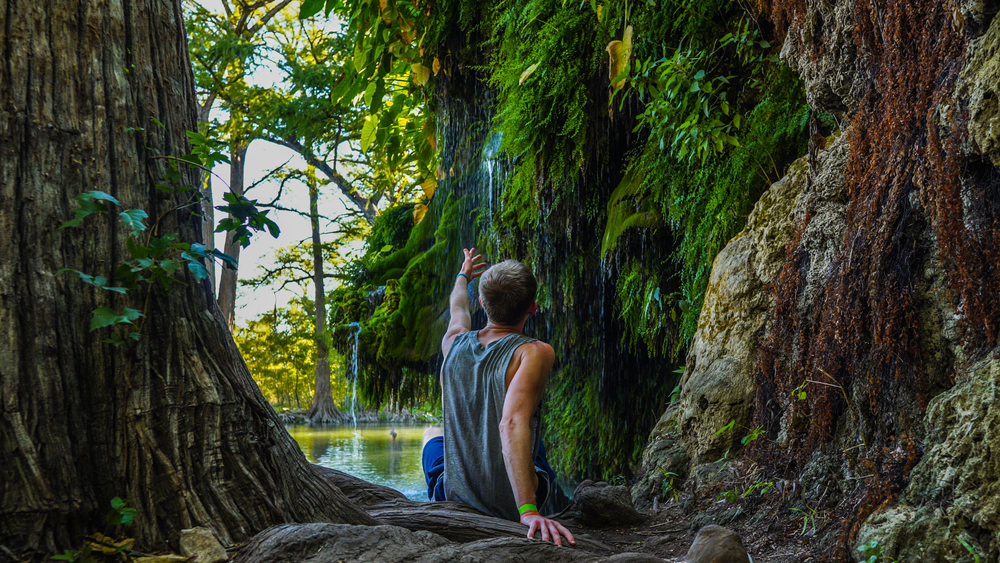 Longhorn Cavern State Park
One of the best secret places in Texas is Longhorn Cavern State Park. You'll find the park about 90 minutes outside of Austin. It's a really unique place to visit in Texas' Hill Country. There are a couple of things to do there, but what you'll really want to do is visit the park's namesake cavern. The Longhorn Cavern is a huge cavern that was carved out by an ancient river.
Today, you can take a tour of the massive cavern. The Texas Park Services offers guided tours of the cavern, but you'll need to purchase tickets ahead of time. For adults, the price of a guided walking tour ticket is $20.95. However, the tour is pretty extensive, and you'll learn a lot as you spend over an hour in the cavern. We definitely think it's worth it.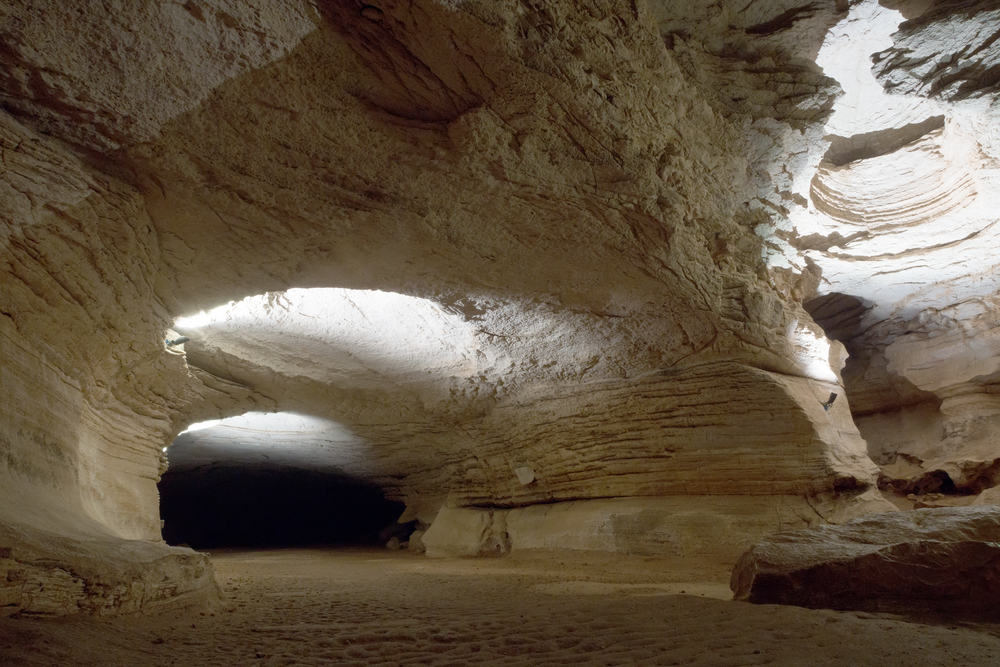 Newman's Castle
You may not think of Texas when you think of castles. But the state actually has a few different castles that you can visit. Newman's Castle is a Texas hidden gem that can be found just outside of the town of Belville. Construction of the castle started in 1998 and was finished in 2008. But the 10 years of construction were well worth the end result!
The main purpose of Newman's Castle is a venue. You can rent it for parties and weddings if you're looking for fairy tale vibes. But, you can also take tours of the castle. It's full of everything you'd expect to see in a classic Medieval castle. Six days out of the week, you can book tickets to tour the castle. If you're looking for unique hidden gems to visit in Texas, then you've got to go to Newman's Castle.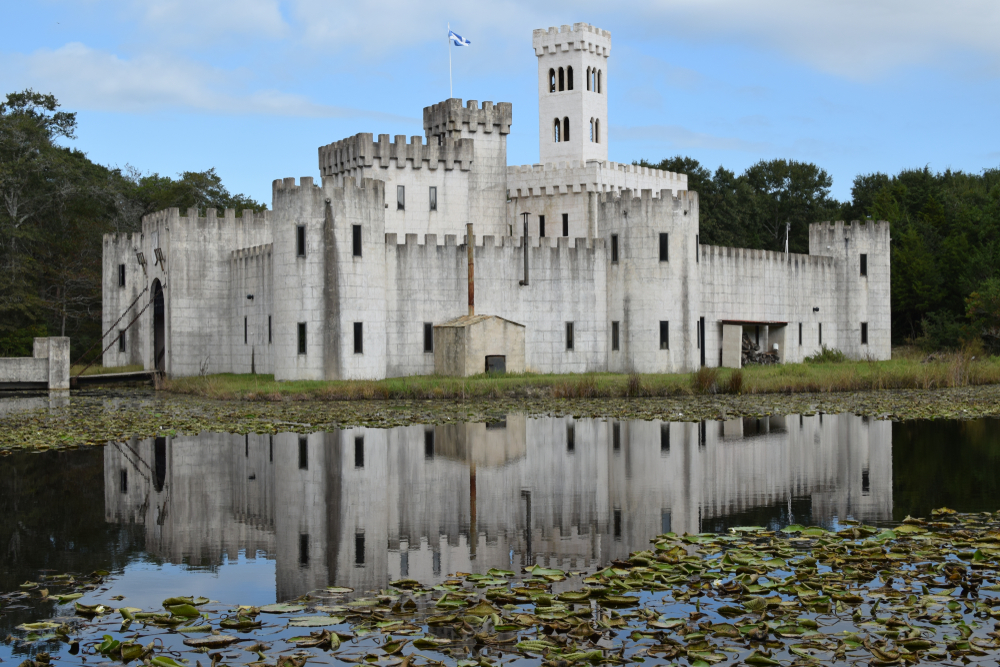 Cathedral Of Junk
While the name of this Texas hidden gem might not sound appealing, we promise it's actually really cool. The Cathedral of Junk is a hidden gem in Austin that has become a unique piece of Texas art. It was originally started in 1989 by Vince Hanneman using discarded items from throughout the city.
Today, Hanneman has amassed over 60 tons of discarded items in his Cathedral of Junk. You'll need to call ahead to make an appointment to visit this hidden gem in Austin. Hanneman also asks for a $5 donation per adult. This helps him upkeep this unique Austin attraction and add more things to it.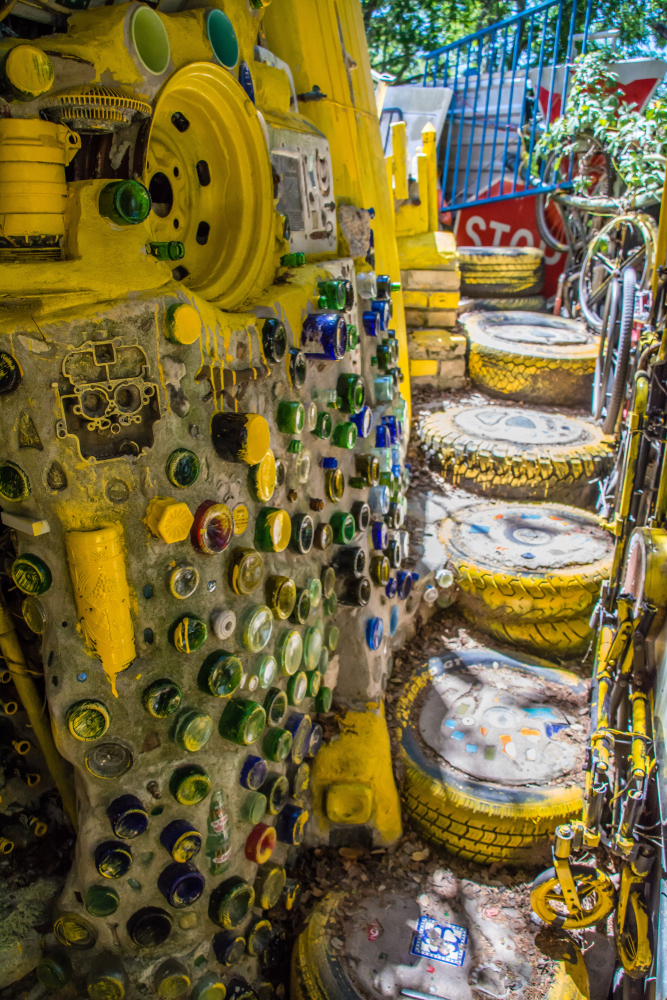 The Moody Mansion
If you're looking for Galveston hidden gems, then check out the Moody Mansion. The Moody Mansion is a historic residential mansion on one of the most popular streets in Galveston. It is a Romanesque-style mansion and construction was completed in 1895. The mansion is a National Historic Landmark and you can actually take tours of it.
To get inside the 28,000-square-foot mansion, you'll need to book a ticket for a self-guided tour. Tickets are only $12 per adult, and it's absolutely worth it if you love admiring historic architecture. The mansion has been completely renovated to look like it would have in the early 20th century.
As you go from room to room, you'll get to see what it was like living as an elite member of 20th-century Galveston Texas society. You don't want to skip exploring this Galveston hidden gem.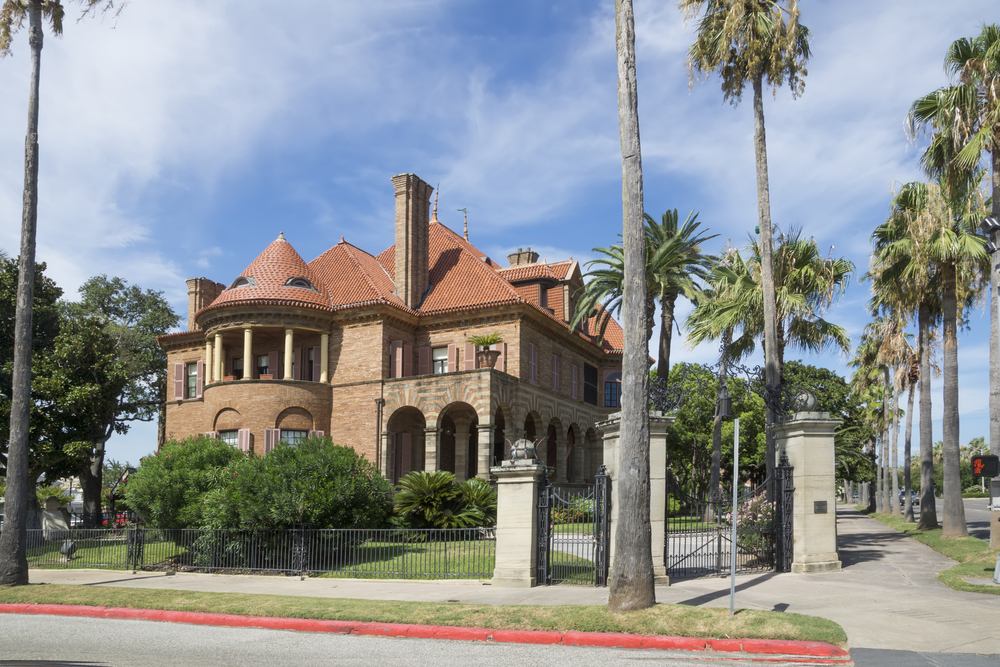 World's Largest Cowboy Boots
Did you know that one of the best hidden gems in San Antonio is a pair of cowboy boots? Well, not just any cowboy boots. In fact, San Antonio is home to the 'World's Largest Cowboy Boots'. The boots were originally designed in 1979 by Texas art pioneer, Bob Wade.
They were commissioned by a group in Washington DC that wanted a taste of Texas in the country's capital city. The boots stayed in Washington DC for 4 months before being bought by the North Star Mall in San Antonio.
In January of 1980, the boots were placed at the mall, and they've been there ever since. They've become a pretty iconic piece of folk art history throughout the years. The boots are over 35 feet tall and 33 feet long and tower next to a busy San Antonio street. You can stop and get a picture, which we definitely recommend when you visit this iconic and unique hidden gem in San Antonio.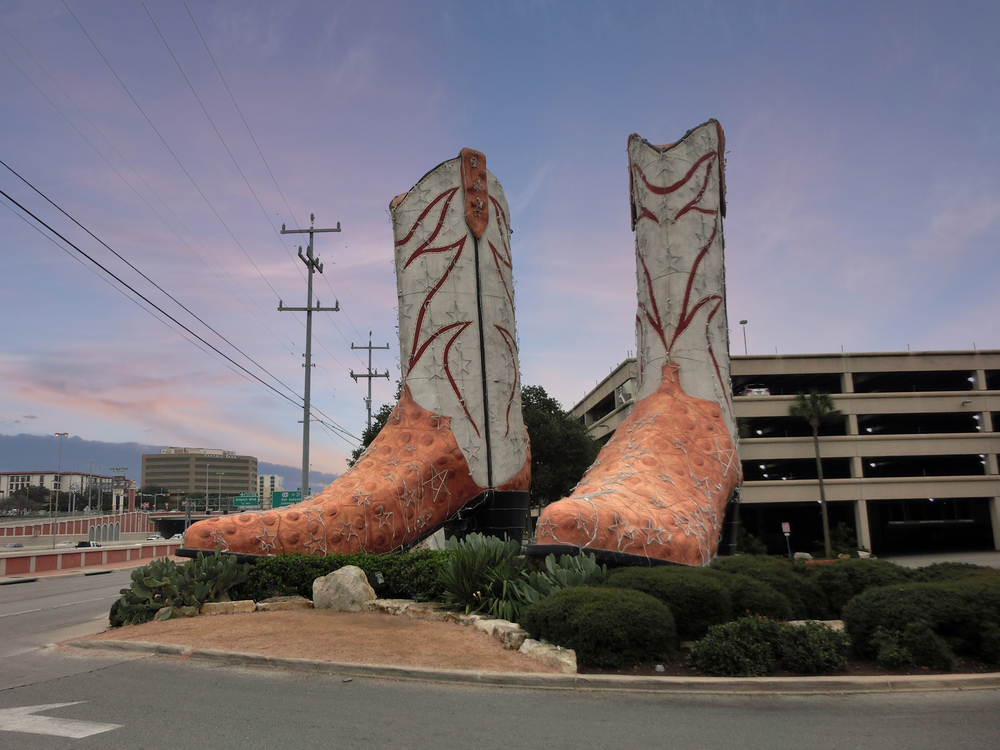 There are so many cool and unique hidden gems in Texas to see and explore. We hope that one of these cool things to do in Texas has piqued your interest! Have you seen any of these secret spots in Texas? If so, we'd love to hear about it in the comments.