Are you looking for the best weekend getaways in Texas? In this article, we will walk you through what we feel are the best places to visit in Texas for the weekend to help you make a decision.
Texas is a diverse state whichever kind of weekend getaway you are looking for chances are you can find it in Texas. From bluebonnet hunting to wine country, to sandy beaches and fun places, there really is something for everyone in this state.
From big southern cities to cute Texas small towns and beautiful creeks in Hill Country. We are going to talk you through all your options so you can choose which is the best Texas getaway for you.
There really is nowhere quite like this huge state for choice. In fact, there are so many choices it is often hard to know where to start.
We have included lots of ideas for Texas weekend getaways in this article. From romantic weekend getaways in Texas to weekend getaways in Texas on a budget we have tried to include a little bit of everything.
So grab a drink, pull up a chair, and let me walk you through what we feel are some of the best weekend getaways in Texas, TX. Don't forget to check out some of the coolest Hidden Gems In Texas!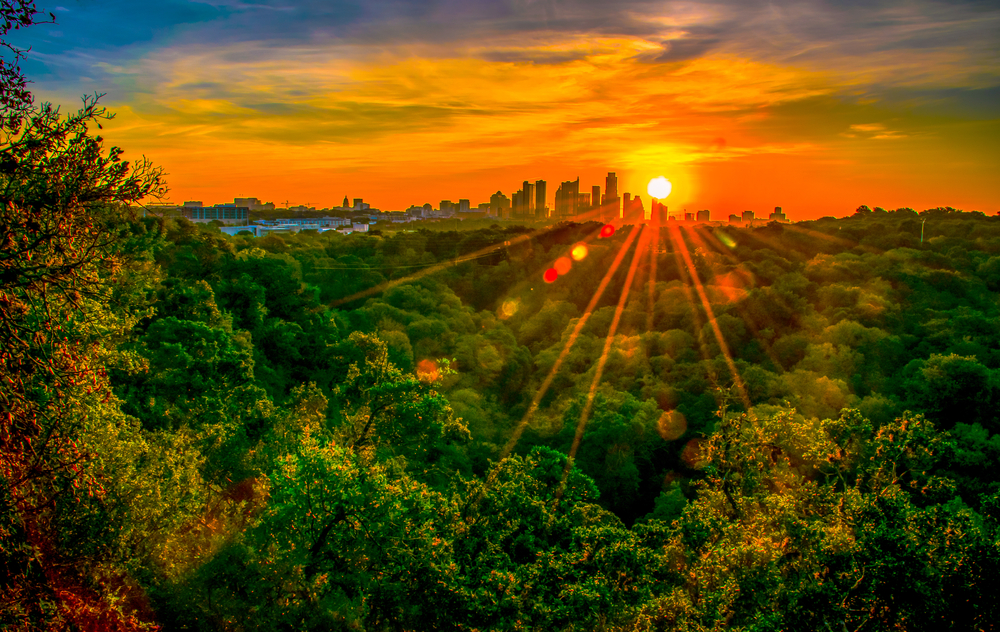 15 Best Weekend Getaways In Texas You Must Try
Go Bluebonnet Sighting
Could there be anything better than going on a weekend trip hunting bluebonnets? Bluebonnets in Texas are so beautiful and seeing them in full bloom really is a dream.
Bluebonnets for those that don't know are the state flower of Texas! They are beautiful tall blossoms often blue in color although there are other varieties that aren't blue.
The best time to see them is early April but it does depend on all sorts of weather factors in winter so this can change.
Burnet is the unofficial Bluebonnet Capital of Texas and hosts the annual Bluebonnet Festival so this is a great place to see the flowers.
Ennis is another popular place to see bluebonnets with the oldest bluebonnet trail in Texas spanning 40 miles.
These are the two most popular places to see these flowers but really they are everywhere. Pick one of these places make a weekend of it and explore as much as you can.
This is one of the best weekend getaways in Texas, TX, and is something most will enjoy. This is truly one of the Best Things To Do In Texas to put on your Texas bucket list!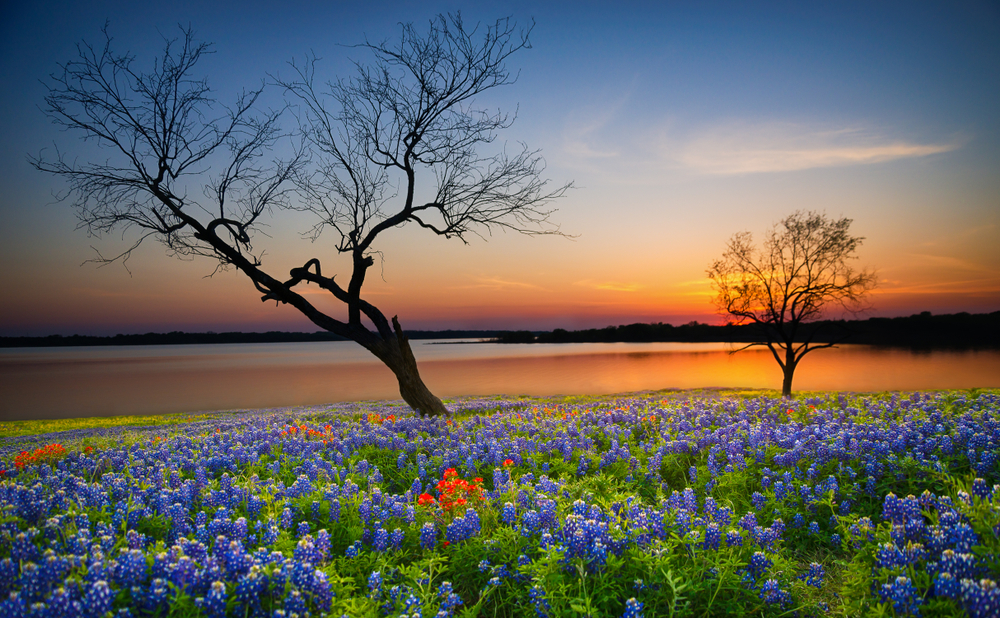 Stay In An All Inclusive Hotel
If you looking for romantic weekend getaways in Texas then how about a stay at the Miraval Austin? This award-winning resort sits on 220 acres in the Balcones Canyonlands Preserve and is beautiful.
The resort is a natural oasis on the banks of Lake Travis and offers so many opportunities for guests. Yoga, meditation, fitness, outdoor recreation, and farm and culinary activities are all some examples of the things included at this all-inclusive hotel.
A stay here really is an upscale incredible experience tailored to each guest. It's a sanctuary offering guests the best of everything with a focus on mental well-being.
The hotel is also 30 minutes from Austin so it's in a great location if you want to explore the city. This is one of the best staycations in Texas if you are looking for something a little special.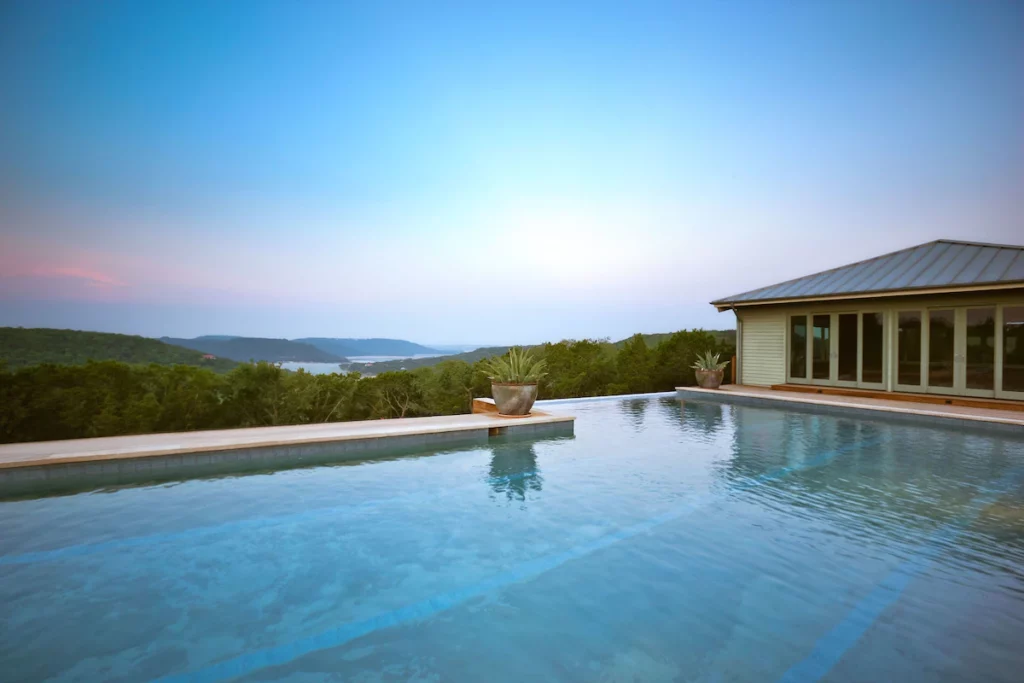 Explore Texas Hill Country
One of the best Texas weekend getaways is to spend time sipping wine in Texas Hill country. This geographic region in Central and South Texas covers 41 counties and over 31,000 square miles.
It's a beautiful region with so much to see and do. It's also one of America's fastest-growing wine regions.
If you are looking for picturesque scenery head to the Jacobs Well area. Head to Garner State Park for hiking and amazing fall colors. For adventure head to the Natural Bridge Caverns Area or The Guadalupe River area is beautiful in the summer.
And if you are looking for wineries the areas from Austin to Fredericksburg and Lampasas to New Braunfels, are the best places for charming wineries. Honestly, there are so many to choose from you will be spoilt for choice.
If you are looking for mini vacations in Texas then you can't go wrong in this area. A trip here is also one of the best weekend getaways from Dallas.
Make sure to check out our list of the best things to do in Fredericksburg!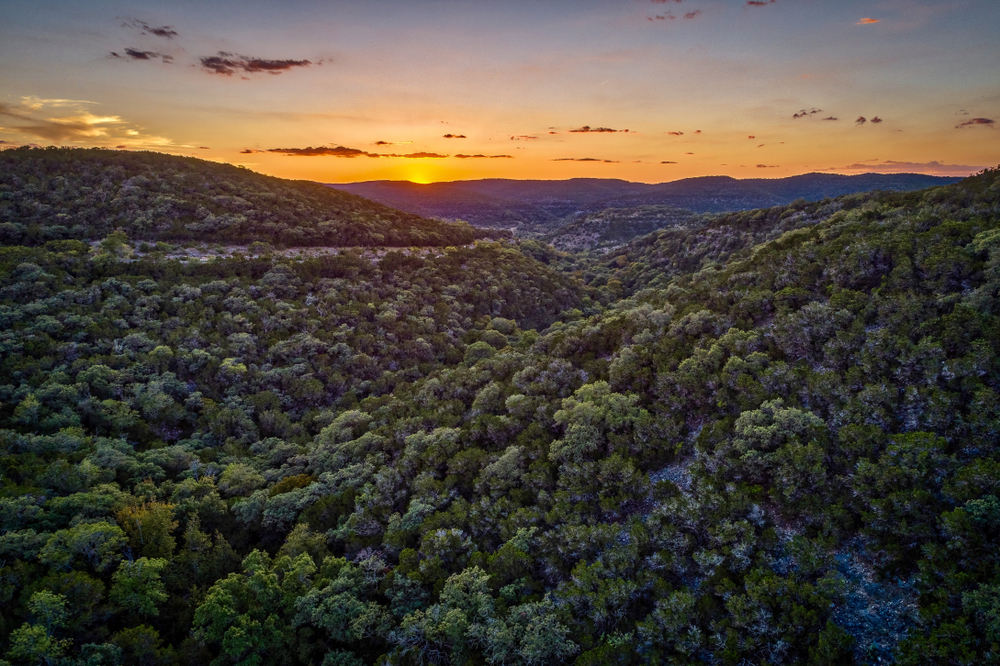 Work On Your Tan At South Padre Island
If you are looking for the best weekend getaways in Texas where you can hit the beach and forget about the stresses of life then this is it. Located on a barrier island in the Gulf of Mexico here you will find long stretches of white beaches and beautiful blue water.
This southern island in the USA is a popular place with plenty of things to do and see and lively nightlife. During spring break this place is packed so keep that in mind.
It's the only tropical island in the state which is probably why it's so popular. This place is for all those that love the hustle and bustle of a seaside destination.
It's a place where you can have as much adventure as you want or chill, take it easy and just enjoy the beautiful beaches and surrounding nature. It's one of the perfect places to visit in Texas for the weekend.
This is one of the best weekend getaways from Houston.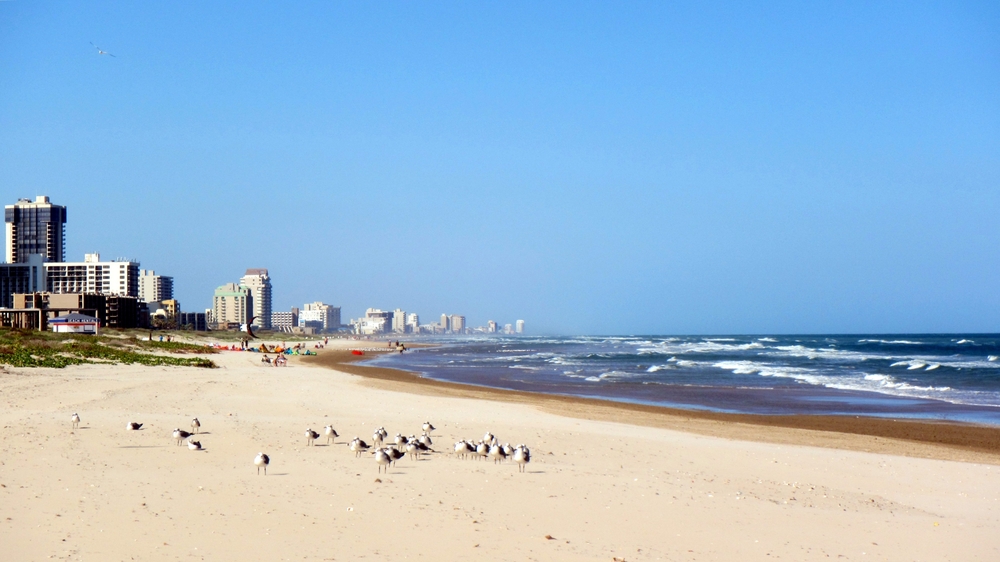 Spend A Weekend In Dallas
If you want a weekend where there is always something happening, then head to Dallas. It's one of the fastest-growing cities in the US and has everything you could possibly need and more.
Whatever you want to do you can do it in Dallas. You will find amazing shopping, incredible food, gardens museums, and history. In Dallas it's almost like picking your adventure, it's one of the best Texas getaway locations.
If you want a romantic weekend Dallas can do that, want fun and excitement, yep that too, want a food getaway it's got that too, love history yes it can deliver too.
The attractions here and never-ending and we do believe this is a city that everyone needs to see once.
However, you want to spend your weekend you will be able to do that here. Weekend trips in Texas don't get more eclectic than they do here.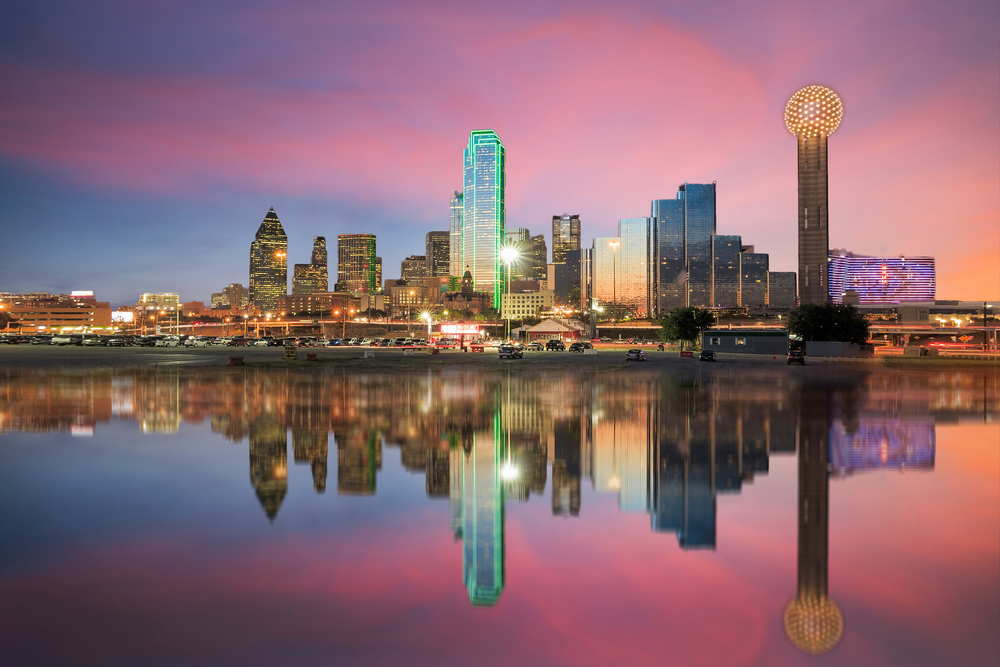 Go Stargazing At Big Bend National Park
If you want to spend your weekend trips in Texas enjoying nature surrounded by desert, mountains, and canyons then Big Bend is for you.
This is one of those parks you need weeks to fully explore so you certainly won't run out of things to do during a weekend.
Hiking on vast stretches of wilderness, visiting some of the nearby small towns, and enjoying the stunning views of the Chihuahua desert are all things to do in the park.
Two of the state's most scenic hiking trails are within this park. Santa Elena Canyon Trail and Cattail Falls Trail are both beautiful hiking trails.
It's also a great park for mountain biking and scenic drives. However, the best thing to do here is go stargazing so bring a blanket lay down, and look up. The night sky truly is incredible here.
This is one of the most wonderful inexpensive romantic getaways in Texas. This is what weekend getaways in Texas are made of.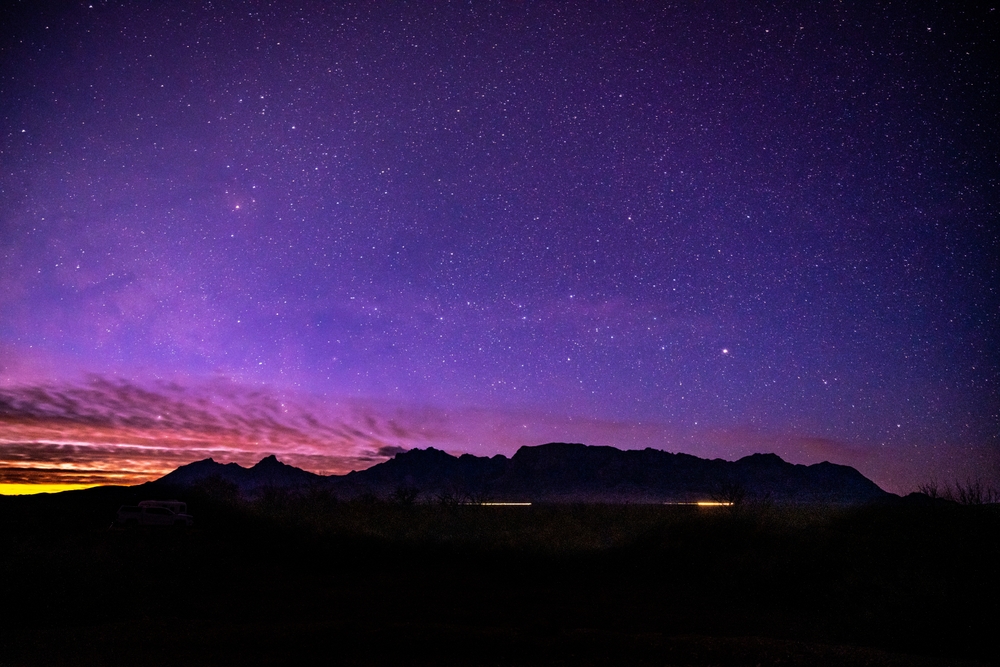 Explore The Natural Springs In Texas
You might not know but Texas has some great hot springs to explore and spending a weekend seeing a few of them is one of the great mini vacations in Texas.
Jacob's Well is one of the most picturesque springs in Texas and is great for swimming. Hamilton Pool Preserve has some of the bluest water in the state and is such a beautiful swimming hole.
Krause Springs offers camping so you can stay for the weekend and Balmorhea State Park has the world's largest spring-fed swimming pool.
Whichever natural spring you visit check before you go as each has different rules and regulations and some require a booking. However, spending some time at one of the springs is one of the best Texas weekend getaways especially if you are living in the state!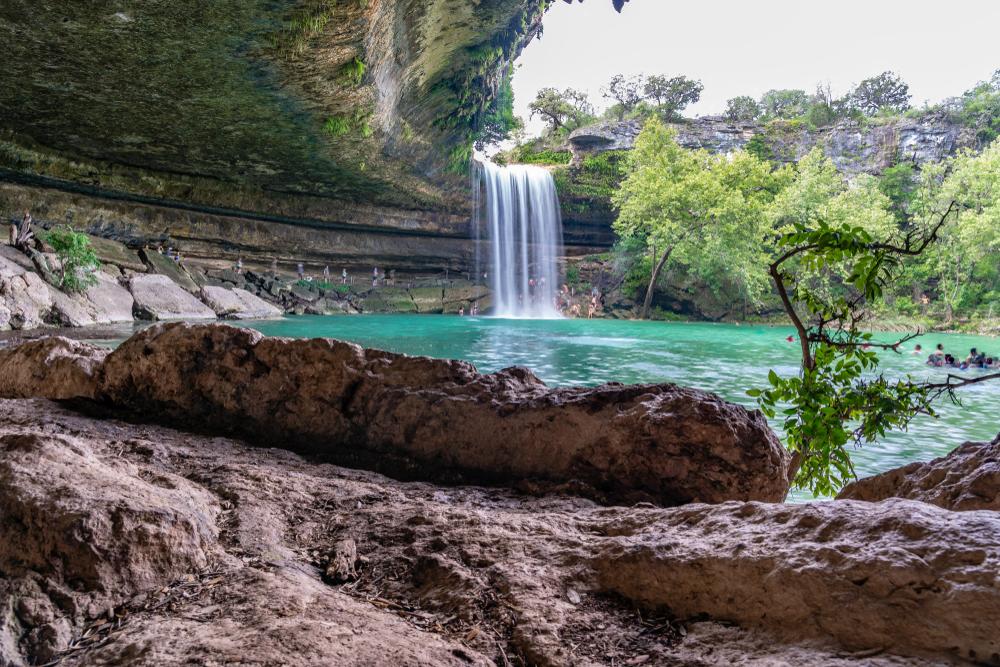 Go Kayaking On Canyon Lake
Names the Crown Jewel of Texas Hill County a stay around Canyon Lake is the perfect way to spend the weekend.
It's the perfect location for nature lovers and particularly those that love water sports. located on the Guadalupe River, it is a great place to relax and enjoy the great outdoors.
The town is surrounded by rolling hills scenic vistas and of course the lake that gives it its name.
Hiking is popular here and there are eight parks where people can camp, swim, boat, and picnic among other things.
But you come here for the watersports so bring your own equipment or rent some locally and get out onto the lake you won't regret it.
This is one of the cheap weekend getaways in Texas.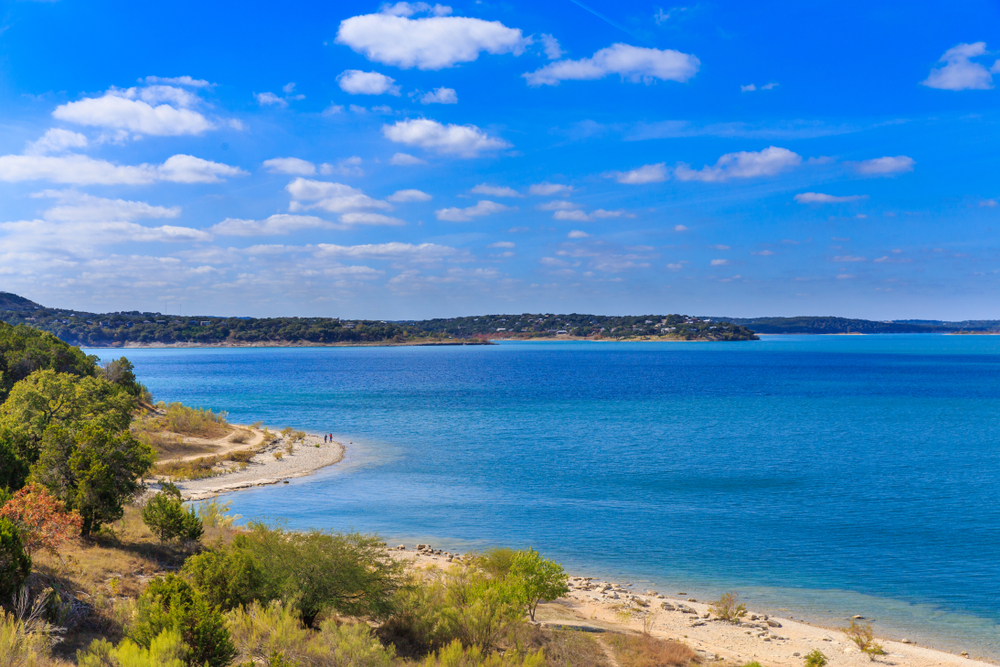 Enjoy Wine At Fredericksburg
If you are a wine lover then Fredericksburg is perfect for you. There is so much to do in this German heritage town that doesn't involve wine too if that's not your thing.
There are a number of wineries in the region. Texas Hil country has over 100 wineries and vineyards and half of them are located near Fredericksburg that's how much of a wine region this area is.
Go it alone and visit some of the wineries that appeal to you or go on an organized tour of which there are plenty. You will also find some of the local award-winning wines served at local restaurants.
Fredericksburg makes for one of the best staycations in Texas.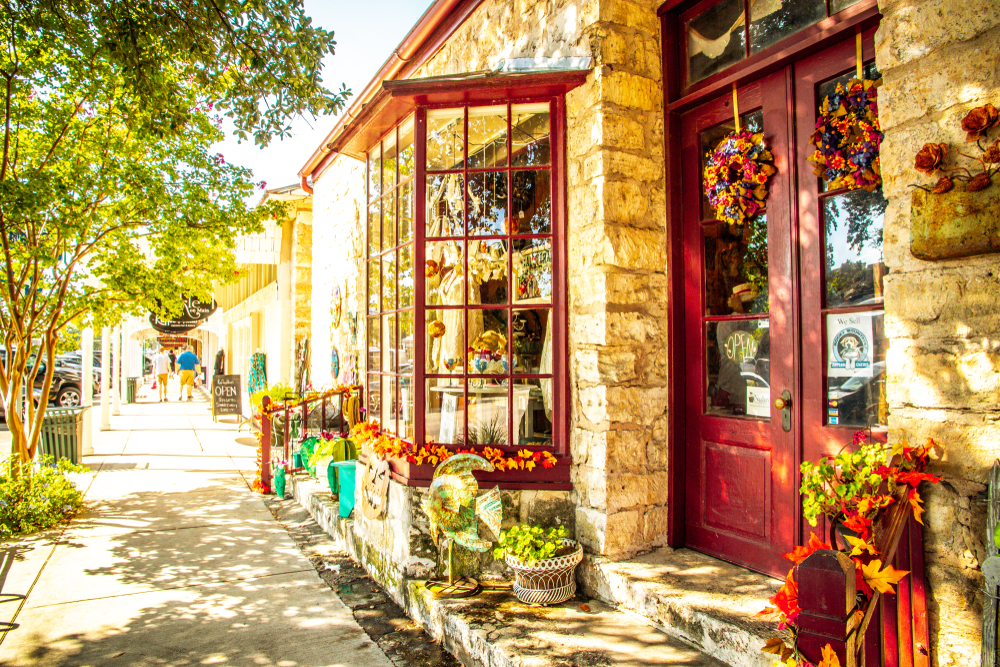 Take Photos In Marfa
If you are all about the Instagram-perfect photo then one of your best weekend getaways in Texas might be a trip to quirky Marfa.
This small town is full of quirky art installations, yes that small perfectly formed Prado shop installation is located here.
You will find works by Andy Warhol, the famous Parda installation, and more. Perhaps what's so unusual about this town though is that it's in the middle of nowhere.
It's unique, surprising, and interesting even Beyonce has passed by the see the installations.
Its also home to the famous Marfa lights which are reported seemingly sourceless lights dancing on the horizon southeast of town. I mean could this town gets any stranger?
A trip here makes for one of the most unusual and cheap weekend getaways in Texas.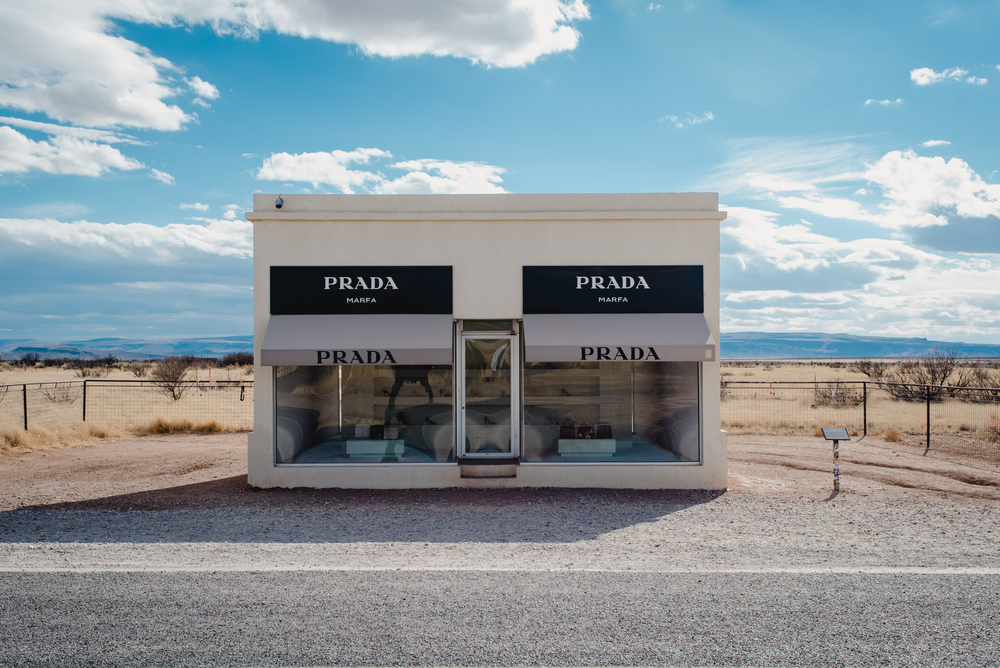 Watch A Sunset In San Antonio
If you are looking for inexpensive romantic getaways in Texas then I think San Antonio fits the bills. It's a pretty city with some stunning architecture and lots to see and do to keep you occupied.
For as full on as Dallas can be this offers a much more leisurely experience. Stroll down the riverwalk lit by moonlight, take a sunset cruise on a river boat, go shopping for that special something or stroll hand in hand in one of the many parks.
Of course, San Antonio is also home to the site of the famous Battle of the Alamo, a pivotal point in the Texas Revolution. When it comes to historical places this city delivers.
It's a beautiful city to spend a romantic weekend doing as little or as much as you want. This is one of the best weekend getaways from Austin.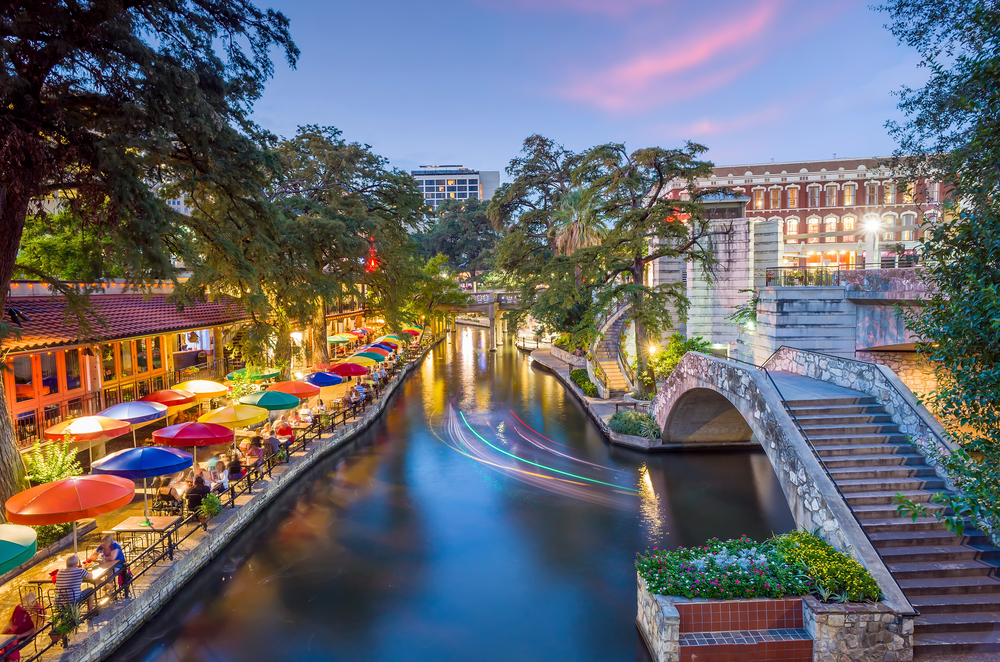 Enjoy The Beach At Galveston
If you are after a slightly quieter seaside experience then head to Galveston. It's one of the best beach destinations and one of the best family weekend getaways in Texas.
Here you will find sandy beaches, the beautiful Strand Historic District, stunning historical homes like Bishop's Palace, and plenty of attractions to keep the children happy.
This beach town is charming and it makes a great relaxing break at the beach. You will find everything you would expect in a beach town including great restaurants, fantastic shopping and lots to keep you occupied.
This is one of the best Texas getaways if you love the sea and sand.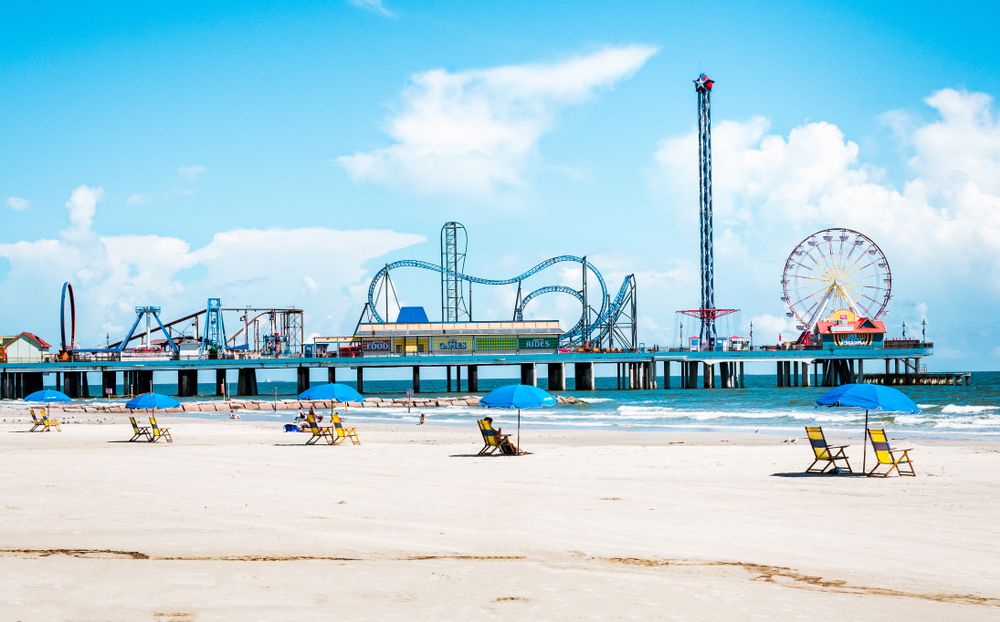 Go Dinosaur Hunting In Glen Rose
If you are looking for a family weekend getaway in Texas then how about a trip to Glen Rose the Dinosaur Capital of Texas? Yes, this is one for all the budding paleontologists young or old.
Dinosaur Valley State Park is where you will find most of the Dinosaur action. Here you will find the fossilized remains of hundreds of dinosaur tracks some made 100 million years ago.
For life-sized dinosaur models and animatronic dinosaurs head to Dinosaur World which the children will love.
Glen Rose is a charming town too with lots of shopping and eating opportunities and there is some fabulous nature in the area.
If you are looking for weekend getaways in Texas that all the family will love this is it.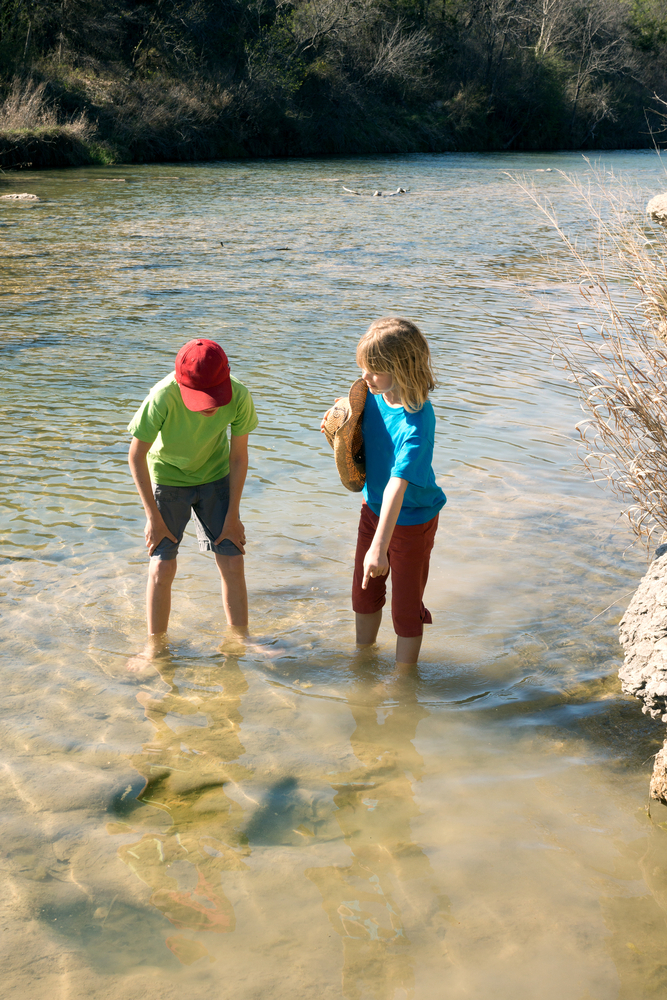 Get Into The Water In New Braunfels
Located between Austin and San Antonio is the German town of New Braunfels and it's perfect for weekend getaways in Texas on a budget.
Other than exploring the town, restaurants, and shops there is a lot to do here. The Guadalupe and Comal Rivers run through the town and water sports are big here. Nothing beats floating down the Guadalupe River.
It's also very close to the incredible Natural Bridge Caverns which is well worth a visit.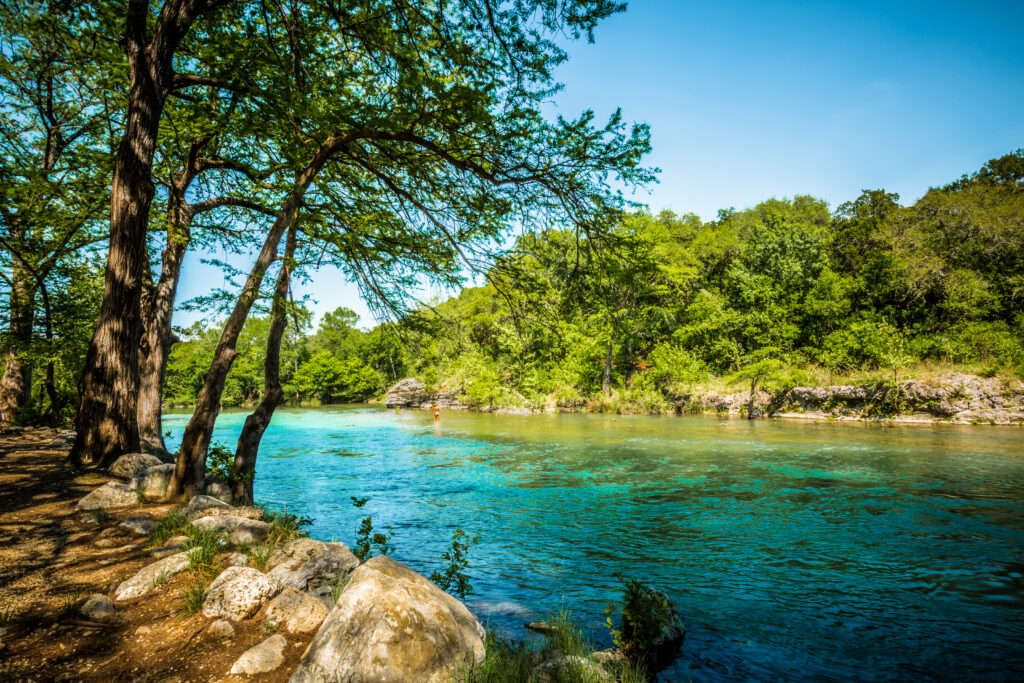 Go Caving
Texas has quite a lot of caves to explore and spending the weekend getting to know some of them is one of the more unique weekend getaways in Texas.
Cascade Caverns is one of the most biologically diverse caverns in Texas and there is some incredible wildlife here. You can also camp so bring your tent.
For a more rugged caving experience head to Deep Cave its 100 meters deep and around 2 kilometers long. There is climbing and crawling needed to explore here but it's worth it.
Wonder World Cave is the only commercially operated dry-formed cave in the United States so well worth exploring. The Caverns of Sonora are really beautiful and the Natural Bridge Caverns are a whole day affair but well worth it.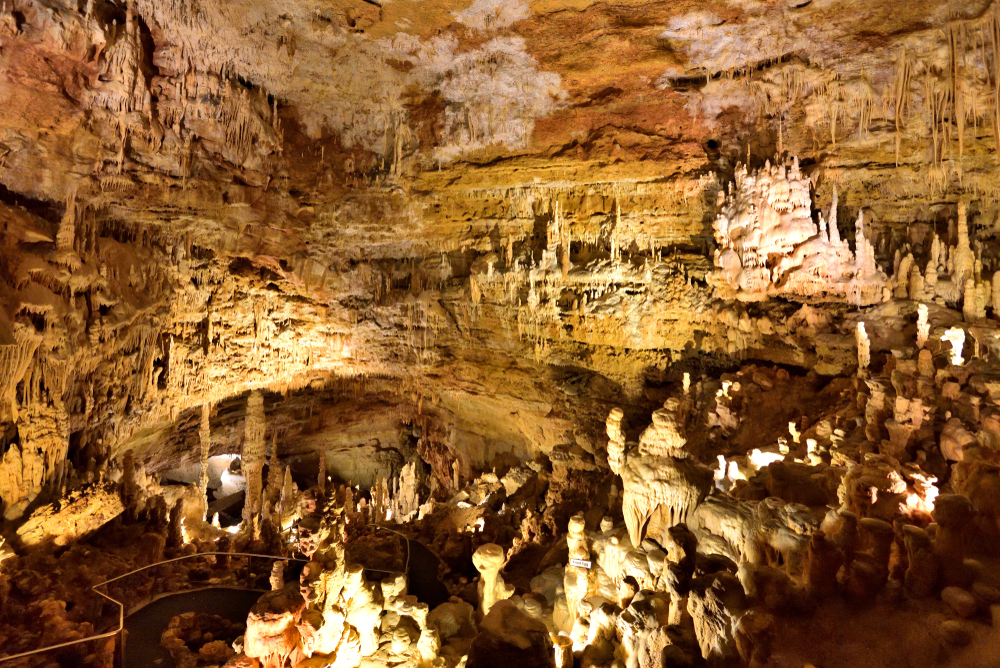 As you can see when it comes to weekend getaways in Texas TX there are lots to choose from. Whether you are looking for romantic weekend getaways in Texas or the best staycations in Texas I hope this article can help you.
Whichever weekend trips in Texas you decide to take we hope you have a great time and come back and tell us all about it.