If you're looking for the best things to do in Blowing Rock, North Carolina, look no further! Our list combines the best of Blowing Rock's outstanding outdoor adventures, with plenty of indoor fun. Come rain or shine (or even snow), there is plenty to do in Blowing Rock! The town is situated close to Grandfather Mountain along the Blue Ridge Parkway and is a lovely spot for some relaxation and adventure. Blowing Rock also makes our list as one of the cutest small towns in North Carolina!
Whether you're looking for the best trails and drives along the Blue Ridge Parkway, stunning mountain views, delicious eats, or amusements for the kids, our list has it all! Keep reading to find out the best that Blowing Rock, NC has to offer!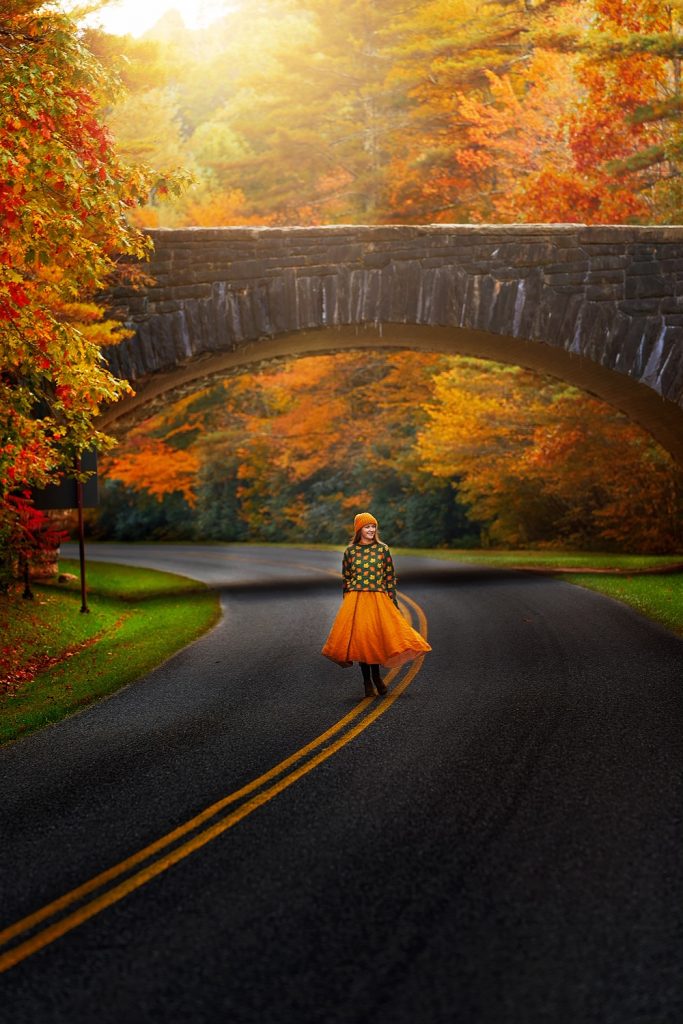 16 Best Things To Do In Blowing Rock, NC (And Nearby!)
Go Shopping in the Historic Downtown
Put on your walking shoes to enjoy an afternoon perusing the cozy shops in downtown Blowing Rock. You'll stroll past jewelry and antique stores, along with art galleries and storefronts filled with items for your home. You're sure to come away with a treasure made locally when you shop here, truly one of the best things to do in Blowing Rock!
If you're on the hunt for perfect, one-of-a-kind antiques make sure you stop by Blowing Rock Antiques, which sells specialized items imported from Europe, or check out Hanna's, selling oriental rugs in the area since 1919! The perfect outfit awaits all shoppers at Almost Rodeo Drive for the ladies and 100 West Union for the gents.
There are also great shops for kids if you're traveling with the little ones. Serves You Right Children's Cute-ique is the ultimate destination for toys, play clothes, and baby gifts! To take home a specialized art gift commemorating your trip, visit Martin House Gallery which features a variety of artistic works from both local and national artists. Don't forget to check out our list of Best Things to Do In North Carolina!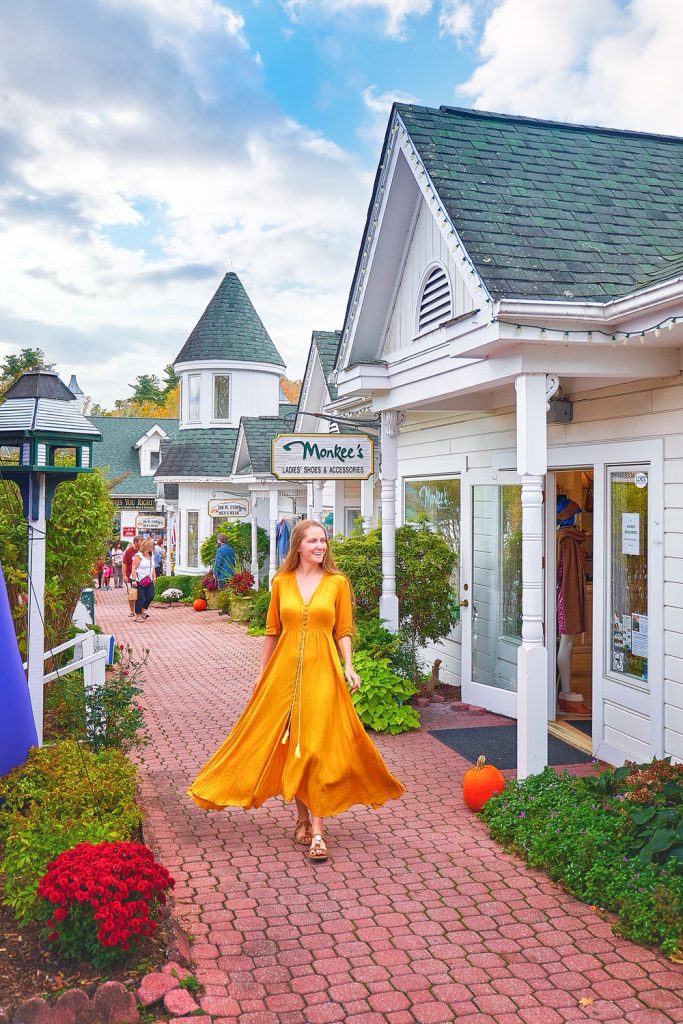 Blowing Rock Art and History Museum
Experience art and discover history at Blowing Rock Art and History Museum! Admission to the museum is always free, so it's easy to spend an afternoon learning about the local culture and traditions of the area.
Art and history truly merge here to help guests discover the creative stories of the people and landscape that have shaped Blowing Rock over the centuries. Exhibitions are ever changing, so there's always something new to see no matter when you visit. Past exhibitions have included Emergent Landscapes: Mountains, Music, and Improvisation in the Paintings of Abie Harris and Drawn to Detail: Metalsmiths of North Carolina.
The Village of Blowing Rock: Exploring Our History is a permanent exhibit that allows guests to walk through time to learn about how the town around them came to be. And children are welcome here, too! Rotating exhibits often cater to young visitors, with weekly programming dedicated to introducing children to art and history. Make sure to check their website to find out more. It's definitely one of the best things to do in Blowing Rock with kids!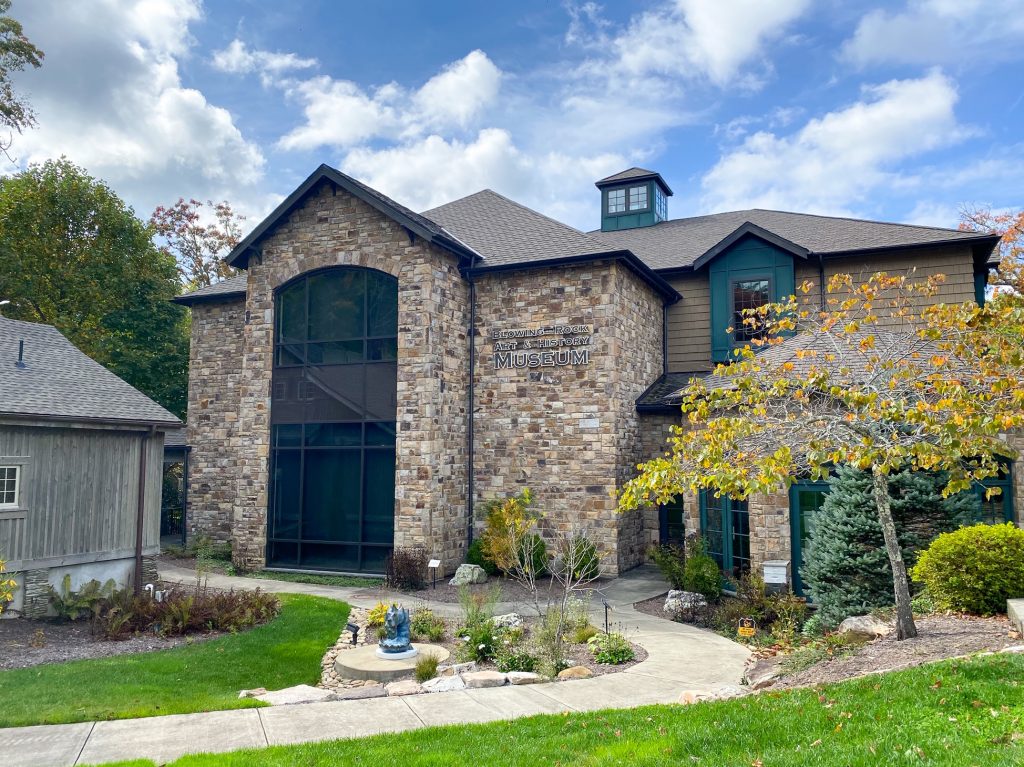 Visit the Cute Churches
No trip to Blowing Rock is complete without visiting the many cute churches in the area. Situated amongst the picturesque mountains, these churches only add to the natural beauty of the area, and many are open for worship if you'd like to join in for a Sunday service.
The oldest church on Main Street is Blowing Rock Methodist Church, which opened in 1900. This church is only open seasonally from June through September, so put this on your must-see lists if you're visiting over the summer! Also located on Main Street is Rumple Memorial Presbyterian Church, which features strong stonework and a lovely garden in the front.
On the corner of Main Street and Chestnut Street sits St. Mary of the Hills Episcopal Church, which evokes the timeless beauty of an old English country church. If you'd like to visit the inside of these churches during non-service times, check their websites to make plans with their clergy or staff before you go!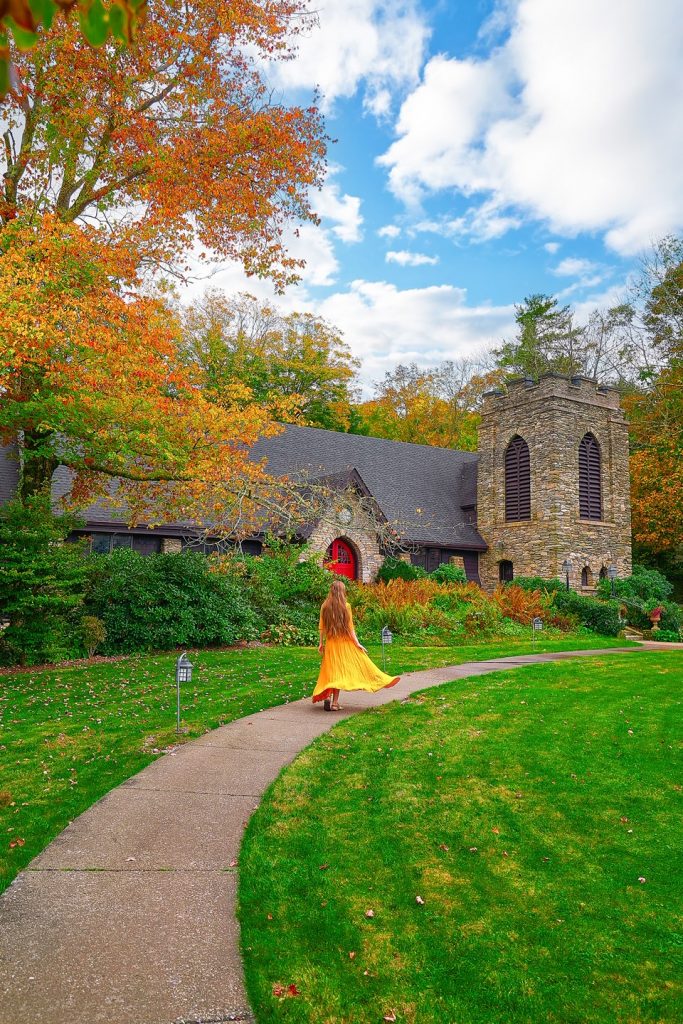 Grab Coffee at Bald Guy Brew
Coffee lovers must make a stop at Bald Guy Brew for premium locally roasted coffee that can't be found anywhere else. Bald Guy Brew operates under three core values: they're eco-friendly, socially responsible, and they roast exceptional artisanal coffee.
Visit their coffee shop in Blowing Rock to taste their delicious roasts from the dark Organic Espresso to the sweet and floral Costa Rican Coffee. Bald Guy also offers limited edition brews, so you'll always be able to try something new when you arrive. Current limited brews include Ethiopian Guji, which has been awarded the Cup of Excellence, an international coffee rating organization.
Open Friday through Sunday, guests can enjoy one cup or purchase a bag of freshly roasted coffee to take home. Make sure to stop by Bald Guy Brew to kick start your day in downtown Blowing Rock.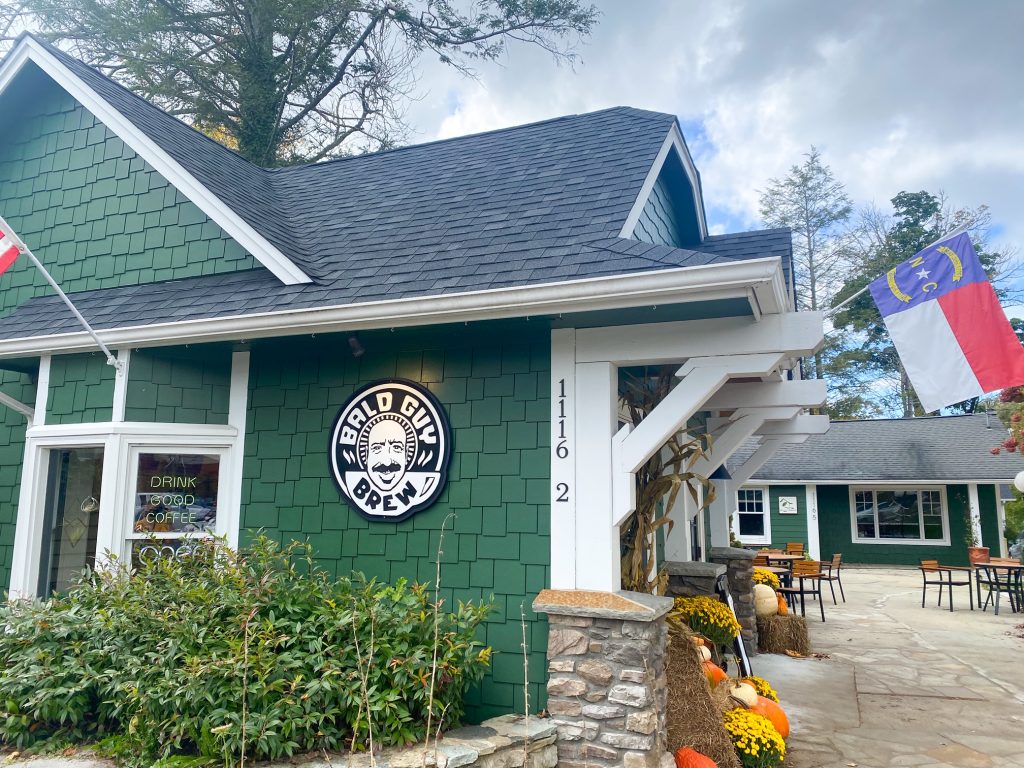 Mile High Swinging Bridge
Located on the top of Grandfather Mountain, the Mile High Swinging Bridge offers panoramic views from the mountain's peak, and is one of the most adventurous attractions near Blowing Rock.
Built in 1952, the bridge gets its name because it actually is a mile high, making it the highest suspension footbridge in the United States! Getting to the bridge is amazingly accessible to all. Travelers can hike the rocky trails, climb a flight of steps from the top parking deck, or take an elevator directly up the mountain to get to the bridge. The views are spectacular and a highlight for many tourists to this area.
While visiting Grandfather Mountain, don't miss other hiking trails perfect for hikers of all experience levels, and make sure to check out the on-site Nature Museum. Grandfather Mountain is about a 35 minute drive from downtown Blowing Rock, so bring a picnic and enjoy a day in North Carolina's splendid natural wonder!
Make sure to check out our list of the Best North Carolina Mountain Towns you must visit!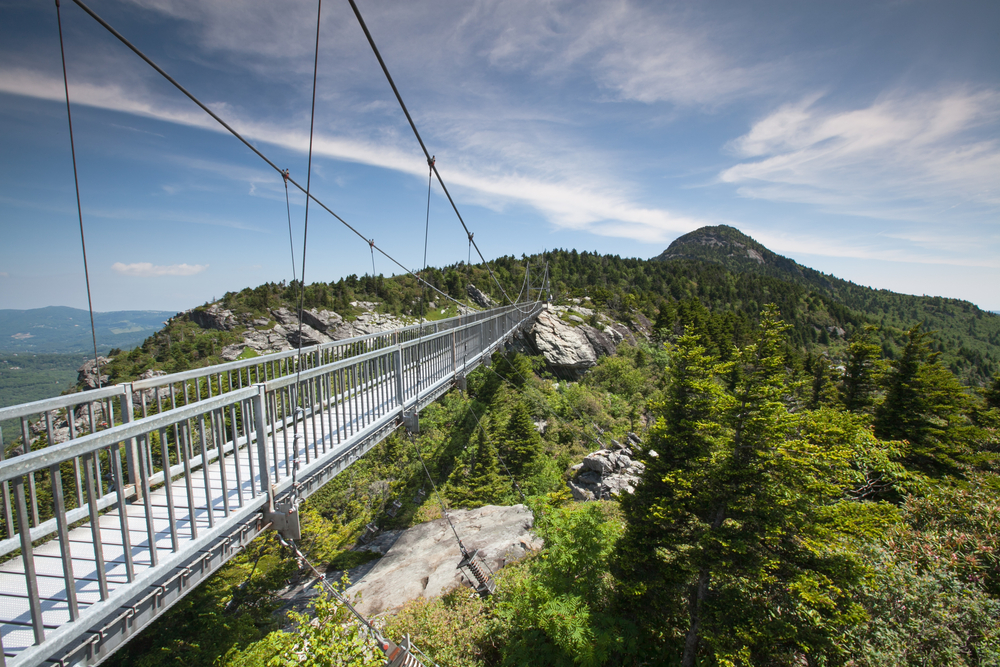 Hike Rough Ridge
From downtown, hop on the Blue Ridge Parkway for a quick drive over to the hiking area at Rough Ridge Lookout, one of the best things to do near Blowing Rock. When you reach the pinnacle of this exciting hike, you'll be rewarded with stunning views of Grandfather Mountain and the Linn Cove Viaduct.
Located within the Pisgah National Forest, this hike is short but strenuous. It's probably best to leave the kids at home for this one. However, there are many boulders to sit on along the way to take in the landscape and many travelers bring picnics to enjoy along the trail.
If you're looking to prolong your hike, the Rough Ridge Lookout is part of two longer hiking trails: the 13 mile Tanawha Trail and the much longer Mountains-to-the-Sea Trail. If you choose to take this route, you can go north to Julian Price Park, or head south to Beacon Heights along the Linn Cove Viaduct. Don't forget your camera to capture the beauty of this one-of-a-kind view!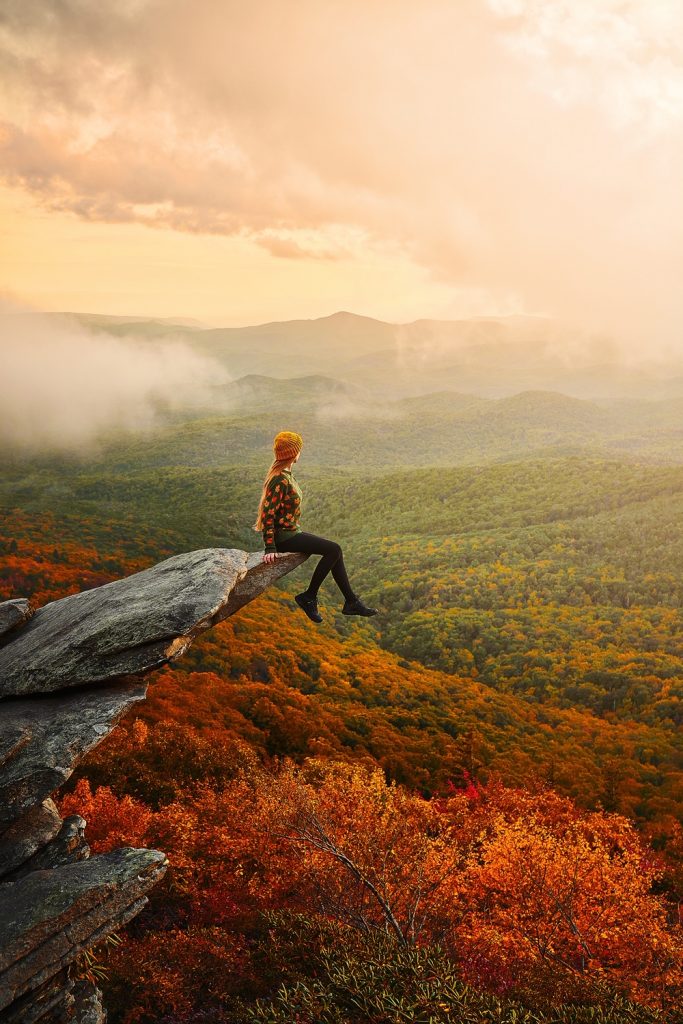 Drive Over Linn Cove Viaduct
Also located on Grandfather Mountain, the Linn Cove Viaduct is accessed through the Blue Ridge Parkway, making this a charming attraction near Blowing Rock.
The Linn Cove Viaduct is situated on the face of Grandfather Mountain and serves as the "missing link" to the Blue Ridge Parkway. This seven mile stretch was delayed for twenty years due to the great problem-solving task of continuing the road while preserving the habitat and natural splendor of the area. Engineers, architects, and environmentalists worked together tirelessly to bring the Blue Ridge Parkway to completion and in 1987 the engineering marvel of the Linn Cove Viaduct was opened to the world.
About a twenty minute drive from the heart of Blowing Rock, you'll see extraordinary mountain views right from the comfort of your car. On the south side of the viaduct, visitors can enjoy walking trails and the Linn Cove Visitors Center, which is open seasonally. Make sure you check their website for times prior to your visit.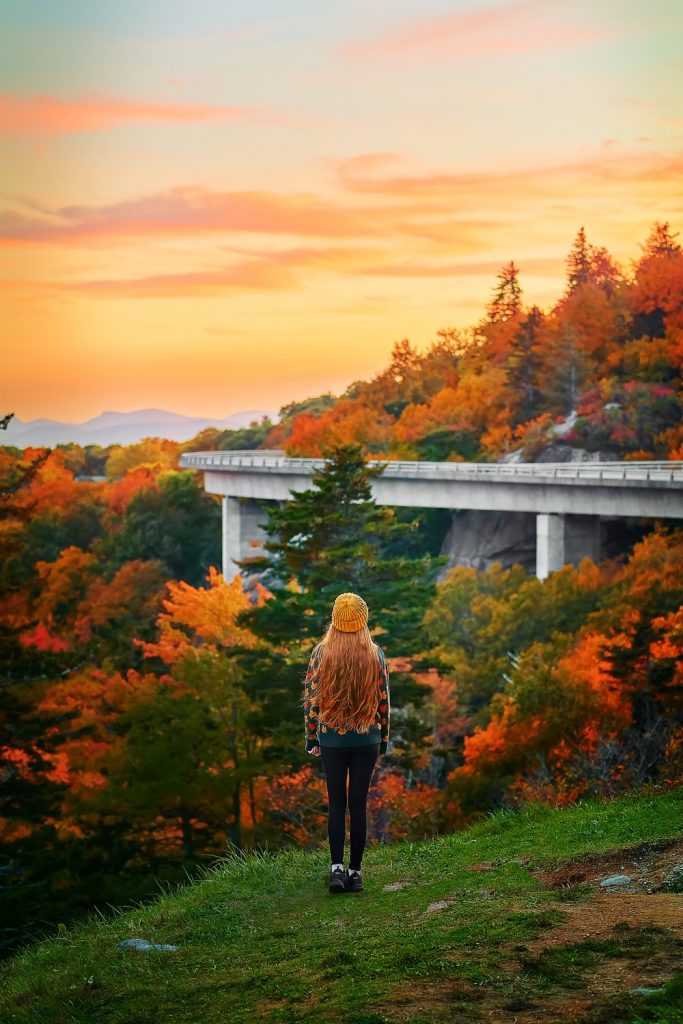 Tweetsie Railroad
For a day of family-centered fun, there is no better place place than the Tweetsie Railroad, one of the best things to do in Blowing Rock with kids.
There is no shortage of excitement and adventure for visitors of all ages at Tweetsie Railroad. Featuring amusement park style rides and entertainment, Tweetsie Railroad is set apart by the operation of it's two historic trains. At over 100 years old, Locomotive No. 12 is the last surviving steam train running between Johnson City, Tennessee and Boone, North Carolina. Locomotive No. 190 traveled from way out west – this train ran a route along Alaska's White Pass & Yukon Railway before retiring at the Tweetsie Railroad.
Visitors can ride these special trains during regular park operation and special events. The park itself is open seasonally from April through late October, however Tweetsie runs special events year-round, like a Halloween themed Ghost Train experience, or their special Tweetsie Christmas during the winter holidays!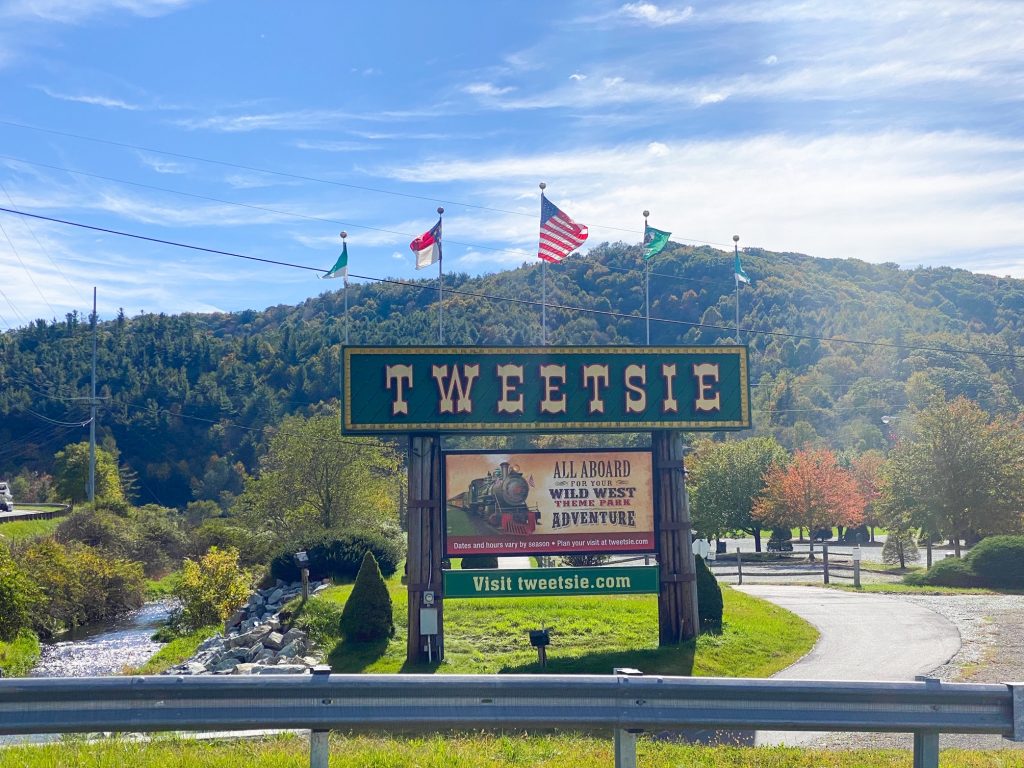 Enjoy Cookies and Sweets from Blue Deer on Main
To satisfy your sweet tooth, stop by Blue Deer on Main, certainly the tastiest of things to do in Blowing Rock. Blue Deer serves up the best ice cream and cookies in the area, so after a day of shopping downtown it's a great place to wind down with a treat! It is truly one of the best restaurants in Blowing Rock!
Everything is homemade at Blue Deer, with a variety of cookies and ice creams to choose from. Try their snickerdoodle or double chocolate cookies with a scoop of vanilla ice cream – yum! They also have more unique varieties like apple pie or pumpkin pie ice cream. Served up with a glass of milk, you can't go wrong!
Blue Deer also offers gluten free options and homemade lemonade, in addition to a full espresso bar. Blue Deer is closed on Tuesdays and Wednesday, so make sure to stop in over the weekend to enjoy their delicious desserts!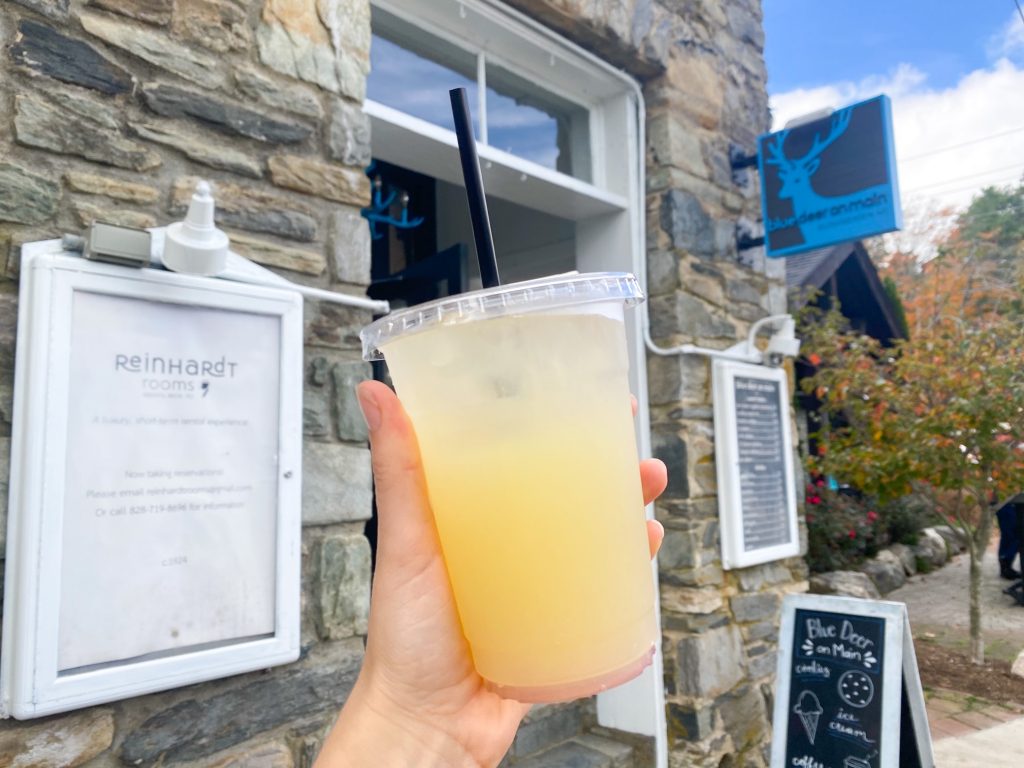 Moses H. Cone Memorial Park
Known as one of the quintessential attractions in Blowing Rock, Moses H. Cone Memorial Park is a great spot for exploring the stunning natural beauty and history of the area. Plan to make a day of it during your visit here – there is so much to do and see!
Moses Cone was a self-made man in the textile industry, earning the nickname "the Denim King" during his career. He and his wife, Bertha, made their home, Flat Top Manor (see more below), in Blowing Rock, where they could use their wealth to help preserve and enrich the land.
The park offers about 25 miles of beautiful carriage roads, which are flanked by flowers of all kinds as you drive or walk through. The area is most famous for a variety of rhododendron plantings, and the lush trees ranging from white pines, hemlocks, and sugar maples to apple trees that at one time produced prize winning apples.
Visitors can enjoy leisurely hiking throughout the park and wander through the remains of the old apple orchards, while admiring the outstanding views of the surrounding mountains. All trails are multi-purpose – cycling, horseback riding, and (in appropriate weather) cross-country skiing are all encouraged in the park, which is only a five minute drive from downtown Blowing Rock.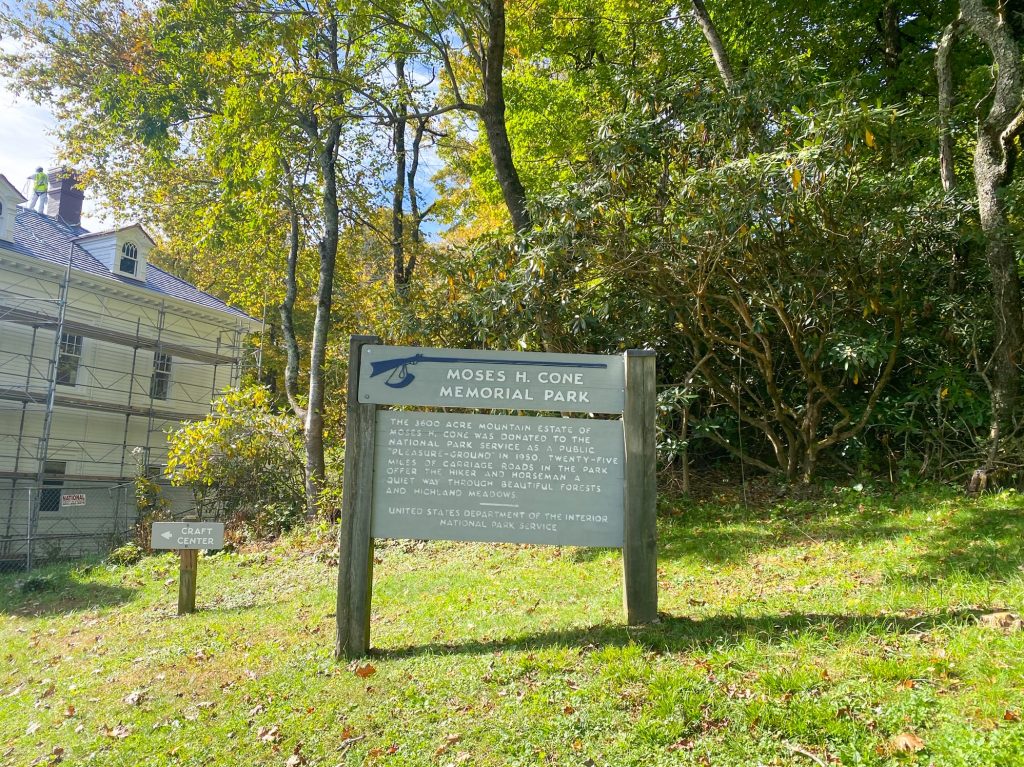 Bass Lake
Located within Moses H. Cone Memorial Park, Bass Lake is a premier destination that deserves its own day of exploration. Nestled within the surrounding mountains and forests, Bass Lake is famous for its beauty and the exceptional hiking in the area.
Bass Lake offers two spectacular trails that are suitable for a variety of visitors. Try the Bass Lake Loop, a leisurely hike, which is wheelchair accessible and kid-friendly. Horses and bikes are not allowed on this trail, so bring your best walking shoes with you!
Bass Lake's most famous trail is known as The Maze, a mystifying trail of winding loops through the forest landscape. The Maze runs just shy of four miles, and is a great hike for all skill levels. Dogs are allowed in the area, but they must be kept on a leash. Bring a picnic to enjoy at the water's edge after your hike!
Fishing is also a popular year-round pastime at Bass Lake. Boats are not permitted on the water, but there are many designated fly fishing areas along the trails. Trout and bluegill are the most frequent catches here, and guests are allowed to keep four fish per fishing session.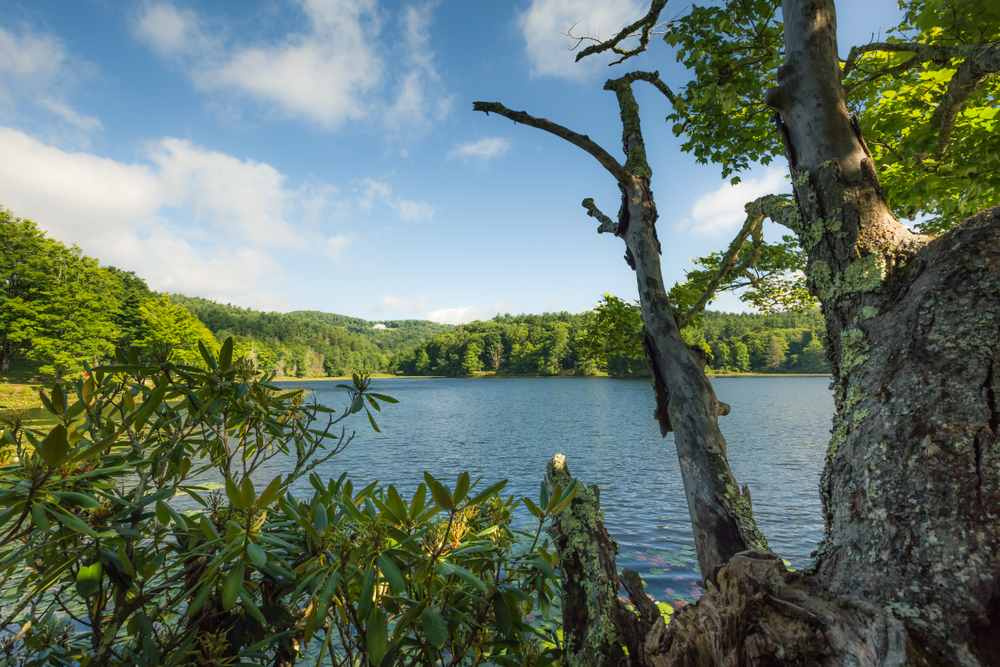 Mystery Hill
For an attraction rich in excitement and adventure, look no further than Mystery Hill, one of the best things to do in Blowing Rock with kids! This unique attraction pairs indoor and outdoor activities with scientific marvels that the whole family can enjoy!
Walk through their interactive attractions that showcase science in a fun way. Check out the Natural Gravitational Anomaly area, where water can flow uphill! In the Hall of Mystery, guests can lose their shadow AND learn how to fly – wow! Throw a tomahawk and take the bull riding challenge – you can do it all at Mystery Hill.
After you've walked through the indoor exhibits and attractions, take your adventure outdoors for a stroll around the Middle Fort Greenway Trail. This trail connects Blowing Rock to nearby Boone and is a popular spot for hiking and biking. When snack time rolls around, stop by Front Porch Eats at Mystery Hill for hand-dipped ice cream, mason jar milkshakes, or homemade Belgian waffles. About a 15 minute drive from downtown, a day spent at Mystery Hill is certain to be filled with fun!
Flat Top Manor
Also located within Moses H. Cone Memorial Park, Flat Top Manor is the home of the park's namesake himself. Built in 1901 at the height of the Gilded Age, this twenty room mansion is an outstanding example of the Colonial Revival-style of architecture. The home was built with idea of replicating the famous Biltmore Estate in Asheville, NC.
Today, the manor houses the Southern Highland Craft Guild, which means a variety of locally made treasures are available to take home! Shop handmade bowls, table wear, woven clothing and other crafts on display in the first floor rooms. On special summer days, craft demonstrations are available for visitors to watch and take part in.
Ranger-led tours are available in the summer months to help guests learn more about the Cone family and the estate. After you've explored the many rooms of the house, venture outside to journey through the family cemetery, apple orchard, and carriage house barn.
Flat Top Manor also hosts special events throughout the year. Make sure to check their website to see what awaits you on your visit!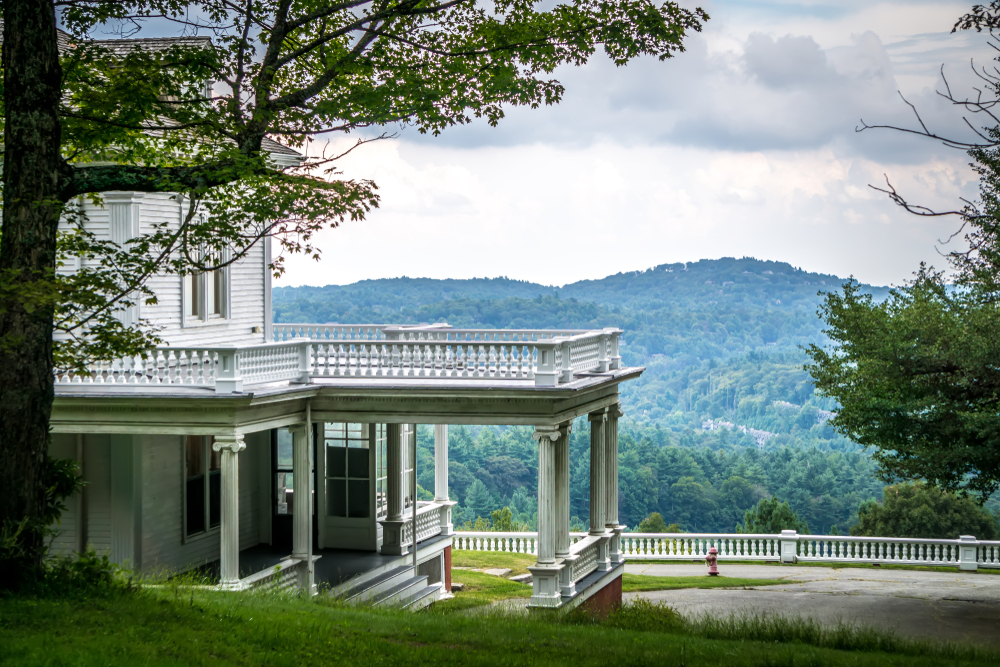 Julian Price Memorial Park
At the foot of Grandfather Mountain, about an 8 minute drive from downtown, sits Julian Price Memorial Park, a majestic adventure and one of the most popular Blowing Rock attractions.
Boasting one of the largest picnic areas along the Blue Ridge Parkway (more than 100 sites!), this is a great place to bring the family for a day of fun in the great outdoors. Hike the Tanawha Trail, a 13 mile trail moving through the park to Beacon Heights. Price Lake offers guests a chance to enjoy a day on the water – rent a boat or canoe to cruise around, or try your hand at fishing in the lake!
Julian Price Memorial Park is notable for offering the best (and largest) campground in the area. The site is open seasonally, usually between May and October, and accommodates both RV and tent camping. Most sites are equipped with grills, lantern poles, and picnic tables. Primitive backcountry camping is also available in select places within the park.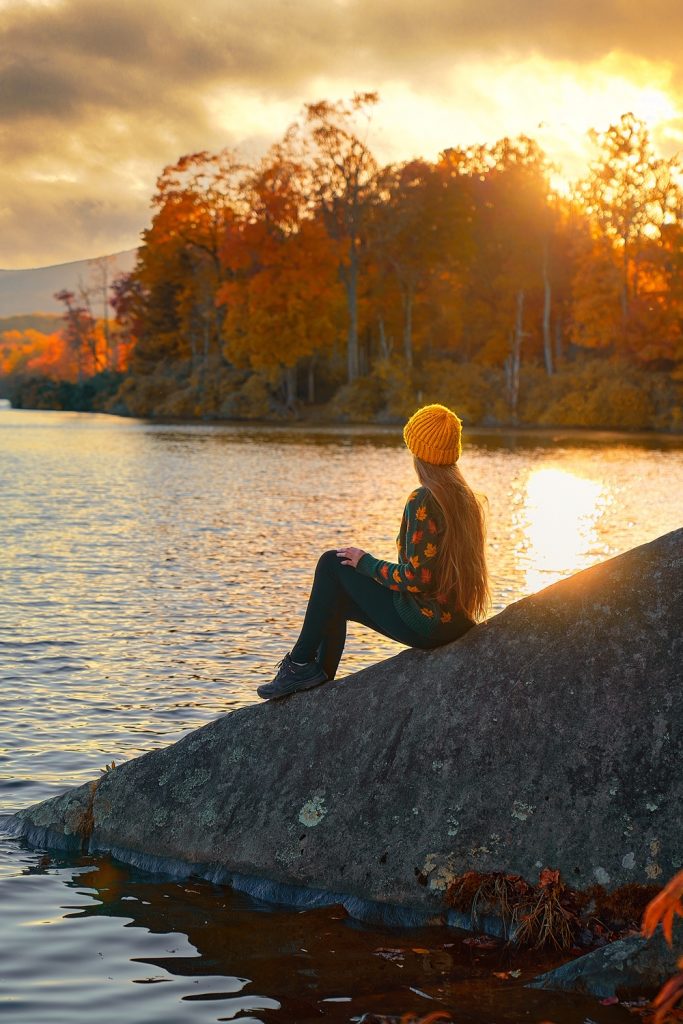 Glen Burney Trail
If you'd like to take a hike without leaving downtown Blowing Rock, Glen Burney Trail is the hike for you! While this trail is closest to the center of town, it is a strenuous hike and not suitable for inexperienced hikers.
The trailhead is located near Mayview Lake, and is about 3 miles roundtrip. Be prepared to scramble over rocks and tree roots on this trail. Glen Burney Trail is know to be wet and slippery, even in dry weather, so make sure you wear appropriate shoes. Even though it's a relatively short hike, there is a 600 foot elevation gain along the way.
Hikers are treated to views of three waterfalls along the path on this historic trail. Photos show evidence of the trail being in use as early as 1895, but the trail is believed by locals to have been constructed in the mid-1800's. Hike into history in the heart of Blowing Rock at Glen Burney Trail!
Blowing Rock Brewery
To taste the best beer in Blowing Rock, head to the aptly named Blowing Rock Brewery. Opened in 2013, Blowing Rock Brewery is committed to producing beer that showcases the best of the mountains, by using sustainable brewing techniques and sourcing local ingredients.
The Blowing Rock Ale House, located in downtown, is the place to try the best brews of the season. With a full restaurant menu featuring outstanding dishes like Brisket Tacos and Duck Wing Drumettes, their special take on hot wings, you can have your beer and satisfy your appetite, too.
Blowing Rock Brewery produces many core beers that are always available. We recommend trying trying the Cloud Rise IPA, with fruity hints of pineapple and orange, or the Fresh Trail Golden Lager, a crisp and silky beer that transports you straight to the base of a waterfall. Specialty beers are on constant rotation, so you'll be assured with something new to try on every visit. Past favorites include Big Chocolate Porter, with a bold, robust flavor and Roasted Pumpkin Spiced Ale, perfect for crisp autumn evenings on the mountain!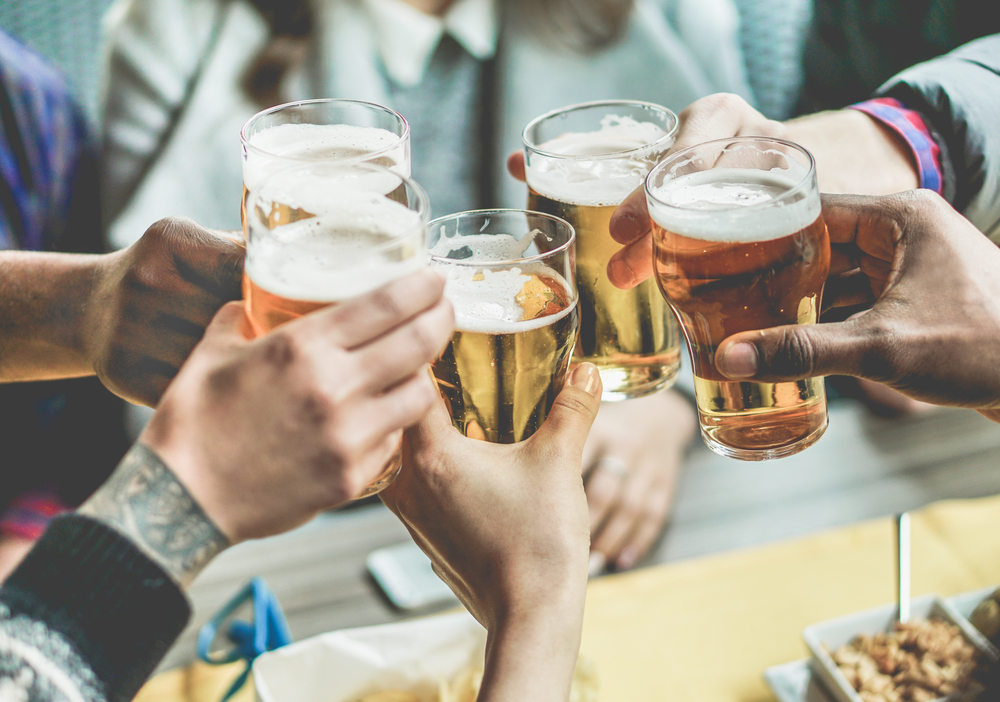 Outdoor excursions are in abundance in the Blowing Rock area, but visitors can also find great shopping, mouthwatering food, and interesting history in downtown and nearby! Blowing Rock is truly a place where you can have it all. You can camp on the mountain beneath the stars, explore charming churches, and try beer brewed from clear mountain water all in one day! Kids and adults alike enjoy the adventure and atmosphere of this adorable mountain town. Bring your curiosity and let Blowing Rock take care of the rest!