Are you looking for the best things to do in Lookout Mountain? You are in luck because I have been going to Lookout Mountain since I was a little girl and have always been in love with the area. Some of my favorites include visiting Ruby Falls and the Fairytale Caverns.
I have done it all, and luckily for you, will share my first-hand experience places to go near Lookout Mountain so you can have the best time ever! You will want to wear comfortable shoes and many of these attractions include walking. But, don't get scared, if you are not into the great outdoors, there is plenty to do in Stone Mountain and nearby Chattanooga Tennesee that are inside!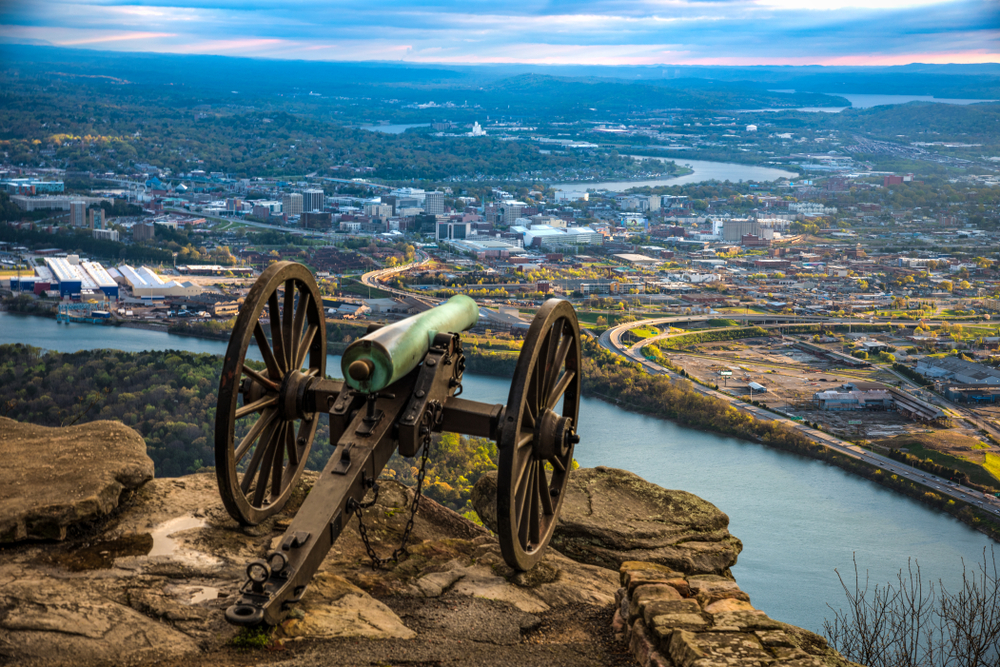 What to Expect at Lookout Mountain
Here is what to expect at Lookout Mountain, breathtaking views, iconic attractions like Rock City, Ruby Falls, and the Incline Railway. There are stunning natural rock formations, deep caverns, and beautiful outdoor parks and gardens. It offers a perfect blend of adventure, history, and natural beauty for a fantastic vacation!
What is on Top of Lookout Mountain
On top of Lookout Mountain, you will find Point Park which has epic panoramic views. You will also see Rock City's special rock formations and pretty gardens, the stunning Ruby Falls underground waterfall, and the thrilling Incline Railway. Take your time and explore all the beautiful wonders on top of Lookout Mountain!
15 Best Things to Do in Lookout Mountain TN/GA
Ruby Falls
As someone who has visited Ruby Falls at Lookout Mountain, I can say it is a truly beautiful experience. Ruby Falls is located deep inside Lookout Mountain and is the tallest and deepest underground waterfall in the United States!
It drops 260 feet into the cave and you are greeted with the sight and sounds of the waterfall that drops a total of 145 feet. The walk through the cave is an adventure in itself. You will navigate through narrow passageways with stunning rock formations along the way.
You will take guided tours where you can learn the history and geology of the cave. The ethereal beauty of Ruby Falls, combined with the natural wonders makes it one of the best things to do in Lookout Mountain.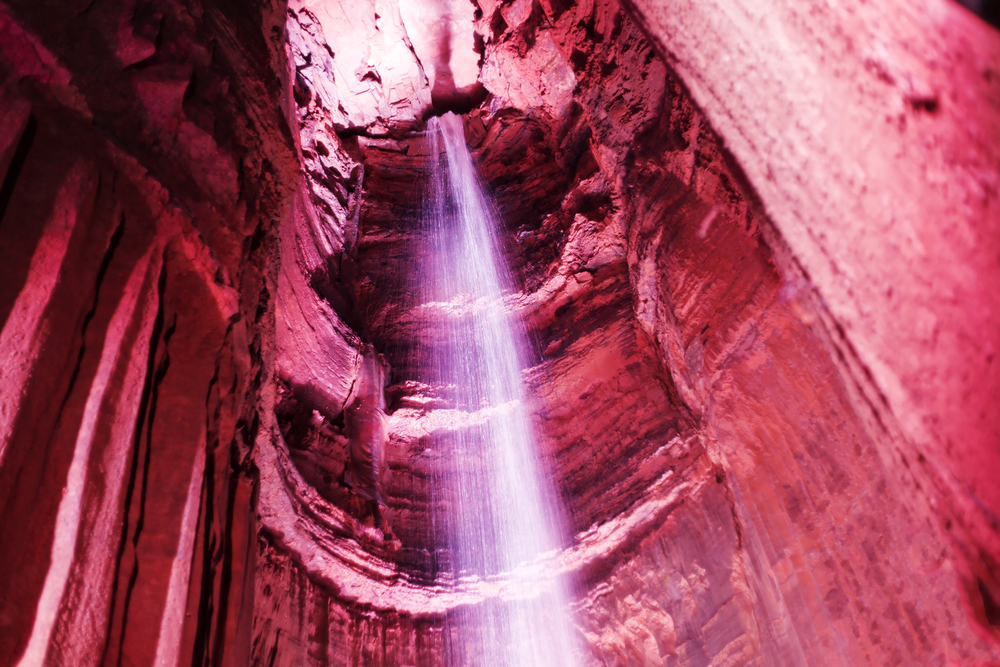 Rock City Gardens
If you are looking for what to do in Lookout Mountain the Rock City Gardens is a very popular place to visit. To get there you will need to walk the trail which is around 4,100 feet long. It takes you through incredibly beautiful rock formations and beautiful gardens.
When you walk along the Rock City trail you'll be able to see seven different states, at one time! There are also really cool things to check and see. Like the Swing-A-Long Bridge, Lover's Leap, and Fairyland Caverns (which I cover below). Rock City Gardens is one of my favorite parts of Stone Mountain and is a great place to enjoy nature and learn about the history of the area.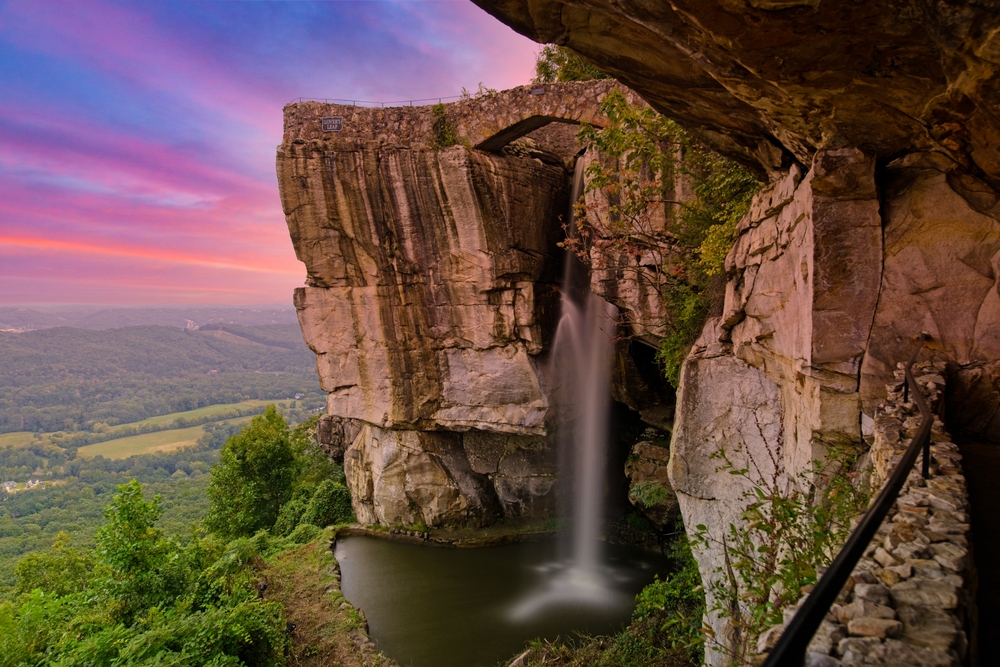 Lookout Mountain Incline Railway
The Lookout Mountain Incline Railway is just as it sounds. It is a steep railway that takes you on a scenic ride up Lookout Mountain. The Incline Railway's trolley cars climb through the natural beauty surrounding historic Lookout Mountain. Be sure to sit back and relax to get the most out of breathtaking views.
The Incline Railway has two stations. One is the Upper Station which is a very popular spot for photos and to take in the views of Chattanooga. This is probably one of the most popular places to visit in Lookout Mountain.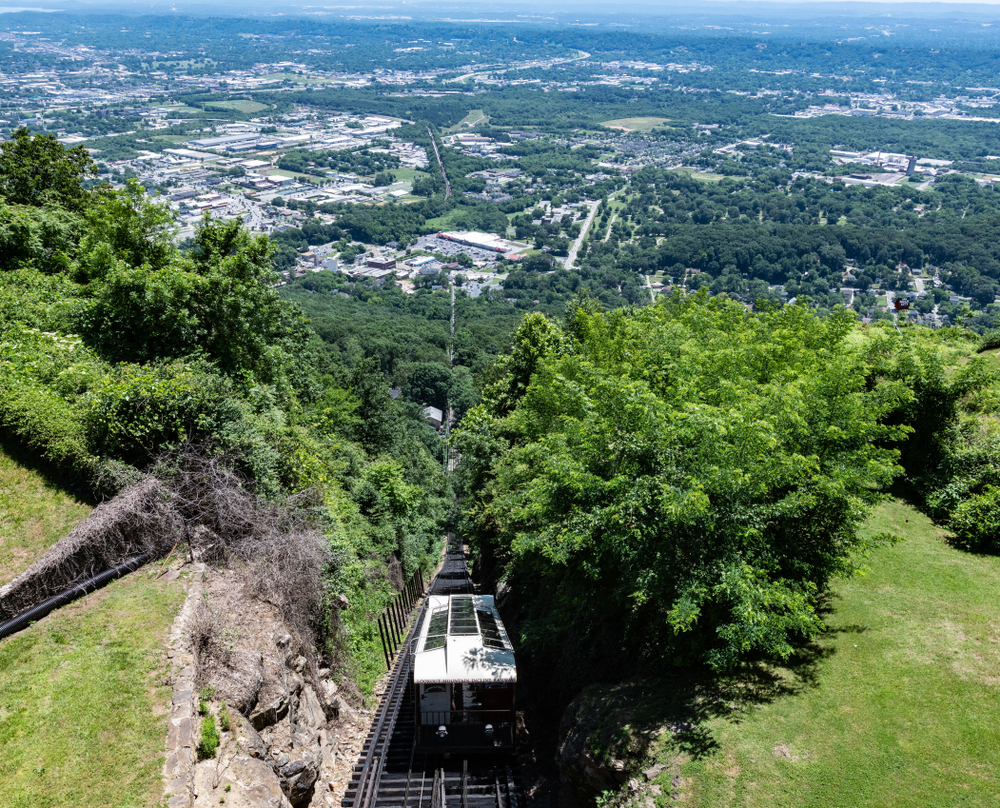 The National Battlefield
The National Battlefield at Lookout Mountain is a significant historical site that played an important role in the Civil War. The Battle of Lookout Mountain, also known as the Battle Above the Clouds took place on November 24, 1863, as was apart of the Chattanooga Campaign during the Civil War.
In total, it is about 3,000 acres on both the summit and slopes of Lookout Mountain. One of the important areas within the National Battlefield is Point Park. This park covers 16 acres and has a breathtaking view of Lookout Mountain Battlefield and Chattanooga TN.
Explore the National Battlefield on a self-tour and learn all about the battles. The Chickamauga and Chattanooga National Military Park preserves this and several other battlefields in the area, if you are interested in doing a civil war tour.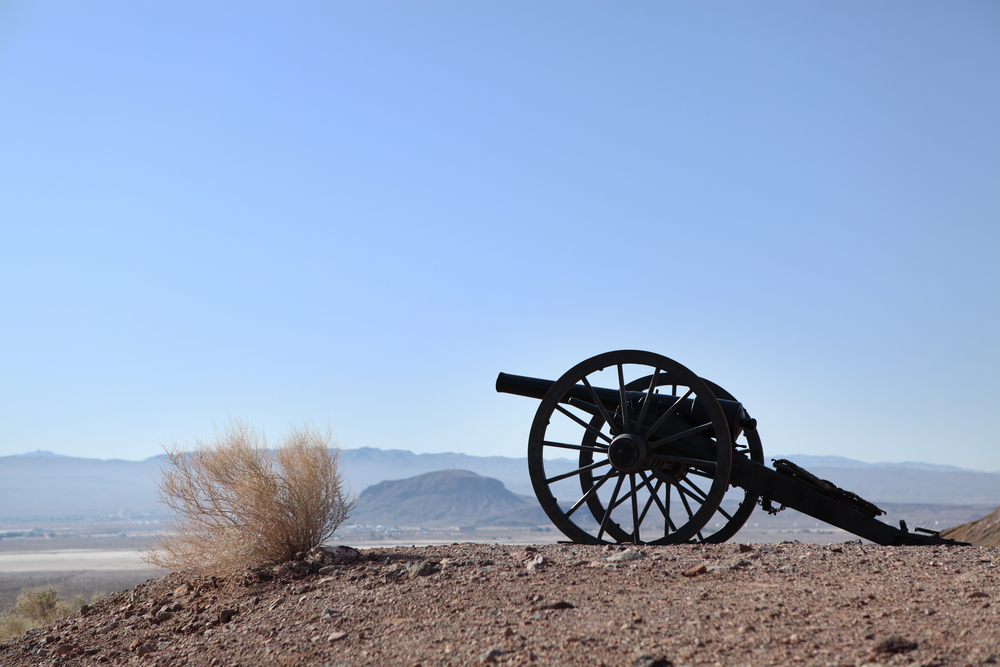 Hang Gliding
When sisiting Lookout Mountain you have to try out hang gliding. One of the top places to try this at Lookout Mountain Flight Park. This is the oldest and largest hang gliding school and resort in the US. You will be in good hands as they provide professional training and tandem flights.
Imagine soaring through the crisp mountain air with the against your face. It will get your heart racing and blood pumping.
The hang gliding flight takes place from the summit of Lookout Mountain with heights from 1,500 to 3,000 feet! This is one of the best ways to see Lookout Mountain, Chattanooga TN, and the Tennessee River Valley from a different perspective.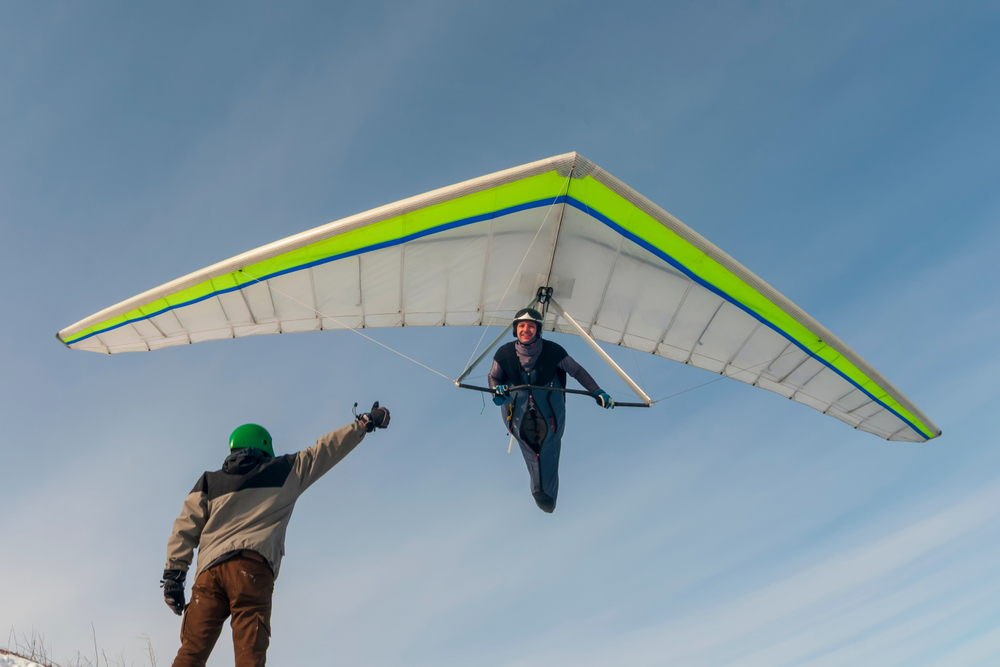 Fairyland Caverns & Mother Goose Village
A visit to Fairyland Caverns & Mother Goose Village at Lookout Mountain is one of the things to do in Lookout Mountain with kids. I know it was my favorite part of Lookout Mountain when I was younger. This whimsical fairytale land is located inside the Rock City Gardens. It is where all your favorite fairy tales and nursery rhymes come to life!
When you enter the Fairyland Caverns the stunning rock formations are illuminated with colorful lights that create the most magical atmosphere. Take in the new sites each turn reveals a new scene. All of your favorite characters and stories are there. Like Jack and the Beanstalk, Cinderella, and Little Red Riding Hood.
Next to the Fairyland Caverns is the Mother Goose Village. Here you and your kids can explore cute cottages and play with the lifesize characters. Meet Humpty Dumpty, Mary and her cute little lamb, and even the Old Woman Who Lived in a Shoe. Even if you aren't traveling with children, the Fairytale caverns is worth a visit, it brings out the kid in all of our hearts.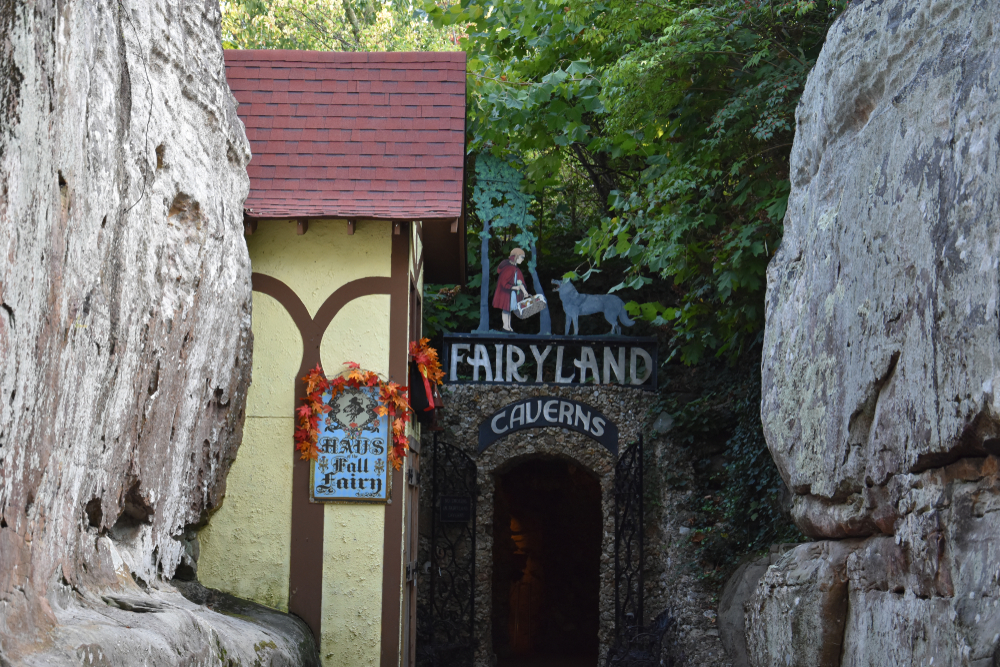 International Towing & Recovery Hall
Next up is the International Towing and Recovery Hall of Fame & Museum. This one-of-a-kind attraction is dedicated to the towing industry. It was first established back in 1995 and it is the only museum in the world that is competely focused on towing and recovery.
Take your time as you explore the restored antique wreckers and equipment. They do an amazing job of showcasing the history and evolution of tow trucks.
A permanent attraction is the "Wall of the Fallen. This room honors the individuals who lost their lives while doing their jobs in the towing profession. It is a very touching tribute and it is an important reminder of the sacrifices people made for the evolution of the industry. It is one of the top things to do near Lookout Mountain.
Boat Tour of the Tennessee River
A Tour of the Tennessee River near Lookout Mountain is a very relaxing experience and lets you see the mountain from a different perspective. There are many options of riverboat tours to choose from various tour operators. There are also tours to take on real WWII Duck Boats.
These boat tours let you sit back and enjoy the views without breaking a sweat. Most have open-air decks that allow a soft breeze. The boats usually have a bar on board and light refreshments. It can be very romantic during sunset and is one of the top things to do in Lookout Mountain for couples.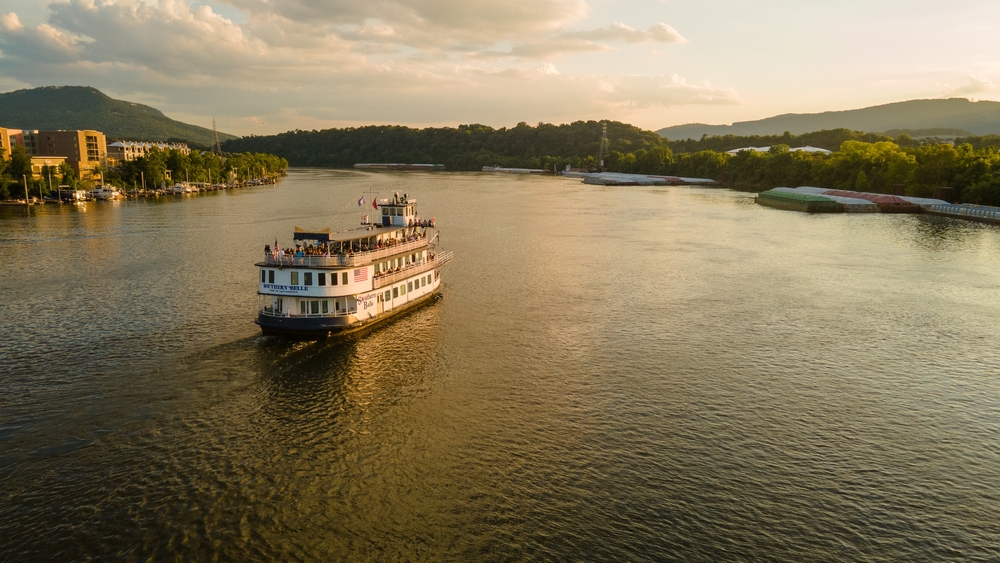 Reflection Riding Arboretum & Nature Center
Reflection Riding Arboretum and Nature Center are located in Chattanooga, Tennessee, and very close to Lookout Mountain. It is 300+ acres and has a nature center with activities and attractions throughout the year.
The Reflection Riding Arboretum also has hiking trails on an extensive trail system. Inside the educational hub, they have both botanical and wildlife exhibits. The center aims to conserve and protect the native plants and animals of Tennessee.
Don't forget to visit the plant nursery. You can purchase plants to bring a piece of Reflection Riding's natural beauty home with them! It is always my favorite souviner, and on the top of my list of the best Lookout Mountain activities.
White Water Rafting on the Ococee River
White Water Rafting on the Ocoee River is a fantastic adventure and one of the fun things to do in Lookout Mountain. Your tour will start on either the Ocoee River Basin area or the Middle Ococee. This middle section is referred to as "America's most popular river trip." It is a five-mile stretch of the river with fast rapids and usually lasts about half a day.
If you are a rookie, the tour guides are amazing at making you feel safe and comfortable. You can bring the whole family, but be aware that the minimum age on the Ocoee River is usually 12 years old. Book your spot today, the memories last a lifetime.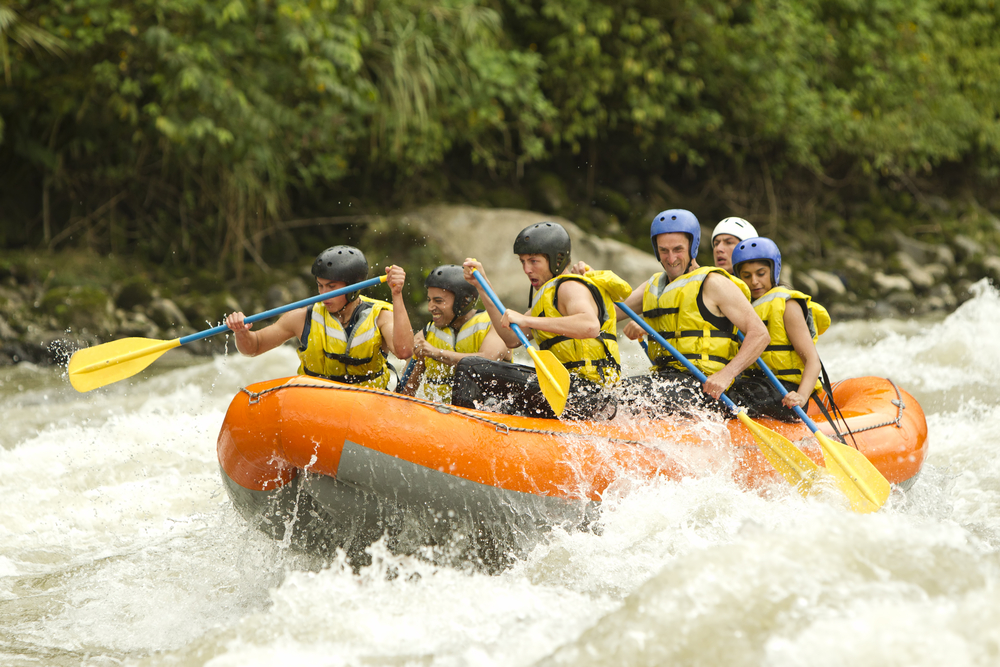 Play a Round of Golf at Look Mountain Club
A round of golf at the Lookout Mountain Club near Lookout Mountain is a great way to take in the views for a few hours. The course was designed and built back in 1925. It is considered a landmark and crown jewel of Lookout Mountain.
Expect a challenging yet rewarding course, but no matter what your score ends up being, the views are with it. This is one of the top attractions in Lookout Mountain for golf lovers.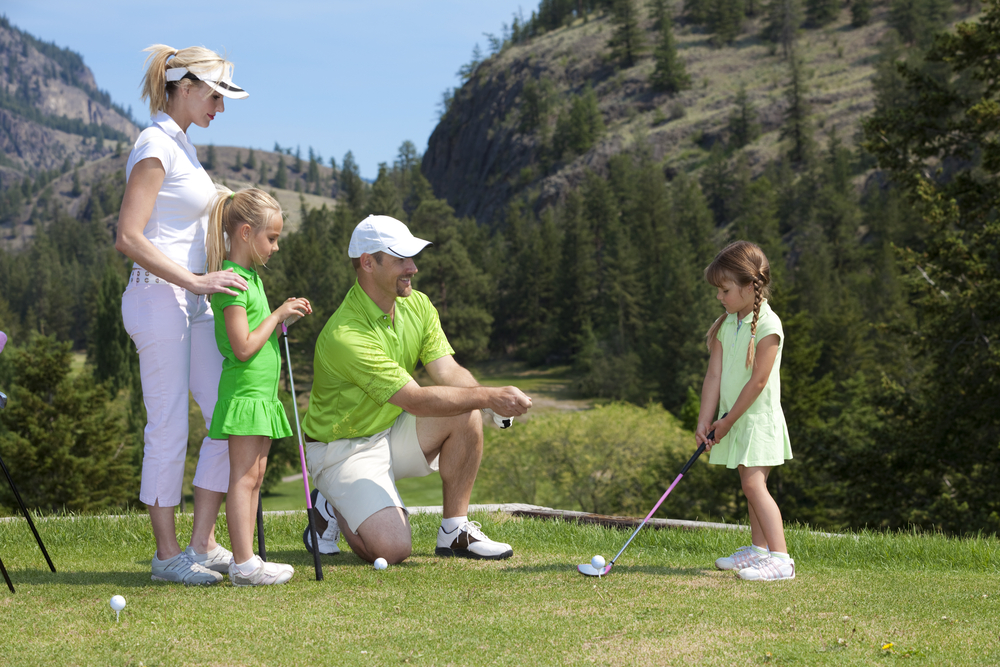 Bike the Guild-Hardy Trail
Calling all mountain bike lovers! The Guild-Hardy Trail is near Lookout Mountain just minutes away from Chattanooga and the state's border. The Guild-Hardy Trail is an 11.1-mile loop route that follows the old railroad tracks. You can do it with any type of bike, but electric bikes are the most popular choice.
It is crushed gravel and has mostly flat and easy terrain, making it a perfect ride for all skill levels. On average it takes 5 hours to complete. Plus, along the trail, there are benches to take a break if you tire yourself out.
It is a popular route for locals and tourists. The Guild-Hardy trails start at the base of Lookout Mountain near St. Elmo. And you can park in the parking lot off Ochs Highway. This is one of the best activities in Lookout Mountain for bike riders.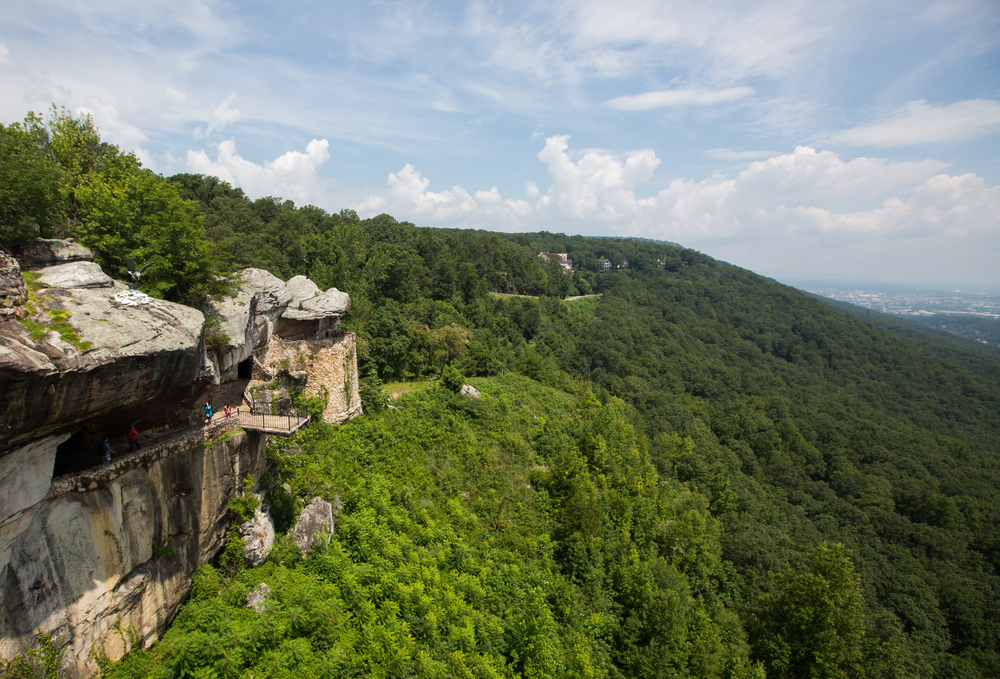 Hunter Museum of American Art in Chattanooga
best things to do in Lookout Mountain for adults The Hunter Museum boasts the most complete collection of American art in the Southeast! It shows the architectural styles of over 100 years.
The museum itself is comprised of different buildings. Two of the most popular buildings are the classical revival mansion dating back to 1905 and the low-slung building from the 70s. The blend of architectural styles creates a perfect backdrop for the art on display.
These include stained glass, paintings, and other decorative arts. The Hunter Museum regularly hosts special exhibitions so even if you have been before, it's always worth the trip again. I visit it every time I go to Lookout Mountain.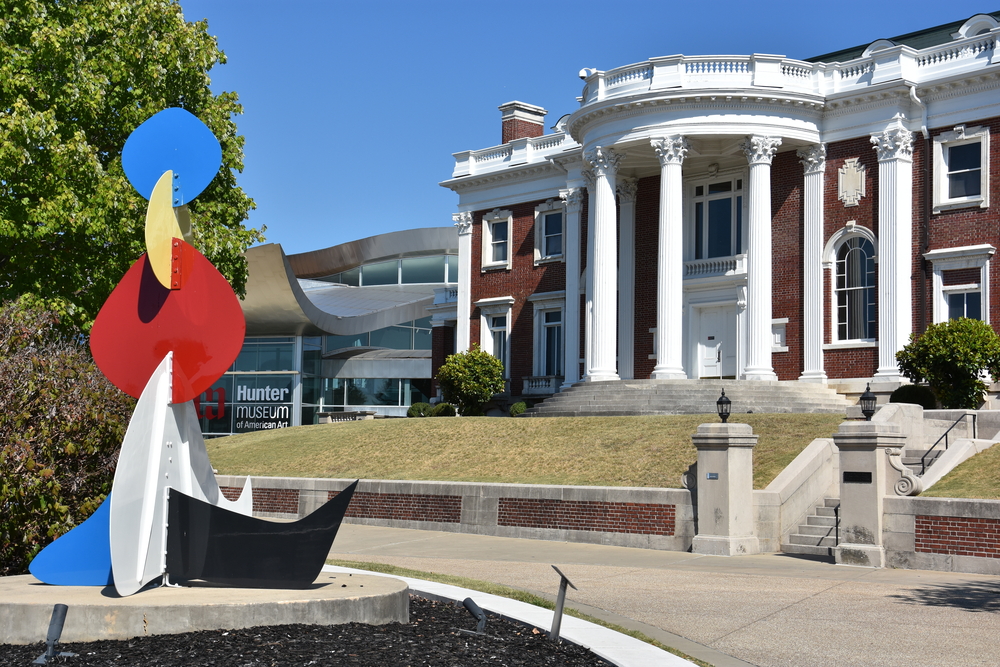 Sunset Rock
Sunset Rock near Lookout Mountain has views of both the Tennessee River and the Chattanooga city skyline. It is only 4 miles from Point Park on Lookout Mountain. Sunset Rock is a broad rock outcrop and is the very best place to see breathtaking sunsets.
The hike to Sunset Rock is only a short 0.2-mile out-and-back trail. Despite its short distance, it can be a bit challenging but the effort is well worth it! It doesn't matter what time of year you visit, the landscape is always beautiful. But Fall in Tennessee is always my favorite.
The parking is very limited at Sunset Rock, with only a few spots and the surrounding streets are pretty narrow. So it's uber important to plan ahead and arrive early to secure a good spot. It is one of the best things to do in Lookout Mountain at night.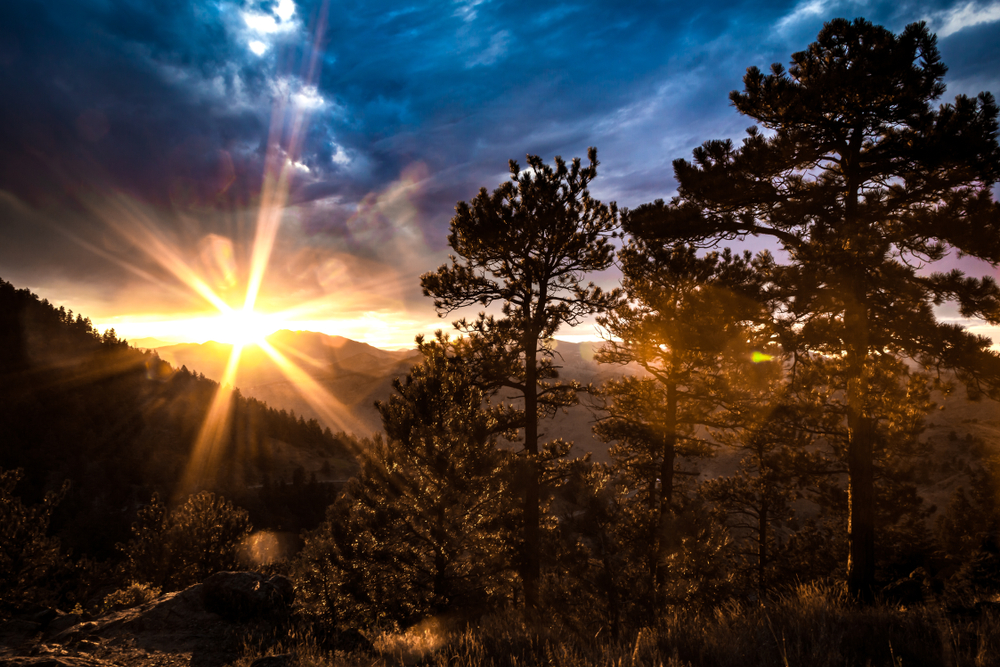 Scenic Drive along Lookout Mountain Park Way
If you are looking for free things to do in Lookout Mountain, a drive along Lookout Mountain Parkway is always a good idea. It spans over three states, Alabama, Georgia, and Tennessee, and in total is 93 miles. But just a few miles or hours of driving will do.
You will drive through picturesque vistas, and thick forests, and you have to stop at a few overlooks to see different sections of the Lookout Mountain. Also on the drive, you can stop and explore waterfalls, canyons, and state and national parks.
One of the top stops is the Little River Canyon Preserve. This part of the drive has the stunning beauty of the gorge. The road is a two-lane highway, where drivers are leisurely driving to soak in the pretty mountain scenery. It is always well-maintained, for a smooth and safe experience!