Are you an avid or hobby birdwatcher visiting Virginia? We have got you covered with a list of the lovely common and rare birds in Virginia has to offer!
Home to several wild ecosystems that house an amazing selection of birds to keep an eye out on! With famous birding locations such as The Great Dismal Swamp, Chincoteague National Wildlife Refuge, and Chickahominy River Marsh which protect and house numbers of birds as well as some endangered species! Being from Florida, I am entirely familiar with how interesting sitting on the beach and watching birds come and go, and Virginia has no shortage of cool birds to keep an eye on! I am a big fan of owls! They're insanely stealthy and as birds of prey there's more than 200 species. A good owl compilation video will keep me entertained for hours, no joke!
So sit back and get your binoculars ready, here is our list, both common and rare, of birds in Virginia!
An Identification Guide to Birds in Virginia
Northern Cardinal
As the state bird, the Northern Cardinal is one of the common birds in Virginia that you should definitely keep an eye out for!
This beautiful bird is known for its bright crimson plumage and almost mask-like black feathering around it's red beak! It lives in dense forests filled with thick shrubs, thrives in areas with tall trees and large bushes so it can build it's nests on tops! If you're going for a hike in an area with large tree growth, definitely keep your eye on the sky for this cool option of birds in Virginia!
When looking for keys of birds of Virginia identification, Cardinals are easy to spot for their crimson hue, however there are other ways to confidently identify these birds in Virginia! hey are around six inches in length and usually don't weigh more than an ounce. If you're seeing red plumage you're seeing a male Cardinal as the female birds are a brownish-red hue with streaks of yellow! The Cardinal is also identified as a Virginia songbird, and can be mistaken for finches for their size.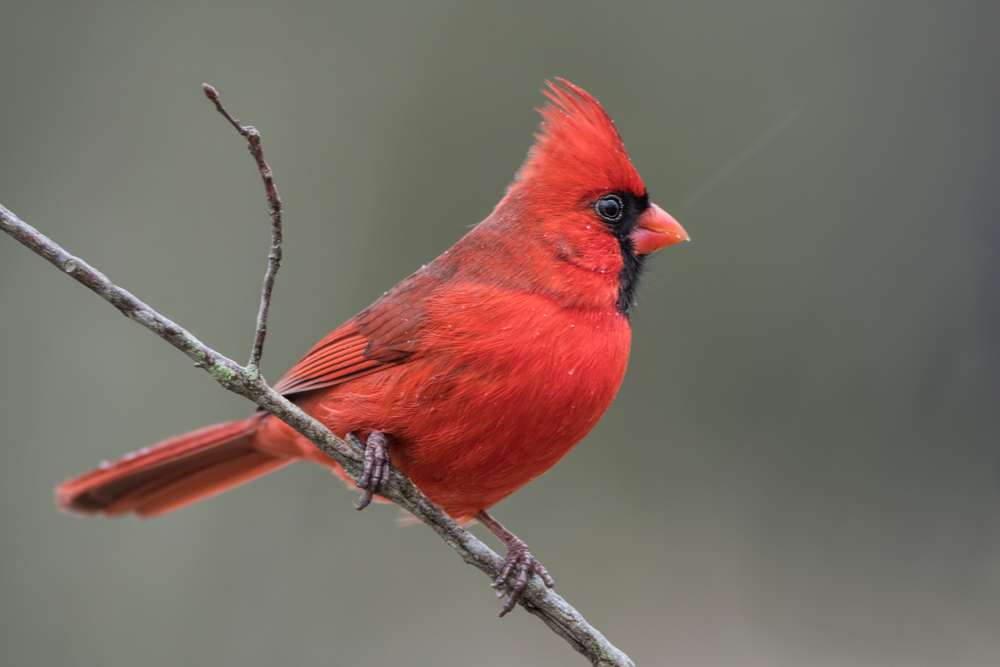 Swainson's Thrush
Next on our list of common Virginia birds is Swainson's Thrush!
The Swainson's Thrush is an adorable little bird with a slightly uncomfortable sounding song, which could be identified as electronic sounding and wheezy! Imagine walking through a forest trail and hearing something like that! If you're walking around morning or in the evening, there's a chance you'll hear it!
When it comes to Virginia bird identification, Swainson's Thrush is a plain looking bird with a dusty brown top half and a brown and white spotted breast. Swainson's found on the Pacific Coast tend to be ruddier looking than the ones found inland. They are approximately 7 inches from beak to tail, and feature a cream-coloured ring around the eye which can be used to identify it!
Swainson's Thrush is an awesome option for birds found in Virginia to keep an eye out for!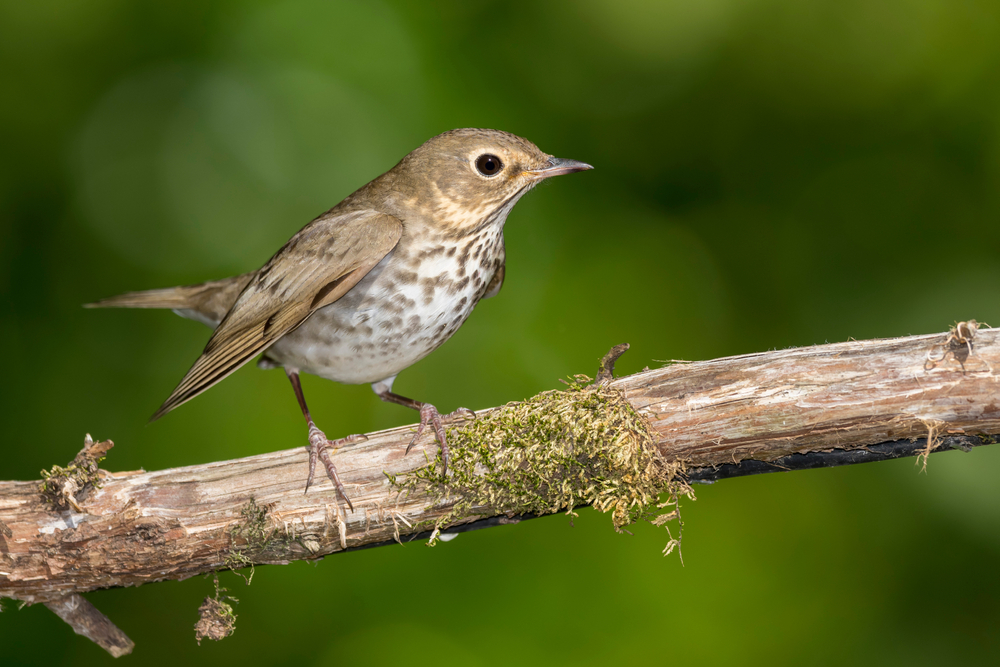 Barn Swallow
When you picture a swallow the forked tail of a Barn Swallow is the image you get, and is one of the best birds in Virginia to keep an eye out for!
It is one of two common swallow species of native Virginia birds and is very easy to identify! It is approximately 6 and 3/4 inches long with blue, red and orange colours just as bright and vibrant that it rivals the hues of a humminbird! This Virginia bird Identification relies on its forked tail because it distinctly separates it from it's swallow sister species, the Tree Swallow, and these scissor-like tail feathers are distinct in flight!
If you're going for a stroll around a neighbourhood in Spring or Summer and looking to catch a glimpse of one of these beautiful birds in Virginia, watch for nests of mud in eavestroughs or gutters of buildings. This is where Barn Swallows traditionally make their homes!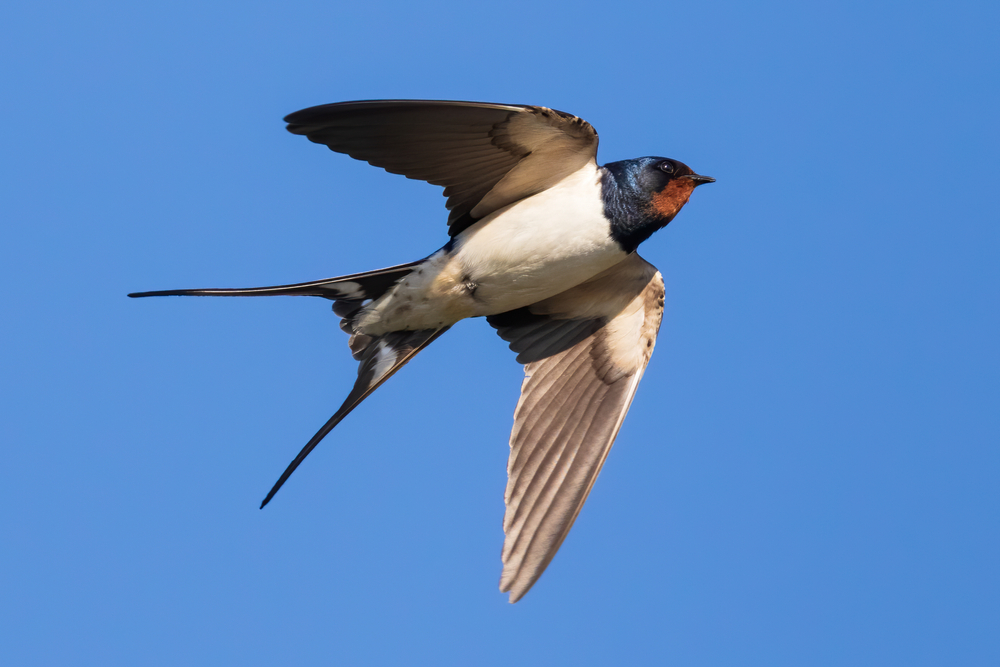 White-Crowned Sparrows
Another classic idea of common Virginia birds is the species of sparrow, and more prominently the White-Crowned Sparrows are an adorable little guy to keep an eye out for!
Massively recognized in Virginia bird identification for it's striped, crown-like marking on it's head, the White-Crowned Sparrow is an adorable easy ID for beginning birders! It has a cute yellow bill and can be found around the Pacific. If you're outside of Virginia now and see something you think might be a White-Crowned Sparrow, you could be right! Outside of the Pacific, this bird has a pink bill!
The White-Crowned Sparrow is on of the most common birds in Virginia so keep an eye out because you'll definitely see one or two while roaming the state!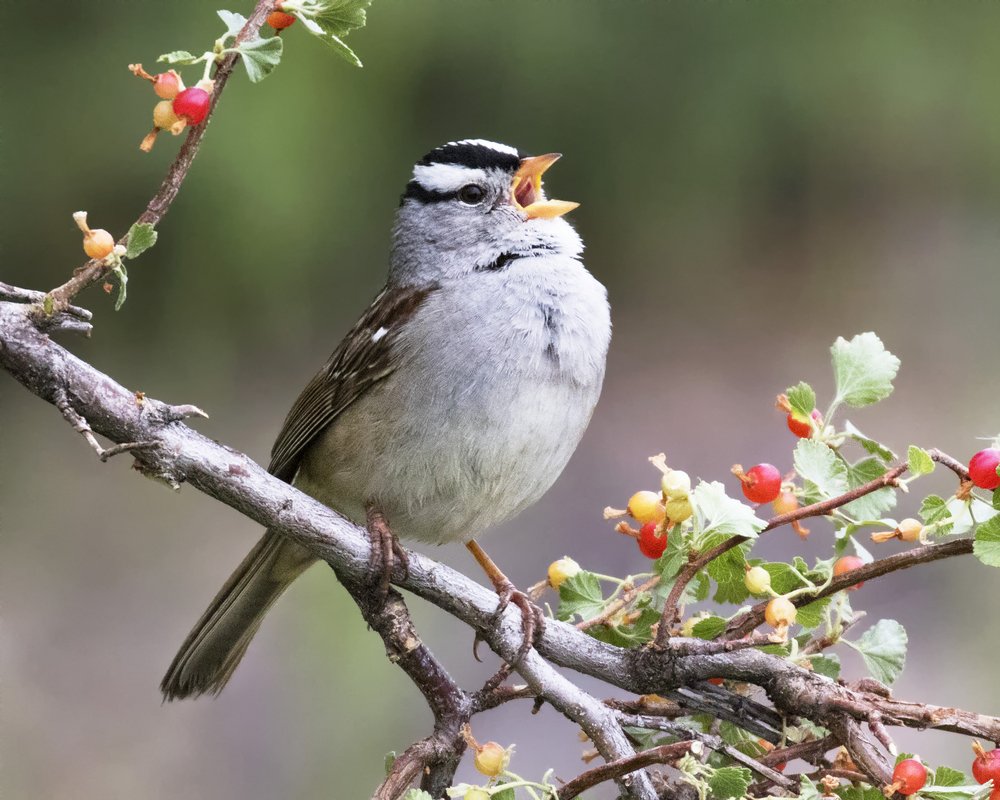 Ruby-Crowned Kinglet
This mohawked bird is a punk rock little guy and definitely one of the best birds in Virginia to keep an eye out for!
The Ruby-Crowned Kinglet might range from being 3 and 1/2 inches to 4 and 1/2 inches but it packs quite the punch when you see it's ruby-hued patch of feathering! When it comes to birds that live in Virginia, this little guy has quite a handful of colours ranging from grey, to a light yellow, fawn, white and black but it does not subdue the brightness of its crown!
If you're looking to catch a glimpse of this guy, make sure you're roaming during the colder seasons as it is a winter visitor to Virginia! Check for oblong nests with high walls and a little roof hole to be able to see this punk-rock birdie!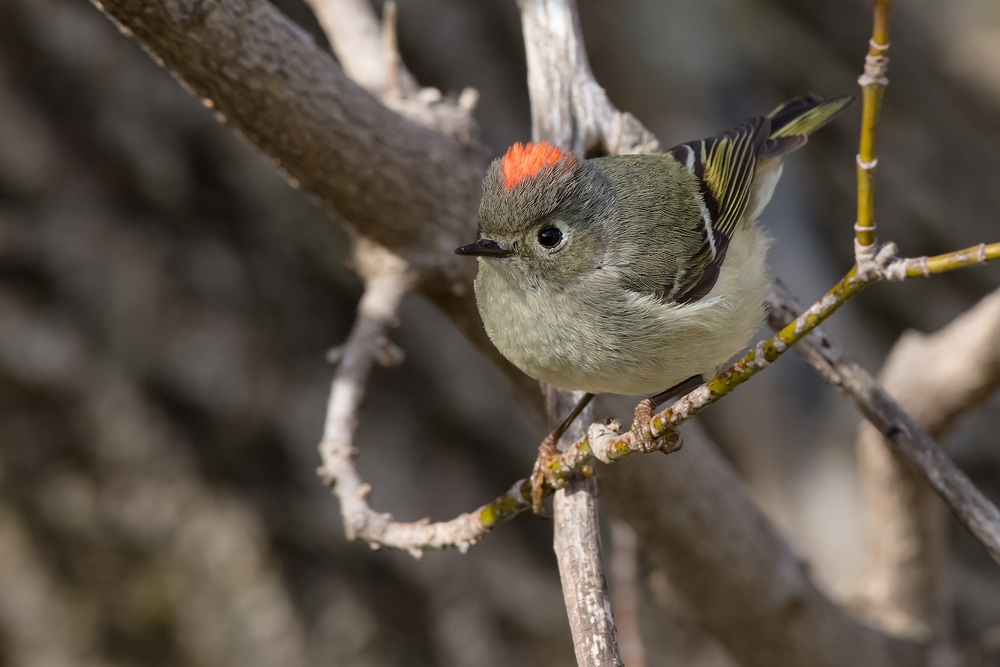 Tree Swallow
When it comes to jewel birds, the Tree Swallow is gorgeous in hue and one of the common Virginia birds that you're more likely to see!
The second of the more common Swallow species of native birds to Virginia, the Tree Swallow is stockier and stubbier than it's sister species, the Barn Swallow, but more known for it's stark bi colour of white and blue! The tail of a Tree Swallow is less forked and more widely recognized as rounded and stubby! It reaches about 5 and 3/4 inches in length and can be seen, if you're looking (!), all year round! More commonly spotted in ponds, marshlands or near bodies of water, Tree Swallows are one of the blue birds in Virginia that makes its home closer to water than its counterpart.
Despite its size and stature, to an inexperienced birder the Tree Swallow could be misidentified as one of the many woodpeckers in Virginia as they can be found making homes in woodpecker holes! If you have an eye for spotting nests and recognize a woodpecker hole with a bird occupying it, pay close attention because it might just be a Tree Swallow!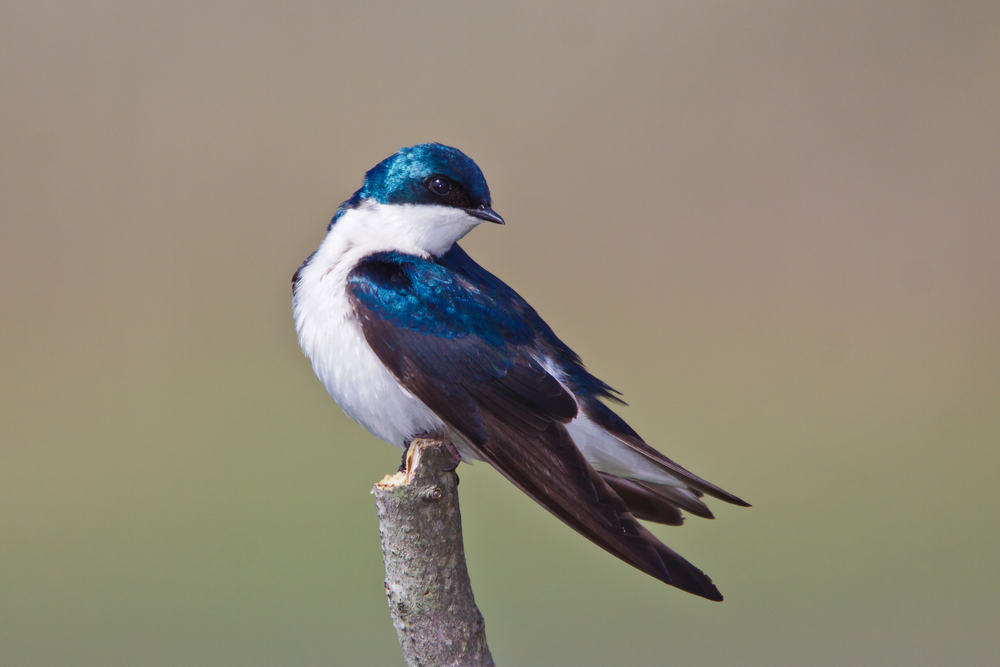 Dark-Eyed Juncos
This beautifully ombré'd possibility of black birds in Virginia is the Dark-Eyed Junco and he is a gorgeous bird to watch for!
One of six species of Juncos in Virginia, the Dark-Eyed Junco is one of the earth-toned birds that nest close to the ground! While the females appear duller in colour than their male counterparts, they have a beautifully dark hue that is identifiable through their black and grey topcoat and white underbelly with a pinkish beak!
They are found more commonly in forests and backyards with a beautiful call that mimics a trilling sound! Definitely keep an eye, and ear, out for this delightful option for birds in Virginia!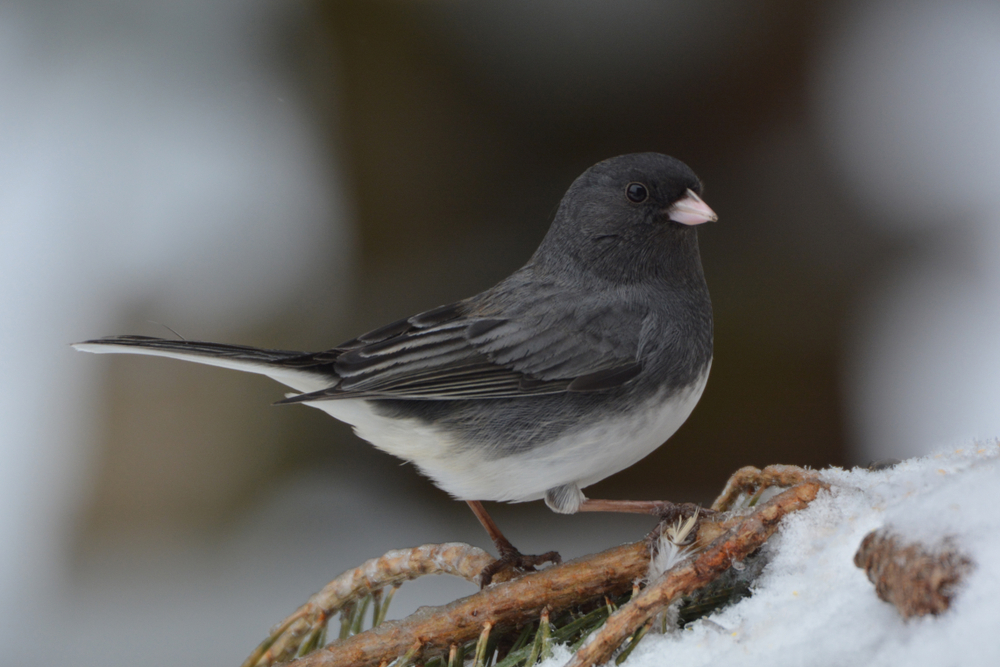 Purple Finch
When looking to spot red birds in Virginia, the Purple Finch is a misnomer bird that has to be on your list!
The colour purple brings to mind violets and lavenders but in reality the Purple Finch is more strawberry-hued and gorgeous! It is around six inches long and has a warbling song that classifies it as a lovely option for a Virginia songbird to keep an eye out for! They are compact birds, with a sturdy appearance and are year round Virginia residents!
As far as birds in Virginia go, the Purple Finch is a beautiful option to keep your eye out for. Check for high nests in conifer trees and forests as this is where they make their home and are most likely to be spotted on a hike than in a residential area but they do occasionally make an appearance. These introverted-extroverts are known for their warbling so if you find yourself on a break during your hike make sure to keep your ears open and maybe you'll hear them singing to you!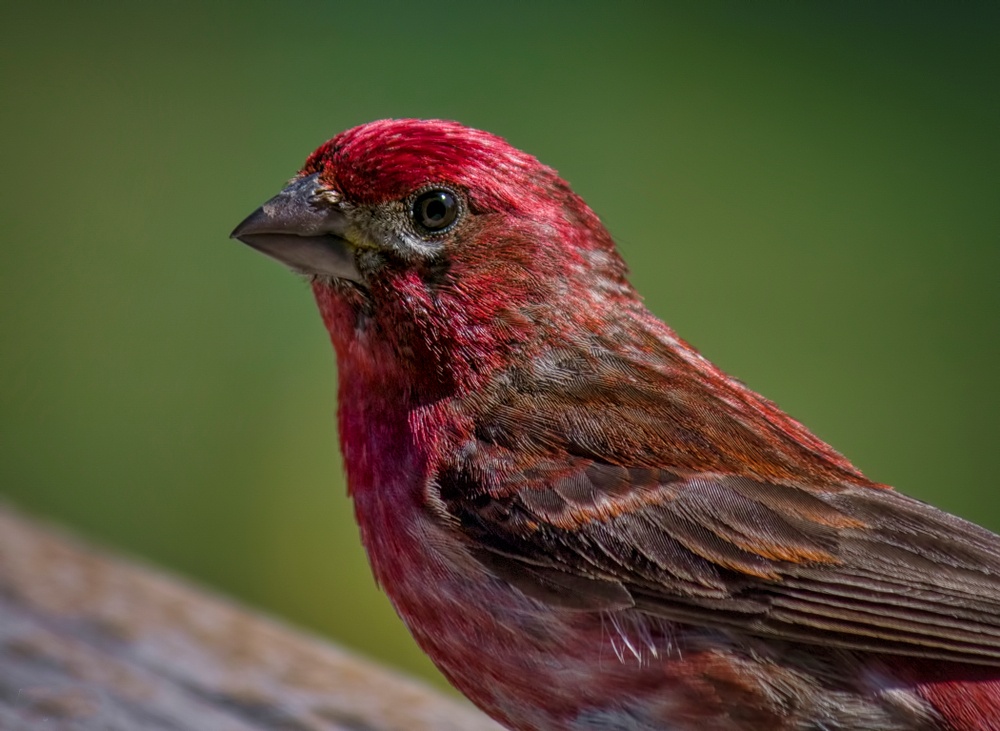 Orange-Crowned Warbler
Now the Orange-Crowned Warbler is not entirely a common bird, however this beautiful small songbird is one of the birds of Northern Virginia that we could not leave off this list!
It's more common habitat is in the Western United States and Canada, so this is classified as a more rare bird sighting however if you're adventuring Virginia for birdwatching in Fall and Spring you're more likely to see one! To the untrained eye, these can often be mistaken for the wrens in Virginia, however this Warbler is a unique species of its own!
As birds in Virginia go, the Orange-Crowned Warbler is 5 inches long with a 7 inch wingspan and can weigh up to 9 grams! They can be identified through their olive-grey upper feathers, and yellow underbelly! Keep an eye on dense low shrubbery that has open areas and forests as this might be where this Warbler is hiding! Also, males tend to mimic the songs of each other so another good way to keep an eye out for them is if you're listening for birds who are singing the same song together! You might be the audience of this awesome option for birds in Virginia concert!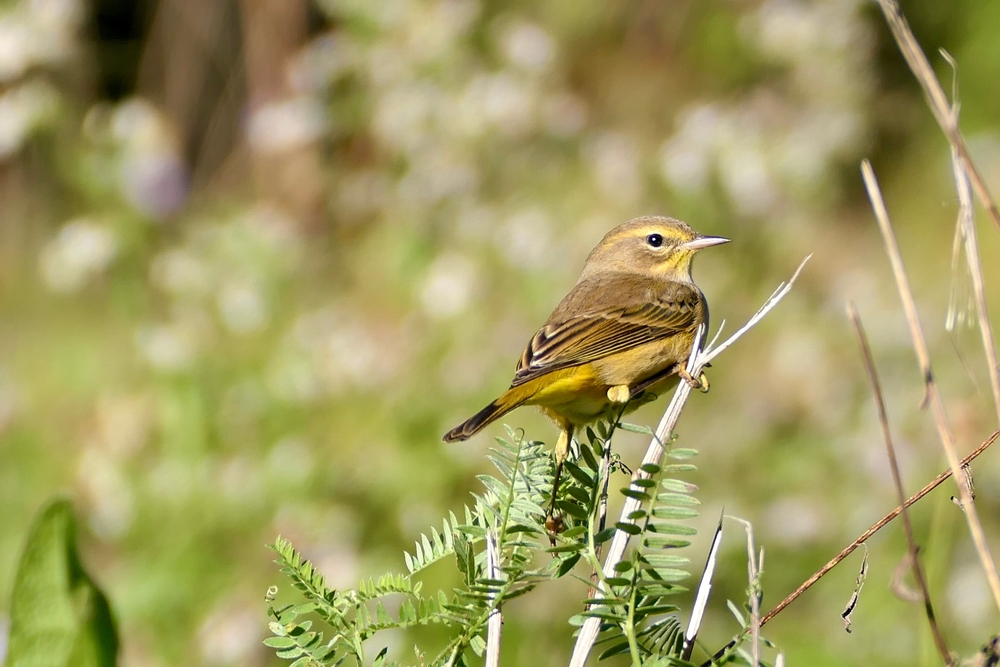 The American Goldfinch
When you think of birdwatching, many people think of the bright and vibrant birds in Virginia, and of course, a classic option of that is the American Goldfinch!
This 4 and 1/2 inch to 5 inch bird is a member of the year round resident birds in Virginia, and can be found sitting in the openings of wire fences! They have a cool scalloped flight pattern so watching them fly is a past time in its own right!
Females don't have the dark patch of feathers on their foreheads and have much more muted tones of yellow, but the males have a brilliant yellow vibrancy that is dulled only by the winter! Don't miss out on seeing on of these amazing yellow birds in Virginia!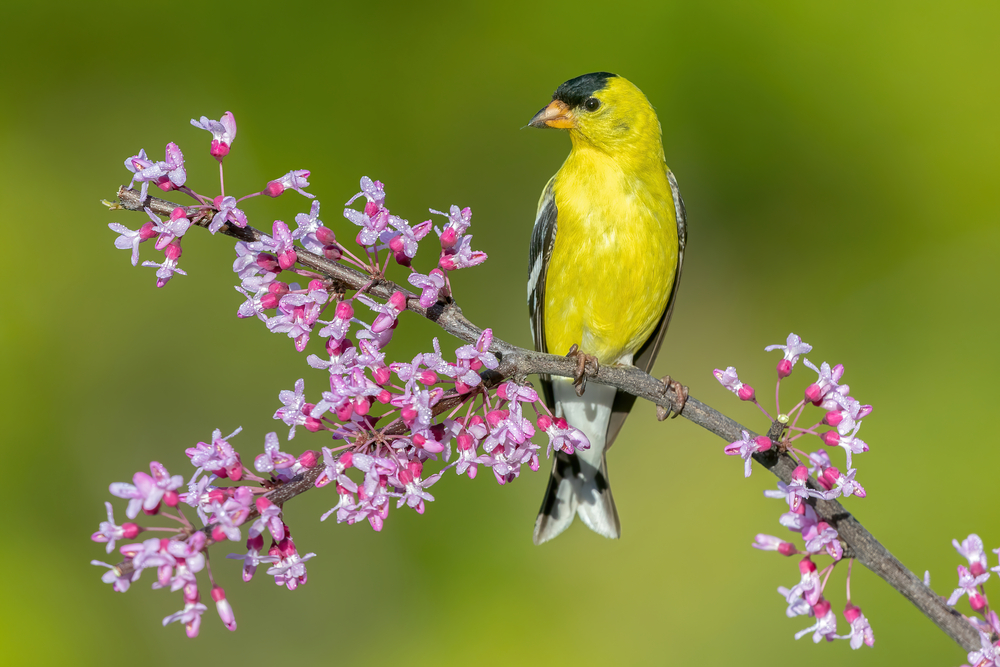 Red-Shouldered Hawk
When looking for some native birds to Virginia, the Red-Shouldered Hawk can be found in the mountainous ranges that decorate this beautiful state's landscape!
With a gorgeous wingspan of up to 48 inches and a length of 17 inches to 24 inches, the Red-Shouldered Hawk is a one of the hawks in Virginia like no other! It has a colour combo and batter of rust on the face and body while it's wings are striped black and white feathers! The rusty body of this bird gives it it's name of Red-Shouldered Hawk!
If you're on a trail walk in the mountains definitely keep an eye in the sky for this cool option for raptor birds in Virginia!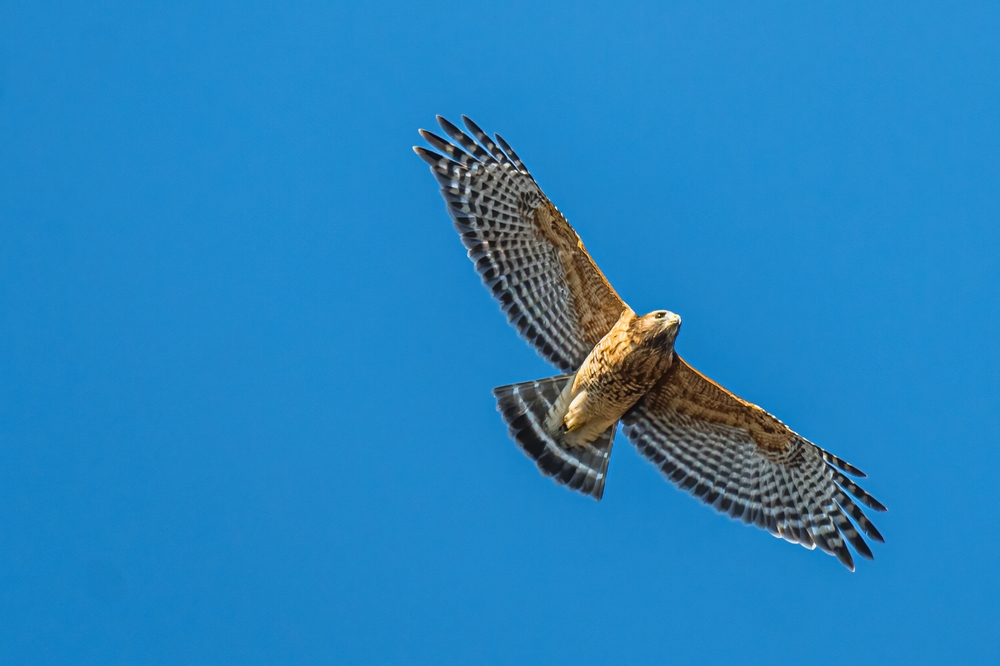 Eastern Bluebirds
When it comes to adorable blue birds in Virginia the Eastern Bluebird is definitely what comes to mind!
This adorable bird grows to 8 inches in length with a 13 inch wingspan and can weigh up to 32 grams! With a large head and a plump body, this bluebird gets its name from the male's beautiful bright blue hued top feathers! Their underbelly consists of a rusty coloured neck and white lower belly feathering. Females are more subdued in their appearance with a more greyish colouring and blue restricted to their wings!
These are very social birds, so when you see one there's a chance a large flock is travelling with them so keep an eye out! They travel in flocks as large as one hundred! If you're hoping to catch a glimpse of this bird specifically, look in meadows and areas with trees that have ample holes in them! They are avid golfers and can be found on golf courses and in backyards of residential areas. Of all the common birds in Virginia you'll have a high probability of seeing the Eastern Bluebird!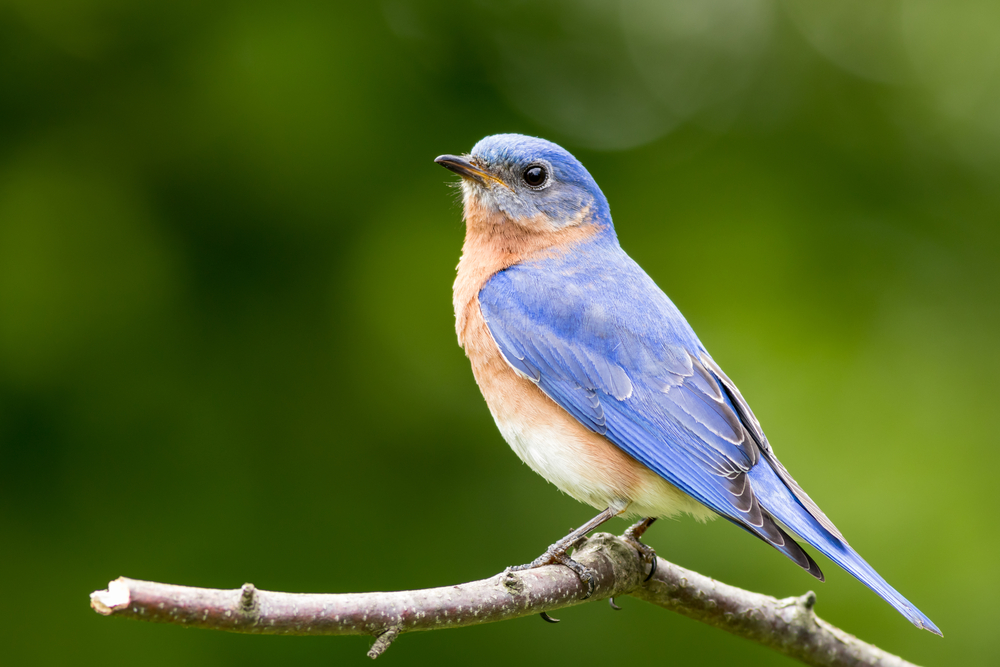 Scrub Jay
While not as jewel-toned as the Tree Swallow, the Scrub Jay is another one of the birds that live in Virginia that is famous for it's rich and vibrant blue hue!
It's feathering comprises of white, pale rust, cerulean and navy tones and had necklace-like markings along it's throat! It also has a long tail which distinguishes it well from the Tree Sparrow or the Eastern Bluebird when overwhelmed with all the blue birds in Virginia.
As a member of the crow family, the Scrub Jay is one of those birds that has a unique effect on the local ecology by being a tree planter! They will bury acorns for themselves and help oak forests thrive! These are territorial birds but they can be social by travelling in packs away from their homes! This is another one of the birds in Virginia that is considered an "easy" first bird for beginner birdwatchers as they can be found in hanging around gardens in residential areas!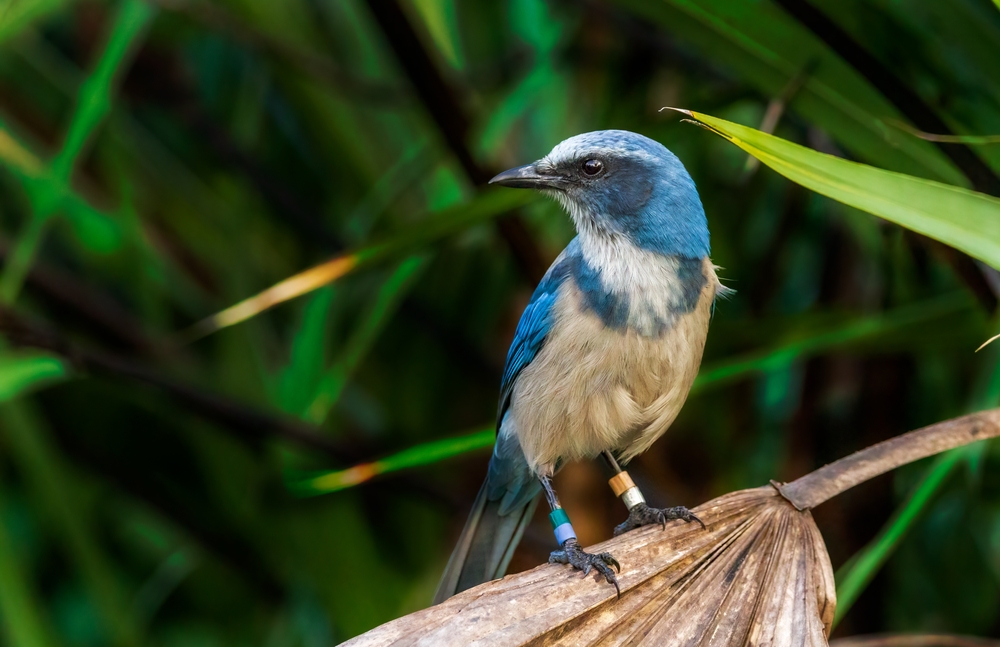 Chestnut-Backed Chickadee
The Chestnut-Backed Chickadee is one of six species that make up the native Virginia birds of the Chickadee family!
As one of the small Virginia birds from 4 inches 5 inches head to tail, this bird has a marbling effect of feathers on its back and sides that sets it apart from the other bird native birds to Virginia! They make their homes in felled trees and rotting tree stumps by making holes for themselves and filling it with moss and hair!
These birds are more visible in the winter months and around October to November they flock to the conifer trees, so if you're gallivanting to see some cool birds in Virginia around this time, definitely visit local forests and gardens and keep an eye out for this option for mottled brown birds in Virginia!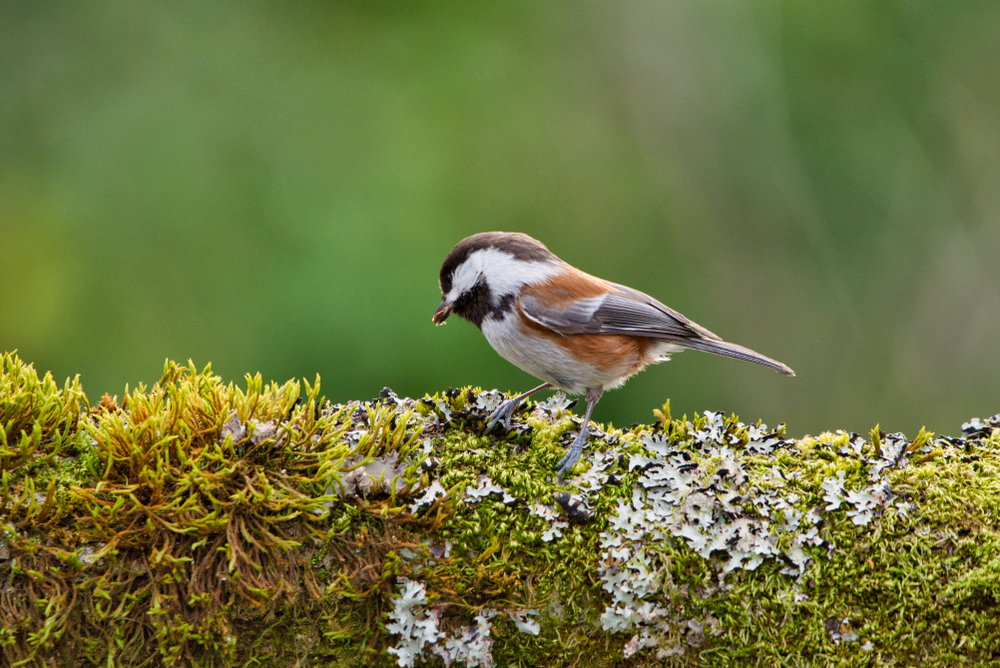 Great Horned Owl
I said it once and I will say it again, I love owls and the Great Horned Owl is absolutely no exception when it comes to birds in Virginia.
Also known as the tiger owl (See? How cool is that?), the Great Horned Owl is one of the an extremely adaptable owl species and most vastly known across the Americas! It grows up to 24 inches in length, has a wing span of a massive 44 inches, and can weigh up to 3 pounds! That's a massive owl!
While it is called the Great Horned Owl, this bird does not have any real horns the effect is based on the prominent feather tufts it displays! It has a mottled coloration of browns, blacks and whites with cat-like bright yellow eyes that help it camouflage into tree surroundings.
If you're wandering around dusk or dawn, looking in the right space, and happen to see a nest that looks familiar to you, there's a chance the owl is either foraging nearby or is hiding so well that you just can't quite see it. But, the Great Horned Owl is one of the most recognized birds in Virginia and of all the owls!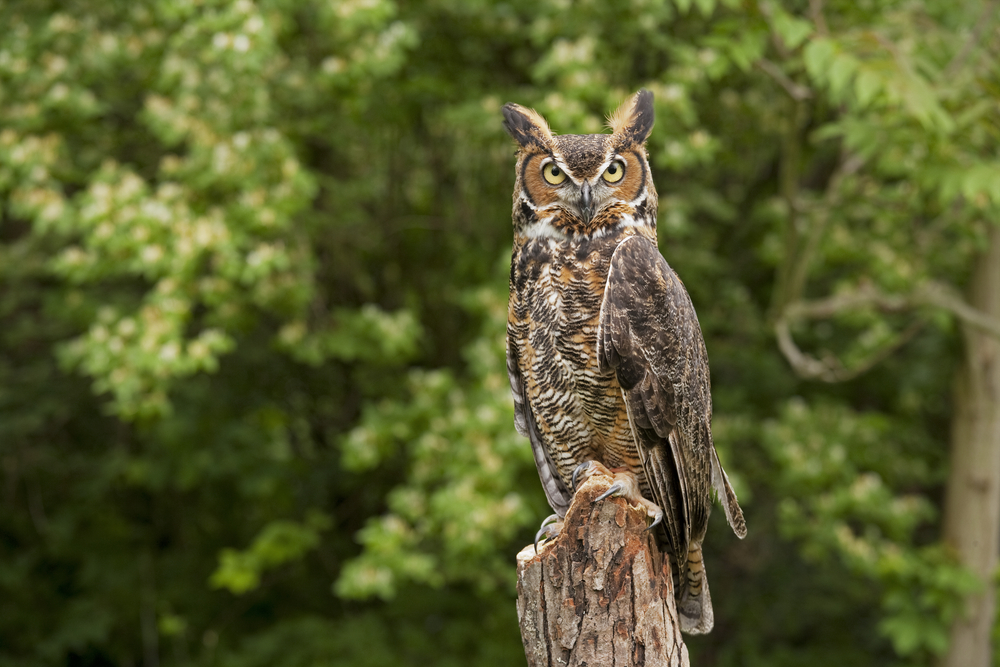 Black Vulture
The Black Vulture is a massive carrion bird that has a nasty persona in the media but is a really interesting selection for common birds in Virginia!
As every ecosystem depends on various animals to play roles for everything to work smoothly, the Black Vulture is an important member of this! As a scavenger carrion bird, Black Vultures (as well as other Vultures) reduce disease on breeding grounds!
When it comes to your Virginia bird identification, note that while similar to the sister species the Turkey Vulture, Black Vultures have a grey toned leather head, black plumage, short tail and talons much like raptor birds! However, a Black Vulture's sense of smell leaves much to be desired and they often rely on Turkey Vulture's by shadowing them! So if you see a bunch of Turkey Vulture's keep an eye out for the differences because there are more than likely a few Black Vultures in the mix of those birds in Virginia!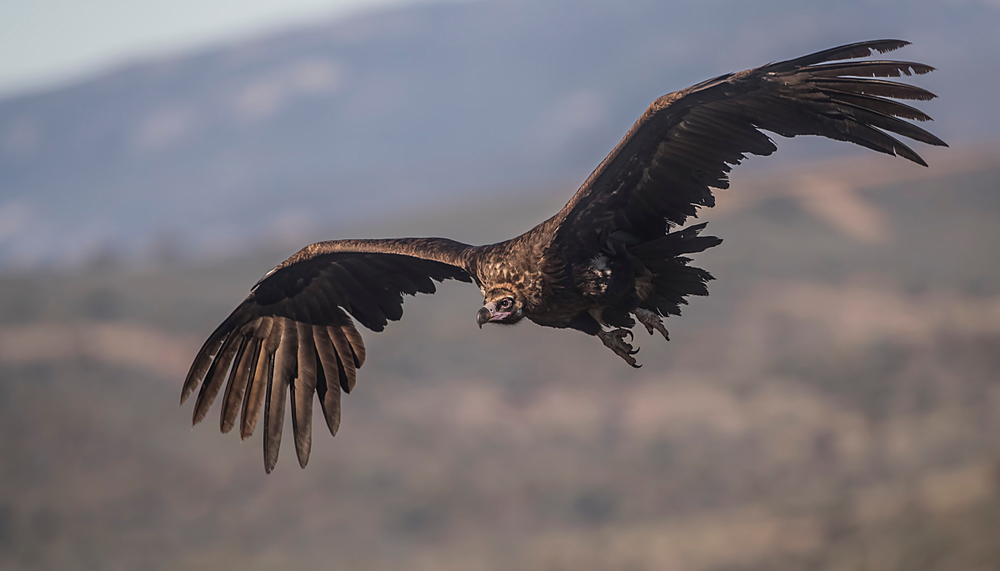 Eastern Screech Owl
Another amazing species of owl I adore is the Eastern Screech Owl because of how cute it is! When it comes to small Virginia birds, this one is probably my favourite by only growing to about 8 and 1/2 inches long!
It has three colour phases as it grows; red, brown, and grey and gradually moves from each as it grows! While it's small ears resemble the horns of the Great Horned Owl they are not, they kind of just look like extremely bushy eyebrows!
They make their nests in trees and their camouflage helps to disguise them, so if you're looking pay special attention to tree trunks as you might find one! Especially if you hear what sounds like a horse neigh because their screech sounds a lot like that and it could be the call of an Eastern Screech Owl! Don't overlook trying to find this cute option for owls in Virginia!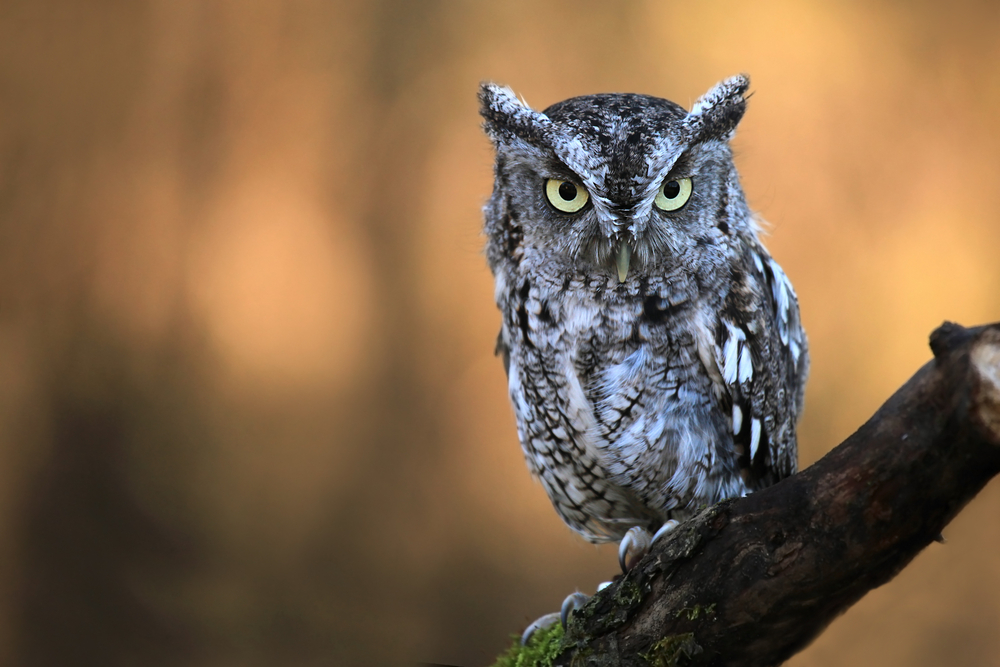 Belted Kingfisher
As fans of a classic mohawk look, the Belted Kingfisher is another punk bird that sports a mean feathered mohawk and is the only species of Kingfisher in Virginia!
This is one of the medium Virginia birds measuring as large as 14 inches long and with a 23 inch wingspan!
It has a large head with a large crest (also fondly known as mohawk) that runs from forehead to neck! It's upper feathers are a navy blue and it even has a white coloured necklace of feathers around its throat! It's underbelly is a mixture of russet orange and white!
It is the birds of Northern Virginia that can be spotted around bodies of water like lakes, rivers and ponds, hanging out on the low branches watching the water! Oh to be a Belted Kingfisher enjoying the Northern Virginia water!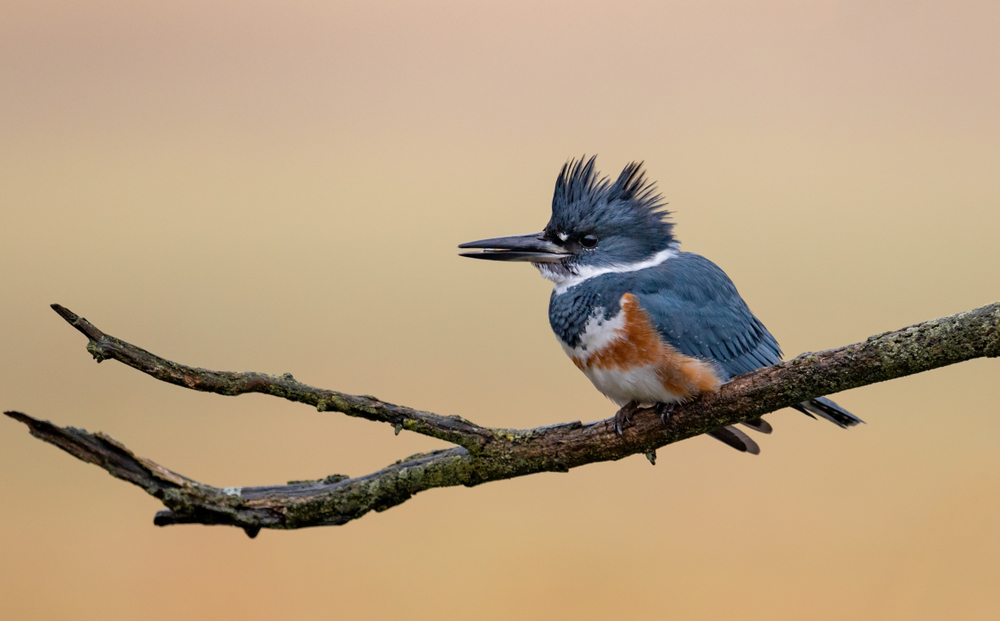 Golden Eagle
The Golden Eagle is another on our list of birds in Virginia that is a little less common (think rare), but still an amazing sight if you're lucky to stumble across one!
As one of the fastest and deadliest raptors in North America, the Golden Eagle is a beautiful bird that has feathers of a mixture of colours! From black to dark brown to gold to amber to white, this bird is gorgeous both sitting still and in flight!
It can be up to 40 inches long and wingspan of up to 7 feet and 8 inches, which is absolutely insane! Most likely to be seen during the winter, the Golden Eagle is very adaptable and tends to avoid urban and forested areas! So you're best chances of seeing this beauty choice of birds found in Virginia is while taking a hike and scaling one of the many mountainous ranges across the state!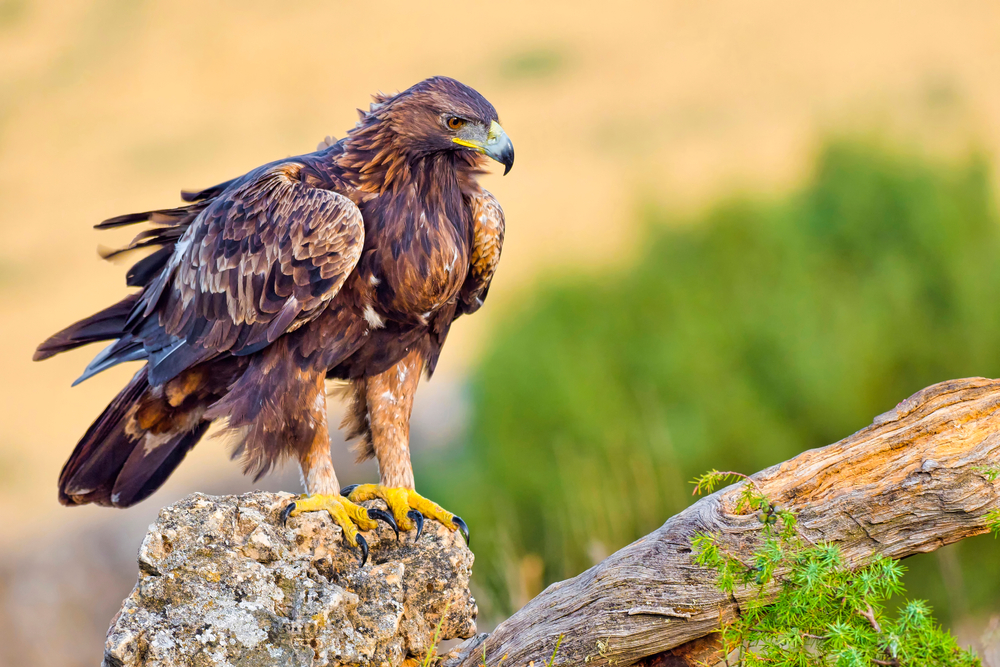 Herring Gull
Of all the common birds in Virginia, the Herring Gull is one of those birds that doesn't come as a surprise to many!
Gulls is the correct birding identification for the commonly misidentified "Seagull" and the Herring Gull is the one that commonly comes to mind when thinking of this misnomer. With a white head, white underbelly, grey wings, black tail and a yellow bill, this bird can be found along the Atlantic coast (and frankly it feels like everywhere) and is quite easy to pick out! These birds tend to stay in areas near water, you won't find them in forests, making these some cool water birds in Virginia to make a game out of!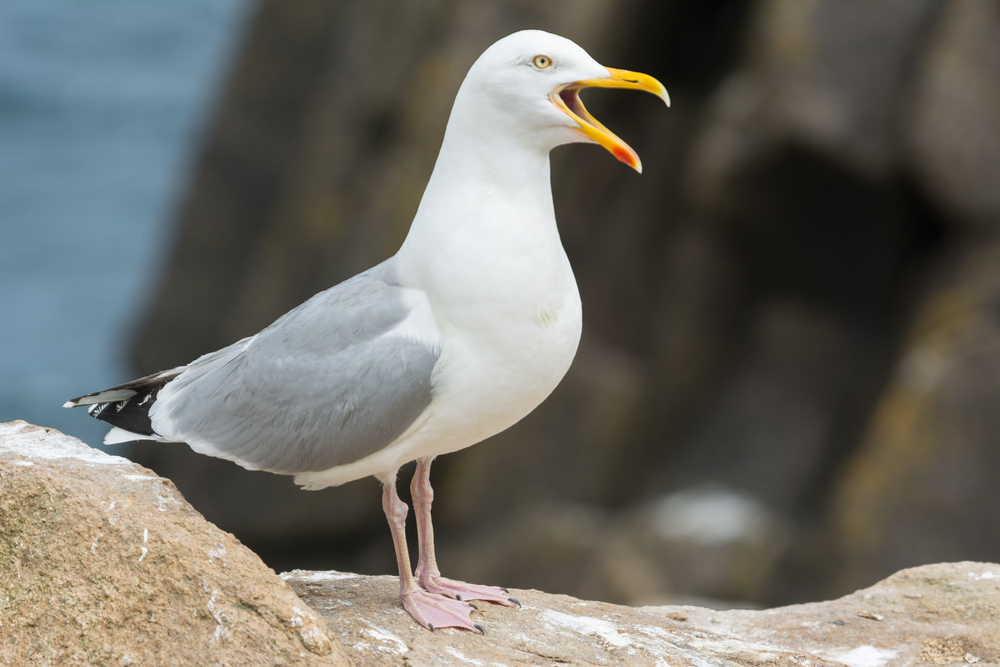 Tufted Titmouse
This adorable option for small Virginia birds to keep an eye out for is the Tufted Titmouse!
The Tufted Titmouse is quite possible the cutest thing to ever exist, despite being as long as 6 inches with a wingspan of around 10 inches! It has grey upper feathers, a white underbelly and rusty armpits! It's notable features are the black forehead/upper beak area and the darker edges on its wings!
They make their home in deciduous forests, mixed forests, local parks and gardens and are known to raid the occasional bird feeder! They take the food away and store it in their little homes for later. Adorable!
Keep your eye out for these cute little guys, easily some of the best birds in Virginia!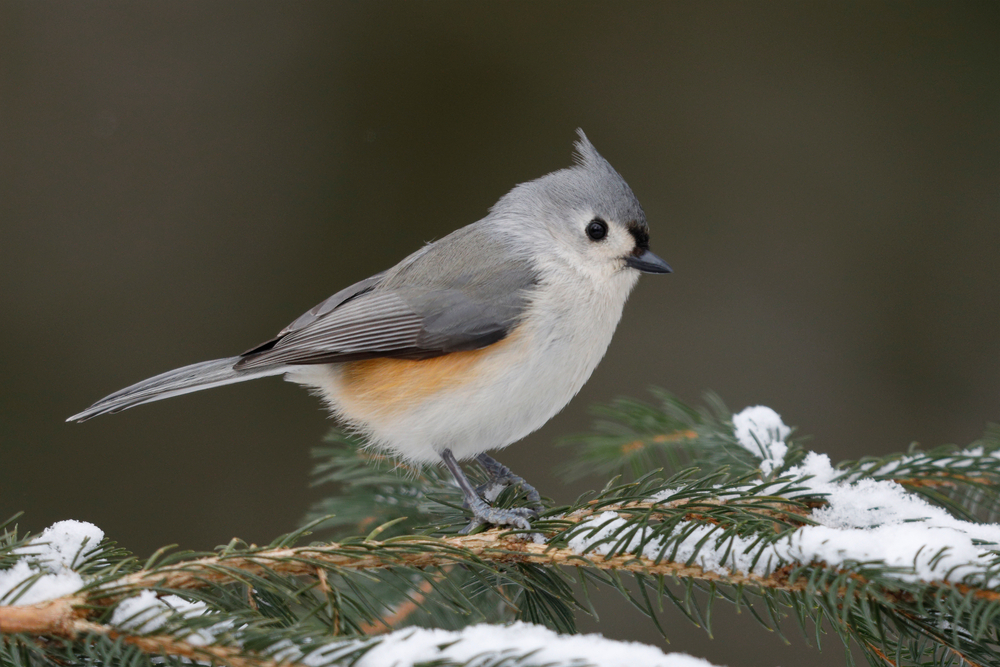 King Rail
The King Rail is an interesting species that adds to the common birds in Virginia!
While they can fly, they don't take flight very often, so you're more likely to see these strolling along the ground rather than in the sky. How fun is it to take a walk with a bird at your feet! They reach around 15 inches tall in adulthood, they even change colour with the season change for better adaptability, how cool!
They have brownish yellow mottling, accompanied by wings with a chestnut red coloring, their chest and stomach is a rust colour! They're definitely a great example of the brown birds in Virginia! They have a slightly downward curve on their beaks and the underside is often a light pink colour!
Keep an eye out for these strolling birds in Virginia!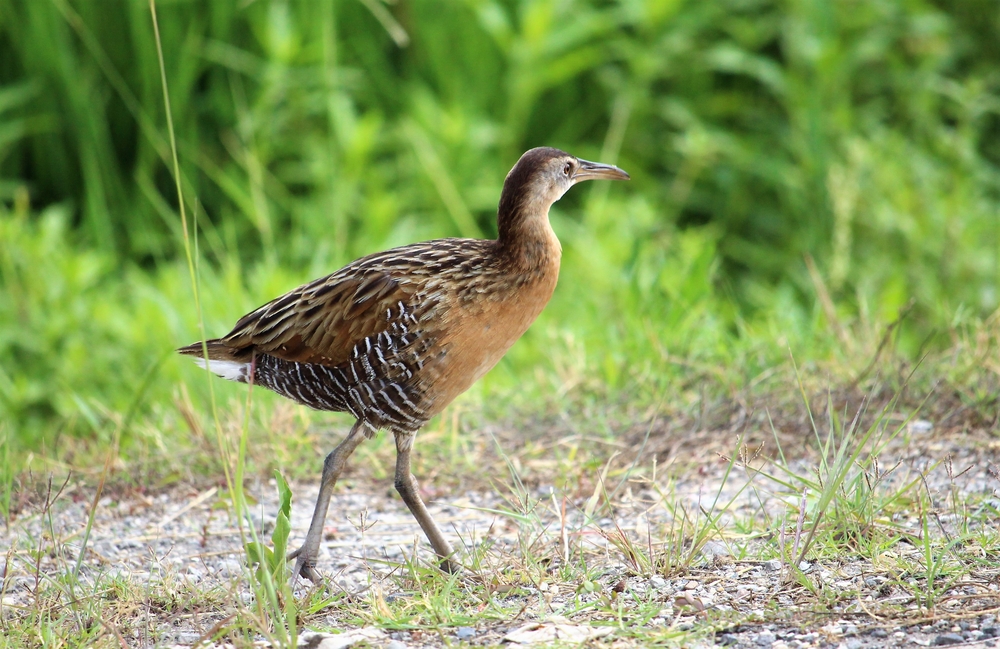 Killdeer
The Killdeer is a great example of beautiful brown birds in Virginia!
This is a shorebird that can grow to around 11 inches long, with a 25 inch wingspan! It's upper feathers are predominantly brown and is kind of comparable to a Red-Shouldered Hawk but obviously much smaller! With brown mottling on the upper shoulders, a white underbelly and black and white striped wings! It's also distinguishable by the black and white feathering rings around it's throat almost necklace-like!
These are local birds with various calls, so definitely keep an ear open for their songs at night! Killdeer are commonly birds of Northern Virginia, but can be found around the rest of the state around beaches or coastal areas as they thrive in short vegetative lanscapes!
Ruby-Throated Hummingbird
Now this gorgeous bird is the Ruby-Throated Hummingbird and is one of the common birds in Virginia that will definitely make you smile!
It is one of the most common hummingbirds in Virginia, and is famous for it's jewel tones of green, gold, and ruby with a dusty cream underbelly! They reach up to 3 and 1/2 inches long with a wingspan of 4 and 1/3 inches! They thrive in deciduous and pine forests, but can also be seen in orchards and gardens so you have a good chance of spotting these lovely birds basically anywhere. They migrate in the winter, so they're present year round, but we like them anyway for lovely birds in Virginia!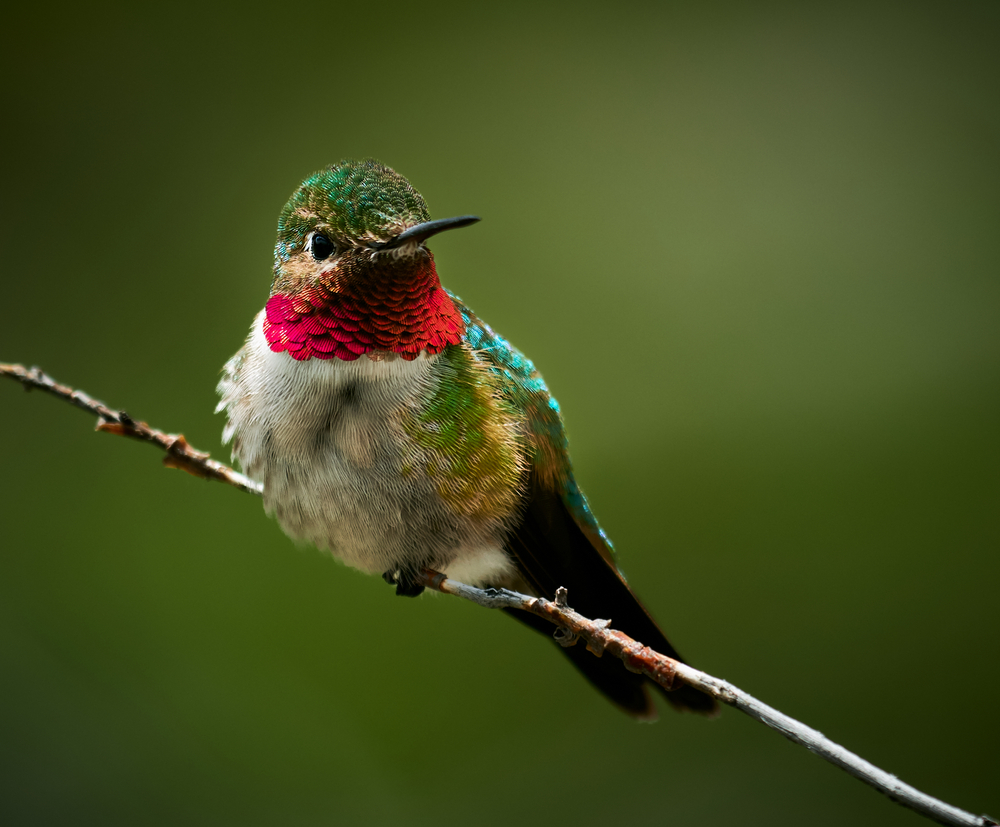 Red-Breasted Nuthatch
Last, but certainly not least, is this less common example of birds in Virginia, the Red-Breasted Nuthatch!
Definitely considered a rare sighting for birds of Northern Virginia, the Red-Breasted Nuthatch is a small songbird ranging around 4 and 1/2 inches long with a singspan of 8 and 1/2 inches! In regard to your Virginia bird identification, this bird is best recognized by it's almost superhero mask-like black stripes over it's eyes, and head feathers! It's wings match this colour while it's chest is a light shade of orange!
These birds nest in dead wood close to the ground, and reside almost exclusively in coniferous forests so if you're looking to spot one of these rare birds in Virginia seek out a fun coniferous forest hike and keep an eye out for the Red-Breasted Nuthatch!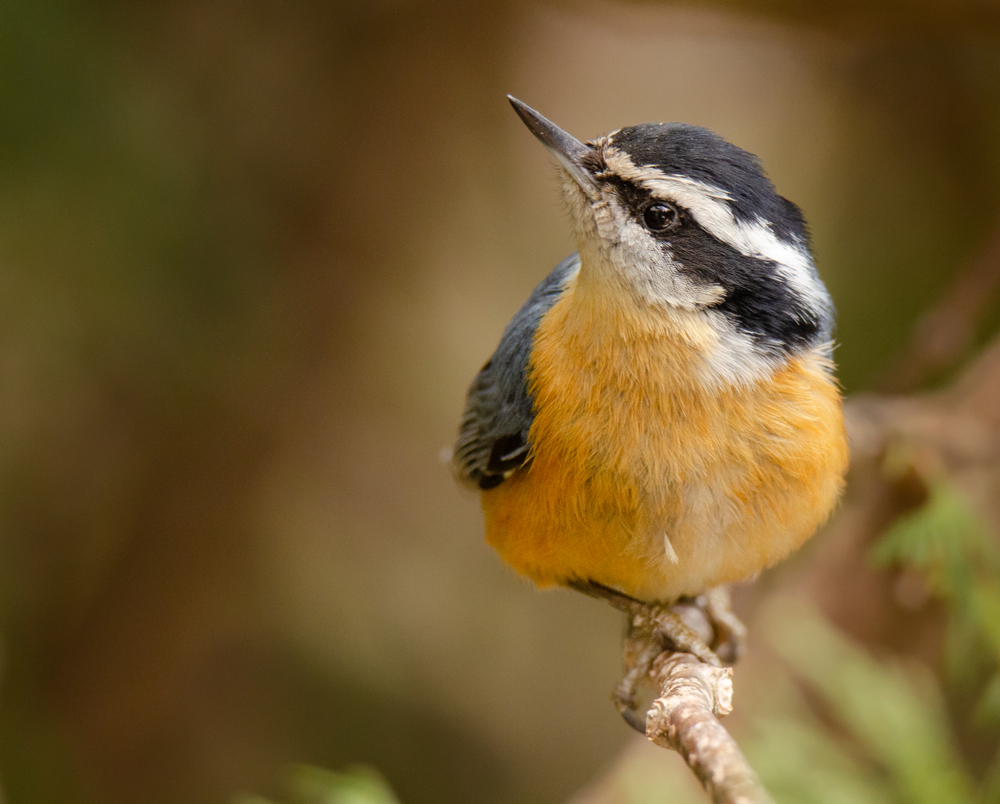 Virginia is home to some amazing natural landscapes and interesting things to do. From small towns, beaches, islands, and historical sites, there's something for everyone to do in Virginia! And of course, bird watching is also an awesome past time to have! Whether it's a hobby or a passion, bird watching is an interesting and free activity to take part in while exploring Virginia's hiking trails, or adventuring through some of VA's hidden gems!
So whether you're checking off the best things to do in Northern Virginia, or the bucket list of things to do in Virginia, there's plenty of adventure's to be had while bird watching in this amazing state. We hope that this article of the best birds in Virginia and how to identify them helps you keep an eye on the aviary world above you!
Now that you've seen our list – which bird are you excited to see?