Are you looking to play at some of the best golf courses in Georgia? If so, check out our list below as we have rounded up the best courses to play throughout the state!
Georgia is known golf, and is one of the best states in the south to visit if you are looking to play golf! It is one of our favorite states in the South to visit, and it's easy to see why. There are over 300 courses to play at across the state. On our list we have some of the top private golf clubs in Georgia, courses that make the top 100 lists, and the best public courses to play.
Whether you are looking for a quick afternoon round of golf, or want to head to a vacation destination for stay-and-play packages we have options for you below!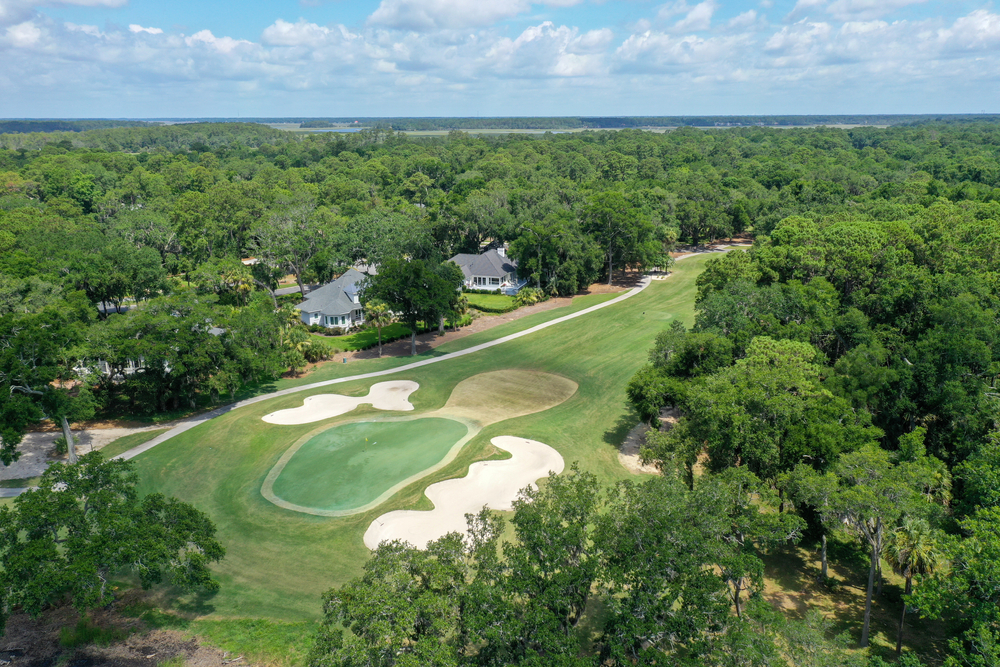 Editorial credit: Matthew Rigsby / Shutterstock.com
How many golf courses are there in Georgia?
Why is the south is known for golf? First, year-round great warm weather, retirees, and southern tradition mean Georgia is home to over 350 golf courses!
While some are well known like Augusta National, there are tons of other public and private courses that land on lists such as the top 100 courses in the US. So why not plan a road trip to play some amazing golf throughout Georgia?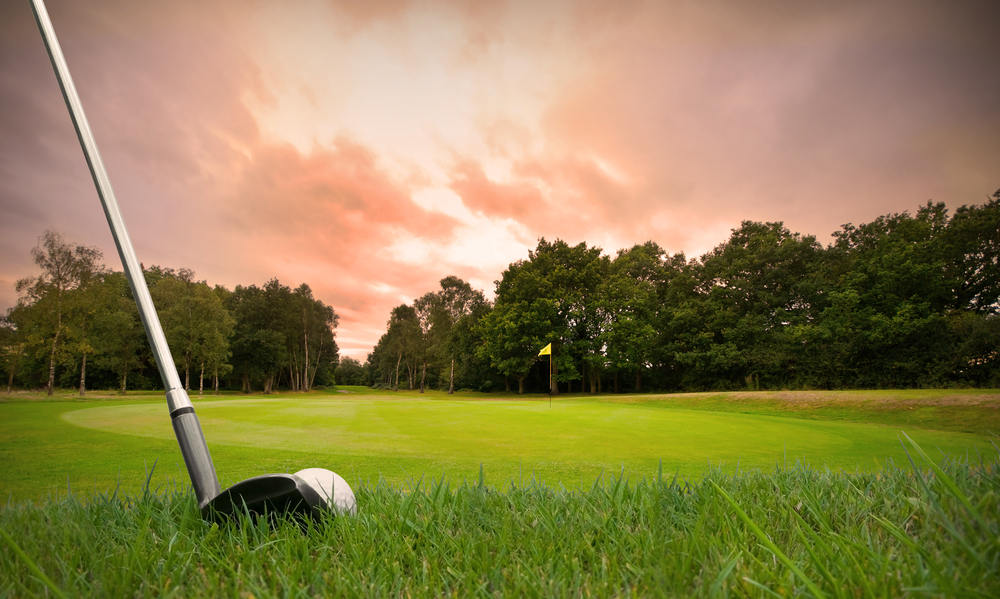 What is the famous golf tournament in Georgia?
Every April, one of the most famous golf tournaments in the world, The Masters, is held in Augusta Georgia. For one week, this major tour tournament draws upwards of 40,000 patrons (fans) daily to watch this tournament.
Unlike your typical golf course, this exclusive course is for members only. And is also one of the toughest tournaments to gain access to. You can not purchase tickets, only through members who hold badges or via the lottery system can patrons attend.
For those lucky enough to attend one of the best events in golf you are awarded with a stunning course that challenges even the best golfers.
Plus delicious food like egg salad, and pimento sandwiches and the world famous peach ice cream sandwiches. All for less than $2! For those not lucky enough to attend, eat a delicious meal at one of Augusta's best restaurants!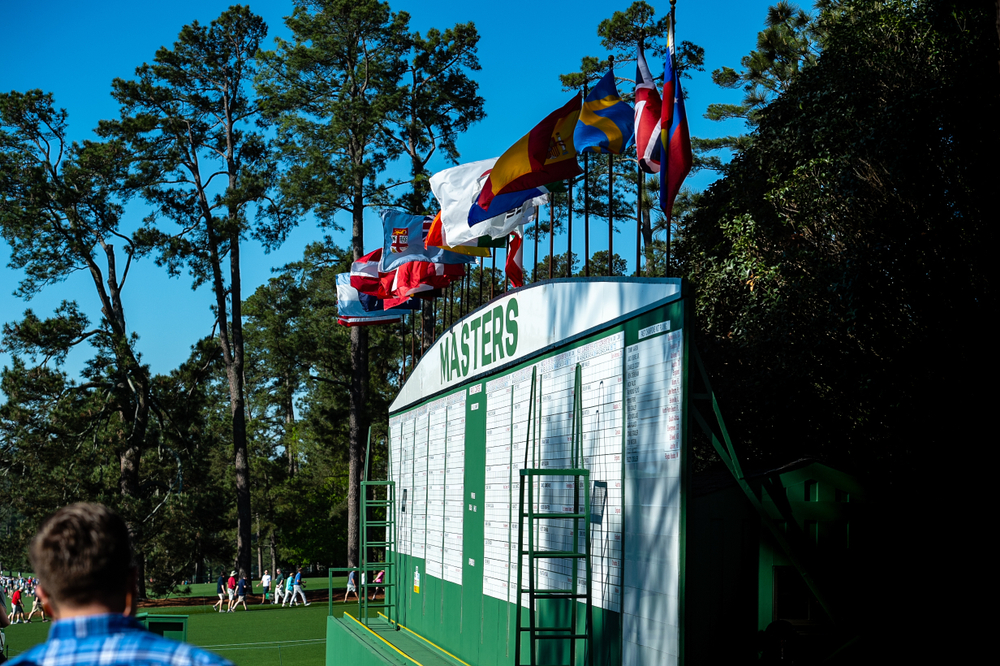 Editorial credit: Hborrego / Shutterstock.com
What city in Georgia is famous for golf?
The city most famous for golf in Georgia is Augusta! Augusta National golf course and The Masters. This is one of the private golf courses in Georgia, with a long waiting list. And unlike other private courses, you must be asked to join!
This iconic course was founded by Bobby Jones and Clifford Roberts and was designed by Jones and Alister MacKenzie. It opened for play in 1932, and 2 years later in 1924 the first Masters took place and is home to the stunning 13th hole known as Azalea for the gorgeous flowers and dogwood trees that surround it.
This course is closed from —May through October during the hottest summer months to keep the course updated and to keep the iconic greens in perfect condition. Trust us these changes keep golfers on their toes and make it one of the most famous golf courses in Georgia!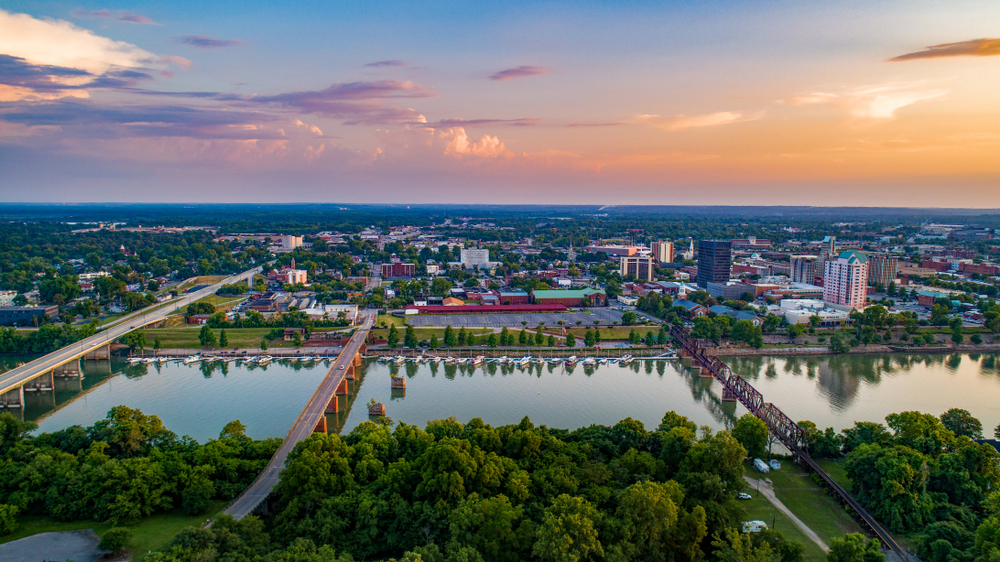 15 Best Golf Courses in Georgia You Must Play
1. Old Tocca Farm
Old Tocca Farm is one of the north Georgia golf courses. Located between the Chattahoochee and Cherokee National Forest this is a Bunker Hill-designed course. Known for its hardwood trees as much as its rustic features. Golfers are awarded with gorgeous mountain vistas, wildflower meadows and its famous bunkers. Plus, they opened a new Tavern course in 2022! You can play here any day but Tuesday.
First off this semi private course has been voted one of the best Georgia golf courses. The rates here include your green fees, card, range balls. Mondays, Wed and Thursday the rate is $75 for 18 and $50 for 9. Friday, Saturday and Sunday Rates are $125 for 18 and $90 for 9 holes.
At this north Georgia golf course you can expect elevation changes, tight fairways, those wicked bunkers, and a hilly course that follows the Tocca river. This par 72 course is 6700 yards! Less trees make for wide playable holes along the mountainside. But the roughs here are more rugged and native growth making for an old school style course.
Finally, Hole 16 is a 625 yard par 5 that has over 280 feet of elevation, plenty of bunkers, as it descends over the mountain down to the river! Golfers come back for the unique layout with creative and fun holes.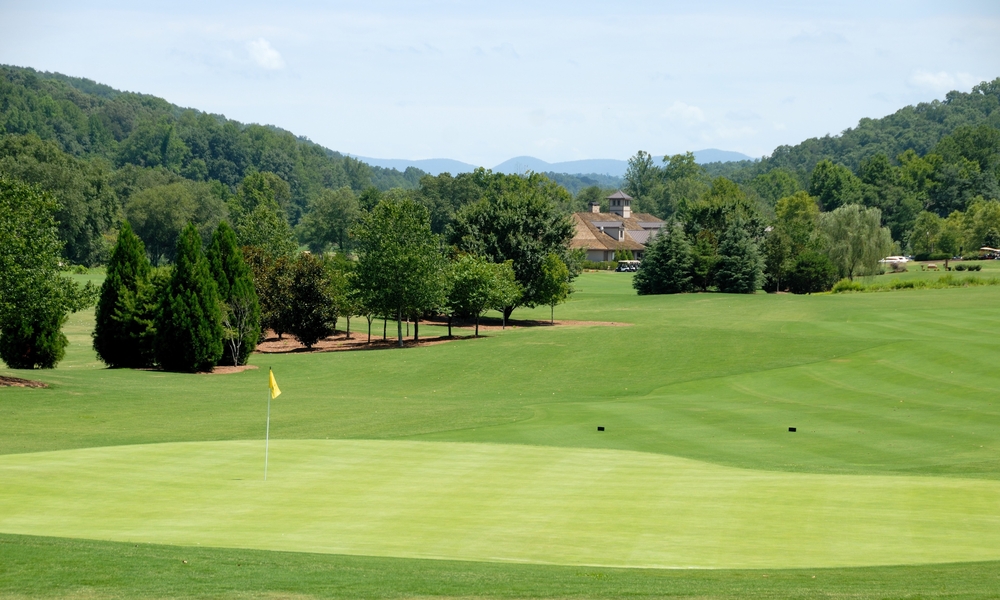 2. Laurel Island Links
Are you looking for the best golf courses in southeast Georgia? Since 1996, Laurel Island Links has been open and is a fantastic option for public golf courses in Georgia. This links-style course is in Davis Love III signature style, with over 7000 yards par 72 located in Kingsland.
The course is open daily from 7:30 am to 6 pm, however, for non-members, you can tee off after 1 pm. They offer a variety of memberships like a family membership for $2260 for unlimited golf not including carts. While public rates are $1 peer hole for those 17 and under. Weekday tee times are $48 for 18 holes, and $25 for 9, and weekends are $55 for 18 holes and $29 for 9.
Perfect for golfers of all ages, this is a course that can offer challenges for most golfers. As a links course, the fairways and greens are well groomed with unique natural features. The affordability of this course is unmatched especially given its world class course.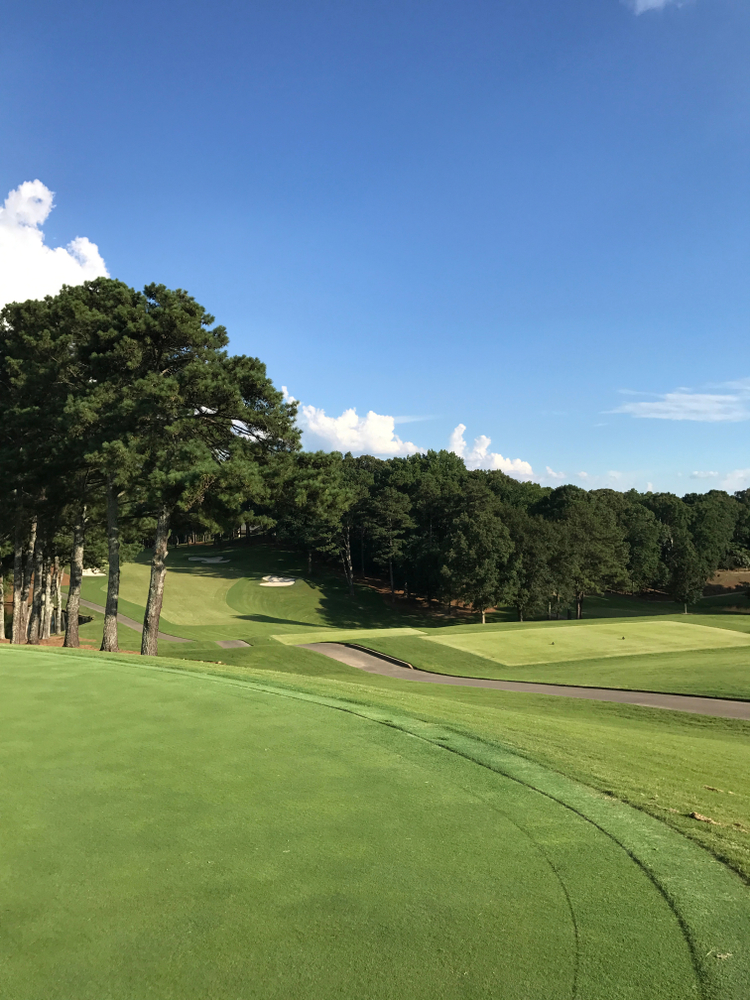 3. Ohoopee Match Club
Ohoopee Match Club is one of the best golf courses near Savannah! Located an hour west of Savannah, it is one of the top 100 courses in the United States. What was once an old onion farm has now been transformed into a golf course set on rolling hills surrounded by forest complete with a clubhouse and cabins on the ground.
This 22 hole course, has 4 extra holes aptly named ABCD can be played with 14 other holes to create an alternative route known as the "whiskey route". This is a shorter 5600 yard par 69 course versus the standard 7300 yard par 72 championship course. Please note if you are wanting to play at this Georgia golf course is only open from the autumn to spring, no carts are allowed and caddies are a mandatory requirement.
Trust us when we say a caddie comes in handy for this St. Andrews-style course. The fairways are expansive and clear, but those bunkers and rough make the course all the more challenging.
For even the best golfers Ohoopee challenges those with making you work for an approach angle to the greens. This members only private course is set up for match play, features half-par holes, and tons of risk vs reward situations. Challenging yet charming are two words members use to describe play here!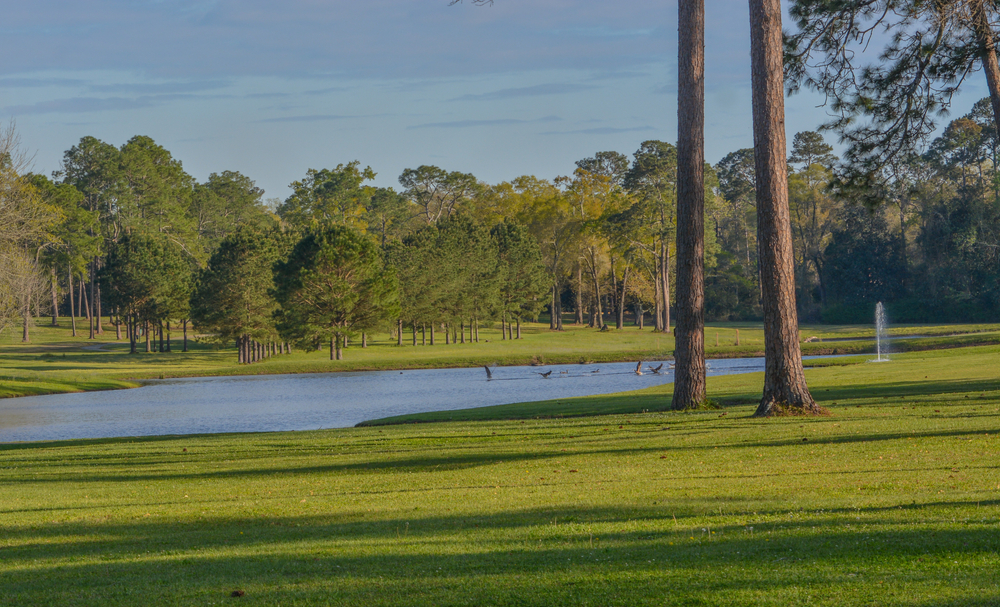 4. Bobby Jones Golf Course
There is a reason that the name Bobby Jones appears on every list of the best Atlanta public golf courses. This urban golf course is just north of downtown Atlanta in the Buckhead area. Bobby Jones is a name synonymous with golf. Redo in 2016, this course is a 9-hole reversible course.
Even the most knowledgeable of golfers might be asking what a 9-hole reversible course is. That is because this revolutionary course features multiple tees and large double greens with two-hole locations. The two "courses" Azalea and Magnolia make use of different tee, pin and cup positions. Make sure to reserve on the right day if looking to play a specific course. Also featured is the PGA practice facility, the Yates putting Green and the Murray Golf hall of fame.
The average cost of a round here is $54. The fairways are wide and open with no roughs, fast greens and offer views of the surrounding Atlanta area. With a water feature on holes 2 and 3 for Azalea and 7 and 8 on Magnolia. Plus there is a special 6 hotel course designed specifically for children.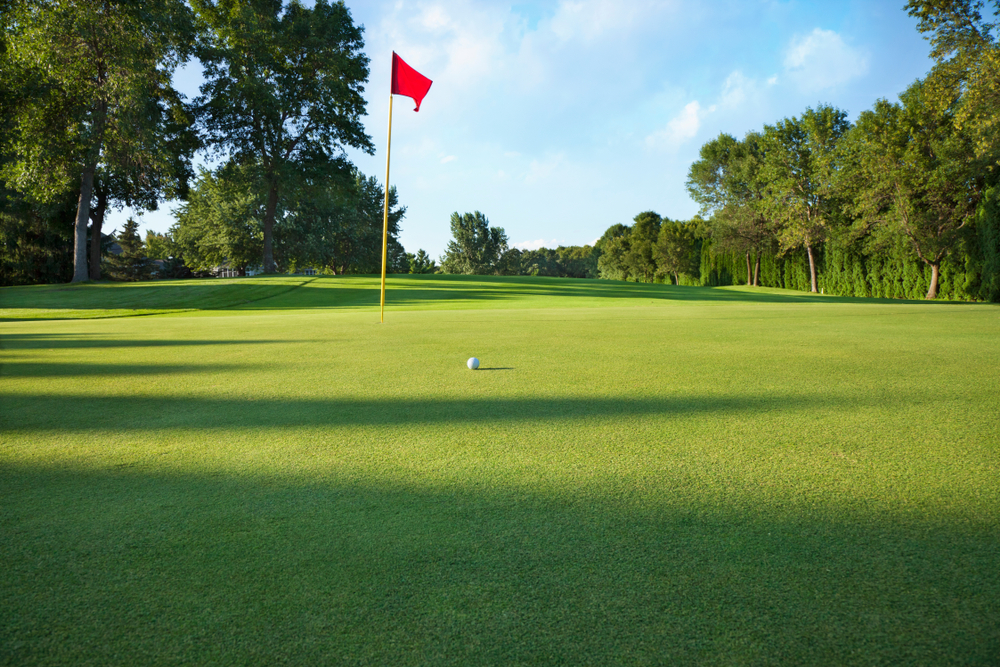 5. East Lake Golf Course
East lake is not only one of the best golf courses in Atlanta, it is also the oldest! This is the home course where Bobby Jones himself learned the game! And since 2005 has been home to the Tour Championship! The course is located just 5 miles from downtown Atlanta.
Opened in 1908, this 18 hole course was opened. It's first redesign happened in 1913, and by 1960 course #2 was sold off and the course and area fell into disarray. Finally, in 1993 it was restored! The course might just be best known not for Bobby Jones but for Tiger Woods' historic 2018 comeback win.
The layout of the course is situated around East Lake with a total yardage of 7200 from championship tees and just 5200 from the gold tees. Be prepared for rolling hills, tough sand bunker placement, and narrow tree lined fairways at this gorgeous course.
Please note it is a private course with membership in the 6 figures! But, all the profits go to support East Lake Foundation where the motto is golf with a purpose. Currently under construction is a 9 hole Charlie Yates golf course by famed architect Reese Jones.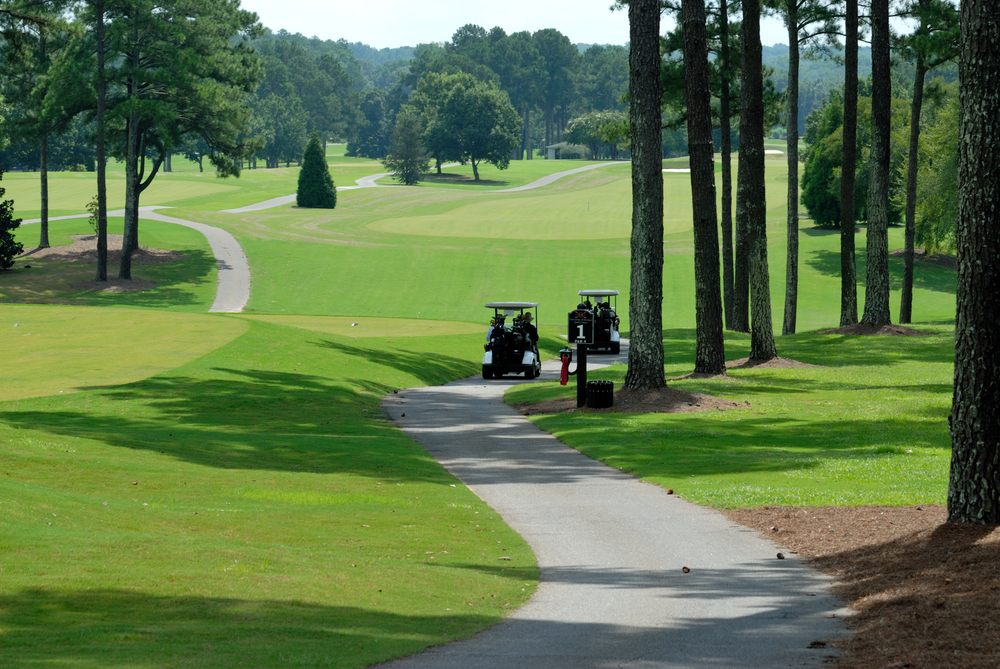 6. Sea Island Golf Club
Sea Island is one of the best places for golfing in Georgia. A popular vacation spot, Sea Island provides golfers with perhaps one of the best backdrops in Georgia. Sea Island is one of the prettiest islands in Georgia and is easy to fly into Brunswick Golden Isle airport which is only 18 miles away. This is another of the courses that continually lands on the top 100 list of golf courses.
The Seaside course is a Tom Fazio re-design that transformed two nine-hole courses into 18 holes. The seaside course features well-manicured fairways, native marsh grasses, wildflowers, dunes, and iconic Georgia bunkers. It is the wind here that challenges the best of players.
The Plantation course is a historic course with a traditional feel. Fewer bunkers and more of an open feel this challenging course plays quickly The final course here is the Retreat Course, also redesigned by Davis Love III. This dramatic course is challenging but playable for all levels. Longer and wider fairways than its sister courses with more large trees surrounding the fairways.
These courses feature a ton of tournaments so make sure to check their calendar before planning your trip out!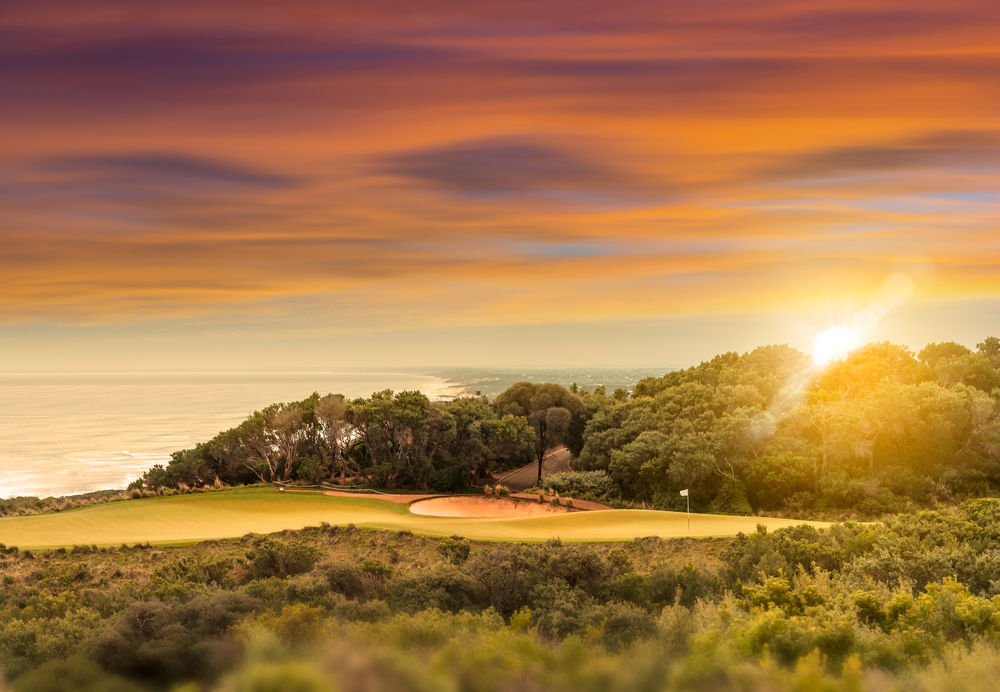 7. Country Club of Gwinnett
Since 1993, the Country Club of Gwinnett has been the place of golf in Georgia in Snellville! The 6500 yard par 72 championship course is known for its hilly course, gorgeous lake view on 6 holes and is densely wooded.
This is a semi-private course with an average cost of $30 to 50 for 18 holes. The course plays short with the exception of two par 5 holes meaning accuracy is key to play well here. The fairways slope towards the tree lines with large rolling greens and hilly course.
For those local to the area they host a Thursday night golf league with 2 personal teams that runs from March 30th to June 1st, with a 5:30 pm shotgun start with best ball play. This is open to members and non-members.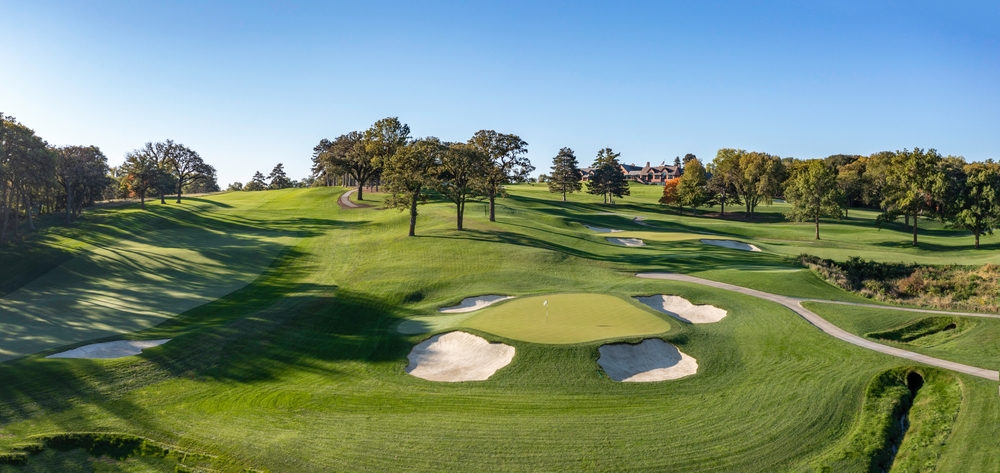 8. Jekyll Island Golf
Jekyll Island Golf course has been around since 1898, yes you read that right. This is the perfect destination of those looking at unique but popular spots for golfing in Georgia. The best part about golfing on Jekyll Island is that you can choose from 4 courses that make up the largest public golf resorts in Georgia.
The 18 hole courses ( Indian Mound, Oleander and Pine lakes) green fees are $75 with cart or $45 walking. And the 9 holes ( great dunes) is $40 riding and $25 walking. Plus they do a twilight golf after 2 pm for 18 holes it is $45 ride and $25 walk.
First, the Pine Lakes course was built in 1968 and renovated in 2002. It is for golfers who like nature and tranquil golf courses. It is the best course here if playing with younger players.
Second, the Oleander course is designed by Dick Wilson, this course plays right and provides a challenge for golfers of all levels. This is the most well known course here as it hosts various tournaments and has those ocean views.
Third, the Indian Mound is known for its bunkers and challenging plays despite being the shortest course. This course features the island's natural landscaping with short greens.
Finally, the historic 9 hole Great Dunes course was built in 1926. This unique coastal terrain is a links type course and great for those who don't want to devote a half day to golf.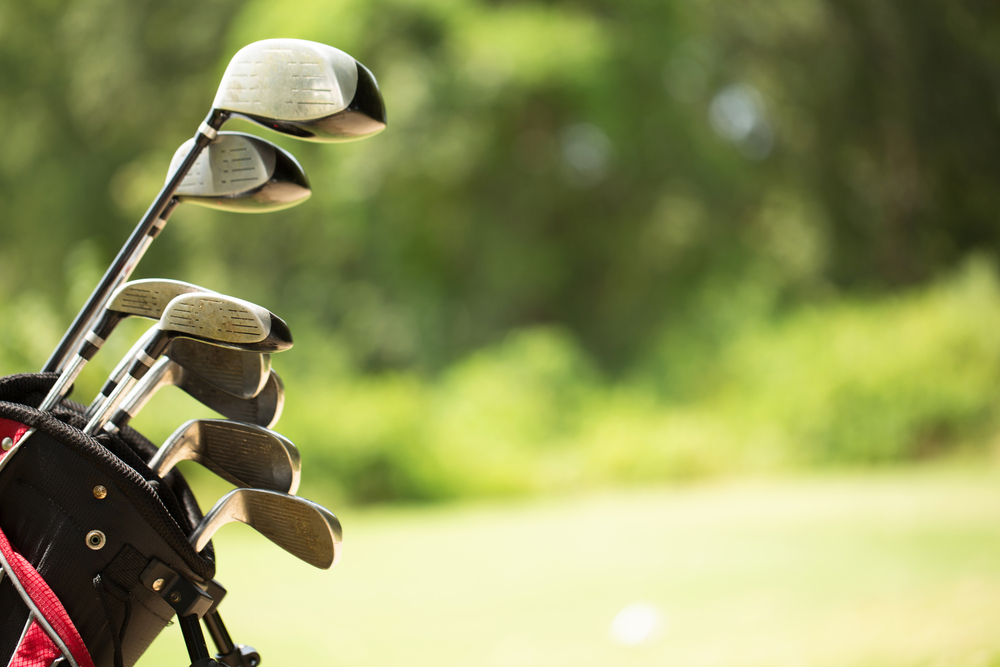 9. Fort Benning Golf Course
Are you looking for the best Georgia golf courses for military members? Well Fort Benning Golf Course is the place. First opened in 1923, this course is located on the main post, but is open to visitors!
There are special green fees for military members depending on rank, and for the public $19 for 9 holes and $30 for 18 holes. The way this course is set up is a 2 different 9 hole course, the Bradly course with 3200 yards par 36, and Marshall course 3500 yards par 36. There is a 3rd 9 hole course called the Patton.
The courses are made more challenging by the strategically placed bunkers and hazards, but the fairways are lined by those Georgia pines and dogwoods.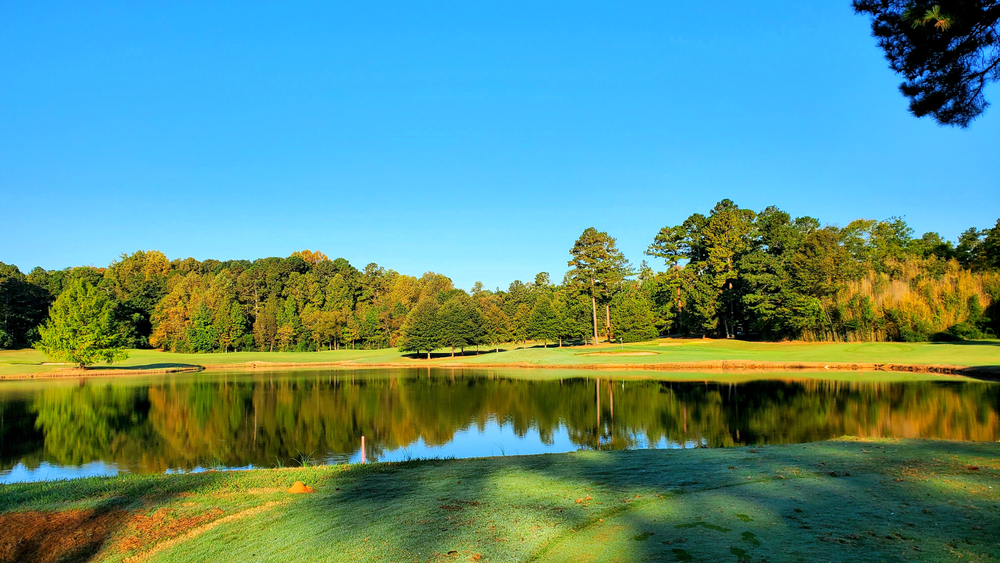 10. River Club Suwanee
As the name suggests, this golf course is located in Suwanee Georgia. The Greg Norman designed course winds its way through Georgia hardwoods, and follows the Chattahoochee river on the back nine. This is one of the best country clubs in Georgia. Established in 2005, it offers a private escape centered at the River Club. In addition to golf, there are racket sports, a lodge, pool, fitness center and more.
Firstly, this is one of Georgia's premier private courses located right outside of Atlanta. The course is over 7200 yards and provides a challenging course for all levels.
The course features rolling hills, nature preserves like its wetlands and challenges golfers with risk vs rewards at every hole. Known best for its picturesque par 3's, the course features wide open fairways, water hazards, and more.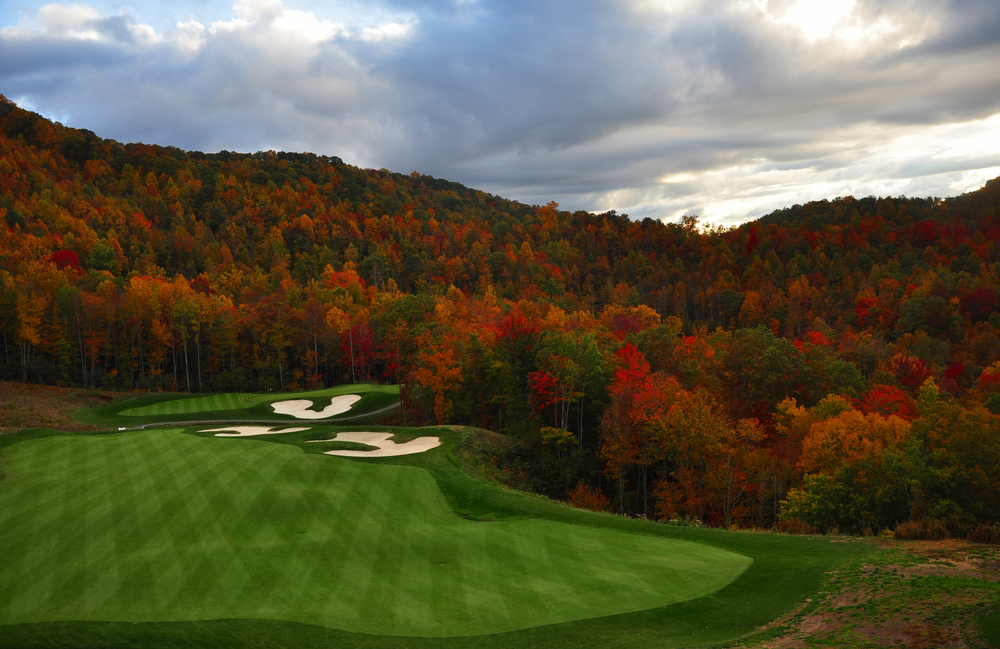 11.Georgia National Golf Course
If you are located in Southern Atlanta, and looking at private golf clubs in Atlanta to play some golf head to Georgia National Golf Course. Since the mid-90's this private club is only open to members and their guests. Notice a trend here, many of the Georgia golf courses are private!
Ranked as one of best courses in the Atlanta metro area, the Denis Griffiths designs courses make sure golfers are on top of their game. The plush fairways means the ball rolls, and the new mini Verde greens have added a challenging new level for its members.
The views along the course are stunning, with championship tees being 6900 for this par 71 course. While the forward tees have the course at just over 5000 yards.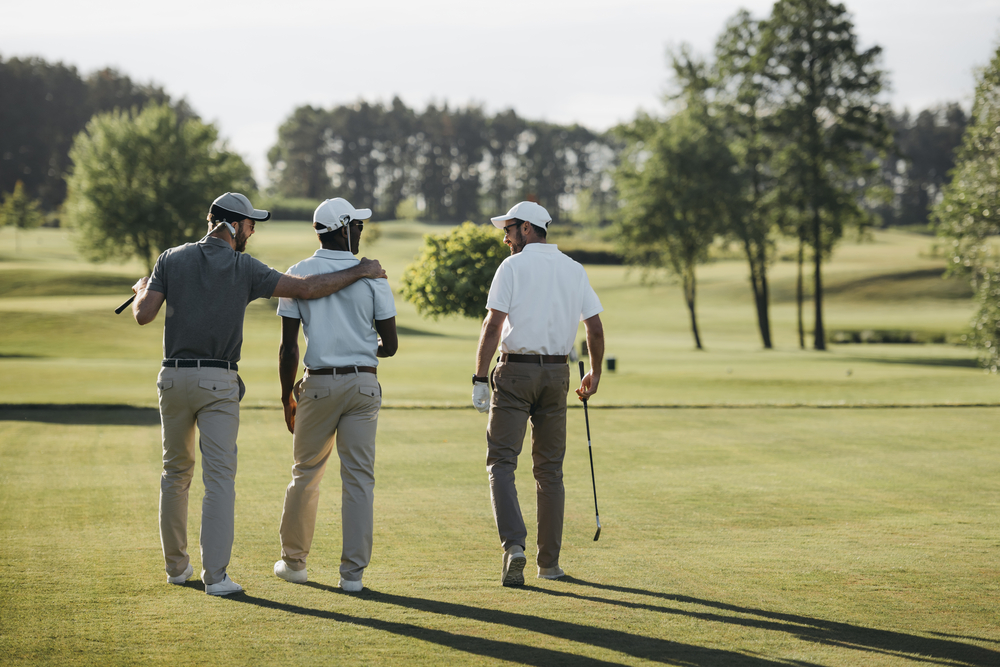 12 . The McLemore Club – Highlands
We love looking at the best golf courses in Georgia, what's even better is public courses that everyone can play! The McLemore Club (formally the Canyon Ridge)
Is located in northwestern Georgia with a gorgeous view over Lookout Mountain.
Golfers who make the trek here ( just 2 hours from Atlanta, Nashville or Knoxville) will be rewarded with a gorgeous view down to the valley. It was this view that had the new owners redesign the Highlands course with the help of Reese Jones and Bill Bergn. The newly constructed 18th hole is located on the edge of the mountain.
A second course is opening here in 2024 called the Outpost and will have 5 holes located on the cliffside ( think pebble beach).
Choose a package to stay and play here for the best rates!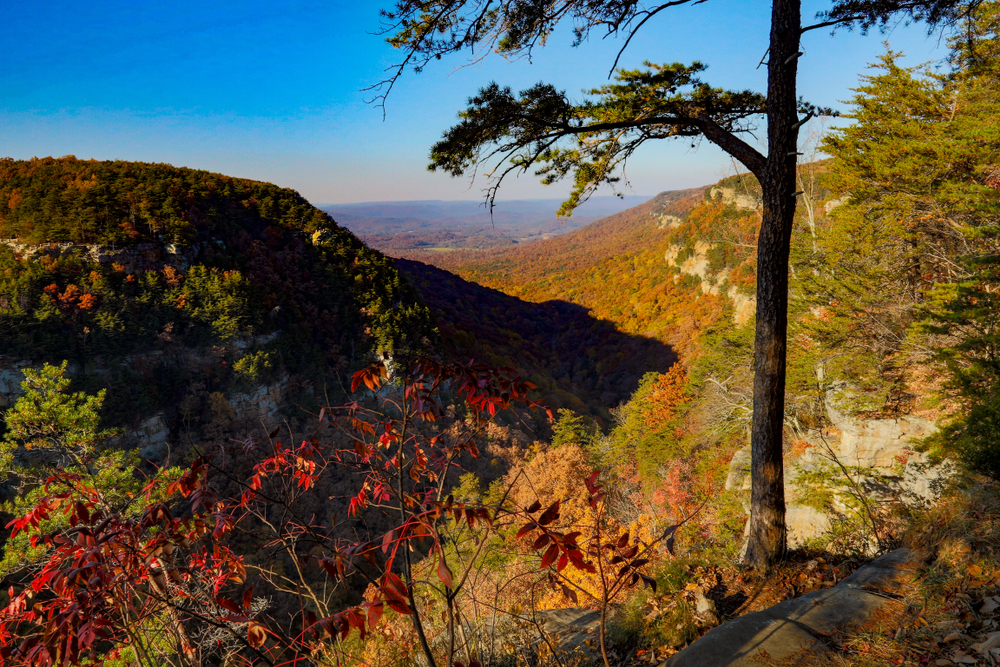 13. Callaway Resort & Gardens: Mountain View
The Callaway Resort & Gardens located in Pine Valley, hosted PGA championships until 2002. The green fees to play 18 holes average $60 to $70. There are two different courses to play here, and they offer stay-and-play packages for visitors.
The Mountain course is over 7000 yards and was designed by Dick Wilson. Its tight fairways are surrounded by Georgia pines. While the Lake view course features wider fairways and tons of water features. This course is 6100 yards par 70 with water on 9 holes, and 5 holes are on the gorgeous Mountain Creek Lake.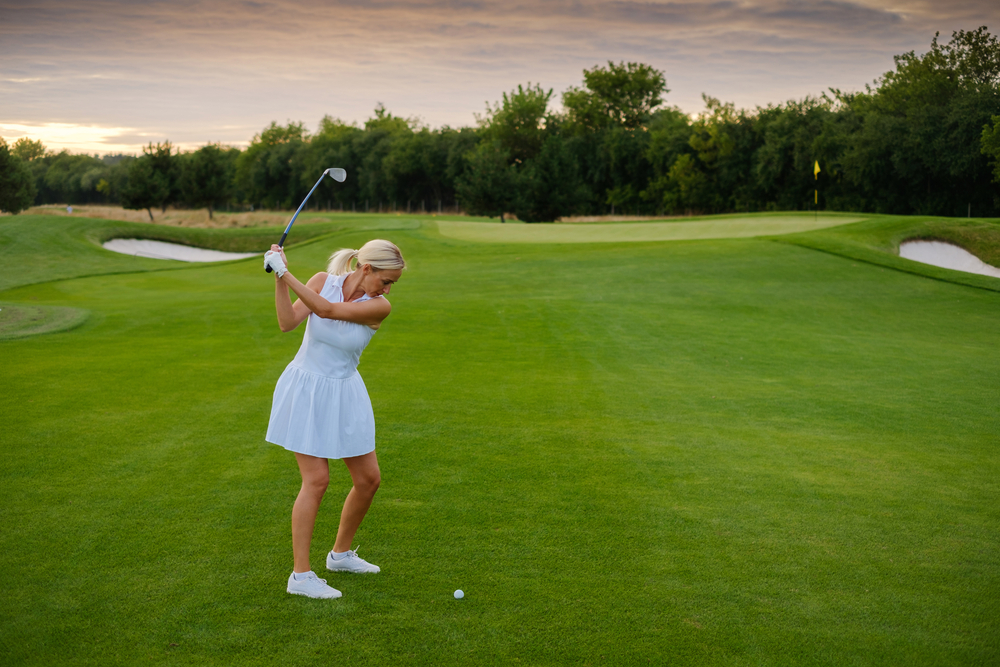 14. Reynolds Lake Oconee
Head to the picturesque Lake Oconee for some golf and relaxation. For those looking for a luxury getaway, pair your golf with a stay at the Ritz Carlton Lake Oconee. The motto here is a getaway that is truly an escape and once you visit you will see why!
There are 5 courses to choose from in the area, each its own paradise awaiting you to play. It is easy to see why. Architects like Bob Cupp, Jack Nicklaus, Reese Jones, Tom Fazio and Jim Engh designed the courses.
The first course is Great Waters designed by Jack Nicklaus. The first of the courses was opened in 1992 and its dramatic views of stunning Lake Oconee keep it ranked in the top 100 courses.
The second course is the Preserve, a 6000 yard par 72 designed by Bob Cupp. The rolling hills make for challenging play from the back tees, but forgiving off the front tees.
Tom Fazio designed the third course – The National. This unique course features three different 9 hole layouts with elevation changes, quick greens, and amazing views. Why not play all 27 holes?
The Oconee is the fourth course, and was designed by Reese Jones with lake views and tons of water features. Plus tons of tree lined dog ears making a challenge when playing.
Finally, there is a members only course called the Creek Club. It combines the unique terrain and breathing Lake views.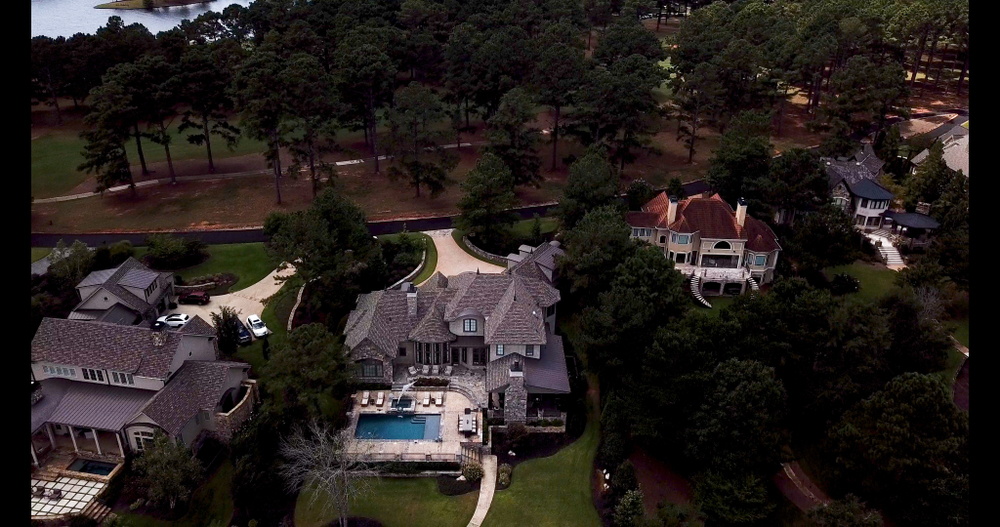 15. Chicopee Woods
Chicopee Woods is located in Gainesville, Georgia and features 27 holes with newly installed Mini Verde greens, and is another great option for those looking for a public golf course in GA.
Green fees range from $49 during the week for 18 holes with cart to $33 twilight rates, and $49 for weekend rates. They also have senior and student discounts.
The 27 holes are divided into 3 nines: The Villages, The school and The Mill. The first course, the Villages, features wide open fairways and is the most accessible course for beginners. The second course the School is part of the original 18 holes with 4 holes around water. While the last course, the Mill is the newest course with shorter fairways and faster play.