Are you looking for the best things to do in Myrtle Beach? You are in the right place. In this article, we will walk you through what to do in Myrtle Beach and tell you everything you need to know about this incredible area.
On the Atlantic coast in South Carolina, Myrtle Beach has a lot to offer anyone. From attractions in Myrtle Beach to an incredible beach, it is brimming with things to keep everyone happy. Myrtle Beach is one of the best beach towns in South Carolina and we highly recommend a visit.
The central hub is a 60-mile beach stretch known as Grand Stand where most of the best activities in Myrtle Beach can be found.
This resort destination really will please even the most discerning traveler with the choice on offer. Whether you like it loud and touristy or more quiet surrounded by nature this area can offer it all.
From glorious days on the beach to evenings of entertainment Myrtle Beach just might surprise you. The restaurants in Myrtle Beach are also phenomenal so make sure you try some.
So are you ready to see which things to do in Myrtle Beach I have chosen for you? Grab your sun hat and a cold drink and let me walk you through the best things to do in Myrtle Beach.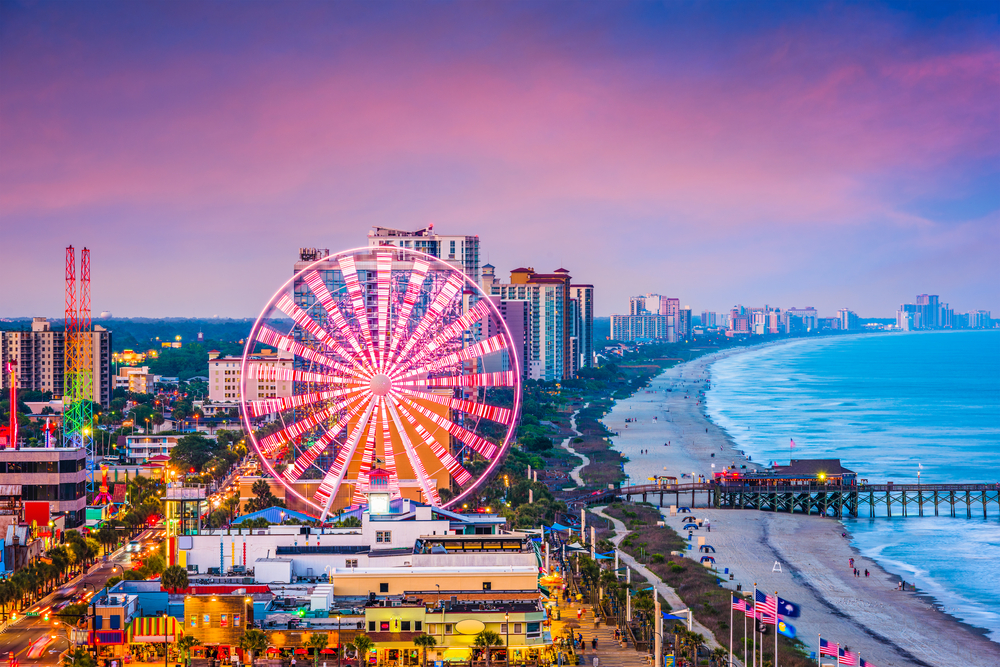 15 Best Things To Do In Myrtle Beach SC You Shouldn't Miss
Get Entertained At Broadway At the Beach
If you are looking for entertainment then wow can Myrtle Beach deliver, and it delivers in style. Broadway at the Beach is a shopping and entertainment complex but really it's so much more.
One of the most popular attractions in Myrtle Beach it really does have something for absolutely everyone. At 350 acres there is plenty to enjoy here including three theaters, 100 shops, and over 20 eateries.
There is also a 23-acre lake that has firework displays. You will also find hotels, nightclubs, and lots of other fun things to keep you occupied. One of the best things to do in Myrtle Beach for adults is visiting here at night and enjoying the bars and clubs.
Head here for things to do in Myrtle Beach at night too and we guarantee no one will be bored. This is one of the places to visit in Myrtle Beach for sure.
Make sure to check out our list of the Best Oceanfront Hotels In Myrtle Beach for your trip!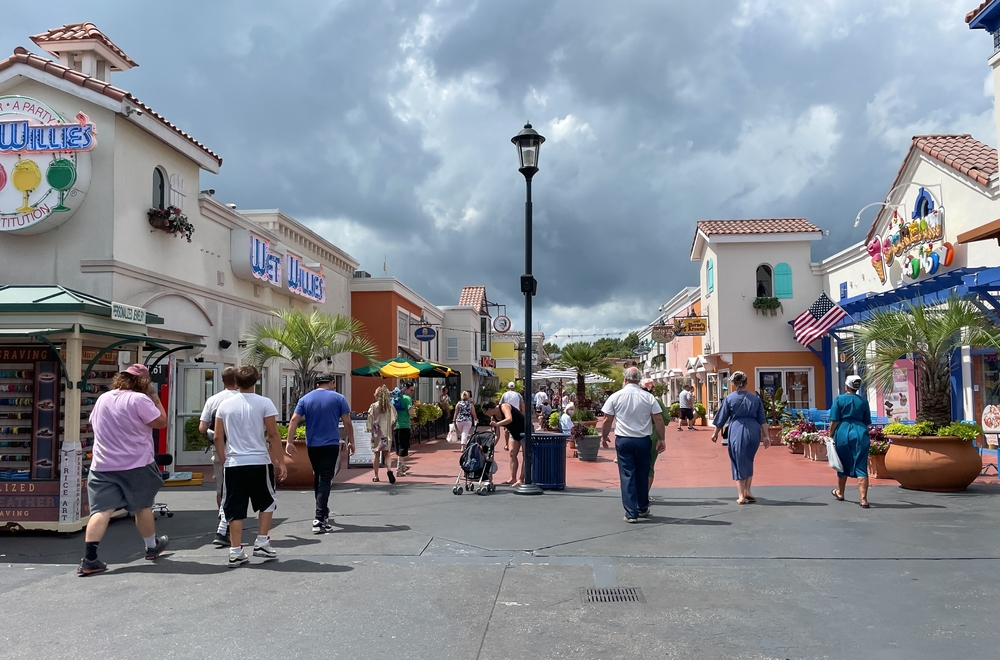 Relax At The Beach
I mean why else would you come here right? With a beautiful stretch of white sand that extends for 60 miles and the ocean calling this is one of the best things to do in Myrtle Beach with kids.
It's one of the best beaches in South Carolina and offers an array of activities. For free things to do in Myrtle Beach play frisbee, search for shells, fly a kite, or just sunbathe and swim.
Or spend some money on some Myrtle Beach activities. Go para-sailing, windsurfing, or scuba diving. The beach is beautiful and whatever you do here you will have an amazing time.
Visiting the beach is one of the best things to do in Myrtle Beach.
Don't forget to check out our list of the Best Beaches In Myrtle Beach!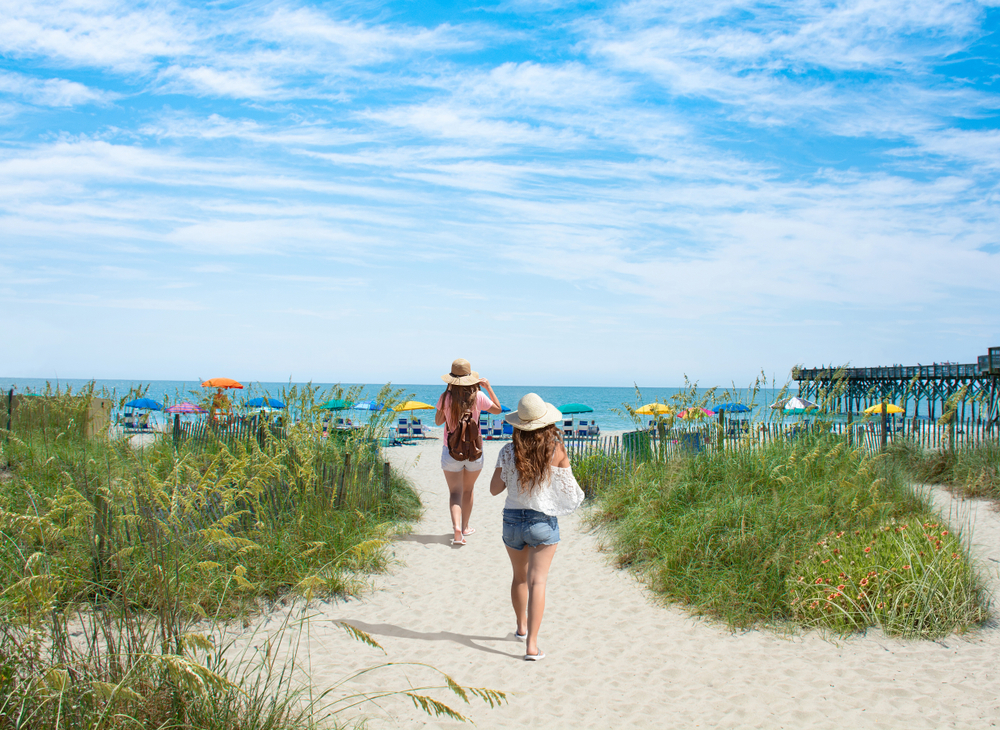 Walk The Myrtle Beach Boardwalk And Promenade
This isn't just any boardwalk, it's a 1.2-mile-long boardwalk packed with things to do.
The boardwalk is split into three parts each offering something a little different. The first part runs from Plyler Park to 14th Avenue North Pier. This is where you come for more peaceful surroundings with lush green foliage and a rustic deck.
The central section is the busiest and where you find more of the restaurants and entertainment area. This runs from 8th Avenue North to Plyler Park. This is also a great place to grab breakfast in Myrtle Beach!
South Promenade runs from 1st to 8th Avenue North. Here there is a seaside park, natural expanses of land, and the weekly fireworks show.
The Broadwalk often has shows on and other line entertainment so check before you go. Walking along the boardwalk really gives you an idea of what this place is all about. It's also one of the free things to do in Myrtle Beach.
Walking along the promenade at night is one of the best things to do in Myrtle Beach for couples.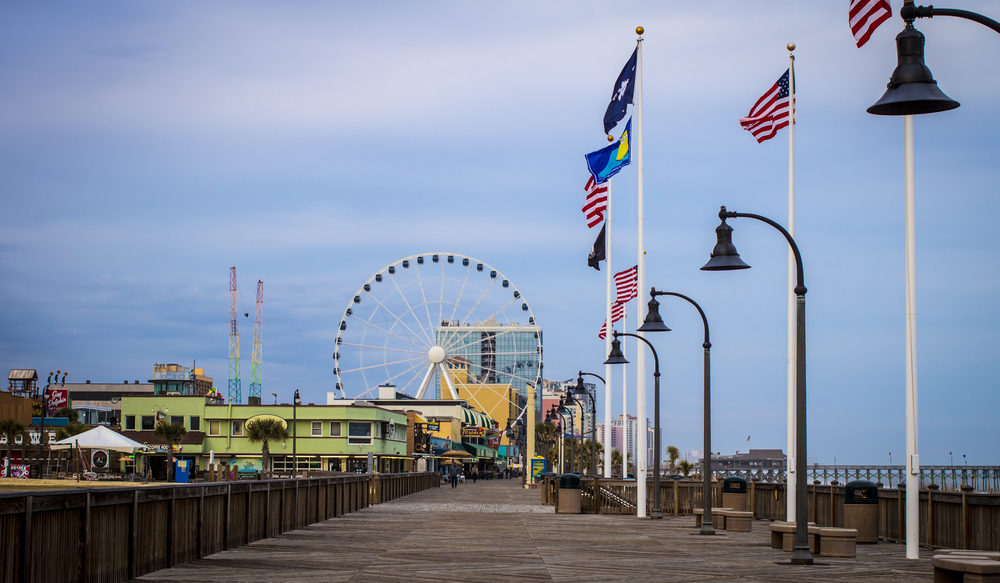 Have Fun At Pavilion Park
Located at Broadway at the Beach is Myrtle Beach's biggest theme park and it's one of the most fun things to do in Myrtle Beach. Whatever the age of your children there will be a part of the park for them
For smaller children, the fun park has a host of attractions they will love. The fun park is all about family-friendly activities.
For older children, the action park is where all the adrenaline is at. This is the high-energy thrill ride area of the park.
Make sure you go on the Broadway 360 observation wheel. Here you will see the whole of the area from 150 feet in the air. It's one of the best views of the area.
The park is also home to the east coast's largest slide! It's one of the best things to do in Myrtle Beach with kids.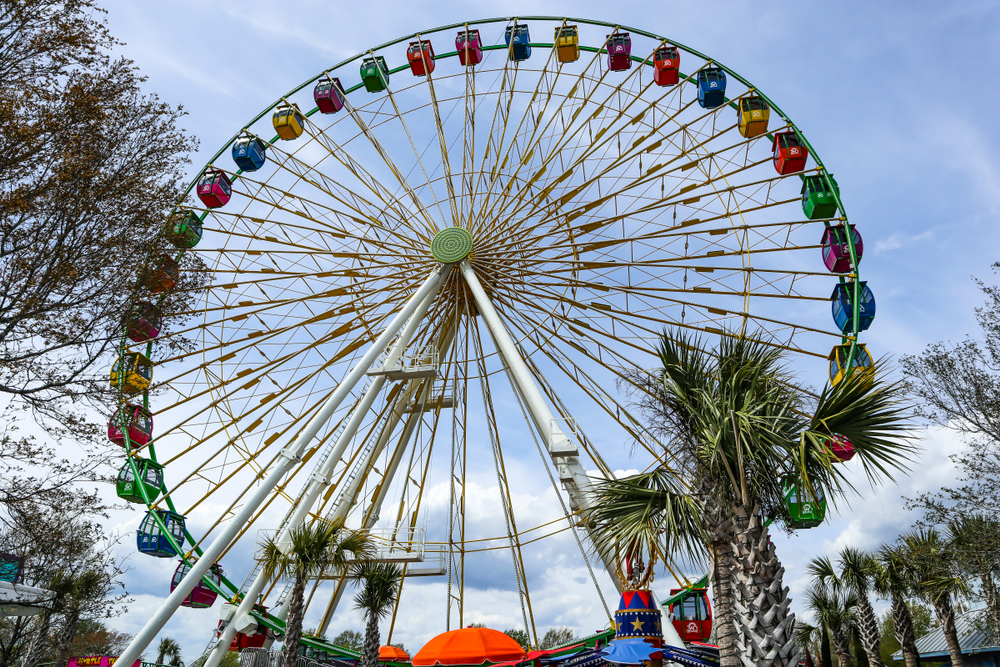 Get Quiet Time At Myrtle Beach State Park
For those of you who like things a bit more quiet and natural, we got you. Head to Myrtle Beach State Park it has 312 acres to explore.
You will find sandy beaches, marine forests, and some serene quiet spots. Go hiking, participate in watersports or just relax the choice is yours.
There are also cabins and camping facilities here if you fancy staying somewhere a bit more chill. This is one of the things to do near Myrtle Beach for those who like to be away from the crowds.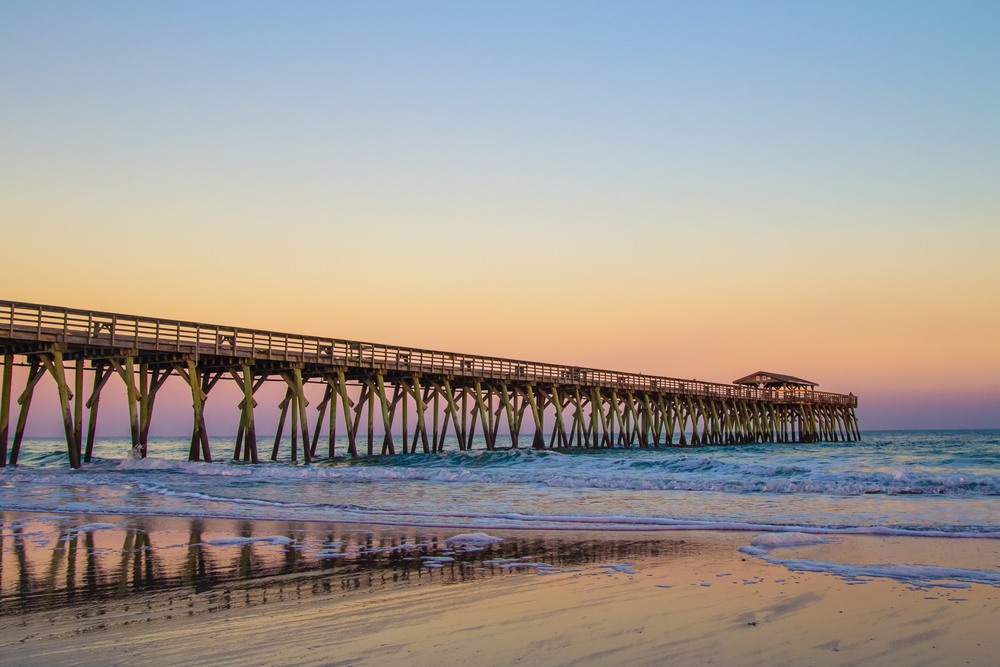 Enjoy The Views At Myrtle Beach SkyWheel
Don't confuse this with a Ferris wheel it is not that. Dominating the skyline it's an observation wheel and of course, has as you would expect amazing views.
It stands at 187 feet in height and is found beside Landshark Bar and Grill on North Ocean Boulevard. It's the sixth tallest observation wheel in the nation and believe us you can't miss it.
In the Skywheel, you are in enclosed pods or gondolas which carry between two and six people and the whole journey lasts about 8-10 minutes. The views you get of South Carolina though will last a lifetime.
The pods' windows are all glass but if you want a more special experience go VIP and get a glass floor and a longer ride. Going VIP is one of the best things to do in Myrtle Beach for couples particularly if you are celebrating.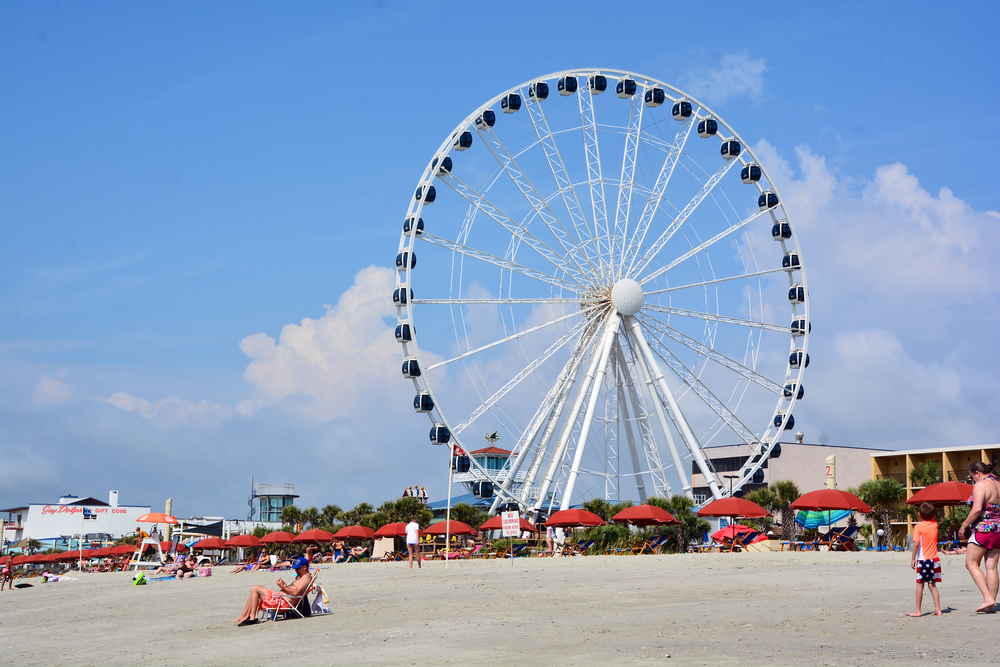 Get Up Close To The Fish St Ripley's Aquarium
Ripley's Aquarium is one of the best Myrtle Beach activities. It's a great way to learn about aquatic habitats and also have fun.
The acrylic tunnel that winds through the Dangerous Reef aquarium allows you to get close up to thousands of fish, including sea turtles, stingrays, and giant sharks. You can camp in the tunnel too and dive with sharks if you are feeling brave.
They also have an Amazon River Habitat and a Stingray Lagoon. You can learn about marine life at the interactive Discovery Center and there are various shows throughout the day.
This is one of the things to do in Myrtle Beach when it rains that the kids will love.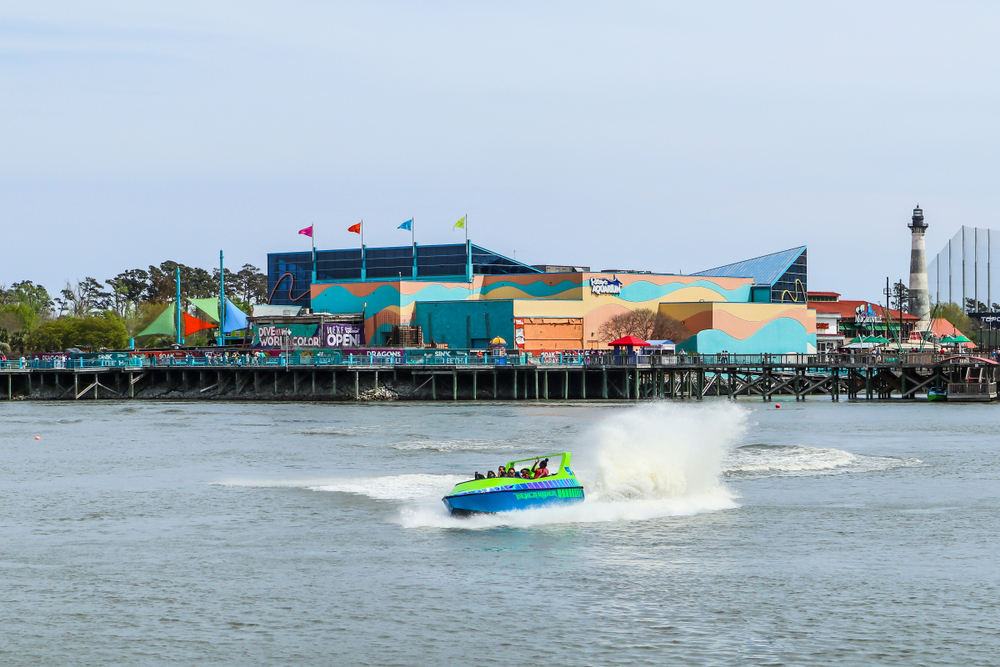 Get Arty At The Myrtle Beach Art Museum
For something a bit more lowkey how about the Art Museum? It's more of a learning space than a museum and has a library, visual art exhibits, and a classroom.
They have regular temporary shows here featuring all kinds of art including things like sculptures, ceramics, and photography. The permanent exhibition has paintings and photos relevant to the city.
The museum however is most known for its collection of works by the Waccamaw Arts and Crafts Guild.
The museum is situated on South Ocean Boulevard and is actually one of the free things to do in Myrtle Beach when it rains.
Get Wacky At WonderWorks
Think science museum with a big side of wacky and you have what this place is all about. WonderWorks takes the science museum to a new level and kids will love it.
The interactive exhibits are organized into themes each focusing on a different topic. Natural disasters, physical challenges, lights and sound, space exploration, and art all feature here.
And it does this all in a very fun way like the Extreme 360 bikes experience, an indoor glow-in-the-dark ropes course, and a laser tag arena for example. The 6D Extreme theater is also a must.
There is even a zip line that soars 1,000 feet above the water. This is one of the most fun things to do in Myrtle Beach and very unique. Everyone will enjoy a trip here.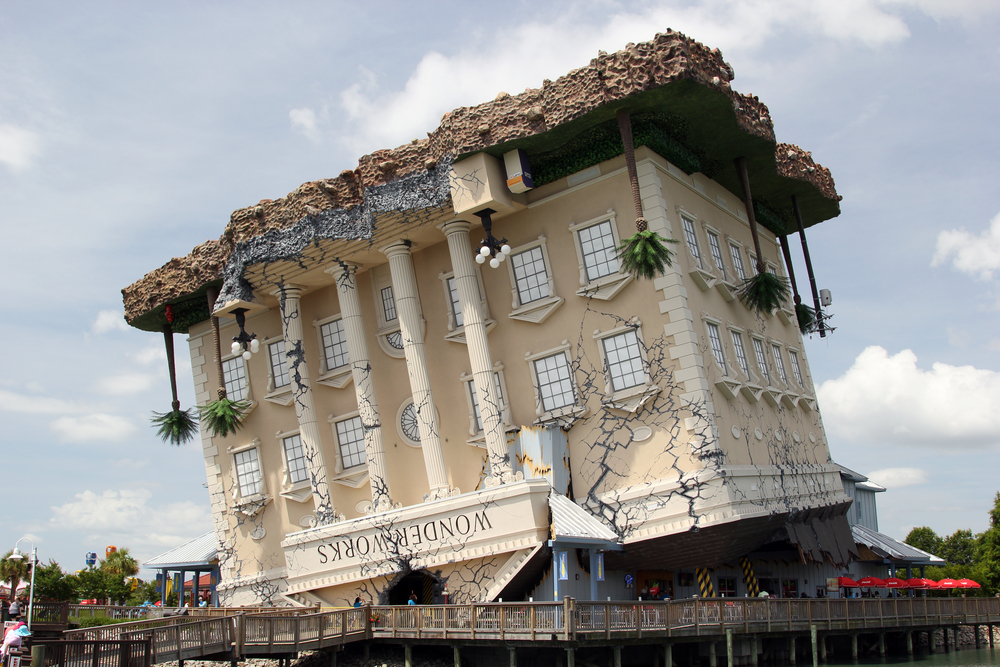 Catch A Dinner Show At Dolly Parton's Pirates Voyage
How about a fun dinner show, yes you can do that in Myrtle Beach too. Dolly Parton's "Pirates Voyage," is a fun event that everyone will enjoy.
You sit in front of a watery stage and enjoy a meal while you are entertained. These events are not everybody's cup of tea but if you love this kind of thing this is a fun one and children will love it.
The show is also family-friendly, the four-course dinner hearty and the fun, aplenty. This is one of the things to do in Myrtle Beach at night that everybody can participate in.
Enjoy Brookgreen Gardens
Here they merge art and nature to create something quite special. The 9,127-acre property is home to extensive botanical gardens which form a backdrop to the artworks and sculptures.
It's a beautiful place to get away from it for a while with miles of paths and lovely places to just sit a while. You can also go on an excursion on a 48-foot pontoon boat, which floats alongside historic rice fields.
This is one of the most beautiful gardens in the US and it's the oldest and the biggest sculpture garden in America. There are over 550 sculptures to find some quite famous.
If you are wondering what to do in Myrtle Beach we highly recommend a trip here.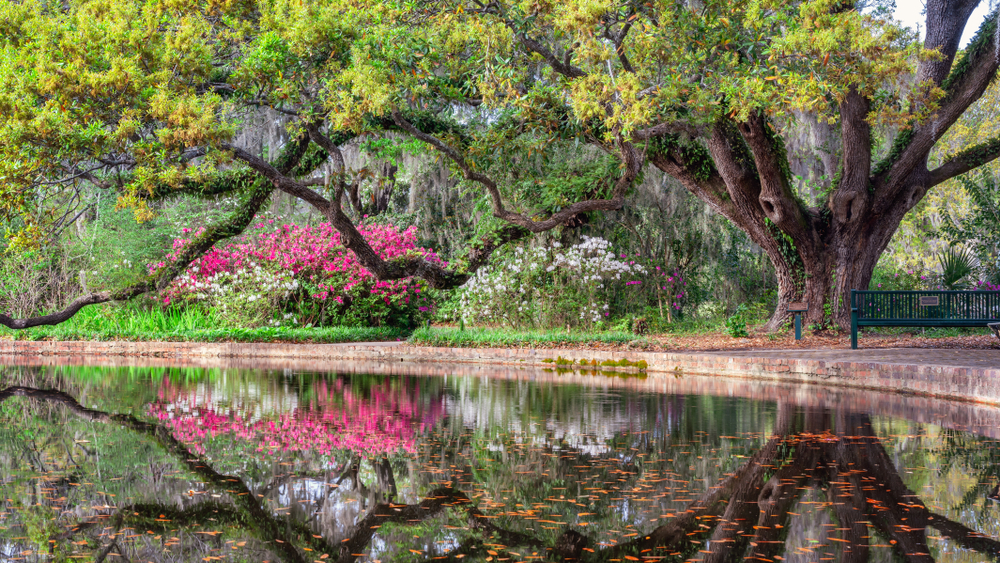 Have a 'Good Olde Time' At Family Kingdom Amusement Park
If you hanker after an old-time warm, friendly amusement park by the sea hanker no more you have found it.
Here you can find a festive seaside-style atmosphere offering rides and games of chance. It's a fun place and everyone will probably find something that interests them.
Currently, they have more than 38 thrilling rides including the Twist 'n Shout steel roller coaster, Swamp Fox wooden roller coaster, and Slingshot Drop Zone.
You will also find the fairground unusual here like bumper cars, go-karts, and a carousel. This is definitely one of the best activities in Myrtle Beach.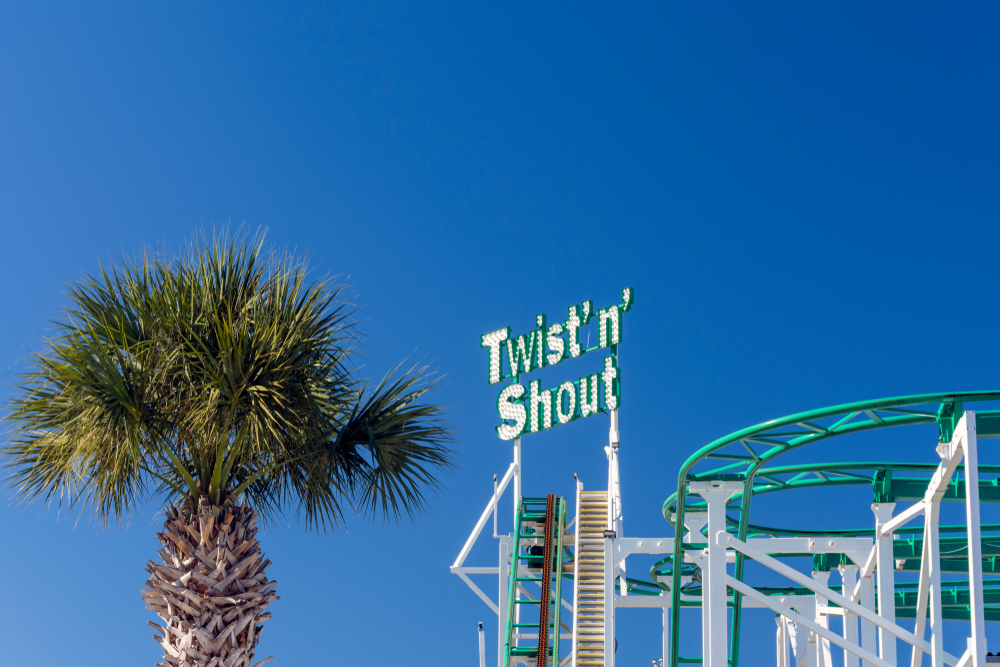 Get Up Close To Jet Aircraft At Warbird Park
Located in the Market Common district of Myrtle Beach at the former Myrtle Beach Air Force Base is Warbird Park.
The base was privatized in 1993 and is now a beautiful park that displays aircraft. The aircraft on display were all involved in active operations and interest plaques tell you about their service and significance.
Planes on show include an F-100 jet fighter, an A-10 Warthog Thunderbolt, and an A-7 Corsair tactical fighter.
The park also has a wall of service dedicated to all service members who served at the Myrtle Beach Air Force Base. One of the things to do in Myrtle Beach if you love military history.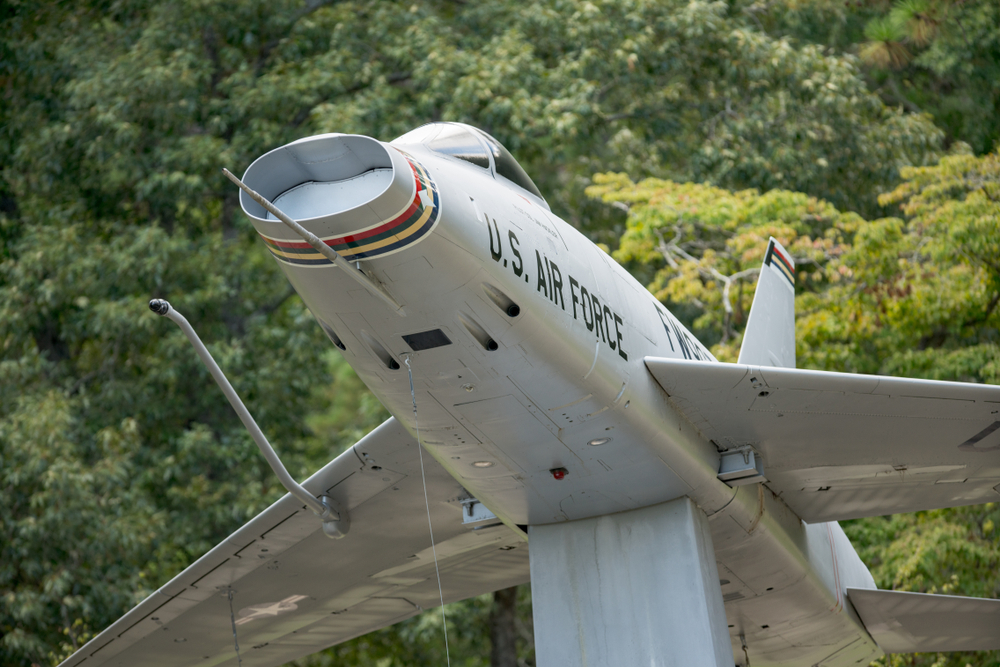 Grab A Beer At New South Brewing
This is one for all those people who love tasting craft beers wherever they go. Established in 1998 the only goal here is delicious, fresh draft beer.
They now create over 3,000 barrels of beer a year and have a great reputation. The stars of the show here are Nut Brown Ale, Dark Star Porter, and their stout which is some of the best around.
If visiting a brewery is high on your list then I highly recommend a trip here. And to add to the local experience try a Dirty Myrtle Double IPA it's said to be delicious.
They just love brewing here and it runs through everything they do. Before you go take a look at their website to see what is in the taproom the day that you go. They also have beers you can buy and some very cool t-shirts.
This is one of the best things to do in Myrtle Beach for adults.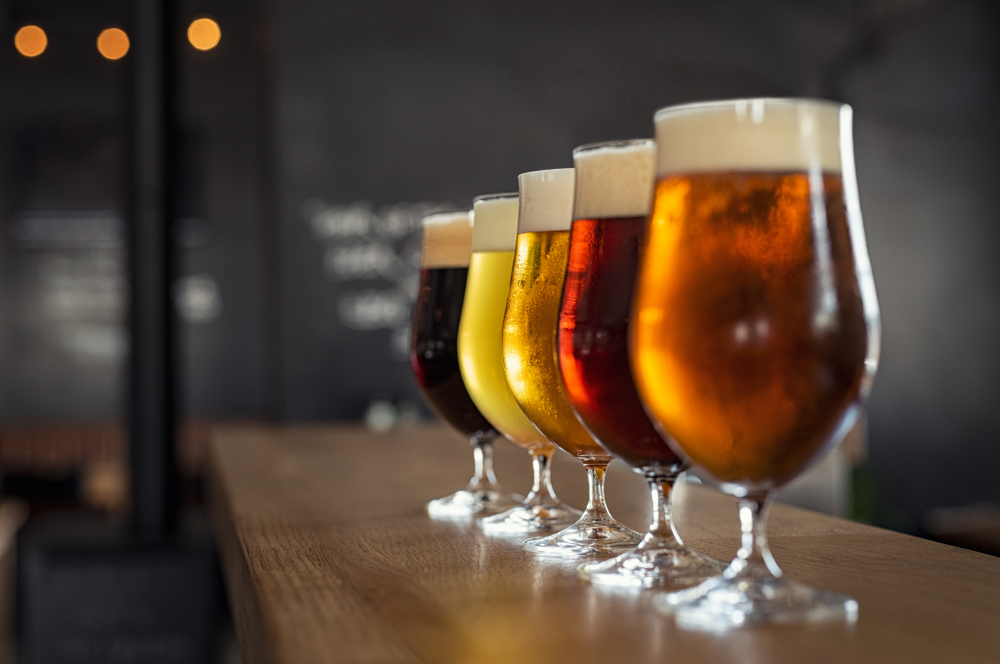 Get Wet at Myrtle Waves Water Park
if you are looking for places to visit in Myrtle Beach that the children will love then how about a waterpark. But not just any water park this is the largest waterpark in South Carlina. Over one million gallons of water flow through the park daily.
Inside you will find more than 20 acres of slides, rides, rafts, and chutes. Some of these are heart-stopping adrenaline rushes like Turbo Twisters, the King Cobra shoot on Snake Mountain, and Night Flight. Some are much gentler and there are plenty of areas for small children.
The park also has a continuous wave machine for surfing, a lazy river, and a children's water play area. There is plenty here to keep the whole family happy and entertained. One of the things to do near Myrtle Beach.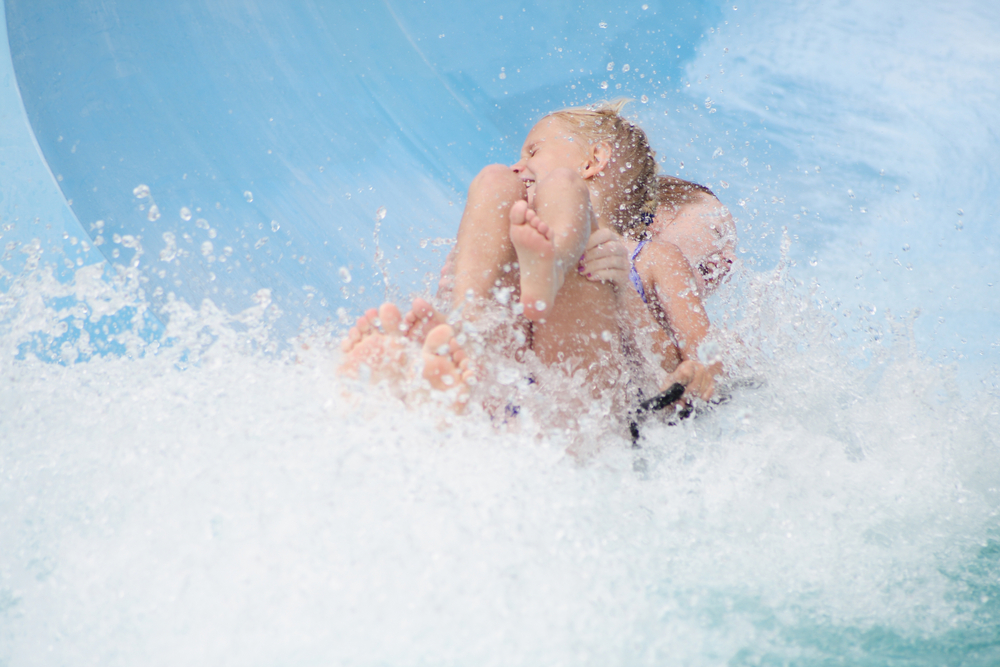 So as you can see when it comes to Myrtle Beach the choice of things to do is endless. There is so much choice here and honestly, this list is just a start.
I hope we have helped you to start to make some choices of which attractions and activities you will take part in. I hope you have a great getaway and please come back and tell us all about it.