Visiting the best things to do in West Virginia is something you won't want to miss on your southern U.S. travels. From beautiful rolling hills, fall foliage-covered mountains, and breathtaking waterfalls to historical sites, unique museums, and memorable brews, West Virginia is the hidden gem of the south!

You won't have to wonder what to do in West Virginia after you check out these awesome sites and activities below. So, let's get started!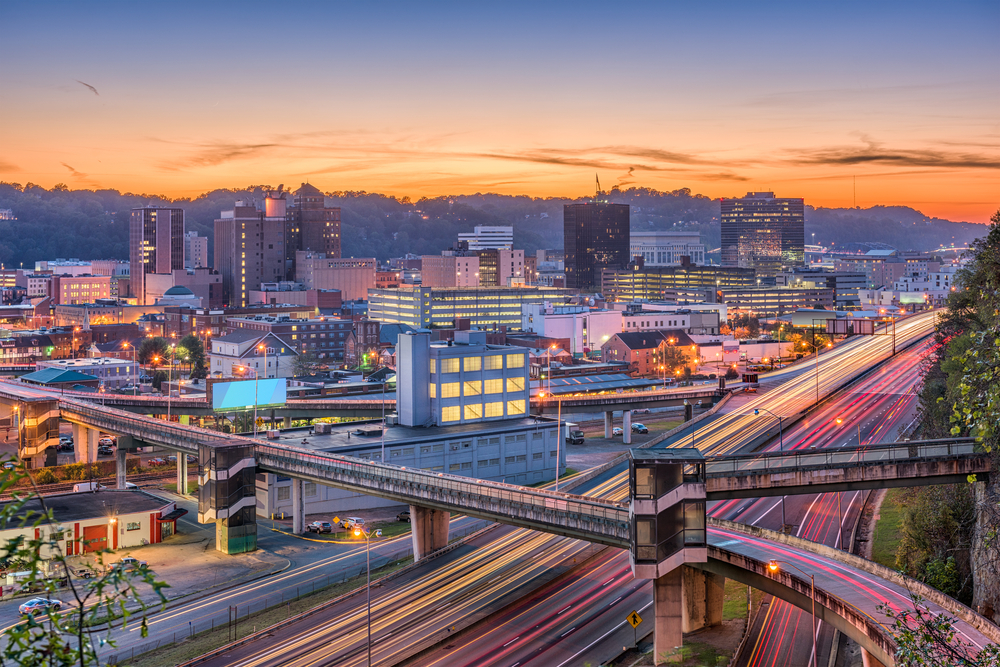 15 Best Things To Do In West Virginia You Shouldn't Miss
Cranberry Glades Botanical Area
If you are looking for free things to do in West Virginia, enjoying nature is always a good idea. The Cranberry Glades Botanical Area is located in Pocahontas County, West Virginia. A visit to this site is one of the best things to do in West Virginia as its winding wooden boardwalks are famous in the area.

Adults and kids alike enjoy traversing and exploring the curving pathways through the bog. The bog is an acidic wetland common in this part of the United States and Canada as well. Exploring this area will allow you to see carnivorous insect-eating plants and other unusual plants that grow in the bog.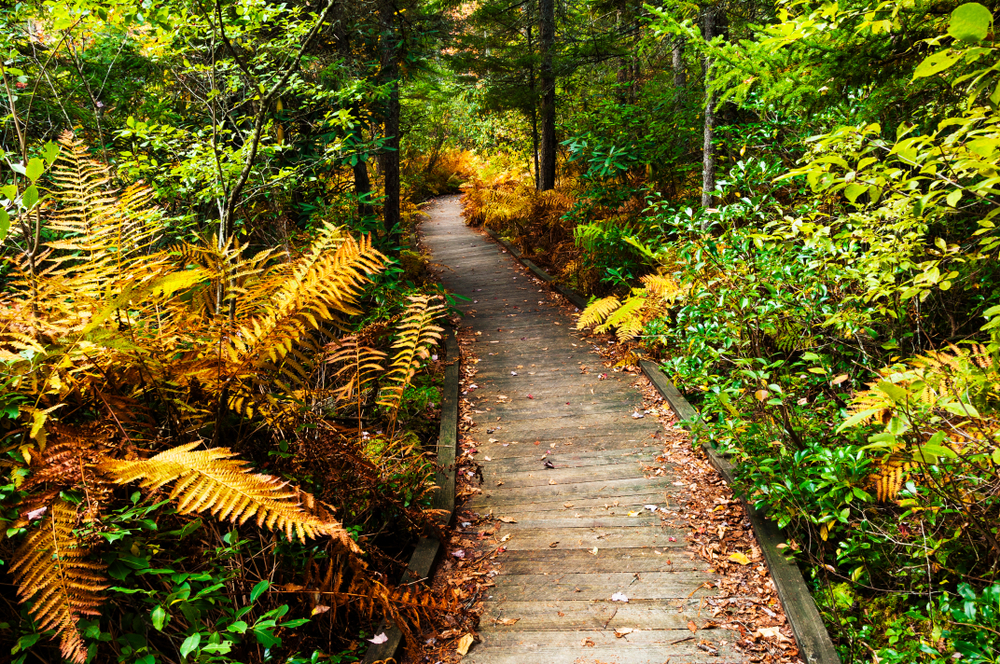 New River Gorge
One of the best West Virginia activities is visiting the New River Gorge. Designated as a National Park, the New River Gorge is the newest addition to the National Park family. Despite being the youngest national park, the New River is actually one of the oldest rivers in the country.

For all of the national park pass holders and state park-hopping travelers heading to West Virginia, be sure not to skip the New River Gorge National Park!

The whitewater river flowing through the park is rugged with deep canyons. Holding more than 70,000 acres, the park is rich in natural history as well as cultural history. You can find many outdoor recreational activities while you're there.

While you are at the park there are a few popular areas and things to do that you should keep on your itinerary. First, you will want to check out the Canyon Rim overlooks which are near the visitor's center. Of course, you should check out our hiking trails of choice as well. This is a great place for camping and one of our favorite weekend getaways in West Virginia!

For those feeling adventurous, there are tons of options for you as well. One of those options includes taking a bridge walk. You will wear a harness and make the journey across the famous bridge on a 24-inch wide catwalk. There is also the option to go whitewater rafting along the fifty-three miles of free-flowing river.

With all of the adventures to be had at the park, it's easy to see why it made its way onto the list of best things to do in West Virginia!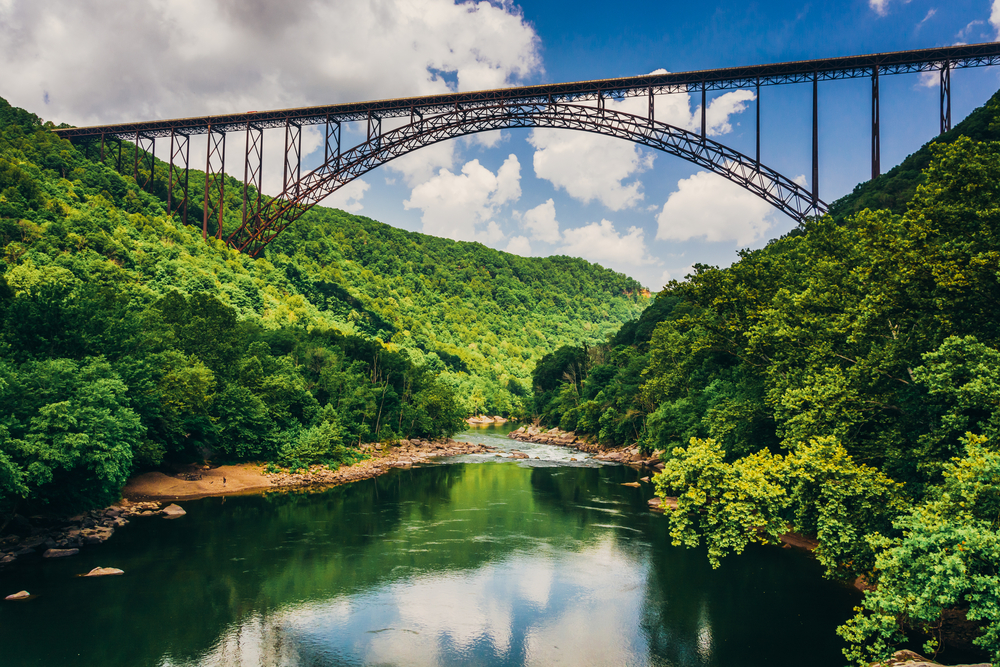 Harpers Ferry National Historic Park
By far one of the best places to visit in West Virginia, Harpers Ferry National Historic Park was the flash point that sparked the Civil War. Nestled into the rolling Blue Ridge Mountains, you will find this historic park at the confluence of the Potomac and Shenandoah Rivers.

Harpers Ferry is truly one of the best small towns in West Virginia that you should explore.

It's worth mentioning that this historic park is among the best things to do in West Virginia for families and solo travelers alike. The museums and cultural exhibits offer a learning opportunity for visitors no matter their age.

When you visit the park you will learn about the Civil War, how the town was an industrial center, the importance of the area in terms of archeological significance, and more.
Make sure to check out our list of things to do in Harpers Ferry!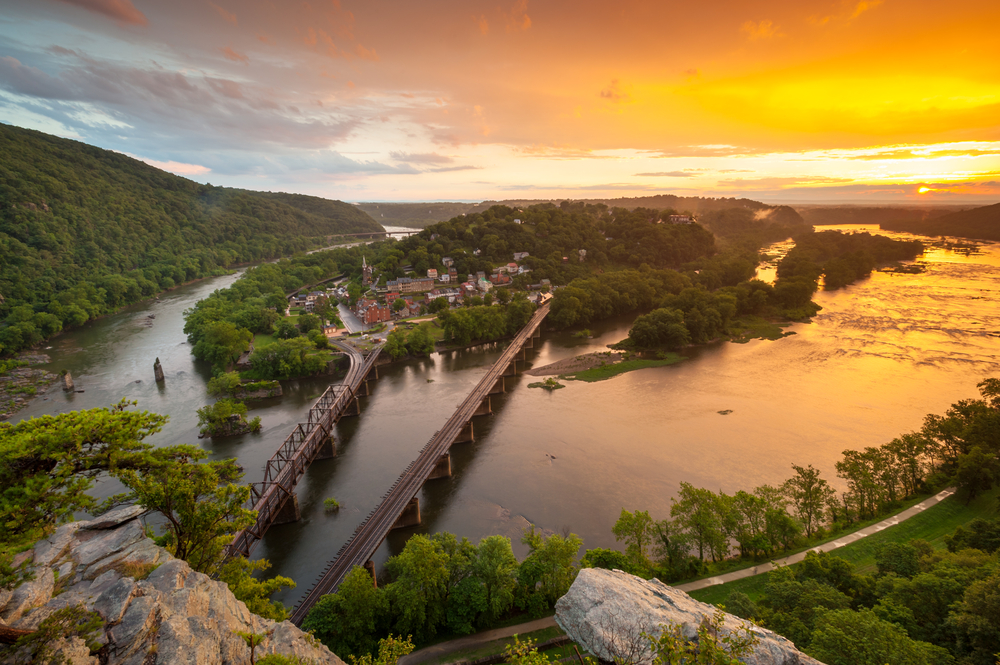 West Virginia Penitentiary
Among the best activities in West Virginia is the West Virginia Penitentiary. This gothic-style prison in Moundsville, WV is now retired from prison use and serves as a museum. Used as a filming location and training facility as well, you are sure to love the architecture and information available to you at the penitentiary.

Part of what makes the West Virginia Penitentiary one of the best things to do in West Virginia is that there are several ways to enjoy your visit to this West Virginia attraction. First, are the tours. They range from ghost hunts and guided day tours to twilight and photography tours, there is something for everyone.

You can also take part in Escape The Pen. A prison-themed escape room game where the governor of the state orders a stay of execution for an inmate at the prison and it is up to you to find the truth before it's too late. If haunted houses are your thing, consider visiting during the Halloween season so you can see the prison's haunted house in all its gory glory.
Sandstone Falls
Of all the fun things to do in West Virginia, Sandstone Falls is among the best ways to enjoy some WV beauty. This waterfall is among the most remarkable waterfalls in West Virginia as it is the largest fall on the New River.

There is a boardwalk that is a short 0.25 miles that span over two bridges and leads to the islands and observation decks for the falls. The boardwalk is handicapped accessible and perfect for those looking to catch a quick look at the falls before continuing on your West Virginia travels.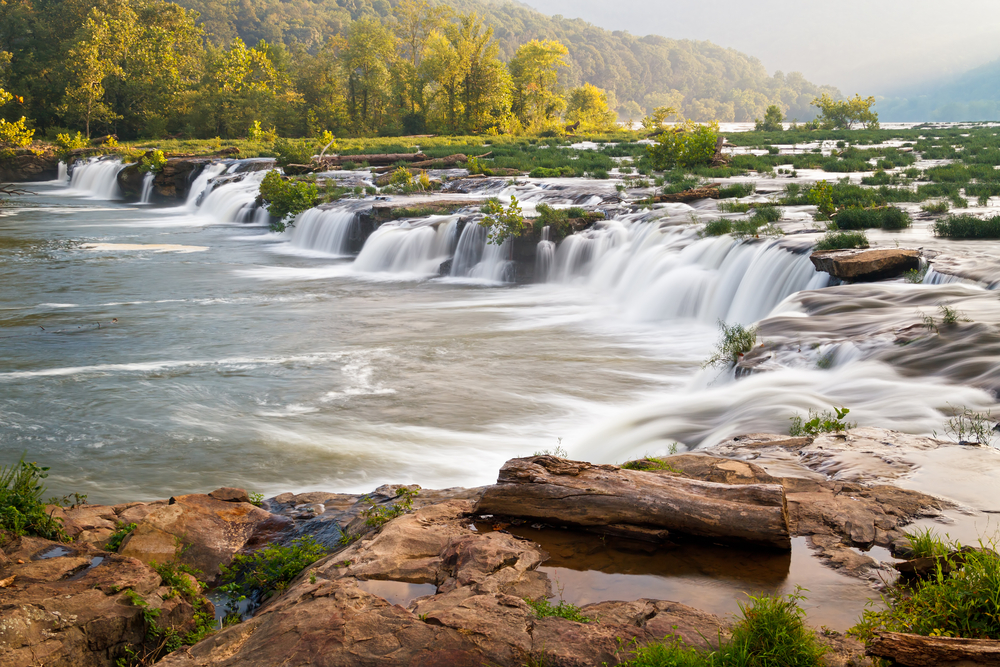 The Greenbrier
Among the best things to do in West Virginia is a stay at one of America's oldest resorts, the Greenbrier. This resort has been in business since 1778. When you stay at this breathtaking West Virginia resort, you are opening yourself up to more than just a great place to stay and a dive into history. There are countless activities and fun to be had there as well.

You can take part in a glass-blowing observation, play tennis or shuffleboard, go stand-up paddle boarding, learn how to ride on a segway on a segway tour, visit a museum, play pickle ball, and more!

There are even opportunities to go paintballing and off-roading while you are there. Whether you want to spend your time in the salon, the indoor pool, or on the Greenbrier River Trail, you will find a little slice of West Virginia heaven during your stay at the resort.

Perfect for families or couples, you will find loads of options when it comes to guest rooms, dining, and activities at the Greenbrier.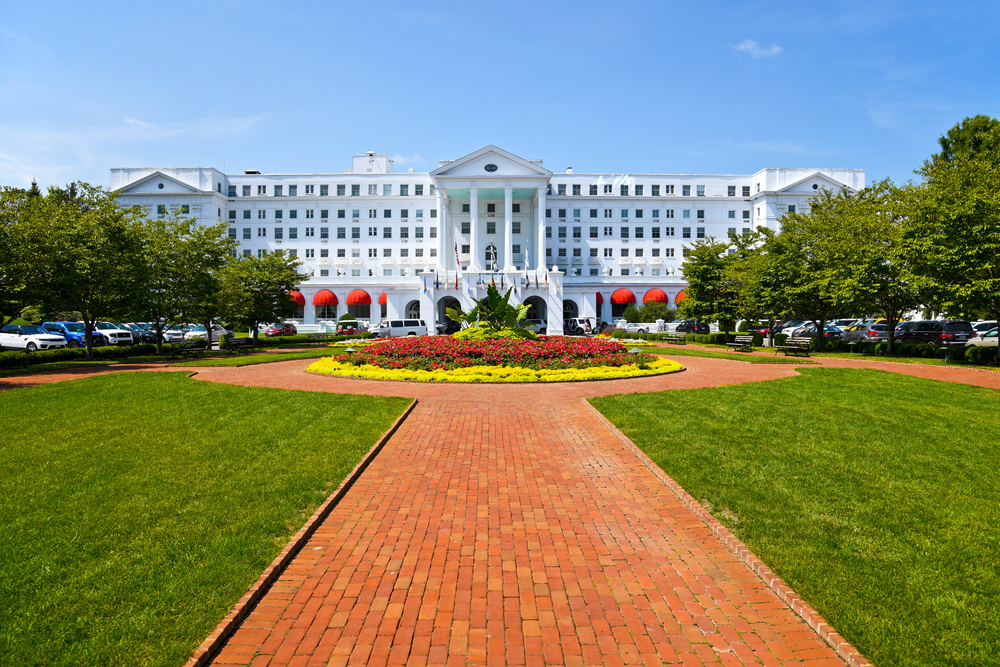 Lost World Caverns
Located in Lewisburg, the Lost World Caverns is one of the best things to do in West Virginia with kids. The caverns were discovered in the early 1940s and today you can explore their magic for yourself on a tour.

With a variety of visiting options, you can enjoy the caverns in the way that works best for you. The half-mile self-guided tour allows you to take a loop trail to see amazing natural formations. Just a light jacket and good walking shoes are all you need to take this cave tour.

The Wild Cave Tour on the other hand is only for the most adventurous travelers. You will have to be a true explorer to brave this tour. Only available to people ten years old and older, you will go beyond the standard walking tour to wiggle your way through the parts of the cavern that are undeveloped.
Babcock State Park
This state park in Clifftop easily makes the list of the best things to do in West Virginia. Babcock State Park can be found along the New River Gorge. Particularly popular in the autumn months, the park is known for its earth-shattering natural beauty.

Only about twenty miles away from the famous New River Bridge, the park is highly photographed as well, so if you are looking for the best photography locations in West Virginia, don't skip Babcock State Park.

The park encompasses more than 4,100 acres of picturesque scenery. Other than enjoying the beauty of the park there are other activities for you there as well. Biking, fishing, boating, hiking, and rafting are all great options. Plus, you can camp in the park as well!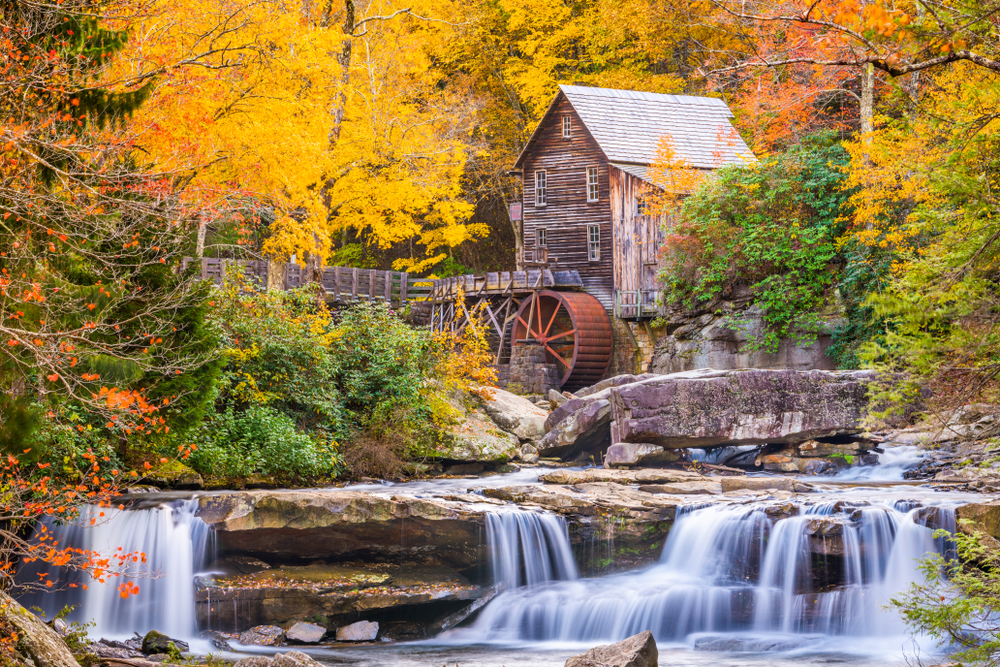 Mothman Museum
For those who like to look for unique and exciting things to see on your travels, you need to check out the Mothman Museum as it is one of the most unique attractions in West Virginia.

This museum showcases all of the unexplained events and beings that we have all heard stories about. Mysterious lights in the sky, the Mothman, and the "Men in Black"-all of these things begin making appearances in a small West Virginia town in the 1960s.

What makes this one of the best things to do in West Virginia is the amount of amazing memorabilia and artifacts from all of the weird occurrences in WV. You will find newspaper clippings, pictures, video footage, and handwritten police reports of strange sightings.

The museum is the only one of its kind and is remarkably budget-friendly. Don't miss this opportunity to see something mind-bending and unlike anything else you have ever seen before.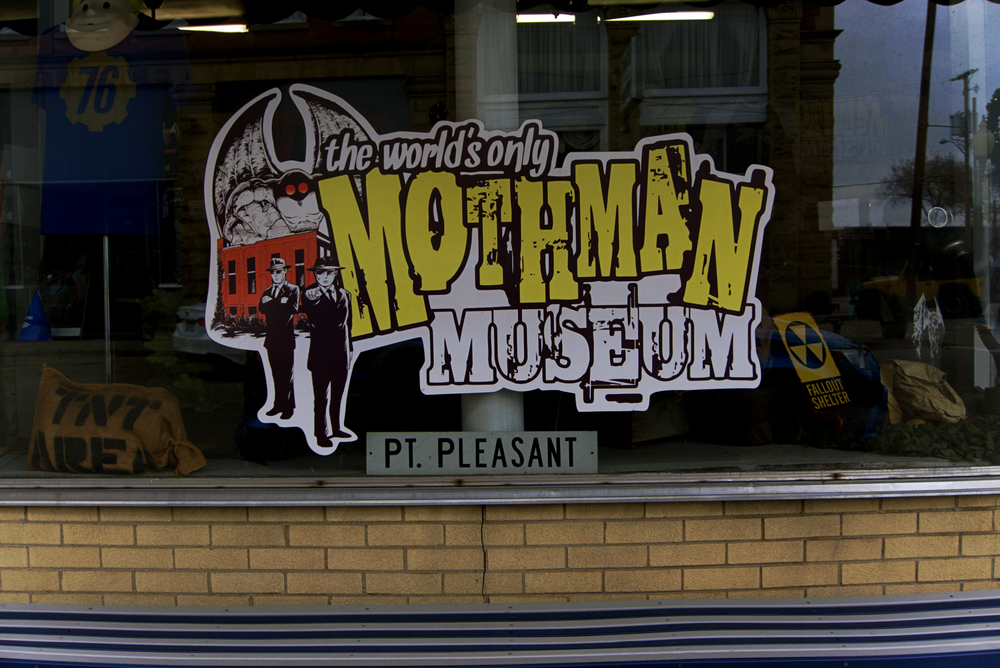 Berkeley Springs State Park
This outstanding state park in the Mountain State holds an interesting place in American history. The park is home to the country's oldest spa. The mineral springs led to the creation of Old Roman bathhouses that today offer a wide selection of services like saunas, massages, and more.

Before the first European settlers in America, the Native Americans had already formed a famous mecca around the warm waters of the springs. When European settlers arrived, it became popular with them as well.

Most notably, the springs were used by George Washington, who would visit them at the age of 16 as a member of the survey party. While in the park you can take a dip in the luxurious whirlpool or perhaps the enchanting Roman Bath in the main bathhouse. "

The history and relaxation at this attraction make visiting it one of the best things to do in West Virginia!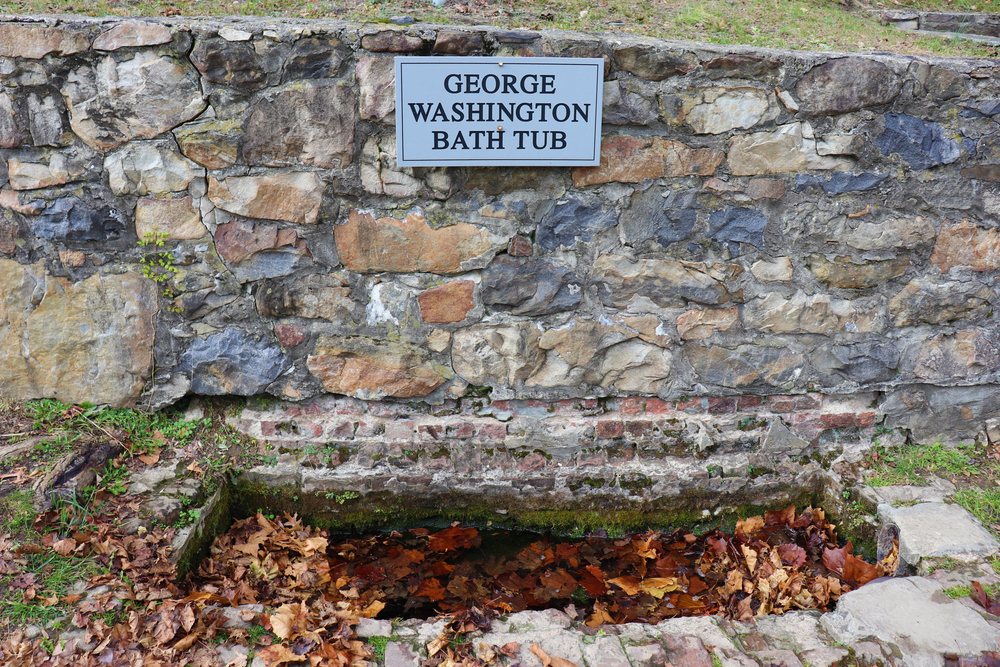 Snowshoe Mountain Resort
If you are looking for the best things to do in West Virginia for couples, consider visiting the Snowshoe Mountain Resort. This ski resort is near Washington DC and offers unique ski areas that include more than sixty trails, forty bike trails, and more.

Whether you are wanting to go snowboarding, swimming, snowmobiling, and biking, this resort is a must no matter what season you visit. This ski resort is incredible as it is the best bet for great ski conditions in the Mid-Atlantic and Southeast.

If you have never skied before, you are in luck as Snowshoe is home to the world's friendliest ski school. Whether you are sixty, twenty-five, or 18 months, you can learn the ways of the slop at Snowshoe.

Of course, there are other options at the resort as well. For example, you could spend your day enjoying a horse-drawn sleigh through the snow, swimming in the pools, or soaking in the hot tub. However you choose to spend your time at the resort, your stay there will not be something you soon forget.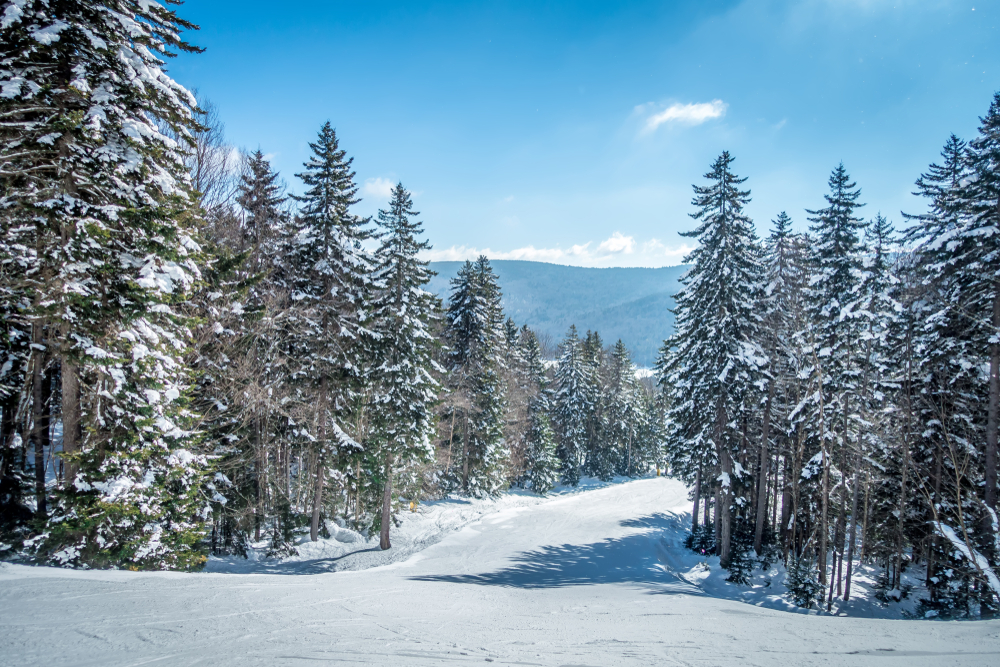 Cass Scenic Railroad State Park
Let's step back in time for a minute here to an era when steam-driven locomotives were essential for travel. You can take a trip on the railroad where the rich history and views are unparalleled. The railroad spans for eleven miles and is one of the Mountain States' most famous attractions.

In the park, there is a Company Store where you can shop for gifts or visit the Soda Fountain and Restaurant. Also featured in the park are a historical theater and a Historical Museum. You will have a lot of options for things to do during your visit to ensure your trip is a success!

Being able to take this step back in time on your visit is what makes the railroad one of the best things to do in West Virginia.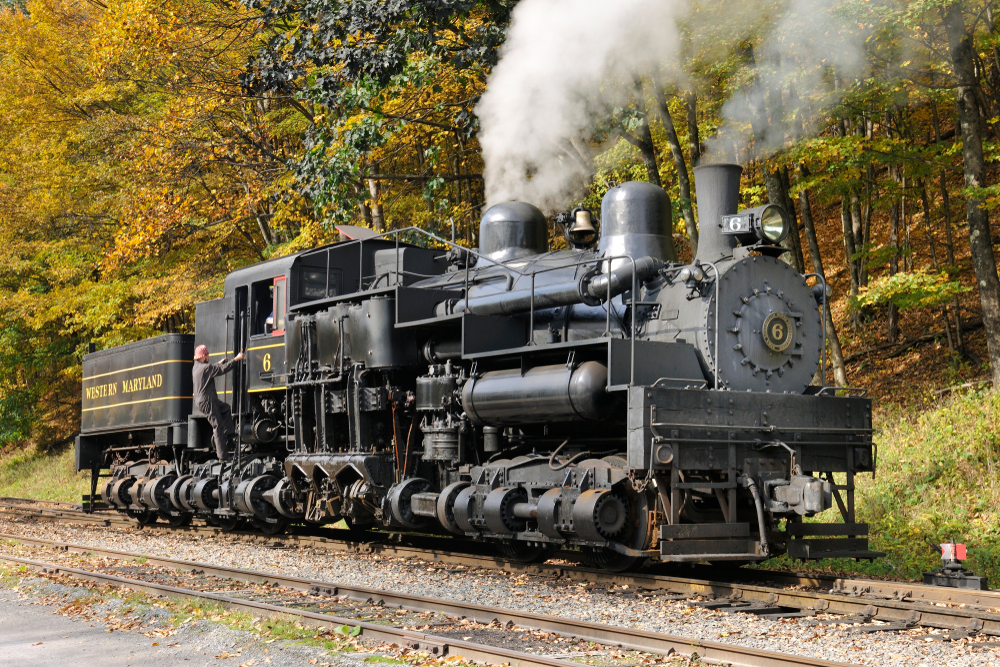 Berkeley Springs Brewing Co
Looking for something fun to do at night? The Berkeley Springs Brewing Co is one of the best things to do in West Virginia at night. This brewpub on Michigan Lane in Berkeley Springs is a must for couples and solo travelers alike.

Hopefully, you find yourself with the opportunity to visit this awesome spot for yourself. With delicious braided pretzels, a great atmosphere, and amazing American IPAs, you are sure to tell all of your friends how adding this pub to their bucket lists is a must!
Morgantown Farmers Market
Are you going to be heading to Morgantown? If so, don't miss the Morgantown Farmers Market as it is one of the best things to do in West Virginia for adults. Of course, families can enjoy the market as well, but adults in particular will love the idea of finding themselves exploring the rows of local goodies.

You can find everything from maple syrup, freshly baked bread, local produce and meats, and more. You can also expect live music during certain times of the year as well. A visit to the market is a great way to bring a slice of West Virginia home to you, your family, and your friends.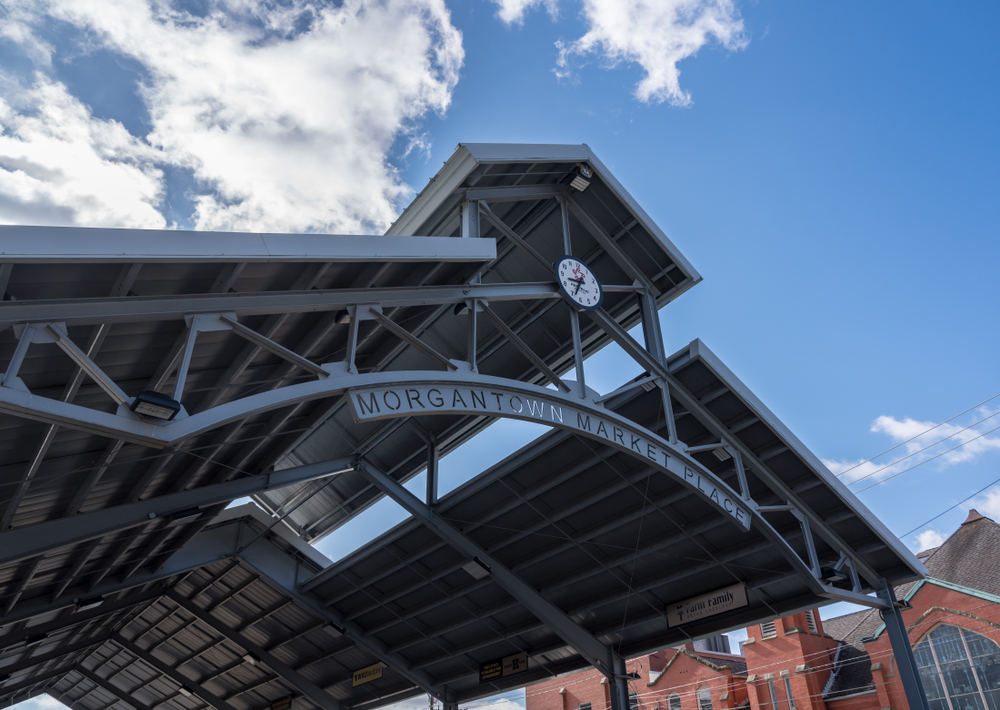 Now that you have learned about these awesome things to do in West Virginia, you have loads of inspiration and places to add to your bucket list.

Whether you are on a journey to explore historical sites, natural beauty, and or relax in one of America's oldest resorts, you are sure to fall in love with the beautiful Mountain State. So, tell us, which of these best things to do in West Virginia will you do first?