If you are looking for an amazing weekend in Charleston itinerary, then look no further! We've come up with a packed three-day weekend full of Charleston activities. Charleston is a beautiful city full of really unique things to do. You can easily see all the best of Charleston in three days, and we're going to show you how!
On this itinerary, we did our best to hit all of Charleston's most popular activities. But if you don't see something on here that you'd like to do, you can simply add it to your trip! Each day focuses on a different aspect of what makes Charleston so great.
You'll explore colorful homes and beautiful parks as you stroll through the city streets. For history buffs, we've selected some of the best museums in Charleston. We've also made sure to spend some time exploring some classic Charleston activities. We think you'll find yourself glad you took a weekend trip to Charleston after following our itinerary. So, let's take a look at the ultimate itinerary for 3 days in Charleston!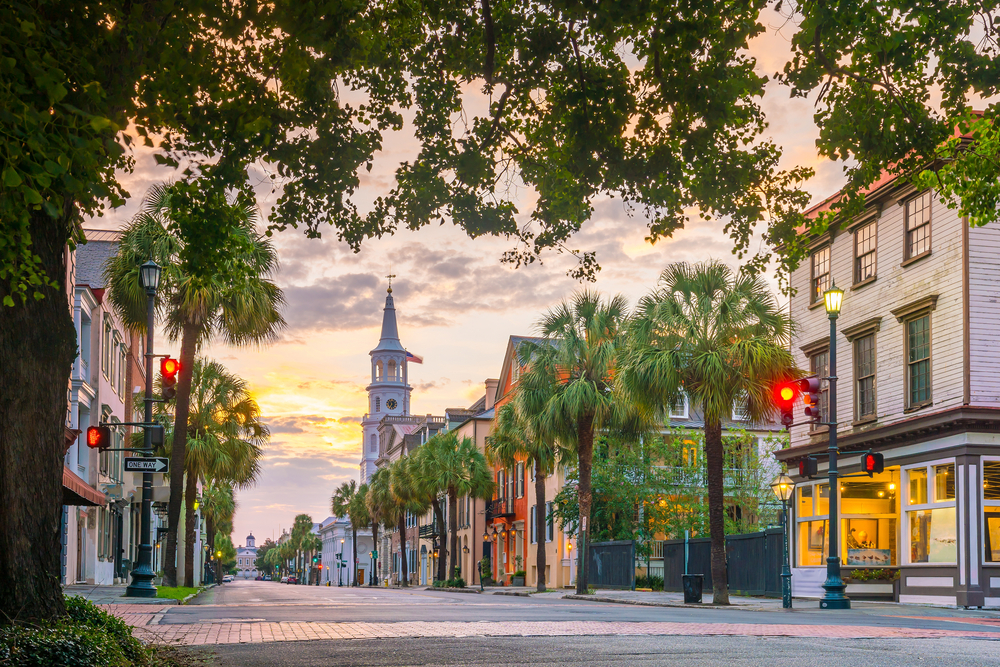 The Ultimate Weekend In Charleston Itinerary
Getting To Charleston
Getting to Charleston for your weekend getaway is actually very easy. If you are flying, you can fly directly into Charleston International Airport. If you live closer or want to make a road trip out of it, you can also drive.
Charleston is a very car-friendly city and you'll find plenty of places to park. You can also take the Greyhound bus or they even have a large Amtrak station if you'd like to travel by train.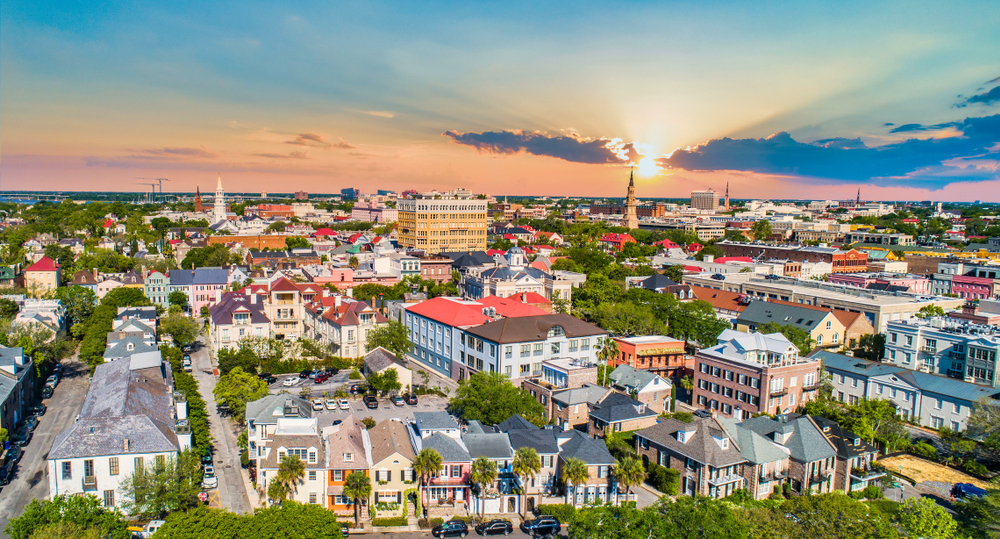 Getting Around During Your Charleston Weekend Trip
There are several ways to get around in Charleston as well. If you've driven into the city, you can of course use your car. Most areas have plenty of parking, either on the street, in lots, or in parking garages. You can also rent a car at the airport if you fly in.
Rideshare programs like Lyft and Uber are another popular way to get around the city. When you are traveling just around the downtown area, take advantage of the CARTA trolley system. With several stops at popular downtown tourist destinations, it's a fun and free way to get around.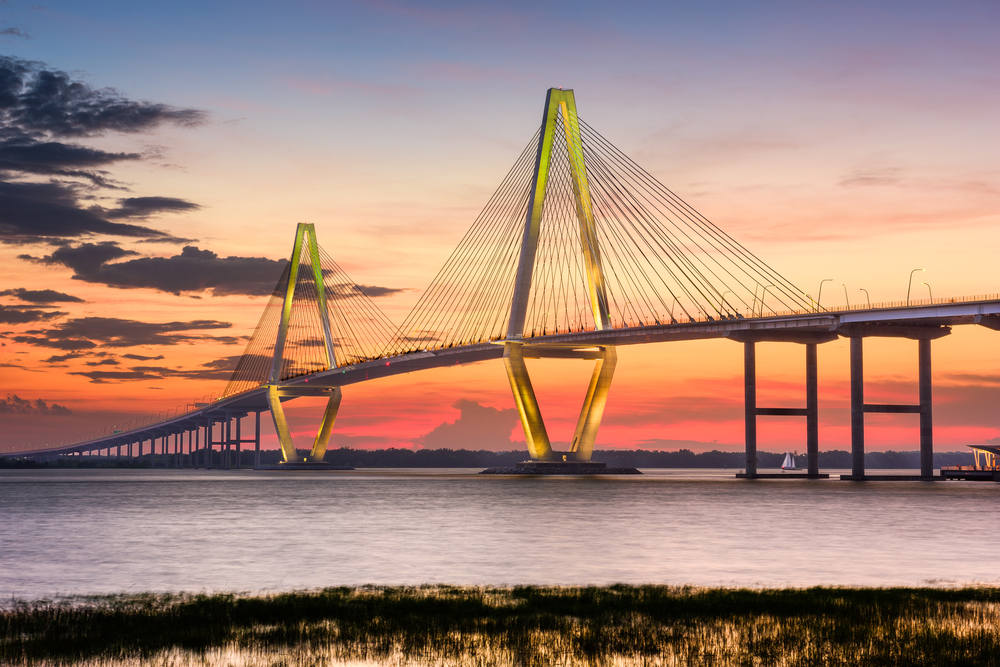 Day 1: Explore The Heart Of The City
Stop 1: Explore The Battery
Spend your first day in the city exploring some of the most popular activities in the heart of the city. You'll be doing a lot of walking today, so make sure to wear comfortable shoes.
Begin the day by exploring The Battery. The Battery is easily the most popular thing to see in Charleston. For those who may not know, The Battery is a one-mile strip with colorful houses on one side and the Charleston Harbor on the other.
Depending on how much time you have in the morning, you can easily walk the entire one mile in one go. But, if you don't have the time, we suggest starting at White Point Garden. The White Point Garden is a popular area of The Battery and near some of the more notable homes.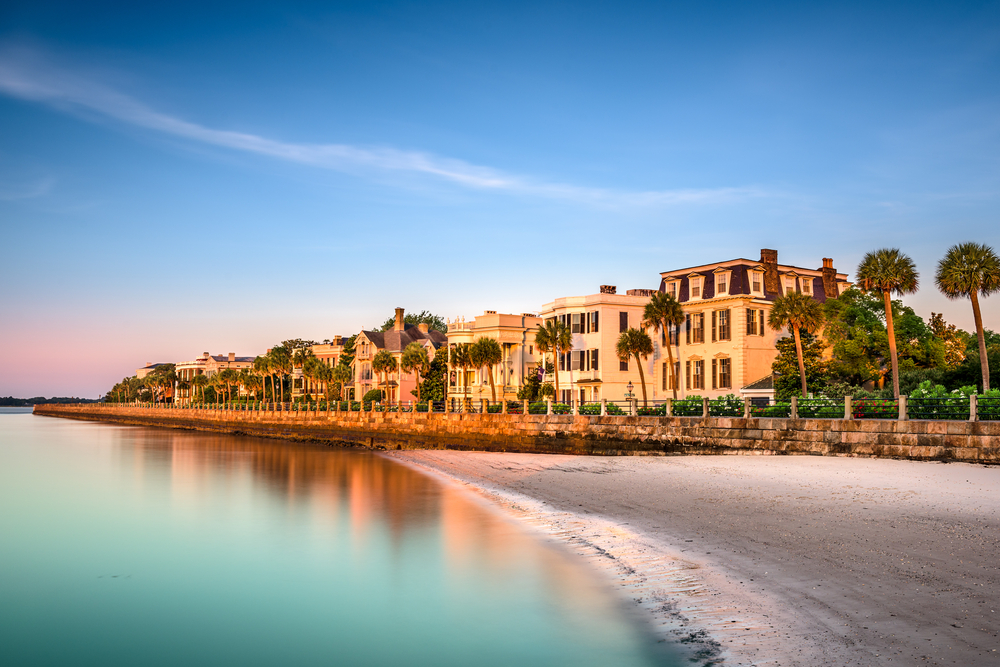 Stop 2: Walk Rainbow Row
Your next stop is Rainbow Row. Like The Battery, Rainbow Row is an incredibly popular tourist destination. On the famous Rainbow Row, you'll find several pastel colored homes. The homes were originally built in the 1740's but fell into disrepair after the Civil War. In the early 1900's, the homes began to be renovated. From the 1930's to 1940's the houses starting being painted in their many colorful hues.
Now, the pastel row of homes is a landmark of the city. If you search through social media, you'll find that Rainbow Row is also an incredibly popular place for photos. While you're exploring the architecture, definitely make sure you snap a few photos or two. It's a great spot for selfies!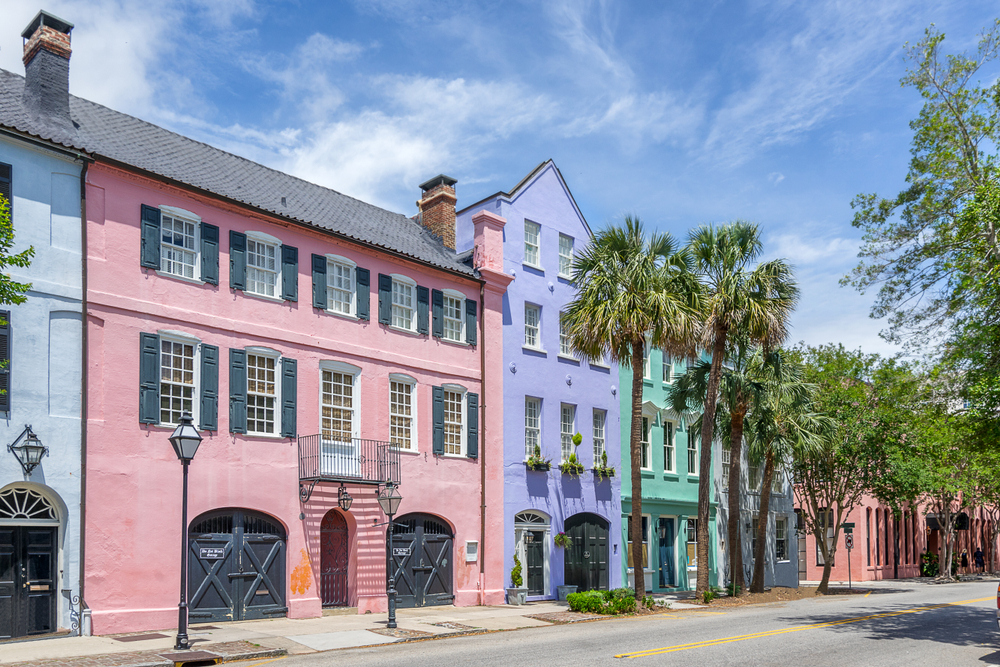 Stop 3: Find Philadelphia Alley
Philadelphia Alley is a fairly unassuming alley in Charleston's historic district. But it has anything but an unassuming past. Philadelphia Alley was also known as 'Dueler's Alley' in the 1700s. It is a narrow cobblestone alley that was perfect for duels at the time.
Legend has it, during one such duel, a doctor met his untimely demise. If you go on a ghost tour through the city, they will definitely stop and tell you the story of Philadelphia Alley. But if you aren't interested in ghost stories, it is still a very charming alleyway that often gets overlooked.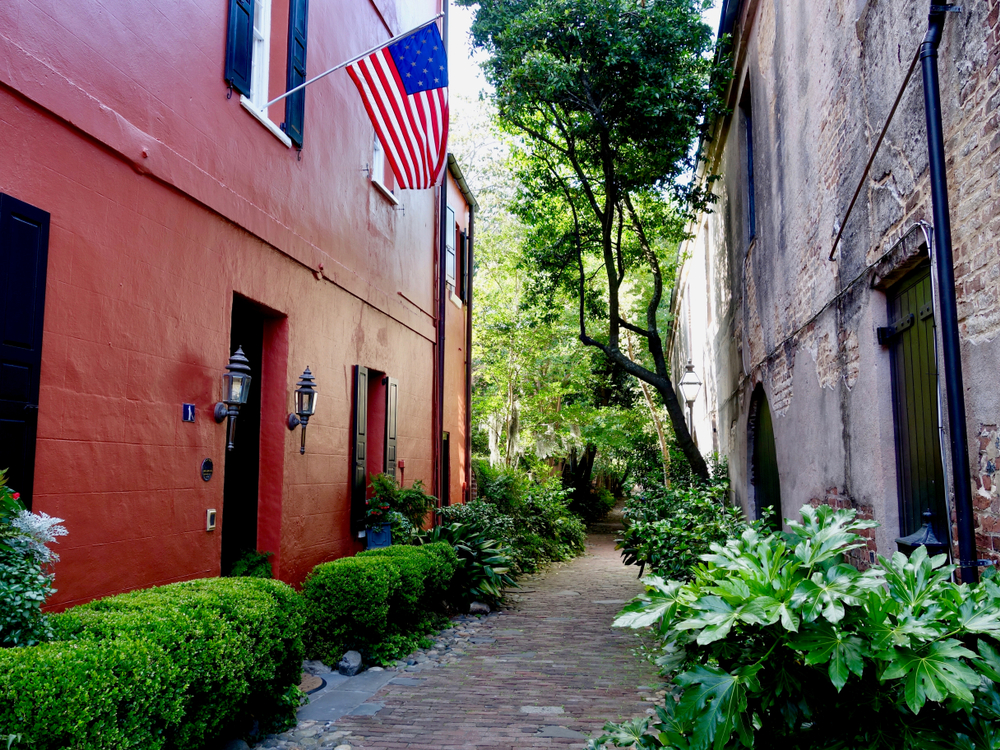 Stop 4: Take A Carriage Ride
Take a break from all the walking of the morning, and enjoy one of the historic carriage rides through the city. The guides on your horse-drawn carriage will make sure you learn plenty about the city during your weekend in Charleston. No matter what tour company you choose, all of the guides are extremely knowledgeable.
The tours typically last about an hour and cover most of the prominent historic buildings. Some of the carriages are large enough to host entire groups, or you can tour the city in a private carriage. The city randomly changes the routes every day, to help with traffic, so you can't guarantee a certain route. However, each route hits most of the more iconic buildings and homes.
When your carriage ride is over, head to dinner before hitting your final stop for the day.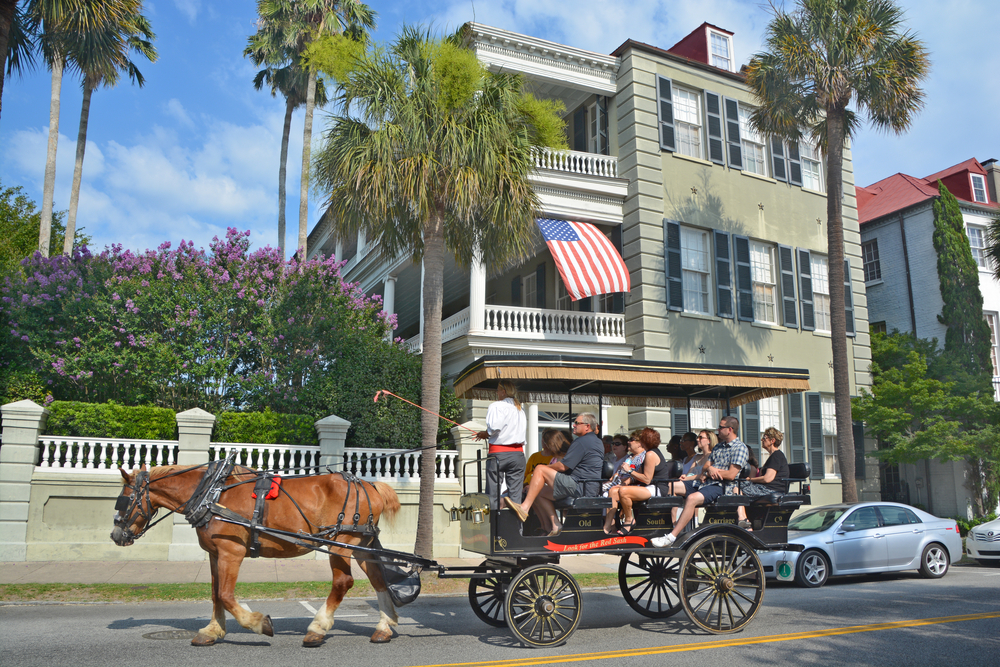 Stop 5: Stroll Through Waterfront Park
We suggest a stroll through Waterfront Park to end your day, especially after dinner. It's a great way to walk off the delicious meal you've surely eaten. The Waterfront Park is also beautiful in the evening. At the park, you'll find the famous Palmetto Tree Fountain. There are dozens of benches and pavilions you can stop and rest at.
The benches face the harbor and are a great place to watch the sunset. There will also be boats passing by in the harbor, and depending on what time of year you visit, flowers in bloom. You can also relax on any of the numbers of green spaces scattered throughout the park. Waterfront Park is a beautiful way to end the first day of your weekend in Charleston.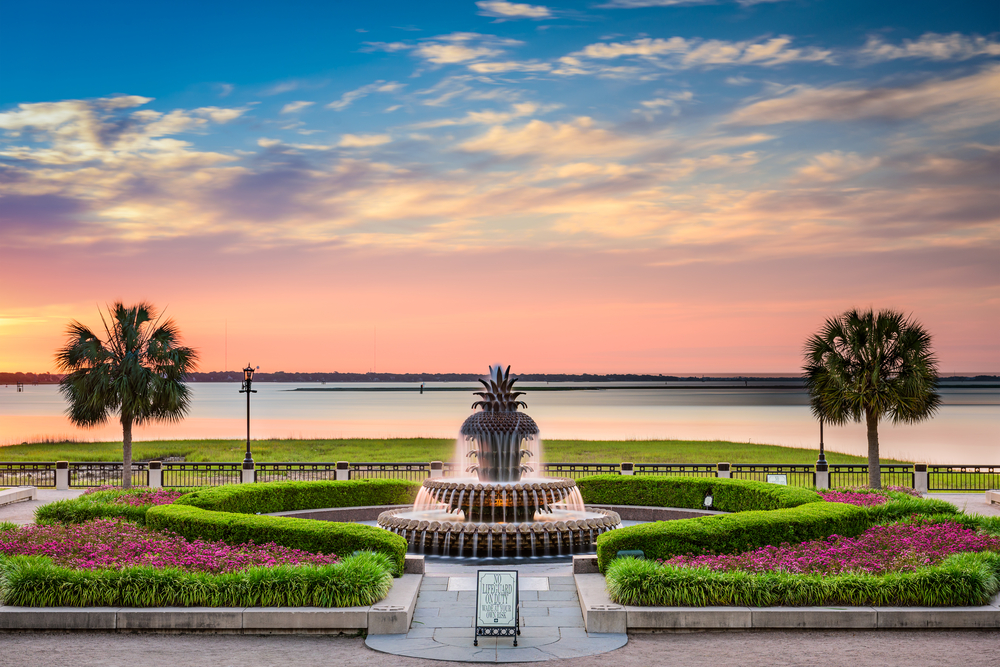 Day 2: Learn Charleston's History
Stop 1: Fort Sumter
Day two of your weekend getaway in Charleston is all about the history of the city. To get to Fort Sumter, you'll need to take a relaxing ferry ride to the island across Charleston Harbor. Along your ferry ride, you'll get some great views of Charleston, the USS Yorktown, and Ravenel Bridge.
When you get to the fort, you can tour where the first shots of the Civil War were fired. The National Park is open to visitors daily and inside you'll find knowledgeable Park Rangers who will tell you about the fort's history. Inside there is also a museum that has artifacts from South Carolina's involvement in the Civil War. It's a great way to start your exploration of Charleston's deep history.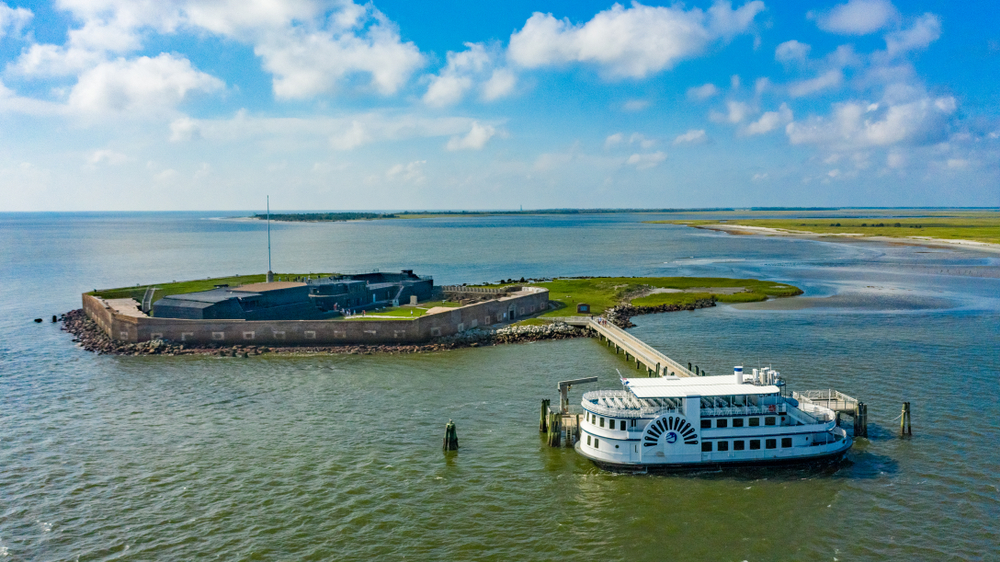 Stop 2: The Old Exchange And Provost Dungeon
Next, head to the Old Exchange and Provost Dungeon. The building was originally built in 1771 and has served several purposes of the centuries. Its past includes a military prison run by the British during the Revolution, the site of slave auctions, and a place to entertain city leaders. In its most recent history, it is a museum being run by the Daughters of the American Revolution.
The museum has a self-guided tour that is included with the price of admission. On the tour, you'll learn about the building's top two floors as well as the Provost Dungeon. Scattered throughout the museum there are docents who are available to answer any questions you have. So you can be assured you'll have a thorough understanding of the building's colorful history by the time you leave.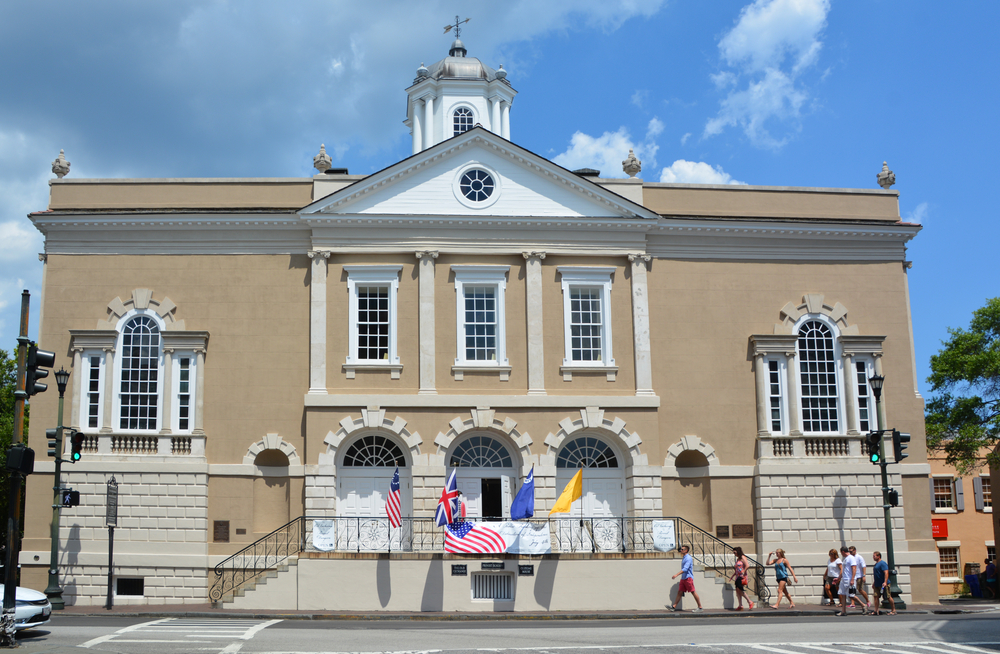 Stop 3: The Old Slave Mart Museum
From there, head to the Old Slave Mart Museum. As the name suggests, the museum is housed in what was once the Slave Mart for the city of Charleston. Charleston was a major hub of the slave trade, and as a result most historic buildings in the city unfortunately have ties to slavery. The museum is the first Black enslaved peoples museum. It prides itself on having staff who can often trace their lineage back to enslaved peoples who were sold at that very mart.
This connection often gives visitors a stronger understanding of the horrible practice the slave mart was a part of. Inside the museum you'll find a ton of information on the slave trade, the history of the enslaved peoples who came to Charleston, and there is even an interview with a former enslaved person that you can watch. It is a poignant but important stop on any Charleston itinerary.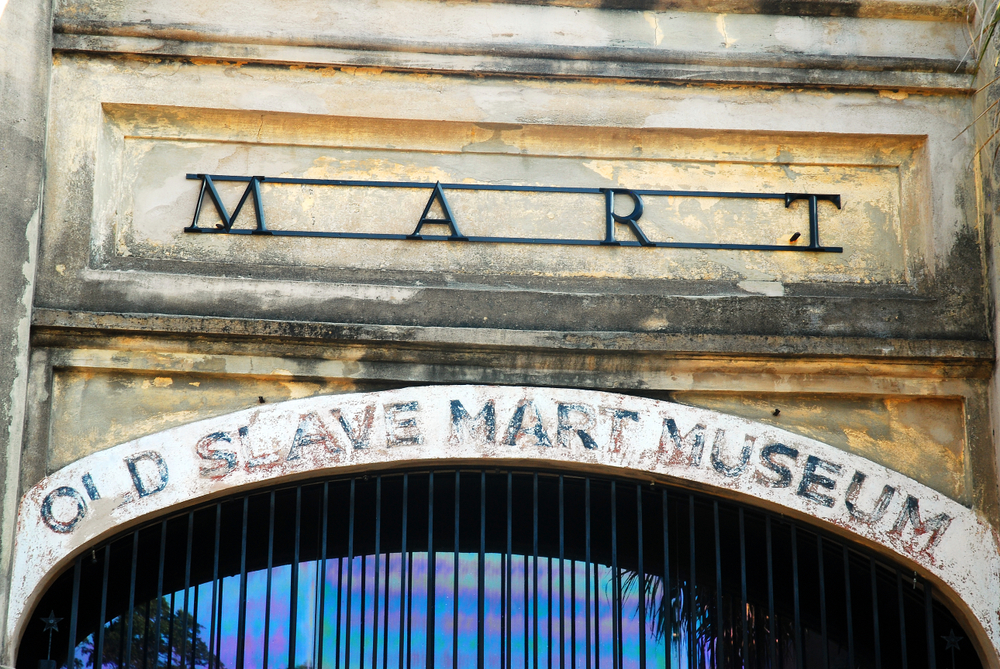 Stop 4: Historic Charleston Market
After the heaviness of the Old Slave Mart Museum, take a breath and stroll through the Historic Charleston Market. The Historic Charleston Market is the most visited site in the city and is a great place to decompress after a morning of learning about the city's dark history. Inside the market, you'll find only local vendors.
It is full of fresh produce, baked goods, and artisan crafts. If you are looking for a souvenir of your trip, its a great place to find a one of a kind item to bring home. You'll also be able to sample food from Charleston's most popular restaurants, or find kits for making their famous dishes.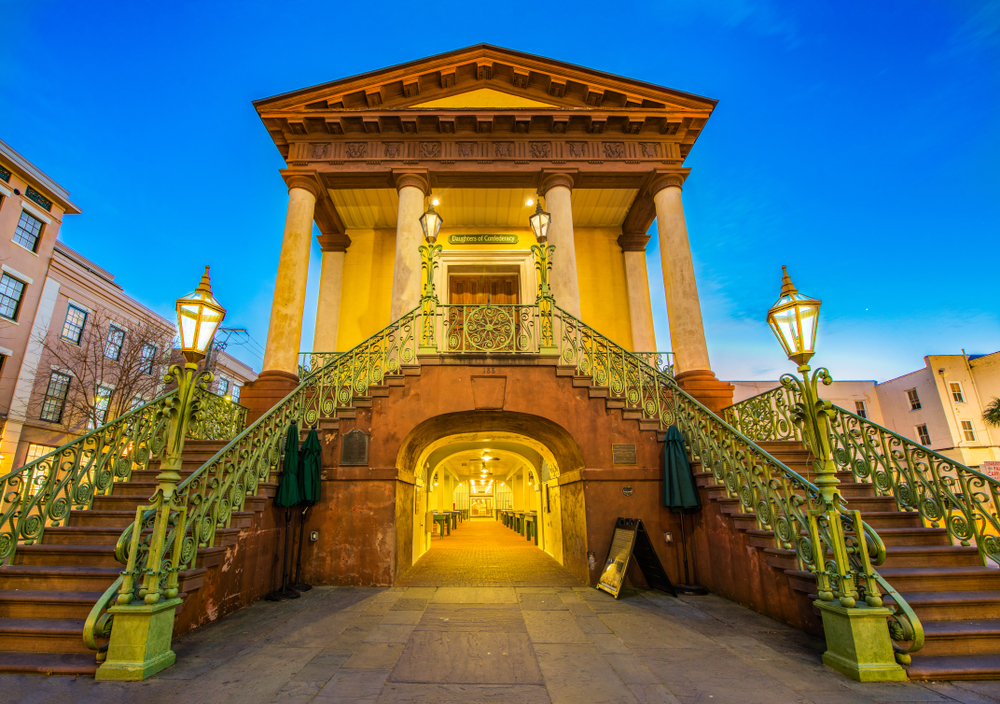 Stop 5: The Charleston Museum
Finish your second day in Charleston at The Charleston Museum. The Charleston Museum is a great way to learn about South Carolina's Low Country. There are several permanent exhibits, but the museum also has newer exhibits every year. At the museum, you'll learn about Native Americans that once called the area home, the area's life and involvement in the Civil War, and much more. There is also a Natural History exhibit where you'll learn about local flora, fauna, and geography. The Charleston Museum is a great way to end your second day in the city.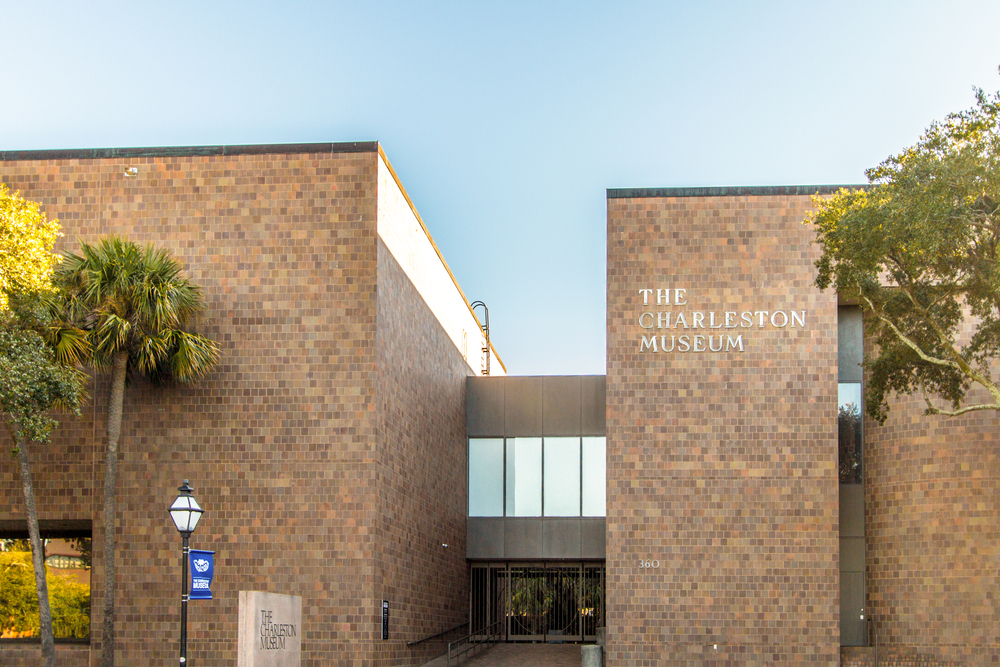 Day 3: Iconic Charleston
Stop 1: Drive To The Angel Tree
On your final day in Charleston, take the time to see some of the city's most iconic activities and sites. The first is the Angel Tree. Now, to get to the Angel Tree you will need a vehicle. The tree is also not technically in Charleston. But it is worth the short drive out to Johns Island to view.
The Angel Tree is one of the most well-known natural landmarks in Charleston. It is a massive Live Oak tree that stands 65 feet tall and is around 28 feet wide. It's unknown for certain, but biologists believe the tree is anywhere from 400-500 years old. It has stood the test of time and is a beautiful way to start the last day of your weekend in Charleston.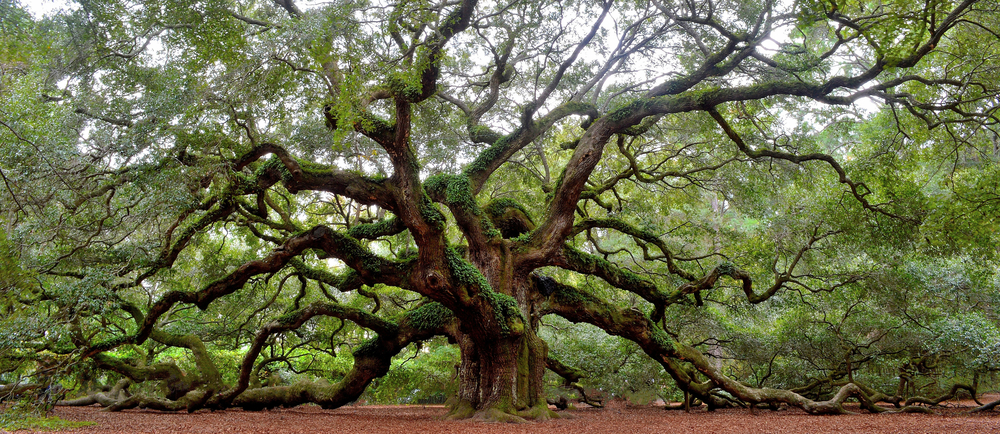 Stop 2: Tour A 'House Museum'
One of the activities that is more unique to Charleston are the 'House Museums'. Because the city has so many historical homes, many of them have been turned into museums. There is a house museum for pretty much every interest. For those who are interested in the history of the politics and power that led to the rise of Charleston, there is the Aiken Rhett House. If you are interested in the opulence of early Charleston, tour the Nathan Russell House.
There are several homes and mansions that you can tour in Charleston. If you have the time, we suggest touring a few. They are all so different yet interesting in how they, and their occupants, helped form the history of Charleston.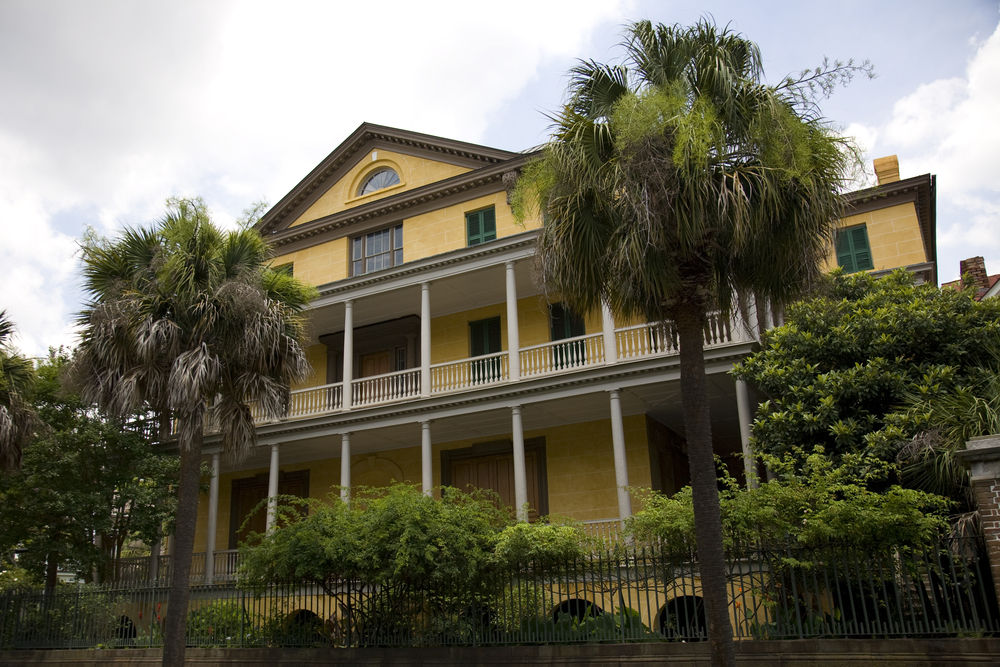 Stop 3: Shop on King Street
When you think King Street, think Rodeo Drive, but perhaps without the large price tags. King Street is the most iconic shopping district in Charleston. The historic street is more than 300 years old and was once the main street through the city. Just like the rest of the city, it was badly damaged during the Civil War, but in the early 1900's it began to be revitalized.
Now, it is one of the 'Top 10 Shopping Streets' in the US. There you will find trendy and unique boutiques, antique shops, and designer stores. King Street is also home to some of Charleston's best restaurants and bars, making it a great place to stop for dinner.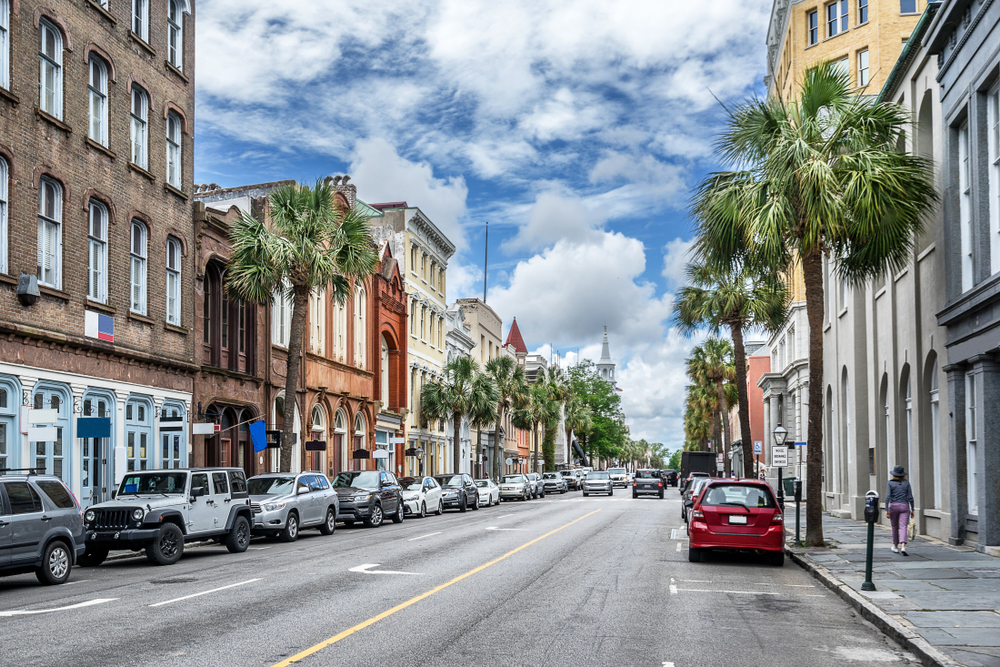 Stop 4: Stop By The Dock Street Theater
The Dock Street Theater is the first theater in the United States that was open exclusively for theater performances, and its in Charleston! It is also where the first Opera performance in the United States was held. For those who love the arts, its an iconic piece of Charleston and United States arts history.
Currently, the theater is owned by the city of Charleston. The city does a good job of making sure the theater still gets plenty of use. Depending on when you visit Charleston, you may be able to catch a performance at the theater. But even if you don't have the time to see a performance, the exterior of the theater is stunning and worth even just a quick photo trip.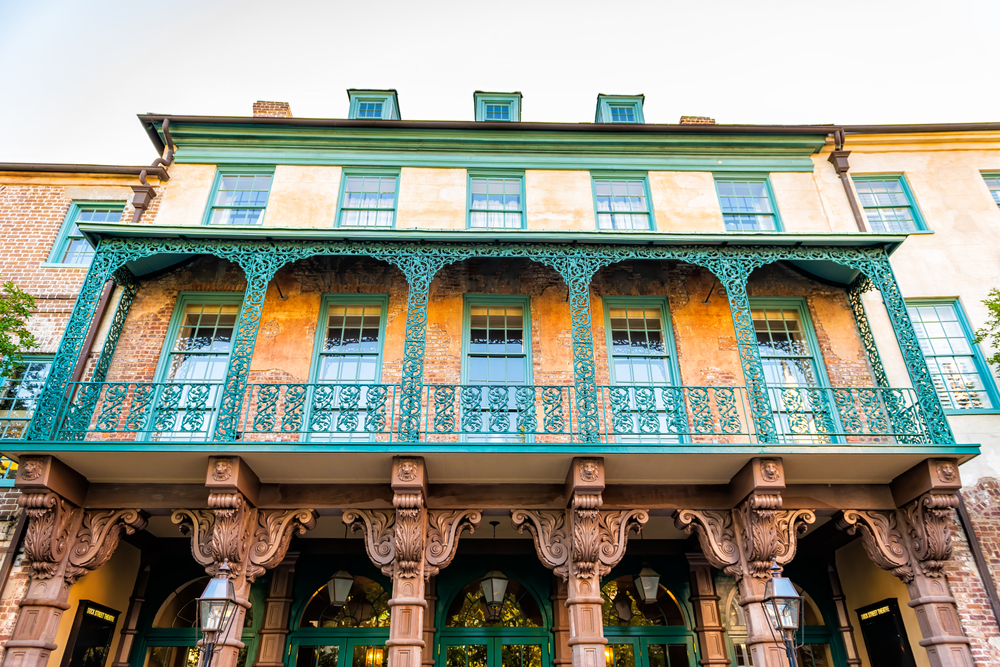 Stop 5: A Ghost Tour
To end your night, and your last day in Charleston, go on a ghost tour. Charleston is said to be one of the most haunted cities in America. After two days of learning about its history, that won't come as surprising. There are several different companies that offer ghost tours.
Most of the cities ghost tours are walking tours, but there are also haunted carriage rides, if you need a break from walking. There are also a few different topics for the ghost tours, depending on which company you book a tour with. Most, if not all of them will definitely hit the most prominent haunted spots in the city. Its a super fun way to end your weekend getaway in Charleston.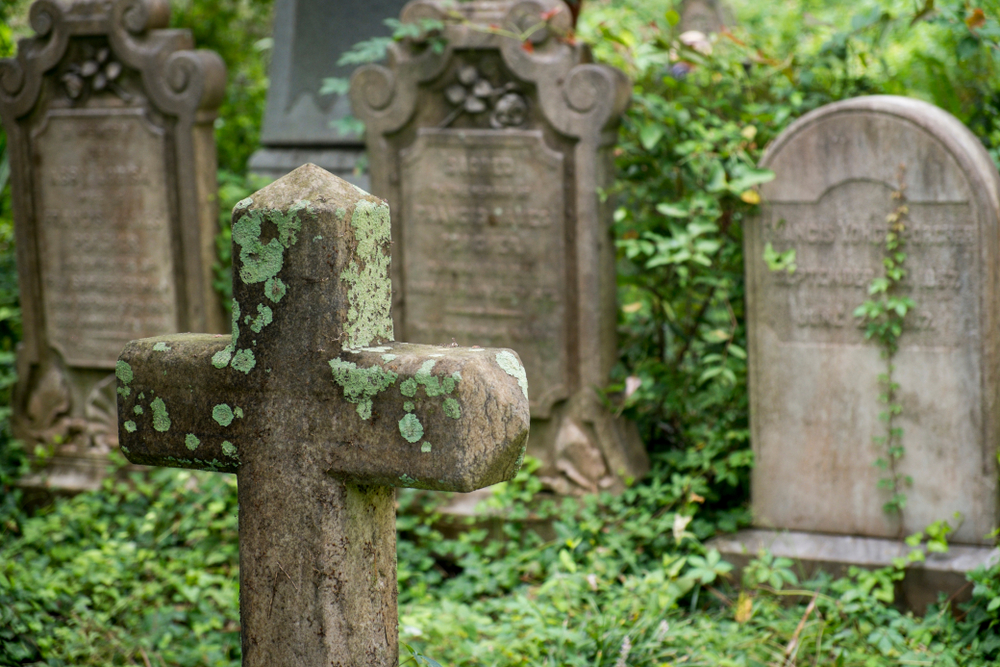 Where To Stay In Charleston
There are plenty of amazing places to stay in Charleston. One of the most popular accommodation options in Charleston are Bed and Breakfasts. But, if that isn't your style, there are also some awesome VRBOs, which are vacation rental's similar to Airbnbs.
Barksdale House Inn
The Barksdale House Inn is a beautiful Bed and Breakfast near the Old City Market. It was originally built in 1778 and the rooms are decorated in an authentic European style. You'll feel like you've stepped into early Charleston when you sleep in your four-poster bed after a long day exploring the city.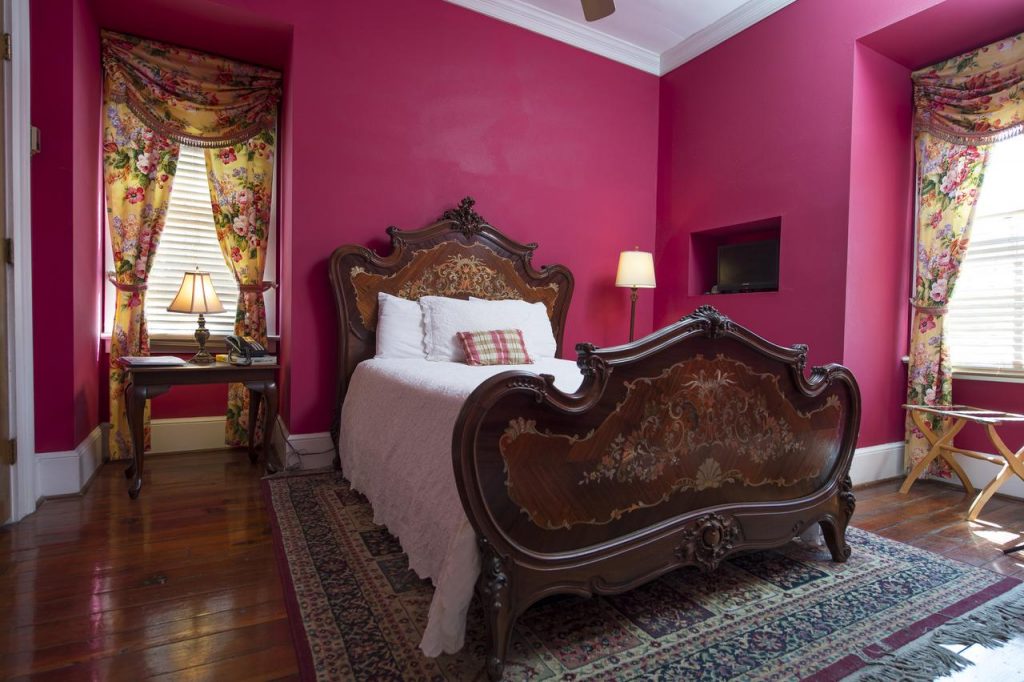 20 South Battery
If you've always wanted to stay at The Battery, then consider staying at 20 South Battery. You'll be in the heart of the famous Battery, steps away from Waterfront Park, and more. The Bed and Breakfast is beautifully decorated, with ornate fixtures and furniture. It is a luxurious place to stay while enjoying three days in Charleston.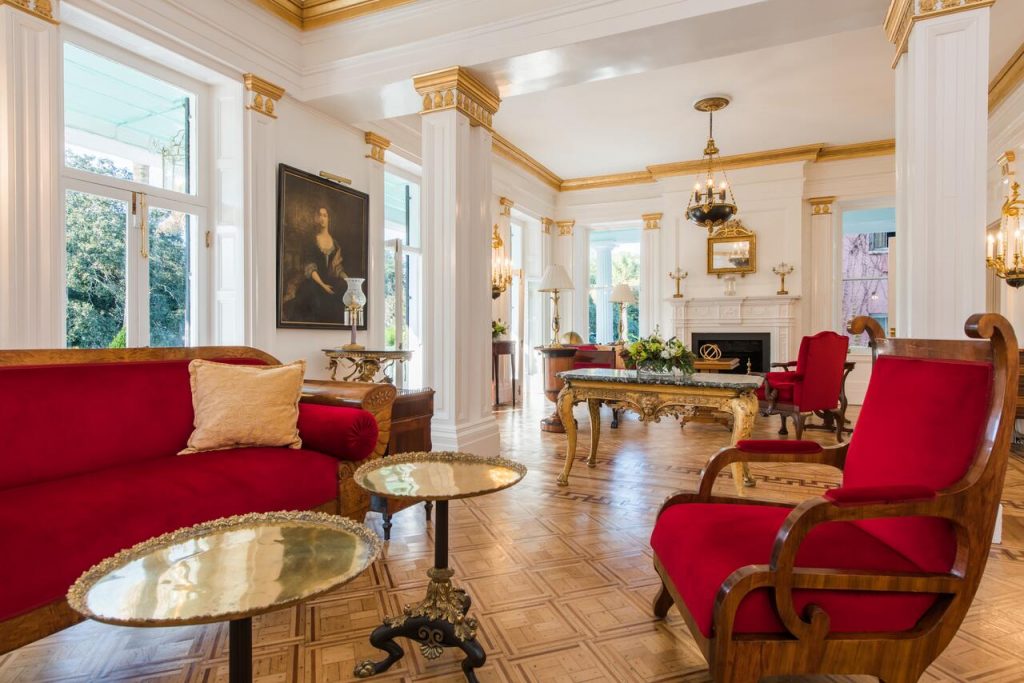 Historic Carriage House
If you are looking for a unique place to stay in Charleston, consider staying at the Historic Carriage House. While a little pricey, it is a beautiful and unique property. The Carriage House is located in Harleston Village, one of Charleston's most idyllic neighborhoods. It has two bedrooms, each with a king-sized bed, a full kitchen, living room, and dining area. You will also have access to the private garden that the Carriage House shares with the main house.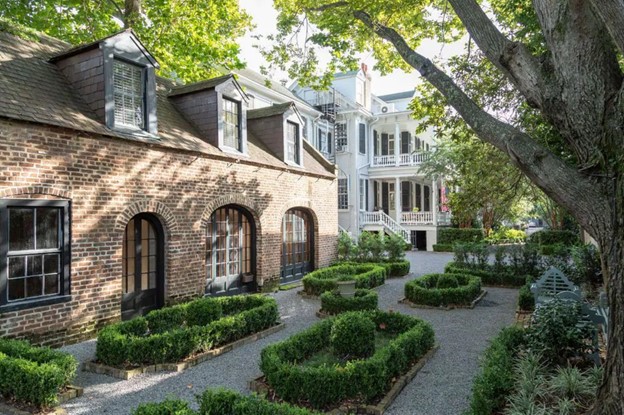 The Jasmine House
If you are looking to have your three days in Charleston be a bit more romantic, you may want to stay at this adults-only Bed and Breakfast. The Jasmine House is a Greek Revival Mansion in Historic Charleston. The rooms are beautifully decorated and each one is unique. It is centrally located near the Charleston City Market, Waterfront Park, and the Old Slave Mart Museum.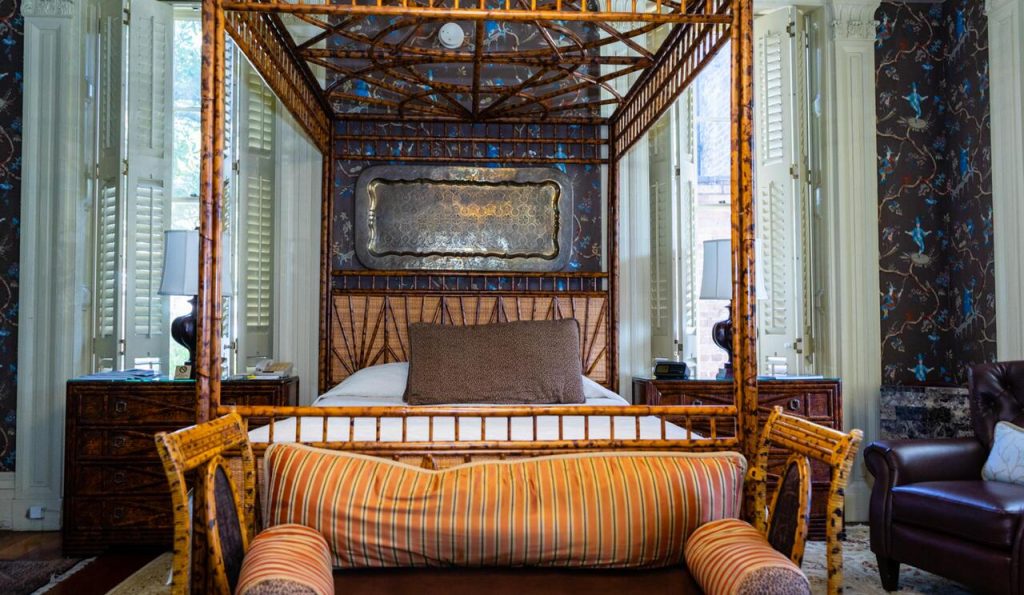 Where To Eat During Your Three Days In Charleston
Charleston is a city full of delicious and amazing restaurants of all kinds. It is one of the best cities in the South for foodies to visit. A stop at any one of these restaurants will help you quickly understand why.
Rodney Scott's BBQ
You can't visit Charleston without sampling some South Carolina BBQ. Rodney Scott's BBQ is the perfect place to try the state's most notable dish. Rodney Scott's is a Black-owned restaurant that specializes in whole hog South Carolina-style BBQ. Take a bite into a BBQ Sandwich, eat dozens of Hush Puppies, or enjoy Beef Brisket.
Halls Chophouse
For fine dining, head to Halls Chophouse. Halls Chophouse is one of the most popular restaurants in Charleston. The steakhouse offers up classics like Filet Mignon, Lobster Thermidor, and New York Strip. It is a great restaurant in Charleston if you are looking for a romantic restaurant to end your weekend getaway in Charleston.
Jackrabbit Filly
Jackrabbit Filly is an amazing Chinese American restaurant. Chef's Shuai and Corrie Wang combine classic Asian, and Chinese dishes in particular, with classic American dishes. If you are looking for something a little more unique, then this is the restaurant for you. With menu items like the Biang Biang Noodles, Corn Fritters, and Singapore Fried Rice, you will leave full and satisfied.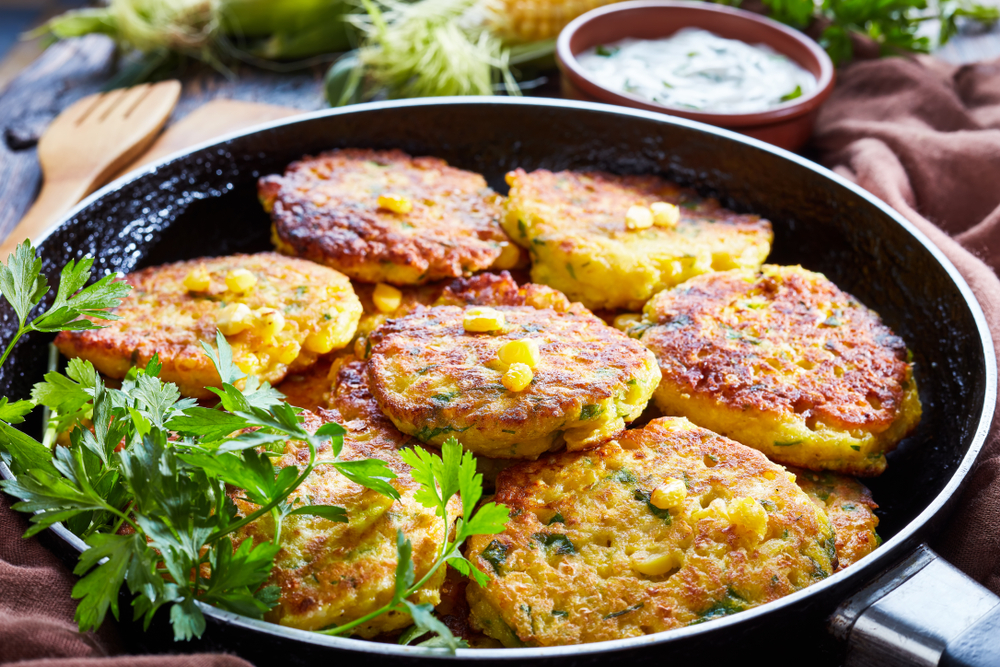 Charleston is a beautiful city that can easily be explored in three days. We think our itinerary highlights all the absolute must-see spots in the city, and you'll leave knowing you've gotten the full Charleston experience. If you have been to Charleston, have you seen or done any of these activities? If you haven't gotten the chance to go yet, what are you most interested in seeing? Let us know in the comments!