When it comes to cabins in South Carolina you have a large variety of options to choose from. South Carolina is a beautiful state with a varying landscape. You can find mountain cabins, lakefront cabins, cypress swamp cabins, and cabins near popular cities like Charleston and Columbia.

Whatever you are looking for in a cabin, you are sure to find it in the Palmetto State. Check out this list of cabins to see what your options look like in South Carolina!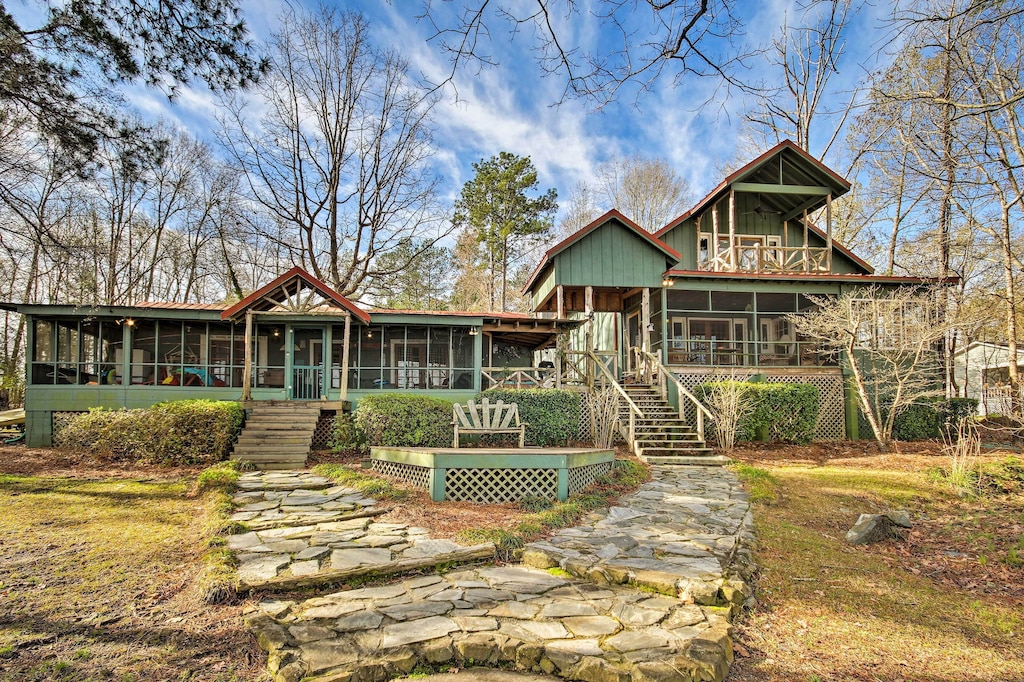 15 Cozy Cabins In South Carolina For A Getaway
Private Romantic Mountain Holiday
The Private Romantic Mountain Holiday cabin is a lovely private getaway in Pickens, South Carolina. It has two bedrooms and one and a half baths. This little 1200 square foot cabin has a beautiful deck outside of the master suite, where you have a waterfall view. Can you imagine falling asleep in the relaxing S.C. woods to the sound of a rushing waterfall?

Outside you have access to chairs, a grill, and a table to enjoy your time spent in the great outdoors. Inside you have wifi, direct tv, smart tv, and other modern amenities. You will appreciate that all linens and towels are included. The grounds include not only a waterfall but also two creeks, two ponds, a covered bridge, and other beautiful natural features.

This is a very private property as it is on more than one hundred acres of land. Although this cabin has rustic vibes you can rest assured that you will have access to both heating and air conditioning to make your stay in nature more comfortable. If you are looking for seclusion, this is one of the best cabins in South Carolina.

Check Rates Here: VRBO.com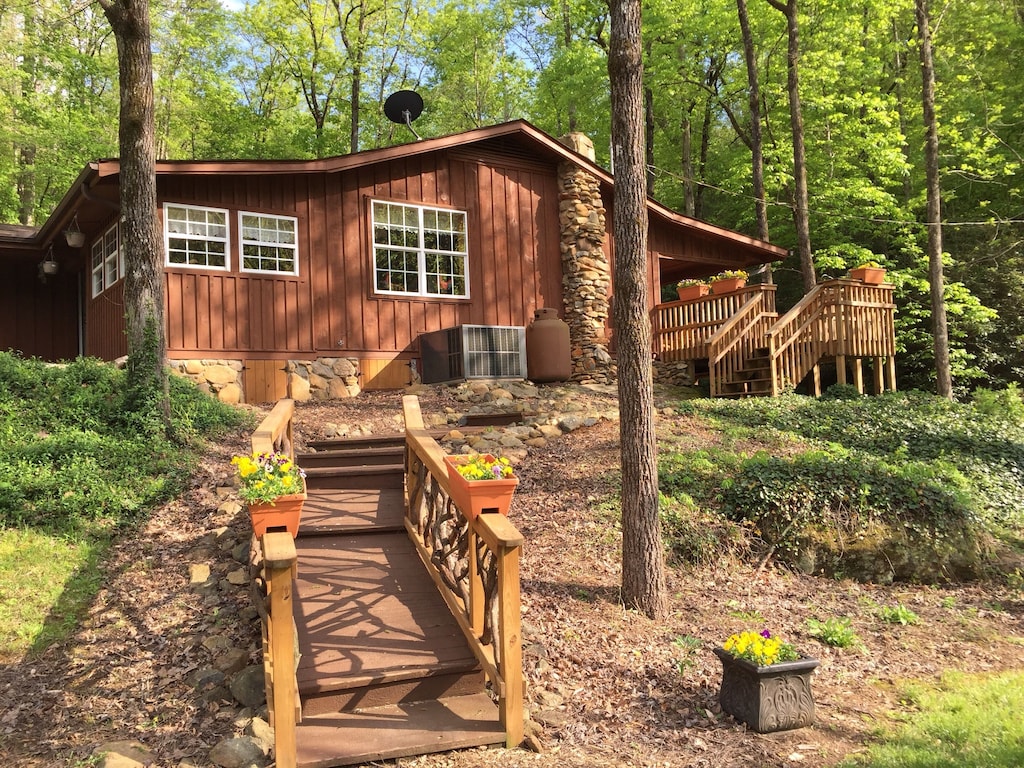 Daufuskie Cottage
This small cabin known as the Daufuskie Cottage is just 907 square feet, but comes with four bedrooms and can sleep six people. If you are traveling with your beloved dog, this is one of the best cabins in South Carolina for you as it is dog-friendly for up to two dogs. You will find this lovely blue cabin on Daufuskie Island in southern South Carolina near Tybee Island, Hilton Head, and Savannah, Georgia.

You will love the fact that this cabin has all of the comforts of home like a washer and dryer, free high-speed internet, travel crib and toys for kids, and in typical coastal fashion, a stocked kitchen complete with lobster pot. This is such a cute cabin inside and out. If you are looking for a cabin in southern South Carolina, you will want to be sure to check out this Daufuskie Cottage.

Check Rates Here: VRBO.com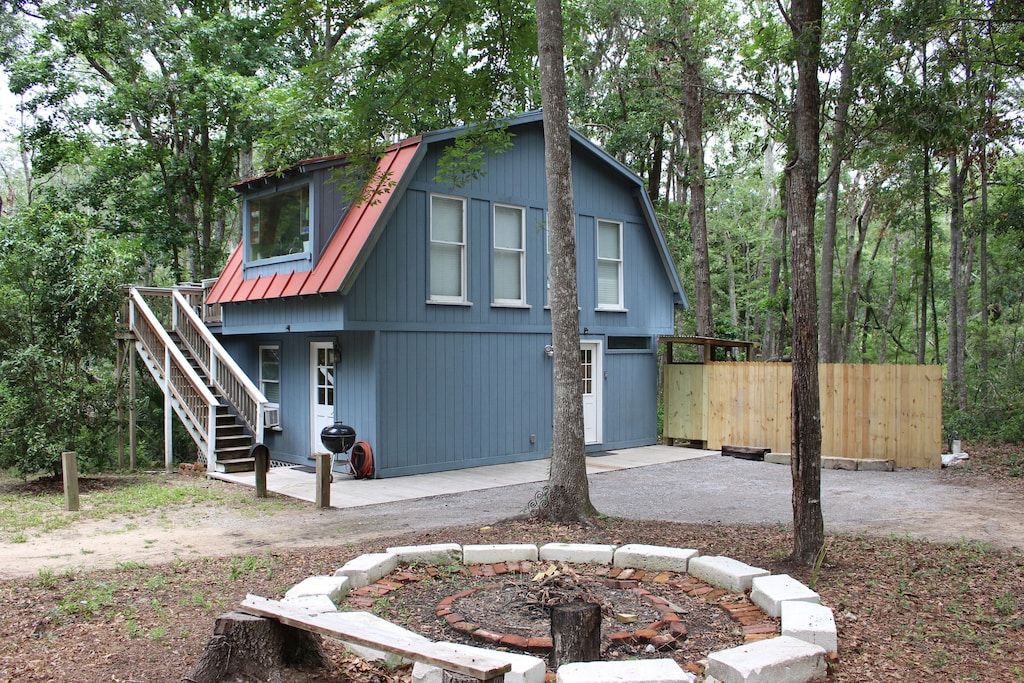 Peace In The Forest Retreat
This dreamy Forest Retreat is one of the best cabins in South Carolina! It is located in Pickens County and is nearby amazing locations in The Palmetto State including the Hagood Mill Historic Site, Table Rock State Park, and the Victoria Valley Vineyard. If you choose this relaxing cabin you will be in a great location to explore some of the biggest and best attractions in the area.

The cabin comes equipped with internet, a washer and dryer, a wood stove, a fire pit, satellite tv, and stunning forest views. There is one bathroom, two bedrooms, as well as both front and back porch/decks. If you like classic cabins with wood detail inside then you will love this cabin as it is full of wood trim, wood floors, and wood walls. There's nothing like sitting out back in a rocking chair with your morning coffee while you listen to the sounds of the woods.

Check Rates Here: VRBO.com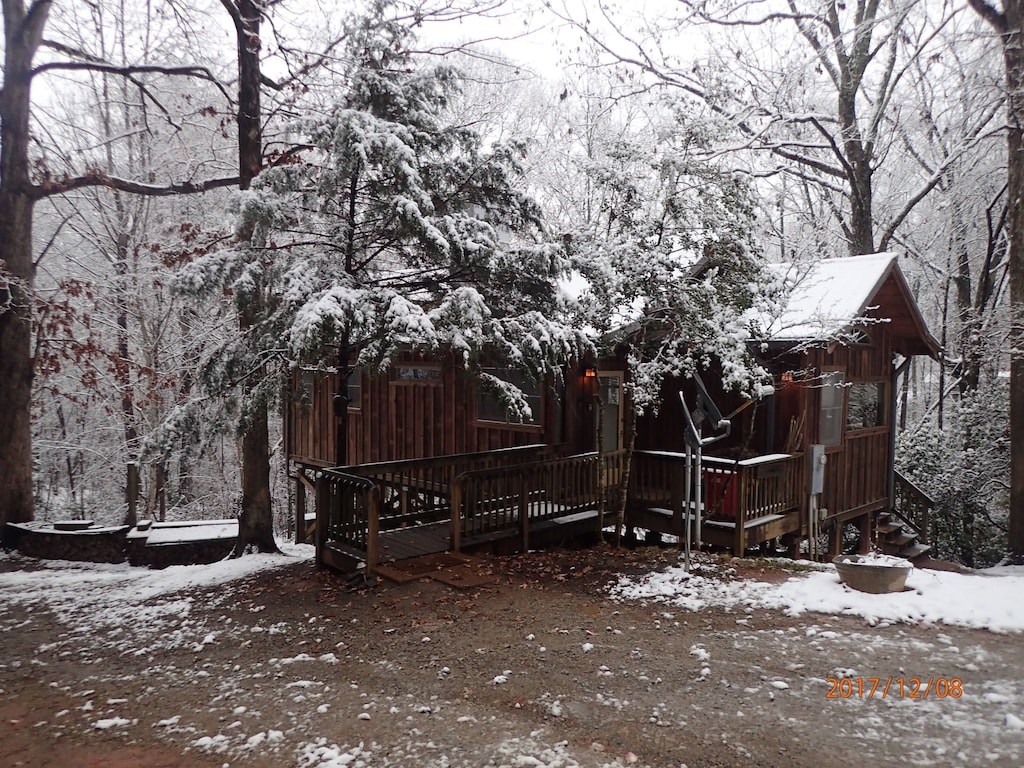 Gorgeous Peaceful Cabin
If you are looking for a mountain in South Carolina with cabins, consider visiting Pinnacle Mountain and staying in this Gorgeous Peaceful Cabin. Located near Table Rock State Park which houses Pinnacle Mountain in Pickens County, this cabin is a dream. If you are traveling with a group or as a big family, this cabin can accommodate you and your traveling party.

This massive cabin is 1800 square feet and has three bedrooms and two full bathrooms. The cabin has a large living space with A-frame windows, a spacious deck with forest views, a large soaking tub, and close proximity to not only Table Rock State Park, but also Lake Jocassee, Caesars Head State Park, Gorges Fork State Park, and Devils Fork State Park, making it one of the very best cabins in South Carolina to stay at!

Check Rates Here: VRBO.com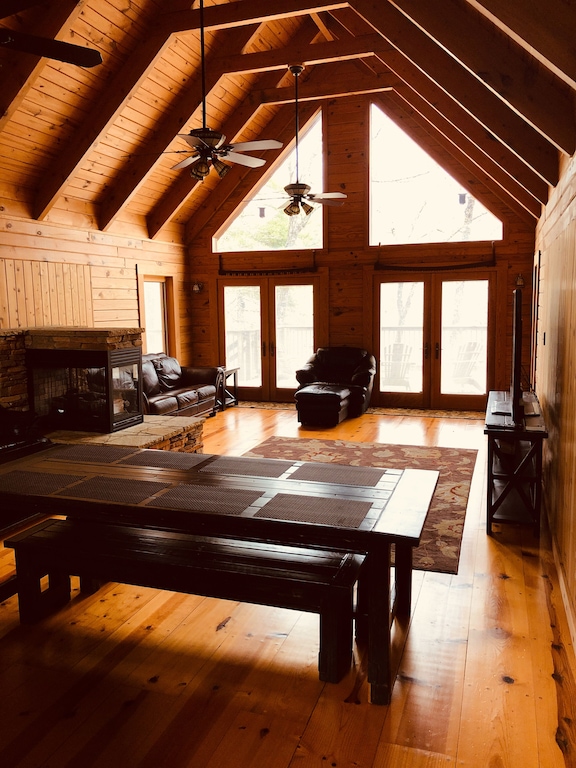 Affordable Low Country Cottage
For those looking for cabins near Charleston, you may want to consider this adorable and Affordable Low Country Cottage. This rental has one bedroom and one bathroom making it a good fit for solo or couple travelers. It also allows small dogs less than twenty pounds to stay the night with you as well.

When you stay at this low country accommodation you will be nearby to some of the best attractions and stops near Charleston, including the Cypress Wetlands, Bay Street, the Port Royal Boardwalk and Observation Tower, as well as the beautiful town of Beaufort and all of its amazing restaurants, sites, and attractions.

Check Rates Here: VRBO.com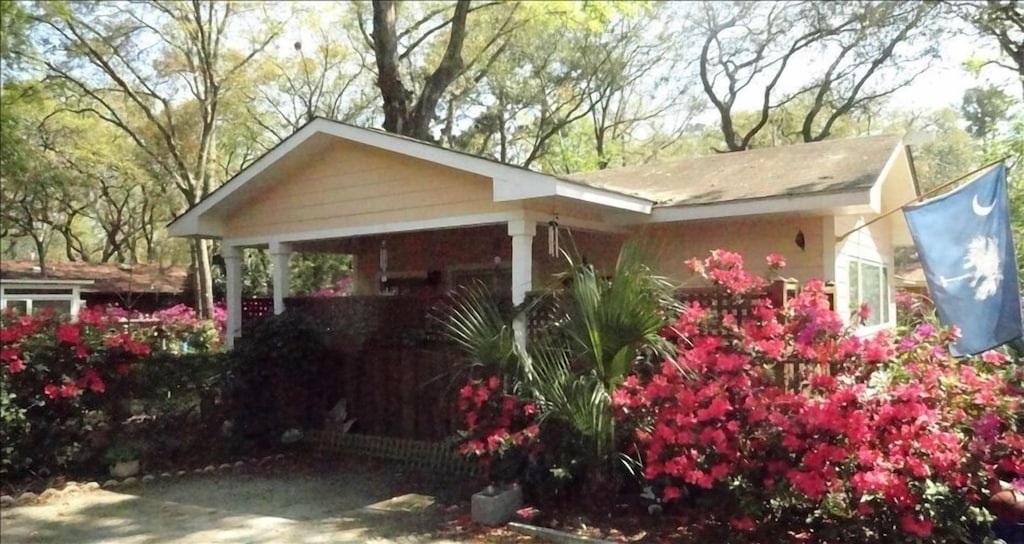 Lake Murry Cabin
When it comes to lake cabins, this Lake Murry Cabin is one of the best! To be honest, it is one of the best cabins in South Carolina as a whole. Complete with three bedrooms, this Lake Murry cabin is 1250 square feet and can sleep up to eight people, making it perfect for families and large travel parties.

You will enjoy the lakeside views, fire pit, and the cabin's proximity to popular attractions. When you stay at this cabin you are staying nearby Dreher Shoals Dam, Crooked Creek Park, the Harbison Theatre, and the city of Columbia. During your stay, you will be comfortable with all the comforts of home like wifi and a washer and dryer as well as additional luxuries like water sports gear.

Check Rates Here: VRBO.com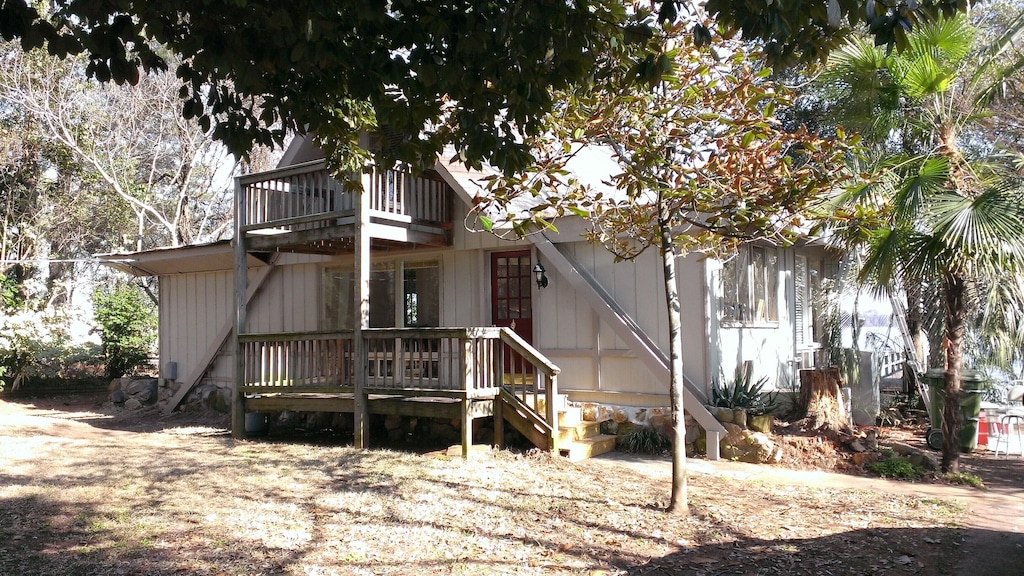 Santee River Retreat
If you are looking for Francis Marion National Forest cabins, try the Santee River Retreat! This Santee River Retreat has a private dock and is pet-friendly. These features and its location in the forest near Charleston make the Santee River Retreat one of the best cabins in South Carolina!

In the cabin, you will find a full kitchen, three bedrooms, comfortable furnishings, wifi access, and dining for six people all fit into the 1500 square feet of space. During your stay here you will be just steps away from the Santee River where you can kayak, canoe, swim, fish, or do some crabbing. You'll also be in a great location for day trips to Charleston, Myrtle Beach, Folly Island, and Kiawah Island.

Check Rates Here: VRBO.com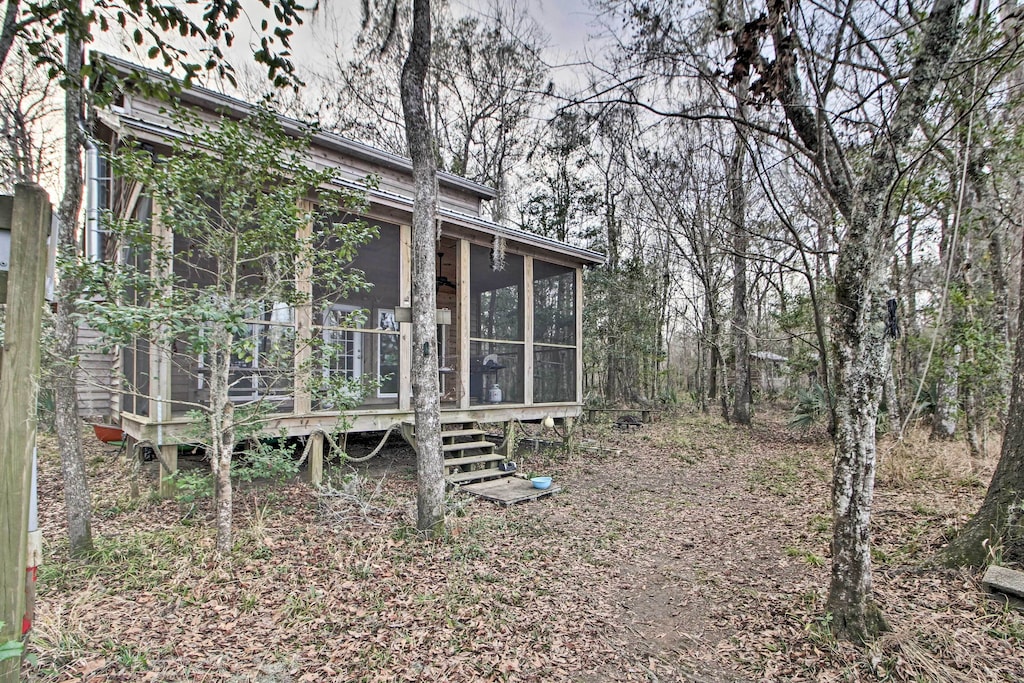 Charming Waterfront Ridgeway Cabin
If you've been looking for cabins in Columbia, check out this Charming Waterfront Ridgeway Cabin in Kershaw County. You will be in a great area northeast of Columbia to have easy access to amazing sites nearby like Wateree Lake, Springdale Race Course, Fort Jackson, and of course, the city of Columbia.

This rustic lake cabin is truly massive. If you want to have a family reunion, travel with a wedding party, or simply have fun with a large group of friends. There are fourteen beds in this South Carolina cabin on the lake's edge. You will enjoy the covered porch, private dock, foosball table, and eccentric and antique decor.

Check Rates Here: VRBO.com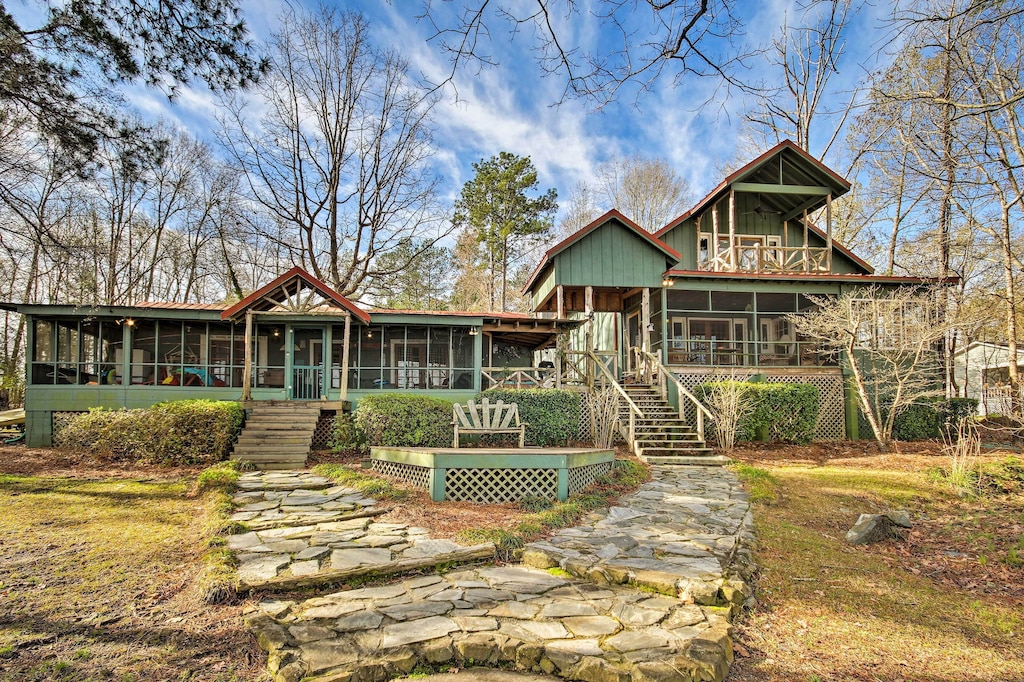 Secret Romantic Cabin
This Secret Romantic Cabin is located on one hundred acres of loblolly pine in Marion, South Carolina. The rustic nature of this cabin makes guests feel as though they are really stepping away from the world for a secret and romantic getaway. When staying in this cabin, you will only be fifty miles from the vacation hub, Myrtle Beach. This secret cabin is one of the best cabins in South Carolina.

The cabin sits up high on wooden beams above a bass pond below. You can feel welcome to walk the trails on the property, where you may get the opportunity to see wild turkey, deer, and other wildlife. The cabin is 1000 square feet with one full bathroom, three beds in two bedrooms, and a large wooden deck. You will have heat, AC, WiFi, a hot tub, washer and dryer, and other amenities you might need during your stay.

Check Rates Here: VRBO.com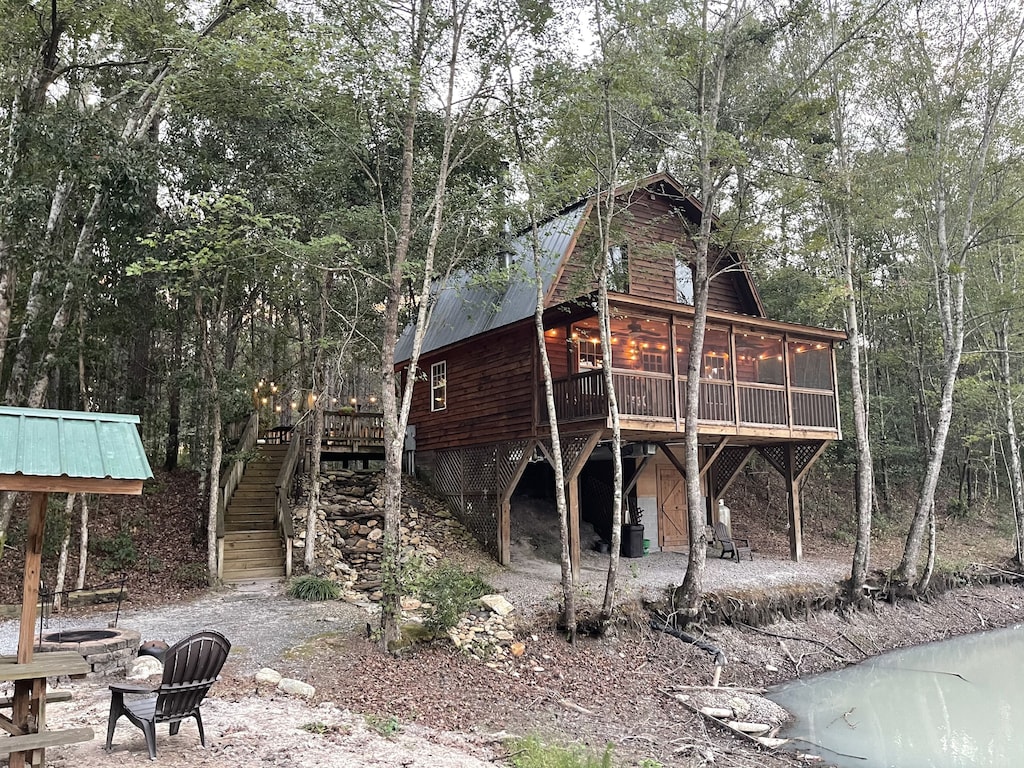 The Cypress House
As far as cabins in South Carolina go, the Cypress House is one of the best. This beautiful A-frame cabin is sitting on a beautiful piece of land with amazing features. There is a fire pit with benches, a large picnic table, boardwalks out over the water, and beautiful cypress tree and water views. The cabin has three full bathrooms, and five beds in three bedrooms.

When you stay at the Cypress House you will be nearby Lake Marion, Santee State Park, Santee National Wildlife Refuge, and the Santee Outlets. Pets, kids, parties, and events are all allowed at this waterfront cabin. When you rent this cabin you have access to not only the main cabin, but the guest house as well, so if you are traveling with a large group and need more privacy, you have that option.

Check Rates Here: VRBO.com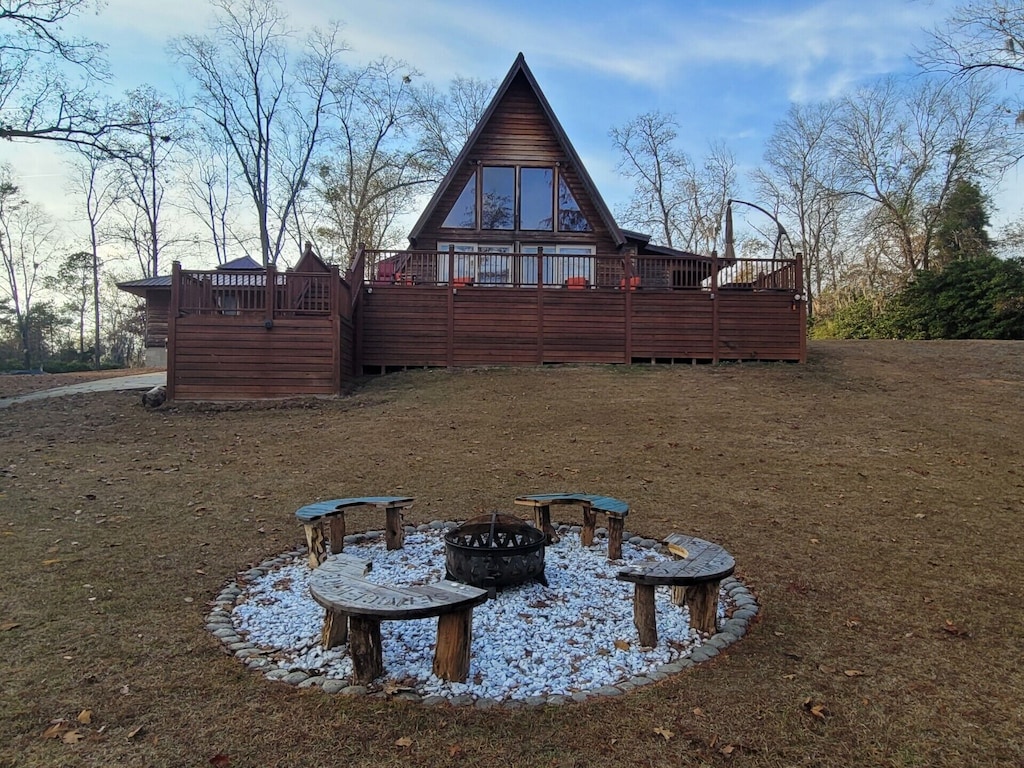 Tiny House Cabin
The Tiny House Cabin is one of the most unique cabins in South Carolina. It has two bedrooms, one full bathroom, and sleeps up to five people. Located in Chesterfield, South Carolina does not allow children but can provide a continental breakfast for a small fee. You will have everything you need for a comfortable stay such as wifi, satellite TV, a washer and dryer, AC, and a coffee maker.

The tiny house cabin is affordable and is close to sites such as Lake Wallace, Buford Battle Ground Memorial, Treehouse Vineyards, and Cheraw State Park. The nearest towns are Cheraw (10 miles away), Rockingham NC (40 miles away), Florence SC (50 minutes away), and Monroe NC (40 miles away.) If you are looking for something unique for accommodation, this is one of the best cabins in South Carolina that you can stay in!

Check Rate sHere: VRBO.com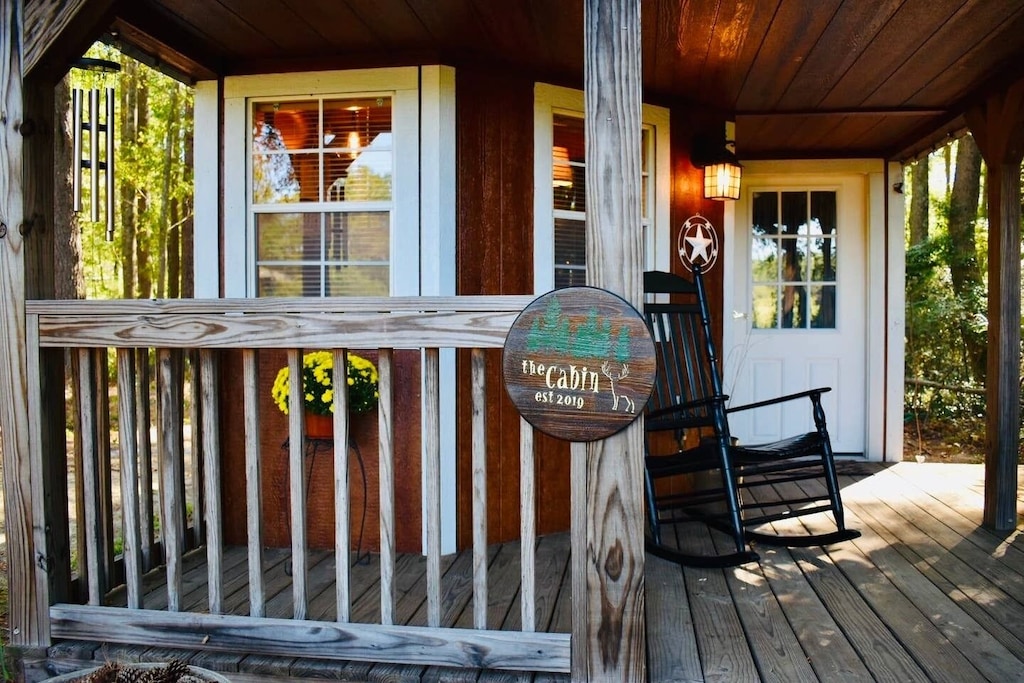 Cozy Cottage
There are so many great cabins in South Carolina, but this Cozy Cottage with immaculate water views really blows others out of the water. The backyard has a cute little wooden boardwalk, a swing, a deck with a table and chairs, a picnic table, and other seating as well as green space for laying out in the sun or playing outdoor games.

The inside features a spiral iron staircase five beds in two bedrooms, one full bathroom, and a fireplace all in 900 square feet. The cabin is nestled into a wooded landscape and comes complete with a sandy beach, boat dock, and ramp, as well as a fishing pier. If you enjoy kayaking, canoeing, or stand-up paddleboarding, this is a great cabin for you due to its water access.

For all of the amazing features that this accommodation offers, it is very affordable. When you stay at this cute little cottage you will be on Lake Murry and will have access to nearby sites like Crooked Creek Park, Dreher Shoals Dam, Lexington County Museum, and Carter and Holmes Orchids.

Check Rates Here: VRBO.com
Lazy River Cottage
The Lazy River Cottage is easily one of the best cabins in South Carolina as it has private river access and is only forty minutes or less from the historic downtown Charleston. This cabin has two bedrooms and one full bathroom, air conditioning, and wireless internet to help you feel comfortable during your stay.

You can visit nearby Lake Marion, Bee City, or Givhans Ferry State Park during your stay as they are all within twenty-five miles of the cabin. If you have been looking for a place to stay where you can launch your kayak, canoe, or stand-up paddleboard, this cabin could be the place for you!

Check Rates Here: VRBO.com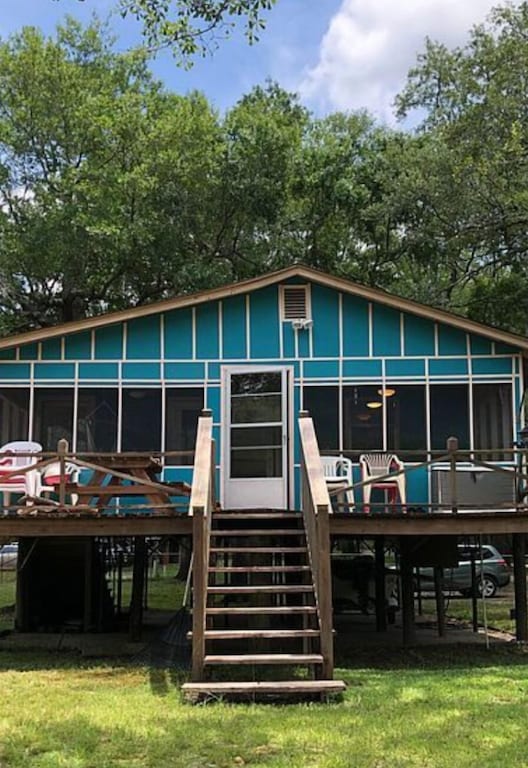 Secluded Cabin Retreat
This Secluded Cabin Retreat comes with a hot tub and a pond perfect for anyone who enjoys fishing. This is a small cabin of just 800 square feet in Calhoun County. It has five beds, one room, and one bathroom. You can relax in the six-person hot tub on the large deck overlooking the sunset on the pond. If you're wanting to weed through the cabins in South Carolina until you find a secluded and relaxing place to stay, you may not need to look any further.

This accommodation is just thirty-five miles east of Columbia and eight miles west of Orangeburg. Children are allowed, but dogs are not. Keep in mind that there is a six-person limit for this small cabin and the primary renter has to be at least twenty-one years old. Despite its secluded and rustic nature, this cabin has a flat-screen tv, air conditioning, heat, wifi, a stereo, a kayak and canoe, as well as two aluminum Jon boats that you can use.

Check Rates Here: VRBO.com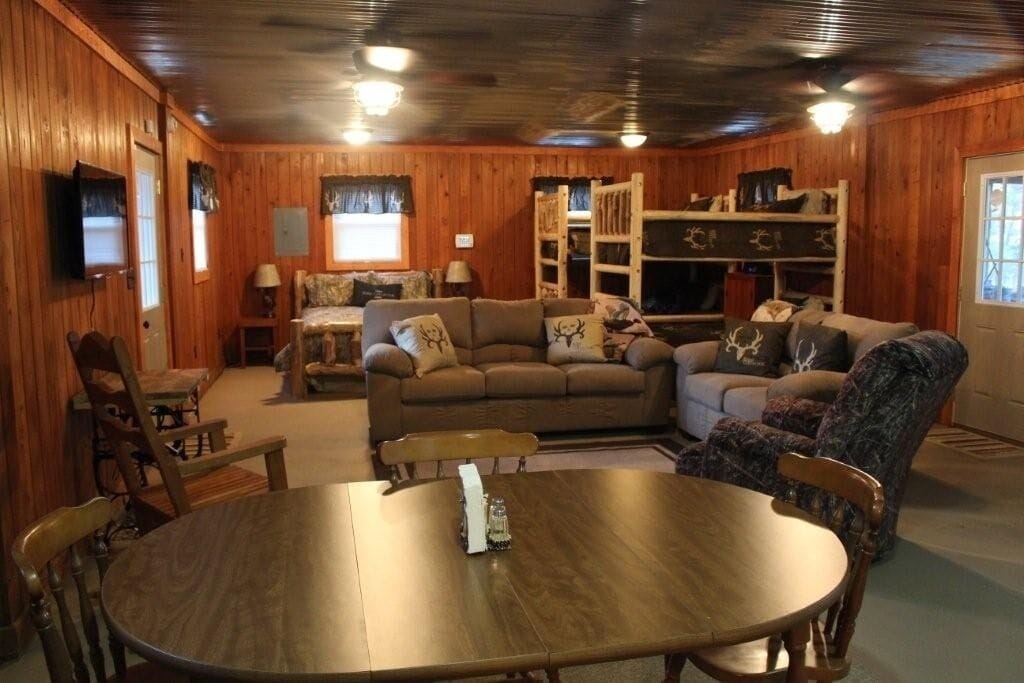 Cozy Tiny House – Lake Front Getaway
There are truly few better cabins in South Carolina than this Cozy Tiny House Lake Front Getaway. This tiny cabin sits back in the woods on the edge of Lake Wylie, South Carolina. It has one full bathroom and two beds in one bedroom. It can sleep up to four people, has a beautiful yard with a picnic table, fire pit, and additional seating, as well as a hammock and dock.

The cozy tiny house comes with paddleboards and kayaks for you to use during your stay which is really wonderful for those looking to enjoy time spent outside. This cabin is located near the North Carolina and South Carolina border. You will have access to Lake Wylie and be nearby the McDowell Nature Center, Harortowne Marina, Daniel Stowe Botanical Gardens, as well as Ebenezer Park, and a golf club.

Check Rates Here: VRBO.com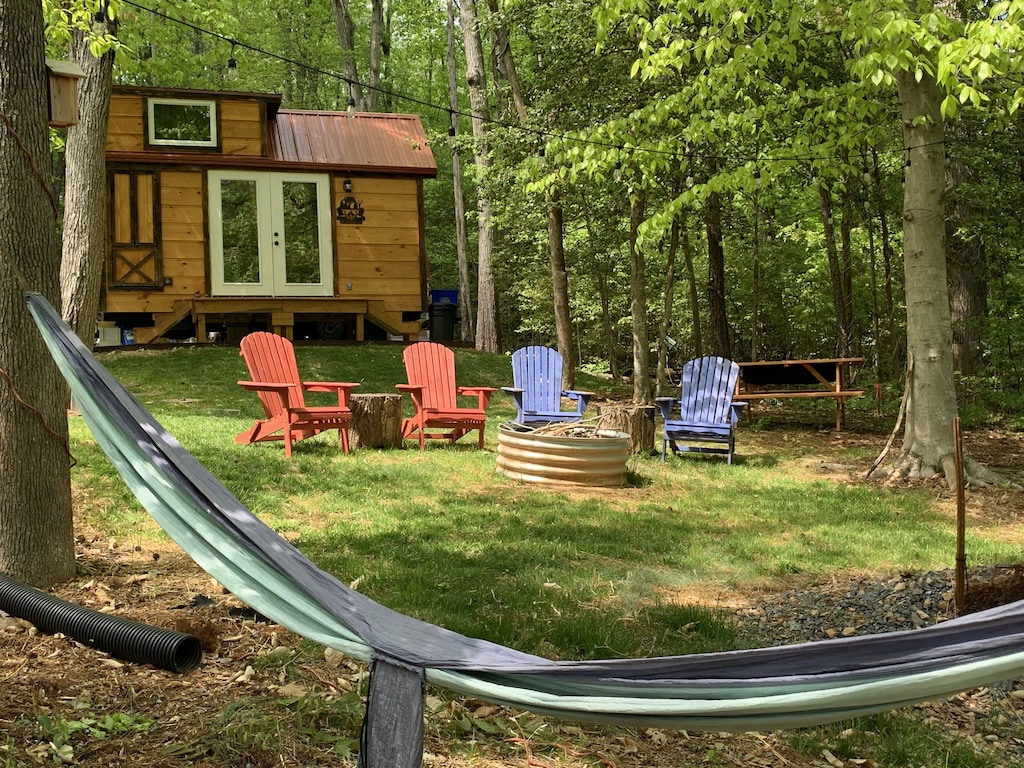 Now that you have seen some of the most amazing cabins in South Carolina, which of them do you think you are interested in visiting on your Palmetto State travels?